ELTON JOHN NEWS ARCHIVE: February 2011
Elton John hosts Oscars party
Monday, February 28 2011
New dads Elton John and David Furnish had no chance to slip off early from their glitzy Oscar-viewing party to be with their son Zachary.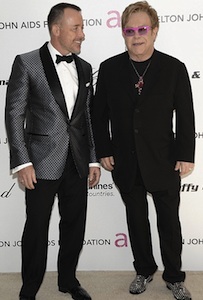 "I wish we could but we can't, he might be coming down to visit us and say goodnight," Elton said at his celeb-packed fundraiser.

Kelly and Sharon Osbourne, Katie Price, Glee's Matthew Morrison and Chris Colfer, director Baz Luhrmann and actress Clare Danes featured on the swanky guest list. Speaking before the evening got into full swing, Elton revealed how pleased he was to be performing with Florence Welch from Florence And The Machine. "She's amazing, a great girl, so full of life. I love her, she's such a great singer and I'm mesmerised by her," he said.

Money from ticket sales and a special auction helped raise money for the Elton John Aids Foundation. Elton told American reporters about how he was shocked by the lack of HIV awareness in the States.

"We still find the stigma of Aids exists, the shame, the marginalisation of people that have Aids," he said. "It's really disturbing. It's very hard to teach sex education to young people in this country because it's a very conservative country."

Elton explained: "We do it in Africa to the young ones so they learn about sex and condoms and infection rates go down. Here you can't get to them and the infection rates go up, you're banging your head against a wall. Until something radically changes and you can actually get to young people in America and educate them on a sexual level then nothing is going to change and that's horrific."



19th Annual EJAF Academy Awards Viewing Party
Monday, January 31 2011 at 15:57:47


Elton John's 'Gnomeo and Juliet' hits no. 1 just in time for Oscar
Sunday, February 27 2011
Just in time for his annual Oscar party, Elton John's "Gnomeo and Juliet" hit no. 1 at the box office.
A rare achievement in its third week of wide release, "Gnomeo & Juliet" pulled in another $14.2 million for an estimated new cume of $75.1 million. The 3D animated tale will certainly pass the $100 million mark, but questions abound how much more the surprise hit could have made if the picture had been released under the Disney label instead of Touchstone Pictures. In any event, it's a great achievement for Elton and his producing team who worked hard with former Disney studio head Dick Cook to get the film made.

The weekend's expected top flick, "Hall Pass," instead found itself in the second slot with a disappointing $13.2 million. The Farrelly Bros. comedy grossed just $13.2 million. Warner Bros. was hoping to hit the $18 million mark, but the combination of Jason Sudeikis and Owen Wilson just didn't click with audiences.

The third slot went to the Liam Neeson thriller "Unknown" which grossed another $12.4 million for a 10 day take of $42 million. The Joel Silver produced thrill appears to be on its way to at least $70 million domestic.

Final box office results are released on February 28, 2011.



19th Annual EJAF Academy Awards Viewing Party
Monday, January 31 2011 at 15:57:47


Elton John and band performed on Maui on February 24, 2011
Saturday, February 26 2011
Fan report by Elisabeth White.
When you live on Maui you are used to hanging out under the stars. Nature and its beauty are constantly surrounding us. People here are in general cool, eco and relaxed. But once in a while this little island in the middle of nowhere will start buzzing. Such was the case when it was official that Elton John was going to perform here.

As the concert sold out in no time flat, they added an additional night before the original one. That's the night my husband, Doug, and I attended: 24 February 2011.

How I got the tickets is a long story and a beautiful one but it was not until I actually picked up the tickets and held them in my hand that I believed it! We were going to see Elton John live ... for the first time ever!

Before the concert we met Nigel Olson in the open air backstage area. An incredibly kind person! Considering that he was only 1/2 hour away from performing he was quite relaxed. When it was time for him to leave, though, one could tell that he actually was nervous. After all these years ...

Placed in the center we had a great view of the brand new outdoor stage. Elton appeared, the crowd cheered. It was amazing. He is used to big crowds, we know that, and there are only about 5,000 who fit into the MACC (Maui Arts and Cultural Center) outside area. But the welcome was heart felt and impressive.

During the almost 3 hour performance I realized that I am far from knowing all his tunes. But that was quite alright. I enjoyed the evening so much! All the tunes I did know and do love were there! 'The Best Of' just kept happening. From "Goodbye Yellow Brick Road", "I guess that's why they call it the Blues", "Daniel" and "Sorry seems to be the hardest Word" to "Candle in the Wind", "Bennie and the Jets" and "Crocodile Rock" mixed with a few tunes from his new album.

Towards the end of the concert Elton talked about himself and his relationship with Maui. It was in 1972 that he spent his first big holiday here on our island. He stayed on Kaanapali Beach, went deep sea diving and played lots of tennis. He told his cheering fans that there is a special feeling on this island. He also said: "Same sex civil unions! Well done, well done, Hawaii!" He wished us health and happiness and love.

And while the crowd gave him a big hand he started playing his first encore. "Your Song" brought tears to my eyes. This tune means a lot to me and I absolutely love it. It was mind boggling to see him on stage while I listened to it. "Don't let the sun go down on me" brought the show to an end. It seemed like the applause would never end.

I looked up at the sky. Millions of stars were there. Elton under the Maui stars was a once in a life time experience.

Mahalo and Aloha, Elton!
CTV's exclusive Billy Elliot coverage with Elton John
Friday, February 25 2011
Elton John and David Furnish arrive in Toronto next on March 1, 2011 for Mirvish Productions' Canadian premiere of Billy Elliot the Musical, and their first and only stop is CTV.
In celebration of the March 1, 2011 debut of the hit musical, the multiple Grammy-winning superstar along with his acclaimed producer and partner make their first visit - and only Canadian stop - to CTV's 299 Queen Street campus in Toronto for exclusive sit-down interviews on television and radio.

Stopping by THE MARILYN DENIS SHOW, ETALK, CANADA AM and CHUM FM, the pair put viewers at the front of the line for the premiere of this Tony Award-winning stage sensation, before CP24 provides live coverage of the red carpet arrivals that night. With ticket giveaways from each of the outlets, CTV is also giving fans an opportunity to be among the first to see "THE BEST SHOW YOU WILL EVER SEE" (New York Post).
Lady GaGa to be Godmother of Elton's baby
Friday, February 25 2011
In a recent interview, David Furnish, although trying not to comment, has given more than enough information that Lady GaGa will be baby Zachary's godmother.
When asked about rumors of Lady GaGa being chosen as godmother to his child, David responded: "We haven't publicly confirmed that yet but your sources are very good! I prefer not to comment on it because we are going to make a statement about godparents later on."

This comes as no surprise because the Elton and GaGa have become close friends since the last year's Grammy Awards and he has praised her as the Queen of Pop. David also had plenty of nice things to say about her as well.
I can keep this from you ...
Friday, February 25 2011
Elton John's mum has revealed she was told nothing about the birth of her new grandson.
While David Furnish's parents have already met Zachary Jackson Levon Furnish-John, Elton's mum said she had been kept in the dark. Sheila Farebrother, 85, also said there were no plans for her to meet the eight-day-old tot.

At her home near Littlehampton, West Sussex, she said: "I know nothing about anything." Asked whether she was looking forward to meeting her newborn grandson she said: "I have no particular interest really. You will have to ask them about that."

Sheila is close to her son and was a witness to his civil partnership ceremony with David in 2005. She was also present when he received an honorary doctorate from the Royal Academy of Music in 2002.

But when pressed on whether her son and David had informed her about the birth of their son Sheila replied: "No, they haven't." In stark contrast, David's parents Jack and Gladys, both in their 70s, have jetted into LA from their native Canada to meet their grandson for the first time.

Speaking from his home in Toronto, David's younger brother Peter said last week: "My parents are overwhelmed with joy. David and Elton will make fantastic parents." The couple have so far refused to say which of them is the biological father.
Gnome flashmob invades Liverpool Street Station
Friday, February 25 2011
Thousands of garden gnomes descended on Liverpool Street Station on February 8, 2011 morning to form the first ever pint-sized flashmob.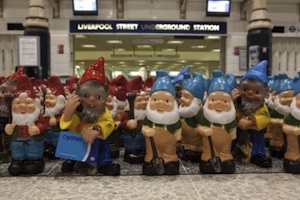 The nine-inch-high brigade of gnomes was equipped with traditional accessories such as fishing rods and rakes, as well as more commuter-esque attire - laptops and mobile phones. Some 5,000 of the ornaments were put at the busy London station to mark the release of Gnomeo & Juliet 3D.

On February 9, 2011, similar tiny gnomes left shoppers and commuters rather bemused when they were plonked in Manchester city centre. The garden creatures, dressed in red and blue hats, appeared in Piccadilly Gardens and outside the Urbis near Victoria train station, reports The M.E.N.

Liverpool Street Station was the location for a previous flash mob as well, when T-Mobile played a spontaneous dance prank on commuters at the station. The mobile phone operator caught workers in the middle of a choreographed dance routine, which was captured by hidden cameras at the station.
Hawaii holiday
Wednesday, February 23 2011
At the age of almost 64, fatherhood has come late to Sir Elton John - but he is enjoying making up for lost time. His delight in parental duties was evident as he and David enjoyed their first beach holiday with eight-week-old Zachary.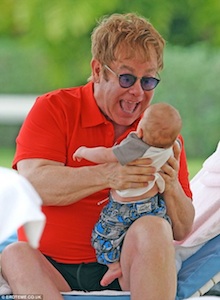 The couple are in Hawaii, where Elton will play two concerts this week. Last week Elton, who is worth £185million, told how he wants Zachary to have 'a solid old-fashioned childhood'. He added: 'I so value my own childhood now, and the sense of wonder and personal discovery that I enjoyed, that we want to give Zachary - as much as we possibly can - the same thing.' Elton went on: 'I know it'll be hard with my life, but we want him to have that same normality and for things in life to have real value. So we don't intend to spoil him – we're going to try to give him a fun, carefree time of innocence, freedom, love and stability.'

And in an interview with the Today show earlier in February 2011, he said he was going to enjoy the challenge of bringing up Zachary. He said: 'I thought, "You know what? I'm going to try it. I'm sure as much as I can give him, he's going to give me a thousand-fold back. Already, in seven weeks he's done that.'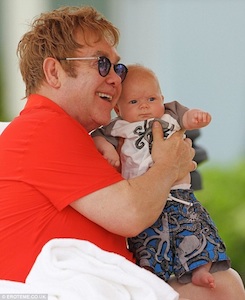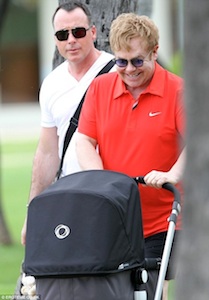 Russell among 2011 songwriters Hall Of Fame honorees
Wednesday, February 23 2011
Blues icon Leon Russell has landed another top accolade - he will be inducted into the Songwriters Hall of Fame in June 2011, a month after he is immortalised in the Rock & Roll Hall of Fame.
Russell has seen his popularity soar since teaming up with Elton John for their joint album, The Union, in 2010, and Elton will introduce his pal at the Rock & Roll Hall of Fame gala in New York in March 2011.

And now the Tight Rope singer has been lauded by the Songwriters Hall of Fame - he will be part of the Class of 2011 when the honorees are inducted in New York in June 2011.



The Rock and Roll Hall of Fame announces its 2010 inductees
Thursday, December 16 2010 at 08:51:42


Doh! The Simpsons' Oscars special
Wednesday, February 23 2011
You know you've arrived in Hollywood once you've been immortalised on The Simpsons'.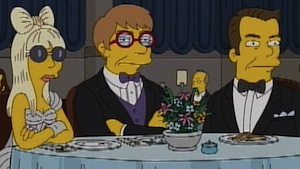 So British comic Russell Brand must be delighted to have been given a yellow makeover to secure a spot on the final cut of The Simpsons' Oscars special. Katy Perry's husband became the latest in a long line of celebrities honoured with a coveted appearance in the long-running Fox animated series.

Also featuring in the latst episode - called Angry Dad: The Movie - were Hollywood beauty Halle Berry, Curb Your Enthusiasm actor JB Smoove and Wallace and Gromit creator Nick Park. Ricky Gervais, who fell for Marge in a previous episode based on the series Wife Swap, returned to voice his character for the show once again.

When Brand's character presents the Golden Globe award for Bart's film, a delighted Homer gatecrashes the podium and gives his own acceptance speech. In his true controversial style, a deadpan Brand told the celebrity-filled audience: 'It's great to be here with all the old friends I haven't seen since rehab. Just kidding, none of you are my friends.' Characters Lady Gaga and Elton John appeared less than amused as they sat in the audience.

The movie's winning streak continued with Homer taking credit at each awards ceremony - so when Angry Dad received an Oscar nomination, Bart decided to keep it a secret. But Homer and Marge arrived at the glittering ceremony just as a Halle Berry slinked on stage to present the all-important Academy Award. Halle's character even donned the see-through Elie Saab gown that she wore when accepting her own 2002 Oscar for her part in Monster's Ball.

Bart's fellow nominee, Nick Park, then helps him realise that creating a film is a team effort, and humble Bart gives credit where credit is due.
Cirque du Soleil to open $57 million show in Kremlin with Elton help
Tuesday, February 22 2011
Cirque du Soleil, the circus whose founder paid Russia $35 million for a trip into space, said it reached an agreement with the Kremlin to perform inside the country's 500-year-old seat of power.
The entertainment company is spending $57 million to develop a new show called "Zarkana" that will debut at Radio City Music Hall, New York, in June 2011 before beginning an engagement at the Kremlin Palace from February to April 2012, the company said in a statement distributed at a news conference in Moscow on February 21, 2011. Elton John will organize the music for "Zarkana," Chief Executive Officer Daniel Lamarre told reporters.

Cirque du Soleil, based in Montreal, has invested more than $45 million in activities in Russia since 2008, when it first performed in the country under a partnership with George Cohon, who opened the first McDonald's restaurant in Moscow in 1990, before the Soviet Union collapsed, Lamarre said. Cohon was correct when he insisted in 2008, at the height of the global financial crisis, that Russians would be ready to see Cirque du Soleil, Lamarre said.

"For me Cirque du Soleil in Kremlin says it all," Cohon said today. A Kremlin Palace official confirmed the agreement by telephone, declining to be identified in line with state policy. The circus brought two large-scale touring shows to Moscow, St. Petersburg and Kazan and sold more than 510,000 tickets in the past two years in Russia. The circus will continue touring in the country with its signature arena show "Saltimbanco," bringing it to four major Russian cities in fall 2011.
The Beckhams, Elton John, headline Prince William's wedding
Tuesday, February 22 2011
David Beckham and wife Victoria will headline celebrities in Prince William's wedding.
English footballer David Beckham and wife and former "Sporty Spice" Victoria Beckham will headline the celebrities attending Prince William and fiancee Kate Middleton's wedding, the Telegraph reports.

Beckham and William partnered up in hopes of bringing the 2018 World Cup to England. The two failed in achieving their ultimate goal, but a friendship blossomed out of nothing but a shared pride in their home country.

Designer Victoria Beckham will send Middleton samples of dresses for her and her bridesmaids in a few days, sources said. Beckham wowed the crowd during Tom Cruise and Katie Holmes's wedding.

Contrary to earlier reports Elton, who performed in Princess Diana's funeral and was chosen to end the night in the Concert for Diana, will also headline as one of the top celebrities at the wedding.

The wedding is set to take place April 29, 2011 at Westminster Abbey.



Prince William & Kate Middleton rule out celeb singers for royal wedding
Wednesday, February 9 2011 at 13:43:52

Elton: "I won't be at Royal Wedding"
Wednesday, January 26 2011 at 05:10:27


Elton John and band performed in Eugene on February 17, 2011
Sunday, February 20 2011
Following is the complete set list of the Eugene show on February 17, 2011.
Funeral For A Friend

Love Lies Bleeding

Saturday Night's Alright (For Fighting)

Levon

Madman Across the Water

Tiny Dancer

Philadelphia Freedom

Goodbye Yellow Brick Road

Daniel

Rocket Man

I Guess That's Why They Call It the Blues

Hey Ahab

The Best Part Of The Day

Gone To Shiloh

Monkey Suit

When Love Is Dying

Sad Songs (Say So Much)

Take Me To The Pilot

Never Too Old (To Hold Somebody) (solo)

Sorry Seems to Be the Hardest Word

Candle in the Wind (solo)

Burn Down the Mission

Bennie and the Jets

The Bitch Is Back

I'm Still Standing

Crocodile Rock


Your Song - (solo)

Don't Let the Sun Go Down on Me - (solo)
Celeb charities suffering huge slump in income
Thursday, February 17 2011
The economic downturn has triggered a plunge in donations from hard-pressed Brits and those thrown out of work.
And rock-bottom interest rates have stagnated funds. Now, the Sun has revealed that charities backed by celebrities, including the Beckhams and Sir Elton John, are suffering a huge slump in income.

Income at Elton's EJ Aids Foundation slumped from 15.6 million pounds in 2008 to 9 million pounds the following year. It was rising steadily until the recession bit.

Elton was also shocked by a major dip at another of his causes, the Elton John Charitable Trust. It had an income of 276,486 pounds in 2007 but bombed the following year to a paltry 6,000 pounds.

"As we are all feeling the pinch, people are not inclined to give," said wealth watchdog Philip Beresford, compiler of the Sunday Times Rich List. "It is particularly cruel as now is the time the money is needed most - and it is just not there," he added.
Elton John and band performed in Victoria BC on February 15, 2011
Wednesday, February 16 2011
Following is the complete set list of the Victoria BC show on February 15, 2011.
Funeral For A Friend

Love Lies Bleeding

Saturday Night's Alright (For Fighting)

Levon

Madman Across the Water

Tiny Dancer

Philadelphia Freedom

Goodbye Yellow Brick Road

Daniel

Rocket Man

I Guess That's Why They Call It the Blues

Hey Ahab

The Best Part Of The Day

Gone To Shiloh

Monkey Suit

When Love Is Dying

Sad Songs (Say So Much)

Take Me To The Pilot

Never Too Old (To Hold Somebody) (solo)

Sorry Seems to Be the Hardest Word

Candle in the Wind (solo)

Burn Down the Mission

Bennie and the Jets

The Bitch Is Back

I'm Still Standing

Crocodile Rock


Your Song - (solo)

Don't Let the Sun Go Down on Me - (solo)
'Billy Elliot' Musical sued for $4 million
Wednesday, February 16 2011
Two theatergoers are suing a Broadway musical for millions after claiming they were injured during a performance of "Billy Elliot: The Musical."
Two Kansas City women allege they were struck by a prop while sitting in the front row on November 23, 2009. They were hospitalized and are now each seeking $2 million in damages in federal court in Manhattan.

The lawsuit filed on February 14, 2011 accuses producers of "negligence and carelessness" for "hazardous and dangerous" props and choreography, failing to train employees of the show and for not warning patrons of the risks. Producers had no immediate comment on February 15, 2011.

Safety on Broadway has been under the spotlight following injuries to actors in the Spider-Man musical and dancers at "Fela!"
Walsh hits back at Elton
Wednesday, February 16 2011
Girls Alound star Kimberley Walsh has blasted Elton John for slating the British girl band - branding his comments "nasty" and "in bad taste".
Elton took aim at pop stars who lip-synch on stage, insisting singers such as The Saturdays and Walsh's Girls Aloud bandmate Cheryl Cole are "c**p". Now Walsh has hit back, admitting she was "sad" to read his remarks but warning it's dangerous for him to "slag people off".

In her column for Britain's OK! magazine, she writes, "Last week, I was disappointed to hear Sir Elton John slating British pop music, including Girls Aloud. I've always had a lot of respect for him so it's a shame that he said those things... Elton criticised artists for miming and if you're an artist who stands there singing ballads then to lip-synch is quite ridiculous, but it's got to be relative to what type of act you are. I don't think you can criticise it so passively. Even if you have a really strong opinion, I don't think it ever pays to slag people off (insult them) in such a derogatory way, it's in bad taste. You can put your view across without being so nasty. But I'll give him the benefit of the doubt - perhaps he was in a bad mood because (baby son) Zachary had kept him up all night!"



Elton dismisses Cheryl Cole and The Saturdays music as 'awful' in four-letter tirade
Saturday, February 5 2011 at 17:40:11


Elton John and band performed in Victoria BC on February 14, 2011
Tuesday, February 15 2011
Following is the complete set list of the Victoria BC show on February 14, 2011.
Funeral For A Friend

Love Lies Bleeding

Saturday Night's Alright (For Fighting)

Levon

Madman Across the Water

Tiny Dancer

Philadelphia Freedom

Goodbye Yellow Brick Road

Daniel

Rocket Man

I Guess That's Why They Call It the Blues

Hey Ahab

The Best Part Of The Day

Gone To Shiloh

Monkey Suit

When Love Is Dying

Sad Songs (Say So Much)

Take Me To The Pilot

Never Too Old (To Hold Somebody) (solo)

Sorry Seems to Be the Hardest Word

Candle in the Wind (solo)

Burn Down the Mission

Bennie and the Jets

The Bitch Is Back

I'm Still Standing

Crocodile Rock


Your Song - (solo)

Don't Let the Sun Go Down on Me - (solo)
Herbie Hancock beats out Eminem, Elton John, Gaga for Grammy
Monday, February 14 2011
A dapper Herbie Hancock, who beat out the likes of Eminem, Elton John, Leon Russell, Lady Gaga and Beyonce for best pop collaboration with vocals in the pre-show, untelevised Grammys, joked that for his next big collaborative effort he'd "like to work with all those people that were in my category."
A pause, then a stare. "I'm serious." Was that a strange group to be pit against this Grammy season? "Not at all," he said backstage, reports USA TODAY's Marco della Cava. "We all have two eyes and ears, a mouth, a nose, arms and legs. We're all just human beings, and we all crave music."

Athough his immediate future is filled with classic music commitments, he's about to take the stage in Los Angeles with Wayne Shorter for a jazz show. "Actually, I need to get home and start writing for that right now," he said, smiling.



Cee Lo goes Elton John with The Muppets
Monday, February 14 2011
During the 2011 Grammy Awards, it's tough to tell who was more animated for the "Forget You" performance segment: Cee Lo Green or The Muppets.
The soul singer -- who cleaned up the language to his hit track "Fuck You" for network viewing -- donned colorful plumage, oversized sunglasses and a mirrored headpiece, smiling all the while. He got some help from "Country Strong" star Gwyneth Paltrow and some minor Muppets, who sang back up an "played" the number.

While it may appear that Green was just trying to fit in with his crazy-looking felt friends, he was actually make a major nod to Elton John's performance of "Crocodile Rock" with The Muppets from the '70s.

Paltrow didn't reveal much of her cartoony side, but played a girlie perspective on the song her own way, climbing up on the piano and laughing with Green when both tried to avoid dropping the f-bomb. Cee Lo went home empty-handed at the 53rd annual ceremony, losing Record of the Year to Lady Antebellum. Paltrow continues promoting "Country Strong," while the Muppets are starting heavy promotional activity for their forthcoming movie this year.

Check out the videos from the Grammys and from Elton John: who nailed the peacock performance best?




Critics love and hate 'Gnomeo & Juliet'
Sunday, February 13 2011
It sounds like one of those hellish movie ideas you only hear about in other movies satirizing the soulless lack of creativity in Hollywood: Take William Shakespeare's classic "Romeo & Juliet" and re-create it with garden gnomes.
But surprisingly, reviews for this animated flick, which Disney is releasing through its Touchstone label, have been pretty evenly split. Some hate it, sure. But just as many are finding themselves pleasantly surprised by the little guys.

Count The Times' own Kenneth Turan as one of the converts. "Playful, inventive and endearing, this 84-minute epic is smart enough not to overstay its welcome as it steers clear of the fatuous and the formulaic," he says. And he says it's the "surprise of the season" if only because of its silly title.

Even the British reviewers, who have every right to be a little stuffy about Shakespearean adaptations, seem won over by the red and blue fellas. Reviewer Tim Robey, writing in the Telegraph, gives the film an admiring -- albeit very short -- review. He writes, "Thanks to the guiding hand of director Kelly Asbury ('Shrek 2') and sweet voice work in the leads by James McAvoy and Emily Blunt, it's not bad at all."

Fellow British reviewer John Walsh in the Independent expressed the same amount of fondness for the film, without going too overboard. No one who likes the film flips out over it, but they do say it's nice. He writes, "The producers were clearly hoping for a hybrid of 'Toy Story' and 'Shrek,' and while the film doesn't have the lovability and wit of the former, or the mad creativity of the latter, it's directed with flair and energy, spirited, funny and charming."

Meanwhile some critics aren't nearly so charmed. Richard Corliss' review in Time is dripping with contempt: "Defiantly derivative and groaning from joke overload, this Disney pickup takes more than half its running time to find a distinctive tone, a reason for being. In the meantime, director Kelly Asbury burrows along in familiar ruts, assuming that his target demographics of tots and tweens will be so deeply steeped in classic pop culture that they will appreciate the endless parodies."

Newark Star-Ledger reviewer Stephen Whitty seems actually angry that he had to see the movie when he dismisses the talent behind the scenes by alleging they all did it for a check and a chance to be added to Elton John's guest list. Whitty does bring up one important question, however: "Seriously, have most small children here even seen a garden gnome? Outside of a website commercial, maybe, or the cover of Grandpa's old 'All Things Must Pass' album?" Apparently they aren't much for lawn whimsy in the Garden State.

And Time Out New York's critic Nick Schager has it in for the film , which he calls "a disposable cash-in designed to kill time in between franchise entries." And he further says, "the movie's overall lack of imagination is the real tragedy."

Charming surprise or crass cash-in? When it comes to opinions of "Gnomeo & Juliet," the critics seem to be enacting their own version of the Montagues versus the Capulets.



Elton John "signs son up for choir school"
Friday, February 11 2011
Elton John has reportedly signed his baby boy up for a place at an exclusive choir school.
He and partner David Furnish are said to have enlisted their seven-week-old son Zachary at St George's School near Windsor Castle, England, where pupils often perform for the Queen.

A Windsor Castle source told The Sun, "It was no surprise when Sir Elton said his first choice of school for Zachary was the royal choir school here. It has an incredible music department and staff. All the children play an instrument from the age of about seven and the piano is the favourite. Pupils all learn to sing and become part of the choir, and the best join the 24-boy choristers who sing for the Queen in St George's Chapel."

The couple are also believed to be planning on putting their son's name down for Eton College – the prestigious school attended by Prince William.
Elton talks about his five favorite films
Friday, February 11 2011
In an interview with Rotten Tomatoes, Elton shared his favorite films.
The Godfather, Part II (1974)

"Godfather II. Just riveting. It's just incredible. At that time, there weren't usually sequels to films, and when they did Godfather II, when they said they were going to do Godfather II, I groaned. And, of course, it was better, I think, than Godfather I. I think it's an amazing, amazing piece of filmmaking. He was an amazing director, Coppola."

All About Eve (1950)

"All About Eve, because I just think the dialogue in that film is incredible and so brilliant, and I never get fed up with watching it. It's just brilliantly acted; it's b----iness at its best."

The Exorcist (1973)

"The Exorcist, because it frightened the s--- out of me. I remember going to see it in London - I went with a friend - and I said, 'Well, that wasn't too bad after all, was it?' And we both said, 'Well, I don't want to go home quite yet.' So we went out for a meal. That is an incredible movie."

Blazing Saddles (1974)

"Let me choose a comedy. Let me choose Blazing Saddles, because I just thought, at the time when that came out, it was just so ahead of its time. I mean, you couldn't get away with that now. There's no f---ing way you could get away with it."

The Lives of Others (2006)

"The Lives of Others would go in there. It's just an amazing movie. And then he went and did The Tourist, which, I think, got a 20 percent rating on your site. We look at your website quite a lot. But, [The Lives of Others] was just a beautiful film.

So many great movies coming out of Germany, like... Well, The Readerwas a Stephen Daldry film, but it was all about coming to terms with their past. And also, Downfall was as well. God, I could continue forever because I love movies."
Jeff Bridges plans duet with Elton John
Friday, February 11 2011
Jeff Bridges is planning on recording a duet with Sir Elton John.
The 61-year-old actor is currently working on an album following his Oscar success as alcoholic country singer Bad Blake in 'Crazy Heart' in 2010, and is keen to work on a track with the music icon.

He told Shortlist magazine: "Winning the Oscar has helped me. I'm currently making an album with producer and songwriter T-Bone Burnett. That comes directly from the success of 'Crazy Heart'. I was recently on the 'Speaking Clock' tour, headlined by Leon Russell and Elton John. Elvis Costello was there and I got to sing with him, which was cool, I really enjoyed it. Elton is a great person. We talked about doing a duet. I'd certainly like to."

Discussing his Oscar success – this year repeated with a nomination for his role in 'True Grit' - the bearded star reveals his favourite thing about awards recognition is the "acknowledgement" of his peers that he has made a good movie.

He said: "It's great to be acknowledged by the guys for what you do. There's also an element to all of these award shows that they're a commercial for the movie industry. That's not necessarily a bad thing. There's an element of my job that's like being a barker at a carousel. But after you put all that energy into a film, it's great if people come see it."
T Bone Burnett honored by Elton at Grammy Gala
Friday, February 11 2011
Grammy Week's festivities kicked into high gear on February 9, 2011 with a tribute for T Bone Burnett at Santa Monica's legendary Village Studio.
The 10-time Grammy winner was honored by two of his recent collaborators, Elton John and Leon Russell, who sent video messages that earned some laughs. A particular highlight was when Elton, who called Burnett "the best producer out there," ended his message by quipping, "I love you and let's run away together." Russell's was also hilarious, as he joked, "I'm not sure what this award is for."

The award, given by the Producers and Engineers Wing of the Academy, was to honor Burnett's body of work, and all joking aside, everyone agreed it was well-deserved. Iconic engineer Eddie Kramer, who's worked with the likes of Led Zeppelin and Jimi Hendrix , said of Burnett, "I admire him. He's one of the finest producers in the business today. He deserves every accolade that thrown at him."

Soft-spoken rocker Ray LaMontagne also came out because he "always wanted to meet [Burnett]. Jay Bellerose, who plays drums in the Pariah Dogs, he's always talking really highly of him and that's really it. I love the records that he makes."

During his impassioned speech, Burnett earned some laughs of his own, joking, "I wrote all this down, but I'm a little drunk now." Still, that didn't dilute his message in any way, as he blasted the industry for poor sound in the digital age and said of those only interested in digital sound, "You don't care about music and I don't want to make music for people who don't care about music."

What was clear is that after four decades, Burnett's passion for music is as strong as ever -- and that's why his peers admire him so.
Billy Joel responds to Elton
Friday, February 11 2011
Billy Joel has responded to Elton's comments on the Today Show (February 10, 2011) that the Piano Man "hates" him for his recent comments in Rolling Stone.
"He sent me a message and he's not happy," Elton told Matt Lauer. "He may want to punch my face. I understand that. I'm sorry I had to say it, but I'm saying it because I really want Billy to live a long life and be very happy. That's all it came from. I understand why he's mad at me. I'm only trying to help. Maybe I should have done it privately, but I've been so frustrated over the years."

But it seems like Billy is trying to take the high road. In a statement released by the singer's publicist, he said:

"1. I do not hate Elton John
2. I do not want to "punch him in the face
3. If he wants to call me, my number is still the same.
4. Good luck with the movie.
BILLY JOEL"

The movie he's referring to is Gnomeo and Juliet, which features music by Elton. Of course, it's hard not to feel that the unhappy "message" he sent Elton privately differed slightly from his public statements.

For those keeping track, this is the second time that Billy Joel has responded (through his publicist) to Elton John's comments. "I've enjoyed our relationship too much to let something as random as these comments change my affection for him," Billy said in a statement last week. "Elton is just being Elton."



Billy Joel responds to Elton's 'Tough Love' in new 'Rolling Stone'
Thursday, February 3 2011 at 05:25:21


Elton busy in New York City
Thursday, February 10 2011
Elton had a busy day in New York City on February 9, 2011, appearing on Letterman and attending AmFar 2011.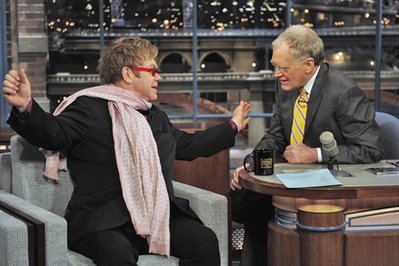 In this photo released by CBS, Elton John, left, talks with host David Letterman on the set of the "Late Show with David Letterman," February 9, 2011 in New York. (AP Photo, CBS, John Paul Filo)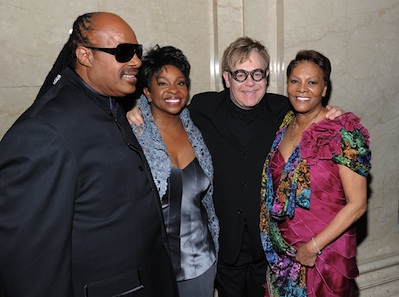 Stevie Wonder, Gladys Knight, Elton John and Dionne Warwick pose backstage the amfAR New York Gala to kick off Fall 2011 Fashion Week at Cipriani Wall Street on February 9, 2011 in New York City. Later that night they performed "That's What Friends Are For".
The Word
Thursday, February 10 2011
The current issue of The Word features Elton John on the love of his life - his record collection ...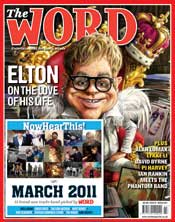 ... plus Ian Rankin, The Phantom Band, Richard Ayoade, Allen Ginsberg, Rastafari, Peter Hammill & Jello Biafra, Jack White, Cherry Vanilla, The Room, the Best & Worst fake bands, Bobby Gillespie, David Byrne, Teddy Thompson, Marianne Faithfull, Ian McMillan, Alan Lomax and Lykke Li.

Also in this issue: columnists David Hepworth, Andrew Harrison and Dave Wibberley, plus our regular round-up of the very best in new music, books, film and DVD.

And that's not all: A free, 15-track CD featuring the best new music of 2010, including tracks from Ron Sexsmith, Matt Berry, The Low Anthem, Patrick Campbell-Lyons, Gruff Rhys, and many more...
Live! with Regis and Kelly
Thursday, February 10 2011
Regis and Kelly welcome the Elton John back to "Live! with Regis and Kelly" to perform and talk about the animated film "Gnomeo & Juliet."
The show will air on February 10, 2011.



Elton John to Regis Philbin: "On Your Knees!"
Thursday, November 25 2010 at 06:49:54


Happy birthday, Nigel!
Thursday, February 10 2011
Elton's drummer Nigel Olsson is celebrating his 62nd birthday on February 10, 2011.
On behalf of the Hercules team and the Elton John fans all over the world, we would like to wish him a happy birthday!
Prince William & Kate Middleton rule out celeb singers for royal wedding
Wednesday, February 9 2011
Prince William and Kate Middleton have ruled out any stars singing at their wedding – even Elton John.
The couple are also believed to be slashing the number of famous guests when they tie the knot at Westminster Abbey. According to a palace source though, Elton and David and Victoria Beckham will be invited.

William and Kate have had offers from many top musicians eager to perform on the big day. Elton – who famously sang Candle in the Wind inside the Abbey for Princess Diana's 1997 funeral – was thought to be a shoo-in. But the couple decided to have traditional church music when they say their vows in front of a worldwide audience on April 29, 2011.

A palace source said on February 8, 2011: "There will just be a choir and an organ. They do not want the day to turn into a performing circus, they want it to be intimate and traditional."

William, 28, and Kate, 29, are inviting around 5,000 guests. She will arrive at the Abbey by car instead of the glass coach, but most elements will be in line with royal tradition.

Meanwhile, Kate will receive advice from royal aide Sir David Manning as she prepares for life as the prince's wife. The veteran diplomat, who also advises William, will mentor her on a range of topics from matters of state to foreign affairs.



Elton: "I won't be at Royal Wedding"
Wednesday, January 26 2011 at 05:10:27

Elton to perform at royal wedding?
Friday, November 26 2010 at 07:11:30


Elton number one on AfterElton.com's Top 50 Gay Male Musicians list
Tuesday, February 8 2011
Pop culture site AfterElton.com published its Top 50 Gay Male Musicians list today, and unsurprisingly, the artist after whom their site is named ranked number one: Sir Elton John.
The name "AfterElton" signifies the breakthroughs made by gay artists after Elton John came out of the closet and officially announced his homosexuality. (There is a companion site named "AfterEllen" in honor of Ellen Degeneres' impact on the lesbian community.)

"These men have been a positive influence for GLBT youth around the world, and by their honesty they have helped shape the current climate and acceptability for being an openly gay male artist in today's music industry." - AfterElton.com

It wasn't always roses for Elton John. While many suspected his orientation in the early 1970s, Elton made no formal comment about it until his 1976 Rolling Stone interview where he hedged and claimed to be bisexual. Even with that compromise, Elton lost a significant chunk of his fanbase and his record sales took a nosedive. It wasn't until years later that his career rebounded and continued to flourish even after he officially proclaimed his sexuality.

Today, Elton is one of the best known and successful singer/songwriters in pop music history with Grammys, Tonys, and even an Oscar in his coffers. He was knighted by the British Government, feted at the Kennedy Center Honors, and has been inducted into both the Rock and Roll Hall of Fame and the Songwriters Hall of Fame.

A power player in not only the music, film, and theater industries, Elton John is a major advocate of AIDS prevention and education, raising millions of dollars through his Elton John AIDS Foundation .

Below are the "Top 10" of the AfterElton.com Top 50 Gay Male Musicians list.

10. Adam Lambert
9. Ricky Martin
8. (The men of) the B52's
7. Neil Tennant (Pet Shop Boys)
6. George Michael
5. Boy George
4. The Village People
3. Michael Stipe (REM)
2. Freddy Mercury
1. Elton John
Elton outs iPad 2 release date
Monday, February 7 2011
Several readers emailed reghardware.com claiming that Elton John today suggested that the iPad 2 will be on sale in April 2011.

Elton's comments came on BBC One's breakfast show on February 7, 2011. Unfortunately, we can't confirm his words: the programme isn't available in BBC iPlayer, and no one's uploaded the segment to YouTube yet.

But the gist of it is that Elton is looking forward to buying an iPad in April 2011 so he can use Skype. Conspiracy theorists immediately suggested Elton is waiting until then because he knows the iPad 2 will be out and that it'll have a webcam on board.

The rain falling on this particular parade is that Elton's intelligence need not have come straight up the yellow brick road from Cupertino, but just what he's been reading about the iPad 2 on the interweb. April 2011 is a good educated guess since it'll be a year on from the release of the current iPad.
'Tiny Dancer' used in Budweiser Super Bowl commercial
Monday, February 7 2011
Peter Stormare, known actor from the movies Prison Break and Fargo was the main character in the Budweiser Super Bowl Commercial that featured the Wild West.
Focusing on a name brand beer and giving the audience a funny storyline, the 30 second spot seen during the NFL game had everyone laughing. Looking to be a wild cowboy type, Peter Stormare walks into a bar and demanded a Budweiser Beer. After getting a case of the beer in only the nick of time, the character takes a sip. This is where the storyline goes from Wild West to just plain crazy as he starts singing the famous hit from Elton John, 'Tiny Dancer.' The bar joins in and everyone seemed to be happy in the end.

While the advertising was funny and definitely made everyone laugh out loud, most found there to be a slight disconnect between the beer Stormare was pitching and the story as we would have loved to see more on how the horses got the beer to the bar so quickly. Who doesn't love looking at Clydesdales, even it if is only on the television screen?

Take a peek at the video clip of the Budweiser Super Bowl Commercial http://www.facebook.com/Budweiser.
James McAvoy: "Let me be Elton John"
Sunday, February 6 2011
James McAvoy wants to play Elton John in a film version of his outrageous life ... with the star's approval.
Elton has announced he is making a movie about his rock 'n roll years. The Mamma Mia-style musical is being written by the writer behind the hit film Billy Elliot.

McAvoy, who voices a love-struck garden gnome in new film Gnomeo & Juliet produced by Elton, said: "I can play piano and if you've not found that person to play you at the age of 31, I'm here."

Elton said: "James could do it and he's already offered. I'd just like to make a really great film about my life story. We have a great script already by Lee Hall who wrote Billy Elliot."



James McAvoy: "I admire Elton John"
Wednesday, January 26 2011 at 05:27:28


Elton loving 'adventures in daddyland'
Sunday, February 6 2011
Elton says fatherhood has had a profound impact on his life and that of his longtime partner David.
The couple had their first son, Zachary, via a surrogate birth on Christmas Day. Elton says Zachary didn't influence songwriting for their new Disney animated family comedy, Gnomeo & Juliet, because the movie took 11 years to get to the big screen. That's not an abnormal gestation time in the animation world.

"The thing with animation films is you have to write the songs quite a long time ahead because you're writing for the storyboards and you have (to place) things in them," says Elton in front of a packed news conference with David and other crew and cast members beside him. Of course, that doesn't mean Zachary won't have a big influence on both his and David's creative lives.

"I never thought one day actually I'd be a father," says Elton, who has many godchildren while David, 48, has many nephews and nieces. "But I'm very pleased I changed my mind. Children are extremely important. They are the future of the world. As long as David and I bring him up to be a loving and compassionate boy, then I'll be very happy."

"Adventures in daddyland -- oh, it's fantastic," Elton continued. "I love the smell of nappies, diapers. Obviously, it's been the most wonderful thing that's probably ever happened to me, after meeting David. The most surprising thing is that it's been very relaxing. This little soul that you're feeding, changing, bathing and telling bedtime stories to is a blank palette, a blank canvas. All it needs is love and nurturing ... When he gets to talking and running around, I'll probably feel a little different."

Next up film-wise, Elton says, is a biopic about his colourful life, which has included great musical success and AIDS-fundraising while battling booze, drugs, bulimia, overspending and during a brief marriage to a woman before his 17-year relationship with David, whom he entered into a civil partnership with in England in 2005.

"I'd just like to make a great film about my life story," Elton says. "We have a great script by Lee Hall, who wrote Billy Elliot (the musical that Elton co-wrote). Obviously, it's not going to be your normal run-of-the-mill film because my life has been kind of crazy. I think it's important to do a sort of surrealistic take on my life. I'd love to do that."

But, for the most part, John says he likes not knowing what is around the corner. "This business is so incredible," he says. "In 1993, I got a phone call from Tim Rice (who asked if) I would do The Lion King ... At that time, all I was doing was making records, touring and doing videos. It gave me the opportunity, with that one phone call, to suddenly write musicals for the stage, film scores; it just opened so many things ... If you'd have said in 1990, 'You're going to make a film about garden gnomes (one day),' I'd have said you're crazy!"

"We actually wrote four new songs for the movie, and two of them got left out," Elton said. "One of them was a great song that Lily Allen sang. But the storyboards change, the story evolves and things just get left by the wayside. That's the way you have to accept it when you write for a musical or you write for an animation movie that has music in it."

Elton John was in top form on many subjects during a recent press conference to promote his new film, Gnomeo & Juliet, which he provides the music for and executive-produced. Here's the best of the rest of what he had to say:

"Not really. We started the film 11 years ago and if we'd have had the foresight to do that I'd have said we were f---ing genuises!"
On whether the feud between the red and blue garden gnomes was a metaphor for the current polarized political landscape in the U.S.

"I don't know Kate and William so I'd made a joke that I'd probably be busking outside. But as far as I know, I don't think so, no. It'll probably be someone like Barry Manilow. Someone younger and more attractive."
On whether he'd be playing at the royal wedding.

"Chance to see it? We've decorated our whole apartment in it!"
On the US Weekly cover picture of himself, Canadian partner David Furnish and their new son, Zachary.

"There I am, Glam Gnome, the Gnomo-sexual in the film!"
On his animated self in the movie.

"Obviously, ballet's not an option."
On what he has left to do in his career.

"I can remember things. I don't take drugs anymore. It's a whole new world out there."
On performing live now versus 30-40 years ago.



"Gnomeo & Juliet" - even more videos available
Thursday, February 3 2011 at 16:29:40

An iPod for Zachary
Tuesday, February 1 2011 at 09:58:05

Elton and David coming to Canada with Zachary
Saturday, January 22 2011 at 13:32:37


Elton says he wants Rush Limbaugh to support civil unions
Saturday, February 5 2011
Elton John says he wants unlikely friend Rush Limbaugh to say he supports civil partnerships for gay couples.
The singer sang at the controversial radio host's wedding last year and was reportedly paid $1 million for the gig. He was a surprising choice for Limbaugh, who strongly opposes marriage equality.

Elton said this week that the radio host had called to congratulate him on his new son and added: "My goal is for Rush to say, 'I support civil partnerships,' and if I rang him right now, I think he might agree." Whether Limbaugh will pledge his support for legal recognition of gay couples remains to be seen.

After his wedding, he claimed that he and Elton both opposed marriage for gay couples. Elton, who can usually be relied upon to say something controversial in interviews, had nothing but praise for bisexual star Lady Gaga. He said: "She's a phenomenal star – definitely someone who will be taking on the old sods like me, McCartney and Rod Stewart doing big tours for years to come. Pure genius."



Elton dismisses Cheryl Cole and The Saturdays music as 'awful' in four-letter tirade
Saturday, February 5 2011
He's known for being outspoken, and this time it's the likes of Cheryl Cole and Kim Kardashian who Elton John has in his sights.
Speaking in the latest issue of The Word Magazine, Elton has launched into a four-letter tirade aimed at a string of reality stars and pop acts. Cole and Kardashian came in for particular criticism, along with pop acts such as The Saturdays and Westlife.

"Frankly, they all sound the same," he said. "It's hard to tell Girls Aloud from The Saturdays. And then there's Cheryl Cole... it's all c**p. British pop music like that is the worst, it's just awful, it could have been made by anybody."

But it wasn't just pop acts who received a tongue-lashing from the chart-topper, who also expressed his dislike of reality stars. "Who the f*** is Kim Kardashian?" he said. "Some stupid old tart from somewhere. Reality has killed talent."

Elton went on to speak out against lip-synchers, saying that they "should be shot" - before launching into a tirade against boy bands. "Go and see Take That or Westlife," he said, "and how much of that is live?"

"I know Gary Barlow can sing live, that solves that one. I think they genuinely do sing their stuff, but 99 per cent of the other f****** Herberts out there can't sing a note. The records I love are all about musicianship," he added, "when you put a bunch of musicians in a room together there's human soul, there's magic in there. That's not happening now."

He also questioned the ability of X Factor finalists. "Can any of them cut the mustard?" Elton asked. Elton's outspokenness comes just days after he was forced to apologise on Radio 2 for swearing on air. He made the blooper during an interview with Chris Evans while the pair were discussing fellow musician Jools Holland.



Elton drops the F bomb on the air
Saturday, January 29 2011 at 06:11:18


Aberdeen FC bosses win pitch battle over Elton John gig
Saturday, February 5 2011
ABERDEEN FC chiefs have won a six-year compensation fight after an Elton John concert wrecked the Pittodrie pitch, the Evening Express revealed.

Aberdeen Football Club launched a £36,000 legal case against London-based Marshall Arts Ltd, the promoter behind Elton John's sell-out show.

And on February 03, 2011 it was confirmed the long-running saga of Aberdeen FC's pitch has been settled out of court.
Elton is down with the flu
Friday, February 4 2011
Elton had to call off the Geneva show on February 3, 2011 in the last minute. The shows in Dijon and Strasbourg are also post-poned ... again.
The three shows in Geneva, Dijon and Strasbourg were originally scheduled for December 2010 and have already been postponed once. Now fans hope that they will actually take place once now that the new dates have been confirmed.

The Geneva show is going to take place on May 26, 2011. Dijon has been confirmed for May 27, 2011 and Strasbourg for May 28, 2011.
"Gnomeo & Juliet" - even more videos available
Thursday, February 3 2011
Even more newly released video clips from Touchstone Pictures' "Gnomeo and Juliet" are now available.
Gnomeo & Juliet: Music Video – Elton John and Nelly Furtado in "Crocodile Rock"



Gnomeo & Juliet: 'Little Gnome Facts' # 1



Gnomeo & Juliet: Film Clip "Doomed Love"





Gnomeo & Juliet: Elton John Movie Chat
Tuesday, February 1 2011 at 12:52:14

"Gnomeo & Juliet" - more videos available
Wednesday, January 26 2011 at 11:25:18

"Gnomeo & Juliet" - new videos available
Thursday, January 20 2011 at 18:46:25


Elton doesn't want to read Keith's too-candid memoirs
Thursday, February 3 2011
Talk of pal Mick Jagger's alleged small penis and his miserable nature has put Elton John off reading Keith Richards' memoirs "Life".
Elton was looking forward to reading the 2010 book, but early details of the rocker's revelations put him off. He insists he'd never be so candid about his longtime songwriting partner, Bernie Taupin.

He says, "I was a bit put off by hearing the bit about Mick's penis. I'm a big Mick fan. If I said that Bernie Taupin was a miserable c**t and had a small penis, he'd probably never talk to me again. It's like, 'Why do that?' especially with someone you're in a working relationship with."

And Elton fears the book will bring back too many bad memories for him. He tells Rolling Stone magazine, "It just sounds like it will take me back to the drug things."
The rocker spent much of his early career battling drug addiction problems.



Elton John says Billy Joel needs 'Tough Love' and rehab for alcoholism
Wednesday, February 2 2011 at 08:47:19


Elton and Leon on "Late Show with David Letterman"
Thursday, February 3 2011
Leon Russell joins Elton John on 'Late Show with David Letterman' on February 9, 2011.

As the Grammy Awards and the Rock and Roll Hall of Fame Induction ceremony approach, expect to see a little more of Leon Russell. Russell will join Elton John on the 'Late Show with David Letterman' as musical guest on February 9, 2011.

Elton John will chat with Letterman on the show, along with actor Ty Burrell. Russell will then join Elton, presumably to perform the Grammy-nominated song "If It Wasn't For Bad."

Elton has been making the interview rounds, with a number of developments of his own: the birth of his son Zachary on Christmas Day, 2010, the release of "Gnomeo and Juliet", the animated film he produced with partner David Furnish, and an upcoming appearance as presenter at the Rock Hall induction.

The 'Late Show with David Letterman' is televised on the CBS Television Network at 11:35 p.m.-12:37 a.m., ET/PT nightly. The 53rd Annual GRAMMY Awards will air on February 13, 2011 at 8 p.m ET/PT, also on CBS. Elton John and Leon Russell are nominated for Best Pop for "If It Wasn't For Bad," the first single from their recent hit album The Union.



The Rock and Roll Hall of Fame announces its 2010 inductees
Thursday, December 16 2010 at 08:51:42


Emily Blunt was overwhelmed by Elton
Thursday, February 3 2011
Emily Blunt was so "overcome" when she met Elton John she launched herself into his arms.
The actress voices the character of Juliet in new animation "Gnomeo & Juliet", which is inspired by English playwright William Shakespeare's classic tale of star-crossed lovers Romeo and Juliet. Elton and David were executive producer and producer of the project respectively, and spent 11 years trying to get it made.

Although Eltonwas very involved with the movie, Emily didn't meet him face to face until recently. She admits being overwhelmed when he saw him, and embarrassing herself. "David was in the studio a few times. Elton had the clout to keep the project on track when we needed it," she explained. "But I didn't meet him until ten days ago in LA, the lift doors opened and there he was. I think I was overcome and fell into his arms."

Emily admits she wasn't sure about the project – which also features JamesMcAvoy, Ashley Jensen and Sir Michael Caine – when she first heard about it. She soon changed her mind when she read the script though, and thinks it will be as big a hit with adults as with kids. The 27-year-old revealed one of the reasons she thought twice about getting involved was the subject matter. Garden gnomes are the main stars of the feature, and she has always been terrified of them.

"I used to be scared of gnomes. Little bearded men in your garden? I didn't understand the appeal. This film has been a healing process, we're making them into being romantic, charming little objects," she told the BBC. "I was really baffled at first. I got a call from my agency, 'You've just been offered this animated film, it's called Gnomeo and Juliet.' And I just thought, 'Oh no!' Because I knew what they were doing instantly, and then when I read the script it was the most charming and witty thing. It was a very easy yes once I'd met everyone involved."



Billy Joel responds to Elton's 'Tough Love' in new 'Rolling Stone'
Thursday, February 3 2011
Billy Joel has responded to Elton John's allegations in the new Rolling Stone that he's never seriously attempted to curb his drinking habits.
"I've worked with Elton for such a long time and I've enjoyed our relationship too much to let something as random as these comments change my affection for him," Joel said in a statement. "Elton is just being Elton."

In the interview, Elton was also critical of Joel's decision to stop writing new music. "At the end of the day, he's coasting," Elton said. "I always say, 'Billy, can't you write another song?' It's either fear or laziness. It upsets me. Billy's a conundrum. We've had so many cancelled tours because of illnesses and various other things, alcoholism. He's going to hate me for this, but every time he goes to rehab they've been ligh. When I went to rehab, I had to clean the floors. He goes to rehab where they have TVs. I love you, Billy, and this is tough love. Billy, you have your demons and you're not going to get rid of them at rehab light. You've got to be serious. People adore you, they love you and respect you. You should be able to do something better than what you're doing now."

Elton and Billy have had numerous highly successful co-headlining tours over the past 15 years, but last year Billy cancelled a planned stadium run. He recently had double-hip replacement surgery and it's unclear when he plans on returning to the road.



Elton John says Billy Joel needs 'Tough Love' and rehab for alcoholism
Wednesday, February 2 2011 at 08:47:19


Jane Lynch wants Elton John for Glee
Wednesday, February 2 2011
Jane Lynch wants Elton John to star in Glee as her love interest.
Her co-star Matthew Morrison put forward the suggestion and Jane said she would be "all over it". She told People, "I love that idea, and I'm all over that idea. From [Morrison's] lips to [executive producer] Ryan Murphy's ears!"

She added that her hard-nosed character Sue Sylvester would be a perfect match for Elton. "Someone Saved My Life Tonight is probably her favourite ballad, so I don't think he would have any problem," she added.



Elton John says Billy Joel needs 'Tough Love' and rehab for alcoholism
Wednesday, February 2 2011
Elton John knows Billy Joel is going to "hate him" for it, but he's publicly speaking out about his friend and fellow musician needing to get serious about conquering his alcohol addiction.
The AP reports Elton told Rolling Stone that he and his former touring partner had to cancel many shows in the summer of 2009 because of Joel's sicknesses and "alcoholism." The musical legend and new father said Joel needs to "do something better" with his life and go to rehab like he did, with patients cleaning floors and not watching television.

Joel has checked into rehab for his alcohol issues on two occasions-- for two weeks in 2002 and for about a month in 2005. In a 2003 interview with Dateline, he admitted, "I can abuse alcohol, if the demons get me, I'll go on a bender. It's happened to me before. That's why I went into rehab. I was on a binge. I was on a bender. And I said this is stupid. I gotta stop. And I went and I did stop. And I've learned to recognize what those signs are. Everybody can abuse alcohol... Anybody can drink too much. But I've cooled that out."

When asked if he considered himself an alcoholic, Joel replied, "No. I'm an alcohol abuser. I mean alcoholic is--you can't live without the stuff and it's toxic to you. If you drink too much, no matter who you are, whether you're an alcoholic or not, you're going to do harm to yourself."

Elton himself has sought help for problems with alcohol, drugs and bulimia throughout his career. He's now practicing "tough love" to try and force the piano man into sobriety.

The full Elton John interview will appear in ROLLING STONE MAGAZINE issue #1124 out on February 17, 2011.
Elton John, Paul Simon and Neil Young tapped as presenter for Rock and Roll Hall of Fame inductions
Wednesday, February 2 2011
Elton John, Paul Simon, Neil Young, Bette Midler and John Legend will be among the presenters at the Rock and Roll Hall of Fame's 26th annual induction ceremony on March 14, 2011, at New York City's Waldorf-Astoria Hotel.
The incoming Hall of Famers include Alice Cooper, Neil Diamond, Dr. John, Darlene Love, Tom Waits and Leon Russell.

The Rock Hall has not announced specifically which presenters will induct which honorees, but it's a safe bet that Elton will do the honors for Leon Russell. They teamed up to record an album, "The Union," released in October.



The Rock and Roll Hall of Fame announces its 2010 inductees
Thursday, December 16 2010 at 08:51:42


Elton/Lady Gaga duet not on soundtrack album
Wednesday, February 2 2011
If you want to hear Elton John's duet with Lady Gaga, you'll apparently have to buy a movie ticket.
The soundtrack version of "Hello Hello," the slow-tempo pop ditty written by Elton and Bernie Taupin for the upcoming animated film "Gnomeo & Juliet," only features Elton, while the rendition including Lady Gaga is only in the movie. A spokeswoman for Buena Vista Records confirmed the duet is only in the film and wouldn't be released on radio.

Elton said in an interview that he asked Gaga to join him for the song last year after she performed at a charity benefit at his home in England. Their collaboration could end up on her upcoming album, "Born This Way," though it's unlikely because the duo aren't labelmates. A spokesman for Interscope, Lady Gaga's label, declined to comment.

Lady Gaga is expected to perform the title track from "Born This Way" on February 13, 2011 at the Grammys, the same awards show where Elton joined Lady Gaga last year for a mash-up of her "Speechless" and his "Your Song." Elton said he's heard "Born This Way" and called it "the song that will wipe 'I Will Survive' off the map." Lady Gaga released the song's lyrics on Twitter last week.



Elton: Glee tributes a compliment
Wednesday, February 2 2011
Elton John has said he would be honoured to have an episode of Glee dedicated to his music.
Elton - who recently recorded a duet with Glee star Matthew Morrison - said he is a big fan of the musical TV show and would love to make a cameo in it. Elton said: "I haven't been asked to go on Glee but I love the show, it's such a positive show and I enjoyed doing the Matthew Morrison duet very much. It's a great show, it's fun, I can't believe people don't like having their music on it, I just think it's a compliment."

Elton also revealed plans to perform live with Lady Gaga, who he duets with on the soundtrack to his new 3D animated film "Gnomeo And Juliet". He praised her highly anticipated new album, calling it "amazing", and added: "Born This Way, the first single is phenomenal and is an anthem that will be played for years and years. It should be upwards and upwards for her."



Gnomeo & Juliet: Elton John Movie Chat
Tuesday, February 1 2011
Elton John gives incite into his role in the upcoming film Gnomeo & Juliet on screenslam.com.
"Gnomeo & Juliet" - more videos available
Wednesday, January 26 2011 at 11:25:18

"Gnomeo & Juliet" - new videos available
Thursday, January 20 2011 at 18:46:25
An iPod for Zachary
Tuesday, February 1 2011
Elton John is determined his baby son Zachary becomes a music fan before he's a toddler - the tot has his own miniature iPod.
Elton is eager for his child to have great taste in tunes, so he has downloaded his favorite songs onto an MP3 music player for the baby - and the selection includes some of his own classic hits.

He tells Britain's Hello! magazine, "It's a teen-tiny little thing, so small you can hardly believe it even is an iPod, but David and I put it together for him. He has Chopin, Mozart, Carole King , the Carpenters, James Taylor, me, Kate Bush, Linda Ronstadt. Oh, and lullabies by Led Zeppelin, so it's a nice mix."

"This boy is going to grow up surrounded by all the good things. Great music, great art, lots of travel, lots of time with our wonderful artistic friends, so he's going to be inspired for the whole of his life."



Elton's song secret
Wednesday, January 26 2011 at 05:25:10

Elton and David coming to Canada with Zachary
Saturday, January 22 2011 at 13:32:37

UPDATE: Elton introduces the world to his son
Tuesday, January 18 2011 at 08:39:07


This day in music
Tuesday, February 1 2011
On February 1 ...
... 1986, Music publisher Dick James died of a heart attack aged 65. He worked with many U.K. '60s acts including The Beatles. James signed Elton John and his lyricist Bernie Taupin as unknown artists in 1967 and was the founder of the DJM record label.

... 1992, George Michael and Elton John went to #1 on the U.S. singles chart with "Don't Let The Sun Go Down On Me," also a #1 in the U.K. All proceeds from the single went to Aids charities.

... 2001, a collection of Sir Elton John's private photos on display at a museum in Atlanta was withdrawn. The exhibition was said to be too explicit and some school trips to the museum had been cancelled.