ELTON JOHN NEWS ARCHIVE: June 2010
Ozzy Osbourne likens Lady GaGa to early Elton John
Tuesday, June 29 2010
Ozzy Osbourne admits he doesn't "go out and watch new bands" but he's gotten a glimpse of Lady GaGa to have decided that he likes the "vibe she puts out" when it comes to her performances.
In fact Ozzy says that GaGa's "craziness" and eccentricity remind him of another star from his own generation, saying that her act reminds him of what "Elton John used to do years ago." In contrast Ozzy's seen enough of the talent show contestants who paint themselves as "vocal acrobats" in an attempt to rip off Mariah Carey.

But Ozzy laments that even as unique as Lady GaGa's act is, it's something that "everyone else has started copying."



Elton John's White Tie and Tiara ball
Saturday, June 26 2010
The rich and famous were treated to a gothic spectacular and a duet from Elton John and Lady Gaga, at this year's White Tie and Tiara.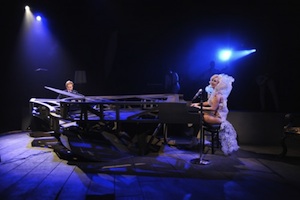 The rich and famous were treated to a gothic spectacular which combined elements of a Victorian asylum with futuristic fantasy at Sir Elton John's White Tie & Tiara Ball on June 24, 2010. The evening, hosted by the singer and his partner, David Furnish, at their home in Old Windsor, raised more than £5.6 million for the Elton John AIDS Foundation.

This, the 12th annual White Tie & Tiara Ball, was inspired by the 'star' of the event, Lady Gaga, who made her first appearance dressed as a 'bride' out of an Edgar Allan Poe horror tale, in a see-through gown and matching knickers by the young Italian designer, Francesco Sconamiglio, with a gilded "cage" by Viktor & Rolf over her face, and a treasure trove of Chopard diamonds.

"It's a Lady Gaga Wonderland," said Elton, as he mingled in the grounds with 650 guests, many of whom appeared bemused by the strait-jacketed performance artists dangling from the trees, and the "men-in-white-coats" and "bandaged" waiters serving cocktails in medicine bottles, and canapés in metal surgical trays.

"We're all ga-ga tonight," said Christina Juffali, the wife of the Saudi billionaire, Walid Juffali, resplendent in Oscar de la Renta couture, and a choker of Chopard "gold diamonds". David Walliams arrived with his new bride, the model, Lara Stone, who wore a blood-red Calvin Klein gown. Also in scarlet, was the Khazakhstan beauty, Goga Ashkenazi, a friend of Prince Andrew, who was among the guests.

Other celebrities included Dame Shirley Bassey, in an Isabell Kristensen gown, who had flown in from Monaco, just for the ball; Elizabeth Hurley, in white Versace, and her husband Arun Nayar; Alex Curran, the wife of the England captain, Steven Gerrard; the couturier, Valentino; the actress, Kate Beckinsale; Sharon Osbourne and her daughter, Kelly; Boris Becker and his wife; Jimmy Carr; Mylene Klass; Lily Cole; Tracey Emin; Jon Bon Jovi and family; Jake Shears of the Scissor Sisters; Kid Rock; Kerry Katona; Peter Andre; and the singer, Paloma Faith.

After a dinner of scrambled eggs with caviar, followed by Cumbrian lamb, and a chocolate bombe with peanut butter ice-cream, guests were invited to place multi-thousand pound bids in a luxury auction, in which a new, one-off Audi A1, spin-painted by Damien Hirst, went for £350,000.

Money raised at the balls, which have become an annual feature of rural Old Windsor, support the numerous health, education and community programmes which the Elton John AIDS Foundation supports in Africa.

Lady Gaga bought the evening to a thundering close with a dueling grand pianos session with Sir Elton, which combined her power-ballad, "Speechless", and one of his greatest hits, "Your Song".
Vintage Rolls-Royce stars with Elton John's Bentley at Bonhams
Saturday, June 26 2010
A 1996 Bentley Continental T Coupé, which was first owned by music legend Sir Elton John, was one of the highlights at Bonhams' Rolls-Royce, Bentley Motor Cars & Automobilia sale in Leicestershire on Saturday, June 19, 2010.
Sold for £58,700, the car has only 25,000 miles on the odometer. Overall, the sale made £822,957 in total with an 82% sale rate.

"This is a pleasing result showing a continuing demand for Rolls-Royce and Bentley motor cars," said Jamie Knight, Group Head of the Motoring Department at Bonhams.

In other Elton John auction news, a stunning and stylish Art Deco statuette formerly owned by the star, The Cigarette Girl, also auctioned at Bonhams earlier this month for £25,200.



Elton Bentley up for auction
Thursday, May 18 2006 at 10:46:27


Elton John readies two new albums
Saturday, June 26 2010
Elton John is set to release two new albums with the first being a double live CD called 'At The Verona Arena' which will be released on August 2, 2010.

At The Verona Arena is a recording of a performance in Italy last summer.

Elton has also confirmed that a brand new studio album, "The Union", is expected on October 19, 2010. Sixteen tracks are currently being mixed for the follow up to 2006's "The Captain and the Kid" and it will feature legendary guest performances from Neil Young and Brian Wilson.

Elton says, "I can't stress enough how significant an influence Leon Russell was on the music of Elton John and Bernie Taupin. In 1970, when we first went to America and I played the Troubadour, we were obsessed by Leon's music, and looked up to him as some kind of musical god. On the second night of the Troubadour concerts he was there in the front row, but luckily I didn't spot him until near the end of the show, otherwise I would have been a nervous wreck." The album's 16 tracks are being produced by T Bone Burnett.



Elton John and band performed in Kosice on June 22, 2010
Friday, June 25 2010
Fotos by Peter Bucek.
Following is the complete set list of the Kosice show on June 22, 2010:
Funeral For A Friend

Love Lies Bleeding

Saturday Night's Alright (For Fighting)

Levon

Madman Across The Water

Tiny Dancer

Philadelphia Freedom

Goodbye Yellow Brick Road

Daniel

Rocket Man

I Guess That's Why They Call It The Blues

Sacrifice

Take Me To The Pilot

Something About The Way You Look Tonight

Don't Let The Sun Go Down On Me

Sorry Seems To Be The Hardest Word

Candle In The Wind

Sad Songs Say So Much

Bennie And The Jets

The Bitch Is Back

I'm Still Standing

Crocodile Rock

Circle of Life

Your Song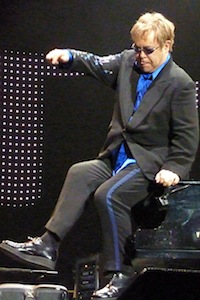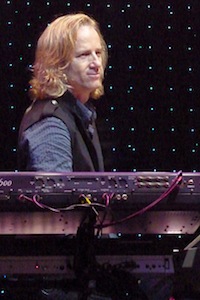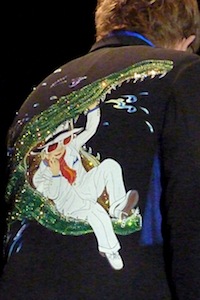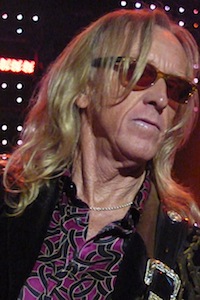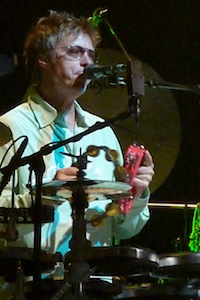 'Next Fall' to close
Friday, June 25 2010
The little-show-that-could couldn't make it on Broadway after all. The producers of the original play "Next Fall" said on June 22, 2010 that the production would close at the Helen Hayes Theater on July 4, 2010, after 26 previews and 132 regular performances.
"Next Fall" cost about $2 million to mount, and one of its lead producers, Richard Willis, said that the show will close at a total loss to its producers and investors.

A comedy-drama by Geoffrey Nauffts about a gay couple tested by religious differences and interfering family and friends, "Next Fall" was something of a test case for new plays without well-known cast members trying to make a go of it on Broadway. "Next Fall" received strong reviews from several theater critics, and enjoyed publicity when Elton John and David Furnish signed on as producer-presenters.

But in the end, the audience did not build. "Next Fall" was regularly one of the lowest-earning shows on Broadway, barely covering its weekly running costs. For its eight performances last week, the play grossed $154,207 — just 30 percent of the maximum that it could have earned — and filled only 60 percent of the seats in the Helen Hayes, a 597-seat theater that is Broadway's smallest.

The producers had hoped for recognition at the June 13, 2010 Tony Awards, but "Next Fall" lost out to another new play, "Red," for the Tonys for best play and best director of the play, the two categories in which it drew nominations.

Asked why "Next Fall" was closing, Mr. Willis said, "We looked at the numbers and tried to figure out all of our options to keep running, and we realized that we didn't have any options." He said he had no solid theory about why the show failed to build an audience, except perhaps the competition from other plays and musicals this spring; many productions earned far more than "Next Fall," especially those with stars in the cast. Mr. Willis said he stood by the decision to retain the cast of mostly little-known actors — some of them theater veterans — when he and his partners transferred the show after its well-attended Off Broadway run during the summer of 2009.

Mr. Willis added that he planned to talk to Elton and David about mounting a production of "Next Fall" in London, and also planned to look at other theater markets in the United States for possible productions. No plans are set, though.



Damien Hirst donates Audi A1 'art car' for EJAF
Wednesday, June 23 2010
This year's White Tie and Tiara Ball, which takes place on June 24, 2010 and will be held – as always – at the home of Elton and David, will feature an extraordinarily special auction item. Audi, which has been one of the Ball's key supporters over many years, is donating an A1 car that has been made into a work of art by Britain's foremost contemporary artist, Damien Hirst.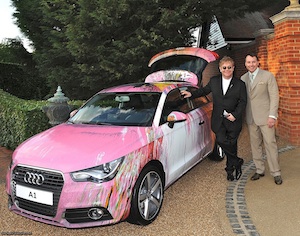 The unique Audi A1 has been spin painted by the artist in his studio in Gloucestershire, and is fully driveable and road legal. "This is one of the most exciting auction items we have ever had for White Tie" said Elton, pictured with partner David Furnish in front of the Hirst Audi. David adds "Audi has been a wonderful partner with us, and this year they have really produced something fantastic. I am sure it will be a huge hit with our guests". As part of the same Lot, the car will be auctioned with a 6ft diameter canvas spin painting, which Hirst completed at the same time.

The A1 is so new it will not be seen on UK roads until November 2010, and this special artwork has been created even in advance of the car's mainland European launch dates. The uniquely finished example of the premium compact hatchback was produced in close collaboration with Audi AG in Germany, which has been engineering the production for more than six months.

2010 is the eighth year Audi has supported EJAF with special auction lots. The A1 art car is the most remarkable and exclusive donation Audi has ever made. Bidders on the night will have a once-in-a-lifetime chance to own this piece of Hirst's exceptional work.

"We are enormously proud to support Sir Elton John's remarkable fundraising ball for the eighth year in succession with the donation of a priceless and unrepeatable work of art for auction" commented Audi UK Director Jeremy Hicks.

The White Tie & Tiara Ball, now in its 12th year, is the EJAF's foremost fundraising event, generating some £40 million since its launch in 1993. For more information visit www.ejaf.com.
Elton John OK's "Love Lies Bleeding" tour
Tuesday, June 22 2010
"Love Lies Bleeding" will tour in 2011 after getting a go-ahead from Elton John.
Elton John has given the thumbs-up to a tour of "Love Lies Bleeding", the Alberta Ballet production based on his life and music. The ambitious work choreographed by Alberta Ballet artistic director Jean Grand-Maître premiered May 6, 2010 in Calgary.

Although Elton was not able to attend the ballet because of a scheduling conflict, his friend and adviser Ray Cooper was there on opening night. Based on Cooper's advice — and critical acclaim — Elton has approved a tour of the multimedia production starting in 2011, Alberta Ballet announced on June 22, 2010.

"I am proud of what the Alberta Ballet has created and I am looking forward to seeing this ballet live on," Elton said in a statement. "It is a strong, contemporary choreography that entertains and challenges dance audiences with its new esthetics and its powerful fusion of different art mediums. I hope it will attract thousands of new patrons to this wonderful art form."

"Love Lies Bleeding" drew critical acclaim for its mix of contemporary music, multimedia and colourful costumes. Elton approached the Alberta Ballet about the project after seeing the company's well-received Fiddle and the Drum, based on the music of Joni Mitchell, in 2007. He picked the music and gave Grand-Maître carte blanche for the rest of the $1.2-million production. Grand-Maître said the tour would make his ballet company "cultural ambassadors of our province and our country around the world."



Pipe Band raises funds for uniforms with Elton John concert ticket raffle
Saturday, June 19 2010
The Williams Lake Pipe Band has embarked on a unique fund-raising campaign to buy kilts for the whole group, which has now grown to 17 members, says John Visentin.
The band is selling raffle tickets to an Elton John concert on July 16, 2010 in Prince George to raise money for kilts -- the first prize is two concert tickets and a night's accommodation.

The second prize is two tickets to the concert. He says there are new pipers and drummers in the band and new piping and drumming students, including school kids, young people and adults. "Having a uniform look for the band is a big part of the tradition and history of pipe bands, and the Williams Lake Pipe Band is working hard to reach that goal," Visentin says.

The goal is to purchase material from the same colour dye lot so that it is identical, and have the kilts professionally made. He says the band got a gaming license to sell the Elton John concert raffle tickets thanks to the application sponsorship of Williams Lake and District Crimestoppers, and a percentage of the proceeds from ticket sales goes to help that program as well.

The Williams Lake Pipe Band provides a unique service to the community by performing at events such as the Legion's Robbie Burns celebrations, Performances in the Park, Canada Day celebrations, Remembrance Day ceremonies, Stampede Street Party, the Harvest Fair, High School Rodeo parades, Rugby Club Polar Bear Swim, various Cadet events and reviews, Relay for Life, Quesnel Forks 150th Mining Anniversary and Grade 7 graduation events.

Tickets are available at About Face Photography, Sight and Sound, WLD Financial at Williams Lake and District Credit Union and from band members stationed at Save-On Foods and the lower level of Boitanio Mall from noon to 4 p.m. every day.

For more information about the band, phone John at +1-250-398-7964, Joe at +1-250-398-7210 or Sandy at +1-250-392-2221.
Israelis welcome Elton John amid boycotts
Friday, June 18 2010
Some 50,000 Israeli fans welcomed Elton John at a one-off concert on June 17, 2010 amid relief the pop icon performed after a string of artists cancelled gigs in the Jewish state.
Israel faced a wave of recent cancellations after a deadly May 31, 2010 Israeli naval raid on a foreign aid flotilla that left nine activists dead. Israel's Channel One television hailed Elton as a "single righteous artist in a sea of boycotters," after he arrived for the show.

Among those that have cancelled in the wake of the flotilla raid were US alternative rock group The Pixies along with London-based indie punk band Klaxons and Gorillaz, a hiphop project fronted by Blur's Damon Albarn.

That follows cancellations in recent months by high profile musicians, including Britain's Elvis Costello, rock guitarist Carlos Santana and rap forefather Gil Scott-Heron, after they came under pressure over Israel's policies towards the Palestinians.



Cancel Israel!
Thursday, May 20 2010 at 17:24:39

Tickets for Elton's Israel show selling fast
Thursday, February 11 2010 at 09:32:18

BRICUP tells Elton John 'Don't Play Israel'
Thursday, February 4 2010 at 11:48:59


£1 notes signed by Elton John, Tony Blair and John Travolta to go to auction
Thursday, June 17 2010
What have the Pope and Senator John McCain got in common? Both of them mistook £1 notes sent to them to be signed for a collector as a donation towards their causes and kept them.
But the collector was a lot more successful with other public figures and his varied collection of £1 notes signed by world leaders, sporting champions and stars of stage and screen is set to go under the hammer at a Dorset auction house at the end of June 2010.

The collection of hundreds of autographs collected over a 10-year period by a Somerset man is expected to fetch up to £4,000. Richard Bromell, of Sherborne saleroom, Charterhouse, said the collector had sometimes sent lottery tickets or playing cards instead of pound notes.

But Mr Bromell added: "Not everyone sent a £1 note returned them. Both the Pope and Senator John McCain sent a letter back to the vendor thanking him for his kind £1 donation."

Prime Ministers John Major, Tony Blair, Edward Heath, and David Cameron, while opposition leader, are among the political heavyweights included in the collection. Sporting champions Sir Henry Cooper, George Best, Sir Bobby Moore, and Jack Brabham, and military heroes, Simon Weston and General Sir Mike Jackson also feature. Pavarotti, John Travolta, Cliff Richard, and Elton John are among the representatives from the world of entertainment.

The notes will be auctioned at 10am on Friday June 25, 2010.
Elton 'a little surprised' at Rush Limbaugh wedding Invite
Thursday, June 17 2010
Add Elton John to those who were not expecting him to get an invite to Rush Limbaugh's wedding.
"To put it in Elton's exact words, when he got the invitation, he was 'a little surprised,' " David Furnish told PEOPLE on June 13, 2010 at the Tony Awards in New York. "And then, when it turned out to be a genuinely sincere invitation … Elton said, 'Life is about building bridges, not walls.' "

Elton also saw it as another opportunity, in his words, "to go where people wouldn't expect me to go. And maybe if I can make a great impression," David quoted him as saying, "people might change their perspectives on life."

David was in Europe and couldn't attend the wedding. But Elton told him it was a beautiful event and Limbaugh and his bride "were incredibly gracious and very welcoming and very sweet and very appreciative. Elton, during the performance made a lot of cracks: 'I suppose you all wonder why I'm here tonight?' " says David. "But ultimately, it's a bit like an olive branch, I guess."

By all accounts, Elton and the couple got along well. "I wasn't there, but from everything Elton told me, he said Rush and his bride were incredibly charming and welcoming. And they have said they want to come and have dinner with us in England, if they pass through in their travels."

The tentative offer was welcomed. "We have to bring the world together, not apart," said David.

Here is the list of songs that Elton performed at the wedding on June 5, 2010:
Your Song

Tiny Dancer

Daniel

Philadelphia Freedom

Someone Saved My Life Tonight

Rocket Man

I Guess That's Why They Call It The Blues

Candle in the Wind

Don't Let the Sun Go Down On Me

Bennie and the Jets

I'm Still Standing

Crocodile Rock


Can You Feel the Love
How Limbaugh and Elton became buds
Friday, June 11 2010 at 09:12:34

Sounds as if Elton had an OK time at Rush Limbaugh's wedding
Wednesday, June 9 2010 at 06:10:06

Elton performing at Rush Limbaugh's wedding in Palm Beach
Sunday, June 6 2010 at 07:15:31


R.I.P. Fred Farebrother
Wednesday, June 16 2010
Elton's stepfather, Fred Farebrother died Friday, June 11, 2010 after a long illness.
No further information is available at this time.
Charges dropped in Elton John threat
Monday, June 14 2010
Charges against an anti-abortion activist who picketed outside Elton John's Buckhead condominium with a sign that said "Elton John Must Die" were dismissed on June 14, 2010.
Neal Horsley was charged with terroristic threats, criminal defamation and using the Internet to disseminate threats. The judge said on June 14, 2010 that Horsley's actions didn't warrant criminal charges, WSB-TV reported.

For several years, the Carroll County man has operated Web sites listing the names of doctors performing abortions. The site also had links to Web cams showing patients entering abortion clinics.

Elton, a part-time Atlantan, apparently raised Horsley's ire in February 2010 when Elton told an interviewer that he believed Jesus was gay.

Horsley responded with an Internet diatribe on "Why Elton John Must Die," and a YouTube video captured him protesting outside Elton's condo with a large sign proclaiming the same.



Man charged with threatening Elton John
Friday, March 12 2010 at 07:52:32


Elton's arrival in Sofia shrouded in mystery
Monday, June 14 2010
Elton John secretly spent the night in Sofia before the day of his concert on Locomotive Stadium on June 13, 2010.
Reportedly, the star's private plane took off from Bucharest right after the end of his concert there on June 12, 2010 and landed in Sofia in the wee hours of the morning of June 13, 2010. Two police cars escorted Elton and his band in a tour of night Sofia.

The concert organizers - Sofia Music Enterprise would not tell the name of the hotel which hosted the high guest. Any access to Elton reportedly has been completely impossible.

Two rescue teams of the Civil Protection service were on standby at Locomotive stadium for Elton's concert in Sofia.
Elton John and band performed in Prague on June 10, 2010
Saturday, June 12 2010
Fotos by Peter Bucek.
Following is the complete set list of the Prague show on June 10, 2010:
Funeral For A Friend

Love Lies Bleeding

Saturday Night's Alright (For Fighting)

Levon

Madman Across The Water

Tiny Dancer

Philadelphia Freedom

Goodbye Yellow Brick Road

Daniel

Rocket Man

I Guess That's Why They Call It The Blues

Sacrifice

Take Me To The Pilot

Something About The Way You Look Tonight

Don't Let The Sun Go Down On Me

Sorry Seems To Be The Hardest Word

Candle In The Wind

Sad Songs Say So Much

Bennie And The Jets

The Bitch Is Back

I'm Still Standing

Crocodile Rock

Circle of Life

Your Song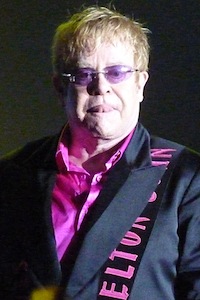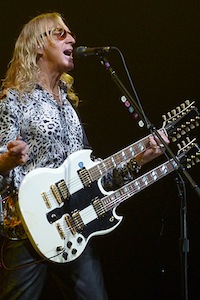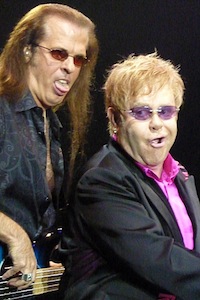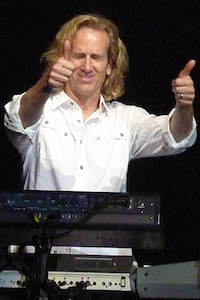 How Limbaugh and Elton became buds
Friday, June 11 2010
Rush Limbaugh and Elton John's relationship started with problems. Heart problems, that is.
According to conservative talk radio host Mark Levin, a guest at Limbaugh's wedding last weekend, Limbaugh and Elton were staying at the same hotel in Hawaii when Limbaugh had his heart attack scare earlier in 2010. Elton checked up on Limbaugh to see how he was doing, and from there, a friendship formed.

"As Elton John explained it to the 400 or so people there, he and Rush have kept up a fairly regular e-mail exchange," Levin said on his show on June 8, 2010. He called Elton "gracious and superb," and mentioned the heat Elton is receiving from the Left for his relationship with Limbaugh.

"He's about tearing down walls, not building them," Levin added.



Sounds as if Elton had an OK time at Rush Limbaugh's wedding
Wednesday, June 9 2010 at 06:10:06

Elton performing at Rush Limbaugh's wedding in Palm Beach
Sunday, June 6 2010 at 07:15:31

Olbermann Implies Limbaugh Is a "Rude, Vile Pig"
Thursday, September 29 2005 at 10:04:21


Ben Babylon pens musical tribute
Thursday, June 10 2010
When the 52-year-old Guy Babylon of Agoura died last September of a heart attack, Elton John proclaimed him "one of the most brilliant musicians I ever knew, a true genius."
Guy had been Elton's keyboardist and arranger for 21 years, performing on such albums as "Sleeping With the Past," "The Lion King," "Made in England, "Peachtree Road," and "The Captain and the Kid," as well as Elton's Broadway musicals "Billy Elliot," "Vampire Lestat" and "Aida," for which Guy won a Grammy Award for producing Best Musical Show Album of 2000.

Now, Babylon's 12-year-old son, Ben Babylon, is following in his father's footsteps under the tutelage of Elton John himself. Already an accomplished pianist and a member of the A Jazz Band at Lindero Middle School, the younger Babylon composed a tribute song to his father titled "Goodbye Superman," which he's performed at various venues, including the Civic Arts Plaza in Thousand Oaks and the House of Blues in Hollywood for the Shredfest cancer fundraiser.

On July 8, 2010 Ben will perform his song again at Yoshi's in Oakland with jazz artist Kathryn Keats and her band. He recently played "The Rocky Horror Picture Show" at The Canyon club in Agoura Hills. Inspired by the Elton's classics "Funeral for a Friend" and "Goodbye Yellow Brick Road," Ben Babylon's "Superman" features a somber and stirring musical introduction that beautifully conveys the songwriter's sense of loss.

The chords are complex, and Babylon pounds them on his keyboard with an intensity learned from watching his father and Elton John perform together, beginning when he was 3 years old. "There are two versions of the song, and each one has a different feeling," says Ben. "The piano and vocal version means that I am sad that my dad has passed away. The orchestrated version is more powerful. It means I am mad that he is not here anymore. I really did think of my dad as a hero. I still do."

Ben Babylon wrote "Goodbye Superman" within three days of his father's untimely death, performing it for the first time at the memorial service. His mother, Kathy Brown Babylon, initially thought that her son had composed an instrumental piece, and was surprised and deeply moved when the boy began singing. "For one thing, I was amazed that he could perform at all, given the circumstance, and then when he started singing, I just could not believe the maturity of those lyrics," Kathy Bayblon said. "He sang everything we were all feeling. When he finished, there wasn't a dry eye in the house."

Ben Babylon recorded two versions of his song, each available on iTunes and other MP3 stores. One is a piano-only version and the other is fully orchestrated with all instruments played by Ben, who also does the vocals. Assisting him in the recording were Jesse Johnstone and Grammy award-winning engineer and producer Greg Penny, who also worked with Guy Babylon when he recorded and produced Elton John's album, "Made in England."

A friend to the Babylon family for many years, Elton has remained close to Kathy and her three children since Guy's death. He has given musical advice to Ben, going so far as to invite him to hang out at the recording studio while Elton was working on his latest album with Leon Russell. According to Kathy Babylon, Elton told Leon Russell, "You better watch out for this kid. He can really play."

Ben and his fellow players from the Agoura Hills music school Rock Nation will be performing "Goodbye Superman" June 18, 2010 at Borderline Bar & Grill in Thousand Oaks. More information about the music of Ben Babylon and Kathy Babylon is available at www.BabylonMusic.biz. Ben Babylon performances can also be seen on YouTube.



Belarus to check Elton John's morality?
Thursday, June 10 2010
The Public Council on Morality asks organizers of Elton John's concert in Minsk to provide it with records of the singer's previous performances.
Interfax news agency learnt this from the Council head Mikalai Charhinets. He noted that the Public Council on Morality had watched records of previous Rammstein's gigs before the band's concert in Minsk on March 7, 2010. "It was awful what we saw about Rammstein. We did the right thing by raising this question. As a result, the organizers asked Rammstein not to afford the things they did in other places," he said.

Charhinets also added the Council is not against the concert, "but we are against mockery of morality, mockery of our children who go there. We demand that obscenity, which both children and adults shouldn't see, not be shown. We'll handle the matter."

What to the figure of Elton John, Charhinets admits he doesn't know this singer and is ashamed of this. "We will watch his records and then estimate him," he noted. Commenting on a remark supposing said by Elton John that Jesus was a gay, Charhinets noted: "One judges people from his own point of view". "Some representatives of gay community want to attract as many famous people as possible into their fold, even if it is just words. Jesus Christ stood for love between man and woman. Adam and Eve belonged to different sexes, it is due to this fact that all people appeared in the world, including those who supports same-sex unions," Charhinets added.

Elton John plays a concert in Minsk on June 26, 2010 as part of Elton John's Rocket Man Greatest Hits Tour.
Elton John and band performed in Budapest on June 8, 2010
Wednesday, June 9 2010
Fotos by Peter Bucek.
Following is the complete set list of the Budapest show on June 8, 2010:
Funeral For A Friend

Love Lies Bleeding

Saturday Night's Alright (For Fighting)

Levon

Madman Across The Water

Tiny Dancer

Philadelphia Freedom

Goodbye Yellow Brick Road

Daniel

Rocket Man

I Guess That's Why They Call It The Blues

Sacrifice

Take Me To The Pilot

Something About The Way You Look Tonight

Don't Let The Sun Go Down On Me

Sorry Seems To Be The Hardest Word

Candle In The Wind

Sad Songs Say So Much

Bennie And The Jets

The Bitch Is Back

I'm Still Standing

Crocodile Rock

Circle of Life

Your Song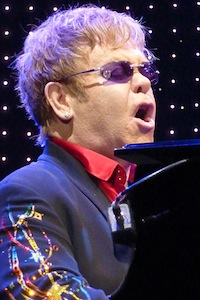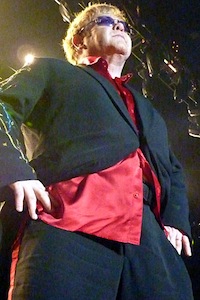 Sounds as if Elton had an OK time at Rush Limbaugh's wedding
Wednesday, June 9 2010
With all the speculation about why Elton performed at Rush Limbaugh's wedding on June 5, 2010, it was interesting to come across Mediaite reporting obervations from an actual guest, Megyn Kelly of Fox News.
"Tolerance and respect were on display at the wedding," Kelly said, pointing out that the hosts on "The View" didn't behave the same way June 7, 2010 morning when they kaffeeklatsched about Elton's decision. Among other things, "The View" gals made the point that Elton is married, which in fact he is not.

Others who've not listened to Limbaugh may have learned a bit too late that the guy's never pretended to be a member of the Christian right. "This is a problem that we're experiencing through society right now, is people only want to be with 'like,'" Elisabeth Hasselbeck said. "'OK, so, you think like me, you hang with me; you don't think like me, you don't hang with me' -- that's an issue -- why is that such a bad thing?"

Joy Behar was quick to explain to Hasselbeck that the only reason Elton performed for Limbaugh, and for $1 million, was because the singer, like so many others she notices anymore, is greedy. Wedding-guest Kelly's observations: "Elton John actually had nothing but nice things to say about Rush Limbaugh and the happy couple, and said he's all about tearing down walls and building bridges." He even invited the newlyweds to join him and David Furnish at their home, she said.

Irony: Limbaugh, who's had cochlear implants since 2001, has said he can't really "hear" any music he didn't experience before he became deaf. One can hope Elton played some of those classics, out of respect for the groom.



Elton performing at Rush Limbaugh's wedding in Palm Beach
Sunday, June 6 2010 at 07:15:31


Elton rocks New York
Tuesday, June 8 2010
Rush Limbaugh's wedding guests weren't the only people treated to a private Elton John concert over the weekend.
A day after playing the Palm Beach festivities, Elton played a private show in New York for American Express Centurion cardmembers - aka the black card - at Lincoln Center's Avery Fisher Hall.

Despite a sinus infection (he apologized if he sounded nasally) Elton played for 2.5 hours, covering all his biggest hits from 'Bennie and Jets' and 'Your Song' to 'Candle in the Wind' and 'Rocket Man.' He also sang some new material, such as 'You're Never Too Old (To Hold Somebody),' off a yet-to-be released album 'The Union'.



Elton performing at Rush Limbaugh's wedding in Palm Beach
Sunday, June 6 2010 at 07:15:31


My friend, President Mutharika, show compassion
Monday, June 7 2010
In the spirit of your fight against Aids, free Monjeza and Chimbalanga – an open letter from Elton John to the president of Malawi.
Dear President Mutharika

You and I have never met, but we have long been partners, standing shoulder to shoulder in the fight against HIV/Aids, and hand in hand with the people of Malawi. I am writing as a friend.

Mr President, I have admired your efforts to bring health services and development to your people, and the Elton John Aids Foundation has proudly worked with the government of Malawi to these ends since 1998. We have made much progress together.

That is why I am most alarmed and deeply upset by the persecution ofTiwonge Chimbalanga and Steve Monjeza on the grounds of their sexual orientation. Their trial and harsh sentencing will have a perilous effect on our continuing efforts to combat Aids in Malawi and potentially reverse the gains we have achieved.

HIV/Aids is a disease that does not discriminate in choosing its victims. Nor should we discriminate in providing treatment. Access to medication and services must not be withheld on the grounds of ethnicity, sexuality or gender. This has been a fundamental tenet of our work together, to help all and turn away none. Indeed, the government's strategic plans call for the provision of universal access to treatment.

This official policy of nondiscrimination has been critical to our efforts. In 2006, Médecins Sans Frontières and the health district of Thyolo, with co-funding from the foundation and others, made antiretroviral medicine available to all HIV-positive Malawians for the first time. This programme was one of the first successful, state-run treatment efforts in Africa.

Discrimination, on the other hand, costs lives. Excluding or stigmatising a subgroup serves only to drive that population into the shadows, thus perpetuating the epidemic. In this way, the persecution of Mr Chimbalanga and Mr Monjeza will frustrate our efforts and lead to unnecessary and tragic deaths.

Mr President, nearly 12% of the population of Malawi is HIV-positive, and more than 70,000 Malawians die from Aids each year. This is a travesty that must be overcome not only with increased resources but with increased compassion. Compassion is the only known means of containing and reversing the HIV/Aids pandemic.

Your country is famously the "warm heart of Africa", and I have seen this first-hand. In collaboration with your government and many dedicated Malawians, the foundation has provided 6,000 orphans and vulnerable children in Salima with a comprehensive package of education, social care, healthcare, and livelihood services. Our partnership utilised the existing Malawian social support systems and we could not do this without Malawi's warm hearts and caring souls.

In this spirit I urge you to embrace the character of the Malawian people. I hope you will take immediate steps to free Mr Chimbalanga and Mr Monjeza, and expunge Malawi's discriminatory laws against homosexuality.

As an economist, you understand the many ways in which nations are today tied together by commerce, by global health concerns, and by our aspirations for humanity. Indeed, that is why the foundation has so heavily invested in helping Malawi build the health systems it desperately needs to control your nation's Aids epidemic.

Compassion has motivated the many NGOs that have helped to save lives in Malawi. Compassion has motivated the global outcry against the persecution of Mr Chimbalanga and Mr Monjeza. Compassion has motivated me, an openly gay man, to write this letter.

The global community has demonstrated great compassion for the people of Malawi. I hope you will find such compassion for one another.

Sincerely, Elton John
Elton nixes original third Scissor Sisters album
Monday, June 7 2010
Elton John told the Scissor Sisters that their proposed third album wasn't up to scratch, causing the band to rewrite and record the entire album.
The initial follow up to 2006's 'Ta-Dah' was played to Elton by the band's guitarist, reports The Sunday Times. "We had a whole album of material but we just weren't sure we believed in it," says frontman Jake Shears.

"Babydaddy played it to Elton John, and next thing I get a call from Elton. He just says, 'This isn't it, this isn't the record. It's just not right.' So I went to Berlin and pressed the reset button. I had to be by myself, and dream, be sexy and, you know, be bad."

'Night Work', the Scissor Sisters'Stuart Price produced version of the third album – which features a spoken word cameo from Sir Ian McKellen - is set for release on June 28, 2010.
Elton doesn't like digital music
Monday, June 7 2010
Elton John doesn't like digital music because you can't hold it.
He and David have an airy apartment in Los Angeles, which they have decorated in a 70s theme. Although most of their home adheres to the decade, they do have some modern touches. David forced Elton to invest in a digital library of his favourite records and films, something which the singer was initially unsure of.

"We have a digital library of CDs and DVDs. That was an interesting first step for Elton," David laughed. "He's a real champion of the CD as an object and likes to hold them and have them there in front of him to listen to. I told him that we just can't with this place, there would be no room for anything else!"

Elton and David have homes all over the globe, including in London, Venice and Atlanta. They use the different properties for different things, but they all feel like home.

"All the homes satisfy different needs," David explained to British magazine InStyle. "Windsor is kind of our hub, Atlanta is Elton's base when he's touring because its central location means he can fly back from anywhere and still sleep in his own bed. When you're a 63-year-old man who's touring all your life, you don't want to be unpacking a toothbrush every night."
Elton performing at Rush Limbaugh's wedding in Palm Beach
Sunday, June 6 2010
Conservative talk radio king Rush Limbaugh is getting married for a fourth time and Elton John will sing at the reception.
The Palm Beach Post reports that the 59-year-old Limbaugh is getting married on June 5, 2010 to 33-year-old Kathryn Rogers in a Hawaiian-themed affair. About 400 people are expected to attend at the swank Breakers Hotel.

The Post says Limbaugh and Rogers met six years ago when he played in a celebrity golf tournament she ran. He was divorcing his third wife at the time. They became a couple three years ago. She persuaded him to go on a diet and he lost 100 pounds. Limbaugh did not respond to several e-mails this week seeking comment. He sent an e-mail to the Post requesting privacy.

According to a report by Page 2 Live, Elton John would be performing at the wedding of this controversial figure in the USA. But what's disturbing about all of this is that Rush Limbaugh is known for his very homophobic comments. The report adds Rush is paying Elton John $1 million to perform at his wedding.
Jo Malone re-launches White Tie & Tiara cologne
Sunday, June 6 2010
More beauty news from Jo Malone London! They're re-launching one of their most memorable summer fragrances. White Tie & Tiara first launched in 2008 (designed exclusively to support the Elton John AIDS Foundation).
The World of Jo Malone™ introduces White Tie & Tiara, a limited edition fragrance designed exclusively to support the Elton John AIDS Foundation. White Tie & Tiara is inspired by the beautiful 'White Scented Garden' at Sir Elton John and David Furnish's Windsor home, and is named after the White Tie and Tiara Ball, held every June in the grounds.

Combining the scent of summer flowers with a sparkling infusion of fruit, this elegant fragrance blends delicate jasmine, orange blossom, and white violets with hints of pineapple, tangerine and bergamot. Designed at its inception to benefit the Elton John AIDS Foundation, White Tie & Tiara was initially unveiled at the Ball as a cologne and scented candle. Due to its popularity, the scent will now available at Jo Malone boutiques. Each purchase of White Tie & Tiara 2010 supports Jo Malone's donation of £150,000 to the Elton John AIDS Foundation, which has prioritised its key programmes in Cambodia and Malawi, helping over 25,000 children infected with the HIV virus or orphaned because of AIDS, as beneficiaries of this donation.
Elton's weekly anniversary
Saturday, June 5 2010
Elton and David always write to each other every Saturday, in honour of the day they met 16 years ago.
Elton and David - who he married four years ago after 12 years together - insist on sending one another a note every weekend, regardless of where they are in the world. David said: "Elton and I write to each other every Saturday wherever we are in the world. We met on a Saturday, so it's like a weekly anniversary card. The note always sits on the side of the bed wherever I am."

The couple own several homes around the world but Elton always leaves their design and decor to David, and never sets foot in the properties until they are complete, with the Canadian filmmaker confident he knows his partner's tastes well enough to know what he will like. David added to InStyle magazine: "Elton only sees properties when they're completed. He likes the surprise factor. He sees it as a way of motivating people. They work hard because they want him to be pleased.

"It's fun. We've been together long enough, so I know how to put a smile on his face. It just means you keep a close eye on it. Everything is considered, so that when he walks in the door, it's a victory."
Elton concert expected to raise £600,000 for Watford
Friday, June 4 2010
Julian Winter has thanked Elton John for providing Watford fans with one of the "most memorable nights" seen at Vicarage Road.
Watford's honorary life president entertained almost 20,000 fans for more than two hours on May 29, 2010 as he went through his impressive repertoire of hits. The club's former chairman offered to host the concert to raise money for player acquisitions this summer.

It is unclear exactly how much it cost Watford to host the event but it was previously estimated to be around £600,000 and the Hornets' chief executive hopes to receive a similar amount in profit. Winter said: "We are hopeful of clearing approximately £600,000 profit for the Elton John concert, although a full and final figure is not yet available as we finalise the full costs of delivering the concert."

Watford's wage bill has once again been cut and a number of the Hornets' higher earners have left the club this summer. Malky Mackay is expected to once again rely heavily on younger players next season due to the club's financial position and Winter has expressed how important Elton's cash injection will be.

"The proceeds are a fantastic boost to the club's player acquisition plans for the summer," the chief executive said. "We all know Elton was keen to support the club in difficult times, for which we are all tremendously grateful, and the funds will be a massive boost to Malky as he seeks to recruit new players to develop the squad for the coming season."

Watford sold all the tickets they were able to, which made the attendance 19,645. There were 8,313 supporters on the pitch and the club's decision to hand them all waterproof ponchos paid off as the rain fell for the support acts and at the beginning of Elton's set. But Michael Jones, head of ticketing at the club, said the weather was almost the only thing which went wrong on the night.

Jones said: "From our point of view it was a really interesting experience to go through because it is outside our comfort zones to host concerts, but we are delighted with how well it all went. There were not really any issues on the night. It was a bit disappointing it rained for a bit but other than that everything else was perfect. We are absolutely delighted."

Elton was twice chairman of Watford and, along with Graham Taylor, helped guide the club from the old Fourth Division into European football and an FA Cup final. It is the third concert Elton has held at Vicarage Road, after gigs in 1974 and 2005, and on May 29, 2010 was his only date in the UK this year. Elton is a life-long Watford fan and delivered a number of passionate speeches to the crowd on the night and Winter said the crowd appreciated how special the concert was to the 63-year-old.

Winter said: "The whole club would like to place on record its gratitude to Elton, his band and management team for agreeing to the concert at Vicarage Road and for delivering one of the most memorable nights we can remember at the Vic. The atmosphere was unforgettable and the performance truly exceptional – the fans could sense that the night meant something special to Elton – a feeling that the fans responded to in kind. The club is lucky to have such a committed star performer that is willing to support the club in this wonderful way."

There are currently no plans to release the concert on DVD. Elton's management company are in charge of any release and the decision is out of the club's control. The 2005 concert was released on DVD but only to Elton's Rocket club members.



Elton John and band performed in Watford on May 29, 2010
Sunday, May 30 2010 at 08:49:09


Elton John and band performed in Warsaw on May 30, 2010
Wednesday, June 2 2010
Following is the complete set list of the Warsaw show on May 30, 2010.
Funeral For A Friend

Love Lies Bleeding

Saturday Night's Alright For Fighting

Levon

Madman Across The Water

Tiny Dancer

Philadelphia Freedom

Goodbye Yellow Brick Road

Daniel

Rocket Man

I Guess That's Why They Call It The Blues

Sacrifice

Take Me To The Pilot

Something About The Way You Look Tonight

Don't Let The Sun Go Down On Me

Sorry Seems To Be The Hardest Word

Candle In The Wind

Sad Songs Say So Much

Bennie And The Jets

The Bitch Is Back

I'm Still Standing

Crocodile Rock

Circle of Life

Your Song
Lady Gaga surprised by heroes' kindness
Tuesday, June 1 2010
Lady Gaga was stunned after meeting her heroes Madonna and Elton John - because the superstars were much nicer than her pop contemporaries.
The singer struggled to adjust to life in the spotlight at the start of her career but she credits Madonna and Elton with inspiring her to accept fame. And the "Just Dance" hitmaker admits she's continually surprised by how nice the music industry "legends" are.

She tells ShowStudio.com, "Madonna is a wonderful, wonderful person. She is so full of the most wonderful freedom and spirit, and she is so kind. We have shared some wonderful honest moments together. She comes to my shows, I ask her questions, she's given me advice. It's been my experience in the industry that I have connected on a much deeper level with the most iconic and legendary people that I have admired and have not connected with any of my contemporaries.

"The one thing that they all have in common - the legends, that is - is that they are the nicest, most wonderful human beings you have ever met in your life. That has freed me. I used to be quite guarded in interviews. I would sit there with glasses on and barely speak and I almost developed an accent at one point because I was so f**king guarded and so nervous that the media was trying to destroy me.

"I let it go when I got to meet all of these people that I worshipped as a child and then when you play piano with Elton John and you realise that he is (not only) a f**king brilliant human being but he is also the most wonderfully nice person ... I thought, 'Well I'm just going to be myself, because I am a lovely, wonderful, sweet person.'

"By meeting these people that I love and adore and would give my right arm happily to have been around or learned from, I have discovered myself. My freedom. My security. Myself. Makes me smile just talking about it."