ELTON JOHN NEWS ARCHIVE: March 2010
An evening celebrating the life and legacy of Ryan White
Wednesday, March 31 2010
On April 28, 2010, the Elton John AIDS Foundation (EJAF) and The Children's Museum of Indianapolis will celebrate the life and legacy of Ryan White with a commemorative evening, headlined by a special performance by Ryan's friend, Elton John.
Phil Donahue will host the event, which will also feature remarks by local, state, and national figures impacted by Ryan's life and work. The evening honors the 20th anniversary of Ryan's untimely death due to AIDS on April 8, 1990.

The event will take place at 8 p.m. at Clowes Memorial Hall on the campus of Butler University in Indianapolis. A select number of tickets ($150, $250, and $350) are being offered to the general public through Ticketmaster.com or (800) 982-2787 (prior to April 5, 2010 you will need to provide the codeword TCMMEMBER), or through the Clowes Memorial Hall box office beginning April 5 at 10:00 a.m.

Ryan was diagnosed with pediatric HIV/AIDS in 1984 stemming from the medical treatment he received for hemophilia. As a result of this diagnosis, Ryan confronted extreme fear and prejudice and was barred from attending school. Despite his illness and the discrimination he faced, Ryan was determined to educate the world about living with pediatric HIV/AIDS, and he did so with a sense of dignity that gained him the admiration and support of many around the world. During Ryan's courageous efforts, he formed a special bond and close personal relationship with Elton, a friendship that ultimately inspired the formation of the Elton John AIDS Foundation.

"Ryan dedicated his life to helping future generations of children," said Jeanne White-Ginder, Ryan's mother. "This event will celebrate Ryan's life and his efforts to fight against AIDS discrimination, as well as to help continue his efforts to educate people about the disease."

Proceeds from the evening will be shared by EJAF and The Children's Museum. The Museum will use these funds to enhance its exhibit The Power of Children: Making a Difference, which focuses on the lives of three heroic children-Anne Frank, Ruby Bridges and Ryan White. EJAF's funds will support the Foundation's grant-making initiatives addressing HIV prevention, stigma reduction, and care and support services for at-risk populations in the Americas and the Caribbean.

"Perhaps more than any other person, Ryan White drastically changed America's perception of the HIV/AIDS epidemic, and his honesty, courage, and compassion continue to significantly impact the welfare of people living with HIV/AIDS through the many nonprofit organizations and the important legislation he inspired -- most specifically the Ryan White CARE Act," said Sir Elton John. "As we celebrate Ryan's short but remarkable life and observe the 20th anniversary of his tragic death, we have before us an opportunity to recall his enormous achievements despite almost unbearable adversity, to honestly assess where we are as a nation in the face of his tremendous legacy of courage and compassion, and to issue a call to action for the work that must be done and the changes that must occur to address the continuing challenges of this complex and evolving epidemic."



Ryan White's mom: Elton John to perform at benefit
Friday, March 26 2010 at 06:32:14


Elton's clothes help charity shop
Wednesday, March 31 2010
Some of Elton's designer cast-offs will take pride of place at the opening of a charity shop in Sussex.
Elton and David have donated clothes and shoes to help the Sussex Beacon shop in George Street, Hove. The clobber donated by the couple, including items by Alexander McQueen, Versace and Chanel, will help to raise money for the HIV and Aids charity.

Spokeswoman Juley Ayres said it was a "fantastic" way to launch the store. She added: "We've got a reputation of having good men's clothes, so this is a great addition."

Many of the clothes have price tags of hundreds of pounds. A full-length Alexander McQueen leather coat will also be sold on behalf of the charity, but will be auctioned on eBay.

A special fundraising event - "Out The Closet Comes to Brighton, well…Hove Actually!" - being held to celebrate the opening of the store takes place on April 2/3, 2010.

Also see the video on BBC News.



Elton auctions 100 pairs of shoes for charity
Monday, March 22 2010 at 15:59:53


Elton visits HIV Education Centre on his birthday
Friday, March 26 2010
Elton John celebrated his birthday by visiting football-mad teenagers at a South African centre helping with HIV education.
Elton, who turned 63, is touring the country to visit projects which have benefited from £10 million in funding from his Elton John Aids Foundation. He met teenagers at the Football for Hope Centre (FFH) in Khayelitsha Township just outside Cape Town.

The FFH Centre is a project of Grassroots Soccer, an international charity that trains African football stars, coaches and teachers to help youngsters learn more about HIV prevention and healthy lifestyles. The centre holds voluntary HIV counselling and testing sessions in communities.

Elton: "Soccer stars are the most powerful role models for young people today so it's fantastic that organisations like Grassroots Soccer are harnessing that power to educate young people about HIV."

Elton and David are in the country - soon to host the World Cup - for a week. He has already hosted a fundraising dinner at Cape Town's exclusive One And Only Resort to raise money for local projects. "I can't think of a better way to celebrate my birthday," said Elton.

Grassroots Soccer director Kirk Freidrich said: "It's great to have Elton and his foundation showing interest in our work. It raises the profile of what we are doing, especially in World Cup year, and was a huge treat for the kids."



Annie Lennox joined Elton on stage for a duet of "Daniel"
Friday, March 26 2010 at 06:38:05

Elton John & Ray Cooper performed in Johannesburg on March 21, 2010
Tuesday, March 23 2010 at 20:37:27

Elton is getting ready for South Africa tour
Friday, March 19 2010 at 09:12:14


Annie Lennox joined Elton on stage for a duet of "Daniel"
Friday, March 26 2010
As reported on March 23, 2010, Annie Lennox supported Elton John at an intimate charity gala event taking place at the One&Only Hotel in Cape Town, South Africa, to raise funds for the Elton John AIDS Foundation – with the largest number of people living with HIV in the world, South Africa is the Elton John AIDS Foundation's (EJAF) highest priority.
But as rumoured before she did not only join him at the dinner event but also on stage for a duet during his concert at the Kirstenbosch Botanical Gardens in Cape Town: "And now, I have a little surprise for you…" says Elton John. Annie Lennox steps onstage and launches into a duet of "Daniel."



Elton is getting ready for South Africa tour
Friday, March 19 2010 at 09:12:14


Ryan White's mom: Elton John to perform at benefit
Friday, March 26 2010
Elton John will hold a benefit concert in Indianapolis to celebrate the life of AIDS victim Ryan White, who died of the disease 20 years ago.
Jeanne White-Ginder told The Associated Press on March 24, 2010 that Elton would perform at the late April event honoring her son. The Indianapolis Children's Museum made an announcement on March 25, 2010 saying that Elton will perform during the April 28, 2010 benefit at Butler University.

Ryan White is featured prominently in the museum's "Power of Children: Making a Difference" exhibit, which also includes Anne Frank and Ruby Bridges.

White contracted AIDS from a tainted transfusion of a blood-clotting agent. He was diagnosed at age 13 and waged a public battle to be allowed to attend school. He died April 8, 1990. Elton befriended the teenager and performed at his funeral.
Happy Birthday, Elton!
Thursday, March 25 2010
Elton will turn 63 on March 25, 2010 - and he will be celebrating in South Africa.
After a day off at his birthday last year, Elton will be back on stage for this year's celebration, this time in Cape Town, South Africa, where he will perform a show with Ray Cooper.

On behalf of the Hercules team and all the fans around the world, we would like to wish him all the best and a happy birthday! And don't forget, for his birthday this year, fans want to make Elton John's 'Original Sin' No.1. You can take part as well.

Meanwhile there is news that Elton's new studio album is about to go to the mixing phase. The record now consists of 16 tracks and is currently scheduled for an October 2010 release. Neil Young is featured significantly on one of the albums key tracks. Other guests contributing outside of those listed in the last posting are Booker T. Jones, Brian Wilson and pedal steel wizard Robert Randolph.
Giorgio's "Party Of The Century" out today
Thursday, March 25 2010
The highly anticipated music event everybody has been waiting for is here. Two years of intense work all around the world, 30 of the world's most influential and legendary musicians put together by the tireless enthusiasm of the young talented Giorgio Onorato Aquilani.
Giorgio's concept for his new album is the vision of a "big mansion" hosting an unforgettable music Party. Giorgio reached out to his musicians friends and heroes like: Bobby Kimball (TOTO), David Paich (TOTO), John Mahon (Elton John), Leland Sklar (Phil Collins, James Taylor, TOTO), Simon Phillips (TOTO), Steve Gadd, Ron Carter (Miles Davis), Peter Erskine, Cherisse Osei (Mika), Charlie Morgan (Elton John), Ted Jensen, Greg Phillinganes (Michael Jackson, Stevie Wonder, TOTO), to name a few, and got back an incredible number of "I'm in man!". The Party crew so stepped up, adding their individual specialty to what has become an exceptional original music project.

All the tracks are written and performed by Giorgio with the exception the only cover, which is an obscure song by Elton John called "Friends." The album features two duets: "Poem to life" (duet with John Mahon) and "At my door" (duet with Bobby Kimball). Giorgio's writing, on the Party Of The Century album, can be considered "multi-genre", going from British and West Coast pop/rock to jazz and symphonic.

Don't miss the chance to enter the most incredible music party of all time. There are two easy ways to buy the album and join party it:

- Physical: When you order "Party Of The Century" through cdbaby.com you will get the fantastic box edition containing the album, a DVD with the making of and studio sessions clips, along with a book and a gadget.

- Digital: Simply download "Party Of The Century" from iTunes.

The official website is updated every week with new blogs, videos, pictures and facts about the "Party Of The Century" and the facebook page has quickly reached thousands of fans ready to be part of the most incredible music journey ever happened... are you joining?



Party of the Century
Monday, March 15 2010 at 05:00:00
Elton at the Hot Pink Party
Wednesday, March 24 2010
Elton will once again perform at the Hot Pink Party of the Breast Cancer Research Foundation.
The event will take place at the Waldorf-Astoria in New York City on April 27, 2010.

For tickets and more information see the BCRF website.
Elton John & Ray Cooper performed in Johannesburg on March 21, 2010
Tuesday, March 23 2010
Following is the complete set list of the Johannesburg show on March 21, 2010.
Elton solo
The One

Sixty Years On

The Greatest Discovery

Border Song

Ballad Of The Boy In The Red Shoes

The Emporer's New Clothes

I Guess That's Why They Call It The Blues

Rocket Man

You're Never Too Old [from the upcoming studio album]

Tiny Dancer

Philadelphia Freedom

Your Song
Elton with Ray Cooper
Funeral for a Friend/Tonight

Better Off Dead

Come Down In Time

Levon

Indian Sunset

I Think I'm Gonna Kill Myself

Daniel

Sorry Seems To Be The Hardest Word

Take Me To The Pilot

Carla Etude

Blessed

Don't Let The Sun Go Down On Me

Honky Cat

Crazy Water


Crocodile Rock

Saturday Night's Alright (For Fighting)
Elton signs £1M grant to protect African babies
Tuesday, March 23 2010
Elton John announced on March 23, 2010 from Cape Town, South Africa, the granting of a £984,000 award to mothers2mothers (m2m) to be used to help prevent hundreds of thousands of babies across Africa from contracting HIV and empowering mothers living with HIV.
The award, a multi-year grant from The Elton John AIDS Foundation (EJAF), will enable m2m to work to develop effective programmes to support clinical efforts preventing mother-to-child transmission of HIV, across sub-Saharan Africa and develop a gold standard for delivering and monitoring these programmes.

Each year, an estimated 1.4 million women living with HIV become pregnant. Without effective medical intervention and education, up to 40% of these women will transmit HIV to their children, either during pregnancy or in the first years of the infant's life. Scientific advances and high-quality medical care have almost eradicated pediatric AIDS in resource rich countries. 91% of the global cases of mother-to-child transmission of HIV emanate from sub-Saharan Africa, where there are overwhelming systemic, societal and economic barriers to care. The grant from the EJAF will enable m2m to explore and roll out effective and affordable client interventions in over 600 health care facilities across Africa.

"I visited mothers2mothers' programme at Site B clinic in Khayelitsha a couple of years ago" comments Elton, "and was knocked out by how effective the Mentor Mother approach can be. We want an HIV-free generation in Africa and m2m is going to help us get there."

m2m works in health care facilities partnering with doctors and nurses to meet the comprehensive needs of HIV-positive pregnant women and new mothers. The organisation recruits HIV-positive mothers after they deliver their babies and trains them to work as paid professional health care providers in the clinics and maternity wards where they once received medical care. These peer educators, called "Mentor Mothers", engage, educate and support HIV-positive pregnant women and new mothers, guiding them in measures to prevent HIV transmission to their babies and in steps to ensure they will remain healthy to raise their children. These efforts contribute to empowering women and reducing stigma by teaching people to "live positively" with HIV.

Dr. Mitch Besser, Founder and Medical Director, and Gene Falk, Co-founder and President of mothers2mothers commented: "We are overwhelmed by the incredible generosity of the Elton John AIDS Foundation. This grant comes at a pivotal time in mothers2mothers' growth as we strive to provide more care to more mothers and babies, ensuring that they receive, understand and embrace all of the medical services that contribute to healthy HIV-free children and healthy mothers. This grant will be transformational for our organization's ability to measure the impact of our efforts and ensure we are providing the most effective services to our families. We are thrilled to be part of this strategic partnership with EJAF."
Sting, Elton John, Lady Gaga and Dame Shirley Bassey to headline Rainforest Fund's 21st Birthday Concert
Tuesday, March 23 2010
The Rainforest Fund, founded by Sting and Trudie Styler, announced its 21st birthday celebration benefit concert on May 13, 2010 at the world renowned Carnegie Hall followed by a gala dinner.
The evening, sponsored by Almay, is headlined by Sting, Elton John, Lady Gaga and Dame Shirley Bassey, along with other surprise guests and features a live and silent auction at the gala dinner following the concert. Box office tickets will be available mid-April through the Carnegie Hall Box Office or Carnegie Charge at 212-247-7800.

The Rainforest Fund was founded in 1989 by Sting and Trudie Styler in response to a direct request for help from a Kayapo Indian leader in Brazil who was seeking to protect his people's land and culture. Over the past 21 years, the Rainforest Fund has worked in partnership with more than 100 local organizations in all major rainforest areas and successfully protected over 115,000 sq km of forest. In 2010 the Rainforest Fund continues supporting a range of long term projects including comprehensive policy programs, empowerment of the indigenous groups, mapping of territories, securing their rights, improving forest management, lobbying governments, creating law reform, and developing organizations, with a particular focus on Climate change initiatives.

"When Sting and I first visited the rainforest in Brazil around 21 years ago we observed first hand the destruction to one of the world's most precious resources and knew we had to do something," said Trudie Styler. "I'm very grateful for Elton John, Lady Gaga, Dame Shirley Bassey and so many others' continuing support of the Rainforest Fund and helping to raise awareness of the importance of our global environment and take action to help save the planet and prevent further degradation."

"Indigenous people are survivors - scattered around the globe, living precarious existences in often remote and inhospitable regions. They are the guardians of their land and environment, both inextricably linked to their culture, spirit, and traditions," said Franca Sciuto, Chairwoman of the Rainforest Fund. "The Rainforest Fund's concert and gala bring together the informed, active general public to support an organization that has been instrumental in giving these indigenous people a voice, and protecting their rights for over twenty years."

For gala and super seat ticket information please contact Tamara at Event Associates at 212-245-6570 or rainforest@eventassociatesinc.com. For Sponsorship and In-kind donations please contact Michele Petri at 212-431-9098 ext 5.
Elton auctions 100 pairs of shoes for charity
Monday, March 22 2010
Fans looking to follow in the footsteps of Elton John may well now have their chance.
Known as much for his extravagant outfits as his catchy tunes, the kind-hearted star has agreed to put over 100 pairs of his shoes under the hammer for charity. With prices ranging from £20 to £1,000, the items will help raise money for Brighton's Sussex Beacon HIV charity.

Elton's long-term partner David Furnish is clearing out his closet for a good cause too. The couple have also donated clothing by designers Alexander McQueen and Chanel.

"We're incredibly grateful for this spectacular donation," says an organiser for the auction, which is due to take place on April 2, 2010.
REMINDER: Let's make Elton John's 'Original Sin' No.1
Sunday, March 21 2010
A group of dedicated fans have decided to try to get "Original Sin" to the top of the charts.
Frequently asked for by fans in concert, the 2001 classic is thought of as one of his best works although it only climbed to the top 40 in England. When Elton put out "Songs From The West Coast", he knew it was a great album, and he was so happy about it. But he felt disappointed about the lack of promotion and he saddly said: "It's the last record that I ever make. I'm fed up with it".

In order to coordinate this activity, the group of fans has launched a facebook event that sets a deadline for everyone interested to download the song "Original Sin."

They ask to invite other friends to join this event and also encourage everyone to spread the word. They need as many people as possible and every single person counts. The download date will be during the week of Elton's birthday, from March 22 to 26, 2010.
Elton is getting ready for South Africa tour
Friday, March 19 2010
Elton John is preparing to kick off his South African tour on March 21, 2010.

He will be donating the proceeds of his shows to the Elton John Aids Foundation. Elton is believed to have arrived in South Africa a few days ago, arranging for a customs and immigration team to be deployed so that it could facilitate his arrival in Hoedspruit.

He is set to make Cape Town his base. Elton will fly to his Johannesburg and Port Elizabeth shows and then fly back to the Mother City.

It is understood that he will be joined by Annie Lennox for a special duet at his Cape Town show on March 24, 2010. Both artists are known for their philanthropic work in the field of HIV/Aids - Lennox with her Sing campaign and Elton with the Elton John Aids Foundation.
Boy George defends Elton's Jesus comments
Friday, March 19 2010
Boy George has rushed to the defence of Elton John after the pop legend branded Jesus Christ a "gay man".
Elton enraged America's bible belt with his controversial claims, resulting in the arrest of one religious nut who called for him to be killed. Elton told a magazine in February 2010: "I think Jesus was a compassionate, super-intelligent gay man who understood human problems. Jesus wanted us to be loving and forgiving. I don't know what makes people so cruel. Try being a gay woman in the Middle East - you're as good as dead."

However, gay icon Boy George has now stepped in to diffuse Elton's take on the Messiah's sexuality - saying his legendary pal's comments have been taken too literally. He told The Sun: "I think he was trying to say that Jesus was compassionate. I think that's true - the whole message of Christianity is about compassion. I think that's the point he was trying to make. But I don't want to put words into his mouth - we're good friends now so I want to stay on his good side!"



Simon wants Elton to be his wedding singer
Friday, March 19 2010
With Simon Cowell's reported September 2010 wedding date fast approaching, many details need to be decided. However, the most important detail to Simon is booking Elton John to perform at the wedding!
"It makes total sense that Simon is focusing on the wedding singer. Music is more important to Simon than the venue, the lighting or the flowers. Knowing Simon, I think it might be even be more important than the bride," joked a friend of the 'American Idol' meanie.

"Elton would be the perfect choice. Unlike others, he is brilliant live. Plus, Simon's dear mum and older relations know all his songs."

There's one person who probably won't be getting an invite -- the talented 'Idol' winner Taylor Hicks, who told popeater.com: "I feel sorry for anyone who becomes Mrs. Cowell."
Party of the Century
Monday, March 15 2010
Album review by Stephan Heimbecher.
When I received my review copy of Giorgio's "Party of the Century" mid February 2010, the first thing I did was transferring it to my iPod. I was surprised to find iTunes already offering me the complete track listing, given that the album won't be released before March 25, 2010. At least I didn't have to type everything myself, and that's how Giorgio joined the list of artists on my iPod between 'Gino Vannelli' and 'Gladys Knight & Elton John.'


The proximity of Giorgio to Elton, however, is also consolidated by some other aspects: To start with, Giorgio Onorato Aquilani (that's his full name) was the winner of the Hercules Composer Competition back in 2005 when we had asked fans to put music to "Dogs in the Kitchen", the poem included in the "Captain Fantastic" lyric book. You can certainly hear the Elton John influence when you listen to Giorgio's compositions on "Party of the Century". You will even find current and previous members of the Elton John band (John Mahon, Matt Still and Charlie Morgan) who helped in the recording of this album. The great opener "Poem to Life" is your chance to find out that John Mahon isn't just a very talented percussion player, but that he also has a very nice singing voice. And last but not least the "Party of the Century" features a rare and wonderful cover version of Elton's "Friends".

Still this project isn't all about Elton. There are a lot of different influences and in fact that's the result of the concept of the album: Thirty of the world's most influential and legendary musicians put together by the tireless enthusiasm of the young talent Giorgio in a project that took two years of intense work all around the world. There is a lot of representation by Toto (Bobby Kimball, David Paich, Simon Phillips, Leland Sklar and Greg Phillinganes) that is also very much recognizable, e.g. in "Nena's Last Symphony", an uptempo song with a driving rhythm and some nice brass arrangements. From a musical point of view it is not innovative, a pop album (as iTunes had correctly categorized it for me), but not mainstream, but put together with a lot of different facets. That's why I strongly recommend to sit back, relax and carefully listen to the record which has a lot of surprises and lovingly arrangement ideas that you will discover listening by listening.

The almost funky "Black Coffee and a Friend", for example, features a SPIELUHR like sound intro and outro which seems very inappropriate at first, but when you list to it again (and again) it is the perfect contrast to this brass and choir driven piece of music. Immediately following is a much more laid back "One Emotional Moment" that reminded me of Elton's "The Fox" ear with its vibes and violins arrangement. And "Write Me", a song that reminded me of Vanessa Carlton, has the most unusual and unexpected drum solo to a piano ballad that I have heard in a while.

Although this is called "Party of the Century", don't expect too many uptempo songs. In fact, this is very much a quiet album. There is Jazz number ("Love After Love") and an almost 8 minute wonderful mini symphony ("Venice Night") with an instrumental orchestra introduction that - in part - reminded me of "The Lion King". Don't think of "party" as a celebration but more as a group of very fine musicians that have come together to record some well-thought-out music, and most of which have played for free because they liked the project. You won't find a commercial hit single - in my opinion - except for maybe "At My Door", a duet with Bobby Kimball. But you will find an album full of honest pop, rock, jazz, classical music and a lot more.

On the downside, while I liked the idea of the intro with the party atmosphere, to me the outro track was a bit too much. And personally I had to get used to Giorgio's Italian accent - no offense, Giorgio. Apart from that all that's left is me telling you: Everybody's invited - make sure to accept that invitation. And make sure you go several times, as every time you listen it's a different party again.

"Party of the Century" is going to be released worldwide on March 25, 2010 and it will be available on iTunes for digital downloads and on cdbaby.com for physical distribution. The physical release will contain a DVD featuring 22 studio session clips, a documentary, interviews and a Making Of, a 48 pages book and a collector gadget.

Meanwhile, check out the official website which is updated every week with new blogs, pictures and facts about "Party of the Century".
Elton's lover committed suicide
Sunday, March 14 2010
Elton John has disclosed that a former lover threw himself to his death under a passing lorry because he could not reconcile his homosexuality with his Christian beliefs.
Elton said he was deeply traumatised by the suicide of the man, with whom he had been involved in a relationship before he "married" David Furnish, a film-maker 15 years his junior, in 2005. "Years back I had a relationship, and I had absolutely no idea in the world he was going to do this ... he threw himself under a truck," Elton said. "There was so much grief."

DAvid told The Sunday Telegraph that the lover, whom he declined to name, had taken his life because he was traumatised by the clash between his Christianity and his sexual inclinations. "He was so tortured by the conflicting views between his sexuality and his strong religious beliefs that he chose to take his own life," said David "It is very sad indeed."

David added that "out of respect" for the dead man's family he would not name him . Elton added: "Look, we all need love. We all have the same fears and insecurities. We should all be allowed to be free." The disclosure by the flamboyant musician is likely to provoke much speculation about the identity of his late lover.
R.I.P. Lesley Duncan
Sunday, March 14 2010
We are sad to report that Lesley Duncan has passed March 12, 2010. She was 66 years old.
Lesley Duncan was a singer/songwriter from England. She recorded from 1963 till 1986. Her popularity peaked in the 70's with the release of her song "Love Song" by Elton John. She sang background vocals on numerous albums released in the 60's and 70's including the "Jesus Christ Superstar" original cast album.

LesleyDuncan.net is setting up a Tribute page for her.
Deeply moving "Next Fall" deserves Broadway shot
Friday, March 12 2010
In these recessionary times, it might take more than the imprimatur of celebrity presenters Elton John and David Furnish to make "Next Fall" viable for a Broadway run.
Lacking big-name stars, Geoffrey Nauffts' play is going to be a tough sell. But anyone interested in quality theater would do well to check out this deeply moving and surprisingly funny work at the Helen Hayes Theater. Even the subject matter initially seems off-putting: A young man lies in a hospital bed near death, while his friends, family and lover bicker over issues like the existence of God.

But if this description makes the evening sound like a downer, it's far from it. Under the skillful direction of Sheryl Kaller, the play crackles with emotional force and acerbic humor.

Luke (Patrick Heusinger) is a hunky cater-waiter/aspiring actor who has been involved in a long-term relationship with the older, neurotic Adam (Patrick Breen), a 40-year-old underachiever who works as a salesperson in the candle shop run by his best friend, Holly (Maddie Corman). After Luke is hit and seriously injured by a taxi, his loved ones gather to await his fate. Tensions soon flare as Luke's bigoted, religious father, Butch (Cotter Smith), is unaware of his son's sexual identity and can't understand what role Adam plays in his life.

A series of flashbacks depict Luke and Adam's meet-cute beginning and subsequent relationship issues. Foremost of these are their differing religious perspectives: the Christian Luke feels guilt for his "sins," and the atheistic Adam can't get over what he perceives as his lover's hypocrisy. At times, the play gets bogged down in these arguments as Butch's diatribes about heaven and other religious issues begin to feel like leftovers from "Inherit the Wind."

But despite his occasional lapses into didacticism, playwright Nauffts (also a talented actor) maintains a tight focus on his characters, all drawn with surprising depth. He also reveals a talent for sharp comic dialogue and amusing situations, exemplified by the hilarious scene in which a frantic Luke tries to "de-gay" his apartment before a visit from his father.

The six-person ensemble, which also includes Connie Ray as Luke's steel magnolia mother and Sean Dugan as his emotionally guarded friend, delivers terrific performances. Particularly superb are Breen, who milks his character's neuroses for all its comic worth, and Smith, deeply moving as the macho father who reveals surprising vulnerability.



Elton "features" in new Neil Sedaka musical
Friday, March 12 2010
Fan report by Mark Giles.
Last week I was lucky to attend the "premiere" of the new musical "Laughter In The Rain " ... The Neil Sedaka Story, which opened in Bromley, Kent in the United Kingdom.

Written by Philip Norman (who wrote the "Elton" biography) and directed by successful theatre producer Bill Kenwright, the musical traces the ups and downs of his life and career of Sedaka and how he started out as a classical pianist at the Julliard School of music, before teaming up with lyricist Howard Greenfield and persuing a successful rock'n'roll career.

The first half concertrates on these early years, and how The Beatles in 1964 "took over" the music scene in the USA and the singer/songwriter style lost favour with the public. The second half concentrates on his decision to move to the UK and re-emerge as a singer-songwriter, but with a different style. The musical is full of the Sedaka hits in order including "Oh Carol," "Breaking Up is Hard to do," "Amarillo" and 1970's classics "Standing on the Inside," "Solitaire."

In the early Seventies, when forming Rocket Records, Elton went to see Sedaka, and asked him if he'd join the label. This resulted in two albums "Sedaka's Back " & "The Hungry Years" (named "Overnight Success" in the UK), and Sedaka had two US number ones with "Laughter in the Rain" & "Bad Blood" (Elton contributed backing vocals).

During the musical a rather nervous "Elton" dressed in a light grey suit, a large grey flat hat, Watford tie and big glasses, is seen nervously asking Sedaka if he'd join Rocket "as he was such a big fan of his". Elton then plays piano whilst they sing "Bad Blood." The musical ends around this time with a medley of rousing hits.

Although not mentioned in the musical the link with Elton continued with Elton's band (Davey, Dee & Nigel) performing on some of Sedaka's albums in the mid 1970's, and in 2007 Sedaka was honoured with a tribute in New York's Lincoln Center ... Neil Sedaka 50 years of hits which was a benefit for the Elton John Aids Foundation.

Sedaka was present at the "premiere" of the musical , and at the end of the show came on stage and performed that first Rocket Records number one "Laughter In the Rain.
'Idol' judges get hammered on 'The View'
Friday, March 12 2010
No matter how the rest of the world responded to Kara DioGuardi's post-Big Mike breakdown on March 10, 2010, you'd think she would have gotten a sympathetic reception from the women on "The View." No such luck.
"They were so wacky last night," Joy Behar said of the "American Idol" judges on March 10, 2010's show. "They were flirting. They were fighting. They were crying. ... All sorts of wacky stuff was going on." Elisabeth Hasslebeck called the judges' antics an "emotional mess."

Through all this, guest Elton John sat silently, until Sherri Shepherd asked him what he thought of DioGuardi's suggestion that a young fellow like Aaron Kelly couldn't possibly have enough life experience to put across a song like Lonestar's "I'm Already There." "It's so hard for the contestants," Elton said. "I mean, A) They're on television, live. B) They're trying to do the best they can in the two minutes they're given."

But then Elton, whose name has been bandied about as a potential replacement for the departing Simon Cowell, revealed himself to have been nearly as transported by Big Mike Lynche's performance as DioGuardi was. He said, "The difference between Big Mike and the other boy that was singing [Tim Urban] is that Big Mike has the most God-given voice. I mean the other guy's got a nice voice. But Big Mike -- I've only seen a small clip of it -- is like Luther Vandross. He's like the voice of an angel."

"But will he be the 'American Idol'?" asked Behar. "Why not?" said Elton. "Ruben Studdard was."



'American Idol' Producer: Elton still best Simon replacement
Friday, March 12 2010 at 07:55:40

Elton will not be an "Idol" judge
Friday, January 15 2010 at 05:53:06

Elton to replace Simon Cowell?
Thursday, January 14 2010 at 09:06:27


Elton doesn't need to see a Broadway show to produce it
Friday, March 12 2010
If you ride the subway in New York City, or have even just ventured outside these past few weeks, it's been nearly impossible to miss the posters touting the Broadway opening of "Next Fall," a drama about an older atheist and his hot hard-core Christian boyfriend.
Emblazoned on each ad are the words/imprimatur, "Elton John and David Furnish present ..." which is why New York Magazine was a bit shocked when, at the reception for the show on March 10, 2010, they learned that Elton had only just seen "Next Fall" for the first time that evening.

"Yeah, I [produced] it without seeing it," Elton told New York Magazine. "I did it completely blind!" He explained that he first became aware of the show when David went to see it at Playwrights Horizons with The Reader director Stephen Daldry. "He phoned me up after coming out of the theater and was just raving about it," said Elton. "They decided it was going to come to Broadway, and they said, 'We need help as far as getting exposure, since none of the cast are household names. Would you be prepared to lend your name?' We said, 'Yeah, and if you need us to put up some money, we'll do that, too.' Because we think it's a fantastic project."

With his Billy Elliot still running strong, and another stage project in development with "Next Fall" playwright Geoffrey Nauffts, Elton is now a bona fide Broadway producer. "Yeah, never thought that would happen!" he laughed, than mused about what perk he should demand. "Maybe I can get a senior-citizen pass and get in free to matinees or something."



Elton and David visit "Next Fall"
Friday, March 12 2010 at 08:00:18


Elton and David visit "Next Fall"
Friday, March 12 2010
Elton John and David Furnish attended the March 10, 2010 performance of Geoffrey Nauffts' "Next Fall", set to officially open at the Helen Hayes Theatre on March 11, 2010.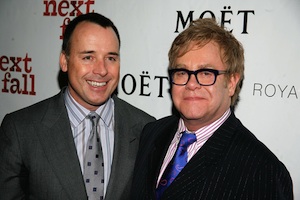 As previously announced, Elton and David are part of the show's producing team. Also in attendance were Loraine Bracco, Bobby Cannavale, Kate Clinton, Edie Falco, Milos Forman, Whoopi Goldberg, Donna Karan, Lou Reed, Sherri Shepherd, and Urvashi Vaid. The cast and guests celebrated the show's transfer to Broadway at the Royalton Hotel.

"Next Fall" focuses on two gay men with religious differences, over the course of their five-year romantic relationship. The production, which originated Off-Broadway last year, features Patrick Breen, Maddie Corman, Sean Dugan,Patrick Heusinger, Connie Ray, and Cotter Smith.



'American Idol' Producer: Elton still best Simon replacement
Friday, March 12 2010
On March 8, 2010, former "American Idol" producer Nigel Lythgoe told Showbiz 411 that he still thinks Elton is the best choice to replace Simon Cowell.
"He's absolutely it," said Lythgoe, who also said he thinks Ellen DeGeneres is still warming up and has yet to show her full potential. And he misses Paula Abdul. "She was the glue that held it together, wasn't she?" he said wistfully.



Elton will not be an "Idol" judge
Friday, January 15 2010 at 05:53:06

Elton to replace Simon Cowell?
Thursday, January 14 2010 at 09:06:27


Man charged with threatening Elton John
Friday, March 12 2010
An anti-abortion activist and gubernatorial candidate from Carrollton was arrested by Atlanta police on March 10, 2010 for allegedly making threats against Elton John.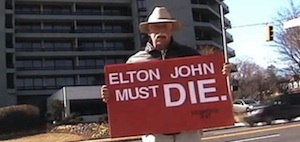 Neal Horsley was taken into custody in Carrollton by members of the Atlanta police fugitive squad and U.S. Marshal's office, according to Carrollton police. Horsley was booked into the Fulton County Jail, charged with terroristic threats, criminal defamation and using the Internet to disseminate threats.

During a hearing on March 11, 2010 morning at the jail, Magistrate Judge James Altman set bond for Horsley at $40,000 on all three charges. Altman said as a condition of his bail, Horsley must remain at the home of his son, Nathanael Horsley of Gainesville. The younger Horsley is acting as his father's attorney.

Elton, a part-time Atlantan, raised the ire of Horsley in February 2010 when he told an interviewer that he believed that Jesus was a homosexual. Horsley, 65, responded with an Internet diatribe on "Why Elton John Must Die."

A video posted on YouTube shows Horsley protesting outside Elton's Peachtree Road condominium with a large sign proclaiming, "Elton John Must Die." Horsley for several years has operated Web sites listing the names of doctors performing abortions and with links to Web cams showing patients entering abortion clinics.

A federal appeals court ruled in 2002 that a Web site run by Horsley condemning abortion doctors can be held liable in a civil suit because it amounted to illegal threats, not free speech. Horsley has established a gubernatorial campaign office in Carrollton but has not yet filed any paperwork with the state Ethics Commission to run for governor in 2010.



Elton John "Next Fall" Broadway video interview
Friday, March 12 2010
Next Fall received rave reviews off Broadway and when Broadway.tv recently interviewed the cast, no one knew that only a few days later Elton John would be announced as a producer for the show.
During Broadway.tv's exclusive interview with Phil Berk who is the President of the Hollywood Foreign Press, they discussed how Hollywood has had such a big impact on Broadway. Berk argued that the current economics of Broadway dictate a big name is needed to star in a show to be successful.

Some worried, that while "Next Fall" told a very strong and important story, the show may not get deserved attention and audiences because of the lack of household name star power. Elton John fixed this issue by becoming involved with "Next Fall", something Broadway.tv thinks is very noble and kind, of one of the most successful music artists in the world.

On March 11, 2010 Broadway.tv had the chance to interview Elton. Watch the video to see why he wanted to be a producer for "Next Fall".



"Next Fall" Family & Friends offer
Saturday, February 27 2010 at 12:35:25

See "Next Fall" and meet Elton backstage
Wednesday, February 24 2010 at 23:40:36

Elton John gets behind 'Next Fall'
Tuesday, February 2 2010 at 08:36:14


Beware Elton John ticket scams
Friday, March 12 2010
As the buzz continues for that big Elton John concert in Youngstown, OH on May 1, 2010, fans are being warned to be smart when shopping for their tickets.
Online scams have been popping up claiming to have tickets for sale to the upcoming show at the Covelli Centre. Truth of the matter is, tickets are not on sale yet, so beware of any site that purports to have them now. Some have the prices marked up considerably, going for more than $1,000 a pop.

Tickets officially go on sale this Friday, March 12, 2010.

Also see Elton John Tour News.
Kim Bullard interview
Wednesday, March 10 2010
Keyboard magazine interviewed Kim Bullard at one of the recent Elton John/Billy Joel shows.
Click here to see the video interview.



Kim Bullard to "replace" Guy Babylon
Wednesday, October 7 2009 at 07:16:27


Ronnie Wood's sober support
Wednesday, March 10 2010
Rolling Stones guitarist Ronnie's celebrity friends - including Elton John and Rod Stewart - have been giving him regular pep talks to help him overcome his addiction, which has seen him enter rehab numerous times, most recently in January 2010.
Ronnie is quoted by The Sun newspaper as saying: "Now I know everyone's behind me, I'm desperate to give up for good. Mick calls me every few days."

The rocker, 62, is also said to be determined to stay sober for his new girlfriend, Brazilian beauty Ana Araujo, 30, and has so far been clean for two months. There are even rumours the couple could marry later this year and friends say she has been a positive influence in keeping Ronnie from drinking.
$3.7 million raised at EJAF's 18th Annual Academy Awards Viewing Party
Tuesday, March 9 2010
Elton John and David Furnish hosted the 18th Elton John AIDS Foundation (EJAF) Academy Awards Viewing Party and raised $3.7 Million for the fight against AIDS.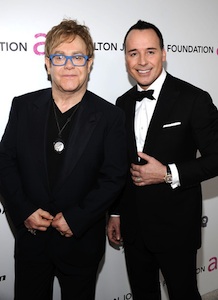 Presented by Chopard, Jo and Raffy Manoukian and Neuro Drinks, the EJAF Viewing Party continues to be the leading fundraiser on Oscar night in Hollywood. The evening began with a cocktail reception, dinner and viewing of the 82nd Annual Academy Awards, followed by a very exciting live auction and high voltage performance by the iconic Grace Jones.

Throughout its 18 years, the event has hosted some of the biggest stars in film, television and music. This year was no exception with celebrities such as Adam Levine, Alan Cumming, Allison Iraheta (American Idol), Apolo Ohno, Betty White, Chace Crawford, Christina Hendricks, Cory Monteith (Glee), Debi Mazar, Eric & Janet McCormack, Gina Gershon, Hayden Panettiere, Heidi Klum, J.C. Chasez, Jason Mraz, Jeremy Piven, Joaquin Phoenix, John Waters, Josh Groban, K.D. Lang, Kimora Lee, Lea Michele (Glee), Liam Hemsworth, Matthew Morrison (Glee), Michelle Rodriguez, Milla Jovovich & Paul W. S. Anderson, Miley Cyrus, Nicole Richie & Joel Madden, Ricki Lake, Rob Lowe, Ryan Kwanten, S. Epatha Merkerson (Law & Order), Sam Trammell (True Blood), Selena Gomez, Serena Williams, Sharon & Kelly Osbourne, Simon Cowell, Slash, Tim Allen, Victoria Beckham, attendance.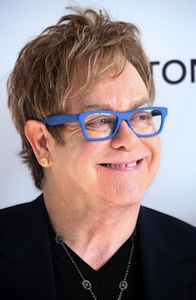 Guests arrived for the 18th annual Elton John AIDS Foundation Academy Award Viewing party to a custom-built tent adorned in hues of red and tangerine, a decor inspired by designer Antony Todd's travels. Chef Wayne Elias of Crumble Catering prepared an exquisite five-course meal including dishes such as Risotto Carnaroli with saffron liquorice and king prawns and "Wahoo" with black olives, pine nuts, fresh herbs and stewed lentils.

As is tradition, immediately following dinner, auctioneer Jamie Niven of Sotheby's led the evening's live auction. Items auctioned included a Lisa Jack contact sheet of a portrait sitting of now President Barack Obama which was taken at Occidental College in 1980. This rare piece sold for an astounding $60K. Guests also had the opportunity to bid on a private tennis lesson given by legendary tennis pros Andre Agassi and Steffi Graf, which sold for $70K and the costume that Elton John wore during his performance with Lady Gaga at the 52nd Annual Grammy Awards. The costume sold for $30K. A fantastic 48″X48″ William Claxton piece, "Chet Baker (Piano), Hollywood, 1954," was sold for $90K. The lucky winner of this photograph also got to take home Claxton's Nikon F 35mm Camera as well as the "Jazz Life" trade edition book. Guests also had the chance to bid on a watch from the Elton John Watch Collection designed by Caroline Gruosi-Scheufele. The dazzling limited timepiece was sold for $90K.

Other auction items included an incredible photograph by Robert Mapplethrope called "Grace Jones, 1984″ which was sold for $85K and surprised his guests with the opportunity to bid on a 7-day stay for 10 people in Elton's home in Windsor or Nice and the winners of this bid will also be able to experience the wonderful dishes cooked by Elton's personal chef. The 7-day stay was sold for $140K.



Elton John bonds with Betty White
Tuesday, March 9 2010 at 07:03:48

Elton 'blown away' by Oscar party
Tuesday, March 9 2010 at 07:01:04

Grace Jones to perform at 18th Annual EJAF Academy Awards Viewing Party
Saturday, February 27 2010 at 12:15:19



Elton John bonds with Betty White
Tuesday, March 9 2010
Victoria Beckham, Heidi Klum, Miley Cyrus and Simon Cowell were among the celebrity guest who stepped out for Elton John's 18th annual AIDS Foundation Oscar party on March 7, 2010, but one guest was more special than the others – Betty White.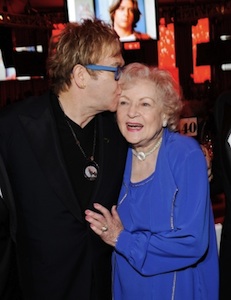 "Betty White is my Guest of Honor," Elton told Access Hollywood before his big event held in West Hollywood. "I want to meet a legend and she is a legend!" And he even had a special place at his party for the Hollywood superstar. "She's sitting on my right hand side," he sad. "I'm so thrilled that she's coming."

Elton explained the two had already bonded pre-party, via phone, over their shared love of canines. "We communicate because she has a charity for dogs and I love dogs, so I made a contribution to her charity and thought, you know what, instead of just writing letters, I want to meet you, so I invited her to this," he explained.

And photos from inside the bash showed the two sharing close moments. Elton, in blue glasses, hugged and kissed Betty who was in a dress in a similar blue shade.



Elton 'blown away' by Oscar party
Tuesday, March 9 2010 at 07:01:04


Elton 'blown away' by Oscar party
Tuesday, March 9 2010
Elton John and David Furnish have played host to some of the world's top stars at Hollywood's biggest Oscar viewing party.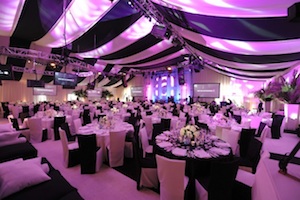 The couple's Aids fundraiser has become a staple for all those without an invite to the ceremony itself and this year's guest list read like a who's who guide to the entertainment world's biggest names.

Representing the Brits were the likes of Victoria Beckham, Mel B, Amanda Holden, Sharon and Kelly Osbourne, Katie Price and Simon Cowell. "I'm so blown away this year, it's fantastic," Elton said ahead of the celebrations. "It's our stable fundraiser for the whole year, this is by far the most important, it gets us the most publicity and it raises the most money. It's hard work because you have to walk around shaking hands with everyone but when we go home and it's all finished we've met people and we've seen great entertainment close up."

Elton added he and his partner were always anxious that the night should go perfectly. "It's something we look forward to but we're also a bit wary of as it's your baby and you want it to go well. "The best part is when you go home at night and you think 'we did a good job'."



Elton John set for Oscars bash
Saturday, March 6 2010 at 08:14:52

Grace Jones to perform at 18th Annual EJAF Academy Awards Viewing Party
Saturday, February 27 2010 at 12:15:19

18th annual EJAF Academy Awards Viewing Party
Wednesday, February 3 2010 at 21:09:27


Elton John, Santana sign up for Dubai World Cup
Saturday, March 6 2010
Superstars Elton John and Santana will perform live at the 2010 Dubai World Cup at Meydan on March 27, 2010, it has been announced.
The 15th running of the Dubai World Cup also marks the official launch of the world's largest integrated racing facility, the Meydan Grandstand and Racecourse. And to mark the occasion, Meydan has signed up two of the music world's biggest names to provide the entertainment at the close of the racing action.

The dual headliner concert is expected to start after the last race at about 10.45pm. They are the latest music stars to appear at Meydan - Sting performed at the latest race meeting held on March 4, 2010.

Mohammad A Nasser Al Khayat, commercial director of Meydan, said: "It is fitting that we have two legendary performers, Elton John and Santana, closing the 15th Dubai World Cup here at Meydan. They are iconic, inimitable and extremely dynamic entertainers. The concert will serve as a wonderful way to cap off an unforgettable night for all our guests, partners and the people around the world."

Frank Gabriel Jr, CEO of the Dubai Racing Club added: "We have world-class horses, jockeys and trainers on one of the world's most anticipated race days with $26m in prize money at stake over eight races. Add to that an amazing facility like Meydan, and with both Elton John and Santana to close the 15th Dubai World Cup and Meydan's official launch – this will be the event of the year."

Gates at Meydan Racecourse will open from 2pm for the races. Dubai World Cup Apron Views tickets start from AED350, and exclusive Dubai World Cup Golden Circle tickets for up close access to the concert arena start at AED600. Tickets are available from March 8, 2010 from Virgin Megastore, Box Office and TimeOut.
Elton John set for Oscars bash
Saturday, March 6 2010
Elton John has invited the Olympic gold medal winners to his Oscar-viewing party this year.
Construction of the massive marquee, home to one of the biggest parties in Hollywood, has begun March 3, 2010 in the grounds of the city's Pacific Design Center for what looks set to be another massive fundraising event for the singer's charity.

Scott Campbell, the director of the Elton John AIDS Foundation, said this year's guest list promises to be pretty impressive. "It's a great list and it brings together a diverse group of people, including this year's three Olympic medal winners," he said. "We have a very loyal group of core friends - everyday people and people in the media and entertainment world who come together."

Following tradition, after the stars finish watching who wins this year's Academy Awards, Elton will take to the stage to perform a special set with a musical guest. This year he'll be performing with Grace Jones.

But fundraising is at the event's heart, explained event producer Virginia Fout. "You have an Elton John hosted event which, as we all know, Elton wants to be beautiful elegant and nice... but you're also raising money for charity so you have folks that have paid a lot of money to sit and have dinner for a good cause."

The five-course menu includes a spring vegetable compote, risotto carnaroli with saffron liquorice, a choice of either New York steak or Wahoo with black olives and stewed lentils, and for desert a 'crispy milk chocolate bar with a bitter chocolate glaze, meringue sticks and apricot coulis'.



Grace Jones to perform at 18th Annual EJAF Academy Awards Viewing Party
Saturday, February 27 2010 at 12:15:19

18th annual EJAF Academy Awards Viewing Party
Wednesday, February 3 2010 at 21:09:27


"Enjoy The Game" tells the story of Hornets in the 1980s
Saturday, March 6 2010
A former Watford Observer journalist wants Hornets fans to add a personal touch to his new book covering the most famous era in the club's history.
"Enjoy The Game" has been written by Lionel Birnie and tells the story of Watford in the 1980s when current chairman Graham Taylor and Elton John steered the club into the top flight of English football for the first time, finished runners-up behind Liverpool, qualified for Europe and helped secure the Hornets' sole appearance in an FA Cup Final.

The 304-page hardback, limited edition publication will go on sale for £18.99 this summer, but Lionel is offering supporters prepared to commit to buying the book in advance the chance to become a patron and have their own individual message published in a dedicated chapter.
Lionel explained: "This can be a dedication or message personal to you (up to 150 characters) and can be of any nature, as long as it's clean and decent. You could make a dedication to a friend or loved one, or thank Graham and the boys for all the memories, it's up to you, but it'll be your own little piece of history for no extra cost."

The book is based on the recollections and anecdotes from those who were involved – from Taylor and John Barnes to Luther Blissett and Nigel Callaghan – although there is one key exception. "The only notable person missing is the man who financed it all, the person without whom it would not have been possible, Sir Elton John," said Lionel. "I hammered away at his representatives, and Graham Taylor did all he could to try to make it happen for me, but unfortunately I got the feeling that Sir Elton is very well protected by his agents and that I didn't get further than the front desk. If Sir Elton happens to read this, there's still time to get his take on events – just."

Although it would have been logical for a book covering a period in the club's history to be presented in chronological fashion, this is not the case. "I couldn't present each interview as a stand-alone chapter because people's memories overlap," the author said. "It would have become repetitive very quickly, so I have attempted to weave together the outstanding source material to tell the story of the key events from the 1980s. Of course, we have to wind back to the summer of 1977 when Graham Taylor was appointed, to give the subsequent tale some context, rather than land in January 1980 and take it from there.

"I've tried to let the players and management tell the story from their perspective, allowing their anecdotes and recollections to carry the reader along. It's been on my list of things to do since completing Four Seasons [the story of Watford from 1997 to 2001] with Alan Cozzi in 2001," Lionel said of his motivation for writing Enjoy The Game. I first went to watch Watford in the early 1980s and I think that those first impressions leave an indelible mark on you. I feel very fortunate, spoilt even, that my introduction to the sport and the club came during such a rich period.

"I was a child when Watford enjoyed all that success and although I'm familiar with the stories, I felt there was a book in it. My criteria is always 'would I want to read that?' "I've loved writing it, so hopefully people will enjoy reading it."

For further details on how to become a patron of "Enjoy The Game," visit www.lionelbirnie.com, but space is limited and messages will be allocated on a first-come, first-served basis.
My Dinner With Elton John
Thursday, March 4 2010
She met him on a flight home to Oklahoma. Cecelia Cole invited Elton John to a late barbecue supper in 1972 and the next time he came to town he and his bandmates came over.
Check out the video about this story.
Bishop complains about Elton
Wednesday, March 3 2010
The bishop of Piraeus, Seraphim, has written to Queen Elizabeth II of the UK to complain about recent comments by Elton, in which he claimed that Jesus Christ was a "compassionate, super-intelligent gay man who understood human problems."
Elton made the comments in an interview with US Parade magazine, sparking outrage from church organizations in America and other countries. Now Seraphim has called on worshippers in Greece to make their anger known to Queen Elizabeth and Britain's Foreign Office over what he termed the "unacceptable and absurd" comments made by the artist.

The bishop said Christians around the world are expecting the Queen to respond to Elton's comments by stripping him of his knighthood. Seraphim also wrote to Britain's ambassador in Athens, David Landsman, to express the "deep pain and bitterness" caused by the comments.



A Touch from God
Tuesday, March 2 2010
Review by Stephan Heimbecher
The new book from Del Newman takes the reader on a trip down memory lane sharing fascinating insights into the life of an orchestral arranger who has worked with all the big names in the music industry.

I have to admit that the name Del Newman didn't immediately ring a bell for me. It was some 30 pages into the book that I learned that besides Cat Stevens, Rod Stewart, The Beatles, Charles Aznavour, Roger Daltry, Peter Frampton, Diana Ross, Paul Simon, Neil Sedaka, Chris de Burgh, Dave Stewart and many others, Del has also worked with Elton John.

After meeting Elton first at a music publisher's recording session with singer Linda Peters in the early Seventies, Del was later asked to orchestrate tracks from the album "Goodbye Yellow Brick Road" as Paul Buckmaster was indisposed at the time. The tracks he worked on are "Goodbye Yellow Brick Road", "Sweet Painted Lady", "I've Seen That Movie Too", "Roy Rogers", "The Ballad of Danny Bailey" and "Harmony". The following year Del was also responsible for the orchestra arrangement for "Don't Let The Sun Go Down On Me", the last work he did for Elton.

Del's narrative style takes you right back to the early Seventies into the the recording studio The Chateau. He sucks you right into the scene, making you feel like being part of the event, being there with Elton and the band in the middle of the recording session. Along the way Del shares some anecdotes about Elton's generosity and working with producer Gus Dudgeon. Del makes you feel like a friend that he is sharing this stories with over a glass of beer or two.

As the book is basically structured in chapters which deal with a particular artist or band, the reader gets to learn a lot of personal and less known things about many of the big names of the music industry in the Sixties, Seventies and Eighties. A fascinating and enthralling trip with Del acting as your tour guide.

But it was long before those personal and almost intimate descriptions of working with the stars that I mentally bonded with Del just after reading the three pages of his prologue. Despite the fact that I wasn't even born at the time Del was diving into the world of orchestral arrangements, I can very much relate with his comments about the way the music business worked back then compared to today. Del is very outspoken about his personal opinion and even his stories about working with all those different artists, which - in his words - "were a mixture ranging from saints to sinners", are frank but miles away from kiss-and-tell.

A must-read for every true music fan this book is the "Access all areas" pass for everyone that always wanted to know how the music business works - or used to work.

The book is available online from Apex Publishing.
Alberta Ballet website crashes with demand for Elton show
Monday, March 1 2010
Alberta Ballet fans looking to buy tickets to their new show featuring the music of Elton John got a scare March 1, 2010 morning.
No sooner did tickets go on sale March 1, 2010 for "Love Lies Bleeding," the new ballet inspired by the songs of Elton John, than they went off again.

It turns out that so many buyers logged on at the same moment, they crashed the Alberta Ballet's website. "We were quite confident for it, that the system was going to work," said Robin Wortman, the ballet's interim director of marketing and sales. "(But) you never know until the gates open, what it's going to be like."

If you weren't able to access the Alberta Ballet website, you're not too late. There are still tickets available for the shows, which open May 6, 2010 in Calgary and May 11, 2010 in Edmonton.

While the ticket-buying surge temporarily crashed the website, tickets were always available over the phone (780-428-6830) or in person at box offices in Calgary and Edmonton (11120 82nd Ave.). By midday March 1, 2010, the website was up and running.



Elton John finally gets his own ('homoerotic') ballet
Sunday, February 21 2010 at 07:05:50