ELTON JOHN NEWS ARCHIVE: May 2010
PRS for Music Heritage Award Ceremony
Monday, May 31 2010
Fan report by Mark Giles.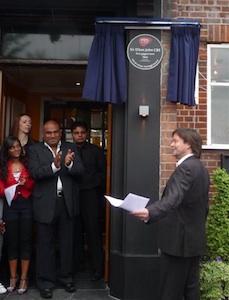 The Performing Rights Society of Music unveiled at plaque at the Northwood Hills Hotel (now the Namaste Lounge) on May 29, 2010. I was one of the lucky group of around 20 Elton fans that were invited to the "invitation only" ceremony and reception.

The first thing that struck me when I arrived was that whilst the outside of the building probably hasn't changed much since Elton played there, the inside certainly has, as it is now a restaurant that specialises in curries.

Amongst those attending was the landlord of the Northwood Hills at the time that Elton played there, George Hills, and his son Andy, who was once Elton's personal assistant. At around 11.30 am we were taken outside and in pouring rain listened to speeches by the Mayor of Hillingdon and the PRS representative Simon Darlow (who has written and co-written songs for Shirley Bassey, Cliff Richard, Wham & Elkie Brooks plus over 70 television theme tunes and scores). Simon spoke about the many highlights of Elton's career.

Then Simon pulled the chord to unveill the plaque to much applause. It said "Sir Elton John first gigged here 1962". After a short photo "session" we were led back inside for the reception where we were teated to a lovely curry buffet and drinks.

It was to be a very busy day as the Lunch Around the World followed the reception and then we had to get to Vicarage Road for the climax of the day - Elton John in concert!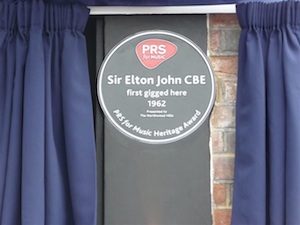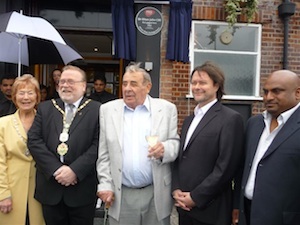 Elton John and band performed in Watford on May 29, 2010
Sunday, May 30 2010
Elton and the band performed a benefit show "Playing for Players" in support of Watford FC at Vicarage Road Stadium in Watford on May 29, 2010.
Following "Goodbye Yellow Brick Road" Elton gave a short talk discussing Watford FC, it's past and it's future and it's current financial difficulties, explaining how important it is for fans to buy their season tickets and continuing to support the club. Half way through the show he signed a Watford FC shirt (next season design) and then tossed it into the audience.

Elton dedicated "Sorry Seems To Be The Hardest Word" to Watford FC manager Malky Mackay. He also dedicated "Don't Let The Sun Go Down On Me" to his cousin John Harris who died earlier in 2010 after a long battle with cancer. John Harris was a life-long supporter of Watford FC and continued to attend every home game right up to his death.

Elton was in excellent voice and mood. It pored down rain at the start of "Levon", but after several songs it quieted down and only periodic sprinkles bothered the audience for the remainder of the concert. Although it remained very cold and wet throughout the concert the crowd was very much into the show the whole time.

Following is the complete set list of the Watford show on May 29, 2010:
Funeral for a Friend

Love Lies Bleeding

Saturday Night's Alright (For Fighting)

Levon

Tiny Dancer

Philadelphia Freedom

Goodbye Yellow Brick Road

Daniel

Rocket Man

I Guess That's Why They Call It The Blues

Sad Songs Say So Much

Sacrifice

Take Me To The Pilot

Don't Let The Sun Go Down On Me

Sorry Seems To Be The Hardest Word

Candle in the Wind (solo)

Bennie and the Jets

Are You Ready For Love

Bennie And The Jets

The Bitch Is Back

I'm Still Standing

Crocodile Rock


Your Song
Recognition for Elton John's first venue
Sunday, May 30 2010
Fans of Elton came to Northwood Hills on May 29, 2010 to see a plaque unveiled on the site of his first public performance 48 years ago.
The plaque on by the door of the Namaste Lounge bar and restaurant in Joel Road, formerly The Northwood Hills pub, was unvelied by Simon Darlow of the Performing Rights Society in a ceremony attended by Mayor of Hillingdon David Yarrrow. Mr Darlow said: "Everyone has to start somewhere. Obviously only a tiny percentage of performers will become as big as Sir Elton has, but many more can make a humble living. It is important that pubs and other small venues continue to offer the stars of tomorrow a chance."

George Hill, who owned the pub at the time and first engaged the future star at the age of 15, said: "It wasn't long after I first came here. He lived just round the corner. He came to me and asked for a job playing the piano. I didn't think he was much good to be honest. But my wife disagreed, and she told me to give him a break. She was right and I was wrong, as usual.

"He stayed playing here for three years. He played old time songs like 'Knees Up Mother Brown.' I paid him 30 bob a night - that's £1.50 now, and I've still got the piano in my garage."

Councillor Yarrow said: "It's an honour to be here. Sir Elton is an icon of the music business, and he first performed here in the Borough of Hillingdon. That is one of the major accomplishments of the borough."

Laura Croker, editor of eltonjohn.com, said: "I am quite sure Elton remembers playing here very well. He has a prodigous memory."



Elton John says "thank you" for PRS award
Wednesday, May 26 2010 at 21:15:52

"Lunch around the World" on Watford concert day
Saturday, May 8 2010 at 11:24:07

PRS for Music honours Elton's first gig
Thursday, May 6 2010 at 21:13:22


Elton John and band performed in Jelling on May 28, 2010
Saturday, May 29 2010
Elton and the band performed a gig at Jelling Festival in Denmark. Elton said he liked it that much that he'd play 30 minutes longer.
Following is the complete set list of the Jelling, Denmark, show on May 28, 2010:
Funeral for a Friend

Love Lies Bleeding

Saturday Night's Alright (For Fighting)

Madman Across The Water

Tiny Dancer

Philadelphia Freedom

Goodbye Yellow Brick Road

Daniel

Rocket Man

I Guess That's Why They Call It The Blues

Take Me To The Pilot

Sacrifice

Don't Let The Sun Go Down On Me

Sorry Seems To Be The Hardest Word

Candle in the Wind

Sad Songs Say So Much

Bennie and the Jets

The Bitch Is Back

I'm Still Standing

Crocodile Rock

Your Song
Elton John will be at Los Angeles Zoo's GLAZA Ball
Friday, May 28 2010
Elton John, Jane Goodall, Jay Leno, Sandra Bullock, Alex Trebek, Michael Feinstein and Jamie Lee Curtis are among the co-chairs for the Greater Los Angeles Zoo Association's (GLAZA) 40th Annual Beastly Ball honoring long-time supporter Betty White on June 19, 2010 under the stars at the Los Angeles Zoo and Botanical Gardens.
NCIS star Pauley Perrette serves as the evening's MC. White, the entertainment industry icon, is a long-time GLAZA Trustee and was named "Ambassador to the Animals of the City of Los Angeles" by Mayor Antonio Villaraigosa in 2006. In a March 2010 CNN interview, White mentioned "her 46-year partnership with the Los Angeles Zoo, calling it one of her two loves in life alongside show business."

"Betty White is synonymous with the Los Angeles Zoo," says GLAZA President Connie Morgan. "Her heart and her advocacy for the animals that share our earth help drive us to excellence. Hers is a peerless example of leadership from the Hollywood community, and honoring her is our great joy."

"Betty is truly one of the greatest fans of the L.A. Zoo," concurs Los Angeles Zoo Director John Lewis. "She knows our animals and staff on a first name basis, and when she's not on television or in a movie, you can usually find her here at the Zoo. Betty shares the belief that our mission is to nurture wildlife and enrich the human experience. She's been a part of this institution for over four decades and an integral force behind many of our new exhibits which nurture our animal residents and have provided tremendous educational experiences for millions of visitors."

The Beastly Ball is known as "one of L.A.'s biggest and most popular fund-raisers" (FOX News) and "one of the best parties in Los Angeles" (KCAL TV News). Guests, invited to dress in casual or safari attire, stroll through the Zoo after hours viewing its inhabitants, dining on bountiful fare provided by some of L.A.'s most popular restaurants, enjoying entertainment by world music groups, and dancing to a live band. There are also animal feedings and "animal walk-abouts," which include chats with keepers and the chance to observe small animals up close, plus silent and live auctions with hundreds of remarkable items and one-of-a-kind opportunities. Celebrity auctioneers Fritz Coleman, the popular KNBC TV weathercaster, and comedian Jimmy Pardo conduct the live auction.

The Beastly Ball is presented by GLAZA, which for more than four decades has successfully supported the Los Angeles Zoo and Botanical Gardens as an international leader in the preservation of endangered species and a conservation center for the care and study of wildlife. As a major cultural and entertainment resource for Southern California, the Zoo is a place of beauty and inspiration and a catalyst for discovery of the natural world for children of all ages. GLAZA funds Los Angeles Zoo exhibits, plant and animal species conservation, capital projects, and education and community outreach programs. GLAZA currently has 72,000 member households, the largest membership base of a cultural organization in Los Angeles, and boasts a volunteer corps of over 900.

Tickets to the Beastly Ball are $1,000 per person; individual and corporate sponsorship opportunities at higher levels are also available. The Los Angeles Zoo is located at 5333 Zoo Drive in Los Angeles' Griffith Park at the junction of the Ventura (134) and Golden State (5) freeways. For tickets and information, call (323) 644-4753, www.lazoo.org.
Elton's approval needed to get ballet on the road
Thursday, May 27 2010
Aftermath, so far, of "Love Lies Bleeding": It's been almost two weeks since the conclusion of Alberta Ballet's acclaimed premiere run of artistic director Jean Grand-Maitre's ballet based on the music of Elton John.
So where do things stand now? Alberta Ballet needs two thumbs-up from the famous singer/songwriter to get the $1.1 million show on the national and international road. Will Elton's approval be forthcoming?

Well, things started moving in a positive direction on May 21, 2010, according to choreographer Grand-Maitre. That's when the company received word that Elton's management in London was in the process of convening a meeting with the singer's stakeholders in both England and the United States "to see what the future of the ballet could be," Grand-Maitre says.

"They've said they're looking forward to talking with us." As of May 25, 2010, the artistic director was proofreading his first letter to Elton himself -- a combination thank-you note and report on how well the ballet did, as well as Grand-Maitre's own take on the whole experience -- since the completion of the ballet.

The show represented the "biggest risk I ever took," the choreographer says. "After it was all over, I kind of rested for a week because my nervous system was shot. "There was a lot riding on this one." There still is, financially speaking, even though attendance for the eight performances of Love Lies Bleeding reached 98 per cent capacity at both Jubilees (Edmonton and Calgary) -- compared to "our historic average of 75 per cent," Grand-Maitre says. "They said we outperformed our original sales target by 140 per cent."



Elton wows fans at 'memorable' Morocco concert
Thursday, May 27 2010
Elton John performed before some 40,000 adoring fans in Morocco late on May 26, 2010, living up to his promise of a "memorable" concert in a country whose main Islamic party had called for a ban on the openly gay singer.
Elton wowed the audience at Rabat's international Mawazine festival with a selection of hits from his decades-long career, as some even flew in from Europe expressly to see him.

"I thank Morocco, the royal palace and the festival for inviting me. I am proud to be singing in Morocco," Elton said, speaking in French, before launching his three-hour long concert in Rabat's posh Souissi neighbourhood.

"More than 40,000 people attended the concert," said Aziz Daki, artistic director of the festival, which is one of the most important cultural events in the Arab world. Elton had promised a "memorable" evening after the festival's organisers ignored a call by Morocco's main opposition Islamist Justice and Development Party to ban him from the festival on the ground that it would pose "a risk of encouraging homosexuality in Morocco."

Daki had stood by his choice and said cancelling the concert on the grounds of Elton's homosexuality would "undermine the respect of privacy" and "breach certain values that the international Mawazine festival is based on."

Fans were ecstatic that the performance went ahead. "I bought a plane ticket for 250 euros from Brussels to come and see Elton John in the flesh," said Elissa Bonnet, a 32-year-old Belgian. "I will never find a better opportunity," she added. Yasmina Faraoui, a 45-year-old Moroccan woman, said Elton was "one of the world's greatest pianists."

Other international artists who appeared at the festival include Julio Iglesias, B.B. King and Carlos Santana.



Elton and a can of worms in Morocco
Thursday, May 20 2010 at 16:10:40

Moroccan Islamist party calls for Elton John ban
Saturday, May 8 2010 at 11:18:10


Open letter to fans ahead of Elton John concert
Thursday, May 27 2010
Watford legend and chairman Graham Taylor has written an open letter to the Hornets fans ahead of this weekend's Elton John concert at Vicarage Road. It reads as follows.
'Since the football season ended much of our attentions at the club have turned towards the forthcoming Elton John concert.

Of course, for those involved in the fine planning and organisation - that started some time ago, but aside from football it has given everyone something to look forward to.
I have been privileged to see Elton perform many times over the years, at a number of different venues.

However, sadly I won't be able to attend his Vicarage Road concert due to my commitments with Radio 5 Live in Graz, Austria for the England versus Japan game.

I'll be working that day but I shall certainly have a few thoughts no doubt about how the evening is progressing in Watford.

Elton is undoubtedly still hugely passionate about this football club.

Both Elton and I were part of a great journey for this club back in the 1970s and 1980s, those achievements still stand today and it is something we're all very proud of.

Over the years Elton has done an awful lot for Watford and although he can't be around the club on a day-to-day basis, I know that wherever he is around the world, Watford's results and goings on at Vicarage Road are never far from his mind.

His concert is a nod to the future with all the concert proceeds going to our manager Malky Mackay to use on his playing squad. That's what we all have to look forward to and concentrate our energy on being as prepared as we can be for next season.

The weather was fantastic over the last weekend and I very much hope it will be the same at Vicarage Road on Saturday, 29 May.

Finally, I hope all our supporters have a truly fantastic night in what promises to be a very special occasion for everyone concerned with the club.

Enjoy the night!
Best Wishes, Graham Taylor'
Elton John says "thank you" for PRS award
Wednesday, May 26 2010
On May 29, 2010, before Elton takes the stage before hundreds of fans at Vicarage Road, he will be honoured with a PRS for Music Heritage Award, set up last year to recognise the unusual performance birthplaces of famous bands and artists.
Elton is the fifth artist to receive the award, which is commemorated by a permanent black plaque that will be erected outside the curry house on Joel Street in Northwood Hills.

Among the guests attending the unveiling ceremony on May 29, 2010 will be 75-year-old George Hill, former landlord of The Northwood Hills who booked Elton for his first gig. Elton says of the award: "I am delighted and honoured to receive this recognition from PRS for Music. We often forget what a significant and important part British musicians, writers and composers and performers have played in the history and development of music. Thank you."

Behind a pile of boxes, under an old blanket in a garage in Sarratt, lies the dusty old piano that holds a big secret. For it was on this humble, neglected old instrument that 15-year-old Pinner schoolboy Reggie Dwight, now known to millions as pop icon Sir Elton John, played his first gig in 1962 at The Northwood Hills Hotel (now the Namaste Lounge Indian restaurant).

George began his 35-year career in the pub trade as assistant manager of Aldenham Lodge in Radlett, he then spent five years at the Hare in Stanmore (now Bluebeckers), where he acquired the piano, and a further 27 years at The Northwood Hills. On his retirement, George moved to Chipperfield and has lived in Sarratt for the past 11 years.

The piano may have made the journey from Bushey to Northwood but George's regular pianist Albino Bob found the move a step too far, so a vacancy arose for a pub pianist. Elton, studying at Watford Music School at the time, knocked on the door.

"He was known as just Reggie Dwight then and came along and asked me if he could play," recalls George. "I didn't rate him all that much but my late wife Anne realised he was very talented. One of the regulars, Charlie Furness, used to give him hell – he had a good apprenticeship. Elton played for 18 months and on Sundays he'd come and practise in my restaurant – he probably composed some songs there. He was quite a performer, a honky tonk pianist, I used to fling beer trays at him and tell him to keep it down. He wasn't a patch on old Bob though. There was nothing special about Elton, but he could obviously play the piano and was very popular with the customers."

Of course, Elton went on to show he certainly was a bit special. During a five-decade career, he has sold more than 250 million records, making him one of the most successful artists of all time. George's son Andy (52) remembers touring with Elton during the 1970s.

"I worked as his PA, which meant I booked flights, tickets for wherever he wanted to go. I had a great life. We'd go to Hawaii for tennis lessons and were at this bar one night and some people were fundraising for Save The Whale. Elton said, 'I'll do a gig for you tonight' and he played for more than two hours for nothing. The bar was heaving and he raised thousands."



"Lunch around the World" on Watford concert day
Saturday, May 8 2010 at 11:24:07

PRS for Music honours Elton's first gig
Thursday, May 6 2010 at 21:13:22


Elton John and band performed in Lisbon on May 22, 2010
Monday, May 24 2010
Following is the complete set list of the Lisbon show on May 22, 2010.
Funeral for a Friend

Love Lies Bleeding

Saturday Night's Alright (For Fighting)

Levon

Tiny Dancer

Philadelphia Freedom

Goodbye Yellow Brick Road

Daniel

Rocket Man

I Guess That's Why They Call it the Blues

Take Me to the Pilot

Sacrifice

Don't Let the Sun Go Down on Me

Sorry Seems to be the Hardest Word

Candle in the Wind

Bennie and the Jets

The Bitch Is Back

I'm Still Standing

Crocodile Rock

Your Song
Hopeless chef Elton
Monday, May 24 2010
David has revealed that Elton is hopeless in the kitchen and has no idea about basic cooking.

Elton is hapless in the kitchen and leaves his partner David - who he married four years ago - to prepare most of their meals when they are at home together. David said: "I'm probably the chef of the two of us, though I don't really get chance anymore as I'm always travelling. "Elton doesn't cook. Don't ask him questions about cooking, he won't know what to say."

The couple eat out regularly, but David admitted sometimes Elton's lack of prowess in the kitchen can still interfere with their plans for the evening. He explained to BANG Showbiz: "There was one funny incident recently - we went to a Japanese restaurant in January and we both ordered dishes you had to cook yourself, but Elton didn't know, so he just sat there panic stricken."

The couple have been together for 16 years but the Canadian filmmaker says they love to keep the romance alive with special gifts. David said: "I like to surprise him with little things from time to time. Art especially."
Gay anger at 'mincing' Elton John pub sign
Sunday, May 23 2010
A pub has provoked outrage after inviting gays to an Elton John tribute night - but warning: "No mincing".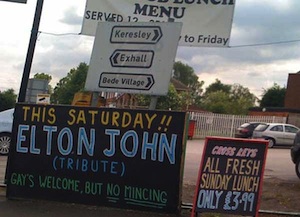 The sign at the Cross Keys in Bedworth, Warks, read: "This Saturday!! Elton John (tribute). Gay's welcome but no mincing."

On May 22, 2010 Twitter had thousands of postings from those angered by the sign.

Landlord Anthony Bartle said: "Our bar manager is gay and he was the one who did the sign. If we've offended anyone then we're sorry."

The pub has now taken the sign down.
Meet & Greet auction
Sunday, May 23 2010
Meet Elton John and sit in the front row at a concert anywhere in the world on his current tour!
This auction includes two front row seats (valued at approximately $200 each, including tax and fees) to an Elton John concert in North America, Europe or Israel between June 10, 2010 and December 1, 2010. There will be a meet and greet experience for both guests with Elton John either before or after the performance. The meet and greet will take place in a special backstage green room area.

100% of the final sale price will support Liberty Hill Foundation, which is first to identify community leaders at the frontlines of change. They invest in changemakers and equip them with the skills and relationships they need to build power and advance social justice. After more than 30 years, Liberty Hill is uniquely positioned to bring together forces for change and forge a common agenda for equality and opportunity in Los Angeles.
Happy Birthday, Bernie!
Saturday, May 22 2010
Elton's lyricist Bernie Taupin turns 60 today, May 22, 2010.
On behalf of the Hercules team and the Elton John fans all over the world, we would like to wish him a happy birthday!
Support acts announced for Sir Elton's Watford gig
Friday, May 21 2010
The support acts due to play before Elton John at his Vicarage Road concert have been announced.
Pearl and the Puppets and singer-songwriter Murray James will both perform inside the Hornets' ground before Elton takes to the stage in front of 18,000 fans on Saturday, May 29, 2010.

Murray is a blues, soul and reggae musician and has supported artists such as Candi Staton and Amy Macdonald. Former Woolworths employee Pearl, from Glasgow, is signed to Elton's Twenty-First Artists label and has supported him in America. She has also played with the Sugababes.

Watford Borough Council has also released details of traffic restrictions on the day of the concert. There will be no loading or parking in Vicarage Road between Harwoods Road and Farraline Road, from 8am to midnight. This also applies to blue badge holders.

As the concert is not part of match day restrictions, permit bays in controlled parking zones M and N will not be enforced. However, permit bays in full controlled areas will be enforced up to 6.30pm and yellow lines will be "robustly enforced" throughout the day.

The council also warned that police are likely to close Vicarage Road entirely between 3pm and 8pm, and then again between 10.30pm and midnight. <>BFor more information, telephone Watford's Parking Shop on +44 1908 223507 or visit between 8am and 6.30pm at 71/73 Market Street.



"Lunch around the World" on Watford concert day
Saturday, May 8 2010 at 11:24:07

Hornets stars push final Elton John concert tickets
Thursday, April 1 2010 at 05:02:30


Cancel Israel!
Thursday, May 20 2010
Some people are very creative when it comes to make Elton cancel his show in Tel Aviv on June 17, 2010.


We have received the following feedback in regard of this topic:

Stephan,

Like you, I'm a huge Elton fan. I caught my first show at Madison Square Garden in 1989 at the age of 9. I have tickets to see Sir Elton in Ramat Gan and am happy he is playing here. Many (most) Israelis support peace with our Palestinian neighbors and would do almost anything to achieve it. Any view that blames only us and not the Palestinians for the lack of piece is overly simplistic and doesn't understand the nuances of the situation in this part of the world and why Israel is nothing like apartheid South Africa. Arabs living in Israel proper have full rights, vote, serve in government and can serve in any job. Sure, there's discrimination but it's something we're working on. And it's not as if other Western countries don't have tons of discrimination - look at blacks in America and muslims in western europe to name 2 examples - yet no one is calling on Elton John to cancel his shows in these places. In addition, Israel is a country that supports the rights of its gay citizens - we have gay members of parliament, corporate leaders, etc. Elton just had a show cancelled in Egypt for the 'crime' of being gay - apparently the way G-d made this beautiful man is offensive to religious muslims. I didn't see that make the cut in your 'news' stream - http://www.huffingtonpost.com/joe-mirabella/elton-johns-egypt-concert_b_566341.html

Unlike the people who made the below movie, Elton John lives in the real world. He knows his music can have a healing power. And he knows that while far from perfect (which country is?), he is far more welcome in Tel Aviv than he is in most other places on earth including (sadly) all muslim countries (with 1 or 2 possible exceptions).

Please allow a retort to the 'Cancel Israel!' post, or at least allow comments on it - maybe you could even publish my letter here.

Keep up the great work tracking all things Elton!

Best,
Jonathan Liss
Elton and a can of worms in Morocco
Thursday, May 20 2010
Elton John may be one of the most prolific musical acts around, with number one hits dating all the way back to the days of President Nixon.
But there are a few religious leaders in Morocco who want Elton to stay away from the north African country. Following in the footsteps of Egypt, which earlier in May 2010 canceled a concert by Elton, several conservative Islamic groups in Morocco are working fast and furious to get Elton John dumped from an upcoming music festival appearance.

Now the debate over whether Elton should be allowed in the country is stirring up national politics, with leaders of the Islamist PJD opposition party campaigning to get the Mawazine World Rhythms Festival to drop Elton from an upcoming gig. According to Moroccan politician Mustapha Ramid, Morocco shouldn't be a haven for people who brag about their homosexuality.

"Morocco is an Islamic state where stages should not be used to allow a person with such a degree of debauchery to perform because we have to shield the young from such influences," said Ramid. "We asked the government to exclude [Elton John] from the list of artists invited to this festival [because] this man — sorry, I should say this person, not this man — is known for bragging about his homosexuality."

Too bad for Ramid that Elton isn't listening to him, and neither are the organizers behind the music festival, who continue to insist that Elton John and his candles in the wind will be allowed to perform.

"Elton John is one of the best artists in the world. He is great and extraordinary when he appears on stage. That's why we invite him and welcome him to the Mawazine festival," festival director Aziz Daki told Reuters. "The private life of a singer is not our business. We do not invite singers and artists after assessing their private lives."

The division in the country over Elton may seem like a trivial pop culture news flash, but it actually hints at larger developments in Morocco that make it a country worth watching when it comes to the human rights of LGBT people. Case in point, a new magazine that's launched in the country targeting Morocco's LGBT population. The magazine's called Mithly, a term increasingly being used to indicate "gay," and their inaugural issue has sold more than 200 copies, despite calls for consumers of the magazine to be punished with jail time.

The first issue covered the Elton fracas, but also delved into subjects like suicide among Morocco's LGBT population, and how queer people deal with coming out to their families in a conservative, predominantly Islamic, country. "It seems that something is happening in Morocco that does not exist elsewhere in the Arab world," Abdellah Taia, a gay Moroccan author living in Paris, told Reuters. "A new generation ... has achieved a certain freedom of expression thanks to the Internet, and this magazine is a result of that freedom."



Moroccan Islamist party calls for Elton John ban
Saturday, May 8 2010 at 11:18:10


Signed Elton shoes up for auction
Wednesday, May 19 2010
Elton John autographed a pair of Yohji Yamamoto's yellow shoes which are now up for auction by "Clothes Off Your Back".
Proceeds from the auction benefit Hillsides, a foster care children's charity that serves children and families in crisis living in Los Angeles County.

You can bid online at clothesoffourback.org. The auction ends on May, 20, 2010 at 6pm PST.
Lady Gaga, Bruce Springsteen, Elton John highlight Rain Forest show
Friday, May 14 2010
Saving the rain forest can bring out the sincere side of anyone, it seems - even Lady Gaga.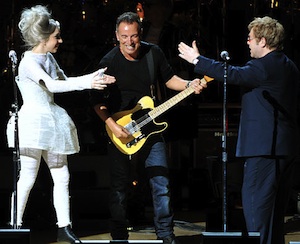 At the all-star fund-raiser to preserve those endangered parts of the world on May 13, 2010, a very ladylike Gaga sat poised at the piano at Carnegie Hall and delivered a sober version of one of the most earnest pop songs of all time: "Stand By Me."

Accompanied by Elton John on her next song, "Speechless," she rendered the melody with operatic gravity, moving into Elton's own "Your Song," as if the two hits - and the two stars - were made for each other. The result may have done just as much to benefit Gaga's evolving image as it did to aid the world's wildlife. It handily put her in the company of the pop classics. It also delivered a sure and savvy contrast to the rest of the night.

For their entire 21-year history, the Rain Forest concerts have kept their events on the light side, letting top stars have fun with songs from their own catalogues, and those of others, while hosts Sting and wife Trudy Styler cheer them on. Much of this year's event tried just as hard to keep things camp as Gaga did to play it straight - with equally rousing results.

Let's see: We had Dame Shirley Bassey belting out not one, but two, gaudy James Bond themes - "Goldfinger" and "Diamonds Are Forever" - before going even further over the top with "Hey Big Spender." Even at 73 her brassy voice has lost none of its volcanic vibrato.

Next we had surprise guest star Bruce Springsteen, who turned up to do a gut renovation on Bryan Adams' hit "Cuts Like A Knife." He turned it from a toy-rock bauble into a Solomon Burke -like slice of soul.

But it was Elton who stole the show. Taking a deep, and well-advised, breath, he dove into Madonna's "Material Girl" and "Like A Virgin" while a kick line of go-go boys in Speedos flitted around him with moves worthy of Cirque Du Soleil. Genius. Those last two theatrical outbursts arrived during the show's second half, which meant to salute the '80s, though apparently not everybody got the memo.

Nile Rodgers offered up his chic hit from 1978, "Le Freak," while Elton reached all the way back to the '60s for John Sebastian's "Summer In The City." (Sebastian himself accompanied the gigantic 40-plus piece band on guitar, but did not sing).

For a finale, the whole troupe (which also included Debbie Harry and Mary J. Blige) came out to sing a kitschy oldie that has somehow become the song of the hour: Journey's "Don't Stop Believin'." Sung in this context, its chorus' statement of faith seemed downright political - which may just have been the smartest mix of camp and sincerity of this entire wonderful night.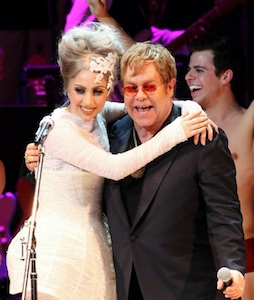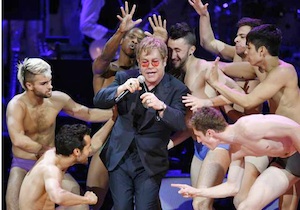 Lost in the Nashville flood: Musical instruments galore
Friday, May 14 2010
Anyone who knows the feeling of becoming intimately familiar with a particular musical instrument can't help but sympathize with all those musicians who lost prized pieces of equipment during the recent floods in Nashville.
Former Elton John band member John Jorgenson just returned from a tour through Europe, "which had its own challenges with the volcano, immigration issues, etc…." Back in Nashville, he said, "My home, family and pets were all OK, but not so much my instruments. My basement flooded with all my vintage Vox amps, and once I was able to get them recovered I found out about Soundcheck, where I indeed had a lot of instruments and amps stored -- most of the ones I used on tour with Elton, and all the ones I'd have taken to sessions, many one-of-a-kind, specially made for me, the others vintage.

"It was of course horrible to know that they were all sitting in water for days and I was in Europe and could do nothing about it, although no one else could either, as the whole building was inaccessible. [I'm] back home now, and dealing with the massive amount of ruined gear and instruments ... they were much worse than I thought, as all the guitars spent days submerged in water containing diesel fuel and sewage."

Then he ran part way down the laundry list of his damaged equipment: "Monteleone mando[lin] is toast, Gibson A2 [mandolin] went into a bag in so many pieces, '61 Les Paul SG [electric guitar], '64 SG Custom, '70 Les Paul Custom, Yellow Submarine Casino, Hank Marvin Strat ...four vintage AC30s [Vox amplifiers], 2 JJ Matchless [amps] ... A dozen amps and about 25 guitars, plus cases, trunks, rack units, pedals ... incredible."
Elton turns down Simon Cowell's 'Idol' spot
Thursday, May 13 2010
With Simon Cowell's exit from "American Idol" fast approaching, the search to fill his spot at the judge's table is heating up. Access Hollywood has learned that Elton is one candidate who will not be taking over for sharp-tongued Brit.
Elton, who was a guest judge on Season 3 of the hit FOX reality series, has turned down a whopping $33 million offer to be a judge on "Idol." It is not known if the massive payday was for one season or for a multi-year contract.

A rep for FOX told Access they had "no comment" about Elton being offered the job and a rep for the singer was unavailable for comment when contacted by Access.

According to Entertainment Weekly, Cowell's replacement will not be named until after the May 26, 2010 finale.



Brandi Carlile talks about Elton
Wednesday, May 12 2010
If you don't know who Brandi Carlile is, it's about time you learned. The Seattle-based songwriter first hit the scene in 2005 with her self-titled debut.
Though the songs on "Brandi Carlile" presaged a talent beyond her years, and she spent much of the next two years touring as an opener for artists like Ray LaMontagne, Indigo Girls, Chris Isaak, Tori Amos and Shawn Colvin, it wasn't until her T-Bone Burnett-produced second album, "The Story," was released (in 2007), that people began to take notice. That year, the title track was featured on a Paste magazine sampler disc, and several of her songs, including the powerfully bittersweet country-rock ballad "The Story," were featured on "Grey's Anatomy."

Carlile, who has collaborated with Tim and Phil Hanseroth (of '90s Seattle punk band The Fighting Machinists) since her first record, recently released her third album, "Give Up the Ghost," on both CD and limited-edition vinyl. The album features guest appearances by Indigo Girl Emily Saliers and Elton John (piano on "Caroline"), and exhibit a maturity only hinted at on her earlier releases.

Carlile cites Elton and Saliers as strong influences on her songwriting. "[Elton John] is the first person who made me realize I could write my own songs," she says. "It progressed from there. I really, in my early years, was influenced by Emily Saliers of the Indigo Girls. She's an incredible lyricist. She was always one of my favorite songwriters."

One might call Carlile's association with Elton a stroke of luck, but one might also rightly assume Carlile's songwriting prowess was enough to entice the pianist into backing her on "Caroline." "The first thing that kind of flew into my mind was "Elderberry Wine" [off Elton John's "Don't Shoot Me, I'm Only the Piano Player"] and the whole "Tumbleweed Connection" album -- that funky, ragtime honky-tonk piano style that Elton John does so well. I told the twins, I was like, 'I've gotta find a way to get Elton John to play piano on this.' We just kinda laughed, and we figured it out. We sent a few e-mails, sent a few letters, and the next thing I knew, I got a call from Elton John one morning saying that he'd do it. We got together in a recording studio in Vegas and did it. It was really fun."

Carlile is preparing to mount a world tour, which covers America in June, July and August, then jumps over to Europe in the fall. For the full schedule see www.brandicarlile.com.



David Furnish and Patrick Cox create pop-up speakeasy in Monaco
Wednesday, May 12 2010
With the Monaco Grand Prix sandwiched right in the middle of the Cannes Film Festival this year, this exclusive region on the Mediterranean will be undisputedly the most glitzy place on earth from the May 14-16, 2010
The club, which is set to encapsulate the glorious glamour of Hollywood in its heyday, will be a cross between a lounge and a disco with no set-aside VIP area because put simply "once you are in the club, you are a VIP."

David, who hosted an Oscar party at Soho House in Los Angeles, is keen to recreate that atmosphere and hopes his neighbours U2 and Tina Turner (who live nearby the house he shares with Elton John just down the coast in Nice) may pop along to party.

The club will operate an all-inclusive including unlimited champagne and spirits.
Sir Elton John to sing at Charity Butterfly Ball
Wednesday, May 12 2010
One of the UK's highest-profile fundraising events takes place in London on May 20, 2010 and the celebrities will be out in force for the glamorous bash.
British charity, Caudwell Children, stages their Butterfly Ball in the Capital every May and a host of A-List stars turn out to support the charity founded by billionaire philanthropist, John Caudwell.

Following the recent announcement that Brit singer, Robbie Williams, has joined the Charity's growing list of celebrity Goodwill Ambassadors; it has been revealed that the exclusive guest list for the black tie event will include Bruce Forsyth, Elizabeth Hurley, Joan Collins, Dame Shirley Bassey, Louis Walsh, Penny Lancaster Stewart and a host of stars from stage, screen and sport.

The Charity prides itself on the world-class entrainment on offer to its 1000 guests; with previous performances courtesy of Tina Turner, Whitney Houston and Rod Stewart. This year the audience will be treated to an hour-long intimate performance from the biggest selling solo male artist of all time, Sir Elton John, who is attending with partner, David Furnish.

Charity ambassador, singer Rachel Stevens, said: "Caudwell Children is such a wonderful cause. Every pound raised goes directly to the charity which helps to support thousands of children and families right across the UK. It always feels like a big family event at the fundraisers and I feel really honoured to be a part of it and help in any way I can."

Caudwell Children CEO, Trudi Beswick, commented on the forthcoming event: "Our annual ball is our largest single fundraising event, last year raising £1.7million to help sick and disabled children. We are very grateful to our celebrity supporters, who help to add some of the glamour to the event and often provide money-can't-buy auction prizes."

Two years ago Hollywood actress and author, Joan Collins, offered to host an exclusive dinner at a top London restaurant for the auction. After a fierce bidding war, two businessmen agreed to share the experience, both paying £100,000 to the children's charity. This year auction prizes include a holiday on Sir Richard Branson's Necker Island resort and an intimate London lunch with singer, Peter André.

The Butterfly Ball is named after 11-year-old Tilly Griffiths who has Spinal Musular Atrophy, she has raised over £1million for the Charity by auctioning pictures of butterflies to buy powered wheelchairs like the one Caudwell Children donated to her. Other stars expected to walk the red carpet on May 20, 2010 in Battersea include Colin Jackson, John Prescott, Sinitta, Mikey Graham, Rachel Stevens, Alesha Dixon, Andrew Cowles, Carl Froch and Frank Lampard.
Elton John loves Cuauhtemoc Blanco
Tuesday, May 11 2010
Elton John loves soccer. According to Fidel Herrera, governor of the Mexican state of Veracruz, not only is the pop star an avid fan of the sport, but of Mexican striker Cuauhtemoc Blanco.
Herrera and Elton John met prior to a benefit concert the singer was giving in the capital city of Veracruz on May 8, 2010. After the meet and greet, Herrera issued the following press release:

"When we made first contact with Prince Andrew, he commented how in his London house, Elton has a large collection of soccer jerseys from Premier League and other European teams, and that he likes to have the jerseys of teams he knows of, since, like a good English man, he's a huge fan of soccer. He knows of the Tiburones Rojos [Veracruz's team] and of Cuauhtemoc Blanco. For that reason, we made him a jersey with his name, which h'e accepted."
Stephen Gately's partner talks about his life with the Boyzone singer
Sunday, May 9 2010
When Boyzone singer Stephen Gately died seven months ago of an undiagnosed heart condition, he was only pages away from completing the children's novel that he had been writing for three years. It was left to his partner, businessman Andrew Cowles, to get it published. He gives his first interview since Stephen's death to YOU magazine.
Stephen Gately was the poor boy from the backstreets of Dublin, catapulted to overnight stardom in Boyzone – one of the most successful exports in his nation's history. He was the teen pin-up who, at the peak of his fame, was forced to admit that he was gay. And later, when he plunged into depression, he was the fortunate friend of Elton John and his partner David Furnish, who helped pull him back from his abyss.

His life contained all the ingredients for a cracking show-business autobiography, but Stephen hadn't got round to packaging his story. Now, however – seven months after his untimely death at the age of just 33 – his name will appear on a book jacket. But unlike many hurriedly compiled and ghostwritten celebrity sagas, "The Tree of Seasons" is all his own work and took him three years to write. It's also fiction – a children's fantasy novel – and yet, in a curious way, it reveals more about its author than any memoir.

Stephen famously came out in 1999 to pre-empt a former Boyzone bodyguard from selling the story. The dreaded backlash from the band's largely female fanbase did not materialise, but a year later, the band – which had had six UK number-one hits within the space of two and a half years – broke up anyway. Within months Stephen's long-term relationship with Dutch singer Eloy de Jong also fell apart and he sank into depression. He was scooped up by Elton John and David Furnish, who took him to their home in the South of France. 'Both Stephen and I have had times when we've been down and I was very glad to help him,' Elton writes in a foreword to Stephen's book. 'As well as being highly sensitive, Stephen was also incredibly brave. David and I are very proud that we introduced Stephen to Andy, who was to become his life's partner, at a party in 2002.'

It might seem strange that Andrew, then 24, would have been moving in such glitzy circles. But his offices were in the heart of Soho and after six years on the tight-knit London gay scene, he was often invited to fashionable events. 'David used to go to all the parties and I'd met him several times. I'd never met Elton, though, until the night they both introduced me to Stephen.' He knew who Stephen was – in fact he recalls having had a teenage crush on him after seeing him on television several years earlier. 'We hit it off straight away, but nothing happened that night. A couple of weeks later, we met at another party, and then David said, "You should call Stephen. He really liked you."' Andrew didn't call 'because, you know, you don't just call someone out of the blue'. But a few weeks on, having encountered each other for a third time, they arranged to meet for dinner, 'and that was it. Within three months, we were saying, "marry me" to each other. We both knew it was for ever. There was never any doubt.'

"The Tree of Seasons," with foreword by Sir Elton John and David Furnish, will be published by Hodder & Stoughton
on May 13, 2010, price £14.99. To order a copy for £11.99, with free P&P, contact the you bookshop.



Elton grabs Cowell's American Idol post
Sunday, May 9 2010
American Idol bosses want veteran star Elton John to replace Simon Cowell as a judge.
They believe he would bolster ratings, which have slumped since Cowell said he was quitting after the current ninth season.

Elton rejected overtures from Fox TV when it offered him the job in January 2010. On May 4, 2010, however, he met executives again while in New York for the Time magazine 100 gala in honour of the most influential people of the year. They are believed to have offered him more than the £22million a season they pay Cowell.

Idol bosses have been longing to lure Elton back since he rounded on Cowell and the other judges for booting off eventual Oscar winner Jennifer Hudson. Executives were exultant over the ratings-boosting uproar. One of the show's 20 producers said: "Everyone loves Sir Elton. As well as being outspoken, he has an air of gravitas as an icon of the music industry. He's British too. Having Sir Elton on board would be a guaranteed ratings blockbuster all over the world." The show's audience has fallen since Cowell said he was quitting to launch a US X Factor.

Elton is still a crowd pleaser. Fans loved his haunting performance of "Your Song" on the annual Idol Gives Back charity fundraiser, which helped to raise millions for Feeding America, Malaria No More, the Children's Health Fund and United Nations Foundation. Another senior Idol insider said: "Part of the pitch to get Sir Elton on board was that the show can become an even bigger fundraiser for various charities. We're barely more than a cat's whisker away from getting ink on paper."



"Lunch around the World" on Watford concert day
Saturday, May 8 2010
The Lunch Around The World UK team are pleased to announce that they are holding another charity event, this time at the Namaste Lounge (The Northwood Hills Hotel) before Elton's concert at Vicarage Road, Watford on May 29, 2010.
This will be a great opportunity to get into the spirit of the day by, getting together with other fans , enjoying drinks, laughs and even a meal before the show .

They will be holding an auction and a raffle which includes some great items of Elton and Watford FC memorabilia, plus many other fabulous prizes. Included in the auction will be two of Elton's Versace shirts from the recent Out of the Closet shop in London. All the money raised will be going to the Elton John Aids Foundation.

In addition , you will be one of the first people to see the PRS for Music Heritage Award plaque which is being unveiled that day to commemorate Elton's first ever public performance, which was at the Northwood Hills Hotel back in 1962.

The LATW starts at 1pm until 3pm leaving plenty of time to get to the concert. Address: The Namaste Lounge (The Northwood Hills Hotel), 66 Joel Street, MIDDLESEX HA6 1 LL (opposite Northwood Hills Underground station).

Thanks to eltonjohn.com, they can offer the first five people who donate £15 or more a free copy of the ej.com DVD "Elton John at Watford 2005". Please email mark.s.giles@btinternet.com for further information on this offer or on the event.



PRS for Music honours Elton's first gig
Thursday, May 6 2010 at 21:13:22


Moroccan Islamist party calls for Elton John ban
Saturday, May 8 2010
Morocco's main Islamist opposition party has called for gay singer Elton John to be banned from performing at a festival in Rabat in May 2010, a party leader said on May 7, 2010.
"We categorically reject the appearance of this singer because there is a risk of encouraging homosexuality in Morocco," the head of the Justice and Development Party (PJD) parliamentary group, Mustapha Ramid, told AFP. "The problem is not with the singer himself but the image he has in society," another leading party member, Lahcen Daoudi, added. "Moroccan society has a negative perception of this singer and we must take it into consideration."

The PJD on May 6, 2010 submitted a request to parliament to ban Elton John from performing in the Mawazine music festival to be staged in the Moroccan capital from May 21 to 29, 2010. Other artists booked to apppear include Julio Iglesias, B.B. King and Carlos Santana.

Protests also greeted Elton John's performance in April 2010 at an open air concert at the ancient Mayan pyramids of Chichen Itza in southeastern Mexico. The 90-minute concert went ahead amidst the majestic pyramids despite indigenous leaders' complaints and an accident Thursday that saw the stage collapse, injuring three workers.

Local Mayan leaders complained the concert was irreverent and out of place, and said the collapse of the stage the day before, injuring three workers, was caused by spirits upset because their gods' permission for the concert was lacking. During his stay in Mexico John was protected by a police and military operation with hundreds of officers who also set up roadblocks at the entrances to the archeological site.



Elton flashmob in Hartford
Saturday, May 8 2010
If you were in downtown Hartford at lunch time on May 7, 2010, you may have wondered why suddenly dozens of people broke out in a dance routine.
A group of about 100 people danced to Elton John's "I'm Still Standing" shortly before 12:30 p.m. Participants had been recruited by The Greater Hartford Arts Council from arts organizations and businesses in the downtown area. The Arts Council organized the event it raise awareness for the Council's annual campaign, in which they are trying to raise $4 million for the arts.
Elton John and Ray Cooper performed in Los Angeles on May 6, 2010
Saturday, May 8 2010
Elton and Ray did a private show for American Express cardholders at the Wilshire Theater located in Los Angeles's Koreatown.
The Wilshire Theatre is considered one of the finest examples of Art Deco architecture in the United States.
Happy Birthday to us!
Saturday, May 8 2010
The international Elton John Fan Club Hercules, also known by its internet domain eltonfan.net, has been serving the Elton John community since 1988.
Founded as Rocket Fan back on May 8, 1988 with a focus on German-speaking fans, the club has soon turned into a worldwide organization with Elton admirers from all over the planet. In 2010 we are celebrating our 22nd anniversary.
For the past seven years Hercules has been offering all of its services on eltonfan.net free of charge. The site is maintained on a voluntary basis, however, there are costs involved in hosting the site on a high-speed and reliable server. If you like the services provided on eltonfan.net and if you feel like supporting this website, we would be grateful if you would make a small donation.

With this we would like to thank Elton for his persistence and everlasting presence, the management and record company for their support, and last but not least the fans for their loyalty.
Elton ballet spectacular fun
Friday, May 7 2010
In the strictest of balletic terms, it could be said that choreographer Jean Grand Maitre has shot down Swan Lake -- but wait till you get a load with what he's done with all those feathers and rhinestones.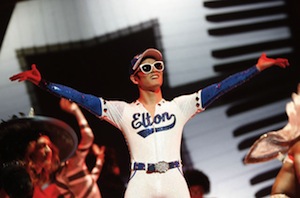 After months of speculation, planning and hype, Grand Maitre and his Alberta Ballet Company officially unveiled their latest work on May 6, 2010 on the stage of the Jubilee Auditorium for what looked to be a capacity crowd And what they delivered was a two-hour story ballet "Love Lies Bleeding," set to tunes composed and made famous by one Reginald Kenneth Dwight, more popularly known as Elton John, and his long-time collaborator Bernie Taupin.

But "Love Lies Bleeding" isn't merely set to Elton's music, it is also an allegorical retelling of his life, painted in the broad brush strokes of popular culture, referencing everything from "A Clockwork Orange" to the work of Warhol. It tells the story of a young fan (Yukichi Hattori) who wanders onto the stage only to get swept up in the life of his super-star hero, until he all but consumed by the sex, drugs and debauchery of the rock n' roll world.

It is, of course, a story that in the telling gives Grand Maitre and his collaborators plenty of opportunity to dip into the Elton John songbook and explore not only enduring classics like "Bennie and The Jets," "Goodbye Yellow Brick Road" and "Rocket Man," but also lesser known works "The Bridge," "I Need You To Turn To" and a host of others, all rendered in Elton's familiar recorded voice and all used to maximum effect.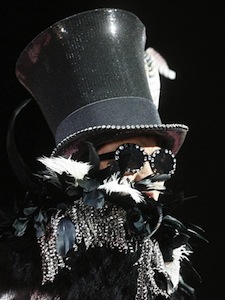 And it also offers plenty of opportunity to showcase the talent in Grand Maitre's hard-working company, sometimes quite literally. Considering the reported $1.2-million budget for the work, Martine Bertrand's costumes don't seem to cover a lot of turf, designed as they are to showcase the dancer as much as the dance.

But if some of the costumes are skimpy, the rest of the ballet is as lavish as one might expect a ballet on Elton's life to be. It's a visual tapesty that spins together the work of lighting designer Piere Lavoie, scenic designer Guillaume Lord and video designer Adam Larsen in an evening that is simply spectacular -- an homage to excess that embraces everything from La Cage to this company's Calgary cowboy roots, with heavy dollops of drag and more than a soupcon of homoeroticism thrown in for good measure, this being Elton John's story, after all. From a choreographic perspective, Grand Maitre's sources are equally eclectic.

While the company's classical roots are on occasion evident, Grand Maitre also incorporates influences as diverse as break dancing and ballroom, mixed in with just a hint of pole dancing, a touch of religious iconography and a dollop of So You Think You Can Dance for good measure. And while it is an evening that often seems mired in the Elton John notion that nothing succeeds like excess, Grand Maitre also throws in the occasional tableau of touching simplicity to underline the essential humanity and heartbreak at the heart of his tale.

This is not great ballet, nor did Grand Maitre intend it to be. What it is, is a celebration of a major talent presented in a dance language that fans of that talent can embrace and understand. Elton John's story couldn't be told to music by Tchaikovsky nor choreographed by Balanchine.

And in the final analysis, it will give a lot of Elton John fans a taste of ballet and a lot of ballet fans a taste of Elton John -- and frankly, we can all use the break. Because in the end, "Love Lies Bleeding" is more than merely spectacular, it is spectacular fun.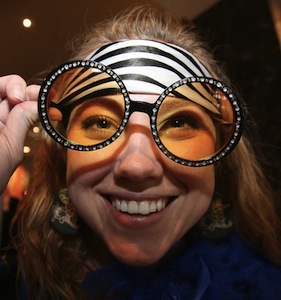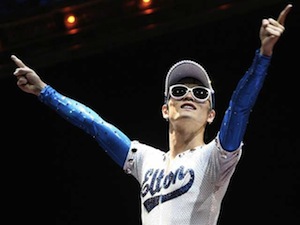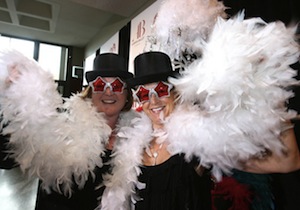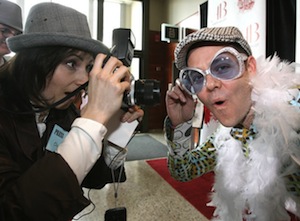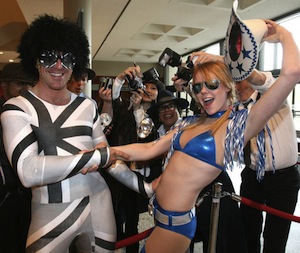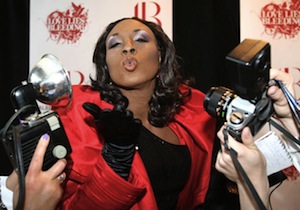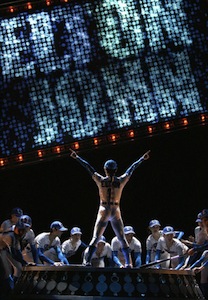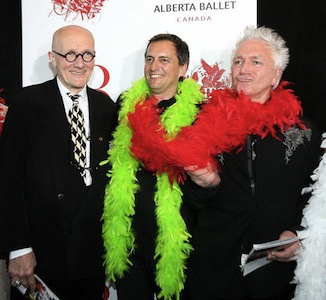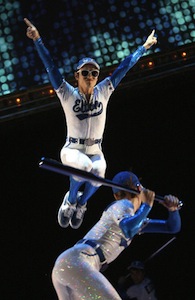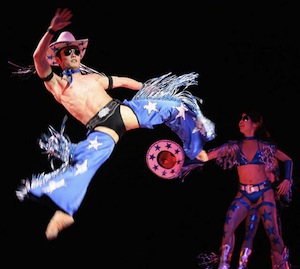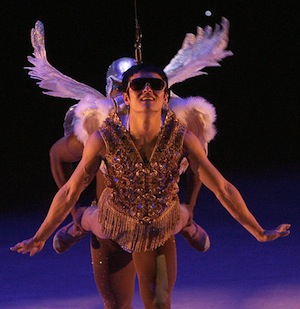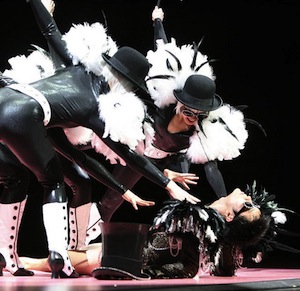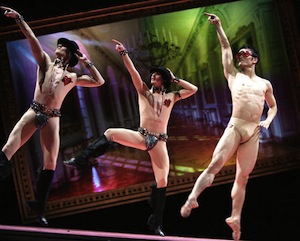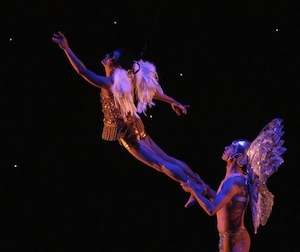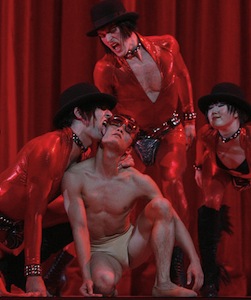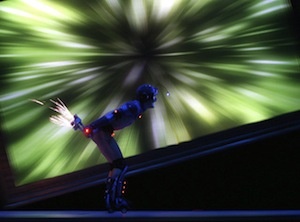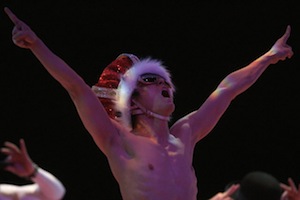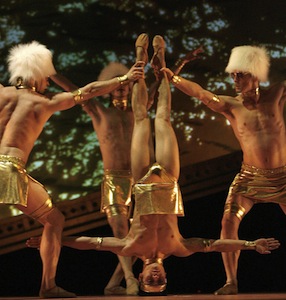 PRS for Music honours Elton's first gig
Thursday, May 6 2010
One of the nation's most-loved musicians and successful artists of all time - Sir Elton John - is to be honoured by the PRS for Music Heritage Award.
A special plaque will be erected in Northwood Hills where Sir Elton, then known as Reginald Kenneth Dwight, first performed at the Namaste Lounge, formerly The Northwood Hills Hotel, in 1962 – aged just 15.

PRS for Music set up the Heritage Award last year to recognise the unusual 'performance birthplaces' of famous bands and artists. Elton John is the fifth artist to be given the honour of receiving the permanent plaque. The plaque will be unveiled at the Namaste Lounge in Northwood Hills on May 29, 2010.

At the age of 15, with the help of his mother and stepfather, Elton became a weekend pianist at The Northwood Hills, playing Thursday to Sunday nights for £25 a week and tips. Known simply as "Reggie", he played a range of popular standards, including songs by Jim Reeves and Ray Charles.

PRS for Music Chairman, Ellis Rich said: "It's hard to sum up the incredible contribution that Sir Elton John has made to the UK and the international music scene. He is without a doubt one of the finest musicians the country has ever produced so it's a real privilege to be able to honour him today with the PRS for Music Heritage Award."

In his five-decade career, Elton has sold more than 250 million records, making him one of the most successful artists of all time. His single 'Candle in the Wind 1997' has sold over 37 million copies, and is the best selling single of all time. He had 7 consecutive No. 1 U.S. albums, 6 UK No. 1 albums and 56 Top 40 singles, including 8 No. 1 hits. His numerous awards include Best British Male Artist Brit Award, 5 Grammy Awards, 11 Ivor Novello Awards, 2 Tony awards and an Oscar.
Happy Birthday, Davey & Kim!
Thursday, May 6 2010
Davey Johnstone turns 59 on May 6, 2010. And today is also the birthday of the newest member of the Elton John band, Kim Bullard!
On behalf of the visitors of eltonfan.net and all Elton fans around the world, we would like to wish them a Happy Birthday.

Both of them will be back on stage with Elton in Veracruz, Mexico on May 8, 2010.
Bloggers post same "exclusive" Elton John rumour
Thursday, May 6 2010
Two different Canadian celebrity blogs are claiming to have an "exclusive" about a mansion supposedly belonging to Elton John and his partner David Furnish. (The castle-like home in Stouffville doesn't actually belong to the couple.)
Self-aggrandizing blogger and noted plagiarist Zack Tepperman was first to post the "news" on April 15, 2010, claiming on his blogZackTaylor.ca: "Sir Elton John has bought / built his Canadian husband David Furnish a HUGE house in Stouffville, Ontario!! Construction crews have been working on the new home for the last few weeks, getting it ready for David and Elton to move their stuff in shortly."

David Robert and Chris Corsini posted the same "news" a full three weeks later, oddly claiming on DrinkTheGlitter.com that it was "Exclusive Content." A May 5, 2010 posting reads: "Did you know that Elton John and his Toronto, Ontario native husband recently purchased a HUGE new home in Stouffville, Ontario and plan to spend significant time there this summer !!? The property is on Bloomington Road and is reportedly GIANT!"

Rumours about the pop superstar having a home in Ontario are nothing new, of course. In 2006 The Globe and Mail reported gossip that the couple bought a waterfront townhouse in Coburg. Last year, the couple was supposed to be building a sprawling home in Caledon. Asked if the mansion is theirs, Furnish told the Toronto Star: "No! I have no idea where that rumour came from."



Does Elton John's yellow brick road lead to Caledon?
Wednesday, May 27 2009 at 18:08:45


Elton to skip opening night
Thursday, May 6 2010
Those hoping to catch a glimpse of pop star Elton John on May 6, 2010 may be disappointed.
Elton was rumoured to be attending the opening night of Alberta Ballet's new production, "Love Lies Bleeding," which is based on the life and music of the flamboyant British singer. But a Sun source indicated Elton will not be walking the red carpet at the Jubilee Auditorium on May 6, 2010.

"He is expected to make an appearance at a later performance should his schedule permit," said the source. The ballet runs until Sunday in Calgary before heading to Edmonton's Jubilee Auditorium on May 11 and 12, 2010.

The source could not confirm whether Elton's appearance would be in Calgary or Edmonton.



Win tickets for the Rainforest Fund Benefit Concert
Thursday, May 6 2010
Billboard.com is giving away two pairs of tickets to the Rainforest Fund Benefit Concert on May 13, 2010 at Carnegie Hall in NYC.
Are you the biggest Elton fan? Did you love his duet with Lady Gaga at the Grammys? Want to see them and other superstars including Sting and Blondie perform at a private benefit concert? Can you get to New York City?

Just fill in the form completely by May 10, 2010 to enter to win. Fingers crossed!



Elton still gaga
Sunday, April 4 2010 at 15:19:06


Time's 100 Most Influential People in the World Gala - Red Carpet
Wednesday, May 5 2010
Elton John and David Furnish attend Time's 100 most influential people in the world gala at Frederick P. Rose Hall, Jazz at Lincoln Center on May 4, 2010 in New York City.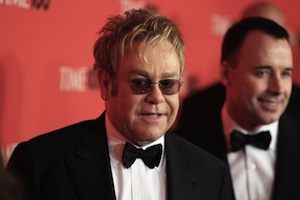 They're perhaps not the first people who would spring to mind, but Elton John, Ashton Kutcher and Taylor Swift have all earned a place on this year's poll of the world's most influential people by Time magazine.

On May 4, 2010 the trio made sure they stepped into the limelight as the publication threw a party in New York ahead of the full publication of the list tomorrow. Country pop singer Swift, 20, entered at number nine, while U.S. actor Kutcher, who's married to Demi Moore, also made it on to the prestigious chart.

Elton celebrated his nod at the event and brought along his civil partner David Furnish. Singing sensation Lady Gaga topped this year's poll, while geeky Glee star Lea Michele made it in at number 13.

Others who feature on the list include Twilight star Robert Pattinson, Ricky Gervais and X Factor supremo Simon Cowell. The annual Time 100 list of 'the people who most affect our world' also includes this year's big Oscar winners Kathryn Bigelow and Sandra Bullock, and musician Prince.

Billy Elliot director Stephen Daldry said Sir Elton is 'a proud, sober, married gay man who got there only after years of pain and unrelenting public scrutiny'.

The full list and related tributes appears in the May 10, 2010 issue of Time, which hits the shops on May 7, 2010.



The 2010 TIME 100
Friday, April 30 2010 at 03:33:48
Tony Award nominations announced for best play
Wednesday, May 5 2010
The Tony nominations for best play have been announced in New York by The American Theatre Wing.
The category's four nominees announced on May 4, 2010 are: "In the Next Room (or the vibrator play)" by Sarah Ruhl;
"Next Fall," by Geoffrey Nauffts; "Red," by John Logan; "Time Stands Still," by Donald Margulies.

The Antoinette Perry "Tony" Awards will be presented June 13, 2010 at Radio City Music Hall.



David Furnish's nightclub
Wednesday, May 5 2010
David Furnish is opening a nightclub on the Cote d'Azur with fashionable cobbler Patrick Cox.
The opening will coincide with the principality's Grand Prix and the Cannes Film Festival. Furnish is very excited about his new project, as he believes there is a lack of good placed in Monaco to take friends to. "There is just no place from Nice down to Monaco where you can take a group of friends and have a lovely night," David said.
Elton concert banned in Egypt for comments on homosexuality
Sunday, May 2 2010
Egypt's musician's union rejected plans for Elton to perform a private concert scheduled for May 18, 2010, because of his "controversial remarks attacking religions".
"How do we allow a gay, who wants to ban religions, claimed that the prophet Eissa (Jesus) was gay and calls for Middle Eastern countries to allow gays to have sexual freedom," head of the Egyptian Musician Union, Mounir al-Wasimi told DPA. Elton stirred controversy after his remarks to US celebrity news magazine Parade in February 2010, where he said "Try being a gay woman in the Middle East - you're as good as dead", after saying he believed Jesus was "gay".

Al-Wasimi said that he has begun coordinating with security bodies to ban Elton's concert, saying that the union is the only body "authorised to allow performances by foreign singers in Egypt". In 2008, Elton John performed in the United Arab Emirates to a crowd of more than 13,000 fans.

Although some human rights activists claim homosexuality is spreading in Egypt, the topic is a taboo in the country. In 2008, a lesbian scene in an Egyptian film set in Cairo's slums caused an uproar. In 2001, police raided a "gay" floating disco in Cairo. Around 20 of the 52 arrested were jailed for "habitual debauchery" and "obscene behaviour".



Ballet pays tribute to Elton John
Saturday, May 1 2010
Alberta Ballet's latest creation is a tribute to one of pop music's biggest icons. The company has created an entire ballet based on the music of Elton John.
Rehearsals for the production, which is described as a "contemporary semi-abstract ballet", are already underway in Banff. "Love Lies Bleeding" is the story of a superfan who takes a journey into the world of pop music superstardom.

Principal dancer Kelley McKinley says it is like nothing he has done before. "We keep jumping up to the next platform and you wonder where is the climax going to be?" Alberta Ballet decided to take on the new project after a successful collaboration with Joni Mitchell.

The production runs May 6-9, 2010 at the Jubilee Auditorium in Calgary. The audience is asked to dress up like Elton John and ticket holders will get the red carpet treatment on the way - complete with paparazzi.



Alberta Ballet website crashes with demand for Elton show
Monday, March 1 2010 at 19:47:03

Elton John to create ballet in Alberta
Tuesday, March 24 2009 at 18:44:38

Elton John ballet launch scrubbed
Tuesday, January 27 2009 at 06:20:28


Elton John and band performed in Reading on April 30, 2010
Saturday, May 1 2010
Following is the complete set list of the Reading, PA show on April 30, 2010.
Funeral for a Friend

Love Lies Bleeding

Saturday Night's Alright (For Fighting)

Levon

Madman Across the Water

Tiny Dancer

Philadelphia Freedom

Goodbye Yellow Brick Road

Daniel

Rocket Man

I Guess That's Why They Call it the Blues

Someone Saved My Life Tonight

Take Me to the Pilot

Something About The Way You Look Tonight

Don't Let the Sun Go Down on Me

Sorry Seems to be the Hardest Word

Candle in the Wind

You're Never Too Old

Honky Cat

Burn Down The Mission

Bennie and the Jets

The Bitch Is Back

I'm Still Standing

Crocodile Rock


Your Song

Circle Of Life (solo)