ELTON JOHN NEWS ARCHIVE: April 2011
Elton wows the crowds at Royal Wedding
Friday, April 29 2011
Celebrities turned out in force for the Royal Wedding at Westminster Abbey on April 29, 2011. Among the first to arrive for the nuptials of Prince William and Kate Middleton was Elton John.
Elton drew some of the biggest cheers as he arrived at the abbey with his partner David Furnish.

Both were dressed in black morning coats and grey trousers and gave a brief wave before hurrying inside.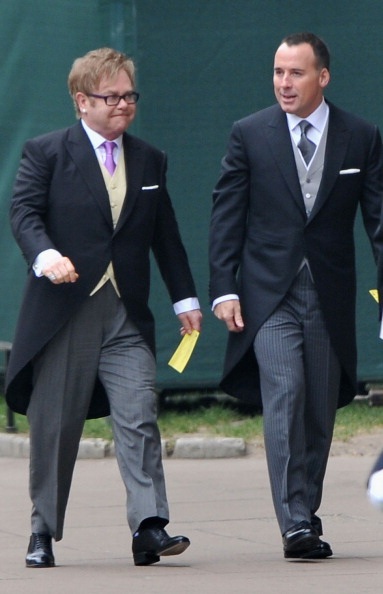 Elton John on 'horrible nastiness' of British press
Tuesday, April 26 2011 at 01:05:57

Elton invites Prince William and Kate to ultimate Come Dine With Me
Saturday, March 26 2011 at 14:26:02

Elton: I am going to the Royal Wedding after all
Wednesday, March 2 2011 at 13:46:39


Elton's mother reveals she has not met her son's new baby after three-year rift
Thursday, April 28 2011
A grandmother is usually the first one to visit a newborn, cooing adoringly over the new addition to the family. But when Elton and David welcomed baby by surrogate Zachary into the world in December 2010, his mother Sheila Farebrother had no idea it was happening.
And after a three-year rift with her famous son, the 86-year-old says: "I have no particular interest really. He has cut me off completely," she tells the Sun. "It happened three years ago this June. He has had nothing to do with me since then."

Sources have told the paper that an offensive comment Farebrother made to David was the cause for their fall out. She says: "I don't want to go into what caused it. It is a painful subject. My son cut me out of his life for good."

But when the paper asked her if her comment to David sparked her son's anger, she admits: "It was something like that, but not exactly. I don't want to talk about it."

David's Canadian parents flew to California when the couple's son Zachary was born via surrogate on Christmas Day 2010, but Mrs Farebrother was not welcome. She was there to support them at their civil partnership ceremony in 2005 in Windsor, but according to Mrs Farebrother Elton snubbed his stepfather Fred's funeral after the family fall out.

A spokesperson for Elton John told the paper: "I have never had a conversation with him about whether he talks to his mother. She is a lovely lady but she is 86 and she is frail and old."



Lady Gaga confirms she is godmother to Elton's son
Thursday, April 28 2011
During her appearance on "The Ellen DeGeneres Show" on April 28, 2011, the always candid Lady Gaga talked about her upcoming HBO special, being overwhelmed by her fame and confirms she is godmother to Elton and David's son Zachary Jackson Levon Furnish-John.


The Poker Face hitmaker has now spoken of her joy over the role, telling British TV show Daybreak, "Zachary is a beautiful, beautiful boy and I feel very honoured to be invited into their family."



Elton confirms Lady Gaga as godmother
Saturday, April 23 2011 at 02:07:08

Elton's latest parenting decision is totally Gaga
Thursday, April 7 2011 at 07:43:51


Elton John aims to bring AIDS play to British stage
Wednesday, April 27 2011
A moving play that centres on the early days of the AIDS pandemic could be brought to the British stage by Elton John and his partner David Furnish.
"The Normal Heart", written 26 years ago by Larry Kramer, the American playwright and activist, opens for the first time on Broadway on April 27, 2011, having earned standing ovations in previews.

"Better late than never," Kramer told UK newspaper The Times. David claims the playwright's work "shamed" Elton into doing more to fight AIDS, specifically setting up the Elton John AIDS Foundation 20 years ago. David said the emotional play is, "an astonishing, emotionally compelling piece of writing and a moving, fantastic piece of theater that the younger generation needs to see. Elton and I are focused on making sure that they do."

"Elton and I would both like to make the production as widely seen as possible, and that includes helping fund and mount future versions of it wherever we can," Furnish went on. AIDS treatment and prevention budgets are being cut in the US and there is not enough sex education in schools. Governments in the US, UK, everywhere, could and should be doing more to fight AIDS."

He added: "I knew that fear, and seeing it on stage was very upsetting. It also shows the beginnings of smashing that fear and the power of gay men harnessed by uniting."
Elton John on 'horrible nastiness' of British press
Tuesday, April 26 2011
As coverage of the upcoming Royal Wedding begins in full swing, Robin Roberts and Barbara Walters appeared on GMA on April 25, 2011 live from London, England to start getting this country excited for the big event.
Whether Americans are that interested remains to be seen, but Walters' interview with the outspoken singer Elton John did prove interesting. Elton expressed how happy he truly was to see the joy between Prince William and Kate Middleton. However, he also wanted to issue a warning to the couple that "the press never leave you alone" and that they should enjoy the positive coverage now while it lasts:

"The press are going to give you a bumpy ride. They're going to love you, they're going to hate you. I just hope they love each other enough to stay away from all that. You know there's one thing in the world, if I could get rid of, is that negativity in the British press. That hatefulness, that horrible nastiness that we have pervades our British media. And I'm sorry we have it but we do. And we have to live with it because it's a great country, but it's one thing about Britain that sucks."

Given the circumstances of Princess Diana's death, and how her escape from aggressive paparazzi was at least a contributing factor, Elton clearly worries about the young new couple. Yet for now he's delighted to be invited to the wedding, and it's likely those in the British press, who can't be pleased with his description of their profession, will be delighted to cover his attendance.





Elton confirms Lady Gaga as godmother
Saturday, April 23 2011
After a lot of speculation, Elton John has confirmed that Lady Gaga is his son's godmother.
In an interview with Barbara Walters that was teased during "Good Morning America" on April 22, 2011, Elton, with his husband David Furnish by his side, opened up about his decision to name Gaga godmother to their son, Zachary.

"Yes, yes she is. When you get to the real person under there, there's a real simple person under there who loves her parents," he explained. David added, "Zachary's going to inherit an incredible musical legacy from his father one day, and she will be a good person to guide him through the ins and outs of the music business, 'cause she sure knows everything about the business now."

Talk of Gaga's involvement in Zachary's life began to surface earlier in 2011, but the couple wasn't in a hurry to confirm the reports. In a February 2011 interview, David wouldn't confirm or deny whether Gaga was the godmother. "We haven't publicly confirmed that yet but your sources are very good!" he said. "I prefer not to comment on it because we are going to make a statement about godparents later on."



When Elton hosted "Saturday Night Live" on April 2, 2011, he joked about Lady Gaga being his son's godmother. "For those of you concerned that we are unusual parents, do not worry. It's not like we are the only two people involved in the child's life. His godmother is Lady Gaga. That's true, that's not a joke ... which is ironic because I've always said that Mars ain't the kind of place to raise your kids. And Gaga loves Mars. She says Mars has good schools and great discos."



Mandy Moore still amazed by Elton John video appearance
Saturday, April 23 2011
Singer/actress Mandy Moore still pinches herself when she recalls the day she filmed an Elton John music video with her parents and Elizabeth Taylor - because it was the stuff dreams are made of.
Moore appeared in the promo for Elton's "Original Sin" - and she landed roles in the video for her parents, as extras.

She tells WENN, "I actually got to work with both Elton and Elizabeth Taylor. They were both in the music video. It was a crazy once-in-a-lifetime experience. I grew up listening to his music and my parents actually got to be extras in the music video as well - and they grew up with Elton's music as well, so it was definitely a moment in time for sure. We all got to dress up like we were concertgoers at an Elton John concert in the '70s, so they got to wear some pretty funky duds.

"I met Elizabeth that day but her part in the video and mine didn't necessarily intersect, but it was still neat to be part of a project with two legends."
Elton at the Tribeca Film Festival
Thursday, April 21 2011
Fan report by Robert Bermudez.
Yes - the weather did indeed cooperate: a beautiful night (if a little chilly). What a great location, in the open courtyard. with the water lit up as a backdrop.

Dennis Leary and Martin Scorcese spoke to the audience. Cameron Crowe could not attend, as he is working on a film, but he sent a video "hello" to the audience and spoke about making the film - it was obviously a labor of love for him.

The movie was really well done. It is a real tribute to Elton and the wonderful impact this project had on both he and Leon Russell. One very touching moment came when Leon played a song he wrote especially for Elton as a thank you for - in his own words - saving his life. Elton was in the control room, listening with the others, and at one point, he gets up and walks out, overcome with emotion and has to take a few minutes to compose himself. He then gives Leon a hug and thanks him for the song. It was really a wonderfully poignant moment.

After the movie Elton played a six song, 45 minute set, just him and the piano, with some strings piped in and some vocal effects. He played "Tiny Dancer', "Rocket Man" (which he dedicated to Bernie Taupin, who was present at the show), "Gone To Shiloh" and the very moving "Never Too Old" from "The Union" and finished up with "I Guess That's Why They Call The Blues" and "Your Song", which he edicated to all the fans there and New York itself as he called it his favorite place to play.

Overall, it was a wonderful, moving evening. It was a celebration of how one man gave his idol a reason to live and how they both made beautiful music together.
Katie Price thanks Elton John for love
Wednesday, April 20 2011
Katie Price has thanked Sir Elton John for introducing her to her new boyfriend.

The British TV star met Argentinean polo player Leandro Penna at an Oscars party hosted by Elton and David in Los Angeles in February 2011 and the mother-of-three will always be indebted to them because she's so happy.

She wrote on twitter page: "we are so compatible we cant thank Elton John and David Furnish enough xx (sic)"
Matthew Morrison & Elton John Duet - first listen
Wednesday, April 20 2011
Check out this first listen of Matthew Morrison and Elton John's duet of Elton's classics "Mona Lisa and Mad Hatters" and "Rocket Man"!

The duet will be featured on Matthew's upcoming self-titled solo album, which hits stores on May 10, 2011. Matthew will also tour 20 U.S. cities over the summer.

Matthew recently told ET Canada how he asked Elton to duet with him on the track! "I was kind of stammering and stuttering! I was, like, 'I'm doing this album and I would really love you to be a part of it' and he said, 'Yeah, sure!' I was, like, that's it? It happened and it was awesome. Such a learning experience being in the studio with him."

"Mona Lisa and Mad Hatters/Rocket Man" is available on Amazon.



Live From... Tribeca!
Wednesday, April 20 2011
From panels to performances, red carpets to our Awards Show, Tribeca is so much more than just movies. This year, the Tribeca (Online) Film Festival will live stream many events straight to your computer!
You'll be able to experience all the action of the red carpet, take part in a selection of panels, watch the Awards Show and more, all from the comfort of home. The exciting live event coverage is made possible thanks to streaming provider Big Live. Mark your calendars!

Live streams kick off with our Opening Night festivities on April 20, 2011. There will be a live streaming from the North Cove at the World Financial Center, the beautiful open air location of the Opening Night screening of The Union. While they're unable to screen the film (Online), you'll be able to catch performances from very special guests both before (approximately 7:30 pm) and after the screening (approximately 9:45 pm).



Free Tickets to the Screening of the documentary "The Union"
Friday, April 15 2011 at 21:28:11

Elton John film to open NY's Tribeca Festival
Wednesday, March 2 2011 at 23:00:48


Elton John's show postponed
Wednesday, April 20 2011
Elton's concert in La Crosse on April 19, 2011 has been postponed.
La Crosse Center Director Art Fahey said the concert was postponed this afternoon when it became apparent weather conditions were not going to allow Elton John's plane to arrive there safely. The concert will be rescheduled for sometime in May.

"It was out of concern for the safety of people that were coming and his flight coming in from the East," Fahey said. So the bad news is that nobody is going to see Elton John perform. The good news is that anybody holding a ticket for the concert can hang onto that ticket and use it for the rescheduled concert.

Fahey said Elton John is famous for never canceling, but the weather took that decision away from him. "He does not cancel. He would be here if there was any way possible," Fahey said. "It's definitely this weather that did it."
Elton John returns to Caesars Palace
Monday, April 18 2011
Elton John will return to The Colosseum at Caesars Palace with an all new show, "The Million Dollar Piano," beginning September 28, 2011 for sixteen shows.
Elton's September 2011 return will mark the beginning of a three-year residency at The Colosseum and his second as a Caesars Palace headliner. Tickets for the first sixteen performances of "The Million Dollar Piano"
go on-sale April 25, 2011 at 10 a.m. PDT. Prices range from $55 to $250, plus applicable fees, and there is an eight ticket limit per customer. Limited VIP tickets are available through the Caesars Palace Box Office.

"Caesars Palace is just a perfect, idyllic place to play, and the show will be a gargantuan feast of music and imagery," said Elton. "I'm going to have a fabulous piano that Yamaha has been working on for four years, and that's the reason why the show is called 'The Million Dollar Piano.'"

Elton completed a highly successful five-year residency at Caesars Palace in April of 2009 with the critically acclaimed "The Red Piano." Originally booked for 75 shows over the course of a three-year run, audience demand for "The Red Piano" was so overwhelming the engagement was extended for a total of 241 shows over a five-year period. "We couldn't be more excited to once again welcome one of the world's most beloved entertainers, Elton John, to The Colosseum," said Gary Selesner, Caesars Palace president. "During his last residency, Elton and his talented band brought so many memorable performances to Caesars Palace. We are looking forward to more incredible moments with Elton on-stage at The Colosseum and continuing our successful partnership."

Elton will be accompanied by his band, which includes Davey Johnstone on guitar, Bob Birch on bass, John Mahon on percussion, Nigel Olsson on drums and Kim Bullard on keyboards with a special appearance by percussionist Ray Cooper. For additional show and ticket information, visit CaesarsPalace.com or follow updates from Caesars Palace on The Colosseum on Twitter.
Man falls from 2nd deck at Elton John concert
Monday, April 18 2011
According to Missouri State University, one man was injured just before Elton John wrapped up his set at JQH Arena on April 16, 2011.
They say he fell from the upper rim in the arena to a concrete landing area below. Emergency crews took the man to the hospital.

While we don't have specifics on his injuries, MSU says the victim was conscious when he went to the hospital. The university does not believe anything illegal led to his fall.
Barbara Walters Exclusive with Elton and David
Saturday, April 16 2011
Elton John and his partner David Furnish will sit down with Barbara Walters for their first major US Television interview since the birth of their son Zachary this past Christmas.
In the interview, Elton and David will discuss why they wanted a child, how they kept the baby a huge secret until he was born and how fatherhood has changed them both. They will also introduce Walters to Zachary, their four and a half month old son. Elton will also reveal details of his latest project.

The exclusive interview will air on "20/20," April 22, 2010 (10:00 – 11:00 p.m. ET) on the ABC Television Network.
Elton and Sting sing for Charity in New York
Friday, April 15 2011
Elton John and Sting took to the stage in New York on April 14, 2011 to raise money for a breast cancer charity.
The British superstars both performed at the annual Hot Pink Party at The Waldorf Astoria hotel in Manhattan in aid of the Breast Cancer Research Foundation.

During the show, which was attended by stars including Elizabeth Hurley, model Carolyn Murphy and young actress Abigail Breslin, Sting thrilled ladies in the crowd by inviting them up onto the stage to dance with him.

The event raised more than $4 million (£2.5 million) for charity.
Free Tickets to the Screening of the documentary "The Union"
Friday, April 15 2011
The hottest seat going will be for the 2011 Tribecca Film Festival's free outdoor screening of Cameron Crowe's documentary "The Union". It premieres at 8:15 pm April 20, 2011.
What makes this night so special, is "The Union" chronicles the making of the 2010 album of the same name, a collaboration between Elton John and Leon Russell. Crowe is the director of the 2000 "Almost Famous". Fans of all three artists can't wait to see what Crowe does in the documentary format with Elton and Leon.

The event will be co-sponsored by AOL, supported by Goldman Sachsand hosted by Brookfield Properties, the owner of the World Financial Center, the location of the outdoor festivities. And special thanks to ESPN.

Here's the scoop:
A TFF wristband is required to be seated at the event.

Wristbands will be distributed to the public on a first-come, first-served basis on April 20, 2011 at 4:00 pm.

The distribution site is the BMCC Tribeca Performing Arts Center—at the West Side Highway entrance, just north of Chambers.

There will be a limit of two wristbands per person.

When you get your wristband, you will also get a list of details about how, when, and where to find your seat.

The screening will begin at 8:15 pm on April 20, 2011.

Details are still being firmed up, but programming at the Plaza may begin at approximately 7:30.

Note: Venue access and capacity are at the discretion of the NYPD.
Elton John film to open NY's Tribeca Festival
Wednesday, March 2 2011 at 23:00:48


William Shatner's new album a nod to Capt. Kirk
Thursday, April 14 2011
William Shatner's new album is a return to his Star Trek roots, featuring nineteen space-themed tracks on the metal covers album.
The actor's latest musical project, "Searching For Major Tom," will include covers of songs by Deep Purple, U2, Frank Sinatra, Elton John, David Bowie, Queen, Pink Floyd, Duran Duran and The Police. The album will be comprised of 'interpretations' of the intergalactic-themed rock anthems including "Rocket Man", "Space Oddity", "Walking on The Moon" and "Lost in The Stars".

The 80-year-old star began his music career in 1968 with the album, The Transformed Man. He also performed Elton John's "Rocket Man" - featured on the album - in 1978 during the Science Fiction Film Awards.

The album is due out late in 2011 and will include a cover of "Rocket Man" with guitarist Steve Hillage (ex Gong member and current member of techno rock duo System 7).
Elton John performed a solo show in Denver on April 12, 2011
Thursday, April 14 2011
Following is the complete set list of the Denver show on April 12, 2011.
The One

Your Song

Sixty Years On

The Greatest Discovery

Border Song

Ballad Of The Boy In The Red Shoes

Levon

Tiny Dancer

Best Part Of The Day

Daniel

Rocket Man

I Guess Thats Why They Call It The Blues

Philadelphia Freedom

American Triangle

Dont Let The Sun Go Down On Me

Nikita

Take Me To The Pilot

Sorry Seems To Be The Hardest Word

Candle In The Wind

Never Too Old

Honky Cat

Bennie And The Jets

Crocodile Rock


Circle Of Life/Can Your Feel The Love
Dolly Parton wants to team up with Elton
Thursday, April 14 2011
Dolly Parton wants to team up with Elton John – to sing a duet at Britain's royal wedding later in April 2011!
The "Potential New Boyfriend" hitmaker has suggested her hit track "I Will Always Love You" would be a "great" song for Prince William and Kate Middleton's first dance after they walk down the aisle on April 29, 2011. "Wouldn't that be great having 'I Will Always Love You' as the first song? Nobody's asked me about that but I might offer it," she said.

"I would even sing Whitney Houston, I would do anything. Elton John could play for me on the piano and I could sing the song, he could sing a duet with me. I'm sure he was probably invited, I wasn't invited."
UK National Movie Awards
Wednesday, April 13 2011
Vote online for "Gnomeo & Juliet" in the category 'Animation'.
Place your vote online and you could win VIP tickets to the glamour-filled evening at the National Movie Awards ceremony plus join the stars on the red carpet!

Award winners will be announced at the ceremony on ITV1 in May 2011. All votes must be in by one minute to midnight on Monday April 18, 2011. Then the countdown begins!
Exclusive interview: Nigel Olsson - my career with Elton John
Tuesday, April 12 2011
Musicradar.com is featuring an exclusive interview with Elton John band member Nigel Olsson online.
See musicradar.com for details.



Exclusive interview: Davey Johnstone - my career with Elton John
Tuesday, April 5 2011 at 14:34:23


Elton John sales rocket after 'American Idol' theme week
Friday, April 8 2011
American Idol's Elton John theme paid off handsomely for the singer last week. Not only did his "Rocket Man: Number Ones" compilation jump more than 400% in weekly sales, but four of his songs performed on the show made Nielsen SoundScan's list of the week's 200 top-selling digital tracks, as well.
Elton's top-selling track: "Tiny Dancer," which was performed on the show by Stefano Langone. Also making the list: "Bennie and the Jets," "Your Song" and "Rocket Man."

Elton John, Tiny Dancer (14,000, +217%, 1.147 million)
Elton John, Bennie and the Jets (14,000, +433%, 697,000)
Elton John, Your Song (13,000, +407%, 718,000)
Elton John, Rocket Man (10,000, +235%, 770,000)

Also see Elton John Charts.



Elton John honored by American Idol contestants
Thursday, March 31 2011 at 14:41:16


Rare interview with Elton John's first manager
Thursday, April 7 2011
ProtectYourIdeas.com, the new online utility for people to protect their ideas, announced that it had secured a rare interview with Ray Williams, the man who famously introduced Elton John to Bernie Taupin over 40 years ago and became Elton's first manager, but who infamously received nothing for his pains.
John Woollcombe, founder and CEO of ProtectYourIdeas.com commented: "We are delighted Ray has agreed to do this exclusive interview for our website. Ray has an amazing tale to tell, which highlights the problem many young people with great ideas face – they're inexperienced and lack the know-how to protect themselves."

Woollcombe added: "Elton and Bernie's song-writing partnership is so etched on the last 44 years of pop repertoire it feels like a historical inevitability, but it's very unlikely they'd have met if Ray hadn't put an ad in NME and out of the many respondents decided to put them together. He recognised their talent, had a great idea, put it in motion and, in doing so, fulfilled the classic music publisher role initiating a creative partnership that would produce some of the most successful and valuable copyrights. But he didn't protect himself first."

It was 1967 and Ray was 20 years old. He wanted to sign Elton as a recording artist, but his bosses at Liberty Records didn't like Elton's voice. At Elton's request Ray became his personal manager. He signed a co-management deal with Dick James entitling him to half the management commission.

In 1970, after the Troubadour gigs that Ray set up for Elton, Dick James unceremoniously terminated Ray's contract. With no money for lawyers and a new baby girl to look after, Ray had no option, but to accept a pittance for his role in launching both Elton John's song-writing partnership with Bernie Taupin and his recording career. He's not received compensation since.

Woollcombe concluded: "The interview with Ray is the first in a series we're hoping to film with people who've had similar experiences. They may have had an idea for a new business, an invention or created something which has turned out to be valuable and, for whatever reason they've never made money from it. Whether recent or going back several years like Ray, they are people seeking resolution and closure. We're hoping to help and at the same time produce compelling, informative content that our visitors and members will find both interesting and helpful."


Elton's latest parenting decision is totally Gaga
Thursday, April 7 2011
Elton John told a US TV audience that his son's godmother is Lady Gaga.
Elton has been talking about Zachary, the surrogate son produced for him and partner David Furnish by a woman in California, telling a US TV audience: "For those of you concerned that we are unusual parents, don't worry, it's not like we are the only two people involved in the child's life. His godmother is Lady Gaga. That is true, it's not a joke."


Rare Elton John videos on iTunes
Wednesday, April 6 2011
DVS specialises in unearthing lost or rarely seen video footage from various music archives around the world from the 1950s through to the 1980s focussing on live performances of the classic artists from the pre-MTv era.
They then make these available through iTunes for download. Its a new venture but already they have secured performances from the likes of Bob Dylan, Paul McCartney, Iggy Pop & Otis Redding. All videos are cleared for use directly with each artist and in turn DVS ensures the artists get paid for every download that is sold via iTunes.

DVS currently has "Your Song" & "Saturday Night's Alright (For Fighting)" track available for video download. You can view a preview of the video (and their other titles) on the DVS YouTube channel: 

Saturday Night's Alright (For Fighting)

Your Song

And the videos can be purchased here (UK iTunes store):  

Saturday Night's Alright (For Fighting)

Your Song
Elton team up with the CFDA for Japan
Wednesday, April 6 2011
The Council of Fashion Designers of America (CFDA) has teamed up with editor-in-chief of Vogue Anna Wintour, fashion designer Diane von Furstenberg, music icon Elton John, and a list of celebrities too long to name to raise money for Japan.
Their Fashion & Friends For Japanonline auction went live on April 5, 2011, and you won't believe what these icons are offering up. Here ist just one of the highlights:

2 Tickets to THE Party of the Year - Elton John AIDS Foundation's Academy Awards Viewing Party!

Enjoy Dinner & Attend the 2012 Academy Awards Viewing Party with 2 Supporter Tickets

Enjoy a night to remember. Attend the Elton John AIDS Foundation Annual Academy Awards Viewing Party in Spring of 2012.

The winner will receive two (2) tickets to enjoy a cocktail reception, an incredible dinner beginning promptly with the Oscar telecast, an exciting live auction and the after-show party featuring a performance by a special musical guest!

For the past seventeen years, this party has attracted luminaries from Hollywood's celebrity community including Oscar winners Halle Berry, Nicolas Cage, Kevin Costner, Kevin Spacey, Denzel Washington and Catherine Zeta-Jones and more. Recent musical performances include Mary J. Blige, James Blunt and John Legend!

And the list goes on and on. Check out the website for more info!
Simon Cowell responds to Elton John criticism
Wednesday, April 6 2011
Simon Cowell was a guest for the hour on "Piers Morgan Tonight," and he opened up about leaving "American Idol," his new show "The X Factor," fame, family and much more.
He also responded to criticism from Elton John, who took a shot recently at competition shows. "I don't know whether he's concerned about himself, maybe it is, they always bleat on about 'we're not giving other people a chance,'" he told Piers Morgan. "They're only worried about themselves."



Elton John statue for Vicarage Road?
Wednesday, April 6 2011
Bookmakers have named Watford FC as favourites to become the next club to commission a celebrity statue.
Fulham fans saw club owner Mohamed Al-Fayed unveil a tribute to the late Michael Jackson outside Craven Cottage before their home game with Blackpool on April 3, 2011. And the Hornets are 9/1 to be the next club to commission a statue by the end of 2012 – of pop legend and club honorary life president Sir Elton John.

Unibet.com also places Manchester City and a statue of Liam Gallagher at 19/1, Port Vale and Robbie Williams at 99/1 and Everton and Sylvester Stallone at 199/1.

The full list:

Port Vale and Robbie Williams: 99/1
Chelsea and Damon Albarn: 49/1
Manchester City and Liam Gallagher: 19/1
Watford and Sir Elton John: 9/1
Liverpool and Cilla Black: 49/1
Newcastle United and John McCririck: 39/1
Tottenham Hotspur and Chas and Dave: 74/1
Everton and Sylvester Stallone: 199/1
Aston Villa and Prince William: 199/1
Norwich and Delia Smith: 74/1
Exclusive interview: Davey Johnstone - my career with Elton John
Tuesday, April 5 2011
Musicradar.com is featuring an exclusive interview with Elton John band member Davey Johnstone online.
See musicradar.com for details.
What's your Greatest Hit of all time?
Monday, April 4 2011
This Easter Gold Radion in the UK will be revealing Gold's Greatest Hits — The Top 300 Countdown, and they need your help!
To have a say on what you think should make up the chart, vote now for your favourite classic hit and be in with a chance of winning some great prizes along the way.
Elton plays for laughs on 'SNL'
Sunday, April 3 2011
Elton John gave a comedic turn on April 2, 2011 as host of popular sketch show Saturday Night Live.
Elton John, more traditionally known for his musical talents, took the helm as guest presenter of the long-running show last night, participating in several different sketches which showed him arguing with the Queen and fronting a punk band.

Cameos included Tom Hanks and Jake Gyllenhaal, with the usual cast filling in, but Entertainment Weekly failed to see the funny side of Elton's performance, calling it 'one of the more shambling versions of SNL, with familiar faces popping up as though serving as replacements for actual attempts at humour.'



However criticism was not abounding everywhere, with NBC review calling his performance 'able and confident.'
New Elton John radio show debuts from Cape Cod
Saturday, April 2 2011
Attention Elton John Fans! Two Rooms is a new radio program that celebrates the music of Elton John and Bernie Taupin collectively and their work with other artists.
The show airs weekly on 92.1 WOMR in Provincetown and 91.3 WFMR in Orleans and streaming worldwide at www.womr.org.

The program is hosted by renowned fan David Sigler and each show will feature a theme. The purpose of the show is designed to enlighten listeners about the music of Elton John and Bernie Taupin that they may not always hear on commercial radio stations. The focus will be on the music with features such as "Album Track Spotlight", "Taupin Spotlight", "Cover Spotlight", "Long Distance Dedications", "Live Tracks", and interviews with renowned Elton John historians.

For show times and broadcast dates, visit www.womr.org as well as www.facebook.com/tworoomsejbt for more information! Don't miss this exciting new show dedicated to one of pop music's most successful songwriting duos.
"Gnomeo and Juliet" set for May 24, 2011 DVD release
Saturday, April 2 2011
Walt Disney Studios will release "Gnomeo & Juliet" as a 3-Disc Blu-ray Combo Pack, which includes Blu-ray 3D, Blu-ray 3D + DVD with Digital Copy, on May 24, 2011.

Other release options for the film will include a 2-Disc Blu-ray Combo Pack (Blu-ray 2D + DVD) and a 1-Disc DVD.

With original music and songs by Elton John, the movie is a twist on Shakespeare's tale of star-crossed lovers, Romeo & Juliet. Bonus features on the Blu-Ray and DVD releases include such featurettes as "Elton Builds A Garden," and "Frog talk with Ashley Jensen," as well as "Crocodile Rock Music Video featuring Elton John and Nelly Furtado."
Elton John slams bands over Glee bans
Saturday, April 2 2011
Elton John hit out at bands who don't want their songs on Glee, branding them 'a**holes'.
He was appearing on Late Night with Jimmy Fallon, on US television, to promote his appearance as a host of Saturday Night Live on April 2, 2011. He was asked how he felt about the contestants on American Idol playing his songs earlier in the week. Although he did not watch the show, he said it was a "compliment".

"It's so great when people do your songs," he said. "I started off as a songwriter, so even now when I get into the elevator and it's muzak and it's one of my songs I feel really happy about it, because it's a compliment. Doesn't matter if it's a bad version - it's just a compliment. I've never lost that thrill."

He then referred to bands such as Kings of Leon and the Foo Fighters, who have recently said they don't want their songs played in the hit show Glee. "There's a big debate about the Glee thing at the moment. There's a lot of bands saying 'We don't want our stuff in Glee. Look, listen up you a**holes. This is a compliment and sends out a positive message. What the hell is wrong with you guys?"

Click here to see clips from the Jimmy Fallon show.
We Are Greater Than AIDS
Friday, April 1 2011
Philanthropist David Furnish reflects on three decades of life around the world with HIV/AIDS.
By David Furnish

This year marks 30 years since the discovery of the first case of what was later identified as AIDS. With that news, our lives and relationships as gay men were forever altered. We witnessed an unthinkable tragedy that has taken the lives of more than a quarter million of our gay and bisexual friends and lovers.

In the face of this devastation leaders emerged. The crisis helped to shape our community's political agenda, and it provided a platform around which gay leaders could advocate for rights and equality. We realized that if we informed ourselves and acted on what we learned, we could be greater than the disease. Thanks to the efforts of gay men and our allies, our community saw a dramatic decline in new infections by the late 1980s.

Many of us can look back with immense pride at the collective response in those early years. The availability of effective combination drug therapies in 1996 fundamentally changed how we thought about HIV. No longer was HIV the death sentence it had once been. We had new hope. For many, HIV was a manageable chronic disease. Many of us turned our attention to marriage equality, adoption rights, the repeal of "Don't Ask, Don't Tell," and other pressing issues facing our community. While we broadened our focus, AIDS did not.

When we become complacent, HIV thrives. New HIV infections among gay and bisexual men in the United States are on the rise. Yes, on the rise. We are the only risk group for whom this is the case. According to a recent study by the Centers for Disease Control and Prevention, one in five of us – that is gay and bisexual men – in some of the largest U.S. cities today are living with HIV – and half of those who are positive do not know it. Unless we act now, we will see these numbers rise even higher, and quickly.

My partner, Sir Elton John, often talks of his friend Ryan White – a boy whose tremendous courage in the face of AIDS forced our leaders to take action and inspired many of us. Today, Ryan's story continues to remind us that just as HIV began one person at a time, it will end one person a time.



Elton and I recently had a baby boy. Becoming fathers has given us new perspective on what it means to take care of one another – as parents, as partners, and as members of a community. And, it reminds us that we cannot be complacent in helping to create the kind of society in which we want our son to grow up. In short, we must take responsibility and each do our part to create a future free of HIV – by being informed, using protection, getting tested and treated, and getting involved.

And so, as we mark 30 years of this disease, Elton and I have recommitted ourselves to being greater than AIDS. As chairman of the Elton John AIDS Foundation, I'm proud of the community organizations with which we are working to fight stigma and prevent the spread of the disease. And, I'm proud that leading LGBT companies, like Here Media, Logo TV, and the Bay Area Reporter, are refocusing attention on this epidemic, and I hope more will join us.

As a community, we once showed that we could be greater than AIDS. Now is our time to do it again. Visit GreaterThan.org to get started.
Elton throws back to comic Benny Hill for his Saturday Night Live hosting duties
Friday, April 1 2011
He is known for having a good sense of fun and a quirky style. So it is no surprise that Elton John is the latest celebrity up for hosting duties on U.S sketch comedy show, Saturday Night Live.
Elton will not only host the popular programme this coming April 2, 2011, but will also be a musical guest. For his first time hosting the show, Elton does a throw back to English comedian Benny Hill.

Stills for the promo show the singer running around in the style of the legendary comedic actor. He is seen chasing SNL cast-mate Jason Sudeikis around the studio after Jason claims to have stolen his sunglasses.

Elton laughs when Sudeikis whips out a pair of extravagant sunglasses and puts them on. "They're great man. Where did you get those?" Elton asks. "Just in your bag," the comedian laughs. The pair then begin to chase each another around the room. The rock pianist also makes fun out his own catty side in a skit.



After Sudeikis calls him "one talented son of a b****", he snaps back: "You got the b**** part right." Wearing a black suit and t-shirt and his own signature black-rimmed glasses Elton is confident alongside Sudeikis proving he is ever the consummate performer.

Elton is returning to the show for the first time since he was the musical guest in 1982.



Elton John set to host 'Saturday Night Live'
Wednesday, March 23 2011 at 06:58:20


UPDATE: Become Zachary's godparent!
Friday, April 1 2011
Elton and David have decided to chose one huge Elton fan as godparent for their son Zachary.
For those of you that are still in the process of preparing their application ... this was of course an April fool's joke (as many fans have already figured themselves).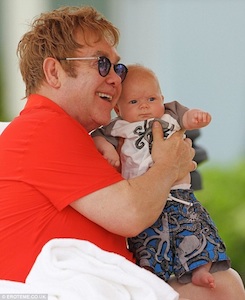 There has been a lot of speculation since Zachary Jackson Levon Furnish-John was born on Christmas Day 2010 about who will be his godmother or godfather. Elizabeth Hurley was brought up as a potential candidate as was Lady Gaga. Most of these reports were denied by Elton and David.

Now Hercules has been informed that Elton and David plan to pick a number of godparents and one of them could be you! Besides members of their families and celebrity friends, an ordinary representative of Elton's fandom shall also join the list. And Hercules has been asked to help find the one!

Here's what you have to do: Send your application (max. 3,500 characters) and a picture of yourself (JPEG, max. 100 kByte) to godparent@eltonfan.net. Make sure to persuade Elton and David why you should be the one to join their inner circle in being a godparent of their son. Express yourself in both your written application as well as in your photo. The deadline for sending your material is April 15, 2011.

Hercules will forward all the material received by that date to Elton and David. The couple plans to make a final decision by the end of May 2011 when Elton returns to touring Europe.