ELTON JOHN NEWS ARCHIVE: January 2010
Aquinas graduate relishes working with Elton John
Sunday, January 31 2010
John Mahon performed Elton John's "Tiny Dancer" and an original song he wrote about his late father on January 29, 2010 while being honored with other distinguished St. Thomas Aquinas alumni during a student assembly in the high school gym.
Joining him were keyboardist Tim Hunt and bassist Dave Marchione, who played with Mahon in a local band called Hard Times in the 1970s.

It was no hollow cliche on January 29, 2010 morning when John Mahon told a gymnasium full of St. Thomas Aquinas High School students that dreams do come true. A 1973 Aquinas graduate, Mahon played drums in the school's marching band, concert band and jazz band and sang in the choir.

After school, Mahon spent countless hours in his bedroom listening to rock 'n' roll records, studying album covers and music magazines and dreaming about playing concerts in front of 50,000 people and traveling the world. Since 1997, Mahon has done all of the above, touring frequently as a member of Elton John's band, in which he is a backing vocalist and percussionist. He has performed about 700 shows with Elton to date.

"I've been around the world a couple of times, sometimes on his private jet," Mahon said. "Sometimes it is the glamorous rock 'n' roll lifestyle, but it's also a lot of work. Aside from the actual shows, which are 2 1/2 hours long, the rest of my day is airplanes, buses, vans, checking into hotels and that constant search for a good cup of coffee."

Mahon was among three Aquinas graduates honored as distinguished alumni in a program at the school. Colette Gibbons (1969) and Kelly Kelleher (1976) also were recognized. Ron Chessler, the freshman football coach, was lauded for his distinguished service. Mahon spoke warmly of his formative years in Canton.

"The first thing I was in musically was the Canton Police Boys Club drum-and-bugle corps," he recalled. "My dad (Joseph) was a policeman and he took my brothers and I there when I was 13. My brothers picked horns and I picked drums." After high school, Mahon played in a succession of local bands — Constellation, Sneeze, Punch, Hard Times — that veered from R&B to jazz-rock to top-40. "We played King Arthur's, the Cabaret, all the local places," he said.

In 1980, Mahon married Pam Tortola, a fellow Aquinas grad, and in 1983 they made the brave decision to move to Los Angeles, encouraged by a musician friend of Mahon's who already lived there. "We sold everything we owned, packed up our little Toyota pickup truck and drove out there cold," Mahon said.

Mahon gradually gained his career footing in the L.A. music scene, touring with Al Stewart, Peter White, Rita Coolidge and Helen Reddy, doing studio work, and playing with his own band, the Stickmen. "I wasn't just a drummer. I was always a singing drummer," Mahon said. "That's what's really kept me working."

In 1997, a musician friend who was playing in Elton John's band arranged for Mahon to audition with Elton's bandleader Davey Johnstone. "I auditioned and Davey said, 'This is really good, you've got the gig. We're going to rehearse in Nice, France, for three days and that's where you will meet Elton.'"

Before meeting Elton for the first time, "I was a nervous wreck as you can imagine," Mahon said. "But he was very cordial. He came right up and introduced himself. He was friendly, open, asked me a lot of questions. He must've liked me because I'm still here."

Asked about the biggest shows he's played with Elton John, Mahon listed the Coliseum in Rome for more than 200,000 people, Hyde Park in London for a half-million people, the Carnivale in Rio De Janeiro for 100,000 people, Wembley Stadium for 80,000, and a five-night stand at Madison Square Garden.

"It's funny, I can play in front of 50,000 people and I could care less," Mahon said. "But I have to do this thing at St. Thomas, playing in front of a few of my peers, and I'm a nervous wreck." His wife flies to join him when she can. "She'll come to London, Paris, New York, Rome," he said. "She knows which ones to pick — the good shopping cities."

So what does it feel like playing in Elton John's band in a sold-out arena? "There's plenty of nights when you are exhausted with jet lag from all the traveling," Mahon said. "But as soon as you hit that stage and the people start going off, all that stuff goes right out the window. You are completely in the moment. It fuels you."
Neil Young tribute kicks off Grammy weekend
Sunday, January 31 2010
Elton John, James Taylor, Dave Matthews and more than a dozen other artists launched Grammy weekend with performances honoring Young as the MusiCares Person of the Year.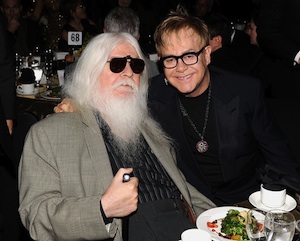 The annual event celebrates an artist's philanthropy each year as it raises funds for the music industry charity that provides financial, medical and personal assistance to artists in need.

Young was honored for his decades of philanthropic service, including work with Farm Aid and the Bridge School Concerts, which raise money to provide services for kids with severe speech and physical impairments. The singer-songwriter and more than 2,000 other guests at the Los Angeles Convention Center were treated to new interpretations of his timeless songs, including "Harvest Moon" and "Cinnamon Girl," during a nearly four-hour program on January 29, 2010. "I'd forgotten how many songs I'd written," the 64-year-old musician said.

Jack Black served as the evening's host. He said the night's performers had been "unforgettably, awesomely and life-changingly" influenced by Young's music. They included Elton John, who said Young was "my hero" as an artist, philanthropist and humanitarian. Elton played piano and sang "Helpless" backed by Sheryl Crow, Leon Russell (pictured right with Elton) and Neko Case.

Taylor performed "Heart of Gold." Matthews offered a heartfelt version of "The Needle and the Damage Done." John Fogerty and Keith Urban sang "Keep Rocking in the Free World." Ben Harper, backed by three female singers, offered a stirring take on "Ohio." Jones duetted with another acoustic guitarist on "Tell Me Why," and Crow played the accordion as she sang with Stephen Stills on "Long May You Run.

"Neil, how are you enjoying your Bar Mitzvah so far?" Black cracked. Later in the evening, the actor-comedian auctioned off his tie and shoes to benefit MusiCares. (The shoes fetched $600. The tie, $100.) Then he inexplicably removed his pants, and for a brief moment stood on stage in his tuxedo jacket and red boxer shorts.

Young's one-time band mates – Stills, David Crosby and Graham Nash – were the last to perform for their friend. "We made some of the best music of our lives with you, man," said Crosby, a previous MusiCares honoree. Young watched the show with his wife, Pegi, by his side. At the end of the night, a humble Young took the stage and said he hoped the songs he's writing today are as good as the ones performed on January 29, 2010.

"It's been a great night. It wore me out," he said. "Now I've got to go back and try and write some songs." He went on to say that he's inspired by fellow MusiCares honoree Tony Bennett and his longevity in the business. "I look at him and say, 'All right, I can do this,'" Young said. "I'm going to keep on going, and I hope you do, too."
Elton to raise money for sick and disabled children
Friday, January 29 2010
Elton John will be the biggest star at an event to raise money for sick and disabled children.

The 62-year-old will be the main attraction at the Caudwell Children's Butterfly Ball at London's Battersea Evolution on May 20, 2010.

It is the 10th anniversary of the event, which over the years has raised over £11 million to pay for equipment as well as treatment for the children.

Trudi Beswick, the charity's chief executive, said: 'We are thrilled to have Elton performing. It will be a fitting celebration for our 10th anniversary.'
Elton John to join Lady Gaga on stage
Friday, January 29 2010
Elton John surprised audiences nine years ago when he performed at the Grammys with Eminem. This year, he's planning a similar move.
Spies say he'll join Lady Gagaonstage on January 31, 2010. Elton -- at a dinner on January 26, 2010 for Rainbow Media hosted by Sundance Channel and IFC head Evan Shapiro at the Deer Valley Lodge in Park City, Utah -- refused to comment on the rumor.

But perhaps it's a quid pro quo -- Gaga is slated to perform at the February 10, 2010 AmFAR benefit at Cipriani 42nd Street, where Elton is being honored.
Jimmy Choo's funky line for Elton John AIDS Foundation
Thursday, January 28 2010
Jimmy Choo, the third member of the shoe triumverent (Jimmy, Manolo & Christian) has joined the others in creating a line for charity.
Choo has partnered with the Elton John AIDS Foundation to support the Simelela Rape Center in South Africa by donating 25% of all proceeds from his new line to the center.

The iconic collection, dubbed Project PEP (post-exposure prophylaxis), includes handbags, flip flops, sandals, flats, bracelets and accessories. All products feature a collage of signature Jimmy Choo details like snakeskin, leather, grommets, graphic artwork and Choo's label. The fun and flirty sandals, featured on the model in the image above, are available at Saks for $975.

The Simelela Rape Center was created to address the physical and emotional needs of rape victims in its South African community. Sexual violence is a huge problem there and Simelela offers hope to women in their darkest hour providing post-exposure prophylaxis for HIV transmission prevention and trauma counseling.



Jimmy Choo creates Charity Line for Elton John Foundation
Tuesday, June 2 2009 at 09:58:02


Elton and David at Sundance Festival
Thursday, January 28 2010
Elton John and David Furnish attend the "Nowhere Boy" premiere at Eccles Center Theatre during the 2010 Sundance Film Festival on January 27, 2010 in Park City, Utah.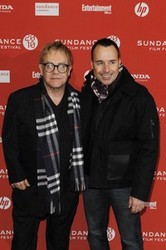 EJAF supports Haiti charities
Wednesday, January 27 2010
The Elton John Aids Foundation (EJAF) has announce that it has awarded $200,000 in emergency funding to two of its grantees in Haiti - Partners in Health (PIH) and the Clinton Health Access Initiative (CHAI).
"We are all shocked and horrified by the unfolding tragedy in Haiti," said EJAF's Founder and Chairman Sir Elton John. "EJAF grantees Partners In Health and the Clinton Health Access Initiative mobilized almost immediately to work together to ensure the continued delivery of HIV medications and provide emergency medical care to their specific patient populations in the wake of this devastating earthquake."

PIH has tremendous existing capacity in Haiti (a network of hospitals and clinics, more than 120 doctors and nearly 500 nurses and nursing assistants), but their supply of resources has been constrained. After evacuating its staff and operations to the Dominican Republic, CHAI has set itself up as a logistical base in that country to move HIV/AIDS medicines and medical/surgical supplies to PIH over land and by air. In addition, PIH has been designated by the World Health Organization to manage one of the few medical centers left standing in Port-au-Prince, the Hopital del'Universite d'Etat d'Haiti. Here again, the two organizations are sharing responsibilities with PIH handling patient triage and medical care and CHAI managing the restoration of medicines, supplies, and basic services, and improving hospital management operations.

EJAF's staff has been communicating regularly with these grantees, and we have been impressed by the manner in which they have handled this crisis, moved quickly to marshal their resources, and stepped in to help their HIV/AIDS patients and take on additional patient load from other HIV/AIDS organizations in the area whose facilities have been destroyed. Given the sudden increase in the scope of their work and the urgent need to move quickly in order to save lives, EJAF's Executive Board mobilized immediately to award two $100,000 emergency grants to each organization.

Sir Elton added, "The greatest need for both organizations at this time is for financial support to keep bringing in the necessary fuel for generators, medical supplies, HIV/AIDS medicines, and logistical needs in the weeks to come. At EJAF, we are proud to support the work of these extraordinary organizations as they battle to save lives during this natural disaster."
Cape Town venue and date change
Monday, January 25 2010
Big Concerts announced that the opportunity has presented itself to host Elton John at the Kirstenbosch Botanical Gardens as part of his 'Under African Skies' tour on March 24, 2010.
Elton (who will be joined on stage by long-time collaborator and renowned percussionist, Ray Cooper) will perform against the magical backdrop of Table Mountain in a relaxed, picnic style setting that has made Kirstenbosch world famous.

As a consequence of this exciting development, the Paarl performance which, was originally scheduled for March 28, 2010 will be replaced by this new show at Kirstenbosch Botanical Gardens on March 24, 2010. Those fans that have already purchased tickets to the Paarl concert will have hassle-free entry to Kirstenbosch by simply presenting their existing ticket to security at the gates. And should any of these existing ticket holders be unable to make the new date, they are eligible for a full refund upon presentation of their ticket at any Computicket outlet in the city.

Also see Elton John Tour News.
Happy Birthday, John!
Saturday, January 23 2010
Elton's percussionist and background vocalist John Mahon is celebrating his birthday on January 23, 2010.
On behalf of the Hercules team and the Elton John fans all over the world, we would like to wish him a happy birthday!
Haiti charity single
Friday, January 22 2010
Paul McCartney and Elton John are on the A-list of stars approached to sing on a charity cover of REM's "Everybody Hurts," spearheaded by Simon Cowell.
The Beatles legend, 67, and Elton, 62, are close to signing up to join Leona Lewis, Susan Boyle, Take That and Alexandra Burke, alongside X Factor winner Joe McElderry on the single. All funds raised will be split between charities the Disasters Emergency Committee and Helping Haiti/ Medicins Sans Frontiers.

Leona Lewis said: 'You can definitely count me in. What's happened is absolutely heartbreaking and I really hope everyone pulls together to help.'

Cowell, 50, told the Mail: 'We have a short time to do this and the people in Haiti need as much help as we can give them, as soon as possible. I'd like to make this record with as many different types of singers as we can and I hope everyone in the industry comes together to get involved.'

Apart from getting his own artists from his Syco label on board, Cowell has also spoken to record chiefs at Universal, and their artists Cheryl Cole and Take That will also sing. The list of stars has yet to be confirmed but Cowell can be expected to call on artists who have performed on the X Factor, including McCartney and Robbie Williams.

U2 and Jay-Z have already recorded their own charity record, which they will perform at George Clooney's Hope For Haiti telethon on January 22, 2010 in the States - to be shown on MTV in the UK. And Lionel Richie is planning a 25th anniversary re-recording of "We Are The World," featuring Usher, Natalie Cole and John Legend, amongst others.

Richie will team up with producer Quincy Jones to make the single, with all proceeds going to fund Haiti relief efforts. Downing Street confirmed that VAT would be waived on the single when it is released. Gordon Brown said he believes the single will make a 'huge' amount of money for the rescue efforts.

'I have already talked to Simon Cowell and I said there would be an exemption from VAT for a charity single,' said the Prime Minister. 'The agony and anguish for the people that we are seeing on our television screens is something that British people want to respond to. Simon Cowell can make a huge amount of money to help the people of Haiti.'
Billy Elliot to celebrate 500th performance
Friday, January 22 2010
Billy Elliot the Musical, which won ten Tony Awards including Best Musical, will celebrate its 500th performance at Broadway's Imperial Theatre on January 24, 2010.
The cast is currently headed by Michael Dameski, Alex Ko, Trent Kowalik, Liam Redhead and Dayton Tavares, who rotate in the title role, with Kate Henning as Mrs. Wilkinson, Gregory Jbara as Dad, Carole Shelley as Grandma, Will Chase as Tony and Trevor Braun and Jake Evans Schwencke alternating as Michael.

The show, which recouped its $18 million investment in 14 months, is presented by Universal Pictures Stage Productions, Working Title Films and Old Vic Productions in association with Weinstein Live Entertainment, based on the Universal Pictures/Studio Canal film.

Billy Elliot the Musical, according to press notes, is the "joyous celebration of one boy's journey to make his dreams come true. Set in a small town, the story follows Billy as he stumbles out of the boxing ring and into a ballet class, discovering a passion that takes him by surprise, and takes his whole family on an incredibly uplifting adventure."

The musical features music by Elton John, book and lyrics by Lee Hall, choreography by Peter Darling and direction by Stephen Daldry. The production has scenic design by Ian MacNeil, costume design by Nicky Gillibrand, lighting design by Rick Fisher and sound design by Paul Arditti. Musical supervision and orchestrations are by Martin Koch.

Billy Elliot the Musical is produced by Tim Bevan, Eric Fellner, Jon Finn and Sally Greene. Angela Morrison and David Furnish are executive producers.For more information visit www.BillyElliotBroadway.com.
Elton on CNN
Tuesday, January 19 2010
CNN's American Morning entitled "Big Stars, Big Giving: Elton John on AIDS Awareness" can now be watched online.
Elton's interview with CNN correspondent Alina Cho was conducted during the recent World Team Tennis Smash Hits benefit on December 8, 2009, and aired on December 21, 2009.

This segment covers the Foundation's mission and work, discusses Elton's friendship with Ryan White and the impetus for the formation of EJAF, and includes wonderful footage from his visits with EJAF grantees in Africa.
Elton to write foreword to Gately book
Sunday, January 17 2010
The revelation that Stephen Gately was writing a book before he died was a surprise to many Boyzone fans. But his band mates, his family and friends all knew about it and how enthusiastic he was about writing.
In fact, one of the main reasons he had gone back to his holiday home in Majorca, where he died in October 2009, was to finish the book.

The book was almost complete then and sometime after his death one of the first people to read the story was Breda Perdue, the managing director of publishers Hodder Hachette Ireland, who was sent a copy by Stephen's agent.

"It was clear to me immediately that Stephen was a really talented writer," Breda says. "He loved fantasy and the story is a really involving one, creating a detailed imaginary world along the lines of Narnia. I realised straight away that it deserved to be published in Britain, as well as here, so I urged our parent company in the UK to take it on."

The book, a fantasy novel centred around three children in a magical but dangerous world, is titled "The Tree of Seasons." It will be published as a 208-page hardback at the end of April by Hodder & Stoughton, one of the most prestigious publishers in Britain. Hodder recently paid what the Bookseller trade paper reported was "a very healthy advance" for the rights in the book.

Andrew Cowles will join with Boyzone to promote the book, with TV appearances and signings planned. Elton John, who was a friend of Stephen, is writing the foreword.



Elton and David shop in Beverly Hills
Sunday, January 17 2010
Elton John and husband David Furnish were spotted doing some shopping at Dolce & Gabbana in Beverly Hills on January 15, 2010.
A swarm of paparazzi waited for them outside, and Elton graciously stopped to pose briefly for photos before getting into his ride and leaving.

5 DVD boxset "Spectacle: Elvis Costello with..." to be released in the UK
Friday, January 15 2010
Shot at the legendary Appollo Theater and 30 Rock's 8H Studio in New York, Spectacle blends the best of talk and music television.
Rock & Roll Hall of Fame member Elvis Costello conducts insightful interviews and participates in once-in-a-lifetime musical performances and collaborations with the likes of Elton John, The Police, Tony Bennett, Norah Jones, James Taylor, John Melencamp and many more.

This is an unprecedented series and a must for fans of every kind of music! Includes extended episodes with previously unseen footage, extra songs and behind-the-scenes interviews. This beautifully packaged Collector's Edition DVD boxset include a 28 page colour booklet.

Also available as a 4 disc boxset on Blu-Ray (TRI1748). You can buy it online from Wienerworld.

Track Listing:

Disc 1: Sir Elton, President Bill Clinton, Tony Bennett

Disc 2: Lou Reed, Julian Schnabel,The Police, Smokey Robinson

Disc 3: Rufus Wainwright, Jakob Dylan, Jenny Lewis, She & Him, Diana Krall and Sir Elton John

Disc 4: Herbie Hancock, Kris Kristofferson, Roseanne Cash, Norah Jones, John Mellencamp and James Taylor

Disc 5: Renee Fleming, Bonus songs, outtakes and backstage footage, rehearsal footage, stills gallery and more



Elton will not be an "Idol" judge
Friday, January 15 2010
There has been much speculation over who will replace Simon Cowell. The usually reliable TMZ reported that it had "floated Elton John as the guy who should take Simon's seat."
"After all, he knows music, he's certainly got the bitchy attitude, and he's British." The site then claimed that after its test balloon, "Now an 'American Idol' spy tells us the talk on the set is … Elton John!"

The story has since been picked up by everyone. And while it is true that Elton was a judge on Season Three, Elton will NOT make it permanent.

A rep for Elton John told Gossip Cop exclusively, "He is not going to be a judge."



Elton to replace Simon Cowell?
Thursday, January 14 2010 at 09:06:27


Let me be your car
Friday, January 15 2010
Elton has put his car up for sale on Auto Trader. The Maserati Quattroporte S has done just 3,500 miles since new in 2005. Must've been his Sunday car.
In car lot speak it's kitted out with all the bells and whistles, including heated, massage and ventilated seats and rear entertainment system with DVD player. It even has picnic tables and curtains for those moments when you just want a bit of privacy. All this for a hefty price tag of £39,995.

Click here for a slideshow.
Elton to replace Simon Cowell?
Thursday, January 14 2010
TMZ may have led the way in the search for Simon Cowell's replacement on "American Idol."
On TMZ TV -- the day Simon announced he was leaving -- they floated Elton John as the guy who should take Simon's seat. After all, he knows music, he's certainly got the bitchy attitude, and he's British.

Now an "American Idol" spy tells TMZ the talk on the set is ... Elton John! Elton was a guest judge in season three of 'Idol.'

TMZ contacted Elton's representative to see if he was interested. She said tersely, "He's on holiday."
Elton John expected at music show
Wednesday, January 13 2010
Celebrities ranging from 20-year-old Taylor Swift to 66-year-old Keith Richards may turn up in Anaheim on January 16/17, 2010. But don't expect to see them.
That is, unless you are registered for the NAMM Show, a major music products convention. The massive annual convention is set to return January 14, 2010 to the Anaheim Convention Center, drawing more than 85,000 people from around the world over four days to the Disneyland area.

The trade show is closed to the public. Only those in the music business are allowed in. Everything from guitar strings and amplifiers to sheet music and trombones will cover the entire 815,000-square-foot center and spill out to nearby hotels for the International Music Products Association convention. Some companies also sponsor private concerts and parties.

Among the attendees will be more celebrities than in recent years, said Scott Robertson, the association's spokesman. "It's a galaxy of stars this year," Robertson said. Last year, some companies cut back on their spending because of the recession, including Yamaha that canceled its private concert at Disney's California Adventure. But this year, musicians including Natalie Cole and Michael McDonald, are scheduled to perform at the company's private 50th anniversary event.

Some artists were scheduled well in advance for performances or autograph sessions. Yoko Ono and producer Quincy Jones, for example, are scheduled January 14, 2010 to talk about their support for music education. Others, including guitarist Slash, announced on Twitter that they are planning to promote products.

Some artists will just show up. Elton John, Carlos Santana, Stevie Wonder and Neil Diamond are registered. Taylor Swift just confirmed January 12, 2010.

Because the Golden Globe Awards are in Los Angeles the same weekend, Robertson said he wouldn't be surprised if more actors appear. Actors Billy Bob Thornton and Christoper Mintz-Plasse, who plays McLovin in "Superbad," are signed up. Robert Downey Jr. has come in the past.

"We find out about these people when they are 15 minutes from the convention center," Robertson said. "You never know who you are going to see."
Elton John & Ray Cooper performed in Honolulu on January 9, 2010
Wednesday, January 13 2010
Following is the complete set list of the Honolulu show on January 9, 2010.
Elton solo
The One

Sixty Years On

The Greatest Discovery

Border Song

Ballad Of The Boy In The Red Shoes

The Emporer's New Clothes

The Weight of the World

I Guess That's Why They Call It The Blues

Rocket Man

American Triangle

I'm Still Standing

Tiny Dancer

Philadelphia Freedom

Your Song
Elton with Ray Cooper
Funeral for a Friend/Tonight

Better Off Dead

Come Down In Time

Levon

Indian Sunset

I Think I'm Gonna Kill Myself

Daniel

Sorry Seems To Be The Hardest Word

Take Me To The Pilot

Carla Etude

Blessed

Don't Let The Sun Go Down On Me

Honky Cat

Crazy Water

Crocodile Rock

Saturday Night's Alright (For Fighting)
Leon Russell undergoes brain surgery, condition unknown
Wednesday, January 13 2010
Leon Russell has been hospitalized for brain surgery, sources confirmed with the Tulsa World.
"Uncle Leon spent 5 hours in surgery yesterday [January 11, 2010]. I trust the Oklahoma Rock and Roll family will keep Leon in their hearts and minds for the next few days," wrote family friend Steve Ripley on his "Oklahoma Rock and Roll with Steve Ripley" fan site on the Facebook social networking site.

Russell was hospitalized recently for surgery for a brain fluid leak and treatment for heart failure and pneumonia, reportedly in California, multiple sources confirm. The brain surgery may be for a recurring health issue that has troubled Russell in the past. However, calls to several hospitals in California were unable to confirm Russell had been admitted.

Also, the often-on-tour musician has canceled a string of upcoming club dates, confirmed Rick Booth, who has booked several club-size shows for Russell. Brian Lee, a longtime Tulsa keyboardist and part of Russell's current touring band, confirmed that Russell underwent surgery on January 10, 2010 and is recuperating. "He did get through the surgery, and at this point we're just praying for a smooth and quick recovery," Lee said via phone during a Tuesday interview with the Tulsa World.

Lee also said a string of shows in North Carolina and along the East Coast have been canceled. The band has been put on hiatus while Russell heals, Lee said.

Calls and e-mails to Russell's publicist and record label team by the Tulsa World have not been returned. Ripley, a close personal friend and collaborator with the musician, has released no official statement on Russell and has not returned phone calls or emails made by the Tulsa World on January 12, 2010 morning and afternoon.

Russell had plans to record with Elton John. In 2009, Elton let slip on Elvis Costello's talk show that he had tentative plans to record with Russell on a new album, to be produced by T-Bone Burnett. No firm recording or release date has been announced.

The work with Elton John has also been put on hold, said Lee. "We were really excited about the Elton John stuff," said Lee. "We weren't ready for this bad news. ... We all want him to get better."



New album update from Bernie Taupin
Wednesday, December 30 2009 at 21:36:45

Sir Elton sishes on new album project
Tuesday, March 17 2009 at 07:45:30

"Spectacle: Elvis Costello with Elton John"
Wednesday, December 3 2008 at 07:03:13


amfAR's Annual New York Gala Fundraiser to kick off Fashion Week
Wednesday, January 13 2010
Elton John, David Furnish and Yves Carvelle will be honored during the event on February 10, 2010.
On February 10, 2010, amfAR Chairman Kenneth Cole will be joined by fellow event chairs Sandy Brant, Andy Cohen, John Demsey, Donna Karan, Vanessa Redgrave, Joely Richardson, Carine Roitfeld, Ingrid Sischy, Sharon Stone, Stanley Tucci, Diane von Furstenberg, and Anna Wintour to kick off fashion week at amfAR's annual New York Gala, held at Cipriani 42nd Street.

Yves Carcelle, president and CEO of Louis Vuitton, and Elton John and David Furnish will be honored for their vital and distinctive contributions to the global struggle against AIDS. amfAR will also pay tribute to the late Natasha Richardson, a former amfAR board member and leader in the fight against AIDS. Meryl Streep, Vanessa Redgrave, and amfAR Founding Chairman Dr. Mathilde Krim will participate in the tribute.

The black-tie dinner and auction, now in its twelfth year, will also include special performances by M•A•C Viva Glam spokesperson Lady Gaga and Rufus Wainwright.

Carcelle, David, and Elton will each receive amfAR's Award of Courage for outstanding leadership and distinguished service in furthering amfAR's mission, and for playing a vital role in increasing AIDS awareness and accelerating the pace of HIV/AIDS research.

Since 1998, amfAR's New York Gala has been one of New York City's most successful and high-profile AIDS benefits. The gala has raised more than $10 million in support of amfAR's programs. Previous honorees have included Clive Davis, Peter Dolan/Bristol Myers Squibb, Richard Gere, Whoopi Goldberg, Tom Hanks, Quincy Jones, Donna Karan, Patti LaBelle, Lorne Michaels, Liza Minnelli, Rosie O'Donnell, Howard and Cindy Rachofsky, Sumner Redstone/Viacom, Natasha Richardson, Bill Roedy/MTV Networks, Carine Roitfeld, Julian Schnabel, Bobby Shriver, Sharon Stone, Barbara Walters, Robin Williams, and Anna Wintour.



Elton John gets chatty with the common folk
Tuesday, January 12 2010
Elton John may be honorary royalty, but he still knows how to treat the common folk.
While visiting NYC late in early January 2010, he made a stop at Graydon Carter's Monkey Bar and charmed much of the staff. "He was really chatty with the servers and with one busboy, who was a huge fan," a restaurant-goer notes of Elton. "The kid practically fell over when Elton kept calling him back over to the table just to be nice."
Courtney Love wanted Elton's help
Sunday, January 10 2010
Courtney Love - the widow of late Nirvana rocker Kurt Cobain - wanted Elton John to perform on the new Hole album, entitled 'Nobody's Daughter'.
Courtney Love wanted Elton to play piano on the new Hole album. The singer was desperate for the 'Rocket Man' singer to appear on upcoming LP 'Nobody's Daughter', but eventually recorded the parts with a musician recommended by U2 frontman Bono.

She said: "We wanted Elton, but we got this guy that Bono and me were talking about, he played at New York's Carnegie Hall, he's very deft. I don't know that I really could have made Elton get on a plane and come to me!" Courtney decided to reform Hole last year after deciding the tracks for her proposed solo album were more suited to her old band.
Elton John & Ray Cooper performed in Honolulu on January 6, 2010
Friday, January 8 2010
The high notes don't come as easy, or at all, for Elton John anymore. But at 62 years old, Elton showed on January 6, 2010 at Honolulu's Blaisdell Arena that he remains rock royalty - writes Dave Dondoneau of the Honolulu Advertiser.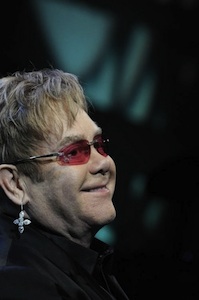 Playing to a packed house Elton, looking elegant in tuxedo tails and wearing rose-colored glasses, opened with a 75-minute solo set of his own — just he and he is piano — before percussionist Ray Cooper joined him for more than 90 minutes.

To say it was nearly a three-hour rock concert wouldn't be entirely accurate. It was more like an evening with Elton John. Classy, elegant, sometimes mesmerizing, sometimes taking everyone in the crowd down memory lane with old favorites like "Crocodile Rock," "Daniel," Nikita," "That's Why They Call It The Blues," "Rocket Man" and "Your Song."

Unlike many artists who pass through the Islands, play a few songs and talk little to the audience, Elton took the time before many of his lesser-known songs to explain the meaning behind them.

By the end of the show, security was ushering the reserved crowd toward the stage so fans could take photos and Elton could sign autographs and shake hands before the encore. Before performing "Sixty Years Old," Elton said he couldn't believe he wrote it 40 years ago, and before performing "Weight of the World," he said it had special meaning to him because he's now happy in life and that he made it through his wild years.

He was impeccable on the piano, and where he used to hit his high notes in songs like "Rocket Man," he smoothly sang lower. When it came to "Crocodile Rock," he let the audience hit the high notes in a "La-La-La-La's" singalong.
After opening with "The One," Elton proclaimed that Honolulu has long been one of his favorite cities — he's played there seven times — and said he couldn't believe he hadn't performed here in nine years. He said he booked the concert because he was coming to O'ahu for holiday and wanted to perform while he was there.

His final solo song was "Your Song," dedicated to the audience and all the fans who stuck by and supported him through the years. Sitting front row and taking in Elton's soothing sounds and class act was Ozzy Osbourne and his wife Sharon, who are vacationing on Oahu.

About 400 tickets remain for Saturday's 8 p.m. performance at the Blaisdell Arena. Prices range from $67 to $157 and can be purchased at all ticketmaster outlets, www.ticketmaster.com and 800-745-3000.

Following is the complete set list of the Honolulu show on January 6, 2010:

Elton solo
The One

Sixty Years On

The Greatest Discovery

Border Song

Ballad Of The Boy In The Red Shoes

The Emporer's New Clothes

The Weight of the World

I Guess That's Why They Call It The Blues

Rocket Man

American Triangle

Nikita

Tiny Dancer

Philadelphia Freedom

Your Song
Elton with Ray Cooper
Funeral for a Friend/Tonight

Better Off Dead

Come Down In Time

Levon

Indian Sunset

I Think I'm Gonna Kill Myself

Daniel

Sorry Seems To Be The Hardest Word

Take Me To The Pilot

Carla Etude

Blessed

Don't Let The Sun Go Down On Me

Honky Cat

Crazy Water

Crocodile Rock

Saturday Night's Alright (For Fighting)
Mrs. Captain Fantastic?
Thursday, January 7 2010
Susan Boyle's "I Dreamed A Dream" logs its sixth week at #1 of the UK Billboard 200.
"I Dreamed A Dream" is the first album to spend its first six weeks at #1 since 50 Cent's "The Massacre" in 2005. It's the first album by a female artist to spend its first six weeks at #1 since Norah Jones' "Feels Like Home" in 2004.

And it's the first album by a British artist to spend its first six weeks at #1 since Elton John's "Captain Fantastic And The Brown Dirt Cowboy" way back in 1975.
Elton wants to buy home in Ukraine to adopt Lev
Wednesday, January 6 2010
David Furnish revealed on January 6, 2010 he and Elton will still become "fathers" to a baby they tried to adopt even though their application was refused.
The couple tried in September 2009 to become the legal guardians of Lev, an HIV-positive 17-month-old boy they met while they were touring an orphanage in Ukraine. The eastern European nation's government said that, at 62, Elton was too old to adopt. Under the country's rules, there must be no more than 45 years difference in age between adoptive parents and the child. Ukraine family minister Yuriy Pavlenko also declared that gay couples were judged not suitable to adopt children under his country's law.

But, in an interview with Closer magazine, David said they were buying a home for Lev in his native country and have pledged to send regular financial help. The couple will also travel to the former Soviet country throughout the year to spend time looking after him. David said: "We are going to find a home for those boys in the Ukraine. We will get them a home as it would be a long uphill battle to bring them over here."



Elton kicks off tour year 2010 in Hawaii
Wednesday, January 6 2010
Elton will return to the stage on January 6, 2010 for a show at Blaisdell Arena in Honolulu Hawaii.
It will be his first official concert since the "Red Piano" show in Barcelona on October 20, 2009. Following that show, Elton had to cancel numerous concerts due to illnes - both his own and that of touring partner Billy Joel.

The Honolulu show on January 6, 2010 (and a second one on January 9) will be performed together with Ray Cooper. The band will re-join Elton on stage for a number of re-scheduled "Face to Face" shows with Billy Joel starting in Seattle, WA on February 3, 2010.

Also see Elton John Tour News.
Eminem talks about his friendship with Elton
Wednesday, January 6 2010
When Eminem found himself unable to pull himself out of a prescription-drug-fueled spiral of self-destruction, he turned to his friend Elton John for help — and continues to do so to this day, as Elton made clear in a recent interview.
But this wasn't the first time the rapper leaned on the pop-music elder statesman for support. When Eminem was getting heat for purportedly homophobic lyrics at the beginning of the millennium, he appeared with Elton at the 2001 Grammy Awards for an unforgettable rendition of "Stan."

"We were debating on whether I was going to perform the Grammys or not," the rapper told MTV News after the performance. "I was like, 'The only way I'll perform at the Grammys is with Elton John.' And I was saying it in kind of jest, thinking it would never happen. The idea of it started becoming more, 'OK, this is a way to really flip it around and really f--- people's heads up."

Eminem said when the idea for the performance first came up, he was unaware of Elton's sexual orientation. "Of course, I heard of Elton John," he told MTV News in 2004. "I didn't know he was gay. I didn't know anything about his personal life. I didn't really care. But being that he was gay and he had my back, I think it made a statement in itself saying that he understood where I was coming from."

The rapper recently raised eyebrows again with his new song "Elevator," which included lyrics about openly gay singers Adam Lambert, Clay Aiken and Lance Bass that may be construed as an anti-gay slur. Neither Eminem nor Elton has made any statement about the possibly controversial words.

Back in 2001, Eminem took home three Grammys, but it was his duet with Elton — they embraced after the song and held up their hands together in solidarity — that became that moment everyone was talking about the next day. "It was more so just a statement, period," the rapper said in 2001. "If you really think that about me, you really don't know Marshall. You really don't know me."



Elton says he's helping Eminem fight drugs
Saturday, January 2 2010 at 19:13:32


Graham Taylor will remain as chairman until June 2010
Tuesday, January 5 2010
A delighted Taylor said: "I was asked by the rest of the board to continue in my position as chairman, after becoming the interim chairman following the AGM last month.
"We have agreed that I will continue as chairman until 30 June 2010 and will then review the situation. I have to say this – Elton John himself always felt that this would have been the role that he would have wanted me to take after being manager and I smile to myself thinking, Elton was chairman here once.

"The reason I mention him, is that I hope the supporters understand that it's going to be impossible for me to be at every game. I have contractual agreements that will prevent me coming to every single Watford game, but you have to remember that Elton never saw every game either. I hope that the supporters understand the situation because I am contracted to other things since leaving football – including my Five Live commitments that many people will be aware of and those commitments that aren't in the public eye as much, like my ambassador duties to grass roots football and I can't just walk away from those people.

"Having said that, many people are aware that Watford is very special to me and will always – until my dying day – have a special part in not just my life, but my family's life as well, and so it was impossible to say no to becoming the chairman. I just hope to be able to be the kind of chairman that, along with the board, lets the manager get on with things.

"Having been back here a year already, I happen to believe that we have a management team that is very capable of running the club and we have people here who are very good and know what they are doing, so why should I become an interfering chairman? That isn't my role and I don't want to do that.

"Malky Mackay and his staff and players don't need me on the doorstep all the time – but Malky knows I'm on the end of the phone should he need anything. It's a non-interfering role that I intend to take – I obviously will be kept informed and this is going to go through until the end of the season and then in the summer, we will look at it and see exactly in which way that I and the club will want to go then.

"What we have to try and do is make sure that our supporters understand that we are putting the football side at the top of the list and that has got to be the most important thing. I will come in as chairman, give my observations and my views, say what I think and I will be there to give advice. We have to make sure that football is our first priority and need to look after it as well as we can so any help we can give Malky is there.

"We have had many challenges off the pitch but believe in the plan moving forward and that the football club will be in a much healthier position as the season progresses. What we need to remember is that we are a football club. That's the business we are in."
Elton donates millions to Bill Clinton`s charity
Monday, January 4 2010
Elton John has donated up to $10m to former US President Bill Clinton's charity.
A donor list provided by the William J Clinton Foundation showed that Elton's AIDS foundation donated between $5m and $10m.

Other donors included Norway, which has given between $10m and $25m to the charity since its founding roughly a decade ago, and Oman, which gave $1m to $5m. The list gave cumulative donation totals without stating how much each contributor gave last year, the New York Post reports.

Other donors ranged from the PGA Tour to soft drink giant Coca-Cola.
Elton says he's helping Eminem fight drugs
Saturday, January 2 2010
Elton John says he has been helping American rapper Eminen fight drug problems for more than a year.
Elton says Eminem is succeeding in his well-publicized battle against substance abuse. He told BBC Radio on January 2, 2010 that as a recovered drug abuser he is happy to help people if they want the assistance but drugs make people so cocky and arrogant that they often reject help.

Eminem has written about his substance abuse problems in the past.

The full BBC Radio interview can be found here.