ELTON JOHN NEWS ARCHIVE: September 2015
'Rocket Man Road' unveiled for Elton John
Saturday, September 26 2015
On October 2, 2015, Elton John will hit the stage at the Denny Sanford PREMIER Center. Staff at the venue are commemorating what could be the legend's last stop in Sioux Falls.
"We thought he could use one more thing to hang on his wall," Director of Sales and Public Relations Rick Huffman said. Add another honor to the list for Sir Elton John. The man who has sold millions of records and will be performing in Sioux Falls soon, now has a road named after one of his most popular songs.


"The street here in front of the PREMIER Center will be known as Rocket Man Road in honor of Elton John's concert here October 2nd," Huffman said. On top of the new sign, sunglasses are handed out to celebrate the change that will stay in place for a few weeks. Adam Jorgensen with the Center For Equality helped with the unveiling. Even though he prefers "Crocodile Rock," he thinks the song pick was a great choice.

"I just like how his music really appeals to a lot of people. I really love it. It's not even from my generation but I really love his music," Adam Jorgensen said. It may be quite simple but now that it's done, staff here is hoping that Elton John feels honored by the gesture as he makes his final trip through the midwest.

"We heard recently that he feels this will be his last tour through the midwest so our last opportunity to host him and see him in concert and it should be a great show," Huffman said.

Elton's last performance in Sioux Falls was at the Arena in 2007. Tickets are still available for next week's concert at the KELOLAND Box Office.
Putin calls Elton ... for real this time
Friday, September 25 2015
President Vladimir Putin phoned Elton John on September 24, 2015 to say he would be ready to meet up for a chat after the British singer requested a meeting to discuss his concerns about gay rights in Russia.
Putin's call came just a week after a pair of Russian comedians tricked Elton into thinking he was talking to Putin on the phone in a stunt that the entertainer laughed off, while saying he hoped it would highlight discrimination against gay people.

This time, Dmitry Peskov, Putin's spokesman, said the Russian leader really had phoned Elton, who has used his status as one of the world's most famous gay celebrities to push for equal rights for homosexuals around the world.

"Putin phoned him," Peskov told reporters. "He said: 'I know some guys played a trick on you on the phone, but don't get offended. They are harmless people, though that of course does not justify what they did.'"

Putin told Elton that since he was a popular performer he would be ready to meet him and discuss any subject which interested him, if their schedules coincided, Peskov said.

Western states and human rights activists have criticised Russia for its treatment of gay people, and Elton has previously spoken out against a 2013 law banning the dissemination of "gay propaganda" among young people.

Putin has said he is not prejudiced against gay people, but has made comments which activists have criticised as being ambiguous and insulting towards homosexuals. Elton, who plays to vast audiences in Russia when he tours, could not immediately be reached for comment.


Jack Phillips and Caleb Quaye to perform in NYC
Thursday, September 24 2015
Elton fan and recording artist Jack Phillips will be performing at The Duplex in Greenwich Village (NYC) on November 5, 2015.
He will be joined by legendary guitarist Caleb Quaye (Elton John, Hall & Oates) and they'll be playing brand new original blues rock songs about New Orleans and the Mississippi Delta among others.

The second half will be wonderful classic and original standards about New York City and Jack will be joined by Cafe Carlyle musicians who have worked with Woody Allen and Bobby Short.

Tickets are available online ($20 in advance, $25 at the door) at purplepass.com.
Elton delivered meals for charity prior to Atlanta show
Thursday, September 24 2015
Elton John and his crisp band delighted Music Midtown fans with a 21-song set list on September 18, 2015.
Earlier that day, he brought life-giving sustenance to a very special Atlanta resident. Craig Gustafson of Midtown had been a little worried that Music Midtown traffic might keep volunteers with Open Hand Atlanta from bringing his meal. So he was not only relieved but absolutely delighted when Elton John himself rang the doorbell with his meal.

"What an honor," Gustafson said. "He's been fighting for this cause for years and he's beyond a celebrity. He's an icon to us. For him to have even 10 minutes to honor me with his time, I'm just blown away."

Elton's surprise delivery marked the 25 millionth meal served by Open Hand Atlanta, a local nonprofit nutrition agency founded in 1988 to serve persons dealing with HIV/AIDS. "I'm glad you're doing well," he told Gustafson.

Elton, a part-time Atlanta resident and passionate HIV/AIDS advocate, was originally drawn to Open Hand Atlanta's mission as a volunteer in the early 90's, and he has remained an avid supporter, delivering the agency's one millionth meal, granting funds through the Elton John AIDS Foundation, and personally contributing to Open Hand's recent capital expansion project.

Elton said he was glad to be back in his "American home" over the weekend and was pleased to spend part of his time volunteering with Open Hand Atlanta. "The work we do every day serves as a profound example of what is possible when a community comes together to help our friends and neighbors in need," said Matthew Pieper, Open Hand Atlanta's executive director. "To serve our 25 millionth meal after 27 years of service is a very proud moment for all our dedicated volunteers and staff. There's a lot of love that stands behind each and every one of those meals."

Check out this awesome video of the encounter.
Watch "Rock in Rio" live
Sunday, September 20 2015
Elton and band will perform in Rio de Janeiro on September 20, 2015.
Watch Elton John, Queen with front man Adam Lambert, Metallica, Rihanna, Katy Perry and more - live from Brazil September 18-27, 2015 at www.aol.com/rockinrio/.
Elton reacts to "Putin" prank call
Thursday, September 17 2015
Elton has posted the following statement on Instagram in regard of the prank "Putin" call.
eltonjohn Pranks are funny.

Homophobia, however is never funny.

I love Russia and my offer to talk to President Putin about LGBT rights still stands. I will always stand up for those that are being degraded and discriminated against.

If this unfortunate incident has helped push this vital issue back into the spotlight, then I am happy to be pranked on this occasion.
@ejaf @president_vladimir_putin #lgbt #lgbtrights #ShareTheLove


Great New Zealand Concerts - Elton John
Thursday, September 17 2015
Elton John first came to New Zealand in October 1971 at Western Springs. His second visit was February 1974 - then of course numerous times after that.
He's played in Taranaki, Dunedin and Wellington, to name just a few and will be returning in November 2015 to perform at the Wellington stadium.

Radio New Zealand recently aired an interview with Elton's former longtime sound engineer, Clive Franks.
Putin-posing pranksters give exclusive interview to RT
Thursday, September 17 2015
Famous Russian pranksters known as Vovan and Lexus told RT they made Elton John believe he had spoken to Russian President Vladimir Putin about gay rights.
He's the hoax behind the thrill
Wednesday, September 16 2015
Prankers "Vovan222" & "Lexus" have announced that they will talk about the hoax "Putin" call to Elton John on Russian Television.
The show will be on on Russian TV "Channel 1" at 11:30 pm (Moscow time). During the talkshow "Evening Urgant" (russian: Вечерний Ургант) the two prankers also plan to play back a recording of the call.

The channel is streamed live at stream.1tv.ru/live/.


Did Putin call Elton to discuss gay rights in Russia?
Wednesday, September 16 2015 at 06:45:47

Vladimir Putin actually calls Elton to talk about gay rights
Tuesday, September 15 2015 at 09:21:25

Elton John: I want to meet Putin over gay rights
Sunday, September 13 2015 at 20:04:40


Atlanta Condo buyers can call Elton John 'neighbor' for $1.8M
Wednesday, September 16 2015
For the ultimate Elton John fan with money to burn, this expansive condo on the 33rd floor of Park Place offers the unique opportunity to live in the famed singer's presence.
Sort of. While it may not actually have the Elton John touch, the 4,258-square-foot unit offers plenty of entertainment space with room for a piano to lure in your fancy neighbor — though the white tile floors and austere paint scheme scream "high-end car dealership."

If the listing is to be believed, the home won't be ready until May 1, 2015, though it looks pretty lonely and available already. The views across the city are spectacular, and the balcony just doesn't quit. But the biggest benefit of buying here is that you wouldn't have to see the monstrous concrete building when you're inside of it.

Click here for more details.
Did Putin call Elton to discuss gay rights in Russia?
Wednesday, September 16 2015
It was a story that seemed almost too good to be true. Russia's president, Vladimir Putin, celebrated for his macho bravura, and Elton John coming together in a phone conversation that the singer said had been initiated by the Kremlin.
"Thank-you to President Vladimir Putin for reaching out and speaking via telephone with me today," Elton wrote in an Instagram post on September 14, 2015, that went largely unnoticed for a day. "I look to forward to meeting with you face-to-face to discuss LGBT equality in Russia."

Once discovered, the Instagram post went viral. Many news organisations, including The New York Times, reported Elton's account. The only problem is that, according to the Kremlin, the phone call never happened. Putin's press secretary, Dmitri S. Peskov, said late on September 15, 2015 that Mr Putin had never spoken to Elton.

"This does not correspond to reality. There was no conversation," Mr Peskov told journalists. He also said his office could not be sure the Instagram post was actually Elton John's. But, he said Mr Putin was open to discussion about everything and he that he did not doubt the president would be willing to speak with the singer.

There was no immediate explanation for the discrepancy in the accounts, though some have speculated Elton was the victim of a prank call. Elton was not available for comment.

The putative conversation, which was confirmed on September 15, 2015 by a spokesman for Elton, evidently stemmed from a BBC interview over the weekend in which the singer spoke about music's power to encourage tolerance. Elton was in Ukraine recently and met its president, Petro Poroshenko, to discuss gay rights.

In the interview, Elton said of Mr Putin, "I'd love to sit down with him and talk to him." He added, "The world faces much bigger problems than gay people." After the interview was published, Mr Peskov said there was no meeting planned. "Taking into account that there are many insinuations of late, we regard such information with extreme caution," he said. But days later, the Instagram post about the reported phone call proved irresistible.

In recent years, Russia has drawn criticism from human rights groups for enacting legislation against "gay propaganda" and restricting the activities of gay rights organisations. Mr Putin himself, while distancing himself from any blatantly anti-gay activities, has promoted an agenda of traditional values and religion, while criticising Western "decadence."


Vladimir Putin actually calls Elton to talk about gay rights
Tuesday, September 15 2015 at 09:21:25

Elton John: I want to meet Putin over gay rights
Sunday, September 13 2015 at 20:04:40


Vladimir Putin actually calls Elton to talk about gay rights
Tuesday, September 15 2015
Vladimir Putin has called Elton John after the singer expressed his desire to meet the Russian president to talk about LGBTI rights in the country.
Elton told the BBC that he wanted to meet Putin to discuss his 'ridiculous' attitude toward LGBTI people. It may have seemed like a long shot, especially as Elton accused Putin of saying 'stupid things' about gay people.

But on September 14, 2015, Elton announced that he had actually received a phone call from the Russian leader.
"Thank-you to President Vladimir Putin for reaching out and speaking via telephone with me today," he wrote on Instagram. "I look to forward to meeting with you face-to-face to discuss LGBT equality in Russia."

Elton's publicist confirmed to BuzzFeed News that the call did take place but details were scant. "All I know at this point is that Putin called Elton," he said.

But don't be too optimistic. One the same day he called Elton, Putin also honored the author of Russia's gay 'propaganda' lawwith the highest civilian decoration of the state.


Elton John: I want to meet Putin over gay rights
Sunday, September 13 2015 at 20:04:40


Elton John: I want to meet Putin over gay rights
Sunday, September 13 2015
Elton John says he wants to meet Vladimir Putin to discuss what he called the Russian president's "ridiculous" attitude to gay rights.
A report by Human Rights Watch last year said Russia was failing to prevent and prosecute homophobic violence amid a rise in attacks against minorities. Speaking to the BBC, Elton said he would welcome talks with Mr Putin even though "he may laugh behind my back... and call me an absolute idiot". The musician is currently in Ukraine.

He met Ukrainian President Petro Poroshenko and called for the country to give stronger support to the lesbian, gay, bisexual and trans-sexual (LGBT) community. Elton also met with business leaders to call on them to not turn away LGBT employees.

Ukraine's neighbour, Russia, passed a law in June 2013 that prosecuted private individuals promoting "homosexual behaviour among minors". Elton criticised the move, and comments Mr Putin made last year, indicating gay people targeted children. "Give me a break," Elton said. "You are President of Russia, and you go and say stupid things like that?"

He said Mr Putin's attitude to gay people was "isolating and prejudiced" and "ridiculous". "I would like to meet [Mr Putin]," Sir Elton told the BBC's diplomatic correspondent, Bridget Kendall. "It's probably pie in the sky... He may laugh behind my back when he shuts the door, and call me an absolute idiot, but at least I can think I have the conscience to say I tried."


Elton brings star power, message of tolerance to Kyiv
Sunday, September 13 2015 at 20:02:00


Elton brings star power, message of tolerance to Kyiv
Sunday, September 13 2015
Elton John graced the lunch hour of the Yalta European Strategy forum in Kyiv on September 12, 2015, deepening his eight-year relationship with billionaires Victor and Elena Pinchuk in the fight against AIDs and for equal rights.
Elton was accompanied by his partner, David Furnish, on at least his fifth visit to Ukraine. He came with a simple plea for Ukrainians to support tolerance and equal rights for all – regardless of race or sexual orientation.



Ukrainians still have much progress to make in accepting homosexuality, Elton said, citing the foiled attempt by 250 people to hold a gay pride parade in Kyiv in June 2015. Elton noted that the location had to be kept secret and that twice as many riot-police officers were called to duty as marchers. And still, the singer noted, the gay-rights marchers were attacked. "The march lasted all of 10 minutes," Elton said in Kyiv's Mystetskyi Arsenal. "This happened in this city weeks ago. So I am telling you we have a long way to go."

Elton said that as Ukraine tries to break free from its old patterns and create a "new" nation, it should adopt the values of tolerance and respect for human rights. Not only is it the morally right stance, but Elton said that the economy will be more prosperous when employers embrace diversity.

The Elton John Foundation and the Elena Pinchuk Anti-AIDS Foundation have worked together since 2007, and now sponsor 40 projects in Ukraine to help people with HIV and AIDS. Globally, Elton – whose net worth runs into the hundreds of millions of dollars – said that he has sponsored projects promoting health and equal rights that have helped millions of people in many countries.

"Please protect the human rights and basic dignity of the people who show up to work for you," Elton said. "It is not only the morally right thing to do…It's the smart thing to do. Human capital is what drives business…Treat your staff brilliantly, whether they are gay or black or Chinese or whatever. It's a very simple thing. As human being we overcomplicate things. Start a new process of thought…that will bring great fortune to Ukraine."

Elton said that people hide their sexual orientation because "they fear they will lose the job, lose the affection of family and friends and fear being physically assaulted." Accepting people "is the measure of an open, tolerate and democratic society," Elton said. "I ask to reach for a level of compassion you don't think is possible."

Elton singled three lawmakers out for public praise for their efforts to promote equal rights for gays. They are Svitlana Zalishchuk, Mustafa Nayem and Serhiy Leshchenko, all of President Petro Poroshenko's bloc. He said that the world has "two things that can be bring people together who hate each other - music and sports."
Toro Y Moi and Astronauts, etc. cover Elton's "Rocket Man"
Saturday, September 12 2015
In just a few days, Toro y Moi will embark on a North American tour, a month-long trek featuring opening act Astronauts, etc., aka Anthony Ferraro, who also plays keyboards in his live band.
To help kick off the festivities, both artists have teamed up to record a cover of the Elton John classic "Rocket Man". Chill, groove-filled, and velvety, it's a surprising rendition that also somehow manages to jibe with Toro's and Astronauts' musical styles.

Listen in at consequenceofsound.net.
Elton to speak about tolerance and human rights at YES
Saturday, September 12 2015
On September 12, 2015 in Kyiv, Ukraine at the 12th Annual Meeting of the Yalta European Strategy (YES) Sir Elton John, founder of Elton John AIDS Foundation, will speak on tolerance and human rights and the responsibility of business and social leaders, as well as on how to build a more tolerant Ukraine with a free and democratic society.
World famous singer, philanthropist and fighter for human rights, Sir Elton will address the participants of the YES Meeting in Kyiv. To the wider audience Sir Elton will address via live stream at yes-ukraine.org/en/live.

Elton John will be talking about basic principles of acceptance, tolerance, respect and dignity that 21st century states should be built on. He will address the critical moments of the history of new Ukraine and comment on the development of LGBT rights in Ukraine. Elton John will also talk about how not only political and social, but also business leaders can contribute to maintain a country's choice to be part of a democratic, prosperous and tolerant world.
Ben Fold talks about the best piano player
Friday, September 11 2015
In an interview with Billboard magazine, Ben Fold was also asked: "Finally, who is the best piano player out of you, Elton John and Billy Joel?"
Here is what he replied:

I will tell you that both consider me a better piano player. They told me that. I don't think that's true, but I know why they say that. I'm also the one that hasn't sold as many records, so they are very fatherly and nice to me. Both of them are so encouraging. I sent the concerto to both of them and got nothing but great feedback.

As piano players, I think Elton is more versatile and also less prominent in his songs. When you listen, you will get everything else but the piano unless you listen to it carefully. He doesn't necessarily always challenge himself, but he finds his moments. Billy puts his piano more forward and has all these iconic moments, but I think he's more like me and advertises the moments he can do, but backs out of the ones that he can't. I think Elton across the board is more a versatile piano player. He's Royal Academy-trained and probably plays better in all keys. Billy Joel's Fantasies & Delusions record is very underrated and unfairly dismissed. The melodies are so beautiful. We should applaud it and not discourage one of our great 20th century composers to get back to the "Uptown Girl" box and shut up. It makes me want to cut a bitch.
Elton unveils angel crystal sculpture for EJAF
Friday, September 11 2015
Elton has revealed what he has called his big angel – a crystal sculpture of a handsome winged hunk, looking serenely to the sky, playing a lyre and wearing a gold wedding band.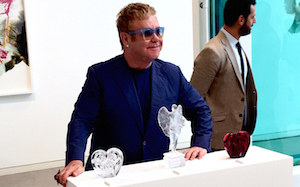 The singer held a preview and press conference on his Berkshire estate on September 10, 2015 to reveal the results of a collaboration between himself and the luxury crystal and glassmaker Lalique. The angel and other smaller crystal sculptures will be auctioned in Los Angeles next year during Oscars week to raise money for his Aids Foundation.

"This angel is a messenger of love and peace and harmony," said Elton. "We live in a mad world at the moment and we want this piece to be a powerful reminder of the need for us to work together on global challenges, like Aids. If this beautiful angel can help people to think more about peace and love and harmonious living then we have done our job."

Elton created the angel after many meetings in hotel rooms, he said, with the creative director of Lalique, Marc Larminaux. "To have a hand in designing it is very rewarding," he said. "It is absolutely breathtaking."

The angel, with a likely low estimate of $150,000 (£97,000), will be sold by the online auction house Paddle8, raising money for the charity Elton set up in 1992. "I believe music and love are synonymous ... Music is love. Love is what guides us and love is what we need to end this epidemic. Love to end the stigma, love to make a profound difference to end the suffering."

The big reveal was made at what might be called the art gallery annexe of his estate near Windsor Castle. Once inside, visitors were fed an array of afternoon delights including tea, coffee, macarons and mini jam and cream scones in anticipation of the grand unveiling of Elton's angel. Elton's Old Windsor art collection is impressive. Damien Hirst's The Inescapable Truth – a snow-white dove above a human skull in formaldehyde – is there, as is Grayson Perry's Angel of the South – a child's coffin in cast iron. He also has a David Bailey photograph of the Kray Brothers, as well as works by Tracey Emin, William Kentridge, Antony Gormley, the Chapman brothers and Louise Bourgeois.

The collaboration with Lalique was a natural one, Elton said, given how fond he is of glass. "We must have 4,000-5,000 pieces of glass and crystal scattered across the world," he said.
EJAF's 14th Annual An Enduring Vision Benefit Gala
Wednesday, September 9 2015
On November 2, 2015, the Elton John AIDS Foundation (EJAF) will present its 14th annual An Enduring Vision Benefit Gala at Cipriani Wall Street in New York City.
Presenting Sponsors are American Airlines, Robert K. Kraft, The Lauder Foundation-Leonard & Judy Lauder Fund, Mylan, Pablo and Nathalie Salame, Sands Bethlehem, and Wells Fargo.

EJAF is thrilled to welcome back award-winning CNN anchor Anderson Cooper, who will host the event for an eighth year. KC and the Sunshine Band will perform, and Darren Walker, President of the Ford Foundation, will join us as a guest speaker. Elton and David will present EJAF's Enduring Vision Awards to Founding Board Member and Treasurer M. Michele Burns, Mylan Pharmaceuticals Executive Chairman Robert J. Coury, and internationally renowned artist Tracey Emin.

For ticket information, please contact Andreas Schwarz at the Elton John AIDS Foundation, +1.212.219.0670.
The "Super Fan" Interview Series
Sunday, September 6 2015
Part 4 - by Scott Johnson.
Name: Chris Vobe
Age: 26
Profession: Politician / Writer
Year you first became an Elton fan: Around 1994 when "Made in England" was released.

Quick Fire Questions
Favourite Elton John album?
"Captain Fantastic and the Brown Dirt Cowboy"


Favourite Elton John song?
At the moment? I'm listening to "Original Sin" a lot; I've rediscovered the live B-side that was released when the single came out in 2001. But tracks like "High Flying Bird" and "Come Down in Time" are always up there. I'm also mad about "Oscar Wilde Gets Out", which I just think is an amazing, amazing song.


First Elton John concert that you attended?
Manchester Evening News Arena in 2003. Elton played "Come Down in Time", "Harmony" and "All the Young Girls Love Alice". These were some of the lesser-played deep cuts that I'd fallen in love with, and suddenly and unexpectedly they were part of the set that night.


Favourite Elton John tour (so far)?
The 2009 tour with Ray Cooper. The first show was at the Royal Albert Hall and the setlist was to die for. Songs like "Indian Sunset" were given an airing for the first time since 1994 (back when, of course, I'd been too young to go) and so to be able to see Ray on stage again was like a dream come true. And, of course, there were wonderful additions to the first act of the show, which Elton played solo, like "The Emperor's New Clothes" and "Blues Never Fade Away". The following year, they added "Gone to Shiloh" to the second act. The first night that was played in Italy, there was a big buzz of excitement amongst fans because it was our first exposure to any of the songs from "The Union". I think that solo version with Ray on percussion has become, for me, the "definitive" performance of that song.


Favourite Bernie Taupin lyric?
And looking back on the cold bleak winter
Looking back on those long dark days
Felt like the head of John the Baptist
In the arms of Salome


What is the one song you feel Elton should include on "The Final Curtain" tour?
I'd love to see "Oscar Wilde Gets Out" in the setlist. That, or "Captain Fantastic and the Brown Dirt Cowboy" – I think a tour which is going to be a celebration of Elton's entire career needs to hark back to that period in his life. Plus it's his seminal album!
Interview with Chris Vobe

"I've always been very comfortable around other writers, musicians, and artists in general. I suppose it comes from immersing myself in that world since I was very young. Of course, Elton John was always the artist who had the biggest impact on me."

At 26, Chris Vobe is the youngest "super fan" I have interviewed for this series. He's also the only one of the four from England. Despite being too young to have experienced the mania of the 1970s, he was front and centre for Elton's re-emergence into mainstream music during the 1990s, a decade which he harks back to with immense fondness. It was the decade which, he says, cemented his love of Elton John from a very early age.

"I think it started with the album which came out in 1990 – The Very Best of Elton John. It went to number 1 in the UK charts and that was the start of a sort of resurgence for Elton here in England, although at the time I wasn't old enough to be aware of it as that. I was bought a copy of the album, though I can't remember who got it for me, because I think I'd heard it being played somewhere, maybe at a relative's house or something like that. And so someone got me the album, which I played over and over again. There wasn't a track on there that I didn't like. I remember pouring over the booklet, with that wonderful "fountain pen-style" script and I taught myself the lyrics to every song.

"This was the 1990s, and so personal stereos and CD players were fairly new. Most albums people owned were on cassette tape. But I remember The Very Best of Elton John was the first of two records which I owned on CD, not cassette. And they were my records, and I would play them on my Sony personal stereo."

If The Very Best of Elton John was one of two, what was the second CD? "It was an album called The Paul Simon Anthology, which came out around 1993/1994, I think. Although it was a few years later, I was still really young when I was playing these records, I would have been about six or seven."

"When I was a kid, there were two artists who really made a lasting impression on me, a real imprint. One was Paul Simon, and the other was Elton John. Paul Simon had just done an extraordinary tour in the early 1990s for an album called The Rhythm of the Saints, which is probably the greatest world tour by any artist, it was just this amazing blend of mainstream American music with African and Brazilian rhythms. Then, in 1994, Elton released Made in England, which I thought was just incredible. I remember the music video for the title track being on TV one rainy weekend."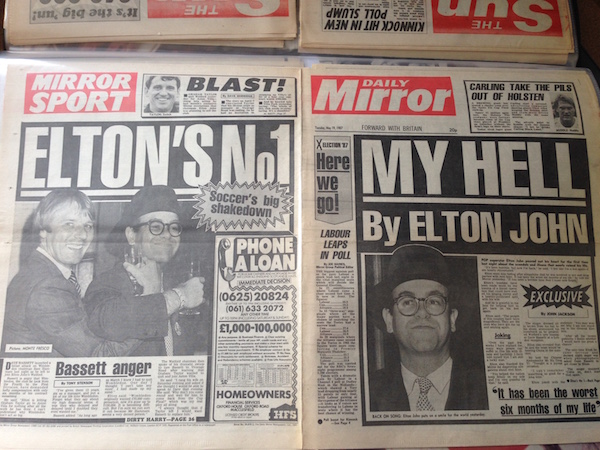 My kind of hell: Elton's extroadinary career has been extensively covered by the British and American press. Chris has archived all of Elton's newspaper appearances from 1970 to the present day.

It was The Rhythm of the Saints and The Very Best of Elton John which began Chris's love affair with music. Two decades later, he still has the same copies on CD that he first played as a child.

"The Very Best of Elton John – the double CD edition – is sitting with my collection, the same copy that I had back in the early 1990s. It's in pristine condition!"

About that collection then. "I think the first Elton CD that I actually bought with my own money was One Night Only in 2000," Chris says. "Before that, people had bought them for me, and they would always be what I'd ask for at birthdays and Christmas. Obviously, we bought Candle in the Wind 1997 when it came out, but it was One Night Only that marked the start of me "collecting", I think. I'd familiarised myself with Elton's back catalogue. I knew every record he'd released and the songs on it, even if I didn't own a copy. Then, when I started High School, I was making a concerted effort to buy anything and everything that was available."

One Night Only has a reputation amongst fans for being a less-than-stellar example of Elton's live repertoire. "I actually think it's a great album!" Chris responds. "It does what it says on the tin, which is give pretty energetic performances of Elton's greatest hits. I played that album a hell of a lot when it came out. The live performance of Goodbye Yellow Brick Road on there, which was the opening track, is probably one of the best he's done."

By the time the early 2000's came, Chris had enthusiastically collected everything in Elton's back catalogue. "I'd started collecting vinyl at this point," he recalls. "I had a turntable which had been in the family, and the first Elton John record I bought on vinyl was Captain Fantastic and the Brown Dirt Cowboy, which is my favourite album. I just remember pouring over the cover art, the lyrics, finding the whole concept of an album about the struggles that songwriters have with success and failure to be a very unique and interesting thing to do. I remember dashing home from High School and missing something that was happening that afternoon – I think some friends and I were planning to go somewhere – so that I could play Captain Fantastic."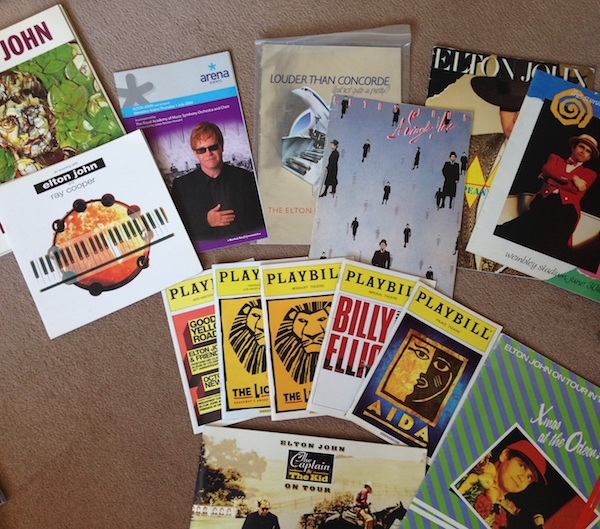 You wrote it and I played it: Playbills and tour programmes from across the years are a integral part of Chris's collection.

"I really like the sound of vinyl, I think those albums from the 70s sound several degrees better on vinyl. The sound is much purer. It was at this time as well that I was buying the Remastered editions of the "Classic Years". I remember each one coming with the morning post after I'd ordered it – and you have to bear in mind that I was spending all my money on CDs and albums at this time – and feigning illness so that I could miss a day of High School in order for stay at home and listen to the albums I'd bought. There were certain things at High School I just had no interest in doing and, in my head, I would rather have spent the time listening to music and, in particular, Elton John."

Since those years, Chris has amassed a collection of Elton John memorabilia that would make the most hardened fans' eyes water. What started with a teenage love of collecting albums on CD and vinyl has expanded into a repository of practically everything with Elton or Bernie's name on it.

"I have to reign myself in sometimes," he says almost apologetically. "Every fan buys the albums, the singles, the records... Then, for me, it was the books. Then the memorabilia, things like Elton mugs, then the tour programmes from years gone by [everything from the unblemished Louder Than Concorde tour programme to 2014's Goodbye Yellow Brick Road are lovingly stored in his collection], keyrings, newspaper clippings, baseball caps, scarves, clocks, magnets, badges, buttons, cassette tapes and coasters. I buy from other collectors too, so I have things like mouse mats with the album covers on, whole albums containing photographs of live shows, things like that…"

Pride of place in this collection is an enormous archive of newspaper clippings and archive material. Folder upon folder charts the rise and fall (and rise again) of Elton and Bernie in the media, from 1970 to the present day. "I think the first clipping I ever took from a newspaper was the coverage of Princess Diana's funeral in 1997," Chris muses. "I think the Daily Mirror printed the lyrics to Candle in the Wind 1997, and I'm a big fan of not just melodies, but the words. I memorised the words to every song Elton's ever released because I think lyrics are so integral to songs, and I wanted to keep the lyrics when they were printed because the single didn't have them in the booklet. So that was the starting point."

Today, he has amassed an astonishing archive of Elton in the press. Perfectly preserved copies of Melody Maker with some of the Rocket Man's most famous headlines are stored in plastic folders for posterity. Music magazines from the 1970s compliment massive art folders with endless extracts from British and American newspapers charting he highs and lows of a music career which this super fan describes as "inspirational".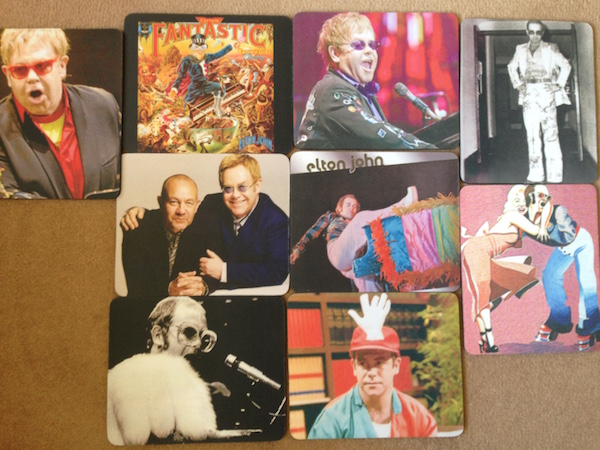 I saw a black cat tease a white mouse (mat): Mouse mats are some of the quirkier items collected by Elton's "super fan"!

There are even a pair of Elton's shoes from the 1992/1993 World Tour which hold pride of place next to an art canvass of the man himself at the famous Dodger Stadium concert of 1975. A deep box of neatly stored magazines featuring Elton (British titles such as Vogue, Hello and OK!) are on a shelf next to mouse mats, wine glasses embossed with a portrait of Eton's face, and a lavishly-decorated black and white "shoebox"-style container houses invitations to private events from years gone by, from the White Tie and Tiara Ball to charity nights which raised money for the AIDS Foundation.

Is there a limit to the kind of collecting that "super fans" like Chris indulge in? "I don't have the Captain Fantastic Bally pinball machine," he sighs. "It's not a case of not wanting it, I do... I just struggle about where I'd put it at this moment in time!" He admits to searching out owners of that famous piece of memorabilia who were willing to sell, just to see. "Maybe one day," he laughs. "But yes, there is a limit. I'm just not sure what it is yet!"

And what about live shows? No self-confessed Elton fan could have bypassed the huge library of fan-recorded copies of the Rocket Man's stage performances. "I may have fourteen or fifteen... hundred," he smiles. "I'm a huge fan of what Elton does on stage. I don't think there has ever been an artist like him for stage presence and live performances, maybe Freddie Mercury is the closest comparison." What does he say to the suggestion that he has some extraordinarily rare material in his collection, the kinds of things that die-hards would, well, die for, including a complete recording of Elton's famous 1994 Greek Theatre show with Ray Cooper? "No comment," he teases.

If there is such a thing as an "unconventional" Elton John fan, Chris might fit that description. For someone who is so heavily immersed in British politics (he's a Labour Party councillor on Warrington Borough Council), he is uncompromisingly more comfortable when talking about music; not just Elton, but any artist. He's also a writer himself, having penned a portfolio of lyrics which (he says) were largely inspired by people like Bernie Taupin.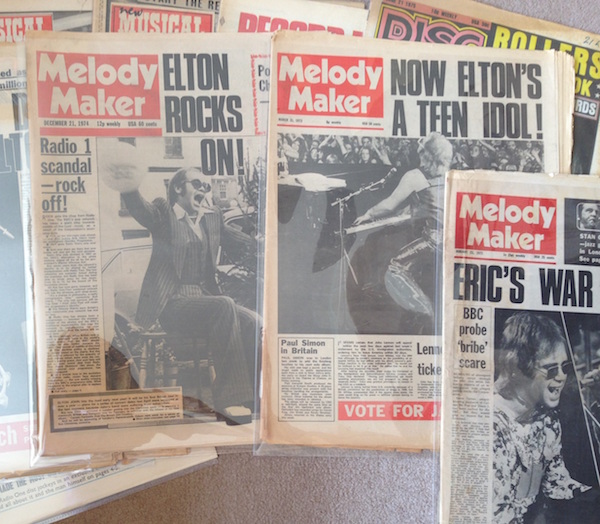 Tell me what the paper say: Classic editions of "Melody Maker" and "Musical Expess" from the 1970s provide insight into Elton's stardom at the time.

"I think Bernie is probably one of the most accomplished songwriters we've ever had. When I write, it's not so much that any one lyric is inspired by an Elton John/Bernie Taupin song, its more that listening to and studying their songs was the reason I took that first step into writing my own. I'm not a musician, but lyrics are incredibly important to me. I think there are a lot of things you can say in the verse of a song that you can't convey any other way. When I first started writing, there were two people I took my inspiration from, in the same way that they propelled me into listening to music. One was Paul Simon, the other was Bernie Taupin. I think reading [Taupin's book] A Cradle of Haloes was probably more influential on me as a lyricist than anything else, understanding the genesis of those songs that I'd played over and over."

Chris has just put the finishing touches to a sweeping ballad which called "Fools and Angels". How would he respond to the view that it reads exactly like something Taupin might have written? A kind of "Original Sin"-esque composition? "I'd say I couldn't compare myself, or anything I've written, to something Bernie wrote. That would be incredibly ego-stroking of me. If people read it and think it's good, then I'm glad. And if they want to know where it came from, then there is a direct line that you can trace from Elton and Bernie through to the things I write when I'm at home in the North West of England today."

If the chance arose, would he hand a lyric to Elton and see what melody it inspired? "Yes, of course, I don't think anyone could say no to that." I'm tempted to say that putting them in a room together with a blank sheet of paper and a piano might generate interesting results.

For someone who is so deeply enthusiastic about Elton, is there any part of his back catalogue that "super fans" don't like? "I can't speak for others but, for me, personally, I've always found Jump Up! his least accessible album. That's just personal choice, though. Elton doesn't like Leather Jackets, Bernie doesn't like the way The Big Picture turned out. I can sit and listen to both of those albums quite easily, but Jump Up! is a mixed bag for me that isn't accessed as easily. "Empty Garden" is a heartfelt treasure, obviously. "I Am Your Robot", maybe not so much…"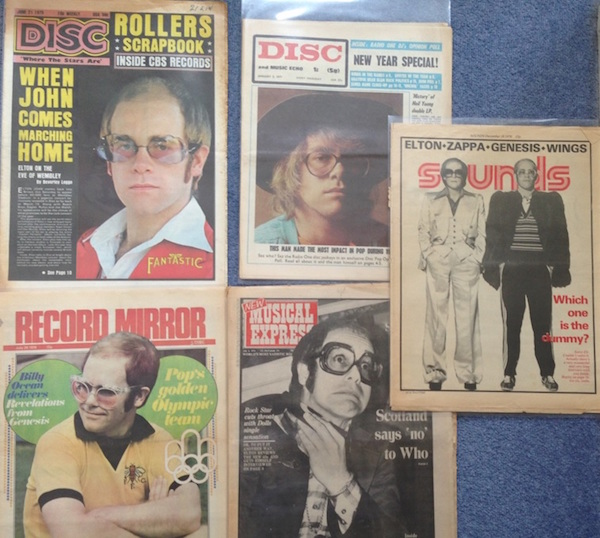 Tell me what the paper say: Classic editions of "Melody Maker" and "Musical Expess" from the 1970s provide insight into Elton's stardom at the time.

Having missed the height of Elton's worldwide popularity in the 1970s, what does he think of Captain Fantastic's more recent albums that have debuted in his lifetime? "I think everything since the "line in the sand" in 2001 has been exceptional. It annoys me when people talk about Peachtree Road as an inferior album, something which is "easy listening", as if Elton and Bernie weren't trying or something when they wrote that. It's a concept album, in the same way that Tumbleweed Connection or Captain Fantastic are. It's trying to capture a particular sound, from a particular place, by presenting the songs, both lyrically, musically and thematically in a way which helps with that. And I think it does that wonderfully."

Chris is equally – if not more – enthusiastic about 2010's "The Union", Elton's first collaboration with T-Bone Burnett. "I was at the Roundhouse in London when Elton and Leon played that album a few days after the Beacon Theatre show in New York. From the moment I heard the little snippets of the songs, I knew it was probably going to be his best album for a long time, and it really was. Things like "Gone to Shiloh" and "The Best Part of the Day" are incredible tracks. It set out to rehabilitate Leon Russell in the eyes of the music world, and that's exactly what it achieved. It was rootsy, it was a different sound, but a confident sound."

During a radio call in during the summer of 2011 (a year after "The Union" had been released), Chris recalls asking for an on-air play of "Jimmie Rodgers' Dream" from the album. "It was one of those "call us and we'll play your song" things," he remembers. "I opted for a deep cut from Elton's catalogue and plumped for Jimmie Rodger, just because I'd been re-playing the album the night before. They said they hadn't got it to play, so I was like 'You haven't heard this album? Why the hell not?' I just thought everyone should hear it, because there hasn't been music like that for a long time."

It is the deepest cuts of Elton's catalogue that some fans hail the most. Is it the same for Chris? "You can't diminish the greatest hits. They were hits, and people loved them, so obviously that speaks for itself. Plus I don't think songs should ever be compared. Every track deserves to be taken on its own merits as a piece of work, or if it's part of an album as a body of work. But yes, those deeper cuts were what really pulled me into the world of Elton John. Discovering there was this whole back catalogue beyond the songs that are most commonly played was like diving into a treasure trove or something."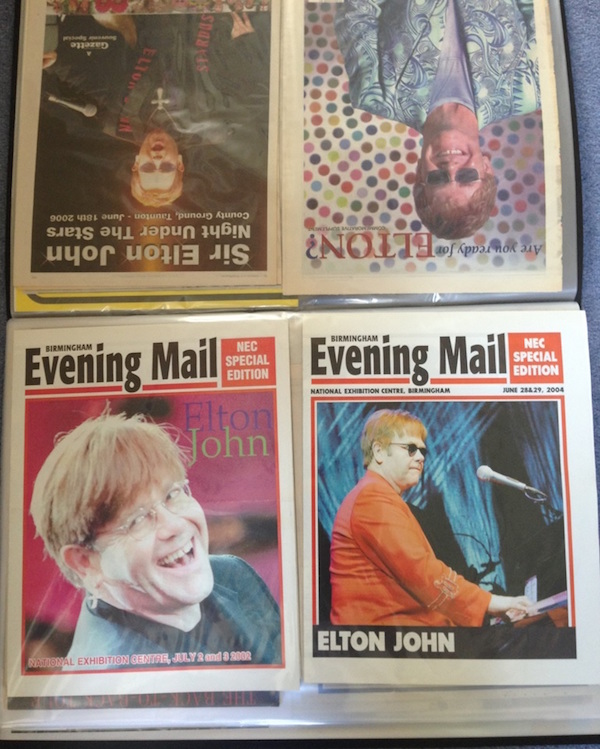 I was made in England: Chris has followed Elton on tour across the UK, watching him perform in dozens of towns and cities across the country.

Every now and then, this super fan throws in something unexpected. This is one of those moments: "Some of the tracks that got left off albums are just as strong as stuff that went to number one. Things like "Hell" [from 1995's "Made in England" sessions] and the original arrangement of "Live Like Horses" that Paul Buckmaster did are good enough to be on an album. Same goes for "Mandalay Again" [from "The Union" sessions], I was so sorry that wasn't on the regular release of the album."

If we're brutally honest, this unconventional politician-cum-writer would spend every free hour watching Elton John play, wouldn't he? "I've been to over 40 Elton John concerts since I started going. I'm not going to break the record of 'the fan who's been to the most' because I can't match someone who's followed him since the early 70s, but I go to every UK show I can."

When he says he "goes", what he actually means is that he selects the front row seat nearest Elton's piano (or Davey Johnstone, whose guitar work he says is "simply stunning") and morphs from a thoughtful, considered sometime-writer into an enthusiastic, rock and roll ready concert-goer. "I do admit to being the only person singing along sometimes!" he laughs. "When Elton played Leigh last year, he sang "Oceans Away". I swear I was the only person in the stadium who knew the words."

That was the same show when, distracted by some of the more boisterous members of the Greater Manchester crowd, Chris persuaded the steward to let him past the barrier which separated the audience from the stage and spent two thirds of the concert perched against the stage, in front of Elton's piano, singing along and never missing a beat. His uncanny ability to match Elton's vocal inflections with almost perfectly symmetry (a result of, he says, "hours" of playing his tracks during his youth), what does he think Elton's greatest on-stage moment has been?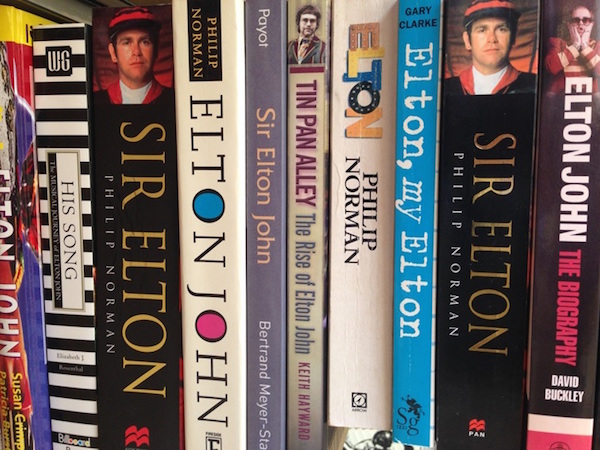 The book they haven't written: Elton's life and career has been catalogued in a whole range of books.

"If we're not confining that to performances of his own songs, some of his renditions of other people's songs have been out of this world. He played "Streets of Philadelphia" at the MusicCares tribute to Bruce Springsteen and that was just a sensational performance. The same goes for the tribute to Brian Wilson back in 2001, Elton sang "God Only Knows", and the chord structure of that makes it a really difficult song to sing. He carried it off better than the original."

There is one night that holds particularly fond memories, though. "Elton was the first artist to play the new Leeds arena in 2013," he recalls. "I went down to Leeds for the show, and it was just a few days after he'd received the BRIT Icon Award in London [an ITV presentation at which Chris had also been in the audience]. He was debuting songs from The Diving Board that night. It was the first live performance of Oscar Wilde Gets Out and he absolutely blew the audience away. I know everyone has their favourite show, their favourite vocal, all that... but I really think he was on another level that night. I think part of what made that tour work so well was the addition of 2Cellos and the backing singers - Táta Vega, Rose Stone (who is a member of the Rock and Roll Hall of Fame in her own right), Jean Witherspoon and Lisa Stone. They added something to the band, enhanced it. I think the sound of the cellos really work on Elton John songs, you might not think that they would, but they do. It was the same at the Roundhouse a few days later [where Elton played for the 2013 iTunes Festival]. There is a lot of talk about Elton going "back to basics" and playing like he did in the 70s with a three-piece band of piano, bass and drums. I don't agree with that. I think with the cellos and the four women on backing vocals, you have a completely new depth and dynamic to the stage show. It takes the tracks to a whole new level."

Leeds 2013 was, he admits, the same night that Nigel Olsson threw him a pair of autographed drumsticks at the end of the show. That same pair now sit encased on a shelf alongside the rest of his collection.

While on the subject of live shows, Chris is also trying to promote his home town's rugby ground as a venue for Elton's next UK tour. "I was backstage in Colwyn Bay this year before the show there, talking to Mike Gomez [Elton's Production Manager and Rigger] and I was looking around the stadium, thinking, "This could be Warrington." We have a rugby stadium which has the same capacity as a lot of others that Elton has played in England over the past few years [the Halliwell Jones Stadium is the home of the Warrington Wolves]. He's done Colchester, he's done Colwyn Bay, Gloucester, Walsall, Leigh, Taunton, Harrogate, Chesterfield, Blackpool, Scarborough, Shrewsbury, Northampton, Norfolk, Darlington and Doncaster [he reels these off with almost unbelievable clarity of memory, until I realise he was sitting front and centre for all of them], so why not Warrington? We're a town on the regional map and, aside from it being something which would be great for the town, it's a venue that Elton hasn't played before – that's even more reason!" It's the kind of lobbying that only a politician who loves Elton would even dream of dabbling in. So if you see Warrington on Elton's tour itinerary in the future, don't be surprised.

I finish by asking Chris the same question I've posed to my other interviewees: can Elton every have a number one album again? The answer in this case is unequivocal. "Yes, absolutely he can. Why not? There's nothing to support the argument that that ship has sailed, or that people don't want to buy an Elton John album to the extent they used to. Paul Simon has just had a number one album again because he went on tour with Sting, did these incredible concerts, and suddenly people said, "Hang on, I want to hear more from this guy". James Taylor just had his first number one at the age of 67. Rod Stewart's album "Time" was number one in the UK. There isn't some hard and fast rule about when artists stop topping the charts."

"I have every confidence in the new album. When I heard Ray Cooper was back, I literally cheered. I hope it's a diverse album, with rock and roll songs, up-tempo songs, mid-tempo songs and ballads. That's what Elton does best. He has the best touring band that any artist has ever had, I think Davey and Nigel are sensational musicians. He also has T-Bone, who has produced some incredible music. I know he is slowing down touring now but I think it's a combination that, if they wanted to, could get better and better with each album they made."

That isn't the only winning combination in the music world right now. If my four volunteers have shown anything, it is that Elton John still has the most loyal, dedicated and inspirational fans of any artist in the industry. Super fans, every last one of them.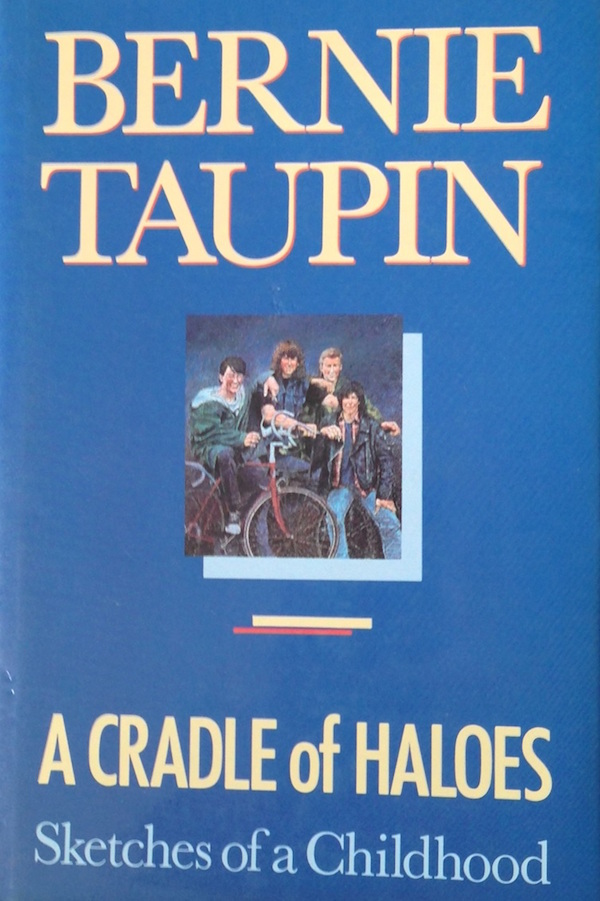 Cradle of Haloes: The book that gives the history behind Elton's most famous lyricist.

This has been the last part of our "Super Fan" series. Many thanks to Scott Johnson for conducting the interviews and for writing the articles, and thanks also to our for "Super Fans" for sharing so many details of their Elton fan life.


The "Super Fan" Interview Series
Saturday, August 15 2015 at 07:44:52

The "Super Fan" Interview Series
Wednesday, July 29 2015 at 10:02:15

The "Super Fan" Interview Series
Monday, July 20 2015 at 20:10:58

Billboard Readers' Poll: The 10 Best Elton John Deep Cuts
Thursday, September 3 2015

Elton John has a ton of hits, and he's made a very nice living out of playing them again and again to adoring throngs of fans all across the globe.

The diehards, however, have heard "Crocodile Rock" and "Bennie and the Jets" quite enough. They know that Elton has an amazing back catalog of classic tunes that he's barely ever touched in concert. Albums like Tumbleweed Connection, Captain Fantastic and the Brown Dirt Cowboy and Songs From the West Coast are amazing from start to finish, even if they produced very few hits.

Billboard magazine has asked their readers to select their favorite Elton John deep cuts. Here are the results:
Mona Lisas And Mad Hatters

Ticking

Funeral For A Friend/Love Lies Bleeding

Madman Across The Water

Amoreena

Harmony

Blues For My Baby And Me

All The Girls Love Alice

I Feel Like A Bullet (In The Gun Of Robert Ford)

Take Me To The Pilot
Read the full story at billboard.com.


Elton featured in trailer for upcoming Tower Records documentary
Tuesday, September 1 2015

"All Things Must Pass" is a new documentary about how Tower Records became a billion-dollar company in 1999 before the changing face of the music business led it to file for bankruptcy just seven years later.

You can watch the trailer for the film, featuring interview clips with Bruce Springsteen and Elton John, now on YouTube:



"If you came into town, you went to Tower Records," says Springsteen in the clip. Adds Elton, "Tower just had everything. They were like friends."

The film also includes interviews with Foo Fighters frontman/ex-Nirvana drummer Dave Grohl, as well as with Russ Solomon, who founded Tower Records in 1960.

"All Things Must Pass," directed by Colin Hanks, will hit theaters October 16, 2015.