ELTON JOHN NEWS ARCHIVE: September 2011
"Million Dollar Piano" kicks off in Las Vegas
Thursday, September 29 2011
Elton has returned to Las Vegas for a three-year headlining gig at Caesars Palace called "The Million Dollar Piano".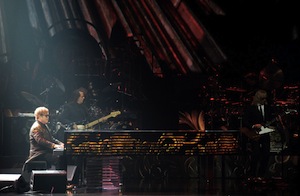 He performed on September 28, 2011 for the first of 16 shows scheduled through October 2011. Elton took stage in a dazzling, sequined cape and garnered standing ovations from parts of the crowd after each song. He spent about 2 hours going through hit after hit from his lengthy catalogue - though he skipped his top hit, "Candle in the Wind."

The remainder of Elton's shows during the three-year run have not yet been announced. Elton says the show is named for his new piano, which took manufacturer Yamaha four years to build. He also said the grand piano, black with a video screen on its side, is named Blossom, after jazz singer Blossom Dearie. "It has a spin cycle washer in the back, a microwave and an aquarium," he added. The only thing it's missing: "A barbecue," Elton quipped.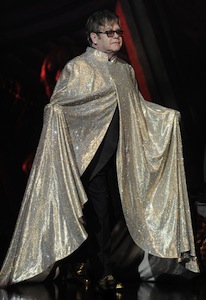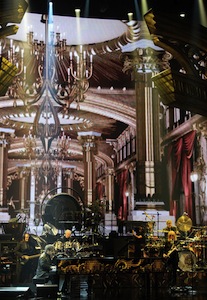 His return comes more than two years after that five-year stint that ended in 2009. The run was originally planned for three years but was extended because of demand. "This isn't like the old days," Elton said of the new show. "It's going to be certainly different from anything you've seen from me before, as was `The Red Piano,'" his previous show at Caesars.

Jason Gastwirth, senior vice president of entertainment for casino owner Caesars Entertainment Corp., believes Elton's run could be extended again. "I think it's very possible, both on duration and number of shows," Gastwirth said. "There's been such a large appetite by his fans to come see the show."

Following is the complete set list of "The Million Dollar Piano" show on September 28, 2011:
The Bitch Is Back

Bennie An The Jets

Rocket Man

Levon

Tiny Dancer

Your Song

Mona Lisas And Mad Hatters

Better Off Dead

Indian Sunset

Blue Eyes

Goodbye Yellow Brick Road

I Guess That's Why They Call It The Blues

Philadelphia Freedom

Don't Let The Sun Go Down On Me

Hey Ahab

I'm Still Standing

Crocodile Rock

Saturday Night's Alright (For Fighting)

Circle Of Life
Elton John (piano and vocals)
Davey Johnstone (guitars and vocals)
Nigel Olsson (drums and vocals)
Bob Birch (bass)
John Mahon (percussion and vocals)
Kim Bullard (keyboards)
Ray Cooper (percussionist)
Stjepan Hauser and Luca Sulic (2CELLOS)
Rose Stone, Tata Vega, Jean Witherspoon and Lisa Stone (backing vocalists)

Young fans get VIP treatment from Elton
Wednesday, September 28 2011

For Janice Ross of Baker Settlement, getting tickets to see Elton John in concert at Sydney's Centre 200 September 13, 2011 was a dream come true.

But what was to happen to her two sons, David, 12, and Danny, 15, at the event would turn out to be even more special. Ms Ross was one of what was probably tens of thousands who jammed phone lines and the internet when tickets for Elton first went on sale in mid-July 2011, but she knew the odds of actually getting any were slim.

"It was a fluke really," she explained. "There was a glitch in the ticket system, so for the first hour all four of us went on our electronic equipment trying to get tickets and the phones weren't being answered and we were being booted off the electronic system." While everyone else in the family gave up trying, Ms Ross persevered for another half-hour before she eventually called a relative in Sydney who told her the system had crashed.

"I figured everybody was like me and had just stopped for awhile, so around one o'clock I decided I was going to go back on and I checked two different ways that said it was sold out," she recalls. "I just kept clicking. You could tell that things weren't working right, then all of a sudden it said, 'How many tickets would you like?' It was just a stroke of luck."

Two months later, with eight tickets in hand, the Ross family and four friends converged on Centre 200 for the concert where, out of the blue, another, even bigger surprise awaited them, all because of something Ms Ross did "just on a whim." The day before the event, she went to a store and had special T-shirts made up for her two sons. Danny's bore his Christian name, Daniel, which is also the title of one of Sir Elton's biggest hits, on the front, while David's carried the moniker "Daniel's My Brother," prominent words from the song's chorus. "I thought maybe they'd get a picture taken," she laughed. "I didn't know exactly. I hadn't been to a concert for many a day."

As it turned out, those T-shirts attracted a lot more attention than the family ever dreamed. "We were just sitting down and this guy come up to us and said, 'How would you and your brother like two front-row seats, because Elton John would like your shirts,'" David said. The man also told the boys that they couldn't sell the tickets or trade them and that only they could use them.

Before the show started, Danny and David were shuttled to the front of the stage and spent the entire two-hour concert barely six feet away from the pop superstar as he performed a selection of his greatest hits, including "Daniel," which he dedicated "to the two boys wearing the shirts in the front row."

The excitement, however, didn't end there. Ms Ross had taken her husband's copy of Sir Elton's 1975 album "Captain Fantastic and the Brown Dirt Cowboy" in the remote hope of getting an autograph, and had given it to David before they proceeded to their front-row seats. "When the guy came with the tickets David asked, 'Can we get autographs?' and he said, 'Probably,' and he remembered," she laughed.

Prior to doing his encore, Elton came to the edge of the stage and gestured for the record, which he signed and passed back to the two young fans, an expression which someone in the audience captured on video and later posted on YouTube. It was a fitting conclusion for a night which was truly one to remember. "It was surreal," Danny said.

Elton John and band performed in Rio de Janeiro on September 23, 2011
Saturday, September 24 2011

Fan invaded the stage during Elton John concert in Rio de Janeiro.

With an audience smaller than that of singer Katy Perry, Elton John opened the show's fourth World Stage Rock in Rio 2011. The show started just before midnight Saturday, with music, "Saturday Night's Alright", followed by "I'm Still Standing".

After the classic "Levon", Elton dedicated "Tiny Dancer" to all the "dancers in the audience." At the beginning of the song a fan took the stage. Charismatic, the "Piano Man" just smiled and fumbled with the situation.

With a black blazer embroidered in different colors, Elton John showed energy, vibrating at the end of each song. "I'm happy to be here in Rio, this wonderful city", he told the audience.

Following is the complete set list of the Rio de Janeiro show on September 23, 2011:
Saturday Night's Alright (For Fighting)

I'm Still Standing

Levon

Tiny dancer

Philadelphia Freedom

Goodbye Yellow Brick Road

Rocket Man

I Guess That's Why They Call It The Blues

Hey Ahab

Honky Cat

Daniel

Don't Let The Sun Go Down On Me

Skyline Pigeon

Take Me To The Pilot

Bennie And The Jets

The Bitch Is Back

Crocodile Rock
James McAvoy set to play Elton John in new film biopic
Saturday, September 24 2011
Rocketman will no longer just be a song remembered by Elton John fans, as the singer has revealed he will be turning his life into a Hollywood film with the same title.
Actor James McAvoy is tipped to land the part of the singer who was named recently as the top earning British entertainer in the world. Elton and David have teamed up with "Billy Elliot" writer Lee Hall to create the film. Elton will act as an executive producer on the film which charts his rise to fame and fortune.

It is rumoured that several actors could in fact play the lead role in a similar move to his music video for the single "This Train Don't Stop There Anymore" in 2002. Producer Steve Hamilton Shaw said the biopic will help define Elton as 'an artist, musician and man.'

Shaw has promised that the film will be 'as unique as Elton's life,' and will 'transport people through the many intense experiences that helped define Elton.' He said they will use Elton's songs to convey parts of his life, such as his marriage and his admitted drug abuse. Many of the star's hit such as "Candle In The Wind" and "Rocket Man" will feature in the film.


Elton John biopic 'Rocketman' in the works
Thursday, September 22 2011 at 07:46:22


Legendary bull Little Yellow Jacket passes away
Saturday, September 24 2011
Little Yellow Jacket, a three-time World Champion Bull died at the age of 15. A legend on the Professional Bull Riders circuit, the bull was co-owned by Bernie Taupin.

"Little Yellow Jacket was a tremendous athlete, and the mere mention of his name brings great memories to fans of our sport," said PBR CEO Jim Haworth. "He will certainly be remembered as one of the all-time greats."

The bull's last foal crop will be born in 2012 and he'll be honored in Las Vegas in October 2011.
Andy Roddick Foundation Charity Gala raises over $1m
Saturday, September 24 2011
With the support of Elton John, the sixth annual Andy Roddick Foundation Charity Gala raised more than $1 million for children's organisations on September 21, 2011 evening at the ACL Live Moody Theatre in Austin.
As well as Elton John, Roddick was joined at the gala by his wife, model and actress Brooklyn Decker, American footballer Terrell Owens, golfer Fred Couples, radio show host Bobby Bones, Mayor of Austin Lee Leffingwell, and his fellow tennis players James Blake and Mark Knowles.

The event featured a live auction, where guests had the opportunity to bid on a spa day with Brooklyn Decker, golf with Roddick and Fred Couples and unique trips to The Masters and the Australian Open.

Elton John then took to the stage with a set of his classic tunes, including an encore of a special Lion King tribute, but not before he had pledged a $25,000 donation to the Andy Roddick Foundation. Roddick then matched every individual $1,000 donation that was pledged by guests who had been unable to take part in the extravagant bidding of auction items.

Earlier in the day, Roddick had been joined by Blake, Knowles, and Justin Gimelstob in a golf exhibition at the Austin Country Club. Gimelstob later tweeted that Roddick scored a round of 81, Knowles 81 (including a hole-in-one on the second hole), Blake 87, and himself 88.

The beneficiaries of the Andy Roddick Foundation Charity Gala are children's organisations local to Texas, including KIPP: Austin Public Schools, The Settlement Home for Children, Austin Partners in Education, A Glimmer of Hope, Austin Children's Shelter and the Andy Roddick Youth Tennis Program.


James Newton Howard - Elton John Story
Saturday, September 24 2011
Behind-the-scenes: During his Yamaha photo shoot, James tells the story of getting hired to be Elton John's keyboardist.
Elton John at the Georgia Aquarium
Friday, September 23 2011
Part-time Atlantan Elton John visited the Georgia Aquarium this week with David and Zachary. Taking a behind-the-scenes tour of the new dolphin exhibit, they made a new friend: an Atlantic bottlenose dolphin.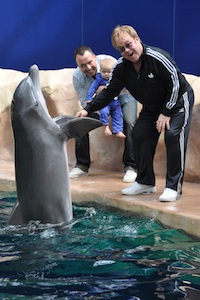 Elton John biopic 'Rocketman' in the works
Thursday, September 22 2011
David Furnish and Elton John's Rocket Pictures is set to tackle a new project: a movie based on Elton's illustrious career and how he got to where he is today.
Lee Hall, the playwright who penned the 2000 film "Billy Elliot" - which was adapted into a musical for the West End with music by Elton and lyrics from Hall and later transferred to Broadway, winning the 2009 Tony Award for Best Musical - will write the screenplay.

"Rocketman will be a radically different kind of biopic," Rocket Pictures' Steve Hamilton Shaw toldDeadline.com. "It will be as unique as Elton's life, told in a non-linear and hyper-visual manner that will transport people through the many intense experiences, some wonderful, some not, that helped define Elton as an artist, musician and man."

In his four-decade career Elton has sold more than 250 million records, making him one of the most successful artists of all time. His single "Candle in the Wind 1997" has sold over 33 million copies worldwide, and is the best selling single in Billboard history. He has more than 50 Top 40 hits, including seven consecutive No. 1 US albums, 56 Top 40 singles, 16 Top 10, four No. 2 hits, and nine No. 1 hits. He has won six Grammy Awards, an Academy Award, a Golden Globe Award and a Tony Award. In 2004, Rolling Stone ranked him Number 49 on its list of the 100 greatest artists of all time.

While the film is still in its Early Stages of development, it's said to include some of Elton John's hit songs and will cover his journey from childhood to his enormous success in the music industry and beyond.

"It will be more of a fantasy, Moulin Rouge type of stuff," Elton told BBC2 earlier this year. "Obviously, it's not going to be your normal, run-of-the-mill film. My life's been so surreal, from buying a football club to God knows what."


Elton biopic in the works
Monday, January 24 2011 at 12:19:47


Elton is coming to India
Tuesday, September 20 2011
Elton and David are planning to visit India in March 2012.
The singer-songwriter is one of the biggest celebrity philanthropists, and plans to get involved with projects there dealing with HIV/AIDS awareness and orphans - causes close to his heart.

The Elton John AIDS Foundation (EJAF), which was established in 1992, has worked in over 55 countries since its inception and raised over US$220 million for its charity and awareness programs. A source working on bringing him down reveals, "There are a couple of charity organisations Elton has shown interest in, but he still has to take a call on which ones he wants to associate with. He has read up on the statistics and number of HIV-related deaths in the country and finds it quite alarming."

During the course of his stay in India, Elton plans to talk about his future plans and also the increasing the reach of EJAF in the Asian region. While details of his trip are still under wraps, the knighted singer plans to keep his visit short. "It won't be a long stay. He wants to come down to talk about his charity work and get involved."
Elton and David at Tony Bennett's 85th birthday
Monday, September 19 2011
Elton and David attended Tony Bennett's 85th birthday gala in New York on September 18, 2011.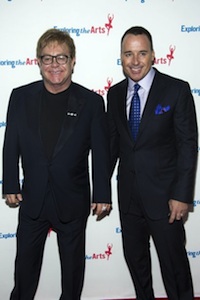 The concert and gala dinner started with a concert of Bennett's greatest hits and favorite standards at The Metropolitan Opera House. President Bill Clinton introduced Bennett, saying that "in every way, this remarkable man has lived his life with perfect pitch." Bennett hugged the former commander-in-chief and got to work with "Isn't It Romantic?", which he followed with a set list of over 20 of his best songs.

Aretha Franklin joined him to sing "How Do You Keep The Music Playing?", Alejandro Sanz pitched in on "Yesterday I Heard The Rain", and Elton came onstage for "Rags To Riches", which the two first recorded for Bennett's first album of duets in 2006.

True to his word, Bennett did not sing "Body and Soul", which he recorded with the late Amy Winehouse shortly before her death in July 2011. And to the disappointment of many, Lady Gaga did not show up for a surprise performance of "The Lady Is A Tramp", which is also on the new album of duets. Nevertheless, every other song got a standing ovation — a few of them even got two.

Afterwards Alec Baldwin hosted a gala dinner for Bennett's foundation, Exploring the Arts, in a nearby tent. When everyone had finished their antipasto salads, Baldwin emceed, making fun of his inability to dance and encouraging everyone to donate to the charity, which replaces lost funding for arts education in public high schools. It also helps fund the Frank Sinatra High School, which Bennett founded with his wife Susan in 2001. Between everyone in the room, Exploring the Arts managed to raise close to $2.5 million.

After dinner Elton got up and sang a slew of his best-known songs. Baldwin and Elton led everyone in singing "Happy Birthday" to Bennett.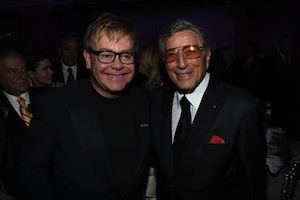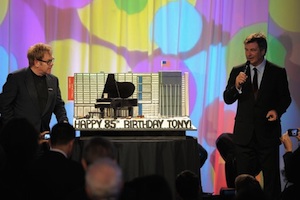 Elton at Tony Bennett opera debut
Wednesday, September 14 2011 at 07:15:34

Elton John will perform at Tony Bennett's 85th birthday party
Saturday, July 30 2011 at 05:46:23
'Lion King 3D' roars #1
Saturday, September 17 2011
Very early numbers showed Disney's "Lion King 3D" roaring back to #1 with $15M weekend in 2,330 theaters.
Warner Bros' holdover Contagion #2 with $12M in 3,222 theaters, FilmDistrict'sDrive #3 with $11M from 2,886 theaters, Sony/Screen Gem's Straw Dogs #4 with $8M from 2,408 theaters, and The Weinstein Co's I Don't Know How She Does It with $7.5M from 2,476 theaters.


'Lion King' in 3-D: Moviegoers can return to the jungle in September 2011
Thursday, September 15 2011 at 09:15:46

West End's "The Lion King" to played 5,000th performance
Wednesday, September 14 2011 at 07:11:46


'Lion King' in 3-D: Moviegoers can return to the jungle in September 2011
Thursday, September 15 2011
On the heels of the announcement that the 1997 Oscar-winning blockbuster "Titanic" would be sailing into theaters next year in a 3D edition, Walt Disney Studios announced that its 1994 Oscar- and Golden Globe-winning animated classic "The Lion King" would be returning to theaters September 16, 2011 in a new Disney Digital 3D edition.
After the two-week theatrical engagement, Simba, Mufasa, Nala and the gang will make its 3D and 2D Blu-ray debut on October 15, 2011.

"The Lion King" has been a major cash cow for Disney. Disney is reporting that the movie — which features Hans Zimmer's Oscar-winning score and Elton John and Tim Rice's Academy Award-winning "Can You Feel the Love Tonight" – is the bestselling home entertainment release of all time. Not only that, it also roared its way to a worldwide box-office tally of $783.9 million.

The film spawned two made-for-video-sequels, "The Lion King 1 1/2" and "The Lion King II: Simba's Pride" (which will also be making their Blu-ray debuts). And the Broadway theatrical production opened on the Great White Way on November 13, 1997, winning six Tony Awards including best musical. It's still going strong, having played more than 5,600 performances. Two years later, it opened in London, where it also is still drawing crowds.


West End's "The Lion King" to played 5,000th performance
Wednesday, September 14 2011 at 07:11:46


Elton at Tony Bennett opera debut
Wednesday, September 14 2011
Tony Bennett makes his debut at Metropolitan Opera House on September 18, 2011.
When Tony Bennett makes his debut at his sold out performance at the Metropolitan Opera House on September 18, 2011, he will be joined by Aretha Franklin, Sir Elton John and Alejandro Sanz for special duet appearances.

Franklin, Elton and Sanz all recorded with Bennett for his Duets CD projects: Elton John appeared on the first CD, DUETS in 2006; and Aretha Franklin and Alejandro Sanz recorded with the singer for the forthcoming follow up CD, DUETS II, set for release on September 20, 2011.

The evening at the Metropolitan Opera will also mark the official celebration of Tony's 85th birthday where he will be honored at a post-concert gala hosted by Alec Baldwin. The gala is a benefit for Exploring the Arts, the non-profit organization started by Bennett and his wife Susan, to support arts education in public schools. Over $2.5M has been raised for the evening thus far.

Among the celebrated guests expected to attend the concert and gala are: Richard Gere, Bruce Willis, Katie Couric, Aretha Franklin, Matthew Broderick, Martha Stewart, Joy and Regis Philbin, Jane and Mitch Winehouse, among others.


West End's "The Lion King" to played 5,000th performance
Wednesday, September 14 2011
The West End production of "The Lion King" played its 5,000th performance at the Lyceum Theatre on September 13, 2011.
Based on the 1994 Disney animated film, the stage musical features Elton John and Tim Rice's music from the film along with three new songs by John and Rice; additional musical material by Lebo M, Mark Mancina, Jay Rifkin, Taymor and Hans Zimmer; and music from "Rhythm of the Pride Lands," an album inspired by the original music in the film, written by Lebo M, Mark Mancina and Hans Zimmer.

The London company of The Lion King currently stars George Asprey as Scar, Shaun Escoffery as Mufasa, Stephen Matthews as Zazu, Brown Lindiwe Mkhize as Rafiki, Damien Baldet as Timon, Keith Bookman as Pumbaa, Andile Gumbi as Simba, Ava Brennan as Nala, Gary Forbes as Banzai, Jacquelyn Hodges as Shenzi and Sebastien Torkia as Ed.

For more information and tickets, click here.

17 things you might not have known about "The Lion King"

1. Originally, the movie was going to be called 'King of the Jungle,' until the filmmakers realized that lions live on the savanna, not in the jungle.

2. Initially, the film was not going to be a musical, but rather, a more realistic, National Geographic-type story. It was lyricist Tim Rice -- who'd worked with Disney on 'Aladdin' -- who suggested adding songs and hiring Elton John to compose them.

3. The film's writers referred to the film in private as 'Bamblet,' noting the similarity between their movie's plot and those of 'Bambi' and 'Hamlet.'

4. For inspiration, the animators and artists spent two weeks in Africa, visiting Hell's Gate National Park in Kenya. They also had real lions brought into the animation studio, under the supervision of Jim Fowler, of TV's 'Mutual of Omaha's Wild Kingdom.'

5. The song 'Hakuna Matata' originated with a phrase the animators heard from a tour guide during their African trip. Tim Rice heard the phrase (which, as every fan knows, means "no worries") and noted its similarity to 'Bibbidi-Bobbidi-Boo' from Disney's 'Cinderella,' and he turned it into the film's comic centerpiece. Elton John, however, was afraid the tune would mark a low point in his career. "I sat there with a line of lyrics that began, 'When I was a young warthog," Elton said in 1995, "and I thought, 'Has it come to this?'"

6. Hans Zimmer, who eventually won an Oscar for composing the instrumental score, brought aboard Lebo M, a South African composer and singer he'd worked with on the film 'The Power of One.' (A self-imposed exile from the apartheid regime, Lebo M was parking cars in Los Angeles when Zimmer met him.) It's Lebo M who added the African choral passages to the score, including the famous 'Circle of Life' chant that opens the movie.

7. Lebo M's 'Circle of Life' chant, translated from Zulu, means, "Here comes a lion, Father/Oh yes, it's a lion/We're going to conquer/A lion and a leopard come to this open place."

8. Nathan Lane and Ernie Sabella, who were co-starring on Broadway in 'Guys and Dolls,' auditioned together, hoping to play hyenas. But the filmmakers liked their chemistry and cast them instead as Timon and Pumbaa, the meerkat/warthog comic relief duo. For the hyenas, the filmmakers initially wanted Cheech and Chong, but the stoner comedy duo had broken up by the time the movie was made. So the filmmakers stuck with Cheech Marin but used Whoopi Goldberg instead of Tommy Chong.



9. 'Can You Feel the Love Tonight' was almost a comic duet for Timon and Pumbaa, but Elton balked. As a traditional love ballad, marking Simba and Nala's romance, the song became one of three from the film nominated for Oscars (along with 'Hakuna Matata' and 'Circle of Life,') and it won the Academy Award for Elton John and Tim Rice.

10. A musical number called "The Morning Report" didn't make it into the film (it was replaced by dialogue), but it was used in the Broadway musical and was included in the 2002 IMAX re-release and the platinum-edition DVD, accompanied by newly created footage.

11. 'The Lion King' marks the second time that James Earl Jones and Madge Sinclair played royal parents of an African prince. The first time was 'Coming to America,' where they played Eddie Murphy's dad and mom.

12. When Simba (voiced by Jonathan Taylor Thomas) tells Scar (Jeremy Irons), "You're so weird," and Scar replies, "You have no idea," the reference is to a nearly identical exchange between Ron Silver and Irons during the latter's Oscar-winning turn as Claus Von Bulow in 'Reversal of Fortune.'

13. Conservative activists objected to a scene where particles in the night sky supposedly spell out, for an instant, the word "SEX." The animators have said that they were actually spelling out the abbreviation "SFX" (for "special effects") as a signature of their work that would be visible only to viewers with sharp eyes (and fast thumbs on the pause button).

14. While the characters in the movie are all hand-drawn, computers were used for assistance in some sequences, notably, the wildebeest stampede. In that sequence, a computer multiplied several hand-drawn animals into hundreds and created random paths for them. The resulting two-and-a-half-minute sequence took more than two years to create.

15. 'The Lion King' was the highest grossing movie worldwide in 1994, with a total of $772.6 million grossed around the globe. It's also the top-grossing hand-drawn cartoon of all time and the fourth-biggest animated feature of all time (behind CGI features 'Shrek 2,' 'Toy Story 3,' and 'Finding Nemo') in the U.S.

16. For a long time, 'The Lion King' held the record as the best-selling home video release, having sold 30 million copies on VHS.

17. Pumbaa was the first Disney character to fart.
Elton sues banker for not paying up £700k charity auction bid
Wednesday, September 14 2011
Elton John is suing a banker for failing to honour a £700,000 charity auction bid. Dubai-based Spencer Lodge pledged the cash at Elton's White Tie and Tiara Ball for a day out with Elton and David.
Lodge, 40, signed a contract promising to pay the money to the Elton John Aids Foundation but it is yet to receive a penny. Numerous attempts have been made to contact Lodge and now, with Elton's backing, the Foundation has started a High Court action to recover the pledge. Lodge made the generous bid in June 2010 at the Gothic-themed ball held in the grounds of the couple's Windsor mansion. The bash featured a performance by Lady Gaga and helped raise over £5million for the Foundation.

The day out included a trip with the couple to visit some of their charitable projects in the UK. Sources close to the star said: "Both David and Elton, and everyone involved with the ELAF, are really angry about this. Elton is not personally hounding the man and demanding the cash back but he is fully supportive of the legal proceedings to benefit the charity. The lot was a one-off opportunity to make his charity an astonishing amount of money. Organisers had actually secured another bid of £650,000 which, of course, they would have been delighted with. The feeling is Mr Lodge was at the ball, enjoying the plush surroundings a little too enthusiastically and didn't really know quite how much he was bidding.

"In the cold light of day, it appears he got cold feet and couldn't go through with the bid. Initially there was a misunderstanding as Mr Lodge was changing lawyers but still nothing has been resolved so that's why it has gone this far." Dad-of-two Lodge, owner of an investment advisory firm, is a well-known on the Middle-Eastern business and celebrity circuit.

Last night he was unavailable for comment. Elton's spokesman refused to discuss the matter.


Sharon Osbourne: I made drunken bid at Elton auction
Thursday, July 1 2010 at 09:26:08

Ozzy Osbourne likens Lady GaGa to early Elton John
Tuesday, June 29 2010 at 06:44:57

Elton John's White Tie and Tiara ball
Saturday, June 26 2010 at 12:08:50


Elton pips Simon Cowell to highest British ranking in list of top paid male global stars
Wednesday, September 14 2011
Elton John has been named as one of the highest paid male entertainers in the world earning £63m in the last year.
The singer eclipsed Simon Cowell by £6m to be ranked fourth on the Forbes annual list of top paid male stars. Elton ranked in the huge figures thanks to his world tour which took over £130million in box office receipts.

His extensive back catalogue of hits, such as "Your Song" and "Crocodile Rock", also boosted his earnings, according to research by Forbes.

TOP TEN HIGHEST EARNING MALE STARS

1 Tyler Perry - £82m
2 Jerry Bruckheimer - £71m
3 Steven Spielberg - £67.7m
4 Elton John - £63m
5 Simon Cowell - £57m
6 James Patterson - £53m
7 Dr Phil McGraw - £50m
8 Howard Stern - £54m
9 Leo Di Caprio - £48.7m
10 Tiger Woods - £47.5m
Elton tells world leaders: stop anti-gay discrimination
Monday, September 12 2011
The leaders of all three main political parties in Britain are to throw their support behind a new international gay-rights group trying to combat homophobic discrimination in the Commonwealth.
On September 13, 2011 top UK music stars Elton John and George Michael are set to attend the official launch in the House of Commons of Kaleidoscope, which aims to get 19th-century British colonial anti-gay laws revoked in the Commonwealth and beyond, using business and political pressure. It comes after campaigners grew increasingly concerned at how homosexual persecution is being actively encouraged by some Commonwealth states – particularly in Africa.

In January 2011, a Ugandan gay rights campaigner was beaten to death after being "outed" by a local newspaper which published photographs of people that it said were gay with the headline: "Hang them." Lesbians in South Africa have been murdered and subjected to violent attacks, including so-called "corrective rapes", while activists in Kenya and Ghana have also been targeted.

Currently, 38 of the 54 members of the Commonwealth criminalise homosexuality. Penalties include 25 years imprisonment in Trinidad and Tobago and 20 years plus flogging in Malaysia. Several countries, including Sierra Leone, Pakistan Tanzania and Bangladesh impose life imprisonment. Kaleidoscope says while many countries have national gay rights organisations there is no overall international body which can coordinate action.

London has become the base for the new organisation, partly due to the Commonwealth link, but also because it is an international business hub. The group wants large multi-nationals to pressure regimes to change laws, particularly in more developed Commonwealth countries like Singapore where homosexuality is illegal. Nearly all the Commonwealth's anti-gay laws are a colonial legacy. They were introduced by Britain in the nineteenth century and never repealed when colonies won independence. Bisi Alimi, who became the first Nigerian to come out on national TV, is one of Kaleidoscope's founding members.

Yesterday he said: "As a result of coming out I was attacked, tied up and beaten in my own home in Lagos. For the first time in my life I not only saw a gun but I felt it right against my head. I was forced to leave my country. My dream is that others like me will be free to stay and be happy surrounded by the love of their friends and families."

Kaeleidoscope is supported by Prime Minister David Cameron and Deputy Prime Minister Nick Clegg, as well as by Labour leader Ed Miliband. Mr Cameron said: "In some countries, it's simply appalling how people can be treated – how their rights are trampled on and the prejudices, and even violence, they suffer. I want Britain to be a global beacon for reform." Mr Miliband said: "I am proud to offer my support to Kaleidoscope to protect people from prejudice and persecution across the world."

Speaker of the House of Commons John Bercow has agreed to become Kaleidoscope's honorary president. Veteran broadcaster Paul Gambaccini, who has donated money to the charity, said: "It is time for those of us who enjoy our rights in the UK to support movements for dignity and decency wherever they are located."
Rock Flashback: Steely Dan opens for Elton John in 1973
Monday, September 12 2011
It is the sort of concert bill that grabs you across the years and makes you say, "Damn, I wish I'd been there."
When Elton John toured the United States in the late summer of 1973, his opening act for a number of dates was Steely Dan. Elton was weeks away from releasing "Goodbye Yellow Brick Road", an album that would cement his reputation as the '70s' biggest solo star. Steely Dan had recently released "Countdown to Ecstasy", but were frustrated as they watched the album fail to gain traction on the radio.

Not only that, but Steely Dan was in flux at that moment: vocalist David Palmer had left, and at that point, Donald Fagen was a reluctant singer. A singer named Royce Jones would join for a while, although not in time for the dates on the Elton John tour (if we have the chronology right).

Fagen and Walter Becker eventually added a couple of female singers, nicknamed Porky and Bucky, partly to counter criticism of the group's slovenly appearance on stage. In true '70s fashion, however, they were dressed in skimpy go-go costumes, and Fagen even considered putting them in cages suspended above the stage. At one early show, they sang the old girl-group song "My Boyfriend's Back," beginning a tradition that Steely Dan continues to this day of turning at least one number over to its female backup singers.

, but it wouldn't be long before they gave up touring altogether. On July 5, 1974, a show in Los Angeles proved to be their last until the early 1990s.

One other thing about the Elton John/Steely Dan bill that captures the imagination of a fan nearly 40 years later: On August 18, 1973, the two acts played the Cotton Bowl in Dallas. Only 28,000 seats were available, and some were special "close-up" seats, which cost all of $6.50. If that was too pricey for you, other seats could be had for $5.50 and $4.50.
Elton John performed a solo show in Windsor, ON on September 10, 2011
Saturday, September 10 2011
Following is the complete set list of the Windsor show on September 10, 2011.
The One

Sixty Years On

The Greatest Discovery

Border Song

Your Song

Ballad Of The Boy In The Red Shoes

Levon

Tiny Dancer

I'm Still Standing

Daniel

Rocket Man

I Guess That's Why The Call It The Blues

Someone Saved My Life Tonight

Never Too Old (To Hold Somebody)

Goodbye Yellow Brick Road

Philadelphia Freedom

Don't Let The Sun Go Down On Me

Nikita

Take Me To The Pilot

Sorry Seems To Be The Hardest Word

Candle In The Wind

Honky Cat

Bennie And The Jets

Crocodile Rock

Circle Of Life/Can You Feel The Love Tonight
Elton John and band performed in Cleveland on September 8, 2011
Saturday, September 10 2011
Following is the complete set list of the Cleveland show on September 8, 2011.
Saturday Night's Alright (For Fighting)

I'm Still Standing

Levon

Madman Across the Water

Holiday Inn

Tiny Dancer

Philadelphia Freedom

Goodbye Yellow Brick Road

Someone Saved My Life Tonight

Rocket Man

I Guess That's Why They Call It the Blues

Hey Ahab

Gone To Shiloh

Monkey Suit

Honky Cat

Hercules

Daniel

Sorry Seems to Be the Hardest Word

Take Me To The Pilot

Bennie and the Jets

The Bitch Is Back

Crocodile Rock


Don't Let the Sun Go Down on Me

Your Song
Bernie Taupin on Good Morning Texas
Saturday, September 10 2011
Bernie Taupin was on Good Morning Texas on September 09, 2011, talking about Elton John, songwriting and painting.
Elton John and band performed in Bethel Woods on September 4, 2011
Tuesday, September 6 2011
Following is the complete set list of the Bethel Woods show on September 4, 2011.
Saturday Night's Alright (For Fighting)

I'm Still Standing

Levon

Madman Across the Water

Holiday Inn

Tiny Dancer

Philadelphia Freedom

Goodbye Yellow Brick Road

Someone Saved My Life Tonight

Rocket Man

I Guess That's Why They Call It the Blues

Hey Ahab

Gone To Shiloh

Monkey Suit

Honky Cat

Hercules

Daniel

Sorry Seems to Be the Hardest Word

Take Me To The Pilot

Are You Ready For Love

Bennie and the Jets

The Bitch Is Back

Crocodile Rock


Don't Let the Sun Go Down on Me

Your Song
Simon Cowell hails "drama queen" Elton John
Saturday, September 3 2011
The X Factor USA judge joined fellow panelists Paula Abdul, LA Reid and Nicole Scherzinger in discussing their favorite artists for a Fox All Access radio special.

The 51-year-old music mogul highlighted Elton John for praise, naming him his favorite "drama queen". "Elton comes to mind because he is unpredictable, he's lasted the decades, he's still relevant now, he's a pain in the ass, he's a drama queen, he's interesting and he's a brilliant songwriter," Cowell said.

The X Factor USA's two-night premiere kicks off on Wednesday, September 21 and Thursday, September 22, 2011 at 8pm ET on Fox.


Bernie Taupin art exhibition opens in Dallas
Friday, September 2 2011
To be a star in the rock universe without really ever being a rock star is a feat unto itself. It is a position Bernie Taupin knows well.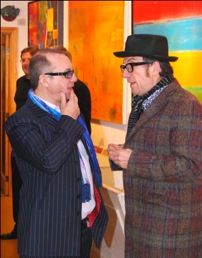 Famous more for his collabs with Elton John as well as other high-profile musicians, Taupin is easily one of music's most legendary lyricists: "Candle in the Wind," "Rocket Man," "Levon" are giants in the rock 'n' roll vernacular.

But Taupin's creativity doesn't end with hit after lyrical hit. With Dallas on his itinerary, Taupin comes there as a different kind of artist. "What I've got going keeps me pretty busy," he says in his slightly gruff British accent. "I'm just cracking 60 and I'm pretty satisfied with things."

To his stellar track record in contemporary music, Taupin adds the title painter. His abstracts have received critical acclaim on par with his songs, and Dallas' Wisby Smith Fine Art gallery will feature Beyond Words, a collection of Taupin's visual art. At times, Taupin sounds fickle about his own work. Although he likens the creative processes of songwriting to painting, he prefers now to discuss just his art … even though one might not exist without the other.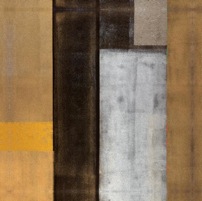 "Painting is just a natural extension in creation from writing songs," he says. "My songs don't influence my paintings, but it is another step." Like his abstracts, Taupin does say that his work process has its origins in the songs he wrote — mostly those in which he and Elton John might have been trying to say something in lyrics without saying something. Elton is much more out now than he was 40 years ago. In his rock heyday, Elton almost married a woman and then came out as bi. There has always been speculation that many of Elton's songs had hidden or double meanings. Taupin rather likes that — even now.

"I like people to use their imagination," he says. "Things like that just happen. You can't over-think things. It's just what comes out. There are a lot of similarities between songwriting and painting and a lot of the same things are going on. They're both quite lyrical. It's par for the course that we might cloak some lyrics but it's just more interesting and people can come up with their own interpretation."

Taupin says he has always doodled or drawn, but it wasn't until the early '90s that the spark to truly create on canvas flared. At a ranch in Southern California, he found his Walden Pond. With all the travel that comes with being a music icon, he could finally settle in and let his inspiration flourish. "The locale here is very inspiring and pretty spectacular, which all just lends itself to any sense of imagination," he boasts. "How can you not be inspired by these surroundings? The facilities here give me much more opportunity to create. The space is great and it all really came together at the right time."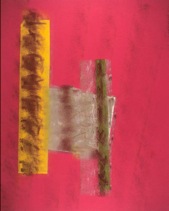 Despite a seemingly endless supply of creative energy, even Taupin admits to having dry spells. As he explains, it's a common thing for any artist, although it's not the same for his music and his art. When it comes to writing a song, he's far more driven by the business of it. "As far as writing, I work when I need to work. When I'm preparing an album, which may be every couple of years," he says. "I'm not writing all the time. My painting is far more consistent and I've been working a lot recently because I've been motivated by the series of shows coming up. But I'm also not painting all the time either."

When he shows in Dallas, Taupin expects viewers to take away their own thoughts on his work. There is no wrong answer to the questions his art raises. But is it fair — when he asks audiences to eschew labels or titles — that he names his work? "I'd much rather have a title. Untitleds are rather dull," he says. "My titles at least give a viewer a starting point to come up with their own conclusion. The one thing I don't like doing is explaining a song or my work. Like some of my songs, paintings need to be thought about. It's not up to me put ideas in their heads, but to interest the viewer and ask them to use their mind." [Above: Blood and Money, Bamboo]


Taupin's "Beyond Words" comes to Dallas
Thursday, July 7 2011 at 09:49:11
Remembering Guy Babylon
Friday, September 2 2011
Two years ago this day former keyboarder of the Elton John band, Guy Bayblon, passed away.
It was on September 2, 2009, when we had to deliver the sad and shocking news that Guy had died of a heart attack while swimming in the pool. He was only 52.

Those of you following the whereabouts of Ben Babylon are already aware that a growing bit of Guy is living on in his talented son. If you haven't done so already, check out Ben's website.

But today we would like to remember his father - a very talented keyboard player, arranger and composer, but - as we said often before - also one of the nicest persons on the planet.
Elton John AIDS Foundation presents the "WOW Bikes"
Thursday, September 1 2011
From Berlin to Barcelona, Paris to London, every cool city has been keen to put its hire-bikes on the map, but nothing will stop traffic quite like these six unique bicycles created for W London - Leicester Square in aid of Elton John AIDS Foundation (EJAF).
Created by cult London artist Benedict Radcliffe, the WOW Bikes have been customised by six of the coolest riders from the worlds of fashion, design and music. As well as adding their own boost of personality to Radcliffe's design, each contributor has also recommended their favourite cycle route around London. The handpicked creatives include designer Ron Arad, singer Paloma Faith, illustrator Natasha Law, fashion designers Patrick Cox and Alice Temperley and Benedict Radcliffe himself crafting a bike for W New York.

Each bespoke bike is available for complimentary use exclusively for W London guests until October 29, 2011. At the end of the summer the bicycles will be auctioned with proceeds going to EJAF. The auction will be held online at www.facebook.com/wlondonhotel with bidding closing on October 29, 2011. A film of the W New York bike in action and on location at W London can be viewed online at www.wlondon.co.uk/gallery.