ELTON JOHN NEWS ARCHIVE: September 2008
Parkinson set for music charts
Tuesday, September 30 2008
Michael Parkinson is making an unlikely bid for chart stardom with a new record deal. But the chat legend, 73, is not cutting tracks himself.
Instead he is releasing a compilation of his favourite music, including songs by Frank Sinatra, Nat King Cole, Michael Bublé and Elton John.

Parky revealed the move on September 29, 2008 at the launch of his new official website michaelparkinson.tv.

"My Life In Music", out in November 2008, can be bought on the site — along with his autobiography, out October 2, 2008.

Visitors can also view classic Sir Michael interviews and read his blog.
Elton John and other music stars back Melbourne Storm
Tuesday, September 30 2008
Even Elton John has joined in as the fuse burns down on one of the most acrimonious manifestations of the old Melbourne-Sydney rivalry yet seen.
Melbourne Storm's opponents in Sunday's (October 5, 2008) rugby league Grand Final are, nominally, the Manly-Warringah Sea Eagles - but the way they and their fans see it, its all of NSW. On or off the sports fields, this usually silly "Us v Them" syndrome has rarely descended to the level of bitterness accompanying the countdown to this showpiece game of football.

Sydney hates it, of course, when Melbourne dispenses a lesson in how to play, present or applaud sport, which is often. But now that it's become a regular occurrence in the one game they like to think they own - this is Storm's third play-off in a row - the fallout has become something to behold.

The showpiece match will be played out against a lurid backdrop of legal threats, insults, one of the biggest fines ever incurred in the name of sport, the enforced banishment of the Australian captain, a media monstering and even national politics - deputy PM Julia Gillard is Storm's No. 1 female supporter.

And on September 29, 2008, bizarrely, the No. 1 male supporter, music's Molly Meldrum, called in the heavy artillery from the world of showbiz - and he does mean "world". He said Elton John, Michael Buble, AC/DC, Pink, Kate Ceberano, Bruce Springsteen and the Rogue Traders would all send messages of support.

Meldrum said he couldn't believe the level of vitriol in Sydney, where even letter writers have had a field day accusing Melbourne of whingeing and calling for them to be thrown out of the competition. "It's astonishing," he said. "I had to put the newspaper down. I thought this is just not possible - it's just too much."
Terry O'Neill's "Eltonography"
Monday, September 29 2008
A short review by Stephan Heimbecher.
How do you review a book that basically has 222 pages full of photos of the same person? A book that is subtitled "A life in pictures", but that doesn't really cover Elton's entire career but very much focuses on the (early) Seventies?

Well, this might not really be a photo journey from Elton's early years until today. But it definitely is a must-have for every Elton John fan, especially those that became fans in the Eighties or even later. Far more than to thirds of the book concentrate on Elton's astonishing career in the Seventies: Dodger Stadium, Watford, Muppet Show and shots from inside the recording studio are just a few of the highlights.

I can't really say that I felt that most of the photos were never released before, as about 80 per cent of the pictures looked familiar. But the remaining 20 per cent are fantastic shots that take you back in time - even if you haven't been an Elton fan back then or were not even born yet. The book features a number of sensational photos from Elton's private life as well as from backstage. And there were even some shots of the Eighties that were unknown to me.

There is hardly any material that's younger than the Eighties, but isn't that exactly what fans are looking for: Rare and never before seen stuff from some 40 years ago? I myself was very pleased with the selection of photos as well as with the very luxurious quality of the printing and paper. At the same time I was surprised that a book of such quality is just regularly priced USD 39.95.

So if you haven't bought this yet, click on the link above and do yourself a favour. This book will look great on the Elton John fan's coffee table. And if it isn't for the two pages of very high-level discography, get it for 220 pages full of wonderful Elton John photos!
Elton John performed in Halifax on September 26, 2008
Saturday, September 27 2008
Following is the complete set list of the Hallifax show on September 26, 2008.
Your Song

Sixty Years On

The Greatest Discovery

I Need You To Turn To

Border Song

Ballad Of The Boy With The Red Shoes

Daniel

Honky Cat

Rocket Man

Tiny Dancer

Mona Lisas And Mad Hatters

Nikita

Philadelphia Freedom

Someone Saved My Life Tonight

Ticking

Roy Rogers

Take Me To The Pilot

Sorry Seems To Be The Hardest Word

Candle In The Wind

I Guess That's Why The Call It The Blues

Levon

Carla Etude

Tonight

Bennie And The Jets

Crocodile Rock


I'm Still Standing

Don't Let The Sun Go Down On Me
Elton demands £150k from Guardian over 'offensive, nasty and snide' article
Saturday, September 27 2008
Elton John is demanding damages of £150,000 from the Guardian for a "gratuitously offensive, nasty and snide" piece written by columnist Marina Hyde.
He is already embroiled in a legal battle with his former manager, Bob Halley, after issuing a writ against him in January. The pop star has managed to get his court action against Halley, his personal assistant and manager for thirty years, made private after applying to the Royal Courts of Justice.

But now he is suing Guardian News and Media and accuses Hyde of using a gratuitously offensive, nasty and snide tone with sneering allusions to his racist and uncaring attitudes, and is demanding damages of £150,000.

Hyde's piece in Guardian Weekend meant that his commitment to the Elton John Aids Foundation is so insincere that he hosts the annual White Tie and Tiara Ball knowing that once costs have been covered, only a small amount is available for good causes, he says. Her piece also meant that he uses the ball to meet celebrities and for self promotion rather than raising money for his charity and the good causes it supports, according to a High Court writ.

Elton says that in fact his glittering ball raised at least £10m for charity this year and that he is deeply committed to fundraising for charity. Her false allegations are particularly damaging to his reputation and are likely to discourage people from attending his charity events, the writ claims. Elton's solicitors wrote to the Guardian's editor on July 7, 2008, asking for the piece to be removed from the paper's website and for the paper's legal department to hold onto her cuttings, notes, notebooks and drafts. The paper declined to assure him it would preserve the documents to be obstructive, he says.

His letter was leaked to The Independent, which published a story headed: "Sir Elton calls in the lawyers as satirical piece strikes a wrong note" and Elton blames the Guardian for this. The Guardian denied any leak to The Independent, the writ says. He argues that his complaint was dismissed in a high-handed and arrogant manner and claims that the paper failed to answer questions from his solicitors, to leave the paper with as much room for future manoeuvring as possible, and to place as much doubt in his mind as possible, in the hope of dissuading him from bringing proceedings.

Although The Guardian took down the piece temporarily, it was reinstated on July 15, 2008 on the website, despite his plans to sue for libel, the writ says.

Elton is seeking damages and aggravated damages for libel, and an injunction banning repetition of the allegations at the centre of his claim. The Guardian declined to comment on the ongoing litigation.



Elton John sues Bob Halley
Thursday, January 24 2008 at 09:11:31


'No sale' for Elton brooch
Friday, September 26 2008
An art deco clip brooch once owned by Elton John has failed to sell at auction.
The sapphire and diamond brooch, created in around 1935, was expected to go under the hammer for between £12,000 and £15,000.

Designed in the form of the letter J, it was a highlight of Bonhams' Sale of Fine Jewellery in London's New Bond Street. A photograph accompanying the brooch showed Elton wearing it during the filming of the video for his 1988 song "I Don't Wanna Go On With You Like That".

Other jewels in the auction did sell, including an emerald-cut diamond single stone ring by De Beers, weighing 11.05 carats, which fetched £344,800. A natural pearl necklace fetched £62,400, including the buyer's premium.

Jean Ghika, Bonhams' UK director of jewellery, previously said: "With the current economic uncertainty and the world gold price at a record high, many investors are turning away from stocks and shares to more tangible commodities such as high quality jewellery."



Sir Elton's 'J' brooch goes on sale
Wednesday, August 27 2008 at 17:58:07


Elton wants more - 2009 and beyond
Thursday, September 25 2008
Hercules has learned that Elton has no plans to retire as his diary is full for the next five years!
Besides the plans for more "Face to Face" dates with Billy Joel in 2009 (as reported here earlier), Elton is also scheduled to be back in the studio for a new album next year. Meanwhile, Elton has dropped plans to release a rap collaboration album which he began working on.

While the "Red Piano" shows will end at the Coliseum at Caesar's Palace in early 2009, Elton has signed a new Red Piano deal to play another new venue in Vegas.

As next year will mark Elton's 40th year of recording, Mercury plans to release a box set of special duets, rock versions, and singles to mark that special occasion.

Finally, Mercury is currently also looking to release an enhanced version of "Madman Across the Water" following the success of this year's release of the "Elton John" and "Tumbleweed Connection" albums. There will be new demos on the "Madman Across The Water" release, although no release date has yet been mentioned.



"Face to Face" in 2009
Monday, September 22 2008 at 20:35:13

Best Buy presents "The Red Piano" Show on DVD and CD
Monday, September 22 2008 at 20:23:51
The Launch of Eltonography
Wednesday, September 24 2008
Photographer Terry O'Neill's book Eltonography was launched at a champagne reception at the Proud Gallery in Camden, London. A report by David Wright.

There were a few familiar faces; Elton's manager Frank Presland and long time friends of Elton TV critic Nina Mishkov and actress Nanette Newman.

A selection of photographs from the book was on display and Terry O'Neill was on hand to sign copies. Fans with deep pockets can buy prints, signed by the photographer, for prices ranging from £1,400 to £7,500 plus tax.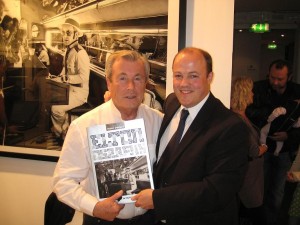 Onto the book itself. It is a lovely book to own and has been compiled with great care. The quality of the printing and the paper is extremely impressive. So don't hesitate - buy it today.

Many may be surprised that so many familiar and iconic images of Elton over so many years were taken by the same photographer. Yet there is much more than the familiar, many photos are previously unseen and include a relaxed 'behind the scenes' Elton with his mother, his grandmother, at home, in the studio and at Watford Football Club.

Keen fans will find errors in the text but, as it is a collection of photographs rather than a biography, that does not detract from what is a superb product.

The exhibition is open to the public until November 2, 2008. Click here for more information.



Eltonography
Thursday, August 21 2008 at 16:13:55
Ben Folds talks about ripping off Elton
Wednesday, September 24 2008
In a recent interview, piano player Ben Folds talked about how Elton once called him to thank him for ripping off one of his songs.
Folds said: "The 'Bennie and the Jets' groove is an institution for a piano player; at some point, you do it. And I suppose that it presented an opportunity to tip the hat to Elton. He called me about six years ago when he heard 'Rockin' the Suburbs' to tell me that he really liked the way I ripped off one of his songs. [Laughs] I didn't realize I'd done it, and in fact, I quasi-argued with the man for about three seconds until I realized that I had. 'Oh, that song! Oh, fuck.' He goes, 'No, no, no…I'm not gonna sue you or anything, 'cause I'm really happy. I like it.'"

"It was too cool. You know, as a young artist, you spend your time distancing yourself from anyone that could possibly be an influence, especially if they're not cool at that moment. The beginning of my career is all about people going, 'Elton John! Billy Joel!' and me going, 'Fuck you! I'm not them!' [Laughs] I think I feel comfortable with myself enough now to really go out on a limb to give the man a nod."

"I did a cover of 'Tiny Dancer' where we used to get the sunglasses out. And then I'd open my mouth way wide and stick my ass out. It was kind of fun."
Killers, Elton to release Christmas single
Wednesday, September 24 2008
The Killers and Elton John will release the Christmas single 'Joseph, Better You Than Me', reports The Sun.
The duet, scheduled for release in December 2008, will not feature on The Killers' upcoming album "Day And Age", which hits stores on November 24, 2008.

The Las Vegas group have previously released the festive songs 'A Great Big Sled' (2006) and last year's 'Don't Shoot Me Santa'. According to NME, The Killers plan to release a single every December until they have enough for a Christmas album.

The Killers yesterday debuted their new single 'Human' across radio stations. It will be available to buy on iTunes from September 30, 2008.
"Face to Face" in 2009
Monday, September 22 2008
There are some more rumours about Elton John and Billy Joel continuing on their "Face to Face" tour in 2009.
Billy Joel's Musical Director and guitar player for almost 20 years, Tommy Byrnes, said in a recent interview: "I'm riding the Billy moment until it falls off a cliff. And I think it's ever going to, because he's going stronger than ever now. We're starting in Asia at the end of October [2008], Hong Kong, Singapore, Korea, Japan, Australia, New Zealand. Then we break for Christmas, then we're doing five weeks in a Seminal reservation down in Hollywood, Florida. Then we go out with Elton for five weeks, then we break, then we go out for another five week run with Elton. So he's saying yes to a lot of work, which is really great."
Best Buy presents "The Red Piano" Show on DVD and CD
Monday, September 22 2008
Following the success of 2004's definitive Elton John DVD set, Dream Ticket, the legendary Sir Elton John and Best Buy announce the October 28, 2008 release of The Red Piano collection.
Thousands of fans have travelled to Caesar's Palace Las Vegas to see over 200 sold out shows, helping The Red Piano break records and set new standards for musical entertainment. This DVD/CD set available at Best Buy and BestBuy.ca promises to bring this amazing entertainment experience to Elton John fans across the continent.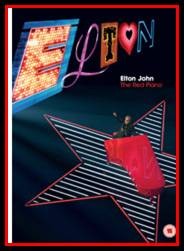 Available as a 2 DVD/2 CD in standard definition or a 1 Blu-ray disc/2 CD high definition format, the concert features the 14 song performance of the Red Piano show including all of the fan favorites such as "Candle in the Wind", "Believe" and "Rocket Man". The DVD and Blu-ray discs feature a documentary about the making of The Red Piano show including footage of Sir Elton discussing the genesis of the show.

The show debuted to critical acclaim in February 2004 with reviews proclaiming it as "A must-see" and noting Sir Elton is Still Standing as an indestructible talent. "It's (the show) what I like from an artistic point of view," noted Elton. "It's fun, it's deep, it's the songs I really love and it gives me a chance to get across what I am all about, visually as well as musically."

"With the incredibly successful sale of Dream Ticket it was clear that our customers are huge Elton fans and we believe they will be thrilled with the incredible show experience he gives them with The Red Piano," said Paul Fisher, director of entertainment merchandising, Best Buy Canada. "This incredible collector's item allows his fans to experience a must see show from the comfort of their own home with the DVD or Blu-ray disc and enjoy its musical excellence anywhere with the CD live audio soundtrack."

The Red Piano Show will be available for pre-order on September 22, 2008 at Best Buy locations or on www.BestBuy.ca/EltonJohn. Formats available will include 2 DVD/2 CD set in standard format for $24.99 or 1 Blu-ray disc/2 CD high definition format for $29.99. Product will be available at Best Buy stores on October 28t, 2008.
Elton has asked blind teen artist to paint works to benefit AIDS patients
Monday, September 22 2008
First, Jeff Hanson got to meet Elton John. Now the teenager is fulfilling Elton's request for artwork to brighten the lives of AIDS patients in South Africa.
Jeff was born with neurofibromatosis, a genetic condition that causes tumors to grow on nerve tissue. In some cases, the condition can be as harmless as spots on the skin. In Jeff, a low-grade malignant tumor developed on his optic nerve. Chemotherapy and radiation have kept the tumor the size of a pea, but the 14-year-old, who has learning disabilities, is legally blind.

But he also is an artist who uses his work to give back to charities. At the beginning of the 2005-06 school year, Jeff took a required art class as a sixth-grader at Overland Trail Middle School in Kansas City. "He loved it and could feel a lot of success in it," said Amy Price, his art teacher at that time. "With any student, you work at what they can be successful at. … I wanted to challenge him and get him outside his comfort level."

The following summer, Jeff started painting abstract note cards. He sold more than 5,000 of the hand-painted cards, many from the driveway of his home. His art is done in colors he can distinguish — bright and bold. He has small holes in his vision, said his father, Hal Hanson. For example, if Jeff looks at the word "the," he might see only "he." If he shifts his head, he might see "t."

Jeff now is a student at the Kansas State School for the Blind in Kansas City. His art business has grown into commissioned requests for the note cards to be transferred onto canvases priced from $100 to $1,000. The Hansons' unfinished basement is his studio. Large white canvases are propped against furniture protected by sheets of heavy plastic. Bookshelves hold tubes and jars of paint.

And every day, for an hour or so, Jeff paints. His parents help by bringing him paints and cleaning tools, and sometimes by giving direction on the proportions of color to match the work from the original note cards. Jeff's favorite tools are a miniature paint roller and a large putty knife. He works in acrylics, which dry more quickly than oil. He and his dad create a three-dimensional look by weaving strips of fabric through slits in the canvas. Jeff then paints the knotted fabric.

Jeff always gives back a bit of what he earns. The sale of his cards, along with some of his mother's baked goods, raised more than $15,000 for the Children's Tumor Foundation. His work has been put into a 2009 calendar, with all proceeds going to 12 charities that have touched Jeff's life.

One night last week, Jeff began working on his largest canvas to date, a 4-foot by 5-foot painting to be donated to an auction gala for Angel Flight Central in November 2008. Then there was Jeff's first encounter with Elton John.

The October meeting at the opening of the Sprint Center fulfilled Jeff's two-year wait for his request to the Make-A-Wish Foundation. At the meeting, Jeff surprised the performer with a $1,000 check — from the proceeds of his art sales — to the Elton John AIDS Foundation. "They struck up a friendship," said Scott Campbell, executive director of the foundation in New York. "He (Elton) is very interested in the personal stories."

Since then, Jeff and his parents have flown as Elton's guests to concerts in the United Arab Emirates and in Las Vegas. On the Vegas trip in June 2008, Jeff gave his favorite painting to Elton. It's called "A View from the 22nd Row," after a line in "Candle in the Wind." The canvas is covered with large blocks of blue, silver, orange, pink, purple and yellow. "This is how Jeff sees Elton on stage," Hal Hanson said. "He sees the lights."

And, in Las Vegas, Elton asked Jeff a favor: Would he create artwork that could be placed in the AIDS foundation's "cluster homes" in South Africa? In these homes, said Jeff's mom, Julie, pregnant HIV-positive women receive medicine so their children will be born HIV-free.

"He told Jeff, 'I need you to brighten these homes. Would you paint 12" Julie Hanson said. canvases?' Campbell said he wasn't sure when Jeff's art would head to South Africa. But through September 28, 2008, the work can be viewed at United Methodist Church of the Resurrection, 13720 Roe Ave. in Leawood.
The Billboard All-Time Hot 100
Sunday, September 21 2008
Fifty years ago, in the August 4, 1958, issue, Billboard launched a revolutionary chart called the Hot 100. After nearly two decades of tracking songs distinctively by sales or plays (on jukeboxes and at radio), the Hot 100 was the first list to measure popularity by incorporating both radio play and sales.
Scoring the chart's inaugural No. 1 was Ricky Nelson with "Poor Little Fool." Billboard.com is celebrating this milestone in a big way. They have posted all kinds of Hot 100-based charts leading up to the newly-unveiled special All-Time Hot 100 chart and the commemorative Hot 100 Anniversary issue of Billboard Magazine.

Elton made it on #3 in the Billboard Hot 100 All-Time Top Artists. The definitive list of the Hot 100's top 100 artists is based on all charting titles from August 1958 through July 2008.

(01) The Beatles
(02) Madonna
(03) Elton John
(04) Elvis Presley
(05) Stevie Wonder
(06) Mariah Carey
(07) Janet Jackson
(08) Michael Jackson
(09) Whitney Houston
(10) The Rolling Stones

In the Top Billboard Hot 100 Rock Songs, the hottest rock songs to appear on The Billboard Hot 100 during the chart's first 50 years, Elton is listed on three positions in the Top 50:

(01) "Smooth" - Santana Featuring Rob Thomas
(02) "Hey Jude" - The Beatles
(03) "Tonight's The Night (Gonna Be Alright)" - Rod Stewart
(..)
(30) "Philadelphia Freedom" - Elton John
(..)
(32) "Crocodile Rock" - Elton John
(..)
(42) "Bennie And The Jets" - Elton John

A lot more fascinating stuff about Elton on the Billboard charts can be found at the Billboard website.
Elton John AIDS Foundation A-List benefit
Sunday, September 21 2008
Marc Jacobs, Donna Karan, Isaac Mizrahi, Vera Wang, Evelyn and Leonard Lauder and John Demsey are among A-listers invited to the seventh annual "An Enduring Vision" benefit for the Elton John AIDS Foundation that will be held at Cipriani Wall Street on November 11, 2008.
Elton John and David Furnish are honorary chairs of the benefit. Special honorees this year are comedian and actor Tim Allen; Bill and Tani Austin, founders of the Starkey Hearing Foundation, and Johnny and Edwina Barbis, board members of Elton's foundation.

The event will feature special performances by Sir Elton and Gladys Knight, and a live auction with Jamie Niven, vice chairman of Sotheby's North and South America. Anderson Cooper is expected to be the emcee for the night.

According to the reports, the event hopes to raise $3 million for John's AIDS Foundation.
Pavarotti to be remembered at Petra by Elton John, Bono, Celine Dion, Joe Cocker and Sting
Friday, September 19 2008
One year after his death, a series of programs commemorating Luciano Pavarotti will be held around the world, including a concert scheduled at the historical site of Petra, Jordan on October 11 and 12, 2008.
According to the Associated Press, the Petra concert will host some of the biggest names in music will take part in a charity concert "Pavarotti and Friends," including Elton John, Bono, Celine Dion, Joe Cocker and Sting — all of whom have duetted with Pavarotti.

The tribute is the brainchild of Nicoletta Mantovani, Pavarotti's widow and HRH Princess Haya, a fellow UN Messenger of Peace and daughter of Jordan's late King Hussein. "A concert in Petra was a dream once shared by the late King Hussein of Jordan and Luciano," said Mantovani. "I am so grateful to Her Royal Highness Princess Haya, for making it possible to turn this dream into a reality."

The proceeds of the concert will support joint projects in Afghanistan by the UN High Commissioner for Refugees (UNHCR) and the UN World Food Programme (WFP). A local charity supporting disabled children in Petra will also benefit from the concert.

For over ten years, until his death in September 2007, Maestro Pavarotti actively supported UNHCR projects in Kosovo, Pakistan, Zambia, and Iraq. For his continuous commitment to refugee causes, Luciano Pavarotti received UNHCR's Nansen Refugee Award and was named a UN Messenger of Peace.

The audience will be limited to 500 spectators, but given the strategies of the recording industry, you can expect a CD of the event as well as a DVD.



Tributes to tenor Pavarotti pour in
Thursday, September 6 2007 at 21:38:05


Herbie Hancock and Elton promote The 7th Annual Daniel Pearl World Music Days
Friday, September 19 2008
Grammy Award Winner Herbie Hancock, rock superstar Sir Elton John, classical violinist Ida Haendel and the late father of modern Nubian music, Hamza el Din are featured in 30 and 60 second television and radio public service announcements (PSAs) to promote The 7th Annual Daniel Pearl World Music Days -- a month-long international network of concerts scheduled from October 1-31, 2008.
Since World Music Days' inception in 2002, over 2000 concerts in more than 75 countries have been dedicated to its theme of "Harmony for Humanity."

The PSA messages invite professional and amateur musicians around the world to "use the universal language of music to diminish hatred, respect differences, and reach out in friendship by dedicating performances for Harmony for Humanity." Several members of the distinguished World Music Days Honorary Committee, including Herbie Hancock, Sir Elton John and Alison Krauss, will be dedicating their own live performances at various venues throughout October 2008. Details on the growing list of participating musicians in this year's World Music Days, and information on how easy it is to become part of this growing international phenomenon, are available at www.danielpearlmusicdays.org.





The television PSAs will be included on the National Association of Broadcasters' (NAB) monthly satellite feed on September 19, 2008 at 11:30 AM Eastern Daylight Time (EDT). Satellite coordinates are: C-Band, Galaxy 26 (also known as Intelsat A6), Transponder C09, 93 degrees West, Downlink Frequency 3880 - Vertical, Audio: 6.2/6.8. (EDT).

In addition, both 30- and 60-second Radio PSAs are available for download at any time at the Daniel Pearl World Music Days Web site on the Press Information page where you can also find logos for adding links on your station website.

"There is no financial obligation for musicians or musical venues who want to participate; this is an awareness raiser, not a fundraiser," said Ruth Pearl, Daniel's mother and co-founder of the Daniel Pearl Foundation. "All musicians -- professional, youth and amateur -- are invited to dedicate performances held from October 1st through 30th in honor of Danny's October 10 birthday. All they need to do is register their performance at the World Music Days website and then simply say a few words from the stage or in the program affirming, as Danny did, the power of music to unite people of different cultures, faiths and nationalities."



Sixth Annual Daniel Pearl World Music Days
Wednesday, September 19 2007 at 07:20:46

Third Annual Daniel Pearl Music Day
Friday, July 16 2004 at 11:04:14

Elton John and band performed in Regina on September 16, 2008
Thursday, September 18 2008

Following is the complete set list of the Regina, Canada show on September 16, 2008.
Funeral For A Friend

Love Lies Bleeding

The Bitch Is Back

Mad Man Across the Water

Tiny Dancer

Levon

Believe

Take Me To The Pilot

Goodbye Yellow Brick Road

Daniel

Rocket Man

Honky Cat

Sacrifice

Don't Let the Sun Go Down On Me

All the Young Girls Love Alice

I Guess That's Why They Call It The Blues

Sorry Seems To Be The Hardest Word

Candle In The Wind

Bennie And The Jets

Sad Songs

Philadelphia Freedom

I'm Still Standing

Crocodile Rock

Saturday Night's Alright (For Fighting)


Pinball Wizard

Your Song
Bid on a Meet & Greet with Elton in Paris
Wednesday, September 17 2008
Until September 23, 2008, you can bid on a meeting with Elton John in Paris on December 8, 2008 in support of Tony Bennett's Exploring The Arts Auction.
The winning bid includes two tickets to the December 9, 2008 performance at Paris-Bercy with meet and greet of Elton John plus two nights accommodations at The Montalembert Hotel- December 8 and 9, 2008. Dates are finalized and can not be changed.

Please see the Charitybuzz website for more details and to place your bid.
Ballet stars wowed by Elton
Monday, September 15 2008
When Nicole Caron and Kelley McKinlay's boss called them off stage during a recent Nutcracker rehearsal, they thought they were in big trouble.
"He pointed at us, waved us over, and he didn't have the greatest look on his face," said McKinlay. "I immediately thought, 'What did we do?' " But Jean Grand-Maitre, artistic director with Alberta Ballet, had great news for his young dancers -- they were going to have the chance to meet Sir Elton John.

That's how Grand-Maitre, along with several principal dancers from Alberta Ballet, found themselves in the rock 'n' roll royalty's dressing room on September 12, 2008, kicking off an evening they will not soon forget. "It was probably the best night of my life," said Caron, still overwhelmed by the experience, not quite believing she made small talk with one of the world's most recognized musical personalities.


According to Grand-Maitre, Elton's agent contacted Alberta Ballet last Thursday with the offer of a lifetime. Having heard about the company's collaboration with Joni Mitchell to create and perform last year's The Fiddle And The Drum, which featured her music and design, Elton's curiosity was piqued. He requested that a DVD copy of the performance be dropped off at his hotel, and extended an offer of backstage access and premium tickets to the dancers.

"I was very surprised and quite excited," said Grand-Maitre. "That such a busy artist would take time to meet local artists shows the nature of the person he is." Grand-Maitre worked extensively with Mitchell to develop last year's performance and said she spoke of her friendship with Elton.

"She told me herself Elton had a lot of respect for her songwriting," he said. Grand-Maitre, Caron and McKinlay all recognize the significance of having artists like Elton and Mitchell interested in their work, and all three would love to work with Elton in the future. "My dream would be after watching the ballet he might want to do a collaboration with us," said Grand-Maitre. "He wanted to know so much about the ballet, so that is really positive and exciting," said McKinlay.

While in Elton's dressing room, McKinlay marvelled at the extensive wardrobe, which included "at least 50 pairs of shoes," he said. His dressing room walls were covered in dark, rich fabrics, red table lights cast a glow in the room and Elton's two cocker spaniels greeted guests by jumping up and down.

For Caron, the highlights of the night included Elton's dedication of the song "Tiny Dancer" to his guests and getting a drumstick signed by the knight himself. "Our cheeks were so sore. I couldn't stop smiling," Caron said.
Elton John and band performed in Edmonton on September 13, 2008
Sunday, September 14 2008
Following is the complete set list of the Edmonton, Canada show on September 13, 2008.
Funeral For A Friend

Love Lies Bleeding

The Bitch Is Back

Mad Man Across the Water

Tiny Dancer

Levon

Believe

Take Me To The Pilot

Goodbye Yellow Brick Road

Daniel

Rocket Man

Honky Cat

Sacrifice

Don't Let the Sun Go Down On Me

All the Young Girls Love Alice

I Guess That's Why They Call It The Blues

Sorry Seems To Be The Hardest Word

Candle In The Wind

Bennie And The Jets

Sad Songs

Philadelphia Freedom

I'm Still Standing

Crocodile Rock

Saturday Night's Alright (For Fighting)


Pinball Wizard

Nikita (Elton sang one verse to a girl holding a sign that said "I was named after the song")

Your Song
"Goodbye Yellow Brick Road" anniversary show
Saturday, September 13 2008
It was kind of suspicious to see Elton add three shows with the band on the East coast for mid October 2008. This usually happens when there is some bigger show to rehearse.
And now we know what that special show is all about: Elton and friends are to give a unique benefit performance in New York on October 20, 2008. The concert will benefit the Elton John AIDS Foundation (EJAF), Broadway Cares/Equity Fights AIDS (BC/EFA), and Friends in Deed and it will take place exactly 35 years after the album "Goodbye Yellow Brick Road" was released in the US.

During the show, which will take place in the New Amsterdam Theatre in New York (which formerly hosted "The Lion King"), Elton and his band will be joined by Rufus Wainwright, Ben Folds, Jane Krakowski, Stew, Joey Arias, Jake Shears of Scissor Sisters, the casts of "Hair" and "The Lion King", and others. They will perform all seventeen songs from the album.

Sponsored by American Express, American Airlines, and Grey Goose, the show will be produced by Broadway veteran Jeffrey Seller, (Rent, Avenue Q, In the Heights).

Tickets ranging from $500-$2,500 will go on sale September 13, 2008 for American Express card holders, and on September 22, 2008 for the general public. Tickets can be purchased by calling +1-212-307-4100 or by visiting Ticketmaster.
Spectacle: Elvis Costello with Sir Elton John and Diana Krall
Thursday, September 11 2008
Wayne Martin attended the taping of 'Spectacle: Elvis Costello with Sir Elton John and Diana Krall' at The Apollo Theatre on September 10, 2008. Here is his fan report (photo by Paula Friedman).
The taping began promptly at 3:00PM and finished at 5:10PM. Elvis Costello was introduced to the audience that was comprised of members of eltonjohn.com as well as Elvis' fan club and Diana Krall's. It was an intimate crowd filling only the seats on the main floor.

Elvis introduced two Diana Krall band members, Christian McBride on bass and Kareem Wiggins on drums. The three proceeded to play 'Almost Blue.' Elvis called out a production assistant upon completion to say that he heard a technical problem during the performance. When they checked the tape Elvis was proven correct and they redid the song. Elvis then directed the tech crew to remove certain cables on stage before proceeding. It was very interesting to see how completely involved Elvis is in every detail of the production and catching things throughout that the production crew would themselves miss.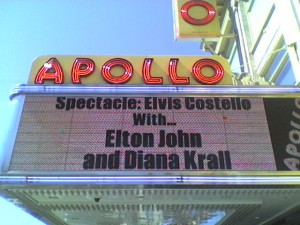 Elvis exited the stage, with the band members following, for five minutes. Upon returning he explained that his wife Diana Krall was the special guest for this episode of 'Spectacle' which will begin airing on Sundance Film Channel in the U.S. in December 2008. He then explained that today's show had a very special guest that would handle the interview and introduced Sir Elton John. Elton walked onto stage to thunderous applause and an extended standing ovation as Elvis left the stage. Elton looked fantastic. He appeared fit and well rested and in very good mood, dressed in a simple black suit with a deep purple tee-shirt and matching glasses. He explained that this was the first time that he had ever interviewed anyone for a television program and said something to the affect that he admired this lady so much that he hoped he would do the interview justice and then introduced Diana Krall to the stage.

Diana was stunning in a simple short black dress and pumps. You would never know that this is a woman in her 40's and mother of twins! Diana sat at her grand piano with Elton seated on a stool behind from which he conducted the interview which covered Diana's influences, (Nat King Cole, Oscar Peterson and Elton himself, among others) training and career goals. She sang two versions of the song 'But Not for Me,' the first version as it was written and generally performed followed by a version in her own style showing how she reinterprets well known compositions to make them her own and suggest new meanings.

She would later call her band members back and they all played 'Exactly Like You.' This was followed by stories of how, when and under what circumstances Elton and Diana first met followed by them dueting on a beautiful jazz influenced 'Sorry Seems To Be the hardest Word.' Later Elton surprised Diana by requesting that she and her band perform 'Night Train.' It was unrehearsed and they obliged.

Diana later sang another unrehearsed song, Joni Mitchell's 'A Case For You' (Joni being another of her influences) and was a highlight of the afternoon. Like Elvis earlier in the day, Diana heard a technical glitch during her performance and asked if she could re-sing the song. It was so well received that following the second take Elton suggested that they skip a rehearsed Peggy lee song. Instead he reintroduced Elvis Costello and the three sang a very amusing version of 'Making Whoopee.' Diana was so into the song that she lost her place towards the end and they had to redo it. No sooner had they started the second take when Elvis blew a lyric and they had to restart it a third time. The third time was a charm, note perfect and ever the pro's, all three included the same adlibs from their first try, sounding just as fresh and funny as the first time.

They all three thanked the audience for coming and the audience gave another of several standing ovations. I'm a long time fan of all three of these artists and it was a joy to watch two incredible artists who both obviously love and respect one another discuss their craft for an afternoon.

There was much more, so please watch for John Higgins' report coming up on eltonjohn.com.



Elton John on SingStar Legends
Thursday, September 11 2008
Now, you can sing along with your favorite Elton John song - "I'm Still Standing".
The latest and greatest collectible for all Elton John fans - SingStar Legends for PS2 - will be released on October 28, 2008 and it is the ultimate social gaming experience sure to entertain everyone for hours!

Here's the full list of tracks on SingStar Legends:

Barry White - "You're The First, The Last, My Everything"

Marvin Gaye - "What's Goin On?"

Biz Markie - "Just A Friend"

Michael McDonald - "I Keep Forgettin' (Every Time You're Near)"

Black Sabbath - "Paranoid"

Nirvana - "Smells Like Teen Spirit"

Bonnie Tyler - "Total Eclipse Of The Heart"

Patsy Cline - "Crazy"

David Bowie - "Life On Mars?"

Ray Charles - "Hit The Road Jack"

Dusty Springfield - "Son Of A Preacher Man"

Sam Cooke - "Wonderful World"

Ella Fitzgerald and Louis Armstrong - "Let's Call The Whole Thing Off"

The Jackson 5 - "I Want You Back"

Elton John - "I'm Still Standing"

The Monkees - "Daydream Believer"

Elvis Presley - "Blue Suede Shoes"

The Police - "Roxanne"

Grateful Dead - "Touch Of Grey"

The Righteous Brothers - "Unchained Melody"

James Brown - "I Got You (I Feel Good)"

The Rolling Stones - "Sympathy For The Devil"

John Lennon - "Imagine"

The Smiths - "This Charming Man"

Johnny Cash - "Ring Of Fire"

Tina Turner - "What's Love Got To Do With It?"

Joy Division - "Love Will Tear Us Apart"

Tom Jones - "What's New Pussycat"

Madonna - "Papa Don't Preach"

Whitney Houston - "I'm Your Baby Tonight"
Elton: "I won't be asking Lily Allen to tour with me"
Tuesday, September 9 2008
Lily Allen's drunken outburst at the GQ Awards on September 2, 2008 did not impress Elton John.
Elton had a showdown with the Smile singer at the awards show last week when Lily told him to "f**k off" on stage. And Elton says it has changed his opinion of her.

He reveals, "I was thinking about asking her to tour with me and maybe even do a duet. Obviously that won't be happening now."

Several days after her alcohol-induced tirade, Lily wrote on her MySpace blog that "Elton John and I are friends," adding, "I'm not defending my drunkenness because I don't need to. I'm 23, it was an awards ceremony, I drank the free champagne. How awful of me. Elton and I exchanged jokes and there were no hard feelings at all, in fact neither of us gave it a second thought.

"It's sad that an evening enjoyed by all had to ruined by some bitter journos again."



Lily Allen denies Elton John feud
Saturday, September 6 2008 at 18:56:03

Lily Allen and Elton John row on stage
Wednesday, September 3 2008 at 08:12:45


Scissor Sisters' cheeky presents for Elton John
Sunday, September 7 2008
We would love to have been a fly on the wall when Elton John and David Furnish opened 'thank you' gifts from The Scissor Sisters last week.
It must be hard deciding what to get the couple that have everything, so Jake Shears and co went for a couple of cheeky gifts after Elton lent them his South of France hideway for their summer holidays.

The disco band sent them a solid silver sculpture of a bottom, plus two bums lovingly crafted from chocolate.



Lily Allen denies Elton John feud
Saturday, September 6 2008
Lily Allen has blasted reports of a feud between herself and Elton John following her shocking outburst at an awards ceremony earlier this week -- insisting she is "friends" with the music legend.
The singer, 23, was presenting alongside Elton at the GQ Awards in London on September 2,2008 - and had a little too much drink. When Allen announced "...and now the most important part of the night..." Elton reacted, saying: "What? Are you going to have another drink?" Lily replied, "Fuck off Elton. I am 40 years younger than you and have my whole life ahead of me!"

The shocked audience fell silent. But Sir Elton was not to be outdone, replying: "I could still snort you under the table". But Lily insists the media are blowing everything out of proportion, and she was merely enjoying herself.

She wrote on MySpace blog on September 5, 2008, "Now it's all died down i'm saying my side of what I can't believe is considered to be a story. Elton John and I are friends. I was honoured when Elton asked me to present the GQ awards with him this year in association with Elton's AIDS foundation. Not only was it for a good cause but who would say no to Elton. I'm not defending my drunkeness because I don't need to, I'm 23 it was an awards ceremony I drank the free champagne, how awful of me.

"Trying to create a feud on the other hand, and trying to make me out as being some rude little girl with a drink problem is just unfair, Elton and I exchanged jokes and there were no hard feelings at all, infact neither of us gave it a second thought. It's sad that an evening enjoyed by all had to ruined by some bitter journos again. Alfie and Jamie had never been engaged, Jamie and I are the best of friends and I was just winding Alfie up , he's my little brother and that's what siblings do. Jamie wasn't pissed off with me, if she was i would have known about it, believe me.

"This isn't meant to be a place for me to respond to journalists, but I am very grateful I have this page, if i didn't then i would have absolutely no voice when it comes to this stuff. All these showbiz journalists are just bullies when it comes down to it. I have felt really very bullied this week.I realise (sic) that when I first started this job I slagged a few people off when I probably shouldn't have and I have been opinionated about some things, but i haven't said a bad word about anyone for a long time, even when I have wanted to, even when people have tried to start feuds and said horrible things about me when they'd never even met me, when they'd based an opinion on me because of something they'd read.

"It's hurtful, but it's fine if you want to print a picture of me and say how awful I look, how much weight I've put on or how terrible my choice of clothes were that day. In my opinion it's still a form of bullying and if anyone spoke to any of my friends like that to their faces i'd want to kill them. But character assasination is another thing it's just not needed.

"I turned up and presented an awards ceremony for charity, i drank some champagne and went home for 12.30 and again I've been made to feel like a bad friend and an embarassment to my fans and the people who support me. I shouldn't have to defend myself when I've done nothing wrong. And by the way, to all the photographers waiting outside my house. I won't be leaving for a while, all my friends have gone to Bestival and I've got enough food and fags to last me till Wednesday, so you might as well fuck off and find somebody else to make miserable."

On September 4, 2008, Lily launched a worrying tirade of self-loathing on her personal Facebook page, describing her emotional state as "dying inside". She also wrote that she "feels like killing' herself", although this statement was later removed. She also stated she would not be going to Bestival this weekend on the Isle of Wight.

At 5.52pm yesterday, her Facebook entry read: "Lily is dying inside." This replaced an earlier statement, posted at 4.30pm yesterday, when she wrote on her page: "Lily has had enough feels like killing herself."



Lily Allen and Elton John row on stage
Wednesday, September 3 2008 at 08:12:45


Lily Allen and Elton John row on stage
Wednesday, September 3 2008
It was a case of new versus old when songstress Lily Allen and Elton John hosted the GQ Men of the Year Awards on September 2, 2008 - and quickly came to verbal blows.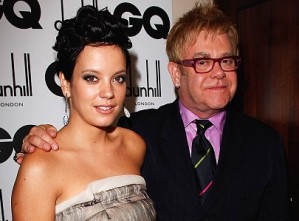 The due were hosting the awards in London and, according to the Daily Mail, young Lily insisted on sipping champagne throughout the ceremony. The tabloid said it was not long before Allen was slurring her words and swearing copiously - much to Sir Elton's horror.


On more than one occasion, Elton could be seen having a stern word with her between awards. When she came to announce '...and now the most important part of the night', Elton said: 'What? Are you going to have another drink?'

Allen retorted: 'F--- off Elton. I am 40 years younger than you and have my whole life ahead of me!' The audience fell silent, but Elton was not to be bested. "I could still snort you under the table."

Although she later could barely make it on stage, Allen continued drinking at the after-party, said the Mail.



Elton and David make GQ's power list
Wednesday, February 6 2008 at 19:45:36

GQ Men Of The Year Awards
Wednesday, September 8 2004 at 12:41:50