ELTON JOHN NEWS ARCHIVE: September 2007
Eran James selected to support Elton John
Sunday, September 30 2007
Melbourne teenage singing sensation Eran James has been selected by Elton John to support him on his Australian tour.
The Grammy and Oscar award-winning musician's national tour, dubbed 'A Knight Under the Stars', will take in many regional areas, including some of the country's most picturesque locations, during November and December 2007.

James was selected from a number of hopeful local and international artists vying for the coveted spot. "Getting the gig with Elton John is just crazy. I still can't believe I've ended up getting it," 18-year-old James said. "Maybe he likes my music, I'm not sure. But it's worked out well and I'm just really excited about it all."

The Aussie soul singer, who releases his second album "Ten Songs About Love" on October 6, 2007, said he was excited to meet the man and hear some of his favourite songs live. "I can definitely say I'm a bit of a fan," he said. "I haven't met him before so hopefully I'll get to meet him on the shows which will be amazing. I'm a big fan of (the songs) 'Daniel' and 'Candle in the Wind' and I can't wait to hear them live."

The 10-show tour stops in Townsville, the Barossa Valley, Sydney, Canberra, Melbourne, Launceston, and the NSW Hunter Valley. "It is truly an exciting occasion to take an icon, Sir Elton John, to parts of Australia who never get to see acts like this," Promoter Michael Chugg said. "This is a rare opportunity to hear one of the world's greatest pop musicians, with one of Australia's most exciting emerging talents. These are going to be very special shows."

See Elton John Tour News for the detailed tour schedule.
Elton John, Madonna to collaborate on album
Saturday, September 29 2007
Elton John and Madonna are set to collaborate on a new record to mark their recent reconciliation.
Elton, who recently apologized for accusing Madonna of lip-synching during her world tour, now hopes they can work together in the recording studio. He is quoted as saying, "Madonna is a great artist and I think I shoot my mouth off too much really. Who wouldn't want to work with her?"

A music insider said, "If Elton and Madonna did decide to work together, anything they recorded would be a sure-fire hit. Let's hope they really have managed to put their differences behind them for good."

Elton and Madonna revealed they had healed their rift at GQ magazine's Men of the Year Awards earlier this month. As he introduced Madonna at the ceremony, Elton said, "This is a moment you thought you'd never see".

Elton and Madonna then hugged, before he added, "I have written a grovelling apology and offered to join the Kabbalah!"



Madonna and Elton burry the hatchet
Wednesday, September 5 2007 at 15:29:32

Madonna and Elton top Ivors list
Monday, April 23 2007 at 18:10:03

Madonna bites back
Thursday, November 10 2005 at 11:14:47


Elton John blasts President Bush's AIDS policies
Thursday, September 27 2007
Sharon and Ozzy Osbourne were among the black-tie guests making their way past cops, Secret Service agents and bomb-sniffing dogs surrounding the Waldorf-Astoria on September 25, 2007.
"Are you here to see the President?" one member of the security detail asked Ozzy and Sharon. "No," said Sharon. "We're here to see the Queen!"

By that, she meant Elton John. He was gathering his court for the Elton John AIDS Foundation's gala the very night President Bush was meeting with world leaders. Since he was sharing the hotel with Dubya, the NY Daily News asked Elton if he thought the Bush administration had made good on his grand plan to fight AIDS.

"They've made a grave error in giving millions to abstinence programs," he told them. "They don't work. They were told in the beginning that it wouldn't work. It's a tragic waste of money. Please don't listen to those idiots. God almighty."

And did he have a message for other leaders gathered at the UN, particularly South African President Thabo Mbeki, whom Elton said should be "ashamed" of his AIDS policy. (Mbeki has supported his health minister, who says garlic, beetroots, lemon and olive oil are better than antiretroviral medicines in treating AIDS.)

"There are some weird people in the world — what can I say?" said Elton.
The evening was emceed by CNN anchor Anderson Cooper, who said he was looking forward to Elton performing with k.d. lang. "I offered to do some interpretive dance," said Cooper. "But after a brief audition, I was told my services wouldn't be required."

Turning serious, Cooper went on: "I talk to young gay friends in New York, and some of them seem to think the AIDS problem is a thing of the past. … The reality is that it's getting worse, not better."

Also at the benefit, which raised over $2.25 million, were Elton's partner, David Furnish, Uma Thurman (with former Elle Macpherson beau Arky Busson), Petra Nemcova, Tommy Hilfiger, Milos Forman, Susan Lucci, Andrew Cuomo and Stephen Schwartzman. Honored with Enduring Vision awards were the Osbournes, candle king Harry Slatkin and Chopard co-president Caroline Gruosi-Scheufele.

As usual, Elton was his outspoken self. He defended that Nan Goldin photo that he'd loaned to a British gallery and which police seized on September 25, 2007 to investigate as a possible breach of child pornography laws. "I never cease to be amazed by people," said the musician, who noted on his Web site that the photo of two naked girls "has been widely published and exhibited throughout the world."

He also had some thoughts on the meal's first course — mozzarella balls in a Parmesan tostada. "It's being sent to the Food and Drug Administration to find out what it was," he told guests. "It qualifies as the worst food I've ever seen at an event like this. My sincere apologies."



Elton and Billie finalize teams for Smash Hits
Thursday, September 27 2007
Before they got to the business agenda at this week's Elton John AIDS Foundation board meeting in New York, long-time friends Billie Jean King and Elton John took care of some important tennis business.
King and Elton selected their teams for their upcoming charity tennis event – Advanta WTT Smash Hits on October 10, 2007 at Villanova University near Philadelphia.

The 15th annual Advanta WTT Smash Hits is a co-ed tennis event utilizing the WTT format. Elton John will open the evening with a celebrity doubles match before the two teams of top professionals hit the courts for five sets of WTT action. Elton and King will each coach a team.

"My team has been on a winning streak for five years so Elton really wants to beat us this year," said King. "He loves tennis and knows so much about the game so he was very focused on putting together a winning lineup. Of course, I think I've got a team that can beat him. We're close friends, but very competitive. It will be a great night of tennis."

Elton John went for power and experience in his lineup. American newcomer John Isner and his 140mph serves will join veteran Lindsay Davenport on Team Elton. Davenport, who gave birth to her son Jagger in June 2007, has staged an impressive comeback this summer. The new mom played World TeamTennis for the Sacramento Capitals just six weeks after giving birth. In her first singles competition since her son was born, Davenport, a former number one and three-time Grand Slam singles champion, won the Sony Ericsson WTA Tour event in Bali earlier this month.

Two-time doubles Grand Slam champion Anna Kournikova and US Davis Cup captain Patrick McEnroe round out the music superstar's team.

The lineups will set the stage for some interesting matches, especially in singles. King will rely on Andy Roddick to out duel Isner in a serving showdown. Roddick, who last weekend led the US Davis Cup team to a semifinal win over Sweden, holds a 1-0 edge over Isner on the ATP Tour. He defeated Isner in the finals of the Washington, D.C. ATP event this summer.

The WTT co-founder also selected an American up-and-comer, 17-year-old Madison Brengle of Dover, Del. Brengle, who recently turned pro, reached the girl's singles final at both the Australian Open and Wimbledon in 2007. Joining Roddick and Brengle on Team Billie Jean are doubles standout Corina Morariu and former French Open doubles titlist Luke Jensen.

In its 15-year history, Advanta WTT Smash Hits has raised more than $8 million for the Elton John AIDS Foundation. Proceeds from this year's event and a pre-match auction will also benefit a Philadelphia area charity, ActionAIDS. Tickets for the event are available at www.ticketmaster.com or by calling +1 (215) 336-2000.

TEAM ELTON: Elton John (coach), Lindsay Davenport, John Isner, Anna Kournikova and Patrick McEnroe.

TEAM BILLIE JEAN: Billie Jean King (coach), Andy Roddick, Madison Brengle, Luke Jensen and Corina Morariu.



2007 Advanta WTT Smash Hits
Monday, June 18 2007 at 08:22:22


Elton defends photo seized in porn probe
Wednesday, September 26 2007
Elton John on September 26, 2007 defended a photograph he owns after police seized it from an exhibition to investigate a possible breach of child pornography laws.
The picture, "Klara And Edda Belly-Dancing," was seized last week, on the eve of an exhibition of works from Elton's private collection at the Baltic Centre for Contemporary Art in Gateshead, northeast England.

Elton said the picture by US photographer Nan Goldin, depicting two naked girls, had been widely shown in other countries. It was one of 149 pictures he owns on display at the Thanksgiving exhibition.

"The photograph exists as part of the installation as a whole and has been widely published and exhibited throughout the world," said a statement on Elton's website. It noted that the photo was auctioned by Sotheby's in New York in 2002 and 2004, "and has previously been exhibited in Houston, London, Madrid, New York, Portugal, Warsaw and Zurich without any objections of which we are aware.

Elton "is known as one of the world's foremost collectors of photographic art and has several thousand photographs in his collection, including works by Man Ray, Richard Avedon, Irving Penn, Diane Arbus and Ansel Adams," it added. Northumbria Police confirmed that the picture was being assessed.

"We attended the Baltic last Thursday at the invitation of management who were seeking advice about an item from an exhibition prior to it going on public display," said a spokesman. This item is being assessed and Northumbria Police in consultation with (prosecutors) is investigating the circumstances surrounding it."

A spokeswoman for the Baltic art centre said: "We are working alongside the police and are not in a position to comment further."



Seized 'art porn' owned by Elton John
Wednesday, September 26 2007 at 10:09:05


6th Annual "An Enduring Vision"
Wednesday, September 26 2007
Elton John and k.d. Lang performed together at the Elton John AIDS Foundation's sixth annual benefit 'An Enduring Vision' at The Waldorf-Astoria Hotel on September 25, 2007 in New York.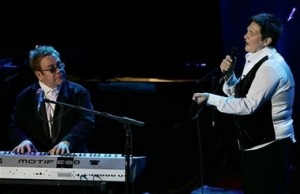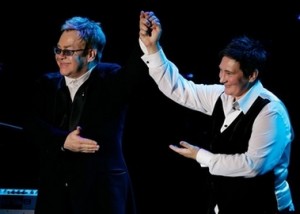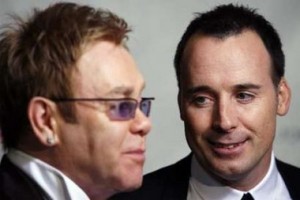 Slatkin provides a sneak preview of the new Elton John fragrance
Saturday, February 17 2007 at 11:00:39

An enduring vision
Monday, October 2 2006 at 14:51:13

Celebrities share Elton John's vision
Friday, November 4 2005 at 10:00:44


Seized 'art porn' owned by Elton John
Wednesday, September 26 2007
A photograph by a controversial American artist which is part of Sir Elton John's private collection has been seized by police from a gallery on suspicion it may have breached child pornography laws.
The image, which featured two young girls one of whom was sitting down with her legs wide apart, was taken by the renowned photographer Nan Goldin. The shot, from the artist's Thanksgiving series, was to be exhibited at the Baltic Modern Art gallery, Tyneside, this week along with some of her other work. But the day before it was due to be viewed by the public, police came and removed the image over fears that it might be breaking the law.

It is thought that one of the assistant directors at the centre called in the authorities after a private view as he was concerned that the picture could be offensive. The picture is now being examined by lawyers at the Crown Prosecution Service.

Officials at the gallery confirmed that the police were involved but refused to say who had decided the picture should be removed. Peter Doroschenko, the director of the gallery, said: "I'm afraid I can't comment on this."

Claire Byers, the communications director, said: "The police are involved in this incident and we are fully cooperating with their inquiries. That is all I can say on this at the moment." The image is being examined by police and lawyers from the Crown Prosecution Service are offering preliminary advice.

A Northumbria police spokesman said: "The circumstances around who may have been involved in the production of the image and who may have owned it or owns it forms part of the investigation. We attended the Baltic Centre last Thursday at the invitation of the management who were seeking advice about an item for an exhibition prior to it going on public display. This item is being assessed and Northumbria Police, in consultation with the CPS, is investigating the circumstances surrounding it. The incident is ongoing and investigations are now being carried out."

Goldin, 54, is well known for her shots of young, semi-clothed girls. Thanksgiving is described by the Baltic as an installation of photographs which documents Goldin's life from 1973 to 1999 - "a micro-retrospective of her career."

In 2001, one of her photos featuring a very young naked girl looking up between the open legs of a semi-clothed older child had been criticised for making money from exploiting children. It was published in a book alongside similar works to accompany an exhibition at the Saatchi Gallery in north London.

Elton John has long been an admirer of her work and is also a close friend. He was not available for comment and a spokesman referred inquiries to the Baltic. This is not the first time an artist's pictures of children has been stripped from a public gallery over fears that it was obscene.
UPDATE: Brothers sing Elton's praises
Tuesday, September 25 2007
The MacDonald Brothers hope the new album they are recording in Edinburgh will be a runaway success after Elton John penned a new song for them.
Craig and Brian are recording their second album in The Music Kitchen on Causewayside.

They were delighted when Elton sent them a demo of his new song "Runaway (Do You Love Me)". The track will be released on iTunes on September 30, 2007.
Elton supports Windsor firemen
Tuesday, September 25 2007
Elton John on September 24, 2007 backed a campaign to save the fire station that protects Windsor Castle — and his own £12million mansion.
It is threatened with closure at night to cut costs. Elton sent a signed photo with "love and support" to the Fire Brigade Union.
Aids Education gets Elton boost
Tuesday, September 25 2007
Elton John will announce a grant to support HIV-AIDS education in the city's public schools - to the tune of $300,000.
The Elton John AIDS Foundation has awarded the money, part of $3.1 million in grants, to the National Urban Technology Center, which uses computers to teach HIV-AIDS awareness to low-income middle-school students. The grant will allow the agency to double its services from 30 to 60 schools.

"The reality is that young people in this country in particular are disproportionately affected by the HIV-AIDS epidemic," said Scott Campbell, executive director of the foundation.

The grant will be announced at the Waldorf-Astoria on September 25, 2007, where Sir Elton will perform with guest performer k.d. lang.
Broadway or bust for actors of Tumbleweed Connection
Tuesday, September 25 2007
It's Broadway or bust for a group of locals. They spent today rehearsing for the world premiere of "Tumbleweed Connection", a musical that mixes the songs of Elton John and Bernie Taupin with a story of war, duty and betrayal.
KSBY Santa Barbara talked to the writer of the show who hopes to bring the show all the way to the Big Apple, New York City.

This rehearsal is more than two decades in the making. "I wrote the first draft of this show 25 years ago when I was 17-years-old."

Back then, Chris Kahn was a senior at San Luis Obispo High School. He now lives in Los Angeles but decided the Central Coast was the perfect place for the world premiere of "Tumbleweed Connection". "When I came up here and saw some of the productions that were being done here, and work was being done by this creative community, I figured it would be a good place to start the process of the musical."

Kahn hopes that process will end in a grand finale on Broadway, and he's invited some big names to help make that happen. "Elton John's been invited, Bernie Taupin has been invited, a number of celebrities that I know from Los Angeles."

But the real stars are Kahn's family. Four of his sisters are cast in the show. "Oh my gosh, I could not be more proud. I think I am my brother's biggest fan and so it's about time I get to be a part of something he's been working on," said sister Karen Kahn Pearson.

One family member isn't able to attend the show, but is the heart and soul behind every note. Kahn's mother recently passed away. "So many people involved in this program knew my mother very well. She was very supportive of this community, and of this group of people in particular, and I know that they'll be performing with her in their hearts," said Chris. "This is definitely for our mom, we know that she's here every single second," said Karen.

Bringing "Tumbleweed Connection" to life has been a long and sometimes difficult road. But for the cast and crew of this musical the journey is just beginning. The show opens on October 19, 2007 at the Clark Center in Arroyo Grande.

For ticket information, click here to go to the Clark Center website.
REMINDER: 60th Birthday Show to be released on DVD
Tuesday, September 25 2007
"Elton 60: Live at Madison Square Garden" will be available on September 24, 2007 (October 2, 2007 in the US).
The 2-disc package features all 33 songs on the Garden set list. Furthermore, the DVD set will also provide extra features, including rare material never released before.

Finally, there will also be a collector's box that will include the DVD set and a bonus live CD from various classic Elton tours, and a 72-page booklet with a souvenir poster and more.

You can now pre-order your copy of this DVD from amazon.com by clicking the button on the right.



Elton John - The Birthday Concert
Monday, March 26 2007 at 14:51:38
A matter of life or death
Monday, September 24 2007
Millions of people with HIV hope that the G8 will remember its pledge to them next week - by Elton John, September 22, 2007
When I set up the Elton John Aids Foundation 14 years ago, Aids was a death sentence. During the 1990s the foundation provided palliative care, information, and emotional and financial support to thousands ... and prayed for a cure. Today, life-saving antiretroviral treatment is affordable and entirely viable in the developing world. I have met wonderful, courageous HIV-positive Africans who are thriving because my foundation, like many other organisations, has grasped the chance to use these medicines in groundbreaking programmes.

Yet about 70% of Africans who need treatment to survive are still not receiving it. Ultimately, it takes the will of the richest governments on earth to close that gap. In June the G8 pledged to do just that - to provide HIV/Aids treatment for all those who need it by 2010. But we are on track to meet barely half that target. Are we saying that by 2010 we will save only half of those dying from Aids? And if so, how will we decide who should be spared?

The G8 decided that one way to get treatment to all those who need it would be to triple the Global Fund to Fight Aids, Tuberculosis and Malaria, so that by 2010 it could provide £3bn-£4bn for programmes delivering medical care. Next week in Berlin, members of the G8 will attend a meeting of the fund to deliver on that promise.

Gordon Brown's leadership and vision on this issue are needed right now. After all, he helped found the fund and played a central role in getting world leaders to commit to universal access to treatment. Were the UK to provide £700m over three years, tripling its annual contribution by 2010, it would challenge the rest of the world to follow suit.

I am not alone. The Stop Aids Campaign, representing more than 80 UK organisations working in the developing world, feels the same, as do three all-party parliamentary groups responding to Aids, TB and malaria. A bold pledge like this would encourage countries such as Canada, France, Germany, Japan and the US to do their part.

I am not a politician. I see this problem through the lens of my foundation's work. For us, it's about who is being accountable and keeping money flowing to benefit people living with HIV/Aids, rather than inventing more structures or processes. We expect no less from the fund. But I know that in many areas the fund has had an impact where other, less innovative mechanisms have failed. More than a million people in Africa, Asia and Latin America have already received antiretroviral medication, and 2.8 million people suffering from TB, the biggest killer of people living with HIV/Aids, have been treated.

In many regions governments are hostile or reluctant to provide services for the most marginalised groups: men who have sex with men, injecting drug users and prisoners. In responding to this need, my foundation is guided by what is effective rather than what is politically expedient. I have met brave activists who face threats and harassment as they help marginalised groups access basic services. Here again the fund is crucial. It has the flexibility to channel funds without toeing a particular political line.

At the UN last July, the prime minister showed integrity and leadership when he said: "We did not make the commitment to the millennium development goals only for us to be remembered as the generation that betrayed promises rather than honoured them and undermined trust that promises can ever be kept."

These decisions directly affect whether people live or die, and I urge the British government to take a lead in ensuring these promises are kept. Honour the pledge.

www.ejaf.org
Stones are 'top earners of year'
Friday, September 21 2007
Veteran rock band The Rolling Stones have been named the top earning music act of the past year, according to US business publication Forbes. Elton ranks #5.
The Stones made $88m (£43m) between June 2006 and June 2007, largely thanks to their Bigger Bang tour, which grossed $437m (£217m), Forbes said. US rapper and Def Jam records boss Jay-Z came second in the list with a total income of $83m (£41m).

Pop icon Madonna, 49, came third with earnings of $72m (£35m). Rock band Bon Jovi have taken home $67m (£33m), while Sir Elton John reached fifth place after earning $53m (£26m).

TOP TEN MUSIC EARNERS

1. The Rolling Stones - $88m
2. Jay-Z - $83m
3. Madonna (above) - $72m
4. Bon Jovi - $67m
5. Sir Elton John - £53m
6. Celine Dion - $45m
7. Tim McGraw - $37m
8. 50 Cent - $33m
9. U2 - $30m
10. P Diddy - $23m

Forbes said it was no surprise that artists from the older generation were leading the way in the poll. "The really serious money comes from touring. And no-one can pull in the big bucks like an older, established music act," it said.

High ticket prices helped some of the artists boost their wealth. Madonna, for example, charged an average of $180 (£89) during her 2006 North American tour.

Most of the musicians featured in the list do not just rely on music sales and touring for their income. "They also exploit the power of their brand name to push other products," Forbes said. "That can be as simple as selling ringtones and fan merchandise or locking up lucrative sponsorship deals."
Elton John talks baseball with the Atlanta Braves
Friday, September 21 2007
Atlanta resident and Braves fan Elton John welcomed a group of Atlanta Braves at a local recording studio to talk baseball and music earlier this season.
And now fans of both Braves baseball and Elton John can view the encounter at www.mlb.com/entertainment.

Braves general manager John Schuerholz, Hall of Fame pitcher Phil Niekro, and former second baseman Mark Lemke sat down with Elton at an Atlanta studio and shared stories and memories about Braves baseball through the years. When Elton bought his Atlanta home in 1991, he relayed to the group that he "became not only a Braves fan, but I really fell in love with the game of baseball."

Elton also relayed his memories of the Braves in the room, discussing Schuerholz's many great roster moves, Lemke's contributions to the Braves run of titles in the 1990's, and Niekro's legendary knuckleball.
Sharon Stone steals the show at Dior party
Thursday, September 20 2007
At the party, which celebrated the fashion label's 60th anniversary as well John Galliano's tenth year with Dior, the actress caught up Elton John.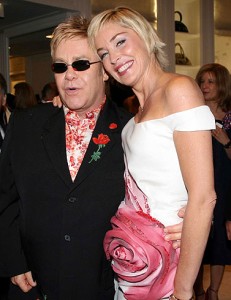 It isn't easy to hog the limelight at a star-studded Dior party in the world's fashion capital Paris, but stunning Sharon Stone did just that when she attended the couture label's 60th anniversary celebrations in Paris on September 17, 2007.

Despite the approach of her 50th birthday, which she'll be celebrating next March, the film star - who is the face of Dior's new anti-ageing cosmetics line - seems to have discovered the fountain of youth. With her dewy complexion, perky blonde crop and figure-hugging off-the-shoulder dress with pink swirl detail the actress seemed to have cheated time, looking youthfully radiant as she mingled with the likes of Elton John and John Galliano at the gala.
Sixth Annual Daniel Pearl World Music Days
Wednesday, September 19 2007
Herbie Hancock, Elton John, classical violinist Ida Haendel and the late father of modern Nubian music, Hamza el Din are featured in 30- and 60-second television and radio public service announcements (PSAs) to promote Daniel Pearl World Music Days - an international network of concerts scheduled from October 1-15, 2007.
Since World Music Days' inception in 2002, over 1500 concerts in more than 67 countries have been dedicated to its theme of "Harmony for Humanity."


The PSA messages invite professional and amateur musicians around the world to "use the universal language of music to diminish hatred, respect differences, and reach out in friendship by dedicating performances for Harmony for Humanity." Both Herbie Hancock and Elton John will be dedicating live performances in Japan and in Las Vegas, respectively. Details on participating musicians in this year's World Music Days and information on how to become part of this global network of concerts are available at www.danielpearlmusicdays.org.

"This is an awareness raiser, not a fundraiser. There are no financial obligations to participate," said Ruth Pearl, Daniel's mother and co-founder of the Daniel Pearl Foundation. "All musicians - professional and amateur - are invited to dedicate performances held from October 1st through 15th in honor of Danny's October 10th birthday. All they need to do is register their performance at the World Music Days website and then simply say a few words from the stage or in the program in affirmation of Danny's belief that music is the universal language that unite people of different cultures, faiths and talents."

Nowhere is the World Music Days message better exemplified than in the commitment of its Honorary Committee; spanning the spectrum of music genres from classical to hip hop. In addition to Herbie Hancock, Elton John and Ida Haendel, the Committee for 2007 includes Salman Ahmad, Theodore Bikel, Yefim Bronfman, Tania Libertad, Yo-Yo Ma, Zubin Mehta, Mark O'Connor, George Pehlivanian, Itzhak Perlman, R.E.M., A.J. Racy, Steve Reich, Mohammad Reza Shajarian, Ravi Shankar, Russell Simmons, Barbra Streisand, and John Williams.



Third Annual Daniel Pearl Music Day
Friday, July 16 2004 at 11:04:14


"Him and Us" gets go-ahead
Tuesday, September 18 2007
Elton John is close to realising his Hollywood career - America's ABC network has agreed to broadcast a pilot episode of his TV show.
Elton is following in the footsteps of his long-term love, producer David Furnish, by executive producing "Him and Us". The project stars an ageing rocker, his manager and his group of hangers-on.

"Sex and the City" executive producer Cindy Chupack is currently writing the script, writes trade paper Hollywood Reporter.



"The Red Piano" on BBC Radio 2
Tuesday, September 18 2007
BBC Radio 2 broadcasts the exclusive, first-ever European performance of Sir Elton John's Red Piano Show, recorded at London's 02 Arena on September 5, 2007.
The show was directed and designed by David LaChapelle for Elton's record-breaking Las Vegas Seasons. Chris Evans introduces the show, which is packed with hits from the legendary singer-songwriter's career.

"Elton John – Red Piano Concert" will air on September 22, 2007 from 8.00-9.00pm on BBC RADIO 2. Presenter/Chris Evans, Producer/Sarah Gaston.



Elton John performed "The Red Piano" show in London on September 5, 2007
Thursday, September 6 2007 at 07:27:53


Book about the late Long John Baldry
Sunday, September 16 2007
Long John Baldry is considered the father of the '60s British blues movement. Drawing on intimate anecdotes from Baldry's legendary friends, lovers, and peers, author Paul Myers uncovers the man behind the mythic persona.
An entire generation of British rock legends flourished under Baldry's tutelage, and "It Ain't Easy" features exclusive personal recollections from artists such as Elton John, Rod Stewart, Eric Clapton, Sir Paul McCartney, John Mayall, and Mick Fleetwood, as well as interviews with renowned music industry insiders like songwriter/producer Tony Macaulay, Yardbirds manager Giorgio Gomelsky, ex-Rolling Stones manager Andrew Loog Oldham, filmmaker Cameron Crowe, and others.

Extensively researched, "It Ain't Easy" traces Baldry's extraordinary life from his birth during the London Blitz, to his discovery of black American music, to the sexual revolution, to the musical and social upheaval of the 1960s and '70s, and to his eventual happy retreat to the tranquility of Canada's Pacific Coast.



John William Baldry - 1941 to 2005
Friday, July 22 2005 at 11:53:32

Long John Baldry fighting for his life
Thursday, April 21 2005 at 17:10:12


Tax seems to be the hardest word for Elton
Sunday, September 16 2007
Elton John may have succeeded in cutting his corporate overdraft by almost £15 million in the past two years, but his financial woes appear to be far from over.
Mandrake learns that Elton's music company is the subject of a widening investigation by HM Revenue & Customs, whose officials are making inquiries into three years of his tax returns. Accounts filed by the holding company for Elton's music interests, William A Bong, disclose that officials, who were already investigating the firm's 2004 tax return, are now probing its submissions for 2003 and 2005.

"HM Revenue & Customs have raised enquiries into the company's tax returns for the three years to 31 March 2005," it admits in the accounts just filed at Companies House. "Correspondence with HMRC is still ongoing and it is not possible to predict with any certainty the outcome of these enquiries." Bong owes £8.8m in tax and social security costs and the company paid more than £400,000 last year in interest on overdue tax. According to the accounts, Elton has chosen not to make any provision for additional tax liabilities which may arise.

Fortunately for Elton, who cut his corporate overdraft from almost £27m to a still-staggering £12m, he remains in vogue and last year he raked in £20m from his performances and album sales. The accounts disclose that the company "advanced funds and paid certain expenses" on behalf of Elton amounting to more than £6.3m. In addition, as one of the firm's 13 employees, Elton is likely to have pocketed the bulk of the £10.1m that the firm paid to its staff in 2006.

Elton, who is worth an estimated £225m, was known for his prodigious spending in the 1990s, when he admitted to blowing £293,000 on floral arrangements over 20 months. Although he confessed to spending up to £200,000 a time on clothes for David Furnish, he is now believed to have overcome his addiction to shopping.

David Furnish became one of the company's two directors in January 2007 after the resignation of Elton's 82-year-old mother, Sheila Farebrother. Elton is the sole shareholder of Bong, which has accumulated losses of £4.6m.
UPDATE: Queen of Soul plans 1st album in 4 years
Saturday, September 15 2007
Aretha Franklin will join a busy fall release schedule with the star-studded duets album "Jewels in the Crown," her label announced on September 12, 2007.
The album will include performances with Elton John, Whitney Houston, Mary J. Blige, Mariah Carey and Keith Richards, plus a pair of technology-enabled duets with the late Frank Sinatra and Luther Vandross.

The Elton John track included will be the previously released duet "Through The Storm". The record's leadoff single, "Put You Up on Game" with "American Idol" winner Fantasia, will be issued to radio October 1, 2007.

The Arista Records release is the Detroit star's first album in four years. There's no date for the much-postponed debut album on her own Aretha Records, tentatively titled "A Woman Falling Out of Love."
Elton John - Me, Myself And I on ITV1 London
Friday, September 14 2007
For the first time, using the most extraordinary and innovative technology, Elton will step back into the key moments of his life in Elton John: Me, Myself and I, and reveal his true feelings about what was really going on.
In this documentary, the superstar will take viewers on a flamboyant, intimate, entertaining and outspoken journey through his colourful life.

Elton, who has a career spanning more than four decades and boasts global record sales of over 250 million, will be dropped right back into the middle of influential moments in his life, enabling him to interact with his younger self, relive his most memorable times, and fulfil some of his long held but never realised ambitions.

DOCUMENTARY: Elton John - Me, Myself And I, ITV1 London at 21:40 on September 22, 2007

Special one-off programme in which Elton John looks back over his life and career. Using cutting-edge CGI technology, Elton is kidnapped from his Las Vegas stage show and flown by rocket back through his own life. Along the way, he revisits some of his greatest moments and remembers fabulous times with famous friends. But he also explores his personal highs and lows, from his ill-fated marriage to Renate Blauel in 1984, to his new-found bliss with civil partner David Furnish.



Elton John reveals all for TV in the UK
Saturday, August 18 2007 at 06:37:58


Elton joins Prince in London
Friday, September 14 2007
Pop star Prince was joined onstage by Elton John at the latest of his 21 dates in London's O2 arena.
Elton appeared unannounced at the start of the encore to sing a cover of The Beatles' "The Long and Winding Road", accompanied by Prince on guitar. Afterwards, the two superstars embraced and Prince said to the crowd: "You know who it is - Sir Elton John!"

The collaboration clearly inspired the Minneapolis musician, who crammed a further seven songs into his encore. Among them were his 1980s classics "When Doves Cry" and "Sign O' The Times".

The BBC's John Hand, who was at the concert, said: "Sir Elton has performed onstage with many of the top stars of the past three decades, including Eminem and George Michael, but this was still a surprise - albeit one which was much appreciated by the crowd."

Earlier in the show, Elton had drawn cheers and applause when the venue's video screens pictured him in the audience. He recently gave the UK premiere of his "Red Piano show" at the O2 on one of Prince's rare nights off.

Fans who waited around at the concert on September 13, 2007 were given a second treat - as Prince and his band returned to the stage for a second encore fifteen minutes after the house lights went up. The 49-year-old then took to the stage at the O2's more intimate second venue for an aftershow performance that lasted more than two hours.



Prince and Sir Elton meet in Las Vegas
Sunday, February 11 2007 at 12:12:00


Elton John and band performed in Paris on September 11, 2007
Wednesday, September 12 2007
Fan report and photos by Annelies and Patricia.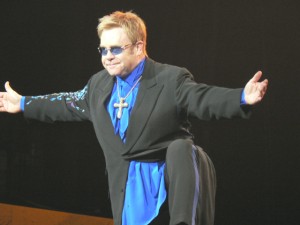 When we entered the Zenith we were surprised by how small the venue was. We went to our seats which were on the front row right in front of Davey! We already knew this was going to be a night to remember.

The two front rows seemed to be all Rocket members and there were people there from all over the world (Spanish, Italians, British, Americans, Germans and us: Belgians). The people on the first rows were so enthusiastic and this enthusiasm spread all over the venue right from the first notes.

The show started off with "Funeral for a Friend/Love Lies Bleeding" which gave us goosebumps. During this song we were clapping our hands off and apparently Davey noticed how enthousiastic we were and threw Patricia a guitar pick.

Elton spoke quite a lot of French which pleased the crowd a lot of course. He and the band seemed to be in a great mood and the sound was just fantastic. Elton did a solo version of "Circle of Life" as the musical is about to premiere in Paris saying that writing that song was for him a life-changing experience and that it's one of his favourite songs.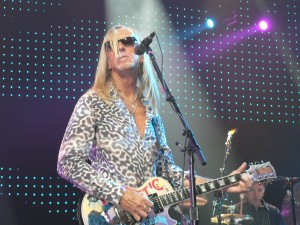 After "Sorry Seems to be the Hardest Word" the crowd went wild and everybody tried to get a place in front of the stage. We made it to the first row and had a great view of the band and Elton's remarkable shoes (black with white glitters). During one of the songs, Davey got up and gave Patricia a few pics which she all dropped because she was gobsmacked by his sudden appearance right in front of her. Later we managed to pick one up.

Elton played the intro of "La Marseillaise" (the French national anthem) before playing "Crocodile Rock" - which made the crowd go wild once again. Suddenly, somewhere near the end, John Mahon came from behind his percussions and took Bob Birch's place behind the microphone and started singing along.

During the entire concert Bob and Davey kept smiling and making signs to us, which was a lot of fun. Elton took a lot of time at the end of the concert before the encores to shake hands and sign all the things people held up (like tourist guides of Paris). We managed to grab his hand which was the highlight of the evening, a thing to always remember – short said: a very, very, very nice experience.

Before your song the band changed clothes and came on stage again. We absolutely have to mention Bob's outfit which was funny to say the least, being a Los Angeles shirt, a wide and white pair of shorts and Cat's boots.

All in all this was most likely one of the best concerts we ever had, the venue was superb (small and cosy), Elton rocks and the band rulez!

Following is the complete set list of the Paris show on September 11, 2007:

Funeral For A Friend

Love Lies Bleeding

The Bitch Is Back

Hercules

Madman Across The Water

Tiny Dancer

Daniel

Rocket Man

Honky Cat

Sacrifice

I Guess That's Why They Call It the Blues

Burn Down The Mission

The Bridge

Sorry Seems To Be The Hardest Word

Circle Of Life

Bennie And The Jets

Philadelphia Freedom

Something About The Way You Look Tonight

Are You Ready For Love

Sad Songs (Say So Much)

I'm Still Standing

Crocodile Rock

Saturday Night's (Alright for Fighting)

Don't Let the Sun Go Down on Me

Your Song
Fans have vote with Grammy site
Monday, September 10 2007
The Recording Academy is opening its video vault with mynightatthegrammys.com, a website that allows fans to vote on their favorite Grammy performances over the years. Selected clips will be shown on a CBS television special in November 2007.
The website, which launched on September 10, 2007, offers 50 video clips of Grammy performances from such artists as Prince, Beyonce, U2, Marvin Gaye, Bruce Springsteen, Neil Diamond, Kanye West, Elton John, Tina Turner, Madonna and Eminem, among others. Fans will select their top five choices, with a voting deadline set for October 7, 2007.

The top 25 performances that receive the most votes will then be featured on the two-hour "My Night at the Grammys" special, scheduled to air at 8 p.m. November 30, 2007. Along with the video clips, the special will feature artists sharing personal stories about performing at the Grammys, along with behind-the-scenes footage of rehearsals and how the show is produced.

The "My Night at the Grammys" broadcast is part of an effort to celebrate the 50th anniversary of the Grammy Awards, which will air February 10, 2008 on CBS. Grammy nominations will be announced December 6, 2007.
Elton John and band performed in Vevey on September 8, 2007
Monday, September 10 2007
Fan report by Ulrick Garde.
Being fan since 1995 this was my 15th or 16th Elton John concert and another night to remember. Living in the northern part of Switzerland, I still wanted to make the ride to Vevey as Sir Elton was in town.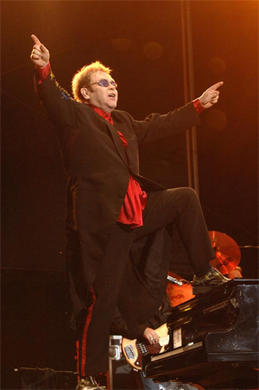 With Golden Circle Tickets my friend and I got a very good view about 10 meters from the stage. With the sun shining, the lake of Geneva in the background and a night with Elton John and his band this could not go wrong ... and it didn't!

Arriving in private jet at Geneva airport, taken by helicopter to Montreux and being driven the last kilometer in limousine Sir Elton entered the stage at 7.50pm. He looked happy, fit and started of with "Funeral For A Friend/Love Lies Bleeding". His voice was brilliant and so were the voices from the band members and their instruments and the result gave us a good balanced "sound picture".

I happen to think that the sound can be very different depending on the venue. I have had some less positive memories from other Elton John & Band performances but the sound this evening was really, really good! Thank you Clive Franks!

The band was tighter than ever and everybody on stage seemed to have as good a time as we, the 21.000 people in the audience. Regarding the tracks being played, "Tiny Dancer" was dedicated to Shania Twain who lives in the area. "Daniel" was dedicated to a woman called Carolina (I don't know if I got the name right and who she is), and "The Bridge" was dedicated in the memory of "A Dear Friend Luciano Pavarotti" as Elton expressed it.

I think I can speak for everybody when saying that this was another night with Elton & Band to remember. Thank you guys! Right after the show we by chance saw the two vans with the band leaving the venue and got a chance to shout "hi" and wave to them. They of course smiled and waved back.

Following is the complete set list of the Vevey show on September 8, 2007:

Funeral For A Friend

Love Lies Bleeding

The Bitch Is Back

Hercules

Madman Across The Water

Tiny Dancer

Daniel

Rocket Man

Honky Cat

Sacrifice

I Guess That's Why They Call It the Blues

Burn Down The Mission

The Bridge

Sorry Seems To Be The Hardest Word

Candle In The Wind

Bennie And The Jets

Philadelphia Freedom

Something About The Way You Look Tonight

Sad Songs (Say So Much)

I'm Still Standing

Crocodile Rock

Saturday Night's (Alright for Fighting)

Don't Let the Sun Go Down on Me

Your Song
Fans line up for chance to see Elton
Sunday, September 9 2007
Workers at the Sioux Falls Arena sold 7,000 tickets for the Elton John show October 7, 2007 in 18 minutes on September 8, 2007. Individual tickets started at $67.
"This is not something we have a big database on. But many of us have worked at the arena many years. We don't have any indication we ever sold out faster on a single show," says Russ DeCurtins, executive director of SMG-Sioux Falls Arena.

About 70 people camped out overnight to be first in line when the arena doors opened at 8 a.m. The first in line was Sharon Braun of Beaver Creek, Minn. She showed up at 9:30 a.m. Friday - almost six hours before the next person arrived.

"People kept driving through, and I'd think, 'Oh, here's somebody to stand in line with.' But they kept going," Braun, 48, said. "I was afraid to leave, I'd been there so long." Her patience paid off with six tickets. "This is like a once-in-a-lifetime concert for me," Braun said.

DeCurtins said he was confident that anybody who camped overnight got tickets. "Most of the people at the arena went through the line and got tickets. Some stood in line and did not get tickets. Those people did not show up until after 8 o'clock," he said.

DeCurtins said the crowd was "very well behaved and diverse. There were some teenagers, some older folks and a lot of middle-aged people. They were very excited about the show and very cooperative about listening to instructions."
Tributes to tenor Pavarotti pour in
Thursday, September 6 2007
Tributes have been pouring in for opera legend Luciano Pavarotti on September 6, 2007. The tenor passed away at home in Modena, Italy, this morning after a year-long battle with pancreatic cancer.
The singer whose career spanned nearly six decades, performed with a multitude of diverse artists from Vanessa Mae to Vanessa Williams. Amongst the tributes today, on of his collaborator's on the Warchild humanitarian project U2's Bono, says how he spoke to the tenor just the other day.

He said: "I spoke to him last week. The voice that was louder than any rock band was a whisper. Still he communicated his love. Full of love." Bono also described him as "a great volcano of a man who sang fire, but spilled over with a love of life in all its complexity".

Pavarotti performed with many rock and pop artists at charity concerts over the years including Elton John who today said it was: "a sad day for music, and a sad day for the world".

The Police frontman Sting said: "We lost a great friend, a great voice and the world is a smaller place without the big man."

And Queen guitarist Brian May has said the world was "a sadder place, for the loss of this gentle giant".

Luiciano Pavarotti was one of only fifteen people to be awarded a Grammy Legend award, as well as holding a Guiness World Record for the number of curtain calls - which was 165.
University apologizes after Elton John concert sells out
Thursday, September 6 2007
University of Montana officials issued an apology on September 6, 2007 for problems with sales of Elton John concert tickets.
Some people who stood in line to purchase tickets became angry after learning nearly all the tickets for the September 28, 2007 show had been sold online or by telephone.

Mary Muse is director of the Adams Center at U-M. She says online buyers and ticket sales staff on the phones and at ticket outlets were all accessing the same inventory of tickets when they went on sale.

The tickets sold out in 20 minutes and staffers at the ticket outlets were not able to access any of that inventory. U-M says it did not guarantee tickets to those who had wristbands, but acknowledged that the ticket sales process simply did not work.

In the future, when a show with such a high demand is offered, the school says it will hold a limited inventory of tickets for walk-up sales.



Ticket fiasco leaves Elton John fans in an uproar
Thursday, September 6 2007 at 08:04:58


Ticket fiasco leaves Elton John fans in an uproar
Thursday, September 6 2007
Thousands of people were turned away empty-handed on September 5, 2007 when they tried to buy tickets to the September 28, 2007 Elton John concert in Missoula.
Tickets sold out in less than one hour. And according to on-scene reports, people who showed up to take part in a wrist-band lottery purchasing system, at four Missoula locations, were almost entirely left in the cold.

It's reported that not one person was able to buy tickets at the University Center on the UM campus. Similar reports came from other Missoula ticket venues.

It appears that almost all tickets to the concert were sold by telephone or over the Internet. And tickets to the Missoula concert are already selling at hugely inflated prices online, at sites like StubHub.com and eBay.

At UM's University Center, angry fans surrounded Adams Center director Mary Muse and demanded an explanation. People threw their wrist-bands at her, and campus police were called in to keep order.



Montana, finally
Friday, August 31 2007 at 09:13:40


Shield' star is calling on Elton
Thursday, September 6 2007
"The Shield" actor Walton Goggins wants to extend a personal invitation to fellow Oscar winner and part-time Atlantan Elton John to join him and the other celebs at the glitzy Atlantic Station premiere.
"I first met Elton the night we won the Oscar and suddenly we were at every party in Hollywood," Goggins told Buzz. "He was so sweet and generous with his time. It was surreal since I've been an out-of-the-closet Elton John fan since my teens."

Since Elton is a savvy film buff, Goggins feels certain that the pop star will respond favorably to the Southern Gothic black comedy that "teaches humility and tolerance and a strong sense of family."
Elton John performed "The Red Piano" show in London on September 5, 2007
Thursday, September 6 2007
Fan report by Si Owens.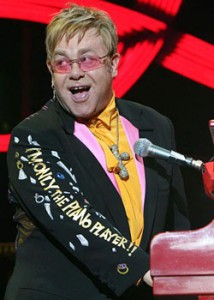 Elton John's infamous "Red Piano" show made its debut at London's O2 Arena on September 5, 2007. In all honesty, it isn't quite what it's cracked up to be.

Maybe it's down to the longevity of the Las Vegas run, or the hype that surrounds it, but somehow the experience just fell short of expectations. The basic premise is that this is an Elton John concert, but with a difference.

Concert goers arrive excited by the rumours of grand theatrical staging that have drifted across the Atlantic. Promises of artistic video representations, visually exuberant décor and a Pamela Anderson pole dance. All are dutifully present and, in fairness, suitably impressive in their own right.

The problem is basically that for anybody who has seen a non-Red Piano concert before, the stage extravagance does not live up to the musical content. For the most part, it doesn't even add to it. The set-list may be an issue here. For a show that is sold on being outrageous, glamorous and extravagant, it's a very slow set to be playing. Apart from the first two and the final four songs, it is a set of ballads, and as such the show lacks pace as a spectacle.

The main focus of these shows is said to be the large video backdrop that is the brain child of modern day Elton collaborator David La Chapelle. Whilst it is a fair bet that these videos are bound to be artistically brilliant, and that together they probably form an accomplished collection of work, the problem for me as a viewer is that I am not an artist.

For the regular, every day person out for an evening's entertainment, the vast majority of what is shown on screen simply goes over one's head. For the most part, it is hard to link the videos to the musical content.
A substantial number of images contain nudity, and unless I'm missing something, a naked female ballerina with a nose bleed is not an image I would naturally link to a song like "Don't Let The Sun Go Down On Me" (to take one example).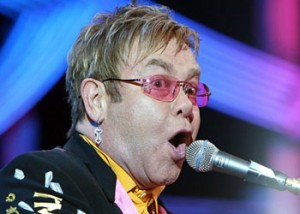 On the rare occasion when the video clips are accessible to the layman, they are well worth their inclusion. The clip for "Daniel" beautifully depicts the 'missing verse', while the clip for "I'm Still Standing" is a great piece of nostalgia that takes a triumphant pictorial journey through Elton's career.

Videos aside, the other main feature of the show is the props. These include such gimmicks as inflatable breasts and phallic bananas – hilarious I'm sure.

So what does that leave? Well, what is left is an hour and three quarters of Elton John and his band playing some of his best loved hits; and this is where the entrance fee is justified. Musically, it is a fine show (as will be no surprise to anybody whom has seen Elton live in the past). Elton's live vocal continues to amaze, the band are as tight as ever and the whole thing is highlighted by the various solos, musical extensions and interludes. "Rocket Man" continues to receive its standard quota of three standing ovations, and "The Bridge" maintains its place as a modern classic. The highlight, however, is a power-house performance of "Believe". A great song, brilliantly played.

As the set came to a close at the O2, Elton sat alone at his red piano performing a solo version of "Your Song". For this song, there were no videos, no inflatables nor any glitter descending from the skies. And he held the attention of every person in the arena. I feel that there's a point there somewhere.

It's ironic that Elton has spent so much of his interview time bemoaning the fact that people's attentions always seem to be about his extravagances rather than his music. Last night in London, the music was lost in the extravagance.

And the less said about Sophie Ellis Bextor the better.
Elton fans camp outside box office for front-row seats
Wednesday, September 5 2007
Sitting in a folding chair with a couple jackets, air mattresses, a rain suit, a sleeping bag and a blue tarp, Monica Peterson prepared to spend September 4, 2007 night outside in the rain and gusty winds for tickets to what she calls the biggest event of the year: The Elton John concert.
Perched outside the Brick Breeden Fieldhouse ticket office, Peterson was actually fourth in line behind three other women, all of whom claimed it was worth the wait to see Elton perform their favorite tunes.

"You can laugh at us women, but it's no different than a bunch of hunters camping out to go kill a deer, but I want to see Elton," Peterson said. "I e-mailed all my relatives and told them I couldn't believe a guy from London, England, would play and spend time in Montana. He's a big megastar in my opinion."

Bernie Warwood, who grew up listening to Elton in high school, has been dreaming of this possibility for years. "All my high school years were Elton John," she said. "I remember him being in concert in other places and I thought, 'I'll never see Elton John.'"

So, when Warwood heard he was playing in Bozeman, she decided to do whatever it took to ensure a spot in the front row. And that's how she ended up first in line for tickets - at 8:15 a.m. the day before they went on sale. "We purposely wanted to be first in line, front and center," she said.

Chelsey Warwood, snuggled in a hooded pullover jacket, didn't need to give an explanation for why she was withstanding wind and rain for concert tickets. "It's Elton John," she said. "How often does Elton John come to Bozeman?"

Dana Doney, who grew up listening to Elton in junior high, said she couldn't miss the opportunity to see him live. "He's a music legend," she said. "My brother had his albums, so I listened to him a lot."

The four women, all of whom planned on buying the maximum allowed six tickets each, said the concert might be the biggest event ever to hit Bozeman. They said the only other concert performers who could possibly be bigger include Celine Dion, Elvis Presley or a duet performance by Tim McGraw and Faith Hill.

Brad Murphy, operations manager for the fieldhouse, said he brought in a portable toilet for the fanatics. He said the people who are first in line will likely receive front-row tickets. After that, all bets are off because other fans will be online and on the telephone buying tickets.

"There's no guarantee whatsoever," Murphy said. But that didn't bother the four women outside the door. They claimed that buyers online or on the phone are taking risks because they'll have to accept the tickets given to them. When fans buy tickets in person, they choose their seats. So spending the night outdoors, even if the forecast calls for rain, is worth it.

"My relatives have said I'm crazy," Peterson said. "But you've got to be a little crazy to have fun."
Madonna and Elton burry the hatchet
Wednesday, September 5 2007
Madonna and Elton John have finally called a truce on their high profile feud more than two years after he publicly accused the pop star of lip-synching in an expletive laden outburst.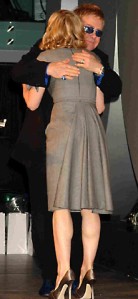 Introducing Madonna at this year's GQ Awards in London on September 4, 2007, Elton said: "This is a moment you thought you would never see." The pair hugged on stage, but Elton couldn't resist a final swipe, adding he had "written a grovelling apology and offered to join the Kabbalah".

At an awards ceremony in 2004, Elton infamously criticised the singer after she won an award for live performance, saying: "Madonna, best f***ing live act? F*** off! Since when has lip-synching been live?" That's me off her f***ing Christmas card list but do I give a toss? No."

Madonna hit back through a statement issued by her spokesperson, who declared: "Madonna does not lip-synch nor does she spend her time trashing other artists." The singer, who is still awaiting permission to permanently adopt her third child, left the awards show looking rather worse for wear as she piled into a cab.

Sir Paul McCartney, who spent the evening surrounded by a bevy of beauties including singer Natalie Imbruglia and supermodel Elle Macpherson, was finally able to collect his trophy for last year's Man Of The Year award.

Introducing him, Elton said: "Paul is by far and away the greatest living songwriter in the world." Picking up his 2006 award Sir Paul said: "Hey I'm just some little kid from Liverpool." Ending the awards Elton joked: "We can't really top that unless Elvis Presley parachutes through the roof."



Madonna bites back
Thursday, November 10 2005 at 11:14:47

Elton John regrets his lip-syncing slip
Friday, October 29 2004 at 16:24:18

Elton cools off
Friday, October 15 2004 at 04:22:55


Back on the road
Wednesday, September 5 2007
Elton will be back on the road on September 5, 2007 finishing the summer break with the first ever "Red Piano" show outside of Las Vegas at London's O2 Arena.
He will then perform a few more European shows with the band before heading to the US at the end of September.

Check out the Elton John Tour News for additional tour dates that have just been added. It is very likely that more shows will be announced over the next few days.
Elton sees Hornets bounce back
Sunday, September 2 2007
Elton was at Vicarage Road to watch Watford get back on track with a 2-0 victory over previously unbeaten Ipswich Town on September 1, 2007.
Goals from Darius Henderson and a Tommy Smith special ensured the Hornets responded how Aidy Boothroyd would have wished following the 4-1 mauling at Leicester last weekend.

Watford: Poom; Doyley, DeMerit, Shittu, Stewart; Smith (O'Toole, 88), Williamson, Mahon, McAnuff; King, Henderson (Ellington, 73). Not used: Priskin, Mariappa and Lee.

Ipswich Town: Alexander; Wright, Bruce, De Vos, Harding; Roberts (Peters, 66), Miller, Garvan, Walters; Lee (Clarke, 62), Counago. Not used: Legwinski, Casement and Supple.

Bookings: Roberts for a foul on Stewart after 41 mins; Williamson for a foul on Peters after 70 mins.

Attendance: 17,295.

Referee: Mike Jones.