ELTON JOHN NEWS ARCHIVE: September 2003
A Night at the Opera
Tuesday, September 30 2003
New York's love affair with the glamorous soprano Renée Fleming reaches fever pitch on September 30, 2003 when she opens the Metropolitan Opera season as Violetta in "La Traviata." Renée will tread the red carpet with escorts Elton John and David Furnish.
Renée has made this the hottest ticket in town! It's like the good old days when opera stars electrified public imagination. And the Met has gone for more flash this year.

Renée will tread the red carpet with escorts Elton John and David Furnish. (This is the first time in years the Met has really rolled out a red carpet.)

The woman who introduced Renée and Elton, Lynn Wyatt of Houston, will be on hand along with actor Patrick Stewart, the Rudy Giulianis, Anna Wintour, Frank Langella, et al. Even people who aren't really wild about opera are fighting to get in on this event.
Elton John and band performed in Miami on September 27, 2003.
Tuesday, September 30 2003
Fan report and photos by HK.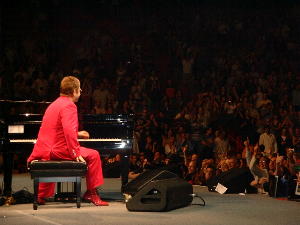 I was amazed to see that after all these years since the Troubadour days in 1970, there was a crowd from all ages. Only Elton can pull that one. His music and performance stands the test of time; no doubt he is one of a kind.

Well, as far as the show is concerned, it went okay. Elton came straight from the airport; he is now in Atlanta just for this short U.S Tour.

The sound check was done by Davey and the band. The show started at 8.00 pm, while people were still trying to get in. By the second or third song the house was full.

Elton is now back to basics with a smaller band and they sound great. Nigel, Davey, Guy, Bob and - last but not least - John Mahon sounded fantastic.

This time they did the intro of "Funeral For A Friend" live by Guy Babylon, and it wasn't taped like always which was nice.

I must say that it seems that the show was a last minute thing. Even Clive Franks wasn't there to do the PA sound, and Elton doesn't move with out him, as you know.

Bob Halley wasn't there as well, which was very strange. There was no tour program either. Also, the stage set felt not at the standard of Elton, but what do I know ...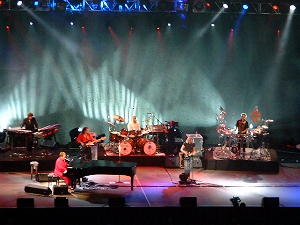 Following is the complete set list of the Miami show on September 27, 2003:




Funeral For A Friend/Love Lies Bleeding

Bennie And The Jets

Daniel

Someone Saved My Life Tonight

The Wasteland

Tiny Dancer

Levon

Philadelphia Freedom

Rocket Man

I Guess That's Why They Call It The Blues

I Want Love

Take Me To The Pilot

Sorry Seems To Be The Hardest Word

Saturday Night's Alright (For Fighting)

Crocodile Rock

Pinball Wizard

Don't Let The Sun Go Down On Me

Your Song

Click on the image in this news item to send it as Hercules eCard.
Smash Hits World TeamTennis 2003
Friday, September 26 2003
Tennis stars filled the FleetCenter in Boston on September 25, 2003 as Smash Hits took to the court to raise money for the Elton John Aids Foundation and the Massachusetts Community AIDS Partnership.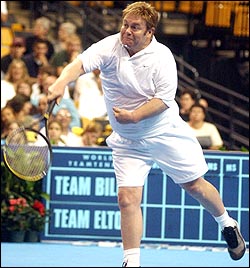 Andre Agassi took on John McEnroe in a two-set match to highlight the team-tennis format event. McEnroe is on Team Billie Jean, coached by Billie Jean King, a squad that also includes Chanda Rubin, Rajeev Ram, and Harvard's Courtney Bergman.

Agassi is on Team Elton, coached by Elton John, and includes Anna Kournikova, Brendan Evans, and Harvard's Susanna Lingman.

A special celebrity match, with Monica Seles as the referee, started the evening as Agassi and Elton John played Kournikova and Rubin.


Click on the images in this news item to send them as Hercules eCard.
This is my house
Friday, September 26 2003
Nearly every item from Sir Elton John's London house has gone on display at Sotheby's before being auctioned on September 30, 2003.
It was almost as if Sir Elton himself had thrown open the door, held his arms out and screamed "come in, darlings".

His house has been faithfully recreated, room by room, in Sotheby's galleries in central London - and opened to the press on September 24, 2003.

In the mother of all garage sales, everything but the kitchen sink is there - and everything must go. If you want a wooden message pad holder on which Sir Elton has (possibly) scrawled messages from Victoria Beckham, it could be yours - as part of a set - for £400.

Or perhaps you might fancy a pillow from one of his beds with the words "laugh often, love much, live well". Priced at £800, they will throw in the bed too. Maybe you would prefer seven platinum discs from the Czech Republic, a set of ceramic cows or a leopardskin chaise longue.

Sotheby's has gone to so much trouble to stick to Sir Elton's original room arrangements that they even got his housekeepers in to make the beds and ordered flowers from his florist. The resulting displays - ahead of the auction on September 30, 2003 - give a rare insight into Sir Elton's world. "It's hugely stylish - it's very varied and he has a little bit of everything," said Alexandra Reece, house sale specialist at Sotheby's.

She said there was "a bit of every aspect of his life" and the auction would appeal to serious collectors as well as memorabilia hunters. As well as the odd items, many of the 480 lots comprise light-coloured furniture, paintings from the 16th Century to the modern day, and household items like lamps and a dinner set.

"It's a very English country house sale-type taste, with heavyweight British pictures, but also modern influences," Ms Reece said. "It's a very strong collection and we've certainly had interest from all over the world from regular buyers."

Wandering around his house, it confirms what we already knew about Sir Elton - he is a ferocious spender with a great sense of fun and pretensions to grandeur.

The most expensive item is a portrait of Elizabeth Honeywood, by early 17th Century artist William Larkin, with an estimated price of £30,000-£40,000. It was hung in the main hallway, leading into a compact living room dominated by bright sofas, golden ornaments and wooden tables.

The main pair of yellow and grey striped sofas are priced at £600-£800 - not a bad second-hand deal when you can also imagine which derrieres have sat on them. Part of the fun is to fantasise about what went on in these rooms - did Sir Elton ever pick up one of the stripey cushions and throw it at the pair of French silver-gilt sweetmeat stands on the mantelpiece?

Fans do not have to have thousands to spare if they want to get a piece of Sir Elton home-ware. The cheapest lot is a large Doulton basin and an earthenware jardinière with views of Venice - at just £40-60 for the pair.

Gold and platinum discs - mostly from countries like Austria, Taiwan and Switzerland - are priced from about £500 each. And colourfully tacky vases are on sale for several hundred pounds - although some look like they would struggle to find buyers at car boot sales.

But although there are some plainly cheesy pieces and others are obviously tongue-in-cheek, his tastes and impulses are proved to be voracious and varied.

He is having this clear-out to make way for modern decoration, swapping the classical paintings for black-and-white photographs.

And if he does not like the new style, he always has his four other houses.



UPDATE: The Elton John Sale at Sotheby's
Friday, August 15 2003 at 19:32:40

Sotheby's to sell the contents of Sir Elton John's house in London in September 2003
Friday, June 20 2003 at 10:40:27


NAB Partners with Daniel Pearl Foundation
Friday, September 26 2003
NAB has partnered with the Daniel Pearl Foundation to promote Daniel Pearl Music Day, a series of concerts dedicated to encouraging global harmony. Elton John provides the voiceover for the PSAs.
Musicians and radio stations around the world will dedicate music to "Harmony for Humanity" and spread a message of tolerance and respect on and around October 10, 2003.

NAB is distributing the Daniel Pearl Music Day public service announcements to radio stations via its Web site. Rock legend Elton John provides the voiceover for the PSAs.

Daniel Pearl, who was kidnapped and murdered by terrorists last year in Pakistan while reporting for The Wall Street Journal, would have turned 40 on October 10, 2003. He was a gifted musician as well as a talented journalist.

"Daniel Pearl Music Day combines music with an important message of tolerance and respect for all," said Foundation President and Daniel Pearl's father, Judea Pearl. "It's great to see radio broadcasters support this message."
AID Atlanta Honors Ceremony
Thursday, September 25 2003
AID Atlanta, the Southeast's largest AIDS service organization, will celebrate the 2003 AID Atlanta Honors recipients on Saturday, October 18, 2003. John Scott of the Elton John AIDS Foundation, will accept National Honors for the foundation's work.
AID Atlanta will recognize those who support AIDS service organizations and causes on the national and local level through financial commitment and volunteer service.

The Elton John Aids Foundation. John Scott of the Elton John AIDS Foundation, will accept National Honors for the foundation's work on the national and international level to heighten awareness and support for HIV and AIDS services. Scott founded the Atlanta area chapter of the Elton John AIDS Foundation and has supported several AIDS service organizations in Atlanta, including AID Atlanta.
Elton is back in Atlanta
Tuesday, September 23 2003
Atlanta's favorite knighted resident is back in town. And judging by the locals who have been reporting Sir Elton John sightings, he hasn't exactly spent a lot of time chilling at home.
Elton John is in town writing and recording demos of songs for his upcoming Broadway musical co-written with Bernie Taupin and based on Anne Rice's vampire characters.

Between bursts of creativity, Elton has been spotted at
his fave table at Bluepointe. Server Allen Crosby reports that the singer enjoyed the calamari pasta and tangerine marinated pork loin with pals.

A strategically placed hulking bodyguard inspired Elton's normally respective Atlanta fans to be even less inclined to rubberneck.

The singer has also been seen around town on local courts, engaging in his usual early morning routine of a vigorous tennis workout.



UPDATE: Elton John announced new Broadway show
Tuesday, May 6 2003 at 13:45:38


Elton & Justin duet?
Tuesday, September 23 2003
According to unfonfirmed rumours, Sir Elton John has been asked to duet on Justin Timberlake's next album.
A source said: "Justin is a massive fan and hopes they may write something together soon".
Elton denies Vegas reports
Monday, September 22 2003
Sir Elton John has denied reports that he has agreed to play "hundreds of shows" in Las Vegas over the next two years.
A statement from his management confirmed he would be playing some concerts in Vegas but said recent press reports were "wild speculation, most of it wrong."

The statement said: "Much wild speculation is building up about the possibility of Elton playing hundreds of concerts in Las Vegas over the next two years.

"However, as Elton's fans around the world are well aware, Elton would not tie himself down to so many concerts in one place when the rest of the world wants him!

"Last year, for example, he played well over 100 concerts in 20 countries.

"It is no secret that there is a plan for Elton to play some concerts in Las Vegas, and towards the end of October there will be a press conference to announce the full details.

"No official news will be released until then, so for now the rest is, simply speculation, most of it wrong!"



Viva Las Vegas
Saturday, August 30 2003 at 16:03:25


Elton teams up with cellist for classical track
Monday, September 22 2003
Sir Elton John is about to crack the classical charts - after teaming up with cellist Julian Lloyd Webber.
Elton has recorded an instrumental version of his enduring hit "Your Song" for the classical star's latest album, "Made In England", which celebrates two decades with his record label.

Sir Elton's classical release comes within weeks of topping the singles chart with a remix of his seventies disco track "Are You Ready For Love"?

Lloyd Webber - brother of composer Andrew - had not played with the chart veteran before, but had longed to perform a version of "Your Song" - a track which was recently used as a love theme in Baz Luhrmann's movie "Moulin Rouge".

Lloyd Webber said: "It was just great working with him. I had this chance to celebrate 20 years with Universal and they gave me the opportunity to do a few new things that I really wanted to do.

"One was to do 'Your Song'. I always thought it was a track that could really work with the cello. So I got the number of Elton's manager and asked whether he would come on this disc with me. I thought that would be it, but to my surprise he said he would love to do it - as long as it was in E flat major.

"It was actually one of the most straightforward recordings I've ever made and then we just had a bit of banter about Watford and Leyton Orient."

The album is made up of Lloyd Webber's most famous recordings including the first movement of the Elgar Cello Concerto, his brother's theme for The South Bank Show and some of his own compositions.



UK is ready for love
Tuesday, September 2 2003 at 06:34:10


From Russia with Love
Thursday, September 18 2003
Alexander Rakhilkin from Russia tries to recollect on his admiration to the music of Elton John, his ongoing life with it and emotions he got from visiting Elton's concert in Montauban.
From all the possible types of the fans of Elton John I, probably, belong to a category of the most silent. However, everyone can get my estimation by the end of these notes.

1. Early Years

Once upon a time there was a country called the Soviet Union. There my story has started.

Having got acquainted myself with the music of EJ in the winter of 1974 (by means of the "The Voice of America" broadcast, which was punching the Iron Curtain heavier than the bullets of James Bond), I, 15-years old young man from a huge provincial city Samara (then - Kuibyshev), rushed to all the friends of mine who had the copies of "Goodbye Yellow Brick Road" and "Caribou" in an attempt to convince them all that this music was better than "The Beatles". Frequently I was rebutted by responses like "Time will show - who is better" or "Well, Elton John is only the pianist, and the singer is someone else in his band".

Since 1976, with my best friend we have started to celebrate EJ birthdays. Since in the shops of our city it was only possible to find cheap dry wine, terrible port and vodka – one of the problems was to get a decent suitable drink from Moscow (whence brought things like that). In 1978, such swill there was an Egyptian balm "Abu Simbel". To drink it took an effort of a sort. During this "party" the tape recorder, as I remember, played "I've Seen This Movie Too" for the tenth time in a row.

On a hot May day (25th?) of 1979, I was traveling via Moscow. The Soviet newspapers reported the actual arrival of EJ to Leningrad and Moscow so imperceptibly (although in terms of their importance these concerts were comparable to the signing of the SALT Treaty between the USSR and the USA), that it was necessary to look through all the national publications (regional ones were obviously forbidden to mention the event) so as to understand, where and what exactly will occur. After one hour walks on the dusty streets of our capital the venue of the concert was revealed - a concert hall of hotel "Russia" (in those strange years – the most luxurious hotel of the Soviet Union). The small black-pale green billboards, 90x60 cm in size, read: "Elton John (Great Britain) - piano, Ray Cooper – percussions" and showed a languid photo of EJ in a cap.

Certainly, I moved towards the hotel. In the doorway (small and narrow one), leading to the concert hall, stood an important-looking man at the age of thirty. In a rude manner he was telling a group of people that:



tickets were never on sale,

EJ is already in Moscow and concerts in Leningrad have already taken place at huge confluence of employees of KGB (it was easy to believe),

on black market tickets cost 80-100 rubles …


The Last remark was the most important - I never had such amount of money and, accordingly, the concert was about to pass without my presence. By the way, I also found the box office of the concert hall where a tiny announcement hangs "Tickets are sold out. Inquiries from The Heroes of the Soviet Union and the winners of the Lenin Prize - are taken by phone". The Heroes of the Socialist Labour and the winners of the State Prize were not taken into consideration.
(Above titles are funny relics of the Soviet state and by now survive only in the chronicles of that artificial world.)

Years later, I saw a 30 minutes documentary "To Russia... with Elton". What impressed me the most was a certain young man, standing next to the concert hall and telling Western journalists the story of his admiration of EJ's songs. At the end of the conversation the journalist asked: "And do you have a ticket for the show?" The young man mumbled 'no' and immediately received a PASS TO the PARADISE! Where was I at that moment?!

2. Modern times

Life changed by the end of the 80s. The rusted Iron Curtain (someone started to name it 'sieve') crumbled. Our life now was bristled with books about EJ, his LPs, video, CDs. Yet the rendezvous with John was postponed. Until the summer of 1995 when a new country and the same old Moscow finally greeted him!

I have to say that my social status and well-being had changed by then. Therefore, without the slightest delay, I rushed to the capital of Russia. My wife (I shall recall her more than once, so let me introduce her straight away – Alla) decided not to take part in this risky pilgrimage (she was not such a big fan of EJ in her youth so we should forgive her). I received the ticket as a gift from one employer of the US consulate in Moscow - his sister was a business-partner of my enterprise in Samara. (Was that ticket a bribe, then? Just kidding.) I'm enormously grateful to these people - the concert in the Kremlin palace was matchless. Though my place was at some distance from a stage so that even through the field-glass EJ was hardly visible, my delight is simply impossible to describe. Needless to say, at that gig there were at least two persons singing all songs - EJ and myself! My neighbour on the right tied to shield his left year the best he could and was evidently happy to move to a place farther away from me once its occupant mysteriously disappeared towards the end of the show (perhaps, he was taken away by the ambulance – too much happiness for one evening?). I bet my neighbour suspected that I also needed some emergency treatment. Those, sitting in front of me, were less discrete and asked me to tone down my singing. But how was that possible?! Such a sound = I could hardly hear myself.

After the concert I returned to my hotel, whence called Samara and attempted to re-sing the whole concert to Alla. Then came the turn of my friend in the Netherlands. I could not even watch the football game (Bulgaria – Germany) on TV – something I would normally do with no less enthusiasm than listening to a rock record.

The newspapers wrote that EJ, having heard about the prices for his performance at the Kremlin (from $80 up to $400), announced that next time he will try to give a concert in Russia on a larger venue so that the true fans of his music (not the richest citizens of Russia) could listen to it too.

Only five years later, I was in the same venue at the concert of Eric Clapton. During the break a fifty-year old man with long hair and crumpled face, dressed like an ex-rocker was selling Clapton's memorabilia in the foyer, including the video of "Unplugged" which featured Ray Cooper. I stopped for a minute to peep into the tiny monitor. Ex-rocker wearily looked at me, then intercepted my glance focused on Cooper and said "Do you remember him at John's concert in 1979?" (The concert I could not get to.) I still wonder whether this ex-rocker was also an ex-KGB agent; he certainly did not look like the Hero of the Soviet Union.

In 2001, a charity concert by EJ took place in one of the historical imperial palaces of Peterhof (a suburb of Saint Petersburg). Although I was remotely acquainted with the organizers of this project, and I also know some people who visited that "chamber"-concert for which tickets were sold at $1000, I myself did not dare to spend this amount of money plus traveling expenses.

A month later an hour or so report of this event was on Russian TV and it showed us:



lazy audience (however, dozen of spectators clapped hand on the main "let's-sing-together" song "Bennie And The Jets", titled in this report as "Jazz" 8-()),

fully sweating maestro (despite of the evening time, the temperature outside the palace was 34°, and in ancient houses of Peterhof air conditioners simply do not exist),

unprecedented featureless interview of the Russian journalist (featureless, naturally, because of featureless journalist) with EJ (the text of this interview later was published on eltonjohn.com and it's still there). The name of the journalist was Ekaterina Nogaibaeva-Brightman (for Russians – it's already something unique) and eltonjohn.com says that she "specialises in ballet, opera and the performing arts" – really far from rock'n'roll. Also - with a funny remark "Unbelievably, this is her first major English language interview". I hope that it was the last too.



3. Targeting Montauban

In May, 2003, Russia welcomed Paul McCartney. Rock-and-roll has finally and resolutely prevailed over communism. And although in my heart "The Beatles" occupies less space than EJ, nor that I participated in the pilgrimage to the Red square, the venue of McCartney's show, I did follow through the media the ex-Beatle's arrival to Saint Petersburg and Moscow with almost the same excitement as the whole of the (non-communist) world had once watched the landing of man on the Moon.

By comparison, EJ's new visit to Russia, in the middle of June that year, was not accompanied by the similar hysteria in the media. The shows of 1996 and 2001 were presented almost like the state-sponsored events. Now everything was rather subdued. On a personal level, my wife was at a congress in Paris; American diplomat's sister was not among our business-partners anymore… So I didn't go that time. Not least because by then I already had the "fifth ace of the pack" under my sleeve: a plan to see EJ during a family visit to Spain or France. The 23/07 show in Montauban (starting at 21.00) looked like a good opportunity to do just that.

The Montauban show was planned as the final one in EJ's tour of first half of 2003. But what is Montauban? Even on the map of France there were two Montaubans! Ok, the venue, Sapiac Stadium, the home to the popular French rugby team, and AltaVista Search gave some clues, pointing me to the one near Toulouse. Not so bad. I made adjustments to our travel-plans squeezing a stop in Montauban in between the visits to San Sebastian and Bordeaux. Now it was time to book the tickets and the hotel.

As a normal EJ's fan I am an eltonjohn.com member (there they call us Rocket member). All 'members' can order tickets through it, and there were 40 available for Montauban 40 (€ 91.00 including € 10.00 booking fee). More places, than for any other show this year. So I decided to take care of the hotel places first. Mercure Montauban***. Apparently, that was the best hotel in town, and rooms were still available.

We planned to leave Russia on 19/07, and on 14/07 I finally clicked on the Internet to book the tickets… Aaaaah!!! Something terrible happened – all 40 seats have suddenly disappeared.

I wrote a letter to eltonjohn.com, trying to convey all my suffering:

Dear Sirs,
Me and my wife plan to visit the coming concert in Montauban, France on 23/07. We even adjusted our vacation itinerary so as to be in this part of France on this specific date.
I put the order for 2 tickets some time ago and even placed the tickets into the shopping cart on your web-site. All that was left to do was to click "Buy Now". However, today, as I understand, the sale is closed... The number of seats for Rocket members is erased and when I tick 'Buy Now' the 'Order Details' page shows me the page where I can't put my name into the field 'Your First Name'.
Please, help! My wife will kill me if we fail to be at Stade Sapiac. Because of my business agenda we missed the concert in Moscow in June and I promised her to catch the show in Montauban. We even booked the hotel there for 23/07! As we're leaving Russia for a holiday on 18/07 I will be very pleased if you can help me urgently!

They answered my plea on 16/07 (usually they are even more slow; probably the horror in the letter was genuine, and they really worry about the life of a Rocket member after all). They apologized but could not help. "Try to look elsewhere". By that time I had already stormed the whole of the Internet. AltaVista (I'm very grateful to its founders and providers) responded to my "EltonJohn tickets" inquiry by pointing me to the ticketnet.fr. There the tickets were on sale! Not for Sapiac Stadium, however, but for Jardin Des Plantes - the venue was changed (perhaps that is why the tickets reservation was cancelled on eltonjohn.com).

[Just a funny bridge with today – eltonjohn.com's News & Highlights Archive page says that the concert is still linked to Stade Sapiac]

The site was as in French (fully unknown for me), and in English ;-), with the price of € 84 per ticket (this tendency of small reduction of the price proved to be persistent), but all my attempts to order were ignored by the system - it did not request either my address, or the data of my credit card for payment. My e-mails remained unanswered…

On 15/08, I tried to find the phone-number of the ticketnet.fr. AltaVista helped again, providing me with the number of a French speaking operator who then gave me the number of English speaking one. From that one I wrenched out yet another number, connected with EJ shows, then – the number of the one responsible for the Montauban show... All this only to learn that ticketnet.fr did not sell tickets under telephone orders any more! I was late for 2 days; orders on the Internet are accepted, but only with home delivery, certainly not an option for me. "But your web-site informs that tickets can be received at the cash departments of the venue! - Perhaps, but Jardin Des Plantes does not have a cash department".

By 16/08 even AltaVista could not help anymore. Another call to ticketnet.fr – What about an advice? Advice: try the FNAC network (an excellent network of music and multimedia shops in France/Spain). There everything was a replica of my ticketnet.fr experience with a slight difference – fnac.com was only in French. Finally, I was advised to buy the ticket in Montauban in FNAC or AUCHAN shops. "And what if they are sold out by the time I get there? - Do not worry, they won't!" Well, only my wife and I worried… (I could not deceive her and responded to her "And do we have tickets for EJ's show?" with a frank "Not yet".)

17/08. I entered the web-site of Montauban. For God's sake, if we shall fail with the concert, I shall know at least what else there is to do there. It seems that the town is without 'worthseeings'. But there is the phone number of the Office de Tourisme de Montauban. I dialed, found English-speaking lady "Yes, the concert will take place in Jardin Des Plantes. Yes, tickets are on sale in local shops ;-). Yes, tickets are on sale in our office. Yes, we have a lot of them. No, sir, we do not make reservations. Sir, do not worry. I will not take your name, nor will I remember it by the time you are here. Just come to our office and buy here" ;-(

4. Final worries

On 19/07 we took off for Barcelona, and then by car traveled to San Sebastian for a three-day rest at the Bay of Biscay. The haunting anticipation of a possible tickets-disaster was hardly conducive of a good rest though. On 23/07 Alla made a heroic gesture. We usually leave every hotel 10-15 minutes after midday in spite of the usual hotel pre-12.00 arrangements. She just never ever makes it earlier. This time around – a clear sign of something extraordinary – already by 11.00 our cases were packed and ready…

There is about 400 km from San Sebastian to Montauban, but due to the numerous toll-gates, refueling, etc. we arrived at Montauban at around 15.00. On the way the tickets-theme was raised so frequently, that our seven-years old daughter, Liza, started asking questions about our next destination and, having found out its purpose, declared her own right to attend the concert. We asked for a promise to go to bed on her own (for the first time ever in hotel stay) in exchange.

Montauban finally greeted us with unattractive suburbs, terrible heat ( 36) and a temporary roadside sign: "ELTON JOHN". Yes!!! A rather 'roasted' road worker indicated that the main road to the downtown was blocked (ah, because of the concert!), we took a small detour and few seconds later found ourselves on the central square with a Notre Dames of its own ;-) and the Mercure Montauban. I parked the car near the hotel, rushed the luggage and the girls into the building (air-conditioned but not English-speaking), leave Alla in command of all further arrangements and resume my tickets hunt.

Signs on the buildings do not help much, nor does the stuff inside them. Under these drastic conditions, I suddenly began to understand French and in finally found the required office!!! Here there is a reminder of a 1979 Moscow concert – a hardly visible poster announcing EJ's concert. I fact, this one does not even have a photo. Let it be!

There's no one behind the desk though. Obviously, this concert has either failed to excite anyone here or it is already sold out. Finally a lady approaches the desk: "Are you looking for the tickets for the EJ's concert?" "Yes, two". "78 euros each [the price continues to drop], free sitting places, better come earlier. No, no credit cards, cash only". Had she asked me to pay Mexican pesos, trust me, I would have found them as well. It is hard to believe even now, after 1.5 months of chasing them the tickets WERE IN MY HANDS.

The lady looked at me rather suspiciously: "Are you the gentleman from Russia who called last week? – Yes, Madame, something is wrong? – No, Sir. It's just that no one so far has demonstrated such a desire to buy the tickets". I tried to reciprocate by displaying a glimmer of interest in her town leaving the office.

As a first-time visitor of a rock-concerts in the West, I was keen on getting some brief on the local manner and was offered one by the seller in a local wine shop whose English amazed not only myself but also his friend who, perhaps, heard him speaking it for the first time.

Yes, some booze, mainly beer, will be on sale in the park before the concert. Otherwise security people do not like the glass bottles. Every year they have here a rock-star performing at the end of their annual jazz-festival. "Last time it was this big black guy, what's his name… Stevie Wonder? No. Barry White? No, the one who sings 'get up, get up'… James Brown? Yeah, right you are" And yes, he (the seller, not James Brown) is going to the concert too, as, in fact, the rest of the town …

I bought a bottle of Martini Bianco and went back to the hotel to pick up my family...

5. Can You Feel The Love Tonight

Exactly at 21.00 EJ was on stage. It seems to me, that I had a short cry, but turbulence during general applause dried my tears away. He wore a dark pink suit with a black T-shirt underneath it and sunglasses which he never took off, glancing over their frame from time to time (this I will recall later). Few words in French and he is already by the piano.

The entrée was "Your Song"; the audience greeted it as if it was the Marseillaise. It was expected and it was received. It is difficult indeed to imagine EJ without this song – a kind of his personal anthem (like "Satisfaction" for the Rolling Stones or "Yesterday" for McCartney). Then came the "Border Song", and here the crowd was on a less familiar territory. However, with the sounds of "The One" it quickly regained consciousness.

The magnificent "Someone Saved My Life Tonight" was next. Hard to believe, but this piece from the album of the albums, "Captain Fantastic And The Brown Dirt Cowboy", sounded even more majestic in EJ's solo performance. Even harder to believe, but here in Montauban I was the only one who listen to the masterpiece standing. Again, as in Moscow, 1995, there were two singers that night. I guess my neighbours could not hear me, although, as in Moscow, the one to the left soon disappeared. Perhaps they were confused by Alla and me joyfully swinging throughout the show.

I could not give EJ a helping hand (scream) in the next song though. "Songs From The West Coast" isn't on the list of my favorite albums. And "Ballad Of The Boy In Red Shoes", in spite of its sincere lyrics, leaves me unmoved (forgive me, dear Sir Elton). So, believe it or not, I remained silent. By the way, maybe it was more interesting to execute more pathetic "The Last Song" also devoted to anti-AIDS theme? Probably, not the fifth in the order of this concert, probably, later – but anyway, EJ rules.

I was lucky; for the most part EJ spoke English. Although he spends quite some time on the south of France, when it comes to the detailed explanations of what his songs are about or the circumstances of their composition, his French isn't good enough.

Then was the mega-hit "Daniel". Generally, the order of the songs was printed out in advance and you could see the print-out on the piano lectern. There is some artificiality (by the way, it was not a unique concert with these songs and in this order), but full coordination with sound operators is vital so I won't carp. Moreover, it was well thought out and kept the audience on its toes: as soon as it relaxed on hearing something relatively unknown, a new hit followed. After "Daniel" everybody at last rose to their feet. This is also my favourite song since the times of my first acquaintance with EJ's music.

"Mona Lisas and Mad Hatters" (the first part) and "Honky Cat" (both from the old "Honky Chateau" of 1972) clearly had less admirers here. Moreover, it seems that the majority at the venue mistook "Honky Cat" for "Bennie And The Jets" (!), so that during the famous "Get back, honky cat, get back, get back – a-wuh" the audience was simply lost.

In the pauses between songs Sir Elton left his piano, did a small jog on a stage and had something to drink from the chilling bucket. On the whole he was on his best behavior that would have amazed the EJ of the 70ths. His image was projected onto the screens on both sides of the stage. The sound was brilliant.

"Rocket Man" and the crowd is on its feet again. This time it barely sits down, for the next hit is, certainly, for France – "I'm Still Standing". Here everyone begins to recall the video with Elton, dancing on a beach in Cannes. So, the public at once pick up a rhythm and it is for first time this evening.

"Ticking" – this one fell on deaf ears, it seems. For many fans, "Caribou" (1974) fades against the background of "Goodbye Yellow Brick Road" and "Captain Fantastic And The Brown Dirt Cowboy" (two main hits "The Bitch Is Back" and "Don't Let The Sun Go Down On Me" already lived independently without any link to the album). EJ tried to explain the lyrics somehow, but again, I felt like only the few in the audience understood his English. As for me, this was the central moment of the concert. The real climax of the evening!

Then was "Tiny Dancer", the audience unsuccessfully claps during the small rhythmical theme in the refrain and then its enthusiasm abates.

EJ gets his revenge with "I Want Love", 'fresh bone' was easy to recognize and though there were no reefs to clap, a feedback from the audience is felt.

"Sacrifice" – one of the best for such shows. From this song on the attention of the audience never went down, even accrued with each new song. Probably, it's wrong to create the song list of the shows only from mega-hits, because some fanatics, like me, can hardly survive till the end.

Now was the time for "Philadelphia Freedom". Obviously, EJ likes it deeply – it's hard to find a concert without it. Though, due to chances of the rhythm, it is necessary to deliver the song to the audience correctly. Sir Elton finds the following decision – on powerful rhythmical fragment he stood up from a chair to strengthen the expression sense. Besides this, a small pouf was next to him and from time to time EJ puts his right leg on it – well, I'm trying hard, and what about you...?

Then the "Candle In The Wind" – a must, like "Your Song". The lighters and candles, even some singing and in the end – ovation.

Then – something unexpected. EJ expresses his gratitude for his team by performing the Henry Mancini's "Moon River" (from the "Breakfast at Tiffany's" movie). It becomes very habitual for rock-musicians to include one known pop song in their shows (in Moscow Eric Clapton offered "Over The Rainbow" from "The Wizard of Oz"). Touching execution and a small respite for the audience.

I'm not a fan of "Sorry Seems To Be The Hardest Word" at all but, let's face it, the recent hysteria surrounding the "Blue" was so huge that the song became impossible to omit. Anyway, the female part of the audience was delighted!

And now – a tribute to all the admirers of EJ's music (present and absent) – "I Guess That's Why They Call It The Blues". It was at this moment that my neighbour to the left decided to change his seat.

"Carla/Etude" together with "Tonight" was hardly a surprise. This combination of the two songs written after and before a brief but complicated period of EJ's life creates a special atmosphere; and maestro performance on his piano defies any description!

"Take Me To The Pilot", another regular hit in EJ's shows. By now a group of 25-30 spectators was already dancing. I catch Alla's hand and, leaving our chairs and running towards the stage, we are almost within five meters from the maestro! Waugh! It is possible to sing and dance among the same lunatics like myself. I should have moved here earlier!

And then – continuous take-off. "Bennie And The Jets". No comments! Now everyone began moving towards the stage where Alla and me already secured our own spot for private dancing. I yelled "Bennie-Bennie-Bennie-Bennie-Bennie And The Jets" directly into someone's ear whose owner did not object. EJ left the stage (well, okay, enough for today). Ovation and he returned.

Easy to guess – "Crocodile Rock". Total insanity! During the refrain EJ looked over his glasses like a serious teacher on his naughty class – everything's cool? Definitely not. I was skipping in front of the stage on someone's feet, someone skipped on mine, never mind. Here I understood that I've made a mistake not having taken a camera – everyone was taking pictures. Those, who stood next to proscenium, hold out tickets and some French newspapers with photo of EJ to maestro for his autograph. At the end of "Crocodile Rock" he simply started running on the proscenium – so someone has got some autographs, someone had shake hands with Sir Elton. Then he left again, lights went off.

Extra minute of triumph and he comes back... no-no, not for "Saturday Night's Alright (For Fighting)" – that could have forced local police into something drastic. "Don't Let The Sun Go Down On Me"!!! The night sky was singing along. I went straight to the stage. There was a young man in the wheelchair. He couldn't dance, but he was certainly flying.

EJ disappears from the stage again, but it's clear, that he will return, and complete outrage continues. Now EJ appears in a sporty white-red suit: "Look, I was going to take a shower but it's impossible in this noise" (later I learned that this summer he finished all his concerts in this outfit…). Ok, this will be the last song, he announces this in French, but it's absolutely clear: "Merci, Montauban, grand merci, au revoir!!!" And "Circle Of Life". We are beyond time and space! Certainly it's possible to finish such concerts with something like "Live Like Horses" (the favourite song of my wife) or "Skyline Pigeon", and why not with "High Flying Bird". EJ has quite a few 'hymns to life' on offer. However, the "Circle Of Life" is from the favourite cartoon of our daughter. The final!

23.40. The lights are stage out, everyone is leaving the ground. Total delight! In 7 minutes we were already in the hotel. Our daughter is fast asleep. I hope, one day she enjoys a similar encounter with true art. Thanks, Sir Elton!

In the morning we left Montauban heading towards Bordeaux. Liza was wondering, how could we chose to make a stop stay in such a 'no city' (she even named it Stupidfaceville). Well, sometime it happens like this. Thanks, Montauban!

PS. Does anybody guess that I'm 44?

(Personal thanks for the right list songs of the concert to Walter Weiler from the Eltonfan.net web-site)


Elton and Bernie honored at BMI London Awards
Thursday, September 18 2003

BMI, the American performing rights organization, on September 16, 2003 saluted the top UK and European songwriters and publishers in the pop, urban, country, dance, college and film/TV music genres at its 2003 London Awards.

The gala dinner and awards ceremony, which honors the most performed songs on US radio and television written by members of its sister performing rights organizations, was hosted by BMI President & CEO Frances W. Preston along with BMI Senior Vice President of Writer/Publisher Relations Philip Graham. The invitation-only event was held in the Ballroom of London's Dorchester Hotel.

"Underneath It All," written by Eurythmics co-founder Dave Stewart, published by BMG Music Publishing Ltd., and recorded by No Doubt (featuring Lady Saw), was honored as the Song of the Year and received the organization's highest accolade, The Robert S. Musel Award. The prestigious award is named for the late Robert Musel, BMI's long-time UK consultant.

Receiving two Million-Air certificates each this evening were multiple BMI Award-winning songwriter/artists Sting and Sir Elton John. Sting's "Every Breath You Take," published by EMI Music Publishing Ltd./Magnetic Music, reached the seven million performance plateau and his "Every Little Thing She Does Is Magic," also published by EMI Music Publishing Ltd./Magnetic Music, received a four million performance award. Sir Elton John received a six million performance award for "Your Song," co-written with Bernie Taupin and published by Universal Music Publishing, and a three million performance certificate for "Island Girl."

Elton: Fame kids can't even look at me
Monday, September 15 2003

According to The Sun, Elton pulled out of a guest appearance on Fame Academy in the UK after telly bosses refused to bow to his over-the-top demands.

He was invited to give the wannabes a masterclass but caused outrage by insisting none of the students should talk to him or even look at him, the Sun wrote!

Elton also demanded the episode be entirely dedicated to him, with the participants singing his songs.

And for good measure, Elton also suggested the academy be moved 25 miles from its London base to his plush mansion in Windsor, Berks, for the episode.

A BBC insider said: "We were absolutely gobsmacked when we heard Elton's demands. He wanted the show to be based around his music and he had to be given extra time to perform his own tracks. He also asked for promotion across the BBC and said the students could come to him at his home."

"But what shocked us the most was that he said the students must not talk to him or look at him. We explained it is impossible to do a masterclass without interacting with the students. We told him we could not work with these demands and after a short while Elton replied that he was unavailable."

Insiders at the BBC said the corporation stood firm against the demands because they were concerned Elton would be using the show to promote himself instead of the students.

Elton has sold more albums in the UK and US than any other British artist and would have been by far the biggest star to have coached the wannabes battling for the chance to make it in music.

But Elton's management said he would only consider taking part in the series if the Beeb agreed to their conditions.

A spokesman for Fame Academy added: "We were in talks with Elton about him doing a masterclass for the students. But we found his demands were unworkable and in the end Elton said he was not available."

A spokesman for Elton on September 14, 2003 denied the star's conditions were the reason for him not appearing on the programme. He said: "Elton would have loved to have done it but he is unavailable at the moment because he is recording."

UPDATE: Elton to perform with Brian Wilson
Monday, September 15 2003

Originally posted 18 July 2003: The Carl Wilson Foundation is pleased to announce that Brian Wilson will headline their 6th annual benefit concert to be held at UCLA's Royce Hall on October 16, 2003.

They are honored to include Sir Elton John as their very special guest, along with In Bloom and other performers.

Other performers include Sugar Ray, In Bloom and Wilson Phillips.

All proceeds will benefit cancer research, early prevention, and will aid children and musicians with cancer.

Jason Robertson dies at age 23
Sunday, September 14 2003

Elton John was joined by Ryan White and Jason Robertson, both suffering from AIDS, when he performed at "For The Love of Children," a benefit for children with AIDS and other serious illnesses or problems, in Los Angeles, July 9, 1988.

Robertson, whose battle to attend school as a boy with AIDS in the 1980s helped other children with the virus overcome its stigma, died September 4, 2003. He was 23.

Andre Agassi Grand Slam for Children
Thursday, September 4 2003

As in the years before, Elton will also perform at this year's Andre Agassi Grand Slam for Children event in Las Vegas on October 4, 2003.

You can get tickets via a charity auctions currently running for the Andre Agassi Grand Slam for Children.

The Grand Slam for Children is an annual charity event to benefit the Andre Agassi Foundation, which aims to change the lives of underprivileged, abused and "at-risk" children in the Las Vegas community by supporting local educational and recreational programs.

The star-studded evening will be hosted by Andre Agassi and include performances by Sir Elton John, Sheryl Crow, Faith Hill, Billy Joel, Robin Williams, Dennis Miller and other entertainers.

Auction winners receive two tickets, a signed Andre Agassi picture, and a commemorative Grand Slam for Children program.

The auctions can be found at here.

Lunch around the World
Wednesday, September 3 2003

Since the success of this year's Lunch Around The World events, Gary Yetter from Philadelphia, one of the event hosts, asked Hercules to post this message:

"Because of the success with our first "Lunch around the World" event in Philadelphia this year, I would like to try to expand our success to other areas along the East Coast of the USA. In order to do this, I would like to seek out other fans in Boston, New York, Baltimore, Washington DC, and Norfolk and their surrounding suburbs, who may be interested in having their own "Lunch around the World" event in their respective communities.

Understanding that "Lunch around the World" events are solely fan based events with no sponsorship or underwriting from the Elton John AIDS Foundation(EJAF), this is truly a means of raising AIDS awareness and funds for the Foundation at the grass-root level.

Each individual event does not have to be massive and costly, but can be as simple as a Saturday afternoon barbeque. The sole reason behind it is to raise money for the EJAF - no matter how small or large the individual event raises - it's all important and all needed. One of the most rewarding things that has come out of the 'LATW-Philly Style', was the folks/fans that I had the pleasure of meeting and now count as new friends.

For those fans that would have an interest in and want to discuss having a Lunch Around the World event in these regions this coming spring, please send me an Email to: EJPHILA@hotmail.com.

Best regards,
Gary Yetter"

UK is ready for love
Tuesday, September 2 2003

Elton's new single "Are You Ready For Love" entered the UK charts at number one!

See the Charts page for more details.

Congratulations to Elton from the Hercules team!

Don't shoot me, I'm just not a biker
Tuesday, September 2 2003

Elton John is the Rocket Man. But he is not a biker brother. As expected, Elton turned out to be the big mystery guest at Harley-Davidson's 100th anniversary bash on August 31, 2003 at Veterans Park.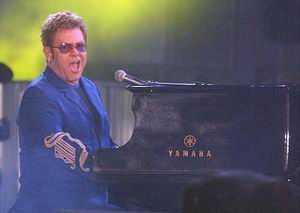 In keeping the entire lineup secret, Harley planners forgot what would seem to be a basic fact of life in the concert business - people go to concerts because they happen to like the performers in question. By keeping their lineup secret, Harley guaranteed that their all-star lineup would play for an audience that was essentially indifferent to their presence.

Moreover, it was a lineup that seemed selected by someone who didn't know any bikers. Bikers like their music with a streak of the renegade, a touch of larceny and a nip of danger. These are party-like-Cossacks, show-us-your-you-know-whats folks. ZZ Top and George Thorogood are their fare. Elton John is a pop star, arguably a great pop star, but a pop star nonetheless. For a biker audience he figured to be an awkward fit, and he was.

Wisely Sir Elton stayed with the hits: "Bennie and the Jets," "Daniel," "Philadelphia Freedom," "Rocket Man," "The Bitch Is Back" and "I Guess That's Why They Call It the Blues." Mostly huge hits, and it scarcely mattered. Monster hit after monster hit was met with scattered applause and a smattering of boos. At the end the crowd had thinned out so much up front that the concert staff let down the barriers and let everybody filter into the VIP area.

It wasn't so much an outright disaster as an unmitigated flop. Things were worse with Tim McGraw. Tim is a country singer with a fan base that skews young and female, not exactly the prime Harley demographic. From the start it was clear that the crowd didn't know his songs.



Will it be Elton John?
Saturday, August 30 2003 at 15:55:20

Elton to perform at Harley-Davidson Anniversary?
Tuesday, August 19 2003 at 17:47:52