ELTON JOHN NEWS ARCHIVE: August 2015
Elton is the inspiration behind the name of a new coral reef crustacean species
Thursday, August 27 2015
While exploring the remote coral reefs of Raja Ampat in Indonesia, Dr. James Thomas from the Halmos College of Natural Sciences and Oceanography, Florida, and his colleagues from Naturalis Natural History museum in the Netherlands, stumbled across a small but extraordinary crustacean living inside another reef invertebrate in a commensal association (without causing any harm, nor benefit to its host).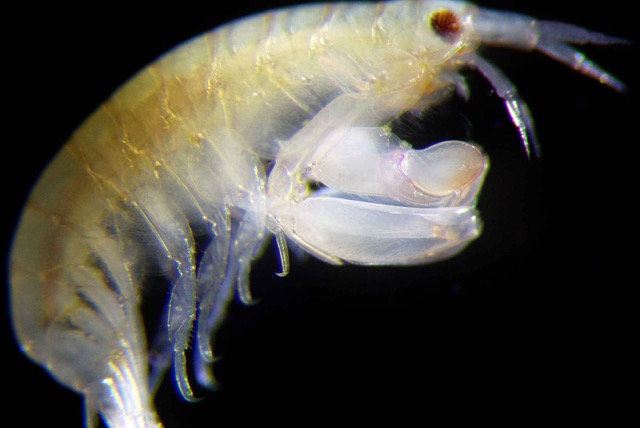 In his amazement to the amphipod's unusual form, Dr. Tomas called it L. eltoni after Elton John. The research is available in the open access journal ZooKeys.

"I named the species in honour of Sir Elton John because I have listened to his music in my lab during my entire scientific career," the lead author explains. "So, when this unusual crustacean with a greatly enlarged appendage appeared under my microscope after a day of collecting, an image of the shoes Elton John wore as the Pinball Wizard came to mind."

Taxonomists, scientists who study and name new species, have the choice to pick names that are relevant to locations, features of the animal, or people the scientist admires.

In an interesting twist L. eltoni is now reported from Hawaiian waters as an invasive species. "Several years ago I was contacted by scientists from the Bishop Museum in Honolulu to help identify an unusual amphipod they had collected," said Thomas. It proved to be the same species as the one from Indonesia. The most likely scenario for its introduction into Hawaiian waters was as a hitchhiker inside its host sponge or tunicate that was attached to a large floating drydock transported to Hawaii from Subic Bay, Philippines. Recent studies by Dr. Thomas in the Philippines during a California Academy of Science expedition in 2014 have shown this new species is also found there.

Marine animals can have unknown effects when transported to other ecosystems where they can compete with native species. In most cases these "invasions" go unnoticed. However, because scientists at the Bishop Museum had established a baseline of species over the years the presence of this invasive amphipod was quickly noted.

"Such studies show the importance of regular environmental monitoring, especially in tropical environments," commented the scientist. He also pointed out that even though their tiny size, crustaceans such as L. eltoni provide crucial information about reef health.
Artist's work strikes a chord with musical icon
Wednesday, August 26 2015
Who better than Sir Elton John to model a piano after?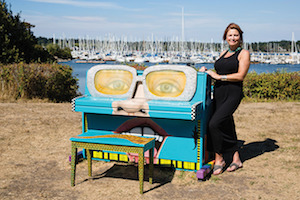 That's what Saanich artist Sherryl Hustins thought when she was selected as one of three artists to paint pianos for display in Oak Bay (Canada). "It really was the first image that came to my mind when I read the email," said Hustins. "He's so widely known for his piano work – also Billy Joel, but Elton has a bigger personality, he's more widely known, lots of fun. I have painted several musical icons on canvas and I thought this would be a great opportunity for a 3D installation."

The creative initiative – started by Oak Bay arts laureate Barbara Adams – reached Hustins' ears through an artists' call, and she was accepted while she was an artist in residence at the Sidney Pier Hotel. As soon as that ended, she got to work on redecorating a piano in tribute to the five-time Grammy Award winner.

The upright 88 is decked out in sparkly spectacles and features six nods to the piano man's chart-topping career, including Yellow Brick Road, Rocket Man and Candle in the Wind. Hustins even captured some of Elton's more distinct facial features, such as the gap between his two front teeth.

"I had bigger plans even than what the piano turned out to be, but you had to consider the elements. I toned it down, but the response has still been amazing," she said.

In an effort to engage children through art – one of the objectives of the program – Hustins painted her piano at Monterey middle school for all the kids to see. Dozens of students talked to her about her work while hundreds of eyeballs watched her every brushstroke.

"The children were just so enthralled with what I was doing and so supportive," she said. "They had no idea who Elton John was, so that started a conversation with their parents and their teachers, and then they'd come back the next day and start singing Elton John songs. I just think it was awesome that it started some conversation. I really enjoyed watching them gain some knowledge and interest in a figure they've never heard of before."

Now that the paint has dried, the piano is on display next to the Royal Victoria Yacht Club in Loon Bay Park. Hustins said she often sits on the bench or the grass nearby and watches as people are drawn to her work. "It's just amazing to watch the same progression: Car after car, people driving along, you see their brake lights come on and their heads turn," she said. "In many cases, they'll stop, get out, take pictures. Invariably someone in the group will play the piano, or try, and it's just awesome. Sometimes I will identify myself and then people are thrilled, they ask for my autograph, they want pictures with me," she added with a laugh. "It's been over the top but wonderfully over the top. I love seeing the joy that it brings – that's what drives me as an artist."

The piano is on display for the rest of August 2015 and is set to be auctioned off in September 2015. Money raised from the sale of the piano will go toward future Oak Bay arts projects.
45 Years Ago: Elton plays his first US concert
Tuesday, August 25 2015
Elton's US debut, during a six-night sold-out run at the Troubadour in West Hollywood on August 25, 1970, couldn't be confused with a low-key affair.
True, it was a Tuesday – not usually the busiest of evenings at a nightclub – and just weeks after the arrival of Elton's eponymous album, his introduction to stateside listeners. But Elton was already changing the profile of its flamboyant namesake. Troubadour owner Doug Weston is said to have immediately booked the pianist after hearing the LP.

By the time the singer and songwriter sat down at the house piano alongside bassist Dee Murray and drummer Nigel Olsson, the stage was set for his looming coronation. The crowd that evening was dotted with movers, shakers and huge stars — including Quincy Jones, Leon Russell, the Beach Boys' Mike Love, Gordon Lightfoot and others.

Elton was introduced by a clearly starstruck Neil Diamond. "Folks, I've never done this before, so please be kind to me," Diamond said that night. "I'm like the rest of you. I'm here because [I've] listened to Elton John's album. So I'm going to take my seat with you now and enjoy the show."

Elton opened with "Your Song," his breakthrough single, then continued through a set that also included "Sixty Years On," "Border Song," "Take Me to the Pilot," "Country Comfort" and "Burn Down the Mission." The latter two songs wouldn't arrive in stores until October 1970's Tumbleweed Connection. "Bad Side of the Moon," also part of his show, had only appeared as the B-side to the "Border Song" single. He covered the Rolling Stones and Beatles, too.

Critics, including the Los Angeles Times' Robert Hilburn, hailed Elton's arrival – not just in America, but as a new force on the music scene. "Tuesday night at the Troubadour was just the beginning," Hilburn wrote. "He's going to be one of rock's biggest and most important stars."

Elton must have had some inkling, too. He is said to have turned down the opportunity to make this celebrated debut as part of a package with Jeff Beck, after the former Yardbirds guitarist reportedly demanded 90 percent of the earnings.
Gay rugby league star Keegan Hirst: "Well done" from Elton
Sunday, August 23 2015
Rugby league star Keegan Hirst says he's had "the most incredible week" of his life after coming out in the Sunday Mirror.
The married dad of two – the first ever British player in the code to reveal he is gay – made headlines around the world, convinced his worried mum he was right to go public and got a "well done" phone call from Sir Elton.

And he's been inundated with messages of support, many from ­celebrities – including Harry Potter star Emma Watson, Olympic diving ace Tom Daley, Coronation Street actor Antony Cotton and former Wales rugby union star Gareth Thomas, who himself came out as gay in 2009.

But Keegan, 27, said the most bizarre moment came when he got a call from a woman claiming to be Elton's PA. The Batley Bulldogs captain was convinced it was a wind-up at first. But after missing one call from Elton, they finally got to talk and the pop legend told him: "Hi Keegan, it's Elton. I think you're fabulous!"

Keegan added: "He said it's good that I'm breaking down barriers and ­stereotypes. I was a bit lost for words, but we had a good chat. "He was really supportive. It was a bit surreal. It's amazing that Sir Elton John took the time to do that. It's incredible. He sent me an email afterwards saying to keep in touch and he said that he would follow my story. He was a really nice guy."
This Tiny Dancer is the definition of dance like nobody's watching
Saturday, August 22 2015
From the department store that introduced you to Monty, the lonely penguin looking for love, comes a new ad featuring an adorable bespectacled girl wearing a lavender tutu dancing like there is no tomorrow to Elton John's classic hit "Tiny Dancer."
The British retailer John Lewis put out the spot to advertise home insurance, so watch as the youngster almost knocks a painting off the wall, twirls a plant around and around, and jumps all over the furniture as papers go flying in every direction. In fact, it looks a lot like what most bored kids would do on a summer day.


Dreamboat
Saturday, August 22 2015
Elton and David enjoy a boat trip with their sons Zachary (4) and Elijah (2).
They became fathers quite late in life but Elton John and David Furnish took to the role immediately. The doting dads are completely smitten with their sons Zachary and Elijah and are rarely spotted without them.

On August 21, 2015, the whole family took a boat trip in St Tropez, where Elton and David each made sure to keep a close watch over the boys, who were fitted with matching orange life jackets.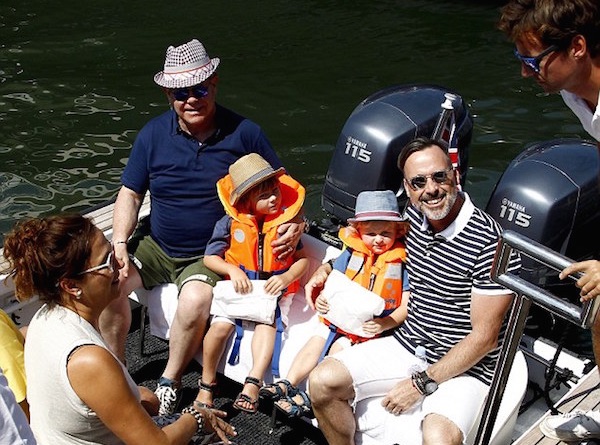 With Elton keeping an arm around Zachary and David holding on to Elijah, the whole family appeared to be in high spirits as they headed out on the water. David spent some quality time with his eldest son as he and Zachary hung out on their St Tropez yacht.

Proudly displaying his 'Zachary' tattoo, a shirtless David was seen lying out on the top deck with his gorgeous boy and they even adorably matched in shades of deep blue. David displayed fine form, looking impressively in shape in the small shorts and showing off some deep colour from dedicated days of tanning.

The couple's eldest boy Zachary - his golden hair messy from the sea salt - seemed to be developing an interest in boys' toys and brandished a water pistol by his side as the father-son pair found amusement on board.

Later, David layered on a nautical T-shirt with shorts and took his boy out for some time on dry land, smiling widely as pulled on a rucksack with all of their essentials.
Venice mayor hits back at Elton in gay book spat
Wednesday, August 19 2015
The mayor of Venice hit back on August 18, 2015 after coming under fire from Elton John over the city's withdrawal of books depicting same-sex families from the city's nurseries and primary schools.
Branded a bigot by Elton, Luigi Brugnaro took to Twitter to defend his policy, insist he was no homophobe and direct some sharp jibes of his own at the British rock star. "Absolute respect for the homosexual choices of whoever and for different living arrangements with the associated rights and freedoms. Kids have nothing to do with that," the centre-right city leader wrote on the social media site.

He went on to accuse Elton, who reportedly has a property in Venice, of never offering a penny to help the city in its perpetual battle with the sea. "You insult me to support your arguments but I think all you represent is the arrogance of the rich who can do what they like," he added in another tweet.

Elton, who has two sons with husband David Furnish, had used his Instagram page to launch an attack on Brugnaro that was highlighted by the Italian media with most commentators suggesting the mayor's comments could damage the international image of his tourism-dependent city. "Beautiful Venice is indeed sinking, but not as fast as the boorishly bigoted Brugnaro," Elton wrote.

Brugnaro, who has also been attacked by Italian writers and publishers over his move, also re-tweeted numerous messages of support, including some with an overtly homophobic tone, such as: "Listen, @eltonjohndotcom: we're protecting our children from people like you."

Elected in June 2015, Brugnaro initially removed 49 books from school libraries in line with an election pledge. Following an outcry, many of them were returned to their libraries. But works offering positive portrayals of same-sex families, such as Francesca Pardi's "Piccolo Uovo" (Little Egg) and and Ophelie Texier's renowned French work "Jean a deux mamans" (Jean Has Two Mummies) remain banned.


Elton blasts mayor of Venice for banning books about homosexuality from primary schools
Sunday, August 16 2015 at 07:41:21


Elton contributes signed skateboard to charity auction
Tuesday, August 18 2015
A variety of well-known music stars have personalized skateboard decks that are now up for bids as part of the third annual Boards + Bands auction, which benefits a charity founded by famous skateboarder Tony Hawk.
Among the artists who took part in the fundraiser are Elton John and his longtime lyricist, Bernie Taupin, plus Tom Petty, U2 and Devo. The Boards + Bands sale features skateboards donated by pro skaters, decorated with the lyrics of their favorite song that have been handwritten by the artist or artists who penned the tune.

Elton and Taupin embellished a deck contributed by skater Chris Cole, with Bernie writing some of the lyrics to "Candle in the Wind" and Elton simply adding his signature.

Other stars who have contributed personalized skateboards to the auction include Ozzy Osbourne, Metallica, Pearl Jam, Tenacious D and Jay Z. You can bid on the decks at BoardsAndBands.org. Bidding is open until August 26, 2015.

Proceeds from the sale go to the Tony Hawk Foundation's initiative to create and maintain skate parks in low-income areas around the U.S. Hawk launched the fundraiser in 2012 with musician Ben Harper.
Elton blasts mayor of Venice for banning books about homosexuality from primary schools
Sunday, August 16 2015
According to the Mirror He raged: "Beautiful Venice is sinking but not as fast as boorishly bigoted Luigi Brugnaro."
Elton often stays with husband David Furnish and their two sons at a flat he owns in the Italian city. After Mr Brugnaro's ban on 49 books, he posted an online picture of "one of the Furnish-Johns' favourites – The Family Book, by Todd Parr". Elton wrote: "It champions an all-inclusive world...and most importantly that families are about love. Our boys adore it. In the opposing corner is the silly-looking mayor of Venice. He has stupidly chosen to politicise children's books by banning titles that touch on same-sex families living happily ever after. So instead of encouraging a world based on inclusiveness and love, he's championing a future society that's divisive."

Italy does not recognise same-sex unions and Mr Brugnaro said he is "not intimidated" by critics.
Dolce & Gabbana's Domenico Dolce apologizes for "synthetic" babies remarks
Sunday, August 16 2015
Dolce & Gabbana's Domenico Dolce is apologizing for negative comments he and partner Stefano Gabbana made about same-sex parents and babies conceived via in vitro fertilization and artificial insemination, five months after their remarks sparked a backlash and angered celebrities such as Elton John.
The designers, who are gay and were once a couple, had spoken to Italian magazine Panorama in a joint interview published in March 2015. "I am so sorry," Dolce told Vogue magazine in comments published on August 14, 2015. "It was not my intention to offend anyone."

"I've done some soul-searching," he added. "I've talked to Stefano a lot about this. I've realized that my words were inappropriate, and I apologize. They are just kids...You don't need labels, baby labels." In their interview with Panorama, Dolce had said, "You are born to a mother and a father - or at least that's how it should be. I call children of chemistry, synthetic children. Rented wombs, semen chosen from a catalog," while his partner added, "the only family is the traditional one."

Their comments drew anger from many readers. Elton, who has two sons conceived via IVF with husband David Furnish, called their thinking "archaic" and called for a boycott of the duo's luxury fashion brand. Dolce and Gabbana later issued a statement but stopped short of making an apology, saying they did not mean to judge other people's choices.

"I think everybody chooses for themselves," Dolce told Vogue. "I don't know everything about IVF, but I love it when people are happy. It's like medicine. Science has been put on the table to help people."

Gabbana had told Panorama that he opposes the idea of a child growing up with gay parents and that he and Dolce oppose gay adoptions. Their native Italy is the only major Western European country that does not recognize same-sex marriage or civil partnerships. Gabbana told Vogue he has pondered becoming a father and adopting a child.

"When they ask if I wanted to be a parent, I say yes, of course, why not? But it's not possible in Italy," Gabbana told Vogue. "I had thought of going to California and having a baby, but I couldn't bring the baby back to Italy, because you need the mother's passport. I asked about adoption in Italy. It's very hard for a straight couple here—imagine if you are gay!"


Elton says he loves Dolce & Gabbana - but is he joking?
Friday, March 20 2015 at 07:57:26

Fools in Fashion
Sunday, March 15 2015 at 13:27:10


Remembering Bob Birch
Saturday, August 15 2015
Former bass player Bob Birch passed away on August 15, 2012.
Bob died of an apparent suicide at his home in Los Angeles. He had been a member of the Elton John band since 1992, the longest-serving bassist in Elton's touring band.

Today we would like to remember this great musician and extraordinary bass player. And we would like to send our love to his family.


The "Super Fan" Interview Series
Saturday, August 15 2015
Part 3 – New York Stories - by Scott Johnson.
Name: Rich Joline
Age: 54
Profession: Financial advisor
Year you first became an Elton fan: 1972


Quick Fire Questions
Favourite Elton John album?
Hard to choose just one, of course, but if I have to pick, it's "Don't Shoot Me, I'm Only the Piano Player".


Favourite Elton John song?
Virtually impossible to choose just one, but "High Flying Bird" is just incredible. The voice, the lyrics, the bass and drums – just perfect!


First Elton John concert that you attended?
Madison Square Garden in the summer of 1976, I was 15. I wanted to go to the Nassau Coliseum show so much (I grew up on Long Island) in 1974, which was a night or two before the John Lennon show. But my parents wouldn't let me go!


Favourite Elton John tour (so far)?
I just loved the "Peachtree Road" tour, but the orchestra tour in July 2004 was awesome. Five nights at Radio City Music Hall – I went to all five!


Favourite Bernie Taupin lyric?
The white walls of your dressing room are stained in scarlet red
You bled upon the cold stone like a young man
In the foreign field of death
Wouldn't it be wonderful is all I heard you say
You never closed your eyes at night and learned to love daylight
Instead you moved away


What is the one song you feel Elton should include on "The Final Curtain" tour?
"High Flying Bird", or maybe "Bad Side of the Moon".
Interview with Rich Joline

Rich Joline – the third interviewee in my "super fan" series – always loved music. In the 1960s, when he was growing up on Long Island, AM Radio was always on in the house. It was with the advent of FM that, he says, "we heard so much more".

"I always loved music. While I always knew "Your Song", it was hearing "Rocket Man" that really hooked me on Elton John. It wasn't rock and pop – it was Elton. I only knew what he looked like because a friend of mine had the "Madman Across the Water" LP in his collection. I thought it was so cool. They were the only black family in our suburban Long Island neighbourhood, and all the rest of their records were things like Marvin Gaye, Sly and Family Stone."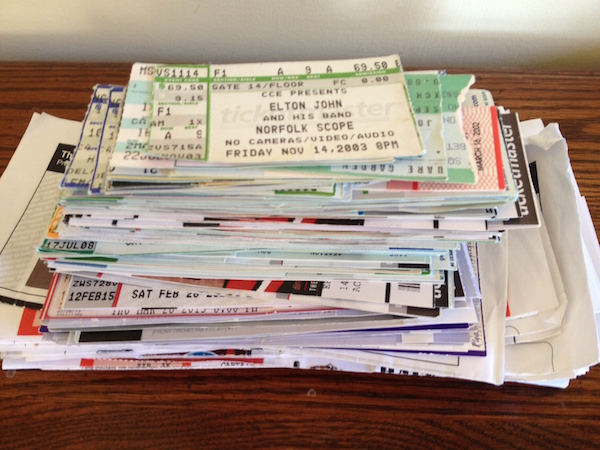 Gotta get a concert ticket: Rich has been to nearly 200 Elton shows across the US and abroad.

Growing up immersed in his love of music, it might be hard for someone so dedicated to neatly some up the influence that Elton and his music had on them, but Rich puts it like this: "So many people will tell you that Elton's music is the soundtrack to their lives, and I'd have to agree. So many of his songs have so much meaning in my life, from love songs to memories of my youth. His talent and compassion have been an inspiration to me forever."

Rich earns the mantle of a "super fan" deservedly. He's followed Elton on tour across the US and abroad to an incredible extent. Rich Joline has visited over 30 states and 4 countries to see Captain Fantastic perform live.

"Of course, the music comes first," he says, not losing sight of the root of his love for Elton, "but seeing him perform live has been just about the greatest experience of my life. Aside from things like becoming a father, seeing Elton live is basically my greatest joy. I love sports and have had some wonderful experienced as a sports fan, but nothing compares to Elton.

"Living in or near New York City all of my life has given me an advantage. Elton's played Madison Square Garden 64 times [at the time of writing] – I've been to 44 of those. He's played at least eight other New York City venues that I can count where I've seen him – Central Park, the Beacon Theatre, Radio City, Rose Theatre [for the 2006 "Captain and the Kid" debut show], the Sony Theatre, Waldorf Astoria [about which, more later…], Capital, the Palladium…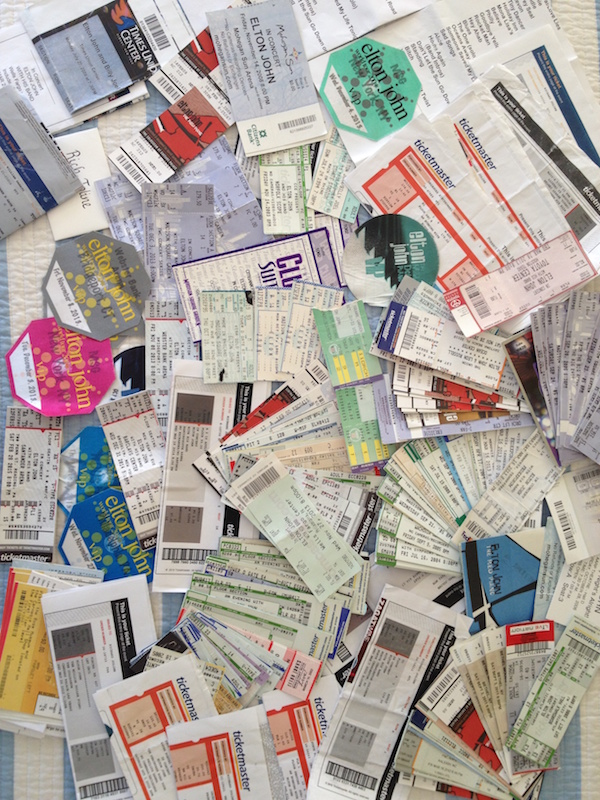 Road warrior: Seeing Elton perform live has provided Rich with some of the most joyful experiences of his life.

"Plus places like Hartford, Bridgeport, Philly, Albany, Providence, New Hampshire, Vermont, New Haven, New Jersey, the Byrne Arena, Wilkes-Barre, Redding, Boston and Worcester are all within driving distance of my home. If he's been in those places over the past 30 years, I've been to almost all of them."

If Rich sounds like a dedicated Elton John "road tripper", then that's because he is. He's a hard core follower of the man himself on stage. Other states he's visited to see Elton in concert include Virginia, Georgia, both North and South Carolina, Florida, Texas, Missouri, Ohio, Illinois, West Virginia, Nevada, Maine, Colorado, Tennessee, Delaware, Utah and Louisiana. He's travelled to Canada three times, the UK (for his 50th birthday celebrations) and even Puerto Rico. But it is that first show in Madison Square Garden back in 1976 that still provokes some of the strongest memories.

"I was in the last possible row!" he says. "As time has gone on, and with the advent of the Internet, I have basically been able to sit I the front row almost exclusively. I'm not kidding when I say that of the last 100 shows, I've been on the front row 95 times. With that comes autographs – as we all know, Elton signs at almost every show. I've lost count, but I have his signature almost 100 times. I have never sold any of them, but most of my close friends and family have something that's been autographed."

How does it feel, then, coming face to face with your idol? Has Rich ever been, well, lost for words?

"My first autograph came in 1977 when Elton and Bernie were appearing at a record store in New York City (Sam Goody). I waited almost six hours in the cold to get "Greatest Hits Volume 2" autographed. When I finally came face to face with the man, I froze – I couldn't even speak a word! He looked at me, smiling, and waited for me to say something, but I couldn't get a word out. I then moved over to Bernie and I was able to thank him and shake his hand. It took me over 30 years to meet Bernie again."

Without doubt, one of Rich's greatest live experiences came in the Spring of 2010 in Austin, Texas. The kind of thing that fans can only dream of.

"I had won two front row seats to any Elton concert in a charity auction. I wanted to go somewhere new, so I chose Austin. My wife and I made a weekend out of it. We were right in front of the piano and, after Elton introduced the band, he said he'd like to dedicate "this next song to Miss Goucher and Miss Howard and also, there's a guy down there that comes to so many of our shows. What's your name?" I thought, "he's talking to me?" I say, "Rich, and this is my 167th show!" His response: "Rich, 167 shows he's been to and I'll tell you what, when he comes to the show, I have so much fun because I just look at him all night! Thank you Rich, you've been fantastic and now that I know your name, I'm going to mention you more often!"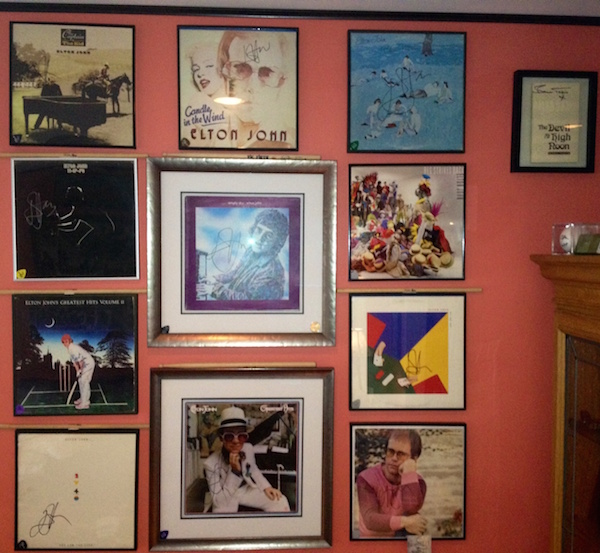 The line's been signed: Rich's extensive collection of signed Elton memoribilia... including his copy of "Greatest Hits Volume 2" which he waited in the cold for six hours to get autograped!

Rich invited me to check out the recording of the show, (released in 2010 by SimfyLive). It's all true, and he's now memorised Elton's dedication to him word for word.

Rich has also made generous and regular contributions to Elton's Aids Foundation. Ironically, it was during one of his "An Enduring Vision" events in New York City that he came upon his second opportunity to meet his idol.

"The event was being hosted at an odd location in Chinatown, back in 2003. Knowing he was going to perform, I was determined to get in. I hung around by the red carpet entrance and watched all the celebrities, including Elton and David, arrive. Events like these don't require a ticket to get in, but you do need to "check in" at the entrance against a guest list. Since my name wasn't on the guest list, I thought, what was I to do? The interesting thing about New York is that no one is permitted to smoke in any building, so the smokers usually step outside. I went around the corner to a bar, had a couple of "vodka and tonics" to steady my nerves, bummed a cigarette and walked back to the entrance. This is about an hour after the event started, so folk were already stepping outside to smoke. I lit a cigarette (I don't smoke), coughed and blended in with the other smokers. A minute later, I snuffed it out and walked right in like I had been there all night!"

You have to admire the sheer bravery of such a feat. Most people wouldn't attempt such a thing, much less succeed. And when he made it inside?

"I hung around until Elton came to the stage and then I assumed a position in front of the piano, no more than ten feet from Elton. For the next hour, as Elton played a spirited solo set, I was right there, dancing and singing along. Of course, virtually everyone else was seated and I stuck out like a sore thumb – but no one said a word! After the set, and much eye contact with Elton, he came off the stage and shook my hand. Later in the evening, I had my picture taken with Elton and Sting."

For many, a face to face meeting with Elton would be a once in a lifetime opportunity, but Rich has exceeded his own expectations.

"Elton was at the Waldorf Astoria for the "Enduring Vision" event in October 2006, just after "The Captain and the Kid" was released. He performed and, as the event was ending, he was working the crowd and thanking the guests for coming. Seizing a once in a lifetime opportunity, I approached Elton with a big smile. I told him how much I loved the new record. He thanked me and said he was proud of the LP, but was pissed at the way the record company was promoting (or not promoting) the new disc. He then asked me if I was the guy he sees at a lot of shows. I said I was indeed and that I'd see him again. I got a big smile, a hug and a handshake. I was a pretty happy man!"

Is the key to meeting the man himself being able to steel your nerves and seize the moment, then?

"Elton was helping Elvis Costello with a TV programme in Harlem at the Apollo Theatre a few years back [2008's "Elvis Costello's Spectacle"]. Elton interviewed Diana Krall and sang a few songs with her. About 200 of us were in the theatre via invite only. After the taping of the show wrapped up, virtually everyone left. I went around the block to the back of the theatre and hung around for a whole as I saw that Elton's limo was still there. About five other fans had clued in on it as well. At some point, Jimmy the bodyguard poked his head out to survey the scene. Seeing that there was only a small handful of us, Elton came out and graciously spent a few minutes talking and posing for pictures. He was as laid back and friendly as could be, actually he was asking us questions!"

Part of Elton's phenomenal international appeal is the resilience of his touring band. For Rich, those players hold as much appeal and he's had his share of encounters with them too.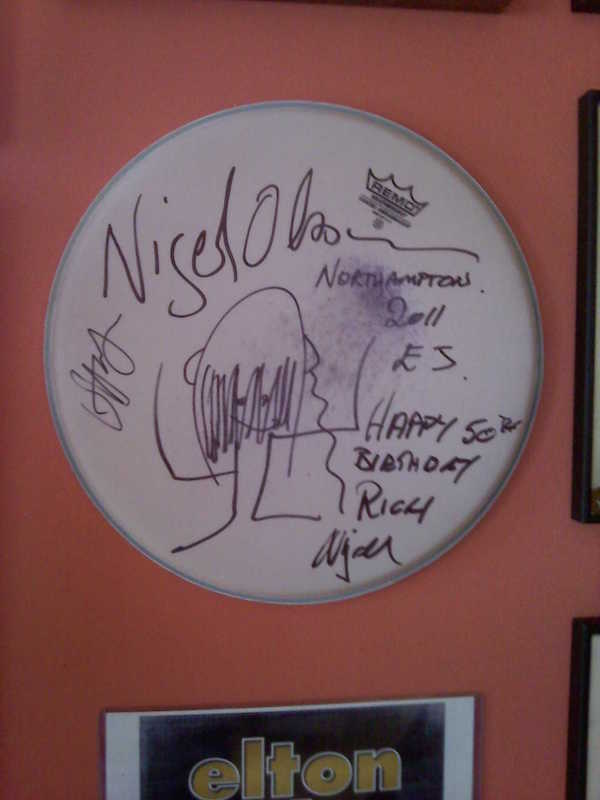 A birthday Rich will never forget - when he turned 50, Nigel dedicated a signed drum head to him!

"Meeting the band members has been cool. I've met Nigel, Davey, John Mahon, Ray Cooper, Guy Babylon, Bob Birch, Kim Bullard and Matt Bissonette. The first encounter I had was in Kansas City. Travelling around the country, I figured I was bound to stay in the same hotel as them at some point, and that happened in Kansas. Hours before the show with their bus idling outside, I patiently waited in the lobby. Bob Birch was first – when I approached him and told him that I've been to so many shows, he said "I know, I see you out there all the time, I love your passion." He signed my "Captain and the Kid" LP and boarded the bus. Davey asked me if I was the guy "who keeps popping up in the front row?" Nigel was next and it blew me away to be able to talk to him so comfortably. I met Guy that day as well, although I had met him in New York City earlier during the Radio City shows. He was a nice, quiet man whose talent always amazed me.

"The most meaningful encounter that day was John Mahon. John hung around for a good 20 minutes, chatting with me and a few others. I expressed to him my condolences on the recent passing of his mother. He seemed genuinely appreciate and we developed a bit of a relationship. Not sure I could say friends, but certainly friendly. He has offered me backstage passes dozens of times, but the greatest gesture occurred at Madison Square Garden for Elton's 60th birthday show. During "Crocodile Rock", he came round from his kit and handed me a drum stick. It was autographed and dated "MSG 60/60"."

Like the others I have interviewed, Rich has a selection of items in his collection that he cherishes above others. Two of his most prized pieces are Nigel's signed drum head from a show in England he attended on his 50th birthday. Nigel played the drum during the show, signed it, drew on it and wrote the words "Happy 50th Birthday Rich, Northampton 2011".

But the most treasured piece of all is Rich's handwritten letter from Elton himself. So how does a super fan come to own such a unique and personal item?

"Back in 2011, my wife and I were blessed with a surprise pregnancy. It was late in life, so it was a shock when I first heard the news and it took me a while to embrace the situation. On Valentine's Day 2012, my son was born and he is the greatest thing that has ever happened to me. I wrote a letter to Elton, explaining how thrilled I was and how I looked up to him and David becoming parents later in life. About a week later, an envelope appeared in my mailbox. There was no return address but I recognised he handwriting. Sure enough, Elton sent me the sweetest, handwritten letter saying he had seen me in the crowd recently, read my letter and was thrilled to hear "the wonderful news". On Cartier stationary! It is framed and hangs above my desk. Barely a day goes by when I don't read it."

Despite the red carpet meetings, the autographs and the travelling, it is the music which remains at the heart of the love this road-tripping "super fan" has for Elton.

"There is so much of it and it is great. I was so happy when he came back to form with "Songs from the West Coast". I love that record. I am not a musician, which is all the more reason I think what he and the band do is so cool. The music hasn't influenced me as much as it's just always been there and I get so much joy from listening to it."

And how do Elton's later albums compare to the "classic years", in his view?

"Albums like "Peachtree Road" and "The Captain and the Kid" are just as important to me as "Goodbye Yellow Brick Road" and "Honky Chataeu". It amazes me that Elton has been able to do this for so long. It's very cool for him to have made a record with Leon Russell, and there are some killers on that disc. "The Diving Board" to me is more of a straight-through listen, as opposed to picking any particular song. I just put it on and play the whole thing."

There's only one disappointment that Rich can turn to, though, when he looks back on the T-Bone Burnett produced records of recent years. "My only disappointment about those albums – and I feel very strongly about this – is that Elton did not use the bad. Nothing wrong with T-Bone's guys, but Elton's band could easily have done just as well. I am thrilled that they are on the soon-to-be-released record, which I hope we hear more about real soon. I can't wait!"

The enthusiasm that first blossomed in 1976 at Madison Square Gardens doesn't show signs of fading fast. It's heartening to interview someone who is still palpably enthusiastic about what Elton has accomplished, and (perhaps more importantly) what is still to come. I close with the question I have asked all my other interviewees – can Captain Fantastic ever have a number one album again?

"Yes, I think he can," says Rich. "The music business is so different than it used to be, but I still believe."

If you're reading, I'd take those words to heart. Keep on believing. The best may be yet to come.



The "Super Fan" Interview Series
Wednesday, July 29 2015 at 10:02:15
The "Super Fan" Interview Series
Monday, July 20 2015 at 20:10:58



Elton pursues French media companies over health 'rumours'
Saturday, August 15 2015

Lawyer claims Elton and David will no longer tolerate 'exploitation of their renown', as legal action is taken against Closermag.fr, TeleStar.fr and VSD.

Elton's lawyer has said that he is pursuing three French media outlets for publishing what he called "unfounded rumours" about his health and that of his husband.

"Sir Elton John and David Furnish … have instructed my office to pursue through the justice system the violation of the right to respect for their private life due to the publishing by Closermag.fr, TeleStar.fr and VSD of unfounded rumours about their health," Vincent Toledano said in a statement on August 14, 2015.

Elton and David "will no longer tolerate the violation of their privacy and the exploitation of their renown and their image for commercial ends in France," the lawyer added. He said the action against the two websites and the magazine would be issued August 17, 2015 at a court in Nanterre, in the Paris suburbs. The couple spent time this summer on the Côte d'Azur in the south-east of France.



Elton in Monaco ambulance dash after his leg 'swells like a balloon' during tennis match
Sunday, August 9 2015 at 08:17:20

Elton in hospital?
Saturday, August 8 2015 at 12:46:36



T Bone Burnett on Elton's 'beautiful' new record
Friday, August 14 2015

In a recent interview with Billboard magazine, VP A&R, Capitol Records T Bone Burnett also talked about Elton's upcoming album.

Asked "Are you doing a follow-up to 'The Diving Board,' the record you produced for Elton John?" he replied:

"We just finished a new Elton record that's ­beautiful. It's a very upbeat rock'n'roll record. That last album was a particular group of very personal material; this is broadcasting. That one was a parlor record; this is a festival."

Elton, David and the boys enjoy their annual summer holiday
Friday, August 14 2015

This week it was time for Elton to take a break and head off on his annual summer holiday to Saint Tropez.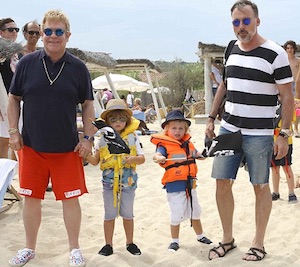 He was joined by husband David Furnish and their two children two-year-old Elijah and Zachary, four, as they headed to their favourite restaurant Club 55 in Pampelonne Beach on August 13, 2015.

The family of four dressed for the sunshine, with Sir Elton teaming a pair of bright red shorts with a dark polo shirt. Elton added a pair of colourful trainers and blue shades as he held his eldest son's hand during the walk to the restaurant after the family were dropped at the beach by boat. David followed behind, carrying Elijah, and dressed in a black and white striped t-shirt and denim shorts.

The couple's adorable boys looked summery, with Zachary in a cute pineapple-print shirt and cut-off shorts, while his little brother matched in blue and white and a hat to keep cool. Elton and his family jet to Saint Tropez every summer for a getaway, usually holidaying with a group of friends as well as their sons.

This year's jaunt marks the first summer there for the pair as a married couple, after they officially tied the knot in December, exactly nine years after they entered into a civil partnership.
Elton John and band performed in Lake Tahoe on August 8, 2015
Monday, August 10 2015
Following is the complete set list of the Lake Tahoe show on Auhust 8, 2015.
The Bitch Is Back

Bennie And The Jets

Candle In the Wind

All The Girls Love Alice

Levon

Tiny Dancer

Believe

Daniel

Philadelphia Freedom

Goodbye Yellow Brick Road

Rocket Man

Hey Ahab

I Guess That's Why They Call It The Blues

Your Song

Burn Down The Mission

Sad Songs (Say So Much)

Sorry Seems To Be The Hardest Word

Don't Let The Sun Go Down On Me

I'm Still Standing

Your Sister Can't Twist (But She Can Rock 'n Roll)

Saturday Night's Alright For Fighting


Crocodile Rock
Watch Elton's Outside Lands Festival set streaming live online
Sunday, August 9 2015
The 2015 Outside Lands Festival got under way on Friday at San Francisco's Golden Gate Park and will wrap up on Augsut 9, 2015 with a headlining set by Elton John.
If you can't make it out to the Bay Area for the festival, many of the artists' sets, including Elton's, are streaming online.

You can watch the live stream at SFOutsideLands.com, where different artists will be shown simultaneously on three separate channels.

Elton's performance will be viewable starting at 10:35 p.m. ET/7:35 p.m. PT on August 9, 2015 on Channel 1, and also will air at 11:55 p.m. ET/8:55 p.m. PT on Channel 3.
Elton in Monaco ambulance dash after his leg 'swells like a balloon' during tennis match
Sunday, August 9 2015
There was concern for Elton on August 7, 2015 after it emerged he had been admitted to hospital while on holiday in the South of France, reports the Daily Mail.
The newspaper revealed that the 68-year-old was taken to Monaco from his home in Nice for treatment at a top private hospital after he found an abscess on his thigh, which mysteriously 'swelled like a balloon' during a game of his favourite sport, tennis.

Elton – who was playing in high temperatures on his private court with his long-time coach on July 29, 2015 – became concerned after his leg swelled and became unbearably painful. A source said: "He was worried. It was swelling and swelling."

The fear for his health was such that an ambulance was called and he was admitted to Princess Grace Hospital in neighbouring Monaco. His sons Zac and Elijah stayed behind at his stunning villa in the exclusive area of Mont Boron, near Cap Ferrat, while Elton was monitored and administered with a cocktail of injections, including an adrenaline shot.

It is not the first health scare for Elton, who revealed two years ago how he was 'lucky and grateful to be alive' after learning he had been playing European tour dates while suffering from undiagnosed appendicitis. He said at the time: "I was a ticking timebomb. I guess I could have died at any time." He subsequently cancelled a show in London's Hyde Park and other dates while being treated for the inflamed appendix.

Elton, who has now been discharged, is said to be recovering well, managing to perform further concerts in the US.

Elton in hospital?
Saturday, August 8 2015 at 12:46:36

Elton: "I'm lucky to be alive"
Sunday, July 14 2013 at 17:51:49


Elton in hospital?
Saturday, August 8 2015
Several French newspapers and magazines keep reporting that Elton has been hospitalized in Monaco on July 29, 2015.
He is said to have spent one full week at the Princess Grace Hospital. These unconfirmed sources also report that he has been back for one additional check on August 7, 2015.

Closer magazine originally reported that Elton was totally drunk when he arrived in the hospital on July 29, 2015, but has now slightly changed the version to "after a troubled party".

Other papers like Var Matin and Monaco Matin talk about a "small trouble, with no link to what is reported by the magazines".

What's striking is the fact that we haven't seen the typical Cote Azur paparazzi photos from Elton's and David's vacation with the kids this year. On the other hand, Hercules has heard reports about Elton performing a private show on August 1, 2015.

The fact that only French sources report about this story is also slightly puzzling. We have yet to receive official confirmation from Elton's management. Today (August 8, 2015) Elton and the band are supposed to perform in Lake Tahoe, NV.
Four star rating for the Elton John Aids Foundation
Friday, August 7 2015
The Elton John Aids Foundation has received its 10th consecutive four star rating from Charity Navigator.
Elton John posted on Instagram: "I'm so proud that the Elton John AIDS Foundation has just received our 10th consecutive 4-star rating from Charity Navigator, the highest possible rating!

Charity Navigator is America's most trusted independent charity evaluator. This top rating assures our donors that we invest their dollars wisely and conduct the Foundation's business with the highest ethics and transparency.

Only 5% of charities have received a 4-star rating 5 years in a row! We are so proud of this achievement, and we pledge to keep up our lifesaving work to end the AIDS epidemic. Massive thanks to EVERYONE for their support. @ejaf @davidfurnish #ShareTheLove"

Congratulations to Elton, David and the entire EJAF team!
Handwriting analysis of Elton John
Thursday, August 6 2015
The Las Vegas Sun invited handwriting analyst Grace Thompson to take a look at five Strip entertainers who are residents for Caesars Entertainment — Britney Spears, Jennifer Lopez, Elton John, Mariah Carey and Rod Stewart.
Grace told the newspaper: "These five celebrities were chosen at random: Britney Spears, Jennifer Lopez, Mariah Carey, Sir Elton John and Rod Stewart. When I researched their signatures, I found that their writing and signatures had changed drastically through the years, so I tried to analyze samples from past and present. As with most everyone, as our lives change, so do our writing styles."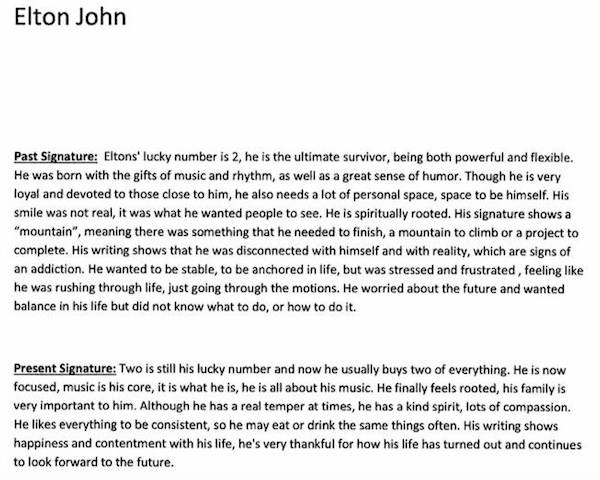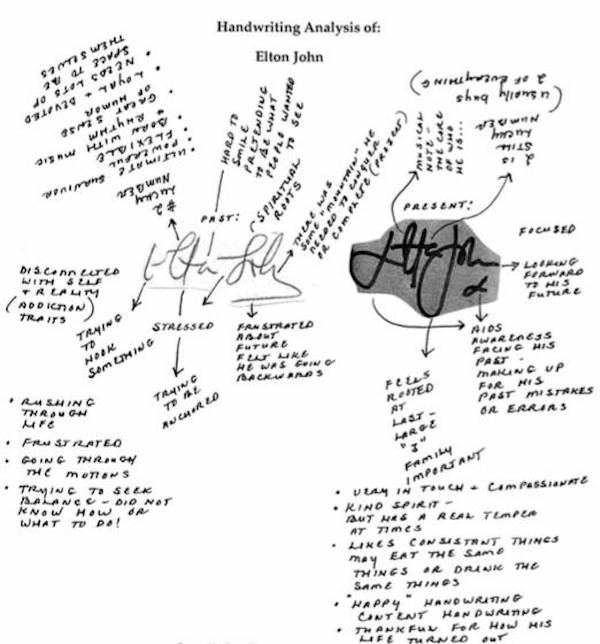 Taupin pens liner notes for Hollywood Vampires debut
Thursday, August 6 2015
In 1972, on the Sunset Strip at a club called the Rainbow Bar & Grill, the Hollywood Vampires were born in the upstairs bar.
It was a gathering place for the rock stars living in or passing through L.A. "To join the club, one simply had to out drink all of the members," says Alice Cooper, a founding member of the Vampires. "I would walk in on a typical night," Alice says, "and John Lennon, Harry Nilsson, Keith Moon — who would usually be in a costume like a maid or a chauffeur — Bernie Taupin, Jim Morrison and Mickey Dolenz would be there. The next week might be Bernie Taupin, Jimi Hendrix, Jim Morrison and Mickey Dolenz."

Three years ago, Alice and good friend Johnny Depp got together and decided the spirit of the Hollywood Vampires should live again (minus the drinking). An environment for great artists to hang, laugh and play together. The Hollywood Vampires live again with the release of the HOLLYWOOD VAMPIRES album. Alice and Johnny were joined by Joe Perry, who is an old friend of both of them, and the recording began: a tribute to the original Hollywood Vampires.

For the next two years, Alice, Joe and Johnny, joined by producer Bob Ezrin and an amazing group of modern day vampires, including Perry Farrell, Dave Grohl, Sir Paul McCartney, Joe Walsh, Slash, Robbie Krieger, Zak Starkey, Brian Johnson and Kip Winger, recorded tracks by their dead friends and heroes. Also included are two original songs that tell the story of the Vampires, one of which, "Raise The Dead", has an intro by Sir Christopher Lee, recorded just prior to his death.

The album package, an antique book, was created by noted men's fashion designer (and rock fan) John Varvatos in his signature vintage style. Alice and Varvatos, both Detroit natives, have been partners in fashion for several years with Alice lending his classic rock style as a brand ambassador.

A sneak peek at the liner notes, penned by original Hollywood Vampire Bernie Taupin, "I'm not here to defend their vices. Over-indulgence of any sort does not ultimately constitute for a healthy mind and body. And while on the periphery of those involved, wives may have come and gone, career choices may have been deemed dubious, and heartbreak in some cases stalked a dark corridor, but in the lair of the Hollywood Vampires only joy and laughter reigned. I'm not completely sure what constituted bad behavior back then, but in this lair it existed in a bubble, a hermetically sealed dome of fun. It may not have been the round table at the Algonquin, but these were witty, intelligent guys who often got raucous and loud, but rest assured there were no bystanders or animals hurt in the making of the Hollywood Vampires."

All artist proceeds will be donated to MusiCares. "Hollywood Vampires" will be released on September 11, 2015.

The track listing for the CD is as follows:

01. The Last Vampire
02. Raise The Dead
03. My Generation
04. Whole Lotta Love
05. I Got A Line
06. Five To One/Break On Through
07. One/Jump Into The Fire
08. Come And Get It
09. Jeepster
10. Cold Turkey
11. Manic Depression
12. Itchycoo Park
13. School's Out/Another Brick In The Wall Pt. 2
14. Dead Drunk Friends
Catherine Britt has received a message of support from Elton
Monday, August 3 2015
The Australian country music singer shared an image of the handwritten note on Facebook ahead of her first round of chemotherapy.
Elton has sent a message of support to his friend and country music star Catherine Britt who is battling breast cancer. "Received a sweet letter from my old friend Elton on the eve of the biggest week of my life," Britt wrote. "Update: I'm off to the hospital again tomorrow morning for a mini operation to extract my eggs to store away for future mini me's!! (Look out!! Haha) Wish me luck!!!!"

The 31-year-old is an award winning country musician who was named female artist of the year at the 2013 Golden Guitar Awards. She caught the attention of Elton early in her career, the pair becoming friends and even recording a duet together of "Where We Both Say Goodbye." His note read: "Sending a huge kiss and hug. Much love, Elton."

In June 2015, Britt had surgery to have a lump and four lymph nodes removed from her breast. "I just want women to know they should get checked and do what I did or they might be too late," said Britt, who has been touring the country for her sixth studio album Boneshaker. She also made light of the prospect of losing her blonde locks, saying she would walk down the aisle bald if needs be at her October wedding to fiance James Beverley. And this week she dyed her hair pink.

"When ur (sic) told your hair is 100% going to fall out due to the mix of chemo that your on what do you do!?..... You have fun with it!!!!" she wrote on Facebook. "Time to experiment with some fun colors (sic) I've always wanted to try and some different cuts ... I've got about a week of play."