ELTON JOHN NEWS ARCHIVE: August 2012
"Candle In The Wind 1997" turns 15 years old
Friday, August 31 2012
Re-written in the wake of his friend Princess Diana's car accident death on August 31, 1997, Elton John's "Candle In The Wind" was merely a maudlin tribute to Marilyn Monroe before tragedy struck.
Diana died from her wounds in a Paris road tunnel crash, along with her boyfriend Dodi Fayed, and the driver of their car, Henri Paul. Details about the deadly behavior by the paparazzi and how they contributed the accident would shock the entertainment world which more or less declared war on them. 15 years later, sadly nothing much has changed.

Elton premiered his reworking of his Monroe tribute at Diana's funeral on September 6, 1997. In the days following her death, Elton contacted his songwriting partner Bernie Taupin and Beatles producer George Martin to record this new version of the single. It was released on September 13, 1997 in the UK, and a week or so later here stateside.

Elton had lost his close friend, designer Gianni Versace, just a few months earlier that July 1997, and Elton had already been in a deep depression. Elton would only perform his new version of "Candle" once, at the Diana funeral. The single would have two A-sides, "Candle" and "Something About the Way You Look Tonight" from his then upcoming album "The Big Picture". Looking back it was kind of crass to have your own single attached to what was a charity item. "The Big Picture" itself was no big shakes on the pop charts though.

All proceeds from the "Candle" single were earmarked for a charitable trust established in Diana's name, which would go to support charities that she had worked with in life. The single was one of the last gasps of the CD and cassingle (cassette single) phenomenon. Most every family owned at least one copy it seems, though it was kind of morbid to listen to. You bought it more for the sentiment behind it. According to figures it has sold 28,458,225 copies worldwide.

There was a minor dispute as to whether it was in fact a bigger seller than Bing Crosby's "White Christmas" but upon closer inspection by the Guinness World Records people it was proclaimed the bigger single. But then in 2009 the Guinness folks -- with pressure from Crosby's ghost -- decided to give them both the honor.

Nothing has come close to it, sales-wise, but 15 years later with the advent of MP3s, ringtones, and YouTube, it hard to gauge the exact impact of a single. You never know, "Call Me Maybe" may have topped it sometime last week.
Server move (almost) finished
Thursday, August 30 2012
The move of eltonfan.net to a new server went a bit slower than expected. Apologies for that.
And while I am still in the process of testing all the functionalities of the website on the new server, it looks like everything is running okay. Should you encounter any problems, please don't hesitate to let me know.

I still plan on working on a few new functionalities and other changes (your suggestions are welcome) over the next few weeks, but as far as the functionality is concerned, this is it. Thanks for your patience.

As for the Message Board, it has survived in its old form for now, but sooner or later I will have to replace it by a new Forum. So far I haven't succeeded in transfering the posts from the old to the new software, so I will keep on trying for a little longer. If that conversion will fail, chances are that the old Message Board will discontinue (i.e. will only remain as an archive with no posting possible) while we will start a new Forum in parallel.

Stephan (webmaster)


Server move
Thursday, August 23 2012 at 10:33:22
Fashion Cares takes its final bow
Thursday, August 30 2012
After 25 years, Fashion Cares, the legendary AIDS fundraising event that brought together celebrity culture, a spectacular (and spectacularly outrageous) fashion show and an after-party at which several thousand people took to the floor, is calling it quits.
When Elton John belts out the final note, the last model exits the stage, the curtain drops and the lights dim at the Sony Centre on September 9, 2012, an end of an era will come to a close. "The days of the mega fundraiser is fading," acknowledges Michael King, co-chair of Fashion Cares. "I think this is a natural milestone to end on."

The first Fashion Cares was held in 1987 at the Diamond nightclub on Sherbourne Street, mounted by members of Toronto's fashion and arts community, which was being decimated by AIDS. The life expectancy for someone with HIV was probably 11 months back then and the need for a fundraiser to raise awareness was urgent, says King.

"Today, people with HIV are living full lives but their lives are still complicated and not easy," he adds. "I'm sure the event will live on in a different guise but a giant spectacle with 3,000 people sitting down for dinner seems passé." Fashion Care, it goes without saying, has always been an important fundraising event for the AIDS Committee of Toronto. But Hazelle Palmer, executive director for ACT, also agrees the time has come to do something different.

"It's a different time and we have to find new ways of raising awareness of HIV and AIDS," she says, including finding new community partners. These days, ACT fundraisers tend to focus on smaller events like the annual AIDS Walk and SNAP — a photography auction involving notable galleries and photographers. And nobody is surprised ACT has decided it's time to move on. While this will be the last Fashion Cares, the annual event has been on hiatus since 2008. Palmer says the organization is still pondering what kind of fundraising event will replace Fashion Cares.

"Obviously AIDS is still a huge issue and we want to continue to get that message out," she says. Dinner tables for the event are sold out but a final batch of tickets for the show and cocktail party at the Sony Centre will go on sale at Ticketmaster.

In addition to Elton John, the headliner, the evening will also feature performances by Scissors Sisters, Janelle Monae and Sky Ferreira. The evening will be hosted by Linda Evangelista and Dean and Dan Caten of DSquared. The fashion show — always a highlight of the evening — will include a retrospective of past outfits brought out from the archives of M.A.C, the evening's longtime sponsor.

"I can't tell you what Elton will do for the final act but I'll say this final edition will be remembered for a long time," promises King.


Fashion Cares 25 to Benefit EJAF
Thursday, June 14 2012 at 18:39:10

Fashion Cares 25 announces 2012 Honourary Chairs
Friday, April 20 2012 at 07:23:27


Elton included on "Forbes" Magazine's list of highest-paid celebrities
Wednesday, August 29 2012
While we normally think of musicians as rolling in the dough, their salaries generally don't compare to some other high-profile celebrities.
The proof: On Forbes' magazine's new list of the 21 highest-paid celebrities, only three musicians are included, and one of them is Elton John.

To determine who really has the most cash in the showbiz world, Forbes says it added upfront pay, back-end profits, residuals, endorsements and commercial work. After the math's done, Elton ranks #12 on the list, right between TV personality Glenn Beck and Tom Cruise. Forbes estimates that Elton took in $80 million over the last year, thanks to some 100 concerts he's performed, as well as the money he made from the animated film 'Gnomeo & Juliet', which his company produced.

The only other musicians on the list are Britney Spears at #20, with earnings of $58 million from her concert tour, album sales and endorsement deals, and rap-music mogul Dr. Dre at #5. The hip-hop star hasn't released an album since 2001, but he made $110 million thanks to his line of Beats by Dr. Dre headphones.

Oprah Winfrey, no surprise, is #1 on Forbes' list.
Sir Elton John Season
Tuesday, August 28 2012
BBC Radio 2 celebrates Sir Elton John with a special season of programmes.
The Elton John Show (27 Aug 2012) - listen

Bernie Taupin - A conversation with the Brown Dirt Cowboy - listen

Radio 2 in Concert: Elton John - listen

Elton at the Beep - listen

Elton John's 'Goodbye Yellow Brick Road' - listen

Elton and his early success (archive interview) - listen
Server move
Thursday, August 23 2012
Over the next few days we will be moving the website to a new server.
We would like to ask for your understanding should the website or parts thereof be temporarily unavailable during the move.

Chances are that we will have to replace the very outdated software on which the Hercules Message Board is running. We will try to migrate the data of the current message board, however, it is possible that we will have to start a new Hercules Message Board from scratch, i.e. all previous post might get lost and you will all have to re-register.

We are sorry about the inconvience. Thanks for your patience and understanding.
Madonna forgives Elton
Thursday, August 23 2012
Madonna has made the first step in repairing her fractured friendship with Elton John.
During a performance in Nice on August 21, 2012, Madonna dedicated the song 'Masterpiece' to the pianist who called her a "fairground stripper". Madonna fan @nice_matin reported the 53-year-old saying of Elton John "he's a big fan and I forgive him."

The move may have been strategic - 'Masterpiece' from Madonna's film W.E beat Elton John's 'Hello Hello' from Gnomeo and Juliet at this year's Golden Globe.


Guatemala invites Elton John to celebrate end of Mayan Era
Wednesday, August 22 2012
U2, Elton John and Placido Domingo, among other musicians, were invited to Guatemala to celebrate the end of the Mayan calendar, on December 21, 2012, according to the Culture Ministry.
The list of invitees also includes Neil Young, Sting, System of a Down, Bruce Springsteen and Janet Jackson. The ministry stated "world leaders, thinkers, philosophers, scientists" are invited to the "World Summit for Humanity" on December 21, 2012.

"That day marks the conclusion of the Grand Cycle of the Mayan calendar – called 13 B'aktun – and the beginning of a new era of 5,200 years," explained Culture Minister Carlos Batzin. Others happen to believe that the end of the calendar marks the end of the world.

The Guatemalan government, Mexican producer Raúl Julia-Levy, Guatemalan writer Carlos Barrios and Mayan spiritual guides are leading the activities. "We are at a turning point, a moment of opportunity, but overall of commitment, so that the natural order that the Mother Earth is going through parallels as human beings, our lives, our civilizations," Batzin added.

According to the Mayan solar calendar, December 21, 2012 ends an era of 5,200 years and starts a new cycle, which has led to speculation about the end of humanity, but the Maya did not share that vision. On August 21, 2012, Mayan priests performed a ceremony in the archeological center Kaminal Juyu, in the Guatemalan capital, as part of the activities of the countdown to the end of the age "Oxlajuj B'aktun."

The Mayan calendar consists of 18 months of 20 days each, plus the 'Wayeb,' the holy month of five days. The 'B'aktun' is the longest unit of this system and is equivalent to about 400 years. The Mayan culture had its peak in the so-called Classic period (250-900 AD). Then began a period of decline in the post-Classic period (900-1200 AD).
Elton fears Zac will face homophobia
Tuesday, August 21 2012
Elton John believes his son Zachary's childhood is going to be "very difficult", battling homophobia and the impact of his father's fame, he said in an interview published August 21,2012.
Elton and David became parents on December 25, 2010, to a child conceived using a donor egg and born via a surrogate mother. But Elton said he was preparing himself for what would be a tough time growing up for his son, who is now 19 months, he told the weekly British magazine Radio Times.

"At school other children will say, 'You don't have a mummy'," Elton said. "We've come a long way, but there's still homophobia and will be until a new generation of parents don't instil it in their children." He added on his son's upbringing: "It's natural for him. He calls me 'Daddy' and David 'Papa'."

Elton said the toddler did not yet have an understanding of his father's fame. "When he finds out, he'll look at me as if I'm bonkers," he said. "Being the child of someone famous is a huge ball and chain around your ankles. It's going to be very difficult."

Elton explained how he was trying to give his son a musical upbringing. "I want music to be a huge part of his life. I sit him on my lap and he doesn't bang the piano," he said. "He tries to copy me but he's not formed enough yet to know what I do, thank God." Elton said that he introduced Zachary to classical composers Chopin, Mozart and Beethoven — as well as the children's song "Nellie The Elephant" — at a very young age, but that his son was more interested in football and cooking.

"I won't push Zachary into anything. So far, he just loves kicking a ball and watching people cook," he said. Elton also praised Madonna — despite recently reigniting his spat with the US singer in an Australian television interview when he said she looked like a "fairground stripper" whose career was over. "Madonna took the industry by the scruff of the neck, made opportunities for other women, like (Lady) Gaga and Katy Perry," he told the Radio Times.

He said of his own singing career: "I would (give up) if I felt the voice had gone, but at 65 it's getting better and I'm in the prime of life." Elton has sold more than 250 million records in a career spanning four decades and he was inducted into the Rock and Roll Hall of Fame in 1994.
Bob Birch - Obituary
Saturday, August 18 2012
Legendary bassist Bob Birch, 56, finally at peace, by Michael Anthony Perna.
To quote one of my favorite Elton John songs, "We're crippled and we're dazed. A gardener like that one, no one can replace." Bob Birch was a legendary bass player, a devoted husband, a proud father, a loving son, a kind brother, a family man, a giving person, a loyal band mate, a wise mentor, a true friend and a die hard Detroit Lion's fan. He was also the definition of cool. Bob's smile was contagious. His demeanor was mild. His eyes were bright, but his spirit was even brighter. It would light up not only a room, but an arena as well. Everything he did, he did with the passion and enthusiasm of a teenager, whether it was performing in front of a hundred thousand fans or at home making meatballs and gravy (red sauce for those of you not from back east) for a few lucky friends and family members.

The only thing greater than his genius talent, was his humility. Not many people know that he played not only bass, but every instrument in the band, composed, engineered, produced, taught, mentored and was the one person you could always go to for honest advice and encouragement. Bob was the best at what he did and worked his way up the food chain in the music business to play with the top world class performer of our time, Sir Elton John, and he deserved it. He also played with Billy Joel, Eric Clapton and Stevie Wonder just to name a few. Those of us lucky enough to have played with him know that we were playing with more than just a great bass player because somehow his spark would always thrust the band to another level. After a tragic accident seventeen years ago when he suffered a broken back and two broken legs, he spent the remaining years of his life fighting to manage his pain and suffering in silence while living an incredibly productive life. He was a true warrior. After fighting the good fight for all those years, on August 15, 2012, his body had finally no more to give. We are devastated at our loss over this past week and only through the strength of the message Bob Birch gave us through his years of giving has afforded us the strength to move forward. I know he would have expected nothing less from us. Bob was full of love. And one of the best definitions of God I know is: God is love.

That tells me that Bob is with God in heaven. He is finally out of pain, and probably on the way to play the Hendrix gig. Bob Birch is survived by his wife Michele and his son Jonathan, a loving family, a host of friends and a world of fans. Donations can be made in the name of Bob Birch to the Elton John Aids Foundation. The world is truly a better place because Bob Birch was in it. I love him and his family and will miss him dearly, but I just feel blessed to have known him at all. Rest in peace brother. Services Sunday August 19th, 2012 at 2:00PM, Mount Sinai Memorial Parks and Mortuaries, Simi Valley.

Published in the Los Angeles Times on August 18, 2012

Bob's family has asked that donations in his memory be made to the Elton John AIDS Foundation.


Elton, Bernie and others pay tribute to Bob Birch
Thursday, August 16 2012 at 20:26:23

Bob Birch dead in apparent suicide
Thursday, August 16 2012 at 06:43:02


Ed Sheeran on Advice from Elton
Saturday, August 18 2012
English singer-songwriter Ed Sheeran played for 31 million viewers on August 12, 2012 when he sang Pink Floyd's "Wish You Were Here" at the London Olympics Closing Ceremony, backed by Nick Mason and Mike Rutherford.
"I'm never going to get to do something like that again in my life, so I just savored every moment of it," he tells Rolling Stone.

Sheeran has a new friend in Elton John: both played the Queen's Diamond Jubilee concert earlier this summer. "'Indian Sunset' is a fucking amazing piece of music," Sheeran says of his favorite Elton track. "He's the best person for advice for me. There have been a couple of things recently where I've needed more wise industry knowledge and I can give him a call. The best advice he's given me: probably to release a single in between 'The A Team' and 'Lego House.' He was like, 'A Team' is the one that kind of breaks you onto the scene and 'Lego House' breaks you onto the mainstream commercial scene, but you need a bridge in between both, otherwise people would just think that I did ballads. So I released 'You Need Me, I Don't Need You' in between, [and] it seemed to work out well."
Elton, Bernie and others pay tribute to Bob Birch
Thursday, August 16 2012
Bob Birch, bass player and backing vocalist in Elton John's band, died yesterday at the age of 56. Following Bob's death, Elton and others made the following statements.
Elton: "I am devastated and shocked at the loss of my friend and fellow musician, Bob Birch. My heart goes out to Bob's wife Michele, his son Jonathan and his family. To me Bob was family. He had been a member of my band for 20 years; we played over 1400 concerts together. He was one of the greatest musicians I have ever worked with, and in all our years on the road he never played or sang a bad note. I cannot find the words to describe this tragic death, and how much I loved him. May he rest in peace."

Bernie: "Death leaves a heartache no one can heal, love leaves a memory no one can steal."

Billy Joel: "I am deeply saddened to learn of the death of Bob Birch. He was a brilliant musician, a true professional and a wonderful man to work with. After 16 years on the road together I considered him to be a good friend. I and all the people in my touring organization will miss him very much."


Bob Birch dead in apparent suicide
Thursday, August 16 2012 at 06:43:02


Bob Birch dead in apparent suicide
Thursday, August 16 2012
Bob Birch, a bass player and prolific session sideman best known as a long-time member of Elton John's band, died August 15, 2012 of an apparent suicide at his home in Los Angeles. He was 56.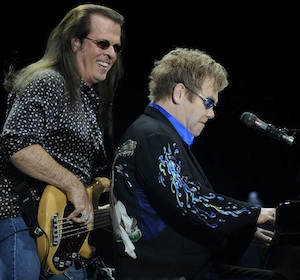 "We are very sad to report the sudden death today of Bob Birch," a message on eltonjohn.com said. "Bob had been a member of the Elton John band since 1992, the longest-serving bassist in Elton's touring band."

Ed Winter of the Los Angeles Coroner's office announced that Birch was found in his San Fernando Valley home after 1 a.m. PDT with a gunshot wound to the head. Officials say the case is being investigated as a possible suicide. According to TMZ, no suicide note has been found at the scene.

Over the years, the Detroit native has amassed a prodigious amount of credits, both in the studio and live. With Elton John, he has played bass on albums including 1995's "Made in England" and "The Red Piano" in 2008. He also played bass on Luciano Pavarotti's "The Duets" in 2008, B.B. King's "80" effort in 2005 and he contributed piano to Corinne Bailey Rae's "The Sea" in 2010. Live, he performed with a wide slate of artists including Billy Joel, Sting, Eric Clapton, Melissa Etheridge and Clint Black.

Birch is survived by his wife Michele and their son, Jonathan. We would like to convey our deepest and sincere sympathy to Bob's family: We are thinking of you at this very difficult time.

This is a very sad day and everyone in the Hercules team still is in deep shock.
Bad side of the moon
Tuesday, August 14 2012
David Walliams admitted he did it recently and it appears that flashing your bottom is all the rage among the celebrities in St Tropez.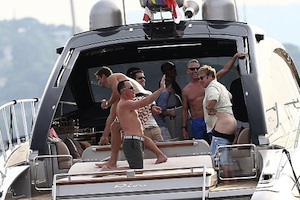 Elton is the latest star to show off his cheeky side, and his ample derriere, while enjoying a day aboard his yacht in the South of France. He pulled down his trousers and left his white bits on show much to the amusement of his guests.

It seems that Elton was 'mooning' a nearby yacht which onlookers reported was hosting Michael Caine. And Elton seemed more than pleased with his naughty antics - he was seen grinning from ear to ear. Elton appears to have developed quite a penchant for exposing himself after copying Walliams bare his bottom at Simon Cowell's yacht last week. The English comedian tweeted about the incident and posted: 'I just mooned Simon Cowell. From a boat. That is true.'

Before posting a tweet that inferred his host Elton also performed the rude act. David posted: 'And then someone a million times more well known than me mooned Simon Cowell too.' According to The Sun David shouted across to Simon: 'I've got something for you.' Before adding: 'Love you Simon' after which he blew a kiss to the Syco boss.
Pryor Cashman represents Elton and Bernie in copyright case
Monday, August 13 2012
Pryor Cashman is representing Sir Elton John and his longtime songwriting partner Bernie Taupin in a music copyright infringement case pending in U.S. District Court in Chicago, Illinois.
In the case, plaintiff Guy Hobbs, a photojournalist and aspiring songwriter, claims that lyrics which he wrote "about a Western man who encounters impossible love with a Russian girl" were infringed by the lyrics of Elton John's song Nikita. Hobbs claims that his lyrics, which have never been put to music, were inspired by his cruise ship romance with a Russian waitress named "Natasha."

In Nikita, which was made into a music video directed by Ken Russell, Elton John sings of his love for a border guard he has seen "by the wall" with her "[t]en tin soldiers in a row," and she "look[s] up through the wire" as "[g]uns and gates" "hold [her] in."

On August 7, 2012, Pryor Cashman filed a motion to dismiss the complaint on the grounds that the alleged similarities of "themes" cited by Hobbs are insufficient to constitute copyright infringement. A ruling on the motion to dismiss is expected in early Fall. Pryor Cashman litigation Partners Tom J. Ferber and Ilene S. Farkas, and associate Stephanie R. Kline, are representing Elton, Bernie and music publisher Big Pig Music Ltd in the action.

Read an article about the case that recently appeared in Law360.


Elton sued over hit song
Friday, April 27 2012 at 12:40:30


Lady GaGa's Crete treat
Sunday, August 12 2012
Lady GaGa is taking her role as godmother to the stars very seriously, reports The Sun.
The singer is having an entire wing built for tot Zachary Furnish-John in her new home on the Greek island of Crete. A source said: "GaGa is going to give Zachary his own nursery which includes a huge bedroom, playroom and bathroom and will overlook the Cretan sea. She's already flown in special wallpaper and a big boy bed for a toddler because she knows the place won't be finished for months."

Proud parents Elton and David can't praise GaGa enough. David has said: "She's all about inclusiveness and tolerance. She believes you can be whoever you want to be, we don't have to live in a world of conformity and we can all benefit from individuality."
London Olympics Closing Ceremony: Giant 'After Party' to feature Elton John
Thursday, August 9 2012
Some new details have emerged surrounding Olympics Closing Ceremony on August 12, 2012 while speculation as to the content continues to swirl.
Following Danny Boyle's corker of an opener that scored ratings highs in the US and UK, music director David Arnold told The Telegraph, "To me this should be the greatest after party in the world." A tribute to British design, fashion, fine art, poetry, playwriting and pop music, the show is titled A Symphony Of British Music.

Over 4,100 performers will kick off the event at 9 PM local time on August 12, 2012. But once again, it looks like folks in the US will have to wait at least 3 hours to catch the festivities as NBC will broadcast the ceremony starting at 7 PM local time, according to current schedules. Among the performers tipped are The Who, Paul McCartney, Elton John, the Rolling Stones, George Michael, Paul Weller, the Spice Girls, Adele, Ray Davies, Liam Gallagher, Annie Lennox, Madness, the Pet Shop Boys, Take That, Muse, One Direction and members of Queen.

Over 10,000 athletes and flagbearers are expected to march with the men's marathon medal ceremony a feature. Stephen Daldry is exec producer of the ceremonies. Arnold, the composer who has handled scores for recent Bond films "Quantum Of Solace" and "Casino Royale" and TV shows including "Sherlock" and "Little Britain USA", says he's been working for two years to put together the show and was forced to turn down scoring Skyfall because of his Olympic duties.
Elton sues The Times over tax story
Wednesday, August 8 2012
In two articles by-lined "the secrets of tax avoiders", the Times stated Patrick McKenna of Ingenious Media was Sir Elton's former accountant. Elton is suing The Times for libel over articles he says falsely linked him to immoral tax avoidance.
Papers filed at the High Court said the article implied Elton had been advised to engage in tax avoidance. The Times has already published a correction, acknowledging that McKenna had never been the star's accountant. However, Elton's lawyers described the correction, published on June 22, 2012, as "wholly inadequate".
They said the four-line apology did not have equal prominence to the original articles, which appeared on pages one and six of the newspaper, adding that it "deliberately ignored the defamatory impact" of the original article.

William McCormick QC stated in Elton's writ that the pop star was concerned about the effect of the Times articles on his charity work. "The allegations are particularly damaging to the claimant's reputation in the sphere of charity fundraising," he said. Elton's lawyers said the articles caused their client "severe damage to his reputation and personal distress and embarrassment" and they would be seeking damages for "the sense of insult and injury".

In the original articles, published on June 21, 2012, The Times had discussed the use of film finance partnerships arranged by Ingenious Media, where Mr McKenna is CEO. But in July 2012, The Times issued a clarification: "We have been asked to make clear that the film finance partnerships arranged by Ingenious Media, whose CEO is Patrick McKenna, do not offer schemes of this type and they have not been involved in moving money offshore to avoid tax. It was not our intention to make such an allegation and we are happy to make the position clear."


Elton reports Times to Leveson Inquiry
Thursday, July 5 2012 at 07:41:47

Elton suing "The Times of London" for suggesting he's a tax dodger
Saturday, June 23 2012 at 07:46:18


Madonna "doesn't care what Elton John says about her"
Tuesday, August 7 2012
As Elton continues to draw headlines for attacking Madonna -- he reportedly called her the C-word and said her career is over -- her friends are fighting back.
"I honestly do not understand his need to trash the crap out of her over and over again. He says she has no authority, but apparently he has authority? He needs to hate on her," a friend of the Material Girl told Huffington Post me. "To say her tour is a disaster is just silly. She is selling out arenas, singing new material and a few classic hits. He will be singing the same old songs until he dies."

Madonna is estimated to have sold more than 300 million records versus Elton's 250 million, plus his career has an extra 10 years on hers. According to recent data onCelebritynetworth.com, Elton is worth $355 million while Madonna is worth more than $650 million as of last year, with an estimated additional $250 million paycheck from the "disastrous" MDNA tour.

"Ultimately, she doesn't care what he has to say about her in public or private," one insider said. "She has nothing to prove to anyone, especially Elton John."


Elton slams 'fairground stripper' Madonna and warns her career is over
Sunday, August 5 2012 at 20:30:09


Elton slams 'fairground stripper' Madonna and warns her career is over
Sunday, August 5 2012
Elton John's very fragile truce with Madonna well and truly went out the window in no uncertain terms after he branded her a 'c***' and 'f***ing fairground stripper'.
He also warned his aging scantily clad foe that her career is dead in the water. His extraordinary outburst came during an explosive appearance on Australian TV when he leapt to defend his son Zachary's godmother, Lady Gaga, against endless taunts from the Material ma.

Elton raged: "Why is she such a nightmare? Sorry, her career is over. Her tour has been a disaster and it couldn't happen to a bigger c***." Warning the 53-year-old pop queen to get back in her box with her pompoms and fishnets, he continued: "If Madonna had any common sense she would have made a record like Ray Of Light and stayed away from the dance stuff and just been a great pop singer and make great pop records, which she does brilliantly. But no, she had to go and prove... she looks like a f***ing fairground stripper. She's been horrible to Gaga."

Elton's onslaught follows endless jibes made by Madge towards Lady G during her MDNA tour about the similarities between her 1989 hit "Express Yourself" and the 26-year-old's "Born This Way". Only in July 2012 Madge was like a dog with a bone over her claims and boasted again, "I'm glad that I could help her write it," when asked about Gaga's tune.

As for her ding dong battles with Elton, their rivalry has hit rock bottom. Five years ago they temporarily patched things up at the GQ Awards after three years of bitter feuding which began when Elton branded Madge a mime act. The pair hugged at the bash, with Elton proclaiming: "This is a moment you thought you would never see." But it's been all downhill since, with the latest showdown coming at the Golden Globes this year.

Elton's hubby David Furnish erupted when she beat Elton and Gaga to the Best Original Song prize when her tune from her flick W.E pipped their duet Hello Hello, from his flick Gnomeo & Juliet. The 49-year-old producer tweeted: "Madonna. Best song???? F*** off!!!" The Canadian continued: "Madonna winning Best Original Song truly shows how these awards have nothing to do with merit. Her acceptance speech was embarrassing in its narcissism. And her criticism of Gaga shows how desperate she really is." Elton was left eating humble pie on the night when he proclaimed Madge had no 'f***ing chance' of winning.


Elton gets BBC Radio Special
Friday, August 3 2012
Elton John will host two hours of music from his favorite artists such as The Rolling Stones, Bob Dylan and Amy Winehouse.
His musical tastes are to be laid bare by the rock superstar himself as he is set to host a two hour radio show full of his favorite music for the BBC. The six-time Grammy award winner and Oscar recipient will also be the focus for a season of programs on the pubcaster's flagship radio station Radio 2 across the upcoming August 2012 bank holiday.

The weekend will culminate with Elton presenting two hours of a hand-picked playlist from some of his favorite artists such as The Rolling Stones, Bob Dylan and Amy Winehouse. The BBC said the 'John' season starts on August 22, 2012 with The Trevor Nelson Soul Show: Elton Special which promises to delve into the soulful side of star.

The following day the BBC will play an In Concert special, giving listeners another chance to hear Elton John's Red Piano Show, recorded at London's 02 Arena, based on the star's Las Vegas residency. The season ends with "The Elton John Show" with the singer presenting a show of the music that he grew up with, influenced him and that he admired.
It also promises to feature work of artists he has identified and showcased to a bigger audience across the world.
Elton pulled out of Olympics Music Director role
Friday, August 3 2012
Elton John pulled out of directing the music at the London Olympics after he "fell out with the organisers", according to Muse rocker Matt Bellamy.
The Supermassive Black Hole hitmakers' track "Survival" is the main official song for the 2012 Games and during an interview on Los Angeles' Kroq-FM radio station, Bellamy revealed the band was picked to compose the special tune by Elton - who was set to oversee music of the sporting extravaganza.

He says, "Well actually, believe it or not, Elton John gave us a call and wanted to write a song for the Olympics. At one time Elton John was actually the director of the music for the Olympics. He contacted us and we thought 'This is far out! We're going to do a song for the Olympics with Elton John!'

"So that's how the ball started rolling way back over a year ago. But then he pulled out of the Olympics. He didn't want to be involved anymore cause he fell out with the organisers so that left us with a half-baked idea. At that point we just let it go and carried on with making the album. And then the Olympics approached us again about the ending ceremony for us to play and that's when we played them that song and they said they loved it and wanted to make it an official song of some kind."

Bellamy also admits he is proud to be a Brit as the U.K. capital plays host to the Games. He adds, "It's great to be a part of it. It's such an exciting time for London. London's been building up to this for like 10 years. Patriotism isn't really a big thing in England but I think this Olympics has brought it back a little bit."
Elton, David and Zachary holiday with Neil Patrick Harris in St Tropez
Friday, August 3 2012
It's the holiday location of choice when it comes to European destinations for celebrities. So when it came to choosing the perfect vacation spot, what better place for Elton and David to take their son Zachary than their favourite sunshine trap, St Tropez.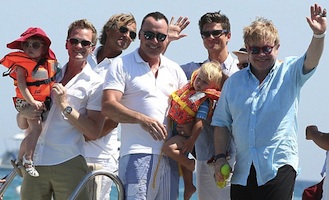 Once there, the pair met up with their showbiz pals Neil Patrick Harris, his partner David Burtka and their twins, Gideon and Harper. The group were more than happy to pose up for photographers on the dock, waved and grinning widely as they made the most of the start of their holiday.

Even the children looked trendy for the photo opportunity, clad in patterned lifejackets to ensure they stayed safe by the water. And there could be another little person to add to the holiday group in the next few months if reports are to be believed. It was claimed recently that Elton and David are expecting their second child via a surrogate, due later this year.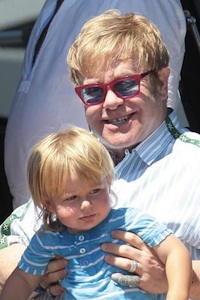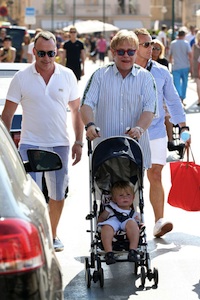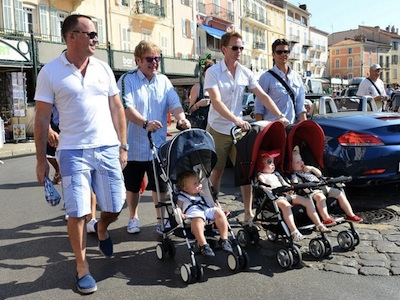 Elton and more festival stars heading for Palladia's 'Outdoor Week 2012'
Friday, August 3 2012
High-definition channel Palladia will showcase artists ranging from Rihanna to Elton John with its fifth annual Outdoor Week, which will document festivals from across the world.
Outdoor Week's eight-day run will include 24-hour coverage of outdoor festivals beginning August 27, 2012. Each night will bring a new premiere, kicking off with a special on Alabama's Hangout Festival, which includes performances from Dave Matthews Band, Wilco and Alabama Shakes.

The network's event will conclude on Labor Day, September 3, 2012, with a look at Lovebox 2012, featuring performances from Chaka Khan, Lana Del Rey, Chic, Hot Chip and more.

Elton John and Pnau live at Ibiza 1-2-3 Rocktonic Festival 2012 will broadcast on August 31, 2012 at 9pm.


Elton John and Pnau performed in Ibiza on 02 July 2012
Tuesday, July 3 2012 at 17:41:19


Elton makes surprise performance at Springbank wedding
Thursday, August 2 2012
Elton John gave a surprise performance at a wedding in Springbank on July 28, 2012, sources tell the Calgary Herald.
Many people counted themselves lucky when they scored tickets to Elton John's whistle-stop tour of Alberta in spring 2012, with concerts in Red Deer, Lethbridge and Grande Prairie. Imagine then, the surprise and delight when the 100 or so guests at a wedding in Calgary on July 28, 2012 learned the entertainment was none other than Elton.

His performance at the small, intimate affair in Springbank was confirmed to the Herald by multiple sources. The singer's appearance was arranged as a surprise by the groom. While a $3-million payday to Elton was bandied about in one media report, a source tells the Herald that that figure is inflated. Much more likely, they said, was that Elton was a paid a "stipend" and then a sizeable donation was made to the Elton John AIDS foundation, which has raised more than $200 million to support HIV/AIDS programs since its inception in 1992.
Elton wants Beckham to coach son
Thursday, August 2 2012
Elton John has apparently already approached long time pal David Beckham to teach his toddler Zachary how to play football, reports the Belfast Telegraph.
As soon as the 19-month-old little boy is sturdy on his feet, Elton wants the famous athlete to teach his boy how to bend the ball. Elton, who is a fan of the game and former owner of English team Watford, has high hopes for his son's future career in the game.

"Elton can teach him everything he wants to know musically, but when it comes to anything athletic he's clueless," a source told Star. "As soon as he's old enough, Becks will help train him because Elton will have only the best for his child. Elton things his son already has what it takes to be a sportsman when he grows up."

Although Elton sold his majority share in Watford he still has the honorary title of "life president." Elton and David are also reportedly set to expand their family with reports that they could be welcoming a second child via a surrogate soon.
Elton's "Love is the Cure" is a NYT Best Seller!
Wednesday, August 1 2012
Elton's new book, "Love Is the Cure", is a New York Times best seller.

The Elton John Aids Foundation is thrilled that Elton is reaching so many people with his message that compassion is essential to fighting stigma and ending the AIDS epidemic.

"Love Is the Cure" tells the moving story of Elton's friendship with Ryan White and his family, and how Ryan's courageous struggle with hemophilia and HIV/AIDS and his humane response to the stigma associated with his illness inspired Elton to change his life and create the Elton John AIDS Foundation. He reflects on 20 years of the Foundation's work through frontline stories from EJAF grantees around the world, and offers his insights on how compassion can be a transformative force in the fight against AIDS.

Sales of "Love Is the Cure" directly support the work of the Foundation, and we hope you will support EJAF and help to spread Elton's important message by reading the book and telling your friends and family about it. You can order a copy of the book from Amazon (simply click on the link on the right) or you can find a copy at your local book store. Please note that the book is also available as an audio CD read by Elton himself.
The Voice UK: Danny O'Donoghue wants Adele and Elton on panel
Wednesday, August 1 2012
The Voice UK coach Danny O'Donoghue has said he wants Elton John and Adele to join the show.
It follows the news that Jessie J and Sir Tom Jones aren't set to be back for a second series of the BBC singing contest in 2013. Danny said last week he'd "miss" Jessie on the panel, but had already thought of possible replacements for both her and Welsh legend Sir Tom.

"Elton John. I've thought about this long and hard. I think Elton John needs to take over Tom's position," he told Free Radio. The Script frontman continued: "And I'm still open – I think possibly Adele, because she'd come on for Jessie. I think that would be one hell of a line-up. Then you'd have to probably rethink me, and have someone better than me on. But I think that would be a really, really great line-up."

A spokesperson for the BBC said that talks for the new series were still ongoing, and nothing about the line up was confirmed. Try outs for the new series take place in the autumn 2012.