ELTON JOHN NEWS ARCHIVE: August 2011
Lullaby rendition of Elton's "Don't Let the Sun Go Down On Me"
Tuesday, August 30 2011
Rockabye Baby! is a record label that releases a line of CDs which transform popular rock bands' tunes into lullaby music for babies and parents.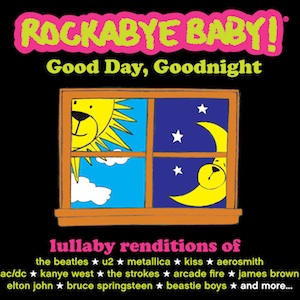 They have renditions of 25+ artists including U2, The Beatles, Bob Marley and even, yes, Metallica. They are especially excited about the upcoming release of their 5 year anniversary compilation titled "Rockabye Baby! Good Day, Goodnight". The 2-CD set is available for a limited time only and includes a lullaby rendition of Elton John's own "Don't Let the Sun Go Down On Me" as well as tracks from other artists such as Arcade Fire, KISS, The Strokes and more!

You can find more information and mp3 clips on the Rockabye Baby! website. Rockabye Baby! was kind enough to share an mp3 verion of "Don't Let the Sun Go Down On Me" with the readers of eltonfan.net. Enjoy!
Rock Of The Westies Mash-Up/Tribute Video
Sunday, August 28 2011
Elton fan Ryan Patrick Cummings has created an interesting mash-up/remix/tribute video that he made in celebration of "Rock Of The Westies".
It features a "Dan Dare" loop, an extended "Wednesday Night" and audience footage from the Dodger Stadium concert from 1975 (plus footage of Billie Jean King). Hope you enjoy.


Elton John calls for a new TV music show
Wednesday, August 24 2011
As the Old Grey Whistle Test is celebrated Elton says he would champion the cause to bring it back.
Elton John has told the BBC the time is right to bring back a weekly TV music show that will champion up and coming artists. "It would be great for new artists that had their first album, say like a Laura Marling, or Rumer, just for that purpose of launching, as it helped me when I had my first record out. They don't often get the chance to play live on television, there aren't that many music shows on television."

"Top Of The Pops", which began in 1964, was formally cancelled with the last edition being broadcast on 30 July 2006. Elton's comments were made during an interview with Radio 2 presenter Bob Harris as the BBC marks the 40th anniversary of 'The Old Grey Whistle Test'.

A new sixteen-part radio series hosted by Harris launches on August 24, 2011. Archive performances from the 1970s/1980s music programme will be played along with interviews from some of the artists who appeared on the original show, such as Robert Plant, Paul Weller, Roger Daltrey and Mark Knopfler.

Elton John, who features in the first of the Radio 2 shows, said he was a massive fan of the Old Grey Whistle Test when it launched. "Everybody did that show, it was the show where you played live, it was like the pre-run to Later with Jools Holland. I did it quite a lot and I enjoyed every single minute of it," he said.
Olympic special for Elton
Tuesday, August 23 2011
Elton John is the latest artist formulating plans for a special concert in London during the sporting spectacle in summer 2012.
And he's asked Muse to perform alongside him at the show. A source said: "Elton has never put on subtle live shows but he wants the Olympic gig to be even more overblown and spectacular than ever. He's been a huge fan of Matt Bellamy's band for years and is desperate to collaborate with them. A show during the London Olympics will be the ideal opportunity. And with Muse's reputation as one of the best live groups in the world it's bound to be special."

Never mind sport, it should be a great summer for music. Paul McCartney is almost certain to be involved with the opening or closing ceremony for the games. The Rolling Stones and a reformed Led Zeppelin are still wanted by organisers. And there will be a host of other music events as part of the cultural olympiad as well.
Teen impresses Elton with musical talent
Tuesday, August 23 2011
Riley Biederer is, in many regards, a typical high school student. She's level-headed and friendly and has grades that most of her peers would envy.
What sets Biederer apart from classmates though is her talent, not to mention her own website to promote that talent. The teen has humble beginnings with her song writing endeavors beginning at about 12-years-old. Guitar lessons began in December of 2009 and "that's when it exploded" said her father, Frank.

Riley produced her own CD with the neighbor's Mac and handed it to her father to promote. The song was heard by Elton and the family hasn't looked back. Influenced by Taylor Swift, Katie Perry, Miranda Lambert, The Band Perry, Paramore, and Sugarland, the singer/songwriter already has two music videos under her belt. Her song genre is country/pop/crossover, according to her Facebook page.

Her website boasts that "in less than 15 months, she has attracted the attention of music industry professionals in Nashville and Atlanta and recently completed her first demo recording with Matt Still, a Grammy winning producer who has worked with Elton John, Rod Stewart, Outcast, BB King, Fat's Domino, Fleetwood Mac, and many others."

Furthermore, the website states that industry producers have indicated that the rising sophomore is "the total package, with strong songwriting ability, a great voice, a fearless stage presence and a 'look' that keeps people coming back for more." While most teens spent the summer working or hanging out with friends, Biederer was in Nashville with a vocal coach working her way to a record deal. She also met Elton and his manager Johnny Barbis who gave the teen a stellar review.

"They think big things are possible for Riley. She plays both acoustic guitar and piano and writes songs that belie her age," shared her father of the meeting. Younger brother Parker, 13, is "doing pretty good" regarding his sibling's fame noted his father. "He's had cool opportunities; going places and meeting people," said Frank.

Speaking on behalf of his wife and Riley's mom, Tisha Murphy, the father/manager said, "we want her [Riley] to have a normal teenage experience as long as possible" so she remains at West Forsyth, knowing that should her career take off, she will become a student in virtual school or be tutored. "It's hard work. There's a lot of responsibility with weekly guitar and vocal lessons, still writing songs and going to school," her dad went on to share.

Although Frank describes himself as "a proud papa who had really good networking skills," he is not, by profession, a promoter. He is quick to add that he "had very good coaching from a long-time industry veteran" and will hand over the reins of his daughter's career very soon to Rocket Music. Currently Riley is one of 12 semi-finalists for the Georgia Teen Country Award.
Elton performs at private multi-million dollar party
Sunday, August 21 2011
As the U.S. economy teeters ever closer to falling back into recession after weeks of gloom on Wall Street, an opulent multi-million dollar party might not seem quite in keeping with the current financial climate.
But while much of the nation continues to struggle, billionaire Leon Black had plenty of reasons to celebrate as he marked his 60th birthday on August 13, 2011 after making an extra billion dollars in just the last year as the American economy has faltered. At his oceanfront estate in Southampton, Long Island, some of America's richest and most influential people gathered to enjoy an extravagant feast and foie gras bar before Elton John sang out the night with a $1 million concert.

But on the minds of many guests was the question of whether the head of top private equity firm Apollo's magnificent bash was an omen for yet another crash. For some it was a flashback to the expensive 50th birthday party of Steve Schwarzman, the head of private equity firm Blackstone, in 2007, which later was seen as the peak of lavish spending in the months before the financial crisis.

Mr Black, who is worth $3.5 billion and has thrived through the crisis by successfully investing in distressed debt, transformed the back yard of his Long Island estate into a 'faux nightclub setting' complete with big fluffy pillows. Guests dining on the buffet dinner, which included crab sticks and steak, included Mayor Michael Bloomberg and New York senator Chuck Schumer.

Gathering around the luxurious nibbles, which also included a seared foie gras bar, were celebrities such as Martha Stewart and Howard Stern. On his radio show after the even, Mr Stern said: "Leon throws some good parties, because Leon's worth like twenty gazillion, like twenty billion or something crazy, and for him, you know, a billion dollars is like ten dollars to us."

Designer Vera Wang dressed Mr Blacks' wife Debra for the occasion. "The great Sir Elton John performing at my friend Leon Black's fabulous 60th bday," she wrote on her Facebook page. "I had the honor of dressing his wife, my friend, Debra Black, the hostess! If there was ever a great family … this was it! Xx Vera."

In an hour and a half set, costing at least $1 million, Elton performed hits including 'Your Song', and 'Candle in the Wind', before closing the bash with 'Crocodile Rock'.
An Evening with Sir Elton John
Sunday, August 21 2011
Giants of screen, stage and television gathered to support AIND/Giant Steps School and the Association of Hole in the Wall Camps, both of which are dedicated to helping children.
This once-in-a-lifetime fundraiser, titled Beyond the Yellow Brick Road, attracted more than 600 attendees and featured appearances by Brian Williams and Nathan Lane. The highlight of the special evening was a heartfelt ninety-minute performance by Elton John. The more than $1 million raised in this one night will be shared equally between the two charities.

Giant Steps CT is a Connecticut State–approved private school in Southport for students, ages three to twenty-one years, diagnosed with Autism Spectrum Disorders and/or other neurological impairments. With funding from this event, AIND will further develop its campus and expand its programs to offer adult services and comprehensive therapies to a broader population. The Association of Hole in the Wall Camps, founded by Paul Newman, is an international family of camps and programs that provide life-changing experiences to children with serious medical conditions and is always free of charge.
Elton's family vacation in France
Friday, August 19 2011
Elton and David were spotted at Club 55 beach in St. Tropez with their adorable 7-month-old son Zachary on August 18, 2011.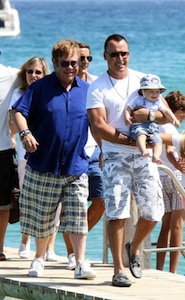 Joined by friends, the happy couple were beaming with pride as they doted over their beautiful boy. Earlier this month, we spotted the Elton-David family enjoying their France getaway with "How I Met Your Mother" star, Neil Patrick Harris, his partner David Burtka and their sweet 1-year-old twins Gideon and Harper.


Elton and David joined by Neil Patrick Harris and his twins for St Tropez playdate
Friday, August 5 2011 at 07:45:43
Lea Michele wants Elton John on Glee
Thursday, August 18 2011
Lea Michele has her heart set on a celebrity dad in Glee. The actress — who plays Rachel Berry in the hit high school show — wants Elton John to play one of her two gay dads.
"It would be my dream if Rachel's dads were on the show finally," Rachel said. "Even if they watching her perform were just there and she waved at them in the audience. She would look in the crowd and there would be Elton John!"

Elton isn't the only star Lea wants on Glee — the actress has previously expressed desire to get Julia Robertson on the program. "We may not be able to work together because I would get so dumbstruck," she said.

"There are a few people that I would get like that with. Even now I am getting tongue-tied just thinking about it. I would be a wreck if she were actually standing in front of me. It is just too much to think about. It is weird for me when I find myself talking to people that I have watched on the television or in movies all my life. I do get a little star struck."


World Team Tennis comes to Cleveland
Wednesday, August 17 2011
An announcement was made on August 16, 2011 that Elton John and Billie Jean King will host a tennis event in Cleveland.
It is the World Team Tennis Smash Hits and will be held at Cleveland Public Hall on October 27, 2011. World Team Tennis showcases both the best in professional and recreational team tennis.

Captained by King and Elton, the players will form two teams and play a match using the World TeamTennis coed team format. The music legend will also participate in a celebrity doubles match to open the event. Additional participants will be announced in the upcoming weeks. King and Elton have split the series so far with nine wins each.

Smash Hits has raised more than $10 million for the Elton John AIDS Foundation and various local AIDS charities since 1993. This year's event will benefit the Elton John Aids Foundation and the AIDS Taskforce of Greater Cleveland.

David Gilbert of Greater Cleveland Sports Commission said the event is a big one. "When you have an event that brings in this kind of celebrity atmosphere with Elton John, Billie Jean King, players like Andy Roddick and Martina Navratilova, that gets the community excited and the media involved," Gilbert said. "This will be nationally televised and we think it will lead to other major events being held in Cleveland."
Elton and David joined by Neil Patrick Harris and his twins for St Tropez playdate
Friday, August 5 2011
And it was certainly the scene of a papas and papas days of fun as Sir Elton John and David Furnish and Neil Patrick Harris and David Burthka took their respective broods to the beach club on August 4, 2011.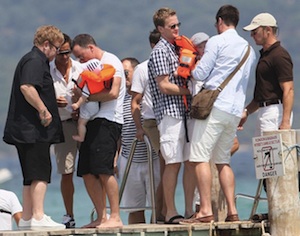 With Kate Moss frequenting the beach club just a few days before, Club 55 in St Tropez is certainly not your average place for a baby playdate. As Elton and David fawned over their son Zachary the "How I Met Your Mother" actor and partner were seen doting on their twins Gideon Scott and Harper Grace. And given the three children are all under one year old they were probably enjoying one of the world's most exclusive playdates.

As the group made their way by tender to the Pampelonne beach club it was safety first for the little tots with all three being kitted out with bright orange life jackets. It appears the playdate had been pre-planned and Neil told the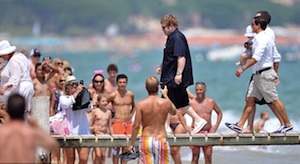 New York Post gossip page six that they were always going to meet up with Elton and his family.

Zachary looked incredibly cute in his white and blue striped one-piece with a matching hat as he enjoyed the warm weather. Meanwhile, Elton and David stayed cool by wearing short and sunglasses as they beamed from ear to ear while introducing Zachary to St Tropez.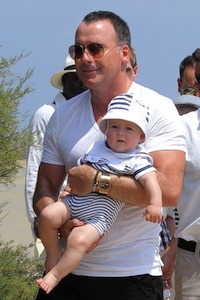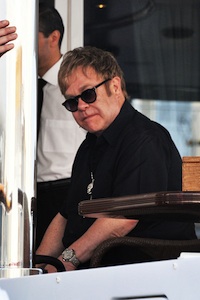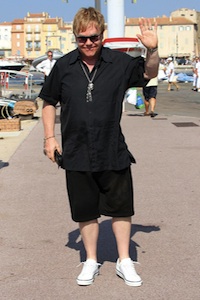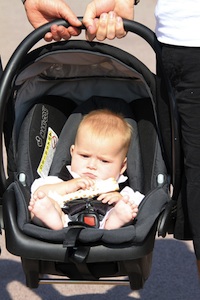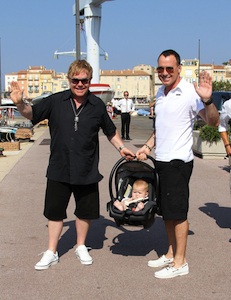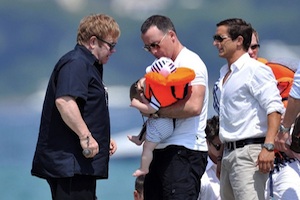 Donate blood for a chance to see Elton John live in Oshawa
Thursday, August 4 2011
Canadian Blood Services is offering Durham Region residents a chance at tickets to Elton John's sold-out show at the GM Centre on Saturday, September 9, 2011.
Until September 4, 2011, residents 17 and older who donate blood at donor clinics in Durham Region will be entered to win one of two pairs of tickets to see Elton John live in Oshawa. Winners will be drawn on September 6, 2011. The contest aims to help increase blood donations over the summer, a time when donations typically drop.

To book an appointment at an upcoming clinic, call +1-888-236-6283 (+1-888-2DONATE). Walk-ins are also accepted. For more information on Canadian Blood Services, visit www.blood.ca.
€750,000 donated by Elton John to help drug users never spent
Wednesday, August 3 2011
A generous donation from Elton John to combat the spread of HIV in Ireland has never been put to use.
Two years ago, the singer donated €750,000 to the Government for the provision of clean needles for drug addicts outside the capital. However, the Irish Independent has learnt that the programme has yet to get off the ground and the money has never been used. Despite several announcements of its imminent start-up, the life-saving scheme has been caught up in red tape and difficulties with recruiting pharmacists to provide the needles.

In recent weeks, the delay prompted the Elton John AIDS Foundation to renegotiate the terms of the deal. The foundation has now told the Health Service Executive (HSE) it will withhold the promised funding unless progress is made with the scheme. The foundation, which is chaired by Elton John's partner David Furnish and funded by glittering fundraising events, makes grant instalments rather than one block payment. This means that further payments can be reviewed if the disease control programme is not up to standard.

Although it has not publicly criticised the HSE, the foundation wants strict reporting and reviews of the scheme's progress as part of the conditions of the grant, which will be paid out over three years. Anne Aslett, executive director of the foundation, said a new contract was agreed last month. Ms Aslett said "Thirteen per cent of the grant has been disbursed and the foundation will only provide further support against performance." She conceded that the delays in the implementation of the programme had been frustrating, but not unusual in a large and complex project of this type.

Although the distribution of clean needles to addicts in Dublin has been under way for some years, there is no such service outside the city. This is despite a worrying rise in the use of heroin outside the capital. Figures for 2010 show 22 drug users were newly diagnosed with HIV and 30 cases were reported in 2009.

Asked what progress had been made in rolling out the scheme, the HSE said a national liaison pharmacist had been appointed to oversee its implementation. "We are finalising locations and a roll-out plan will be announced in due course," said a spokeswoman.

Responsibility for the drugs strategy was recently moved from the Department of Rural and Gaeltacht Affairs to the Department of Health "It is envisaged that needle exchange services will begin in an initial group of pharmacies in the autumn," she said.


Elton John AIDS Foundation gives €40m to projects
Wednesday, August 3 2011 at 07:43:32


Elton John AIDS Foundation gives €40m to projects
Wednesday, August 3 2011
The Elton John Aids Foundation (EJAF) has reached a landmark, spending over 40 million Euros in AIDS projects worldwide.
The organization has now funded over 1,100 projects with grants for programs including needle exchange initiatives, in which heroin users return used dirty needles to drugstores in exchange for clean new needles and a pack of sterile items to be used for drug injection, all of which help lessen the danger of contracting or spreading AIDS in vulnerable addict populations.

The program has met with resistance in some areas and by drugstores and pharmacists, who have vocally resisted the influx of drug addicts brought into their stores by the initiative.

Elton John is one of the first celebrities to lend his support to AIDS prevention fundraising and launched his charity in the U.S. in 1992, with a London office following suit in 1993.
Elton John tickets crashed Sydney network
Monday, August 1 2011
The ticket vendor behind the upcoming Elton John concert in Sydney says it has more information about why some people were charged for tickets they never received.
In a media release issued on July 30, 2011, Centre 200 claims its computer network was overloaded when tickets went on sale July 22, 2011 and the system blocked internet traffic and closed some ordering sessions. The media release made no mention of how much money was taken from customers. It's estimated Centre 200 is dealing with about 1,000 complaints as result of the computer error.

Some people claim their credit cards were charged even though they didn't get tickets for the September 13, 2011 show. Others say they bought tickets but never received them.

Mathew Campbell couldn't get tickets when the online ticket system crashed. On the ninth attempt he found out the show was sold out. Campbell later discovered that his credit card had been charged $651 for four tickets. When he called Centre 200 he was told they didn't have any tickets for him.

"It's a flawed system and it's not being run efficiently," Campbell told CBC News last week. Officials say anyone who paid for tickets but didn't get them can expect a refund.