ELTON JOHN NEWS ARCHIVE: August 2010
'Elton John' sings "Goodbye, 24" at the Emmys
Monday, August 30 2010
Emmys host Jimmy Fallon's musical talents didn't end at the opening Glee number.

He brought his guitar through the audience to introduce each mass category (drama, comedy, reality, etc.), but he also whipped through three costume changes for a farewell song to departing dramas – where he portrayed, among others, Elton John.

"Goodbye, 24," started Fallon as Elton John, in an updated version to "Candle In The Wind." Sample line: "I would like to thank you for all the torturin', for Jack and Chloe and CTU, and the first Black president." Then Fallon changed into a Boyz II Men look for a Law & Order-related "It's So Hard To Say Goodbye" (complete with pouring one out for the loss) and followed that up with a Green Day inspired tribute to Lost. "The island it was mythical, but in the end they died, I didn't understand it but I tried," sang Billy Joe.

Here's the full song.
Eminem & Elton John's 'Most Surprising Duet'
Saturday, August 28 2010
Eminem and Elton John's duet at the 2001 Grammy Awards has been voted the Most Surprising collaboration of all time.
The "Love The Way You Lie" rapper, who took to the stage with Elton to sing a rather theatrical version of hit single "Stan" nearly ten years ago, has topped Entertainment Weekly's poll of the Most Surprising Duets in musical history.

The odd couple fought off tough competition from US rockers Aerosmith and rap collective Run D.M.C who collaborated on the 1986 rock-rap hit "Walk This Way" and Dusty Springfield's duet with Pet Shop Boys "What Have I Done To Deserve This" from 1987.

Em and Elton also managed to beat David Bowie and Bing Crosby's Christmas collaboration "Peace On Earth/Little Drummer Boy" and Nick Cave and Kylie Minogue, who teamed up on track "Where The Wild Roses Go."

40 years ago ...
Wednesday, August 25 2010
... on August 25, 1970, Elton John made his US debut at the Troubadour Club in Los Angeles.
The performance kicked off a brief tour and led to a recording contract with MCA.

Elton performed the following set list that night, with the late Dee Murray on bass and Nigel Olsson on drums. He was introduced by Neil Diamond with the words: "I know the album and I love the album and I have no idea what these people are about to do. I want to take my seat and enjoy this with you."
Your Song

Bad Side Of The Moon

Sixty Years On

I Need You To Turn To

Border Song

Country Comfort

Take Me To The Pilot

Honky Tonk Women

Burn Down The Mission (with Get Back)
Leon Russell was in the audience that night.
Gervais: Elton inspired our film
Wednesday, August 25 2010
Ricky Gervais has revealed Elton John was the inspiration behind "Cemetery Junction," the film he wrote and directed with Stephen Merchant.
The Office and Extras stars co-wrote and directed the coming of age film about two young friends living in Reading in the 70s, which was said to be based on their own experiences as young men deciding what to do with their lives.

But Ricky revealed: "About four years ago, I asked Elton John if I could use his song 'Saturday Night's Alright (For Fighting)' to open a film with because I've always wanted to start a film with that and he said yes, so I told Stephen Merchant, and he said, 'Right, let's set it in 1973, then'."

But Stephen has an alternative explanation for why they chose to set it in 1973. He said: "We talked about the idea that the 60s were a very revolutionary time. The late 70s you get punk. There seems to have been that period in the early 70s where things became this wilderness. The hope of the 60s had gone..."

"Cemetery Junction" is out on DVD on August 30, 2010.
Elton John and Hugh Jackman to play Rachel's gay dads
Saturday, August 21 2010
We already know who plays Rachel's mom on "Glee" (Idina Menzel), but who will Ryan Murphy get to play her gay dads? Well, according to the rumors, some of the biggest names in Hollywood!
Get a grain of salt out, but: The National Enquirer reports that some combination of Elton John, Hugh Jackman, and/or Taye Diggs will play Rachel's two dads. Of course, Diggs already has an "in" on the show, since his wife Idina Menzel plays Rachel's mom. Diggs also makes sense because, if you remember, we saw a picture of Rachel's dads in the pilot episode and one of them was black. That doesn't explain why they would be different people than the ones in the photo, but still!

That said, apparently Lea Michele (Rachel) is pushing for Elton John because she wants to duet with him on "Rocket Man." Also in the running? John Stamos (who has already been cast as a Emma's dentist boyfriend), Jon Bon Jovi, Sean Hayes, Matthew Broderick, and goth rocker Marilyn Manson.
Elton John Band to honor late colleague Guy Babylon
Friday, August 20 2010
An upcoming Elton John tribute show produced by Rock Nation School in Los Angeles will be as much a tribute to late band member Guy Babylon as to the Rocket Man, himself.
Three members of Elton's band — lead guitarist and music director Davey Johnstone, drummer Nigel Olsson and percussionist John Mahon — will perform "Goodbye Superman," a song written in Babylon's memory by his 12-year-old son, Ben Babylon. Davey and John will also play Elton John songs with Ben and other student musicians. The concert will take place September 26, 2010 at the famed Canyon Club near Los Angeles.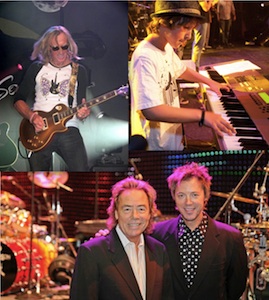 The younger Babylon will play keyboard and sing lead vocals on "Goodbye Superman," which he composed after his father passed away suddenly on September 2, 2009. Elton John and his musicians have remained close friends of the Babylon family, so when Ben's mother, Kathy Babylon, learned that Rock Nation was planning an Elton John tribute show, she came up with the idea to invite members of his band to appear.

"It's been a year now and it just seemed to be perfect timing to bring everyone together in honor of Guy's memory, through Ben's song," she said. "My husband was a big supporter of Rock Nation. All the guys in the band have helped with fundraisers over the years, and the last one was actually at The Canyon Club. So this is truly a full-circle moment for me."

Ben Babylon, who plays keyboards, piano, guitar, ukulele and drums, has taken private lessons at Rock Nation since 2008, and has written several original songs. He has been heavily influenced by his father and Elton John, having grown up watching them work together. "I'm really excited that Davey, Nigel and John will be playing my song," Ben said. "I wrote it as a tribute to my dad. They were his friends and fellow band members, so for me to get to play it with them on stage means a lot."

That sentiment is shared by John Mahon, who has been a member of the Elton John Band since 1997. "I'm looking forward to playing some music with Ben Babylon again, and performing something by Elton John will be right up his alley," Mahon said. "He is an amazing young talent with many exciting musical endeavors in his future. I better start practicing!"

Ben Babylon isn't the only child of an Elton John associate who will appear in the upcoming show. Fifteen-year-old drummer Juliet Johnstone, a student at Rock Nation, will perform, as will her older brother, Jesse, a professional recording engineer, who will lend his talents on bass. Their father, Davey Johnstone, has worked with Elton John since the 1971 album "Madman Across the Water," and was responsible for bringing Guy Babylon into the band.

Elton always called Guy our 'keyboard genius and wizard,'" Davey said. "I met Guy at a recording session in 1987 and immediately knew I was in the presence of someone really special. We had an almost psychic connection and we loved stretching our talent to create music that was always challenging and refreshing." In 1990, Davey and Guy formed their own musical group, Warpipes, with Nigel Olsson, Bob Birch, and Billy Trudell, and released one album, "Holes in the Heavens." Singles off the album are now being released on iTunes, in association with Babylon Music.

Unfortunately, Elton John will not participate in the upcoming Rock Nation concert, because he will be on tour in Europe with drummer Ray Cooper. However, he remains close to the Babylons, and has shown support for Ben's music in other ways. Recently, he invited Ben to hang out in the recording studio, while he worked on his forthcoming album "The Union" with rock legend Leon Russell.

Rock Nation, a private rock-music school with four locations in the Los Angeles area, is owned by Tony Avalon, son of singer and actor Frankie Avalon. The school produces several tribute shows annually, each highlighting the music of a different rock star. "Rock Nation and the Rock Nation community are very excited and honored to have the members of the Elton John band performing at a Rock Nation show," Avalon said. "What this means to me is that Rock Nation's status has earned the respect from professional world-class musicians who embrace the quality of a real music education to all ages. The musicianship level of this show will be outstanding. These students will sound unbelievable and true to the songs of Elton John."

The Rock Nation Tribute to Elton John will take place on Sunday, September 26, 2010, at 7:00 p.m. at The Canyon Club, 28912 Roadside Drive, Agoura Hills, California 91301. Tickets are $12 at Rock Nation or $15 at the door. Reservations can be made by calling Rock Nation at 818-706-2326, The Canyon Club at 818-879-5016 or by visiting www.RockNationSchool.com.

Information about the music of Guy Babylon is available at www.BabylonMusic.biz.
E-single "If It Wasn't For Bad"
Thursday, August 19 2010
Elton John and Leon Russell will release the track "If It Wasn't For Bad" from their upcoming studio album "The Union" as E-single on August 24, 2010.
You will be able to download the song from e.g. iTunes.



Taupin's website reveals track listing for "The Union"
Thursday, July 29 2010 at 10:30:28

Elton John unveils "The Union"
Friday, July 9 2010 at 12:27:51

Elton talks about "The Union"
Wednesday, July 7 2010 at 09:15:01


Elton's vacation in St Tropez
Sunday, August 15 2010
He's a class rock act, but on August 11, 2010 Sir Elton John was rocking a little more than he would have liked.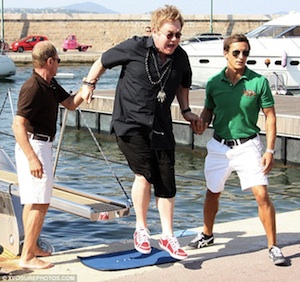 The 63-year-old was having trouble with his sea legs as he disembarked from his holiday yacht in the South of France. He almost ended up in an ungainly heap on the ground as he hopped off the gang plank.

Fortunately he was able to enlist the help of two sturdy crew members to help him negotiate the step onto the jetty at St Tropez. Judging by his grimace, it didn't go as smoothly as Elton would have liked.

Elton, who was joined by his partner David Furnish, 47, later stopped off at Louis Vuitton for a spot of retail therapy and found himself mobbed by a crowd of locals. He caused controversy this week when photos had emerged of the him posing at the Rush Limbaugh wedding, at which Sir Elton performed for a $1million fee. The pictures show Elton smiling away with Limbaugh 59, and his longtime girlfriend (now fourth wife) Kathryn, 33, at the ceremony at Palm Beach's Breakers Hotel.

Limbaugh is an outspoken opponent of gay marriages, such as Sir Elton's to David Furnish. The radio host is one of the most maligned figures in American media and is hated by the liberal left wing. Just last year Limbaugh compared the swine flu virus to AIDS in Africa, saying they were both a 'hyped disease'.

'Everything in Africa's called AIDS,' he said last October. 'The reason is [that] they get aid money for it. AIDS is the biggest pile of - the biggest pot they throw money into.'



Violent sideshow at Elton John concert
Sunday, August 15 2010
Elton John's performance at the Sporting Club in Monte Carlo on August 6, 2010 was interrupted by a catfight between what were described as a 70-year-old woman and a 30-something blonde, who was obstructing the older woman's view.
"The two of them were each wearing what looked like 70 carats of diamonds and ball gowns that looked equally expensive," said one witness. The older woman, nicknamed "70," started barking in French, and the younger woman barked back. "When Younger Blonde turned around, 70 grabbed her hair and pulled out a gigantic blonde weave."

The witness says the two "ladies" slapped and kicked each other while still seated until security came. At that point, 70 launched two glasses of champagne at Younger Blonde and was escorted out. "The crazy thing was that Elton never missed a beat. He noticed the brawl but kept on singing 'Tiny Dancer.' It was unbelievable." A representative for Elton had no comment.
Concerns for Las Vegas Pinball Hall of Fame
Sunday, August 15 2010
Sounds a lot like the way Arnold fixes the hundreds of machines in his pinball fortress. People are like pinball machines. Sometimes they go "Tilt," and that happened recently when Pinball Hall of Fame owner Tim Arnold had to be re-set.
"I had a little incident with my ticker, I'm OK now. I had a patch put in, and I'm feeling great. Back to normal," the 54-year-old Arnold said a couple of weeks ago during an interview for "Our Metropolis."

However minor, the health scare was a reminder that the art of maintaining Arnold's ample collection of vintage pinball machines might not survive another generation. The long-term future of the Hall of Fame is uncertain primarily because Arnold is unique in so many ways: He's retired, having earned a small fortune as an arcade owner in Michigan before moving to Las Vegas in 1990. His operation is a 501c3 non-profit organization that donates primarily (and heavily) to The Salvation Army.

There is no payroll. Arnold works only for personal passion and for charity, and no one in line to run his ringing, flashing empire. "At some point, something might happen to me or something might happen to being able to get parts for these games," said Arnold, who in November 2009 moved his operations from the corner of Tropicana and Pecos to a facility twice that size on Trop across from the (haunted) Liberace Museum.

"You can't just put an ad in the paper that says, 'Pinball Machine Mechanic Wanted.' There is nobody in line who wants to work for free, no. That's a real limiting factor." Arnold says he could sell the entire collection "tomorrow" to interests in Australia and Europe. But nobody in this country, let alone Las Vegas, seems interested in maintaining the hall, long-term.

"It's just one more piece of America that's being conglomerate-ized and sent overseas, but we don't appreciate because we're too busy playing our Nintendo! I advise that you get up off your couch, put down the Gameboy, get on your bicycle and pedal over to the Pinball Hall of Fame!"

Later in the interview, Las Vegas Sun resurrected a dispute between Arnold and Elton John, or as, "that punk," as Arnold derisively refers to the rock legend. Arnold's annoyance at Elton dates to the months before Elton's "Red Piano" show opened at The Colosseum at Caesars Palace, when a production crew showed up at the Hall of Fame's former location and offered Arnold $500 and "Red Piano" concert tickets in exchange for access to shoot some scenes to be played on the theater's vast video panels.

The six-man crew focused on the 1976 Capt. Fantastic and the Brown Dirt Cowboy pinball machine that bears Elton's image. The resulting footage accompanied the performance of "Pinball Wizard." That was in 2004. Arnold says he never got the money, or the tickets, and the show closed in April 2009.

"Sir Elton broke my heart," said Arnold, who had planned to use the money to maintain his machines. "I kept calling and calling. Finally a PR guy made a $300 donation to The Salvation Army, but I don't know why a Knight of the British Empire would stiff a bunch of charity guys."

But didn't the $300 donation help allay some of those hard feelings? "That doesn't absolve Elton John of his obligations to me!" Arnold said. "The $300 was just to get me to shut up so I'd quit calling them!" And he never got the tickets, either. A fan of professional wrestling, Arnold re-issued his challenge to Elton to settle this dispute in hand-to-hand combat.

"I've offered to settle this in the wrestling ring," Arnold said. "I'll meet him anytime, anywhere, in the circled square (sic) and settle this like men! But the punk ducked me!" As always, Arnold is his own uniquely qualified marketing agent. Like all those coin-operated machines, he's a true classic.
eltonfan.net takes a summer break
Thursday, August 5 2010
Website administrator Stephan Heimbecher will be on vacation August 6 to 15, 2010.
During this period of limited internet access the update of the eltonfan.net website will be less frequent as usual. Thanks for your understanding.
Elton John's designer clothes on sale at Beacon Shop
Thursday, August 5 2010
A special sale of designer shoes and clothes donated by Sir Elton John and David Furnish takes place this weekend (August 7–9, 2010) at the Sussex Beacon charity shop in St. James Street, Brighton.
A spokesman for the Beacon said: "The sparkling success of their grand opening fashion show and sale at their Hove charity shop in April meant almost £9,000 was raised for The Sussex Beacon. Building on this success The Beacon charity shop in St James Street Brighton announces this week ends sale of many as yet unseen fabulous items from the wardrobes of Sir Elton John and David Furnish. Gorgeous designer gear at great prices from designers such as Yves Saint Laurent, Alexander Mc Queen, Versace, Fendi to name but a few, will all be for sale."

Nick Rose, The Sussex Beacon's fundraising manager, said: "We kept back some of the stock given to us by the EJAF as we wanted to maximise the potential of this incredibly generous gift. We currently have to raise over 40% of the income it takes to maintain our current service levels through fundraising. We hope this event will raise some vital funds."

All funds raised from the sale will come directly to The Sussex Beacon, a clinical care centre providing unique services to meet the changing needs of men and women living with HIV.

NB The Sussex Beacon and The Elton John AIDS Foundation does not guarantee that any specific item has been worn by Elton John or David Furnish.
Elton and Leon to play the Palladium
Tuesday, August 3 2010
For the first time in decades, Elton and Leon Russell will perform live together, and at a more intimate venue than Elton has played around in years.
The two titans of the ivories will appear November 3, 2010 at the Hollywood Palladium, playing together as well as separately, with their own bands.

Tickets, $99 each (including all service charges and fees), go on sale August 6, 2010 at 10 a.m. at all Ticketmaster outlets and online, as well as by phone at 877-554-8399. There is a four-ticket limit per person.