ELTON JOHN NEWS ARCHIVE: August 2009
Elton delivers gift for Andrew Flintoff
Thursday, August 27 2009
Elton this week used a florist near Knutsford to deliver a gift to England cricket hero Andrew Flintoff.
He asked La Fuchsia in Town Lane, Mobberley, to send two bottles of wine and some blooms to the Ashes star's home. Angela Bagnall, the shop's owner, declined to reveal many more details about how the order came in.

The businesswoman said she was now concentrating on getting the delivery correct. "It was a surprise, but I'm not shocked by it at all," she said. "We're used to dealing with celebrities and I just want to get it perfect."

Andrew 'Freddie' Flintoff marked his retirement from test cricket at the end of the Ashes on August 23, 2009. The father-of-three, who lives in Mottram St Andrew, near Wilmslow, was one of England's star performers in the 2-1 series win over their Australian rivals. He claimed five wickets in the second test match and also ran out opposition captain Ricky Ponting at The Oval on August 23, 2009.

However, Angela said she had not been following every ball, as she is not a big fan of cricket. "Obviously I've heard of this guy," she said. Angela is a bigger fan of Elton John. "I do love his music," she said. The order from Elton John and his partner David Furnish came in on August 24, 2009. It included a glass bowl arrangement of three orchid plants and two bottles of Laurent Perrier rose.
Top 20 Concert Tours
Thursday, August 27 2009
The Top 20 Concert Tours ranks artists by average box office gross per city and includes the average ticket price for shows in North America.
The previous week's ranking is in parentheses. The list is based on data provided to the trade publication Pollstar by concert promoters and venue managers.

TOP 20 CONCERT TOURS

1. (1) Elton John/Billy Joel; $4,269,983; $132.61.

2. (3) Kenny Chesney; $1,515,094; $68.75.

3. (4) Dave Matthews Band; $1,347,689; $48.20.

4. (5) Jonas Brothers; $1,319,440; $60.91.

5. (6) Beyonce; $1,108,997; $94.15.

6. (7) Coldplay; $1,066,815; $61.01.

7. (8) Fleetwood Mac; $1,012,337; $99.55.

8. (9) Rascal Flatts; $920,735; $48.58.

9. (10) No Doubt; $695,279; $45.56.

10. (12) Nickelback; $682,584; $38.58.

11. (14) Keith Urban; $664,907; $61.95.

12. (11) Dane Cook; $657,067; $60.35.

13. (13) Def Leppard; $654,504; $45.45.

14. (16) American Idols Live; $650,519; $62.07.

15. (17) Brad Paisley; $576,752; $34.55.

16. (18) Taylor Swift; $571,740; $46.74.

17. (19) Kid Rock/Lynyrd Skynyrd; $568,745; $34.04.

18. (20) Green Day; $480,642; $46.62.

19. (New) Bob Dylan; $479,744; $64.56.

20. (21) Il Divo; $474,604; $80.33.



Top 20 Concert Tours
Thursday, June 4 2009 at 08:43:12


Looking for an answer trying to find a sign
Wednesday, August 26 2009
After finishing up his "Red Piano" show at Caesars Palace this spring, Elton John donated the sign that hung above the stage to the city's Neon Museum.
Spelling out "Elton" in glowing neon letters with a heart-shaped arrow in between, the sign weighs in at 15,000 pounds, with the largest letter measuring 20 feet x 30 feet. Unfortunately, "Elton" is an indoor sign and the Neon Museum display area is currently all outdoors.

Enter the Las Vegas chapter of the American Institute of Graphic Arts (AIGA). It recognized that neon lights almost single-handedly transformed commercial signage in the 20th century. Where would Las Vegas or Tokyo's Ginza be without neon? In fact, cities and towns in most parts of the world would be dark at night were it not for the glow of neon. It could be argued that neon signs made night life possible. In this case, the sign has extra special pop icon significance because the style of each letter is based on one of Las Vegas's historic neon fonts and it was made for one of the world's most recognized celebrity entertainers.

So, the Las Vegas AIGA joined forces with the Las Vegas Office of Cultural Affairs to find a worthy home for Elton's sign. It considered offering it to the AIGA Design Center in Manhattan, but space limitations and the electricity budget made that unfeasible. The Rock and Roll Hall of Fame and Museum in Cleveland is a possibility. Unless ... someone else is interested. Except for a little broken neon glass and a minor broken electrical component, the "Elton" sign is structurally sound.

"Las Vegas, of course, would prefer not to have the sign leave town," says Patty Mar Simmons, Las Vegas AIGA chapter president, "but it's better for it to have a home where it can be seen and enjoyed." According to Richard Hooker, senior cultural specialist for the Las Vegas Office of Cultural Affairs, the city is not looking to sell the "Elton" sign, now officially a part of the Neon Museum collection, but to offer it on an extended loan basis, perhaps in perpetuity. There would be no charge for the loan, but the borrower would have to cover the cost of shipping and installation.

If you're interested, direct your inquiry to president@lasvegas.aiga.org.
Jumping Jack Cash: Stones top hire chart
Monday, August 24 2009
The Stones trumped Sir Elton John, Sir Paul McCartney, and Kylie Minogue in a poll to find out the entertainers that would cost the most to hire for your wedding.
But if million pound-plus fees for superstars are out of your bridal budget, the study discovered up-and-coming singers Lady Gaga and Katy Perry can be yours for around £60,000.

If you want something more rocking, wedding circuit favourites The Proclaimers will blast out "I'm Gonna Be (500 miles)" for £50,000.

Top Ten Budget Busting Wedding Crooners

1. The Rolling Stones up to £5m

2. Sir Elton John up to £2m

3. Kylie Minogue up to £2m

4. Christina Aguilera up to £1.5m

5. George Michael £1.3m

6. Amy Winehouse £1m

7. Sir Paul McCartney £1m

8. Leona Lewis £1m

9. Jennifer Lopez £1m

8. Barry Manilow £750,000

Rick Astley, who stormed the charts in the 1980s and whose Never Gonna Give You Up video inspired the internet phenomenon of "Rickrolling", will do a turn for £25,000.

The poll was conducted for TV channel Living by a financial analyst. Calculations were based on information from agents and examining accounts, ascertaining how much it would cost to hire each act for a private performance.
Alice in Chains guitarists talks about Elton collaboration
Sunday, August 23 2009
William Goodman of SPIN.com recently conducted an interview with Alice in Chains guitarist Jerry Cantrell. An excerpt from the chat follows below.
SPIN.com: How did the collaboration with Elton John come together? It's a little surprising.

Cantrell: It makes a lot of sense to us. But the fact that it happened in the first place is something we didn't expect. We were in the studio and were getting near the end. "Black Gives Way to Blue" was one of the last songs we cut. We were trying to figure out if we wanted a piano track on it. Our friend Todd who was in the room suggested calling Elton just out of the blue and we all looked at him like he was crazy. Of course we would love for that to happen, but we were like, "Nah that's not going to happen, that dude's busy. He's got his own thing going on." But Todd was like, "Hey man, you never know unless you ask. I think he might do it!" So we put that idea to the test.

SPIN.com: How did you get him into the studio?

Cantrell: I wrote him an email and explained that the song was for [late Alice in Chains singer] Layne [Staley], and we heard that he was interested in doing it. Later, as we continued working on the record, it turned out that Elton was doing a session in the same studio as us in Los Angeles. [Drummer] Sean [Kinney] and I went out to lunch and we got a call from the studio manager saying, "Hey, Elton wants to talk to you." We're like, "We'll be back after lunch," and he said, "No, he's taking off here in a few minutes so you guys need to get back here right now." So we canned the lunch and tore ass back to the studio and walked into the room that Elton was tracking in. He got up and gave us both a hug and said, "I just wanted to tell you that it's a great tune and I want to play a track on it." We were totally blown away.

SPIN.com: Was Layne a fan of Elton?

Cantrell: Yep. And, coincidentally, about a week ago Layne's mom reminded me that Elton John was Layne's first concert and she said he was blown away. Layne told me that once, but I had totally forgotten about it. It brought back some really cool memories. There's a lot of really weird things lining up here. Number one: the significance of Elton to Alice in Chains. Number two: it was Layne's first concert. And to have Elton play on a song for Layne, whew, it means so much to us.



Alice in Chains gets Elton John for tribute song
Wednesday, August 12 2009 at 13:32:40


Brandi Carlile releases duet with Elton John
Wednesday, August 19 2009
While in the midst of her fall tour, singer-songwriter Brandi Carlile will officially release her third studio effort, "Give Up the Ghost".
Following 2007's "The Story", "Give Up the Ghost" is set to release on October 6, 2009, the same night Carlile performs at Glenside, Pa.'s Keswick Theatre. The new record will feature a few guest appearances, including Chad Smith of the Red Hot Chili Peppers, Amy Ray of the Indigo Girls and Benmont Tench of Tom Petty and the Heartbreakers.

But that of one Sir Elton John becomes the most notable, in his duet with Carlile titled, "Caroline." The track may not quite be the comeback effort Elton worked for Alice in Chains, though his assistance still proved to be redemptive.

"I was totally immersed in Grand Ole Opry culture, wherein musicians are usually not the ones who wrote the music," Carlile said in a statement. "But when I was 11 and discovered Elton John, I realized that performers do write and perform their own songs, and I immediately got a keyboard out and started writing."



Alice in Chains gets Elton John for tribute song
Wednesday, August 12 2009 at 13:32:40


Elton John to lead out NFL stars
Thursday, August 13 2009
Elton John will be honorary captain of the New England Patriots and lead the team out for their NFL clash with Tampa Bay at Wembley in October 2009, says Patriots owner Robert Kraft.
Alice in Chains gets Elton John for tribute song
Wednesday, August 12 2009
Alice in Chains thought it would take a miracle to get Elton John to play on the band's tribute record to their late lead singer, Layne Staley. But it only took a listen to the song to get the rock legend on board.
"He's a really warm person," said Alice in Chains co-founder Jerry Cantrell of Elton. "He got up and gave us a couple of hugs, and said, `Well Jerry, I just wanted to tell you that I think it's a beautiful song. ... I really dig the sentiment of what it's about and who it's for and I just want to tell you that I'm going to play on the song.'"

Elton plays piano on "Black Gives Way to Blue," a short but poignant ode to Staley, who died of a drug overdose in 2002. The song is the title track for their upcoming CD, the grunge rock band's first studio album in 14 years.

Cantrell, who wrote the tune, had already made a demo of the song when someone heard it and suggested Elton as the perfect person to play the piano part. Although the band knew people connected to the 62-year-old singer, they thought it was a long shot that he would even consider it.

"I didn't think that would happen. He's a pretty busy guy doing his own thing," Cantrell said. But they sent the song to him, and as fate would have it, both acts were slated to record at a studio complex at the same time. It wasn't until Alice in Chains left the studio for a break that they got word that Elton wanted to meet with them.

"We got a call from our studio manager saying that Elton wanted to talk to us," said Cantrell, laughing. "We jumped in the car, left our lunches on the table, and cruised back to the studio and walked into the studio where he was recording." After Elton confirmed he would play on the song, the band flew to Las Vegas, where Elton was performing, to finish the recording.

"One of the most nerve-racking moments I had was actually making a suggestion to him. What do you say to Elton John?" he joked. "But he was really open to the process. ... He fit into the song, and he really brought something that was really necessary and took the song to another level."

The CD, set for release September 29, 2009, is Alice in Chains' first with singer-guitarist William DuVall, who joined the band — which also includes drummer Sean Kinney and bassist Mike Inez — a few years ago. While DuVall has a different sound than Staley, Cantrell says the music is still Alice in Chains.

"It never gets too far out that you can't figure out who it is after a couple of notes, and that's always one of my main goals," he said. "To find that musical fingerprint I think is the goal of every band and musician, and we're very grateful that we found ours pretty early, and it's still intact, although evolved."
Elton and David join the star fleet in Saint Tropez
Saturday, August 8 2009
Elton John and his partner David Furnish are back in Saint Tropez, along with many other Hollywood elite.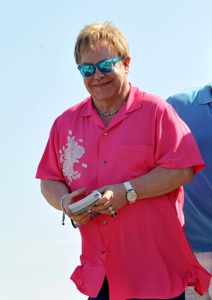 The couple has reunited after spending time apart, with the Canadian-born filmmaker spotted many times over the last few weeks solo in his hometown Toronto.

David and Elton are reportedly set to be spending a lot more time in the documentarian's home province since reports say the couple has begun building a luxurious estate in Caledon, Ontario where they had purchased land.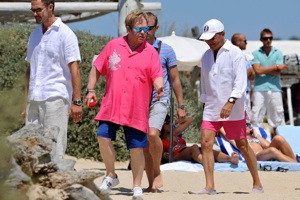 Does Elton John's yellow brick road lead to Caledon?
Wednesday, May 27 2009 at 18:08:45