ELTON JOHN NEWS ARCHIVE: August 2008
Elton attended Madonna show in France
Wednesday, August 27 2008
He famously accused her of lip-synching, but on August 26, 2008 Elton John had nothing but cheers for his former nemesis Madonna as she took to the stage in France.
Elton, accompanied by David Furnish, was spotted among the crowd as the 50-year-old singer's Sticky & Sweet tour rolled into Nice.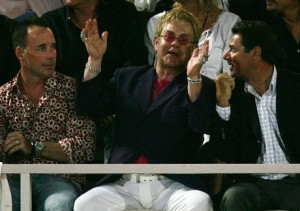 The high profile performers endured a very public feud after Elton launched into a tirade when he discovered that Madonna was up for Best Live Act at the Q awards in 2004. He said at the time: 'Madonna, best f---ing live act? F--- off. Since when has lip-synching been live? That's me off her fucking Christmas card list but do I give a toss? No.'

But it was clear on August 26, 2008 the dueling pair had long buried the hatchet, with Elton applauding enthusiastically between tracks. He wasn't Madonna's only VIP fan - U2 singer Bono was also seen at the concert.

The decadent show, which involves £1million of jewellery, again saw her perform many of her greatest hits as well as indulging in eight costume changes.



Sir Elton's 'J' brooch goes on sale
Wednesday, August 27 2008
A sapphire and diamond brooch once owned by Elton John is expected to fetch more than £12,000 at auction.
The Art Deco jewelled brooch was created in 1935 and designed in the form of the initial 'J'. A photograph accompanying the precious item shows Elton wearing it while filming the video for "I Don't Wanna Go On With You Like That".

The brooch contains five oval-cut sapphires and a bombe cluster of circular-cut sapphires. The London Sale of Fine Jewellery at Bonhams will also feature a single-stone ring by De Beers, expected to fetch £320,000.

The auction house's UK director of jewellery Jean Ghika said: "With the current economic uncertainty and the world gold price at a record high, many investors are turning away from stocks and shares to more tangible commodities such as high quality jewellery."

The London Sale of Fine Jewellery takes place on September 25, 2008.
Eltonography
Thursday, August 21 2008
Over 200 pictures of Elton John by the photographer Terry O'Neill are to go on display in London in September 2008.
"Eltonography: A Life In Pictures" will open at the Proud Camden gallery on September 24, 2008. O'Neill first photographed Elton when he was still trading as Reginald Dwight, and has assiduously tracked his career ever since. Eltonography will contain many previously unseen images from O'Neill's archives.

A 224 page book, also titled Eltonography, will arrive on September 30, 2008 to coincide with the exhibition. You can pre-order the book from Amazon by clicking on the link to the right.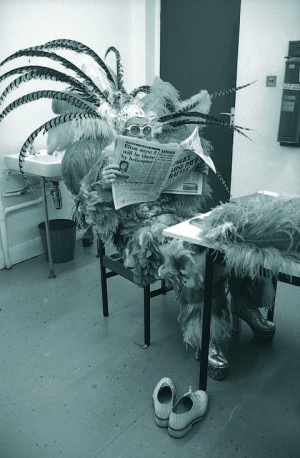 Gnomeo and Juliet - James and Emily?
Wednesday, August 20 2008
James McAvoy and Emily Blunt might soon discover the grass is always greener on the other side of the fence -- if you're a garden gnome in love.
The pair are in negotiations to play the title roles of "Gnomeo and Juliet," a CGI-animated Shakespeare adaptation from Miramax and Elton John's Rocket Pictures.

The film will feature several Elton classics but not Kate Winslet; she was first attached to voice Juliet two years ago and fell out because of scheduling conflicts. Tim Rice also was approached to write original songs with his "Lion King" partner Elton at the time, but the soundtrack now will be filled with the performer's well-known hits and possibly a few new tracks.

In the loose and edgy adaptation of Shakespeare's play, McAvoy ("Atonement") and Blunt ("The Devil Wears Prada") would play lovers from rival gardens. Elton, who is producing alongside his offscreen partner David Furnish, Baker Bloodworth and Steve Hamilton Shaw, is said to be pursuing big-name talent to voice supporting roles.

Rocket initially brought "Gnomeo" to Walt Disney Feature Animation, but several years later the project was dropped by incoming Pixar executives John Lasseter and Ed Catmull. Miramax president Daniel Battsek, who followed the project while at Buena Vista International, persuaded Disney Studios chairman Dick Cook to revive it at his specialty division in April 2006.

Kelly Asbury will direct from an original script by Rob Sprackling and John R. Smith. Kevin Cecil, Andy Riley and Mark Burton have worked on later versions of the screenplay. Now in the storyboard stage, production is expected to be completed by 2010.

McAvoy, repped by WMA and United Agents, had his first big-budget hit with this summer's "Wanted." After a string of upcoming indies, the CAA- and Ken McReddie Associates-repped Blunt is expected to follow suit with "The Wolfman" in summer 2009.



Bettye LaVette Takes on Elton John
Tuesday, August 19 2008
Veteran soul singer Bettye LaVette has released a video for her gritty cover of the Elton John-Bernie Taupin barstool ballad "Talking Old Soldiers".
The West Orange resident filmed the clip at the Locker Room, a tavern in her old stomping grounds of Detroit. Shot in black and white, LaVette sits at the bar, with only a glass of wine and the smoke curling up from her cigarette as company. She subtly personalizes the lyrics, giving memories of departed friends the weight of the world as she sings:

"Yeah, I guess that's right, you can find me here most any night/ Just looking 'round the room, staring at the walls and the lights . . . Yep, I know how it feels to grow old . . . I know what they're saying, son/ There goes that crazy old broad again . . . Well, do they know what it's like to have a graveyard as a friend?/ 'Cause that's where they all are, boy, all of them/ It don't seem likely I'll have those kinds of friends again."

LaVette had a hit R&B single as a teenager in 1962, but she never had the kind of career that blessed some of her Motor City peers. Yet she outlasted many of them, enduring three decades of hotel lounges before enjoying an unlikely renaissance via the avant-rock Anti- label. "Talking Old Soldiers" is from LaVette's second great comeback album -- 2007's Grammy-nominated "The Scene of the Crime," co-produced by Patterson Hood of the Drive-By Truckers. They worked at Fame Studios in Muscle Shoals, Ala., where she had recorded an album for Atlantic in 1972 that was left mysteriously unreleased.

The video can be seen here.
Elton John to get 'Star Stories' treatment
Tuesday, August 19 2008
Star Stories actor Steve Edge has revealed that Elton John and David Furnish will be among the celebrities lampooned on the new series of the show.
Edge, who stars alongside Kevin Bishop on the Channel 4 programme, confirmed that the newest scripts are the funniest yet. "I'm sure we're doing Elton John and David Furnish," Edge told The Mirror. "We read a new Britpop sketch of Oasis and Blur going to see Blair, which sounds good. Jarvis Cocker is the narrator, like an Austin Powers figure. It's a great job for summer - lots of funny wigs and silly voices."

The third series is currently in production and is expected to be included in Channel 4's autumn schedules.
Winner of the Hard Rock Cafe Berlin competition
Monday, August 18 2008
For those of you attending Elton's "Red Piano" show in Berlin on December 11, 2008, we gave you a chance to win dinner for two at the local Hard Rock Cafe.
To win this voucher, which will be good for a meal for two up to a total value of Euro 65 until December 31, 2008, you had to answer the following question:

How many Hard Rock Cafe locations are there in Germany?

The correct answer: There are three Hard Rock Cafes in Germany, and they are in the three cities that Elton will perform in later this year: Berlin, Cologne and Munich.

The lucky winner is Marcel Zuercher from Switzerland. Congratulations!

By the way, you can now register for the downsized fan convention at Munich's Hard Rock Cafe on November 22, 2008, just before the Elton John "Red Piano" show at Munich's Olympic hall.
Bid on an Elton jacket
Friday, August 15 2008
Atlanta B98.5FMís Steve & Vikki have a one of a kind Houndís-tooth jacket worn by Elton John and are giving you a chance to bid in a one day auction Benefiting Jeffrey Fashion Cares 2008.

Win the bid and Steve and Vikki will throw in for the auction that will start August 18, 2008 at 8.00 am:

Two 1st Class Round Trip tickets to Las Vegas on Delta Airlines

2 night hotel accommodations at Caesarís Palace in Las Vegas

2 tickets to Elton Johnís Vegas Show: ďThe Red PianoĒ at Caesarís Palace (Eltonís personal seats)

A pair of front row tickets to Jeffrey Fashion Cares 2008 Benefiting the Atlanta AIDS Fund & Susan G. Komen For The Cure, Greater Atlanta Affiliate
You can get a preview of the jacket in the B98.5FM website

Brothers land job with Elton John
Thursday, August 14 2008

Builder brothers Jason and Tyrone Prades have hit the big time with their latest job - at Elton John's plush pad in Kensington. The brothers landed the job after being picked by a top stonemason.

Justin Prades, 37, of Hatherell Road, Chippenham, whose favourite Sir Elton song is "Rocket Man", said: "We have told our close friends and family about it but word seems to have spread pretty quickly. We have had people calling us up for jobs and making Elton John jokes. Both our families think it's a pretty awesome job to get but it is old news now.

"When we went up to have a look we saw Elton John's partner David Furnish and said hello but hopefully we will catch a glimpse of the man himself when we are up there."

The brothers, who work together on big jobs but have separate building companies, started work on August 4, 2008 but have yet to get a glimpse of Elton as he is holidaying in France and Italy. Father-of-three Justin said: "He has an absolutely fantastic place. It is massive. There are spotlights everywhere. The walls were covered with his artwork.

"We are not expecting Elton John to make us a cup of tea or anything but if I do see him I will have my star glasses ready and might blast out a bit of Rocket Man. This is the first celebrity job we have done and they don't really come much bigger than this."

The two builders are laying a new limestone floor on the ground floor. Justin said: "It has been a tough job for us as the rooms are not completely square but we have done a pretty good job."

Elton and David continue their vacation at the Italian riviera
Wednesday, August 13 2008

After a week of soaking up the sun in Saint Tropez, Elton John and David Furnish have swapped the French Riviera for its Italian counterpart.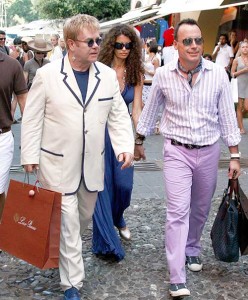 They arrived in the exclusive resort of Portofino and before joining a group of pals - who included Tunisian actress Afef Jnifen - aboard a yacht for lunch.

And it seemed their retail excursion had been successful, judging by the shopping bags on display as they made their way to the vessel.

Cutting a dapper figure in a white suit with navy blue trimming, Elton is no doubt making the most of his summer break before he is back on the road. He is touring Davidís homeland, kicking off his run of shows in Calgary, Alberta, on September 12, 2008.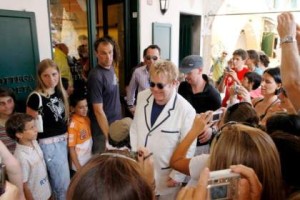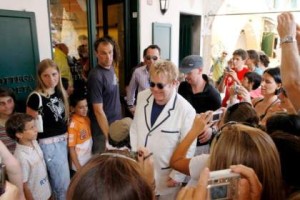 When I was down I was you clown
Friday, August 8 2008 at 08:11:37


When I was down I was you clown
Friday, August 8 2008
After weeks apart, Sir Elton John was finally reunited with his 'husband' David Furnish in St Tropez on August 7, 2008.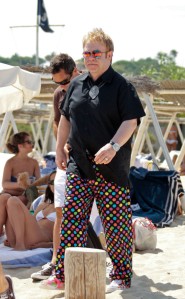 David has been holidaying on the French Riviera since last month, while Elton was performing in Las Vegas. Elton has the rest of the summer off until he is expected to start his Canadian tour in Calgary, Alberta on September 12, 2008.

Arriving on the Riviera, a colourful-looking Elton looked ready to party as he opted for his usual flamboyant dress by wearing a pair of polka-dot 'clown-style' trousers, neon pink trainers and a large silver medallion. Meanwhile, David went for a more Mediterranean look in yellow shorts and a blue polo shirt.

After the couple's reunion on dry land, they were joined by a huge entourage, who assisted Elton into a motorised dinghy to bring them out to designer Roberto Cavalli's luxury yacht, where David has been residing for the past few weeks.

Despite spending a majority of his days lazing in the sun, David has been a regular at St Tropez's many exclusive nightclubs. While Elton has been had at work performing, David has been living the high life with a huge entourage of friends, including U.S. rap-rocker Kid Rock, ex-husband of Pamela Anderson.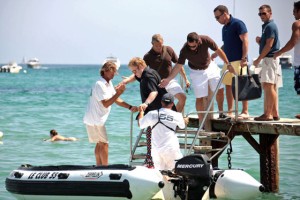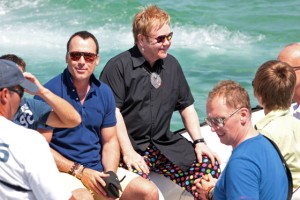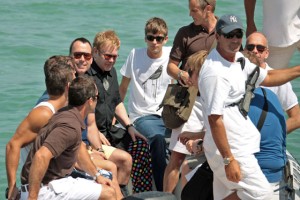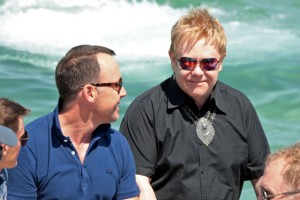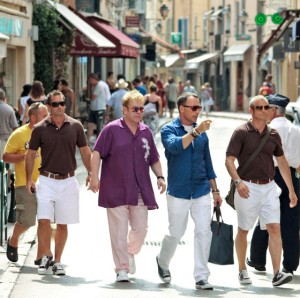 Elton John to congratulate Ukraineís ex-President Kuchma
Thursday, August 7 2008
A stir caused by a birthday of a big man has become a tradition in Crimea. Last year all the southern sea coast of Ukraine had a merry time celebrating the anniversary of singer Sofia Rotaru, and this summer the stir is created by the celebration of birthday of Ukraineís ex-President Leonid Danylovych Kuchma, Komsomolskaya Pravda v Ukrayine informs.
On August 9, 2008, Kuchma will receive congratulations from not only politicians but also pop stars, including foreign ones. According to the information of the newspaper, Elton John is expected to attend the celebration. Rumors are rife that Kuchma chose among a list that included also Sting and Tina Turner. However, as Sir Elton and Kuchmaís daughter Olena Franchuk are friends, Kuchma set his choice namely on his candidacy.

As for Ukrainian stars, they invited singers Taisia Povaliy, Nikolay Baskov, Natalia Mohylevska, and Phillip Kirkorov. The guests were officially invited to attend the celebration as early as in April 2008. Besides, one of the most luxurious hotels of Yalta Ė Oeranda Ė was practically almost booked for the celebration.

Among the guests there are also the Klitchko brothers, Volodymyr Lytvyn, Dmytro Tabachnyk, Inna Bohoslovska, Roman Bexsmertny, Raisa Bohatyryova, and others.
Elton John's suits for up for sale in Hastings
Tuesday, August 5 2008
There could be "Something About the Way You Look Tonight" if you head down to an Old Town dress agency in Hastings and pick up one of Elton John's suits.
The Wardrobe on the High Street is selling two of the performer's Gianni Versace pieces, on behalf of regular vendor Fred Ward. Musician Fred, 49, who covers Bob Dylan under the stage name Ed Dylan, said it is a sacrifice putting them up for sale.

Fred, from St Leonards, said the reason he was selling the suit and separate jacket -worth a total of around £3,000- was because he had lost weight.

"I'm always in the shop buying - the clothes are great. I'm Elton John's height and build so when I went to the sale everything fitted me. But I've lost some weight and they've just been sitting in my wardrobe. I'm sad to see them go, but I thought I'd give them to someone who really does appreciate them."

Shop owner of three years, Mel Pointer, said she is not surprised the suits have made it to The Wardrobe, because Hastings people have style. Mel, 41, said: "There are some real fashionista people in Hastings. I've been to dress agencies in Tunbridge Wells and they've not got half as good stuff as I have. Most people who love their clothes don't want to give them away, and with the credit crunch the stuff that's coming in is even better."

"People see it as guilt-free shopping too. I'll offer to write them a cheque for what we've sold and they say no I'll have credit. A few people have looked at the suits. You could team them up with a nice pair of platforms!

"Apparently David Furnish helped the vendor pick them out. He bought them from an auction for the Terrance Higgins Trust and he has all the receipts."
WTT Smash Hits 2008
Tuesday, August 5 2008
On October 12, 2008, Advanta World TeamTennis (WTT) will bring its wildly popular Smash Hits charity tennis exhibition to Kennesaw State University in Kennesaw, GA.
The 16th annual event, originated and hosted by long-time friends Elton John and Billie Jean King, will benefit the Elton John AIDS Foundation (EJAF) and the Atlanta AIDS Partnership Fund. Since its establishment in 1993, Smash Hits has raised over $8.5 million for EJAF's grant-making initiatives supporting HIV/AIDS-related prevention, stigma and discrimination reduction, and direct care and service programs, as well as for a local AIDS charity in the city hosting the event. You can find more information and purchase tickets at www.ejaf.org/SmashHits08.

Smash Hits will return to the Atlanta area, Elton's adopted home, for the first time since 2000, and will be co-chaired by civic leaders Dr. Bobbie Bailey, Charlie Hendon, and Sacha Taylor. This year, Andy Roddick, Martina Navratilova and Anna Kournikova are among the tennis stars who will join team captains Elton John and Billie Jean King for five sets of tennis using the WTT format. Elton also plans to participate in a celebrity doubles event to open the evening. Additional participants will be announced in the upcoming weeks.

Tickets for Advanta WTT Smash Hits will go on sale August 16, 2008 at etix.com or by calling +1-800-514-ETIX; reserved seat tickets range from $70 to $110 and general admission tickets are $39.50. Special VIP tickets, which also include VIP courtside seating and admission to the Smash Hits VIP Reception and Auction, are available now for $350. The VIP Reception, which begins at 11 a.m., includes silent and live auctions. VIP packages are available online at www.ejaf.org/SmashHits08 or by calling +1-404-653-0240.
Fiesta bullriders horse around with Bernie Taupin
Friday, August 1 2008
Every year, the rodeo is a major part of Old Spanish Days in Santa Barbara, and this year, with the Professional Bull Rider Challenger Tour hitting Earl Warren Showgrounds on July 31, 2008, roping and wrangling fans have plenty reasons to cheer.
Although not part of PBRís main tour, which features more than 30 televised events a year, the Challenger Tour, which is promoted in town by Mitch Williams, gives younger riders a chance to make enough money to break into the big leagues.

And whenever the Challenge Tour comes to town, itís also cause for celebration up in the Santa Ynez Valley, where Bernie Taupin hosts a barbecue and horse cutting competition. Famous for being Elton Johnís songwriter, Taupin also raises horses in the valley, and during the afternoon barbecue, he challenges the riders from the Challenge Tour to a cutting competition.

Horse cutting is an equestrian event in the Western riding style, where the rider and horse pick a calf from a small herd and use the horseís agility and speed to keep the calf from getting back to the herd. The sport evolved from cattle ranches where it was the cutting horseís job to pick out each calf one by one to vaccinate, castrate, and sort. Eventually competition arose from the best horses and riders in ranch areas.

This yearís event was held on July 30, 2008 on the ranch, which is located east of Highway 154 beneath Figueroa Mountain. Both the calves and quarter horses were very quick, and Taupin proved to be a very good rider, easily rising to the competition in the first round. But in the end, Taupin was beaten by PRBís top-ranked rider Guilherme Marchi from Brazil.
Kenny Chesney takes a break with Elton John
Friday, August 1 2008
When Kenny Chesney has a night off in Las Vegas, he takes full advantage of the situation. Chesney and part of his crew took time on their night off to attend Elton John's Red Piano Show at Caesar's Palace on June 4, 2008.
Chesney describes the show as "unbelievable." He says Elton introduced him in the audience and dedicated "Tiny Dancer" to them, which also was used in one of Kenny's all-time favorite movies, "Almost Famous."

After the show the group went backstage to say hello. Kenny says Elton knew everything that was going on. The singer says, quote, "Not only did he tell me how much he liked the Willie Nelson record ["Moment of Forever" which Chesney produced with Buddy Cannon], but he asked about my Mother... That made my Mother's entire week!"