ELTON JOHN NEWS ARCHIVE: August 2007
10th Anniversary Memorial Service for Diana
Friday, August 31 2007
Elton John and David Furnish attended the 10th Anniversary Memorial Service for Diana, Princess of Wales at Guard's Chapel on August 31, 2007 in London, England.
The 10th anniversary of the death of Diana, Princess of Wales is being marked with a memorial service in London and tributes across the UK.

Elton and David were accompanied by the daughter of Mohamed al-Fayed, Camilla Al Fayed.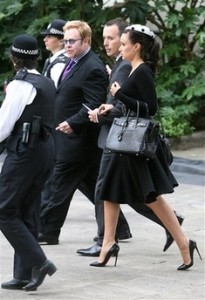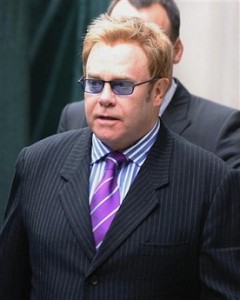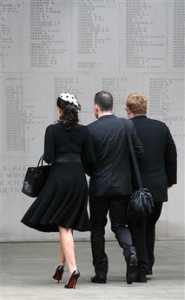 Elton questions foreign legion
Friday, August 31 2007
Elton John has added his voice to the current debate over the number of foreign players in the Premiership and the increasing impact on the dwindling number of players available to play for England.
Elton makes his views known in the latest Watford programme for their Championship match against Ipswich Town On September 1, 2007. He writes: "While I understand that these are market forces at work and that the rewards for success are very high there is a very important downside and that is the impact on the game at a national level.

"There does seem to be more foreign players at our top clubs than ever before and this effectively reduces the pool of players available to the England manager at any time, which of course, reduces our chances of success in the big-stage tournaments like the World Cup or the Euro Championships. It does seem unbelievable that it was 41 years ago that we won the World Cup! I am almost too young to remember it!"

Elton, Life President of Watford Football Club, added: "I must say that I have my personal concerns about the increasing gap between the top clubs and those at the bottom of the Premiership and outside the Premier league. Without doubt we will see the likes of Chelsea, Manchester United, Liverpool, Arsenal and Spurs challenging for honours but what does that mean for smaller clubs like the Middlesbroughs, the Fulhams or the Blackburns of this world.

"It does seem that the enormous amounts of foreign money being pumped into the game is paying off in terms of success. Look at the amount of money spent by Sir Alex Ferguson and even Sven at Manchester City this season - he appears to have bought an entire team!"

But Elton gave his backing to the Watford manager Aidy Boothroyd despite relegation last season. He flew by helicopter to the training ground and joined the manager and the players for a lunch of jacket potatoes and baked beans.

He added: "We all know that it is even more important to demonstrate our loyalty to our club when the chips are down but not to get depressed, downhearted or frustrated. I think it's fair to say that Aidy has learned a lot from last season on both a personal and a professional level and that will stand him and the team in good stead for this season in The Championship."
Montana, finally
Friday, August 31 2007
Just two weeks ago we reported here that Elton had never performed in the state of Montana (amongst others) before. Now, two Montana dates have been confirmed.
On September 28, 2007, Elton and the band will play the Adams Center in Missoula, MT. And the following night they will perform at the Brick Breeden Fieldhouse in Bozeman, MT. See Elton John Tour News for more shows.

So, how's that for a stimulating fan website?



Sick City, isn't it a pity
Monday, August 13 2007 at 16:08:30


This Week's Featured Concert at Wolfgang's Vault
Friday, August 31 2007
Elton John, Cleveland, OH, Music Hall, November 26, 1970
This performance, recorded in Cleveland a few months after Elton's US debut at the Troubadour Club in Los Angeles (after Elton had done a series of shows at the Fillmore East and West, and a number of select dates on both coasts), is essentially the same show that he presented that amazing week at the Troubadour.

Featuring only himself on piano and vocals, Nigel Olsson on drums, and the late Dee Murray on bass (guitarist Davey Johnstone would join the band in 1972), Elton John blew away the audience with an energized performance of incredible musicianship, profound songwriting, and staggering showmanship. Not unlike the fiery mid-1950s performances of Jerry Lee Lewis and his band, Elton and company served up great song after great song throughout this set.



This Week's Featured Concert at Wolfgang's Vault
Thursday, July 26 2007 at 08:26:35

This Week's Featured Concert at Wolfgang's Vault
Friday, June 8 2007 at 14:25:51
Fashion Cares 2007
Wednesday, August 29 2007
New York and Atlanta fashion retailer Jeffrey Kalinsky isn't often at a loss for words. However, as his 15th annual fund-raiser for breast cancer and AIDS got under way on August 27, 2007 in Atlanta, the founder of Fashion Cares was momentarily rendered speechless.
The fashion arbiter was attempting to articulate what having the evening's special guest, fashion legend Oscar de la Renta in attendance meant to him and to the fund-raiser that's become synonymous with the arrival of Atlanta's fall social season.

Another nice gift for Kalinsky and the evening's co-chairs: The event netted more than $700,000.

While physically in the South of France, Atlanta philanthropist Elton John made one of the biggest contributions to the evening's success. Not only did his Elton John AIDS Foundation offer a $90,000 matching grant to one of the evening's beneficiaries, the Atlanta AIDS Partnership Fund, he also donated an unprecedented pair of tickets to his 2008 Oscar Party in Hollywood.

After an intense bidding war, Intimacy undergarments founder Susan Nethero is going to Hollywood next year. In exchange for $23,000, that is.

"With all of the charitable work he does, Elton is such a positive force in our world," Nethero told us while handing over her American Express card to organizers. "I had to be the one walking that red carpet. That was my goal tonight."

EJAF-Atlanta board member Barron Segar was ecstatic. "It will be my pleasure to get on the phone to pass along this amount," he said. "And believe me, Elton will be waiting to hear as well. This is just another incredible example of how generous his U.S. hometown is when it comes to fund-raising for AIDS."

And Nethero didn't stop there. Her custom-fitted bra company also donated $25,000 to the evening's other beneficiary, Susan G. Komen for the Cure.
Birthday greetings from around the world on Liverpool's 800th
Tuesday, August 28 2007
Famous names both homegrown and from around the globe have sent birthday greetings to Liverpool as the city celebrates the 800th anniversary of its royal charter on August 28, 2007.
Her Majesty the Queen led the tributes as others flowed in from the world of politics, sport and entertainment.

The Queen responding to a message sent to her on behalf of the city said: "Please convey my warm thanks to all the people of Liverpool for their greetings on the occasion of the city's 800th birthday. I much appreciate your kind words and would like to send my warm wishes for a most memorable and enjoyable anniversary."

Elton John, said: "I am delighted to wish the great city of Liverpool a happy 800th birthday. Liverpool has always been one of my favourite cities, both as a place to perform and as a city that has produced so much lively talent in so many different fields."
Princes to read at Diana service
Monday, August 27 2007
Princes William and Harry are to give readings at a memorial service for their mother, Diana, Princess of Wales, on the 10th anniversary of her death.
Her sister, Lady Sarah McCorquodale, will also read at the service on August 31, 2007.

Among 500 expected guests are more than 30 royals, including the Duchess of Cornwall, celebrities such as Sir Elton John, and Prime Minister Gordon Brown. The hour-long service, in the Guards' Chapel in London's Wellington Barracks, will begin at midday.

Both William and Harry have been closely involved in organising the service, along with Earl Spencer, Lady McCorquodale and Lady Jane Fellowes. Diana's musical tastes will be reflected, with some of her favourite classical music, by composers Rachmaninov and Mozart, being included. Four hymns will be sung, concluding with her favourite, "I vow to thee, my country".

The service, conducted by Rev Patrick Irwin, will also include two prayers written by Archbishop of Canterbury Rowan Williams. An address will be given by the Bishop of London, the Rt Rev Dr Richard Chartres.
Manilow returns to the 70s
Friday, August 24 2007
Barry Manilow has set the release date for his latest album. This time Barry goes back to the 70s to cover some of the hits from the disco decade.
Arista will release "The Greatest Songs Of The Seventies" on September 18, 2007.

Some of the big names Manilow is tributing on the album include Paul Simon, Carole King, John Lennon and Paul McCartney and Elton John ("Sorry Seems To Be The Hardest Word").

Also according to what his publicist sent over the album will also include a special unplugged set of some of Barry's own 70s hits including "Mandy", "I Write the Songs", "Weekend in New England" and "Copacabana".

A special deluxe edition DualDisc will also be released. The CD side will feature four additional acoustic songs with the DVD side offering All of CD Side tracks in enhanced stereo and "The Greatest Songs Of The Seventies" video.



Manilow goes mellow for '70s covers album
Wednesday, July 11 2007 at 08:57:09


Kansas City locals irate over Elton ticket sales
Friday, August 24 2007
The ire over Elton John tickets continues. Angry fans are complaining to their city leaders about the lack of tickets for locals. They want answers as to why so few Kansas Citians were able to buy tickets before the Sprint Center concert sold out.
A city council meeting turned into a discussion about Elton John after city leaders said they've been fielding hundreds of complaints from constituents who are angry because they could not buy tickets to the concert, but saw them on eBay less than an hour later being sold for hundreds of dollars above face value.

An expert told city council leaders that professional scalpers have figured out how to circumvent security measures at brokers like Ticketmaster and buy up hundreds of tickets at a pop.

They've figured out how to get by security measures on the internet and on the phone. In fact, some scalpers who live in cities as far away as New York have been know to jam Kansas City phone lines so that local fans never have a chance to buy the tickets. City leaders say its time to take action.

"I mean I have so many people calling about Elton John. They wanted tickets. They were sold out within minutes," council member Terry Riley said.

City manager Wayne Cauthen said he's asking the city attorney to examine whether there is a way to ensure local fans get a fair crack at buying tickets. By the way, city leaders will be able to see the concert. Their tickets were guaranteed.
Elton soaks up the sun
Thursday, August 23 2007
Elton John was in playful mood as he and David Furnish lingered over lunch at Club 55 in St Tropez on August 21, 2007.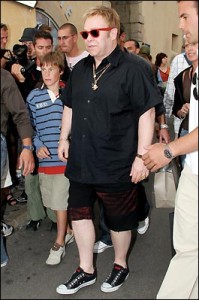 The couple, who have a home in the South of France, were with a group of 15 friends - including style guru Susannah Constantine - at the fashionable beachside rendezvous.

"Elton seemed jolly relaxed, happily posing for tourists' cameras and signing autographs," an eyewitness says. "After lunch, they all clambered on to a yacht and left."



Jump up!
Thursday, August 16 2007 at 19:49:26

Just Like Noah's Ark - part 2
Friday, July 27 2007 at 09:22:03

Just Like Noah's Ark
Wednesday, July 25 2007 at 08:58:04
Billy Elliot goes Broadway
Tuesday, August 21 2007
Billy Elliot, the Elton John-Lee Hall musical based on the 2000 film of the same name, will play its first Broadway preview September 17, 2008, at the Imperial Theatre.
The unusual source of this news? Posters that have popped up in Shubert Alley, in the Times Square theatre district. Showing a dungaree-wearing Billy leaping for joy, the poster proclaims: "BILLY. BROADWAY. 09.17.08."

No casting or official opening night are public yet. A search has been ongoing for the triple-threat lads who will alternate in the role of the working-class boy with dreams of ballet stardom. The musical is a London sensation (at the Victoria Palace Theatre), hailed as composer Elton John's most mature writing for the musical theatre (following The Lion King, Aida and Lestat). A Sydney production is also in the works for January 2008.

As early as fall 2006, a call went out seeking boys to play the roles of Billy and Michael in the Broadway bow of the musical. (See www.bebilly.com.)

The London production won Best New Musical at the 2006 Olivier Awards. Peter Darling picked up the Best Theatre Choreographer Award, while the Best Actor in a Musical Award was shared by James Lomas, George Maguire and Liam Mower, who originated the title role.

A London cast album is in stores. For more information, visit www.billyelliotthemusical.com.



Vote for eltonfan.net
Monday, August 20 2007
You can get involved with the ever-popular People's Choice Awards. These awards are open to anyone who has created a music site or blog, meaning that, much like you lot, the entries will range from the big and glamourous to the small but perfectly formed.
You can vote for eltonfan.net by clicking the official voting button on the right. Voting closes on September 30, 2007. Get voting now! And thanks for your support!
Elton John reveals all for TV in the UK
Saturday, August 18 2007
Elton John will take viewers on a flamboyant and intimate journey through his life in a documentary.
"Me, Myself and I" moves from the highs and lows of Elton's life and will be voiced in his own words. He will unveil childhood memories and share home movies, while talking about the more challenging events of his life.

Elton also confides how he beat his addictions and how he felt performing at Princess Diana's funeral. He reveals how his civil partnership to long term partner David Furnish made him complete and you can expect candid chats about his unique relationships with the late Queen Mother, Princess Diana, Rod Stewart and John Lennon.

Elton said: "I've taken work seriously, the artistic side of things, but I've never really taken fame seriously otherwise I wouldn't be able to look back and laugh at some of the hideous things I've done."

"Elton John: Me, Myself and I" is due to air in September 2007 on ITV in the UK.
New Elton documentary
Friday, August 17 2007
"Someone like me", a new documentary about Elton John, will be released on DVD on September 18, 2007.
Sir Elton on high demand
Thursday, August 16 2007
Tasmania wants Sir Elton John to come and play. Gay activists from the Apple Isle plan to write to the perennial entertainer in the hope of convincing him to schedule a concert in the state.
Tasmanian Gay and Lesbian Rights Group spokesman Rodney Croome said the group would point out the significant improvements in Tasmania's laws and attitudes regarding homosexuality to entice him further south for the first time since 1990.

"Elton John is a vocal supporter of equality for gay, lesbian, bisexual and transgender people right around the world, and we believe he will appreciate the fact that Tasmania has changed for the better," Croome said. "We will present Tassie as an example for Sir Elton to cite of how profound change can occur, even in places where discrimination has been, traditionally, very entrenched."

Croome said when Elton John last visited Tasmania it remained the only Australian state to criminalise same-sex relationships, there were no anti-discrimination laws, and calls for reform had led to angry protests across the state and the arrest of gay rights supporters at Salamanca Market.

Ten years after decriminalisation in 1997, Tasmania now has the nation's strongest anti-bias laws and is the only state that allows same-sex couples to obtain the rights of married couples by registering their relationships.

Elton John has spoken out against gay rights abuses by many of the world's governments, including the current Australian Government.
Elton John reveals photo collection
Thursday, August 16 2007
Photographs plucked from the private collection of music legend Sir Elton John – some never seen in public - will be shown in the UK in September 2007.
Around 150 images captured by New York-based photographer Nan Goldin will be exhibited at the Baltic Centre for Contemporary Art in Gateshead, Tyne and Wear, from September 21, 2007.

The series of pictures, called Thanksgiving, document the photographer's life from 1973-1999.

The curator of The Sir Elton John Photography Collection, Jane Jackson, said: 'Elton was first attracted to the directness, truth and poignancy of Nan Goldin's photography. And her work forms a central part of Elton John's collection.'

Elton began collecting photos in 1991 while visiting friends at a photography festival in France. It was there, it is said, that he first began to appreciate photography as an art form. The images on show will chronicle both 'surviving relationships and the friends Goldin has lost, many to AIDS or drug addiction', said a Baltic Centre spokeswoman.

The Baltic Centre for Contemporary Art in Gateshead is located at Gateshead Quays, South Shore Road, Gateshead, Tyne & Wear NE8 3BA. The show will run until January 6, 2008 and entry will be free. For details call +44 191 478 1810 or visit www.balticmill.com.
Jump up!
Thursday, August 16 2007
Elton John showed he's still got a spring in his step this week while holidaying in Saint Tropez.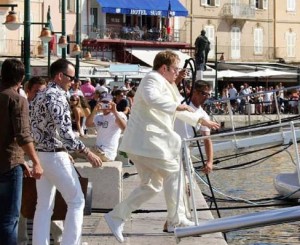 Elton - clad in a white linen suit and trendy white trainers – was a picture of concentration as he seemingly jokingly hopped up onto a gangplank leading to his luxury yacht, moored in the harbour of the upmarket destination.

And he was 'Still Standing' as he navigated the narrow walkway up to the vessel, with partner David Furnish following behind. Once on board, the pair - who had hit the shops - chilled out on deck while an aide loaded their Dolce & Gabbana carrier bags onto the boat.

The duo are just the latest famous faces to hit the South of France celeb hotspot in recent weeks. Rapper P Diddy, newlyweds Rod Stewart and Penny Lancaster and model Cindy Crawford have all been spotted enjoying a summer getaway there.
Sick City, isn't it a pity
Monday, August 13 2007
Do you remember the last time Elton performed in the state of Montana or Delaware? Neither do we.
Elton fan and Hercules US department chief, Sharon Kalinoski, has done some counting and found that - to the best of her knowledge - Elton so far has never performed in Alaska, Delaware, Montana, South Dakota, or Vermont.

According to the very detailed concert list compiled by UK Elton fan, Tony Marshall, which can be downloaded from the Elton John Tour News page, there have been 1,390 Elton John shows in the United States to this date.

And what state would be the number one for Elton appearances? One would think Nevada due to the "Red Piano" shows in Las Vegas (164 in total so far), or New York State with 60 shows at Madison Square Garden alone. However, it is California that tops the list with 191 shows in total, although both New York State (189) and Nevada (188) are close by.

Here is the Top 10 list of Elton John concerts by US state:

California 191

New York State 189

Nevada 188 (including 164 "Red Piano")

Florida 60

Texas 60

Pennsylvania 58

Illinois 52

Massachussetts 50

Ohio 46

Michigan 43
Did we miscount those numbers? Let us know!

Your Songs - The Music Of Elton John
Monday, August 13 2007

Who would have thought Elton John's music could resonate into jazzmen's hearts deep enough to dare record a whole album of his songs?

Saxophonist Pietro Tonolo, a mainstay on the Italian jazz scene, convincingly rises to producer Michele Locatelli's somewhat challenging idea. Supporting him in the venture are drummer Paul Motian, bassist Steve Swallow and Grammy Award-winning arranger and pianist/accordionist Gil Goldstein. And, like the quartet's previous homage release, Portrait Of Duke (Label Bleu, 2000,) "Your Songs" also contains originals inspired by the portrayed composers.

Tracks

Blue Eyes

Tiny Dancer

Rocket Man

Your Song

The One

Goodbye Yellow Brick Road

Sorry Seems to Be the Hardest Word

White Street

Epilogue: Semifonte
Musicians
Pietro Tonolo: tenor amd soprano saxophone

Gil Goldstein: piano, accordion

Steve Swallow: electric bass

Paul Motian: drums
Carnegie Hall to honor Elton and Bernie
Wednesday, August 8 2007
Elton John and Bernie Taupin will be the next artists honored at Carnegie Hall in a series of benefits for the UJA Federation of New York's Music for Youth Initiative.
Shawn Colvin, Aimee Mann, Edie Brickell and Phoebe Snow have all signed on to perform John/Taupin songs for the October 10, 2007 concert, along with Lloyd Cole, Ryan Shaw, Page McConnell, Jill Sobule, Ed Harcourt and others.

"Elton and Bernie have such a large catalog of hits, and the great number of musicians interested in performing this tribute is staggering," said producer Michael Dorf. "By showtime, the lineup will include an amazing array of talent, from the very young to old, from an upcoming songwriter to a legend in their own right."

Whether or not Elton and Taupin will perform, like Bruce Springsteen did at his own tribute in April 2007, has not yet been announced. However, at least for Elton this is very unlikely as he is scheduled to play tennis in Philadelphia that day (see related news).

V.I.P. tickets, which include a pre-show reception, are $350 to $1,000 and available starting today through musicforyouth.org or +1-212-836-1853. Tickets for the concert go on sale August 13, 2007 through the Carnegie Hall box office.



2007 Advanta WTT Smash Hits
Monday, June 18 2007 at 08:22:22


The portrait of Diana that helped to heal Elton John's grief
Wednesday, August 8 2007
Everywhere around the world - those few people who were admitted to Sir Elton John's private dressing room saw her. Ted Oliver, writing in Britain's Mirror newspaper (5/29/98) described her as "wearing a deep v-necked black dress and looking at her most beautiful and relaxed".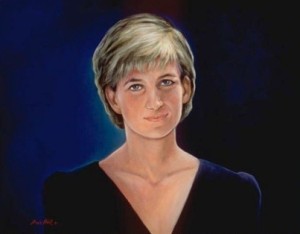 A member of Elton's road crew was overheard saying: "She goes with him everywhere. I know he talks to her before he goes on stage." What they were referring to was a life size portrait of Princess Diana, given to Elton in 1997 shortly after her death by Los Angeles-based artist Louis Briel. The painting is now featured in "Diana In Art", by Mem Mehmet, a collection of portraits of the Princess from around the world. It is published this month by Pop Art Books.

Moved by the kind gesture, Elton sent a handwritten note to Briel thanking him and saying the portrait was "beautiful". Elton took the portrait on his "Big Picture" tour in 1997-98 and looked at it every night before going on stage. After the tour a member of Elton's team told Briel: "The painting is like a genie. It goes where he goes. We've packed it up and unpacked it at every stop around the world. I know he talks to her before he goes on stage." Someone close to Elton's alcohol/drug recovery said: "I'm sure Diana is his higher power. She tells him [via the portrait] what shoes to wear."

Does Diana really inhabit the mysterious portrait? Can she truly be Elton's spirit guide? Briel, who specializes in posthumous portraits, is convinced that during the painting process and afterwards the "spirit of the deceased visits and inhabits the image on canvas". He says he would not be surprised if Elton is in direct spiritual contact with Diana.
Elton at the Sprint is a sellout
Tuesday, August 7 2007
Tickets to the October 13, 2007 Elton John concert, the first event at the new Sprint Center in Kansas City, were virtually sold out within 90 minutes of going on sale at 10 a.m. on August 6, 2007.
By mid-afternoon there were fewer than 50 single-seat tickets left - tickets that likely will remain unsold because people go to concerts in pairs, said Shani Tate Ross, director of communications and marketing for the Sprint Center. In industry terms, that's a sellout.

"It did exceed expectations for the opening event and for the market," Tate Ross said. "We're very pleased."

See Elton John Tour News for more Elton John tour dates.
Rex Bishop passed away
Thursday, August 2 2007
Hercules has learned that former Bluesology bass player, Rex Bishop, has died of lung cancer on May 9, 2007.
Rex recently got in touch with some of his former band mates again in the course of the interviews conducted by David Buckley when putting together his book "Elton - The Biography".

In the early Sixties Rex was one of the founding members of Bluesology next to Reg Dwight (piano), Stuart Brown (guitar) and Mick Inkpen (drums). After his musical career, Rex became a successful lawyer and solicitor with his own practice (Cass and Bishop) in Canada.

The Hercules team would like to express its condolences to Rex Bishop's family.
Elton wants to shut down the Internet
Thursday, August 2 2007
Elton John wants the internet closed down, reports The Sun. Never one to keep his opinions to himself, he has waded into cyberspace with all guns blazing.
He claims it is destroying good music, saying: "The internet has stopped people from going out and being with each other, creating stuff. Instead they sit at home and make their own records, which is sometimes OK but it doesn't bode well for long-term artistic vision.

"It's just a means to an end. We're talking about things that are going to change the world and change the way people listen to music and that's not going to happen with people blogging on the internet.

"I mean, get out there — communicate. Hopefully the next movement in music will tear down the internet. Let's get out in the streets and march and protest instead of sitting at home and blogging.

"I do think it would be an incredible experiment to shut down the whole internet for five years and see what sort of art is produced over that span. There's too much technology available. I'm sure, as far as music goes, it would be much more interesting than it is today."

Elton has admitted in the past that he is a bit behind the times. He was once quoted as saying: "I am the biggest technophobe of all time. I don't have a mobile phone or an iPod or anything. I am such a Luddite when it comes to making music. All I can do is write at the piano."

Elton also complained about the quality of music being released. He said: "In the early Seventies there were at least ten albums released every week that were fantastic. Now you're lucky to find ten albums a year of that quality. And there are more albums released each week now than there were then."
Michael Caine to release chill-out album
Wednesday, August 1 2007
Michael Caine was the personification of icy cool as secret agent Harry Palmer in The Ipcress File, but it wasn't until he wowed Elton John with his knowledge of downtempo ambient music that he realised he was a chill-out expert.
Now the Alfie actor, 74, has announced the name of his new chill-out album - "Cained" - a selection of his favourite mellow tracks.

He decided to embark on a new direction as a mixmaster after having dinner with Sir Elton. The pair were at Elton's mansion in Nice, in the south of France, listening to music when Sir Michael realised he was a chill-out music buff. The movie star kept telling Elton the name and date of recording of every track playing in the background.

Caine said: "I've loved this type of music for years, and have hundreds of CDs. I've been buying them for about 15 years, and really know my way around. About ten years ago I started making my own compilations. I've always been interested in music, and over the years have made literally thousands of tapes. And with chill-out I suppose I finally found my forte."

"Cained - the album", which will contain tracks from Chicane's No Ordinary Morning to Nina Simone and Felix Da Housecat's Sinnerman, will be released in September 2007.



Just Like Noah's Ark
Wednesday, July 25 2007 at 08:58:04