The project was cancelled - but 50 Cent is still confident they will make it into the studio. The IN DA CLUB star says, "Elton John has incredible talent. Actually he was meant to come out and record some stuff with me, but it didn't happen. Maybe in the future."



Elton praises Eminem
Saturday, April 9 2005 at 17:55:44


Henry Peters, 31, and Neil Wattley, 30, targeted Graham and John Brydon as they walked home from the singer's performance at Watford football stadium.

Peters spotted Graham Brydon's official T-shirt and shouted: 'Elton John is f***ing gay', before punching him in the face.

Wattley, of Kings Langley, then joined an attack on nephew John during the violence captured by CCTV cameras on June 18, 2005. Graham Brydon, in his 50s, needed hospital treatment for a suspected broken cheekbone.

A jury at Blackfriars Crown Court convicted Peters of assault occasioning actual bodily harm against both men and Wattley of the same charge against John Brydon, 26. They had denied the charges claiming they acted in self defence.

Peters, of North Orbital Road, Watford, was convicted of two counts of ABH relating to Graham and John Brydon. Wattley, of Lake View, Kings Langley, denied but was convicted of one count of ABH in relation to John Brydon.



Elton John and band performed in Watford on June 18, 2005
Monday, June 20 2005 at 06:03:06


Simply place an order for the product by clicking on the link on this page and go through the Shopping Cart checkout.

After you've placed your order, you'll see a page that says, "Thank you for your order." This page should contain a link to Your Media Library, where you'll find a link to this special offer as well as any e-book and software download orders you've placed. For faster access in the future, type www.amazon.com/library into your browser.
"The Captain and the Kid" debuts in New York City
Saturday, August 5 2006 at 12:31:06



UPDATE: Elton John Expo 2006
Wednesday, August 30 2006

This year's Elton John Expo, organized by our friends from East End Lights, will take place in Las Vegas from October 13-15, 2006, at the Atrium Suites Hotel.

The event will kick off with a reception Lunch with Fred Mandel & VIP EJ Band Member on Friday, continue with special guests Caleb Quaye, David Larkham & Hogie McMurtrie on Saturday and will close with the Elton Marketplace on Sunday.

See East End Lights for more details.

Hurry - the event is 90% sold out!

Elton Chart Success
Sunday, August 27 2006

The most successful artist in the history of the Adult Contemporary chart solidifies his lead position with his first new entry of 2006. Elton John's "The Bridge" (Rocket) debuts at No. 29.

It is his 66th AC chart entry, the highest total of any artist. Barbra Streisand is in second place with 64.

Elton is tied with the Carpenters for having the most No. 1 hits, with 15 (he also sang on "That's What Friends Are For," a No. 1 hit credited to "Dionne and Friends"). Elton also leads with the highest number of top 10 hits (38). Neil Diamond is in second place with 36.

The debut of "The Bridge" stretches Elton's AC chart span to 35 years, eight months and one week, dating back to the debut of "Your Song" the week of Dec. 26, 1970.

Elton John vows to make hip hop record
Sunday, August 27 2006

After 40 years of performing rock music, pop ballads and movie soundtracks, Elton John is looking to cross over to yet another musical genre Ė hip hop.

"I want to bring my songs and melodies to hip hop beats Ė a bit like 'No Diggity' by Blackstreet,"' Elton said in excerpts of an interview posted on Rolling Stone's website on August 25, 2006.

Elton told the music magazine he would like to work with producer Dr Dre and a variety of artists, although he had yet to to contact them.

"I want to work with Pharrell (Williams), Timbaland, Snoop (Dogg), Kanye (West), Eminem and just see what happens. It may be a disaster, it could be fantastic, but you don't know until you try," he said.

Elton performed the song "Stan" with Eminem on 2001's telecast of the Grammys, the music industry's top awards, and the pair brought the house down.



Elton praises Eminem
Saturday, April 9 2005 at 17:55:44


Sir Elton poses for pet project
Friday, August 25 2006
Sir Elton John is among the celebrities pictured in the annual Pet Pawtraits calendar published by vet charity PDSA (People's Dispensary for Sick Animals).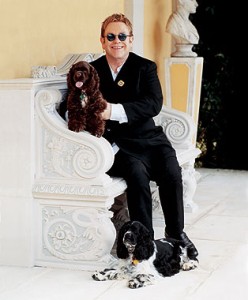 Elton was photographed with his cocker spaniels Arthur and Marilyn by Rod Stewart's fiancee Penny Lancaster for the calendar's 2007 edition.

Pop mogul Simon Cowell, Scottish singer Lulu and TV host Trisha Goddard also posed for the model and photographer.

Her photos are on display at the Mall Galleries in London until 31 August, 2006. "Animals and photography are two of my biggest passions," said the 35-year-old, who had a son with Stewart in November 2005.

"It's been immense fun and I'm amazed at how well behaved the animals were." Stewart, 61, appears in the calendar with his golden Labrador Mrs Potts - one of 15 dogs featured.

TV presenter Holly Willoughby is the only participant to buck the trend by posing with her cat, Miu Miu.

Priced £4.99, the calendar is available from all PDSA charity shops.
Elton to be a a judge on X Factor?
Monday, August 21 2006
Elton John and Beyonce Knowles are being lined to become guest judges on British TV talent show The X Factor.
Show bosses want the pair to join regular judges Simon Cowell, Sharon Osbourne and Louis Walsh and make the new series - which kicked off on August 19, 2006 - a ratings winner.

A source tells British newspaper The Sun, "The judges' comments are what make the show, so throwing in a few different voices will really shake things up. "Elton is a big fan of Sharon's and is a huge fan of the show. He also has a reputation for making cutting remarks. So if he agrees, he'll be a great addition."
DVD "From The Big Apple To The Big Easy"
Sunday, August 20 2006
On September 20, 2005, Madison Square Garden hosted this concert for the Gulf Coast to support the long-term relief and rebuilding efforts following Hurricane Katrina.
The live concert featured New Orleans musical legends joined onstage by many of music's biggest names.

The DVD includes show-stopping performances from Allen Toussaint, Bette Midler, Buckwheat Zydeco, Cyndi Lauper, Dave Bartholomew, Diana Krall, the Dirty Dozen Brass Band, Elton John, Elvis Costello, Irma Tomas, Jimmy Buffett, John Fogerty, Lenny Kravitz, the Meters, the Neville Brothers, Ry Cooder, Simon & Garfunkel, and others.

TRACK LIST
Dirge/Celebrate (Disc 1) - The Rebirth Brass Band
Southern Nights (Disc 1) - Allen Touissant
All These Things (Disc 1) - Art Neville
Hercules (Disc 1) - Lenny Kravitz
On Your Way Down/Yes We Can (Disc 1) - Elvis Costello
Ain't Got No Home (Disc 1) - Clarence "Frogman" Henry
Fortune Teller (Disc 1) - Jimmy Buffett
A Change/Time Is On My Side (Disc 1) - Irma Thomas
Last Train/I Know (You Don't Want Me No More) (Disc 1) - Cyndi Lauper & Allen Touissant
Brother Jake/Iko Iko (Disc 1) - Irma Thomas, the Dixie Cups, & Cyndi Lauper
I Think It's Going To Rain Today (Disc 1) - Bette Midler
Levon (w/ introduction by Scarlett Johansson) (Disc 1) - Elton John
My Girl Josephine (introduction by Ed Bradley) (Disc 1) - Ry Cooder
Rock Me Baby (Disc 1) - Buckwheat Zydeco
When The Levee Breaks (Disc 1) - Lenny Kravitz
Backwater Blues (Disc 1) - Irma Thomas
Pascagoula Run (introduction by Ed Bradley) (Disc 2) - Jimmy Buffett
Heart Of Gold (Disc 2) - Jimmy Buffett & Dave Matthews
Son Of A Son Of A Sailer (Disc 2) - Jimmy Buffett & Dave Matthews
Fins (Disc 2) - Jimmy Buffett
Margaritaville (Disc 2) - Jimmy Buffett
Sea Cruise (Disc 2) - Jimmy Buffett & Paul Simon
Born On The Bayou (introduction by President Bill Clinton) (Disc 2) - John Fogerty
Proud Mary (Disc 2) - John Fogerty
The Monkey (jazz introduction by Ed Bradley) (Disc 2) - Dave Bartholomew & Elvis Costello
I'm Walkin' (Disc 2) - Diana Krall with Troy Andrews
St. James Infirmiry (Disc 2) - Kermit Ruffins
Mrs. Robinson (introduction by Paul Newman) (Disc 2) - Simon & Garfunkel
Homeward Bound (Disc 2) - Simon & Garfunkel
Bridge Over Troubled Water (Disc 2) - Simon & Garfunkel with Aaron Neville
Carry The Torch (introduction by Ed Bradley) (Disc 2) - The Neville Brothers
Hey Pocky Way (introduction by Ed Bradley) (Disc 2) - The Neville Brothers & The Meters
Amazing Grace (Disc 2) - The Neville Brothers & The Meters
When The Saints Go Marching In (Disc 2) - The Neville Brothers, The Meters, & Guests
When The Saints Go Marching In (Brass Band Reprise) (Disc 2)



Elton performed for the Big Easy
Wednesday, September 21 2005 at 10:58:17

From the Big Apple to the Big Easy
Tuesday, September 20 2005 at 14:01:11

Elton to perform at Katrina benefit concert
Thursday, September 8 2005 at 21:34:53


Elton loves Breaks Co-Op
Wednesday, August 16 2006
Sir Elton John has called New Zealand band Breaks Co-Op to say The Sound Inside is the best album he has heard this year.
With that Breaks Co-Op have been given a ringing endorsement most bands - New Zealand or not - could only dream of.

Elton also told vocalist Andy Lovegrove that he is one of the star's favourite singers. After going double platinum in New Zealand, Breaks Co-Op are now touring the UK where they are amassing fans and album sales.
UPDATE: Elton to perform free concert at the Copacabana
Tuesday, August 15 2006
According to local newspapers, Elton is confirmed to perform a free show at Rio de Janeiro's famous Copacabana on January 20, 2007.
Local organizers are expecting a crowd of up to 600,000 people to attend this show. In 2006, an estimated one million people have flocked to Copacabana beach for a free concert by rock legends The Rolling Stones.

Elton's last show in Rio de Janeiro dates back to November 25, 1995. Back then, the concert in the Flamengo Stadium was televised live on pay TV and was later on released on video and DVD.

On January 18, 2007, Elton will also perform a fundraiser at the Copacabana Palace Hotel for about 800 people to raise money for the Elton John Aids Foundation.
"Captain" to be released on September 19, 2006
Saturday, August 12 2006
Elton John has set a September 19, 2006 release date for his new studio album, "The Captain and the Kid." The Rocket/Island set is a sequel to his 1975 album "Captain Fantastic and the Dirt Brown Cowboy."
First single "The Bridge" will be available August 22, 2006 from Apple's iTunes Music Store.

Elton John will premiere the material at an intimate September 6, 2006 show at Rose Hall in New York. He will kick off a North American tour in support of "The Captain and the Kid" September 15, 2006 in Sacramento, CA.

Lyrics from the songs on "The Captain and the Kid" can be found on David Bodoh's excellent website eltonography.com.



"The Captain and the Kid" debuts in New York City
Saturday, August 5 2006 at 12:31:06

"The Captain and the Kid" - more details
Tuesday, July 25 2006 at 09:04:06
Elton:"I'm a technophobe"
Sunday, August 6 2006
Elton has confessed he is a technophobe and doesn't even own a computer or mobile phone.
He is happy to shun modern technology and lets David act as his secretary.

Elton reveals, "I don't have a computer, don't have a mobile phone, don't have an iPod. I order new things all the time, and I write them down in my book. David has a phone, so people can always get hold of me."
"The Captain and the Kid" debuts in New York City
Saturday, August 5 2006
Elton plans a special show in New York City on September 6, 2006, during which he will debut songs from the forthcoming studio album, "The Captain and the Kid".
Tickets for the concert at Lincoln Center's Rose Theatre are expected to be priced between $500 and $1,000.

Stay tuned for details about advance ticket sales and more details.



"The Captain and the Kid" - more details
Tuesday, July 25 2006 at 09:04:06


Elton blasts "Lestat" critics
Saturday, August 5 2006
Elton has leaped to the defence of his defunct Broadway musical Lestat, blasting New York critics for "making up" the bad reviews.
He was devastated when the vampire opera closed in May 2006 following poor reviews and audience figures. He says, "The music never turned out as operatic as I wanted it to. And it probably would have been better for it to be a total opera. It got savaged by the American critics, and after San Francisco, when it got savaged out of town, that was the nailing in the coffin. It was extremely unfair."

"In San Francisco, I thought the criticism about the show was valid. In New York, I just thought they'd made it up."



Lestat to close on Broadway
Wednesday, May 24 2006 at 05:05:43


Elton's libellous read
Saturday, August 5 2006
Elton reads every British newspaper every day to search for libellous stories about him. He has been victorious in several high-profile suits brought against British papers in the past and continues to check them regularly.
Elton says, "I always go to the tabloids first, just to see if there's anything written about me that I can sue them for. Then I read the Guardian, the Times, the Independent, the Telegraph and the International Herald."

Despite his legal battles, Elton prefers the British to the American press, explaining, "You can read the New York Times, and by the time you get to the second page you're so bored that you throw the bloody thing on the floor. It's unreadable."
60th at 60
Friday, August 4 2006
Elton plans to perform his 60th (sold out) show at New York's Madison Square Garden on March 25, 2007 - his 60th birthday.
"Next March on his 60th birthday Elton will perform his 60th sold out show at Madison Square Garden," his manager Merck Mercuriadis says. "I do not believe I have ever seen another artist as happy and passionate on stage as he is."




Elton's 60th birthday surprise
Thursday, June 1 2006 at 08:47:49


Elton to receive Humanitarian Award
Friday, August 4 2006
Sir Elton John and Music Rising will receive the Legend of Live and Humanitarian Awards, respectively, at the Third Annual Billboard Touring Conference & Awards, to be held November 8-9, 2006 at the Roosevelt Hotel in New York.
Awards at the November 9, 2006 reception will also go to a wide variety of tours, venues, and touring professionals, based on data reported to Billboard Boxscore between December 1, 2005, and September 30, 2006.

But rather than recent accomplishments, Elton's recognition will be based on his remarkable career achievements. He will be the first artist ever honored with the Legend of Live Award, which recognizes concert business professionals who have made a significant and lasting impact on the industry. Previous Legend winners include Rolling Stones producer Michael Cohl (2004) and Cellar Door Concerts founder Jack Boyle (2005).
Elton urges full Take That reunion
Friday, August 4 2006
Elton is begging British pop sensation Robbie Williams to end his feud with former bandmate Gary Barlow, branding their hostility petty.
Take That recently reunited as a foursome for a sell-out UK tour following a 10-year hiatus and performed alongside a hologram of Williams, who refused to participate after quitting the band in 1995 to pursue a solo career.

But Elton insists their feud is tired and should end immediately. He says, "I wish he'd drop the whole Gary Barlow thing. It's like, 'Robbie, just let it go, it doesn't matter.' I'd like to sit down with Gary and Robbie and say, 'For f**k's sake, get rid of it, you don't need to go on about it any more.' Get the monkey off your back."



Robbie Williams has snubbed Elton's wedding
Thursday, December 1 2005 at 09:00:13

Gary Barlow To Sing At Elton John's Wedding
Wednesday, November 30 2005 at 08:15:42


Fools in Fashion
Thursday, August 3 2006
Elton's loose lips are at it again. This time he is pointed directly at American bands' style.
Elton wants Yankee groups to dress more like he and his fellow Brit glam rockers (like The Who and Queen) did in the 70s.

He tells Fashion Rocks magazine, "I think it's good that some American bands are beginning to do that, but it's still very rare for bands to make a real effort... I'm so over tattoos and the T-shirts and rings through the noses. It's not pretty, it's not pleasant, it's not exciting. Please stop it now."

Stay tuned to see what Elton will unleash when he hosts the Fashion Rocks concert on September 8, 2006 on CBS.



Elton Curating Fashion Rocks
Friday, July 7 2006 at 09:40:48


No plans for release of Lestat Original Cast recording
Thursday, August 3 2006
According to eltonjohn.com, the cast recording of Lestat will not be released in the immediate future.
The cast album, which was recorded on May 22, 2006 by Mercury Records, was originally announced for a July 2006 release. Guy Babylon and Matt Still produced the cast album.



Support the Lestat cast recording
Friday, July 14 2006 at 21:06:52

Lestat to close on Broadway
Wednesday, May 24 2006 at 05:05:43

Lestat Cast to head into recording studios
Friday, May 19 2006 at 16:04:11


Elton: "I'm not MARRIED"
Thursday, August 3 2006
Elton is ecstatic to be united in law with his partner David, but hates it when the media or public label the couple "married".
He interprets the term 'marriage' in relation to heterosexual Christian ceremonies - far removed from the same-sex civil ceremony the pair participated in on December 21, 2005.

Elton explains, "It was a civil ceremony, but I wish there was another word for it. I get p**sed off when people call it a wedding. It's a civil union. But wedding is the only word that people seem to come up with."



Elton John tied knot with David Furnish
Wednesday, December 21 2005 at 13:27:06


Donít go breaking my piano
Tuesday, August 1 2006
A truck carrying Elton John's piano was smacked from behind along Interstate 40, in one of three crashes moments apart that had emergency personnel scrambling.
While some drivers were treated for injuries, the superstar's westbound piano survived without damage, Oklahoma Highway Patrol Trooper Kera Philippi said.

Friday's chain of events started when the driver of a Jaguar lost control of the vehicle and hit a retaining wall. The second accident, with the 18-wheeler transporting Eltonís piano, occurred when a truck rear-ended a car that, in turn, was pushed into the next lane and into the piano-toting truck.

Philippi said the piano was headed ďsome place out West.Ē

A third crash involved four vehicles, with one driver pinned in a compact car for a time.