ELTON JOHN NEWS ARCHIVE: August 2005
Elton plays on Cindy Bullens album
Tuesday, August 30 2005
Cindy has just finished a brand new album entitled "Dream #29".
Produced once again by Cindy and Ray Kennedy, "Dream #29" may be her best music yet. The CD boasts special appearances by Elton John (playing killer honky-tonk piano on the title track), a sexy duet with R&B great Delbert McClinton, and back-up vocal by 2004 World Champion Boston Red Sox starting pitcher Tim Wakefield.

Elton has agreed to play the piano on certain tracks because he wants to show his appreciation for the support of his former backing singer in the 1970s before his career hit the stratosphere.

All in all, this album is fun, brash, and emotional all at once. Head over to the A/V page to hear clips from "Dream #29".

The album will be released on October 4, 2005. You can pre-order it from Amazon.com today.
People's Choice Award for best music website
Saturday, August 27 2005
Make eltonfan.net the winner at this year's BT Digital Music Awards. Vote now!
The People's Choice Award is back and once again they are looking for the best music sites on the web in the past year as chosen by the fans. Last year over 1,500 official and unofficial sites took part and 200,000 people cast their votes.


You can vote for eltonfan.net simply by clicking on the logo on the right.

The trophies will be handed out at the official BT Digital Music Awards ceremony in London on October 18, 2005.
Spot Elton John and win a symphony ticket
Friday, August 26 2005
Elton John look-alikes will pop up around Charleston, West Virginia, between now and September 9, 2005.
If you recognize the famed singer, you'll receive a voucher for two-for-one tickets for the West Virginia Symphony's September 9, 2005 Jeans 'n Classics concert "Madmen Across the Water: The Music of Elton John."

Although the look-a-like — who may or may not be the same person each time — could appear anyplace, symphony publicists mention two trendy places, Taylor Books on Capitol Street and the new Panera Bread at SouthRidge, as distinct possibilities.

"We're doing the promotion to build interest in and awareness of the upcoming concert," said Paul Helfrich, the symphony's executive director. "It's going to be very different from what the symphony usually does, so we wanted to take a different approach in promotion."
Battersea Dog Parade
Friday, August 26 2005
Battersea Dogs & Cats Home is to sell off the four-legged friends of the rich and famous.
Sir Elton John, Tom Cruise and Orlando Bloom are among the stars who have conspired to create the ideal "celebrity canine": it never needs walking or feeding, just stands there and looks gorgeous.

The creations, based on glass fibre dog sculptures, will be auctioned at a gala event in London on September 14, 2005 to raise funds for the home for dogs.



Sir Elton, who has 21 dogs - his most recent addition being Arthur, a cocker spaniel which was a 56th birthday present from his boyfriend David Furnish - is one of the most high-profile animal lovers involved in the project and his design is expected to attract feverish bidding.

Orlando Bloom, who discovered his favourite pet, Sidi, a Bedouin-Sloughi, while filming Kingdom of Heaven in Morocco, has covered his sculpture with celebrity autographs including his own and that of Tom Cruise.

The London fashion label Red or Dead encrusted a glass fibre animal with a pirate's treasure trove of fake jewels, lockets and bric-a-brac.

The public are also welcome to bid for their favourite dog before the event at www.dogparade.co.uk.
Celebrities back Fairtrade Food
Friday, August 26 2005
A host of celebrities have united behind a new cookery book due to be launched in September 2005 which promotes the use of Fairtrade ingredients.
Cookery writer Vicky Bhogal has compiled the star-studded new book "A Fair Feast", in association with the Fairtrade Foundation and Oxfam, to help support the Make Poverty History campaign.

Those who have contributed to recipe guide include Elton John and his partner David Furnish, movie star Minnie Driver, Richard and Judy, Jamie Oliver, Delia Smith and Hugh Fearnley-Whittingstall.

As part of her work to compile the book, which is launched on September 6, 2005, Ms Bhogal also travelled to Ghana to meet the producers who benefit from the Fairtrade scheme.

Ms Bhogal said: "What I am aiming for is a beautiful cookery book with all the biggest names between its covers that gives the reader more than one reason to be proud to place it on the bookshelf.

"The recipes in this book are not only recipes for delicious meals but also recipes for change. Change has never tasted so good."

Half of the proceeds from sales of A Fair Feast will go to Oxfam for use in its work to overcome poverty and suffering in more than 70 countries worldwide.

The other half of the proceeds from sales will go to the Fairtrade Foundation, which exists to provide a better deal for disadvantaged producers in developing countries.

It awards the independent consumer label, the Fairtrade mark, to hundreds of great products certified to internationally agreed Fairtrade standards.

Today, more than five million people in 49 developing countries benefit from the international Fairtrade system.

For more information about the work of the Fairtrade Foundation visit www.fairtrade.org.uk.
World TeamTennis Smash Hits 2005
Friday, August 26 2005
Top Tennis Stars come to Hershey, PA, as part of the Advanta World TeamTennis Smash Hits charity tennis event on November 7, 2005.
The Hershey Company and Governor Edward G. Rendell teamed up with Sir Elton John and Billie Jean King to bring pro tennis to Hershey, PA to raise money in the fight against HIV/AIDS. Advanta's Smash Hits, set for GIANT Center on November 7, 2005, will benefit the Elton John AIDS Foundation and The Greater Harrisburg AIDS Fund, a Community Partnership of the National AIDS Fund.

"We are thrilled to partner with Sir Elton John, Billie Jean King and World TeamTennis to support the fight against HIV/AIDS in Pennsylvania by bringing Smash Hits to Hershey," said Tom Hernquist, Senior Vice President, President U.S. Confectionery, The Hershey Company. "The Hershey Company has a proud heritage of contributing to the community, and Smash Hits provides an excellent opportunity to make a difference to those living with HIV/AIDS. This special event will help expand prevention efforts and care services in central Pennsylvania."

Elton and Billie Jean will play in a celebrity doubles match to open the event. The evening will feature five sets of tennis, using the World TeamTennis (WTT) format. Several of the top tennis players in the world, including Anna Kournikova and Andy Roddick, will compete in singles, doubles and mixed doubles. Players will form two teams, with one team captained by Elton and the other by Billie Jean.

Now in its 13th year, Smash Hits has raised more than $7 million to help in the fight against HIV and AIDS around the globe.

For additional information, please visit the Elton John AIDS Foundation and World TeamTennis. For tickets, please contact GIANT Center box office at +1-717-534-3911.



Elton John and Billie Jean King Bring Tennis Charity Event to Hershey, Pa.
Friday, June 17 2005 at 08:28:20


New Elton musical to debut in December 2005
Wednesday, August 24 2005
"Lestat," a musical inspired by novelist Anne Rice's best-selling "Vampire Chronicles," will have its world premiere December 17, 2005 at the Curran Theatre in San Francisco.
The show is a first for the songwriting team of Elton John and Bernie Taupin, but Elton's third Broadway musical, following "The Lion King" and "Aida." Hugh Panaro ("Les Miserables," "Side Show") stars in the title role.

"Lestat" is scheduled to play San Francisco through January 29, 2006, before opening on Broadway in March 2006, according to the show's public relations representative, Wayne Wolfe.

According to the producers, and as previously announced, "Lestat, Anne Rice's most celebrated and beloved literary character…" The musical "is the romantic and heartbreaking story of the extraordinary journey of one man who escapes the tyranny of his oppressive family only to have his life taken from him. Thrust into the seductive and sensual world of an immortal vampire, Lestat sets out on a road of adventures in a quest for everlasting love and companionship but is forced to reconcile his innate sense of good with his primal need to exist."

"This musical is the fulfillment of my deepest dreams," said author Anne Rice, in a statement. "Elton's music and Bernie's lyrics have captured the pain and the passion of the characters perfectly, and the entire adaptation has re-created the very essence of the books. Working with the whole team -— Rob Roth, Linda Woolverton, and of course Elton and Bernie — has been one of the most rewarding experiences of my entire career. The talent, the brilliance, and the generosity of these folks is beyond belief. I'm humbled; I'm grateful; and I'm so excited that I can hardly stand it. Lestat, Louis and Claudia are about to be reborn."

"'Interview with the Vampire' is one of my favorite books and Anne Rice is one of my favorite authors," stated Elton. "Lestat is the first stage musical that I've written with Bernie which makes it even more special for me."

"Anne had always loved the idea of seeing her 'Vampire Chronicles' set in some sort of serious and seductive musical setting and for all of the parties involved this is the opportunity of a lifetime," stated lyricist Taupin. "Elton and I have threatened for years to work together on something for Broadway but until now had never found anything that appealed to both of us collectively or suited my own personal writing style. We have unified these books into a linear storyline and our intention is to make a stylish, sexy, intelligent and richly hypnotic show that is stripped of gothic clichés and that shows the vampire dealing with his damnation on a more realistic and human level. Please let me make this clear this is not a rock opera."

Lestat's cast of 16 features Rachel Coloff, Nikki Renee Daniels, Joseph Dellger, Colleen Fitzpatrick, Megan Reinking, Drew Sarich, Will Swenson Steve Wilson and Tommar Wilson.

The creative team in includes scenic designer Derek McLane, costume designer Susan Hilferty, lighting designer Kenneth Posner, sound designer Jonathan Deans, visual concept designer David McKean, and hair designer Tom Watson.

Lestat has orchestrations by Steve Margoshes and Guy Babylon, with musical supervision by Guy Babylon, musical direction by Brad Haak, and vocal arrangements by Todd Ellison.

For fans of the books, the character breakdown is Carmello (Mamma Mia!, Parade) as Gabrielle, Noseworthy (Sweet Smell of Success) as Armand, Jim Stanek as Louis, Roderick Hill as Nicolas, Michael Genet as Marius and Allison Fischer as Claudia.

Hugh Panaro is one of the long-running stars of Broadway's The Phantom of the Opera.



Lestat Will Take a Bite Out of San Francisco
Saturday, April 16 2005 at 07:40:12

Elton vamps it up with another musical
Monday, April 4 2005 at 16:31:32

"The Vampire Lestat" private NYC reading
Tuesday, November 4 2003 at 11:45:07


Sir Elton John and Tracey Emin line up to promote lingerie range
Wednesday, August 24 2005
Elle Macpherson has collaborated with Sir Elton John, Sandra Bernhard and British artists Damien Hirst and Tracey Emin to create a new book promoting her underwear.
The 'Intimate Stories' book develops the Intimate Moments ad campaign, created by Australian ad agency the Glue Factory.

According to a report in The Times, the limited edition book will include images of the campaign with the celebrities providing their own interpretations of the photographs.

An earlier campaign for Elle Macpherson Intimates landed the supermodel in hot water after accusations that it promoted violence against women.

The ads, also created by the Glue Factory, showed the torso of a woman, who was holding a knife. Then in a later image, a woman appeared to be cleaning blood off a floor.

Macpherson said of the current campaign: "Every picture tells a story but it is up to the viewer to decide exactly what that story is. It's very intriguing, with lots of elements and layers of meaning."
Elton, Celine for next Tobago Jazz Festival
Wednesday, August 24 2005
Look out for British Pop singer Elton John, Canadian Celine Dion and American Prince at Tobago's second jazz festival in 2006.
Tobago House of Assembly Tourism Secretary Neil Wilson said that these artistes were to be contracted to perform while some of the performers in this year's show would also be included in the cast for next year.

However, the eighth wonder of the world, Stevie Wonder, the star of the show on August 13/14, 2005, although he would be present would be an invited guest and may even be the show's patron, Wilson said.

Taking all things into consideration, Wilson said the First Tobago Gourmet Jazz Festival was an "excellent show" when one considered that it achieved a number of objectives the THA had fixed.
Stunning Elton print now for sale
Monday, August 15 2005
Nearly two months on, the memories of Elton's unforgettable 'Back For Our Future' concert at Vicarage Road still shine brightly in the memory.


Long has Elton been hailed as one of, or perhaps the best, live performer of this age and at Vicarage Road we saw exactly why that statement cannot be disputed.

From the opening chords of 'Pinball Wizard' Elton rolled back the years, playing classics such as 'Daniel', 'Philadelphia Freedom' and 'I'm Still Standing' before rocking The Vic with an epic performance of 'Crocodile Rock' before rounding off the night in superb style with the a haunting rendition of 'Your Song', perhaps his greatest ever track.

Now, you can keep a momento of this special night forever with an exclusive limited edition print.

Taken just as Elton took to the stage with the sun setting at Vicarage Road, the panoramic print (see above)perfectly captures the scale of the occasion and the excitement of seeing Elton John back where he belongs - at Vicarage Road.

Presented in an attractive wood frame, this print - priced £50.00 - is sure to bring back memories of the night and be a long-lasting memento of a great night under lights at The Vic.

Go to the Watford homepage to order.



Watford gig raises £1.3million
Monday, June 20 2005 at 06:36:36

Elton John and band performed in Watford on June 18, 2005
Monday, June 20 2005 at 06:03:06



Vandross Tribute CD
Friday, August 12 2005

The biggest stars of R B and pop have recorded a tribute album for tragic soul star Luther Vandross.

Aretha Franklin, Elton John, Celine Dion, Babyface, Alicia Keys, Usher, Beyonce Knowles, Wyclef Jean and Jamie Foxx are among the artists appearing on new LP "So Amazing: An All-Star Tribute To Luther Vandross".

The CD, which will be released on September 20, 2005, and will feature songs covered by or made famous by Vandross, who died on July 1, 2005 aged 54.

Elton performs "Anyone Who Has A Heart" alongside Vandross' original vocals.

Rocket Man returns to the Midlands
Friday, August 12 2005

Andrew Weekes will perform for two nights when he sings and plays the songs of his idol Elton John at two solo public performances to crowds at The Crescent Theatre, Birmingham and the Artrix Theatre, Bromsgrove on the evenings of September 10 & 18, 2005.

Profits from these totally live concerts will be sent to three different charities - Marie Curie Cancer Care, Breakthrough Breast Cancer, and Muscular Dystrophy Campaign.

After the overwhelming response generated from playing at a similar charity event a few months ago, Andy finally bit the bullet and began preparations for his next solo charity concerts. As he says "it is nerve-racking at first but as its all for helping those in less fortunate situations than me it makes the anxiety an incomprehensibly small barrier to come across to deliver my talent to an audience. Elton's music is one of my passions I first discovered it in 1997 and have played his songs ever since!"

Having raised over £2,000 for charity last year doing an Elton concert, Andy is setting his sights high yet again and has been backed by the two local theatres for a second year running who are sure he will be a sell out on the night based on the overwhelming response from his last concerts.

Both concerts are set to last about 2.5 hours with hits such as "I'm Still Standing", "Your Song", "Crocodile Rock" and "Candle in the Wind" being played. Being backed with percussion and keyboards with a full size grand piano and with a voice like Elton himself, and there are a few surprises in this year's performances!

People can come along and enjoy the evening whilst helping this worthwhile cause.

"Andrew Weekes performs the songs of Elton John" will 'take-off' at The Crescent Theatre, Sheepcote St, Brindley Place at 8:00pm Saturday 10th September 2005.
The same concert will also land the week after at 7:30pm Sunday 18th September 2005 at the Artrix Theatre in Bromsgrove.

Tickets can be obtained from the theatres box offices on 44 121 643 5858 for the Crescent Theatre, and on 44 1527 559364 for the Artrix Theatre. Tickets for both concerts can be purchased online at Andrew.Weekes.com.

ELLA Award to Elton John
Thursday, August 11 2005

k.d. lang, LeAnn Rimes, Lulu, Ruth Brown and Smokey Robinson will be among the performers at the Society of Singers' (SOS) presentation of the 14th annual ELLA Award to Elton John at the Beverly Hilton Hotel on October 10, 2005.

Tickets are priced at $600, $900, $1,250 and $2,500, with all proceeds to benefit the non-profit Society of Singers.

Barry Manilow, the recipient of the 12th annual Ella Award in 2003, will present the award and perform, as will Elton John himself. All the performers will choose songs originally made famous by Elton. Elizabeth Taylor and Merck Mercuriadis, president of Sanctuary Management, are the event's Honorary Co-Chairs, while the Benefit Co-Chairs are John's songwriting partner, Bernie Taupin; Zach Horowitz, president and COO of the Universal Music Group; and Society of Singers president and CEO Jerry F. Sharell.

Named after its first recipient, Ella Fitzgerald, the ELLA Award is given to singers whose significant musical accomplishments are equaled by their dedication to charitable and humanitarian causes both local and international.

Previous recipients of the award, besides Ms. Fitzgerald herself, include Frank Sinatra, Tony Martin, Peggy Lee, Steve Lawrence and Eydie Gorme, Lena Horne, Rosemary Clooney, Joe Williams, Tony Bennett, Dame Julie Andrews, Placido Domingo, Barry Manilow, and Celine Dion.

The Society of Singers was founded in 1984 by Chairman Emeritus Ginny (Mrs. Henry) Mancini and Gilda Maiken Anderson. With the help of donations from private and corporate sponsors, SOS offers comprehensive services to meet the emergency financial needs of applicants who have earned their primary living as singers for five years or more. SOS aids professional singers of all ages, ethnic and socio-economic backgrounds. It also works within the entertainment community to offer scholarship programs designed to advance the vocal arts.




Elton to receive Ella Award
Wednesday, April 27 2005 at 05:41:21



Friends line up to duet with B.B. King
Wednesday, August 10 2005

With a special birthday just around the corner, B.B. King is nearly ready to unveil his latest star-studded duets album. Due September 13, 2005, just three days before the blues great's 80th birthday, the Geffen/UME set "B.B. King & Friends -- 80" features appearances by Eric Clapton, Elton John, Sheryl Crow and Gloria Estefan, among others.

Clapton appears on a new version of King's classic "The Thrill Is Gone" and Estefan adds her vocals to the Doc Pomus/Dr. John number "There Must Be a Better World Somewhere." Crow turns out for a run through Little Willie John's "Need Your Love So Bad," while Elton has the honor of closing the album, joining King for Jimmy Rogers' "Rock This House."

John Mayer also appears on the set, contributing to Leon Russell's "Hummingbird." King revisits his own "Never Make Your Move Too Soon" with the Who's Roger Daltrey and "Tired Of Your Jive" with ZZ Top's Billy F. Gibbons, while Mark Knopfler plays guitar on "All Over Again."

Others appearing on the album are Van Morrison ("Early in the Morning"), Daryl Hall ("Ain't Nobody Home"), Bobby "Blue" Bland ("Funny How Time Slips Away") and the Eagles' Glenn Frey (Junior Parker's "Drivin' Wheel").

King has been steadily on the road this year, playing festivals and headlining shows, as well as fund raisers for the B.B. King Museum, a $10 million project that will honor the artist and preserve the Delta blues heritage. He was on hand in June for the groundbreaking in Indianola, Miss., near his birthplace.

Elton joins Billy Elliot team for "Thank you" party
Wednesday, August 10 2005

Elton and David are joining the cast and crew of hit London musical BILLY ELLIOT for a glittering beach party in the south of France on August 14, 2005.

Co-producer Sally Greene was determined to treat the hardworking team, which includes Elton as a composer, as a "thank you" for making the show one of the most successful in the British capital's West End.

She says, "It's taken five-and-a-half years to get to this stage and this is my way of saying thank you. Someone involved with the production has managed to get us the beach for free and the food will be nice and simple. Everyone will be back on Monday in time for the performance that evening."




The Musical King
Wednesday, July 27 2005 at 16:07:00

'Camp' Billy Elliot musical hits wrong note in America
Thursday, July 7 2005 at 07:27:29

Elton attends 'Billy Elliot' Opening Night
Friday, May 13 2005 at 09:57:36



Elton concert unlikely to aid local AIDS groups
Tuesday, August 9 2005

Despite its enormous popular success, Elton John's July 4, 2005 visit to Philadelphia fell way short of its fund-raising goals and appears unlikely to provide much, if any, support for local AIDS organizations.

The prime organizer, publisher Mark Segal, had hoped the concert and fund-raising gala would raise at least $2 million - $1 million for the British-based Elton John AIDS Foundation, involved in the global fight against HIV/ AIDS, and $1 million for the Dr. Magnus Hirschfeld Fund, a new nonprofit set up by Segal, to support AIDS service groups in the Philadelphia region.

Boosted by $500,000 from Sunoco Welcome America!, Segal raised enough to cover the $1 million grant to Elton John's group, and the money has already been delivered.

"Elton John's people are thrilled," Segal said yesterday. "He wants to do it again next year." But there is little money remaining from this year's event for local AIDS-related groups.

All that's keeping the event from red ink is a $667,000 advance from the Citizens Alliance for Better Neighborhoods, a nonprofit association with close ties to state Sen. Vincent Fumo.

The Citizens Alliance money was initially provided to the Hirschfeld Fund as a loan to cover advance expenses for the concert, before other contributions began rolling in.

But now, Fumo and his associates are considering whether to convert the $667,000 from a loan to an outright grant. That decision will determine whether or not the Hirschfeld Fund can make any donations to local AIDS-related service programs, Segal acknowledged yesterday after a series of telephone conversations with the Daily News.



"As an executive producer for the first time in 54 years, I made mistakes, sure," Segal said. "But I met the overall goals I set for myself. Number one, raise AIDS awareness. If we reached one person, we literally reached hundreds of thousands... . Number two, we brought July 4th back to Philadelphia. Number three was the fund-raising aspect, and I think in the end, when all the funds are in, we will have made a profit."

Segal declined to provide specific financial information. He said the Hirschfeld Fund was trying to complete an accounting and release a public financial statement, sometime around Labor Day.

But he acknowledged that the Elton John concert on the Parkway, and a preceding gala at the Art Museum, had fallen well short of their fund-raising goals.

The biggest factor, he said, was the competition from Live 8, the daylong international concert, also supporting HIV-AIDS causes, that took over the Parkway on July 2, 2005.

"Once Live 8 was announced, everything dried up for us," Segal said. "You can't compete with something that big."

Asked whether there would be any money for local AIDS organizations, Segal responded: "I think there will be funds for Philadelphia, yes."

But that will depend, he acknowledged, on the ultimate financial arrangements with Citizens Alliance, the nonprofit community group that Fumo controls.

Its $667,000 loan was supposed to be repaid from an assortment of fund-raising efforts - corporate sponsorships, sales by vendors on the Ben Franklin Parkway, receipts from a fund-raising telethon, VIP concert seats at $500 each and a pre-concert gala at the Art Museum, for people donating at least $1,000.

The crowd at the pre-concert gala exceeded expectations. Caterers were told to provide food for 500, and more than 800 people showed up, according to multiple sources. But hundreds of the guests had apparently been "comped," getting in without contributions, one source said.

Ken Snyder, a spokesman for Citizens Alliance, confirmed the existence of "a six-figure loan" to help fund the concert.

"It's our understanding that the financial projections given originally were not met," Snyder said. "The loan has not been forgiven. We're doing some research at the moment into what we should do going forward... . "

"It was a loan made for a good cause... We are proud that Elton John came to Philadelphia and the city responded, and we're proud to have played a role in making it happen."



Elton performed free concert in Philadelphia
Tuesday, July 5 2005 at 08:12:09

Elton receives Philadelphia Humanitarian Award
Tuesday, July 5 2005 at 08:03:09


Simon Webbe blames Elton for Blue split
Tuesday, August 9 2005
Former BLUE star Simon Webbe has blamed Elton for the British boyband's shock split in July 2005 - insisting the flamboyant rocker told the band to quit before their careers went stale.
Elton collaborated with the foursome - Webbe, Duncan James, Lee Ryan and Antony Costa - on hit ballad "Sorry Seems To Be The Hardest Word".

And Elton told the pop hunks to concentrate on solo projects, because he feared their popularity as a boyband was decreasing.

Webbe explains, "We decided to have a break because Sir Elton told us: 'You have a certain amount of longevity in the business. If you keep releasing pop albums as Blue you'll go stale.'

"His comments made sense. He's a legend with almost 40 years in the business. I realised it would be best to take time out.

"There were distractions and people were telling members of the band they could do better. Also, I did not want to hold any of the others back."



Elton tried to save Blue
Wednesday, December 1 2004 at 21:16:49


UK's first legal gay marriages will be in Scotland
Tuesday, August 9 2005
It is expected to be the showbiz wedding of the year when Elton John marries his partner David Furnish on December 21, 2005, but it will no longer enjoy the symbolism of being among the first legally recognised gay marriages in the UK.
Like everyone else, Elton believed the date to be the earliest allowed under the new Civil Partnership Act. But thanks to confusion at the Registrar General's office, five Scottish couples are to marry the day before and become the first legally married gay couples in the UK.

The legislation, which comes into force on December 5, 2005, includes a waiting period of at least 15 days after notice is given before a marriage can take place. This stipulation led the five Scottish couples to plan their weddings for December 20, 2005.

However, the Registrar General had misunderstood the legislation, which actually stated the 15-day countdown began "the day after the notice is recorded" – making December 21, 2005, the earliest possible date.

But rather than have the couples rearrange their special day, a decision was taken to give the couples – four from Edinburgh and one from Aberdeen – special dispensation.

Duncan McNiven, Scotland's Registrar General, said: "It was a minor mistake on our part because we had simply misunderstood what the legislation said. We thought the 15-day rule started on the day the notice was given, but you actually count one day after the notice is given. We had been saying the 20th was the first possible date when in actual fact it was the 21st.

"Giving special dispensation is not an unknown thing, we do about 100 a year. It's just nice our mistake has meant Scotland is pioneering civil partnerships, even if it is just by a day."
'Live 8 was an anti-climax', moans Elton John
Friday, August 5 2005
It was dubbed the greatest show on earth, but superstar Elton John has criticised Live 8 for lacking a "sense of occasion".
Elton said there were not enough musical highlights, despite Madonna, Robbie Williams, Pink Floyd, The Who, Paul McCartney and Coldplay taking to the Hyde Park stage.

Elton John, who is known for getting into trouble over his frank views, told The Daily Telegraph: "I thought it was a bit of an anti-climax, to be honest. The thought behind it was fantastic, but Hyde Park is a charisma-free zone. There was no sense of occasion and from a musical point, I didn't think there were were too many highlights.

"I was very pleased to be part of it," he added "but I didn't think it was anywhere near as good as the first one. How could it be?"

Elton duetted at the July 2, 2005 extravaganza with Babyshambles rocker Pete Doherty, whose performance of Children of the Revolution was described as a shambles.

Elton described wayward Doherty as "a mess", adding "it's really sad", and blamed his performance on being "really nervous on the day".

The historic concert was organised by Bob Geldof to raise awareness of the plight in Africa before the world's most powerful leaders met at the G8 summit in Gleneagles.

Millions watched around the world as Coldplay's Chris Martin described the event as "the greatest thing that's ever been organised, probably in the history of the world".

But the concert was criticised for not inviting enough black or African stars to perform, and for failing to highlight the impending crisis in Niger, which has left 2.5 million people facing death.



Live 8 on AOL
Friday, July 15 2005 at 07:09:21

Elton's Live 8 performance
Saturday, July 2 2005 at 14:20:04


"Captain Fantastic" - 30th Anniversary
Thursday, August 4 2005
Elton John's "Captain Fantastic and the Brown Dirt Cowboy" celebrates its 30th anniversary with an expanded deluxe edition release and commmorative September 2005 concert dates.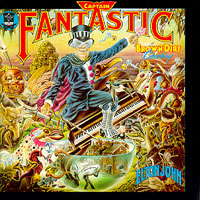 "Captain Fantastic And The Brown Dirt Cowboy", one of the greatest albums in pop history, was the first album to debut on the Billboard album charts at #1 and in fact debuted at #1 on all three recognized charts of the era (Billboard, Cash Box and Record World).

The certified triple platinum album was the pinnacle of Elton John's career at the time and covered, in an autobiographical fashion, the first almost 30 years of the lives of Elton and lyricist Bernie Taupin. It was their first genuine concept album, Bernie wrote the lyrics chronologically according to the events in their lives, Elton then wrote the music to the songs in the same order and producer Gus Dudgeon recorded them chronologically as well.

The album's biggest chart hit, the gold, #4 pop "Someone Saved My Life Tonight," is still considered one of the most emotionally charged songs Elton and Bernie have ever penned. Now the album itself celebrates its 30th anniversary.

Elton will commemorate the event not only with the release of the expanded, two-CD "Captain Fantastic And The Brown Dirt Cowboy" - Deluxe Edition (Island/UMe) on September 13, 2005, but also by performing a series of historic sold-out concerts on September 16 and 17 at TD Banknorth Garden, Boston and September 21, 23 and 24 at Madison Square Garden, New York where included in the repertoire he will perform the album in its entirety for the first time in over 30 years.

Disc One of "Captain Fantastic And The Brown Dirt Cowboy" - Deluxe Edition includes the original full length recording of "Captain Fantastic" and adds bonus tracks originally issued as singles-only in 1974 and early 1975. Included is the John Lennon duet of "Lucy In The Sky With Diamonds" and Elton's rendition of the Lennon-written "One Day At A Time." The Deluxe Edition also contains "Philadelphia Freedom" and "House Of Cards" (the b-side to "Someone Saved My Life Tonight," making its debut on this Captain Fantastic reissue). "Philadelphia Freedom" and "Lucy In The Sky With Diamonds" each peaked at #1 pop, both earning gold certification.

Disc Two of the Deluxe Edition will include, for the first time ever, the Wembley Stadium concert performance when on June 21, 1975 Elton boldly debuted the freshly released "Captain Fantastic And The Brown Dirt Cowboy" album in its entirety to just short of 120,000 people. In fact, it is the one and only time prior to this year's commemorative concerts that the album was played live in its entirety. Also heard on the Deluxe Edition are "Pinball Wizard" and "Saturday Night's Alright For Fighting" which served as the Wembley Stadium encores. Elton's support acts on the memorable day included The Beach Boys, The Eagles, Rufus with Chaka Khan, Joe Walsh, and Stackridge.

Thirty years on, Captain Fantastic And The Brown Dirt Cowboy - Deluxe Edition offers another listen to the album Taupin says, in the liner notes to the 1990 Elton box set to be continued..., "(is) probably the finest album we've made."

Elton comments in an introduction that he has written specifically for the Deluxe Edition, "It is ironic since we recorded this album that our lives have become the title. Bernie has become The Brown Dirt Cowboy living on a ranch in California raising Cutting horses and prize winning bulls and I have become Captain Fantastic travelling from the edge of the world to your town collecting photography and art and living a life beyond my wildest dreams."

TRACK LISTING:

DISC ONE
Captain Fantastic And The Brown Dirt Cowboy
Tower Of Babel
Bitter Fingers
Tell Me When The Whistle Blows
Someone Saved My Life Tonight
(Gotta Get A) Meal Ticket
Better Off Dead
Writing
We All Fall In Love Sometimes
Curtains

BONUS TRACKS
Lucy In The Sky With Diamonds (single)
One Day At A Time (b-side)
Philadelphia Freedom (single)
House Of Cards (b-side)

DISC TWO
LIVE AT WEMBLEY JUNE 21 1975 (all tracks previously unreleased)
Captain Fantastic And The Brown Dirt Cowboy (Live)
Tower Of Babel (Live)
Bitter Fingers (Live)
Tell Me When The Whistle Blows (Live)
Someone Saved My Life Tonight (Live)
(Gotta Get A) Meal Ticket (Live)
Better Off Dead (Live)
Writing (Live)
We All Fall In Love Sometimes (Live)
Curtains (Live)
Pinball Wizard (Live)
Saturday Night's Alright For Fighting (Live)
Stars unite for Osbourne Tribute Show
Wednesday, August 3 2005
A galaxy of stars including Elton John, Simon Cowell and Billy Connolly are teaming up for a TV tribute to wild rocker Ozzy Osbourne.
The former BLACK SABBATH star will be joined by his famous family on the show, which will feature details of his near-fatal quad bike accident, and stories about his notorious alcohol and drug abuse.

And the programme will feature such outrageous footage, TV executives have are making preparations to ensure it is shown late at night.

An insider says, "Ozzy's had one of the most outrageous lives and this is warts and all. It's definitely going to have to go out after 9pm."

The currently untitled programme will air on Britain's ITV network later this year.
Elton piano at Rockmuseum Munich
Tuesday, August 2 2005
The Rockmuseum Munich has acquired another Elton John memorabilia: Elton's mirrored piano from the Seventies.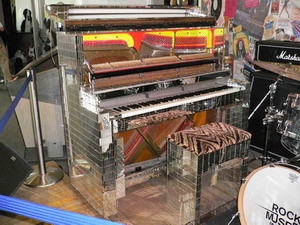 The world's highest rockmuseum can be found on top of the Olympic tower in Munich, Germany, right in the heart of the Olympic parc that hosted the 1972 games.

Rockmuseum Munich opened doors at this 'outstanding' location on December 1, 2004 after a long search for the perfect site by collector Herbert Hauke, who has brought together one of the world's most exciting rock and pop collections.

While the tower is - by definition - where tall, it's observation desk, which also hosts the rock museum, is by far not big enough to offer room for all pieces from Hauke's collection. For the time being, only some 10 percent are on display.

Besides the newly acquired piano, Elton fans can also gaze at one of Elton's furred glasses from the Seventies, kindly donated by Elton John's management.

As far as the piano (pictured above) is concerned, the Rockmuseum Munich is asking the help of the Elton fans. They are looking for photos or even video material of Elton playing the instrument. If you happen to have that in your collection, please e-mail it to stephan@eltonfan.net. Thanks for your support.
Lulu gave her new album the "Elton test"
Monday, August 1 2005
Singer Lulu stopped worrying about the quality of her new album when she heard her friend Elton John regularly played it while he dined at home.
Lulu was relieved to hear her new covers disc, "A Little Soul In Your Heart", went down well with Elton.

Lulu, 56, says, "I sent the album to Elton last week and he put it on as he was sitting down to dinner with his partner David Furnish. David says Elton is very fussy about what music is played while they're eating so I suppose that was approval in itself.

"Elton played the album all night while having his tea. I think that means he likes it."