ELTON JOHN NEWS ARCHIVE: July 2012
Ben Babylon Band to Open for Air Supply
Monday, July 30 2012
The son and the stepdaughter of Elton John's late Grammy Award-winning keyboardist, Guy Babylon, will open for the classic rock band Air Supply at the renowned Canyon Club in Agoura Hills, California on August 3, 2012.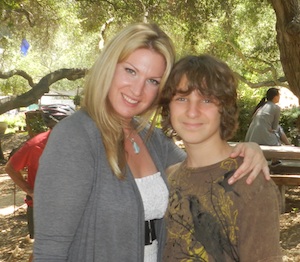 Ben Babylon and Jessica Hoggarth grew up watching Guy in the studio and in concert, and are now performing their own music. The Ben Babylon Band and the folk-duo HoneyHeart have been playing throughout Southern California since last year, but the Air Supply concert is by far their most prestigious opportunity to date.

"Air Supply was one of the biggest groups of the 70s and 80s," said Babylon, 14. "I can't decide what I'm more excited about, opening for them or seeing them play live."

"I grew up listening to their music," added Hoggarth, 31. "They have so many great songs. I think we are going to be a good fit." Comprised of Hoggarth and her musical partner Nina Kurtz, HoneyHeart has become a mainstay at festivals and other venues in the region. For the upcoming show they will do an early acoustic set. Then, the Ben Babylon Band will rock The Canyon Club with songs from Babylon's upcoming album "Dreams for Sale" and other original material. One of Babylon's singles, "Contradiction," which he recorded with members of the Elton John Band, is already available on iTunes and Amazon.

This is the second time the Ben Babylon Band has been invited to perform at The Canyon Club by concert promoters Allen and JoAnn Kepler of Kepler Entertainment LLC. The Keplers previously invited Babylon to open for their new powerhouse jazz group, The JAZZMATICS, in April 2011.

"Ben Babylon was amazing," Kepler said. "We believe in Ben and see a very bright future for this talented young musician. We are thrilled to have him and his band back at The Canyon to play an opening set for Air Supply."

Air Supply was formed in Australia in 1975 by guitarist and singer-songwriter Graham Russell and lead vocalist Russell Hitchcock, and became popular in the United States after signing with Arista Records in 1979. They enjoyed worldwide success, with eight Top Ten hits in the United States including "Lost in Love," which Russell reportedly wrote in just 15 minutes, and "All Out of Love."

Air Supply, the Ben Babylon Band and HoneyHeart will perform Friday, August 3, 2012, at The Canyon Club, 28912 Roadside Drive, Agoura Hills, CA 91301-3304. Doors open at 6:00 p.m. HoneyHeart plays at 7:15, The Ben Babylon Band plays at 8:00. Air Supply plays at 9:00. Tickets are $45.00 and $59.00. Under 18 must be accompanied by a paying adult.
Elton has proclaimed his love for Jay-Z!
Sunday, July 29 2012
It seems Jay-Z has an unlikely fan in the shape of Elton John! However it is not his music that Elton has gone gaga for.
Elton revealed his love for the rapper after Jay announced he was in full support of gay marriage. He has promised to give Beyoncé's other half a gift after his 'moving statement' proclaiming he is pro-gay marriage.

In response to Barack Obama's endorsement of the law change the superstar rapper, 42, released this statement: "It's no different than discriminating against blacks. It's discrimination plain and simple ... I think [announcing support of gay marriage is] the right thing to do, so whether it costs [Obama] votes or not — again, it's not about votes. It's about people. It's the right thing to do as a human being."

This caused Elton to praise the star and announce that he wants to give him a hug! "It was an incredibly moving statement. I take my hat off to him. I respect him so much for doing that. When I next see him, I'm going to give him the biggest hug."
The Killers inspired by Elton
Friday, July 27 2012
The Killers' new album, 'Battle Born', is inspired by Elton John's hits.
The Killers' new album is inspired by Elton John's hits. The group's frontman Brandon Flowers recently met Bernie Taupin and took some tips from him on creating "epic" tracks.

Speaking about one of the group's new songs, 'Miss Atomic Bomb', Brandon told NME magazine: "There's a very iconic picture of the first Miss Atomic Bomb. A mushroom cloud-shaped bathing suit is covering her breasts. It's a beautiful picture of this woman in the desert. I think she's still alive. I met Bernie Taupin for the first time and I felt like he was giving me a little bit of advice. He didn't say much to me, just asked, 'Do you like titles?' And I started thinking about Elton John songs, and found out Bernie wrote the titles first. Like 'Mona Lisa and the Mad Hatter' or 'Candle in the Wind', it's already epic.

"'Miss Atomic Bomb', when that was rattling in the brain, it's so strong. I tied it into 'Mr. Brightside' so that was very easy for me to write." Brandon is amazed the group's breakthrough hit 'Mr. Brightside' is now 10 years old but he still enjoys performing the track. He said: "I can't believe it's been 10 years. I still get just as excited as I did before."

The Killer's fifth album, 'Battle Born' will be released on September 18, 2012.
Elton John AIDS Foundation and UNAIDS Breakfast
Thursday, July 26 2012
Elton spoke at The Elton John AIDS Foundation and UNAIDS breakfast at the Russell Senate Office Building on July 24, 2012 in Washington, DC.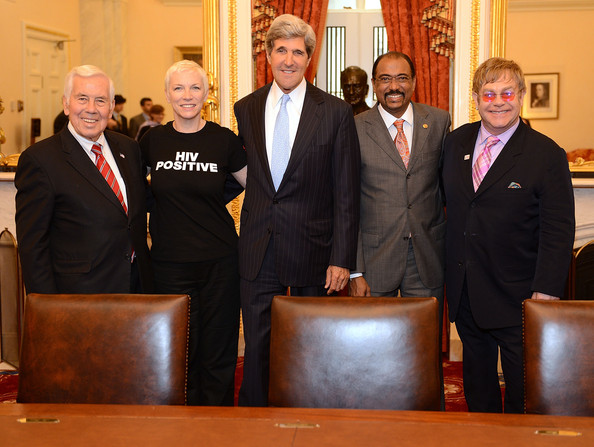 Senator Dick Lugar (R-IN), singer Annie Lennox, U.S. Senator John Kerry (D-MA), UNAIDS Executive Director Michel Sidibe, and Sir Elton John meet after The Elton John AIDS Foundation and UNAIDS breakfast at the Russell Senate Office Building on July 24, 2012 in Washington, DC.
Going for Google
Tuesday, July 24 2012
Musicians including Elton John and Queen guitarist Brian May have attacked Google and other search engines for helping users get access to pirated copies of their work.
Pop mogul Simon Cowell, The Who singer Roger Daltrey, Led Zeppelin star Robert Plant and composer Lord Lloyd-Webber have also joined the campaign calling for more action to combat illegal copying and distribution of music. Their concerns are made clear in an open letter which will be sent to David Cameron this week.

The letter, published in the Daily Telegraph, draws attention to the role that Google, the world's largest search engine, and its competitors can play in giving users access to illegal copies. Search engines, broadband companies and online advertisers 'must play their part in protecting consumers and creators from illegal sites,' say the dignatories, who also include The Who guitarist Pete Townshend and rap artists Professor Green and Tinie Tempah.

The letter is the latest development in an ongoing dispute between the British music industry and Google, which has been accused of making it easy for users to find links to file-sharing websites that enable them to download music illegally. Google denies supporting piracy and claims it removes millions of links a month from its listings at the request of music publishers.

Mr Cameron faces calls to move more quickly in implementing anti-piracy laws that were passed by Parliament two years ago. The letter demands the enforcement of measures set out in the Digital Economy Act 2010, such as potentially cutting off internet access for people who illegally download material. The measures, which also include sending letters to users who download pirated content, are not due to be implemented until 2014.

The letter states: 'As a digitally enhanced nation whose language is spoken around the world, Britain is well-positioned to increase its exports in the digital age. Competition in the creative sector is in talent and innovation, not labour costs or raw materials. We can only realise this potential if we have a strong domestic copyright framework, so that British creative industries can earn a fair return on their huge investments creating original content. Illegal activity online must be pushed to the margins. This will benefit consumers, giving them confidence that they are buying safely online from legal websites.'
Elton at AIDS conference: 'I should be dead'
Tuesday, July 24 2012
More than new therapies or vaccine, what the world needs now to end the AIDS epidemic, says Elton, is love.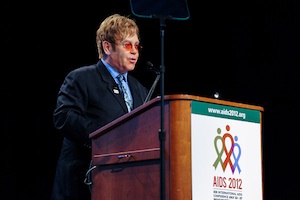 "I have just been to the AIDS quilt and I have seen so much love for the dead," said Elton, after visiting the National Mall in Washington, where panels of the AIDS Memorial Quilt, created to honor victims of the disease, stretch between the Washington Monument and the U.S. Capitol. "What we need is more love for the living."

Elton, whose AIDS Foundation gives away $18 million a year, spoke at AIDS 2012, an international gathering of more than 21,000 researchers, activists and policymakers. Elton and others applauded a message by Secretary of State Hillary Clinton, who set a goal "for a generation that is free of AIDS."

Yet the best science in the world is useless if it doesn't reach poor people, Elton said. "Maybe you think I'm naïve," he said at the conference. "Maybe you think I'm off my rocker. Here I am telling an audience of 7,000 global health experts that you can end AIDS with love."

Yet he noted that landmark American legislation to provide AIDS relief to developing nations was based, fundamentally, on caring for other people. "Thanks to all this compassion, all this love, more than 8 million people are on treatment. Thanks to people who have chosen to act, who have chosen to care, we can see an end to this epidemic, but it's going to take a lot more compassion to get us there, a hell of a lot more."

Elton noted that "shame and stigma" prevent many people from getting help and "from protecting themselves in the first place." He added, "We have inexpensive and accurate take-home tests for HIV. But we can't convince people to get tested if they think their lives don't count. Millions of people around the world feel ashamed because of who they are. They feel subhuman, worthless, like they don't matter at all."

Elton described his recovery from cocaine addiction, and how he was inspired by the young AIDS activist Ryan White to get clean. "I felt that shame before and it almost killed me," Elton said. "It's killing people all around the world. We have to replace the stigma with compassion."

Elton also called on the USA to address its own HIV epidemic. "Do you want to end the epidemic in America? Then show some compassion for those who can't afford treatment," Elton said in his speech. "Show compassion for those with HIV in Washington, D.C., most of whom are poor and black. Americans has shown so much love for those living with HIV in the developing world. If Americans wanted to show compassion for those living with HIV here at home, then it could do so in a heartbeat."

In an interview with USA TODAY, Elton said he also had a message for young people being bullied. These kids need to get support, he said, so that they won't feel so alone.
He said he's been heartbroken to hear of kids committing suicide because of bullying. "Look, if you're being bullied, the Internet is not the place to go," Elton said. "Reach out to another human being."




Elton visits the AIDS Memorial Quilt
Tuesday, July 24 2012 at 06:28:40


Elton visits the AIDS Memorial Quilt
Tuesday, July 24 2012
Elton and David visited the AIDS Memorial Quilt at The National Mall on July 23, 2012 in Washington, DC.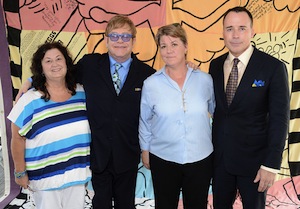 Jeanne White Ginder, Sir Elton John, The Names Project Executive Director Julie Rhoad, and David Furnish.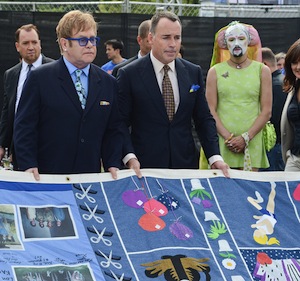 To be continued ...
Tuesday, July 24 2012
Elton and David are reportedly expecting a second child through a surrogate, according to The Daily.
Elton John might have had a health scare earlier this year, but that's not keeping him from getting a baby brother or sister for his one-year-old son with David. Elton has hired a surrogate from the Center for Surrogate Parenting in Encino, California to carry the couple's second child, according to The Daily. The surrogate — the same one that carried their son Zachary, 18 months — is reportedly in her first trimester.

Elton hasn't confirmed the news yet, though he did tell the U.K. talk show Daybreak that they were considering it. "At what stage we don't know, but … I don't want him to be an only child," Elton said. He has a history of keeping things quiet: He recently told Matt Lauer that it took him years to come out of the closet because, well, no one asked.

"Nobody asked me," Elton told Lauer. "When Cliff Jahr asked me in Rolling Stone, 'I'm going to ask you a question, but if you don't want to answer it, I'm going to turn the tape recorder off.' And I said, 'You're going to ask me if I'm gay or not.' And he said, 'How did you know that?' I said, 'I've been waiting for people to ask me this. It's not exactly a secret. I live with my manager. I'm openly gay outside. I don't have a girlfriend. And nobody's ever actually… I just thought it was common knowledge.'"


Elton John on Daybreak
Sunday, July 22 2012 at 06:16:57

Elton on 'Today' interview
Saturday, July 14 2012 at 06:41:55


Elton tops UK album chart for first time in 22 years
Monday, July 23 2012
Elton John has scored his first number one album in 22 years, an electronic reworking of his hit songs.
Elton teamed up with Australian electronic duo Pnau for "Good Morning To The Night", giving his 70s catalogue a modern summer vibe. The album's title is also the name of the lead track, which has become an official song of the London Olympics.

Elton John, we're sure you are familiar with. Pnau, perhaps less so. Yet to score any international success, check out the ten essential facts on the men behind one of this week's biggest album releases.
Pnau are a dance/pop band from Australia, who, despite having been very brilliant for many years have achieved no success with their own music in the UK whatsoever. They are Nick Littlemore and Peter Mayes.


Nick Littlemore has previously experienced worldwide success in another Aussie duo. He was one half of Empire Of The Sun, the flamboyant band who brought us hits such as 'We Are The People' and 'Walking On A Dream'. Littlemore and Empire collaborator Luke Steele are said to be working on a second album together.


Nick Littlemore has been in a lot of bands. His first musical project was Teenager, alongside an artist you may have heard of - Ladyhawke.


Ladyhawke contributed guest vocals to the standout track on Pnau's self-titled 2007 album. The track was called 'Embrace' and still sounds amazing to this day. Listen below.


Pnau have also produced tracks for the likes of Robbie Williams, Ellie Goulding, Groove Armada and Mika.


According to the duo themselves, Pnau is pronounced 'pah-nyeow' and rhymes with meow.


Pnau's 2011 album 'Soft Universe' won awards in the band's Australian homeland, but sold very little in the UK. The album contained single 'The Truth', which was very good indeed. Listen below.


Pnau came to the attention of Elton John when he described Littlemore's Empire Of The Sun album as the best album he had heard in ten years.


The title track of the album 'Good Morning To The Night' is one of many songs being used at the London Olympics.


The album has scored Elton John a No.1 in the album charts - and more importantly, gain Pnau some much needed exposure outside of Australia.
Elton calls for England soccer revolution
Sunday, July 22 2012
Soccer-mad Elton John has called for former England ace Glenn Hoddle or Wigan manager Roberto Martinez to lead the national team to glory after the squad's poor performance at the Euro 2012 tournament.
New manager Roy Hodgson and his team were blasted by critics for their cautious, defensive play - and the rocker, who was made Watford Football Club's Honorary Life President in 2009, is calling for a "revolution" in the sport.

In a new interview for tabloid The Sun, he says, "If we're going to play the way we played in Europe, which is defend, then hope to score a breakaway goal, I give up. I wouldn't have chosen Roy. He's a good club manager and a lovely man but we need a revolution. Glenn Hoddle is the man, but he's had his go already. Roberto Martinez at Wigan? We need someone young. Those players in the England team play very well at club level, they just don't seem to play together as a team. I thought we were lucky to get into the quarter-finals (of Euro 2012)."
Elton John on Daybreak
Sunday, July 22 2012
Helen Fospero joins Elton at his home for a chat about his new album and autobiograph on iTV's Daybreak.
Elton John vs Pnau - who wins?
Thursday, July 19 2012
A review by Stephan Heimbecher.
I consider myself a middle age Elton John fan, because at 44 I am probably in dead center of the very wide range of Elton fans which go all the way from infants to music lovers of Elton's age (and beyond). Does that make me part of the target audience for the new album "Good Morning To The Night"? Yes, for the simple reason that I am a fan of Elton's musical work. And no, as I am not into dance music at all - I don't dance!

But that didn't stop me from downloading the 14 track deluxe version of the album from iTunes - initiated, however, by a very sceptical click on the "Buy now" button. To my own surprise, I like most of the album tracks much more than I had anticipated. Because first of all technically I think it's a good production and a very interesting synthesis of various - mostly older - Elton John songs. The slaughter of Elton's original compositions, in my view, has been kept within acceptable boundaries, so that to me as a listener who is always open to new versions and covers of songs (not just those of Elton) this new approach is opening up a new perspective on very familar tunes.

But it takes more than just a high level of technical skills, in this case audio mixing, to deliver a good end result. I think that the album once more proves how diverse, timeless, and persistent Elton's melodies can be, so that they maintain their freshness not just through a few decades of time, but also after being squeezed into a completely new musical genre. As a matter of fact, I don't think of "Good Morning To The Night" that much as a dance album, but much more as an easy listening Elton medley collection.

I don't want to review every mix individually - I don't think it would make much sense. All I can say after a couple of listenings is that I am almost obsessed with the track "Karmatron".

What's interesting is that Elton is heading for his first No 1 album in 20 years in the UK with the Pnau collaboration. Elton said: "There's been attempts to remix my music before but I've never been so excited by the result." He's probably right about that.


PNAU team up with Elton for collaboration album
Thursday, May 3 2012 at 11:21:23
Elton heads to Club 55
Thursday, July 19 2012
Elton waves before boarding a boat to head to swanky Club 55 in St. Tropet with some friends.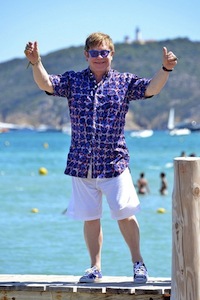 Bid now to meet Elton backstage
Thursday, July 19 2012
Charitybuzz auction includes your chance to go backstage and meet Elton in either Tampa or Savannah in September 2012.
You and a guest will enjoy 2 tickets and meet Elton John on his 2012 tour in Tampa, Florida on September 14, 2012 or Savannah, Georgia on September 15, 2012.

Terms: Includes 2 tickets, backstage passes and a brief meet & greet backstage. Travel and accommodations are not included. Winning bidder and guest(s) subject to security screening. Cannot be resold or re-auctioned.

Shipping and Handling: The minimum shipping, handling and applicable insurance for this item is $14.95. Additional shipping charges may apply based upon the location of the winner. Hard copies of tickets, travel certificates and merchandise are shipped via FedEx or professional shipping service. Detailed redemption information for non-tangible items will be emailed to the winning bidder.

Donated by: Elton John

The proceeds for this item benefit True Colors Fund. BID NOW!
Elton John and band performed in Würzburg on July 14, 2012
Monday, July 16 2012
Fan report by Mireille Herz.
Elton started the show a few minutes before 7:30pm at July 14, 2012. The beautiful Würzburg Residenzplatz was still flooded with bright sunlight. Just half an hour ago, the dark rains clouds had vanished and given way to a bright blue evening sky. We later learnt that "2Cellos" were scheduled as warm-up act from 7:30pm to 7:45pm but Elton decided to go on stage straight away because there had been problems with his flights to Würzburg. He feared that if he did not start the show at 7:30pm, he might not be able to return home afterwards.

When Elton hit the first keys to start off with "Saturday Night's Alright", many spectators were apparently taken by surprise and thus rushed to their seats. Halfway into the song, the sold-out town square was packed with people. Elton was wearing all black and blue attire – matching shirt, pants, glasses, and shoes. Over the back of his coat was printed a huge glittering "Z" for Zachary.

I will not go into detail about every single song because we have heard most of them in the one or the other version plenty of times. "Grey Seal" and "Levon" rocked quite hard which neither I nor the audience expected. A Würzburg newspaper reported the day after that people had come to see Elton John expecting a quiet show with loads of his famous ballads. What they got – at least for the first half hour – was highly danceable rock music. And dancing was allowed. The fans kept standing from the first bar, and no-one asked us to sit down – a nice change from often stiff audiences and harsh security restrictions.

Elton remained rather quiet in-between songs, only saying a few sentences or a "Dankeschön" throughout the show. His longest speech came after the first few songs: Elton explained that their first gig in Würzburg is 11 years ago to the day. "So: See you again in 11 another years", he concluded. During band introduction, Elton noted that today is Bob Birch's birthday and played a quick "Happy Birthday" with the audience singing.

As the shows last year already suggested, the 2Cellos and the four female singers are a great addition to the Elton John Band. "I Guess That's Why They Call It The Blues" sounded much fresher with the interaction and dueting between Elton and the background singers.

At about 10:15pm Elton left the stage for good. He happily accepted a stuffed toy and picture book from a fan as a gift to bring home for Zachary.

Following is the complete set list of the Würzburg show on July 14, 2012:
Saturday Night's Alright (For Fighting)

Bennie And The Jets

Grey Seal

Levon

Tiny Dancer

Mona Lisas And Mad Hatters

Philadelphia Freedom

Candle In The Wind

Goodbye Yellow Brick Road

Rocket Man

Hey Ahab

I Guess That's Why They Call It The Blues

Sacrifice

Funeral For A Friend

Love Lies Bleeding

Honky Cat

Sad Songs (Say So Much)

Daniel

Nikita (solo)

Sorry Seems To Be The Hardest Word (solo)

Don't Let The Sun Go Down On Me

I'm Still Standing

The Bitch Is Back

Crocodile Rock


Your Song
Elton slams talent shows
Monday, July 16 2012
Elton says TV talent shows are a "shortcut to disaster".
Elton has an impressive career that spans over forty decades, and is highly respected across the globe for his talent. Elton believes reality singing competitions are detrimental to the music industry. "Television is not a good way to have a start of a career. It's a shortcut to fame and it's also a shortcut to disaster," he told the BBC.

"When you win the X Factor you have a year until it's the next person, and then you get dropped. The proof of the pudding is The Voice. The single didn't get into the top forty, they've cancelled the live tour."

Aside from performing, Elton is enjoying time with partner David and son Zachary. He would welcome a new addition in the future, and admits he was wrong to initially think he never wanted children. "It proves you're never right all the time. I haven't loved a human being more than him, ever," he revealed, before adding of extending his brood: "When it's time, we probably will. I'm now the happiest I've ever been."

Elton says parenthood will become his primary focus when Zachary is of school age. "While I'm feeling good, I'm going to keep working. When Zachary goes to school, that's another different thing," he said. "I want to take him to school and I want to pick him up. I don't want to miss that part of his childhood."
Elton John and band performed in Locarno on July 12, 2012
Monday, July 16 2012
Following is the complete set list of the Locarno show on July 12, 2012.
Saturday Night's Alright (For Fighting)

Bennie And The Jets

Grey Seal

Levon

Tiny Dancer

Mona Lisas And Mad Hatters

Philadelphia Freedom

Candle In The Wind

Goodbye Yellow Brick Road

Rocket Man

Hey Ahab

I Guess That's Why They Call It The Blues

Sacrifice

Funeral For A Friend

Love Lies Bleeding

Honky Cat

Daniel

Nikita (solo)

Sorry Seems To Be The Hardest Word (solo)

Don't Let The Sun Go Down On Me

Sad Songs (Say So Much)

I'm Still Standing

The Bitch Is Back

Crocodile Rock


Your Song
Elton John performed in Zurich on 13 July 2012
Sunday, July 15 2012
Following is the complete set list of the solo show in Zurich on 15 July 2012.
The One

Sixty Years On

Border Song

The Greatest Discovery

Your Song

Ballad Of The Boy In The Red Shoes

Levon

Tiny Dancer

Mona Lisas And Mad Hatters

I'm Still Standing

Daniel

Rocket Man

I Guess That's Why They Call It The Blues

Someone Saved My Life Tonight

Never Too Old (To Hold Somebody)

Philadelphia Freedom

Don't Let The Sun Go Down On Me

Nikita

Take Me To The Pilot

Sorry Seems To Be The Hardest Word

Candle In The Wind

Honky Cat

Bennie And The Jets


Circle Of Life/Can You Feel The Love Tonight
Elton on 'Today' interview
Saturday, July 14 2012
Elton John sat down with TODAY's Matt Lauer in an exclusive interview about his memoir, "Love is the Cure: On Life, Loss and the End of AIDS."

Elton spoke candidly about the decades leading up to where he is now, saying that he "wasted" much of his time on drugs and addiction, especially during the beginning of the AIDS epidemic. "I wasted such a big part of my life, when this epidemic was beginning to happen in the early 1980s. And I was a drug addict and self-absorbed," he told Lauer from his home outside London. "You know, I was having people die right, left and center around me, friends. And yet, I didn't stop the life that I had, which is the terrible thing about addiction. It's that -- you know, it's that bad of a disease."

In his book -- sales of which will benefit the Elton John AIDS Foundation -- John writes, "I was consumed by cocaine, booze, and who knows what else. I apparently never got the memo that the me generation had ended."

Elton told Lauer he feels guilty about that time, but "I'm making up for it. There is so much more to be done." The two also discussed Elton's sexuality, and his fears -- or lack thereof -- about living publicly as a gay man, even though coming out impacted his career.

"In America, people burned my records for a second and radio stations didn't play me. It didn't have any effect like the Dixie Chicks had when they made the anti-Iraq statements and their career was ruined," Elton said. "So by me saying gay in the 1970s -- it didn't have a big effect on me whatsoever."

Elton also told Lauer that he didn't fear AIDS during his time of living more recklessly. "You know what? When you take a drug and you take a drink and you mix those two together, you think you're invincible," Elton said. "I came out of this HIV-negative. I was the luckiest man in the world."

Elton's lifestyle is now vastly different from the way he lived in the 1980s. Not only is he sober, but he's married to husband David Furnish, and the two have a son Zachary, who was born via surrogate on Christmas Day 2010. "I'd love to have more children. And also Zachary, being the child of a famous person is hard. And I would like him to have -- you know, when he's four and he starts going to preschool kids will say, 'You don't have a mummy.' And we know that. We talked about this before we had Zachary. And we're gonna say, 'Well, listen, there's gonna be consequences involved in having a child when you're two gay parents.'" he explained. "And I want him to have a brother or a sister to go to school with him. And so that he can have someone to play with."

You can tune in to TODAY for the rest of the interview, which will air in two parts on July 17 and 18, 2012.
Happy Birthday, Bob!
Saturday, July 14 2012
Elton John band bass player Bob Birch is celebrating his 56th birthday on July 14, 2012.
On behalf of the Hercules team and all Elton John fans around the world we would like to wish him all the best and happy birthday!

Bob will be performing with Elton and the band in Wuerzburg, Germany, on his birthday.
Jason Segel impressed girl with Elton song
Friday, July 13 2012
Jason Segel once serenaded a girlfriend with an Elton song - and she believed he'd written it.
The American star has discussed the lengths he's gone to in order to impress his partners in the past. When he was a young man, he decided the way to a woman's heart was through music. "I once took piano lessons only to impress a girl. Then I played Elton John's Your Song and told her I had written the song for her. She wasn't the smartest," he laughed to stern.de.

Jason thinks having a good sense of humour helps on the dating scene. It's especially important in Hollywood, where people sometimes obsess about appearances. "Yes, it helps. Beauty disappears at some point. Humour stays. At the end of the day we all look for a partner who we can spend some time with. It can't be all about sex," he said.

"Well, sex doesn't last very long. After one, two minutes. No, I'm just kidding. I meant 30, 40 seconds, then the show is finished?" Jason is currently dating actress Michelle Williams and says he would leave everything behind for the sake of his lover "without batting an eye".

"There probably isn't one in real life. But I think if you meet someone who makes you a better person that's a pretty good start," he said, when asked about the perfect relationship.
Elton John and band performed in Bratislava on July 10, 2012
Wednesday, July 11 2012
Fan report and photos by Peter Bucek.
WARNING: I admit, this report is absorbed. But don´t shoot me, I am only the Elton fan.

After seven years Elton with glossy Captain Fantastic logo on his back and his band rocked my lovely hometown Bratialva again. What a night! This was my anniversary – my unbelievable 20th concert of Elton John that I have attend. My biggest dream from childhood was to see Elton to play just one song live, and now I count whole amazing concerts. OK, that´s enough my personal feelings, let´s gonna make the report.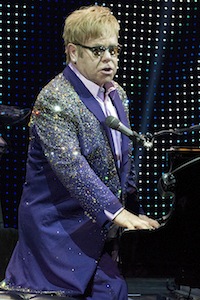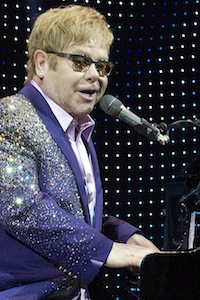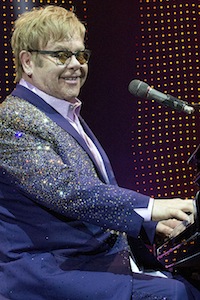 The setlist was same as few concerts before (in last days) in this never-ending world tour. I was surprised especially about songs like "Grey Seal", "Funeral For A Friend" in the middle of the show or "Mona Lisas" besides all those megahits.

And now the fan´s most popular review of 'What happend after the stage rush': After "Sorry Seems To Be The Hardest Word" we ran to stage and guess who was the winner. Yes, that was me – the guy in yellow Watford polo T-shirt! During screaming people´s rush Elton came to me and a friend of mine besides me and gave us strong "gimme five". We were screaming his songs till the end and people were dancing on every note! Thank you Bratislava audience for make my day yesterday. Elton went offstage after "Crocodile Rock" and came back before "Your Song". He started to clap his hands for the people in the front row and I thought that today there will be no signature session. Hmmmm, but why did I take my Honky Chateau vinyl cover? Was it in vain? NO! When Elton was right in front of me and slapped my hand again, I showed him my black pen and the cover. Elton took the pen, opened it, took my vinyl and signed it.

As we all know Elton has big heart for many people and gave also more autographs for people in next 3-4 meters in row. Then he came to me, closed the pen gave it to me back with smile.

The briliant audience was amazed about Elton's loyality to his fans and on the next day it was also written in many newspapers. All possitive reports also talked about his very little requirements in compare with many smaller artist with far bigger lists of requirements.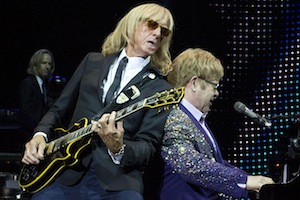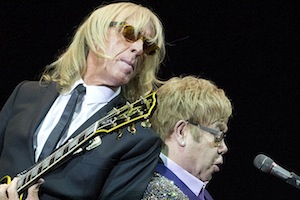 After that positive show I need to write also about my experience from one hour before the show: I met Kim Bullard walking around arena and I said "Hello Kim, please welcome to my hometown". He was very polite and nice to have a conversation in which he also asked me about the right direction to ticket office, because he was looking for some people with VIP tickets. I navigated him and after a or so minute he came back with his people and thanked me again. I asked him if he´ll so kind to make a photo with me and he agreed immediately.

Should I wish more from one concert day? No. Because my dream came true already 20 concerts ago and every this experience is like big bonus for my life. It is also very nice to meet people – fans from many countries which are similarl< crazy about Elton as I am and to talk to each other. It is also nice to find some new Elton fans' Facebook invitations on next day. And it is also very nice after the show to go home with Elton fans from abroad and to sing and play Elton´s stuff on the piano and to meet other Elton fan groups on the next day to take a coffee in Bratislava streets.

And it is also very nice to meet my Slovak friends and family members on Elton´s concert which means a lot for me.

Music joins, let´s rock!

Following is the complete set list of the Bratislava show on July 10, 2012.
Saturday Night's Alright (For Fighting)

Bennie And The Jets

Grey Seal

Levon

Tiny Dancer

Mona Lisas And Mad Hatters

Philadelphia Freedom

Candle In The Wind

Goodbye Yellow Brick Road

Rocket Man

Hey Ahab

I Guess That's Why They Call It The Blues

Sacrifice

Funeral For A Friend

Love Lies Bleeding

Honky Cat

Daniel

Nikita (solo)

Sorry Seems To Be The Hardest Word (solo)

Don't Let The Sun Go Down On Me

Sad Songs (Say So Much)

I'm Still Standing

The Bitch Is Back

Crocodile Rock


Your Song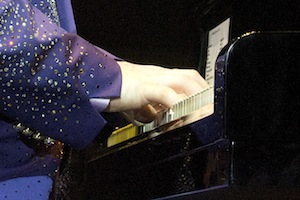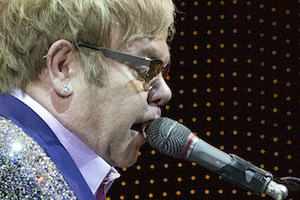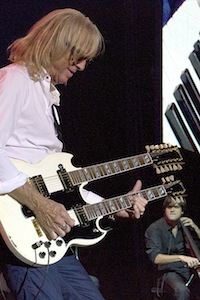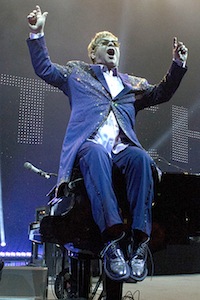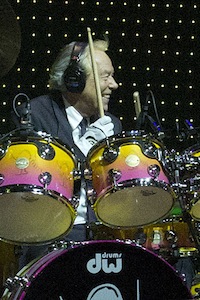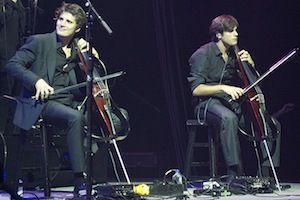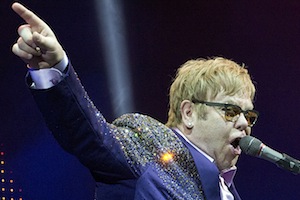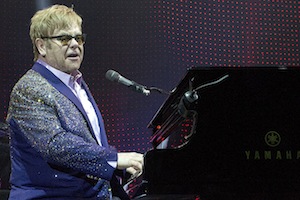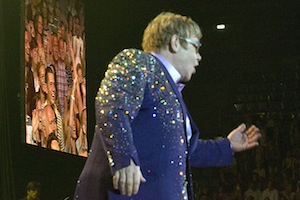 New book takes you in the studio with Elton and others
Wednesday, July 11 2012
What do The Beatles, David Bowie, Elton John, Supertramp, Duran Duran, John McLaughlin's Mahavishnu Orchestra and jazz/rock fusion drummer Billy Cobham all have in common?

They all had sound engineer Ken Scott in the studio with them. Now, with the help of Bobby Owsinski, Scott has written his memoir, Abbey Road To Ziggy Stardust: Off The Record With The Beatles, Bowie, Elton & So Much More (Alfred Publishing).

There's dozens of great stories here, written provocatively and bluntly, dealing with massive ego and massive amounts of cocaine. Scott is smart enough to put most of the technical stuff in gray-shaded sidebars and intersperses his prose with testimonials from many of the musicians, family members, friends and studio folk whose memories may be a little shaky but who add perspective.

Stories abound for the recording of such tracks as "Mother Nature's Son," "Piggies" and "Yer Blues," even for George's "Not Guilty," which, in all their arrogance, John and Paul rejected, despite the fact that it would have been one of the best songs on the white album. The author contends Beatle music was meant to be heard in mono, an assumption I've heard from others as well.

Ken Scott, besides being very good at what he does, has had the transcendent experience of having Paul McCartney collar him in a hall with an acoustic guitar, sit him down, and play him a song he had just written to see what Ken thinks. The song is "Let It Be." Elton John does the same thing to him. Sits him down and sings a new song he had just written and wants Ken's opinion. The song is "Candle In The Wind."

And these aren't even the best parts of the book! His Bowie chapters makes The Thin White Duke come alive and in this age where Bowie himself is a total recluse with rumors of ill health, it's wonderful to read stories about the albums that established Bowie's rep when he was young and hungry and one of the most creative rockers on the planet…and then, of course, came cocaine.
Mylan WTT Smash Hits set for Pittsburgh in October 2012
Wednesday, July 11 2012
Longtime friends Elton John and Billie Jean King are bringing their 20th annual World TeamTennis Smash Hits charity night of tennis to Pittsburgh on October 16, 2012.
Tennis greats Andre Agassi, Stefanie Graf, Andy Roddick and other top stars will join John & King for Mylan WTT Smash Hits presented by GEICO & at the Petersen Events Center. Tickets go on sale at 10 a.m. Eastern on Monday, July 16, 2012 through TicketMaster. Corner reserved seats are $40; premium reserved seats are $75; and courtside seats are $125.

Special VIP packages, including VIP courtside seating and admission to the Smash Hits VIP Reception and Auction presented by Allegheny Sports Medicine, will be available for $500. Elton, King and all the players will participate in the pre-match live auction, which will include an Elton John signed piano bench and King's Wimbledon tickets among other items. To buy VIP ticket packages or for more information, call +1-412-924-8270.

The event is produced by World TeamTennis in association with the Pittsburgh AIDS Task Force. Smash Hits has raised more than $10 million for the Elton John AIDS Foundation (EJAF) and various local AIDS charities since 1993. This year's event will benefit EJAF and the Pittsburgh AIDS Task Force. A portion of the funds raised at the pre-match Smash Hits VIP Reception will be specifically targeted for local programs.

Captained by King and Elton, the players will form two teams and play a match using the World TeamTennis (WTT) coed teamformat. The music legend will also participate in a celebrity doubles match to open the event. Additional participants will be announced in the upcoming weeks. King leads the series 10-9.

"It is always such a great pleasure to co-host this wonderful event with my dear friend Billie Jean King," said Elton. "I'm so pleased that we will be teaming up with the Pittsburgh AIDS Task Force to raise awareness about the continuing challenges of the HIV/AIDS epidemic both locally and nationally and to raise urgently needed dollars for community-based HIV prevention, education, treatment, and care services. I urge all of the tennis fans and concerned citizens in the Greater Pittsburgh area to support this event and bring their families for a wonderful evening of tennis for a great cause."


Elton John, Billie Jean King to rally for HIV/AIDS charities
Thursday, June 21 2012 at 12:01:31


Elton John and band performed in Augustenborg on July 4, 2012
Monday, July 9 2012
Fan report by Emil Christensen.
It was the 4th of July and today Elton was coming to town. He had chosen a location in front of a beautiful castle in the south of Denmark, not far from the German border. And what made the surroundings even better was the beautiful, sunny weather with temperatures reaching 25 degrees Celsius. The perfect conditions for an outdoor show.

Though it was a beautiful evening at a beautiful venue, the location was mostly reserved for people who owned a car. The venue is very far from a major town and many people had to travel far. For instance, I had to travel for almost 6 hours by train before reaching the venue. However, I think Elton tried to compensate for the cancelled concert at the very same venue in 2009 by returning to the same venue. With that being said, it was worth the long travel.

The concert started at exactly 8 pm and a pre-recorded announcement was showed on the screens next to the stage. It was Elton who introduced the 2CELLOS, which are the newest members of the band, and they entered the stage. I must praise those guys for having such an amazing energy. They are both incredible musicians, but also fantastic performers and a great live act. After a couple of songs on their own John Mahon joined them on percussion for their cover of "Highway to Hell". Together, they finished the song and the rest of the band entered the stage.

Elton came on stage during the opening bit of "Saturday Night's Alright (For Fighting)" to a massive roar from the audience. He wore a black suit embroidered with red sequins and a big, sparkling rose on the back of his jacket. Elton sounded a bit rough, but this was also his third show in a row, so no wonder. Fortunately, his voice turned better as the show went on and after a couple of songs, his voice was in top form. Elton played a wonderful version of "Mona Lisa's & Mad Hatters" with Davey Johnstone on the mandolin and the 2CELLOS accompanying Elton on piano. What were even better were the fantastic ladies in the choir who gave a whole new depth to the song.

Next highlight was "Hey Ahab" which comes from Elton's latest album, "The Union". It was a great rock song which fitted perfect into the set list. The audience also seemed to like it. Elton said, before playing "Sacrifice", that the song and the whole of the album "Sleeping with the Past" was recorded two hours from where the concert took place in Randers near Aarhus. This always makes the Danish audience happy and it makes me proud being Danish that Elton chose to record an album in Denmark.

What made me happy was that Elton played "Honky Cat" which was my first time hearing that song live. I don't think he plays that song enough with the band, but it was great hearing it. Also "Grey Seal" and "Mona Lisa's & Mad Hatters" were debuts to me.

"Nikita", which is a big hit in Denmark, was played in a solo piano arrangement which sounded great and the audience loved it. There was applause during the first line of the song and a massive applause when the song finished. And the same thing about "Sorry Seems to Be the Hardest Word". It was another fantastic highlight from the show. During the band introduction Elton did a lot of joking around and he gave several of the band members alternate names and he joked about various band names and names on albums. Great to see the band having a laugh.

What I noticed was that Nigel Olsson and Davey Johnstone were about to play "Are You Ready for Love" which Elton stopped during the opening chords of the song. He ordered Nigel to count down to play "I'm Still Standing" which to me was a bit of a disappointment since I have not heard "Are You Ready for Love" live yet. But "I'm Still Standing", "The Bitch Is Back", and "Crocodile Rock" were all great rock songs to make the climax. Elton went off stage and returned to thank the audience and the Danish people for being such a wonderful audience. He dedicated Your Song to the audience and the concert was over.

Thank you, Elton, for making this day such an amazing experience!

Following is the complete set list of the Augustenborg show on July 4, 2012.
Saturday Night's Alright (For Fighting)

Bennie And The Jets

Grey Seal

Levon

Tiny Dancer

Mona Lisas And Mad Hatters

Philadelphia Freedom

Candle In The Wind

Goodbye Yellow Brick Road

Rocket Man

Hey Ahab

I Guess That's Why They Call It The Blues

Sacrifice

Funeral For A Friend

Love Lies Bleeding

Honky Cat

Daniel

Nikita (solo)

Sorry Seems To Be The Hardest Word (solo)

Don't Let The Sun Go Down On Me

Sad Songs (Say So Much)

I'm Still Standing

The Bitch Is Back

Crocodile Rock


Your Song
They put us on a big red bus
Monday, July 9 2012
Elton has revealed one of the benefits of reaching the grand old age of 65 – he now has a bus pass.
However, the pensioner prince of pop, famed for his extravagance, confesses he has yet to board public transport with it. "I did get a bus pass from a friend of mine," he admitted in an interview, adding: "I haven't used it yet. I wouldn't know how to get on a bus. In the old days you paid and got a ticket. No way could I do it now as I wouldn't know what to do."

Elton, a millionaire many times over, went on to have a tongue-in-cheek dig at ever richer, even older, pop rival Sir Paul McCartney who has just turned 70 and has a reputation for watching the pennies. "At my age of 65 I am doing a lot more myself but it doesn't mean I have to get on a bus," said Elton. "I am not Paul McCartney." Technophobe Elton also has a dig at younger rivals who keep in touch with fans by using socialmedia. "I have never had a phone. I do not tweet," he said.

"I mean 'Get a life'. I don't spend my days tweeting or blogging. I think it is ridiculous. That is why I have a career. I e-mail things, but as far as texting or tweeting, no." Elton went on to reveal his pleasure in being a father and his ambition for his 18-month-old son Zachary, born to an anonymous surrogate mother on Christmas Day, 2010. The singer, who once owned Watford Football Club, reckons the toddler could be a future England footballer. "He loves playing football and loves watching it," he said. "Anything to do with a ball he watches."

Elton's dig at McCartney reflects a commonly held view of the superstar as careful with his money. He raised eyebrows when he threw a party where guests had to pay for their drinks. On another occasion, Sir Paul was said to have presented a workman with a gift of a single bottle of beer brewed on his East Sussex estate. The former Beatle's wealth is around £665 million. Elton spends lavishly. He was once revealed to have got through £40 million in 20 months. Among the bills was one for £293,000 from his florists. "I like flowers," he said at the time. He is said to be worth around £195 million.

Despite reaching 65, Elton has no plans to slow down. His new album, The Diving Board, is out this autumn and he is currently touring Europe. He and partner David Furnish divide their time between the US and their home near Windsor, Berkshire.
Elton John and band performed in Oberhausen on July 3, 2012
Thursday, July 5 2012
Following is the complete set list of the Oberhausen show on July 3, 2012.
Saturday Night's Alright (For Fighting)

Bennie And The Jets

Grey Seal

Levon

Tiny Dancer

Mona Lisas And Mad Hatters

Philadelphia Freedom

Candle In The Wind

Goodbye Yellow Brick Road

Rocket Man

Hey Ahab

I Guess That's Why They Call It The Blues

Sacrifice

Funeral For A Friend

Love Lies Bleeding

Honky Cat

Daniel

Nikita (solo)

Sorry Seems To Be The Hardest Word (solo)

Don't Let The Sun Go Down On Me

I'm Still Standing

The Bitch Is Back

Crocodile Rock


Your Song
Elton reports Times to Leveson Inquiry
Thursday, July 5 2012
Elton John has reported The Times to the Leveson Inquiry after it falsely linked the singer to a controversial tax-avoidance scheme.
Elton's lawyers Carter-Ruck said their client was "outraged" at the broadsheet's claims that Patrick McKenna, who reportedly provides film investment schemes that generate millions of pounds of tax relief, was his former accountant. Describing Elton as a former client of McKenna "creates the clear impression to readers that Sir Elton himself is suspected of having invested in one of Mr McKenna's tax avoidance scheme," the firm said in a letter sent to The Times seen by Press Gazette. "Nowhere in the coverage does it make clear that our client did not invest in any venture run by McKenna," it added. "This allegation is highly defamatory of our client. It is also untrue."

Elton's lawyers claimed he had never heard of McKenna but did use the accountancy firm Deloittes, where McKenna was understood to have once been a partner. Elton said that as far as he was aware he had never involved McKenna in his financial affairs, and never invested in the scheme described by The Times. McKenna did indirectly invite Elton – via his adviser Frank Presland – to invest in one of the ventures but he declined, according to Carter-Ruck.

The firm claimed there was "no public interest" in using Elton's name and photograph in the article, adding: "Your journalist did not see fit to contact our client or his representatives to seek to verify the alleged connection". It demanded that references to Elton were removed from the online story and asked The Times to publish a correction. This was run on June 22, 2012, the day after the allegations. It read: "Yesterday we reported that Patrick McKenna was the former accountant to Sir Elton John. This was incorrect and we apologise for the inaccuracy."

Carter Ruck told the paper that as a result of its "serious dereliction of professional duty" and "blatant" breach of the Editors' Code of Practice, it had reported the matter to Lord Justice Leveson.
Elton and John Barrowman back global rights group
Thursday, July 5 2012
A major new international gay rights campaign was launched July 4, 2012 supported by stars including Elton John and John Barrowman.
The campaign entitled 'Imagine if it were illegal for you to be you' is designed to win support for the human rights of LGBT (lesbian, gay, bisexual and transgender) people wherever it's a crime to be gay. The Kaleidoscope Trust is calling on people — whether they are gay or not — to sign up to a massive international protest demanding an end to laws that criminalise homosexuality.

Elton John said: "Just imagine what it would be like if it were illegal to have blue eyes, or be under 5'10" tall. Just imagine if something you could do nothing about meant you could go to prison, or face attack or even death. In no fewer that 78 countries around the world homosexual acts are still illegal. In five of them the maximum penalty is death. Until equality is something respected everywhere and there is universal acceptance of human rights for all regardless of sexual orientation or gender identity I will continue to speak my mind. I have the freedom to do so and nobody can take it away from me. Every other gay person in the world deserves the same."

On July 4, 2012 John Barrowman unveiled a video asking people to imagine "What if it were illegal for you to be you?" The video shows people being persecuted and attacked for things they can do nothing about — having blue eyes or being short. The video, which will be released on the Kaleidoscope Trust website and on YouTube, has been produced by advertising agency M&C Saatchi.

John Barrowman said: "I've had a sneak preview of this video and it's powerful stuff. It brings home to people how they would feel if some crazy law made it illegal for them simply to be themselves. What if it was illegal for me to want to sing? Or to have an American accent? As it happens, I'm gay. When the Kaleidoscope Trust pointed out to me that it's illegal to be gay in so many countries around the world I was staggered by the figures. People — whether gay or straight - need to wake up to the scale of the injustice that is going on out there. We are all human beings and we all deserve the same rights. And that includes the right to love whoever we choose to love."

Harjeet Johal, Deputy Executive Director of the Kaleidoscope Trust, said: "It is hoped that this film will come as a timely reminder that whatever freedoms we may enjoy in Britain, those same freedoms are denied to millions of others around the globe. London will be hosting a 'World Pride' this weekend. While we celebrate our own freedoms we are determined that nobody should forget the millions of people who are made criminals in their own countries because of their sexuality. It should never be a crime to be gay."

The public can join the campaign at: www.kaleidoscopetrust.com.
Elton to collect Polish Solidarity medal
Thursday, July 5 2012
Elton John will collect Solidarity's Medal of Gratefulness from Lech Wałęsa during a concert at the Ergo Arena Hall in Gdańsk on July 8, 2012.
The decision to award Elton John the medal was taken in 2010. During a concert in Gdańsk in 1984, five years before the collapse of communism, Elton addressed the audience, expressing hope for political change in Poland and Europe. Before the concert, he visited Lech Wałęsa in his apartment.

The Medal of Gratefulness was established by the European Solidarity Centre as a mark of gratitude to all foreign friends of Poland who through their good will, a sensitivity to injustice and devotion to a just cause actively supported the Solidarity movement. The medal has so far been given to some 400 people, including former French foreign minister Bernard Kouchner, the Irish Nobel Prize winning dramatist and novelist Samuel Beckett and the British historian and journalist Timothy Garton Ash.

The Medal of Gratefulness features the Solidarity logo, the word 'thank you' in 43 languages and the Latin phrase 'Hic nobis adiumento in periculis, solacio in laboribus fuit', which means, "he rushed to help us amid danger, to console when times were difficult".
Interview with PNAU
Wednesday, July 4 2012
Celebrity backings don't get much bigger than Elton, so when he asked Pnau to reinvent some of his extensive back catalogue they naturally jump to the chance.
With "Good Morning to the Night" set to be released in July 2012 and a co-headlining slot alongside him in Ibiza on July 2, 2012, Pnau are not only reinventing Elton, but presenting him to the world as the new don of electronic music with themselves as the ever-faithfully sidekicks.

Joe Wilde (contactmusic.com) was able to catch up with one half of Pnau, in the shape of Peter Mayes, over the phone to discuss the album and the show in Ibiza, as well as the relationship they share with Reginald Dwight and opinions on D&B, Dubstep and the rest of electronica's underbelly.

The album was supposed to be down for an April release; what was the hold up?
What was the hold up on getting the album released or getting this album finished? [Laughs]

Whichever was the biggest hold up, I guess!
Actually the release has been really quick. Getting it done, I guess, was really hard because when we first got told that we were gonna get given all the pieces of Elton John's career, musically, to make a record, it was kind of daunting as you would understand. We'd just arrived in the UK, we'd just taken on management with Elton's company, and it was one of those things where you're like, 'Oh my God!' it was incredibly exciting and a huge honour but it was like, 'Wow! What if we fuck this up?' - One of those moments! I guess, for a while, we got iPods and we put every one of Elton's records on them, we just sat there absorbing Elton's career in a way that we'd never done before; we listened to every single one of his songs discovering a whole bunch of music that we didn't know about. Including all the listening of the music that Elton has done and just making notes and cataloguing things that really stuck out to us in terms of the record that we had to do and it was an incredible thing to do because we'd never done anything like this before and it's not really a common thing. especially when someone like Elton has so many records and so many different types of songs. So that's probably why it took so long. For a while, like 6 months, we didn't really do anything except listen and absorb the music; that was all I had on this iPod: Elton, so I just listened to all of his songs. I think there was about 600 songs or more, probably. 2000 probably. It's quite a daunting career to actually go well but obviously the seventies, 1970 to 1977, was this really golden moment for him in his career where, as he often says, 'You can do nothing wrong'; so that really made sense to focus on that area initially and we do plan to do more of his records but that was our initial focus.

Can you go through the recording process with me a little, just to get a better idea what you went through.
In '08, we had a studio in Elephant and Castle which actually used to be The Chemical Brothers' old room down there, and we were locked up in there for 6 or 8 months and we did 'Sad' there which is the single that's just been released and we did. 'Sixty Years On'. if I have the wrong names for the tracks it's just because I feel like [Laughs] they'll see them as a working title in my head when you do an album. It was a very long process and we had to take breaks during the course of it because we get to a point, and we had other records to do; we had to do our record and a few other things, it was actually really good though because you cannot underestimate the luxury of time when doing a record. You can definitely have too long; it wasn't like we had our music budget or anything, we were mainly in our own studio, apart from the Elephant and Castle one, we were mainly doing this in our own places so it wasn't like we were hiring out Abbey Road every day with a 90-piece orchestra, it was really just a matter of taking everything in so we did that [Laughs]. We had an initial spurt and then we had another spurt and then, towards the end last year, we did a lot more and we revisited many times through the studio but towards the end we just thought to ourselves, 'Let's actually get this done' and we kind of changed our attitude a bit instead of over respecting the music, which sounds a bit selfish in a way but it was actually what we had to do and I think it was what Elton wanted us to do was to actually just do it [Laughs]. Not that we were biding our time really that much it was just a matter of going, 'We could do anything with this'; it was never meant to be a recreation of 'Rocket Man' and 'Tiny Dancer', we weren't aiming to rewrite Elton. The people had already become part of the public consciousness and there's no point, those songs are pretty much perfect in their original form so we decided that there was no point to mess with that. Having said that, anything was fair game. Initially, there was never really a concept and the great thing with Elton was he was like, 'Carte blanche, do whatever you want' and we were like, 'Wow, that's amazing!' [Laughs]. I guess to be given direction when you're doing something like this is really hard because you just end up thinking about what you've been told the whole time and then once we've opened the door fully to creativity and realised that we can do anything we wanted, it came a lot easier. I guess one of the things for us is we are not musical geniuses like Elton [Laughs]. If you listen to his music and you're a musical person you soon realise that he plays in every key which, pretty much, I don't think any artist does that; most people, their focus is guitar or whatever their instrument is, but, with him, he can just literally play in any key which is quite strange usually and from doing a project like this where you have to shift things around all over the place. We did have quite a purist approach to it; we didn't want to just bang it out [Laughs], which would be the technical term for just doing it shoddily, not that I have anything against that particular software. We basically took an approach where we were gonna take apart and change the key or change the tempo or whatever, we just slice it up into every single individual note or sometimes less than that and then we do it the old fashioned way, if there is such a thing, which is very time consuming so, in a song like, I think it's just called 'Sixty Years On' which is a recreation of many different versions of Elton's song 'Sixty Years On'; many different live versions and studio versions and in the case of that, it was just a matter of cutting up hundreds and hundreds of individual notes on the piano and harp and harpsichord. Basically, we didn't want to rush it.

You've just leaked 'Sad' as well as the first song 'Good Morning to the Night'; what's the feedback been for it so far? Has it all been positive?
Feedback has been pretty much all positive. I guess, when you take on something like this, Elton's fans are full on. With someone who's been so successful for so long, his fans are incredibly loyal and obsessed with him. So, we knew there were gonna be people who didn't like it; I think you just have to accept that because it's like, okay, there are gonna be people who are not gonna understand it and they're gonna be kind of angry at you in a way [Laughs] because you're messing with someone's career. But it was Elton who kept pushing us creatively to do whatever we wanted and to push it further.

Have you noticed any increased endorsement of your music by some of his older fans?
The reaction has been completely positive actually, even from a lot of his die-hard fans. The only way to really find that out, for us, now, until we play shows, is on the internet. Sometimes YouTube comments are just the most horrible things in the world [Laughs] so sometimes that can be daunting but it's actually pretty cool and there's a lot of people who are like, 'Wow, I really don't like dance music but this is actually really interesting to me' so you can tell that they're from a different generation to what we are or whatever and they're not on out musical stratosphere. But I think, actually, strangely enough, it's always been that way for Pnau as well; we've always had fans that weren't just 19-years-old. A couple of tours ago in Australia, we did our own shows rather than just doing festivals and it was quite expensive there, and there were all kinds of people who came to our gigs, it was really interesting.

What's the word from the man himself? What's his feedback?
Well, he's always incredibly positive. He's very honest; he'll tell you what he thinks which is great because it would never work otherwise. If he wasn't happy with it, it would never work. In late 2010, we first played him a batch of like six songs and the reaction was incredibly positive and he was really excited. I actually wasn't there, I was in Australia and Nick was here in London and he played them to him in the studio that they have in the basement of our management's office. He didn't really give us too much direction; he just said he was really happy, and songs like 'Telegraph to the Afterlife' he just said 'take it further; make it more druggy or more whatever. He just encouraged us to push it further, he didn't ever go, 'Oh, I don't like that sound' or 'Why are you using that vocal over that section'. He didn't get specific, he was just really supportive and encouraging which was great, which was the way he's always been, but, as I say, he is very honest and if he feels you've gone completely wrong he will definitely tell you but he didn't really do that in this case. It was incredibly daunting, as well, playing something to him, you know, 'This is what we've done with more music, your legacy' [Laughs]. I think he has been the most positive person ever. I think he's been incredibly positive and that has been a real help and, to be honest, I think he's the easiest person I've ever made a record for [Laughs] which is really saying something because I guess Elton has this reputation of not being that easy. But we never saw any of that it was just great, really, to have support because it was a full on thing to do and we had spent a lot of time managing this record [Laughs] so when you first play something to someone, especially someone like that who's just intensely creative and is still making music now, it's not like he's just gigging his hits for the sake of it, he's still making records he's still very active creatively, it's a full on thing to do.

What's your relationship like with him? Is it just a mentorship or have you developed something closer than that?
Yeah, it's a mentorship but I consider us friends and I'm sure he does as well. He's literally the busiest person in the world so you don't necessarily see him every week and he still does 120 shows a year. Even outside of that he's just always doing something. I would hate to see his actual schedule [Laughs] and what that actually involves because it's crazy but, yeah, we have a really good relationship with him and he's been really helpful to us as well, just as people in this weird music business that we're in and at times when you're a bit down or whatever he'll be there to give you advice because there's not really anything that he hasn't been through. He's always got something to relate it to and he's always got something to say that can help you whether it's musically or emotionally or whatever. He understands whatever it is.

Any invites to the Oscar party yet?
[Laughs] I've been to one of his parties, I think Nick went to the White Tie one; they call it White Tie and Tiara; but we're not really major socialites [Laughs] and he probably knows that by now. We really belong in the studio; I guess that's where we're most comfortable. We do play shows but, really, we're studio people. We're most comfortable creating every day for incredibly long hours. At the moment we're doing the new 'Empire of the Sun' record and it's 16 hour days every single day which kind of works for us. It doesn't work for everyone, I know Elton doesn't like to spend anything like that amount of hours in the studio and he can't really afford to because he's incredibly busy doing everything. So the way he makes a record is so different to us, which is a fascinating thing because we've seen it at least a couple of times - we've written songs with him and he writes a song in like 10/20 minutes and then by the time you've hit 30 minutes, the piano and the vocal are all recorded; the whole song's done. Then it can be produced in any way you see fit but the process for him is very much a thing of an initial spark of inspiration. But the process of what we do and especially with this record, you can't just sing it as vocal, you've got to use big, existing material that's there, you can't just create a backing track and go, 'Let's put a top line on this', it's not the usual process of making a record.

You have your festival appearance with him coming up in Ibiza, the 123 Festival; is this just a one-time thing?
Well, it's hard to say, again because of his schedule but it's certainly an incredible opportunity. Like this record, it's an amazing thing to be given by someone like him so we're really looking forward to it [Laughs]. Then it's back to square one where it's like, 'Oh my God, we're doing this gig without the John!' [Laughs] It's like, 'Can we pull this off?' it's that kind of thing. But I think we can. We're really looking forward to that.

Given the logistics of the whole album, I'd imagine it's going to be really difficult to take it on to the stage, on to the road; do you think you'll be doing a full tour with it? Maybe not with Elton, but just the two of you?
It's sort of too early to say. We haven't played a show with him before so this is kind of a trial run. But he is a father now; it's really hard to say if he would have time to actually do a full tour of this record. If it's an incredible success then maybe, but [Laughs] it's impossible for me to really speak for him.

It will just be the two of you going on tour then, no Elton?
I don't know how you would do that. This is more of a listening experience, I think. There's so many elements in every single song from so many different places and so many instruments; it's sort of different for every track, it's not just bass guitar, drums. So not the easiest thing to recreate live, that's for sure. It's definitely gonna be a challenge, we've got a lot of rehearsal over the next week or so and that's going really well! It's almost as difficult a task as doing the record itself.

About the record's making: did it take you back to your roots at all when you largely used sampling techniques? Did making the album take you back to that?
Yeah, it's an incredible education and I think our roots are really in the seventies, that kind of period. The whole of the seventies, I think. We did a record in like '97 and it was released in '98 mainly in Australia but it was called 'Sambanova' and it's our first real record as Pnau. It was a similar thing where we were doing a lot of sampling at that time and we were inspired by other people who were doing sampling but obviously not everyone has the same record collection so we were taking all these little bits, but the beauty of this Elton record is you had the multitrack so if we wanted an individual element, we could take it most of the time, even though most of his records were done live so if you were getting a bass part then there was probably still some of the drums in there; basically, in one microphone you can hear other instruments, to put it simply. But, yeah, in a way, it was the perfect album for us to do because we'd done it before, we just hadn't done it in so much detail and we'd never done it focused on one artist obviously. But, yeah, we are very experienced in the notion of sampling and piecing things together. He probably didn't even know that because the album that he fell in love with, with us, was our third record which had no samples on it; it was pretty much us doing our thing. Fortunately, we knew where to head at least in terms of the technical side of things. But in terms of hearing his records, his records were made in a golden age of recording, in a golden age of performing and song writing and a time when record labels were very open-minded in terms of the music that they would release and in terms of letting the artist do their thing, and that's an incredible thing that may never come again. So, apart from him, there were so many other artists who did records that were so different from the records that come out today because they were just allowed to do whatever they wanted. It's always an education to actually be able to delve so deeply inside someone's career and hear how they made these records, especially those incredible BVs and all those things that Gus Dudgeon did. He's the main producer that we're working with.

Tell me about your opinions on the ever increasing popularity of stuff like drum 'n' bass and dubstep. Is this your kind of scene or do you want to stay well away from it?
I guess the more angular side of electronic music is not necessarily my thing; I'm really into the simplest and, in all styles of music, I would say that I'm into simplicity. That can often mean repetition, but working people into a state of something, if that is to move their body or to expand their mind or whatever it might be. I guess that's personally what I'm into. Drum 'n' bass and dubstep: we grew up, when we were teenagers, to the drum 'n' bass thing in the mid-nineties, that was the thing in Australia as well as in England and everywhere, and it was interesting but it wasn't necessarily our focus. There were really interesting aspects of that because a style is born and then it splinters off into all these subgenres so you have the jazzier side and you have the more heavy side and all those things in between. That was fascinating because there'd be people in there who'd create something unique and interesting that you'd never expect to come out of drum 'n' bass, but dubstep. we like as well but, again, I find it difficult to absorb, musically, a lot of it, because it's like a trailer; there's so much stuff going on, and one of the aims of the style is to not have repetition, not work people into a groove through repetition and through building textures. It's more like an every-bar-has-to-be-different kind of style and that's interesting but I can't make it. If someone asked me to make a dubstep track I'd be like, 'I can't really do that' - it's not really my thing. I find that there's always something you can learn from everything; there's something you can learn from country music, there's something you can learn from every style of music and we do try and listen to everything but it's not really my main focus within the electronic realm. Strangely enough, you know what? We don't really listen to electronic music anymore, not unless it's some of the origins, you know, early stuff when 'anything goes' was the rule because now everything is so compartmentalised and strictly regimented within all these so many subgenres and the split-offs from the general headliners of electronics. We generally find ourselves getting inspiration from everywhere else, literally, with no real limitation whatever that might be, and then bringing that back into what we do. So, yeah, again, it's fascinating to do an Elton record because it's not really a style that he's really been involved in.

One of the few he hasn't really.
Yeah, he's done little things and remixes and all that and samples over the years, but as he will tell you very openly, he doesn't know how to do it. It's not his thing and it kind of involves too much fiddling in the studio for the kind of artist that he is, so the perfect thing for him is to get other people to do it. And as he said in a bunch of press we did in Vegas a while ago, a few weeks ago, this is fascinating for him because it's a revitalising of his career in a more modern way even though we're not doing a cutting edge dubstep version of his songs. I think the aim was to try and make something more timeless and I guess that's our aim in all the music we make, even though it may seem a bit more of-the-moment. We're not trying to make something that's only here for six months because, if you do that, you can't really make an album; it moves so quickly these days, you can't really just focus on something that's hip now and by the time you've finished it's not gonna be around anymore.


Partners of gay peers could receive title
Wednesday, July 4 2012
A 10- minute rule Bill has been put forward on July 3, 2012 that would enable the partners of gay peers to receive titles.
Under the current system, the wife of a knight, lord or sir is given a title and becomes a lady, although the reverse does not apply. The proposed reforms, put forward by Tory MP Oliver Colville, would extend this privilege to the partners of gay knights and lords. For example, Sir Elton John's civil partner, David Furnish, would be given the right to use an honorary title.

What remains vague is exactly what title the partner in perversion would be eligible for since currently the only title available for the spouse of a male peer is 'lady.' Somehow, "Lady David Furnish" doesn't quite seem right.

Mr Colville hopes his bill, called The Honours (Equality of Titles for Partners) Bill, will bring 'equality' to the system. The motion is significant because it comes at a time when Government is already considering Lords reform. It insists "that leave be given to bring in a Bill to make provision for husbands and civil partners of those receiving honours to be allowed to use equivalent honorary titles to those available to women".

Mr. Colville commented, "If you are made a peer or a knight, your wife automatically gets the title lady, but if you are gay or are a woman and become a dame your partner gets nothing. I just think it's an anomaly which needs to be put right."
Elton John and Pnau performed in Ibiza on 02 July 2012
Tuesday, July 3 2012
Fan report by Mark Danby.
Elton said he was a little worried about the reception he would receive from his first ever visit to Ibiza at this electronic dance music festival, but there was nothing to worry about. The crowd was mainly teenagers, but as the time approched for Elton to take the stage at 9.15pm the arena started to fill, which until then had been rather empty and the anticipation started to build. As Elton took the stage there were chants of "Elton, Elton" and as Elton opened with "Your Song" this young audience sang every word. This first segement was just Elton on the piano, which included a much more up tempo version on "Levon" than usual, "Philadelphia Freedom" was very well received as was "Rocket Man".

Elton then introuduced PNAU and his grand piano was replaced with an electronic piano facing the audience. Elton said that was the first live performance of these songs and they opened with "Sad" followed by "Good Morning to the Night". It is always difficult to judge the reaction to new music, but responce was certainly not as good as during Elton's solo set, it was however great to watch and it seemed much more up-tempo than the studio versions and Elton's vocals seemed to sound much more like 70s Elton.

They closed with "Are You Ready for Love", which was a bit different then with his normal band; it had more of a dance feel to it and it was a great choice to close with.

As a one off this was a something a little different having seen many Elton concerts all over the world, but it is something I am very pleased I attended and won't forget.

Following is the complete set list of the Ibiza show on 02 July 2012:
Elton solo
Your Song

Levon

Song for Guy/Tiny Dancer

Philadelphia Freedom

Rocket Man

Elton with PNAU

Sad

Good Morning to the Night

Phoenix

Telegraph to the Afterlife

Are you Ready for Love
Elton urges Ukraine to stop attacks on gays
Sunday, July 1 2012
Elton used an AIDS charity concert in Kiev on June 30, 2012 to make an emotional appeal to Ukraine to stop what he called persecution of gays.
He broke off during a two-hour performance, part of the Euro 2012 soccer tournament co-hosted by Ukraine, to speak about reports of physical attacks on members of the former Soviet republic's gay community. Elton, a regular visitor to the country, drew cheers from thousands of Ukrainians watching his performance on huge street screens when he described Ukraine as "my second home".

"Recently I read about violence against gay people in Ukraine. Beating up gay people is wrong. This for me does not symbolize Ukraine," he said. "I plead with you: Stop the violence against gay people."

Ahead of the European soccer championship which began on June 8, 2012 and ends on July 1, 20120 with the final in Kiev, a gay pride march in the Ukrainian capital was called off and one of its leaders was beaten by assailants.

On June 23, 2012, another leading Ukrainian gay rights activist said he had received hospital treatment after being beaten in Kiev by a group of assailants, who screamed homophobic insults at him. Elton, who entered a civil partnership with David Furnish in 2005, regularly champions respect for gay and lesbian rights.


Elton John and band performed in Kiev on June 30, 2012
Sunday, July 1 2012 at 06:22:13


Funeral date set for tragic Scott
Sunday, July 1 2012
Elton is among a host of stars to have paid a personal tribute to tragic drum technician Scott Johnson.
Scott died following a stage collapse in Toronto, Canada, where he was working as a roadie to top group Radiohead. His father Ken, 60, of Hickleton, revealed that he had a "totally unexpected" telephone call from Elton. And he added that the "overwhelming love and staggering support" received from the music fraternity and only son Scott's many friends has helped the family.

Mr Johnson told the Times: "Elton told me he just wanted to share some of the experiences he had suffered and to offer his support both to us, and to a memorial for Scott. It was lovely of him to do that. We have had fantastic support from the Radiohead management and the Foreign Office have been first class. Scott was perhaps closest to Keane - they are such lovely guys and they looked after him for seven to eight years. Everyone has been very good to us and we give our sincere thanks."

A service on July 5, 2012 will be held at 11am at St George's Parish Church, Doncaster, followed by a private interment ceremony at Hickleton. Family flowers only are requested, but for those who wish to make a small donation, there will be the chance to give towards a music scholarship or award to be set up in Scott's memory by his father and a few close friends. This is likely to include the Rotherham Schools' Music Service that encouraged Sott as a youngster to develop his musical talent, said his father, and will be in the form of an annual award or gift of equipment.

There has been an outpouring of grief and tributes for 33-year old Scott from top bands and his many friends on social networking sites, and a special web tribute was set up by Scott's mentors and friends at Electro Music, Doncaster, where he learned much of his trade. The roadie's body only arrived back at Doncaster on June 23, 2012, and on June 27, 20120 his father had the grim task of identification.

Scott grew up in Whiston, Rotherham and as a youngster played with the Rotherham Schools' Orchestra.
Elton John and band performed in Kiev on June 30, 2012
Sunday, July 1 2012
Fan report by Phillip Schober and Miroslav Oleshko.
First of all I'd like to say that I didn't fly to Ukraine just for Elton. It was more Queen that got me all the way east to Kiev. The band Queen was about to perform on the same AIDS charity concert as Elton (one day before the final of the Euro 2012 football cup). Taking the chance to see two of my favourite bands live at the same evening I booked a cheap flight. This was the first concert Queen gave in the last years. Apart from minor tv appearances the two remaining Queen members (Brian May and Roger Taylor) were busy with solo work. Queen was practically dead!

But this summer, just for six shows, they came back to life! And their first concert was in Kiev with Elton John performing a few hours ahead of them!

My plane took off on Friday from Germany so I had enough time to explore the city Kiev together with a friend of mine who lives there. As a city, I loved Kiev! I have an unbelievable great impression and met some awesome people with a very interesting culture. Ukraine is definetly worth a second visit for me.

Saturday morning began and I had a walk around the concert area. It had been to the really big fanzone directly in the centre of Kiev. Probably suitable for 300.000 visitors they said.

At noon I took part in the "Lunch around the world" at a pizza place where many Russian and Ukraine fans met up. Victoria (head of the Pinball wizard Ukraine fanclub) organised everything. A big thank-you to her! From her we all got special tickets (given away by the promoter) for the area in front of the stage to have the best view possible. It was a very nice afternoon where I got to meet some lovely fans and had great fantalk about Elton, Zach, David, Davey, Nigel and so on...

From there we moved together with many Queen fans (I have to say that Elton fans were a minority) to the entrance to be the first one to get into the fan zone. This worked pretty well, although I decided to stand somewhere in the back and have a drink on my own. The first rows were way to crowded for me.

Set in an Against-AIDS-theme the concert started with a movie about the infections in the Ukraine (1% of the population is infected with HIV. This is compared to the rest of Europe a very high rate). After that the 2 Cellos performed their songs (with Highway to Hell incl. John Mahon on drums, a big fun!), then Elton took the stage and rocked it as usual!

The sound and athmosphere was unbeliveable. The crowd went wild to Saturday, Bennie and Bitch! Elton held a speech about AIDS and homosexuality in Ukraine. Everybody was deeply touched by his words and he got a big applause for saying Ukraine is like his second home now.

After Elton Queen came on stage and the crowd went mental! Even more as they already did when EJ performed. To be honest, most of the audience was waiting for Queen and thought Elton was just a kind of support act. Many, many Queen fans travelled all around the world just for this concert, that's probably a reason for the great athmosphere.

After the show I got back to the airport and took the first flight in the morning back home to Germany. It was a blast making a weekend holiday in Ukraine and seeing Elton John and Queen live on the same stage (sadly not at the same time).

Miroslav Oleshko, who met Elton on stage, adds: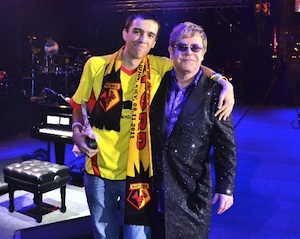 I've been desperately waiting for one more Elton's concert. After five hours of standing under the burning sun we've been rewarded with 2CELLOS and afterwards John Mahon, together they performed "Highway to Hell". Then Elton appeared on the stage, greeted the audience with waving hands and started to sing his magic hits.

I've experienced a lot of troubles that unlucky day so decided to compensate it all by gesturing Elton for a joint photo. Unexpectedly he reacted positively. Elton John is an incredibly kind and sincere man, I hardly can remember another such one in showbiz. Standing close to him I could feel all that positive energy he radiated.

In addition, I've transfered to Elton through his friends my previous joint photo with him and I hope to receive it back signed.

I wish Elton, David and their son happiness and love. I'd like to thank all the EJ Band members. Many thanks for the concert, we are waiting for you in Kiev once again.

Following is the complete set list of the Kiev show on June 30, 2012:
Saturday Night's Alright (For Fighting)

Bennie And The Jets

Levon

Tiny Dancer

Philadelphia Freedom

Candle In The Wind

Goodbye Yellow Brick Road

Rocket Man

Hey Ahab

I Guess That's Why They Call It The Blues

Sacrifice

Sad Songs (Say So Much)

Nikita (solo)

Don't Let The Sun Go Down On Me

I'm Still Standing

The Bitch Is Back

Crocodile Rock


Your Song
Elton John and band performed in Ludwigslust on June 29, 2012
Sunday, July 1 2012
Following is the complete set list of the Ludwigslust show on June 29, 2012.
Saturday Night's Alright (For Fighting)

Bennie And The Jets

Grey Seal

Levon

Tiny Dancer

Mona Lisas And Mad Hatters

Philadelphia Freedom

Candle In The Wind

Goodbye Yellow Brick Road

Rocket Man

Hey Ahab

I Guess That's Why They Call It The Blues

Sacrifice

Funeral For A Friend

Love Lies Bleeding

Honky Cat

Daniel

Nikita (solo)

Sorry Seems To Be The Hardest Word (solo)

Don't Let The Sun Go Down On Me

Sad Songs (Say So Much)

I'm Still Standing

The Bitch Is Back

Crocodile Rock


Your Song