ELTON JOHN NEWS ARCHIVE: July 2011
Elton John will perform at Tony Bennett's 85th birthday party
Saturday, July 30 2011
Tony Bennett's debut performance at the Metropolitan Opera in New York is scheduled for September 18, 2011.
Mr. Bennett's 85th birthday party supper gala directly following the concert in a tent on Lincoln Plaza will be hosted by Alec Baldwin with special musical performer Elton John.
Frank Sinatra "Remember"
Thursday, July 28 2011
A song surfaced on YouTube which was written by Elton John and Bernie Taupin for Frank Sinatra back in 1978.
The discovery made by the Sinatra family made back in 2002 concerns the Reprise session of July 17, 1978. As usually done at each recording session, Musician Union's session sheets were filled out, noting the songs recorded, the master numbers attached to them, the time and location of the session as it took place, and the individual names of each instrumentalist, primarily as a basis for paying the musicians for their work.

According to the session sheet for July 17, 1978, Sinatra and orchestra gathered at TBS Studios in Burbank, California, from 7.30 to 12 pm. The orchestra was conducted by Vincent Falcone jr. It included a large string and brass section (40 musicians incl. one harp, all listed by name) plus Tom Hensley and Bill Miller on piano, Tim May, Al Viola and Marty Walsh on guitar, Milton Kestenbaum, Milton Nadel and Gene Cherico on bass, Ronnie Tutt and Irving Cottler on drums, and Alan Ester and Larry Bunker on percussion. This team, according to the sheet, recorded three songs with vocals by Sinatra "That's What God Really Looks Like" (Reprise master #WCA 8129), "Remember" (#WCA 8130) and "You And Me" (#WCA 8131). No take numbers for the masters are indicated.



None of the three recordings were ever released, while discographers who searched the Warner/Reprise and Union files for Sinatra recordings came up with some of the session data. Reportedly, when the 1995 Reprise 20-CD "suitcase" was about to be compiled, the recordings were searched for at Reprise/Warner but couldn't be located. Participating musicians were approached but while they all vividly remembered the session, no one of them seemed to have an idea about where the recordings were.

In mid 2002, as Nancy Sinatra has said, the tapes have been re-discovered. This is important news to Sinatra world, because while two of the songs from July 1978, "You and Me" and "What God Really Looks Like" were re-done by Sinatra aboit a year later and then issued on his Reprise 3-LP album "Trilogy", the third song, "Remember", never surfaced on any record.

It's a (by then) contemporary song especially written for Frank Sinatra by Elton John and Bernie Taupin. Sinatra sang in concert frequently between May 1978 and April 1979, to an arrangement he credited to Don Costa. Some of you older fans might have witnessed it in concert, he also took it to Europe during his 1978 appearances in London, England. It is a fine song, and Sinatra's rendition as heard in concert was very grand.

Don Costa's arrangement as performed in concert was cleverly picking up certain "Elton John sound elements", let's see if the studio recording also carries these.

Runaway Elton
Tuesday, July 26 2011
A convicted burglar who dubs himself Elton John has gone on the run from prison.
Police are hunting the 36 year-old who has been recalled to jail for breaching the terms of his licence. An assumed name is the only thing shared with world-famous Elton John CBE by the convict, whose real name is Anthony Brown.

Brown sports a 'Millwall Football Club' tattoo on his right upper arm, a painted dragon on his back and a scar between his nose and mouth. He is wanted by police in connection with crimes of deception, where unwitting residents were duped into handing over cash on their doorstep by a man claiming to be collecting for charity.

Convicted in March 2010 of burglary and sentenced to three years jail, Brown was recently turned loose on licence. He is a slim white man with green eyes and short brown hair, around 5'8" tall.

Also known as Tony Green or Anthony James Lancaster, Brown was last known to be living at Fern Court, Drakefell Road, in New Cross.

Elton is Billboard's biggest AC artist ever
Tuesday, July 26 2011
Obviously, people mock Adult Contemporary radio. It's called "vanilla" and bland. Tedious. Monotonic. Strictly for the elevator
Billboard begs to differ: AC is absolutely captivating. And, to celebrate the chart's 50th anniversary, they've ranked its 50 biggest stars.

Aside from being one of the most successful formats in the histories of recorded music and commercial radio, their AC chart is home to hall of famers, big-betters and hard rockers. Home to soulful sweethearts and songwriting superstars. AC isn't a place songs go to die. As radio folks, songwriters and fans well know - AC is the place where stars go to live forever.

Elton tops the list published by Billboard as Mellow Gold. He is Billboard's all-time AC chart king. Elton holds the records for most AC No. 1s (16), top 10s (38) and chart entries (68), dating to his grand entrance with "Your Song" in 1970. Having recently hosted "Saturday Night Live" and scored his highest-charting Billboard 200 album (the No. 3 "The Union," with Leon Russell) since 1976, clearly the musical and cultural icon is still standing strong.

Here's the Top 10 of Mellow Gold:

1) Elton John
2) Neil Diamond
3) Barbara Streisand
4) Barry Manilow
5) Kenny Rogers
6) Chicago
7) Billy Joel
8) Carpenters
9) Lionel Ritchie
10) Anne Murray


The Top 50 Adult Contemporary Songs Ever
Sunday, July 17 2011 at 11:16:19


Public to vote for Elton John's support act
Tuesday, July 26 2011
Members of the public are being asked to decide who will take the stage in front of 30,000 fans as the opening act for Elton John's concert at the Forsyth Barr Stadium in Dunedin in November 2011.
Concert promoters Capital C: Concerts had received more than 50 entries from around New Zealand for the spot, and had selected a shortlist of four finalists, Capital C: Concerts chief executive Phil Sprey said in a statement.

The shortlist included Kaylee Bell (18), formerly of Waimate, but now based in Sydney, Australia, who won the prestigious Gold Guitar award at the 2007 New Zealand Gold Guitar Awards. Other finalists included Mercury Crowe, of Wellington, Jonny Love, of Auckland, and Katie Thompson, of Hokitika.

Members of the public have a week to vote for their preferred performer, by visiting www. classichits.co.nz with results announced next month. The concert would be held at the Forsyth Barr Stadium on November 25, 2011.
Elton describes admiration for Amy Winehouse's talent
Sunday, July 24 2011
Elton John is among the many shattered admirers around the world who are paying tribute to troubled songstress Amy Winehouse, who has been found dead in her north London home at the age of just 27.
Amy Winehouse had a musical talent that was deeply respected by other musicians. Upon her death, many of her fellow musicians described her prodigious talent. It is so tragic that this young woman, with five Grammy awards and others, seemed unable to escape the angst that drove her addictions. So many long-established musicians such as Rihanna, Elton John and Tony Bennett have shared their feelings about the loss of Amy with the media and social media.

It is heartbreaking to wonder if Amy Winehouse understood the level of respect the music industry had for her talent. Elton John mulled over her talents upon news of her death. He said she was "a seminal artist. She was one of the greatest artists this country has ever produced," reports the Daily Mail.

Amy Winehouse was petite, but she had a big presence in the music industry. Her death is still a mystery. Soon enough the medical reports or other information will come out that could further explain how or why she lost her life. For now, her music lives on. Her life may well serve as a warning of the hazards of heroin and other drugs. Too many amazing musicians lost their lives to that drug—it is a killer.
This Day in Music: July 24
Sunday, July 24 2011
1976, Elton John scored his first U.K. #1 single with "Don't Go Breaking My Heart," a duet with Kiki Dee.
The track was written by Elton John with Bernie Taupin, under the pseudonym "Ann Orson" and "Carte Blanche," and was Elton's first U.K. #1 after 16 Top 40 hits.
Jailed son of Pink Floyd star gets box of books as a gift from Elton
Sunday, July 24 2011
Elton John has sent a box of books to Charlie Gilmour, the jailed son of Pink Floyd guitarist David Gilmour, who was last week sentenced to 16 months for violent disorder.
Elton and David sent nearly a dozen books, including works by Tolstoy and historian Niall Ferguson, to the family home on July 22, 2011. They will be sent on to Gilmour to read in his cell while his family launch an appeal. Elton and David, who have never met the 21-year-old but are friends of his parents, author Polly Samson, 49, and adoptive father Gilmour, 65, also sent a message of support.

A source said: "A box of books was sent to Polly and David's house. I think they were incredibly touched. The books ranged from serious history books to novels and they had obviously put a lot of effort into choosing a wide-ranging selection that he would like."

Gilmour, whose parents have a home in London as well as a £2.7 million seafront mansion in Hove, East Sussex, was jailed last week for his part in demonstrations that brought parts of London to a standstill in December 2010. He was identified after photographs were published of him swinging from a Union Jack hanging from the Cenotaph. He had also thrown a bin at a Rolls-Royce carrying Royal protection officers and leapt on the bonnet of the car carrying the Prince of Wales and the Duchess of Cornwall.

Gilmour, who was adopted by the Pink Floyd guitarist as a two-year-old, was also part of a mob that caused £50,000 damage to Topshop in Oxford Circus. He later claimed to have been 'out of his mind' on whisky, valium and LSD.
Rob Zombie enjoyed his hug from Elton John
Saturday, July 23 2011
Rob Zombie has admitted that despite some reservations about how halls of fame operate, he was honored to induct his hero Alice Cooper into the Rock and Roll Hall of Fame earlier in 2011 and enjoyed the whole experience.
Zombie told the Pittsburgh Post-Gazette: "I used to feel sort of anti-Rock and Roll of Hall Fame, because, you know, as Steve Earle was saying, why do they let this person in and not that person? But when I was actually there, I got a different perspective on it, because, unlike certain other award-type shows, it was a really cool vibe there, and it was very much musicians paying tribute to other musicians. It didn't have a cheesy corporate vibe to it. The whole evening was fantastic. It was a big honor to induct Alice. I've known Alice for 17 years or something, we're good friends, so I was honored to be asked."

Rob Zombie also said that meeting Sir Elton John was a highlight. "I always wanted to meet Elton John but didn't think it would happen," he said. "It's really crowded there and hard to meet people. After it was done I was standing in the back doing press, and Elton John came running up to me and said 'Hi' and gave me a hug and said, 'Oh, that was great, blah blah blah.' It was a great night."
Elton among those targeted by News of the World hackers
Friday, July 22 2011
Elton has been informed that his name had been included in the list of the News of the World phone hackers.
Elton came to know after the police told his partner David Furnish that he is believed to have been a victim. Sources revealed his name was discovered among the 4,000 targeted.

"David was horrified at having his fears confirmed. It seems these hackers were desperately trying to find out details of his life with Elton," the Daily Star quoted a friend as saying.

"They couldn't target Elton because he never used a mobile - he hated the things - but partner David obviously did have one," the friend added.
Elton working with Bernie Taupin and T Bone Burnett
Tuesday, July 19 2011
Elton John – who has revamped his old Rocket Records label through a new business, the Rocket Music Entertainment Group, with artists James Blunt, Lily Allen, Leon Russell and Ed Sheeran – has said he'll begin his new album with T Bone Burnett in January 2012.
According to a new interview in Music Week magazine, Elton said: "We've booked two weeks in the studio in January and Bernie is writing as we speak and I just want to make an album of good songs. I'm just going to go in the studio and write and see what happens and maybe just write before I go in and I really enjoyed working with T Bone and look forward to that experience again."

He also said he was delighted to see Leon Russell's career back on track after their collaboration on "The Union" in 2010. "He's got money in the bank, his fees have gone up, he's happy," said Elton. "He now wants to make a record to define himself, so it opened the door for him in a big way. Everything I wanted to do [with him] has been achieved. He's got his respect back. My main concern was he was being neglected and forgotten about and he wasn't just a one-track writer. He wrote so many great songs and was so integral on other people's records."


Elton John talks to Music Week
Friday, July 15 2011 at 07:40:16


Elton lines up Lady Gaga to perform at son's christening
Tuesday, July 19 2011
Elton has reportedly lined up Lady Gaga to perform at his son Zachary's christening.

He and David Furnish will be holding a star-studded bash for their son's christening at their mansion in Windsor, according to reports.

Lady Gaga is the tot's godmother and will be one of the performers at the party. A source told UK newspaper The People: "Lady Gaga jumped at the chance to perform. She is absolutely chuffed that she has been picked to be godmother, so she feels she owes it to Elton."


Lady Gaga confirms she is godmother to Elton's son
Thursday, April 28 2011 at 17:43:01

Elton confirms Lady Gaga as godmother
Saturday, April 23 2011 at 02:07:08


Elton John and band performed at Hartfiled House on July 17, 2011
Tuesday, July 19 2011
Fan report by Mark Giles.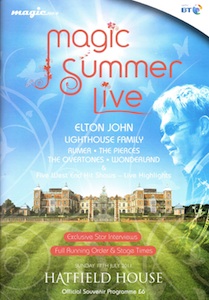 Elton topped the bill at the first Magic Summer Live concert held outdoors at Hatfield House in Hertfordshire on July 17, 2011. In an afternoon of typical British summertime weather, which varied from warm sunshine to heavy downpours of rain, the large crowd were treated to acts such as Wonderland, The Overtones, The Pierces and Rumer. A welcome return to the stage for Lighthouse Family after 8 years was the highlight of the afternoons entertainment.

Elton came on stage at around 7.50pm, as and often happens with these long events, played a shorter show than usual, leaving out "Funeral for a Friend/ Love lies Bleeding", "Take me to the Pilot" and "Monkey Suit", from this summers set-list plus 'shaving' a couple of minutes from the now epic "Madman Across the Water". But it was just what the 'partying' crowd wanted ... a show that was full of hits that kept building in momentum.

Elton was in a great mood, helped, I think by the fact that this standing audience just seemed to love "Hey Ahab" (which surely has got to stay in the set-list in the future). Just before the final number Elton thanked his loyal fans especially the faces whom he'd seen at multiple shows this summer.

Just over two hours after he came on stage, Elton's helicopter took off from behind the stage area ... I suspect he was home before I'd even got out of the car park!

Following is the complete set list of the Hartfield House show on July 17, 2011:
Saturday Night's Alright (For Fighting)

Levon

Madman Across The Water

Tiny Dancer

Philadelphia Freedom

Goodbye Yellow Brick Road

Sacrifice

Rocket Man

I Guess That's Why They Call It The Blues

Hey Ahab

Gone To Shiloh

Sad Songs (Say So Much)

Don't Let The Sun Go Down On Me

Are You Ready For Love?

Bennie And The Jets

The Bitch Is Back

Crocodile Rock

Your Song
The Top 50 Adult Contemporary Songs Ever
Sunday, July 17 2011
To commemorate the 50th anniversary of Billboard's Adult Contemporary chart, they're counting down the top 100 songs in the entire history of one of Billboard's signature (and smoothest) surveys.
Some of the genre's earliest giants infuse the list, including Elton John, Barbra Streisand and Stevie Wonder, while relatively newer artists that continue to keep AC a top-rated radio format likewise appear, including Natasha Bedingfield, Enrique Iglesias and matchbox twenty.

The Top 50 Adult Contemporary Artists Ever

100 CHARIOTS OF FIRE - TITLES Vangelis
99 ALL NIGHT LONG (ALL NIGHT) Lionel Richie
98 THIS IS THE TIME Billy Joel
97 THE CANDY MAN Sammy Davis, Jr. With The Mike Curb Congregation
96 YOUR WILDEST DREAMS The Moody Blues
95 YOU'RE THE INSPIRATION Chicago
94 YOU AND I Eddie Rabbitt & Crystal Gayle
93 WAITING FOR A STAR TO FALL Boy Meets Girl
92 JUST THE WAY YOU ARE Billy Joel (1978)
91 MOON RIVER Henry Mancini
90 MAGIC Olivia Newton-John
89 JUST WHEN I NEEDED YOU MOST Randy Vanwarmer
88 LOVE IS FOREVER Billy Ocean
87 MUSKRAT LOVE Captain & Tennille
86 HELLO Lionel Richie (1984)
85 ISLANDS IN THE STREAM Kenny Rogers & Dolly Parton
84 HEARTBREAKER Dionne Warwick
83 HOW AM I SUPPOSED TO LIVE WITHOUT YOU Michael Bolton
82 WIND BENEATH MY WINGS Bette Midler
81 WORDS GET IN THE WAY Miami Sound Machine
80 IF YOU ASKED ME TO Celine Dion (1992)
79 (I'VE HAD) THE TIME OF MY LIFE Bill Medley & Jennifer Warnes
78 HEY, SOUL SISTER Train
77 BABY BABY Amy Grant
76 FOREVER AND FOR ALWAYS Shania Twain
75 DON'T WANNA LOSE YOU Gloria Estefan
74 LOST IN LOVE Air Supply
73 THE NEXT TIME I FALL Peter Cetera With Amy Grant
72 I JUST CALLED TO SAY I LOVE YOU Stevie Wonder
71 THE IMPOSSIBLE DREAM (THE QUEST) Jack Jones
70 SEPARATE LIVES (THEME FROM WHITE NIGHTS) Phil Collinsand Marilyn Martin
69 YOU'RE BEAUTIFUL James Blunt
68 AGAINST ALL ODDS (TAKE A LOOK AT ME NOW) Phil Collins
67 MY CUP RUNNETH OVER Ed Ames (1967)
66 SAY YOU, SAY ME Lionel Richie
65 STUCK ON YOU Lionel Richie
64 THE WAY IT IS Bruce Hornsby & The Range
63 WOMAN IN LOVE Barbra Streisand
62 UNWRITTEN Natasha Bedingfield
61 RIGHT HERE WAITING Richard Marx
60 IF YOU DON'T KNOW ME BY NOW Simply Red
59 YOU'LL BE IN MY HEART Phil Collins
58 SAVE THE BEST FOR LAST Vanessa Williams
57 EVERYTIME YOU GO AWAY Paul Young
56 TWO HEARTS Phil Collins
55 THE ROSE Bette Midler
54 SOMETIMES LOVE JUST AIN'T ENOUGH Patty Smyth
53 THE ONE Elton John (1992)

Elton boasting the marks for most AC No. 1s (16), top 10s (38) and charted titles (68). Elton scored four No. 1s in the '70s, five in the '80s and seven in the '90s, including this summer smash (complete with seagull sound effects) that led for six weeks in 1992.

52 RESTLESS HEART Peter Cetera
51 I DON'T HAVE THE HEART James Ingram
50 YOU'RE ONLY LONELY J.D.Souther
49 HOLD ON MY HEART Genesis
48 THE GOOD, THE BAD AND THE UGLY Hugo Montenegro, His Orchestra And Chorus
47 MORNING DANCE Spyro Gyra
46 SHADOWS IN THE MOONLIGHT Anne Murray
45 ALWAYS ON MY MIND Willie Nelson
44 I HOPE YOU DANCE Lee Ann Womack (2001)
43 WHEN SHE CRIES Restless Heart
42 THAT'S WHAT FRIENDS ARE FOR Dionne & Friends
41 LOVE TAKES TIME Mariah Carey
40 FOREVER IN LOVE Kenny G
39 BREAKAWAY Kelly Clarkson
38 CAN'T WE TRY Dan Hill Duet With Vonda Shepard
37 IF EVER YOU'RE IN MY ARMS AGAIN Peabo Bryson
36 HARD TO SAY I'M SORRY Chicago
35 EVERGREEN (LOVE THEME FROM "A STAR IS BORN") Barbra Streisand (1977)
34 THE WAY WE WERE Barbra Streisand
33 WILL YOU STILL LOVE ME? Chicago
32 CRAZY LOVE Poco
31 RISE Herb Alpert
30 LET ME LOVE YOU TONIGHT Pure Prairie League
29 (EVERYTHING I DO) I DO IT FOR YOU Bryan Adams
28 YOU AND ME Lifehouse
27 SUPERMAN (IT'S NOT EASY) Five For Fighting
26 STRANGER ON THE SHORE Mr. Acker Bilk
25 IF YOU'RE GONE matchbox twenty
24 SECOND CHANCE Thirty Eight Special (1989)
23 CHERISH Kool & The Gang
22 DON'T KNOW MUCH Linda Ronstadt Featuring Aaron Neville
21 I KNEW I LOVED YOU Savage Garden
20 HOME Michael Buble
19 THE MOST BEAUTIFUL GIRL Charlie Rich
18 SOMEWHERE OUT THERE (FROM "AN AMERICAN TAIL") Linda Ronstadt & James Ingram
17 A WHOLE NEW WORLD Peabo Bryson & Regina Belle
16 NEVER GONNA LET YOU GO Sergio Mendes
15 LOVE IS Vanessa Williams/Brian McKnight
14 AFTER THE LOVIN' Engelbert Humperdinck
13 HOW DEEP IS YOUR LOVE Bee Gees (1977)
12 BAD DAY Daniel Powter
11 LOVE IS BLUE Paul Mauriat
10 LONELY NO MORE Rob Thomas
9 HERO Enrique Iglesias
8 CHANGE THE WORLD Eric Clapton
7 YOU NEEDED ME Anne Murray
6 HELLO DOLLY! Louis Armstrong And The All Stars
5 BORN FREE Roger Williams
4 HEAVEN Los Lonely Boys
3 DRIFT AWAY Uncle Kracker Featuring Dobie Gray
2 LEAD ME ON Maxine Nightingale
1 TRULY MADLY DEEPLY Savage Garden (1998)

"I'm completely overwhelmed to be honest. I feel incredibly proud. That song changed my life and apparently continues to do so!," says Darren Hayes, formerly one-half of pop duo Savage Garden, who claims Billboard's top all-time Adult Contemporary title with its 1998 No. 1 "Truly Madly Deeply." The song spent 11 weeks at No. 1 and a staggering 123 weeks on the chart.

The 50th anniversary Adult Contemporary songs chart is based on actual performance on the weekly Adult Contemporary chart since its inception in the July 17, 1961, issue of Billboard. Songs are ranked based on an inverse point system, with weeks at No. 1 earning the greatest value and weeks at lower rankings on the chart earning less. Due to various changes in chart rules, chart length and in methodology throughout the years - including the implementation in 1993 of monitored airplay data from Nielsen Broadcast Data Systems - songs had varying reigns at No. 1 and on the chart. To ensure equitable representation of the biggest hits from all 50 years, earlier time frames were each weighted to account for the difference between turnover rates from those years.
Elton John talks to Music Week
Friday, July 15 2011
Elton John talks exclusively to Music Week in the July 18, 2011 edition about his worries over the industry not giving enough time for new talent to develop and how he is trying to do something about it at his new company.
The singer-songwriter, who has recently launched The Rocket Music Entertainment Group with a roster including Lily Allen, James Blunt, Ed Sheeran and himself, spells out the dangers of labels rushing new artists with their first releases and then quickly disregarding them if they are not successful immediately. "The worst thing to do is to rush people to have a record out. They'll make a record when they're ready and it comes out when it is ready," he tells Music Week.

And he reveals how he and his colleagues at Rocket are leading my example as they slowly build the careers of artists such as Murray James and Oh Land, just as his own career gradually took off at the end of the Sixties. He also discusses his plans to launch a label at the new company, forthcoming work on his next studio album and his praise for XL and other UK independent labels whom he believes are developing acts in the right way.


Elton reveals more about Rocket Music Entertainment Group
Wednesday, June 29 2011 at 21:05:57


Elton John and band performed in Lucca on July 14, 2011
Friday, July 15 2011
Fan report and photos by Peter Bucek (Bratislava, Slovakia).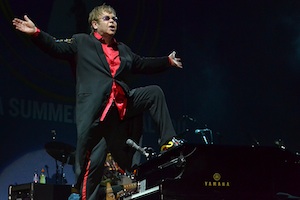 It's not the support act that I would like to write about in this report, because I am sure I was not the only one who was really bored by her. Her name will stay secret ... just to be sure.

Nice old city Lucca, the city with the best saved authentic city barriers, the city of big Italian location Tuscany, welcomed Elton and his band with open arms and open throats. What a wonderful mood not just on the stage, but primarily in the audience. Elton's band added with backing vocal singers (black ladies) and two youg men from Croatia already known as duo 2Chello did great job again.

This was Elton's third concert during three days and I was execting something like a tired voice for the first songs, but his voice sounded very clear from his very first notes in "Love Lies Bleeding". The set list was probably the same as on may other shows during this European tour, but finaly I heard "Hey Ahab" and "Monkey Suit" live. The third song from last album, "Gone To Shiloh", I saw him to perform last year on concert with Ray Cooper. One could never say these three songs has been written and released in 2010. What an energy in those songs!

Elton had to be surprised with Lucca´s audience. Lot of young people were like crazy to sing all lyrics with the band with specific gestures. I saw many transparents with messages to Elton. One of those was "TONIGHT IT'S MY 18th BIRTHDAY", about 10 meters straight in front of Elton. When Elton was introducing the band, before the name Bob Birch he told that tonight is anybody in audience who has 19th birthday? Then he played a short music clip "Happy Birthday To You" on his piano. It was very polite, no matter if it was 18 or 19 years old girl. Elton also told that tonight is also another person who has birthday and it was Bob Birch (55).

Long awaited stage rush came ... I forgot. It was such a huge hysteria that I don´t remember that song during which people in first 10 rows started to run to the stage. From that position I made such bautiful pictures like from good magazine. I used my camera with big focus with no problem, because security were forgiving; of course I did not use the flash.

Concert was outdoor, so we waved with LP covers unnecessarily. No matter, because to know that the old man and fresh father in one person is still full of energy, full of great musical ideas, always with new materials and still with taste to play live. The fact that he is singing better then ever is banal, but right. My happiness ended with my wife Zuzka, who bought me the t-shirt right after the show. Well, the first I bought before the show, so I got two different and need nothing more for this day. What a feeling again.

Thank you guys, keep on rockin´, we will enjoy it forever. We do the best as your fans because you all do the best as "our" musicians.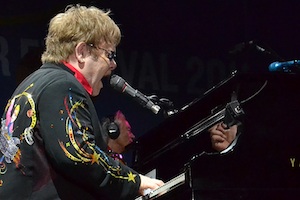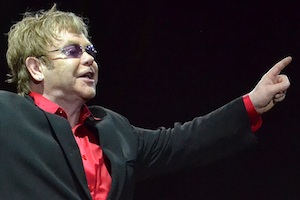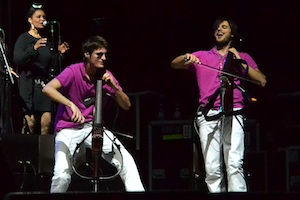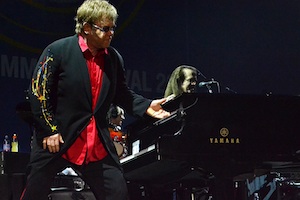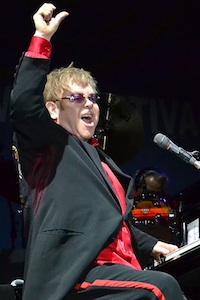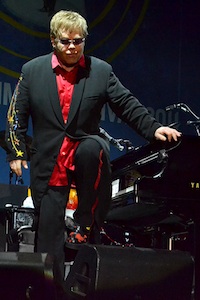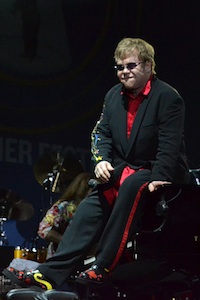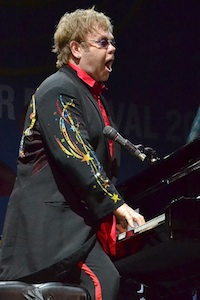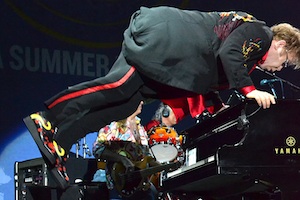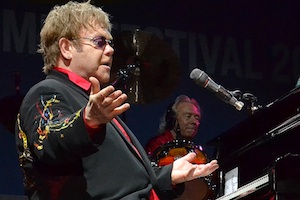 Elton John rouses Atlantis crew - with Rocket Man
Thursday, July 14 2011
The crew of space shuttle Atlantis were woken on July 13, 2011 by Elton John's Rocket Man, followed by a personal message from Britain's national musical treasure.
Elton said: "Good morning, Atlantis, this is Elton John. We wish you much success on your mission. A huge thank you to all the men and women at NASA who worked on the shuttle for the last three decades."



Suitably encouraged, the combined Atlantis and International Space Station Expedition 28 crews spent most of the day continuing to shift boxes from the Raffaello multi-purpose logistics module. When it arrived aboard the shuttle, Raffaello was packed with "9,403 pounds [4.26 metric tonnes] of spare parts, spare equipment, and other supplies – including 2,677 pounds of food – that will sustain space station operations for a year".
Happy birthday, Bob!
Thursday, July 14 2011
Elton John band bass player Bob Birch is celebrating his 55th birthday on July 14, 2011.
On behalf of the Hercules team and all Elton John fans around the world we would like to wish him all the best and happy birthday!
Elton cancels DTE Energy Music Theatre show
Wednesday, July 13 2011
Elton John won't be playing DTE Energy Music Theatre on September 13, 2011 after all.
Promoters announced on July 12, 2011 that Elton's planned September 13, 2011 show at the Clarkston venue has been canceled, a month after it was announced. A scheduled ticket sale in June had already been indefinitely postponed.

It was to have been Elton's first appearance at the former Pine Knob in more than two decades. Officials with Palace Sports & Entertainment did not give a reason for the cancellation, saying only that new show details will be released "at a later date."

A September 16, 2011 show in Camden, N.J., has also been canceled, but other Elton dates that month, including concerts in Indianapolis and Cleveland, are still a go.


Elton John cancels recently announced Susquehanna Bank Center show
Wednesday, June 22 2011 at 06:15:58


Elton wants Angelina Jolie to help host his AIDS ball
Monday, July 11 2011
Elton John has been begging Angelina Jolie to help host his AIDS Foundation ball.
"Elton has bagged Jude Law to co-host his Winter Ball in October but he really wants Angelina in on the act," said a mole at the Grey Goose Character & Cocktails party. "She and husband Brad Pitt will be working in the UK a lot over the next year, so a collaboration is likely."

No doubt Elton and his husband David will also be inviting the Jolie-Pitt brood over for a playdate with baby son Zacharay.
Lord Choc Olate goes mental
Saturday, July 9 2011
Elton has revealed how he once shocked John Lennon by greeting him wearing a tiny swimsuit made out of a chocolate box.
He tells a BBC1 documentary: "John came up to Boston in 1974 to see my show and at the time I was wearing things which would make Lady GaGa blush! It was a little swimsuit made out of a chocolate box. John was like, 'Is this what it's all about now?'."

Elton said the encounter led to Lennon's 1974 reconciliation with his wife Yoko Ono and an appearance with him at New York's Madison Square Garden later that year. The programme, Imagine: Lennon - The New York Years, which airs on July 12, 2011, also chronicles the Beatle's move to the Big Apple in the early 1970s and his murder there in 1980.
'Whistle Test' returns to the BBC
Saturday, July 9 2011
"Whispering" Bob Harris is to host The Old Grey Whistle Test once again in a radio revival of the classic BBC music show.
Artists who performed on the original series, including Elton John, Robert Plant and Paul Weller, will return for the Radio 2 series, which marks the programme's 40th anniversary.

Whistle Test is credited with giving early exposure to acts such as Bob Marley, Tom Petty, Bruce Springsteen and Steely Dan. The BBC Two programme ran from 1971 to 1987 and was a showcase for the "serious" rock acts beloved by Harris.

Starting in August 2011, the 16-part radio series, Old Grey Whistle Test 40, will feature classic archive, new performances recorded at the famous Maida Vale studios, and interviews with artists who appeared on the original series. The line-up will include Roger Daltrey, Mark Knopfler, Yusuf Islam, Emmylou Harris and Simple Minds. Harris, 65, described the new show as "a massive reunion, featuring superstars of British and American music".
Taupin's "Beyond Words" comes to Dallas
Thursday, July 7 2011
Wishy-Smith Fine Art in Dallas presents "Beyond Words", an extraordinary collection of artworks by Elton's legendary collaborator and lyricist Bernie Taupin, for what promises to be the single most important art event of 2011.
Beginning on September 2, 2011, the public will be able to preview the artwork. Taupin will make special appearances at the gallery on September 9, 2011 (6-9 pm) and September 10, 2011 (6-9pm). RSVP requested: +1.214.397.0808.
Wrong wedding
Thursday, July 7 2011
There have been so many big weddings in the English countryside this summer, it's been hard to keep track.
When Elton and David helicoptered to Lily Allen's June 2011 wedding party in Gloucestershire, they first touched down at the wrong one, sources said. Black-tie guests at a fancy nuptials near Allen's were surprised to see a grinning Elton pop up unannounced before he was told "wrong wedding," took off again and headed over to Allen's fete, a witness told the New York Post.

Allen hosted about 100 guests at a Cotswolds church ceremony before adding 200 friends for a blowout complete with fireworks, a phone booth filled with beer and Louisiana pop act Lil' Band O' Gold. Kate Moss followed a few weeks later with her own area wedding to Jamie Hince. Elton seemed to have stayed home for that one. His representative said of the errant helicopter ride, "From what I can find out, this story isn't true."