ELTON JOHN NEWS ARCHIVE: July 2007
Just Like Noah's Ark - part 2
Friday, July 27 2007
Elton and David continue enjoying their holiday on the Italian island of Capri.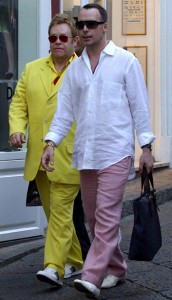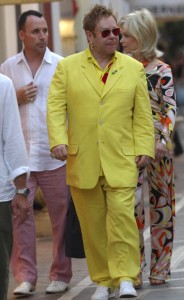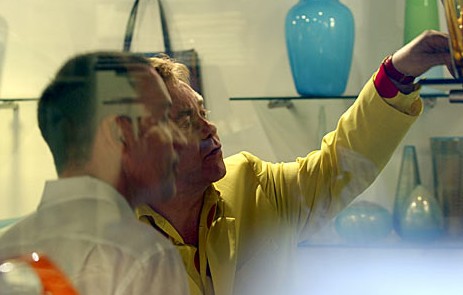 Just Like Noah's Ark
Wednesday, July 25 2007 at 08:58:04


This Week's Featured Concert at Wolfgang's Vault
Thursday, July 26 2007
Elton John, Saratoga Performing Arts Center, Saratoga, NY, July 25, 1982
This is an important concert because it reunites Elton John with arguably the best band he ever worked with: Davey Johnstone on guitar; Dee Murray on bass and vocals; and Nigel Olsson on drums and vocals.

This band was the group that remained his studio and live band for nearly six years, before splintering after 1975's "Captain Fantastic" album. Most importantly these were the musicians who arranged and backed Elton for his greatest albums, including 1973's "Goodbye Yellow Brick Road", which is generally regarded as the zenith of his career.

Listen to Elton rock the ivories and sing his heart out with this classic four piece line-up.



This Week's Featured Concert at Wolfgang's Vault
Friday, June 8 2007 at 14:25:51

Elton John Vault
Tuesday, June 28 2005 at 08:30:30


Just Like Noah's Ark
Wednesday, July 25 2007
Elton and David spent a day shopping on the Italian island of Capri before they were were joined on their yacht by Sir Michael Caine and his wife, Shakira. David also did some water-ski in the Gulf of Naples as the sun shone.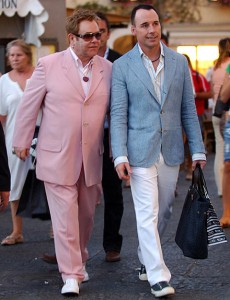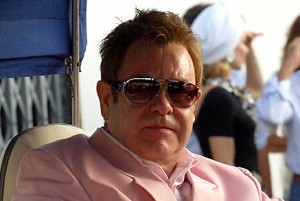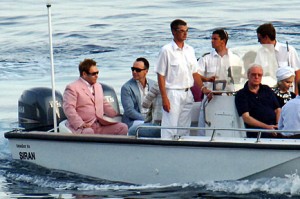 EJAF takes on Nepalese Politicos
Tuesday, July 24 2007
"Appalling." That's but one of the adjectives employed by the Elton John AIDS Foundation in addressing Nepalese government officials' move to curb the non-profit's good will.
Nepalese health officials attempted to dissuade the Blue Diamond Society's AIDS outreach program in Dhangadi, telling the activists to "find something better to do". Health official Krishna Bhattha went so far as to "conclude," "the anus doesn't have any sexual tissues, that's why there is no chance of HIV/AIDS transmission". Tell that to millions of gay men, Bhattha.

Upon hearing the news, Elton John AIDS Foundation threw even more support behind the gay activists. EJAF UK director Robert Key issued this statement,

The Elton John AIDS Foundation is extremely proud to support the Blue Diamond Society and the HIV/Aids work that they are undertaking in Nepal. Men who have sex with men, transgender communities and other sexual minorities are made far more vulnerable to HIV infection when they are forced to live their lives in secret by a society that denies or condemns their existence.

Key went on to inform the government that it's in their best interest to cooperate with BDS lest they lose their citizens to the ravages of AIDS:

The government of Nepal should be working with NGOs like Blue Diamond who reach out to vulnerable communities particularly in areas like the Far Western Development Region with high HIV/Aids prevalence levels and limited government treatment and care services. We call upon the government of Nepal to show leadership in promoting the rights of all its citizens under the UN covenants on Human Rights, to which Nepal is a signatory, including sensitising its regional officials, particularly those involved in responding to the HIV/Aids epidemic to the needs and rights of sexual minority groups.

The Nepalese government better listen. We hear Elton John has a short fuse.
Elton John and band performed in Werchter on July 7, 2007
Friday, July 20 2007
Fan report by Filip Arijs.
When I heard that Elton John would perform at the festival of 'Werchter Classics' I was a bit disappointed because a) he would surely drop the pearls he doesn't play very often, b) the weather can be bad, c) only a certain percentage of the audience will be interested.

But then at the festival the weather couldn't have been better. Mostly sun, not too warm and no rain. First positive point.

Elton was expected to begin at 10 pm, but 5 minutes earlier we heard the winds of 'Funeral for a Friend'. I jumped up and noticed that most people didn't realise the concert got started. This number missed his mystique impression because it wasn't dark enough yet.

Second positive point was to hear Elton singing 'Hercules'. I was sure he would skip this song. But Elton kept following the set list from the concert he played a few days earlier. That was great, all those fantastic songs. Elton was the virtuoso pianist he used to be, supported by his magnificent band.

Unfortunately he didn't play 'The Bridge' from his new album. Elton mentioned that festivals are not his kind of thing. So my fear for the third point (the audience) seemed justified. I guess half of the audience came for the guitar rock from Pink, Anouk and John Fogerty (who played all his classics from CCR). And that was a shame because Elton did play a list of pearls and once he started with 'Bennie and the Jets' it was fun fun fun until the end, everybody was dancing and everybody wanted more after 'Saturday Night's Alright'.

But Elton ended with a superb solo version of 'Your Song'. All who stayed until the end were happy, for the others it's better they don't know what they've missed!

Following is the complete set list of the Werchter show on July 7, 2007:
Funeral For A Friend

Love Lies Bleeding

The Bitch Is Back

Hercules

Madman Across The Water

Tiny Dancer

Daniel

Rocket Man

Honky Cat

Sacrifice

I Guess That's Why They Call It The Blues

Burn Down The Mission

Don't Let The Sun Go Down On Me

Sorry Seems To Be The Hardest Word

Bennie And The Jets

Philadelphia Freedom

Something About The Way You Look Tonight

Sad Songs (Say So Much)

I'm Still Standing

Crocodile Rock

Saturday Night's Alright (For Fighting)

Your Song (solo)
Elton incurs airport charge
Friday, July 20 2007
Elton John incurred a fee of almost £1,000 to keep Inverness Airport open after hours so he could jet out after playing a concert.
He arrived and departed after its 2200 BST curfew for his gig at Inverness's Tulloch Caledonian Stadium. Highlands and Islands Airports Limited (HIAL) charged £80.50 every 15 minutes the airport had to stay open.

Sir Elton flew in on July 14, 2007 for Sunday's concert which drew a crowd of 18,000 people. Hial said the fee covered the cost of air traffic control and firefighting services and was charged to the aircraft's operator.

The singer travelled to the Highlands by private jet. The cost of keeping the airport open after hours for the aircraft totalled £966.

Police said the event - one of the biggest of its kind to be held in Inverness - went without any major issues. Northern Constabulary said there were a total of three arrests for drunk and incapable and breach of the peace matters.

Inverness area commander, Superintendent David O'Connor, said he was delighted with the attitude of the fans. He said: "We implemented a road traffic management system prior to the event which was widely publicised in an effort to reduce congestion around the venue. Clearly when 18,000 people are exiting an area there will be associated traffic issues, however the plan ensured that delays were kept to a minimum."

Supt O'Connor added: "The mood of the crowd was first class and although there were a small number of arrests, from a policing perspective, the concert was very positive in terms of public safety."
Elton John plays for Russian Metallurgy
Friday, July 20 2007
Sir Elton John hit the stage in Rostov-on-Don 's central square on July 12, 2007 in his first provincial city concert in Russia. He performed to 100,000 people in a ceremony to celebrate the launch of a metallurgical plant.
Rostov Region Governor Vladimir Chub noted that they "had to build a plant" to make Elton come to this city in Russia's south. As a matter of fact, one businessman, Vladimir Varshavsky, who paid for the concert, was enough to attract Sir Elton's Red Piano show. Mr. Varshavsky is a co-owner in coal firm Russky Ugol and Estar metallurgy holding which also holds 25 percent in FC Rostov.

The concert was finished off with a ten minute firework show while Sir Elton was playing "Can You Feel the Love Tonight".

A Cossack band and local officials greeted Elton John after the concert. Rostov top brass were impressed by Sir Elton's unassuming ways. "A simple man," the governor said, referring to the British star.
Elton John coming to South Africa
Friday, July 20 2007
Elton John is headed to South Africa early next year. He will be kicking off his first local tour on January 13, 2008 in Cape Town
Then he and his band move on to Durban's Absa Stadium on January 16 and finally Johannesburg's Coca-Cola Dome on January 18, 2008.

Tickets go on sale on July 23, 2007, at 9am. Tickets are priced from R200 (excluding booking fees), and are available from Computicket on 083 915 8000, www.computicket.com and all outlets countrywide.

"Elton John is timeless, and core artist for both 94.7 and 94.5. He has topped our charts over the years with a string of No.1 hits, and we are proud to be associated with his upcoming SA tour," commented Dex de Bruin, Marketing Manager for the Primedia Broadcasting Group (94.7 Highveld Stereo, 94.5 Kfm and East Coast Radio), which, in conjunction with Big Concerts, is bringing John to South Africa.

Also see Elton John Tour News
Webmaster will take a short break
Saturday, July 14 2007
From July 15 to 20, 2007 there will be no updates to the website as the webmaster will be on vacation.
Enjoy the summer and please be patient - the next update will take place on July 21, 2007. Thanks for your understanding!
Listen to Elton's duet with Ann Wilson
Saturday, July 14 2007
As reported here earlier, Ann Wilson's first ever solo record, "Hope and Glory", will be released on September 11, 2007.
You can listen to her duet with Elton John, "Where to Know St. Peter?", on Ann Wilson's MySpace website.



Ann Wilson solo album to be released
Wednesday, June 6 2007 at 08:09:42
Happy Birthday, Bob!
Saturday, July 14 2007
Elton John band bass player Bob Birch is celebrating his 51st birthday on July 14, 2007.
On behalf of the Hercules team and all Elton John fans around the world we would like to wish him all the best and happy birthday!
EJAF benefit auction at Charitybuzz.com
Wednesday, July 11 2007
Are you interested in the ultimate in luxury? Charitybuzz have truly never offered a more incredible auction lot and the proceeds benefit the Elton John AIDS Foundation.
Tailor-made for the ultra-niche, the Elite Line - Eminence, Monarch and Reign - are wireless accessories equivalent to some of the world's most unaffordable mobile phones, such as Vertu'sT handmade jewel-encrusted handsets and Peter Aloisson'sT "1.3 Million Dollar Phone."

Each "Elite" features front covers that are constructed of 12.5ctw, 13.5ctw and 15.6ctw diamonds, intricately embedded in 18K white gold with a back cover made of stingray leather. All diamonds are certified to be of nonconflict origin to ensure their purchase did not finance war or human rights abuses.

"The Eminence"- valued at $50,000 is being offered at auction at charitybuzz with proceeds generated from the sale donated to the Elton John AIDS Foundation to support its grant-making programs in the fight against HIV/AIDS.
Manilow goes mellow for '70s covers album
Wednesday, July 11 2007
Barry Manilow will cover two Elton John songs on his new album, "The Greatest Songs of the Seventies". The songs are "Sorry Seems To Be the Hardest Word" and "Don't Go Breaking My Heart" (duet with Rosie O'Donnell).
Barry Manilow is in a mellow mood on "The Greatest Songs of the Seventies," his third volume of decade-driven covers albums. Due September 18, 2007 via Arista, the project will be available as an 18-track single-disc set and as a two-disc set with a 14-song Dual Disc and a nine-song bonus audio CD.

For the single-disc package, Manilow focus on contemplative fare such as Simon & Garfunkel's "Bridge Over Troubled Water," Carole King's "You've Got a Friend" (a duet with Melissa Manchester), the Carpenters' "(They Long To Be) Close To You" and Barbra Streisand's "The Way We Were." Rosie O'Donnell is featured on an interpretation of Elton John's "Don't Go Breaking My Heart."

Here is the tentative track listing for "The Greatest Songs of the Seventies":

"The Way We Were"
"It Never Rains in Southern California"
"My Eyes Adored You"
"You've Got a Friend" (duet with Melissa Manchester)
"The Long and Winding Road"
"How Can You Mend A Broken Heart?"
"Sorry Seems To Be the Hardest Word"
"(They Long To Be) Close to You"
"Don't Go Breaking My Heart" (duet with Rosie O'Donnell)
"Bridge Over Troubled Water"
"Sailing"
"He Ain't Heavy, He's My Brother"
"Could It Be Magic?"

Acoustic songs:
"Mandy"
"Looks Like We Made It"
"Even Now"
"Weekend in New England"
"Somewhere in the Night"
"Can't Smile Without You"
"Copacabana"
"This One's for You"
"I Write the Songs"
Beyonce to do Disney's "Aida"?
Tuesday, July 10 2007
Walt Disney Studios is said to be seriously thinking about turning Elton John/Tim Rice Tony Award-winning musical "Aida" into a big budget movie.
According to Jim Hill Media, Beyoncé Knowles is reportedly already in talks with the singer/actress to take the title role in this live-action story of an ancient Egyptian captain who captures a Nubian princess and falls in love with her. To spare her a life of hard labor, she's given as a handmaiden to Princess Amnerishis - his bride-to-be.

The original musical is based on Giuseppe Verdi's opera, and Knowles' fellow "Destiny's Child" bandmate Michelle T. Williams previously starred in a production of it.
Elton and David at Davit Frost's summer party
Friday, July 6 2007
The British party season cannot be said to be in full swing until Sir David Frost throws open the doors of his West London home for his annual shindig.
And, as one of the most well-connected names in broadcasting, the veteran presenter was once again able to call on an abundance of celebrities from all walks of life to boost the exclusivity factor.

One of the glitziest names on the guest list was Joan Collins. Defying the inclement weather in her inimitable style, wearing a white jacket and pearls, the actress arrived on the arm of handsome husband Percy Gibson.

Equally glamorous but rather more daringly attired was Tara Palmer-Tomkinson, who sent the snappers into a frenzy with her choice of a backless beaded gown. Funnyman Rowan Atkinson also grabbed some of the limelight by pulling one of his famous Mr Bean faces as he turned up brandishing an umbrella to ward off the rain.

Another Sir, this time of the pop variety - Elton John - was also to be seen holding court with his partner David Furnish. The rock royals would no doubt have found time to chat with their good pal Lulu.

In the past the event has served as the backdrop for a first public outing - that of glamorous divorcee Jemima Khan and Hugh Grant. While for another couple - Chris Tarrant and his ex-wife Ingrid - champagne and canapes in the Frost garden signified an end rather than a beginning.
Elton John performed in Collado-Villalba, Madrid on July 3, 2007
Wednesday, July 4 2007
Fan report by Julio Vila.
Elton entered the stage at 10.00 pm beginning the show with the classic "Your Song", perfectly sung. During the show there were surprises like a new version of "The One" showing some Jazz influences.

Also, during "Bennie and the Jets" Elton rewarded the Festival of Jazz with the addition of Glenn Miler's "In The Mood".

It was a very intimate and exclusive night that we enjoyed - and one of the rare Elton solo piano shows these days. Thanks Elton and we wait for you to come back soon to Spain.

Following is the complete set list of the Collado-Villalba, Madrid show on July 3, 2007:

Your Song

Daniel

Circle Of Life

Honky Cat

Rocket Man

I Guess That´s Why The Call It The Blues

Tiny Dancer

Sacrifice

I´m Still Standing

The One (Jazz Version)

Sorry Seems To Be The Hardest Word

Candle In The Wind

Philadelphia Freedom


Bennie And The Jets (In The Mood version)

Crocodile Rock


Don´t Let The Sun Go Down On Me
Poll - Elton John Fan Convention
Tuesday, July 3 2007
We plan to celebrate the 20th anniversary of the fan club (the official date will be May 8, 2008) with an Elton John Fan Convention some time in May/June 2008.
In order to kick off the planning into the right direction, we would like to hear about your preferrences in regard of such an event. So please take a minute to answer three simple questions in our Hercules Poll.

In case you have special suggestions or any ideas, please do not hesitate to contact us. Maybe you know about or even own a location that would be the perfect place to host the event. Thanks for your support!
Elton rages as princes' security guard makes him walk to post-gig party
Tuesday, July 3 2007
As a member of rock 'n' roll royalty, Sir Elton John does not take kindly to being outranked. Not even by Princes William and Harry.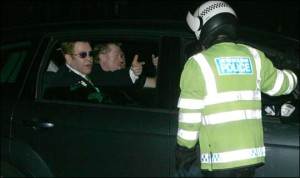 So when his chauffeur-driven people carrier was stopped because of royal security around the Concert for Diana, he flew into one of the rages for which he is renowned.

"Get out of my ****ing way," he screamed at a policeman. "Don't you know who I am? I've been working all ****ing day and I need to get to my ****ing dressing room."

The officer, however, remained unmoved and eventually Elton, in tail suit with an extravagant lily motif on the sleeve, was forced to get out and trudge the 50 yards to the VIP backstage area.

The incident happened late at night on July 1, 2007 following Sir Elton's performance in the grand finale of the concert at the new Wembley Stadium. He was upset because his act was delayed by technical problems, meaning he had to cut it short.

And matters took a turn for the worse when he climbed into his people carrier to be taken to the Wembley Arena 200 yards away, where the stars had their dressing rooms and the after-concert party was being held. By the time he arrived, police had sealed off the area ready for the princes' arrival. For security reasons, all vehicles were barred from within a 50-yard radius of the arena.

Other performers including Lord Lloyd-Webber and members of Take That were happy to get out of their cars and walk the short distance to the party. But not Sir Elton. A reporter of the Daily Mail among the crowd of 100 who were watching said: "The princes were due at any time and the police were getting pretty jittery. Elton pulled up in the back of a people carrier. A policeman stepped into the middle of the road to stop the car and he said to the driver, 'Sorry you can't come in here at this point. You'll have to drive round the back or park up and wait five minutes'."


The driver then said, "I have an important artist in the back who needs to get to his dressing room". "The policeman said, 'I don't care who's in the car, you cannot drive down this road right now".

"At that point, Elton wound down the window and screamed at him. The policeman calmly said to him, 'Sorry but you are not going in this road. You have to get out and walk from here or take a drive around the block. We're waiting for the princes, who are coming through here any minute'. Elton started ranting and swearing again. He just lost it and instructed his driver to drive around the policeman.

"The driver started to move and at that point, the policeman stood in front of the car gesturing to put his hands on the bonnet. The policeman was saying to the driver, 'Stop there or you'll be arrested'. Sir Elton wound his window back up as he realised photographers were starting to congregate. His security guard started reasoning with the policeman, saying they needed to get him in there right away but the policeman would not budge.

"Then at that point, Elton jumps out of the back of the car, stomps round to the front and barges through to get into the backstage compound. He stomped down the road shouting at people to 'get out of my way'."

Sir Elton, who had opened and closed the concert seen by an international TV audience of 500million, left in a limousine before the party started, although his partner David Furnish was later spotted there chatting to Prince William.

A source close to Sir Elton said: "It had been the end of a very long day. He had been meeting and greeting people for hours before he even opened the show at 2pm. And his was the last performance at 10pm. Sound difficulties meant his finale was delayed and Crocodile Rock had to be cut off the end, which he wasn't happy about."



500 Million see Diana concert
Monday, July 2 2007 at 19:50:28

Elton launches and ends Concert for Diana
Monday, July 2 2007 at 08:38:14


500 Million see Diana concert
Monday, July 2 2007
The Concert for Diana at Wembley proved to be a massive hit with telly viewers. It is thought around 500 million watched the show around the world.
The massive event staged by Princes William and Harry drew an audience of nearly 15 million to BBC One.

Stars including Duran Duran, Joss Stone, Lily Allen and P Diddy attracted around 60,000 to the new Wembley Stadium to mark the 10th anniversary of the death of the Princess of Wales.

The TV audience peaked at 14.8 million during the set by Sir Elton John.



Elton launches and ends Concert for Diana
Monday, July 2 2007 at 08:38:14


Mariah's Mighty Party
Monday, July 2 2007
The syrupy-voiced songstress is renowned for taking a pride in her appearance as much as her voice, and for her outrageous demands.
For her most recent gig, at Disneyland Paris, the singer pulled out all the stops with a set that included a diamante-studded microphone, a sparkly pole for dancing around and a whole lot of mirrors to check herself out in, as well as oodles of yummy men, fireworks, a laser show - and an umbrella.

Performing at Sir Elton John's charity concert, One Mighty Party, on June 29, 2007, the "Butterfly" singer must have begun to panic more than a little when it started to rain. But she made it through the rain, with the help of a big transparent brolly.



Mariah Carey to headline EJAF concert
Wednesday, June 13 2007 at 19:21:58

"One Mighty Weekend"
Thursday, February 9 2006 at 20:05:27


Elton launches and ends Concert for Diana
Monday, July 2 2007
Elton John has opened the historic memorial concert for Diana, Princess of Wales at London's Wembley Stadium on July 1, 2007 with a rendition of "Your Song".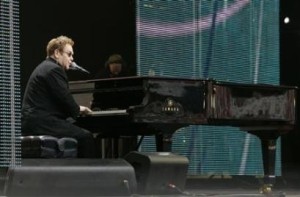 Up to 63,000 music fans joined hosts Princes William and Harry at the gig, intended to celebrate Diana's life, on what would have been her 46th birthday.

The princes, on stage to introduce Duran Duran, said the concert was about "all that our mother loved in life". It is 10 years since the princess died in a car crash in Paris in August 1997.

Huge cheers greeted Elton who performed in front of a giant photograph of Diana by Mario Testino. He was expected to close the ceremony with a rendition of Candle in the Wind, which he famously reworked for Diana's funeral at Westminster Abbey, but actually finished the show with "Are Your Ready For Love". He was due to play "Crocodile Rock" but was forced to end early after glitches with equipment on stage.

"This evening is about all that our mother loved in life - music, dance, her charities and her family and friends," said Prince William, 25. Meanwhile Prince Harry paid tribute to fellow soldiers currently serving in Iraq.

The six-hour show was being broadcast to 140 countries, with proceeds from ticket sales going to charitable causes favoured by the princess. Police urged music fans to arrive early at the stadium amid tight security, in the light of the recent attacks on London and Glasgow.

About 450 officers were on duty at the event, Scotland Yard said, with ticket-holders advised to take the minimum amount of items with them, and be vigilant.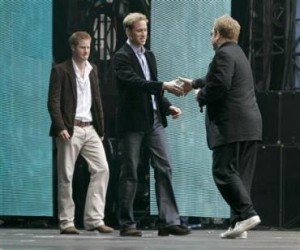 Elton John's charity event raises $12.2 Million
Sunday, July 1 2007
Michael Caine, Kirsten Dunst and Judi Dench were among the stars who helped Elton John raise a staggering $12.2 million for charity at the singer's latest celebrity bash.
Elton and David threw their annual White Tie and Tiara Ball at their Berkshire, England, home on June 28, 2007, with other $6,000-a-ticket guests including supermodel Elle Macpherson, former British royal Sarah Ferguson, the Duchess of York, and artist Tracey Emin.

The lavish party was thrown to raise funds for Sir Elton's Aids Foundation charity, and an auction saw items like a four-day tennis lesson with tennis ace Roger Federer and an Audi R8 sportscar snapped up by celebrity guests for $650,000 and $800,000 respectively.

However, the most coveted items on the night were an appliqued blanket by Emin, a trip to South Africa with Sir Elton and Furnish, and a Rolls Royce Phantom coupe - which reportedly has a waiting list till 2009 - all of which went for $1.6 million each.



Eton John's summer party
Friday, June 29 2007 at 08:33:19

White Tie And Tiara ball 2007
Thursday, June 28 2007 at 18:59:44