ELTON JOHN NEWS ARCHIVE: July 2006
Roddick, Sampras, Kournikova to play tennis benefit
Sunday, July 30 2006
Andy Roddick, Pete Sampras and Anna Kournikova will join Elton John and Billie Jean King at the Smash Hits charity benefit September 14, 2006.
Five sets of tennis, using the World TeamTennis format, will be played at the Bren Center on the UC Irvine campus. Roddick and Sampras, who retired in 2002, will play the featured men's singles match.

Elton and Billie Jean will play a celebrity doubles match and captain two teams. Kournikova, no longer a regular on the women's tour, is set to play both doubles and mixed doubles.

The 14th annual event, last held in California in 2004, is expected to raise more than $500,000 for John's AIDS Foundation and the AIDS Services Foundation Orange County.

"Pete was a big part of Smash Hits in the early years and to have him back again along with Andy and Anna gives us the makings of a very entertaining and thrilling night of tennis," said Ilana Kloss, CEO and commissioner of World TeamTennis.
Sanctuary set to rebuff rival
Tuesday, July 25 2006
Embattled music group Sanctuary is expected to dismiss an all-share bid approach from smaller rival Mama out of hand.
Sanctuary, whose artists include Elton John and James Blunt, will issue the rejection to Mama in a statement to the London Stock Exchange on July 24, 2006.

The music company, chaired by former British Airways chief executive, Bob Ayling, is to tell shareholders that the board does not believe the offer is credible.

Mama, whose artists include Kaiser Chiefs and Franz Ferdinand, will at the same time release a statement confirming its approach to Sanctuary on July 14, 2006 via its broker Evolution Securities.

Mama, which is run by Adam Driscoll and former Mean Fiddler man Dean James, wants to stage a reverse take-over of Sanctuary using its own shares. If the deal were successful, Sanctuary shareholders would end up owning two-thirds of the enlarged company, with Mama's investors owning the rest.

Mama and adviser Seymour Pierce have spoken to shareholders that control 40pc of Sanctuary's equity. The majority are understood to be "furious" with Sanctuary's performance and want Mr Ayling and the rest of the board to at least speak to Mama. That is unlikely to happen on friendly terms, as it is understood the board does not consider the bid to be either credible or serious.

Mama might have to introduce a cash element to appease Sanctuary investors. A spokesman for Sanctuary declined to comment.



"The Captain and the Kid" - more details
Tuesday, July 25 2006
More and more details are being revealed about Elton's upcoming studio album, "The Captain and the Kid", which will be released early September 2006.
The tracklist of "The Captain and the Kid" will be as follows:

Postcards from Richard Nixon

Just Like Noah's Ark

Wouldn't Have You Any Other Way (NYC)

Tinderbox

And The House Fell Down

Blues Never Fade Away

The Bridge

I Must Have Lost It On The Wind

Old '67

The Captain and the Kid
We hope to be able to bring you a first review shortly. Furthermore, chances are that Elton will present the new album live in a special concert event in a major US city early September 2006. Stay tuned for more information.



Postcards for Richard Nixon
Wednesday, June 21 2006 at 19:50:49



Support the Lestat cast recording
Friday, July 14 2006

One of the most frequent questions asked here at Hugh-Panaro.net/Panarophiles.net is, "When will the show's official Broadway cast album be released?"

The cast recorded the show at Sony's studios in New York on May 22, 2006.

The cast was told to expect a July 11, 2006 release date. As of July 8, there is no more official news, not even for those of us who have pre-ordered the cd through the merchandise kiosk at the theatre or through the sole on-line retailer offering it.

See Hugh Panaro's website for more information about how you can support the Lestat cast recording.




Lestat to close on Broadway
Wednesday, May 24 2006 at 05:05:43

Lestat Cast to head into recording studios
Friday, May 19 2006 at 16:04:11

Buy something from Elton's Closet
Friday, July 14 2006

Earlier this year Elton's Closet raised more than $700,000 to help fund the fight against AIDS. eltonjohn.com is auctioning off two additional items via eBay.

For those who weren't able to be at Elton's Closet in New York earlier this year, eltonjohn.com has obtained two of Elton's three-piece silk floral-patterned suits for which his fans can place bids via eBay.

One suit has a pink background and the other's background is blue. The auction run until, Friday July 21, 2006 at 4pm UK time.

eltonjohn.com will donate all the proceeds from this auction to the Elton John AIDS Foundation.

Elton John seals it with a Welsh love spoon
Friday, July 14 2006

Sir Elton John and his partner David Furnish sealed their love with a special Welsh love spoon designed for gay couples, it has been revealed.

The couple were so touched to receive the lovespoon that they wrote a heartfelt handwritten thank you card, signed by both of them, to the man who gave it.

The gift, inscribed with their names and the date of their union, was sent by Christopher Smith, from Llangollen, in North Wales, who sells the lovespoons through his company, Pinc Products Ltd.

News that the glamorous showbiz couple have one has created a huge demand for the lovespoons from other gay and lesbian partners.

Sir Elton wrote to Christopher saying: "Thank you so much for the lovespoon that you sent us. How kind of you and how thoughtful. We wish you many years of happiness too."

An astonished but delighted Christopher said: "When I sent the lovespoon to Elton and David I never ever imagined I would get a personal reply, not in a million years.

"I was very touched that the couple went to the trouble of sending me the thank you card. It's remarkable but I think he appreciated that it was something a bit different to the other gifts that he had.

"The couple obviously received thousands of wedding presents but this was handmade in Wales – so it's unique and very special."

"The reaction generally to the lovespoons has been extremely favourable. I don't think people realised that this could be done to a lovespoon – to make it unique to gay people."

The custom of carving and giving Welsh lovespoons dates back to the 17th century. Originally, they were made by young men as a token of their love and affection for their girlfriends. The evolution of the lovespoon was inspired by the remarkable and fascinating story of the Ladies of Llangollen who are revered as gay icons.

Lady Eleanor Butler and Miss Sarah Ponsonby were two aristocratic women of Anglo-Irish descent who scandalised contemporary society when in 1778 they decided to elope. They set up a new home and a new life together in an idyllic house called Plas Newydd, in Llangollen. They were regarded as eccentric characters and the exact nature of their close relationship became a talking point for many years to come.

As well as working on their house and garden, the ladies spent their time in reading, studying foreign languages and corresponding with a wide variety of people. Many of these were well-known figures of the day and they often came to visit the ladies, among them Wordsworth and the Duke of Wellington.

Christopher has protected the design, which features two entwined gender symbols to denote the different versions, by getting it officially registered. He added: "There was already a great deal of interest in the lovespoons but now that people have started to hear about Sir Elton John and David Furnish having one, we've been inundated with calls.

"Being in Llangollen provides us with the perfect setting for the lovespoons, especially since we have just heard that Plas Newydd is going to be a venue for same-sex civil partnership ceremonies.

"When gay and lesbian couples pledge their love for each other, they can do so with a beautifully romantic gesture."




Photos: Elton & David wedding
Wednesday, December 21 2005 at 16:27:05

Elton John tied knot with David Furnish
Wednesday, December 21 2005 at 13:27:06



Is Tiny Dancer Really Elton's Little John?
Friday, July 14 2006

This book by Gavin Edwards is revealing music's most enduring mysteries, myths, and rumors.

The paperback (256 pages) is set for publication in the UK on August 8, 2006. Publisher: Three Rivers Press (ISBN: 030734603X).

You can pre-order the book from Amazon UK today.

Wicked Gala Performance
Friday, July 14 2006

The Elton John AIDS Foundation with the support of the Wicked Production in London is delighted to invite you to a very special Charity Gala Preview of the new Broadway hit musical: WICKED.

WICKED is set to be the "must see" musical of 2006. This spellbinding and spectacular hit musical is the untold story of the legendary witches from "The Wonderful Wizard of Oz" set to a score by Stephen Schwartz.

BEST SEATS FOR THE MUSICAL £75.00
To book call TICKETMASTER on +44 870 4000 751 or go to www.wickedthemusical.co.uk.

VIP SEATS FOR THE MUSICAL £250.00
WITH A POST-SHOW SUPPER WITH CAST MEMBERS FROM WICKED
To book the VIP tickets call the Foundation on +44 20 7348 4840 or email: fundraising@ejafuk.com

Back in tune
Tuesday, July 11 2006

Sanctuary, the troubled music group, has reached an amicable settlement with a number of former artist managers from its urban music division.

The company, whose artists include Sir Elton John, rising star James Blunt and Iron Maiden, said it had been suing Troy Carter, Julius Erving III and Tony Davis for breach of their employment agreements, but has now ended litigation against them.

Sanctuary said the litigation had started in February 2006 after Music World/Sanctuary Urban Group sacked the three men and demanded arbitration seeking the return to Sanctuary Urban of the purchase price paid for businesses acquired from them and salaries and other benefits paid plus interest.

However, since then, Sanctuary said it had become evident that it was unlikely the parties would reach any satisfactory judgment in the case and costs of the proceedings were likely to be substantial.

"The company believes that not pursuing its claims against its former employees will have no significant adverse impact upon its financial position or prospects," it said.

Shares in Sanctuary fell a further 1.25p to 18p.




Emmy nomination for "The Red Piano"
Monday, July 10 2006

The NBC broadcast of Elton's "The Red Piano" show from Las Vegas is among the list of nominees for the 58th Annual Primetime Emmy Awards, announced by the Academy of Television Arts and Sciences.

The production is nominated in the category of Technical Direction, Camerawork, Video for a Miniseries, Movie or a Special.

The 58th Annual Primetime Emmy Awards will take place on August 27, 2006 at the Shrine Auditorium, Los Angeles, and will be broadcast live on NBC.

Elton Curating Fashion Rocks
Friday, July 7 2006

Elton John will curate and perform at the third Fashion Rocks concert, to be held September 7, 2006 at New York's Radio City Music Hall.

The event will air the following evening on CBS. Proceeds from ticket sales will benefit Elton's own AIDS foundation.

The artist has selected a host of superstar artists to join him at the show, including Beyonce, Christina Aguilera, Kanye West, Tim McGraw, Faith Hill, Nelly Furtado, Jamie Foxx, the Black Eyed Peas, Bon Jovi, Scissor Sisters, Rihanna, the Pussycat Dolls and Daddy Yankee.

The evening's fashion segments will produced by KCD, known for its work with Versace and Calvin Klein.

Travel package for Elton's Lithuania concert
Wednesday, July 5 2006

On September , 2006 in Vilnius park "Vingis" Elton John will be performing. This is a unique chance to see and hear this performer in Baltic States.

His concerts in Tallinn (Estonia) and Riga (Latvia) were attended by more than 30 000 viewers, many of which came from abroad. This concert will be the prime event of the traditional festival "Days of Vilnius 2006".

BALTIC ESCAPE invites foreign guests to see Elton live. They offer:

Tickets

Accommodation

Meeting and greeting the guests

Transfer to and from concert

Additional services during the stay: tours in Vilnius and Lithuania, parties, saunas, etc.

For detailed information, please see this document.

Elton John Signed Teddy for auction
Wednesday, July 5 2006

Top names in the fields of film, television and sport have lent their support to a fundraising appeal for a Resource which helps 20 children with Autism.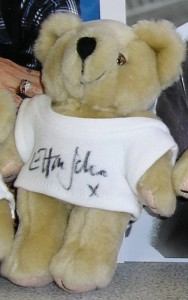 Celebrities including Muhammad Ali, Johnny Depp, Elton John, John Travolta and Kate Winslet have sent the children autographed teddy-bears that all wear T-shirts designed by the children.

On July 8, 2006 over 30 teddies will be auctioned at the Montgomery Hall, Church St. Wath-upon-Dearne Rotherham, Sth. Yorkshire England UK at 2.15pm to raise much needed funds for the Kilnhurst Autistic Resource in Rotherham, England. Many of the teddies also come with autographed photos of the stars and in the case of Jackie Chan, a personally signed t-shirt.

Richard Mather, Chairman of Karamba, the fundraising group responsible for the auction says "When we came up with the idea we didn't really expect to get a reply from some of these stars – but the response has been amazing." Over the last 3 years KARAMBA, which is a group of parents and teaching staff, have donated over £40,000 of equipment to the Resource. This has included a 17 seater minibus and an entire computer suite.

Autism is a life-long condition that affects over 500,000 families in the UK. The condition affects the way an individual communicates and relates to people around them. Individuals with autism have difficulties with social interaction and as a consequence find that their ability to form friendships is severely limited. In addition they have problems understanding other people's emotional responses.

It is hoped that the money raised by the action will purchase specialized equipment to enhance the learning of communication skills by the children.
Elton tops the Bill at EuroPride 2006
Tuesday, July 4 2006
Fan report by Mark Giles.
After seeing Elton eight times in concert this summer , my "mini-tour " was completed when I saw him top -the -bill at the EuroPride 2006 show at the Royal Albert Hall, the finale to the EuroPride Festival, this year held in London.

I wasn't sure what to expect, but secretly was hoping he may perform some non Elton songs like he did a few years ago when he sang "Diamonds are a Girls Best friend".

After picking up my tickets and walking around to the stage door I saw Nigel Olson and then Kiki Dee, who told me that Elton had asked her to perform "Don't Go Breaking My Heart" with him,as it was 30 years to the day it reached no 1 in the UK charts.

I was also lucky to sneak into the arena beforehand and watched Elton and the band (and Kiki) soundcheck their set. It was obvious that it was going to be a long night as Elton (dressed in a black tracksuit) left the stage shaking his head, the sound was terrible "Eric Clapton played here for a month ...he must have been deaf".

The show started at around 7.45pm and included names such as Stephen Fry, Tina C, Never The Bride, Graham Norton, Avenue Q, Ian McKellern (as Widow Twankey), Cast from the musicals "Chicago " and "Mama Mia ", London Gay Mens Choir, Sandi Toksvig, Julian Clary, Betty Legs Diamond, Boy George, Alan Carr, Heather Small (M-People), Jennifer Saunders and Ruby Wax.

At around 11.40pm Elton was introduced on stage by Billie Jean King and David Furnish. David said "I'd like to introduce my husband Sir Elton John".

Elton and the band played heroically, considering the late hour and that Elton lost sound for the entire set from both his monitors. He quickly got a laugh and ovation, with a scathing attack on the Pope's recent statement that the only true love can be between a man and a woman. "What the f*** would he know about that ?" he said.

Elton and the band sang "Believe", "Are You Ready For Love" and "Philadelphia Freedom" before announcing that 30 years ago he had his first UK no 1 and it was a duet, before introducing Kiki Dee to a standing ovation. Elton left his piano and joined Kiki for "Don't Go Breaking My Heart", the highlight of the evening for me.

Elton and Kiki then joined the rest of the cast including David Furnish for the finale of "We are family". Elton was seen dancing at the front and at the end gave David a big hug. The show finished at around 12.05am.

Next year the Festival will be held in Spain.



Elton John headlines EuroPride
Thursday, June 22 2006 at 18:37:15

Sir Elton John becomes patron of EuroPride London
Thursday, October 20 2005 at 07:59:21


Sir Elton plans comedy show cameo
Tuesday, July 4 2006
Elton is to appear on Rob Brydon's new BBC Three show, the singer's spokesman has confirmed.
Asked to elaborate, however, he would only say that details are "secret". Speaking to the Radio Times, Brydon said Sir Elton had seen an episode of the show - entitled Rob Brydon's Annually Retentive - and "loved it".

The programme, which begins next week, casts comedy actor Brydon as an acerbic quiz show host who pours scorn on his celebrity guests.

"He is, yes," said Brydon when asked to confirm Sir Elton would be involved. "It's not a hologram of him or anything."

Jonathan Ross, David Walliams and impressionist Ronni Ancona are also scheduled to appear.
Elton brands England team a "disgrace"
Monday, July 3 2006
Elton has slammed the England soccer team as a "disgrace" after Portugal knocked them out of the World Cup on July 1, 2006.
He made his feelings public when he made his comments during a gig in Bournemouth, England hours after the quarter-final match finished. Elton, who is friends with England's David Beckham, attributed most of the blame to coach Sven Goran Eriksson.

He told the sell-out crowd, "There has not been an outstanding player at this World Cup. I do not even want to talk about that f**king Sven Goran Abba-dabba. As always the England fans have been fantastic. They have been let down by the team and let down by people earning GBP125,000 a week. It's a disgrace."
This is "your song"
Sunday, July 2 2006
A mystery guest at Elton's White Tie And Tiara Ball paid $900,000 (£500,000) for a love song written by him and composer Sir Tim Rice.
The prize was just one of several starstudded lots auctioned at the bash with all proceeds going to Sir Elton's Aids Foundation charity.

The mystery bidder - rumoured to be Denise Rich, a friend of former President Bill Clinton - will have the song adapted to include a name of their choice. But it must never be released.

Other lots included a chance to enjoy a curry and a movie at home with Sir Elton and a Bentley Continental GTC. Elton started the auction by saying, "Come on, guys put your hands in your pockets. Lets have some fun with this. Don't be shy. These are prizes of the century. Bet you can't wait to get your mitts on them!"



Liz Hurley is queen of Sir Elton John's ball
Friday, June 30 2006 at 15:16:50

Sir Elton's summer curry party
Thursday, June 29 2006 at 18:47:52