ELTON JOHN NEWS ARCHIVE: July 2004
"An Evening with the Osbournes" ... and Elton
Saturday, July 31 2004
On July 28, 2004 Sharon Osbourne and Cedars-Sinai Medical Center announced the establishment of the Sharon Osbourne Colon Cancer Program at the Samuel Oschin Comprehensive Cancer Institute in Los Angeles.
Osbourne credits Cedars-Sinai for saving her life. "I am passionate and I am making this my personal mission to make sure that people with colon cancer can get the same kind of treatment that I received," Osbourne states. "I'm going to be raising as much money as I can for this program."

To that end on October 7, 2004 Osbourne will open her house to an exclusive 250 person fundraiser called "An Evening with the Osbournes". Sir Elton John will perform during the intimate garden dinner. All proceeds will benefit Osbourne's colon cancer program and the Elton John Pediatric AIDS Foundation.

But while Osbourne's star-studded life is glamorous, the mother of three continues to use the humbling experience of her cancer battle and chemotherapy as motivation to help others less fortunate. "You get very dehydrated when you're undergoing chemotherapy, but I had the luxury of having a nurse come to my home and hook me up and give me all the fluids I needed," explains Osbourne. "In the hospital for chemo, I would see the people who came in for dehydration and I thought, 'My God they must be so exhausted - I can barely lift my head off the pillow - and they had to travel to get here. It must be Hell.'"

According to the American Cancer Society, colorectal cancer is the third most common non-skin cancer in America. In 2004, more than 106,000 people will be diagnosed with the disease which will claim nearly 57,000 lives.
"The Fabulous Life of Celebrity Super Spenders"
Friday, July 30 2004
Prepare yourself for a special, one-hour journey into the summer lifestyles of Hollywood's hottest celebrities. From fun in the sun on world class beaches to epic cruises on luxury yachts, you won't believe you what the biggest stars have planned for this summer.
From "butt facials" to get their behind's into bikini shape to $1000 bikinis and the most extreme water sports, we'll show you what's hot this summer.

George Clooney takes 3 months off and relocates to Lake Como. Elton John retreats to his $8 million dollar vacation home on the French Riviera, Nelly hits the wild clubs of Ibiza, and Gwyneth Paltrow catches rays on Valentino's multi-million dollar yacht off of Spain.

Jerry Seinfeld buys the newest convertible for his summer in the Hamptons and P. Diddy practically swims in Cristal champagne in the hottest poolside nightclubs in the world.

It's just another part of the fabulous life. "The Fabulous Life of Celebrity Super Spenders" (Summer Special) premieres August 4, 2004, at 11 pm on VH1.
"The Red Piano" - July 23/24/25, 2004
Wednesday, July 28 2004
The Red Piano Rolls on - but man is it hot in Vegas in July! Fan report by Rich Joline.
Just days after completing an incredible string of shows in New York, Elton and the band returned to the house that Celine built to continue on with the Red Piano in Las Vegas.

The set list is still the same as the spring time although I sense a change or two coming in the near future.

After playing the Summer Orchestra shows on both sides of the pond, our favorite Sir and his trusty band seemed to enjoy getting back "Rocket Man" and "Bennie and the Jets." Still playing to a full house every night, the boys were tight and sounding great on both Friday and Saturday night.

Elton was very talkative in between songs, swearing to us that he will be as thin as Celine by October after strutting back and forth on the stage.

On July 24, 2004, he stated that he felt like "Rapunzel waiting in the tower all day until it's time to come on stage. Man is it hot!" I'm here to tell you that he is right on - 110 degrees at midday, and 92 at midnight, we all stayed indoors.

But nobody is lacking for something to do in Sin City at any time, so in between shows, I certainly kept busy :).

Highlights for me are still "I Guess That's Why they Call it the Blues" and "Believe". The final four numbers prior to a solo "Your Song" encore are a smashing "Pinball Wizard" jumping right into a rousing "Bitch is Back" and then "I'm still standing." Which of course leads to the whole reason to break your bank, by tickets and fly to Vegas - the chance to jump on stage for "Saturday Night's Alright..."

Folks, as I have said before, if you are reading this, the thrill would be the same for you as it is for me, and I have done it six times already. I mean really, you are right there at the climax to the whole show! I am not too embarrassed to let anybody know the only reason I have gone through all the trouble to get there from New York three times this year is for those three minutes of absolute ecstasy! I think the guys in the band think I'm nuts (Bobby Birch does give me a funny look sometimes - but Guy always smiles) but hey, they are there - and so am I.

Saturday's experience was extra exciting as a half dozen boa-clad and clearly intoxicated ladies in tight skirts virtually swarmed the piano. The LA Swat body guards had to act quickly to keep things from getting too out of control but it was all real cool - and Elton loved it! Never missed a beat - even Detroit's best bassist rocked steady as the ladies were standing and stumbling on his mark. Man it was so much fun!!

Can't wait to go back - look for me if you get the chance. I'm usually the first one on the stage!

The set list:

Bennie And The Jets

Philadelphia Freedom

Believe

Daniel

Rocket Man

I Guess That's Why They Call It The Blues

Tiny Dancer

Don't Let The Sun Go Down On Me

I Want Love

Candle In The Wind

Pinball Wizard

The Bitch Is Back

I'm Still Standing

Saturday Night's Alright (For Fighting)

Your Song
Anastacia: Sharon and Elton helped me fight cancer
Wednesday, July 28 2004
American singer Anastacia sought comfort with a host of celebrity friends during her recent battle with breast cancer - including Sharon Osbourne and Elton John.
The star discovered she had the disease last year before making a full recovery, and found it especially comforting talking to Osbourne - because she was also suffering from cancer and understood the suffering involved.

Anastacia, 30, says: "Sharon Osbourne is a doll! We were friends going through it at the same time and we're very similar people - we're very upfront ballsy chicks.

"Once she contacted me she didn't stop. It made her feel better to take care of friends like me and not think about being sick with stomach cancer herself.

"And Elton John is my heart. He's an amazing man. He'd always call at the right time. Whether I was up or down it would always be the right kind of call.

"The minute he found out he made sure I got the right doctors. He's seen so many friends with breast cancer and AIDS so he has a lot of information. I felt very protected - he was my rock."
Elliot musical facing difficulties with north debut
Tuesday, July 27 2004
Plans for the stage production of the Elton's scored musical Billy Elliot to open in Newcastle, England, have run into difficulties.
Based on the 2000 hit film, the musical, due to open in North England on November 29, 2004 before transferring to London, has met various obstacles including the agreed venue.

A source explains, "The fact that the intended venue, the Newcastle Opera House, went into administration a few weeks ago was the first problem.

"But there has been so much money spent on pre-production that they couldn't have afforded to put it on there anyway. They even had a special school for all the young actors."

Director Stephen Daldry adds, "We wanted to open in Newcastle because of the association the story has with the area, but, yes, for practical and financial reasons, it is looking dicey, which is a real shame."



Billy Elliot Musical to Play Newcastle, then London
Wednesday, May 5 2004 at 18:31:50


Radio City shows on Bravo
Friday, July 23 2004
Bravo will broadcast excerpts from Elton John's orchestra shows at Radio City Music Hall in New York City on November 27, 2004.
The two hour live-to-tape special will air at 8.00 pm ET.



Elton John & orchestra performed in New York City on July 14, 16,17 & 18 2004
Monday, July 19 2004 at 11:28:48

Elton John & orchestra performed in New York City on July 13, 2004
Wednesday, July 14 2004 at 06:22:25


Andre Agassi, Andy Roddick Meet in WTT All-Star Smash Hits
Friday, July 23 2004
Tennis superstars Andre Agassi and Andy Roddick will make a rare Orange County appearance when they go head-to-head in the featured match of the 12th annual WTT All-Star Smash Hits, presented by ADT Security Services, scheduled for October 11, 2004, at the Bren Center on the University of California Irvine campus.
Hosted by Elton John and tennis legend Billie Jean King, the evening of tennis will benefit the Elton John AIDS Foundation and the National AIDS Fund. The event is expected to raise more than $1 million for the two organizations.

Tickets for All-Star Smash Hits will go on sale July 26, 2004 at all Ticketmaster ticket centers and at the Bren Center box office. "One of the primary objectives of World TeamTennis is to provide more opportunities to showcase the WTT product in each of our core markets," said Ilana Kloss, WTT CEO and Commissioner. "We are quickly developing a strong following for the Newport Beach Breakers in southern California and brining Smash Hits to Orange County gives us another chance to expose more people to our special brand of tennis."

Five sets of tennis, using the World TeamTennis (WTT) format, will be played. In addition to the Agassi/Roddick feature match in men's singles, several other top players on the men's and women's professional tennis tours will compete in men's doubles, women's singles, women's doubles and mixed doubles. The players will form two teams, with one team captained by Sir Elton John and the other by Billie Jean King. Elton and King also plan to participate in a celebrity doubles event to open the evening.

Tickets for the 12th annual WTT All-Star Smash Hits range from $35 to $100. For more information, please call Ticketmaster at 1 714 740-2000 or the Bren Center box office at 1 949 824-5000.

For additional information, please visit the Elton John AIDS Foundation at www.ejaf.org and World TeamTennis at www.wtt.com.
Elton John resonates at benefit concert
Wednesday, July 21 2004
Sir Elton John has performed with 100-piece orchestras and 60-voice choirs in London and New York City in July 2004. On July 20, 2004, he performed with just a grand piano at a $2 million benefit gala in downtown St. Paul.
It was the Starkey Hearing Foundation's fourth annual "So the World May Hear" gala to promote hearing for the needy. About 1,600 people gathered at the RiverCentre's grand ballroom to support the Eden Prairie-based foundation and to honor such celebs as Leslie Nielsen and Sharon Osbourne. But there was no doubt that Elton was the magnet for this record-setting benefit.

The 57-year-old Rock and Roll Hall of Famer gave an intimate, often emotional and friendly 60-minute performance. Not saddled by a band or a big production, he was looser, more talkative and more spontaneous than at his own concerts (he let the crowd, well, the women, sing the high "lalala" part on "Crocodile Rock"). He alluded to comments by various speakers during the program and explained that this gala belonged on the front page of newspapers because it was about people doing good; he then performed "Candle in the Wind," which he said had become identified with "someone [Princess Diana] who tried to make the world a better place."

Before sitting down at the piano, Elton gushed about all the stars in the audience ("Mickey Rooney looks younger than I do, which I hate") and explained that he was a "huge sports fan" and how much he admired the athletes and coaches in the crowd, citing Vikings coach Mike Tice and former baseball manager Whitey Herzog. He dedicated "Rocket Man" to the astronauts in attendance, including Scott Carpenter. And he sang a very bluesy, Ray Charles-like rendition of "Happy Birthday" to Tani Austin, who runs the Starkey Foundation and whose birthday was Monday.

Elton explained that he had met Tani and Bill Austin, CEO of Starkey Laboratories, at Sharon Osbourne's house. (Sharon said Bill got her husband, Ozzy, hearing aids so she can turn things down in the Osbourne mansion.) Then the Austins went to Elton's house for a fundraiser for his AIDS foundation. "When I found out what they did, I got here to Minneapolis as fast as I could," Sir Elton said.

Elton was in good voice throughout his 11-song set, though his voice got a bit scratchy for a moment during "Tiny Dancer." He triggered some synthesized strings on several tunes (just as he had during his solo show at Target Center in 1999) and used some vocal effects on a couple of numbers. But maybe for this occasion the enhancements were appropriate to make sure everyone heard the music the way Sir Elton wanted it to be heard.
Elton John & orchestra performed in New York City on July 14, 16,17 & 18 2004
Monday, July 19 2004
Fan report by Marian Joy Friedman.
This has been an Elton John packed weekend. First the show Friday night, then Saturday and Sunday night. I thought to myself on Friday, how will any show be better then that and it was, the very next night was even better and then Sunday was the best of all.

I am very grateful for to have been able to see this unique and grand show and hopefully, many of you will experience the same when the Bravo station broadcasts it sometime this fall/early winter. Hopefully it will come out on DVD! Anyhow, back to the show.

I am grateful to have seen this show three times in my favorite city, New York City, in one of the city's most beloved venues, Radio City Music Hall. The accoustics were great and the audiences were out of this world. Each night, the audiences got better. I particularly loved when on the third night, Elton began "Take me to the Pilo" and the entire audience was singing along quite loudly.

The show is a huge production. I believe 99 persons made up the orchestra while 42 made up the choir plus the band of course. The talent of these students cannot be praised enough. Only in their early 20's, these young performers showed professionalism and talent worthy of great praise. The show was so powerful and moving that I am at a total loss for words to describe how great this show was and as massive a production this show was, it never took away from Elton John. It complimented him and the band. It was a great show that got better each night.

Thank you Elton John for bringing this show to NYC and allowing the Bravo channel to film so that many people will have the opportunity to enjoy what I think was one of the greatest shows of my life.

The hightlights for me were as follows:

On Friday's performance it was "Tonight". On Saturday's performance it was the brand new song "Freaks in Love" and finally, on Sunday night, the highlight for me was "Saturday Night's Alright (For Fighting)". It was electric.

Following is the complete set list from the New York City shows on July 14, 16, 17 & 18 2004:


Sixty Years On

The Greatest Discovery

I Need You To Turn To

Border Song

The King Must Die

Burn Down The Mission

Believe

Come Down In Time

Tell Me When The Whistle Blows

Tiny Dancer

Madman Across The Water

Holiday Inn

Levon

Sorry Seems To Be The Hardest Word

This Train Don't Stop There Anymore

Freaks In Love

Philadelphia Freedom

Have Mercy On The Criminal

Carla/Etude

Tonight

Take Me To The Pilot

Saturday Night's Alright (For Fighting)

Don't Let The Sun Go Down On Me

Your Song
Sir Elton attacks new 'era of censorship' in America
Saturday, July 17 2004
Sir Elton John has attacked what he calls a McCarthy-like "era of censorship" in America. Entertainers who speak out against the Bush administration or its policy on Iraq, he claimed, risk scorn and damage to their livelihood.
"There's an atmosphere of fear in America right now that is deadly. Everyone is too career-conscious. They're all too scared," he added.

Entertainment consumers "do not look for us to take sides", Elton continued.

Sir Elton, who is being paid $50 million (£33 million) to perform in 75 shows in Las Vegas, was particularly critical of the Federal Communications Commission in Washington, which regulates radio and television.

Its "watchdogging", he said, was tantamount to censorship.

"Things have changed. I don't know if there's been a time when the fear factor played such an important role in America since McCarthyism in the 1950s, as it does now," he added. Sen Joseph McCarthy was the leading figure behind the "red scare" of the 1950s. At the height of the anti-communist hysteria, an investigation of Hollywood by the House Committee on Un-American Activities led to a "blacklist" of actors and writers who were then denied employment.

Sir Elton, currently in the middle of five sold-out shows at Radio City Music Hall in Manhattan, told the New York magazine Interview that "surprisingly, it seems to be a very apathetic age in America".

He recalled playing at Kent State University in 1970 shortly after National Guard troops fired on Vietnam War protesters on campus, killing four, and wounding nine.

Sir Elton said: "People were taking to the streets. With the war in Iraq and all that's gone on with it, that's not happening - yet. I don't know why."

In the 1960s, "people like Bob Dylan, Nina Simone, The Beatles and Pete Seeger were constantly writing and talking about what was going on", he said. Now, "hardly any are doing it . . ." The era of protest songs by major artists was long gone. "That's not happening now. As of this spring, there have been virtually no anti-war concerts - or anti-war songs that catch on, for that matter."

One reason for the reluctance of performers to speak out, according to Sir Elton, "might be that they are frightened by the current administration's bullying tactics when it comes to free speech".

He continued: "There was a moment about a year ago when you couldn't say a word about anything in this country for fear of your career being shot down by people saying you are un-American."

He singled out the country singer Toby Keith, who wrote Courtesy of the Red, White and Blue (The Angry American) and has led the attacks on the Dixie Chicks.

"On the one hand, you have someone like Toby Keith, who has come out and been very supportive of the Bush administration and the war in Iraq - which is OK because America is a democracy and Toby Keith is entitled to say what he thinks and feels.

"But, on the other hand, the Dixie Chicks got shot down in flames last year for criticising the president. They were treated like they were being un-American, when in fact they have every right to say whatever they want about him because he's freely elected, and therefore accountable."

In London last year Natalie Maines, the lead singer of the Dixie Chicks, told an audience: "Just so you know, we're ashamed the President of the United States is from Texas." After protesters burned their CDs and radio stations banned their songs, the band apologised. Death threats led to metal detectors being installed at stadiums where they were singing.

But Sir Elton may have spoken too soon. As the presidential election approaches, many stars seem eager to nail their colours to a mast.

Jon Bon Jovi, Dave Matthews, Moby, James Taylor, Wyclef Jean and Mary J Blige now openly rail against Mr Bush.

Ozzy Osbourne sings War Pigs in his latest stage act as giant screens show photographs of President Bush juxtaposed with pictures of Adolf Hitler.

Last night Steve Earle, a renegade country lyricist, released an album called The Revolution Starts . . .Now, which includes a satirical song called On Condi, Condi - addressed to Dr Condoleezza Rice, the White House national security adviser.
Third Annual Daniel Pearl Music Day
Friday, July 16 2004
The Daniel Pearl Foundation proudly announces the honorary committee and official opening of registration for the third annual Daniel Pearl Music Day -- an international network of concerts October 8-17, 2004 dedicated to "Harmony for Humanity."
Centered around the October 10th birthday of journalist Daniel Pearl, who was kidnapped and murdered in Pakistan in 2002, Daniel Pearl Music Day continues his mission by connecting thousands around the world through words and music.

"Daniel Pearl was exceedingly brave, was one of these journalists from the media that put their life on the line to bring you the truth," said Honorary Committee member Sir Elton John in a Music Day performance in which he dedicated his song "Daniel."

The Daniel Pearl Foundation is honored to announce the Honorary Committee for this year's event, a diverse group of renowned musicians: Salman Ahmad, Theodore Bikel, Yefim Bronfman, Hamza el Din, Ida Haendel, Herbie Hancock, Elton John, Tania Libertad, Yo-Yo Ma, Zubin Mehta, Mark O'Connor, George Pehlivanian, Itzhak Perlman, A.J. Racy, Mohammad Reza Shajarian, Ravi Shankar, Barbra Streisand and John Williams.

Sir Elton John, Herbie Hancock, Ida Haendel and Hamza el Din are featured in the Music Day 2004 public service announcement encouraging participation by people everywhere in Music Day. Video and audio versions are available for broadcast by radio and television stations around the globe.

The Daniel Pearl Foundation was formed in 2002 in memory of Wall Street Journal reporter Daniel Pearl to promote the ideals that inspired his life and work. The Foundation works domestically and internationally to promote cross-cultural understanding, to combat cultural and religious hatred, to encourage responsible and creative journalism, and to enrich people's lives through music. For more information and sample dedications please visit www.danielpearl.org.

Elton John albums join the Universal Music SACD release list
Thursday, July 15 2004
Universal Music has shed some light on the next batch of upcoming Super Audio CD releases.
Included in the newly announced titles are five Elton John albums which follow the successful Super Audio CD releases of "Goodbye Yellow Brick Road" (Island Records B0001478-40 and B0001570-36).

These upcoming Surround Sound SACDs will include:

Elton John - Captain Fantastic (Island)

Elton John - Elton John (Island)

Elton John - Honky Chateau (Island)

Elton John - Madman Across The Water (Island)

Elton John - Tumbleweed Connection (Island)
Update: Best Buy lands deal with Elton John
Thursday, July 15 2004
The definitive Elton John DVD set, Dream Ticket, is scheduled to be released in the fall 2004 and sold exclusively at Best Buy stores and on BestBuy.com.
The four-DVD set features more than 70 songs from different venues as well as rare concert and TV footage from the legendary artist's early days. The set also includes photos and interviews that previously have not been released.

Dream Ticket gives Elton John fans a unique look at the career of one of the most talented and charismatic performers of our time. The four DVDs feature some never-before-seen performances that demonstrate why Elton has become a rock music icon.

"Our goal at Best Buy is to bring customers unique and exciting entertainment products that will tap into their passion for great music," said Gary Arnold, senior vice president of entertainment, Best Buy. "This four-DVD set from one of the greatest performers in history will be a must-have not only for Elton John fans but for music lovers in general. We're very excited to be able to bring Dream Ticket to our customers."

Dream Ticket follows on the heels of the 2003 four-DVD set from the Rolling Stones, Four Flicks. Initially sold exclusively at Best Buy, Four Flicks has been certified 11 times platinum by the RIAA and is the second-best-selling video boxed set of all time.

"We anticipate this one-of-a-kind Elton John four-DVD set will have a similar impact in the marketplace as Four Flicks. The success of Four Flicks showed what can happen when two great brands like The Rolling Stones and Best Buy join forces," said Mike Linton, executive vice president and chief marketing officer, Best Buy. "We were able to bring a great product to fans at a great price and were able to create a high level of consumer excitement. That combination helped make it one of the most successful music DVDs in history."

Hercules has learned that one disc will be of a concert in London with the London Symphony Orchestra 1972; one will be from New York 2004; one from Ephesus, Turkey 2001; and one will be an overview/retrospective of Elton John as a performer.

The cover of the set will feature an airplane, to "signify the journey Elton and his fans have taken over time," says Best Buy senior VP of entertainment Gary Arnold.
Don't Go Rapping My Heart
Thursday, July 15 2004
Rapper Ol' Dirty B/stard and R&B singer Macy Gray have teamed up in a duet of Elton John and Kiki Dee's "Don't Go Breakin' My Heart".
ODB, who was released from prison and psychiatric care last year, covered the 1976 hit with Gray, who has a wild reputation of her own, for a unique interpretation of the melodic pop hit.

ODB, known for rapping and improvisations, sang through song, trading lines with the raspy-voiced Gray. Damon Dash, Roc-A-Fella Records chief executive officer, who is overseeing ODB's upcoming album on his label, came up with the duet.

The rapper's new album, which has no release date set, will be out under the name Dirt McGirt.
Elton John & orchestra performed in New York City on July 13, 2004
Wednesday, July 14 2004
A Criminal, a King, Freaks....and Renee! - Fan report by Rich Joline. Plus a fan report by Tony Centofante.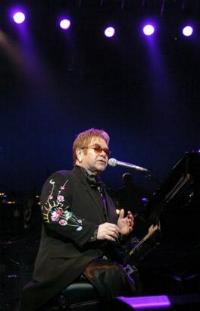 The man finally brought his magic to the big stage at Radio City Music Hall in New York City on July 13, 2004, and once again Elton John has reaffirmed himself as the greatest performer of all time.

A show for true fans, this die hard was hardly disappointed. He simply walked on stage to warm applause, told us a bit about how the show would be different than the past, and got on with it.

The opening numbers from the Elton John album set the tone and off we went. The band, looking and sounding as happy and solid as ever, led the charge and the backing of those wonderful young musicians and singers helped propel Elton through some of the all time classics.

"The Greatest Discover", "Burn Down the Mission" and "Madman" blew me away! "Believe", a staple in the Red Piano, was nearly as incredible as "Holiday Inn".

Another reviewer put it just right - he seemed to embrace that tune like an old friend. I thought for a second we were going to get the "french fry" verse.

He played air guitar while Davey was rocking "Have mercy on the Criminal", told us he hadn't played "The King Must Die" in the US for 32 years before blasting through it, and got many of us excited with a the preview from "Peachtree Road", a bluesy but oh-so-Elton "Freaks in Love."

He finally sent us all away with sounds from heaven as the fabulous voice of Renne Fleming floated through the acoustically perfect hall, telling us "how wonderful life is..."

On at least two occasions he mentioned how old he felt/is getting. Well that goes for all of us,and that is why I will attend the remaining four shows before scooting out the Nevada next weekend for the third time!

Thank You Elton for yet another evening I will never forget!

Following is the complete set list from the New York City show on July 13, 2004:


Sixty Years On

The Greatest Discovery

I Need You To Turn To

Border Song

The King Must Die

Burn Down The Mission

Believe

Come Down In Time

Tell Me When The Whistle Blows

Tiny Dancer

Madman Across The Water

Holiday Inn

Levon

Sorry Seems To Be The Hardest Word

This Train Don't Stop There Anymore

Freaks In Love

Philadelphia Freedom

Have Mercy On The Criminal

Carla/Etude

Tonight

Take Me To The Pilot

Saturday Night's Alright (For Fighting)

Don't Let The Sun Go Down On Me

Your Song
---

Fan report by Tony Centofante

On July 13, 2004 we used frequent flyer miles for the one night trip to New York to witness history. Elton John and Orchestra ... in America for the first time ... in Radio City Music Hall for the first time.

In addition to the concert ticket, we also purchased tickets to the Radio City Music Hall Stage Door Tour at 1:00 p.m. that day. The reason for doing this should be obvious ... we were hoping to see Elton John at soundcheck. No such luck. But, it was great to see the venue beforehand. We also saw them setting up the concert souvenirs and there were still ladders on the stage.

Also, we got to talk to several members of the orchestra as part of the tour. The tour guide confirmed Elton was probably "already here" and that the two tours after us would not be allowed to go into the seating area because of soundcheck.

After dinner and seeing a great TV taping of David Letterman with Will Smith as guest, it was time to go to the venue. We arrived about 15 minutes before the show and the seating area was almost empty. We anticipated the show would be starting late but at 7:55 p.m. the orchestra and choir members took their seats and at 8:05 p.m. Elton walked out onto the stage.

Instead of starting with music, this show started differently with Elton talking directly to the audience explaining the format of the show. It's funny how he said that he did an album in Australia with an orchestra and wanted to do it here never explaining why it took only 18 years before it finally happened!

I am perplexed by other reviewers who found this concert "perfect" and "flawless" because it's not the same concert I saw. It was definitely historically significant but far from a triumph. I'll take witnessing history anyday but I am sure that all four concerts following this one sounded better.

The first sign of trouble came during Elton's announcement when you could hear the sound of an open mic buzzing. Not unexpected I suppose since it is the first night and there are over 150 mics on stage.

"Sixty Years On" opened the show and was full of sound problems. Clive Franks was definitely having problems finding the right mix. Elton could be seen talking to the techs after this one.

Well, that's okay. Things will get better, right? Well, in the middle of "The Greatest Discovery" Elton's vocals suddenly added an echo. It was as if Clive Franks flicked a switch right in the middle of the song. It was quite distracting.

The next few songs sounded better but you could see Elton talking to the techs after almost every song. This show was starting to resemble the first One Night Only show I attended at MSG in 2000. Remember it was on that night Elton was having so many technical problems he made another one of his famous retirement announcements.

After six songs from 1970, it was great to hear "Believe" and this was the first time during the show I thought the orchestra nailed it. And it was great to hear a song from the 90's to establish that the orchestra has been an integral part of Elton's entire catalog.

"Come Down In Time" was next and seemed out of place in the setlist. "Tell Me When The Whistle Blows" was the next disappointment. Elton butchered this one. For some reason, he was oversinging it and drowning out the orchestra. What makes the original so good is the vocals are understated allowing the orchestra to take full effect. Not tonight.

Well, almost an hour into the show and I'm telling you that, at this point, this show was in danger of getting away from Elton and turning into a big disappointment. And for those of you who think I'm wrong, the way Elton quickly announced "The Madman section is next" you could tell he was not happy.

But from then on, everything started to click into place. "Tiny Dancer" was strong and the New York crowd started to energize after being a little subdued to start. "Madman Across The Water" was strong and made me wish it would be performed more often live. "Holiday Inn" and "Levon" continued the momentum. An interesting sidenote, the concert program (maybe the best one ever done by David Costa) specifically states that "All The Nasties" is part of the setlist. Imagine what the choir could do with that one!

Elton's mood had improved significantly by this point. He next said "We are going to introduce everyone on stage ... well, not everyone as we will be here until next week." He then mistakenly said this was a gayla event instead of gala event. Then, corrected himself to say with him it would be a gayla.

"Sorry Seems To Be The Hardest Word" and "This Train Don't Stop There Anymore" were next. I actually booed after the second one drawing the ire of those around me. Why does anyone like this song? Do you know what the lyric is about ... it's about Elton being a has been. And anyone in attendance at the Radio City Music Hall knows Elton is still significant. He should have played "Original Sin" instead.

Someone who reads the internet then yelled out "Philadelphia Freedom" to which Elton replied "Hold on...it's coming." But, before that the world premiere of "Freaks In Love" and instantly those who saw the orchestra shows in the UK are envious. Since this show was taped for Bravo cable in November, it makes sense this song was played since it will be a single then. It's another winner.

Next, someone yelled "Empty Garden". Nice that someone would keep the memory of John Lennon alive in New York City. Unfortunately, not part of the setlist. But, "Have Mercy On The Criminal" and "Carla/Tonight" were done well.

I swear I heard a little snippet of "Written In The Stars" as part of the piano intro to "Take Me To The Pilot". Perhaps Elton giving a little nod to Aida that is soon concluding a successful five year Broadway run.

"Saturday Night's Alright (For Fighting)" was disappointing only in that the orchestra was only used at the start and end of the song. "Don't Let The Sun Go Down On Me" was powerful.

And then the little surprise at the end with Renee Fleming duetting on "Your Song". A little awkward in that her first verse was "And if I was a man who made potions..." and it also seemed as though the opera singer was restraining herself. I think it would have sounded better if she tried to take it the song to another level.

10:25 p.m. and this wildly uneven but historically significant spectacle came to an end. Our flight the next night was canceled by thunderstorms and we had to spend the night at LaGuardia but I still have no regrets. Thank you Elton for finally bringing this show to America and keep your word that you will occasionally do more of them.

Fellow of the British Academy of Composers and Songwriters
Tuesday, July 13 2004

Sir Elton John is to become a Fellow of the British Academy of Composers and Songwriters, with his induction marking 50 years of the Ivor Novello Awards.

The British Academy will appoint five Fellows to mark the anniversary, with Sir Elton as the first recipient. "I am honoured and humbled by this recognition," said Elton.

The presentation will be made during the TV show Elton John - An Ivor Novello Tribute to be screened by the BBC later in the year.

His accolade has been given for his commitment to music and songwriting throughout his career. He joins Sir Paul McCartney, Sir Malcolm Arnold and John Barry as Fellows of the British Academy.

Sir Elton added: "The Ivor Novello Awards are all about the art of songwriting which has always been my passion."

Academy chairman David Ferguson said: "We are particularly pleased that Sir Elton has agreed to accept this fellowship and we are sure that this will be a very special evening."

Radio City Music halls to be taped by Bravo
Monday, July 12 2004

On July 13, 2004, Elton John will begin a five-night engagement at New York's Radio City Music Hall.

The shows will mark Elton's first Radio City appearances as a solo performer. He'll be backed by a full orchestra and choir of students from London's Royal Academy of Music and New York's Juilliard School.

Proceeds from the first night will go to the schools' scholarship funds.

The Bravo cable channel will tape the concerts for a special that will air later this year.




Elton John teams up with Renee Fleming at Radio City Hall
Sunday, July 11 2004 at 15:44:30



Elton John teams up with Renee Fleming at Radio City Hall
Sunday, July 11 2004

Elton John is teaming up with soprano Renee Flaming to sing at Radio City Music Hall.

According to The New York Daily News, Elton will unveil the songs he has written and sung for the stage version of the 2000 movie "Billy Elliot."

The proceeds from the concert will go to the Royal Academy of Music and the Julliard School of Music. (ANI)

Also see Elton John Tour News.




Billy Elliot to Open at London's Victoria Palace Theatre in March 2005
Tuesday, June 22 2004 at 18:17:33



Rocket man boosts hospital unit
Friday, July 9 2004

Elton John opened a hospital's new HIV clinic on July 7, 2004.

Elton John made a guest appearance and chatted with about 20 patients, including some on other wards, during his visit to Ealing Hospital on July 7, 2004.

He was there to unveile a plaque in a newly refurbished HIV clinic, after his fund The Elton John Foundation, recently donated £100,000 towards the new 'Elton John Suite'.

Elton said of his visit: "We are so proud of the work undertaken here at Ealing Hospital and are delighted that we have been able to provide funding for this project. I send my very best wishes to the medical team and patients."

Dr Paul Fox, an Infection and Immunity consultant at the hospital who organised the event, said the visit was a major morale booster for both staff and patients.

Elton dedicates song to determined David
Wednesday, July 7 2004

A 17-year-old musician - who beat off cancer - realised his dream by meeting Elton John.

David Bell of Squire's Place, Nettleham, was granted his wish by children's charity, Wishes 4 kids, who whisked him off to Birmingham NEC where he had a 10-minute meeting with his idol.

"It was an amazing concert, not his normal greatest hits thing. It was him and huge orchestra, with about 9,000 people in the audience," he said.

"I went backstage before the gig and had a chat with him, he was really friendly, he talked about the show and asked me about myself. Then he took down my contact details and promised that he would stay in touch - it was just great."

David was diagnosed with a cancerous tumour behind his right eye last June. His condition was diagnosed as rhabdomyocarcoma. Although an aggressive tumour it responds well to chemotherapy. He had to undergo a whole battery of tests to make sure the cancer was not anywhere else in his body.

"I was terrified, the tumour swelled to the size of my eye and started pushing it out of its socket," he said. "Obviously I didn't want to lose my eye and I was worried about secondary tumours developing in my limbs, then you're really in trouble."

The budding rock star, who plays lead guitar with his band, Atlas, who recently played a sellout gig at the New Life Church in Lincoln, said that the Elton John gig had given him a real boost.

"As a musician I have a lot of respect for the man. I couldn't believe it when halfway through the concert he said, 'This next one is for Dave Bell and his family' - he played Philadelphia Freedom for me. It was really special, I've been telling all my mates about it," he said.

Mr Bell's mum Irene, said: "It was absolutely amazing and David was just beaming. It was brilliant when he dedicated a song to him because it showed that David was not just a name on a list of people who he had to meet."

Russell Brickett, charity and fund-raising manager for Wishes 4 Kids, said: "It was absolutely brilliant right from the stretch limo picking them up through to the concert. It was just his dream come true, and that is the special thing about all the wishes."




Elton John & orchestra performed in Birmingham on June 29, 2004
Wednesday, June 30 2004 at 13:58:14

Elton John & orchestra performed in Birmingham on June 28, 2004
Tuesday, June 29 2004 at 14:51:38



Elton John & orchestra performed in London on July 4, 2004
Tuesday, July 6 2004

Following is the complete set list from the London show on July 4, 2004:
Sixty Years On

The Greatest Discovery

I Need You To Turn To

Border Song

The King Must Die

Burn Down The Mission

Believe

Come Down In Time

Tell Me When The Whistle Blows

Tiny Dancer

Madman Across The Water

Holiday Inn

Levon

Sorry Seems To Be The Hardest Word

This Train Don't Stop There Anymore

Philadelphia Freedom

Have Mercy On The Criminal

Carla/Etude

Tonight

Take Me To The Pilot

Saturday Night's Alright (For Fighting)

Don't Let The Sun Go Down On Me

Your Song
Elton John & orchestra performed in London on July 3, 2004
Monday, July 5 2004
Fan report by Si Owens.
It is generally considered that one of the must-have albums in any Elton John fan's collection is 1986's "Live In Australia". That album focussed on Elton John's unique concerts featuring the Melbourne Symphony Orchestra, and the project was a major success, spurning a world-wide hit single with it's recording of "Candle In The Wind".

It could be for two reasons that the LP was such a success. On the surface, the sheer grandeur of scale and ambition of the event itself were enough to entice interest from most strands of music fan, Elton John orientated or not. Look beneath the surface, however, and into the early and name-making work of Elton John, and you begin to understand why such concerts are so important to the millions of supporters the man has amassed over his career.

The fact is, that there is so much more to enjoy in Elton John's CDs than a voice, a piano-player and a collection of soul-tapping works. The many musicians and, perhaps more importantly, arrangers who have accompanied Elton John's LPs have each added their own unique stamp to each unique track to make any Elton John album more than your average rock and roll record.

Elton himself has always been eager to publicly compliment and appreciate the various bands, orchestras, choirs and arrangers with which he's worked over the years, and also to credit the Royal Acadamy Of Music for it's own role in his success. Ever the altruist, these orchestral concerts, then, were surely a matter of "when", rather than "if".

Those who missed out on the 1986 tour of Australia, or the benefit shows with the orchestra last year, didn't miss the opportunity to snap up tickets for Elton John's shows in Birmingham and London this time around. I was one such person, and what I very soon realised was that no amount of listening to "Live In Australia", and at whatever volume, could prepare me for the richness, quality and size of the sound experienced in the arena hearing this concert live.

Starting by simply walking on stage with no fuss or introductory music, Elton sat at the piano, addressed the audience, introduced the concert and, with the rest of us, immersed himself in the sounds of "60 Years On". Next followed "Greatest Discovery" and "I Need You To Turn To", and it was difficult to believe your ears that you really were hearing such amazing songs set to such an amazing sound.

The music was to step up a gear again, however, when Elton started "Border Song" and was joined by his touring band (brilliant performances as usual, guys) and the choir. It really is impossible to explain how good this music sounds by this point in the evening, and "Border Song" was the highlight of the event for me.

In terms of the set, it was as per the show on July 2, 2004. It's hard to single out particular songs in such an all-round masterpice, but the tracks for which all facets were used were the tracks that hit the audience with full power. "Burn Down The Mission" was particularly memorable, and the guys seemed to be having a great time reviving the Philladelphia sound in "Tell Me When The Whistle Blows" and "Philadelphia Freedom". Elton revealed that he regards the arrangement to Philadelphia Freedom as the best ever to grace any pop record.

Elton himself seemed to be having a tremendous time performing in this context, despite apparently battling against less than satisfactory monitoring levels. He was jovial and funny, while at the same time elegant and informative. As you would expect, the band were superb, particularly Bob Birch during "Burn Down The Mission", Davey Johnson during "Madman Across The Water" and "Have Mercy On The Criminal", and John Mahon's percussion through "Believe" (my favourite Elton song of the nineties, and a personal highlight).

It also needs to be mentioned that is easy to forget that the Royal Acadamy is just that - an Acadamy. These people are still very young musicians, yet the quality of their skills you will not hear matched anywhere else.
Also, I noticed that it was the same security team who were on duty at the Ipswich concert, and I'd like to say what a superb job these guys do - doing their job effectively whilst never being over-the-top and always friendly and curtious with the audience.

The phrase "not-to-be-missed" is an over used set-piece in mordern marketing, but this concert was undoubtedly worthy of that accolade. Will these shows ever come around again? Who knows. But Elton John at Wembley Arena on the third of July 2004 will live long in the memory of those who were there.

Following is the complete set list from the London show on July 3, 2004:


Sixty Years On

The Greatest Discovery

I Need You To Turn To

Border Song

The King Must Die

Burn Down The Mission

Believe

Come Down In Time

Tell Me When The Whistle Blows

Tiny Dancer

Madman Across The Water

Holiday Inn

Levon

Sorry Seems To Be The Hardest Word

This Train Don't Stop There Anymore

Philadelphia Freedom

Have Mercy On The Criminal

Carla/Etude

Tonight

Take Me To The Pilot

Saturday Night's Alright (For Fighting)

Don't Let The Sun Go Down On Me

Your Song
Macey's strip show
Saturday, July 3 2004
Singer Macy Gray has promised to perform naked to raise money for the Elton John Aids Foundation.
The outrageous star says she will appear in nothing but a pair of Jimmy Choo heels at her London gig on July 5, 2004.

She will reveal all to raise cash for the Elton John Aids Foundation. "Never before has a major artist gone so far in aid of a good cause," a spokesman for the singer said.

"Macy was invited to be part of a celebrity auction in which photographs of stars wearing Jimmy Choo shoes will go under the hammer. She wanted to do something special for it so decided that in her photograph she would be naked on stage. It is a very sexy statement."

The gig will take place at The Coronet in Elephant and Castle, south London - her first UK gig in two years.

Elton John & orchestra performed in London on July 1, 2004
Friday, July 2 2004
Fan report by Alistair.
Ten past midnight in the UK and we've just got home from Wembley. What a great show and what a fantastic evening.

Elton and the band were in their usual top form and the Orchestra and Choir of the Royal Academy of Music were marvellous, too. The set list was the same as for the second Birmingham gig.

Seven songs in total from the "Elton John" album - all faithfully recreated with the full orchestral treatment. Another four from "Madman" including fantastic renditions of the title track and "Holiday Inn". Two more from "Tumbleweed" comprising the rocking "Burn Down the Mission" and the beautiful "Come Down In Time".

And so it went on. Masterpiece after masterpiece. It was great to see the young musicians in the orchesra and choir so clearly relishing the experience of a life time - and a special word for the harpist, Angharad Jones, who opened the show with the intro from "Sixty Years On" and who featured many times throughout the evening.

Davey, Nigel, Bob, John and Guy (as usual) were clearly having a ball and it was great to see Bob able to move more freely than at the last few concerts we have seen - hopefully his medical problems are behind him.

Just three entries from the post "Blue Moves" era - "Carla/Etude" from the 80's, "Believe" from the 90's and "This Train Don't Stop There Anymore" from "Songs from the West Coast".

As usual, when Elton disappeared from the stage before the encores he checked on the football score from Euro 2004 and was clearly delighted to be able to report the semi final scoreline 'Greece 1 The Czech Republic 0'. He suggested, to the crowds amusement, that George Michael should get along to cheer on the Greeks in the final against Portugal!

I'm still on a high from the experience but I have a feeling that in the cold light of day this is going to be right up there as possibly the very best Elton gig I've ever seen.

Following is the complete set list from the London show on July 1, 2004:


Sixty Years On

The Greatest Discovery

I Need You To Turn To

Border Song

The King Must Die

Burn Down The Mission

Believe

Come Down In Time

Tell Me When The Whistle Blows

Tiny Dancer

Madman Across The Water

Holiday Inn

Levon

Sorry Seems To Be The Hardest Word

This Train Don't Stop There Anymore

Philadelphia Freedom

Have Mercy On The Criminal

Carla/Etude

Tonight

Take Me To The Pilot

Saturday Night's Alright (For Fighting)

Don't Let The Sun Go Down On Me

Your Song
Elton gig to rescue Vicarage
Thursday, July 1 2004
Sir Elton John will perform a special concert at Watford to raise money for the club's campaign to buy back Vicarage Road.
Elton, who quit as Watford chairman two years ago, will donate his fee and all profits from the event to the 'Let's Buy Back the Vic' fund.

An entertainment licence has yet to be granted, but the provisional date for the gig is June 18, 2005.

Elton said: "I know that the club is still facing financial difficulties but I am confident that Watford will come through. The key is that the Vicarage Road ground must be owned by the club and I am delighted to help. I last performed at Vicarage Road in 1974, and it was a memorable occasion for me. I am really looking forward to this show next summer."

Watford have traditionally been tenants at Vicarage Road but in 2002 the board decided that ownership was required to modernise the stadium and boost their income. They bought the freehold in January of that year only to sell it to a property speculator six months later - in the midst of a financial crisis.

The demise of ITV digital combined with a disastrous season of over-spending under Gianluca Vialli left Watford in serious danger of going out of business. But cash from the stadium sale and a wage deferral agreed with their playing squad meant administration was avoided.

The club's financial plight has since improved with the help of millionaire salad-growers Jimmy and Vincent Russo, who have joined a restructured board.

The 'Let's Buy Back The Vic' campaign was started in May 2003 with all pledged cash going into a fund. They need £4million for a deposit on the freehold which will ultimately cost around £6m. In March 2004, the club raised £5.25m through loans and a share issue, much of which will be put towards the stadium purchase.

Elton, who remains life president after a 25-year association with the club, has already made a major contribution by donating his £120,000 fee from Sky TV's 'Are You Ready For Love' advert to the fund. The concert can be expected to far exceed that figure.

Chairman Graham Simpson said: "This is absolutely fantastic news. It not only demonstrates Elton's continued affection for the club, but will give the Watford public a chance to see one of the greatest live performers in the world."

Demand for tickets is likely to be strong, but Watford season-ticket holders will be granted a preferential period before any tickets are offered to the general public. Simpson added: "We're always looking for ways to reward our most loyal fans - and this is a perfect opportunity."

A supporter since childhood, Elton is an immensely popular figure among Watford fans who associate him with the club's glory years under Graham Taylor. He was famously pictured crying in the stands when Taylor's team reached the FA Cup final in 1984.

Watford mayor Dorothy Thornhill added: "This shows his support for both the current management of the club and his affection for the town."