ELTON JOHN NEWS ARCHIVE: June 2009
Elton John and band performed in Lisbon on June 28, 2009
Tuesday, June 30 2009
Fan report by Julio from Spain.
After a concert cancelation back in 2001 and the change of day and venue in 2009, Elton finally came to Portugal.

The Pavillion Atlantico surprised me, is very beautiful inside and out. The audience was sensational with Elton.

After playing "Goodbye Yellow Brick Road," Elton had to stand up two times to receive the applause of thousands who did not let him follow the set list! Without doubt, one of the surprises of the evening was that he dedicated to "Don't Let The Sun Go Down On Me" to Cristiano Ronaldo, who according to some newspaper also attended the concert!

Elton was great, with the highlights being "Candle In The Wind", "All The Young Girls Love Alice" and "Skyline Pigeon". I got a lot of autographs. During "Sorry Seems To Be The Hardest Word" it seemed like everyone in the audience was singing along.

The merchandising was good, too, a lot of T-shirts, bubbleheads, keyrings, tour books and more.

Elton, come back soon to Portugal and don´t forget Spain!

Following is the complete set list of the Lisbon show on June 28, 2009:
Funeral For A Friend

Love Lies Bleeding

Saturday Night Alright (For Fighting)

Burn Down The Mission

Goodbye Yellow Brick Road

I Guess That's Why They Call It The Blues

Daniel

Honky Cat

I Want Love

Rocket Man

Sad Songs (Say So Much)

Take Me To The Pilot

Sorry Seems To Be The Hardest Word

Tiny Dancer

Sacrifice

Don't Let The Sun Go Down On Me

All The Young Girls Love Alice

Candle In The Wind (solo)

Skyline Pigeon

Are You Ready For Love

Bennie And The Jets

The Bitch Is Back

Crocodile Rock

I'm Still Standing

Your Song
City releases information about Elton John concert tickets
Saturday, June 27 2009
Nearly 20 per cent of tickets to the now-infamous Elton John concert in Sudbury last year were not available for sale to the public.
The information, which the City of Greater Sudbury unsuccessfully tried to suppress, was released on June 25, 2009 — more than 15 months after the concert was held.

The city spent tens of thousands of dollars in its efforts to withhold the ticket information, which had been requested by The Sudbury Star. After a lengthy process launched by The Star, Ontario's freedom of information commissioner ordered the city to publicly release the information in June 2009.

Despite the ruling that it had wrongly withheld public information — and the huge expense of taxpayers' money in its failed attempt — the city issued a news release on June 26, 2009 claiming to have achieved victory. According to the law, a municipality has to pass a three-pronged legal test in order to keep such information private. If the municipality does not pass all three parts of the legal test, it must release the information.

In this case, the province's freedom of information commissioner ruled the city's refusal to release the ticket information did not pass the legal test. The city's position met two of the required criteria, but failed categorically to meet the third condition. As a result, the city was wrong to withhold the information from the public.

The city's version of the ruling comes across differently. "The city won two of three arguments," the municipality stated in its news release, without specifying it ultimately "lost" the legal test. The information the city was forced to release shows 1,227 tickets out of a total of 6,386 — just under 20 per cent — were withheld from public sale prior to the Elton John concert of March 2008. A total of 5,241 tickets were sold to the public, according to the city's data.

Among the tickets withheld from the public were 120 tickets claimed by city council — an average of more than nine for each politician. Council had not publicized the fact it had given itself advance access to the valuable tickets. However, after The Star broke the story, a massive public backlash prompted the return of 71 of the 120 tickets. Some councillors refused, or could not, return some or all of their tickets.



Elton John concert in jeopardy over ticket grab
Sunday, February 17 2008 at 09:33:43

Mayor sorry for handling of Elton John tickets
Thursday, February 14 2008 at 12:43:11

City councillors snapped up Elton John tickets
Monday, February 11 2008 at 11:05:08


Elton sings for Michael Jackson
Friday, June 26 2009
Elton John was in the middle of his annual "White Tie and Tiara Ball" when he was rocked by the news of Michael Jackson's death.
TMZ reported that Elton dedicated his song "Don't Let the Sun Go Down on Me" to Michael. Liz Hurley, Hugh Grant, Lily Allen, and Kelly Osbourne were at the party -- however several of the guests left once they heard about the news.

Held at Sir Elton and David Furnish's £20million Windsor home, the White Tie and Tiara Ball has become the society event of the summer. The invite-only event attracts a host of celebrities and singers each year.

Pop star Justin Timberlake was due to perform for guests on June 25, 2009. The ball was given an art theme in honour of the newest addition to Sir Elton's estate - a plush gallery. Constructed by London architect Jack Schneider, it will house pieces by Damien Hurst, Gilbert & George and Antony Gormley.

Celebrities pulled up in their droves to attended what has become the society event of the summer attracting A listers from far and wide.

Sir Elton and David Furnish held their first White Tie and Tiara ball in 1999. Set among 37 acres of English countryside next to Windsor Castle, it attracts scores of celebrities every year and has raised more than £26.9million for the Elton John Aids Foundation since it began.
ZDF sucht Hessens größten Elton-Fan
Thursday, June 25 2009
This news item appears in German as it is a call from a German broadcaster trying to find the biggest Elton fan in the Wiesbaden area.
Das ZDF sucht den größen Elton Fans Hessen, der idealerweise aus der Nähe von Wiesbaden kommen sollte. Wer zuhause eine große Elton-Sammlung hat und bereit wäre, diese und sich selbst vor der Kamera zu präsentieren, der kann sich direkt an Martina Roßkopf (Rosskopf.Ma@zdf.de) von der Redaktion "hallo deutschland" wenden.

Das ZDF würde dann im Vorfeld der Show in Wiesbaden am 30. Juni 2009 bei Euch drehen und Euch mit der Kamera auch zum Konzert begleiten. Also, traut Euch!
Elton John and band performed in Boras on June 21, 2009
Tuesday, June 23 2009
Fan report and photos by Ronniefriend.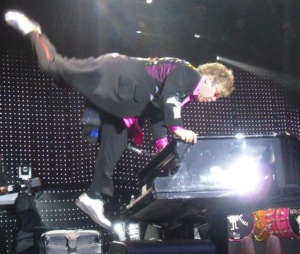 Elton John and the band performed at Borås Arena in Sweden on a beautiful and sunny mid-summer evening after a whole weekend of rain! Elton himself said that he was happy to be in Sweden, at the first of the summer concerts where it wasn't raining! We were very fortunate with a great evening for a great show! The set list was the same as before and it was performed wonderfully!

Elton wore the beautiful jacket that you see in the summer's tour program – with decorations of pianos, guitars, juke box and music notes all over it and the words "Music Magic" on the back. Elton seemed to be in a good mood, talking and joking much more than he often does in Sweden! Among other jokes he introduced Davey Johnstone as a former member of the group Fat Ass, which might have been a joke on Elton's attempt to say the name of the town – Borås! All the band couldn't stop laughing as Davey paraded across the stage.

Elton's piano playing and the powerful and prominent sound of the piano was absolutely brilliant! "Burn Down The Mission" was especially spectacular. The band totally rocked with "All The Girls Love Alice". "I Want Love" was well done and good to hear again – though it seemed a bit strange to occasionally see glimpses of Robert Downey, Jr. on the video screens.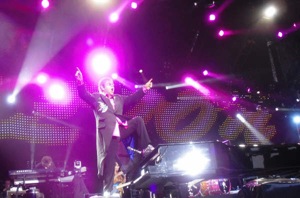 A very special highlight was "Skyline Pigeon" as a full band version. Beautifully and powerfully done. With images of birds flying on the video screens behind Elton, combined with the real birds that happened to be flying in the gorgeous blue sky overhead, it was stunning! It was even well received for being a song that probably many in the audience didn't know.

As Elton and the band began "Are You Ready For Love" Elton said, "OK, dance time!" and many of us went forward to the stage area, singing and dancing with Elton towering over us. It was so fun! When he came out for encores he shook a few hands and signed a few autographs – starting with mine! I got him to sign my CD cover from "The Captain & The Kid." He wasn't even in such a hurry as he is sometimes – he very nicely signed both names – "Elton John"! I even got the chance to shout to him what a great album it was and he smiled at me and said, "Thank you"!

Of course we all sang along with all the words to "Your Song" at the close and Elton (also unusual) came back to us at the front of the stage and shook a few more hands and said to us below (not in the microphone) "Thank you for a great night! Take care!"

It was a fantastic night and a fantastic show with Captain Fantastic himself!

Following is the complete set list of the Boras show on June 21, 2009:
Funeral For A Friend

Love Lies Bleeding

Saturday Night Alright (For Fighting)

Burn Down The Mission

Goodbye Yellow Brick Road

I Guess That's Why They Call It The Blues

Daniel

Honky Cat

I Want Love

Rocket Man

Sad Songs (Say So Much)

Take Me To The Pilot

Sorry Seems To Be The Hardest Word

Tiny Dancer

Sacrifice

Don't Let The Sun Go Down On Me

All The Young Girls Love Alice

Candle In The Wind (solo)

Skyline Pigeon

Are You Ready For Love

Bennie And The Jets

The Bitch Is Back

Crocodile Rock

I'm Still Standing

Your Song
Elton John to get a street named after him?
Monday, June 22 2009
Elton John could be on verge of getting a street named after him. The rocket man is from Pinner and the local council are considering honouring him with his own road.
According to Harrow Council's publication Harrow People, they are "considering plans to name a road after its most famous musical son". The local publication also reveals that Elton allowed a rapper from his local area to sample him, an honour previously reserved for hip-hop's heavyweights.

Ironik, who play's the borough's Under One Sky event at Kodak Recreation Ground, Harrow View on June 28, 2009, scored a hit sampling 'Tiny Dancer'.

"We approached Elton and management after we worked on it and they loved the idea and cleared the sample, which is one of only three samples in the hip-hop scene to be cleared," he told Harrow People. "The other two were for Tupac (Shakur) and Kanye West."
Elton pushed Diana Krall to start a family
Monday, June 22 2009
What would you do if Sir Elton John sat you down and told you to start thinking about having kids? For singer Diana Krall, she listened!
Diana hadn't thought much about parenthood, busying herself in the recording studio and caring for her mother, Adella, who passed away from bone cancer in 2002. However, when she found herself in love with musician Elvis Costello a year later, the couple's friend Elton sat her down for a little chat.

"He says, 'Diana, you're 39 – you're going to be 40. You better start thinking about having kids,' and I went, 'Right … .' But usually, you'd have a parent, your mom would tell you that."

Taking the singer's advice to heart, Diane and Elvis began trying for children, welcoming fraternal twin sons Dexter Henry Lorcan and Frank Harlan James, now 2, in December 2006. Becoming a parent herself allowed Diana to "feel my mother back in me," she explains. Taking the twins on the road with her for much of her current tour, the songstress notes that Elvis pulls his weight as well!

"We're equal parents. He's home with them now with Vancouver, and he looks after then when I have to go to Washington to play for the president."
New Line Records releases soundtrack for "My Sister's Keeper"
Saturday, June 20 2009
New Line Records will release the official soundtrack album from the New Line Cinema film "My Sister's Keeper" via digital download and on CD June 23, 2009.

The lineup features 12 emotionally moving songs from the motion picture, which will be released nationwide on June 26, 2009.

The soundtrack includes memorable tracks from a variety of artists, and features the previously unreleased Jeff Buckley song "We All Fall In Love Sometimes," written by the incomparable Elton John and Bernie Taupin. Additional highlights on the album include tracks from artists Pete Yorn, Regina Spektor, James Blunt and Greg Laswell.

A perfect companion to the poignant story, the motion picture soundtrack will be available at all digital retailers and on CD June 23, 2009.

The full track listing is as follows:

1. "Feels Like Home" – Edwina Hayes
2. "Don't Wanna Cry" – Pete Yorn
3. "Better" – Regina Spektor
4. "Life Is Beautiful" – Vega 4
5. "Carry You Home" – James Blunt
6. "We All Fall In Love Sometimes" – Jeff Buckley
7. "Girls Just Want To Have Fun" – Greg Laswell
8. "Find My Way Back Home" – Priscilla Ahn
9. "With You" – Jonah Johnson
10. "Life Is Just A Bowl Of Cherries" – E.G. Daily
11. "Heaven" – Jimmy Scott
12. "Hymn: Amazing Grace" – Pipe Major Jim Drury and Julia McGurk
S. Ecclestone buys VIP section for Elton's concert
Saturday, June 20 2009
Slavica Ecclestone announced she will buy all 50 VIP entrance tickets to Elton John's concert, so she can relax with family and friends.
Slavica Ecclestone is known for having a good time, so she came to Zagreb for a concert by Miso Kovac, and she took her daughter Petra with her. She announced her arrival to a concert by Elton John in Pula's area, but what surprised the organizers of the festival is that she bought all 50 entrance tickets to the VIP area for that concert. This news will certainly not make other celebrities happy, who intended to enjoy themselves in the VIP area.

Slavica will have no problem setting aside 110,000 kuna for the concert by Elton in the company of her friends from all around the world. The reason being that after he record quick divorce, which lasted 58 seconds, she gained around one billion pounds.

Besides the entrance tickets, Slavica will spend a few more thousand to ensure her guests have somewhere to stay, and it is not out of the question that Bernie might visit too.
You touched it and you wore it ...
Wednesday, June 17 2009
... and you kept it in your pillow all the same. This excerpt from "High Flying Bird" is a good summary of Rocksteady Pillows' business model.
Anglea Barkan makes pillows out of vintage concert T-shirts and she has a few Elton John ones that you might like. She also custom makes pillows from people's old shirts.
 
Check out her site on www.rocksteadypillows.etsy.com.
Andy Roddick to headline WTT Smash Hit Charity Night
Wednesday, June 17 2009
Good tennis for a good cause. On December 8, 2009, longtime friends Sir Elton John and Billie Jean King will bring their annual Advanta WTT Smash Hits charity night of tennis to Louisiana for the first time in the event's 17-year history.
Andy Roddick and other top players will compete at the Pete Maravich Assembly Center on the Louisiana State University campus in Baton Rouge.

Captained by King and Elton, the players will form two teams and play five sets of World TeamTennis (WTT). Elton will participate in a celebrity doubles match to open the event. All proceeds from the night will go to the Elton John AIDS Foundation and regional Louisiana AIDS charities.

Special VIP ticket packages are available now. For more information visit WTT.
Hitting the high notes – thanks to Elton John
Tuesday, June 16 2009
Rising opera star Allan Clayton's career has received a major boost from one of the pop world's most flamboyant performers.
In 2004, he was one of the first recipients of a lucrative scholarship award from what was, at the time, an anonymous donor. "I was so pleased when they offered me one of these scholarships," says Allan. "That was in November and I had no idea who was behind it. Then, in the February, they told me that my sponsor would like to meet me – and that it was Elton John.

"I couldn't believe it. He was very friendly and has been supportive ever since. He always wants to know what the people who have had his scholarships are up to. It's a wonderful thing he's done. I think he has donated something like £1m. The arts suffer in a recession as it is seen as not a necessity so we need things like this."

In Allan's case the investment is certainly paying off. At 28 he has been spotted as a "rising star" of the opera world and this week can be seen singing the role of Belmonte in Mozart's The Abduction from the Seraglio.
Elton John and band performed in Bristol on June 13, 2009
Monday, June 15 2009
Fan report and photos by Mark S. Giles.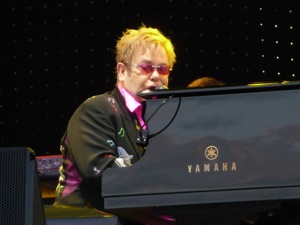 Support act Richard Fleeshman performed "Can You Hear Me ?", the song he co-wrote with Elton.

I suppose the big news is that Elton announced that he's only doing one show in the UK in 2010, at Watford FC, followed by Billy Joel shows in 2011.

The show went without a hitch. It rained an hour before the start, but stopped before the support act came on. Elton didn't seem in a particularly good mood at the start, but soon got into the swing of it.

Highlights for me were "Burn Down The Mission", the new intro for "Take Me To The Pilot", "I Want Love" (it was nice to hear something from "Songs From The West Coast"), "All The Young Girls Love Alice", and "Skyline Pigeon" with the band (I am not sure if I've ever heard it with the band). The rest was as per usual.

The live CD by Concert Live sounds good, but the pictures on the bonus disc are a bit disappointing.

Following is the complete set list of the Bristol show on June 13, 2009:
Funeral For A Friend

Love Lies Bleeding

Saturday Night Alright (For Fighting)

Burn Down The Mission

Goodbye Yellow Brick Road

I Guess That's Why They Call It The Blues

Daniel

Honky Cat

I Want Love

Rocket Man

Sad Songs (Say So Much)

Take Me To The Pilot

Sorry Seems To Be The Hardest Word

Tiny Dancer

Sacrifice

Don't Let The Sun Go Down On Me

All The Young Girls Love Alice

Candle In The Wind (solo)

Skyline Pigeon

Are You Ready For Love

Bennie And The Jets

The Bitch Is Back

Crocodile Rock

I'm Still Standing

Your Song
Elton John: Tour factfile
Monday, June 15 2009
Here are some facts and figures about Elton's current European band tour.
TECHNICAL

How many crew are on the road? 37.

How many days will it take to load in? Six.

How many crew will it take to put up the stage? 60 (these are additional to the touring crew).

How many trucks of production will there be? Eight.

How many trucks of steel (i.e. containing the stage)? Six.

How many tonnes of steel? 120.

How big is the crane that will be used to put up the stage? 35 tonne crane.

How many generators? Two 500 KVA "Twin Set" generators.

How many watts of power? 44,000.

How many metres of cable? 8,950.

How many light bulbs are in the lighting rig? Approximately 100 moving lights.

How many boxes are there in the sound rig? 52.

How many mic's are on stage? 40.

How many pianos are on tour? Two.

How many times a day is the piano tuned? Once.

DRESSING ROOM

How many costumes does Elton take on the road with him? 40-50.

Does Elton have any peculiar requests on his dressing room rider? Flowers!!!

Are there any particular things that Elton specifically has to have in his dressing room? Twinnings English Breakfast tea, Diet Coke, San Pellegrino sparkling water.

Is there anything in particular than Elton does before he goes on stage? Vocal exercises.

Does Elton have any particular things for when he comes off stage? Climbs in the car and goes home!

TOUR

How many shows on the European leg of this tour? 15.

How many hours will he spend on stage on this tour? 34 hours.

How many people will he perform to on this tour? 225,000.
Elton John and band performed in Glasgow on June 10, 2009
Monday, June 15 2009
Fan report by Julio, Jose & Rosa from Spain.
The concert started with the support act Pearl and the Puppets. They performed very well and surprised the audience with their quality!

Elton's performance began with "Funeral For A Friend/Love Lies Bleeding" and continued with "Saturday Night's Alright (For Fighting)". I think this is very good start, but I prefer other songs to start, like during The Big Picture Tour, for example, when he kicked off with "Circle Of Life"!

The set list was very good, with highlights such as "Burn Down The Mission", "Honky Cat" with a magic Davey Johnstone celebrating his 2000th show with Elton, and the amazing "Skyline Pigeon", which was to vibrate the entire building, very emotional and I hope that he will never remove it from the set list.

The only downside of the concert was that the loudness level which was too high at times, and I think that should be corrected for future Elton shows.

Overall a fantastic show in a beautifull arena!

Following is the complete set list of the Glasgow show on June 10, 2009:
Funeral For A Friend

Love Lies Bleeding

Saturday Night Alright (For Fighting)

Burn Down The Mission

Goodbye Yellow Brick Road

I Guess That's Why They Call It The Blues

Daniel

Honky Cat

I Want Love

Rocket Man

Sad Songs (Say So Much)

Take Me To The Pilot

Sorry Seems To Be The Hardest Word

Tiny Dancer

Sacrifice

Don't Let The Sun Go Down On Me

All The Young Girls Love Alice

Candle In The Wind (solo)

Skyline Pigeon

Are You Ready For Love

Bennie And The Jets

The Bitch Is Back

Crocodile Rock

I'm Still Standing

Your Song
MHS student's play to be performed on Broadway
Monday, June 15 2009
Madeline Hendricks, a Mamaroneck High School junior, has won the Fidelity FutureStage Playwriting contest. Now she is headed to Broadway's Imperial Theatre on June 15, 2009 to see her play produced by the Tony Award winning creative team of Billy Elliot the Musical.
Ms. Hendricks celebrated her win by meeting Elton John, composer for Billy Elliot the Musical and honorary chairperson of Fidelity FutureStage.

The contest, a joint initiative of Fidelity Investments and Billy Elliot the Musical, was created to give students throughout the NYC metro area encouragement and opportunity to participate in the theater arts. Students were invited to write a 10-minute, one-act play reflecting one of the themes from the story of Billy Elliot: fulfilling a dream, discovering a special talent or overcoming adversity. The contest was open to all high school students attending school in New York City and surrounding counties in New York and New Jersey.

Ms. Hendricks won the competition with Driver's Education, a comedic character study about a chatty cab driver, his daughter, and some interesting passengers who teach them important life lessons. Driver's Education will be performed at the Imperial Theatre on June 15, 2009, as part of the Fidelity FutureStage Finale, hosted by entertainment icon Queen Latifah.

"I can't imagine what it's going to be like to see my play on Broadway. I might fall over in the theater," said Ms. Hendricks. The play was inspired by an actual cab ride Ms. Hendricks took to see her older sister perform in a play at New York's Tisch School of the Arts. Ms. Hendricks will also be attending college for theater this fall.
Elton John and friends abandon PM as Labour gala fails to sell out
Monday, June 15 2009
Labour has failed to sell out a gala fundraising dinner with Gordon Brown on June 11, 2009, casting more questions over the Prime Minister's future.
The major event was meant to attract 300 VIP guests paying £500 a head and the party hoped that Elton John would attend. However, Elton was unable to accept and a party source revealed to the Standard: "They cannot get rid of all the tickets and are having to give some away and offer cut-price deals on others.

"The whole thing is looking like a disaster but the party is contracted with the venue to go ahead." The Tories' Black and White ball was a huge success, by contrast, raising £485,000 for David Cameron.

Any sign that Labour can no longer count on wealthy supporters and big companies to fill its coffers will increase the pressure on Mr Brown. A spokesman for Elton said he had been unable to fit the event into his diary. "His diary is booked up 18 months ahead," he said.

It comes at a time that MPs are talking increasingly seriously about ousting Mr Brown in the autumn and fighting a May 2010 election under a new leader. One senior MP said: "People are determined to do it. I do not believe Gordon Brown will lead us at the next election."
The Tony Awards: A Behind-the-Scenes timeline
Wednesday, June 10 2009
What did the cameras miss at the Tony awards on June 7, 2009?
…11:22 p.m.: Elton John is telling the press room how he's never been to the Tonys before, but he likes them way better than the Oscars. Then he almost slips off the stage. The entire press room gasps as Elton totters, then manages to sit down on the stage and finish his press conference. Publicists lose all color in their faces.

11:26 p.m.: The three Billy Elliot kids enter the press room, followed by a huge noisy posse of friends and family. Publicists go ballistic: "You can party with them the whole night, but if you keep making noise, you won't be able to stay here." The moms ignore them and start dancing.

11:29 p.m.: Entire press room freezes in confusion as Elton John seizes the three Billys for a photo op in some unknown part of the building….

…12:19 a.m.: Christopher Sieber, Lord Farquaad in Shrek, tells us what it's like to be a nominee: "There's a moment when your category comes up, when you kind of shuffle yourself to make sure you look okay. Make sure you're buttoned up and your tie is straight and stuff like that," he says. "And then they open the envelope and there's a split second of hope and despair where you think you heard your name and then you realize it's someone else's name. I think everyone should experience that once in their life. That feeling of, 'Oh my God, it might be me! It's me! It's not.'" On the bright side, though, he points out, he lost to his good friend Gregory Jbara instead of a 12-year-old….

…12:42 a.m.: At the Billy Elliot after-party at Bar Americain, Elton John has left the building, but stars Kiril Kulish and Trent Kowalik stand against a wall catching their breath. "It's so overwhelming right now," says Kowalik. "I still can't believe it." "It feels like a dream," says Kulish. David Alvarez is actually mute. Completely mute. All three keep running back to their moms for hugs and kisses, while their seven sisters exchange horror stories of getting kissed on the cheek by distant members of the cast/Broadway family.

12:47 a.m.: Amid plates of half-eaten comfort food at the Billy Elliot party (corn bread, fried chicken, mac and cheese), a Tony award sits on a table, unguarded and forgotten.

1:00 a.m.: Roger Friedman tells Haydn Gwynn she was robbed. She replies: "Did you go, 'Oh fuck!' like my partner? See, that's why I like the Tonys. Unlike other award shows, when someone loses, they go, 'Oh shit,' instead of applauding the winner."



"Billy Elliot" takes ten Tonys
Monday, June 8 2009 at 08:22:25


Elton John treat for South African visitors to Portishead
Tuesday, June 9 2009
A group of inspiring youngsters from an HIV-ravaged area of South Africa will be visiting North Somerset the second week of June 2009.
The cultural exchange is the brainchild of Portishead shop-owner Jayne Morris-Thurgood. And as well as providing educational and cultural opportunities for youngsters from North Somerset, the South African visitors have also been invited to AIDS campaigner Sir Elton John's Bristol show.

Jayne, who runs the not-for-profit Bella Natura shop on Portishead High Street, has had links with South Africa for seven years. The Youth in Action project will see 15 young people from the Mpumalanga region travel to North Somerset to share their creative and cultural experiences during a three-week visit.

Jayne explains that most of the children are AIDS orphans and are travelling from an area with an HIV infection rate of 40 per cent. She said: "They will be visiting schools throughout North Somerset to talk about their experiences. Peer to peer education is far more effective than a middle-aged woman like myself talking to school children about sexual health and the importance of using condoms."

As well as visiting schools the visitors will be putting on musical performances at numerous venues. Not only will they be performing on stage themselves they have been invited by one of the world's biggest pop stars to attend his show in Bristol on June 13, 2009.

Sir Elton John, who has campaigned long and hard for AIDS charities and established the Elton John Aids Foundation in 1992, has given the group tickets to his show at Gloucestershire County Cricket Club, Bristol. To make Sir Elton's show it means the group's performance at Portishead Methodist Church will be brought forward to 6.30pm from the advertised time of 7.30pm.
Elton slams British government
Monday, June 8 2009
Elton John has hit out at the British government, insisting the U.K's politicians are "untrustworthy".
British Prime Minister Gordon Brown has been left red-faced in recent weeks after embarrassing revelations concerning several Members of Parliament's expense claims. The scandal has led to a string of high-profile politicians quitting Parliament, and fuelled widespread calls for a General Election in the U.K.

And Elton has voiced his disgust at the scandal currently overshadowing the British political system. He says, "It's tragic when you lose faith in everybody that's a politician. It seems to me there's nobody you can trust in the British system at the moment and that's a horrible thing. I'm so disillusioned with politics in Britain."
"Billy Elliot" heading back to the big screen?
Monday, June 8 2009
Elton John is in talks to take "Billy Elliot" back to the big screen.
Elton wrote the music for the theatre adaptation of the 2000 movie, which was written by Lee Hall and directed by Stephen Daldry. Now the trio want to take the story about a young ballet dancer full circle by re-making the movie as a musical.

Speaking after the Broadway adaptation of "Billy Elliot The Musical" scooped ten Tony Awards on June 7, 2009, Hall revealed, "We've been talking about making the musical back into a movie - but we'd have to think long and hard how to do it."



"Billy Elliot" takes ten Tonys
Monday, June 8 2009 at 08:22:25


"Billy Elliot" takes ten Tonys
Monday, June 8 2009
"Billy Elliot" dominated the Tonys on June 7, 2009, collecting ten awards, including director of a musical, book of a musical and choreography, but the show and its composer Elton John were upset for best score.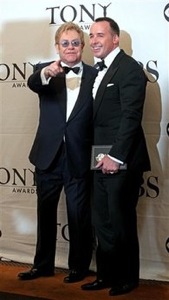 That award was taken by "Next to Normal" — which seemed to stun "Normal" composer Tom Kitt and lyricist Brian Yorkey. "God of Carnage," the satiric comedy by French playwright Yasmina Reza, took the best play prize.

Reza, who previously won a best-play Tony for "Art," said: "Maybe you missed my accent; you wanted to hear it again. I'm very grateful for all the people who gave their best for the production." The play about the clash between two liberal, middle-class couples whose children get into a fight, stars James Gandolfini, Marcia Gay Harden, Jeff Daniels and Hope Davis.

Harden also won the actress-play award and the production's director, Matthew Warchus, also picked up a prize. Said Harden: "I tell my children every day that tantrums and bad behavior will get you nowhere. I don't know how to explain this. ... I feel like I've been given custody of a family that has four parents, four deranged parents."

The director/musical award went to Stephen Daldry of "Billy Elliot." "I have been blessed in my life to spend the majority of last 10 years of my life working on the story of 'Billy Elliot,'" said Daldry, who called it "a long, extraordinary journey."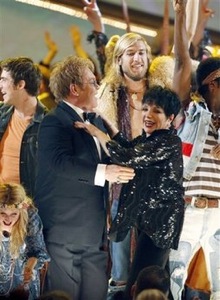 He said the award belonged to everyone connected to the show and especially to "three great gifts of Broadway, our three little Billys." "Billy" also received design prizes for featured actor, sets, lighting, sound and a tie with "Next to Normal" for best orchestrations, which Kitt shared with Michael Starobin.

Geoffrey Rush's extravagant portrait of a dying monarch in "Exit the King" took the top actor prize. "The best thing in life is being a little light among 6,000. The season on Broadway this year for me has been exactly that," Rush said. "I want to thank Manhattan audiences for proving that French existential absurdist tragicomedy rocks."

Angela Lansbury received her fifth Tony, this time for her performance as the dotty medium Madame Arcati in a revival of Noel Coward's "Blithe Spirit." Her win in the featured-actress category tied the record for acting prizes held by Julie Harris, who has five plus a special lifetime achievement award given in 2002.

"Who would have thought," the 83-year-old Lansbury began, drowned out by a standing ovation. "Who knew that (at) this time in my life that I should be presented with this lovely, lovely award. I feel deeply grateful."

An emotional Liza Minnelli accepted the prize for special theatrical event for her show "Liza's at the Palace." "This is exquisite," Minnelli said, asking for a list of people to thank because she didn't think she was going to win. "Lastly, I want to thank my parents and the greatest gift they ever gave me, Kay Thompson," her godmother. Minnelli recreated part of Thompson's club act as part of her Palace entertainment.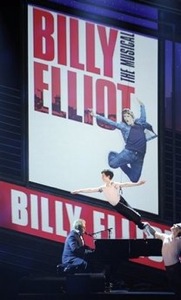 Roger Robinson's portrayal of a mystical shamanlike character in "Joe Turner's Come and Gone" was honored with the featured-acting prize. "It has taken me 46 years to come from that seat, up these steps, to this microphone," said Robinson, who thanked his mother in Bellevue, Wash., "who's 98 years old ... who encouraged me and raised seven children single-handedly."

Featured actress-musical went to Karen Olivo as the spitfire Anita in the revival of "West Side Story," "I'm completely unprepared for this. ... I just want to dedicate this to everyone who has a dream," Olivo said, thanking the production's 91-year-old director, Arthur Laurents, and then dissolving in tears.

The Tonys twittered this year, with Mark Indelicato of "Ugly Betty" as the night's uber-tweeter from backstage at Radio City Music Hall. He offered such timely nuggets as "NPH's (host Neil Patrick Harris) favorite beverage while warming up for the start of Tonys? RED BULL, natch!" Jane Fonda, nominated for lead actress in a play, offered: "The trick is to be Zen about it. Winning is sometimes not the prize."

Brett Michaels injured himself in the show's opening production number when he rocked it out with a number from "Rock of Ages." The extent of his injury was not immediately known.

Broadway had a surprisingly robust 2008-2009 season. Attendance during the 2008-2009 season slipped a bit (to 12.15 million from 12.27 million the previous year) but not as much as was feared because of the recession. And grosses for plays and musicals actually were a bit higher than a year earlier, setting a record of $943.3 million.

Forty-three shows opened during the season, the highest number of new productions since 50 opened during the 1982-83 season.

The awards were voted on in 27 competitive categories by more than 800 members of the theatrical community, including producers, actors and journalists. The Tonys are presented by the League and the American Theatre Wing, a nonprofit service organization. The Wing founded the Tonys in 1947.

A complete list of winners follows:

Best Musical
Billy Elliot

Best Actor in a Musical
David Alvarez, Kiril Kulish and Trent Kowalik, Billy Elliot

Best Actress in a Musical
Alice Ripley, Next to Normal

Best Revival of a Musical
Hair

Best Play
God of Carnage

Best Revival of a Play
The Norman Conquests

Best Actress in a Play
Marica Gay Harden, God of Carnage

Best Actor in a Play
Geoffrey Rush, Exit the King

Best Featured Actress in a Musical
Karen Olivo, West Side Story

Best Featured Actor in a Musical
Gregory Jbara, Billy Elliot

Best Special Theatrical Event
Liza Minnelli, Liza's at the Palace

Best Direction of a Musical
Stephen Daldry, Billy Elliot

Best Direction of a Play
Matthew Warchus, God of Carnage

Best Original Score
Tom Kitt (music) and Brian Yorkey (lyrics), Next to Normal

Best Featured Actress in a Play
Angela Lansbury, Blithe Spirit

Best Featured Actor in a Play
Roger Robinson, Joe Turner's Come and Gone

Best Book of a Musical
Lee Hall, Billy Elliot

Best Choreography
Peter Darling, Billy Elliot

Best Sound Design of a Musical
Paul Arditti, Billy Elliot

Best Sound Design of a Play
Gregory Clarke, Equus

Best Scenic Design of a Musical
Ian MacNeil, Billy Elliot

Best Scenic Design of a Play
Derek McLane, 33 Variations

Best Costume Design of a Musical
Tim Hatley, Shrek The Musical

Best Costume Design of a Play
Anthony Ward, Mary Stuart

Best Lighting Design of a Musical
Rick Fisher, Billy Elliot

Best Lighting Design of a Play
Brian MacDevitt, Joe Turner's Come and Gone

Best Orchestrations
(TIE)
Michael Starobin and Tom Kitt, Next to Normal
and
Martin Koch, Billy Elliot

Tony Awards Tally:
Billy Elliot – 10
God of Carnage – 3
Next to Normal – 3
Joe Turner's Come and Gone – 2
33 Variations – 1
Blithe Spirit – 1
Equus – 1
Exit the King - 1
Hair – 1
Liza's at the Palace... – 1
Mary Stuart – 1
The Norman Conquests – 1
Shrek the Musical – 1
West Side Story – 1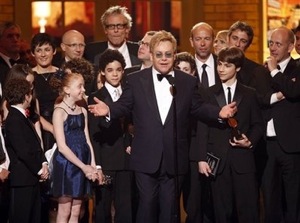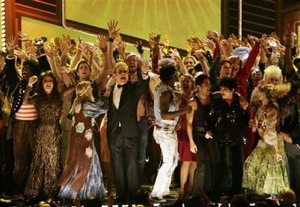 My 2000 gigs with Elton
Saturday, June 6 2009
Elton's guitarist and musical director, Davey Johnstone, celebrates a remarkable milestone next week. An interview from the California Chronicle.
Davey, from Edinburgh, will perform his 2000th concert with Elton at Glasgow's SECC on June 10, 2009, after a relationship that has spanned almost 40 years.

Relaxing before a gig in Detroit, Davey admitted: "I didn't know it was my 2000th gig until Elton's office called me up. I was surprised but thrilled. It's exciting to think I'm playing my 2000th official show in Scotland."

Davey has so many awards and platinum discs, he stores them in his garage and hands them to friends and relatives whenever he is short of a Christmas or birthday present. As well as being Elton's guitarist, Davey is also his musical director and has co-written many classic songs, including "I Guess That's Why They Call It The Blues". He also penned tracks with Elton for "The Lion King" soundtrack, worked with him on "Aida" and "Billy Elliot", and the pair are currently working on an animated film for Disney called "Gnomeo & Juliet".

Despite his incredible talent and experience, Davey enjoys a level of anonymity that enables him to spend time with his wife and seven children without being mobbed by fans. In keeping with his status as one of the world's busiest musicians, his collection of stringed instruments stretches into the hundreds and includes plenty of vintage guitars and mandolins.

He received his first album credit in 1968, before going on to join British folk group, Magna Carta. Elton's producer Gus Dudgeon invited him to record on Elton's 1971 album "Madman Across The Water" and, since then, he and Elton have been inseperable.

"That was the first day I met Elton," Davey recalled. "It was a pivotal album for him and he was desperately trying become this star and it was just starting to happen. I was just 19, in the studio with established musicians I really looked up toincluding people like Herbie Flowers, playing bass. "Elton was quite shy but we got on immediately. He'd say, 'How should we start this song?' and I'd say, 'Why don't we just go straight into it?' The fact that somebody was saying, 'Let's do it this way,' was something he noticed."

Davey's hands-on approach impressed Elton so much, he was asked to join his band full time. "I was a little bit surprised a couple days later when I got a call to say Elton wanted to use me on the next album, 'Honky Chateau'," Davey said. "We went over to France and recorded it. I felt good because I was bringing a different side to the music that he wanted.

"He is a huge folk fan and I was playing acoustic as well as electric guitar. He loves JoniMitchell and I was digging people like Bert Jansch and Billy Connolly, who was in The Humblebums. They were my mates in Scotland, so I'd play their music to him. When I get together with Billy Connolly, we laugh the whole time. He was as big an influence on me as George Harrison was.We got to play together a lot because Billy was a great banjo player and a lover of music in general.

"In those times, when the original Humblebums were hanging out with Gerry Rafferty, we'd hang out and get a bit wasted." "Rocket Man" from that album became Elton's first No.1 and, within months, he was on his way to being a superstar, with Davey in tow.

And the guitarist won't have to think too hard about which of his 2000 gigs stands out from the overs when he celebrates on June 10, 2009. "The biggest stand-out is way back in 1974, when we did Madison Square Garden in New York and John Lennon came on with us," Davey recalled. "John had been recording with us and travelling with us the whole year so we were great mates. He loved to hang out with us.

"Elton had made a bet with John that he would have to get onstage with us at Madison Square Garden if Whatever Gets You Through The Night, which Elton played piano on, got to No. 1. John said no problem because he never thought his single would top the charts. But it did get to No. 1. That night of the concert, John said he was too nervous to go on. Even though John was incredibly nervous, it was the most amazing buzz when he did come onstage. The audience went completely nuts.

"After the show, I was in the New York Plaza hotel and Elton called me up and said, 'Listen, John's here withme and he wants to come over and hang out with you. Is that OK?' I remember saying, 'Is that OK? I might be a bit busy. Of course, it's OK. Send him over.' One of my greatest visual highlights is looking through the spyglass on my bedroom door and seeing John Lennon walking up the hall, with his black flat hat on, the shades and black gear. John hung out with me and we talked until eight in the morning. I played him some music I was into. I told him where I lived in Scotland and he said, 'I know exactly where it is. I always go up to Murrayfield.' I found out that he used to come up to Edinburgh every year on vacation because he had an aunt up there."

Over the years, Davey has also performed with a who's who of music names that includes Meat Loaf, Olivia Newton-John, Alice Cooper, Julio Iglesias, Judy Collins, George Jones, Rod Stewart, Belinda Carlisle, Lenny Kravitz and Vonda Shepard. He has no idea of the number of platinum discs he owns, or how many awards he has received, let alone the number of times he has picked up a guitar to performa song from Elton's huge back catalogue.

Davey said: "All I know is I've been blessed and have gotten loads of awards. Most of them I give tomy family and good friends because it is embarrassing. I've never been into the idea of plastering a room with platinum albums. Don't get me wrong, it is great to have them and I am proud to have reached that achievement. A friend has my first Gold albums for records like Yellow Brick Road. He prizes that more than I do. Plus, my wife wouldn't want them on the wall. I'll give someone one of the awards as a present because they're beautiful.

"When Elton started getting them, it was platinum album diarrhoea. They were coming in the mail, five-a-day. So he started decorating his houses with them. He is not ostentatious about it, though. You get very blase about it, the more awards you get." Davey added: "I turned 58 and he threw the most beautiful dinner party for me in his house in Atlanta. His housekeeper Lucy cooked me the best meal of home-cooked Mexican food. Elton gave me this gorgeous bracelet with black sapphires on it. Elton is like Santa Claus. He is so generous, it's unbelievable."

Having lived and partied through the 1970s, a golden age of pop music, Davey now lives with his Danish wife, Kay, and their children, in Malibu Canyon, California. He said: "I love Malibu Canyon because it is away from all the madness. I lived in Hollywood for the first 10 years in California. That was nuts. Completely mental. I had a party house with a view of the Hollywood hills. I knew I had to get out of thereor I was going to die.

"Lowell George, the main guitar player with Little Feat, was a real icon among guitar players and would be over regularly. Oliver Reed, the actor, would come up and drink and snort everything in sight. I have mentioned two people who are dead so I think I should leave it there so I don't incriminate people. I can't deny it. We all had a phenomenal time. Making money and getting as whacked out as you possibly can was great, but the reality kicked in when we started losing good friends like Keith Moon, Jimi Hendrix and John Bonham. It was a wake-up call. In the 1980s, we started looking after ourselves a bit more."

Davey's workload is so huge he is required to have guitars crisscrossing the globe the year round. Ask how many guitars he owns and Davey admits: "I'm embarrassed to say, I don't know. When we doubled up the rig I lost count. In 1993, I had 100 guitars, mandolins, banjos and lutes and bizarre little things. Now, it's probably a couple of hundred and they keep on coming because I keep discovering new ones. The only place I haven't played that I can think of is Bangkok, in Thailand. I would love to play there. It got to be so stupid that, a few years ago, our tour manager asked if I could double up on my equipment. I couldn't duplicate because my guitarcollection is pretty legendary and I have some amazing instruments. But I said, 'I'll try.'

"With my guitar tech, Rick Salazar, we got in touch with Gibson and Fender and doubled up on my whole rig so that we could have an A rig and a B rig so we could have one set in the States and another set in Europe. It made it easier to play obscure places and get there quicker. So, I now have an A rig, a B rig and a studio rig. There's always 70 guitars floating around the world at any particular time. It makes it easier for the management to book us in to playplaces like Kazakhstan.

"I am very fortunate. The last 10 years, Elton and I will talk about the set for an upcoming tour and I get the guys together and we will rehearse a few things and get it all happening for him. It's a very cool position to be in. He totally trusts me as far as what I am going to do with his arrangements. I pretty much have a free hand which is a great position to be in. We are still selling out concerts after all this time.

"When I look out at our audience. I see three generations, which is amazing. Young kids come because they realise it is great music from the Seventies or whenever and people from our generation come because they know they are not going to see people lipsyncing. Elton's a hard working son-of-a-bitch. That is what keeps us going. We are at his mercy because he is a slave-driver. It is great to have the work but the work we do is ludicrous. People ask how we do it at our age.

"Right now, we are doing Gnomeo & Juliet for Disney. It's about garden gnomes and the music for it is phenomenal. As if we are not busy enough, we fly back to Atlanta with Elton on the off days to record songs for that. Then it's back for another show. It will go on like that until the piano player falls off his stool."

However, with the approach of 2000 gigs and counting, he admits the idea of retiring has crossed his mind, to the chagrin of his children. Davey said: "My kids love what I do. I mentioned that I might be on the verge of retiring a couple of years ago and my daughter said, 'You can't. What will I tell my friends?' They love the fact that their dad is quite cool and plays in a rock band.

"It's all right for Elton. He gets to sit on his ass and play piano. I'm up there wielding a 25lb guitar. The wear and tear is starting to kick in. The reason we all keep doing it is because we love it."

Despite his achievements, Davey insists he doesn't consider himself a celebrity. "Celebrity is a state of mind," he explained. "If somebody wants to follow that path of fame, that's what they'll do and they'll make sure they are surrounded by minders and make sure that they are catered for. I have always liked doing things for myself whether it is going to the market or going to the pub. I've always felt that if I'mrestricted, what's the point. I might want to take the kids to the park.

"Way back, I saw that Elton wanted to be a star. He wanted to write great music, but at the same time his intention was to be the biggest star and he did it. I saw the way he did it. He would do every single radio interview in every single town we got into. He accepted all the trappings that came with that. The problem is you get painted into a corner and you don't get to go out because people want to know your everymove. With me, I've never allowed that to happen. It has always been more important to have friends, to go out and have a good laugh.

"I've been lucky enough to have people come up to me and say I got them through High School. I don't get people coming up and wanting to tear my clothes off. People thank me for the years of music and there's nothing better than that."

Meanwhile, he is more than ready to celebrate his remarkable 2000th Elton John concert in Scotland. "I'll probably just do something with the family, who are coming through from Edinburgh," he said. "There's a whole bunch of them who always come through for the show. It's always kind of embarrassing. When we played Easter Road a couple years ago, I had a guest list of 40 and they had a big banner for me. It's great. I always get a great reception when I come back to Scotland."
Rock Court: The People vs. Elton John
Saturday, June 6 2009
Check out the blog on popdose.com. Popdose represents the coming together of a veritable who's who of music bloggers and an ever-expanding roster of writers who've made it their mission to experience the best and worst in pop culture.
Check out the full story at popdose.com/rock-court-the-people-vs-elton-john.
Elton John and Billy Joel performed in Montreal on June 3, 2009
Saturday, June 6 2009
Following is the complete set list of the Montreal show on June 3, 2009.
Elton John/Billy Joel (solo)

Your Song

Just The Way You Are
Elton John/Billy Joel (bands)
Don't Let The Sun Go Down On Me

My Life
Elton John set
Funeral For A Friend

Love Lies Bleeding

Saturday Night's Alright (For Fighting)

Burn Down The Mission

Madman Across The Water

Tiny Dancer

Goodbye Yellow Brick Road

Daniel

Rocket Man

Sorry Seems To Be The Hardest Word

I'm Still Standing

Crocodile Rock
Billy Joel set
Prelude

Angry Young Man

Movin' Out (Anthony's Song)

Allentown

Zanzibar

Don't Ask Me Why

She's Always A Woman

Scenes From An Italian Restaurant

River Of Dreams

We Didn't Start The Fire

It's Still Rock'n'Roll To Me

Only The Good Die Young
Elton John/Billy Joel (Bands)
I Guess That's Why The Call It The Blues

Uptown Girl

The Bitch Is Back

You May Be Right

Bennie And The Jets

Birthday

Back In The U.S.S.R.
Elton John/Billy Joel (solo)
Candle In The Wind

Piano Man
Elton loves Joe Mauer
Saturday, June 6 2009
Elton John, a big baseball fan, requested autographed pictures of the Twins' Joe Mauer and Justin Morneau, and in exchange provided autographed pictures of himself.
Elton told Mauer he's the best catcher in the major leagues and said he wished Morneau played for the Atlanta Braves, of whom John is a big fan.
Top 20 Concert Tours
Thursday, June 4 2009
The Top 20 Concert Tours ranks artists by average box office gross per city and includes the average ticket price for shows in North America. The previous week's ranking is in parentheses. The list is based on data provided to the trade publication Pollstar by concert promoters and venue managers.
1. (1) Elton John / Billy Joel; $2,143,539; $115.94.
2. (2) Britney Spears; $2,035,367; $99.29.
3. (3) Eagles; $1,813,875; $134.83.
4. (4) Bruce Springsteen & The E Street Band; $1,795,349; $91.39.
5. (5) The Dead; $1,553,713; $81.72.
6. (6) Fleetwood Mac; $1,100,696; $96.30.
7. (7) Kenny Chesney; $837,797; $62.20.
8. (8) Nickelback; $752,223; $55.17.
9. (9) Leonard Cohen; $520,871; $96.93.
10. (10) Il Divo; $501,598; $78.57.
11. (12) Neil Young; $481,471; $66.74.
12. (13) Lil' Wayne; $454,371; $62.84.
13. (14) Mötley Crüe; $394,250; $54.96.
14. (15) Jeff Dunham; $280,901; $41.91.
15. (New) Kings Of Leon; $261,701; $42.10.
16. (New) Yanni Voices: Live In Concert; $245,649; $67.23.
17. (17) Celtic Woman; $224,188; $55.52.
18. (16) Slipknot; $220,251; $37.77.
19. (18) New Kids On The Block; $215,557; $52.71.
20. (New) James Taylor; $207,370; $72.80.



Elton and Billy take top spot on the North American tour list
Thursday, April 30 2009 at 18:03:25


EACH to benefit from Elton John concert
Tuesday, June 2 2009
A children's hospice will benefit from Elton John's performance in the county this month after organisers donated a set of VIP tickets for an auction.
East Anglia's Children's (EACH) Hospices will be selling off the exclusive prize to boost the coffers of its centre at Quidenham, near Attleborough.

The tickets for the event at Holkham Hall on June 14, 2009, which includes champagne reception and two VIP seats, will go to the person who makes the highest bid by the end of the week. All proceeds from the donation by Viscountess Coke, who is a patron of the charity, will help care for local life-threatened children and their families.

People have until 4pm on June 5, 2009 to bid in the silent auction by calling +44 (0)1953 715559 or by visiting www.each.org.uk.
European shows live CDs from Concert Live
Tuesday, June 2 2009
For the first time Elton John is working with an instant live music specialist. Recordings from his European performances this summer will be available as exclusive Limited Edition Elton John three disc souvenir set.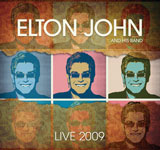 Instant Live CDs will be produced at all dates on the Elton John full band tour. The 3-CD set will feature two live audio CDs along with an exclusive 3rd photo disc: 20+ professional photos including the live performance and back stage shots of the tour. Perfectly capturing the Elton John live experience!

Pre-order your CD now so you don't miss out on these incredible collectable souvenirs.


Jimmy Choo creates Charity Line for Elton John Foundation
Tuesday, June 2 2009
The luxury accessories firm is launching Project PEP, a limited edition collection of handbags, shoes and small leather goods, in partnership with the Elton John AIDS Foundation to support the Simelela center in South Africa.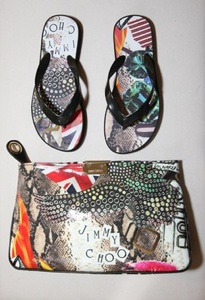 The collection features a new signature laminated canvas print that incorporates iconic Jimmy Choo hallmarks such as snakeskin, leather with a profusion of grommets, the scribbled phone number for the brand's Bond Street store in London, and on closer look, a picture of Mellon from an Italian Vogue shoot.

"It's a whole collage of the DNA of Jimmy Choo," said Mellon. The print emblazons several totes, sandals, ballet flats, clutches and flip-flops. Prices start at $95 for the flip-flops up to $995 for a large handbag.
Most Loved Fragrances of Celebrities
Tuesday, June 2 2009
Celebrities change many things like a snap – cars, lovers, and hair color. But they remain devotedly faithful to their perfume. Find out what perfume Elton John wears.
Sting, Elton John, Kate Moss and Escentric Molecules Fragrance
Escentric Molecules is a fragrance that has no smell until it gets on the skin. It smells differently, depending on a wearer skin type and pheromones. Sting and Elton John liked it. It's been Kate Moss' only perfume for the past year. Hugh Jackman and Demi Moore are among the fans, too.