ELTON JOHN NEWS ARCHIVE: June 2008
Elton's addictions detailed in tell-all book
Monday, June 30 2008
Elton John, Courtney Love and Whitney Houston are among a long list of musicians whose drug-addled pasts are set to be revealed in a new celebrity tell-all book.
All three artists have endured widely-publicised struggles with substance abuse - and the details will now be published in upcoming tome "The Curious World of Drugs and Their Friends", which claims to uncover "fun and fascinating facts" about "every conceivable kind of drug and the people who use them".

Authors Adriano Sack and Ingo Niermann write of Elton's alleged admission to his former drug addiction: "I did not know how to speak to anyone unless I had a nose full of cocaine."

The book - scheduled for release in August 2008 - also features the addictions battled by celebrities including George Michael, Amy Winehouse and Beach Boys' singer Brian Wilson.
Elton John performed in Vienna on June 28, 2008
Monday, June 30 2008
Fan report and photos by Peter Bucek.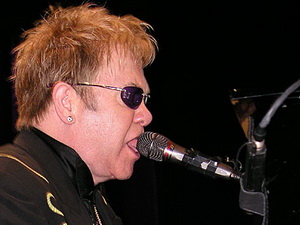 After my 9th Elton John concert I have to say that this man doesn´t grow older, not as he sings in one of his songs ("Talking Old Soldiers"). The solo concert in Vienna on June 28, 2008 was about pure music art, pure sound and all the things as entertaining are something like special bonus.

During this type of concerts – just Elton and his black Yamaha grand piano - there´s nothing else on stage; no band, no properties besides few light effects. It´s so fantastic to see the legend play "60 Years On", "I Need You To Turn To", "Honky Cat", "Levon", "Roy Rogers", "Benny And The Jets" etc., and to listen to hoim sing it with his strong and rock-n-roll voice.

Many times during this show the crowd gave him standing ovations, Elton sometimes played the next song and the people were still standing and claping from the former song.

Before the show I asked one of the ushers: Can You tell me after which song people will be allowed to the stage? The usher told me: Right after the song called "Tonight".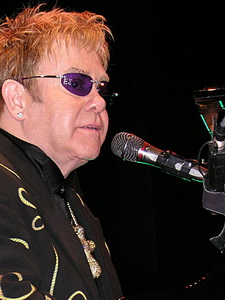 Well, that´s exactly when I was ready for it as a rocket before launch. I reached the best place! I was amazed that security allowed people to make as many pictures as they want, no mater if you use flash or not. It is absolutely impossible in my country (Slovakia).

I was waving with my original "Goodbye Yellow Brick Road" cover. When Elton came back onstage to play encores, he took the fat black pen from his pocket and began to sign autographs. I don´t lie if I say it was about five minutes or more! I was one of the luckiest and I have my first Elton autgraph.

Elton also shaked my hand and thanked me again, maybe because I gave him flowers a few songs before. I think that this is absolutely top for me as for a fan to get in one night personal thanks, handshaking and autograph. I could not reach more. After a long "autograph session" Elton said a few words to people who were comming to see his Austrian concerts. He also spoke about the Ischgl concert (on May, 3 2008).

After the show few people gave me their emails with pray to send them my photos from this amazing concert. It´s also nice to have more fan contacts. If you will go to see Elton this year, don´t forget to buy a tour programme as well. I haven't seen such a nice tour book before.

Many thanks to Elton and his drive for an unforgettable evening.

Following is the complete set list of the Elton John solo show in Vienna on June 28, 2008:

Your Song

Sixty Years On

The Greatest Discovery

I Need You To Turn To

Border Song

Ballad of the Boy in the Red Shoes

Daniel

Honky Cat

Rocket Man

Tiny Dancer

Nikita

Philadelphia Freedom

Sacrifice

Levon

Ticking

Roy Rogers

Sorry Seems to be the Hardest Word

Candle in the Wind

I Guess That's Why They Call it the Blues

Carla/Etude

Tonight

Crocodile Rock


Bennie and the Jets

I'm Still Standing

Don't Let the Sun Go Down on Me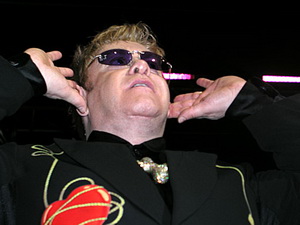 White Tie And Tiara ball 2008
Friday, June 27 2008
The stars came out in force on June 26, 2008 to confirm that for Sir Elton John at least, life's a beach.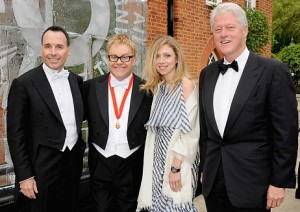 Elizabeth Hurley and Elle Macpherson led the glamour stakes at the 10th annual White Tie and Tiara Ball with the theme Beach Culture. Hurley shunned her usual bridal-esque white for a stunning aquamarine strapless gown and tiara as she attended the party with husband Arun Nayar. While many stars went for high-octane glamour, Australian supermodel/designer went for a laid-back, hippy-esque golden maxi dress.

Held at Sir Elton and David Furnish's £20 million Windsor home it has become the society event of the summer attracting A list celebrities from far and wide. David Furnish said: "The theme this year is 'beach party' so we've got Brian Wilson of the Beach Boys playing. The aim every year is to get people to say that it was the best one yet."

The entertainment bar was set high after performances last year from Sir Tom Jones and Dame Shirley Bassey. Meanwhile the mix of guests included former U.S. president Bill Clinton, Sir Michael Caine, The O.C. star Mischa Barton and Hollywood acting couple Will Smith and Jada Pinkett Smith.

Kelly Osbourne brought her new boyfriend, BMX rider, Luke Worrell, while model-of-the-moment Agyness Deyn returned from New York with her latest love, Strokes musician Albert Hammond Jnr. Other guests included Lulu, Gordon and Tana Ramsay, Graham Norton, Paul O'Grady, Trinny Woodall and Susannah Constantine, Westlife singer Kian Egan and fiancee Jodi Albert, Anthea Turner and Tracey Emin.

The 620 invited guests paid £3,000 a ticket in the bid to raise even more money than last year for the Elton John Aids Foundation. The 2007 Las Vegas themed ball - where guests were served by waiters dressed as Elvis - raised £6.1million. In this year's auction Mario Testino auctioned his first private client sitting.

Lavish floral arrangement were by celebrity florist Rob Van Helden who has customised the blooms for each of the ten White Tie parties. The White Tie and Tiara balls, which are sponsored by OK! magazine and Chopard, have raised more than £26.9million since the first event in 1998.
Nelson Mandela dinner party
Friday, June 27 2008
The birthday celebrations for former South African leader Nelson Mandela have begun in the UK capital and Elton and David were there to join a host of stars paying homage to the great man.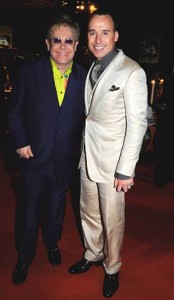 On June 25, 2008, they turned out alongside fellow A-listers such as Oprah Winfrey and Will Smith for a glittering pre-birthday dinner held in honour of Mr Mandela's 90th in London's Hyde Park.

Elton John serenaded the elder statesman with a rendition of Happy Birthday - on the red carpet. Meanwhile other big names alongside them at the star-studded gala event - a prelude to the official birthday bash on June 27, 2008 - included Annie Lennox, Robert De Niro, Forest Whitaker and Denzel Washington.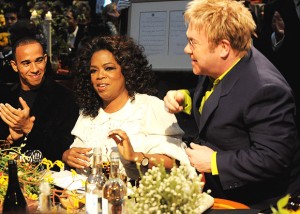 Elton to sing Happy Birthday to Nelson Mandela
Wednesday, June 25 2008 at 09:19:08

Sir Elton John plays Nelson Mandela's 90th
Thursday, May 15 2008 at 18:40:02


Fleeshman confirmed for Elton tour
Thursday, June 26 2008
Richard Fleeshman will support Elton John on his summer arena tour.
The 19-year-old, first rumoured to be Elton's opening act in March 2008, will play four solo dates in the UK this month before joining Elton as the support act at Swansea's Liberty Stadium on June 29, 2008.

Fleeshman called his opening slot "an amazing honour", adding: "Elton has always been an idol of mine but it is incredibly nerve-wracking as well. I'm going to ease myself into it by doing some warm up dates around the country before it. I cannot wait to go out there."

Elton said: "When I heard Neon [Fleeshman's debut album], I couldn't believe how mature the record sounded and how developed and accomplished Richard's songwriting is at such a young age. I was delighted to offer Richard a slot on my summer stadium shows."
Elton to sing Happy Birthday to Nelson Mandela
Wednesday, June 25 2008
Nelson Mandela will celebrate his 90th birthday in London on June 25, 2008 at a charity dinner attended by presidents, prime ministers and some of Hollywood's biggest stars.
Mr Mandela's personal vision for world peace, written especially for the dinner in Hyde Park, will be auctioned for a six figure sum in front of an audience including Bill Clinton, the actor Will Smith, Oprah Winfrey, and Gordon Brown.

Jussi Pylkkanen, the president of Christie's Europe, will wield the gavel in the auction which will also include a lifesize bronze bust of Mr Mandela's right hand which was designed to reflect the way he has touched the world.

Gordon Ramsey is preparing the banquet for the 500 guests including Sir Elton John who will serenade Mr Mandela with Happy Birthday. The American actor Forest Whitaker, who won the Oscar and Golden Globe as the Ugandan despot Idi Amin in the Last Scottish King, will compere the proceedings.

The continuing crisis in Zimbabwe will overshadow the dinner which is expected to raise £1 million for Mr Mandela's Aids charity. Mr Mandela is under increasing international pressure to speak out for the first time against the excesses of Robert Mugabe in Zimbabwe. Gordon Brown and Mr Clinton will make speeches before Mr Mandela responds.

Mr Mandela's AIDS charity, 46664, is taken from his prison number (466) and the year (64) when he was imprisoned on Robben Island. Mr Mandela, 90 on July 18, was freed in 1990 after 27 years.



Sir Elton John plays Nelson Mandela's 90th
Thursday, May 15 2008 at 18:40:02


Elton John invites Jamie Lidell on tour
Wednesday, June 25 2008
Nu-soul impresario Jamie Lidell has certainly been causing a stir in Europe following the release of his recent album 'Jim', with critical acclaim continuing to be heaped on the Berlin-based performer.
Signed to seminal indie label Warp, Lidell's album has seen a variety of identities talk up his importance, including Feist, Jools Holland and Beck.

One of his most notable admirers, however, has put his money where his mouth is (so to speak), making Lidell an offer he simply can't refuse! Elton John – who clearly displays rather astute tastes when it comes to modern music, having talked up Australia's Pnau late last year – has invited Jamie on his 'Red Piano' tour throughout Europe this summer.

"Sir Elton is very excited to announce the hotly-tipped up-and-coming new star Jamie Lidell as special guest on all the Red Piano shows," a press release proudly proclaimed. "With a gold-lame-clad live persona, Red Piano audiences are in for a real treat when Jamie opens the show."
Elton to give 200th performance in Las Vegas
Friday, June 20 2008
Elton John is to give his 200th performance of "The Red Piano" show at the Colosseum at Caesars Palace in Las Vegas on June 21, 2008.
Harrah's Entertainment Inc. said the popular show's milestone will be reached Saturday. Elton's critically acclaimed "The Red Piano" debuted at the Colosseum in February 2004.

"People from virtually every major country have traveled to Caesars to see Elton John's 'The Red Piano,' and long after the standing ovations have ended, they leave us with treasured memories of one of the great performer/songwriters of this or any era," Gary Selesner, the resort's president, said in a statement. "We are deeply grateful to Elton and his talented band for giving so much joy to hundreds of thousands of Caesars Palace guests."

The show is to return to Caesars Palace for additional engagements, starting July 23, 2008 and then again beginning October 22, 2008.

Later this year, fans in Europe will also have the opportunity to experience "The Red Piano" as Elton takes the show on the road to England, Germany, Denmark, Sweden, Norway and France. Also see Elton John Tour News.
Tickets for Billy Elliot on Broadway on sale
Monday, June 16 2008
Tickets for the upcoming Broadway mounting of Billy Elliot—The Musical — the Olivier Award-winning Elton John-Lee Hall musical based on the 2000 film of the same name — went on sale to the general public June 15, 2008.
Tickets have been on sale since April 23, 2008 exclusively for American Express Card holders. Tickets, priced $41.50-$136.50 (with $301.50 premium seats), are now available by calling +1 (212) 239-6200 or by visiting www.telecharge.com.

Billy Elliot is scheduled to begin previews at Broadway's Imperial Theatre October 1, 2008 with an official opening November 13, 2008. Young actors David Alvarez, Kiril Kulish and Trent Kowalik will alternate in the musical's title role; no other casting has been announced.

For more information, visit billyelliotbroadway.com.



Billy Elliot names its trio of young leading men
Wednesday, April 23 2008 at 19:29:17

Billy Elliot sets Broadway opening date at the Imperial
Friday, March 14 2008 at 11:28:35

Billy Elliot goes Broadway
Tuesday, August 21 2007 at 22:53:06


Winners of the Bayless competition
Monday, June 16 2008
Here are the two winners of a copy of the John Bayless album "Circle Of Life" with the pianist fusing the music of Elton John and the style of Bach.
The question we asked was:

In 1723, Johann Sebastian Bach was appointed Cantor of Thomasschule in a German town, which will see Elton perform with the band this summer. What is the name of the monument that Elton will perform in front of?

The correct answer is: Völkerschlachtdenkmal (or Monument of the Battle of the Nations).

As we have received more than two correct answers, we did draw the winners from all correct answers received. Congratulations to Phillip Schober (Germany) and Michael Payne (UK).



Win a copy of "Circle Of Life"
Wednesday, June 4 2008 at 17:03:25

Elton John - Bach style
Thursday, May 29 2008 at 08:36:18
David Beckham ahead of Elton John on Forbes celebrity list
Thursday, June 12 2008
David Beckham has replaced his friend Sir Elton John as one of the 10 most powerful celebrities in the world.
The England footballer has jumped from 15th to fifth on this year's annual Forbes celebrity list. Beckham, who has earned £25 million ($50 million) in 2007, comes four places ahead of JK Rowling, the creator of the phenomenally successful Harry Potter books, who made £125 million ($300 million) in the previous 12 months alone.

Beckham's wife, Victoria, appears as part of the Spice Girls in 50th place. Elton, who was in the top 10 last year, is absent from this year's list in a sign that his popularity and earning power could be on the wane.

As well as looking at earnings over the past year, the Forbes list takes into account the number of magazine covers the celebrity appeared on, their internet presence, their presence in newspaper stories and the frequency with which they are mentioned on television and radio.

Oprah Winfrey retains her position as the most powerful celebrity thanks to her long-running talk show, which pulls in 30 million viewers a week, and yearly earnings of £140 million ($275 million).

The top 10 are:

1 Oprah Winfrey
2 Tiger Woods (golfer)
3 Angelina Jolie (actress)
4 Beyonce Knowles (singer)
5 David Beckham
6 Johnny Depp (actor)
7 Jay-Z (rapper)
8 The Police (rock group)
9 JK Rowling
10 Brad Pitt (actor)
Hercules Fan Convention - please read!
Tuesday, June 10 2008
The Hercules Elton John Fan Club will be hosting a fan convention to celebrate its 20th anniversary in 2008. The event will take place in Munich, Germany, from 21-23 November 2008 and will coincide with Elton's "Red Piano" show in Munich which takes place on 22 November 2008.
More detailed information about the fan convention is available. You may also register for the event as well as book your hotel for Munich and order tickets for the "Red Piano" show in Munich on 22 November 2008.

Please use the registration form (Word form - PDF) to register by 8 July 2008.

With four weeks to go until the registration deadline, feedback hasn't really been overwhelming so far. We understand that for many of you it is not easy to plan ahead that far in advance, and scraping together money for the trip, event and concert ticket will also take time. However, we are still disappointed about the low acceptance, especially since we have listened to your wishes from a recent poll, i.e. we have picked a major European city for the event (as voted for by 41.7%) and we have linked the event to an Elton John show (as voted for by 42.8%).

You may ask why the registration deadline is as early as five months before the actual event. This, unfortunately, is necessary due to deadlines imposed on us for the hotel reservation, ticket block booking and other events during the convention. Furthermore, with the summer months just ahead, many of you will possibly soon be on vacation anyway.

Registration after July 8, 2008 will be possible, but cannot be guaranteed as the event will be limited to a maximum of 100 attendees. Please note that we reserve the right to cancel the event in case we will not receive at least 50 registrations by the above mentioned deadline.

If it turns out that the fans don't want an event like this, fine. We will simply call it off - the event is not vital for anybody at Hercules. But we will no less feel kidded as for years the fans have asked us to organize a fan event. And if you feel the event is too expensive, the programme is boring, or whatever ... please talk to us! Also if you cannot afford paying everything in advance right now ... please talk to us!

This is not a commercial event to make anybody rich, it is meant to be an event for Elton fans from Elton fans. Your complaints, critic, suggestions, etc. are welcome - always.
Krafts get another date with Sir Elton
Tuesday, June 10 2008
According to the Boston Globe, Robert and Myra Kraft's 45th anniversary party on June 8, 2008 at Gillette Stadium featured a performance by Kraft family friend Elton John.
Elton also played when Robert and Myra marked 40 years of wedded bliss. The guest list included Tom Brady and girlfriend Gisele Bundchen, Tedy and Heidi Bruschi, venture capitalist Tom Lee, Fidelity's Peter Lynch, Sovereign Bank CEO Joe Campanelli, and Dunkin' Donuts president Will Kussell.

Sox owner John Henry and Celts brass Wyc Grousbeck and Steve Pagliuca were there but ducked out to make the C's game. Also expected: legal eagle Bob Popeo, Donald Trump, developer Bob Beal, congressman Ed Markey, UMass Lowell chancellor Marty Meehan, Governor Deval Patrick, former Hill Holliday head Jack Connors, chef Ken Oringer, and Pats alum John Hannah.
Lily Allen to move in with Elton John
Saturday, June 7 2008
Lily Allen may have drunk herself into a scandalous stupor a few nights ago, but she's back on her feet giving her new troll doll pink hair another airing.
As she wobbled, hangover in tow, into the Royal Academy of Arts for their Summer Exhibition, she got more than she
bargained for. No sooner had her fluorescent six-inchers walked through the door than Elton's partner David Furnish, 46, rushed over to say she was going to stay with him and Elton for a few weeks, no arguments - report the Daily Star.

Elton is known for his kindness and has lent an extravagant hand to celebrity pals incluing Victoria Beckham, 34, and a once-off-the-rails Robbie Williams, 34.
David thinks she needs a break from the media eye and believes staying with them is a phenomenally good idea. Even Lily, 23 accepts that her well-documented non-stop partying needs to be curbed and Elton wants to take her under his glittering wing.
'Elton John: Me, Myself and I' makes its U.S. TV Premiere on VH1
Saturday, June 7 2008
Using some of the most extraordinary and innovative special effects technology ever seen on television, viewers will see Sir Elton literally step back in time, as the superstar singer takes them on a flamboyant, intimate and entertaining journey through his colorful life.
A journey that has seen a career spanning more than four decades and boasting global record sales in excess of 250 million.

VH1 Classic and VH1 exclusively present the U.S. television premiere of, "Elton John: Me, Myself and I" on Thursday, June 12, 2008 at 9 PM. The documentary will be simulcast on Logo and MHD: Music High Definition. In this one-hour special, Elton reveals his true feelings about many key moments, both personal and professional, that have shaped his life. Viewers will get the chance to see Elton interact with his younger self via rarely seen archive material as Elton gives private insight into his past unlike anything ever seen before in any television documentary.

"Elton John: Me, Myself and I" is the newest film in the Emmy Award winning VH1 Rock Doc franchise. VH1 Rock Docs are television's premier collection of music documentaries. Each high-end feature-length documentary reveals an untold story in the history of rock and hip-hop music, combining never-before-seen footage with a unique and unconventional narrative approach. The documentaries tell some of the most unique stories of artists and music from a wide range of genres, styles, and musical perspectives.



Elton John - Me, Myself And I on ITV1 London
Friday, September 14 2007 at 19:16:15


South America Tour in 2009?
Friday, June 6 2008
According to Argentinian News Agencies, Elton has agreed to perform in Argentina in January 2009.
This and the possibility of additional cities is still to be confirmed. It has also ben suggested that James Blunt will tour alongside him.
Win a copy of "Circle Of Life"
Wednesday, June 4 2008
You can win a copy of the John Bayless album "Circle Of Life" with the pianist fusing the music of Elton John and the style of Bach.
To win one of two copies of this fascinating album, you need to answer the following question and send your answer to bach@eltonfan.net by June 15, 2008.

In 1723, Johann Sebastian Bach was appointed Cantor of Thomasschule in a German town, which will see Elton perform with the band this summer. What is the name of the monument that Elton will perform in front of?

Please include your full postal address when sending your reply. Should we receive more than two correct answers, we will draw the winners from all correct answers received. Good luck!



Elton John - Bach style
Thursday, May 29 2008 at 08:36:18
ACTs young Conservatory presents 'I'm Still Standing'
Tuesday, June 3 2008
Fifteen young actors from across the Bay Area join musicians from San Francisco's Bird School of Music for the world premiere of the A.C.T. Young Conservatory's I'M STILL STANDING: A Celebration of the Music of Elton John, created and directed by A.C.T. Young Conservatory (YC) director Craig Slaight.
This dynamic musical tribute features hit songs popularized by the famed Grammy, Academy, and Tony Award winner and plays at Zeum Theater, located at Yerba Buena Gardens (Fourth and Howard streets), May 31 through June 21, 2008. Tickets are $15.50–$20.50 and are available by calling A.C.T. Ticket Services at 415.749.2228 or online at www.act-sf.org.

This energetic, music-filled take on Elton John's greatest hits follows Bennie, a 17-year-old pop phenom who trades in Hollywood fame, a movie star boyfriend, and her outrageous diva agent Crystal Shine for the simple life at a Wisconsin high school, where she learns who she really is. The cast features a talented ensemble of young actors, including Alex Akin, Caleb Alexander, Julia Belanoff, Haley Best, Taylor Bostwick, Carrie Brandon, Rachel Cunningham, Gabriel Kenney, Courtney Lundeen, Elvin McRae, Marcelo Pereira, Emma Reese, Ryan Semmelmayer, Maranda Seney, and Katie Yeilding.

I'M STILL STANDING: A Celebration of the Music of Elton John continues an annual series of YC productions paying tribute to music from the great singer/songwriters of our time. Other artists previously highlighted by the YC are Sting, Paul Simon, Bob Dylan, Joni Mitchell, James Taylor, and John Lennon and Paul McCartney.
Poll the People - vote for Elton!
Tuesday, June 3 2008
Glenn Cooper has recently launched a website to invite the public to vote for their Top 5 albums in an evolving poll to find the Greatest Albums of all time.
Pollthepeople.com was born out of frustration at the number of TV and press polls based on very little research or the opinions of a few journalists. So now Glenn wants to give the people a chance to have their say and vote for their favourite albums (as well as films and books) to create a truly definitive global poll.

Glenn was previously the Head of Digital at Island Records UK for six years and left his role to focus on this venture. Over 3,700 people signed up and voted in the first month and Glenn is already working on a TV show format and a "Poll The People top rated" retail sticker initiative.

So make yourself heard and vote for Elton at Pollthepeople.com!