ELTON JOHN NEWS ARCHIVE: June 2007
Sir Elton 'to sing Diana tribute'
Saturday, June 30 2007
Sir Elton John is expected to play his tribute song to Princess Diana - Candle in the Wind - at the concert being staged in her memory.
Princes William and Harry asked him to perform the piece at the Concert for Diana, at Wembley stadium on July 1, 2007. Lily Allen, Rod Stewart, Natasha Bedingfield and James Morrison are among the other stars taking part.

About 100 children will join the princes at Wembley on Saturday, where they will watch the final preparations. Poorly children supported by the charity WellChild - of which Harry is a patron - will be among the guests at the luncheon.

The party will take place at the Royal reception room at the new stadium in north-west London, and guests will get to watch one of the artists perform a sound check. Princes William and Harry will also meet back-room production staff, from sound engineers to the lighting crew.

More than 60,000 people are expected to watch the concert, which the princes are putting on in celebration of their mother's life, 10 years after she died in a car crash.

Sir Elton, 60, a friend of Diana's, provided one of the most moving moment at the Princess's funeral in 1997 when he sang a new version of his hit Candle in the Wind. After the performance he vowed never to play the song again but it is thought he will for Sunday's concert.

Harry, when asked by the BBC if the singer had helped with the planning of the event, replied: "He's helped massively just by saying yes, and obviously a personal request from us is to do 'Candle In The Wind' again. So hopefully he'll be playing that."

The princes have also said they will get up on stage at some point during the concert. Both BBC Radio 2 and BBC One will be broadcasting live from the event.



"Concert for Diana" this weekend
Friday, June 29 2007 at 08:28:52


Elton John and band performed in Xàtiva, Spain on June 23, 2007
Saturday, June 30 2007
Fan report by Julio from La Coruña, Spain.
There are only a few words I can say about this concert which has simply been wonderful. Tapeworm turned out to be the perfect company to create one magical night, and that's what happened.

Elton took the stage at 9.15 pm and openend the concert with "Funeral For A Friend", very appropriate song to open the show. We could listen to songs that we hadn't heard live in many years including "Hercules" or "Something About The Way You Look Tonight".

Elton got the people on their feet with "I´m Still Standing" and "Saturday Night´s Alright". This concert has confirmed that Elton John has been totally and unquestionably successful in Spain and I hope that the Spanish promoters continue getting Elton John to come to Spain, because he never disappoints.

Thanks Elton for your show and we are waiting for you in Spain next years!

Following is the complete set list of the Xativa show on June 23, 2007:

Funeral For A Friend

Love Lies Bleeding

The Bitch Is Back

Hercules

Madman Across The Water

Tiny Dancer

Daniel

Rocket Man

Honky Cat

Sacrifice
I Guess That's Why They Call It The Blues

Burn Down The Mission

The Bridge

Sorry Seems To Be The Hardest Word

Candle In The Wind

Bennie And The Jets

Philadelphia Freedom

Are You Ready For Love

Something About The Way You Look Tonight

Sad Songs (Say So Much)

I'm Still Standing

Crocodile Rock

Saturday Night's Alright (For Fighting)


Don't Let The Sun Go Down On Me

Your Song
Eton John's summer party
Friday, June 29 2007
Elle MacPherson was the b-elle of the ball last night at Elton's lavish summer bash.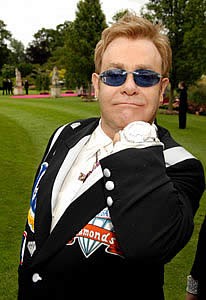 She turned up in a flowing dress for the Las Vegas-themed White Tie and Tiara Ball at his mansion in Windsor, Berks. Comedian David Walliams kept to the white tie dress code as he turned up with Lisa Snowdon. Even TV chef Gordon Ramsay was spotted hastily sorting his outfit outside. Michael Caine looked like he had misread his invitation.

Elton sang to guests including Sarah Ferguson and Princess Bea to raise cash for his Aids foundation. Kylie Minogue failed to show up forcing Elton to take to the stage instead. Kylie, 39 — who survived a battle with breast cancer — phoned to say she was too tired and needed to rest.

A source said: "Elton doesn't usually perform at his own parties but he wasn't upset. Kylie was extremely apologetic. After her cancer scare she isn't taking any risks."

The Las Vegas-themed White Tie and Tiara Ball featured a charity auction for the star's Aids foundation — with a Rolls-Royce Drophead Coupe among the lots.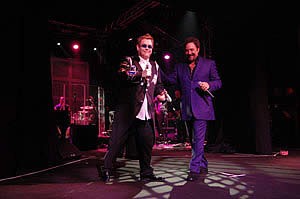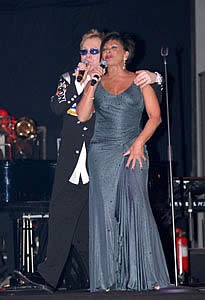 White Tie And Tiara ball 2007
Thursday, June 28 2007 at 18:59:44
"Concert for Diana" this weekend
Friday, June 29 2007
Broadway composers Andrew Lloyd Webber and Elton John are among the performers scheduled for the July 1, 2007 "Concert for Diana" in London's new Wembley Stadium.
Prince William and Prince Harry commemorate what would have been their mother's 46th birthday 10 years after her tragic death "with an event to celebrate her life."

Lloyd Webber, according to concert materials, will present "a set of his classic songs" with scheduled performers in his section to include Anastacia, Andrea Bocelli, Sarah Brightman, Jason Donovan, Connie Fisher, Josh Groban, Andrea Ross and Donny Osmond as well as the winner of BBC's "Any Dream Will Do" competition and forthcoming Joseph and the Amazing Technicolor Dreamcoat star Lee Mead.

Elton — who reworked his song "Candle in the Wind" for the late Princess — will be on hand with a slate of pop stars that also include Lily Allen, Natasha Bedingfield, P. Diddy, Duran Duran, English National Ballet, Fergie, Bryan Ferry, The Feeling, Nelly Furtado, Roger Hodgson (of Supertramp), Tom Jones, James Morrison, Orson, Status Quo, Rod Stewart, Joss Stone, Take That, Kanye West, Wix Wickens, Pharrell Williams and Will Young.

Proceeds from the concert will benefit charities supported by the late Princess, and to charities of which the Princes are Patrons.

The six-hour concert will be viewable live on VH-1 (and via their website) July 1, 2007 starting at 11 AM (ET) as well as MTV HD and re-air on VH-1 and VH-1 Classics. (Check local listings for further airings.) Broadcast viewers can catch a one-hour version of the concert July 1 at 8 PM on NBC.

For more information on "Concert for Diana," visit concertfordiana.com.
Music royalty comes together to pay tribute to Fats Domino
Thursday, June 28 2007
Icons from the world of rock, blues, reggae, pop and country music have joined together to salute the genius of legendary piano man Fats Domino for the upcoming double CD set, "Goin' Home: A Tribute to Fats Domino".
"Goin' Home" is set for a September 25, 2007 release on Vanguard Records. This stellar tribute to one of the cornerstones of rock n' roll music will help raise desperately needed funds specifically earmarked for instruments to be donated to New Orleans' public school children.

Monies raised from the sales of "Goin' Home" will also go toward the rebuilding of Fats Domino's home and to create a community center in the Crescent City's still ravaged Lower 9th Ward. Proceeds of Goin' Home will fund additional community related programs.

The roster of music royalty contributing their interpretations of classic Fats Domino songs include: Sir Elton John (Blueberry Hill), Sir Paul McCartney (I Want To Walk You Home), Tom Petty (I'm Walkin'), Robert Plant (It Keeps Rainin'), Willie Nelson (I Hear You Knockin'), B.B. King (Goin' Home) and Neil Young (Walkin' To New Orleans).

"Goin' Home" will also feature the late John Lennon's version of Fats' most popular song, "Ain't That A Shame."

In addition, some of modern music's most prolific artists have contributed their time and talent including Lenny Kravitz, Norah Jones, Lucinda Williams, Ben Harper with The Skatalites, Toots and The Maytals, Taj Mahal, Herbie Hancock and Bonnie Raitt.

Up and coming stars such as Marc Broussard with Sam Bush, Corrine Bailey Rae and Joss Stone with blues master Buddy Guy have recorded their renditions for this unique compilation.

The participation of some of New Orleans' greatest musicians has been paramount in the process of recording of "Goin' Home". Dr. John, Art Neville, Allen Toussaint, Irma Thomas, Marcia Ball, Preservation Hall Jazz Band, Ivan Neville's Dumpstaphunk, Galactic, Walter "Wolfman" Washington, Theresa Andersson, The Dirty Dozen Brass Band, The Rebirth Brass Band and NOLA funk masters George Porter Jr., Zigaboo Modeliste, Leo Nocentelli and Henry Butler.


The line-up includes (subject to change)

John Lennon -- Ain't That A Shame Dr. John -- Don't Leave Me This Way

Paul McCartney -- I Want to Walk You Home

Tom Petty and the Heartbreakers -- I'm Walkin'

Elton John -- Blueberry Hill


Randy Newman -- Blue Monday

Dr. John -- Don't Leave Me This Way

Toots and the Maytals -- Let the Four Winds Blow

Olu Dara with Donald Harrison -- When I See You

Lenny Kravitz with the Rebirth Brass Band, Troy "Trombone Shorty" Andrews, Fred Wesley, Pee Wee Ellis and Maceo Parker -- Whole Lotta Lovin'

Bonnie Raitt & John Cleary -- I'm in Love Again & All by Myself

Robert Plant with the Lil' Band O' Gold -- It Keeps Rainin'

BB King with Ivan Neville's Dumpstaphunk -- Goin' Home

Taj Mahal with The New Orleans Social Club -- My Girl Josephine

Art Neville -- Please Don't Leave Me

Willie Nelson -- I Hear You Knockin'

Irma Thomas and Marcia Ball -- I Just Can't Get New Orleans Off My Mind

Herbie Hancock with George Porter Jr., Zigaboo Modeliste and Renard Poche -- I'm Gonna Be A Wheel

Corinne Bailey Rae -- One Night (Of Sin)

Bruce Hornsby -- Don't Blame it on Me

Lucinda Williams -- I Live My Life

Preservation Hall Jazz Band with Walter Wolfman Washington and Theresa Andersson -- When The Saints Go Marching In

Joss Stone, Buddy Guy and the Dirty Dozen Brass Band -- Every Night About This Time

Marc Broussard featuring Sam Bush -- Rising Sun

Allen Toussaint -- Go Fats Domino

Ben Harper with the Skatalites -- Be My Guest

Norah Jones -- My Blue Heaven

Soweto Gospel Choir & Robert Plant -- Valley of Tears

Neil Young -- Walkin' to New Orleans
White Tie And Tiara ball 2007
Thursday, June 28 2007
Sir Elton John will eclipse all of his past parties with a Las Vegas-style bash for some of the world's A-list celebritiess on June 28, 2007.
The singer will host the Sin City party along with his partner David Furnish at the multimillion- pound sprawling mansion in Windsor, Berkshire. He has invited a host of top stars - including Victoria and David Beckham and the Osbourne family - to his home, and is promising a night of showgirls, roulette wheels and coin-operated machines.

Last year, the White Tie And Tiara ball cost £1,000 a head and raised £4.6 million for charity. This year promises to be even bigger. Sir Elton has a different theme each year, and this year has decided to re-create Las Vegas in his home.

He has put up a marquee and has hired croupiers to help his guests part with their cash for a good cause. A source revealed: "Elton is hoping that his friends will enjoy tonight and remember it as their best invite of the year. He wants it to be an enjoyable night for all of his closest friends, so he thought came up with the idea of Las Vegas.

"He has invested in getting roulette wheels, croupiers, slot machines and generally re-enacting the atmosphere of Las Vegas, and he has got his entire celebrity guest list waiting to turn up."

Victoria Beckham is top of the guest list, she landed in London today to promote the Spice Girls reunion but will waste no time hot-footing it to Windsor for the party. David Beckham will also be at the party - before he dashes back to America to help out his new football team LA Galaxy, which have had a disastrous start to their season.

Liz Hurley, whose son Damian is Sir Elton's godson, is also expected to turn up with husband Arun Nayar. Also expected is former footballer turned celebrity chef Gordon Ramsay and his wife Tana.

In addition, X-Factor judge Sharon Osbourne, her partner Ozzy - who has just completed an impressive tour - and children Jack and Kelly are also due to head down to Windsor.
Elton awarded £250,000 over fake statues
Wednesday, June 27 2007
It seemed such a good idea at the time, especially for a pop superstar whose shopping sprees are legendary. Fired up by a long lunch with an old friend in Paris, Elton John wandered into an antiques shop on the Left Bank and came out with four statues of Olympian gods costing more than £180,000.
But on June 26, 2007, after almost eleven years of legal wrangling, a court in the French capital finally ruled that all the statues were fakes, and awarded the singer more than £250,000 in compensation and damages.

Elton was attracted to the marble sculptures when he visited an antiques shop after dining with his friend Gianni Versace in July 1996, the year before the Italian fashion guru was murdered in Florida.

Sir Elton paid $360,000 in cash and had the works of art shipped to Woodside, his mansion near Old Windsor, Berks, where they took pride of place in the orangery. Each standing nearly 4ft high, the marble sculptures bore the signature of the 18th century Italian sculptor Luigi Grossi.


Elton loses claim over 'fake' antiques
Thursday, May 1 2003 at 13:18:26


Elton John and band performed in Odense on June 24, 2007
Tuesday, June 26 2007
Fan report by Martin Aamand.
Both Elton and the band were in high spirits when they played a sold-out concert at Fionia Park in Odense, Denmark on June 24, 2006 in front of an audience of almost 20,000 people. Despite dark clouds looming on the horizon, the rain gave way to dry weather for the entire concert.

Elton wore clad in a black suit with intricate broidery on both the back and the sleeves, a dark blue shirt and blue glasses with 'EJ' spelled out in rhinestones (diamonds?) on the right side. Additional accessories included an anonymous silver ear stud (obviously in his right ear) and the well-known silver-cross necklace.

Elton entered the stage at 8:24pm and the concert came to an end around two-and-a-half hours later, with no surprises to the set list but with the usual abundance of musical brilliance that we've come to expect from the world's greatest performer.

At age sixty, this multitalented artist is still doing the handstand atop his piano! When was the last time you saw Mick Jagger or Paul McCartney perform anything even slightly similar?

He made several jokes (and in-jokes) throughout the evening – most notably about Glastonbury: 'We could be at Glastonbury tonight, if we'd been invited, but we'd much rather be here with you!' Hard to tell if he was being sarcastic or not, for in all honesty, who wouldn't want to be at that muddiest of places in Elton's (non-European) home country? The jokes also made their way into the band introductions, particularly when time came for Guy Babylon to be introduced and Elton named him 'President of the National Chihuahua Association in Florida', much to the delight of fellow band members.

Highlights included a 10-minute version of 'Rocket Man', a fabulous solo rendition of 'Candle in the Wind' and a very touching version of 'Don't Let the Sun Go Down on Me'. Having accentuated the performances of these songs in particular – though my personal favourite still remains 'Sad Songs' – I should say that every single song in the set list was a delight beyond compare. As inevitable as 'Your Song' finishing the concert remains, as unforgettable was the concert that took place in the very centre of our Lilliputian kingdom in the North.

Thank you, Elton! (Come back soon…)

Following is the complete set list of the Odense show on June 24, 2007:

Funeral For A Friend

Love Lies Bleeding

The Bitch Is Back

Hercules

Madman Across The Water

Tiny Dancer

Daniel

Rocket Man

Honky Cat

Sacrifice

I Guess That's Why They Call It The Blues

Burn Down The Mission

The Bridge

Sorry Seems To Be The Hardest Word

Candle In The Wind

Bennie And The Jets

Philadelphia Freedom

Are You Ready For Love

Something About The Way You Look Tonight

Sad Songs (Say So Much)

I'm Still Standing

Crocodile Rock

Saturday Night's Alright (For Fighting)


Don't Let The Sun Go Down On Me

Your Song
Sixty Years On website has moved
Sunday, June 24 2007
It's been three months since Elton's 60th birthday on March 25, 2007. The website sixty-years-on.com which was dedicated to the celebration of Elton's big day has now moved to http://sixty.eltonfan.net/.
As so many fans have spent quite some effort to put together their congratulations for Elton, we wanted to archive the website rather than just making it disappear.

You will also find the content of the DVD we prepared for Elton, the new "Sixty Years On" recordings from fans as well as the NYC Blog.

So whenever you feel like re-living that special weekend in New York City again, just check out http://sixty.eltonfan.net.
Elton John wins karaoke contest
Saturday, June 23 2007
Elton John won a charity karaoke contest on June 21, 2007 with a rendition of Elvis Presley's "Are You Lonesome Tonight?".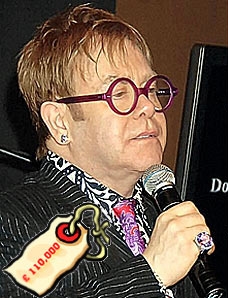 Taking place at Ronnie Scott's Jazz Club in London, the event – which was watched by guests including Elle Macpherson and Kate Moss - was taking place to raise money for the Hoping Foundation – a charity who are raising money for Palestinian children.

Guests in attendance were able to bid for a singer of their choice or for the chance to perform a duet with a famous star. With Sir Elton raising the most money (£110,000), Nick Cave – who sang Destiny Child's 'Bootylicious' - came a close second, raising £70,000 for the charity.

Other performer's included The Pogue's frontman, Shane McGowan, who sang Billy Joel's 'We Didn't Start The Fire and Mick Jones, who sang The Clash classic, 'Should I stay Or Should I Go.'

The charity event raised a total of £385,000 for the Hoping Foundation.
Server upgrade for eltonfan.net
Friday, June 22 2007
Unfortunately, we are currently experiencing hardware problems with the server, and some of you might have noticed that the site was temporarily down on June 21, 2007.
We were told by the hosting company that a hardware problem exists with the dedicated server that eltonfan.net is running on, and they have suggested to switch to a new system.

Fortunately, I was able to get the server back up and running again, but nobody knows how long it will be running stable. Basically, it can break down again any minute.

My hope is that the server will "survive" a few more weeks as I plan to switch to a new system anyway which is when I also plan to change the style and layout of eltonfan.net. I am not in the position to do this in parallel to the old website still running, so please be prepared for a few days/weeks of "construction".

Thanks in advance for your patience and understanding, and now please keep your fingers crossed for the old server to stay alive until the new system is ready to go.

Take care,
Stephan (webmaster)
Lee Ryan defends Elton John
Friday, June 22 2007
Lee Ryan has defended Elton John after a documentary maker lashed out at the 'Crocodile Rock' star.
The former Blue singer became enraged when Jamie Campbell criticised the 60-year-old singer on an episode of ITV's 24 Hours With..., airing on June 25, 2007.

Campbell recited a parody of Elton's classic song 'Candle In The Wind', aiming jibes at Elton's physical appearance and his performance at the funeral of Diana, Princess of Wales.

However, Ryan failed to see the funny side, saying: "I just kinda took offence to what you were saying about him. I know what he does for people – he's a really good man.

"I didn't get where you were coming from with the stuff about him being 'fat gay and bald'. That's a nasty thing to say about someone. What if someone said that about you?"
Elton John Day on VH-1
Thursday, June 21 2007
Tune in to VH1's Elton Day as they celebrate Elton's current tour of Europe, and pay tribute to the man himself by rolling out some of his biggest and best hits.
Elton John Day on VH-1 - June 30, 2007

Shows include:
Elton John TV Moments - 1300 CET
Elton John Music Mix - 1400-1600CET
Elton John Fanclub - 1600 CET
VH1 Greatest Hits - 1700 CET
Elton John and band performed in Malmö on June 20, 2007
Thursday, June 21 2007
Following is the complete set list of the Malmö show on June 20, 2007.
Funeral For A Friend

Love Lies Bleeding

The Bitch Is Back

Hercules

Madman Across The Water

Tiny Dancer

Daniel

Rocket Man

Honky Cat

Sacrifice

I Guess That's Why They Call It the Blues

Burn Down The Mission

The Bridge

Sorry Seems To Be The Hardest Word

Candle In The Wind

Bennie And The Jets

Philadelphia Freedom

Are You Ready For Love

Something About The Way You Look Tonight

Sad Songs (Say So Much)

I'm Still Standing

Crocodile Rock

Saturday Night's (Alright for Fighting)


Don't Let the Sun Go Down on Me

Your Song
Baltic to showcase Elton John's photo collection
Wednesday, June 20 2007
Elton John's personal art collection is to go on display in one of two major exhibitions marking a significant change in direction for Baltic Centre of Contemporary Art, Gateshead.
Opening in September 2007, the Elton John show - overseen by Jane Jackson, curator of the singer's ever-growing collection, which includes seminal works by artists from Picasso to Damien Hirst - will consist of photographs selected from the 2,500 images Elton owns. The second exhibition will feature works from the personal collection of art collector Anita Zabludowicz.

Elton, who began acquiring photography in 1991, owns works by photographers such as Robert Mapplethorpe, Irving Penn, Man Ray and Edward Weston, some of which may be included in the exhibition. "I never get fed up with looking at the images," he says.

Zabludowicz, who is due to set up her own gallery in London this autumn, selected the works from her collection together with Jerome Sans, the Baltic's director of programmes, and artist Mustafa Hulusi. Other artists in the show include Boo Ritson, Mark Titchner and Thomas Hirshhorn.

The two shows mark a major change in direction for Baltic, which does not own a permanent collection. Peter Doroshenko, director of Baltic, says: "We have approached Elton and Anita by asking: 'What does it mean to be a collector, who are the collectors, and what does it mean to be a collector outside London?'"

The gallery hopes the shows will encourage other collectors to display their art.



Sir Paul celebrates his 65th with a little help from his friends
Wednesday, June 20 2007
Paul McCartney finally put "When I'm 64" - the legendary track he wrote for The Beatles' Sergeant Pepper album - behind him when he marked his 65th birthday in London on June 19, 2007.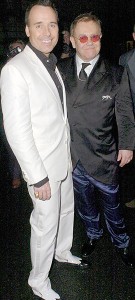 There's been plenty for the former Beatle to celebrate of late, not least his new album release "Memory Almost Full" and a series of successful secret gigs. And helping the festivities at his St John's Wood home go with a swing were fellow music veterans Elton John, accompanied by partner David Furnish, and Jools Holland, as well as a host of hot young talents on the showbiz scene.

Style queen Kate Moss, who can always be relied upon to add A-list glamour, turned up bearing a gift for the birthday boy in a white dress with daring slits. The supermodel, who's a close friend of Paul's designer daughter Stella McCartney, was joined at the exclusive bash by her former partner, the magazine publisher Jefferson Hack, who is father to their daughter Lila Grace.

Representing the acting world were Hollywood star Natalie Portman and "Pirates Of The Caribbean" actor Mackenzie Crook. The two thespians are more recent acquaintances of the singer, having both appeared in Paul's new video for his track Dance Tonight. High profile figures from the art world were also there in the form of Tracey Emin and photographer David Bailey.

And the guest list wouldn't have been complete without Paul's two daughters from his marriage to the late Linda McCartney - Stella and photographer Mary McCartney, who playfully topped off her white off-the-shoulder dress with a miniature crown.
Elton and his red piano come to London
Tuesday, June 19 2007
Elton John will bring his flamboyant Red Piano Show to Britain this September, it has been announced.
The gig, taking place at the O2 Arena on September 5, 2007, will continue the 2007 celebrations of the singer's 60th birthday and 40 years of touring.

The colourful show, which has been running at The Colosseum, Caesars Palace, Las Vegas, is designed by acclaimed photographer and Elton's pal, David LaChapelle and includes his iconic Yamaha red grand piano, state-of-the art effects and high-end imagery.

Fans will be treated to live performances of Elton's back catalogue, including hits such as "Rocket Man" and "Candle In The Wind".

Elton said: "I'm really pleased to be coming home with this show. The show is all about love. We have so many things thrown at us in our everyday lives that are so upsetting that no one really ever concentrates on the positive things in life - we only read about the horrible things that go on. But you know, I believe in love."

David added: "The show is a visual extravaganza, a collage of all the outrageous and beautiful images Elton has been responsible for in his career. I just wanted it to sparkle and shine and just be lush. Almost edible, like looking at a candy store."

Tickets go on sale on June 21, 2007.



Legal action in regard of "Red Piano" cancelation?
Sunday, June 3 2007 at 18:33:40

Don' loot us, we are only the piano player's fans
Wednesday, May 23 2007 at 15:47:04


2007 Advanta WTT Smash Hits
Monday, June 18 2007
Elton John is coming to Philadelphia and this time he is bringing his racquets and some of the world's top tennis players to raise money for the fight against HIV and AIDS.
Elton John and long-time friend Billie Jean King will host the 15th annual Advanta WTT Smash Hits, a special night of tennis featuring superstars including Andy Roddick, Lindsay Davenport and Anna Kournikova.

The event, which benefits the Elton John AIDS Foundation and the local charity ActionAIDS, returns to the area for one night only at 7 p.m. on October 10, 2007 at the Pavilion at Villanova University in Villanova, PA. Smash Hits has raised more than $8 million since 1993.

Tickets cost $40, $75, $110 - call Ticketmaster at +1 (215) 336-2000 or purchase online. For VIP packages call ActionAIDS at +1 (215) 981-3346.



Elton John and band performed in Kiev on June 16, 2007
Sunday, June 17 2007
Elton John gave a free charitable concert on Kiev's Independence Square in a bid to draw attention to the AIDS problem in Ukraine.
"I am here to support you all against AIDS," he told his 200,000-strong audience on June 16, 2007, which included President Viktor Yushchenko, Ukraine's former leader Leonid Kuchma, Russian envoy Viktor Chernomyrdin and top government officials.

Volunteers handed out condoms and leaflets detailing contacts for HIV testing and counselling centres before the concert, which was broadcast live on Ukrainian television.

"This concert will enable us to fund future projects for around the same amount," Elton John was quoted as saying. The concert would also honour the singer's friends Olena Franchuk, Kuchma's daughter, and her husband Viktor Pinchuk, who pledged a $2.5-million grant to the foundation.

Also, Franchuk's ANTIAIDS Foundation earlier this year joined forces with Elton John's fund to launch a five-year project due to help HIV-positive children and their families. Pinchuk, a tycoon who owns a number of large, mostly metallurgical enterprises, is also owner of a contemporary art centre, where photos from Elton John's private collection went on display on June 15, 2007.



Sir Elton John kicks off exhibition "Eye of Subconsiousness"
Saturday, June 16 2007 at 11:04:08

Elton John's free concert in Kiev may destroy Ukrainian society with its gay propaganda
Friday, June 8 2007 at 14:21:44


Potential counter bid for Elton's Sanctuary
Saturday, June 16 2007
A Hong Kong-based consortium is considering trumping a £45m takeover of Sanctuary, Sir Elton John's management company, by Universal Music, the world's biggest record group.
Silk Route Investments, a consortium led and advised by Crosby Capital Partners, an Aim-listed investment banking group, bought more than 1m shares in the market on June 15, 2007 following the announcement of an agreed 20p-a-share deal between Universal and Sanctuary.

Silk Route now owns just over 2pc of Sanctuary and is thought to be considering a potential counter bid at a significant premium to Universal's offer.

The need to secure a takeover was underlined in Sanctuary's interim results statement in which KPMG, its auditor, referred to "the existence of material uncertainty which may cast significant doubt on the group's ability to continue as a going concern".

At the end of March 007, Sanctuary had debts of £66.1m, according to the statement. The deal agreed on June 15, 2007 between Sanctuary and Centenary Music Holdings, Universal's acquisition vehicle, is at a 60pc discount to an emergency rights issue undertaken by Sanctuary's previous management team in March last year.

Although the Universal offer includes a non-solicitation agreement to which Sanctuary has committed, it is understood that Silk Route and Warner Music could be given further access to Sanctuary's books. Sanctuary has received irrevocable undertakings from Artemis, which owns almost 9pc of the shares, but this can be rescinded in the event of a rival bid worth at least 22p-a-share. The shares closed up 2¼ at 20p.



Sanctuary bought by Universal
Friday, June 15 2007 at 16:55:06


Elton John makes Forbes Celeb 100
Saturday, June 16 2007
Forbes just released their Celebrity 100. The list measures the world's most powerful and best-paid celebrities using a secret formula that factors earnings, media metrics, press mentions, and overall zestiness.
Elton John placed at #7, nestled between Johnny Depp and Tom Cruise, moving up from #12 on last year's list.

Following is the complete Teop 100:

1. Oprah Winfrey
2. Tiger Woods
3. Madonna
4. Rolling Stones
5. Brad Pitt
6. Johnny Depp
7. Elton John
8. Tom Cruise
9. Jay-Z
10. Steven Spielberg
11. Tom Hanks
12. Grey's Anatomy
13. Howard Stern
14. Angelina Jolie
15. David Beckham
16. Phil Mickelson
17. David Letterman
18. Bon Jovi
19. Donald Trump
20. Celine Dion
21. Simon Cowell
22. U2
23. Kobe Bryant
24. Michael Schumacher
25. Shaquille O'Neal
26. Jay Leno
27. Nicole Kidman
28. Ben Stiller
29. Alex Rodriguez
30. Dr Phil McGraw
31. Ronaldinho
32. 50 Cent
33. Brian Grazer/Ron Howard
34. Justin Timberlake
35. Michael Jordan
36. Rush Limbaugh
37. Tim McGraw
38. Roger Federer
39. Jerry Bruckheimer
40. George Clooney
41. Kimi Raikkonen
42. Jerry Seinfeld
43. Sean (Diddy) Combs
44. Jennifer Aniston
45. Adam Sandler
46. Oscar De La Hoya
47. Desperate Housewives (cast)
48. LeBron James
49. J K Rowling
50. Derek Jeter
51. Maria Sharapova
52. Matt Damon
53. Gisele Bundchen
54. Vince Vaughn
55. Bill Clinton
56. Gore Verbinski
57. Will Smith
58. Valentino Rossi
59. Judge Judy Sheindlin
60. Jessica Simpson
61. Tyra Banks
62. Anthony Robbins
63. Cate Blanchett
64. Regis Philbin
65. Sandra Bullock
66. Rachael Ray
67. Alan Greenspan
68. Julia Roberts
69. Serena Williams
70. Michelle Wie
71. Keira Knightley
72. Hilary Duff
73. George Lopez
74. Kate Moss
75. Barbara Walters
76. Ryan Seacrest
77. Scarlett Johansson
78. Jessica Alba
79. Daniel Radcliffe
80. Reese Witherspoon
81. Larry the Cable Guy
82. Deepak Chopra
83. Annika Sorenstam
84. Heidi Klum
85. J J Abrams
86. Dan Brown
87. Emeril Lagasse
88. Wolfgang Puck
89. Dane Cook
90. Jack Welch
91. John Grisham
92. Jeff Foxworthy
93. Rhonda Byrne
94. Dakota Fanning
95. Danica Patrick
96. Mitch Albom
97. Emma Watson
98. Hayden Panettiere
99. Paula Deen
100. Bobby Flay



Elton ranks #9 in the world according to Forbes
Friday, June 17 2005 at 12:03:05


Sir Elton John kicks off exhibition "Eye of Subconsiousness"
Saturday, June 16 2007
The exhibition opened at the Pinchuk Art Center on June 15, 2007. The exhibition comprises over 148 pictures by famous artists about British Knight.
The circuit exhibition was for the first time exhibited in 1991 at the High Museum of Art in the USA. The collection of pictures include those form the USA and Britain.

Kicking off the exhibition, Elton John stressed that the pictures were taken by photographers, who mainly focus on pop-culture, cultural barriers, impact on environment and other aspects. The exhibition will be officially opened on June 16, 2007 and will run through August 12, 2007.

Elton John will play a charitable concert on June 16, 2007 in Kyiv within the frameworks of fighting against HIV/AIDS spread.



Elton John's free concert in Kiev may destroy Ukrainian society with its gay propaganda
Friday, June 8 2007 at 14:21:44

Elton John photo collection to be presented
Friday, May 25 2007 at 08:04:27


Sanctuary bought by Universal
Friday, June 15 2007
Troubled music group Sanctuary has accepted a takeover offer from Universal Music Group.
The firm, which manages James Blunt and Sir Elton John, announced on June 15, 2007 that Centenary, a division of Universal, has offered to pay 20p a share. This values the company at £44.5m. Universal will also take on debts of £59.6m, giving Sanctuary an enterprise value of £104.3m.

The music giant had been tipped as a likely bidder, as it already counts Elton John as one of its artists.

The takeover comes after a very difficult period for the record label, which was founded by two Cambridge students over 30 years ago. It has issued a string of profits warnings in recent years, and last year admitted making "fundamental errors" in its accounts.

Chairman Robert Ayling, the former boss of British Airways who joined Sanctuary last year, said the deal offered a brighter future for the company. "'The past few years have proved to be a very difficult time for Sanctuary and a very disappointing one for its shareholders," he admitted.

Its shares, which were changing hands for £17 in May 2005, fell to a low of just 6.5p last November. They closed yesterday at 17.5p, having risen in recent weeks amid speculation that Universal or Warner would bid for the group.



Help the Aids Foundation of Chicago (AFC)
Thursday, June 14 2007
The Elton John AIDS Foundation and the National AIDS Fund issued a challenge to AFC to raise $200,000 to receive a $100,000 matching grant.
The deadline — June 30, 2007 — is quickly approaching, and the organization is just $10,000 shy of its goal.

Donations can be made over the phone at +1-312-334-0936 or online at www.aidschicago.org/eltonjohn07.
Mariah Carey to headline EJAF concert
Wednesday, June 13 2007
Mariah Carey will headline at the European debut of Elton John's charity concert One Mighty Party.
The "Without You" hitmaker will travel to Paris, France for the gay and lesbian concert which benefits the Elton John AIDS Foundation on June 29, 2007.

Johnny Chisholm, founder and producer of the One Mighty Weekend events, says, "Mariah Carey is a worldwide musical superstar and we are thrilled to host her at our party."

The One Mighty Weekend has been held at The Walt Disney World Resort Orlando for the past 14 years but will make its European debut in France.
Elton's fight on AIDS grabs lawmakers' attention
Wednesday, June 13 2007
Organizers kept a tight protective ring, up to six guards deep, around Elton on June 11, 2007 at the National Building Museum, where the National Broadcasters Association honored him for his work in the fight against HIV/AIDS.
The protection for Elton warded off autograph seekers and reporters. Valets at doorways mentioned that he exited through a back entrance to avoid the paparazzi who had gathered at the start of the evening.

Organizers also kept a close watch around the shallow pool in the center of the room, placing large potted plants on the perimeter. During past soirees, tipsy guests reportedly tumbled into the pool, evening gowns and all, despite the staff's efforts to guard the pool's edges.

At Monday's event, stars such as Deborah Norville, the anchor of "Inside Edition," and Lauren Nelson, Miss America 2007, kept the audience dazzled. Jazz singer Oleta Adams performed a medley of Elton's works, from "Your Song" to "Can You Feel the Love Tonight." Elton blew her a kiss. Over white wine and hazelnut-crusted halibut, lawmakers such as Sen. Barbara Boxer (D-Calif.), Rep. John Dingell (D-Mich.) and Rep. Jean Schmidt (R-Ohio) joined in the celebration.

As he spoke about his work raising money to fight HIV/AIDS, Elton told the glamorous audience, "This is a chance to make up for behavior I deeply regretted … I'm like the whore that goes around and rattles people's wallets."



Awarding Elton
Monday, June 11 2007 at 06:31:13


Elton John and band performed in Germany on June 8/9, 2007
Tuesday, June 12 2007
Fan report by Annette Rogge & Mireille Mölbert.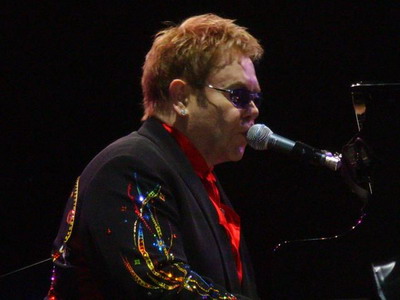 On June 8, 2007 Elton and the band played in Iffezheim near Baden-Baden. The weather was excellent, even a little too hot and Elton obviously was in a great mood. He joked around a lot and when introducing the band he told the audience that it was Guy Babylon's birthday. He even made the audience sing "Happy Birthday" – even though Guy's day of honor is in fact December 20.

There were no changes to the set list from the English concerts. The audience clearly enjoyed the show and was delighted when Elton played air guitar before he started with "Crocodile Rock".

Unfortunately, the stage was very high and right in front of it there was some shrubbery but on the other hand there was enough room for dancing. Elton's thank you to the audience was so heartfelt that everyone totally believed him when he said that the German audience was special. Before he said goodbye he said "see you real soon". Let's hope that he did not mean the concert the following night but was hinting at some extra dates in Germany.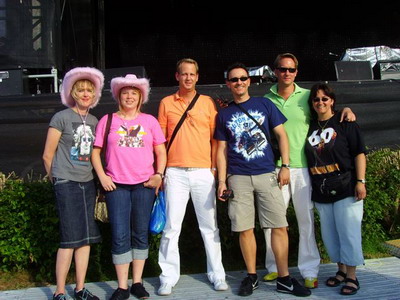 The following evening we saw Elton in Kleinheubach at Castle Löwenstein. When we arrived in Kleinheubach it was clear that the whole little town was overchallenged with an event this big. We were a little concerned that the audience would to a large part consist of local "VIPs", and not enough true fans would find their way there.

Also the skies were kind of dark and threatening. The moment the concert started we felt reassured. It turned out to be a beautiful night, just as Elton said right in the beginning. In his words: "I am a beautiful knight." The audience was great and really enjoyed the show as did Elton and the band. Once again, Guy Babylon was the prime target of Elton's jokes. The keyboardist was introduced as follows: "The president of the American tortoise racing association".

The set list again was the same but we heard some different intros to songs than the night before and Elton even played the beginning of the German national anthem.

Both nights, Elton was wearing an embroidered frock coat. In Iffezheim, it showed a "Greatest Hits Vol. II" Elton, and for the second gig, he had a contemporary image of himself in a spaceship on his back.

All in all we saw two great shows, totally worth the trip and even have some hope that other dates might be added.



Elton John and band performed in Löwenstein on June 9, 2007
Monday, June 11 2007 at 09:36:27

Elton John and band performed in Baden-Baden on June 8, 2007
Monday, June 11 2007 at 09:35:13
Elizabeth Hurley turns 42 in style
Monday, June 11 2007
It's gotta be great being a celebrity and having ultra-rich celebrity friends. Just ask Elizabeth Hurley. She's a beautiful actress/model, and she has friends like Sir Elton John to throw her ridiculous birthday parties.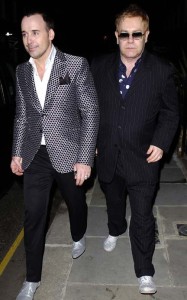 Elton served up birthday wishes for Hurley in lavish form. Elizabeth's husband, Arun Nayar, seemed stunned by the festivities, and by his wife's beautiful white knee-length frock and sparkly shoes.

Even Elton and his husband David Furnish took their cues from Hurley, both donning silver shoes to match hers.

It's no secret that Sir Elton and Elizabeth are best friends. Earlier this year at her wedding, Elton delivered a touching speech in which he called the Austin Powers beauty his "daughter." He's had nothing but kind words best wishes for her during their longtime friendship.

Hurley told Hello! Magazine, "I cried in the church, during Elton's speech. I'm afraid my stiff upper lip deserted me."
Elton John and band performed in Löwenstein on June 9, 2007
Monday, June 11 2007
Following is the complete set list of the Löwenstein show on June 9, 2007.
Funeral For A Friend

Loves Lies Bleeding

The Bitch Is Back

Hercules

Madman Across The Water

Tiny Dancer

Daniel

Rocket Man

Honky Cat

Sacrifice

I Guess That's Why They Call It The Blues

Burn Down The Mission

The Bridge

Sorry Seems To Be The Hardest Word

Bennie And The Jets

Philadelphia Freedom

Are You Ready For Love

Something About The Way You Look Tonight

Sad Songs (Say So Much)

I'm Still Standing

Crocodile Rock

Saturday Night's Alright (For Fighting)


Don't Let The Sun Go Down On Me

Your Song
Elton John and band performed in Baden-Baden on June 8, 2007
Monday, June 11 2007
Following is the complete set list of the Baden-Baden show on June 8, 2007.
Funeral For A Friend

Loves Lies Bleeding

The Bitch Is Back

Hercules

Madman Across The Water

Tiny Dancer

Daniel

Rocket Man

Honky Cat

Sacrifice

I Guess That's Why They Call It The Blues

Burn Down The Mission

The Bridge

Sorry Seems To Be The Hardest Word

Bennie And The Jets

Philadelphia Freedom

Are You Ready For Love

Something About The Way You Look Tonight

Sad Songs (Say So Much)

I'm Still Standing

Crocodile Rock

Saturday Night's Alright (For Fighting)


Don't Let The Sun Go Down On Me

Your Song
Awarding Elton
Monday, June 11 2007
On June 11, 2007, the National Association of Broadcaster's Education Foundation will be bestowing its highest honor, the Leadership Award, on Elton John for the nearly $120 million he's raised in the worldwide fight against AIDS.
Elton will be appearing at the organization's ninth annual 'Services to America' gala. He launched the Elton John AIDS Foundation in the U.S. in 1992 as a response to the death of HIV-positive teenager Ryan White.

A United Kingdom branch of his charity was started in 1993, and together the two halves of the organization work in over 55 countries. Recently, the U.S. branch began a new initiative for HIV prevention in poor communities in the Southern U.S. and the Caribbean.
Sanctuary forced to sideline its broker in takeover process
Monday, June 11 2007
Bob Ayling, the chairman of embattled music group Sanctuary, has been forced to sideline Evolution Securities from the discussions on its ongoing auction process.
Sanctuary, which manages artists ranging from Sir Elton John to Iron Maiden, is in takeover talks with a consortium of Asian investors. The group indicated to the market earlier this month that it had received a "number of take-over approaches".

Although Evolution is Sanctuary's broker, it has been barred from advising the board on the takeover approaches due to its involvement in an emergency rights issue last year, which rescued the company from the brink of collapse. Evolution raised £110m for Sanctuary at 50p per share in February 2006.

The company's shares have since collapsed and are now trading at 16.5p. The takeover proposals outlined in the auction are expected to come in at about 25p a share.

According to sources close to the situation, the huge discrepancy between the fund-raising price and the price at which the company looks likely to be taken over means that Evolution's involvement in the talks has to be restricted. The restriction is dictated by an obscure set of Financial Services Authority rules.

Although Evolution continues to act as broker to Sanctuary, Ayling and the Sanctuary board have appointed Deloitte to provide independent advice on the offers tabled. Sanctuary has been in and out of takeover talks on numerous occasions over recent years.

Ayling was drafted in as chairman of Sanctuary last year after the acrimonious departure of the group's two founders, Andy Taylor and Rod Smallwood.



This Week's Featured Concert at Wolfgang's Vault
Friday, June 8 2007
Elton John, Poplar Creek, Hoffman Estates, IL, September 16, 1988
With his glittery oversized eyewear, theatrical stage shows, and awesome compositions, Elton John owned the 1970s, so by the time the '80s rolled around, he was truly a seasoned musician and performer.

Though he battled a slew of personal demons during this time, his charismatic presence and distinctive mélange of rock 'n' roll never suffered.

Listen to Elton rock the ivories and sing his heart out with a vivacious set full of the tunes that made him an icon.
Elton John's free concert in Kiev may destroy Ukrainian society with its gay propaganda
Friday, June 8 2007
Elton John will perform his free charity show in Ukraine's capital Kiev on June 16, 2007.
The concert is aimed to support Ukrainian children suffering from HIV/AIDS. The show will last for about 2,5 hours and will take place on the central square of Kiev.

However, the Orthodox Ukrainians believe that it would be blasphemous to hold Elton John's concert in the centre of Kiev, said Valery Kaurov, the head of the Union of Orthodox Ukrainians.

"Orthodox people have no respect to people with untraditional sexual orientation, including Elton John because such people are directly associated with HIV/AIDS," Valery Kaurov said.

"All normal countries, including Russia do their best to ban such events as gay pride parades and other congregations of people of untraditional sexual orientation because they destruct the society. If all people in the world become homosexuals, mankind will become extinct," Kaurov stated.

The highest in Eastern Europe prevalence of HIV-infected donations is registered in the Ukraine where 128.4 per 100,000 individuals tested HIV-positive. According to the international studies about 140 Ukrainians are expected to die from AIDS every day by 2014.

More than ten percent of 2.500 newborns receive HIV infection from their mothers at present. In France, for example, this index is limited to only one or two infants a year.

By 2014 about 40 thousand Ukrainian children are expected to lose both parents. Most of them will inherit HIV/AIDS from their parents.



Elton John to play charitable concert in Kyiv
Thursday, May 24 2007 at 06:11:11


Brandi's songs tell a story, straight from the heart
Friday, June 8 2007
The 26-year-old Washington singer has a voice so full and rich it rivals k.d. lang's and Gillian Welch's. Elton John recently sent flowers and wine to her tour bus.
And her songs have been all over the hit-making and wildly popular prime time hospital soap, Grey's Anatomy.

Her far-reaching, melodic country twang has the capacity to make you stop whatever it is you're doing and just listen. And her songs -- most of which she writes herself -- often sound more like the product of a hard-living bar veteran than that of a slightly shy and polite woman who lives in the woods of Washington.

For the better part of her childhood, Carlile wasn't aware there was music beyond the likes of Tammy Wynette and Patsy Cline. It wasn't until she heard someone do an Elton John cover at a venue where she regularly performed that she realized there were singers who also wrote their own songs.

"That was, for me, a totally different kind of music than what I'd been exposed to and I was totally freaked out," she said.

"I went to the King County library the next day and took out two Elton John records. By reading the liner notes and falling totally in love with Elton John, I realized that he wrote his own songs. That had never occurred to me."

Earlier this year, Elton himself heard that Carlile had been publicly gushing about him and sent her flowers and a bottle of wine from the year she was born as a thank you.

"I couldn't believe it," she said, chuckling about it. "I was supposed to be on stage in 10 minutes and I had to go on 20 minutes late just to get myself together."
Ann Wilson solo album to be released
Wednesday, June 6 2007
Guests that appear on her album include: Elton John, Wynonna, Gretchen Wilson, k d Lang, Alison Krauss, Shawn Colivin, Rufus Wainwright, Deana Carter, and Nancy Wilson.
Ann Wilson's first ever solo record, Hope and Glory will be released on September 11, 2007 via Rounder (Zoe) Records. Following is the track listing:

Goodbye Blue Sky
Where to Now St. Peter
Jackson
We Gotta Get Out of This Place
Immigrant Song
Darkness, Darkness
Bad Moon Rising
War of Man
Get Together
Isolation
A Hard rain's a Gonna Fall
Little Problems, Little Lies
Die-hard Elton John fan
Monday, June 4 2007
David Wright has been involved with Hercules (eltonfan.net) for quite many years acting as the chief of the UK department.
He is of course a die-hard fan of Elton John who's seen him in concert many times. Before Elton's Carlisle show on June 3, 2007 he spoke to Val Armstrong of the BBC on her Saturday morning show: Val Armstrong talks to Elton John's biggest fan.
Elton John and band performed in Carlisle on June 3, 2007
Monday, June 4 2007
Fan report by Mark Danby.
This was Elton's first concert in Carlisle, the first concert at Brunton Park home of Carlisle United Football Club and the first major concert in the Cumbria area. This concert was therefore regarded a big event by the people of Cumbria, and I was a little apprehensive as to how they would receive Elton. The concert was a sell out with a crowd of almost 20,000.

The Story's supported Elton as usual and were very well received and Elton also allowed a local band to play called the Monroe's who were also very good.

Elton and the band took the stage at 7.10 pm and started as usual with "Funeral for a Friend" and "Love Lies Bleeding" followed by "The Bitch Is Back" which had the crowd on its feet for the first time. Elton then spoke for the first time apologising for his voice saying he had Bronchitis and although you would not have guessed it from the first two songs the voice did sound very bad when he spoke.

He then went into "Hercules" and not far into the song Elton came in too early and at this point I did begin to wonder if Elton was going to struggle with his voice, if indeed he was up for it and also how this essentially new audience would respond.

I have to say from this point on something very special started to happen. I have attended countless Elton John concerts all over the world and this one takes some beating. It soon became apparent the Carlisle crowd were up for a good time and all they wanted to do was party with Elton by standing, singing, chanting, cheering, clapping etc. which started with "Tiny Dancer" and built with every song.

The security tried in vain to get people to sit but soon gave up with everyone in the Stadium standing for the majority of the time. I have to say that a lot of alcohol was been consumed which contributed to the merriment but it was totally good natured and friendly. I have never been to an Elton Concert like this before and I have to say it took me by surprise a little, I have been critical of many audiences for been too quiet and conservative but on the other hand I also like to listen very closely to the music. This was just not possible at this concert because there was so much movement with everyone standing, moving about (going for more drinks, dancing, etc.) you just had to go with it and enjoy.

Elton's voice seemed to improve with every song with the exception of "The Bridge" which he seemed to struggle with and anyway all this audience wanted was the big hits and it is perhaps the reason he dropped "All The Young Girls Love Alice". As Elton went through this hits the whole stadium was rocking with all 20,000 standing and dancing.

I have to say that I applaud Elton for playing venues like this. The organisation for this event was massive and took six months of hard work and they now hope to attract other big names to the area. I was down in Cornwall earlier this year and I was wearing my eltonjohn.com hat and I was amazed by the reaction of the locals to his concert in Plymouth. They were very excited and felt honoured that Elton was coming to their area where superstars never play. Look out Inverness.

You can find lots of pics and concert info on the BBC web site here.

Following is the complete set list of the Carlisle show on June 3, 2007:

Funeral For A Friend

Loves Lies Bleeding

The Bitch Is Back

Hercules

Madman Across The Water

Tiny Dancer

Daniel

Rocket Man

Honky Cat

Sacrifice

I Guess That's Why They Call It The Blues

Burn Down The Mission

The Bridge

Sorry Seems To Be The Hardest Word

Bennie And The Jets

Philadelphia Freedom

Are You Ready For Love

Something About The Way You Look Tonight

Sad Songs (Say So Much)

I'm Still Standing

Crocodile Rock

Saturday Night's Alright (For Fighting)


Don't Let The Sun Go Down On Me

Your Song
Elton's gallery plans in doubt
Monday, June 4 2007
Elton's dream of building a lavish art gallery in his home in Berkshire, England is in doubt after a council official blasted the plans.
Elton proposed a design containing a 180 foot (55 meters) building on his property to display his extensive collection of rare photographs and paintings. However Malcolm Beer, a councilor for the Royal Borough of Windsor and Maidenhead, opposes the plans.

He says, "The appearance of the proposed gallery seems to be architecturally confused."



Art-lover Elton to build a gallery
Monday, April 30 2007 at 08:49:51


Legal action in regard of "Red Piano" cancelation?
Sunday, June 3 2007
The promoter responsible for putting together the recently canceled Elton John Red Piano dates in Europe is considering legal action against the artist and his management.
A May 22, 2007 press statement from Gary Farrow's London-based The Corporation, a public relations company representing Elton John, claimed five dates in high-profile settings were canceled because "the promoter has been unable to guarantee to put on the shows."

"Nobody knows where he is and so good luck with finding him. If you find him before I do, please let me know," Keith Bradley from 21st Artists told Pollstar in response to questions about the promoter's identity. The promoter turns out to have been Imagination Marketing, a Zurich-based firm that's worked on some of Sir Elton's previous corporate shows. Company president Andreas Vorsteher is telling a different story.

He said he's surprised Bradley doesn't know where to find him because he has all his contact points, including his home phone number. He said Imagination terminated the contract after May 1, 2007 when the 3sat TV network screened a European TV broadcast of a Red Piano show recorded during the act's Las Vegas residency. "This contravened the artist's contractual obligations regarding our rights," he explained. Vorsteher said Imagination agreed to discuss the matter further and did so during a May 16, 2007 meeting at 21st Artists' London offices with the act's management team, including Bradley and company chief Frank Presland.

He claims both sides eventually reached a resolution that included Imagination being paid a "substantial financial settlement" for the May 1, 2007 breach and resulted in the drafting and signing of a new contract May 18, 2007. "Within 30 minutes I received a phone call from their in-house lawyer saying Elton John had decided he wouldn't do any more interviews with print media until 2008, which included one that Imagination had permission to set up for May 25 at Cannes Film Festival.

"That was the second time we terminated the contract and this time it's terminated for good," Vorsteher explained. "Press is our life, without it we're dead. Earlier in the year we had problems with a pre-arranged press conference. The society editor of Germany's Bild magazine spent 15 hours flying to Las Vegas to attend one and was then told to write down some questions and he'd get a reply on an e-mail."

He also said his company is considering various courses of legal address, including taking advice on whether the May 22, 2007 press release concerning the promoter failing to guarantee the shows is defamatory. Bradley said he's sticking by the content of that press release and declining to make further comment because he doesn't want to "inflame the already very upsetting cancellation" of the 2007 European Red Piano shows. "Please be assured that there will be Red Piano shows in the future, but under our direction," he added.

The European dates are an extension of the Las Vegas version of The Red Piano Show, which Imagination was presenting to commemorate Sir Elton's 60th birthday and his 40 years of touring. They were scheduled for well-known settings including the Piazza de San Marco in Venice June 5-6, Berlin Brandenburg Gate June 22, a Moscow show in a venue that was never announced July 3, the Versailles Gardens in Paris September 9 and The Plaza de España in Seville, Spain, September 14.

Vorsteher denied that any of the shows, which had capacities ranging from 5,000 to 12,000, were suffering from poor ticket sales.



Elton cancels European "Red Piano" dates
Tuesday, May 22 2007 at 14:39:14


Stars light up Raisa's midsummer fantasy at Hampton Court
Sunday, June 3 2007
Elton John and J.K. Rowling were among the celebrities at a stunning gala dinner in aid of the Raisa Gorbachev Foundation.
Hampton Court Palace provided an imposing backdrop to the event, hosted by Mikhail Gorbachev to raise funds for the foundation, which was established in memory of his late wife Raisa to help find a cure for cancer in children.

Tatler editor Geordie Greig and Evgeny Lebedev, whose family co-own one of Russia's few remaining independent newspapers, hosted the event alongside the former Soviet President, who greeted each guest individually as they arrived.

Patrons of the spectacular event, themed around a Russian midsummer fantasy, include Madonna, Lady Thatcher and Viscountess Rothermere, wife of Viscount Rothermere, Chairman of the Daily Mail and General Trust, owners of The Mail on Sunday.

A glittering array of guests including Sir Bob Geldof, Sir Tom Stoppard, Sir David Frost, Ralph Fiennes, Steven Berkoff, Simon and Yasmin Le Bon, Minnie Driver, Kim Cattrall, Gillian Anderson, Anna Friel, Sadie Frost, Elle Macpherson and Naomi Campbell were treated to dinner and performances by Elton John and the Scissor Sisters.

Mr Gorbachev, whose wife died of leukaemia in 1999, spoke movingly about how proceeds from the event would be used. He said: "Through the creation of the Raisa Gorbachev Centre of Children's Haematology and Transplantology in St Petersburg, much-needed medical care of an international standard will soon be available.

"Our efforts in this project give hope to many sick children and their parents. I call upon both Russian and international organisations and individuals to join us in taking action for this very worthy cause."

As the Lebedev family generously agreed to underwrite the event, all money raised will go straight to the foundation.

Mr Lebedev said: "To witness life-saving changes that have been brought as a result of the Raisa Gorbachev Foundation to the most vulnerable people in the world, those children who cannot afford to have cancer treated, has been not only moving but very motivating."

The foundation set up to commemorate Mrs Gorbachev's life aims to finance projects such as the creation of a national bone marrow register in Russia, as well as supporting the families of children diagnosed with terminal cancer.
Jake is a little "off-key"
Sunday, June 3 2007
Scissor Sisters frontman Jake Shears was all cut up - after losing Elton John's house keys.
The 29-year-old singer is a close friend of Sir Elton and often stays in his lavish Holland Park house in West London when he's in town.

But last week, when Jake was in the capital to pick up an Ivor Novello songwriting award for "I Don't Feel Like Dancing" (which was co-written with Elton) he accidentally misplaced his spare keys.

We hear: "Jake flew into a panic when he realised they were lost. He even retraced his steps in a desperate attempt to locate them. He was really sheepish and apologised profusely, but Sir Elton wasn't exactly impressed. He'll probably have to have all the locks changed."



Ivor Novello Awards, Britain's awards for songwriting
Friday, May 25 2007 at 08:07:52
David Furnish slams Michael Moore
Saturday, June 2 2007
David Furnish has hit out at filmmaker Michael Moore for criticising the U.S. healthcare system.
The star - who lives in England - insists new movie "Sicko" is inaccurate, and has praised America's medical services - branding it "the only place to get good treatment".

He says, "I completely disagree with Michael Moore. With my own father, when he was ill, the only option was to hire a jet and fly him to America. It was the only place to get good treatment."
Elton: Amy Winehouse is best female singer
Friday, June 1 2007
Elton John reckons Amy Winehouse is the world's most talented female singer. However, the singer has revealed she would happily swap her successful music career for normal married life with children.
Amy, who wowed Elton with her performance at a London show this week, has confessed she wants to put motherhood and being a good wife before her career.

She said: "I don't want to be ungrateful. I know I'm talented but I wasn't put here to sing. I was put here to be a wife and a mum and look after my family. I've always been a homemaker. I love what I do but it's not where it begins and ends."

Amy was granted a private audience with Elton this week when he turned up to watch her play at London's Shepherds Bush Empire. The singer went to meet Amy in her dressing room after the show and said afterwards: "Amy is an incredible performer. That was one of the most exciting and greatest shows I've seen in many years."



Winehouse apologizes to Elton for cancelled gig
Friday, May 18 2007 at 19:17:30