ELTON JOHN NEWS ARCHIVE: June 2006
Liz Hurley is queen of Sir Elton John's ball
Friday, June 30 2006
British beauty Elizabeth Hurley was one of the stars that shined the brightest at Elton John's annual 'White Tie and Tiara' charity ball on 29 June, 2006.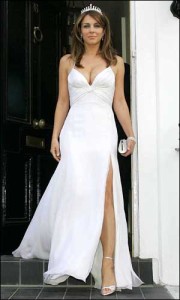 The former Estee Lauder model looked positively regal in a sparkling diamond headdress and a ring with an exquisite 31-carat Chopard rock.

Also at the star studded event was singer Kylie Minogue, who returned to the party scene once again in what she called her "official coming out" after beating breast cancer decked in 3million pounds worth of diamonds, including a 16-carat white gold necklace worth 2.5million pounds.

Apart from showbiz royals, real blue blood was also in attendance in the form of teenage Princesses Beatrice, 17, and Eugenie, 16, whose daring outfits with plunging necklines are said to have turned quite a few heads.

The guests were entertained by Indian musicians and dancers in a giant marquee decorated in the style of a palace during the days of the Raj.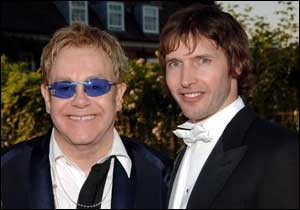 A source said that Elton had wowed his guest by serving fine Indian food, based on advice Hurley's Indian boyfriend Arun Nayar. "We weren't talking onion bhajis and poppadoms, it was the best fine dining," The Sun quoted the source, as saying.

Money raised by the ball will be used to for the Aids campaign, and an Indian charity.



Sir Elton's summer curry party
Thursday, June 29 2006 at 18:47:52
World Cup first, then Elton
Thursday, June 29 2006
At Elton's last UK summer concert this year, fans will be given the chance to watch the World Cup match between England and Portugal before Elton will enter the stage.
Elton's UK promoter has just announced the following:

Due to Englandís success in reaching the quarter finals of the World Cup, and after discussions with the Licensing Authorities, Emergency Services and AFC Bournemouth, it has today been confirmed that the England vs. Portugal game will be shown in full on two big screens at the stadium to allow ticket holders to enjoy both this important match and Eltonís concert.

The concert went on sale on 14th November. At this time it was unknown on which day England would be playing in the World Cup because the draw was made in mid December. We had the opportunity to seize the moment in order to stage this unique concert at the Fitness First Stadium. However we had to schedule the UK dates within the time frame available and make sure we could fit all the venues into the touring period of late May to early July.

Prior to going on sale, and subsequently, lengthy discussions have taken place with the Licensing Authorities, Emergency Services and AFC Bournemouth to give due care and consideration to the local residents and to ensure that the best possible arrangements are made to cause the least inconvenience to all concerned. The priority of the Emergency Services and Licensing Authority is to make sure all reasonable safeguards are put in place for the safety and well being of the audience attending the concert including the traffic management plan and the general travel for the public as all concerned wish to provide people with a fantastic concert.

Doors will now open at 3pm, two hours earlier than scheduled and advertised, to accommodate the screening of the match (coverage begins at 3pm with kick off at 4pm). The concert will begin at 7.15pm (subject to extra time and penalties) with special guest The Storys.

Please note Rocket tickets for this concert can be collected from the box office at the venue from 2pm onwards on the day of the concert.

As with all concerts no food or drink will be allowed in to the stadium, although catering and refreshment facilities will be available within the ground from doors. AFC Bournemouth has secured parking close to the stadium, as well as organising Park & Ride facilities. Anyone who has not yet booked a car parking space is advised to do so by calling 08700 340 380. For those patrons who have already booked car parking and intend arriving early for the match, arrangements have been made to accommodate you with Car Parks and Park & Ride facilities scheduled to begin running at 2.30pm.

Sir Elton's summer curry party
Thursday, June 29 2006
Sir Elton John will host the Indian-themed White Tie And Tiara ball on June 29, 2006.
It's curry night at Sir Elton John's house on June 29, 2006. His annual White Tie And Tiara ball at his Old Windsor home, in aid of his Aids foundation, will have an Indian theme this year.

A source said: "Elton has a different theme every year and Indian is a great chance for silks and bright colours, but it won't be onion bhajis and poppadoms - it will be the best Indian fine dining."

The guest list features Liz Hurley and her Indian tycoon boyfriend Arun Nayar. Entertainment will be laid on by Take That - and it is rumoured Robbie Williams will join in.

A friend of Elton said today: "Robbie has got a gap in his diary but he hasn't said anything about the party."

Sir Elton and his partner David Furnish married in a civil ceremony six months ago and had their stag party with Neil Tennant and friends at Knightsbridge restaurant Amaya.

Society caterers Rhubarb, who laid on the food for the Beckhams' pre-World Cup party, will be preparing the six-course meal.
Elton John talks about Platinum Weird
Wednesday, June 28 2006
In 1974, Dave Stewart formed a band called Platinum Weird in North London with his female songwriting partner, muse and soul mate, Erin Grace.
The pair originally met a few months earlier and formed a creative and spiritual bond. Their debut gig was at Mick Jagger's birthday party where they quickly enjoyed a cult-like status performing at intimate gigs in London's rock club circuit. Elton John's Rocket label signed the band, putting down an advance to send them into studio and lay down tracks.

Erin's behavior during the making of the album was unpredictable and eccentric. Prone to mood swings and emotional insecurity, she would often disappear for days, and then reappear as if nothing was unusual with a smile and couple of new songs. Perhaps because of her unconventional persona, men desired her and women emulated her. "She was wispy and elusive," Fleetwood Mac's Stevie Nicks, once said. "I wasn't quite sure what she was about, but I kind of copied her look."

With art work finalized and a release date penciled in, Erin vanished again, leaving Dave nothing but a demo of a song called 'Will You Be Around' and a closet of metal hangers where she used to keep her clothes. As suddenly as she had appeared in Dave's life, she was gone. "In a strange way," reflects Mick Jagger, "I think Dave was the least surprised by what happened. Knowing her nature, I think he found it kind of appropriate."

The highly anticipated eponymous album of Platinum Weird was never released and its name disappeared from public consciousness as quickly as the elusive songstress herself. Dave went into a deep depression, a period he later referred to as his 'lost years.'

Click here to see what Mick Jagger, Elton John, and Ringo Starr have to say about Platinum Weird.


Watch the entire Special July 5, 2006 at 6pm only on VH1!
Elton's private concert in St. Petersburg
Tuesday, June 27 2006
Christen Sveaas is a Norwegian. He is one of the richest in the country, selling stocks and bonds. So why not charter a plane and fly your best and rich friends to St. Petersburg?
He rented two rooms in The Konstantiniv Palace. The Palace where Putin will have his G8 meeting in; The Blue Room and the Marble Room. Also hotelrooms to the friends and a whole fleet with "old" Volga limoe's.

Sveaas has spent two years planning this big party. He had two chefs flewn in and they made all the food for the weekend. Dame Edna entertained during the main course. The biggest surprise after the meal was Sir Elton John on stage. He played nearly two hours for the 140 guests.

Sveaas took the mike himself after the concert. He said something like this: "Not only are you a fantastic musician, but you are also a person who makes the world a better place with your struggle against AIDS. Therefore it's a pleasure for me to contribute on my 50th-B-day with this gift of one million punds".

Elton just sat there gaping. Then he kneeled in front of Sveaas and did his "Buddah-greeting". He was speechless, sat by the piano and started to play some extra songs. Thank you for being so generous, he kind of jammed!

Sveaas took the mike again, said to his friends that when you get to your rooms, there will be a moneyorder with the account to the AIDS Foundation. Use it!

He didn't want any gifts at all for himself, instead he wanted his friends to give to the EJAF. Elton was long gone by then. He had a plane to catch and a new concert the next day.
Elton John and band performed in Oxford on June 24, 2006
Monday, June 26 2006
Fan report by RAS.
I'm seventeen and this was my first Elton John concert - I was determined to see the man known for being one of the most prodigious hit makers and most spectacular show men around. And he certainly didn't dissapoint! Far from it: Elton's gig was the best I have ever been to, and certainly far better than any of the modern acts around who seem to think they garner mystique by lamely trotting out their latest releases.

He began by entering to some great walk-on music and to a huge standing ovation from the capacity Kassam Stadium crowd, before hammering into an extended version of "Bennie and the Jets". Immediately afterwards came a very well-received swooping "Philadelphia Freedom" and a song I hadn't heard before, "Believe".

"Daniel" got the audience swaying in time, and a huge and majestic "Rocket Man" (with some pretty hardcore rock in the middle) was one of the moments of the night. "I Guess That's Why They Call It The Blues" with a swinging coda was popular, and the new songs he played (particularly the second) were terrific and have prompted me and my friends to buy the album.

"The One", another song I wasn't familiar with, was a gem and "Take Me To The Pilot" was performed superlatively - Elton was dancing about on stage throughout the song!

A thumping "Love Lies Bleeding" had everyone dancing in the aisles, whilst "Tiny Dancer" captured the shimmering spirit of the evening. "I Want Love" was suitably tough, and "Sorry Seems To Be The Hardest Word" was greeted with a stunned silence as Elton sounded every bit the unrequited lover.

On "Sacrifice" we rushed forward to the front of the stage to party to a disco version of "Are You Ready For Love?". "I'm Still Standing" ensured everyone in the stadium was on their feet permanently, whilst "Crocodile Rock" (with Elton encouraging us to sing the refrain twice) sealed the deal.

"The Bitch Is Back" saw EJ jumping from the piano, lying atop it and slamming the piano lid triumphantly whilst his savage rendition of "Saturday Night's Alright For Fighting" was truly sublime.

To chants of "Elton! Elton!" to man himself reappeared to deliver a sterling "Don't Let The Sun Go Down On Me" and a very moving "Your Song" (which we all sang along to, almost drowning the man himself out!). Elton was a genuine show man, grinning and gurning his way through songs; hammering at the notes whilst standing or leaning right back; leaping onto the piano stool and even piano. The band helped him along marvellously, often playing back to back with him and handing out memorabilia to the crowd.

He didn't just play the stuff either - he clearly improvised his opening to "Take Me To The Pilot" and fiddled with his renditions of various numbers. He was always amusing: he claimed the percussionist bred poodles for a hobby and that the lead guitarist was "currently writing a book titled 'Why Poofs Love Judy Garland'! We laughed along also as he trashed Argentina and Germany, and were genuinely touched when he dedicated "Your Song" to all the fans and made a lenghty autograph sweep. A personality and player who is nigh on impossible to match.

Following is the complete set list of the Oxford show on June 24, 2006.

Bennie And The Jets

Philadelphia Freedom

Believe

Daniel

Rocket Man

I Guess That's Why They Call It The Blues

Turn The Lights Out When You Leave

They Call Her The Cat

The One

Take Me To The Pilot

Funeral For A Friend

Love Lies Bleeding

Tiny Dancer

I Want Love

Sorry Seems To Be The Hardest Word

Sacrifice

Are You Ready For Love

Crocodile Rock

I'm Still Standing

The Bitch Is Back

Saturday Night's Alright For Fighting


Don't Let The Sun Go Down On Me

Your Song
Sanctuary hits low note
Saturday, June 24 2006
Shares of Sanctuary, the music company behind Elton John, crashed to an all-time low June 23, 2006 after yet another profits warning.
As well as Sir Elton the company handles clients like the Strokes, and Jimmy Page and Robert Plant of rock legends Led Zeppelin.

It said results at its record division, whose stars include Morrissey, would not be as good as hoped ó and that it will lose up to £22million in 2006.

The shares sank 15p to 23.5 on the news, which came less than a month after Sanctuary fired Andy Taylor, its founder and former chief executive.

Frank Presland, who replaced Mr Taylor, said: ďIt is disappointing to have to bring this news to the market. But what Iíve seen as chief executive so far is a business that can prosper if it faces up to the new realities.Ē

He warned it would take longer than expected to sell some assets and that more restructuring would be necessary.



Elton John headlines EuroPride
Thursday, June 22 2006
The chairperson of Pride London, Steven Cootes, confirmed the rumour to PinkNews.co.uk amid speculation of whom the events' mystery guest would be at the gay prideĎs 2006 climax show on July 2, 2006.
Already confirmed to take part will be Julian Clary, Graham Norton, Tina C, Alan Carr, Stephen Fry, Sandi Toksvig, Betty Legs Diamond Company from Blackpool Funnygirls.

London's newest show from America Avenue Q have also agreed to perform a specially written piece. Gay Men's Chorus will be singing with a surprise star.

Sir Ian McKellen, creative director of THE SHOW said: ďElton wants to be celebrating EuroPride 2006 in London with the rest of us. He is one of the most generous stars in the world. THE SHOW just keeps growing all the time and The Royal Albert Hall will be the only place to be on July 2nd!Ē

Meanwhile, Mr Cootes refused to confirm rumours that George Michael and Dame Shirley Bassey will appear.



Sir Elton John becomes patron of EuroPride London
Thursday, October 20 2005 at 07:59:21


Elton John to rock Oracle OpenWorld
Thursday, June 22 2006
Oracle Corp. managed to persuade Sir Elton John to rock all the way to San Francisco from the United Kingdom in October 2006.
It took Oracle more than six months to confirm that Elton John would perform at OpenWorld on October 24, 2006, said Judy Sim, senior vice president of worldwide marketing and customer programs. "He had a couple of other engagements in the U.S. around the same time, and when those other plans fell through we were worried he would not make himself available," she said. "But last month he confirmed."

Sim said he's bringing a red piano for the event. Last year, Oracle hosted 34,000 at the event. The forecast for this year is 41,000.

"He's making a special trip for Oracle," Sim said. "He stands for innovation and goodwill, and this is the image we want to portray at Oracle."
Elton talks about future plans
Thursday, June 22 2006
Elton talked about plans for the rest of the year and for 2007 from stage at the show in Birmingham on June 21, 2006.
He said that he would be lower profile next year as he was working on a couple of big projects. He confirmed that the new album, "The Captain And The Kid", will be due in September 2006.

Elton also mentioned that he was starting work on another studio album in July 2006. That album will be due in 2007.

Finally, Elton stated thhat he would only be doing two concerts in England in 2007 - both of which will be at Vicarage Road Watford in the summer of 2007 and will feature "some very special guests".



Postcards for Richard Nixon
Wednesday, June 21 2006 at 19:50:49


Elton John and band performed in Birmingham on June 21, 2006
Thursday, June 22 2006
Fan Report by Simon Gambling.
What a great show. Iíve seen Elton many, many times before but never seen him so talkative as at Birmingham. His mixed moods recently had me worried it would be an on and off performance, but I was happy to be proved wrong.

The show started at around 8.25pm with "Bennie and the Jets" Ė it was clear Elton was in a ďpianoĒ mood Ė lots of winks and smiles between the band at each other as they watched Eltonís fingers fly up and down the keyboard Ė and the new ending was a pleasant change. He said how much he liked playing Birmingham and that he was going to be keeping a low profile next year while a few new projects were on the go.

Next into "Philadelphia Freedom" followed by a fantastic version of "Believe". I havenít seen that live since the orchestra shows a few years ago. "Daniel" followed without any introduction Ė I think this has seen itís day in the set list. He wonít stop playing it thatís for sure, but it just seems the most dated out of them all. Maybe itís the electric piano sound, but somehow it doesnít quite do anything for me any more.

"Rocket Man" was superb, a jazzier version than sometimes, and a cool little intro by Elton solo on the piano. We got the spelling of R-O-C-K-E-T-M-A-N during it and the classic yodel at the end. His voice was truly amazing.

"I Guess Thatís Why They Call it The Blues" was very bluesy this time, with the end of the song being drawn out with some bluesy playing on the piano.

After this the lights dimmed while Davey swaped guitars and Elton said ďWe have a new album coming out in September which is a follow on from Captain Fantastic, this is called Captain and the KidĒ. The atmosphere was static as we thought he may be playing something from it, but alas he then went on to say ďhereís a couple of songs from our last ablumĒ and went into "Turn The Lights Out When You Leave" followed a rocking "They Call Her The Cat".

"The One" was up next which was nice to hear. Some nice guitar from Davey and Guy was very prominent on the keyboards.

Next Ė "Take Me To The Pilot". All I can say is ďwowĒ. This was the longest version Iíve seen him play. The intro was a classic mix of the old 90ís solo tour and the past few tours heís played. The intro must have been 10 / 15 minutes Ė watching Eltonís talented hands massage endless riffs and chords out of the piano was fascinating and my eyes were fixed on the big screen above the stage.

"Funneral For A Friend" rocked as normal with Nigel really showing his talent here, Love Lies Bleeding finished with a frenzy of intense flashing lights and heavy rock from Davey and Elton.

A short break came next with Elton asking us who we thought would win the World Cup and telling us what teams the band had picked. After this "Tiny Dancer" and "I Want Love" were played followed by "Sorry Seems to Be The Hardest Word" and "Sacrifice" which sounds great with the band again. Bob was truly great getting just the right amount of bass into this song without being too overpowering. Going back to "I Want Love", itís nice to see it back and it was played with such emotion that gave it an extra special feeling.

Now the fun starts. "Are You Ready For Love" had us all up on our feet, at the end Elton shouted ďAre you ready?Ē and flew into "Crocodile Rock" and "Iím Still Standing". Immediately after that song Elton was standing on top of the piano clapping during the intro the "The Bitch is Back" Ė this song seemed to be drawn out for a few more bars than normal during the instrumental section towards the end with some fantastic piano playing from Elton..

"Saturday Nightís" was played how Iíve never seen before. Half way through the band played a lot quieter and Elton whispered to the crowd ďweíre gonna get a bit of low down nowĒ and got the crowd chanting ďSaturdayĒ after him for a few timesÖ.. then the band blasted back into action with the piano chiming out those heavy chords for the final instrumental of the song. The large screen at the back of the stage really added style to it.

We sat down as the lights dimmed, Elton signed loads of autographs before playing "Donít Let The Sun go Down on Me" and finally "Your Song".

It was a great show, the best Iíve seen and I donít think he will be beat it next time I see him in Nottingham. It lasted for two and a half hours, he got many standing ovations and Iím sure heíll be back in another year or so Ė at least, I hope so.

Following is the complete set list of the Birmingham show on June 21, 2006.

Bennie And The Jets

Philadelphia Freedom

Believe

Daniel

Rocket Man

I Guess That's Why They Call It The Blues

Turn The Lights Out When You Leave

They Call Her The Cat

The One

Take Me To The Pilot

Funeral For A Friend

Love Lies Bleeding

Tiny Dancer

I Want Love

Sorry Seems To Be The Hardest Word

Sacrifice

Are You Ready For Love

Crocodile Rock

I'm Still Standing

The Bitch Is Back

Saturday Night's Alright For Fighting


Don't Let The Sun Go Down On Me

Your Song
Postcards for Richard Nixon
Wednesday, June 21 2006
The following tracks are rumoured to be included in the forthcoming album release, "The Captain And The Kid".
"Postcards for Richard Nixon"
"Noah's Ark"
"The Bridge"
"The Captain and the Kid"
Elton about the World Cup 2006
Wednesday, June 21 2006
"If Brazil is the best team in the World Cup, ..."

"... then I'm Geri Halliwell."

Peachtree Road
Monday, June 19 2006
Elton John's 2004 album, "Peachtree Road," wasn't overwhelmingly popular with his fans. His 12,000-plus-square-foot Peachtree Road condominium, however, was apparently a hit with Fulton County assessors, who set its value so high that he took them to court over it.
Elton sued the board of assessors May 31, 2006 in Fulton County Superior Court, claiming their $4.6 million appraisal of his residence at Park Place on Peachtree in Buckhead for 2004 was nearly $1 million more than it should have been.

Elton adds star power to the long-standing complaints of Fulton home and business owners who believe they, too, are being unfairly assessed. Two recent audits of the tax assessors office, which found serious problems with the way the county calculates property values, have raised tensions even higher.

Three board members resigned over the scandal, and the Fulton County Taxpayers Association got a judge to throw out the other two, though they remain in office while appealing the decision. The county also found itself a new chief appraiser and may yet seek help from the state to repair its system.

Under a special arrangement, each floor's units are valued incrementally higher than those on the floor below them due to their increasingly spectacular views of Atlanta's intown and perimeter skylines. Sherman said the deal was reached after owners griped that their property taxes seemed to be calculated at random. He said the county has upheld its end of the bargain since, making John's suit even more remarkable.

"If Elton John is suing," Sherman laughed, "this has gotten out of control."

Completed in 1986, the 40-story high-rise near the intersection of Peachtree and Wesley roads in lower Buckhead was one of the city's first luxury condo towers. As such, plenty of Atlanta notables besides Elton have called it home over the years.

According to county records, current owners include Atlanta Braves center fielder Andruw Jones, in a unit valued at more than $600,000 by the county; Reed Beauregard Turner, son of billionaire Ted Turner, in a $550,000 unit; Nancy Coverdell, widow of U.S. Sen. Paul Coverdell, in a nearly $400,000 unit; and Erwin Zaban, former chairman of National Service Industries Inc., in a $2.9 million unit. Martin Luther King Jr.'s late widow, Coretta Scott King, lived there as well.

Elton has actually appealed his property taxes to the county board of equalization in each of the last several years, according to his local tax representative, private appraiser Craig Klayman of Dunwoody. Klayman said he was able to get the county down to a reasonable rate in prior years, but this time, only a token decrease was offered, leaving court action as the only recourse.

"He was re-assessed multiple years in a row," Klayman said. "They keep going after him. When they know [an owner] is financially well off ... they're not very sympathetic."



Virtual tour of Elton's homes
Friday, December 30 2005 at 20:11:23


Elton John and band performed in Grenoble on June 14, 2006
Saturday, June 17 2006
Fan report and photos by Patrick Andrey.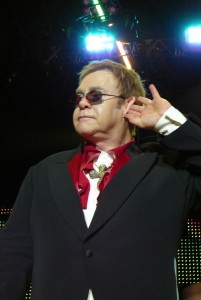 Elton and the band gave an incredible concert at the Palais des Sports in Grenoble on June 14, 2006, for his unique concert in France this year.

He was in a (Captain) fantastic mood, joking with the band and treating us with some incredible moment of pure genius like a never-ending version of "Rocket Man" or a terrific piano intro for "Take Me To The Pilot".

It was a 2h15 concert in the front of 7,000 crowd. It's amazing how Elton can be better and better, after seeing him for each tour since 1986, I'm always surprised! I even had the chance of having my Watford t-shirt autographed.

Following is the complete set list of the Grenoble show on June 14, 2006.

Bennie And The Jets

Philadelphia Freedom

Believe

Daniel

Rocket Man

I Guess That's Why They Call It The Blues

They Call Her The Cat

The One

Take Me To The Pilot

Funeral For A Friend

Love Lies Bleeding

Tiny Dancer

I Want Love

Sorry Seems To Be The Hardest Word

Sacrifice

Are You Ready For Love

I'm Still Standing

The Bitch Is Back

Saturday Night's Alright For Fighting

Crocodile Rock


Don't Let The Sun Go Down On Me

Your Song


A night to remember! Thank you so much Sir Elton.

Signed Charlton Athletic shirt for auction
Friday, June 16 2006

He was full of praise for Charlton during his amazing concert at The Valley - so much so that Sir Elton John donated some signed merchandise to the club which fans can bid for on eBay now.

Marcus Bent's autographed home shirt and a pair of Dennis Rommedahl's boots are also up for grabs.

Elton wowed The Valley when he performed in SE7 on June 4, 2006 - the first music concert to be held at the stadium for 30 years.

As thank you from the club, Elton was given home and away Charlton shirts. He decided the keep the home one but has signed the white-and-black away one and given it back to the club.

Fans can now bid for that very shirt and the money raised will be given to Charlton's favoured charity, Demelza Hospice Care for Children.




Elton John and band performed in London on June 4, 2006
Monday, June 5 2006 at 16:07:59



The Celebrity 100
Friday, June 16 2006

Elton ranks 16 (down from 9 in 2005) in Forbes Celebrity 100 list.

The rich and famous have had a great year - and a terrible one. Movie attendance dropped 8% last year as fans retreated to their home theaters, complaining of, among other things, high ticket prices.

Can-do-no-wrong actors such as Nicole Kidman delivered the year's biggest turkeys ("Bewitched"). As a result, box office receipts fell 5% to $8.9 billion.

Breakups, babies and betrayals monopolized the headlines nearly eclipsing the careers of actors such as Jennifer Aniston and Angelina Jolie. But generating headlines isn't enough to solidify your standing in Hollywood. A fat paycheck won't do it, either. Only a combination of earnings and sizzle will land a celebrity a coveted spot on our Celebrity 100 list of the most powerful names in the business.

The Celebrity 100 in 2006

Tom Cruise

Rolling Stones

Oprah Winfrey

U2

Tiger Woods

Steven Spielberg

Howard Stern

50 Cent

Cast of The Sopranos

Dan Brown

Bruce Springsteen

Donald Trump

Muhammad Ali

Paul McCartney

George Lucas

Elton John

David Letterman

Phil Mickelson

J.K. Rowling

Brad Pitt

Peter Jackson

Dr. Phil McGraw

Jay Leno

Celine Dion

Kobe Bryant

Michael Jordan

Johnny Depp

Jerry Seinfeld

Simon Cowell

Michael Schumacher

Tom Hanks

Rush Limbaugh

Denzel Washington

Cast of Desperate Housewives

Jennifer Aniston

Angelina Jolie

The Olsen Twins

Nicole Kidman

The Eagles

Rod Stewart

Shaquille O'Neal

Jerry Bruckheimer

David Beckham

Jessica Simpson

Andrew Lloyd Webber

LeBron James

Neil Diamond

Alex Rodriguez

Will Smith

Dick Wolf

Dave Matthews Band

Tom Brady

Ronaldinho

Jodie Foster

Ray Romano

Paris Hilton

Adam Sandler

Derek Jeter

Jennifer Lopez

Rick Warren

Scarlett Johansson

Katie Couric

Maria Sharapova

Valentino Rossi

Halle Berry

James Patterson

Leonardo DiCaprio

Kiefer Sutherland

Jim Carrey

Cameron Diaz

Gisele Bundchen

Renee Zellweger

Carson Palmer

Michelle Wie

Reese Witherspoon

Bill O'Reilly

Kate Moss

Diane Sawyer

Sean (Diddy) Combs

John Grisham

Rachael Ray

Dave Chappelle

Larry the Cable Guy

Tyra Banks

George Lopez

Regis Philbin

Serena Williams

Ryan Seacrest

Wolfgang Puck

Venus Williams

Annika Sorenstam

Matthew Broderick/ Nathan Lane

Mel Brooks

Emeril Lagasse

Nicole Richie

Heidi Klum

Mario Batali

Eric Idle/ Mike Nichols

Adriana Lima

Ty Pennington
Elton bored of World Cup
Wednesday, June 14 2006
Soccer fan Elton John has stunned followers of the sport by declaring he has no time for the World Cup.
During a sold-out concert at Worcester, England's New Road Cricket Ground on June 11, 2006, he stunned fans when he raged about not caring for the current international tournament, which started in Germany on June 9, 2006.

Elton says, "I love football, but I'm sick of the World Cup. Who cares about Angola versus Portugal? I don't even care about England."
Stars Help Bennett Celebrate 80th On 'Duets'
Wednesday, June 14 2006
As reported here earlier, some of the biggest names in music have joined Tony Bennett for his 80th birthday celebration album, "Duets -- An American Classic."
The 18-track project arrives September 26,2 006 via RPM/Columbia and boasts guest appearances by Bono, Dixie Chicks, Billy Joel, Paul McCartney, Sting, Stevie Wonder, James Taylor, Barbra Streisand, Elvis Costello and Elton John, among others.

"I'm just so thrilled that all these contemporary artists want to sing with me," Bennett told Billboard in February 2006 from Capitol's Studio A, where he was recording "Rags to Riches" with Elton John. "They're all making me feel so good."

All of the songs were recorded with the guest artist in the same studio with Bennett. The track list includes "The Very Thought of You" with McCartney, "I Wanna Be Around" with Bono, "Smile" with Streisand and "For Once in My Life" with Wonder. Bennett has also revisited his signature song, "I Left My Heart in San Francisco," accompanied only by pianist Bill Charlap.

"Duets" will be available in an exclusive edition at Target featuring additional duets and a behind-the-scenes DVD. Target is also sponsoring a prime-time special, to air in the fall with guests to be announced.

In addition, Legacy Recordings is at work on a limited-edition boxed set of Bennett's work and is planning to reissue several albums that have never been available on CD. Finally, actor/director Clint Eastwood is executive producing a Bennett documentary, due for completion in 2007.

Here is the track list for "Duets -- An American Classic":

"Boulevard of Broken Dreams," with Sting
"Smile," with Barbra Streisand and Pinchas Zukerman
"Put on a Happy Face," with James Taylor
"The Shadow of Your Smile," with Juanes
"Rags to Riches," with Elton John
"The Very Thought of You," with Paul McCartney
"Lullaby of Broadway," with Dixie Chicks
"Cold, Cold Heart," with Tim McGraw
"The Best Is Yet To Come," with Diana Krall
"For Once in My Life," with Stevie Wonder
"Are You Havin' Any Fun?," with Elvis Costello
"Because of You," with k.d. lang and Chris Botti
"Just in Time," with Michael Buble
"Sing You Sinners," with John Legend
"The Good Life," with Billy Joel
"I Wanna Be Around," with Bono
"How Do You Keep the Music Playing," with George Michael
"I Left My Heart in San Francisco" with Bill Charlap



Stars line-up for Tony Bennett duet
Tuesday, February 21 2006 at 09:28:24


Interview with Elton and David
Tuesday, June 13 2006
By Emmanuel Itier. Originally published May 31, 2006.
Emmanuel Itier: Elton, why do you want to do filmmaking now? You have done so much in your career, so why produce this film, Itís a Boy Girl Thing?

Elton John: I have written screen musicals, stage musicals, and musical scores for films that also gave me an opportunity to do a deal with Disney to do a film at our production company, which David has run for some years. During that time, weíve only made one film, Women Talking Dirty, but this film gave me an opportunity to work with my production company.

EI: What have you got coming up?

EJ: We have an animated film on the drawing board called Romeo and Juliet about two families who hate each other. Itís the classic Shakespeare film. We have had it on the board for a number of years. When Schumacher left Disney, itís been on and off for five years. The last time was when Pixar came into the picture when Michael Eisner left, and they had an agenda of their own and didnít really want to do it. But Dick Cook, who is now the head of Disney, was a huge ally. He said weíve mucked it around. ďWe want you to go and make this film in England, where you should have made it in the first place. Here is a lot of money. Go and make this film as edgy as you can.Ē Itís finally back. Projects donít really happen in a year. They take years to take off. Movies are a whole different thing. There are so many factors that could go wrong. You have to be very patient.

EI: Is movie making different than what you do in music, or is it an extension?

EJ: Itís an extension. I love visual. I am a culture di-vulture, and I love to be able to be involved in doing things other than writing albums and doing tours. I am lucky to do it.

EI: Did you write songs for Romeo and Juliette?

EJ: I have already written three songs for Romeo and Juliet, and I am writing another four.

EI: Isnít there a variation of Candle in the Wind in Itís a Boy Girl Thing?

EJ: [laughs] Yes, there is a scene where the radio is playing and the girl hears it, and she says, ďFuck that guy. I hate this shit!Ē And she throws the music out the window. We did it on purpose because you have to send yourself up. I think of all the songs I have written, people will probably hear that one in particular and say, ďI donít want to hear that played again.Ē

EI: Do you write music differently when you write for film?

EJ: Of course--you have to write for whatís on the screen. Itís the same in a musical.

EI: Did you do all the music for Itís a Boy Girl Thing?

EJ: We have a soundtrack with Eminem, James Blunt, The Scissor Sisters, Black Eyed Peas, and Ozzie Ozbourne. Itís a really great soundtrack. Itís a multi-million dollar soundtrack because I can ask for little favors here and there. Bryan Adams has written a song for us at the last minute.

EI: As executive producer, what is your involvement?

EJ: I sit there and do nothing. [laughs] I read the script. I see the dailies and say, ďThatís not funny.Ē

David Furnish: Itís great to have Elton to have an outside view. Because itís great to have the access to Elton who says, ďThis works, this performance works, this plays well.Ē

EJ: To get a multi-million dollar soundtrack is very unusual. I can pull in a favor. What you need in a film like this is chemistry between your two lead actors, and, thankfully for us, it works incredibly well. When I saw the original first cut without any music, I was crying. Itís an emotionally pulling movie. I am very happy with that. Itís not just American Pie, which I love as well. It has a big heart in it too.

EI: This movie is about putting yourself in each otherís shoes. When have you put yourselves in the otherís shoes?

EJ: People ask me what Iíd like to be if I was reincarnated. You have to come back as a woman. You have to find out what the other side is like. Thatís where the humor comes from in the movie. Heís a football player, she has to learn how to play football, she wakes up with an erectionÖitís very funny. If I am reincarnated, I want to come back as a female.

DF: Thatís what happens in the film--the boy becomes a girl, the girl becomes a boy, and they hate each other. They have been next-door neighbors for years. She is very studious. His parents are very working-class. He is the star jock at school. They are completely the opposite end of the spectrum, and all of a sudden they are on a school trip in other peopleís bodies.

EI: Have you two found the secret to a perfect relationship?

EJ: A secret to a perfect relationship? I think itís honesty and communication. And I think, in any relationship, the worst thing you can ever do is not be open. You canít keep things inside. It must be balanced--it must be a 50/50 thing. Whenever I had a relationship before David, I never had a 50/50- relationship because of my position. I am a celebrity, someone who goes around the world playing. I always took the other person with me. I never had a person who had their own job and identity. David already had that when I met him, and he fought for it. He made me understand that to succeed in a relationship, it had to be a 50/50 thing. I am so relieved that I have found someone like that.

DF: Elton helped me. I was very good at confrontation in a professional context, but I was not experienced with personal confrontation. I grew up in a family where we didnít fight very much--we got along quite well. So when there were difficult emotional issues in my relationship with Elton, I initially found it very hard to express my feelings. I used to keep things inside. He was very good at saying, ďHang on a minute. I know somethingís wrong. You have to tell me about it. Get it off your chest.Ē I said, ďItís nothing, itís fine.Ē He said, ďNo, no, get it out.Ē He helped me with that.

EJ: And honestly, because we spend so much time apart, because I am away and he is away with work, itís communication.

DF: Be honest about your feelings and be honest about your needs.

EJ: Itís not easy being a partner for someone like me because I am entrenched in a career. But by the time I met David, I had done a lot of work on myself. I had been sober for two years. I was in good shape physically and psychologically, and I was much more mature.

DF: If we had met ten years earlier, it probably wouldnít have worked.

EJ: No way, no way.

EI: Has marriage changed anything, Elton?

EJ: I feel much happier. The day we did it, it was a very special and happy day.

DF: It was overwhelming, the amount of support we had from people. I couldnít believe it. We walked outside the Guild Hall, and there was all the people and press, and people from all walks of life, and we went, ďWow!Ē We thought we were going to get picketed--itís still not everyoneís cup of tea. I mean, the world is still changing. The world is still a very divided place, and everyone there was so supportive and positive.

EI: Does that mean we are living in more tolerant times?

EJ: It depends where you are. I mean, if we were in Iran, weíd be dead. [laughs hysterically]

EI: Did you see the opposite side?

EJ: We had a couple of nasty letters that people sent to Guild Hall, but honestly, compared to the other response we got and the other letters, it was a tiny, tiny drop in the bucket. I do think sometimes that itís a very vocal minority who sometimes make the world seem that itís a lot less tolerant than it actually is. I think most people are straight down the middle. Everyone is like, ďThey are not doing any harm. They really love each other. Get on with your life.Ē I was very proud of being British that day. I was very proud of my country and of being a British citizen. We didnít have all this religious hatred that went on in some of the churches in Belfast--they got picketed. We didnít get that. I said to David to watch out for the old flour bomb coming our way, and we didnít get it. We could have handled that. Itís alright.

EI: Do you think itís easier for a heterosexual marriage to last than a gay one?

EJ: Relationships are relationships, whether they are female/female, male/female, or male/male. Again, you go back to communication, the way you share things. I think a lot of women in relationships are abused. I think itís far harder for women to get out of those situations, which is very sad. Thatís why a lot of women turn to other women, because they are so fed up with being abused by other men.

EI: Did one of you get down on bended knee?

EJ: I did.

DF: In front of my parents.

EJ: In front of his parents--and the Scissor Sisters. [laughs]

DF: I had no warning. We had agreed it would be a great thing to do on the first day it was legal, because itís history-making legislation. Itís waking up one day and being given civil rights that you never thought youíd have. It was such a seismic shift in the way you look at life and how society looks at you. We said, ďLetís do it on the first day and applaud this is happening and make a statement for the world, and hopefully put something out positive about that.Ē I didnít know there was going to be any proposal or anything like that. And then he suddenly got down on bended knee in front of my parents. My mother burst into tears. It was sweet.

EI: With filmmaking and musicals, will you be cutting down on touring?

EJ: At the moment, we are involved in stage musicals. There are four stage musicals, ie: The Lion King, Billy ElliotÖthere are four or five films on the plate, including a film of my life story, which is being written by Lee Hall who wrote Billy Elliot, which will be done through Disney. It will be a musical fantasy movie, like Moulin Rouge meets Tommy.

EI: Who is playing you?

EJ: I think, because of the various weight changes in my life, God knows who! [laughs] I donít know. It will probably be two or three people. Obviously, I would like Justin Timberlake to do something because he is so great in music videos. I donít know. Thatís up to the director. Itís like a musical fantasy movie. But rather than a Whatís Love Got to Do With It film, or Walk the Line or Ray, which were all three great films about musicians, we are going to take it a little further. My life has taken so many twists and turns. Itís been an incredible journey, from football and God-knows-what Iíve done with my life, and I think you have to make it into more of a fantasy thing.

EI: Would you like to be a director?

EJ: No. I have produced my own record and have a new album coming out in September. I have the Vegas show. I am turning 60 next year.

EI: How do you feel about turning 60?

EJ: I am very excited by it. We have a trick up our stage for my 60th birthday. David and I thought about it a couple of years ago. It involves New York.

EI: Elton, you have classical training. Do you think the fact that so few musicians have classical training has taken its toll on the standard and quality of music?

EJ: I am very glad to have had the experience of having a classical background, because it makes you appreciate all sorts of music. It also helps you as a writer because, as a keyboard player, you tend to write with more chords than a guitar, and I think that has a lot to do with my piano playing and my love of Chopin, Bach and Mozart, my love of singing in a choir. I think my songs have more of a classical leaning to them than other artists who havenít had that classical background, and I am grateful for that.

EI: But do you think that has taken its toll on standards?

EJ: No, not necessarily. Paul McCartney didnít have some training, and heís done some pretty wonderful things. My songs tend to veer towards the classical style because I just like that kind of music and I like that kind of chord.

EI: But do you listen to pop music?

EJ: Yes, absolutely. Classical gave me a good ear and the ability to pick up things very quickly because you have to. When you are a student, you have to sing in a choir and learn quickly. Everyone there is so talented that you have to keep up.

EI: And why are so few people liking musicals now? Why is it just Andrew Lloyd Webber?

EJ: It is tough writing musicals. Itís a long process. Itís two or three years of your life. You donít know what the outcome is going to be. I like the process very much because I am a team player. I like working with other people. But I have always resisted the Yellow Brick Road/Elton John musical road. I am not a fan of musicals with songs thrown together with some pretty bad dialogue. I would rather try something more adventurous, even if it fails, and put my heart and soul into it, than do something like that.

EI: As a filmmaker, will you venture into more edgy subjects?

EJ: We have only made one movie--we have made two now. We have two or three on the go which will be made. The more you do, the more people respect you, the more you get offered, the more risks you can take.

DF: We like to take risks, which is why we didnít want to tell Eltonís life story as a straight-forward documentary. Letís see if we can take the genre and turn it on its head, and make it more like a fantasy story. He has had such a wonderful life. You can go to so many different places with it. And in terms of our animated film, Romeo and Juliet, now that Miramax has picked it up under the Miramax banner, we are not as restrained under the Disney banner. Again, we want to make something thatís a little more grown-up, a little more edgy.

EJ: We want it to be more like ďThe OfficeĒ or a ďLittle BritainĒ, and it can have that English ironic humor which the Americans donít particularly get sometimes.

EI: Working with friends or lovers can create friction. Do you have that problem working with David because you are now married?

EJ: I have been very lucky with partnerships in my life. I have been with Bernie Taupin 39 years. The reason we have lasted that long is because we gave each other enough rope, we didnít stifle each other. For example, when Bernie did go away and write with other people sometimes, even though we were probably hurt and a little jealous with each other, we didnít stop it. We let that happen. Because you cannot hate anyone creative. You cannot fight with anybody. By letting that person go, our relationship has survived and is 39 years old. I think, in any relationship, you have to have trust, you have to have love, you have to have respect. I am always pushing David to do things. You have to let people genuinely do their job. I have been so lucky in song writing. Itís terrific that the people I have been able to work with are so fantastic. I am not a solo person, I am a team player. If the team is in place, then let them get on with it. I donít know anything about directing musicals, so I donít tell them how to do it. You have to let people who know what theyíre doing do what they know best. You can come in with some ideas because you are an outsider. Sometimes I am too close to things and people will come in and suggest something different. Initially you are annoyed, and then later you often think, ďThat person was right.Ē You need that outside look. You need someone who is fresh who can come in and be a critic.

EI: What did you think of the criticism of your musical, Lestat, in America?

EJ: I was aware of the criticism. I saw it in San Francisco and thought the criticism, on the most part, was valid. Then I brought someone in and worked on it for six weeks, and the difference between San Francisco and when it opened in New York was astonishing. Itís nowhere near as bad as what people say it is. I was thrilled with the score. Itís 180 degrees from where it was. I have to be totally honest with you now. I think the reviews that it got in San FranciscoÖI think people still had that idea. I think the PR on the musical was pretty poor from San Francisco onwards. I think people thought it was a pile of shit and made their minds up onwards. But then there are a whole lot of people who have seen it and love it. Like the Guns Ďn Roses band. Axl Rose has been and seen it and loved it. He kept telling people, ďYouíve got to see this musical.Ē Itís not the traditional kind of musical. He wrote me the most beautiful letter telling me how much he loved it. Although itís deeply upsetting to get bad reviews, you have to go on. There are things I would change if I had the opportunity to do it all over again. Sometimes you think you know everything, and sometimes you are proved wrong. I think some of the reviews were unfair and insulting in a way. People are going to like what they like. But I just think there is a groundswell of anti-Elton on Broadway because of the idea of Disney, because Iíve never done anything on Broadway that hasnít been done by Disney or Warner Bros. People on Broadway are very protective of their territory. They donít like Disney, and donít like Warner Bros. They like Broadway to be Broadway. And I understand that mentality, but I think itís a little jaded. There is a musical on at the moment called The Driving Chaperone, which starts off by having a go at me and Disney. It says, ďUnfortunately, in the old days we had wonderful music by Cole Porter, and now we just have Elton John and Disney.Ē

EI: Looking back over your career, is there one performance that you think is your best performance and one that you consider your worst?

EJ: I played in Melbourne, Australia once which was a pretty bad performance. I was drinking a lot in those days. I think I did a 25-minute version of Rocketman where I was going on about the Ayatollah and the Pope. And the idiots still clapped at the end of it. As far as good performances, youíre only as good as your last performance. I did a charity thing last week in Britain on my own for 50 minutes, and I really sang well. The great thing about performing is that you never really know what kind of night itís going to be. You set yourself certain standards, but I canít honestly say there was one performance. When I went to the Troubadour Club in 1970 and played to 250 people with a three-piece band and became well-known more or less overnight in America because of one review in a newspaper in the LA Times, that was a groundbreaking performance. We had been performing like that in Britain, but the Americans hadnít seen it. There are some things you remember because of the occasion. Dodger Stadium was incredibly moving, playing to 75,000 at Wembley Stadium. I am not one to reflect. I am more thinking about how I can improve.

EI: Where do you see yourself going, in terms of expressing yourself as an artist?

EJ: Iíve given up the idea of trying to write hit singles. I mean, my last three albums I have tried to be as honest I can. With Songs from the West Coast and ďPeachtree RoadĒ, and the new album, which is called Captain Captain and the Kid (a follow up to Captain Fantastic), I have tried to be as honest as I can. I am not 30 anymore. I am not going to go straight to the charts. I get played on certain radio stations in America, but not much. I am not listening to record companies who say, ďYou have to have a hit on your new album.Ē I am just going in there doing what I want. The new album, which was written and recorded in 20 days, is probably the best work I have done since 1976. And itís freed me up because I donít have the expectations of having a hit single. Iíve made my albums, but what happens now is I can have a hit single with 2Pac music, because Eminem will produce a track. Iíve written a new Scissor Sisters record with them: I have written Are You Ready for Love, which was a huge hit single. I can have little things like that which will keep me interested by doing other projects. After this new album, the next album will be so different. I am going to be doing an R & B album with people like Dr. Dre, EminemĖa fusion album between my piano-playing and my song-writing, and their production people. I have always wanted to do that kind of album, but I donít know how to do hip hop or beat. So I am pushing the barriers. Then I want to do an album with Diana CrawlĖa jazz album.

EI: You were talking about your marriage, but is there anything else you want to see introduced in Britain?

EJ: I would like to see a much firmer step on crime.

EI: What about AIDS? There was so much publicity about it years ago, and TV advertisements, but it seems to have gone away, doesnít it?

EJ: I think there is not enough money being spent on education. When HIV started in Britain, it was the Thatcher government in power. It did a tremendous job of educating people, and we had one of the lowest infection rates in the western world because of the education and the money spent on it. I donít think the current government is doing enough to educate people again. There are so many things going on in the world that is horrible, but the AIDS academic is not going away. We have the information to educate people in our hands, but to not to be able to educate a whole new generation is terrible. The Catholic Church has been responsible for so many people dying, itís unbelievable. Itís genocide. Iím sorry, but itís true.

Reproduced with kind permission by Emmanuel Itier and Buzzine Magazine (buzzine.com)
Elton John and band performed in Chester Le-Street on June 10, 2006
Sunday, June 11 2006
Fan report and photo by Matt Wilkinson.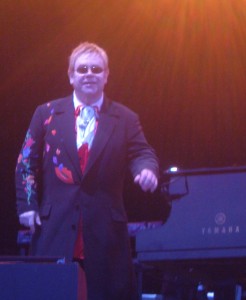 I just got back from the concert tonight and I dont know where to start. I'll start at the beginning. I arrived with mum at the Chester Le-Street cricket club grounds walked onto the pitch and the sun was blazing, not a cloud in sight (looked like a scene from Eltons 80's Central Park concert with people enjoying the sun on the grass).

Our seats were technically front row but were right at the right hand side of the stage so I had an awkard and very obstructed view of Elton. A nice steward lady came and spoke to us then we heard a noise and it was a helicopter and so i joked with mum saying it was probably Elton. The steward heard a radio message then came over to us and said "that's elton in the helicopter, he's coming in a silver car around that corner in a minute" and sure enough he drove past.

The concert got underway, which is the same set list as previous shows, again it's really nice to hear "Believe" and "The One" in the set list. I was up and dancing while all the boring people around me weren't responding much and Elton was singing his lungs out. There was one lady right in the centre up a lot and elton was loving her. Anyway, the nice steward lady noticed me having problems taking pics of Elton so right after one song (can't remember which) she comes up and says "how about you walk down here with me for a closer picture".

So I think, wow, cool, I walk up to the centre of the stage, literally feet from Elton and he stands up after the song. Everyone else is silent and just stands at the front of the stage and stares at me. I take a picture then he pulls his specs down still looking at me and we have an awkward moment. Then I wave at him and he waves back! And smiles all at me in front of 15,000 people.

Then before "Are you ready for love" came on, I ran very fast right in front of Elton where lots of us were dancing and having fun. I left mum behind, then Elton starts signing stuff and signs my "Goodbye Yellow Brick Road" LP! And after the show I meet up with mum who also ran to the front just after me (we got lost) and she got "Captain Fantastic" LP signed!

And Elton wasn't even in a signy mood he only signed about four things and two of them were mine! I couldn't believe it. After the show Elton went quickly but we heard his helicopter and it flew over the ground and all 15,000 of us stopped walking looked up and everyone started waving, it was like something off a movie. How special must Elton feel, he was in such a good mood sticking his tounge out and moving his head everywhere.

I have a feeling he may not be able to quit touring anyway. In summary: Elton knows I exist and I'm sat here with two signed LP's, some lovely photos and tickets to the next show in Nottingham!

Following is the complete set list of the Chester Lee-Street show on June 10, 2006.

Bennie And The Jets

Philadelphia Freedom

Believe

Daniel

Rocket Man

I Guess That's Why They Call It The Blues

Turn The Lights Out When You Leave

They Call Her The Cat

The One

Take Me To The Pilot

Funeral For A Friend

Love Lies Bleeding

Tiny Dancer

I Want Love

Sorry Seems To Be The Hardest Word

Sacrifice

Are You Ready For Love

I'm Still Standing

The Bitch Is Back

Saturday Night's Alright For Fighting

Crocodile Rock


Don't Let The Sun Go Down On Me

Your Song
Elton John online concert at BBC
Saturday, June 10 2006
On June 4, 2006, in front of 24,000 people at the Valley, home of Charlton Athletic Football Club, Elton John performed a classic concert of his greatset hits and the Radio 2 Music Club was there.
Here's your chance to hear the highlights of the concert plus four exclusive bonus tracks courtesy of the Radio 2 Music Club.



Elton John and band performed in London on June 4, 2006
Monday, June 5 2006 at 16:07:59
Elton John and band performed in Wolfsburg on June 8, 2006
Friday, June 9 2006
Following is the complete set list of the Wolfsburg show on June 8, 2006.
Bennie And The Jets

Philadelphia Freedom

Believe

Daniel

Rocket Man

I Guess That's Why They Call It The Blues

Turn The Lights Out When You Leave

They Call Her The Cat

The One

Take Me To The Pilot

Funeral For A Friend

Love Lies Bleeding

Tiny Dancer

I Want Love

Sorry Seems To Be The Hardest Word

Sacrifice

Are You Ready For Love

I'm Still Standing

The Bitch Is Back

Saturday Night's Alright For Fighting

Crocodile Rock


Don't Let The Sun Go Down On Me

Your Song
Elton John and band performed in Moenchengladbach on June 6, 2006
Friday, June 9 2006
Fan report and photos by Annelies & Patricia.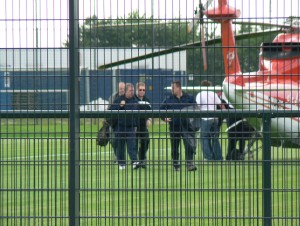 Somewhere around 1.00 pm we left Ghent (Belgium) for the concert in Moenchengladbach, Germany, where we arrived around 3.30 pm. We took a walk around the stadium when suddenly, around 4.00 pm or a bit later, a helicopter came flying above our heads.

We took pictures and were joking about telling people that weíd seen Eltonís helicopter, when it did another circle above our heads and landed near the place where we were.

Of course that made us curious, who would be arriving this early in the helicopter? And yes, here he was, Sir Elton, wearing a pair of trainers and getting into a car which drove him about 50 metres further to the entrance of the stadium.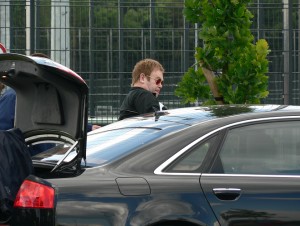 Then we waited some more, until doors were opening. We had tickets for the ďInnenraumĒ (ground floor), but nobody seemed to know where we could enter so they send us all around the stadium before we finally got to our seats around 6.30 pm.

The supporting act was ďThe StoriesĒ who actually were quite good, but didnít get the people on their feet really as too many people were still entering the stadium.

We went back outside for a while to buy T-shirts where we met Kerstin, a long-time internetpal of Annelies, so that was really cool.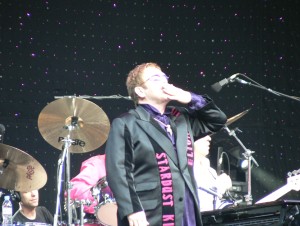 A bit after 7.30 pm Elton entered the stage, and did the same setlist as at the previous concerts. We had 8th row seats, although we had only ordered them three weeks ago! My view was excellent, and Elton and the band sounded great. Elton seemed to be in a good mood, laughing a lot.

After "Sacrifice" we ran to the stage and managed to get to the first row on Eltonís side. He did autographs (we got our Captain Fantastic LP signed!) and after playing with Elton on "Saturday Nightís Alright", Davey gave me his pink plectrum and gave me a great smile! Made me forget where I was for a minute, it was that amazing.

All in all, this was one of the greatest concerts weíve attended so far and we can only hope thereíll be many more to follow!

P.S. ELTIE RULEZZ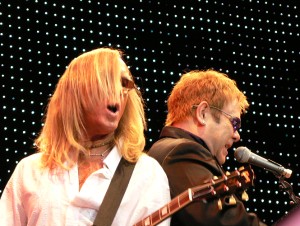 Following is the complete set list of the Moenchengladbach show on June 6, 2006:

Bennie And The Jets

Philadelphia Freedom

Believe

Daniel

Rocket Man

I Guess That's Why They Call It The Blues

Turn The Lights Out When You Leave

They Call Her The Cat

The One

Take Me To The Pilot

Funeral For A Friend

Love Lies Bleeding

Tiny Dancer

I Want Love

Sorry Seems To Be The Hardest Word

Sacrifice

Are You Ready For Love

Crocodile Rock

I'm Still Standing

The Bitch Is Back

Saturday Night's Alright For Fighting


Don't Let The Sun Go Down On Me

Your Song
Billy Preston, "fifth Beatle," dead at 59
Thursday, June 8 2006
Keyboardist Billy Preston, a flamboyant sideman who added soul to recordings by the Beatles and Rolling Stones and enjoyed solo success in his own right, died in Arizona on June 6, 2006 after a long illness. He was 59.
The so-called "fifth Beatle" had been in a coma at Scottsdale Healthcare Shea in Scottsdale, Arizona, since November 2005 after suffering kidney failure and related illnesses, the legacy of a long battle with drugs that landed him in prison in the late 1990s.

Elton John said: "He was one of my true inspirations, one of the greatest keyboard players of all time and not too shabby a vocalist either."

Preston's organ handiwork can be heard on such Beatle songs as "Let It Be," "I Want You (She's So Heavy)" and "Something."
Mojo joy for Sir Elton and Corinne
Tuesday, June 6 2006
Elton John and newcomer Corinne Bailey Rae were winners at the Mojo music awards 2006.
Sir Elton was inducted into the Mojo Hall of Fame for a career which has spanned four decades.

Bailey Rae was named Best New Act only six months after she burst onto the music scene. The 27-year-old from Leeds was a cloakroom girl in her local jazz club not so long ago and has enjoyed an extraordinary rise to fame. Her self-titled debut album has sold close to 500,000 copies and her single Put Your Records On has been a hit across Europe.

Critics have raved about her voice and likened her to Billie Holiday. Accepting her award, she said: "I didn't expect to win at all, so I'm just amazed and really privileged to be accepting this award. I would like to say thank you to everyone who has helped me on my way so far."

Bailey Rae then presented the Hall of Fame award to Sir Elton John. She said: "I was born in 1979 and the first musician I ever saw on TV was Elton John. I loved him partly for his music, and partly for his flamboyant costumes which I drew over and over again in my scrapbook. He's been around for my whole life and he has influenced the music I write."

Sir Elton was honoured for his contribution to modern music. He took time out from his current world tour to attend the ceremony at Shoreditch Town Hall in East London.
Elton John and band performed in London on June 4, 2006
Monday, June 5 2006
Fan report by Anne Schroeder.
As a German who just moved to London I was curious to see what the English crowd would be like at an Elton John concert. I had bought a ticket for the Ďcheapestí seats fairly shortly before the event and it turned out to be at the very back on the upper tiers of The Valley, the stadium of Charlton Athletic FC, the worst seat I have ever had. It taught me that trying to save money when buying Elton John tickets is not the best thing to do.

Half an hour after supporting act The Storys had finished their show I saw the band walking towards the stage and two silver cars stopping behind it. Elton and the band were greeted with a warm yet mild applause because many people were still trying to find their seats.

Throughout the performance Elton seemed to be in a very good mood, getting up after almost every song, pointing at people and walking the stage now and then.

There were no changes to the set list in Oberhausen. After "Philadelphia Freedom" Elton thanked the audience and the people from Charlton Athletic FC for a warm welcome and he explained that as a kid he used to go to the stadium with his family and watch the games. With Watford now playing in Premier League he wished Charlton well for the coming season Ďwhatever happensí.

Again, Eltonís voice was clear and energetic. The long version of "Rocket Man" was a highlight during the first part of the show, I just wish Elton would do something like that to more of his often played songs.

The real downside of the cheaper seats was that when it came to "Are You Ready for Love" and people would run to the stage I could not access the ground so the only thing I could do was watch about 17,000 people party. And party they did.

After the concert I got out quickly and came by a silver car with shaded windows in the back, looking strangely familiar to the one I had seen arriving behind the stage so shortly before Elton had entered the stage. The driver asked a security guy for directions which gave me time to walk around the car and because I could not really see inside I just gave the inside a knowing look and a grin.

Following is the complete set list of the London show on June 4, 2006:

Bennie And The Jets

Philadelphia Freedom

Believe

Daniel

Rocket Man

I Guess That's Why They Call It The Blues

Turn The Lights Out When You Leave

They Call Her The Cat

The One

Take Me To The Pilot

Funeral For A Friend

Love Lies Bleeding

Tiny Dancer

I Want Love

Sorry Seems To Be The Hardest Word

Sacrifice

Are You Ready For Love

Sad Songs (Say So Much)

I'm Still Standing

The Bitch Is Back

Saturday Night's Alright For Fighting


Don't Let The Sun Go Down On Me

Your Song
Elton John and band performed in Oberhausen on June 1, 2006
Friday, June 2 2006
Fan report and photo by Holger Wagner.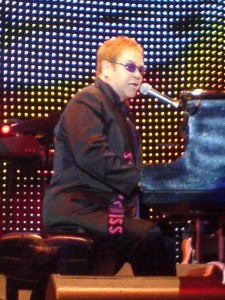 In Oberhausen, Germany, Elton performed the same list as the night before in Mannheim. However, he was not quite a talkative, but did sign a few autographs.

Following is the complete set list of the Oberhausen show on June 1, 2006:

Bennie And The Jets

Philadelphia Freedom

Believe

Daniel

Rocket Man

I Guess That's Why They Call It The Blues

Turn The Lights Out When You Leave

They Call Her The Cat

The One

Take Me To The Pilot

Funeral For A Friend

Love Lies Bleeding

Tiny Dancer

I Want Love

Sorry Seems To Be The Hardest Word

Sacrifice

Are You Ready For Love

Sad Songs (Say So Much)

I'm Still Standing

The Bitch Is Back

Saturday Night's Alright For Fighting


Don't Let The Sun Go Down On Me

Your Song
Elton John and band performed in Mannheim on May 31, 2006
Friday, June 2 2006
Fan report and photo by Marcus Krebs.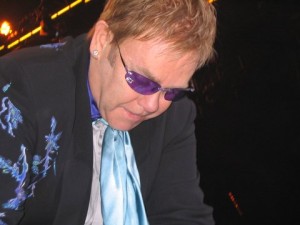 The crowd gave Elton a very warm welcome, with the first standing ovations before and after the first song "Benny And The Jets".

During the first song I saw Elton wobbling his chair two times. This tells a long time Elton fan at the beginning of a Elton show that he is in a good mood. And so it was.

This night he was able singing even the highest tones during "Love Lies Bleeding" and "Sorry Seems To Be The Hardest Word".

No question, after seeing him in Stuttgart last Dezember - as he was recovering from a virus infection - he and his voice were relaxed and in best condition.

We saw a very energetic opening of the show after "Benny And The Jets" with "Philadelphia Freedom" and "Believe" (one of my favorite songs of the Nineties).

After "Daniel" he did a 10 minute version of "Rocket Man", beeing worth the whole ticket price in one song with me wishing this song would never end.

He surprised us with a very upbeat version of "They Call Her The Cat" and a again impressive 5 minute intro to "Take Me To The Pilot" which was different from the shows last Dezember.

"Sorry Seems To Be The Hardest Word" was very emotional and received another standing ovation. After "Sacrifice" he played "Are You Ready For Love" in a light disco version bringing the crowd again on their feet for the whole songa and opening the best part of the show. At that point many fans headed to the front of the stage celebrating Elton and the band.

After coming back on the stage for the encores he gave autographes at the front of the stage signing tickets, covers, albums, T-Shirts, programms etc. for about three minutes.

Before "Your Song" he thanked the fans for their loyality and support during all the years by adding that he sees so many known faces every time, when he plays in Germany.

"Your Song" at the end was more emotional than older versions and a little bit changed in the phrasing and rhythm, but sounded refreshed. So this was the perfect ending of the show, leaving 11.000 happy souls back in Mannheim.

The only fact that it was not the perfect night for me was that my wife could not join me the show. One of my young kids was suffering from a bad cold and needed his mother.
But she enjoyed the first song ("Benny..." as her favorite song) and the encores via mobile phone. Hope she can join me to another fantastic Elton-Show soon.

The only difference in the setlist to the Manchester show was, that "Sad Songs" followed after "Are You Ready For Love".

Following is the complete set list of the Mannheim show on May 31, 2006:

Bennie And The Jets

Philadelphia Freedom

Believe

Daniel

Rocket Man

I Guess That's Why They Call It The Blues

Turn The Lights Out When You Leave

They Call Her The Cat

The One

Take Me To The Pilot

Funeral For A Friend

Love Lies Bleeding

Tiny Dancer

I Want Love

Sorry Seems To Be The Hardest Word

Sacrifice

Are You Ready For Love

Sad Songs (Say So Much)

I'm Still Standing

The Bitch Is Back

Saturday Night's Alright For Fighting


Don't Let The Sun Go Down On Me

Your Song
Elton's 60th birthday surprise
Thursday, June 1 2006
Elton can't wait to turn 60 next year (2007) and is planning a spectacular surprise to mark the occasion.
The singer won't let slip what he is planning, only that it will have a Big Apple theme.

He says, "I'm very excited about it. We have a trick up our sleeves for my 60th birthday, which we thought up two years ago. It will involve New York."
David defends Elton outburst
Thursday, June 1 2006
David Furnish has defended Elton's anti-paparazzi outburst at the Cannes Film Festival in France, insisting the rocker was sincerely offended.
Elton launched a verbal attack at the press at the festival, saying all photographers "should be shot" during an award presentation. His barbed comments came after bustling snappers interrupted him as he introduced Kevin Zegers, the star of Furnish's new movie - which was being previewed at Cannes.

But film producer Furnish insists his life partner wasn't just raging at the rude photographers - he was genuinely upset. He says, "He is an artist and he hates disrespect towards artistry; he finds it very offensive... He came offstage and was really, genuinely offended."



Elton John says photographers "should all be shot"
Monday, May 22 2006 at 21:59:02