ELTON JOHN NEWS ARCHIVE: June 2005
Elton sues papers for libel
Tuesday, June 28 2005
Elton John is suing the Daily Mail and Sunday Times for libel, his publicist has confirmed.
The legal action is in connection with allegations about the star's behaviour at a social event held for the Elton John Aids Foundation.

The Sunday Times is being sued for repeating the claims first published in the Daily Mail. A spokesman for the musician said that that allegations are a "ludicrous story" and "entirely false".

The singer's spokesman also said that legal action would be taken if details of the allegation were published anywhere else. The Sunday Times has said it is dealing with the complaint and is expected to publish a correction in the next edition of the newspaper.

The spokesman also said the Daily Mail had contacted him about the claims and had been told they were "categorically untrue". Elton feels that the story has affected the reputation and image of charity, added the spokesman.

The story, originally published in the Daily Mail on June 24, 2005, concerned the annual White Tie and Tiara Ball hosted by Elton, which took place in Windsor and was attended by a number of celebrities.



'Unapproachable' Elton stories dismissed
Monday, June 27 2005 at 06:52:51


Elton will play Live8 twice
Tuesday, June 28 2005
Elton John will be seen live four times by fans on July 2, 2005 - his shows at Live8 in London and a gig in Dublin will be simultaneously beamed back to the other venue.
Elton was already booked to perform in the Irish capital on July 2, 2005 - but cunningly came up with the plan, so fans at each venue can see him twice.

After taking to the stage at the charity bash in Hyde Park in the afternoon, Elton will jet to Dublin, where fans who have paid to see him, will have been allowed into the concert venue early to see his Live8 set live by satellite.

Elton will then go on stage in the Irish capital at 8.15pm - with a selection of special guests who will accompany him from Live8 - and give a performance which also will be beamed back by TV crews to London.



Live8 on the web
Tuesday, June 28 2005 at 05:56:13

Sir Elton: Why I'm joining Live 8
Wednesday, June 1 2005 at 10:25:47


Elton John Vault
Tuesday, June 28 2005
The Elton John Vault is an exceptional collection of Elton John memorabilia, all in excellent condition.

Elton John occupies an important place in rock music history, a history that begins with Bill Graham's early dance concerts and reached the world through the Fillmore East and Fillmore West, Winterland, modern stadium arenas, international rock music venues and rock music festivals.

At the Elton John Vault you'll find Elton John t-shirts, Elton John posters, concert photos and other Elton John memorabilia that are important, often one-of-a-kind tactile symbols of the rock music era.

Wolfgang's Vault is the world's most exceptional collection of rock posters, vintage t-shirts, concert photos, concert tickets and other rock memorabilia. The Vault's holdings feature the complete archives of legendary rock impresario Bill Graham, whose headliners included Bob Marley, U2, Van Halen, Tom Petty, Nirvana, Iron Maiden, Pearl Jam, Little Feat, Metallica, Madonna and Elton John. Here, you'll find rock posters, vintage photos, concert tickets and remarkably preserved vintage t-shirts from over 17,000 concerts worldwide.
Live8 on the web
Tuesday, June 28 2005
AOL Music will webcast the Live 8 show on July 2, 2005. Elton will perform a 15 minute slot.
On July 2, 2005, 100 artists, a million spectators and 2 billion viewers will gather at Live 8 to spread one message – put an end to poverty. Get more information, add your name to the global petition and watch the shows live on the web on AOL Music.



(Just) 15 minutes of fame
Monday, June 27 2005 at 11:00:54


Elton performed for burlars
Tuesday, June 28 2005
Elton performed a concert to a group of students who had broken into his home thirty years ago - and they only paid him with a crate of beer - reports contactmusic.com.
Elton was reminded of the event at the recent charity concert he performed at Watford Football Club - the soccer team he was once chairman of - during a chat with the town's mayor Dorothy Thornhill.

The plucky students raided Sir Elton's nearby home after a band failed to turn up to their graduation ball.

A source reveals, "The lads had to show him how they had got through security, and provide him with a crate of brown ale as payment."



Elton John and band performed in Watford on June 18, 2005
Monday, June 20 2005 at 06:03:06


(Just) 15 minutes of fame
Monday, June 27 2005
Live8 organisers have threatened to "revolve" stars like Madonna and Elton John off stage if they overrun on July 2, 2005 - the Mirror reports.
All the singers will perform on a 280ft-wide by 60ft-deep revolving stage. But they have been told to keep to a strict time-limit of 15 minutes.

An insider revealed: "To avoid wasting time, some of the acts will be setting up and dismantling while others are on stage - and if people do outstay their welcome they will be revolved out of sight."

Sir Paul McCartney will close Live8 with a moving rendition of The Beatles' classic The Long and Winding Road. A host of stars is expected to join him for a finale.

Bob Geldof reportedly revealed running order details in Rome last week. He said: "It will be a surprise for everyone. Paul McCartney will end it." Macca will also open the concert - with help from Irish rockers U2.

But a planned duet between Madonna and Sting has been dropped. Instead, Sting is understood to be using Spitting Image-style puppets of Tony Blair and George Bush. He is expected to change the lyrics of The Police song Every Breath You Take to "We'll be watching you".



Sir Elton: Why I'm joining Live 8
Wednesday, June 1 2005 at 10:25:47

Geldof unveils Live 8 show plans
Wednesday, June 1 2005 at 10:21:44


'Unapproachable' Elton stories dismissed
Monday, June 27 2005
David Furnish has blasted reports Elton refused to greet guests at their annual White Tie And Tiara party in Windsor, England on June 23, 2005.
Furnish has dismissed newspaper stories that alleged those who attended the event were instructed to only talk to Elton if he approached them first.

Furnish says, "The reality is that we go out of our way to try to greet every guest at our fund-raising events personally. We spend two hours in the gardens during the cocktails shaking hands and greeting guests.

"During dinner, we walk around the marquee and try to speak to every table to make sure everyone is happy. Neither of us have time to eat our meals because we are so busy saying 'hello' to everyone.

"Attempting to paint Elton as some sort of trumped-up celebrity who is above looking after people who support our charity - the ELTON JOHN AIDS FOUNDATION - is deeply, deeply offensive."
Elton and 2Pac jump in at the top of the UK charts
Monday, June 27 2005
American rapper 2Pac topped the music charts on June 26, 2005 with "Ghetto Gospel" almost nine years after he died, the Official UK Charts Company said.
The single, which also features Elton John, was reworked and entered in first place, finally displacing the Crazy Frog mobile phone ring tone which held the top spot for four weeks.

Also see Elton John Charts.
Legendary bull Little Yellow Jacket to be put out to pasture
Sunday, June 26 2005
Little Yellow Jacket, a famed rodeo bull from North Dakota - co-owned by Bernie Taupin - that has only been ridden 12 times in 85 tries since 1999, is being put out to pasture.
Bernie Taupin is a co-owner of Little Yellow Jacket with other investors. Taupin said the bull will retire from the Professional Bull Riders circuit at the end of the season in November 2005, following the World Finals in Las Vegas.

"It's like losing a Muhammad Ali, Joe Namath or Joe Montana," said former world champion cowboy Michael Gaffney of Albuquerque, New Mexico. "This is a premier athlete of the business."

Gaffney managed to stay aboard the 1,650-pound red bull for the required 8 seconds during an event at the Idaho Center in Boise in April 2004. He scored 96.5 points out of a possible 100 for the ride, tying the record for the highest-marked ride in Professional Bull Riders history.

Little Yellow Jacket has been ridden once this year by Australian cowboy Brendon Clark, who scored 91 points.

"In my humble estimation, he ranks up there with Bodacious and Red Wolf as one of the greatest of all time," said Taupin.

Turning nine years old in August, the three-time "bull of the year" has been valued at an estimated $250,000 and will be retired for breeding.

"Little Yellow Jacket has bucked hard all his life since he was 2 1/2 years old," co-owner Joe Berger of Mandan, N.D., said. "Next spring, we'll turn him out with some cows and raise a few calves by him."
White Tie And Tiara Ball 2005
Saturday, June 25 2005
Elton John made sure his White Tie And Tiara ball was a wild party by filling the grounds of his mansion with giraffes and zebras on June 23, 2005.
Guests at the bash were stunned when they arrived and saw the safari scenes.

A guest reveals: "It really was an incredible party. There were all these exotic animals roaming around the garden and Jamie Cullum and Joss Stone got up to sing."

"Sharon Stone gave a speech and Victoria and David Beckham spent the night dancing cheek-to-cheek."

Later Victoria Beckham sat down for an intimate chat with X Factor judge Sharon Osbourne.

"There was a lot of giggling and Elton was the perfect host, working the room and chatting to all his guests. The food was sublime and most importantly over £1million was raised for Elton's Aids Foundation charity."
Billy Elliot cast angry with Elton
Thursday, June 23 2005
The cast of London stage show BILLY ELLIOT have accused composer Elton John of exploiting them at a charity performance last week, reports contactmusic.com.
The singer treated guests to a performance of the show - based on the 2000 British movie - before whisking them off for a champagne dinner.

But the cast are angry they were left behind at the theatre and given no thanks for the efforts they made for charity.

A performer tells London theatre newspaper THE STAGE, "We put our heart and soul into that performance believing that it was such a good cause. Then Sir Elton and guests swanned off in a fleet of limos. The cast felt pretty inferior. Even a half a dozen bottles of champagne shared between us would have been a nice gesture."

But Elton's spokesperson argues, "They all get paid to be in the show, and he looks after them very well. Anyway, if he gave them free tickets for the charity dinner, it wouldn't make much money, would it?"
"Electricity video clip on MSN
Thursday, June 23 2005
MSN Entertainment is exclusively presenting the video clip for Elton's upcoming single, "Electricity", on the web.
The video to accompany the single is directed by Stephen Daldry, the director behind the blockbuster movie and show - watch it here.

Elton John and band performed in Prague on June 21, 2005
Thursday, June 23 2005
Fan report by Peter Bucek.
I came to Prague very early as usually before the concert and I was amazed that I found there couple of people, who are such crazy for Elton's music as me. The waiting time until the gates opened we spent by talking about rarities and rare merchandice and not at least about our life styles joined with Elton.

I had ticket to sector called "Standing in front of stage" but I felt like dissapointed when I saw chairs on whole area which was before announced as place for standing. Well, me and couple of other real fans were running to take the best seats in front of the piano.

Elton kicked-off show with rock'n'roll bomb "Pinball Wizard" as usually on this tour leg. Three weeks ago I was in Bratislava's concert and hitlist in compared with this show had one change: Prague did not hear brand new song "Electricity", but crowd was very nice surprised with "Candle In The Wind".

Lot of people including me danced in sitting possitions almost on every song till dance-rock song "Are You Ready For Love", when we started to walk and run to the stage! I touched stage by my body till the end of the concert. Mood started to be more energic - hands-up, clapping, singing, dancing and screaming - that's why I came there!

After the "Saturday Night's Alright (For Fighting)", Elton shaked some hands of fans in front rows and I was one of those most lucky people in the crowd.

During "Crocodile Rock" in which percussionist John Mahon was singing in the middle of the stage, both Elton and John Mahon didn't synchronized their voices, because Elton sung some parts in this song not as usually. It was very funny such as for us downstairs as for members of band.

Before last song Elton thanked to audience, dedicated us next song and added: "...especially for first row." ...and started to play "Your Song". After this he thanked again, gave few autographs and unforgettable show full of rock'n'roll energy and great collaboration with audience was over.

Following is the complete setlist of the Prague show on June 21, 2005:


Pinball Wizard

Bennie and the Jets

Daniel

Turn the Lights Out When You Leave

Take Me To The Pilot

Rocket Man

I Guess That's Why They Call It The Blues

Sacrifice

Candle In The Wind

Sorry Seems To Be The Hardest Word

Funeral For a Friend

Love Lies Bleeding

Are You Ready For Love

Philadelphia Freedom

All That I'm Allowed

They Call Her The Cat

Sad Songs (Say So Much)

Don't Let The Sun Go Down On Me

I'm Still Standing

The Bitch is Back

Saturday Night's Alright (For Fighting)

Crocodile Rock

Your Song
Elton promises to help Pete Doherty kick drugs
Monday, June 20 2005
Elton John has offered to help Pete Doherty beat his drug addictions once and for all.
Elton is a huge fan of Babyshambles frontman Doherty, who is dating supermodel Kate Moss, and wants to make sure he realises his full potential instead of succumbing to crack cocaine and heroin.

A source tells British newspaper The Sun, "Elton loves Pete's music and has been a fan for a very long time. Elton himself went to hell and back with his own cocaine and drink addictions and he is concerned about Pete's drug habits - particularly with crack cocaine.

"Elton's seen it all before and he's decided to offer his help to get Pete clean once and for all. He's left messages of support with Pete's management and an open offer stands for Pete to call him or go and stay with him any time."

And Elton hopes to kickstart Doherty's recovery by performing a duet at London's Live 8 concert on July 2, 2005.

The source continues, "Elton is keen to perform with Pete at Live 8. He has been trying to persuade Bob Geldof that it's a good idea."



Sir Elton: Why I'm joining Live 8
Wednesday, June 1 2005 at 10:25:47

Geldof unveils Live 8 show plans
Wednesday, June 1 2005 at 10:21:44

Live 8
Friday, May 27 2005 at 09:38:58


Watford gig raises £1.3million
Monday, June 20 2005
Elton John has suggested he wants money raised by the fund-raising concert for Watford on June 18, 2005 to go to boss Adrian Boothroyd for player purchases.
Drawing 23,000 fans, the concert raised £1.3million, money originally intended to fund Vicarage Road's £7.6m repurchase.

Elton has supported the Hornets nearly all of his life and was a former vice president and club chairman. Early on in the concert he said: "We've raised £1.3m, I want that money to be spent on players."

Elton also promised to play another fund-raising concert at Vicarage Road in 2007 to celebrate his 60th birthday.



Elton John and band performed in Watford on June 18, 2005
Monday, June 20 2005 at 06:03:06


Elton John and band performed in Watford on June 18, 2005
Monday, June 20 2005
Fan report by Craig Mallaby.
I have been explaining time and time again to people how good Elton John actually is and how his music is an inspiration to all if we allow ourselves to believe that Elton truely is a legend in his own right.

This is the third time i've seen Elton and surely not the last and where better than to tour the ground where Elton dedicated his passion than the Vic itself (no not the Eastenders Pub) but Vicarage Road home to Watford Football Club.

I went with my Mum and with some encouragement I managed to persuade my younger brother, Neil, 13 to going to see my "teenage idol". I took my keyboard, amplifier and microphone for a little gig I would be doing myself at Cafe Maximo, where a successful "Lunch Around the World" event took place.

I made sure I didn't play songs that was in Elton's set though made them just as special including the "Peachtree Road" songs including "Too Many Tears" and "It's Getting Dark In Here" which Elton hasn't yet performed live. I also included some slow songs like "The Greatest Discovery" and "Come Down In Time" and to get people on their feet some up tempo classics like "Honky Cat" and I couldn't resist to play "Crocodile Rock".

Overall the event was successful and with help from the auction and raffle featuring goods, my favourite being the photo of Elton's last performance at Watford in 1974, with this and plenty more valued collectibles for the taking, we managed to raise over £1,000 which I think is a great achievement to contribute to the Elton John Aids Foundation. Guests at the LATW event included Eltonjohn.com editor Laura Croker and East End Lights reporter James Turano.

After 5 hours of fun we were set to enjoy ourselves even more, just a stroll around the Town Centre of Watford down a couple of roads to the club which looked incredible and you could see why the city takes pride. The chants from the crowd were amazing and the atmosphere was unbeatable and to make it more special the money we paid for our admission goes to Watford F.C.
themselves so lets hope they have all the success they deserve next season.

I sat in the turnstiles, though I actually managed to get onto the pitch before the concert started and took some pictures of the stage and the crowds and then toured back to my seat ready to hear a British icon, Lulu! I must say for a woman of her age she's looking amazing and in great shape and her voice was terrific she started off with the song she duetted with Elton on her "Audience with Lulu" show in 2002, which also featured on her album "Together" called "Teardrops" and then played a couple of songs from her upcoming album as well as some of the memorable tunes including her energetic finale "Shout" a great way to get us into things and she warmed our vocals a little too.

Next up the Pinball Wizard himself, and coincidently thats the song that he was introduced with as the band landed straight into the instrumental which sounded amazing and when Elton John arrived on the stage the crowd gave him such a reception which for one man is outstanding and an inspiration to me to say he plays the piano, writes songs and sings them classics that we are well known to, it's difficult to wonder what the difference is.

Elton too was energetic and you could tell he was enjoying himself and absolutly beside himself knowing he was back where he belonged, and for someone like me who has never been to Watford before I sure knew how he felt as I was proud to be there too. Elton was on fire playing hit after hit, the wonderful new single-to-be "Electricity" from his recently written musical, Billy Elliot, was like the song starts "I can't really explain it, I haven't got the words" but the feeling was uncontrollable and the emotion was high among the crowd which had reached over 23,000 for this one off event one of whom was the young star who is one of three to play as Billy in the West End, James Lomas.

To hear "Funeral For A Friend" in the middle of his set was quite refreshing as normally we hear it at the start but I really appreciated it more and it made you think that the concert was far from over.

People danced, sang and just adored hearing the 58 year old pound out his talent knowing he was playing for them. I was so glad he did his encore early because i didn't want to wait for just one song, but thankfully he did "Saturday Night's Alright (For Fighting)" revealing that he does where a wig! Yes, a Watford wig, given to him my by a fan in the front row which added a bit of humour to the excitement and the emotion overall which is great and defines his title as a showman and entertainer.

Elton then played "Crocodile Rock" and everyone joined in on the La La La's! But when the evening finally came to it's end with "Your Song", Elton dedicated it to every single one of us and reminded us how proud and happy he is that his fans support him everywhere he goes and I think that made it special too that he appreciated our efforts some of us even drove 6 hours just to get there but "Your Song" gave a feeling of relief and love which could easily bring anyone to tears.

Although Elton sang as loudly as he could, "Don't Let The Sun Go Down On Me" kept it there for a little longer and then the night drew in and as we walked out of the stadium we were accompanied by the Aida song "Written in the Stars", and I don't know is it written in the stars? Just a stretch of Elton's time? No but it was definatly God's gift (if there is one) and one which we will treasure in our hearts forever. Time to go on, life continues ...

Picture from the event can be found on the Watford website.
Elton ranks #9 in the world according to Forbes
Friday, June 17 2005
Elton John has been named the most powerful celebrity in Britain.
He's also the ninth most influential in the world, according to US business magazine Forbes.

Elton, who raked in £25million for a string of gigs in Las Vegas last year, pipped Harry Potter author JK Rowling and England hero David Beckham for a place in the top 10.

Talkshow queen Oprah Winfrey, 51, took the crown of most powerful celebrity, with a wage packet of around £128million.

Forbes compiled the list by studying celebrities' earnings, internet presence, cover stories and other media exposure.

Golfer Tiger Woods, actor Mel Gibson, director George Lucas and basketball star Shaquille O'Neal complete the top five.

Director and producer Steven Spielberg and actor Johnny Depp came in sixth and seventh.

Madonna was just ahead of Sir Elton with earnings estimated at £28.5million, but Elton edged Hollywood icons Tom Cruise and Brad Pitt into 10th and 11th spots respectively.

David Beckham, 30, was the best paid footballer, pocketing £18million in the last 12 months, and Rod Stewart was among other well-placed Brits in 32nd spot.
Elton John and Billie Jean King Bring Tennis Charity Event to Hershey, Pa.
Friday, June 17 2005
Professional tennis makes its GIANT Center debut in Hershey when Elton John and Billie Jean King bring the 13th annual Advanta WTT Smash Hits presented by The Hershey Company, to town on November 7, 2005.
The event, a special night of tennis action featuring some of the top players on the men's and women's professional tours, is hosted by long-time friends Elton and Billie Jean and will benefit the Elton John AIDS Foundation and the National AIDS Fund. Additionally a portion of the event's proceeds will benefit The Greater Harrisburg AIDS Fund.

"Over the years we have been very fortunate to bring our special brand of tennis and this wonderful event to some great cities across the country," said Ilana Kloss, CEO/Commissioner of World TeamTennis. "With the help of The Hershey Company we will be the first tennis event in the GIANT Center and we are looking forward to showcasing some of the best tennis players in the world and helping raise the awareness of the fight against HIV and AIDS in central Pennsylvania."

Tickets for Advanta WTT Smash Hits will go on sale later this summer and announcements of players competing in the event will begin in July 2005. Players who have played the event in past years include Andre Agassi, Pete Sampras, Andy Roddick, Anna Kournikova, Lindsay Davenport, Martina Navratilova and Jimmy Connors.

"We are thrilled to partner with Elton John, Billie Jean King and World TeamTennis to bring Smash Hits to Hershey, and more importantly, to support the fight against HIV and AIDS in Pennsylvania," said John C. Long, Vice President, Corporate Affairs, The Hershey Company.

Five sets of tennis, using the World TeamTennis (WTT) format, will be played. Several top players on the men's and women's professional tennis tours will compete in men's singles, men's doubles, women's singles, women's doubles and mixed doubles. The players will form two teams, with one team captained by Elton and the other by Billie Jean. Both of them also plan to participate in a celebrity doubles event to open the evening.

In addition to the night of tennis, a special VIP event and auction will be held prior to the start of the tennis action. Now in its 13th year, Advanta WTT Smash Hits has raised more than $7 million to help in the fight against HIV and AIDS around the globe.
Lunch Around The World at Watford
Friday, June 17 2005
Please join Jane Bradley, Jane Behrman and other fans for a chat on the afternoon of Elton's concert at Watford on June 18, 2005.
Have a drink/lunch, enjoy yourself and raise money too for the Elton John Aids Foundation. They will be meeting at Cafe Maximo , 58 High Street ,Watford, Herts , WD17 2BS (nearly opposite Woolworths) from 1 pm onwards on the day of Elton's Vicarage Road concert (June 18, 2005).

The venue is an easy walk from the concert and there is a varied and inexpensive menu to choose from,with a lovely courtyard garden.

There will be live music from 16 year old Craig Mallaby, a talented young piano player who will play some Elton songs and will get everyone in the mood for the evening to come! Organizers ask for a donation of £5 and upwards which will go direct to the Elton John Aids Foundation.

In addition, they will be holding an auction, which includes an original cartoon commemorating Elton's concert, and Lunch Around the World, which has been signed by the artist, and indeed by Sir Elton himself. Also there will be other items including signed CD's from James Blunt and Kiki Dee and various goodies donated by eltonjohn.com including Elton John scented candles, T-shirts, mugs, CDs, plus other items.

A raffle will also be drawn with prizes including 2 cases of Veuve Clicquot champagne, meal for two, beauty vouchers, more Elton memorabilia, and various other exciting gifts.

Please contact us at janebradley@hotmail.co.uk or mark.s.giles@bt.com if you need details of car parking and/or hotel accommodation. Let's make this Lunch Around the World one to remember!
Elton John extends Las Vegas show
Wednesday, June 15 2005
Elton John will extend his show, "The Red Piano," at Caesars Palace through 2008, the performer said.
Elton had originally committed to do 75 shows over a three-year period beginning February 2004. But the hotel-casino accelerated the performance schedule due to demand, completing it in less than 18 months.

"We are delighted with the runaway success of 'The Red Piano' and Elton's agreement to extend his association with Caesars," Caesars Palace President Mark Juliano said in a statement on June 15, 2005.

The agreement calls for another 150 shows through 2008 at the 4,100-seat Colosseum theater built for Celine Dion.

In 2003, Dion began a three-year engagement at the Colosseum, performing about 200 shows a year. Her run at Caesars has been extended into 2007.

"The Red Piano," directed and designed by David LaChappelle, appears at the theater when Dion's show is dark. Last year, Elton's show grossed over $40 million with one of the priciest tickets around at an average of $158 each.
Chocolate Elton unveiled
Wednesday, June 15 2005
David Furnish unveiled a chocolate statue of his famous other half on June 14, 2005, declaring he looked good enough to eat.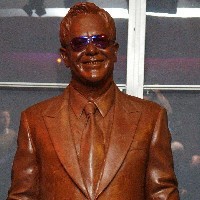 Elton has been immortalised in chocolate at Madame Tussaud's in London to celebrate Cadbury's centenary year.

Elton topped a recent poll by the chocolate maker to find the nation's favourite celebrity. He beat off competition from Will Young, Paula Radcliffe and David Beckham.

Elton was unable to unveil the statue himself, said David, because "he is really busy rehearsing."

On seeing the edible 126kg statue for the first time, David exclaimed: 'It's absolutely spectacular. The way the light shines on the chocolate looks so life-like, they've done a really good job.

"What could be better than to take the person you love and dip them in chocolate. It is the type of thing I would love to keep."

David said he hoped Elton would be delighted at the results. "I hope he's as thrilled as I am. Elton is a very competitive man who likes to do well with his concerts and records. When he had heard he had won this contest he was delighted. I take my hat off to them, it looks fantastic. They've done an amazing job of capturing Elton's sense of joy, spirit and lust for life. It is so life-like it looks like they have taken the real Elton and dipped him in chocolate."

David also took the opportunity to wish Michael Jackson all the best. He said: "We don't know him very well. I have only met him once. I just wish him all the best and hope he can rebuild his life and get on with things."

David also said plans are ongoing for he and Elton's up-coming wedding, which he said would be held in the UK.

The tasty chocolate figure, which took more than 1000 hours to create, will be on display at Madame Tussauds in a specially built air-conditioned tent until the autumn.



Elton goes chocolate
Sunday, June 12 2005 at 12:00:08


Elton John Official Merchandise
Wednesday, June 15 2005
The official merchandise for the Elton John 'Back for our Future' concert in Watford on June 18, 2005 is now available online!

The offer includes the official concert programme (priced £10.00), an 1978-72 retro shirt (£30.00) and the "Back for our future" scarf (£5.00).

You can order these items online from the Watford website.


Sir Elton John And Others Pontificate On Papacy
Tuesday, June 14 2005
Opinion by Douglas Sylva. Copyright 2005 - TheFactIs.org.
The following does not necessarily reflect the opinion of eltonfan.net and its staff:

I would wager that at least a couple of the horsemen of the apocalypse must be all saddled up and ready to go, if Elton John has eclipsed Pope Benedict XVI as a moral authority, but that appears to be exactly what happened this past week in England.

Here's the background: it appears that an ageing rock-star named Sir Bob Geldof has hatched a scheme to hold a concert called Live 8, in order to draw the world's attention to the plight of Africans. But along with Sir Paul McCartney, Bono (of course), Madonna, and a host of other stars, Geldof had the temerity to invite Pope Benedict XVI, whose musical tastes range from Gregorian chant to Mozart, to the event.

It's hard not to be charmed by Geldof's reasoning, communicated in all of its 60s splendor: "His song is the theology of the poor. It would be a great first gig for the Pope." But charmed many of the leftists were not. In fact, a campaign has begun to have the Pope uninvited, ostensibly because the Catholic Church opposes the use of condoms to prevent AIDS, and is therefore a primary cause of the catastrophe in Africa, which goes to show just how deeply this new slander against Mother Church has sunk into the public consciousness.

And this is where Sir Elton John (apparently all British rock stars are knighted for surviving into middle age) enters the picture. His opinion was actually sought out in this matter. Is the Catholic Church responsible for spreading AIDS in Africa, and therefore killing Africans? According to Sir Elton, "When you take into consideration their [the Church's] views of contraception, and how this affects the spread of AIDS…it adds to the general poverty of the region, doesn't it?" The media reported that he "voiced concern" over the invitation.

A group called the National Secular Society then published an open letter from its executive director, Keith Porteous Wood, in which Wood fulminates that, "the Pope stands accused in many quarters of doing almost more than any other individual on the planet to increase poverty and suffering in Africa. His intransigent opposition to the use of condemns to fight AIDS is a scandal of epic proportions."

It would be easy to dismiss both John and Wood, but to ignore these charges, as they gain ever-wider acceptance, would be foolish, as well as unjust to Pope Benedict, Pope John Paul II, and to all Catholics who work to make the worldwide Catholic charities and health care systems so merciful and effective.

So what are the charges? "AIDS is devastating Africa. Condoms are the only known barrier to the virus. The Vatican has spearheaded the restriction of condom distribution and actively discouraged their use."

Has the Vatican "spearheaded the restriction of condom distribution?" It is difficult to know exactly what this means. Over 700 million condoms are distributed in Africa every year. The Vatican has no political power to stop this. Thus, whether condoms have helped or hurt AIDS infection rates is solely the responsibility of condom advocates, not the Vatican.

Does the Catholic Church discourage the use of condoms? Yes, but only as part of its complete sexual morality. If people are chaste outside of marriage and faithful within marriage, they will not need condoms to protect themselves from sexually transmitted diseases. The Catholic Church has every right – even an obligation – to teach how the moral law and the natural law coincide: Stay true to your wife, and you will be safe.

To blame the Church, therefore, for the spread of any sexually transmitted disease, it would be necessary to prove that people are ignoring the first, essential injunction (stay chaste or faithful), but are slavishly obedient to the second (don't use condoms).

By the way, if you are interested in Sir Elton's qualifications to discuss AIDS in Africa, his website claims that he has established the Elton John AIDS Foundation, whose two full-time employees appear to be responsible for organizing fundraisers such as "the glamorous and highly successful Annual White Tie and Tiara Ball," as well as "charity clothing sales (often precipitated by Elton having a massive wardrobe clearance)."

Douglas Sylva is Senior Fellow at the Catholic Family and Human Rights Institute (C-FAM). His e-mail address is dsylva@thefactis.org.
Football ban's off for Elton
Sunday, June 12 2005
Scotland's biggest concert hall has lifted a ban on football shirts for Elton John's concert on June 12, 2005.
The SECC acted after Rangers and Celtic fans clashed at a Rod Stewart concert in May 2005.

But they relented after Elton fan Jackie Stevenson-Lawrence complained. Jackie wears a specially- created Watford shirt to all of Elton's gigs.

Jackie's husband Graham said: "I think a bit of common sense has to come into the equation."

But venue chiefs warned the ban on footie tops will still apply when Rod returns to the SECC on July 5, 2005.
Elton goes chocolate
Sunday, June 12 2005
The winner of the poll to find the UK's favourite celebrity, to be created out of Cadbury Dairy Milk, will be unveiled at Madame Tussauds on June 14, 2005.
Sir Elton John was voted the nation's favourite personality in a poll carried out earlier this year by Cadbury Dairy Milk. The figure took over 1,000 hours to create with the Tussauds Studio and Cadbury team working day and night to make the first ever chocolate figure to be exhibited at Madame Tussauds.

Over 200,000 votes were cast over four weeks. The Top Ten also included Cat Deeley, David Beckham, Denise Lewis, Denise Van Outen, Jonathan Ross, Paula Radcliffe, Ricky Gervais, Sharon Osbourne and Will Young. Will came a close second with Paula clinching the bronze.

The chocolate figure is under constant surveillance in a specially built air-conditioned tent ready to be unveiled at Madame Tussauds, London on Tuesday June 14, 2005 as part of Cadbury Dairy Milk's Centenary celebrations.



Sweet chocolate celebs ... and red rosy apples in summer
Tuesday, January 25 2005 at 17:24:58


Elton John and band performed in Oslo on June 8, 2005
Thursday, June 9 2005
"The King of Pop came through" from Aftenposten.no. By Svein Andersen (translated by Martin Aamand).
Elton John at Oslo Spektrum on 8th June 2005
Audience: 8,500 (sold out)

SIR ELTON gave everything, the songs were fantastic, but bad sound interfered with an otherwise beautiful evening.

People get up filled with anticipation and clap enthusiastically as Sir Elton John enters the stage. Everybody knows this artist nowadays. Whether he's performing solo with his piano or as now with full band and choir, he is irresistible.

He is the pop singer above all, and his popularity never seems to stop. With his charm and his fine artistry, he draws us in like a true magician. His magic wand is the many magical songs in his back catalogue – especially the ballads.

This concert, however, begins in true rock'n'roll style – in Elton's personal style, of course. At once the house is rocking, and "Pinball Wizard" sets the mood in this big room filled with people.

People from any and every walk of life have grown up knowing these songs which have – once again – taken lead role in a kind of eternal soundtrack of more and more people's archive of memories.

Timeless as they have become. A kind of musical place where families unite. The songs can then be pulled out of the old CD rack when needed, and then they can be enjoyed in the exact amount that is necessary.

Memory Lane

One set of notes on the piano and the crowd knows which song is next, "Bennie & The Jets". Then "Daniel" and we are all on a journey down memory lane.

When you are lucky enough to experience Sir Elton John together with his eminent musicians (some of them have been with him forever): Davey Johnstone, Nigel Olsson, Guy Babylon, Bob Birch and John Mahon, performing these moving songs, it feels like birthday and Christmas Eve all at the same time.

After forty years in the business, he has got nothing left to prove. The once eccentric shows are now history. Now the melodies are his main purpose – and what great songs we are talking about.

Paying tribute to Ray Charles

However, the evening intensifies when Elton proudly present the song "Electricity" from "Billy Elliot" – a musical about a boy who wants to become a ballet dancer.

Then comes the song "Sorry Seems To Be The Hardest Word", a touching tribute to the genius of Ray Charles. This was the last song Elton recorded with him before he died.

An emotional moment which was empowered by the next melodies, "Funeral For A Friend" and "Love Lies Bleeding". He touches our vulnerability and stimulates our longings. He wants to tell us a story about life through this concert. Sorrow and joy, love and responsibility.

He offers us some titbits from his latest album, but it is the classics that captivate the most. However, the bass was sometimes too loud and ruined the sound. "Levon", "Sad Songs", "I'm Still Standing" and "Don't Let The Sun Go Down On Me".

As the evening was drawing to an end, the newspaper deadline was imminent. Therefore I did not get to hear "Your Song" which has been the final encore on this tour.

Following is the complete setlist of the Oslo show on June 8, 2005:


Pinball Wizard

Bennie and the Jets

Daniel

Turn the Lights Out When You Leave

Take Me To The Pilot

Rocket Man

I Guess That's Why They Call It The Blues

Sacrifice

Electricity

Sorry Seems To Be The Hardest Word

Funeral For a Friend

Love Lies Bleeding

Are You Ready For Love

Philadelphia Freedom

All That I'm Allowed

Porch Swing In Tupelo

They Call Her The Cat

Sad Songs (Say So Much)

Levon

Don't Let The Sun Go Down On Me

I'm Still Standing

The Bitch is Back

Saturday Night's Alright (For Fighting)

Crocodile Rock

Your Song
New single "Electricity"
Thursday, June 9 2005
Elton's next single, "Electricity", will be released on July 11, 2005 as a two-part CD single as well as on blue vinyl.
CD single part #1:
1. Electricity
2. Indian Sunset

CD single part #2:
1. Electricity
2. Electricity [Orchestral Version]
3. Your Song [Live]
4. Your Song [Live - Video]

LTD Electric Blue 7" Vinyl
1. Electricity
2. Bite Your Lip (Get Up And Dance!) [Live]



New single release
Wednesday, May 25 2005 at 10:05:39


UPDATE: Server move finished
Wednesday, June 8 2005
The move of eltonfan.net to a new server is now finshed - at least we hope so. The final missing scripts have been added. Check them out!
Please note that you need to re-subscribe to the Hercules eNewsletter at http://www.heimbecher.net/ef/newsletter/.

The following services are now up and running again:
We would like to apologize for the inconvenience during the server move and we thank you for your understanding and patience.

Although we have tested everything carefully, this is a complex site and it is likely that you will still encounter a problem. In that case, please inform stephan@eltonfan.net. Thanks for your cooperation and support!
New Book To Benefit The Elton John AIDS Foundation
Tuesday, June 7 2005
Paris and Nicky Hilton, Kimora Lee, Christina Aguilera, Rebecca Romijn, Elle Macpherson and Heidi Klum are among 44 women who are using their star power to raise funds and awareness for the Elton John AIDS Foundation.
The well known women have bared all, donning nothing but Cartier jewels and Jimmy Choo shoes for a new coffee table book titled "4 Inches."

The brainchild of Tamara Mellon, president & founder of Jimmy Choo, "4 Inches" features some of the world's most beautiful women, artistically photographed by the renowned female photographers. Mellon approached Cartier to co-sponsor this project to raise money for the Elton John AIDS Foundation to specifically benefit women and children suffering from AIDS in Africa.

Many of the world's most respected female photographers were approached to shoot artistic nude portraits of inspiring women wearing Cartier jewelry and 4 Inch Jimmy Choo heels. The result is an empowering book for women about women by women. Everyone in the book has generously donated their time, energy and talent to make this project a reality.

In all, 44 portraits have been brought together in the coffee table book, published by the London based Scriptum Editions. On May 25, 2005, the book was launched in London with an auction of select images from the book. Conducted by Christie's, the auction raised an astonishing $2.4 million for the Elton John AIDS Foundation.

The book will launch in the US on June 16, 2005 when additional photographs will be auctioned by Christie's at the Cartier Mansion in New York. Christie's New York will hold a preview of the photographs from June 11-June 14, 2005 which will be open to the public.

Auctions to follow in Los Angeles (June 21, 2005) and Hong Kong. The book will be available at major bookstores including Borders, Barnes & Noble and Amazon.com (see link above) and will retail for $65.00.



Fergie to Bare All for Aids Charity
Friday, October 15 2004 at 22:36:21


Elton John and band performed in Bolton on June 5, 2005
Monday, June 6 2005
Fan report by Matt Issacs.
After the unbelievable high of the Christmas shows at the Hammersmith Apollo in 2004, I was ready to see Mr John play a Stadium show. He and that band tore the place down last night!

I was lucky enough to have 9th row seats right at the centre of stadium. It was a lovely sunny day, and Lulu gave an energised and fun filled performance as the support act backed by a very hot little band featuring ex Elton keyboard player Mark Taylor on board.

Things hit fever pitch when renowned Bolton comedian Peter Kay came on introducing Elton and encouraged a sing-a-long of his recent number one re-make of "Amorillo", before our main man took to the stage.

They opened with "Pinball Wizard" which already had the stadium shaking. A jaunty and fierce "Bennie and the Jets" followed before changing pace of a soaring "Daniel" and a sturdy "Turn the lights out when you leave".

"Take me to the Pilot" was performed more like the 70's live version than recent reading, especially with gospel slow verse, but still Bob Birch excelled on the outro as always!

However, better was to come with "Rocket Man". Davey added some real scorching Fender strat touches to the second part of the track. John is really becoming a real percussionist extraordinaire. He really brought his talents out in this song.

"I Guess That's Why They Call it The Blues" and "Sacrifice" were perfect anthem for a stadium gig. "Electricity" went down extremely well and destined to become a big hit not to mention a future standard.

Elton dedicated a heart-wrenching "Sorry seems to be the hardest word" to Ray Charles. This was a calm before the storm when "Funeral For a friends" haunting intro ascended, paving the grounds for thunderous "Love lies bleeding". Nigel really went to town here. The voice of Altanta joined the troops from now on in. "Are you ready for love" and "Philadelphia" Freedom" had us all dancing in the aisles. "All that I'm Allowed" and "They Call her the Cat" added a real intimacy and freshness, whilst it was lovely to hear "Sad Songs" for the first time since 'The One' tour, especially with Nigel.

"Levon" and "Don't Let the Sun Go Down on me" were played with maximum fire and passion, then it's time to rock. Predictably, everyone went beserk to "I'm Still Standing". By the time of "The Bitch is Back" and "Saturday Night's Alright" Elton had us all in the palm of his hands, standing on the piano, and jamming with Davey. All 26,000 of us were in heaven!

Encore time was upon us and we all sang ourselves silly to "Crocodile Rock", and we said our reluctant farewell during an emotional "Your Song". This was a concert no one wanted to end. I will now have to wait until October. Viva Las Vegas ...

Following is the complete setlist of the Bolton show on June 5, 2005:


Pinball Wizard

Bennie and the Jets

Daniel

Turn the Lights Out When You Leave

Take Me To The Pilot

Rocket Man

I Guess That's Why They Call It The Blues

Sacrifice

Electricity

Sorry Seems To Be The Hardest Word

Funeral For a Friend

Love Lies Bleeding

Are You Ready For Love

Philadelphia Freedom

All That I'm Allowed

They Call Her The Cat

Sad Songs (Say So Much)

Levon

Don't Let The Sun Go Down On Me

I'm Still Standing

The Bitch is Back

Saturday Night's Alright (For Fighting)

Crocodile Rock

Your Song
Elton John and band performed in Bratislava on June 1, 2005
Thursday, June 2 2005
Fan report by Peter Bucek.
It was my 5th Elton John concert and I personaly still can not to believe, that this megastar whom I am looking for in other countries came to play yesterday to my hometown and even for free (big thanx to organizer T-Mobile).

"Pinball Wizard" was first song in list made for Bratislava. After this song Elton said "Hello Bratislava" in Slovak language. He was whole time in great mood and I personaly was very surprised from Slovak audience which was almost whole concert claping and waving with hands.

Together with Elton and his band sung in some songs gospel band from Atlanta.

From Peachtree Road "God´s guys" played three songs - "Turn The Lights Out...", "All That I´m Allowed" and "They Call Her The Cat". Especially "The Cat" sounded as an amazing rock&roll song full of energy much better than on CD (and there is perfect).

Slovakia also heard brand new song "Electricity" - very nice ballad which has big chance to be very popular. All guys from band looked that they´re realy enjoying this concert, especialy Nigel.

As first encore Elton played "Crocodile Rock"! First refrain "La-la-la-la-la" I sung almost alone. After this first refrain Elton looked just on me how I am screaming refrain with my disreputable voice (I was in first row) and than on other people in crowd with aback look from silent. But next refrains sung many thousands of people together with me.

Beside first calm refrain in "Crocodile" it was amazing to be on this concert with so many happy people. Before last encore ("Your Song" in jogging suit) Elton thanked to Slovak audience and said how is happy to be here in Bratislava for the first time. Also said very important words, that this was the best concert on this tour and that he will have to come back to Bratislava very soon again.

I could honestly say I am sure, that Bratislava will never forget this memorable evening full of energy, rock&roll and great mood together in one "box".

Following is the complete setlist of the Bratislava show on June 1, 2005:


Pinball Wizard

Bennie and the Jets

Daniel

Turn the Lights Out When You Leave

Take Me To The Pilot

Rocket Man

I Guess That's Why They Call It The Blues

Sacrifice

Electricity

Sorry Seems To Be The Hardest Word

Funeral For a Friend

Love Lies Bleeding

Are You Ready For Love

Philadelphia Freedom

All That I'm Allowed

They Call Her The Cat

Sad Songs (Say So Much)

Don't Let The Sun Go Down On Me

I'm Still Standing

The Bitch is Back

Saturday Night's Alright (For Fighting)

Crocodile Rock

Your Song
Photos from the event can be found at http://www.baumgartner.sk/gallery/thumbnails.php?album=57.

Sir Elton: Why I'm joining Live 8
Wednesday, June 1 2005

Elton John was one of the high-profile faces at the launch of the Live 8 concert. He laid out the reasons he was so pleased to be taking part, 20 years after performing at the historic Live Aid:

"I'm glad to be here in general because when the Live Aid concert happened 20 years I was pretty much a self-obsessed drug addict.

And although I was really pleased to part of a great day I really wasn't adult enough or mature enough to realise the full consequences of what were doing then.

Since then, of course, I have been 15 years sober and clean and I think I have grown up and matured a bit and started my own Aids charity and have been in a huge battle to help Aids patients ever since.

And of course those two things are tied into together very much so.

I went to Africa in January and saw for myself the situation there and saw the ignorance and stigma that people are fighting against. And I'm just very proud to be involved in something.

Musicians are kind of like Pied Pipers in this respect, and now I'm really aware or what is going and the injustices that are happening and the anger that we get from seeing it.

Just a simple turning over of money is not as simple as that because you have got corrupt governments to deal with and everything.

And we have so much ignorance that we are fighting like South Africa, we have the president of South Africa saying that Aids is caused by poverty. I wish!

I don't have much to say except that I'm extremely honoured to be around to play this concert because it means so much more to me know that it did.

It may sound ridiculous but it really does mean a lot more to me now because I'm fully aware of the situations having become involved in fundraising and trying to combat poverty and ignorance through the Aids Foundation.

I know all the musicians taking part are the creme de la creme. Since Live Aid, musicians have really stepped up to the plate, like Bono, Bob's always been there.

The reason I'm here today is that Bob Geldof asked me to do something. I would go on a dangerous mission with Bob, I trust him with my life.

He's an honourable, honourable man and I admire so much for what he is doing here.

I think he encouraged, through Live Aid 20 years ago, musicians to really think about what they should be doing instead of just playing and driving around in flash cars."




Geldof unveils Live 8 show plans
Wednesday, June 1 2005 at 03:21:44

Live 8
Friday, May 27 2005 at 02:38:58



Geldof unveils Live 8 show plans
Wednesday, June 1 2005

Bob Geldof has unveiled plans for a repeat of 1985's Live Aid concert, called Live 8, to highlight the ongoing problem of global poverty and debt.

The free event will be held in London's Hyde Park on July 2, 2005 with concerts in Philadelphia, Paris, Rome and Berlin.

Elton John, Madonna, Coldplay, REM, Dido, Sir Paul McCartney and Keane are among the artists confirmed for the London event.

A text message lottery is being held on June 6, 2005 to determine who will gain tickets to the UK concert. Listeners to breakfast shows on BBC and commercial radio stations will be asked to send a text message at 0800 BST containing the answer to a multiple choice question. The winners will get two tickets to the show. It will also be shown on big screens in seven cities across the UK, and shown live on BBC TV and radio.

Will Smith, Bon Jovi, Stevie Wonder and Maroon 5 are among the performers who will play the US city's Cradle of America venue.

Veteran band Duran Duran will play in Rome, while A-ha will perform in Berlin.

Elton said he was "extremely honoured" to be taking part in the event, which he added will feature "la creme de la creme of musicians".

Geldof said there was a strong possibility that the Spice Girls would reform for the concert. "I spoke to them this morning. It looks very good. That's all we can say," he told the BBC.

The aim will be to raise awareness of Make Poverty History, a campaign to get the richest nations to cancel debt and increase aid to developing countries, and to promote fair trade.

Geldof said the event was "not for charity but political justice", adding that organisers had "scrambled like crazy" to stage the concerts to highlight the plight of Africa.

"This is to finally, as much as as we can, put a stop to that," said the political campaigner and musician. "There is more than a chance that the boys and girls with guitars finally get to tilt the world on its axis," he added.

Geldof told reporters in London that he had asked for the support of Pope Benedict XVI. "I think he should turn up. It would be his first gig," he said.

The UK government has backed the project, with Culture Secretary Tessa Jowell saying Live 8 will "set the scene" for the G8 summit.

Meanwhile, the Band Aid Trust has recouped more than £2m in VAT from the government, which was made from DVD sales of the 1985 Live Aid concert.

"We want it to be the biggest and best open air concert that the capital has ever seen," she said.

The original Live Aid concerts, on 13 July 1985 in Wembley Stadium and JFK Stadium, Philadelphia, raised £40m for famine relief in Africa.

Live 8 concerts: The line-up

The Live 8 concerts are taking place on 2 July in London, Paris, Berlin, Rome and Philadelphia. These are the musical acts set to perform at the free events.

Hyde Park, London

Mariah Carey
Coldplay
Dido
Keane
Sir Elton John
Annie Lennox
Madonna
Muse
Scissor Sisters
Sir Paul McCartney
Joss Stone
Stereophonics
Sting
Robbie Williams
U2
REM
Velvet Revolver
Bob Geldof
The Killers
The Cure
Snow Patrol

Museum of Art, Philadelphia

Will Smith (host)
Bon Jovi
Maroon 5
P Diddy
Stevie Wonder
Jay-Z
The Dave Matthews Band
Sarah McLachlan
Rob Thomas
Keith Urban
50 Cent
Kaiser Chiefs

Eiffel Tower, Paris

Jamiroquai
Craig David
Youssou N'Dour
Yannick Noah
Andrea Bocelli
Calo Gero
Kyo
Placebo
Axelle Red
Johnny Halliday
Manu Chao
Renaud

Brandenburg Gate, Berlin

A-ha
Crosby, Stills and Nash
Brian Wilson
Lauryn Hill
Bap
Die Toten Hosen
Peter Maffay

Circus Maximus, Rome

Duran Duran
Faith Hill
Irene Grandi
Jovanotti
Tim McGraw
Nek
Laura Pasini
Vasco Rossi
Zucchero




Live 8
Friday, May 27 2005 at 02:38:58