ELTON JOHN NEWS ARCHIVE: June 2003
Poor Cow
Monday, June 30 2003
For the next few months, the world's perennial next great international city, Atlanta. will become a virtual cow town.
You could find 171 man-made bovines grazing in Centennial Olympic Park on June 27, 2003, after which they have been herded to sites around the metro area, from Six Flags to Big Canoe and points in between, through September 26, 2003. Not your ordinary breed, these animals are painted with everything from moonlit magnolias to a day at the mall, adorned with colorful abstractions, decked out in elaborate costumes and decoupaged with materials ranging from computer innards to the full, hand-written text of Shakespeare's "The Tempest."

They make up the "Cows on Parade Atlanta" exhibit, a project that engages artists and community groups to decorate the cows, corporations to sponsor them, and you, the public, to go around to see them. At the end of their run, the cows will be auctioned and the proceeds will benefit Atlanta charities.

Character cows: Anthropomorphizing the beasts is a frequent strategy. Hence, you'll find a tourist in a Hawaiian shirt, straw hat and lei, and Betty Buckhead, a pink-faced lovely sporting pearl earrings, pastel garb and flip-flops, not to mention Napoleon Bonaparte and Elton John.
Elton John performed in Trondheim on June 29, 2003
Monday, June 30 2003
Following is the complete set list of the Trondheim show on June 29, 2003:


Your Song

Border Song

The Greatest Discovery

Someone Saved My Life Tonight

Ballad of the Boy in the Red Shoes

Daniel

Mona Lisas and Mad Hatters

Honky Cat

Rocket Man

I'm Still Standing

Tiny Dancer

I Want Love

Nikita

Philadelphia Freedom

Candle in the Wind

Moon River

Sorry Seems to be the Hardest Word

I Guess That's Why They Call it the Blues

Original Sin

This Train Don't Stop There Anymore

Carla/Etude

Tonight

Take Me to the Pilot

The One

Blue Eyes

Bennie an the Jets

Crocodile Rock


Don't Let The Sun Go Down on Me


Circle of Life

"Rocket Man 03" meets new BMW 5 series
Monday, June 30 2003
Elton was a guest at a gala unveiling the new BMW 5 series on June 29, 2003. The event was presented as 10 minute infomercial on German television. A critical reflection by Stephan Heimbecher.

Elton fans in Germany were ending there summer parties, bike tours and BBQs early on June 29, 2003 in order to make sure to be sitting in front of a TV set on 10.15 pm.

What they did not want to miss was a 10 minute infomercial about the new 5 series by German car manufacturer BMW during which Elton presented a re-arranged version of his classic hit "Rocket Man", which is being released as "Rocket Man 03" on June 30, 2003.

What they had to watch was the longest ten minutes ever, the elite troops of Germany's so called celebrities in the audience, a dumb host, even dumber guests, the presentation of the new car as well as the most embarassing Elton John appearance you can imagine. You can watch the performance online on the BMW website.

First of all, "Rocket Man 03" is nothing but a poor re-arrangement of the original 1972 recording. Elton tried to lip sync to the song, but failed. And even if he had managed to be faking a live performance, it still looked odd to see the 2003 Elton with his Seventies voice.

The question that immediately came to mind during Elton's presentation: Is Elton really in need of releasing a recycled version of one of his most classic and most beautiful Seventies hits? And is it really necessary to present this song in 'prostitution style' during an extended commercial? Does he need money that badly?

What was the connection between "Rocket Man 03" and the new BMW 5 series, you might ask? I had no idea myself, but I think what organizers tried to sell to us was the fact that "Rocket Man" was a hit in 1972, the same year the first version of the BMW 5 was produced. Well then, who cares anyway?

I wish that Elton would cut down on his omni presence which he has built up in the past few years and spare his fans painfulness such as this. On June 29, 2003 I was ashamed of being an Elton John fan.




"Rocket Man 03"
Thursday, June 26 2003 at 17:54:49

UPDATE: Let me be your car ...
Tuesday, June 24 2003 at 21:39:50


Elton John performed in Sundsvall on June 28, 2003
Monday, June 30 2003
Fan Reports by Ulf Olby and Tanja.
Fan Report by Ulf Olby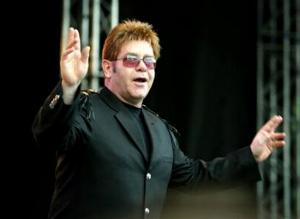 On June 28, 2003 I attended Elton's solo concert in Sundsvall, Sweden. It was an outdoor sell-out concert in the new Park Arena in Sundsvall and we were approx. 15.000 in the audience. My guess is that there were an additional 1.000 persons sitting on the mountain situated close to the Arena. The weather was OK - a little sunshine and no rain.

I probably have to admit that I've become a diehard Reg-head, since I travelled to this concert in my own by car, 370 km to Sundsvall and 370 km back home again the same day (night). First time since I met my wife that I went alone - she didn't think it was worth the car ride, can you imagine?

Was it worth the trip then? Of course it was. Even if Elton was suffering from a bad cold, he really gave us everything he could - as the true professional he is. He could barely talk between songs, but somehow his singing was much better. From time to time his voice was broken in the lower register and he kept coughing and spitting and drinking inbetween songs. He even had to cough during his singing.

Compared to the recent solo shows he left some of the song out from the songlist, probably because of his heavy cold. No "Original Sin" (too bad) and no "The One" or "Blue Eyes". Another change was that he did "Sacrifice" instead of "Nikita" (a good choice if you ask me, I never have liked the live rendition of "Nikita").

One thing that struck me is how Elton in the middle of his set put in real classics like "Candle in the Wind" or "Sorry Seems to be the Hardest Word" - where any other artist should go for fillers...

Highlights for me was: "Sacrifice", perfect vocal delivery in a true Elton classic; "This Train Don't Stop There Anymore", a terrific song in a terrific performance; "Take Me to the Pilot", we have heard his different intros to this song before, but I promise you have never heard it like in Sundsvall yesterday. Elton had the whole audience standing up and dancing to his gospel/boogie/rock-pianoplaying before the real song had even started.

Goosebumps is just the first name... - "Circle of Life". So much better solo than with the band, you get the chance to hear the beautiful melody without any heavy accompaniment.

Elton kept appologising for his bad throat during the evening and before this final encore he thanked us and said that the warm reception from the audience tonight made it all worthwile.


---


Fan Report by Tanja

On June 30, 2003 my husband Ronnie and I, and our friend Carola, came back to Stockholm from Sundsvall, where we saw Elton John on Saturday, June 28. What an amazing show it was! We had been looking forward to this show with so much excitement. We made signs, dressed appropriately in Elton T-shirts and caps and went 300 km up north to Sundsvall. We had never been there before, and probably would never go there in all our lives if not for Elton. But what a lovely city it is, situated in a valley surrounded by mountains.

The stadium Park Arena, where we saw Elton, is right at the foot of the North Mountain. About a thousand people gathered on the mountain and enjoyed the view and Elton's music for free. The weather was just right. It was not precisely hot at 8:00 PM, but it was not raining and one could enjoy an outdoor concert in a shirt.

We all sat in the 4th row next to each other. Ronnie and I got flowers for Elton at a grocery store, as we could not find them anywhere else. We had also brought a viking hat with horns, which we had decorated with gold sequin letters "EJ" to give to Elton. At the arena we bought new T-shirts and sat down all nervous and shaky…

Suddenly we could hear the "Aida" music and from then on we went absolutely crazy. Elton came on stage wearing a black suit and red-shaded glasses. I held my sign with the "I'm Still Standing" lyrics and stood on my chair, waving at Elton, who actually pointed at me then and later throughout the concert. What can I say? The show was amazing!

Poor Elton was very sick. After "Your Song" he said "Good evening! Thank you very much, it's a real pleasure to be here! I have a really bad cold, but I'm gonna fight my way through this, 'cause I really wanna play…"

Throughout the concert his voice cracked every now and then, he blew his nose and had to clear his throat a lot. Of course, all this resulted in Elton skipping such songs as "Nikita", "Original Sin", "The One" and "Blue Eyes". He also performed a very interesting version of "Carla", when after hitting several wrong notes, Elton improvised an alternate transition into Etude.

"Sacrifice", however, found its way back into Elton's set list and was met with huge applause. Certainly, Elton was not feeling well and he apologized for that time after time. But he was amazingly good. Elton performed so wonderfully, that he touched us again with his music and love.

Being crazy fans, we ran to the stage nearly after every song. But unfortunately, we did not have an opportunity of giving Elton our gifts and flowers, because security guards pushed us back. The Sundsvall audience was very calm and relaxed, however, and so we did not have any competition in giving Elton flowers, which we succeeded in doing after "Honky Cat". It was a wonderful moment and Elton even shook my hand!

The highlights of the evening were "I'm Still Standing" and "Moon River". It's always great when Elton adds an unknown or new song in his set list. It becomes very special. So was the case with "Moon River", a sad-sounding song, which I liked very much.

For a long time we were trying to get to the stage, but security were very hard on us and pushed us back, every time we tried to sneak in front of them. Finally, during "Bennie and the Jets" we were allowed to take our places at the stage. And wow, what nice spots we occupied! Elton was so close, just a couple of meters from us, sick, tired, but so wonderful.

He never complained, but apologized all the time. And he even found strength and desire to sign a few autographs, which we all got (being the huge fans we are). Elton shook our hands, too. It's like being in paradise. The happiness I felt at that concert is indescribable!

Elton really rocked as much as he possibly could in his condition. He performed marvelously! But then, after thanking us for being a very amazing and loyal audience, and singing "Circle of Life" – he left. It's so sad… every time he leaves…

The concert is over. Many people came up to us and thanked us for being such enthusiastic fans, who made this concert even more special with our signs and screaming. We also talked a bit with one of the security, who gave us the original set list of the concert. That's how we knew that Elton had intended to perform all the songs he did not perform.

It remains a mystery, why Elton substituted "Nikita" with "Sacrifice". Was that substitution deliberate or not?

When we got out of the arena, we saw concert posters hanging inside a building, where a VIP party seemed to go on. Ronnie was brave enough to sneak in and obtain one of those which made that evening even more special and exciting. We also were interviewed and photographed for the Sundsvall paper. Everything that happened that day was very special.

We still have a concert on July 3, 2003 in Christinehof. Hopefully, Elton's going to feel better and not cancel the show. But even now it feels so sad. Every time I go and see Elton, I get used to him so much, that I feel a little empty the next few days (or weeks). It's always so easy to get used to something good, and so hard to get back to work or studying – something that you would rather not do…

Elton John is amazing! He heals and changes people. But what is most important is that he is not just a huge well-known superstar. He is actually a great individual person, who touches us all with his music and personality. Being one of his biggest fans, I know and feel that Elton John performs for us – his fans, who will always love him. And this time in Sundsvall, although he was sick, he was looking like a true survivor. He was still standing! Thank you Elton!

Following is the complete setlist of the Sundsvall show on June 28, 2003:




Your Song

Border Song

The Greatest Discovery

Someone Saved My Life Tonight

Ballad Of The Boy In The Red Shoes

Daniel

Mona Lisas And Mad Hatters

Honky Cat

Rocket Man

I'm Still Standing

Ticking

Tiny Dancer

Sacrifice

I Want Love

Philadelphia Freedom

Candle In The Wind

Sorry Seems To Be The Hardest Word

Moon River

I Guess That's Why They Call It The Blues

This Train Don't Stop There Anymore

Carla/Etude

Tonight

Take Me To The Pilot

Bennie And The Jets

Crocodile Rock


Don't Let The Sun Go Down On Me


Circle Of Life

Heavy Traffic in Malta
Sunday, June 29 2003
The Times of Malta is filled with reports about Elton's upcoming concert at the Floriana on July 6, 2003 these days. Hercules feels that Elton's wish for a historic backdrop sometimes goes a step too far.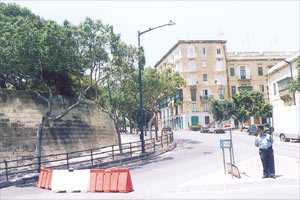 There were major traffic jams coming into Valletta on June 19, 2003, after Sarria Street in Floriana and the road leading to it past the Floriana council office were closed.

And the situation is not temporary: Sarria Street will be closed to traffic until July 11, 2003 in view of the Elton John concert being held at the granaries on July 6, 2003, the Malta Transport Authority said.

The road had to be closed because the spectator stands for the concert cannot be erected on the granaries, to ensure that these are not damaged in any way. Instead, they are being put up on the road itself.

Elton John will have to work extra hard to compensate for the ill will motorists will have built up by the concert day.

One of the directors of concert organisers NNG Promotions, Nigel Camilleri, said he had been assured by the contractors that it would take at least two weeks to erect the stands, although he hoped that they could be removed quicker than planned after the concert.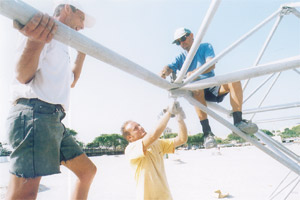 The hi-tech stage is being assembled on the road between the granaries and Middle Sea Insurance.

"Elton John's representatives want to ensure that works are ready in advance in case any changes are needed," he said.

When asked whether closing a busy road for two weeks was justified, he said they had done their utmost to cut the time to a minimum, but added that works would only be ready just before the concert.

"The original request was for the road to be closed for six weeks," he said.

A disgruntled commuter was unimpressed: "We did not have this disruption for the Pope, let alone for a commercial concert," he complained.

The MTA explained when contacted that the Traffic Management Directorate had met the organisers and informed the police, the council and other relevant authorities that approval had been given for the road to be closed.

Everything had been done in accordance with procedure, except for publishing a legal notice in the Government Gazette, as a result of an oversight, spokesman Daniela Borg Mizzi said.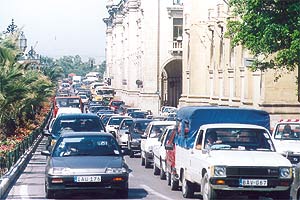 She appealed to commuters to use Sa Maison and St Anne Street, or to use public transport.

"We know that there was a bad congestion problem, but at this point in time there is not much we can do. In the circumstances, we couldn't impose a shorter time for the closure.

"It was made clear to us that, in accordance with the conditions imposed by Elton John's security people, unless the road was closed, the concert would not be held," she said.

Floriana council was, however, totally unimpressed when it realised how long the road would be closed.

Kenneth Brincat, executive secretary, said the council had approved the use of the granaries, with the usual conditions, ensuring that they were not damaged and were left clean.

However, it objected when it found out that MTA had agreed to close some streets and to close off the parking zone at the end of the granaries.

"We wrote to NNG Promotions, organisers of the concert, and they said they would be assembling scaffolding on pavement but that the works would only extend onto the road a few days before.

"However, the road was closed today (June 19, 2003). We have now written to them again and the mayor is in touch with the district police."

Mr Brincat explained that as the road in front of the council was also closed, it affected access to the home for the elderly, the council and all the residents and users of that area. He was also concerned about the congestion caused.

"The problem is that all the traffic - including route buses - is now being routed via St Anne Street and there are already massive traffic jams, which backed up to Qormi yesterday morning.

"I doubt that it will get any better until Sarria Street is reopened, although if Pjazza E.S. Tonna - in front of the council - is reopened, as appears to be planned, it might get better."

The MTA said that no parking will be permitted along Sarria Street and along the road in front of the Floriana church and in St Publius Street.

St Publius Street will be closed to traffic between June 23 and July 16, 2003. No parking will be allowed in the granaries car park between June 30 and July 7, 2003.

While it is always nice to see Elton perform solo against a historic backdrop, Hercules feels that sometimes local organizers go a step too far in keeping up with the wishes of Elton and his management. It is not helping Elton's image when pleasing an audience of say 10,000 people causes irritation of a whole city. Letters to the editor that can be found in the Times of Malta these days prove this point impressively.

Furthermore, fans attending these kind of shows pay through the nose as tickets are a lot more expensive due to the fact that the venue does not exists, but has to be set up from scratch. While a show at any of the usual concert halls or even open air arenas is simple to organize, these kind of historic venues have to be specially prepared for the often one-time (one-day) event.

And finally, if Elton continues to perform in front of each and every historic landmark in this world, it is no longer special anymore. It's nice to see him perform in front of old castles etc., but Elton should watch closely that added value and additional costs are in appropriate proportion.

How do you feel about this? Let us know in the Opinion Poll on the Hercules Message Board.
Elton John, Celine Dion, Billy Crystal, Steve Martin and others honor Gilda Radner on new CD
Saturday, June 28 2003
Release coincides with announcement of Gilda Radner's star on Hollywood Walk of Fame, says Cell Therapeutics, Inc.
"Voices for Gilda," a compilation of recordings from more than 25 celebrities including Dan Aykroyd, Tony Bennett, Dana Carvey, Billy Crystal, Celine Dion, Elton John, Quincy Jones, Steve Martin, Willie Nelson, and Gene Wilder, was launched June 27, 2003 to honor legendary entertainer Gilda Radner. Proceeds from sales of the CD will benefit Gilda's Club, an international network of meeting places where people touched by cancer can come together for social and emotional support.

The primary sponsor for the "Voices for Gilda" CD is Cell Therapeutics, Inc.

The CD, which retails for $25.00, is available exclusively at Amazon.com and qualifies for Amazon.com's Free Super Saver Shipping method. Proceeds will benefit Gilda's Club.

"Gilda brought laughter and whimsy everywhere she went, through healthy times and while she was living with cancer -- she remains an inspiration to all of us," said Michael Radner, Gilda's brother. "I'm deeply touched that so many artists contributed to this CD to honor my sister and to benefit Gilda's Clubs."

"Gilda's spirit lives on at every Gilda's Club, where people living with cancer give and receive the benefits of love, laughter and shared expertise," said Diane Perlmutter, CEO of Gilda's Club Worldwide. "This CD will not only provide much-needed financial resources for the Gilda's Club network, but will hopefully also raise awareness of the organization so that millions of people with cancer learn about the support available to them."

A sample of recordings from the CD includes:

Steve Martin, "King Tut"
Dana Carvey, "The Chopping Broccoli Song"
Sarah McLachlan, "Full of Grace"
Gene Wilder, "Ohio"
Elton John, "Don't Let the Sun Go Down On Me"
Celine Dion, "To Love You More"
Paul Simon, "Loves Me Like a Rock"
Quincy Jones, "For Lena & Lennie"
Billy Crystal, "You Look Marvelous!"

"Voices for Gilda" is the brainchild of Mary Kay Johnson, mother of Eileen Johnson, who was diagnosed with thyroid cancer and told she would most likely lose her voice and never be able to sing again. Mary Kay promised her daughter that after her treatment, she would sing again. With her mother's support and the support of Gilda's Club, Eileen is not only a cancer survivor, but also an accomplished singer who performs at charity events across the country. Performances by Eileen are included on the CD.
White Tie And Tiara Ball
Friday, June 27 2003
Elton John was queening it over his most lavish party ever on June 26, 2003. The cost of the summer spectacular, plus his A-list guests' frocks and baubles, totted up to an incredible £10 million - reported The Sun.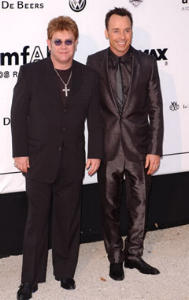 Elton made the theme of the event Imperial Russia. And the stars turned out in force to celebrate with vodka, champagne and caviar.

Around 500 people were invited to Elton's Woodside mansion, including Liz Hurley, Elle MacPherson, Kylie Minogue, Naomi Campbell, David and Victoria Beckham, Judi Dench, Lulu and Sting.

Liz and Naomi alone were decked out in diamonds worth £2 million from jeweller Chopard. Supermodel Elle, in a spectacular red frock, arrived flashing £500,000 of diamonds, including earrings and a bracelet from De Beers.

Elton and David Furnish wore matching morning suits.

Centrepiece of the White Tie And Tiara Ball, to mark the 10th anniversary of Elton's Aids Foundation, was a giant marquee covered with real gold leaf to look like a Russian church.

The pathways leading up it were covered in fake snow. Elton also transformed part of his garden into an ice rink where skaters served cocktails.

Guests mingled on the lawn next to a hot air balloon. They were surrounded by £200,000 of flowers and had £500,000-worth of vintage bubbly on tap. Elton entertained and also flew in Barry Manilow and disco diva Donna Summer to sing a duet.

Guests paid £1,500 or more for a ticket to help raise £1.5 million for Elton's charity. They tucked into a gourmet six-course banquet prepared by top chefs.

Main event of the night was a raffle where prizes included £10,000 diamond watches and a £27,000 Audi TT sports car. Elton was forced to beef up security around his 37-acre estate after last weekend's royal gatecrashing drama at nearby Windsor Castle.

He hired a 100-strong security team with sniffer dogs to guard the do for 24 hours. That bill came to around £50,000. Costs of the party were covered by sponsors, including Chopard, to make sure as much cash as possible went to Elton's charity.

Elton's fundraising director Simon Prytherch said last night: "We are hoping to raise £1.5 million for a very worthy cause. Our guests paid for tickets and also donated generous amounts to the charity. Elton wanted to make sure this was the party to upstage all parties."

Click on the image in this news item to send it as Hercules eCard.



Barry Manilow & Donna Summer to play Elton John's White Tie & Tiara Ball
Monday, June 23 2003 at 15:58:10
Josh Dodes p(l)ays tribute to Elton
Friday, June 27 2003
Pop-rock pianist/singer/songwriter Josh Dodes, who has developed something of a national name in the USA in the aftermath of VH1's hit show "Bands on the Run", has decided to do a 4-show series of one-artist-only covers solo piano shows at the legendary Bitter End in New York City.
Dodes is going to close it out on July 30, 2003 at 7:45 PM with a show of nothing but Elton John. As Dodes is a huge lifelong fan of Elton, these shows are called the Idol Recitals for very good reason!

For more information please see www.jdband.com.
"Rocket Man 03"
Thursday, June 26 2003
Elton John has re-arranged his classic hit "Rocket Man" with the help of Ulf Sommer and Peter Plate, the producers of German pop duo Rosenstolz.
The result of that collaboration is "Rocket Man 03" which will be released as single on June 30, 2003. You can order it from Amazon today!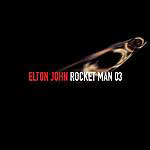 Elton John
Rocket Man
(Catalogue No 980922-9)

1. Rocket Man 03 [4:01]
2. Rocket Man - KDME Remix [4:20]
3. Rocket Man - Royal Garden's Radio Mix [4:19]

As already reported here earlier, Elton will present this song on German television on June 29, 2003 as part of a gala presentation of the new BMW 5 model.

See the Hercules Shop for more Elton John related items.



UPDATE: Let me be your car ...
Tuesday, June 24 2003 at 21:39:50


Elton John performed in Moscow on June 24, 2003
Wednesday, June 25 2003
Sir Elton John has played at the Kremlin Palace in Moscow, the only Russian date on his world tour.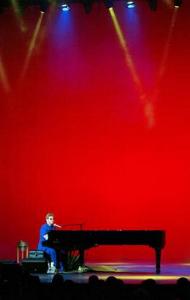 His show took place in the 6,000-steater venue, a modern building in the Kremlin complex which was originally built for political party conferences.

Tickets, costing between $20 (£12) and $1,000 (£600), sold out several weeks ago, according to Russian news agency Itar-Tass.

Elton flew in by private jet on June 23, 2003 and organisers told Itar-Tass: "Elton John was greatly disappointed by the weather in Moscow, which greeted him with rain."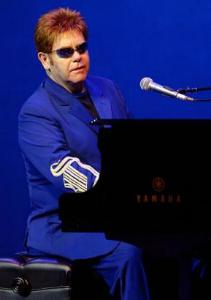 UPDATE: Let me be your car ...
Wednesday, June 25 2003
According to BMW Group magazine, Elton will be part of the unveiling of the new BMW 5 series on June 29, 2003.
There will be a special broadcast on German TV channels ProSieben and Sat.1 starting at 10.15 pm during which Elton will present a new vesion of "Rocket Man".
Elton's key change to West End stage
Tuesday, June 24 2003
Elton John commissions play based on Queen's intruder ordeal as Old Vic welcomes Billy Elliot.
Elton John has commissioned a play about Michael Fagan, the drug addict who climbed over the railings of Buckingham Palace and managed to sneak into the Queen's bedroom.
Fagan spent 45 minutes at foot of the Queen's bed bemoaning his lot, and threatening to slash his wrists with a broken ashtray in July 1982, before palace security staff finally twigged that something was amiss.

Elton, who has written the songs for a new musical version of the hit film Billy Elliot, said he hoped the play would eventually be staged at the Old Vic in London, whose production company is also behind the musical. "I have always been fascinated about what went on - as the Queen pressed her alarm bell again and again and no one came. I always wondered what was said between them, what she said to calm him down."

"I don't think we will ever really know ... I don't think she will be attending the first night either."

The play, being written by the film-maker Mark Herman, who directed Brassed Off and Little Voice, may be staged by the company of British and American actors which the Hollywood star Kevin Spacey is assembling at the Old Vic.

On June 19, 2003 the London theatre began wooing City investors to help pay for Billy Elliot and the Spacey seasons, using such novel enticements as stage-door access to the stars and invitations to Elton John's famous Oscar night parties in Hollywood.

The Newcastle-based playwright Lee Hall, who scripted the film, has also written the book for the show. Elton John, who said he had to be "escorted in floods of tears from the cinema" when he first saw the film at Cannes three years ago, said the musical will be much more political, with much more attention paid to the backdrop of the miners' strike.

"I think it is the best thing I have done for the stage," he added. "I always write from the lyrics, and Lee has written a great story about hardship, anger and love."

The musical will not stick exactly to the film's storyline, with Billy's grandmother in particular given a much bigger role. "We will see that the dancer in Billy comes from her," Elton said. "I have written her one song and maybe she will have a second."

The Old Vic's chief executive, Sally Greene, said that Daldry "thinks he has found his new Billy" for the stage version although Elton John said it would have been "better if Jamie hadn't grown up". Unlike Bell, the stage Billy is not from the north-east, but his best friend in the story will be an authentic Geordie.
Maltapost to commemorate Elton John concert
Tuesday, June 24 2003
With the much-publicised Elton John concert generating even more interest as its July 6, 2003 date draws closer, Maltapost have just announced that the Philatelic Bureau will be commemorating this event with the issue of a Miniature Sheet featuring four images of the international superstar at various stages of his career.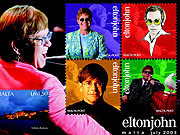 "It's not every day that you get a superstar like Elton John to give a concert in Malta", Maltapost Senior Manager Marketing and Business Development Michael Stewart said. "We feel this event deserves some form of recognition".

The design of the Miniature Sheet has been approved by Sir Elton John himself, who is understood to have been delighted with Maltapost's plans. The attractive Miniature Sheet, which has been produced by Jean Pierre Mizzi of JP Advertising, also includes a stamp showing a beautiful floodlit view of Valletta's Bastions and Marsamxetto Harbour, with a face value of Lm1.50.

This Miniature Sheet issue is being heavily publicised both in Malta and abroad, particularly among the Elton John Fan Clubs, and sales are expected to be brisk, as the Miniature Sheet is being considered an attractive addition to Elton John memorabilia.

The Miniature Sheet will go on sale at all 30 Maltapost branches and from the Maltapost Mobile Unit on July 1, 2003. Philatelists and Elton John fans will also be able to purchase the Miniature Sheet from Mobile Units at the Floriana Granaries on the evening of the concert. The Miniature sheet will be available as a First Day Cover, in mint or cancelled format, in a Presentation Pack and as a Souvenir folder.

The Miniature Sheet can also be viewed on the Maltapost website www.maltapost.com/elton. Enquiries can be made directly to the Philatelic Bureau on philately@maltapost.com.

Meanwhile, Maltapost Senior Manager Retail Edwin Borg said tickets for the July 6, 2003 concert were also selling well, and enquiries were being received continuously. The Lm15 tickets are only available from the 30 Maltapost outlets in Malta and Gozo. This arrangement, Mr Borg added, had helped to avoid long queues, as the sales had been spread throughout the island.
Bid on a Dream Cruiser autographed by Elton
Monday, June 23 2003
It's a unique event – your chance to purchase a one-of-a-kind automobile: a SIRIUS-equipped 2003 PT Dream Cruiser autographed by Sir Elton John.
Bidding will be available for this car from June 23 until July 2, 2003. See Ebay for more details.

As is fitting in a car carrying Sir Elton's signature, this PT Dream Cruiser is ready to rock with:




Factory installed SIRIUS Satellite Radio with 1 year free service

A 6-speaker dual media Infiniti sound system with AM/FM, cassette, and 6-disc CD changer

All proceeds from the sale of this PT Dream Cruiser will benefit the Elton John Aids Foundation.
Elton John to star in "Absolutely Fabulous"
Monday, June 23 2003
Sir Elton John has landed a role in his favourite British comedy, "Absolutely Fabulous".
He will film the cameo apperance in July 2003 on a day off from his current European tour. And Elton has told producers that he is keen to sing a couple of his big hits when he appears alongside stars Jennifer Saunders and Joanna Lumley.

Elton's spokesman said: "He's so excited about appearing on the show that he is going to film it on his day off when he should really be resting up and taking it easy."

Cheering from the sidelines will be David Furnish, who recently watched the singer film another cameo for US sitcom "Will and Grace". Elton played the Don of the gay Mafia.
Barry Manilow & Donna Summer to play Elton John's White Tie & Tiara Ball
Monday, June 23 2003
Barry Manilow, Donna Summer, and Elton John's band will provide the entertainment for Elton John and David Furnish at their 5th annual White Tie & Tiara Ball on June 26, 2003 at the pair's home in England. This year's ball will have a Russian Imperial theme.
The ball is typically attended by many celebrities, and it's all for a good cause. Since its debut in July of 1999, the White Tie & Tiara Ball has raised almost $7 million to fund projects for those affected by HIV and AIDS in Europe, Africa, and the Far East.

Last year Craig David and Ronan Keating performed, and Elton and Sting teamed up for their own unique version of "Hey Big Spender."
Elton John and band performed in Budapest on June 22, 2003
Monday, June 23 2003
Fan Report by Peter Bucek.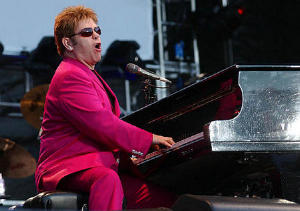 It´s June 22, 2003, 8:15 pm and the Hero Square in Budapest is listening to the first sounds from "Funeral For Friend/Love Lies Bleeding". I was singing with Elton and his band, of course, but when I looked at the other peolple, I thought that I was the only person in the audience who knew the lyrics. I was in little shock from such silence within the Hungarian audience.

Elton broke down the silent barriers with "Sorry Seems To Be The Hardest Word" and next "Sacrifice". During this song the audience finally woke up and you could tell from a look at Elton that he realized that as well. Then he started to play "I´m Still Standing". People started dancing and mood was more better.

After that song Elton and band continued with "The Bitch Is Back", "Saturday Night´s Allright (For Fighting)" and "Crocodile Rock". Especialy during this song Elton let the peolpe to sing the "la-la-la" refrain, but the Hungarian audience was absolutely silent (again).

Elton didn´t introduce the members of his band. Last encores were "Candle In The Wind" and "Your Song" (both in jogging suit).

This was one of the shortest concerts that I saw from Elton. It was almost two hours, but it was enought for Hungary. The concert was for free because organizers found lot of sponsors. That's great, but in front of the stage there was really big VIP sector with chairs. Real Elton fans without VIP ticket had to watch Elton from very big distance.

After all I must and I want to say that Elton sung as 'little God' and the guys from his band played perfect as usually. They made everything for they best accomplishment and I can say by myself that I saw great show again (besides great audience).

Following is the complete set list of the Budapest show on June 22, 2003:




Funeral For A Friend/Love Lies Bleeding

Bennie And The Jets

Daniel

Someone Saved My Life Tonight

The Wasteland

Philadelphia Freedom

Rocket Man

I Guess That's Why They Call It The Blues

I Want Love

Take Me To The Pilot

Sorry Seems To Be The Hardest Word

Sacrifice

I'm Still Standing

The Bitch Is Back

Saturday Night's Alright (For Fighting)

Crocodile Rock

Pinball Wizzard

Don't Let The Sun Go Down On Me

Candle In The Wind

Your Song

Elton John performed in Bonn on June 20, 2003
Saturday, June 21 2003
Fan report by Stephan Heimbecher. Photos by Michael Sperken.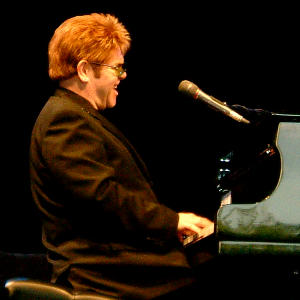 What a perfect way to kick off the Elton concert season again: This was my first Elton show after the band concerts at London's Wembley Arena in December last year, and the intimacy of the venue, the amazing audience and Elton in superb playing mood very soon turned this into a night to remember.

The crowd on Museumsplatz (a place in between two art museums) of Germany's former capitol Bonn was with Elton from the very beginning and it stayed with him until the very end of the 180 minute set, despite the fact that it was a standing only event and there was a large number of 'older' fans in the audience which must have been exhausted at the end of Elton's musical marathon.

The set was very much the same as during ealier solo tours, but with Elton being in such a great mood, even some of the 'usual songs' sounded fresh and new. As always, one could easily tell from the solos in e.g. "Honky Cat" or "Take Me To The Pilot" that Elton was enjoying this performance.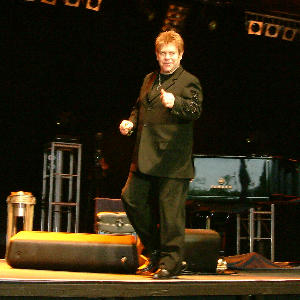 During the first few songs, his voice sounded a bit like back in Australia in 1986 (shortly before he had the operation), and judging from the combination of his new hair style and the cragged voice, some people in the crowd might have felt like being at an Rod Stewart show. But fortunately his vocal cords warmed up soon.

The first highlight of the evening no doubt was "I'm Still Standing" followed by the always enjoyable "Ticking". But the real climax was when Elton 'Audrey' John performed his beautiful version of "Moon River". It simply was 'to cry for'. I have said this before and I will say it again: Elton's voice is perfect for these kind of songs and I am still waiting for him to perform a special night of Gershwin songs (and other tunes alike) in a small club one day.

A choir of 8,000 Bonn souls joined in for the "lalala" part in "Crocodile Rock" before this night came to and end with the two encores "Don't Let The Sun Go Down On Me" and "Circle Of Life". The only negative things that come to mind is that in my opinion the synthesizer sounds during e.g. "Carla/Etude" where a bit too prominent. And Elton should think of combining two uptempo tracks here and there instead of making the audience go wild with a fast song and then immediately knocking them down again with a slow number.

The Bonn performance was recorded by German TV station WDR for a future broadcast of "Rockpalast" (air date not yet known). So there is a chance for you to experience this wonderful show even if you haven't been to Bonn last night.

Following is the complete setlist of the Bonn show on June 20, 2003: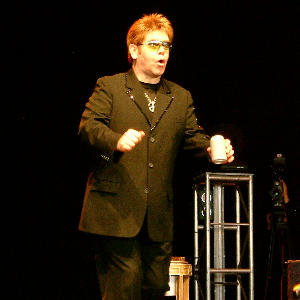 Your Song

Border Song

The Greatest Discovery

Someone Saved My Life Tonight

Ballad Of The Boy In The Red Shoes

Daniel

Mona Lisas And Mad Hatters

Honky Cat

Rocket Man

I'm Still Standing

Ticking

Tiny Dancer

I Want Love

Nikita

Philadelphia Freedom

Candle In The Wind

Moon River

Sorry Seems To Be The Hardest Word

I Guess That's Why They Call It The Blues

Original Sin

This Train Don't Stop There Anymore

Carla/Etude

Tonight

Take Me To The Pilot

The One

Blue Eyes

Bennie And The Jets

Crocodile Rock


Don't Let The Sun Go Down On Me


Circle Of Life

Sotheby's to sell the contents of Sir Elton John's house in London in September 2003
Friday, June 20 2003
Elton John is world-famous as a rock-star, an entertainer and a philanthropist. He is also well-known as a passionate collector and in 1988 Sotheby's held a three-day sale of nearly 2000 lots of memorabilia, jewellery and works of art from his Old Windsor estate.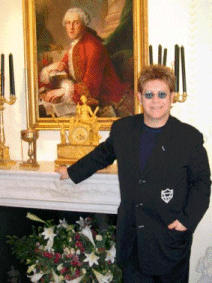 At the time, Sotheby's then Chairman, Lord Gowrie predicted that "Elton the Collector" would start again and happily for collectors everywhere, and for Sotheby's, he was right. On September 30, 2003, Sotheby's New Bond Street will offer the contents of Sir Elton's Holland Park home. The collection is estimated to fetch in excess of £800,000.

Elton bought the house in 1992 and over the last 11 years it has played a vital role in his life. He first used this house when he embarked on his rehabilitation from drugs and alcohol, and for him the house will always be associated with his successful battle to defeat that addiction.

Thereafter the memories are dramatically different with celebrities visiting and staying at the house including Lulu and Kevin Spacey, as well as world figures such as Bill Clinton. It was also from this house that Elton and David Furnish left for Elton's 50th birthday party held at the Hammersmith Palais in such dramatic fancy dress that they had to travel in a furniture van. However, things move on and the time has come to remodel the house hence the decision to have a sale of the contents.

As Elton said: "My love of contemporary art and photography is well-documented. I wanted to have the opportunity to display more contemporary work in one of my UK homes, but as my house in Windsor has a very traditional style, the obvious choice was to remodel my Holland Park home, both in terms of layout and interior design, to give me more scope for exhibiting this collection."

More than 400 lots to be sold on September 30, 2003 include elegant and stylish furniture, paintings and works of art. Every room in the house is filled with objects which will appeal to a wide range of collectors.

THE DRAWING ROOM

The sale features a good selection of Biedermeier furniture from the first quarter of the 19th century, which includes chests of drawers, chairs, console tables and an unusual longcase clock. The furniture is in a variety of light woods, such as birch and satin birch, as in the beautifully architectural satin birch, ebony and ebonised secretaire estimated at £5,000-8,000.

Among a fine group of early 16th and 17th century pictures is a Portrait of a lady with her son, attributed to Edward Bower, which is estimated at £20,000-30,000 and a Portrait of Elizabeth Honeywood from the Circle of William Larkin, which is estimated at £30,000-40,000.

A bronze sculpture of Alexander the Great on horseback, cast by the Neapolitan foundry Sabatino de Angelis, is estimated at £1,500-2,000 and stands alongside sculptures of a number of other great leaders such as a small gilt-bronze bust of Napoleon which is estimated at £800-1,200.

THE LIBRARY

The room known as the Library doubles as a gym and cinema. The furnishings, which will all be included in the auction, feature some fine examples of Venetian glass from the 1930s, such as a large Barovier and Toso gilt speckled vase, circa 1935, which is estimated at £4,000-6,000 and a Venini 'Pezzato' (patchwork) vase, from the 1950s, which is estimated at £2,000-3,000. There are also some more contemporary pieces, as well as furniture and pictures of the 1930s.

THE DINING ROOM

Of particular interest are two bronzes by the Italian sculptor Vincenzo Gemito, one of 'Dionysus' and the other of 'L'Acquaiolo', which are estimated at £6,000-8,000 and £4,000-6,000 respectively. On the wall hangs a Portrait of Lieutenant George Dyer by James Northcote, R.A. (1746-1831) which is estimated at £30,000-40,000.

ELTON'S BEDROOM

In Elton's bedroom hangs an important work by the 19th-century French artist Jacques-Noël-Marie Frémy, which was exhibited at the 1814 Paris Salon, and is estimated at £12,000-18,000. The painting depicts the Duc d'Artois, who was Louis XVIII's brother (later King Charles X), entering Paris (right).

An impressively modelled bust of Napoleon by Italian sculptor Ambrogio Colombo is estimated at £2,000-3,000 and a satin birch wood chest of drawers veneered so skillfully as to give the impression of tortoiseshell is estimated at £1,000-1,500.

THE LINLEY SUITE

The magnificent suite of bedroom furniture commissioned by renowned designer David Linley includes a pair of wardrobes, a double bed and a pair of bedside tables. The furniture is veneered and inlaid in blonde woods. From the same room is a banquette and pair of tub chairs upholstered in a striking faux leopard-skin fabric. Estimates range from £800-8,000.

Click on the image in this news item to send it as Hercules eCard.
Are You Ready For Love ... again
Thursday, June 19 2003
Sir Elton John is to release a remixed version of his 26-year-old song "Are You Ready For Love".
X-Press 2's Ashley Beedle has remixed the track for limited release on 12-inch vinyl, backed by the original version of the track.

It will be released through Fatboy Slim Norman Cook's Southern Fried Records label on July 7, 2003. "Are You Ready For Love" was recorded in 1977 during Elton's sessions with Phlly Sound producer Thom Bell.

Written by Bell, Leroy Bell and Casey James and featuring the late Philippe Wynne of the Detroit Spinners on vocals, the song peaked at No. 42 in the UK when released as an EP with "Mama Can't Buy You Love" in 1979.

The record is now a collectors' item with vinyl copies exchanging hands for up to £150.
Wogan wants Sir Elton to write next Eurovision entry
Thursday, June 19 2003
Eurovision host Terry Wogan wants Sir Elton John to write next year's British entry to avoid another Jemini-style flop.
Wogan thinks the Song For Europe contest should be scrapped because it is full of poor tunes. He believes either Sir Elton or composer Sir Tim Rice should be tasked to come up with a winning song.

"We should get one of them to write four songs then pick the singer," Wogan said. "Then Radio 2 listeners or other people with taste would pick the best song from the four. Nobody would lose face if it didn't win and I think it would be certain to ensure a higher standard of entry."

He blamed Jemini's historic "nul points" result on a combination of a bad song and anti-British voting. But there was some good news for the Liverpudlian duo today as stores reported a sudden boom in sales of their single "Cry Baby".

At the start of the week it was selling only "handfuls" and was languishing way outside the Top 20. But their post-Eurovision publicity drive has resulted in a sales surge and it is now challenging for a top 10 place.

An HMV spokesman said: "Doing loads of publicity on the back of their Eurovision disaster seems to be paying off. Jemini could make the Top 10 this Sunday - even if it is for all the wrong reasons."
This Is My House... in Venice - Part 2: Interieurs
Sunday, June 15 2003
The interior designers of Elton's and David's home in Venice describe their work.
As most of you probably know, Elton and David have recently acquired an apartment in a 15th-century palazzo overlooking the Venice lagoon. They asked the London company Propositionfive to give the apartment a new look.

Andrew Protheroe, co-director of Propositionfive, said:
"We were asked to turn a two-bedroom first-floor apartment into a modern one-bedroom space that would accommodate a big art collection. The brief also stipulated a huge shower room and sufficient storage for Sir Elton's clothes."

So one bedroom and a bathroom were removed. Doors were taken out, and doorways were built up to ceiling height. Silk velvet-covered sofas and chairs bear watery colours like pale green, amethyst, and buttery yellow.

Mr. Protheroe of Propositionfive:
"We wanted to introduce local influences, even in a modern design. Gold mosaics and black marble at St Maria Assunta church in Torcello inspired the black marble bathroom, with a walk-in wet room. The kitchen has black marble worktops and a gold stucco wall. The kitchen is a bit like the Italian flag. There's a red panel on the floor, white wall units and a bright green wall cupboard."

Elton now calls the apartment a "jewel box".




This is my house ... in Venice
Tuesday, June 3 2003 at 22:01:53


Elton Speaks Up For Safe Sex
Sunday, June 15 2003
On June 11, 2003 Elton cut the ribbon at the opening of a patient garden in the Ian Charleson Day Centre for patients with HIV/AIDS at the Royal Free Hospital in London.
He used the occasion to campaign for safe sex because in the UK the number of people affected with sexually transmitted diseases has risen. Elton said:

"We are seeing a terrible increase. All I can say to people, especially to young people, is get tested and have safe sex because with the way the disease is spreading at such an alarming rate, along with other sexual diseases, people are throwing their lives away and that is such a tragic thing. We've come so far with the treatment of AIDS and HIV, and for people to be scared and not get tested, and to have unsafe sex is throwing us all back to square one."

The patient garden was funded by a special screening of the movie "The English Patient". Director Anthony Minghella was present when Elton cut the ribbon (see photo).

Elton's Show in Laredo, Texas, on June 6
Thursday, June 12 2003
Fan Report by Marian J. Friedman
The show was great both technically and more importantly, emotionally. In all honesty, I am not a fan of Candle In The Wind but for me, it was the highlight. The entire arena lit up their lighters and everything was aglow. It has been a long time since I recall seeing that and it was really great. I loved every second of that song and being there. It was a tribute to Elton and how that crowd felt about him and in true "Elton" spirit, Elton gave back even more to the crowd. Some serious compliments were given to the audience on more than one occassion that night, and they ate those compliments up. WOW. Thank you Elton for that!

Okay, what everyone wants to know is: what did he wear? He wore a stunning all black suit with tassles at the shoulders and black on black stripe up the leg, very dapper indeed and very appropriate for a Texan venue. He wore totally funky sunglasses as well - sort of wrap around. For the encore, he wore a black track suit with red stripes on the arm (I think) and a red emblem on the chest but I couldn't see what the emblem was.

The crowd was great. I think a very classy crowd. Laredo is a border town with Mexico. Take this as you will but the women were beautiful and dressed even nicer. There was a very strong family environment which made for a very warm crowd. Relatives and/or friends shared the night together big time. I don't recall ever seeing so many people greet one another at a concert. I also had outstanding people sitting to either side of me.

Harmony was very good but Dixie Lily was really, really good as was All The Girls Love Alice. Sorry was perfect, Rocket Man got me on my feet, Take Me to The Pilot totally jazzed. Everything was good if not outstanding. It was a perfect show by a perfect showman and his band. Only briefly in one song in the beginning did the back up singing sound just a little off, and I also had hoped he would have performed Original Sin. Then again, there are loads of songs I would love to hear.

The most unusual event of the show happened when Elton cut Crocodile Rock dead to throw out the "f***ing asshole security guards" out. He continued yelling at the guy or guys until they were escorted out because they were making life impossible for the crowd to get to the stage and enjoy themselves.

Elton, you gave us a great show. You lifted everyone's spirits and i think even empowered everyone. People seemed to walk out of there feeling stronger and better about themselves and I am sure about life in general and isn't that what entertainment is for? Thank you for another great show and another great night out!

Following is the complete set list of the Laredo show on June 6, 2003:
Funeral for a Friend

Love Lies Bleeding

Bennie and the Jets

Daniel

Someone Saved My Life Tonight

Ballad of the Boy in the Red Shoes

Philadelphia Freedom

The Wasteland

Rocket Man

I Guess That's Why They Call It the Blues

I Want Love

This Train Don't Stop There Anymore

Take Me to the Pilot

Sorry Seems to Be the Hardest Word

Candle in the Wind

Dixie Lily

Harmony

All the Girls Love Alice

The Bitch Is Back

Tiny Dancer

Levon

Have Mercy on the Criminal

Saturday Night's Alright for Fighting

Crocodile Rock


Pinball Wizard

Don't Let the Sun Go Down on Me


Your Song
4th Annual Spring Gala
Wednesday, June 11 2003
Elton performed with Lionel Richie in the Grand Ballroom at New York's Waldorf-Astoria on April 14, 2003 at a gala benefitting the Breast Cancer Research Foundation.
The total amount of donations was now published: The evening raised $3 million! At least 85% of this sum will go directly to breast cancer research grants and awareness programs.

Elizabeth Hurley was Mistress of Ceremonies, and other guests included Dr. Larry Norton, MD, Head of Solid Tumor Oncology at Memorial Sloan-Kettering Cancer Center in NYC, who is also good friends with Elton.

The photos below show:
- Elton & Lionel Richie
- Myra J. Biblowit, President of The Breast Cancer Research Foundation; Elton; Evelyn H. Lauder; Elizabeth Hurley; and Lionel Richie
- Dr. Larry Norton & Elton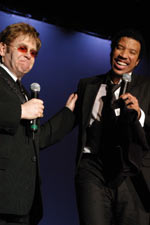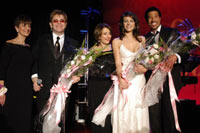 "Moon River" at Private Show in Foxborough
Wednesday, June 11 2003
Elton played before a crowd of 700 well-selected guests at the 40th wedding anniversary of Bob and Myra Kraft.
The New England society couple are said to have paid Elton a whopping sum for the sort of private performance, even though both sides claim that they are also friends.

Elton played a 1 hour 40 minutes greatest hits set. But the very last song was special - one that every fan would have loved to hear. For the first time ever, he sang "Moon River" from the movie Breakfast at Tiffany's because this had been the wedding song of the Krafts 40 years ago.

HBO AIDS Series Premieres on June 15
Wednesday, June 11 2003
The new five-part documentary Series "Pandemic: Facing AIDS" will premiere on Sunday, June 15 2003, 7 p.m. ET/PT (US) on HBO with a report about Thailand and Uganda.
As reported earlier, Elton narrates all five parts of the series. So far, no date for broadcast outside the US has been set.




AIDS series to premiere on HBO
Thursday, May 15 2003 at 14:13:43


This Is My Curator
Wednesday, June 11 2003
Elton John used to have a collection of almost everything you can imagine - from clothing to cars, and homes, art, jewelry, and certainly his trademark collection of more than 4,000 pairs of glasses. He recently hired a full-time curator to care for his collection of photographs.
Elton had to clear out both his crowded closet and his garage. In 2002, Elton auctioned off more than 20,000 stage outfits and accessories.

And just before that, he got rid of 20 of his luxury cars, adding which £2 million to his balance. Elton commented: "I'd rather they went to people who can get pleasure out of them every day."

Webmaster on vacation
Tuesday, June 10 2003
Please note that the eltonfan.net webmaster and Hercules Coordinator, Stephan Heimbecher, will be on vacation until June 24, 2003.
We will make sure that the latest Elton John news will reach you despite his absence. Stephan will be reading his e-mails while he is away, but he won't be doing this as frequent as usual. Thanks for your understanding and patience.
Elton played a private in Foxboro
Monday, June 9 2003
More than 600 friends, colleagues and employees of New England Patriots/Gillette Stadium owner Robert Kraft and his wife, Myra, were treated to a concert by Elton John at the stadium on June 8, 2003.
Kraft hired the legendary British pop star to play at the private party, which began at 6 p.m. and was held under a tent on the field at Gillette Stadium, in honor of his and his wife's fortieth wedding anniversary.

Just how much Kraft paid Elton is uncertain, but he usually charges tens of thousands of dollars to perform at private parties.

The dinner party began at 6 p.m. A cocktail reception was followed by a sit-down dinner, where menu choices included salmon, beef or a vegetable plate. Elton, wearing a royal blue suit with designs on the jacket sleeves and sporting sunglasses, appeared at about 9:30, playing 15 or 16 songs during a 90-minute set, according to a party-goer.

Dedicating the evening to the Krafts, Elton opened with "Your Song" and played a host of other hits, including "Bennie and the Jets" and "Rocket Man."

Faces in the crowd included Gov. Mitt Romney, former Boston Pops conductor Keith Lockhart, a handful of National Football League team owners, and many members of The New England Patriots, including quarterback Tom Brady.

Kraft, who was spotted on the dance floor a number of times, gave a speech in which he mentioned that ushers from his wedding were in attendance. His son, Jonathan, spoke on behalf of Krafts' four sons. He lauded and thanked his parents.

Kraft spokesman Stacey James said he did not want to comment on specific information about the party, but called the affair "really fantastic" and "a very special occasion." He said he does not know how much Kraft paid Elton John to perform, but noted that they had worked together in the past. He said that 10 years ago, Kraft and his son, Jonathan, arranged for Elton to perform a concert in Israel.
Elton John and band performed in Laredo on June 6, 2003
Saturday, June 7 2003
Following is the complete set list of the Laredo show on June 6, 2003.
Funeral for a Friend

Love Lies Bleeding

Bennie and the Jets

Daniel

Someone Saved My Life Tonight

Ballad of the Boy in the Red Shoes

Philadelphia Freedom

The Wasteland

Rocket Man

I Guess That's Why They Call It the Blues

I Want Love

This Train Don't Stop There Anymore

Take Me to the Pilot

Sorry Seems to Be the Hardest Word

Candle in the Wind

Dixie Lily

Harmony

All the Girls Love Alice

The Bitch Is Back

Tiny Dancer

Levon

Have Mercy on the Criminal

Saturday Night's Alright for Fighting

Crocodile Rock


Pinball Wizard

Don't Let the Sun Go Down on Me


Your Song
Guide Dogs launches celebrity sunglasses auction
Saturday, June 7 2003
Minnie Driver's Chloe sunglasses, Anastacia's Dolce & Gabbana shades and Sir Elton John's exclusive l.a Eyeworks sunnies are all up for grabs on a charity web auction.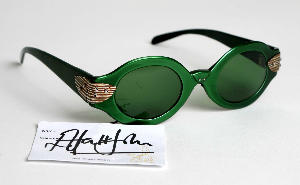 Fans will be able to bid for their favourite celebrity's sunglasses as part of The Guide Dogs for the Blind Association's Celebrity Shades Auction. The auction is part of the charity's national fundraising event Shades for a Day, when thousands of people will make a donation to wear their sunglasses on July 15, 2003. The campaign also aims to raise awareness about protecting your eyes from the sun's harmful ultra violet rays.

The online auction will be launched on June 10, 2003, and runs for five weeks until July 15, 2003 on Guide Dogs' website: www.guidedogs.org.uk. Designer sunglasses open to bids will be those donated by Minnie Driver, Holly Valance, Anastacia, Sir Elton John, Greg Rusedski, Nick Faldo, Matthew Pinsent, Blue, Colin McRae, Jodie Kidd and Robson Green.

Guide Dogs' Head of Communications Robin Hutchinson said: "This is a once in a lifetime opportunity to obtain sunglasses previously owned by your favourite celebrity, whilst raising invaluable funds for Guide Dogs."

Shades for a Day is fun but it also aims to raise awareness of the often-neglected, but vital issue of eye health. Surveys have shown that deaths from skin cancer have tripled since the 1960s, but the effect of the sun on eyes is less well-known. Guide Dogs is urging everyone to protect their eyes with safe sunglasses branded with the CE mark – the best indicator of protection from ultra violet rays. Over-exposure to UV rays can lead to a number of eye problems, including an increased risk of cataracts and ocular melanoma (eye cancer).
Crazy Water ...
Friday, June 6 2003
... or The Flowers Will Never Die: Elton John has dug a well at Woodside to boost his blooms.

He spent £200,000 on computerised irrigation to give his garden a regular flow of water. But water board chiefs said they could not supply enough to serve his year-round needs — so the pop legend made his own arrangements.

A source said: "He asked for a well to be dug. He's
tapped direct into the water table." Sir Elton has spent a fortune on flowers over the years.
Elton to perform private show in Austin, TX
Thursday, June 5 2003
Elton John was scheduled to perform at the birthday party of Angela Topfer. However, the Austin civic leader died June 3, 2003. Elton has promised her husband, Dell executive Mort Topfer, to perform despite her death.
Angela Topfer, an Austin civic leader who gave tens of millions of dollars and insisted - often through personal oversight - that the money be spent wisely, died early June 3, 2003 from cancer complications at her Lake Austin home. She would have turned 56 the day after.

The British-born businesswoman and her husband, former Dell Computer Corp. executive Morton Topfer, gave more than $35 million to social and cultural causes, including major gifts to the Seton Healthcare Network, the Dell Jewish Community Campus, the University of Texas, the Long Center for the Performing Arts and Houston's M.D. Anderson Cancer Center.

Topfer also had a good time. Even when terminally ill, she traveled great distances to attend concerts and parties. Mort Topfer paid $1.5 million to hire Elton John, her favorite singer, for her 54th birthday party at the Four Seasons Hotel. The pop master had scheduled a return birthday concert this weekend; Elton has promised to perform despite her death.
Hercules Poll: Best Elton Song - Round #2
Thursday, June 5 2003
Make sure to place your vote in the second round of the special Hercules Poll in search of the best Elton John song of all times.
In round #1 (Part 1-3) you voted on your favorite song from each regular studio album Elton has released in the past 34 years.

We have now extracted the songs with the most votes in round #1, added a few more previously unreleased songs from non-regular albums (such as "Made For Me" from the box set "To Be Continued) and ask you to pick your favorite song from these lists.

You have three votes, one each for songs from the Seventies, the Eighties and the Nineties to today.
This is my house ... in Venice
Wednesday, June 4 2003
Elton John and David Furnish's new apartment in Venice is featured in the June issue of the German edition of "Architectural Digest".
The magazine features eight pages of photos from the inside including a nice shot of Elton and David in their Venice hideaway.
Nickelback and Kid Rock's Elton John Cover on 'Charlie's Angels' Soundtrack
Wednesday, June 4 2003
Nickelback and Kid Rock teamed up for a cover of Elton John's classic song "Saturday Night's Alright (For Fighting)," which will appear on the soundtrack to the movie Charlie's Angels: Full Throttle, due in stores June 24, 2003.
Chad Kroeger of Nickleback, who had a demo of the song his band had already recorded, said the idea for the collaboration with Kid Rock came during a barbecue at the "American Badass'" house in Detroit.

"You know, we were doing one of those big outdoor sheds and he called down and said, 'Hey if the guys want to come up for a little afternoon barbecue, I'll send a car,'" Kroeger said.

"So we hopped in a limo, went over to his place, and the other guys were golfing so it was actually me, myself and chief, our tour manager with Bobby. And [we] just started having a little barbecue and he took us into the studio and played us a bunch of stuff that he was working on. And I had this CD with me, and I said, 'Hey, check this out. Tell me what you think.'"

Kroeger added that he knew the deal was sealed when Rock started singing along to the Elton John classic. "As soon as it comes on, he starts singing along and he's like, 'Oh we used to cover this all the time.' And I said, 'Really?! Well we should do this then. Why don't you sing the second verse?,' and he's like, 'OK'."

The soundtrack to the movie "Charlie's Angels: Full Throttle" includes tunes by Pink, Bon Jovi, Donna Summer, MC Hammer, and Loverboy among others. The movie opens in theaters on June 27, 2003.
Pop stars join fight to slash VAT
Wednesday, June 4 2003
In recent days, Tom Jones, Sir Elton John and Julio Iglesias have joined some 1,150 artists putting their names to a petition appealing to ministers to cut the taxes, which range from 15 percent to 25 percent on CDs.
The music industry is to launch a new bid to persuade the European Union to slash VAT (value-added tax) on recorded music, as it uses the glitz of star players to make a political point.

Other high-profile names include Coldcut, Chris de Burgh, Zucchero, Axelle Red, Lords of Acid, Nana Mouskouri, Andrea Bocelli, Laura Pausini, Johnny Hallyday and Barbara Hendricks, as well as European music sector lobbies the International Federation of the Phonographic Industry and independent label group Impala. The campaign emphasises the musical and geographical range of the signatories, from international to local artists and from classical and pop to techno and rap.

The music industry has resigned itself to an unsympathetic approach from the European Commission, which is due in late June or early July to recommend changes to the EU's VAT directive listing the economic sectors that can be granted exemptions. But the focus is now on the EU governments that will have to vote on the issue in September and decide whether to change the rules nonetheless.

"The commission has always made it clear that it is reluctant to change the proposal," said IFPI director Frances Moore. "Our best hope lies with the council, where we expect a fierce battle. We remain hopeful, but we know we're up against it."

Although any change to the directive has to be agreed unanimously by the EU's finance ministers, it would then be up to individual governments to actually decide whether to lower their national VAT rates. Most of the EU governments have backed the idea that changes could be authorised -- without indicating whether they would lower their own rates -- but the United Kingdom and Germany have yet to announce their position on the issue. Italy, which will hold the six-month EU presidency beginning July 1, has already said it will push the dossier.

The petition says the high VAT rates on music have encouraged music buyers -- who are often young fans -- to seek cheap pirated copies of CDs or to download them illegally from the Internet.
Art Meets Technology
Tuesday, June 3 2003
Philips Presentation of "Art Meets Technology" featuring David LaChapelle successfully raises funds for the Elton John AIDS Foundation.
Philips Electronics teamed up with award-winning photographer David LaChapelle to showcase his vivid and avant-garde photographs and videos during "Art Meets Technology" week.

The event, which took place in New York City on May 29-30, raised more than $100,000 for the Elton John AIDS Foundation and featured LaChapelle's latest unique and provocative photographs and videos on Philips FlatTVs(TM) and Cineos(TM) television products.

A private opening-night party on May 29, 2003 was attended by LaChapelle and invited members of New York's media, art world, celebrities and influential members of the gay community and featured a silent auction of LaChapelle images and Philips products to benefit the Elton John AIDS Foundation. Following the opening night party, the exhibit was open to the public on May 30, 2003.

"By combining David's work with the innovative Philips televisions, we were successfully able to raise a substantial amount of money for the Elton John AIDS Foundation through our silent auction at the opening night party," said Des Power, general manager televisions, Philip Consumer Electronics, North America. "David's photographs reflect the art of innovation and to show these remarkable images through Philips astounding picture quality, and raise money for such a worthy cause is a perfect match."

The show took place at Tribute, the award-winning, visual director David Niles' brand new 44,000 square foot event space located in Lower Manhattan at 24 Broadway. The televisions on which the images were shown are the most prestigious of Philips line of plasma, LCD and Cineos televisions, which feature Philips' breakthrough single panel Liquid Crystal On Silicon (LCOS) technology.

"On behalf of the Elton John AIDS Foundation, we greatly appreciate Philips' generosity and are happy to be partnering with both Philips and David LaChapelle," said Elton John. "I am a great admirer of David's work and of the man himself, I completely adore him."
Elton goes Hip Hop
Sunday, June 1 2003
Rock legend Elton John looks like he's been taking fashion tips from pal David Beckham.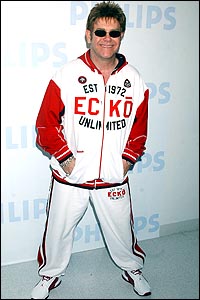 He wore a baggy Ecko tracksuit and trainers — just like Beckham's latest style — as he arrived at a bash for his Aids Foundation in New York on May 29, 2003.

Elton is a close pal of David Beckham and his wife Victoria — who are in New York trying to make it big in the States. The trio even met for lunch on May 29, 2003.

To rap up his hip hop image, Elton sported a flashy gold bracelet. But he certainly didn't look Posh.

Click on the image in this news item to send it as Hercules eCard.