ELTON JOHN NEWS ARCHIVE: May 2016
Elton John and band performed in Saint Petersburg on May 28, 2016
Sunday, May 29 2016
Following is the complete set list of the Saint Petersburg show on May 28, 2016.
Funeral for a Friend

Love Lies Bleeding

Bennie and the Jets

Candle in the Wind

All the Girls Love Alice

Levon

Tiny Dancer

Looking Up

A Good Heart

Philadelphia Freedom

Goodbye Yellow Brick Road

Rocket Man

I Guess That's Why They Call It the Blues

Daniel

Have Mercy on the Criminal

Sorry Seems to Be the Hardest Word

Your Song

Burn Down the Mission

Sad Songs

Blue Wonderful

Don't Let the Sun Go Down on Me

The Bitch Is Back

I'm Still Standing

Your Sister Can't Twist (But She Can Rock 'n Roll)

Saturday Night's Alright for Fighting


Crocodile Rock

Nikita
Elton John and band performed in Tel Aviv on May 26, 2016
Sunday, May 29 2016
Following is the complete set list of the Tel Aviv show on May 26, 2016.
Funeral for a Friend

Love Lies Bleeding

Bennie and the Jets

Candle in the Wind

All the Girls Love Alice

Levon

Tiny Dancer

Looking Up

A Good Heart

Philadelphia Freedom

Goodbye Yellow Brick Road

Rocket Man

I Guess That's Why They Call It the Blues

Daniel

Have Mercy on the Criminal

Sorry Seems to Be the Hardest Word

Your Song

Burn Down the Mission

Sad Songs

Blue Wonderful

Don't Let the Sun Go Down on Me

The Bitch Is Back

I'm Still Standing

Your Sister Can't Twist (But She Can Rock 'n Roll)

Saturday Night's Alright for Fighting


Crocodile Rock

Circle of Life (Solo)
Elton John Red Nose Day Video
Friday, May 27 2016
Elton John gave a powerful performance of "A Good Heart" on Thursday's 2016 "Red Nose Day Special." Check out the video.
Elton and Putin will not meet in Russia
Friday, May 27 2016
Elton John will not meet Vladimir Putin when he visits Russia in May 2016.
In November 2015, Elton said he had talked to the Russian President on the phone and was arranging to meet him to discuss his concerns over gay rights in the country. But a Kremlin spokesman has now said that will not happen as there was "no appropriate time in the two men's schedules". However Dmitry Peskov said that they could still meet at a later date.

"We were in correspondence with him a couple of weeks ago, because there had been an agreement that, if their schedules allow, this meeting would take place. President Putin expressed readiness for this meeting. But this time, the meeting won't take place, unfortunately," he told reporters. "Their schedules do not match up. But this does not mean that such a meeting won't take place next time."

Elton will be performing at the Ice Palace in St Petersburg on May 28, 2016, and on May 30, 2016 in Moscow at Crocus City Hall, as part of his world tour.

In September 2015, Elton fell victim to prank callers pretending to be the Russian leader. Vladimir Krasnov and Alexei Stolyarov phoned the singer, after Elton told BBC News he wanted to meet Mr Putin to discuss gay rights in Russia - describing the president's attitude to gay people as "isolating and prejudiced". The hoax phone call was aired on Russian TV.

However the singer later received a genuine call from the president. He told the BBC's Today programme: "He was very affable, he was very apologetic, he was very sincere. As soon as I can get a date in my diary that coincides with him, then I will be going... to Moscow and I will meet him."


Elton confirmed for Red Nose Day
Thursday, May 26 2016
Elton John, Will Ferrell and Vince Vaughn are the latest stars to join an already impressive cast of celebrities for NBC's Red Nose Day.
Billed as a "FUN-raiser," the two-hour primetime special returns to TV on May 26, 2016 and features the biggest stars across comedy, music, TV and film. Elton, Will and Vince join other previously confirmed stars such as Ellen DeGeneres, Jack Black, Paul Rudd, Julianne Moore, Liam Neeson, Sarah Silverman, Tracy Morgan, Key & Peele, Anna Kendrick, Seth Rogen, Zac Efron and Ellie Kemper.

Additional stars, including Kristen Bell, Emma Watson, Chris "Ludacris" Bridges, Rose Byrne, Blake Griffin, Emma Thompson, Chloë Grace Moretz, along with returning host Craig Ferguson, will participate in the event in order to raise money for programs working to keep children and young people safe, healthy and educated.

Besides making telecast donations, the public will also be able to contribute to this star-studded cause by buying red noses, hats and other merchandise at Walgreens stores nationwide. Money raised by the Red Nose Day Fund will go to support projects that aid needy communities in the U.S. and other countries.

Red Nose Day only just launched in the U.S. in 2015, but has already raised more than $23 million according to NBC, and last year's broadcast was the first U.S. version of Britain's three-decade-old Red Nose Day event that's raised more than $1 billion.

According to a press statement released to Access Hollywood, "Elton's involvement with Red Nose Day goes back many years in the UK, where he has performed songs as well participated in comedy sketches. In the UK, Elton's AIDS Foundation has also partnered with Red Nose Day to raise awareness and provide over £5 million to support thousands of children living in extreme poverty in Africa who have lost their parents to AIDS," the statement continued. "They have also ensured that more than 200,000 pregnant moms living with HIV get the medicine they need to make sure they have HIV-free babies."

NBC said its Red Nose Day special will include music, comedy and short films about the campaign's aims. Red Nose Day is scheduled to air May 26, 2016 at 9 PM EST on NBC.
Elton on Rock History Music
Tuesday, May 24 2016
Elton John talks about dying rock stars, kids, husband and Rod Stewart.
Happy birthday, Bernie!
Sunday, May 22 2016
Elton's lyricist Bernie Taupin turns 66 today, May 22, 2016.
On behalf of the Hercules team and the Elton John fans all over the world, we would like to wish him a happy birthday!
Elton calls David "Yoko"
Saturday, May 21 2016
Elton John says husband David Furnish is so unpopular he calls him "Yoko".
The couple married in 2014, exactly nine years after they tied the knot in a civil partnership ceremony. The singer said he planned to discuss gay rights with Russian president Vladimir Putin over a cup of tea, he told The Sun.

David recently took over the management of Sir Elton's business affairs and the pair have "changed some assistants". Alluding to the fraught relationship between John Lennon's wife Yoko Ono and his fellow Beatles bandmates, he said of David: "I call him Yoko now because a lot of people don't like what he's doing."

But Elton insisted that Furnish's decision-making was not unpopular with everyone and that record company Universal had never been happier. He said he planned to take up the offer to meet the real Putin after he was fooled by prank callers into thinking he was talking to the Russian president.

In the interview, Elton paid tribute to the couple's two sons and said they were behind his happiness. He also said that he loved England's sense of humour, preferring his home country to America. "I love it over there but there's not enough irony there and it's not England. This country is absolutely lethal!," he said.

"Hence I don't go on Twitter. Things you say in jest, when you look at them in print, oh my God."
Elton performed on the Graham Norton Show
Saturday, May 21 2016
Elton said on The Graham Norton Show that it won't be the last time his fans will be able to see him live.
"Not necessarily," he said. "I like playing and I'm a working musician, and I love to do it. If you're feeling fresh and energetic, do it while you can."

Elton added that he wants to retire at some point, though, to spend time with his sons. "I'm not going to do it forever, because I want to see my boys grow up," he commented. He recently teased that he'll be involved in the Kingsman sequel, which will star Taron Egarton and Mark Strong.


Elton confirms "Kingsman: The Golden Circle" casting
Thursday, May 19 2016
In April 2016 came the revelation that Elton was in talks for a role in the upcoming "Kingsman: The Golden Circle", and the man himself has taken to Instagram to confirm the casting with a new poster for the film.
Parodying the previous poster for the film, which itself teased the return of Colin Firth's Harry Hart, the image reads "Wednesday night's alright for fighting" but also featuring a pair of his trademark sunglasses. "It's been a long time since Tommy….." Elton wrote in his post, citing the last time he acted in a feature film. Check it out in the gallery below!

Taron Egerton returns as Eggsy with Mark Strong reprising the role of Merlin for the upcoming film. Halle Berry is appearing as the head of the CIA, Pedro Pascal as a character conveniently named "Jack Daniels," with Channing Tatum, and Julianne Moore in talks to play the film's central villain. Edward Holcroft is also set to appear in the film, though whether he will reprise as his character from the first is unclear.

Matthew Vaughn returns to write and direct Kingsman: The Golden Circle, which sees Eggsy heading to the United States where he'll meet his match in a "swaggering, sharpshooting cowboy."

20th Century Fox has set a June 16, 2017 release date for the sequel. The first film, Kingsman: The Secret Service, earned $414.4 million at the worldwide box office in 2015.
Elton op-ed on discriminatory North Carolina law
Thursday, May 19 2016
The Elton John AIDS Foundation (EJAF) is very pleased to share an article by Elton published in The Hill about North Carolina's discriminatory HB2 law that, among other things, requires transgender public school students to use restrooms for the gender assigned on their birth certificate.
This stigma and discrimination aimed at transgender people are among the primary drivers of the AIDS epidemic. For instance, transgender women have tremendous difficulties finding employment and may resort to sex work in order to survive. Without health insurance, many cannot afford the medical care they need. Is it any wonder, then, that transgender women are 49 times more likely to be living with HIV than the general population? North Carolina's discriminatory bill only exacerbates these problems and creates no solutions for making all our lives better.

"The failure of Gov. McCrory and other lawmakers to see this is a failure of compassion, a failure to recognize the difficult and frequently unwelcoming world transgender people must navigate every day – stigmatized by the fear and ignorance of others," said Elton. "Fighting that stigma with love and empathy is at core of what we do at the Elton John AIDS Foundation."

We urge you to read this timely op-ed.
Anastacia's lasting love for Elton
Tuesday, May 17 2016
Anastacia is totally in love with Elton. The two powerhouse singers formed a friendship more than 15 years ago, after they performed together at Madison Square Garden in New York.
Elton was so taken with the "Paid My Dues" star, he even kissed her stomach in appreciation of her flawless vocals on his hit "Saturday Night's Alright (For Fighting)". "I'm in love with him for the rest of my life," she gushed to Britain's Hello! magazine. "I don't get to see him as often as I'd like. We have to figure out where he is and where I am at any given time, but I don't try to overload him because I know he's a very busy man."

She's hoping to catch up with her buddy when she lands in the U.K. on June 16, 2016 to play at the Hampton Court Palace Festival. Over the course of their friendship, Elton and his husband David Furnish have welcomed two children via a surrogate. The pair are proud parents to sons Zachary, five, and three-year-old Elijah, and Anastacia says her friend is an amazing dad. "He's a terrific father and I've seen such a joy in him with the kids," she smiled. "It's the same for everyone I know with children. They have this glow. I love how it enriches their lives."

The 47-year-old has never had kids herself, but doesn't regret her decision not to start a family. "I wonder what being a mom would have been like, but if it was meant to be, then it would have happened," she pondered. As well as successful pop career, Anastacia has had to deal with health scares in the past, including two bouts of breast cancer. She also suffers with chronic inflammatory condition Crohn's disease, but reveals she's happy with her life.
Elton and David bring their sons to cheer on Watford FC
Monday, May 16 2016
He's one of the most famous entertainers in the world, but that didn't stop Elton sacrifice going to the football - indeed he took his whole family along.
Elton, who prides himself on providing a regular upbringing for his children, looked like any ordinary family as they cheered on his beloved Watford FC - albeit from a box. He was joined by David and their sons Zachary, five, and Elijah, three, as Watford drew 2-2 with Sunderland at Vicarage Road on May 15, 2016.

Elton and David looked in deep discussion as they sat together in the stalls for the football clash. Elton was sharply dressed in a black suit and black tie as he held onto his trademark tinted spectacles. Meanwhile, David looked dapper in a blue shirt and matching pocket square in his navy suit. He finished off the look with a navy suit, and showed off his neatly cropped hair. The whole family showed their support for Watford FC by wearing the trademark yellow and red team scarves.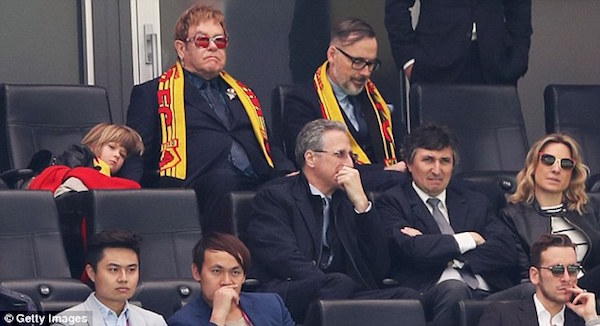 Their eldest son Zachary looked adorable with his brown hair cropped in a longer style with a neat fringe to frame his face and a dark suit. Meanwhile little Elijah with his head of blonde curls looked cuter than ever in a light blue shirt under his coat.

Despite being a mega-rich popstar, Elton has prided himself of raising his sons with David to know the value of money. In an interview with The Guardian in February 2016, Elton said: 'They get £3 pocket money, but £1 is for charity, £1 is for saving and £1 is for spending, they get three coins and put them in separate jars. And they have to work for it – help in the kitchen, help in the garden. They've got to learn the value of doing something and earning something for themselves.'

He also added how they live a very local life in Windsor and said: 'Saturdays when I'm home, we go to Pizza Hut with them, we go to Waterstones, we go to the cinema. I've never been a recluse, I've never hidden away. I'm on the school run.'
Elton attends George Martin's memorial service
Thursday, May 12 2016
Paul McCartney and Elton John gathered at a memorial service in London to celebrate the life and work of producer George Martin on May 11, 2016.
The legendary music producer, who was often dubbed the Fifth Beatle due to his work with the Fab Four, passed away on March 8, 2016, aged 90, and he was laid to rest in a private family funeral in Wiltshire, England not long after. George's celebrity friends got the opportunity to pay their respects and say farewell at a memorial service at St. Martin-in-the-Fields church in Trafalgar Square, London on May 11, 2016.

More than 600 mourners attended the service to celebrate George, including Paul, his fashion designer daughter Stella, Elton and singer James Bay. John Lennon's widow Yoko Ono was reportedly in the congregation too.

Paul delivered a eulogy praising George's impact on the Beatles music while James and British actor/comedians Alexander Armstrong and Bernard Cribbins performed at the memorial, according to Britain's The Sun newspaper. Stella posted a selfie on Instagram in which her veiled face is half-covered by the order of service booklet. She writes, "A heart warming service to celebrate a truly great man and his beautiful family."

Composer Howard Goodall wrote on Twitter, "Beautiful, loving tributes at George Martin celebration, particularly from his son Giles & 'other son' Macca. Privilege to be there." Following George's death, McCartney wrote a lengthy tribute on his personal website, which read, "I'm so sad to hear the news of the passing of dear George Martin. I have so many wonderful memories of this great man that will be with me forever. He was a true gentleman and like a second father to me."

George is survived by his wife Judy Lockhart Smith and their children Lucy and Giles, plus children Alexis and Gregory from his first marriage to Sheena Chisholm.


Sir George Martin dies aged 90
Wednesday, March 9 2016 at 12:57:36


Nashville promo ft. Elton John
Thursday, May 12 2016
Nashville 4x20 "It's Sure Gonna Hurt" with guest star Elton John.


After nearly two decades, Rayna and Deacon face the facts of their storied and often tempestuous relationship. Scarlett makes a startling self-discovery in between tour dates while Gunnar performs with one of his idols, rock-music legend Sir Elton John, who guest stars as himself. Luke stops by "The View" to trumpet a worthy cause—before a family emergency pulls his focus. Elsewhere, Juliette struggles to make a connection, and Layla launches her album at The Bluebird. Whoopi Goldberg, Joy Behar, Raven Symoné and Paula Faris guest star as themselves on "Nashville," Wednesday, May 18th on ABC.


Elton guest stars on "Nashville"
Thursday, May 5 2016 at 07:16:01

Elton to appear on 'Nashville'
Tuesday, April 5 2016 at 06:01:19


Elton supports Jeans for Refugees
Wednesday, May 11 2016
'Jeans for Refugees' is a Johny Dar project and artistic fundraising initiative dedicated to helping refugees around the world, with all proceeds going to the International Rescue Committee.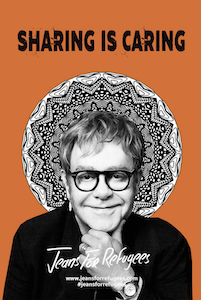 One hundred celebrities are participating in the project by donating a pair of their jeans to be painted by Johny Dar. Each pair of jeans will be made into an individual art piece consisting of the painted jeans showcased in a glass box, and the 100 art pieces will be exhibited in London. At the end of the exhibition each piece will be auctioned at a special fundraiser auction, and all proceeds raised donated to the IRC initiatives helping millions of refugees worldwide on a daily basis.

Participants from the film, art, fashion and music industries are contributing their jeans to the project, including Albert Hammond Junior, Alicia Vikander, Anna Wintour, Audrey Tatou, Bella Hadid, Benicio del Toro, Bryan Adams, Camille, Candice Swanepoel, Carl Cox, Carla Bruni, Cat Stevens, Catherine Deneuve, Chanel Iman, Charlotte Church, Christina Ricci, Christine Taylor, Claudia Schiffer, David Copperfield, Daniel Bruehl, Daniel Radcliffe, Dannii Minogue, Elle McPherson, Elton John, Emma Watson, Eva Herzigova, Fearne Cotton, Florence Welch, Harry Styles, Iris Berben, Isabelle Adjani, James Norton, Jamie Theakston, Jane Birkin, Jim Broadbent, Julio Iglesias, Karlie Kloss, Kate Moss, Lars von Trier, Lily Allen, Linda Evangelista, Macy Gray, Marianne Faithful, Melanie C, Minnie Driver, Nicholas Hoult, Nina Hagen, Ozzy Osbourne, Peaches, Pedro Almodovar, P!nk, Roger Waters, Ryan Gosling, Sadie Frost, Selah Sue, Sharon Osbourne, Sharon Stone, Sofia Coppola, Tinie Tempah, Tom Waits, Toni Garrn, Tuppence Middleton, Twiggy, Usher, Victoria Beckham Vivienne Westwood, Woody Allen and many more.
Elton on BBC Two for Later Live
Tuesday, May 10 2016
Elton John and Corinne Bailey Rae join Jools Holland on May 10, 2016 on BBC Two for the latest edition of Later Live.
Corinne is on the show to market her third studio album, titled "The Heart Speaks in Whispers", while Elton entertains the audience and viewers with renditions of songs from album "Wonderful Crazy Night".

Also on the show performing is London's Block Party, who are in town to play music from their fifth album Hymns, while Kronos Quartet show their faces on Later Live to take a break from their British tour. Host Jools takes the opportunity to introduce Spring King from Manchester, as well as singer Basia Bulat.

Later Live with Jools Holland is on BBC Two on May 10, 2016, and the programme begins at 10pm.
Happy 28th anniversary to us!
Sunday, May 8 2016
The international Elton John Fan Club Hercules, also known as eltonfan.net, has been serving the Elton John community since 1988, i.e. far more than a quarter of a century.
Founded as Rocket Fan back on May 8, 1988 with a focus on German-speaking fans, the club has soon turned into a worldwide organization with Elton admirers from all over the planet. In 2016 we are celebrating our 28th anniversary.
For more than a decade Hercules has been offering all of its services on eltonfan.net free of charge. The site is maintained on a voluntary basis, however, there are costs involved in hosting the site on a high-speed and reliable server. If you like the services provided on eltonfan.net and if you feel like supporting this website, we would be grateful if you would make a small donation.

With this we would like to thank Elton for his persistence and everlasting presence, the management and record company for their support, and last but not least the fans for their loyalty and contributions to the site.
Billboard ranks the highest-paid musicians of the past 12 months
Sunday, May 8 2016
Elton comes in on #15, climbing from #35 in 2015.
Elton's residency at Caesars Palace in Las Vegas doubled his 2014 touring revenue. Streaming of his recordings rose $83,100 from the prior year, while sales fell $225,100 during the same period.

Elton John 2015 total revenue: $12.4M incl.
$614.2K from sales
$250.6K from streaming
$189.3K from publishing
$11.4M from touring

Complete TOP 20

Taylor Swift (2015 total revenue: $73.5M)

Kenny Chesney ($39.8M)

The Rolling Stones ($39.6M)

Billy Joel ($31.7M)

One Direction ($24.2M)

Greatful Dead ($23.8M)

Luke Bryan ($23.1M)

U2 ($21.8M)

Adele ($20.5M)

Marron 5 ($19.2M)

Jason Aldean ($18.9M)

Shania Twain ($14.4M)

Dave Mathews Band ($14.1M)

Madonna ($12.7M)

Elton John ($12.4M)


Rush ($12M)

Ed Sheeran ($11.6M)

Juan Gabriel ($11.6M)

Florida Georgia Line ($11.5M)

Fleetwood Mac ($11.3M)
METHODOLOGY: Money Makers was compiled with Nielsen Music and Billboard Boxscore, using 2015 U.S. data only. All revenue figures cited are Billboard estimates and may not equal the sum of the subcategories due to rounding. Revenue from merchandising, synchronization and sponsorship is not included. The following royalty rates, minus a 4 percent producer's fee, were used: album and track sales, 22 percent of retail revenue; streaming revenue, 22 percent for current artists and 50 percent for heritage artists. Publishing royalties were estimated using statutory mechanical rates for album and track sales; the Copyright Royalty Board streaming formula; and an average of $2.50 per play for hit radio and 60 cents per play for heritage spins. For labels' direct deals with interactive services, blended audio and video rates of, respectively, $0.0063 and $0.0015. (A 10 percent manager's fee was deducted from each category.) Touring revenue, after the manager's cut, equals 34 percent of an act's Boxscore. The top 10 lists for sales royalties were calculated based on physical and digital albums and track sales, the streaming royalty list, track on-demand audio and video streams, and estimated royalties from webcasting, SiriusXM and Music Choice.

Bright Light Bright Light and Elton are headed for The Graham Norton Show
Friday, May 6 2016

The exceedingly talented Bright Light Bright Light aka Rod Thomas will be making his debut appearence on The Graham Norton show next week, performing alongside long-time friend, mentor and all around musical legend Elton John.

The pair are bringing their musical skills together for the first time on national TV, and are set to perform Bright Light Bright Light's brand new single "All in the Name" – from his highly anticptated third album, out this summer.

Describing "All in the Name" Rod said: "It's a take on how people go absolutely out of their way to be absolutely adored by everyone. The lyrics are piqued, delivered from somebody who is also a bit guilty of that!"

You can catch Rod and Elton with Graham on BBC One on May 20, 2016.

Elton tops list of RIAA April 2016 Gold/Platinum certifications
Friday, May 6 2016

The Recording Industry Association of America certified a total of 20 Album and 48 Digital Single Awards during the month of April 2016.

Elton's "Greatest Hits" led the way, certified at 17 times Platinum for the album, which was originally released November 1974. That was one of four Elton John albums certified multi-Platinum during the month:

"THE GREATEST HITS 1970-2002"
(released NOVEMBER 12, 2002)

6x Multi-Platinum | April 28, 2016
5x Multi-Platinum | February 14, 2011
4x Multi-Platinum | February 14, 2011
3x Multi-Platinum | August 2, 2004
2x Multi-Platinum | March 5, 2003
Platinum | December 13, 2002
Gold | December 13, 2002

"TO BE CONTINUED"
(released OCTOBER 31, 2000)

2x Multi-Platinum | April 28, 2016
Platinum | November 28, 2006
Gold | June 23, 1992

"GREATEST HITS"
(released NOVEMBER 4, 1974)

17x Multi-Platinum | April 28, 2016
16x Multi-Platinum | May 5, 2003
15x Multi-Platinum | August 21, 1998
13x Multi-Platinum | October 11, 1995
12x Multi-Platinum | September 11, 1995
11x Multi-Platinum | February 7, 1995
10x Multi-Platinum | March 23, 1993
Platinum | March 23, 1993
Gold | November 8, 1974

"ROCKET MAN - NUMBER ONES"
(released MARCH 27, 2007)

2x Multi-Platinum | April 28, 2016
Platinum | November 5, 2014
Gold | October 15, 2008

Happy birthday, Davey & Kim!
Friday, May 6 2016

Two members of Elton's band will be celebrating their birthday on May 6, 2016.

Guitarist Davey Johnstone turns 65 while keyboard player Kim Bullard will celebrate his 61st birtday.

Just like last year the two birthday boys may actually have the chance to celebrate with their families as Elton won't be back on tour before May 26, 2016.

On behalf of the visitors of eltonfan.net and all Elton fans around the world, we would like to wish them a happy Birthday.

Elton guest stars on "Nashville"
Thursday, May 5 2016

Elton is one of many big-name guest stars on the May 18, 2016 episode of Nashville on ABC.

The episode is called "It's Sure Gonna Hurt" and here's how they describe it:

After nearly two decades, Rayna and Deacon face the facts of their storied and often tempestuous relationship. Scarlett makes a startling self-discovery in between tour dates while Gunnar performs with one of his idols, rock-music legend Sir Elton John, who guest stars as himself. Luke stops by "The View" to trumpet a worthy cause—before a family emergency pulls his focus. Elsewhere, Juliette struggles to make a connection, and Layla launches her album at The Bluebird. Whoopi Goldberg, Joy Behar, Raven Symoné and Paula Faris guest star as themselves on "Nashville," WEDNESDAY, MAY 18 (10:00-11:00 p.m. EDT), on the ABC Television Network.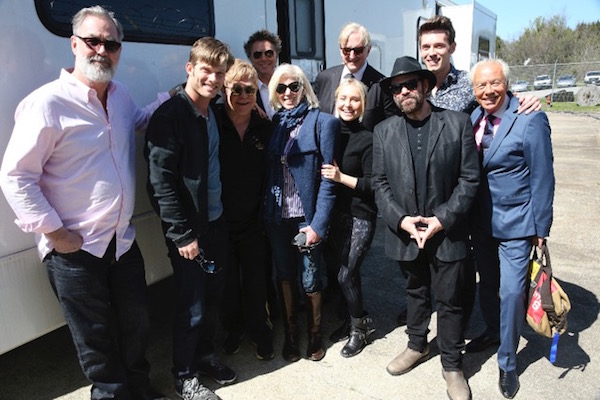 Elton to appear on 'Nashville'
Tuesday, April 5 2016 at 06:01:19


Elton reflects on first solo show in Edinburgh
Wednesday, May 4 2016
He's known the world over as the Rocket Man, but in June 2016 Elton returns to where it all began – Edinburgh.
The Festival Theatre in Nicolson Street was still called the Empire when Elton first played the Capital in his own right in 1972. Forty-four years later, he will make a welcome return to play an open-air concert at Meadowbank Stadium – his first live performance in the city for ten years.

Speaking exclusively to the Evening News, Elton reflected: "The concert on June 25 will be my 15th in the remarkable city of Edinburgh, which also happens to be where my long-time guitarist and music director Davey Johnstone is from."

One of seven concerts in his Wonderful Crazy Night Tour, promoting his new album of the same name, the Meadowbank gig will find the pop icon back in the city where he did his first ever "truly solo show" at the Playhouse in 1976. "I can remember some wonderful nights in the Edinburgh Playhouse, starting with my first in September 1976, which scared me to death as it was my first solo full concert ever. But the audience was so warm and welcoming, as Edinburgh has always been for me, that I came off stage feeling exhilarated. It was a great theatre to perform in."

However, some years before that, Capital music lovers had already taken the young Elton to their hearts. He said: "I have always looked forward to concerts in Edinburgh. I have performed in theatres, football stadiums and even a castle since my first show at the Empire Theatre in 1972. And even before that, here's a little-known fact – in 1967, I filled in for Simon Dupree And The Big Sound's ailing keyboard player for a spell and we played some shows in Edinburgh."

The Meadowbank concert, which will be fully seated, holds another special significance for Elton. As the 69-year-old singer, who has given more than 4000 performances in a career spanning in excess of 50 years, revealed when the tour was announced: "The simple truth is I want to spend more time with my family, and I am only too aware of just how precious the time ahead is. My sons are growing up so quickly; their early years are just flying by and I want to be there with them. So this concert will give me the chance to thank the Scottish audiences who have been so faithful to me over these many decades. We cannot get to everyone, but I am going to try."

Looking ahead to June 2016, Elton added: "I am excited to be doing my first concert at Meadowbank Stadium and will be happy to be in Scotland once again."
Metallica's Kirk Hammett joins Elton on stage
Tuesday, May 3 2016
Kirk Hammett joined Elton on stage on April 30, 2016, at The Colosseum at Caesars Palace in Las Vegas, Nevada to perform "Saturday Night's Alright For Fighting".
Hammett later wrote on his Instagram account: "It was an honor and extreme privilege to share the stage with such a legend. Thanks, Elton John!"

He added: "Davey Johnstone is a great guitarist and it was an honor to play with him. I had first seen him play during Alice Cooper's Madhouse Rock Tour [in] 1979 and he kicked major ass!!!"

Hammett told Canadian journalist Mitch Lafon that Elton John was one of several rock artists who had a huge influence on him when he first discovered music. He said: "When I was a young kid… I had decided to make a point of going out to the record store and buying albums from artists that I heard on the radio. It was Elton John, it was David Bowie, it was KISS, it was THIN LIZZY and it was LED ZEPPELIN."
R.I.P. Harrison Calloway
Monday, May 2 2016
Harrison Calloway, trumpet player of the Muscle Shoals Horns, died April 30, 2016 in Jackson, Mississippi, at the age of 75 following a stroke.
Harrison was a co-founder of the Muscle Shoals Horns. He was still was active as an arranger and producer at Malaco Records in Jackson, Mississippi. He suffered a stroke April 22, 2016, and never regained consciousness, said Wolf Stevenson, vice president and co-owner of Malaco Records.

The Muscle Shoals Horns recorded three albums and had a big hit with "Born to Get Down." They also toured with Elton John and many other artists. They were with Elton when John Lennon made his last live performance at Madison Square Garden at November 28, 1974.
Campaigners urge Elton to boycott music festival in Portugal
Sunday, May 1 2016
Campaigners have sent an open letter to Elton asking him to boycott a Portuguese music festival due to concerns it will be an environmental disaster for a nearby nature reserve.
Marés Vivas festival, which takes place every July in Gaia, Porto, has been moved for the first time to an area of land just 100 m from the nature reserve of the Douro River Estuary. The 150-acre reserve, which is protected under Portuguese law, is home to more than 220 species of birds, including eagles, kingfishers and cormorants, and is one of Europe's most popular sites for birdwatching.

Local campaigners have written to Elton, who will headline Marés Vivas alongside other British singers James Bay and Tom Odell, asking him to take a stand against the "environmental damage". "More than your business and your art, please consider the environmental importance of the area. The reserve is very delicate, special and vulnerable... the area is very special to some species of birds for stopover and for nesting," says the letter, which is signed by figures such as biologist Serafim Riem, Lucília Guedes, vice president of the Fund for the Protection of Wild Animals, and João Branco, director of Portuguese environmental group Quercus.

About 30,000 visitors a day are expected at the music festival, which was moved from its previous site after a dispute with the owners. Campaigners are concerned that crowds, noise and lights so close to the estuary will have a lasting impact on the nesting birds and wildlife.The letter says "damaging" preparations for the festival had begun, including bulldozing and cutting down trees. It says the site of the show was home to the protected Iberian emerald lizard and that if the festival goes ahead "the whole area, including the nature park, is going to lose its state as a protected area".

The campaigners, who quote the lyrics to Elton's song "Birds" in the letter, said they were "pleading that you do not take part in this environmental nuisance of a music festival... Elton John, we strongly believe that if anyone is able to change the stubborn minds of the festival managers it is you."

As well as the open letter to the singer, campaigners and Quercus have taken the case to court. Last week, a judge ruled that construction and bulldozing on the land be temporarily halted because it infringed on the ecologically protected area. Another case will be heard next week about the environmental impact of the festival on the thousands of birds.

Another signatory, Bernd Markowsky, who started the SOS Douro Estuary campaign, said the mayor of Vila Nova De Gaia, Eduardo Rodrigues, and the festival organisers "have no concern for the environment; they don't want to know, they don't care". He said: "We have photographs that show how many lizards have been killed in the short time they began bulldozing the land, but they have openly said it didn't matter how many had been killed because there will still be thousands left. This area is protected by the law but that has not stopped them."

However, Rodrigues denied it would have any environmental impact, and said he had commissioned a report which proved this. "I'm very concerned about environmental issues. This report shows that there are no consequences, no impacts … there are no differences between the last location and this location," he said. "It shows also that we had paid attention to the law and to environmental impact. The question, for me, is another one: what's the difference from the last nine years of the location near the reserve? My answer: politics, and the use of public panic to take political advantages … You must know that migratory birds pass for the reserve in September, not in July."

Rodrigues condemned the letter to Elton and said he did not believe it would change anything. "This is not a boycott, but terrorist behaviour that I believe will not have consequences on Elton John, who knows very well the distinction between a fair argument and a boycott," he said.

But Branco said the mayor's report was flawed and that the festival was in "clear violation of the law that protects the birds", claiming: "There are so many spaces where this festival could be held, I don't know why they are insisting here. They thought they could get away with this, but we are not giving up without a fight."

Representatives for Elton did not respond to a request for comment.