ELTON JOHN NEWS ARCHIVE: May 2015
Man sentenced in theft of Elton's glasses
Wednesday, May 27 2015
The man who stole Elton's glasses from the Memphis Rock 'n' Soul Museum in April 2015 was given a two-year, suspended sentence with probation.
In court on May 26, 2015, Matthew Colvin, 26, of Cordova, pleaded guilty to stealing the glasses. The glasses were recovered by the Memphis Police Department within a week of their disappearance from the museum. Colvin was charged with the crime on May 4, 2015 and could have received up to four years in prison.

The glasses are on loan to the museum from Hard Rock Cafe International. The glasses are heart-shaped blue prescription glasses from Anglo-American-Apparel glasses of England. Also stolen (and also recovered) was a red glasses sleeve from L.A. Eyeworks.


Cops find Elton's stolen heart-shaped glasses
Wednesday, April 29 2015 at 06:41:50

Elton glasses missing from museum
Wednesday, April 22 2015 at 11:59:14


Elton: "Ed Sheeran will have a career as long as mine"
Friday, May 22 2015
Elton John praised Ed Sheeran during the Ivor Novello Awards ceremony in London on May 21, 2015, declaring that the singer-songwriter will have a lengthy career.
Sheeran was at the show to collect the prestigious Songwriter of the Year award, after the success of his chart-topping album and its two number one singles "Sing" and "Thinking Out Loud".

"I have a vested interest in him becasue my company manages him," Elton told the crowd when introducing Sheeran. "He's a delight to work with becasue he has so much enthusiasm for what he does. He loves to embrace other artists, and is always collaborating with other people. Whenever I speak to people when they start out, I say to them, 'Please enjoy it. It's a really special time. For five or six years you will be doing no wrong, and then someone else will come along and you'll find your feet'.

"But this boy next to me will have a career - if he wants to - as long as mine. I am quite confident about that. I hope he doesn't get into half the trouble I got into, and he'd have to marry a man and a woman! But he is an exceptionally wonderful person and an immense talent. We should all be proud of him."

Meanwhile, Ed Sheeran has revealed he regularly receives hilarious emails from Sir Elton John - and he once got caught in an embarrassing situation at US customs when a few contained dodgy videos. "The worst email he ever sent me was, I got to customs in New York once and I had 17 new emails from him and I was like, something must be important. And they were all video attachments, and I downloaded the first one, and yeah - it was good. And I was at customs and it's pretty hard to get in to America anyway without those sort of videos. It happens quite a lot."

But The A Team singer said he had had an even more bizarre encounter at the ceremony in London on May 21, 2015. He said: "To tell you a weirder thing, I went to ACM college for about a month when I was 18 and some dude from ACM just came up to me and told me I'd overpaid my student fee and he gave me 200 quid. So that was a nice surprise and now I've got 200 quid," he laughed, brandishing a wad of cash.

Clean Bandit, Hozier, Black Sabbath and Annie Lennox were among the other big winners at the 60th Ivor Novello Awards, which took place at London's Grosvenor House.
Happy Birthday, Bernie!
Friday, May 22 2015
Elton's lyricist Bernie Taupin turns 65 today, May 22, 2015.
On behalf of the Hercules team and the Elton John fans all over the world, we would like to wish him a happy birthday!
Elton John biopic to be turned into stage show
Wednesday, May 20 2015
Elton John's biopic 'Rocketman' is already being turned into a stage show, despite the film, starring Tom Hardy, not even having been released yet.
The film - which will tell the story of the 68-year-old superstar's life and will include classic songs like 'Your Song' and 'I'm Still Standing' - will be moving to Broadway and then the West End with the help of the creative team behind the music adaptation of 'Billy Elliot', including its writer Lee Hall.

Producer Sally Greene, who runs London's Old Vic, told The Sun: "It is in the works right now. It will be called 'Rocketman' but we will do the film first. It will open in Broadway before London. It will be Elton's back catalogue... he will never end his career."

While Tom is starring as Elton - whose real name is Reginald Kenneth Dwight - in the film of the singer's life, it's unlikely he will be in the stage version, have previously revealed he struggled with the role, due to his lack of singing abilities. The 'Mad Max: Fury Road' star said: "I'm not a singer. I have no idea really. I'm really trying but it's hard to open my mouth in that way. I'm not really drawn towards singing and musicals and that stuff."


Corn flakes and classics ...
Tuesday, May 19 2015
... on the 40th anniversary of "Captain Fantastic and the Brown Dirt Cowboy" - by Chris Vobe.
"Captain Fantastic, raised and regimented, hardly a hero
Just someone his mother might know
Very clearly a case for corn flakes and classics
"Two teas both with sugar please"
In the back of an alley."

Elton John's "Captain Fantastic and the Brown Dirt Cowboy" was released 40 years ago this week.

For those who don't know the album (and if you don't, where have you been all this time?!), here's a quick summary: it's an unrivalled, seminal masterpiece. Yet for one so successful at the time of its release, it still surprises me how often it gets overlooked in favour of Elton and Bernie's Citizen Kane, "Goodbye Yellow Brick Road".

You see, "Captain Fantastic" was ground-breaking. It was written - just over 40 years ago - on a boat, on the last voyage of the SS France as she sailed from Southampton to New York. The lyrics to its ten tracks were penned chronologically, in the order they appeared on the album, and subsequently recorded at the Caribou Ranch in Colorado the summer before release.

It is an autobiographical album, charting the early years of Elton and Bernie (the titular "Captain Fantastic" and "Brown Dirt Cowboy" respectively) as they learned to cope with failure and, later, success. It's a bittersweet forget-me-not to the 1960s (when the Denmark Street of "Bitter Fingers" was still standing) and an honest reflection of two people who fought to break into the business, and then navigate the forest of fame. As Elton himself acknowledged, he and Bernie lived this story.

"Wise men say
It looks like rain today…"

To hear any one of the ten tracks now, it is staggering to think that Elton was only 27 when he wrote the album. "Someone Saved My Life Tonight" is a sweeping, elegant masterpiece; the only single released, and the only track from the album which has since become a staple of "Greatest Hits" and "Very Best Of" collections, deservedly earning itself the accolade (from Elton himself) that it is "one of the best songs [Bernie and I] have ever written together." But spare a moment for the epic duology that is "We All Fall in Love Sometimes" and "Curtains" – the interlinked closing tracks – the former of which has been labelled "one of the greatest love songs ever written", but which both undeniably demonstrate a musical and lyrical maturity unmatched by Elton and Bernie's peers.

"I used to know
This old scarecrow
He was my song
My joy and sorrow…"

"Captain Fantastic" is also (take a deep breath now, here comes heresy!) better than "Goodbye Yellow Brick Road". There is not a weak link in its chain or a sub-par entry to be found, from the opening country-infused bars to the closing notes. The first side of the album is, I'd argue, probably the strongest A-Side of any album that Elton John has ever released. And it has some formidable competition.

Here, unlike "Yellow Brick Road", was an album which wasn't trying – in any way – to be a commercial success. It didn't need to. Not surprising, then, that it made history. "Captain Fantastic and the Brown Dirt Cowboy" was the first album ever to enter the U.S. Billboard charts at Number 1, staying in the top spot for seven weeks. It has been certified 3x platinum, and even found its way onto Rolling Stone magazine's list of The 500 Greatest Albums of All Time.

On a personal level, it was the first Elton John album that I owned on vinyl when I first started collecting. I have a copy of the poster mounted and framed. I raced to buy the Deluxe Edition re-release in 2005 (complete with a whole second disc of live performances!). I cheered when Elton last played the title track in concert, and grumbled that I hadn't been there to hear it. I even have the limited edition brown-pressed vinyl they released, still in its shrink wrapping.

But no, alas, I don't have the pinball machine.

One of my most abiding memories is of my teenage self, slipping the (original) vinyl from that elaborate gatefold sleeve and resting it on my (still functioning to this day!) turntable. Boasting its gloriously assembled book of lyrics, the "Scraps" collection which gives tantalising insights into the diaries and personal mementos of its authors, its poster, and astonishing Alan Aldridge-designed wraparound artwork, I can only imagine the sense of wonderment that 1970s record shoppers must have had when they first lifted it off the shelves. Whilst Elton was already acknowledged for the lavish packaging of his albums, here was something so completely different, the mind boggled.

So perhaps it was the album's tumultuous debut performance that has led to it being amongst the less featured during Elton's 4,000 plus concert performances. In the summer of '75, as Elton headlined the Midsummer Music festival at Wembley, he made the daring and unprecedented decision to showcase the album as part of his set – in its entirety. The crowds left (unfairly) in droves. It's a memory which, I think, still resides in Elton when he mentions this particular work today. The 1975 tour was soon overtaken by the release of "Rock of the Westies" and, following the "Wembley walkout" by a crowd who had expected a much more hit-infused set, "Captain Fantastic" never quite got the concert showcasing it richly deserved. Which is why, on its 30th anniversary, Elton's decision to play eight of the ten tracks during a series of special shows at Madison Square Gardens (to a wildly appreciative audience, it should be noted) was a gamble that more than paid off. Elton and the band could do a lot worse than repeat the act when he sets off on his Summer Tour this year.

The title track has seen the occasional light of day on stage over the years and, of course, "Someone Saved My Life Tonight" still stands its ground in Elton's concert repertoire. Even "Better off Dead" has made a late resurgence through the Vegas-rendered "Million Dollar Piano" show, a staple of Elton and Ray Cooper's on-stage collaborations.

But despite its more limited familiarity amongst UK listeners, 40 years since it hit record stores (selling over a million copies on the day of release!), "Captain Fantastic" remains the very best in Elton's catalogue. It's a superlative, original and captivating piece of work, which ironically stands the test it set for itself. The eighth track, a sometimes tongue-in-cheek self-analysis of how well songs meet the test of time asks: "Will the things we wrote today / Sound as good tomorrow?" In this case, if you need to ask, you haven't listened hard enough.

And yes… I'd still love to own the pinball machine.
Elton meets old school friends
Monday, May 18 2015
Elton has invited his old classmates from Pinner County Grammar school for lunch at his home.
On Instagram he posted the following picture: "Lunch at home with dear old school friends. Many of whom I haven't seen for 50 years! It was as if we never left school. So much laughter and so many wonderful memories. #ShareTheLove #PinnerCountyGrammarSchool #Classof58".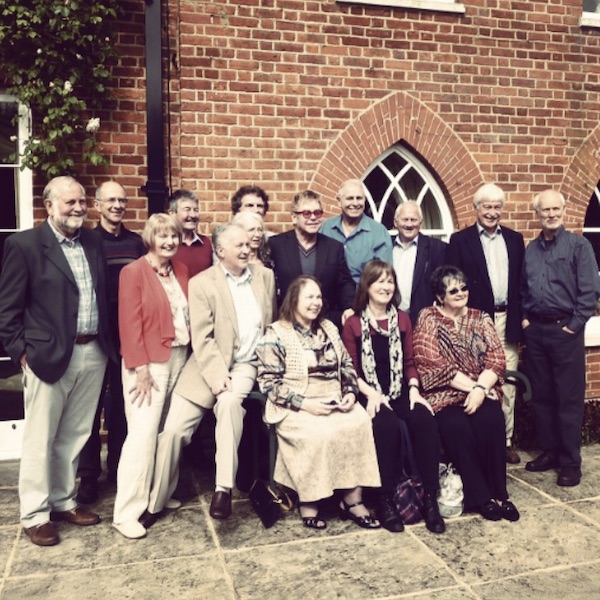 Elton John performed a private show in London on May 16, 2015
Monday, May 18 2015
Following is the complete set list of the corporate show for Laing O'Rourke's May Ball at the Hilton park Lane hotel in London on May 16, 2015.
The Bitch Is Back

Bennie And The Jets

Candle In The Wind

Levon

Tiny Dancer

Goodbye Yellow Brick Road

Rocket Man

Your Song

I'm Still Standing

Saturday Night's Alright (For Fighting)

Don't Let The Sun Go Down On Me
Elton wants Prime Minister David Cameron to be considerate to the working classes
Wednesday, May 13 2015

Elton John has called on Prime Minister David Cameron to be considerate to the working classes when thinking about his new policies over the next five years.

Speaking at the 10th anniversary celebrations of Billy Elliot the Musical on May 12, 2015, the 68-year-old said the new Conservative Government should learn from the struggles faced by the miners in the 1980s. "The new government needs to be compassionate towards people who don't have much in the world," said Elton, who composed the show's songs, who was accompanied by his husband David Furnish, the musical's producer. "The haves and have nots should not be important. The new government should not go off on a tangent."

He added those running the country could learn from the "emotional" and "heartwarming" musical set in Thatcherite Britain during the miners' strike of 1984 to 1985. "It was relevant before and it is just as relevant now as when it was written," he said. "There are still struggles going on. "It is a story about a community in crisis and inequality, and grace as one of the things we all have to embrace."

Elton added the musical highlighted how far gay rights have come during his lifetime, an issue explored by Billy's friend Michael in the musical. "There was not a lot of tolerance of homosexuality before," he said.

"I am a married man and I am very proud of my country. But there is still a lot of love and tolerance to be spread about and this is what the show does and we need that message, especially in the world we live in today."

Furnish added: "I think the musical's message about people fulfilling their dreams and overcoming obstacles is sometimes what people find difficult to face. But breaking out of conventions is something some people have to face every day so the musical has an unbelievable message. I love the number 'Solidarity' as it gives a message for everyone."

Solidarity is a song sung by the miners and the working class characters in the musical and features the lyrics 'Solidarity solidarity, Solidarity forever. All for one and one for all, Solidarity forever."

Jenni Falconer, Laura Bailey, Tom Hooper, Brian Friedman, Sam Bailey, and Richard Buckley were among the celebrities who attended the special performance. The star-studded red carpet event at the Victoria Palace Theatre in Westminster was also attended by the 40 young men who have played Billy during the musical's 10 years in the West End as well as several cast members past and present.

Elton: Homophobia could have stopped my father seeing my shows
Wednesday, May 13 2015

Elton John has suggested that his father's homophobia stopped him from coming to see any of his shows.

Elton told how, unlike the father in his hit musical Billy Elliot, his father, Stanley Dwight, never came to terms with his choice of career and didn't see a single one of his son's performances before he died.

Writing in The Times on the 10th anniversary of the musical adaptation, Elton said the relationship between Billy and his father in the original film spurred him on to write a musical version because, he said, Billy Elliot "gets what I never got - and so many gay men of my generation were denied."

He said: "The moment when Billy's dad sees him perform, and sees the beating heart of his son for the first time, and understands what his son will achieve, never came for me. My father was sealed off from my talent and I never knew why. Was it homophobia? Was it fear? That was a painful loss for me. But it was also a painful loss, I think, for my dad. That's what prejudice does to people. It cuts them off from sources of joy — from friendship and kindness and love. It even cuts off fathers from their sons. It makes the whole world a little colder."

Elton, who wrote the music for the stage adaptation in 2005, spoke of his joy at being able to marry his husband David Furnish and raise a family with him, saying the days of homophobia in Britain were ending. He said: "I never thought I'd be married to a man — I never imagined such a thing was possible. I never imagined I'd be raising kids with my husband. I never imagined the people of Britain would accept us. All these things came to pass, and I am so grateful, and so proud of my country. The days of homophobia in Britain are ending, because so many people fought against it and so many decent people opened their hearts for us."

Elton, who has sons Zachary, four, and Elijah, two, with husband David, said he was grateful that his children were growing up in a very different world to the one he grew up in. He said: "When my boys grow up, among their friends, the idea you shouldn't dance, or cry, or hug, because it's "poofy", will seem like something from the distant past — because what's wrong with being gay? All over Britain and all over the world, dads learnt their sons were gay and they chose not to hate them, but to love them, and the world got better. They should be proud of themselves."

Eric Fellner - Billy Elliot musical 'could be made into a film'
Saturday, May 9 2015

The 'Billy Elliot' musical could be made into a film, the producer of the long-running hit has confirmed.

A big-screen version of the 'Billy Elliot' musical could be made. Eric Fellner - the producer of the long-running hit - has held discussions with a number of the musical's key people, including composer Elton John, about transforming the stage production into a fully-fledged film. He told the Daily Mail newspaper: "We just need to act on it."

However, Eric explained that scheduling issues mean a potential movie remains some years away, if the idea does come to fruition, and he also expressed surprise that the stage show is set to celebrate its tenth anniversary. He said: "None of us had any inclination that a show like this could ever run as long in the UK, and I think it has tapped into a social undercurrent of British life."

What's more, Eric said that the show has been a worldwide success because the central character - a coal miner's son who takes up ballet - is simply "a kid who wants to follow his dream". The stage production was spawned by the 2000 British dance drama film starring Jamie Bell as 11-year-old Billy, while author Melvin Burgess was commissioned to write the novelisation of the film in 2001.

Elton John meets Jerry Lee Lewis
Saturday, May 9 2015

What makes Elton John nervous? Meeting Jerry Lee Lewis, one of his musical heroes, for the first time during the 2015 New Orleans Jazz Fest.

As he hustles around the Fair Grounds on a golf cart, Quint Davis, Jazz Fest's longtime producer/director, hears as much music as anybody. But he's also privy to backstage moments and encounters that the average fan never sees.

On the afternoon of May 2, 2015, the festival's massive second Saturday, Jerry Lee met with an apparently star-struck -- and Adidas track suit-wearing -- Elton John for the first time in a dressing room trailer behind the Acura Stage. "Elton said it was the most nervous he's ever been, more than any gig," Davis recalled.

Earlier, Davis paid a courtesy call on Jerry Lee prior to the rock 'n' roll legend's short set on the Acura Stage. In a backstage trailer, Lewis' wife, clad in black and gold, introduced herself as "Mrs. Killer." Davis had had some concerns about scheduling Lewis just before Elton John on Acura, a high-profile slot with an enormous audience. But those concerns evaporated as soon as he encountered the Killer.

"That was a big risk on my part, to put a 79-year-old walking with a cane on before arguably the biggest act we've ever had," Davis said. "But when Jerry Lee shook my hand, it was not an old man handshake. It was solid and it was strong; there was no mushy in his hands. Right there I thought, 'Oh, yeah. He's got it.' He played a smoking set. I don't how long it was, 35 minutes, but he just pounded it out."

Davis' longtime friend Ken Ehrlich, the producer of the Grammy Awards show, was at the festival to direct AXS TV's coverage. As Lewis pounded away on the nearby Acura Stage, Ehrlich was chatting with Elton in the star's trailer. "Elton said 'shhh,' and put his hand up," Davis recounted. "He listened out of the trailer for two or three songs. I think that's a big reason why we got what we got" from Elton, who delivered a powerhouse show. When he first walked onto the Acura Stage, "he almost did a double-take," Davis said. "When you see that crowd, and all the flags, and the poles, and the vibe.... I'm not saying he needed Jerry Lee to go to the level he went to. But he played the first song like you would play 'Saturday Night's Alright for Fighting' at the end. I remember saying, 'Where's he gonna go from there?'

"He played a thousand percent from the very first song. His piano playing was nuts. When he would get way down deep in it for a little bit, his face would be contorted as he played something hard. Then he'd get it, and he'd smile. He was just wailing."

Sunny skies greeted Elton and Jerry Lee on the second weekend of the New Orleans Jazz and Heritage Festival presented by Shell. Many first weekend acts weren't so fortunate. On the opening Friday, April 24, 2015, lightning forced Davis to pull the plug on the closing acts an hour early. Forecasts called for the rain to clear out early Saturday, but it hung around most of the day. "It was supposed to clear at 11, then noon, then it never did. It rained all day, except when The Who came on."

Some fest-goers were surprised that Davis didn't turn up for either an intro or outro for Elton John. "So was I," Davis said. "I had rehearsed an Elton intro for months, literally." But Elton's show begins with a fanfare of recorded symphonic music. "So it was one of those situations where you don't actually introduce the artist, but you can go out five or 10 minutes before, say something, and, 'In a little bit, Elton John.' I was going back and forth on whether to do that, on whether that was the right thing. At some point I decided, 'I'm not going to that.' In retrospect, I should have. For 40 years, we've gathered in that field to have a special experience powered by music by some of the greatest ever. Because for us in New Orleans, music is not entertainment. It's sustenance. How can you have 40 clubs that have five or six bands a week? Because it's like food to New Orleanians."

Elton "was going to be one of these festival moments where you really take something in that nourishes you, that you can use. But this one was more than that. This was one prophecy. His name was on people's lips for decades: Will Elton ever come to Jazz Fest? It was the coming of a prophecy. And this was that moment. "That's what I would have said. And then I didn't."

At the end of the show, Davis considered delivering a short speech to wrap up Jazz Fest's biggest day in a decade. But when Elton sprinted from the stage following his final song, Davis decided to scrap the speech. "When they take a bow or wave or something, or they're standing there, it makes sense to do it. But when people are running off the stage before you can get out there, it's a little tricky. If you've got an empty stage and (the artist) is already jumping in the Escalade (to leave), it's a little bit different. It was a momentous moment, a prophecy come true for the festival population. I kind of regret that I didn't say anything. But I go back and forth on that. It's Elton John coming to Jazz Fest – does it really need me to go say something?"

Happy 27th anniversary to us!
Friday, May 8 2015

The international Elton John Fan Club Hercules, also known as eltonfan.net, has been serving the Elton John community since 1988, i.e. for more than a quarter of a century.

Founded as Rocket Fan back on May 8, 1988 with a focus on German-speaking fans, the club has soon turned into a worldwide organization with Elton admirers from all over the planet. In 2015 we are celebrating our 27th anniversary.
For more than a decade Hercules has been offering all of its services on eltonfan.net free of charge. The site is maintained on a voluntary basis, however, there are costs involved in hosting the site on a high-speed and reliable server. If you like the services provided on eltonfan.net and if you feel like supporting this website, we would be grateful if you would make a small donation.

With this we would like to thank Elton for his persistence and everlasting presence, the management and record company for their support, and last but not least the fans for their loyalty and contributions to the site.

Why I Met With President Obama and Testified Before the U.S. Congress
Thursday, May 7 2015

Elton John writes on The Huffington Post on May 6, 2015:

Today, I had the great honor of meeting with President Obama along with my husband and the Chairman of the Elton John AIDS Foundation, David Furnish. And I had the honor of testifying before the Senate Appropriations Committee to urge Congress to continue critical funding for PEPFAR, the President's Plan for Emergency AIDS Relief.

PEPFAR continues to be crucial in the fight against HIV/AIDS because it addresses the global need for access to life-saving HIV/AIDS treatment and prevention medications. It's my hope that Congress holds steady in its commitment to PEPFAR, and ending this disease once and for all. Our work is not done.

Below is what I told Congress earlier today.


***


In 2003, at the invitation of Senator Ted Kennedy, I had the honor of speaking before the Senate HELP Committee in my capacity as the founder of the Elton John AIDS Foundation.

I created the Foundation in 1992 to address the dire need to provide basic services and support to those dying from AIDS. Over the past 23 years, we have raised over $321 million to fund organizations that provide direct treatment and prevention efforts in dozens of countries around the globe.

The first time I testified before Congress twelve years ago almost no one had access to antiretroviral medicine in sub-Saharan Africa, where the epidemic was most acute. People were being infected and dying by the millions even though we very literally had the drugs that could save their lives in our hands. At that point, 12 million children in sub-Saharan Africa had been orphaned by AIDS. African leaders had declared AIDS to be a "state of emergency." Worldwide, more than 30 million people were HIV-positive.

The disease left nothing but despair, ruin and fear in its wake. I saw it with my own eyes, as I traveled to the hardest hit regions on behalf of my Foundation and our grantees. Without the funds needed to make lifesaving drugs available in Africa, my Foundation invested in dramatically expanding palliative care and a hospice network. Across South Africa, Uganda and Kenya, we helped give a dignified death to more than 800,000 men, women and children. Then, we provided food, shelter and basic education to over three million orphans left in their wake. It was a compassionate response but it didn't solve the problem.

In those years, the epidemic was only escalating, until -- in a time of great need and urgency -- a Republican president and a bipartisan majority in the United States Congress created PEPFAR -- the President's Emergency Plan for AIDS Relief. Compassionate leaders from both sides of the aisle said to the international community: America can, and America will, lead the world in the global fight against AIDS.

Today, thanks to the unprecedented actions of Congress, an HIV-positive mother in South Africa can give birth to a healthy, HIV-free baby who she can live to raise.

Today, thanks to the generosity of the American people, 9.4 million men, women and children have access to life-saving antiretroviral treatment.

Where there was once despair, ruin and fear -- there is now hope, life, laughter and love.

PEPFAR has done more than just save lives -- it has provided basic infrastructure and trained more than 100,000 health care workers to prevent future outbreaks in countries like Botswana, Tanzania, Kenya, and Uganda.

Congress' strong support for the Global Fund for AIDS, TB & Malaria has enabled it to generate investments from governments and corporations worldwide and leverage $2 for every $1 invested by the U.S., thereby expanding its reach and its impact. I am grateful this has included up to 1 billion pounds from the United Kingdom over the past 3 years.

For my Foundation too, Congress' leadership has been transformational.

What we once invested in hospice to care for the dying, has been repurposed to treat the living. My Foundation has tested over 3 million people for HIV in Africa and linked more than 400,000 patients to lifesaving treatment on the continent since 2012.

Combined with efforts funded by the U.S. -- we've contributed to the 48 percent global reduction in mother-to-child transmission of HIV.

In short, we are no longer bailing out a sinking ship, we are helping steer it into safe harbor.

Mr. Chairman, because of the actions of this Congress, the course of the AIDS epidemic was altered for all of humanity. Because the American people had the optimism, the ingenuity, and the will to make a difference, the lives of millions of people half way around the world have been saved.

But I'm here today with a simple message: The AIDS epidemic is not over. And America's continued leadership is critical.

There is a window of opportunity before us -- a window through which we can very clearly see the end of AIDS -- within my lifetime.

We cannot afford to let that window close. If our efforts flag, drug resistance will surface, transmission rates will rise, and this disease, which knows no boundaries, will once again become a ruthless pandemic with disastrous and far-reaching consequences. I have stood at too many bedsides -- in America, in England and across Africa, helplessly watching people die in pain, to bear the thought that we might go back to those dark days.

On the other hand, if we continue the historic work of PEPFAR and the Global Fund... if we honor the 40 million lives lost over the past three decades... then we can and will see the day when AIDS is no longer a horrifying global killer, but a contained and controlled chronic illness.

Mr. Chairman, this is the most powerful legislative body in the world. And this Congress indeed has the power to end AIDS. You have the power to maintain America's historic commitment to leading the global campaign against this disease.

I am here to ask you to use that power. To seize this window of opportunity. To change the course of history.

And one day soon, I hope to extend my thanks -- to you, to this Congress, to the United States of America--not only for fighting this disease, but for ending it -- once and for all.


Elton: Congress can end AIDS
Thursday, May 7 2015 at 06:25:17

Graham, Leahy host Elton to promote fight against HIV/AIDS
Wednesday, May 6 2015 at 05:59:56

Elton: Congress can end AIDS
Thursday, May 7 2015

Elton is urging Congress to strengthen its fight against HIV to help end AIDS within his lifetime and "change the course of history."

"This Congress indeed has the power to end AIDS," Elton told a Senate appropriations subcommittee on Wednesday. "I am here today to ask you to use that power."



Elton was the star of a panel on May 6, 2015 that focused on the United States's global health programs. He repeatedly praised programs like the President's Emergency Plan for AIDS Relief (PEPFAR), which he said has halted the trajectory of the epidemic. But he said the nation's work against the disease is not over. "There is a window of opportunity before us — a window through which we can very clearly see the end of AIDS — within my lifetime," he said. "We cannot afford to let that window close."

He also warned that if Congress allows its efforts to flag, the disease will "once again become a ruthless pandemic with disastrous and far-reaching consequences." Elton was invited to testify at a hearing held by Sens. Lindsey Graham (R-S.C.) and Patrick Leahy (D-Vt.) — both of whom also held a reception for the singer on Mary 5, 2015.

U2's Bono, who suffered serious injuries in a bike accident last year, had also planned to attend the hearing, Graham said. "I would like to mention that Bono cannot be here today," Graham announced at the hearing. "He's communicated to me many times about wanting to be here."

Elton also stressed that countries like the U.S. should be doing more to protect people with AIDS from stigmatization — particularly if they are gay. "We are seeing, especially in African countries, the LGBT community suffering under draconian laws," he said. "People saying homosexuality is a sin, they're making the disease worse." That problem also carries into the U.S., he said, particularly among young gay men in the rural South. "There's still a lot of fear, even in a country so sophisticated as the U.S. or my country, Britain," he said.

Elton, who is a longtime LGBT advocate, delivered his remarks wearing pink sunglasses before several Republicans who oppose same-sex marriage and have voted against the Employment Non-Discrimination Act in 2013, as Graham did. Elton appeared before the appropriations panel one day after the GOP passed a budget that promises to cut billions of dollars from funding to federal programs. He told Congress that any cuts to the Bush administration's PEPFAR initiative could massively disrupt the global fight against HIV. "We have to maintain the funding. That is the biggest thing," he said. "If they do [make cuts], it's going to be a complete disaster. We're going to go back to square one."



Graham, Leahy host Elton to promote fight against HIV/AIDS
Wednesday, May 6 2015 at 05:59:56



Elton John: Prisoner in New York
Wednesday, May 6 2015

In 1976, music's brightest star came out publicly to a bi-curious journalist and a freelance photographer. He applauded them for having the balls to ask.

Cuepoint, a music magazine published on Medium, has published a story and photo essay about the day Elton John came out in 1976. It's a fascinating story and the photos are really incredible. They show the artist feeling isolated and frustrated, a self-proclaimed prisoner is his New York hotel.

Please check out the full story here.

Graham, Leahy host Elton to promote fight against HIV/AIDS
Wednesday, May 6 2015

Sens. Lindsey Graham and Patrick J. Leahy hosted Elton John at the Capitol on May 5, 2015 as part of a push to ensure funding for the bipartisan effort to combat AIDS.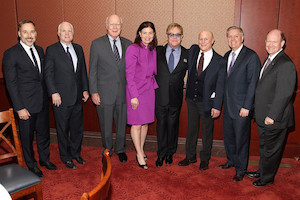 The South Carolina Republican and Vermont Democrat, who serve as chairman and ranking member on the Appropriations subcommittee that handles foreign operations, praised the legendary musician's efforts, along with those of U2's Bono and others involved with the ONE Campaign. "What I get from this room at this very moment is togetherness. It feels very good. So much of the world is torn apart by not speaking to each other, and Sen. Graham says … this is a bipartisan thing. This is something that we have to come together on," Elton said. "There's a lot of love in this room."

He also thanked the support of Graham and Leahy's counterparts in the House, Republican Rep. Kay Granger of Texas and Democratic Rep. Nita M. Lowey of New York. The two veteran appropriators weren't in attendance, but the House is in recess this week. "I'm here to say once again that we cannot have lost 40 million lives to HIV and AIDS in vain," Elton said, praising the development of the President's Emergency Plan for AIDs Relief (known as PEPFAR) by President George W. Bush with bipartisan support and subsequent U.S. investments to combat the disease.

"Our work is not done yet," Elton said. "Although PEPFAR and the Global Fund have made a huge impact, the reality is that most people living with or at risk of contracting HIV do not have access to lifesaving prevention, care and treatment. But all of that can change, and will change, if Congress remains steadfast in its commitment to ending this epidemic."

Graham spoke specifically to the risks to existing funding streams is the automatic sequestration cuts are not eliminated, warning that progress against HIV and AIDS could be undone. "If we don't fix sequestration, we're going to screw up everything we've worked for," Graham said. "The federal government, Republicans and Democrats, have been investing in this program for a very long time. Seventy-five percent reduction in mother-to-child AIDS transmission in the last decade. We really are making progress, and the federal government's share of this effort is very much in jeopardy. The private sector can do only so much. To the taxpayers of South Carolina: this is the best return on investment I've ever seen anywhere in a federal budget. You can see people who are alive today because of the money you've generously given. It has been well-spent. It has been transparent," Graham said. "Let's turn around sequestration and make sure we get inside not only the 10-yard line, but score a touchdown and stop this deadly disease."

Leahy, who spoke just before Graham, emphasized that support for the fight to eradicate AIDS has long crossed partisan lines. "What we've tried to do is establish in a more and more polarized Congress that there's one thing that is truly bipartisan and that's finding funding to combat HIV/AIDS," Leahy said. "So, I don't care what political party you represent, I'm glad you're here. Even though HIV/AIDS was identified more than three decades ago, it's still a serious problem here in the U.S. We have to do better. We have famous people who come to the Congress looking for help and all for the day, they're in the paper, they leave. That's different with Sir Elton John," Leahy said.

Other senators made appearances, including Foreign Relations Chairman Bob Corker of Tennessee, Armed Services Chairman John McCain of Arizona and Democratic Sen. Chris Coons of Delaware. Pastor Rick Warren of the Saddleback Church also attended the Tuesday reception. He and Elton John are scheduled to testify Wednesday at the subcommittee led by Graham and Leahy. "The sooner we can eradicate this disease, the more stability — and better off we'll all be," Graham said. "This is one bastion of bipartisanship in a place where it's harder and harder to find common ground. And I think the fact that Rick Warren and Sir Elton John can find common ground tells me that the Congress is on the right track."

But, Graham also had a message for the head of state in Elton John's home county, Queen Elizabeth II. "I have not been knighted. It was one of the great injustices of our time, in case the queen's listening," Graham said.
Elton at the Andy Roddick Foundation event
Wednesday, May 6 2015
On May 4, 2015, just before 10pm, Elton shuffled onstage solo at a sold-out Moody Theater in Austin, TX for the Andy Roddick Foundation's 15th birthday party.
He sat at the piano with the grace of a prizefighter to begin an hour-long set, his initials bedazzling the back of his royal purple suit. Screens on either side of the stage magnified him as he cavalierly thumped out the opening lick of "Tiny Dancer."

Booming auctioneer antics still ringing in their ears, the upper crust populating tables on the floor in front of the stage froze. "For those of you who don't know how I write songs," he noted that he and lyricist Bernie Taupin are never in the same room together. The wordsmith constructs a vessel and the pianist animates it. "Forty-eight years and we've never had an argument," joked Elton. "That's probably why."

Reading the lyrics to "Your Song" for the first time, Elton said he couldn't believe a twentysomething had written them. Even more curious is how he still caresses the hit after all these years. The subtle hesitation over, "Anyway the thing is, what I really mean," had the balcony twitching.

The exquisite extended intro to "Rocket Man" coaxed notable snorts from a couple of husbands squirming in the audience, but once the astral fuzz attained maximum intensity the only sounds were excited yelps. Tinkering with his own echo, Elton reached heights on the song that made reentering our atmosphere seem like a pipe dream. The set was only half through, but that could've been Elton's walk-off moment.

Pausing, the world famous philanthropist recognized the Austin-based Andy Roddick Foundation, which provides after school programs and summer learning programs. He spoke warmly of the former tennis pro and native local. "I would like to pay tribute to Andy and his foundation," said Elton. "I'm proud of him."

Roddick, in fact, started laying the groundwork for the program when he was 17. On May 4, 2015, he was lobbied by his superstar fundraiser to name any future son Bilbo. No coincidence that Elton named his son Elijah.

"Benny & the Jets" brought out the piano-smashing performer of old, if not the recklessly high notes. Losing himself in the Yamaha, Elton pulled off the piano equivalent of one of Stevie Ray Vaughan's heavy-lidded solos. The crowd could've left through the emergency exits and he would've kept on playing.

A staccato rendition of "Philadelphia Freedom" let everyone catch a breath before he devastated with "Candle in the Wind." Though the ballad remains a natural closer, it served as fitting tribute to the newest addition to the royal family, one named Charlotte Elizabeth Diana.
Happy Birthday, Davey & Kim!
Wednesday, May 6 2015
Two members of Elton's band will be celebrating their birthday on May 6, 2015.
Guitarist Davey Johnstone turns 64 while keyboard player Kim Bullard will celebrate his 60th birtday.

Having just finished a set of shows with Elton in the US, the two birthday boys may actually have a chance to celebrate with their families unless they are in the studios working on Elton's upcoming album. At the end of the month they will be back on stage with Elton in Europe.

On behalf of the visitors of eltonfan.net and all Elton fans around the world, we would like to wish them a happy Birthday.
Elton reveals he's winding down his tours
Saturday, May 2 2015
During a career spanning more than 50 years, Elton John has performed thousands of times across the globe.
But now the singer, who is a father to two sons under five, is planning on winding down his schedule so he can spend more time with his family. He has announced on his official website that his upcoming performance in the city of Sioux Falls, in the US state of South Dakota, will be his final one in the area.

"The simple truth is I want to spend more time with my family and less time touring," Elton said. "I am all too aware of how precious the time ahead is. My sons are growing up so quickly, their early years are just flying by and I want to be there with them. So this final Sioux Falls concert will give me one last chance to say farewell to my fans here who have been so faithful over the decades."

Tellingly, the tour has been dubbed 'The Final Curtain'. He has performed in Sioux Falls once before, having brought the Rocket Man Tour through in October 2007. It will also be the final hurrah in the area for his bandmates, including Nigel Olsson on drums, Davey Johnstone on guitar, Matt Bissonette on bass, John Mahon on percussion and Kim Bullard on keyboards.

David has previously told People magazine that Elton is keen to wind down. he said: "Zachary is going to start school full-time in September. So that's a very, very big year for us and that's a big change in our life because we've been able to travel on the road together as a family while Elton's been touring. Now we're going to be drastically reducing Elton's touring commitments. We're going to be spending more time together as a family off the road because at the moment we spend a lot of time together on the road. It's great because we've been able to take the boys with us every-where. So that's going to be a big milestone, a big change."
Elton John and band performed in Houston on May 1, 2015
Saturday, May 2 2015
Following is the complete set list of the Houston show on May 1, 2015.
Funeral for A Friend

Love Lies Bleeding

Bennie And The Jets

Candle In The Wind

All The Girls Love Alice

Levon

Tiny Dancer

Believe

Daniel

Philadelphia Freedom

Goodbye Yellow Brick Road

Rocket Man

Hey Ahab

I Guess That's Why They Call It the Blues

Your Song

Burn Down The Mission

Holiday Inn

Sad Songs (Say So Much)

Sorry Seems To Be The Hardest Word

Don't Let The Sun Go Down On Me

The Bitch Is Back

I'm Still Standing

Your Sister Can't Twist (But She Can Rock 'n Roll)

Saturday Night's Alright For Fighting

Crocodile Rock
Hot Pink Party 2015
Saturday, May 2 2015
The Waldorf Astoria had an extra-gilded touch on April 30, 2015 at the Breast Cancer Research Foundation Hot Pink Party.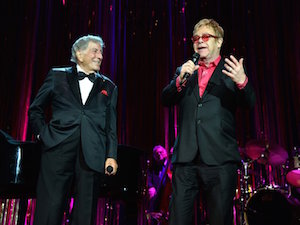 It might have been because Leonard Lauder — his late wife Evelyn founded the organization in 1993 and it has since raised more than half a billion dollars — was being honored and brought with him a gaggle of stars including Elton John, Elizabeth Hurley, and Tony Bennett or it could have been the gold streamers fluttering down from inside the ball room.

After cocktails, designers including Tory Burch, Donna Karan, and Vera Wang sashayed into the dining room with the Lauder clan — including Aerin and Jane and the honoree's adorable grandchildren — to wait for the festivities to commence. "Tonight is a very special night," opened Elizabeth Hurley, who looked every part her regal self in a pink dress punctuated by Chopard jewelry. "We are honoring self-proclaimed number-one lipstick salesman in the world, Leonard Lauder," added Hurley to roaring laughs, but not before pointing out the adorable chocolate lipsticks given to each guest. "It's good for you because chocolate is good for your heart, your brain, and according to Mr. Lauder, also an aphrodisiac," said Hurley with a smirk.

Also thinking pink were Zac Posen, Alexandra Richards, Victor Cruz and Elaina Watley, and Jonathan and Lizzie Tisch who perched on their seats to hear Elton John introduce the man of the moment. "I was lucky enough to be introduced to him with my partner David," said Elton in a natty suit accented by a neon pink shirt, "and he wanted to do so much more in the world of philanthropy and saving lives. As one of the most incredible men I've met — and I've met a lot — he is someone I look up to, someone who inspires me, and I hope I can be 50 percent as kind and as wonderful as he is."

Then the moment came for Lauder himself to accept his praise. Humbled and modest, Lauder kept his remarks brief, instead offering his thanks to the audience. "Am I the unsung hero?" Lauder asked before adding, "No. You all are. This is a testament to your work." Touched by the outpouring of support from his family and friends, Lauder closed saying, "We will never stop, never slow down, never do anything but fight to cure this world of breast cancer."

After a riveting auction where the highest bidder got to stay at the Lauder compound in Palm Beach—and fly in style on a private Gulfstream IV — it was time for Tony Bennett to take to the stage. With the audience swooning, the evening was coming to a close.

Elton, who sang a medley earlier in the night, said, "If he were in England, he would have the sword, he would be Sir Leonard by now." He might not be "Sir Leonard" but last night proved Leonard Lauder is the king of kindness and compassion.