ELTON JOHN NEWS ARCHIVE: May 2014
Elton donates piano to Orpheus Centre for disabled young adults
Monday, May 26 2014
Elton John glasses were out in force during a special presentation event at Godstone's Orpheus Centre.
Magic FM DJs Neil Fox and Verity Geere presented those at the centre with a new piano with a certificate of authenticity signed by Sir Elton John, along with a copy of his Goodbye Yellow Brick Road Gold disc.

Atalanta Beaumont, who volunteers for Orpheus, won the prize through a competition with Magic FM and CinemaLive. She said: "Orpheus is the perfect home for the piano. There are so many talented people here."

After enjoying a tour of the centre, Neil and Verity heard some of the talent at Orpheus for themselves, with student Christopher West giving a beautiful performance on the new piano. Entertainer and musician Richard Stilgoe founded the centre, which offers young disabled adults the opportunity to get involved in music and other performing arts.

He said: "Many Orpheus students have a passion for song writing. They will pen their own tunes at the Yahama piano, just as Elton John did with Goodbye Yellow Brick Road on the very same model."
A call to action on AIDS
Saturday, May 24 2014
By Elton John
"The Normal Heart," written by my friend, the brilliant playwright Larry Kramer, and based on his story during the earliest days of the AIDS epidemic, tells a tale that many of us lived through, and many others did not survive. It's as relevant today as an HBO movie as when it premiered on the stage in New York City in 1985.

Back then, The New York Times refused to print the word "gay," and New York Mayor Ed Koch was agonizingly slow to respond to the unfolding epidemic. Fear was everywhere. Around the country, family members shunned infected relatives, doctors were afraid to touch AIDS patients, let alone treat them, and hospital wards filled up with young men covered in lesions, dying excruciating deaths. I've almost lost track of the number of funerals I went to in those years. My friends were dying all around me -- I'm lucky that I somehow survived.

ACT UP, the coalition that Larry founded to address the crisis, coined the phrase "silence equals death" as its rallying cry, and it was no exaggeration. By the end of 1983, AIDS had claimed 2,100 lives, but the government would hardly acknowledge that anything was awry. I can't help but wonder, if those in power had cared more, if they had done more, perhaps we could have ended this epidemic before it began to circle the globe. But they didn't care, they didn't act, and 36 million people have died of AIDS since.

Worldwide, another than 1.6 million people will die of AIDS this year.

In the United States, there will be roughly 50,000 new infections.

While The Normal Heart is a product of a specific time, it is not an artifact. There is still an AIDS crisis -- not only in sub-Saharan Africa, but right here in the America, in your state, in your community. And, just as in 1985, it is silence, fear and stigma that continue to drive the epidemic.

Today, African-Americans represent 12% of the national population, but they account for 44% of Americans living with HIV, according to the Centers for Disease Control and Prevention. Gay and bisexual men comprise only 2% of the American population, but they represented 30% of the nation's HIV infections in 2010.

Around 4,000 Americans are infected with HIV each year because of injection drug use, and one in seven HIV-positive Americans pass through a correctional facility each year. The crisis is particularly acute in the American South, where homophobia is rampant.

I hope HBO's production of "The Normal Heart" will compel a new generation to act up. There is so much work still to be done, but there's also so much potential. The characters in "The Normal Heart," living as they did in the 1980s, didn't understand what they or their friends were dying of, and they didn't have treatments to manage the disease. They hardly knew how to protect themselves.

Today, we know how to protect everyone, and we have the ability to treat every single person living with HIV. Yet AIDS continues to prey upon the most vulnerable in our society: the poor, the incarcerated, sex workers, drug users, and those living in regions where intolerance and stigma are facts of life. Today, as ever, silence equals death.

As Larry so forcefully taught us nearly 30 years ago -- and as he and Ryan Murphy, the director of the new HBO film, continue to remind us today -- we must speak out against injustice, act with compassion, and fight for equality.

If enough of us raise our voices, we can finally begin to end this epidemic.
The Sunday Times Giving List 2014
Friday, May 23 2014
The Sunday Times Giving List for Britain and Ireland – produced in association with CAF – is a unique barometer of philanthropy among the super-rich.
The super-wealthy in Britain are giving greater sums of money to charity than ever before, with nearly 300 donors among the top 1,000 in The Sunday Times Rich List gifting £2.387bn, up 15% on 2013.

Top of the 2014 Giving List is Lord David Sainsbury and family. The £165.3m gifted by the Sainsbury family trusts in the past year is both the largest proportion of wealth given away (30.6%) and the largest sum – the first time that has happened in the 13 years of publication.

The big winners from this year's Giving List were universities and schools, including £8m to the University of Cambridge from Sir James Dyson to build new engineering facilities for undergraduates and postgraduate research students.

In 9th place, Sir Elton John has directly raised or gifted in total more than £24m charitably last year, including raising more than £14m for his AIDS foundations in Britain and America. In 52nd place is JK Rowling. The Harry Potter author chairs the Lumos Foundation, a children's charity, and the Volant Charitable Trust, which has focussed on medical research. Last year, the charities donated more than £5.6m between them.

In 53rd place are David and Victoria Beckham (pictured, right). The former England captain donated his salary – put at £3.4m – from playing for Paris Saint-Germain last year to charities in France.

1 Lord Sainsbury*
2 Dame Janet de Botton*
3 Terry Bramall*
4 Chris Hohn
5 Mike Uren
6 Sir Martin Laing*
7 Leonard Polonsky
8 Colin Montgomerie
9 Sir Elton John
10 Lord Edmiston
11 Jonathan Ruffer
12 Bono
13 David & Heather Stevens
14 Sir Jonathan Ive
15 Bill and Julie Holroyd
16 Henry Engelhardt*
17 Sir Peter Harrison*
18 Andrew Law
19 Philip Hulme
20 Tony & Maureen Wheeler
21 Lord Rothschild
22 Graham Tuckwell
23 Talal Shakerchi
24 Richard Ross*
25 Sir Ian Wood*

*denotes family wealth
35 Years Ago: Elton mounts historic Russian tour
Thursday, May 22 2014
Elton's recent trip to Moscow got a lot of attention when he criticized the government for supporting "vicious homophobia," but it's not the first time the singer has grabbed headlines in Russia.
In fact, Elton's initial trip there, 35 years ago in May of 1979, was notable for its historical significance: He was the first Western rock star to ever perform in Russia.

Surprising? Perhaps. But Elton insists that he was the first to make the journey behind the Iron Curtain for a simple reason: He asked first. "They want Paul McCartney, Eric Clapton, Neil Diamond, Nana Mouskouri and Pink Floyd [to come to Russia]," Elton told the Associated Press back then. "In fact, they told us the only reason more people have not played there is because they simply haven't asked permission." It wouldn't be long, of course, before others did — everyone from James Taylor and Santana to the Doobie Brothers and Billy Joel journeyed there in the following decade — but only after Elton blazed that trail.

"We decided to try and play places that we had never sorta played before," he told United Press International. "Usually, most rock 'n' roll people go to places where they can make money, but I've had enough of doing that. I want to see different people all over the world."

Elton arrived in Russia on May 20, 1979, with four concerts lined up at the Great October Hall in Leningrad (now St. Petersburg) on May 21-24, followed by four more (May 25-28) set for the exclusive Rossya Hotel in Moscow. They were billed as 'A Single Man' shows, with each night featuring a solo set from Elton on a single grand Steinway piano and an electric CP80 — followed by a second set with Ray Cooper accompanying on percussions.

The trip wasn't without its difficulties. Touching down during an unusually hot summer, Elton complained mightily about the accommodations. In "those days, even the word 'air-conditioner' was hardly known in the U.S.S.R.," explained Denis Azarenkov, a member of the Elton John Fan Club who attended one of the gigs. A ruffled Elton ended up chiding journalists who asked him what he considered inane questions, and he was apparently shocked to learn few people there had actually heard his music. "It's unbelievable! How can it be that my records don't sell here?" Elton asked, seemingly oblivious to the fact that Western pop music at that point was only obtainable for large sums on the black market.

All of that negativity disappeared, however, when he took the stage on May 21, 1979 for a sold-out show at the 4,000-seat capacity Great October Hall — though it took some time to win over the crowd.



Not surprisingly, most of the tickets had been set aside for "Communist party chiefs, members of KGB and Moscow criminal investigation department, artists, diplomats, etc.," Azarenkov said. As such, Elton initially thought his performance wasn't going over well: From his vantage point, the audience sat motionless with fingers in ears before filing out after few songs. It wasn't until some brave fans — some of whom had paid upwards of $150 for tickets, a massive sum — excitedly took over the front sections that he realized the impact his music was having on the crowd.

All eight shows ran over two hours and featured essentially identical 29-song setlists, with tunes from Elton's 1978 studio effort 'A Single Man' and most of his own classics. Covers included like the Who's 'Pinball Wizard,' Marvin Gaye's 'I Heard It Through the Grapevine' and the Beatles' 'Back in the U.S.S.R.,' which closed out each night.

Footage from the trip was later featured in the documentary 'To Russia With Elton,' most of which focused on his final show at Rossya Hall. Directed by Dick Clement and Ian La Frenais (who later wrote the script for 2007′s 'Across the Universe'), the video offers an interesting summary of Elton's entire experience traveling to Russia in 1979, with behind-the-scenes and interview snippets giving us a glimpse into the wide-ranging political and social ramifications of the historic journey. The concert footage also offers a taste of an oft-underappreciated era of his music.

Following the success of these shows, 'A Single Man' would become Elton's first officially released album in the U.S.S.R., with one slight change. The project was retitled 'Elton John Sings' in Russian.
Happy Birthday, Bernie!
Thursday, May 22 2014
Elton's lyricist Bernie Taupin turns 64 today, May 22, 2014.
On behalf of the Hercules team and the Elton John fans all over the world, we would like to wish him a happy birthday!


Bernie Taupin on his paintings and the harmony of music and art
Monday, May 19 2014 at 11:00:20

Bernie Taupin lists his longtime ranch in the Santa Ynez Valley
Friday, May 9 2014 at 21:42:10
Bernie Taupin on his paintings and the harmony of music and art
Monday, May 19 2014
On a winter's night in 1970, police shot down a suspect outside the midtown hotel where songwriting partners Bernie Taupin and Elton John spent their first night on tour in New York.
The harrowing incident, together with the low temperatures and the feeling of being a stranger in a strange place, drove the then-20-year-old Taupin to seek solace in the city's galleries and museums—particularly the Museum of Modern Art, where he discovered unexpected crossovers between the Modernist aesthetic and his own songwriting.

A 15-year-old dropout with no formal musical or artistic training, Taupin remains best known for his over 40-year collaboration with the "Rocket Man" singer that resulted in platinum albums like "Don't Shoot Me I'm Only the Piano Player" and "Goodbye Yellow Brick Road," launching the pair to stardom. But, outside of the incredibly productive partnership, Taupin also nurtured an acute visual sensibility and infatuation with the revolutionary developments of Modernism. Barnett Newman, Mark Rothko, Clyfford Still rose to be his idols, and after settling down from a musician's itinerant life on the road in the 1990s, he traded the pen for the paintbrush.

Today Taupin lives in the country north of Santa Barbara, California where he's transformed an old racquetball court into a painting studio. It's a fitting space for the artist who is "big on throwing things around," as he says. Riffing of the 20th-century artistic traditions, Taupin delivers his own distinct inflection with thick dramatic layers of paint, in which he finds a visceral satisfaction and obsessive pull he never experienced in writing lyrics.

During Frieze week, Artspace spoke to Taupin about the overlap in the art and music worlds, the baggage that comes with celebrity, and how to title a painting.

Your mother and maternal grandfather instilled in you a love of poetry and music as a child. What about fine art—where did that interest come from?
One of the first things I remember is sitting on my mother's knee looking at J.M.W. Turner pictures in this big book she had. What appealed to me was not so much a sense of the art, but rather a sense of the adventure within the art, because I had a very fertile imagination and didn't play rudimentary childhood games—I would invent my own scenarios. And Turner's paintings were so vivid, you know, with a lot of sea battles. So fine art was always in the back of my mind, but I became entrenched in the music business at 17 years old. I was on the road and when you are young like that, you tend to get into habits that are not necessarily artistically driven.

What do you mean exactly by that?
You are just living your fantasies basically. I'm not talking about bad habits, I'm just talking about your better judgment, and your artistic eye seems to go out of the window. It took coming to New York the winter 1970 or '71 to return to it.

What was your familiarity with contemporary art up until that point? Did you go to galleries in London like Whitechapel and Marlborough in the 1960s?
I tended to find myself in the Old Masters sections as opposed to the modern. I didn't know where to go in order to find that and wasn't totally aware of it. I was very aware of Pop art, people like Warhol, the obvious things, you know, because they were so apparent in my everyday life. It kind of went hand in hand with music, like Velvet Underground's relationship with Andy Warhol.

Beyond these cross-genre artistic collaborations, did you see overlaps in what you were doing with pop music and the contemporary visual arts?
It was probably a very juvenile sensibility, but the beauty of abstraction to me was not really knowing what it was about and coming up with your own interpretations. And I think that appealed to me, because it was related to what I did as a writer. I prefer people to come up with their own interpretation of things as opposed to have to literally explaining to them what a particular piece is about, and I think that works doubly for abstract art. I mean, think of that famous quote from Andy Warhol: "What does it mean to you?"

You've said before that the sonic and visual expression both come from the same place for you. But your lyrics evoke images and clear narratives, and looking at your art, well, the canvases are diffuse fields of color and abstractions. There doesn't appear to be an overlapping aesthetic.
What you are saying is a compliment to me, really. There is a stigma around "celebrity art"—I just loathe that tag—I think one of the problems with that is that a lot of people who come out of the music or film business and also paint or create in this medium tend to bring the baggage from that one into this. And this is not to be detrimental to any of those people. It is like Ronnie Wood, who continually draws pictures of the Rolling Stones. You are not dividing the palette there.

Some of your recent canvases include short lapidary phrases. Were you wary of including words on your canvases, that it would create an extension of what you did in the musical field?
Yes, and that goes back to what I am saying about being afraid that it would connect me back to the writing and the lyrical thing. I think with gaining confidence, I've learned to believe that it's okay, that's alright. It really isn't relevant, and it really doesn't relate back to that. And the text pieces I do are just very minimalistic. It's bam, there's a word. It is a word that will again, hopefully, ignite the viewer to think. And I think that's the crucial bottom line of abstract art—to invite the viewer to think. What I've wanted to do artistically on canvas has no relationship to my music whatsoever. But at the same time, they still tell a story. I've always thought of myself as a storyteller.

What are the stories your canvases tell?
I want people to look into them and find what they want in them. I suppose they do tell a story, because the story is the creative movement across the canvas. But I don't want that to sound pretentious, because at the end of the day, I do what I do because I enjoy color, I enjoy multimedia. And it is fun, and it is a whole different feeling than when you are writing a song.

How are those processes of writing lyrics and splashing paint on a canvas different?
I love the process of making music, going into the studio, seeing the song come together. But once that song is complete, on disc, and it is released, I never listen to it again. That is not the same as with my artwork. I don't want to have to say I enjoy painting more. But I suppose the bottom line is that it is a different process and is more invigorating. It is more physical, definitely more physical. When I write, I write very fast. Ideas come to me very quickly. I write in the moment. I don't come back to things. As far as songs are concerned, I work off of titles—you know, I come up with titles and write them on the back of a napkin. If I've got a title, it means I have an idea, whereas that is not the case with paintings.

How do you think about titling your paintings?
The titles of paintings are sort of like handles—they are just a way of identifying things. With songs, I have a title, and the story comes under the title and that defines that; whereas with paintings, I'll really give them handles, because I will finish something, and I'll look at it, and it is really the first thing that comes into my head. Well, what does this say to you? And it's like that with the newest piece that I've done, a multi-layered, modeling-paste-based piece called the Descendants of Oz. And why it's called that, I don't know. It is what appealed to me and what came into my head.

Do you listen to music when you are painting?
Oh yeah, absolutely, absolutely. I'm a jazz and blues guy. It varies I think—it just depends on what I'm working on, too. You know it's like, I've always said that colors indicate moods and I think they also indicate music. There are colors that symbolize jazz. I think there are colors that symbolize old time country music. I don't say the darker colors symbolize jazz and blues, but the darker, the more complex the color and the music. The brighter, more straight-out-of-the-tube stuff, I'd probably be listening to the Louvin Brothers or George Jones. But it does control the playlist.

Another intersection of music and art is the album cover. You and Elton John put a lot of thought into yours. I think of "Captain Fantastic and the Brown Dirt Cowboy" which has artwork by the legendary Alan Aldridge, who worked with Penguin and the Beatles in the '60s and '70s.
I'm a vinyl man. I still play vinyl. And I worked hand in hand on all of our earlier album covers and was very close with Alan. But, yeah, I was very instrumental in that whole Captain Fantastic thing. Album art, that was definitely a whole ball game of its own.

You have some 50,000 vinyl albums. What about art—do you collect?
I actually don't collect art, but I collect photographs—basically of old-time musicians. They are of unusual pictures of iconic musicians. When I say unusual, for instance, in one of the bathrooms, there is this guy with kind of protruding ears and slicked-back hair and looking straight at the camera, very rural, very kind of oaky looking. And people will go in there and they'll go, "Who's that picture of?" And it's Hank Williams' drivers license photo! I have another picture of this very unusual-looking couple, big photograph, again very rural looking, really bad fitting suit, and lady with a handbag, guy with a cigarette in his hand. Johnny Cash's parents! I've got a picture of Bob Dylan standing on his head, you can't see his face because it's like in long grass—you only see half of his head. They're all the people I sort of lionize as great figures in the music world.

Elton John is a collector, too. Does he own your paintings?
He has about four of them. He's got good taste. The last one he bought was fantastic. The minute he saw it, he said, "I want that."

Do you find your celebrity as baggage when being taken seriously in the art world?
When I first started showing, there was baggage that came with it. In a gallery setting, I'm pretty available—I'm happy to talk to people. The unfortunate thing when it comes to me is that I get guitar pickers who turn up with the brown bags full of record albums. That is something I've learned to live with during the initial phase, but now I really don't have a lot of patience for it. I have no qualms about knowing where I come from, but it is very important to legitimize with what I do. Like Duke Ellington said, "Everyone should do two things." And it is distracting when you get that element coming in.

What about the people not bringing memorabilia for signatures—by which I mean, coming from the music world to the art world, do you see differences in audience and guardians at each set of gates?
Yeah, I think there are. I think the art world is looked on by a certain group of people as being a bit narcissistic, unforgiving and brutal, and some might say pretentious. But what am I going to do? I know it sounds naive and base, but I can only do what I do. And I hope to be accepted and regarded with a certain amount of respect.

But I don't know. I've met so many great people. I've never really run into anybody who's been particularly asinine or cruel. But I suppose it can be a cruel world. I'm not going to stop doing it because somebody doesn't like what I do, or has a negative opinion of what I do. I think every major artist worth his salt has his detractors. I've been doing what I do for a long time, and you've got to put on a Teflon jacket.

Do you care if you are labeled as a musician-artist or an artist-musician?
I'm a great believer in that if you want to try something, there is no harm in trying it. You may find out that if it is not working for you, then you go do something else. There is nothing that says that a plumber can't go home and make model airplanes, because he enjoys doing it and he might be good at it. I'm somebody who wrote songs but wanted to paint. And painting has become the foremost thrust in my life. It is what I enjoy doing. I am happiest when I am doing that. I'm happiest when I'm home around my family, in my studio, cranking the music and throwing paint at things. It is a million miles away from my musical association. It's so radically different. I just don't feel like a musician or whatever I'm termed as. I mean, again, handles are very difficult to get comfortable with. It's like when somebody who doesn't know me asks what I do… I just say I'm an artist.


Bernie Taupin lists his longtime ranch in the Santa Ynez Valley
Friday, May 9 2014 at 21:42:10


Elton sends flowers to congratulate Eurovision winner Conchita Wurst
Friday, May 16 2014
Eurovision winner Conchita Wurst was sent a bouquet of flowers by Sir Elton John in recognition of the song contest triumph.
The "bearded lady" drag artist revealed he found the floral arrangement from the singer and his partner, David Furnish, in his dressing room as he recorded an interview for the Graham Norton show. He told BBC1 presenter Norton, in the interview that screened on May 16, 2014, that he also received a message from superstar Cher.

"I was so excited to receive the tweet, which said, 'darling you deserve a lovelier name and better wig'. Cher, THE Cher, tweeted me." The Austrian, whose real name is Tom Neuwirth, said of his dressing room bouquet: "The card read, 'we love you, Elton and David'."

He also said he had hopes of hosting the contest next year when it is staged in Vienna, although as for the immediate future he was going to take his time to work out what he will do following the win.

"Our society is so fast so I'm going to sit back and choose wisely. I will have to make new stuff. My goal is a Grammy so my songs will have to be good," said Wurst. "I have cast myself in the role of host at Eurovision next year in Vienna." And he said he was still to mark the contest win properly as he rested after the final. "I slept. I haven't celebrated yet."

The proud victor took the winning trophy to the studio while recording the interview to be screened at 10.35pm tonight, adding: "I am embarrassed that I take it everywhere with me."
Elton Johnplaced highly on The Sunday Times' annual Rich List's Musician's list
Friday, May 16 2014
Sir Paul McCartney, U2, Sir Elton John, and Simon Cowell are among the wealthiest people in music.
The Beatles legend has scored fourth place in The Sunday Times' annual Rich List's Musician's list with a staggering £710 million fortune, with only record label bosses Len Balvantnik - who is worth £10 billion - and Clive Calder, and musicals supremo Sir Cameron Mackintosh placing higher. Irish rockers U2 collectively placed sixth with a fortune of £428 million, considerably less than fifth-placed Lord Andrew Lloyd Webber, who is worth a huge £640 million. Seventh place goes to 'American Idol' creator Simon Fuller, with 'X Factor' boss Simon placing eighth thanks to assets of £300 million, a figure £50 million higher than his fortune last year.

He shares eighth place with power couple Mohammad and Kamaliya Zahoor, a record label boss and former Miss World. 'Rocket Man' star Sir Elton John rounds out the top 10 with his £260 million fortune.

Notable names filling out the top 20 include Sir Mick Jagger, who took 12th place with £215 million - two places higher and £15 million more than his Rolling Stones bandmate Keith Richards - and former Spice Girls singer-turned-fashion designer, whose joint empire with husband David sees them worth £210 million, putting them in 13th place.

Paul's Beatles bandmate Ringo Star took 18th place with a relatively more modest fortune - £170 million, while Olivia and Dhani Harrison - the widow and son of their late bandmate George Harrison - were placed 16th with assets of £190 million.

The list is based on land, property and other assets such as stocks and shares, racehorses and art.

Sunday Times Rich List 2014: Music millionaires:

1. Len Blavatnik: £10bn
2. Clive Calder: £1.4bn
3. Sir Cameron Mackintosh: £1bn
4. Sir Paul McCartney: £710m
5. Lord Lloyd-Webber: £640m
6. U2: £428m
7. Simon Fuller: £382m
8= Simon Cowell: £300m
8= Mohammad and Kamaliya Zahoor: £300m
10. Sir Elton John: £260m
11. Baron Palumbo, arts supporter: £250m
12. Sir Mick Jagger: £215m
13. David and Victoria Beckham: £210m
14. Keith Richards: £200m
15. Michael Flatley: £193m
16. Olivia and Dhani Harrison: £190m
17: Sting: £180m
18: Ringo Starr: £170m
19 Roger Waters: £160m
20 Denis Desmond and Caroline Downey: £153m
Smokey Robinson records duets album with Elton John & James Taylor
Thursday, May 15 2014
According to Billboard.com, Smokey Robinson partners with Elton John and James Taylor for his upcoming record "Smokey & Friends." Verve Records will release the duets album in September 2014.
Produced by Randy Jackson, the project draws from Robinson's extensive catalog of hits as a member of the legendary Miracles, as a solo artist and as the writer of classics the Motown icon penned for other acts, including Marvin Gaye and the Temptations.

Elton John and James Taylor appears with Robinson on two songs originally released in 1965. Elton joins the prolific singer/songwriter on "The Tracks of My Tears," which Elton calls "the greatest pop song ever written." Inducted into the Grammy Hall of Fame and the Library of Congress, the single peaked at No. 2 R&B and No. 16 pop.

As a teenager collecting soul records, Elton recalls he was awed by Robinson's "most amazing voice" and lyrics that were "so great and direct; so simple and heartfelt. I think Bob Dylan described him as America's greatest poet. He [Robinson] says things in five words that people take a whole page to say."

"Elton's comments about 'Tracks of My Tears' is a huge compliment," says Robinson, a member of the Rock and Roll Hall of Fame and the Songwriters Hall of Fame. "My dream and my aim as a songwriter is fulfilled with statements like that, especially by someone like Elton who is a great songwriter himself."

Taylor guests on the Gaye signature hit "Ain't That Peculiar." The R&B and pop classic was produced by Robinson, who also co-wrote the song with fellow members of the Miracles. Additional Smokey & Friends collaborations featuring contemporary and classic artists will be announced soon.
EJAF receives highest possible rating from Charity Navigator
Thursday, May 15 2014
The Elton John AIDS Foundation (EJAF) announced on May 15, 2014 that it has received its 9th consecutive 4-star rating from Charity Navigator, the largest independent charity evaluator in the United States.
This is also EJAF's fourth such rating in as many years under Charity Navigator's new, enhanced metrics. "Receiving four out of four stars indicates that our Foundation consistently executes its mission in a fiscally responsible way, while adhering to good governance and other best practices that ensure ethical and transparent business dealings," stated EJAF Chairman David Furnish.

"Only 7 percent of organizations evaluated by Charity Navigator have received four consecutive four-star ratings under the new system, demonstrating that our Foundation is one of the best-run charities in America."

As Charity Navigator President and CEO Ken Berger stated in his announcement letter, "This 'exceptional' designation from Charity Navigator differentiates Elton John AIDS Foundation from its peers and demonstrates to the public it is worthy of their trust. We cannot begin to express how very proud we are that our Foundation has received this ringing endorsement from America's premier charity evaluator, which has once again provided independent assurance that donations entrusted to EJAF will be well and properly invested in HIV care, prevention, and advocacy programs," added EJAF Executive Director Scott Campbell.

"We have accomplished a great deal over the past two decades," noted EJAF Founder Sir Elton John. "However, we still have a lot of work to do to fulfill our mission of serving vulnerable at-risk populations without judgment, reducing HIV-related stigma and discrimination, educating people about HIV/AIDS, and supporting science-based, culturally-sensitive HIV prevention programming. This is what EJAF has been doing with great success for more than 20 years, and we are deeply grateful to our loyal donors who have helped us continue urgent work."
UPDATE: "The Million Dollar Piano" DVD & Blu-ray
Thursday, May 15 2014
"The Million Dollar Piano" is scheduled for release on DVD and Blu-ray on June 30, 2014.
"The Million Dollar Piano" was filmed over multiple nights in 2013 at Elton John's residency at the Colosseum at Caesars Palace in Las Vegas. The show has been running since September 2011, with the most recent leg spanning 16 shows between March 29 and April 26, 2014. The concerts are the culmination of Elton John's decades long partnership with Yamaha pianos. This film features classic Elton John tracks from across his extraordinary career performed either with his band, solo, or with percussionist Ray Cooper. The multimedia staging is phenomenal with vast screens behind the stage illustrating the songs and the piano itself acting as a screen for graphics and animations.

As well as 19 songs from the residency set, the DVD includes as a bonus "The Making Of The Million Dollar Piano", a feature which tells the story behind the concerts. In addition, there are four extra tracks filmed in Kiev in 2012: "Candle In The Wind"; "Sacrifice"; "Sad Songs (Say So Much)" and "Don't Let The Sun Go Down On Me."

TRACKLISTING

1) The Bitch Is Back
2) Bennie And The Jets
3) Rocket Man
4) Levon
5) Tiny Dancer
6) Your Song
7) Mona Lisas And Mad Hatters
8) Better Off Dead
9) Indian Sunset
10) Blue Eyes
11) Goodbye Yellow Brick Road
12) I Guess That's Why They Call It The Blues
13) Don't Let The Sun Go Down On Me
14) Philadelphia Freedom
15) I'm Still Standing
16) Crocodile Rock
17) Saturday Night's Alright For Fighting
18) Circle Of Life
19) Song For Guy (credits)

Amazon UK is already accepting pre-orders today. Further details are expected to surface over the next few weeks.
Inside the Adoption Process
Wednesday, May 14 2014
In 2009, filmmakers Michael Dudko and Olga Rudnieva were on hand to witness the failed adoption attempt of Elton and David; the couple sought to adopt an HIV-positive boy named Lev from an orphanage in the Ukraine.
Under Ukrainian law, unmarried people are not allowed to adopt children. They were turned down by government officials but the experience inspired Rudnieva and Dudko to make a documentary film that explored the complicated process of adoption. KIDS' RIGHTS: THE BUSINESS OF ADOPTION will become available on DVD as of May 20, 2014 followed by online streaming platforms.

Rudnieva and Dudko, both Ukranian nationals, began their investigation by researching the parameters for adoption in New York City where they lived. Says Dudko, "Based on the amount of paperwork, thirty hours of parenting courses and a vigorous home study assessment, we began to wonder if we were competent enough to even become parents. And then we asked: if most people are required to just have sex in order to have a child, is that in the child's best interest?"

This set them on a course to research the process– domestic and international, through private agencies and the child welfare and foster care systems–which included going undercover into an adoption agency to discover the cost to adopt a white baby was significantly more than to adopt a child of color. Their investigations paint a picture in which the private adoption process is fueled by profits and the state-supported child welfare systems (in the US and abroad) are beleaguered and not necessarily governed by what might be best for the child. With only one in 523 kids worldwide successfully adopted, they were surprised to learn that in the UK it is illegal for interracial adoption (either an interracial couple or to adopt a child of differing ethnicity) and how child trafficking prevention laws have inadvertently stymied international adoptions.



For the film they traveled to Eastern Europe, China, Nepal, the UK and US and interviewed Elton John and David Furnish, who have since had two sons via surrogacy; David Pelzer, who was partially raised in a foster home and is best known for his best-selling 1995 memoir about child abuse, A Child Called 'It'; the UK's Francesca Polini, who adopted a Mexican baby but struggled with the UK's adoption laws thus founding Adopt a Better Way; a lawyer, Mary Beth-Feindt, who specializes Law Guardian and child advocacy; and Paul R. Ehrlich, the Bing Professor of Population Studies at Stanford University, who is best known for the book The Population Bomb.
Grandmother of Lev pleas for any help from Elton
Tuesday, May 13 2014
The grandmother of a little boy in Ukraine who Elton John tried unsuccessfully to adopt has called on the singer for 'any help' he could give.
Elton and David were captivated by little Lev Ageyev when they encountered him at an orphanage in 2009. But under Ukraine's laws, gay men are banned from adopting and in any case Sir Elton, then aged 62, was considered too old. Elton said at the time: 'I would love to adopt him. He has stolen my heart.'

Lev's grandmother Yulia, 61, has now rescued him from the orphanage. She said: 'I have taken Lev out of the kindergarten until the trouble is over.' She added: 'I know he felt something for Lev. We're worried what will happen so any help he could give us would be appreciated. Lev went away to a camp recently and ended up becoming the star. And he told everyone that Elton John wanted to adopt him.'

After failing to adopt him, the couple publicly pledged to find him a home in his native country and send regular financial help. In 2011 Lev's grandmother said she had not heard anything for Elton since his visit. She said the the singer had also promised to help Lev's HIV-positive brother, Artyom. Lev's alcoholic mother Marina, who was also HIV positive, died of pneumonia in 2010.

Meanwhile, dating agencies in Ukraine said they are being inundated with women who are seeking British men in a bid to escape the troubled region. A university art teacher with two degrees, told The Sun: 'Right now, in Ukraine, our society is falling apart and I'm very sad about it.'


Bernie Taupin lists his longtime ranch in the Santa Ynez Valley
Friday, May 9 2014
Bernie Taupin has listed his 28-acre ranch in the Santa Ynez Valley for sale at $5.95 million.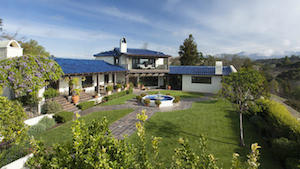 Called Roundup Valley Ranch, the property centers on a Mediterranean-style house with views of the surrounding mountains. Set on a knoll amid oak trees, the 5,000-square-foot house opens to a courtyard with a fountain. A great room connects to a bar and entertainment area. There are five bedrooms and six bathrooms. The kitchen features an island, granite and Jerusalem stone counters, a pizza oven and a walk-in pantry.

The detached guesthouse/studio was originally designed as an indoor handball court. Later, it was transformed to a recording studio where multiple albums were cut. Today it functions as an art studio with a gym and has an upstairs office with a bathroom.

Another house on the site overlooks a pond, waterfall and the equestrian area, which has a covered arena, a 10-stall barn and storage buildings. There's a swimming pool and plenty of pastureland.

Taupin, 63, wrote the words for such hits as "Your Song," "Saturday Night's Alright for Fighting" and "Goodbye Yellow Brick Road." He had a lifelong dream of living on a working ranch and in 1992 bought the property, where he has raised and shown horses.

Carey Kendall of Village Properties is the listing agent. See the LA Times for more pictures.
Meet & Greet with Elton John
Friday, May 9 2014
Meet Elton John and have one of those experiences you will never forget.
You and a guest will travel to see the legendary Elton John at Farm Bureau Live in Virginia Beach, VA, on June 12, 2014. The winning bidder and their guest will fly round trip anywhere from the continental U.S. to Virginia Beach. Two nights hotel stay is included as well as two tickets to Elton's concert.

And the best for last - enjoy a personal meet and greet with Elton himself. Don't miss this opportunity to do something truly amazing help out a worthy cause at the same time. 100% of the proceeds will benefit PointHope.

Place your bid before May 12, 2014.
Married gay couples can now get official coats of arms
Thursday, May 8 2014
For centuries, married couples have been designing shared shields that combine their family histories in one heraldic symbol.
But the strict rules of the ancient body meant civil partners could not qualify.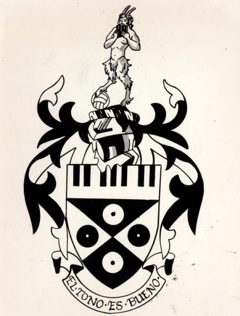 Now, a month on from the first ever same-sex marriage, the College of Arms has revealed gay and lesbian married couples can be welcomed into the tradition. Elton John, who is believed to be marrying his civil partner David Furnish in a private ceremony this month, currently holds an 'escutcheon', or shield, featuring a keyboard, records and a satyr playing pan pipes.

If David applies to join the College, the couple will be able to have a shared design fashioned once they are married. A shared shield is traditionally split vertically, with the husband's design on one side and the wife's on the other.

Men have always been able to maintain their own without changing it, but brides have been obliged to commission a redesign that gives a nod to their husband's stature. On May 8, 2014, the College ruled men and women who contract a same-sex marriage can 'impale' the arms of their husband or wife with their own on a shield or banner.
Lion King - The Legacy Collection
Thursday, May 8 2014
The Lion King Soundtrack is being re-released, with 30 minutes of unheard score.
Walt Disney Records just announced The Legacy Collection, a new line that will celebrate the anniversaries of Disney classics like The Lion King, Sleeping Beauty, and The Little Mermaid. The Lion King, now available for pre-order, is first on deck! The two-disc set will feature the original soundtrack, 30 minutes of unreleased score, and liner notes from the producer, Don Hahn, and Academy Award-winning composer, Hans Zimmer.
Bob Birch Auction
Thursday, May 8 2014
Those of us who had the pleasure of meeting or knowing Bob Birch know what a kind, generous, caring individual and talented musician he was. He is sorely missed by his family, his band-mates and friends.
Bob was one of the best bass players in the industry and played with Elton for twenty years. He became a staple of the Elton John band on tour and through the recordings of several albums.

In 1995 Bob suffered a tragic accident when he was hit from behind by a pick-up truck and sent airborne more than 20 feet, breaking his legs and damaging his back and spine. Doctors informed him that he would never walk again, but 6 months later Bob was back on tour with Elton. The accident left Bob with severe injuries to his body. He had to endure several operations and excruciating pain in his neck and back. Bob soldiered on through despite living with the debilitating pain. He continued to tour and record with Elton for another 17 years.

In 2012, Bob could no longer endure the pain and suffering and tragically took his own life on August 15, 2012. Since then, many fellow musicians have praised Bob's work and his musicianship. Those of us who had the distinct pleasure of knowing Bob miss his humour, his on-stage smile, his shades, the work-boots and the genuine sense of caring he gave to all of those he touched.

On May 17, 2014, Julien's Auctions will be holding a Music Icons Auction at The Hard Rock Cafe in Times Sq., New York City. There are 27 bass guitars that Bob owned being auctioned off. Plus some Elton John tour jackets.

The items can be viewed online in the catalogue. Bob's collection is on pages 136-141 in the Rock Icons catalogue. You can download it from their website.

We would encourage all of you to take a look at the items and participate in the auction on May 17, 2014. All the details for the event can be found at the Julien's Auctions website.

This is a rare opportunity for Elton John fans to share in supporting the memory of Bob Birch and to own a part of the musical legacy and friendship that he left us.


Happy 26th anniversary to us!
Thursday, May 8 2014
The international Elton John Fan Club Hercules, also known as eltonfan.net, has been serving the Elton John community since 1988, i.e. for more than a quarter of a century.
Founded as Rocket Fan back on May 8, 1988 with a focus on German-speaking fans, the club has soon turned into a worldwide organization with Elton admirers from all over the planet. In 2013 we are celebrating our 25th anniversary.
For more than a decade Hercules has been offering all of its services on eltonfan.net free of charge. The site is maintained on a voluntary basis, however, there are costs involved in hosting the site on a high-speed and reliable server. If you like the services provided on eltonfan.net and if you feel like supporting this website, we would be grateful if you would make a small donation.

With this we would like to thank Elton for his persistence and everlasting presence, the management and record company for their support, and last but not least the fans for their loyalty and contributions to the site.
Happy Birthday, David & Kim!
Tuesday, May 6 2014
Two members of Elton's band will be celebrating their birthday on May 6, 2014.
Guitarist Davey Johnstone turns 63 while keyboard player Kim Bullard will celebrate his 59th birtday.

The last two years they had a chance to party in Las Vegas where they were playing "The Million Dollar Piano" shows with Elton. This year, they might even have the chance to celebrate with their families as Elton is currently not on tour.

On behalf of the visitors of eltonfan.net and all Elton fans around the world, we would like to wish them a happy Birthday.
Elton John named as most generous celebrity
Monday, May 5 2014
Elton John has been named the most generous with his money on a new list of UK celebrities.
We may think celebrities are a spoiled, self-obsessed lot, but it seems many of them are happy to put their money where their mouth is when it comes to forking out for charity. According to a list compiled by The Sunday Times in London of the most generous stars in the UK, Elton John has come out on top as the charity king, having raised $43 million through donations and gigs for his Aids charities over the past year.

Second on the list is Harry Potter author JK Rowling who gave away $16 million, while U2 frontman Bono stumped up $14.5 million. In the world of sport, golfer Colin Montgomerie donated $6.5 million to UK cancer centres in memory of his late mother, while David and Victoria Beckham came up with $6 million (including the $72,000 they raised for the British Red Cross Philippines typhoon appeal from a sale of their old clothes).

Coldplay stumped up $5 million, while Eric Clapton gave $4.5 million. Meanwhile, the boys of One Direction handed over almost $4 million, $1 million of which went to an anti-bullying campaign in the US. Simon Cowell dug into his very deep pockets and shelled out almost $3 million.
Hornets' to rename stand after Graham Taylor
Thursday, May 1 2014
Watford are to honour Graham Taylor's achievements as manager at Vicarage Road by renaming the Rous Stand after him.
The Hornets will hold an official renaming ceremony towards the start of the next campaign, with other associated items around the ground to be changed throughout the close-season. Hornets chief executive Scott Duxbury told the club's website: "It's always been our intention to honour one of the club's greatest servants and renaming the Rous Stand is hugely appropriate. We intend to permanently reserve two seats, for Graham and his wife Rita, within the directors' seating area in a stand which already contains The Sir Elton John Suite. Both men are synonymous with a special time in the club's history, so we feel this is a fitting tribute."

Taylor said: "I feel truly honoured that Watford would seek to recognise my time at the club in this way. As everybody is very well aware, I spent a big part of my working life at the club and as part of the town and its community. What we created, among the success on the field of play, was a very special feeling – the memories of which have always remained with me. It will certainly feel strange coming to future Watford home matches and sitting in a stand named after myself, although it's something that myself and my family can take immense pride in. So I would [like to] thank everyone at the club most sincerely for this wonderful gesture."

Taylor first became Watford manager in 1977 and famously led the club to the old first division with three promotions in the space of five years. The Hornets finished runners-up in their first season in the top-flight to qualify for Europe and reached their only FA Cup final to date in 1984.

The Hornets boss left to join Aston Villa in 1987 but after becoming England manager and then taking over at Wolves, he returned to Watford in 1996. Taylor was unable to stop the Hornets from being relegated to the third tier but after a year as general manager, he again assumed the hot seat and guided the club to back-to-back promotions, with their elevation to the Premier League achieved via play-off glory at Wembley.
Elton helps raise $5.4 million for The Breast Cancer Research Foundation
Thursday, May 1 2014
On April 28, 2014, The Breast Cancer Research Foundation (BCRF) hosted its annual Hot Pink Party at New York's Waldorf Astoria.
An elegant CanCan-inspired affair, the event featured a captivating performance by five-time Grammy nominee Sara Bareilles, who was invited by music icon Sir Elton John to join him on stage. Leonard Lauder and Kinga Lampert were the evening's co-hosts accompanied by supermodel and actress Elizabeth Hurley as emcee. Event co-chairs included Donna Karan, Michael Kors, Reed Krakoff, Aerin Lauder, William Lauder, andVera Wang, among others.

Since its founding by Evelyn Lauder in 1993, BCRF has raised more than $480 million to advance the world's most promising breast cancer research. The Hot Pink Party alone has raised more than $60 million since its inception in 2001 with this year's event raising more than $5.4 million.

"Evelyn Lauder was a philanthropic force to be reckoned with," said Elton. "She was a dear friend, and I am proud to keep her extraordinary legacy alive by supporting BCRF and its mission to eradicate breast cancer through research." Elton, who has performed at the Hot Pink Party for more than a decade, closed the 45-minute set with a moving duet of Bareilles' "Gravity."

Another highlight of the evening was the auction for a stay at the Lauder family's Aspen home led by Sotheby's Chairman Jamie Nivens. Town & Country's "Event Planner of the Year" Bryan Rafanelli, who the Clintons handpicked to plan Chelsea's wedding, produced the fundraiser with a generous donation from Winston Flowers.

Noteworthy guests included Tory Burch, Josh Groban, Paul Shaffer, Thom Browne, Paula Zahn, New England Patriots coach Bill Belichick and owner Bob Kraft,Pittsburgh Steelers' Greta Rooney, New York Giants' Victor Cruz, NASCAR's Jeff Gordon, "30 Rock" alum Katrina Bowden, Academy-award nominee Hailee Steinfeld, Lisa Perry and Star Jones, while other notable co-chairs included Marjorie Reed Gordon, Jane Lauder, Jo Carole and Ronald Lauder, Ingrid Sischy and Sandra Brant, and Lizzie and Jon Tisch.

The event's underwriters included ANN, INC., Rob and Cindy Citrone, Mike's Hard Lemonade, Condé Nast, Firmenich, Roz and Les Goldstein, Hearst, Kinga Lampert and The Leonard & Evelyn Lauder Foundation.


Elton at the Hot Pink Party 2014
Tuesday, April 29 2014 at 20:46:06


Elton to ring in 2015 onstage in New York
Thursday, May 1 2014
Elton John is set to ring in 2015 onstage after booking a New Year's Eve gig in New York City.
Having just finished his Las Vegas residency show, The Million Dollar Piano, for 2014, Elton is already looking ahead to 2015 and has decided to spend the first hour of the new year with fans at the Barclays Center in Brooklyn.

The gig will mark Elton's first ever New Year's Eve concert in the Big Apple. He follows in the footsteps of his old pal Billy Joel, who rang in 2014 at the same venue.
Elton dazzles crowd at Battersea Power Station
Thursday, May 1 2014
Battersea Power Station held its inaugural annual party on April 29, 2014, with Elton John delivering a stirring performance to an audience of thousands beneath the famous chimneys of London's legendary Battersea Power Station.
Elton rolled back the years, blasting through a string of classics including "The One", "Your Song", and "The Greatest Discovery", whilst also showcasing selected tracks from last year's critically acclaimed album "The Diving Board".

The gig, inside one of the UK's most recognisable landmarks, was the focal point of the party held to thank everyone that has made the Battersea development a reality and bring together people from across the community. Musical support came from 2013 BRIT Awards Critics' Choice winner Tom Odell. The singer-songwriter, a confessed Elton John fanatic, performed tracks from his UK No.1 debut record "Long Way Down", including top 10 UK hit "Another Love".

Celebrities were out in force on the evening, including appearances from Grace Jones, Jeremy Renner, Chris Evans, Kit Harington, Rose Leslie, Tom Daley, Eliza Doolittle, Sharleen Spiteri, Philip Treacy, Jack Whitehall & Gemma Chan, Will Young,Lily James, Sally Greene, Theo Hutchcraft, Lorraine Pascale, Luke Evans, Luke Treadaway, Thomasina Miers, Nicky Haslam,Jade Parfitt, Ben Goldsmith, Sir David Tang, Detmar Blow, Erdem, Thom Evans, James Haskell, Patrick Grant, Alan Yentob,Lilah Parsons, Zara Martin, Diana Vickers, George Craig and David Morrissey.

Other entertainment at the star-studded event included a dazzling 4D light show on the façade of the Power Station, chronicling its history and showcasing its future. Food was supplied by London restaurants L'Anima, Benares, Brindisa and Caravan, with Veuve Clicquot and Fiji Water supplying the drinks.

Rob Tincknell, Chief Executive Officer of Battersea Power Station Development Company, said: "Hosting a performance, on behalf of the shareholders and everyone that is helping restore this famous London landmark, from one of the best-loved and most-renowned British recording artists of all time at of one of the UK's most iconic buildings was a great occasion. Thank you to Sir Elton John for a stunning show at our first party to celebrate the remarkable heritage of the site and recognise the efforts of so many people to create a new vibrant community at Battersea Power Station. The power is definitely back on at Battersea."