ELTON JOHN NEWS ARCHIVE: May 2013
Elton and David step out with both kids for the first time
Thursday, May 30 2013
Elton John and partner David Furnish were spotted stepping out publicly with both their sons for the first time on May 29, 2013.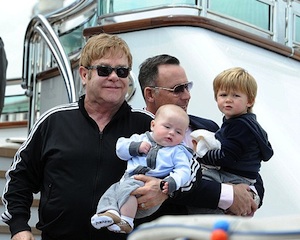 Elton was seen arriving in Venice with David along with sons Zachary, two, and four-month-old Elijah. The family were in great spirits as they prepared to kick off their sunny holiday in style. David – looking dapper in a tailored black suit and pink shirt – seemed equally delighted to be escaping it all for some quality family time.

A doting nanny helped the couple out as they got onto the boat to kick off their day of fun. And Elton kissed little Elijah on the forehead as they sped off into the distance.
Tom Hardy pursued for the role of Elton John
Thursday, May 30 2013
It's early days in the casting process on ROCKETMAN, the "biographical musical fantasy" about the life and music of Elton John, but it sounds like the filmmakers are taking an unexpected approach to the portrayal of the legendary musician.
According to HitFix's Drew McWeeny Tom Hardy is someone Elton and director Michael Gracey are seriously considering at this point. Right now, they're merely guaging interest: there's no formal offer on the table, and Hardy is most likely not the only actor being courted. But the fact that they'd go in this direction suggests that they're more concerned with the performance than the singing. Do they feel Hardy could be trained to sing like Elton, or is the pop icon planning to sing the songs himself? The one downside to the latter option is that Elton's voice dipped from tenor to baritone after he had throat surgery in the mid '80s; it'd be nice to hear a performer with Elton's old range take on his classic '70s work.


Alice Cooper talks about working with Taupin
Thursday, May 30 2013
In an interview with Alibi.com, Alice Cooper also talks about working with friend Bernie Taupin.
"From the Inside" is one of my favorite albums. What was writing and recording that with Bernie Taupin like?

Alice Cooper: Bernie and I were the best of friends, and we still are. But when we lived in L.A., we were literally inseparable. We hung out all day, and we drank all night. I still see Bernie. So when I got out of this hospital for drinking, I realized that I was the only one in this hospital for drinking. Everybody else that was in there was criminally insane. One girl had chopped up her uncle, and this other guy was a Vietnam vet that was Jackknife Johnny … So, when I got out of the hospital—being a lyricist and Bernie being my best friend—I said, "Bernie, I've got a story to tell you. We've got to write this album, because all these characters are real characters." I told him the story, and then we'd sit there and write the songs.

Read the entire interview at alibi.com.
Elton flamboyant outfits selling at auction
Wednesday, May 29 2013
A flamboyant ensemble worn by Elton John on stage, including a stylized bright purple tailcoat, along with a red hooded, flight suit-style jumpsuit owned by Elton, are offered at our auction ending on May 30, 2013.
Starting bid on each is £200. Don't miss this opportunity to own one of Elton's glitzy outfits. More info.
Elton pays tribute to late Disney chief
Wednesday, May 29 2013
Film producer Jerry Bruckheimer and Elton John are among the stars who have paid tribute to longtime publicity executive Denise Greenawalt following her death on May 22, 2013.
The 52-year-old Walt Disney Studios chief died in her sleep at Huntington Hospital in California after a long illness. During her 16-year tenure with Disney, Greenawalt developed publicity campaigns for The Lion King, Toy Story, The Little Mermaid,Aladdin, Pocahontas, The Princess Diaries and a number of Bruckheimer's films, such as Armageddon and Pearl Harbor, and the producer insists he owes her a great deal of his success.

A statement from Bruckheimer reads, "Denise was absolutely one of a kind, with her brilliant professionalism and enough energy to light an entire city. We worked on many films together, and Denise made a tremendous contribution to their success, just bubbling over with fresh and bold ideas. She will be missed by all of her friends and colleagues, and certainly by me."

Greenawalt was also a humanitarian, who volunteered for Elton John's Aids Foundation, and the Elton adds, "She was an inspiration. The most beautiful and courageous woman."

A number of other celebrities have spoken out to offer their condolences, including Oscar-winning animator John Lasseter, who adds, "All of us at Pixar and Disney, and in the animation industry, have lost a true friend and a great supporter. Denise worked tirelessly and enthusiastically to publicise our films and always went above and beyond the call of duty to get the word out about our new releases. She was smart, funny and full of great ideas when it came to publicity. Denise was an important part of the animation renaissance at Disney."

Born in Philadelphia, Pennsylvania, Greenawalt began her career working at public relations firm Rogers & Cowan, before landing a job at Disney in 1986. She worked her way up the ranks to become the vice president of national publicity before retiring in 2002 due to health reasons. She will be remembered during a memorial service in Los Angeles on June 1, 2013.
Zachary is Elton's Man Of The Match
Tuesday, May 28 2013
Elton and David's son Zachary was on the ball as he watched the Championship play-off between Crystal Palace and Watford at Wembley Stadium on May 27, 2013.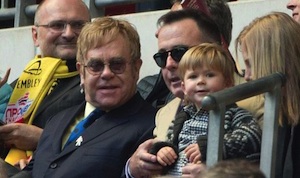 The family were there to watch Watford as Elton once the club's owner, is an honorary life president. The two-year-old was dressed stylishly for the outing – teaming a checked shirt with a chunky knit cardigan.

Perhaps it was the fact that Watford lost to a late penalty but Zachary didn't look too impressed with the beautiful game, at one point amusing himself by balancing a book on his head.
Matthew Morrison wants Elton in Glee
Tuesday, May 28 2013
The 24-year-old actor thinks Elton would be perfect in the musical drama playing the boyfriend of hard-nosed cheer-leading squad coach Sue Sylvester - who is portrayed by Jane Lynch.
Matthew exclusively told BANG Showbiz: "I would love to have Elton John, and I know the part I want for him too. I want him to play Sue Sylvester's boyfriend. Wouldn't that be funny? I think it would be hilarious, I think the two of them would be so funny."

The handsome star has a wishlist of other people he wants to appear in the series and top of that list is Harrison Ford, because he idolised him in the 'Indiana Jones' movies. Matthew - who is releasing his second album 'Where It All Began' is released in the UK on June 17, 2013 - added: "I've always wanted to work with Harrison Ford, he's a child legend of mine. I was an 'Indiana Jones' kinda guy. That's how I always remember Harrison Ford."

If Elton or Harrison did agree to a cameo they would be joining a long list of major stars to join the kids at William McKinley High School. Stars to have appeared in 'Glee' include Gwyneth Paltrow, Britney Spears, Kate Hudson and Sarah Jessica Parker.


Elton taking Zachary to Play-Off final for his first football match
Monday, May 27 2013
The former Watford chairman doesn't get to the football much these days, but he's chosen a big game for a big moment!
Elton is planning to take his son Zachary to his first match on May 27, 2013 - to cheer on Watford at Wembley. Elton wept with pride in the Royal Box during "Abide With Me" the last time he saw his beloved Watford at Wembley in the 1984 FA Cup final against Everton.

Although he has not attended any games at Vicarage Road as a fan since 2006, shortly before Watford's last promotion to the Premier League under Aidy Boothroyd, he remains passionate about the club he has supported since boyhood. And Elton is said to be "very excited" about his planned excursion to the home of football with two-and-a-half-year-old Zachary, who charmed A-List Hollywood guests at the chart-topper's swanky Oscars party earlier this year.

Apart from buying the club twice and two spells as chairman, spanning 20 years between 1976 and 2001, Elton has played two concerts at Vicarage Road in the last eight years which raised £2 million for buying players. He has been in regular contact with Hornets manager Gianfranco Zola, who is bidding to follow Boothroyd and Graham Taylor as the only men to lead Watford into the top flight.
Former rugby player Cohen gives baby advice
Monday, May 27 2013
Former Northampton Saints star, Ben Cohen, has said people would think him aloof when he was actually going profoundly deaf. And the World Cup winner said his problem was only resolved by a telephone call from Elton John.
Cohen said: "I can't remember where I first met him but he called me not long after I was talking to him after he played the County Ground. He had read somewhere that I was having real problems with my ears so he set up a meeting with the owner of a state-of-the art hearing aid firm. He said: 'I have some really good friends who are experts and I'd love to sort it out for you'."

As well as problems picking up sound, Cohen also had very bad ringing in his ears, or tinnitus. When Elton called, he was having particular problems with the letters 's'. 'k' and 't' and was struggling in crowded rooms, which made his work for the anti-bullying Stand Up Foundation more difficult. Elton's experts told him he actually had 50 per cent hearing loss in each ear.

But, although the scale of his problem was a surprise, Cohen had known he was slowly going deaf, a problem he believes he inherited from his dad, during his rugby career.
He said: "A supporter would shout to me and I wouldn't respond. I probably had this stigma that I was very rude and arrogant but I just couldn't hear anyone. It was the same on the field, teammates would shout for the ball and, I know it sounds like an excuse, but I never knew about it. Perhaps as a winger it even helped my game a bit!"
Revelers brave cold to fight AIDS at Vienna ball
Sunday, May 26 2013
Former U.S. President Bill Clinton, Elton John and actor Hilary Swank joined thousands of costumed revelers on May 25, 2013 at Europe's biggest AIDS charity event, Vienna's Life Ball.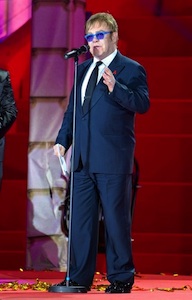 Dressed in skimpy costumes for the ball's 1,001 Nights theme, or simply in extravagant drag, party-goers braved unseasonally chilly temperatures of 8 degrees Celsius (46 degrees Fahrenheit) for the outdoor party.

UN Secretary-General Ban Ki-moon, addressing the gathering in a video message, urged the world not to let up in the fight against AIDS, which has killed 30 million people since the auto-immune disease was first recognized at the start of the 1980s. "A generation free of HIV (human immunodeficiency virus) is now in sight," he told the crowd in the gardens of Vienna's City Hall. "But unless we intensify our response, a million children could get HIV by 2015."

The annual ball, now in its 21st year, has grown from a small gay-community event to a society fixture, attracting celebrity guests from around the world. Highlights included a Scheherazade-themed ballet, a fashion show by Italian designer Roberto Cavalli and a performance by singer Adam Lambert.

Those guests wearing costumes judged by the organizers' "style police" to be exceptional could win half-price admission to the Vienna ball, for which tickets cost up to 3,000 euros. The event raised over 2 million euros ($2.6 million) last year, much of it donated to the Clinton Health Access Initiative to reduce HIV infection among babies in Africa. Africa accounts for more than two-thirds of the world's cases of HIV, with 1.8 million new HIV infections and 1.2 million people dying of AIDS-related illnesses in 2011, according to the United Nations.
John Jorgenson to return for two shows
Saturday, May 25 2013
Former band member John Jorgenson, who has just finished an European tour with his Electric Band, will return for to shows with Elton in early June 2013.
He revealed on his Facebook page that he now has "to prepare for two nights with Elton John filling in for Davey Johnstone while he takes a little personal time off". The shows John is referring to are two private events in Arkansas (for Walmart) and Minneapolis on June 4 & 5, 2013.

The following day John will be guesting on Peter Frampton's show in Austin. Busy guy ...


UPDATE: Elton to play Walmart shareholders
Wednesday, May 15 2013 at 11:09:36


Billy Joel: Elton John has 'mom hair'
Saturday, May 25 2013
Billy Joel hasn't released an album since 1993's "River of Dreams," its famous cover a painting by his then-wife, supermodel Christie Brinkley.
But he continues to perform -- he toured with Elton John in 2010, and he reportedly stole the show at the 12-12-12 Hurricane Sandy relief concert. In a New York Times feature to be published on May 26, 2013, Billy talks about why he left songwriting, saying, "I got bored with it." He's honest about a supposed feud with Elton, who suggested Billy backed out of their touring deal, hinting that Billy was too afraid to write new songs.

"(Elton) tends to shoot off his mouth — he shoots from the hip," said Billy. "I think his heart is in the right place. Maybe he's trying to motivate me, to get me mad or something. He's kind of like a mom. ... He's got mom hair."


Long way to happiness
Friday, May 24 2013
Madonna has confirmed that her feud with Elton John is over, after he took her out for dinner.
The pair, who had been embroiled in a decade-long animosity, finally made up a restaurant in Nice, France. "After we kissed and hugged, he paid for my dinner, as he should," she told Extra TV, denying that she kicked him in the groin.

Elton - who previously called the Material Girl a "fairground stripper" - said to Extra TV: "I apologised profusely because what I said should never have appeared in public. That's over and done with."


Sorry not so hard to say for Elton
Monday, April 29 2013 at 20:01:17


The legal boys have won again?
Thursday, May 23 2013
Bernie Taupin was arrested earlier in May 2013 in Southern California on suspicion of DUI. Cops say the songsmith aroused suspicion after backing into a fence.
The California Highway Patrol, however, has neither set a court date nor revealed the results of the blood alcohol content test given to Taupin.

In a statement, Taupin's lawyer denies the charge and has accused the CHP of acting in bad faith.

"Mr. Taupin's vehicle became disabled on the side of the road," the statement read. "There is no evidence nor any witness to establish who the driver was at the time. Ms. Taupin was summoning AAA when the first of five police cars, and an even greater number of actual officers arrived. Officers told the Taupins they would assist with the disabled vehicle. Instead, they launched into a DUI investigation disregarding the fact that they did not know (or have an eye witness) as to who was driving the vehicle when it became stationary alongside the barbed wire fence."


Bernie Taupin arrested for DUI
Saturday, May 18 2013 at 06:55:02


Happy Birthday, Bernie!
Wednesday, May 22 2013
Elton's lyricist Bernie Taupin turns 63 today, May 22, 2013.
On behalf of the Hercules team and the Elton John fans all over the world, we would like to wish him a happy birthday!
Zachary enjoys fire truck ride
Monday, May 20 2013
Elton's toddler son got so excited when he saw firemen recently the singer asked them to give the tot a ride in their truck.
Elton and David are parents to Zachary, two, and four-month-old Elijah. Zachary is obsessed with firefighters and couldn't contain himself when he saw two men in the uniform while out shopping with Elton. The tot began yanking on his father's arm and pointing at the gents, much to the musician's amusement.

"Elton approached the guys, introduced himself, told them Zac's a huge fan of firefighters and would just love to ride on a real fire truck," a source laughed to National Enquirer. The emergency services personnel were only too happy to help out the singing superstar. They told Elton to follow them back to the fire station, where they let the toddler roam around the truck as much as he wanted.
Elton: Religion creates 'hateful lemmings'
Sunday, May 19 2013
Organized religion fuels anti-gay discrimination and other forms of bias, pop star Elton John said in an interview published on May 18, 2013.
"I think religion has always tried to turn hatred toward gay people," Elton said in the Observer newspaper's Music Monthly Magazine. "Religion promotes the hatred and spite against gays. But there are so many people I know who are gay and love their religion," he said. "From my point of view, I would ban religion completely. Organized religion doesn't seem to work. It turns people into really hateful lemmings and it's not really compassionate."

Elton also criticized religious leaders for failing to do anything about conflicts around the world. "Why aren't they having a conclave? Why aren't they coming together?" Elton said those in his own field have been similarly lax. "It's like the peace movement in the '60s. Musicians got through to people by getting out there and doing peace concerts, but we don't seem to do them any more," he said. "If John Lennon were alive today, he'd be leading it with a vengeance."
Bernie Taupin arrested for DUI
Saturday, May 18 2013
Santa Ynez Valley resident Bernie Taupin was arrested May 5, 2013 on suspicion of DUI, reports the Santa Barbara Independent.
According to California Highway Patrol spokesperson John Ortega, Taupin, 63, was driving his 2010 Ford pickup truck eastbound on Roblar Avenue when he tried to turn into a private driveway. He failed to navigate the turn and backed up, but wound up colliding with a wooden fence. No one was hurt in the accident.

When CHP officers arrived on the scene they arrested and booked Taupin on suspicion of driving under the influence of alcohol and/or drugs. Ortega declined to give Taupin's blood-alcohol level at the time of the incident, and no court date on the charge has been set.

Originally from England, Taupin moved to Santa Ynez Valley in the 1980s. He owns Roundup Valley Ranch below Figueroa Mountain where he raises and trains cutting horses for rodeo events.
"Baby" blows out "Candle in the Wind"
Saturday, May 18 2013
Justin Bieber's song "Baby" featuring Ludacris becomes the highest-certified single in history now that the RIAA incorporates on-demand streaming numbers into its Gold and Platinum certifications for digital singles.
Elton John's double-sided hit "Candle in the Wind"/"Something About the Way You Look Tonight" was previously the top song in history with a certification of 11-times platinum all the way back in 1997. Bieber's "Baby," which has 3.9 million track sales and over 857 million views on Vevo, is now 12-times platinum.

A gold or platinum certification that incorporates activity on streaming services is an accurate representation of the world consumers live in today. On-demand streaming services have become such a popular way to experience music that YouTube is often called "the new radio." For track certifications the RIAA counts streams only from services that compensate record labels. Among them are video services YouTube and Vevo and audio services Spotify, Muve Music, Rhapsody, MOG, Xbox Music and Slacker.

The digital-era songs with the highest certifications are some of the most popular videos. "Baby" is the second-most-watched video on YouTube. Eminem's "Love the Way You Lie" featuring Rihanna, now 11-times platinum, is fourth all-time at YouTube with over 560 million streams globally (for certification purposes, only streams originated in the U.S. are counted).

Adding streaming numbers to certifications was "easy to decide as a matter of principle" but much more complicated from a procedural standpoint, says RIAA Chairman and CEO Cary Sherman. The organization gathered a group of label marketing, business and data-analysis executives for a yearlong effort to decide exactly how streaming numbers should be integrated into certifications.

Sherman explains that the Gold and Platinum certification program has always been based on "the consumer saying he or she wants a particular piece of music." For decades that demand was represented by purchases, but today can vote with both their pocketbooks and their clicks. But the RIAA decided to count streams only from "pull" services like subscription service Spotify because the intent behind them is similar to a purchase. Streams from "push" services, or non-interactive Internet radio services like Pandora, are excluded because they don't reflect the same consumer intent.

Another consideration was how to mathematically incorporate streaming numbers in certifications while maintaining "the value of the award," as Sherman puts it. It would need a conversion rate that would stand over time. Using the monetary value of the streams wouldn't work -- data collection would be impractical. After looking at sales and streaming trends of popular songs, the RIAA decided that 100 on-demand streams equal 1 download for the purposes of certifications.

The end result, at least in the short term, is more certifications. Perhaps in the future a decline in download sales will be balanced by the inevitable increase in streaming activity. But for now, more artists and songs will be certified Gold and Platinum. Welcome to the new record business.

Elton Expo 2013 - Las Vegas - 4 to 6 October 2013
Wednesday, May 15 2013
It's on again, another East End Lights "Elton Expo". In the past these events have been a magical experience with hundreds of Elton fans gathered to celebrate the life and music of Elton John & Bernie Taupin.
This year's line-up will be the best ever, with a little added mystery included. At present guests include:

The Elton John Band

Keith Hayward – author of "Tin Pan Alley-The Rise of Elton John" (free copies of the book to the first 20 registered attendees)

producer Matt Still

performances by Ben Babylon

a "Behind the Music" panel – find out what it takes to keep the show going with the Elton John crew

several family & friends of Elton & the band


plus a very special mystery guest!
Hercules Co-ordinator and eltonfan.net website administrator Stephan Heimbecher will also be at the event, but is not the "mystery guest".

Registration is limited. The Tuscany Suites Hotel has reserved a block of rooms at a discounted rate for all attendees. Call and mention that you are attending the Elton Expo: +1-877-887-2263 or +1-702-947-5925.

Register before June 1, 2013 and the registration fee is $160. The first 20 attendees registered will receive a free copy of Keith Haywards' book: Tin Pan Alley, The Rise of Elton John. More Information with be made available as needed, but the last few Expos have sold out so register today at www.eastendlightsmagazine.com.

For More info, contact eastendlights0@gmail.com.

UPDATE: Elton to play Walmart shareholders
Wednesday, May 15 2013

Elton John and rising country star Luke Bryan will perform in a series of concerts offered to Walmart associates, the retailer confirmed on May 9, 2013.

Elton's concert with special guest Ed Sheeran on June 4, 2013 and Bryan's show on June 5, 2013 will both take place in Bud Walton Arena in Fayetteville, AR and will precede Walmart's annual Shareholders' meeting, which follows on June 7, 2013 in the same venue.

Walmart and Sam's Club associates will be able to reserve tickets to the shows beginning May 15, 2013, said Dianna Gee, a Walmart spokesperson. Pairs of free tickets will be available on a first come, first served basis. Associates will be able to log on to Ticketmaster.com or visit a Walmart Ticketmaster Retail Outlet to order up to two free tickets per concert.

The general public may begin buying tickets on May 30, 2013.

Walmart is also at work on a community concert for Northwest Arkansas residents, Gee said, but the neither the date or the performer has been announced.

Robin Hood raises more than $80 million to fight poverty
Tuesday, May 14 2013

The Robin Hood Foundation raised more than $80 million to fight poverty in New York at its star-studded gala on May 13, 2013, thanks in part to a matching $25 million donation by a group of anonymous donors.

Addressing an audience of Wall Street honchos that was entertained by Mary J. Blige, Bono, Elton John and Brian Williams, Robin Hood founder and hedge-fund manager Paul Tudor Jones II said what united the foundation's donors was "the need to give love."

The figure raised May 13, 2013 bests last year's haul of $59 million, which in turn beat the $47 million raised by the event in 2011. The foundation is also hosting its first investment conference this fall 2013, said Barry Sternlicht, chair of the foundation's board of directors, with scheduled speakers including David Einhorn, Howard Marks and David Tepper.

The annual springtime extravaganza acts somewhat as a barometer of the hedge-fund industry. In 2008, a trip to Australia to scuba dive and have lunch with Hugh Jackman fetched $420,000. The following year, in the midst of the financial crisis and anger toward Wall Street, prizes on offer during a scaled-back auction focused on opportunities to feed hungry families and enroll children in charter schools.

This year, more than 4,200 people attended the 25th anniversary celebration, chaired by Mr. Jones and his wife, Sonia; KKR & Co. co-founder Henry Kravis and his wife, Marie-Josee; CBS Corp. CEO Leslie Moonves and his wife, television personality Julie Chen; and Hollywood stars Justin Timberlake and Jessica Biel.

Early in the evening, Mr. Timberlake chatted with Mayor Michael Bloomberg, Steven A. Cohen wandered through the cocktail reception and Elton John played "Tiny Dancer" as attendees munched on shrimp and whipped ricotta cheese at the Jacob K. Javits Convention Center.

"I'm very excited to perform for you after you talked over Elton John as if he were playing covers in a Hyatt f– lounge," the comedian Louis C.K. said, winning laughs, before spinning into an expletive-strewn routine.
Other surprise guests included Jerry Seinfeld, and Paul Simon and Sting, who played together.

Brian Williams, hosting the event, joked about some Bloomberg reporters' use of the proprietary Bloomberg terminals to access subscriber data, saying, "We have a Bloomberg terminal–I know what you're all thinking. That's been a fun development this year." Later, addressing New York City Mayor Michael Bloomberg, who was in the audience, he said, "Mr. Mayor, thanks for being a good sport," then winked and pointed at Mr. Bloomberg, pulling an imaginary trigger. "And, I'm taking the West Side Highway home in case anything happens to me. Five thousand witnesses."
Since its founding, Robin Hood has given out more than $1.25 billion to fight poverty, according to the foundation, helping to feed New Yorkers, install libraries in public schools and help victims of the Sept. 11 attacks.

In 2012, Robin Hood also put on the "12-12-12" benefit concert, featuring musicians such as Bruce Springsteen and the Rolling Stones, to raise money for victims of superstorm Sandy.

Elton biopic 'Rocketman' to launch foreign sales effort at Cannes
Saturday, May 11 2013

Rocket Pictures' Elton John biopic "Rocketman" will be taking off at Cannes, with Good Universe launching the international sales effort at the upcoming Cannes Film Market.

Michael Gracey is directing from a script by Oscar nominee Lee Hall ("Billy Elliot"). Steve Hamilton Shaw and David Furnish ("Gnomeo and Juliet") will produce, while Elton John will executive produce.

"Rocketman" follows Elton's life story, from his childhood as a five-year-old musical genius through his often-troubled life, to becoming a global icon and one of the world's most revered musicians. "We're excited to be bringing this musical event movie to Cannes," said Rocket CEO Steve Hamilton Shaw. "It's bold, brave and inspirational. Good Universe has great commercial sensibility and we're delighted to have them represent us."

"Much like the life of Elton John the man, 'Rocketman' is the larger than life movie spectacle that brilliantly captures the universal struggle of self-love that we all face," added Good Universe co-founder Joe Drake. "Director Michael Gracey's vision for this movie is overflowing with everything that makes for great event cinema. We pulled out all the stops to join Rocket Pictures on this incredible film."

UTA Independent Film Group is representing domestic rights.
The deal was negotiated by Shaw for Rocket Pictures, which is represented by UTA, while Drake and Michael Meyer negotiated on behalf of Good Universe.



Director Bryan Forbes dies at 86
Friday, May 10 2013

Bryan Forbes, the acclaimed British writer-director who helmed the sinister suburban horror classic "The Stepford Wives," died May 8, 2013 after a long illness at his home in Surrey, England. He was 86.

In 1972, Forbes started work on the documentary, "Elton John and Bernie Taupin Say Goodbye Norma Jean and Other Things", which chronicled the life of the young Elton John and Bernie Taupin. The project took Forbes a full year to complete, and provided a behind-the-scenes look at the writing and recording of "Goodbye Yellow Brick Road," including interviews with Elton, Bernie and band members including Nigel Olsson and Dee Murray, as well as Elton's mother, Sheila, DJM label head Dick James and son Stephen, and footage of Elton's Hollywood Bowl concert in 1973.

During the filming, Forbes formed a close friendship with Elton and Bernie, which led him to do other work with them, including photography on the "Don't Shoot Me I'm Only the Piano Player" and "Goodbye Yellow Brick Road" album sleeves. ITV first transmitted the documentary in the UK on 4 December 1973 (in the US, ABC screened it) shortly after completion, and was later briefly issued on VHS.

Forbes began his career as an actor, playing supporting roles in such British films as An Inspector Calls (1954) and The Colditz Story (1955). He and Attenborough formed the production company Beaver Films in the late 1950s and were frequent collaborators. Forbes also wrote several novels, including The Soldier's Story, which was published last year. He was made a Commander of the Order of the British Empire in 2004 for his service to the arts.

In addition to his wife, survivors include daughters Emma Forbes, a British TV host, and journalist Sarah Standing. Forbes' first wife was Irish actress Constance Smith.

Elton confirmed for Vienna Life Ball
Friday, May 10 2013

Elton John, Desperate Housewives star Eva Longoria and ex president Bill Clinton have confirmed they will take part in the 21st annual Life Ball in Vienna on May 25, 2013.

Black-Eyed-Peas singer Fergie will also be attending the "1,001 Nights" themed grand opening of the event alongside Italian star designer Roberto Cavalli, who will be opening the fashion show for the second time. This year, the fashion show will have a slightly retro taste. Roberto Cavalli's wife Eva said: "We're not just bringing our current Spring-Summer collection, but we've also dug out other pieces from the archive."

The actors Ruth Brauer-Kvam and Cornelius Obony will be replacing Ben Becker und Nicholas Ofczarek in commenting the event, which will see the first prominent guests arrive at the red carpet in the square in front of the city hall at around 7.30pm. The doors open for most guests at 3pm on the day. Elton John and Bill Clinton will also be attending the Aids Charity Gala in the Hofburg just hours before the ball.

A charity concert at the Burgtheater will take place the previous evening, on May 24, 2013. Proceeds from tickets for all these events will be donated to national and international Aids charities.

Happy 25th anniversary to us!
Wednesday, May 8 2013

The international Elton John Fan Club Hercules, also known as eltonfan.net, has been serving the Elton John community since 1988, i.e. for a quarter of a century.

Founded as Rocket Fan back on May 8, 1988 with a focus on German-speaking fans, the club has soon turned into a worldwide organization with Elton admirers from all over the planet. In 2013 we are celebrating our 25th anniversary.
For the past decade Hercules has been offering all of its services on eltonfan.net free of charge. The site is maintained on a voluntary basis, however, there are costs involved in hosting the site on a high-speed and reliable server. If you like the services provided on eltonfan.net and if you feel like supporting this website, we would be grateful if you would make a small donation.

With this we would like to thank Elton for his persistence and everlasting presence, the management and record company for their support, and last but not least the fans for their loyalty and contributions to the site.

Happy Birthday, Davey & Kim!
Monday, May 6 2013

Two members of Elton's band will be celebrating their birthday on May 6, 2013.

Guitarist Davey Johnstone turns 62 while keyboard player Kim Bullard will celebrate his 58th birtday.

Just like last year, both will have the chance to party in Las Vegas where they are currently playing "The Million Dollar Piano" shows with Elton.

On behalf of the visitors of eltonfan.net and all Elton fans around the world, we would like to wish them a happy Birthday.

Elton performed at Race to Erase MS Benefit
Sunday, May 5 2013

On May 3, 2013, Elton John performed at the 20th annual Race To Erase MS benefit in Los Angeles.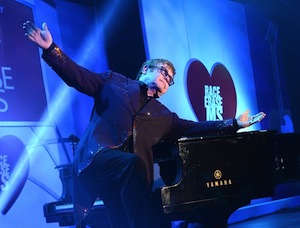 The event is put on by activist and author Nancy Davis to raise funds and awareness for the fight against multiple sclerosis. It's grown considerably since its start, from a ski event in Colorado to a celeb-laden dinner and concert that in recent years has featured the Eagles, Heart and more. Despite that expansion, there was a feeling of community and intimacy at the Century Plaza Hotel. Jack Osbourne, who was diagnosed with MS in 2012, was honored along with his mother, Sharon Osbourne.

The camaraderie stems from the Osbournes' long history with Elton. "It's got to be 40 years ago – we go back that long," Sharon told Rolling Stone. "He came because of Jack. He's known Jack since he was born. Elton has always been here for our family and a great friend, and that's one of the things about being blessed with great friends – they're there with you," she said.

After opening with "Tiny Dancer," Elton quipped, "Sharon Osbourne has so much information on me I had to be here." Then, getting serious, he praised both Sharon and Jack for their courage and activism in the year since Jack revealed his MS.

Elton also teased his long-time friend Rod Stewart, and got sentimental when he explained that one of the thrills of the night was getting to sit with him. "We go back a long way," Elton said from the stage to his fellow British icon. "I love you, man."

Following Elton's performance, Stewart told Rolling Stone the affection was mutual. "I've just been enjoying the performance of my mate," he said. Stewart gave advance praise for Elton's upcoming album The Diving Board, due in September 2013: "It's so good," He promised.

Elton dazzled in his solo performance: He ran through several mega-hits, from a boogie woogie "Philadelphia Freedom" to an extended "Rocket Man." Other standouts in the nearly hour-long set included "Your Song" and "Don't Let The Sun Go Down On Me," which Elton recalled first playing for Stewart during a car ride together nearly 40 years earlier. A celebratory "I'm Still Standing" had everyone dancing, and it perfectly captured the resiliency of the night.

This night Ziggy Marley and country star Kellie Pickler got their first-ever opportunity to witness him live. Pickler had a suggestion for the singer: "I think he needs to come to the CMA's one year. That would be amazing," she said. It's not so far-fetched, as there are a lot of rock acts who go to the Country Music Awards, and Elton has been very open to working with young artists in the past. If Pickler gets her wish and she got to perform with him, what would she want to do? "It would be fun to sing a classic country song – maybe pull out an old Tammy [Wynette] and George [Jones]," she said. "He can do anything he wants to do. He's Elton John."

For Marley, the chance to see Elton and support the cause made for an easy choice to come out. "That's the good thing about having someone like him play events like this; he brings us out to support," Marley said. Marley, like Guns N' Roses guitarist Ron "Bumblefoot" Thal, was on hand because of personal connections to the illness. "We have a friend who suffers from MS and she invited us here to lend support to the cause," Marley said. Thal explained, "One of my best friends was stricken with the disease about 15 years ago and we started a non-profit organization, a group in New Jersey, the MS Research Foundation. I am here to give my positive vibes, my support, anything I can do to help spread awareness."

Thal summed up the aim of all those in attendance last night when he said "We all have the same goal here. We want to do something to maintain the quality of life [for those] that have this disease."

Following is the complete set list of the Race to Erase MS benefit show on May 3, 2013:
Tiny Dancer

Your Song

I Guess That's Why They Call It The Blues

Rocket Man

Philadelphia Freedom

Don't Let The Sun Go Down On Me

I'm Still Standing

Circle Of Life/Can You Feel The Love Tonight
Only in Las Vegas ...
Friday, May 3 2013
Comedian Carrot Top took a night off from his Luxor headliner show to pal up with Oscar-winning actor and Las Vegas resident Nicolas Cage and attend Elton's resident show "The Million Dollar Piano" at The Colosseum in Caesars Palace.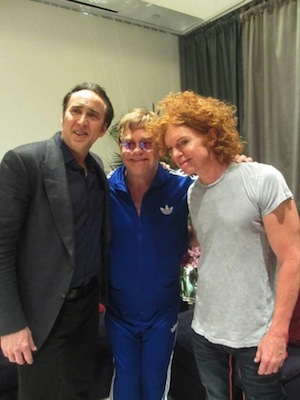 The unlikely trio posed for a photograph after the performance. Before Elton went onstage, he played host to British singer-songwriter Ed Sheeran, who he'd sung a duet with at the 2013 Grammys, where Ed was nominated.

The ginger-haired pop star stayed on here after performing at the grand opening poolside party for Nobu Caesars Palace Hotel on April 28, 2013 before returning to the Taylor Swift tour as the opening act.
Gnomes to the rescue
Wednesday, May 1 2013
Britain's best-known gardener, Alan Titchmarsh, has joined forces with the RHS to reach out to the next generation of horticulturists.
The RHS vice president on April 20, 2013 launched the RHS Chelsea Centenary Appeal, with the aim of helping the charity highlight the breadth of opportunities that horticulture offers. Titchmarsh said: "A survey of 1,000 people last year revealed that 70% of 18-year-olds believe horticultural careers should only be considered by people who have 'failed academically'. Nearly 50% of under-25s think horticulture is an 'unskilled career'.

"We must act now to make horticulture appeal to young people. We must engage with them in an interesting way to discover the immense job satisfaction and wealth of opportunities horticulture can offer. We must change the perception of horticulture."

Among the fundraising activities during the year-long appeal, a host of celebrities including Elton John and Dame Maggie Smith will be painting garden gnomes, which will then be auctioned on eBay during the RHS Chelsea Flower Show, sponsored by M&G Investments.