ELTON JOHN NEWS ARCHIVE: May 2012
Elton and Billy attend 3000th London show of Billy Elliot
Thursday, May 31 2012
Elton John appeared to have bounced back from his health scare, and looked the picture of health as he and David Furnish helped celebrate seven years and 3,000 performances of Billy Elliot: The Musical.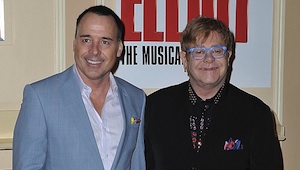 Wearing a black suit, embellished shirt and gold studded shoes, with a pair of bright blue-rimmed glasses, Elton smiled widely as he posed up for photographers with Furnish outside the Victoria Palace Theatre. Elton was rushed to the Cedars-Sinai Hospital in Los Angeles in the early hours of the morning on May 23, 2012.

He subsequently underwent tests and doctors told him he could not perform for seven days - meaning he had to cancel four concerts of his Million Dollar Piano residency at Las Vegas' Caesars Palace. Elton was told by medics he needs 'complete rest and antibiotic treatment to prevent damage.' But as he went solo at the Glamour Women of the Year Awards earlier this week, David told reporters that Elton was doing well. He said: 'He's doing incredibly well and recovering.'

And Elton certainly looked in good spirits on May 30, 2012 as he attended the musical, although it seems the high emotion of the show still gets to the singer. Former Hollyoaks star Kevin Sacre, who attended the anniversary show with his Strictly Come Dancing girlfriend Camilla Dallerup, wrote on his Twitter page: 'Billy Elliot was fantastic tonight... Made even more bizarre as Elton john was behind us crying just as much as we were!'

Elton was previously forced to cancel two concerts in February 2012, after he came down with food poisoning. In October 2011, Elton celebrated performing his 3000th show in Las Vegas, after which he celebrated with the audience and a large cake with EJ3K written on it.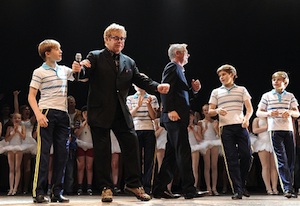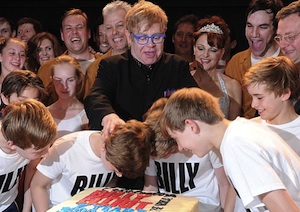 Rolling Stone readers pick the Top 10 Songwriters of All Time
Tuesday, May 29 2012
Bob Dylan wins in a landslide, followed by McCartney/Lennon and Bruce Springsteen. Elton and Bernie make it to #10.
For over 40 years Elton John and Bernie Taupin have had a very simple working relationship: Bernie writes the lyrics and Elton writes the music. It's served them well, producing "Your Song," "Tiny Dancer," "Madman Across The Water," "Burn Down The Mission" and literally hundreds of others. The two of them have never worked on a song in the same room, and they spend much of their time on opposite ends of the globe. Paired at random by a record company executive in 1967, Taupin/John is one of the most successful and long-lasting partnerships in the history of popular music.
Elton 'doing well' after serious infection
Sunday, May 27 2012
ETOnline.com reports that Elton John is recovering at home after suffering from "a serious respiratory infection" that forced him to cancel several of his upcoming Las Vegas performances.
A spokesman told ET on May 25, 2012 that he is currently "at home and doing well" after being hospitalized at Cedars-Sinai Medical Center in Los Angeles on May 23, 2012. A spokeswoman for The Colosseum at Caesars Palace told reporters that the singer was advised by doctors to "suspend his "Million Dollar Piano" show performances for at least the next seven days to focus on getting adequate rest while he is treated with antibiotics."

Expressing his regret to his fans, Elton tweeted a message on May 25, 2012 saying, "I love performing this show and I will be thrilled when we return to The Colosseum in October to complete the eleven concerts soon to be scheduled. All I can say to the fans is sorry I can't be with you. I hope to see you soon at this wonderful theatre at Caesars Palace."


Elton treated at L.A. hospital for 'serious' respiratory infection
Thursday, May 24 2012 at 16:44:54


Gary Barlow hosts The Queen's Diamond Jubilee
Sunday, May 27 2012
The concert with performances by Annie Lennox, Elton John, Kylie Minogue, and many more will be broadcast on BBC Worldwide Channels.
BBC viewers around the World will be able to enjoy comprehensive coverage of the Queen's Diamond Jubilee celebrations, which are taking place over three days at the beginning of June 2012. On June 4, 2012 BBC Entertainment will air The Queen's Diamond Jubilee: Concert featuring a star studded line-up of UK and international stars.

Produced by the BBC, the concert will be broadcast live from the heart of London in front of Buckingham Palace. Headlined by Take That's Gary Barlow, the show will feature talented British stars as well as international artists performing in a variety of musical styles including rock, pop, classical, and musical theatre.

Creating an inviting, vibrant, and emotional mood that will be felt across the globe, the historic event will welcome the world to London as the city prepares for an incredible summer culminating in the 2012 Olympic games. Attended by Her Majesty the Queen, His Royal Highness The Duke of Edinburgh and other members of the Royal Family, the show will include classic hits and collaborative tributes from musicians including Shirley Bassey, Elton John, Tom Jones, Paul McCartney, Stevie Wonder, Kylie Minogue, Jools Holland, Jessie J, JLS, Annie Lennox, Madness, Cliff Richard, Ed Sheeran and West End star Alfie Boe. Taking advantage of the magnificent backdrop, the stage has been designed by renowned architect Mark Fisher to incorporate stunning lighting and video effects.

The Queen's Diamond Jubilee: Concert promises to be one of the most spectacular shows ever staged in the UK. The Queen's Diamond Jubilee celebrations form part of the London Calling season, which celebrates the music, fashion, history, people and culture of Britain's capital city.

Another highlight of the season is a three-part documentary series, Diamond Queen, which offers an intimate look at Queen Elizabeth II's life and reign. It includes remarkable archive footage and exclusive interviews with world leaders and members of the Royal Family, including Prince William and Prince Harry. To find out when The Queen's Diamond Jubilee: Concert and other London Calling BBC programmes air in your region, please visit www.londoncallingbbc.com or your local BBC website.
Elton treated at L.A. hospital for 'serious' respiratory infection
Thursday, May 24 2012
Elton John spent a day in a Los Angeles hospital for a "serious respiratory infection" that forced the premature end to his Las Vegas show, the LA Times reports.
Elton became ill last weekend while performing his show, "The Million Dollar Piano," at the Colosseum at Caesar's Palace, according to a statement on his website. "This week the condition worsened, even with medication and rest," the statement said. Elton spent May 23, 2012 at Cedars-Sinai Medical Center for "extensive tests" that resulted in a doctor's recommendation Elton take a week of rest and antibiotics to "cure his respiratory infection and prevent any damage."

He will miss the final four concerts scheduled at the Colosseum, abruptly ending the first of three years of performances scheduled at Caesars Palace. The singer and his band will leave Las Vegas for a summer tour in Europe, which kicks off June 1, 2012 in Germany.

"It feels strange not to be able to perform these 'Million Dollar Piano' concerts at the Colosseum," Elton said in the statement. "I love performing this show and I will be thrilled when we return. All I can say to the fans is sorry I can't be with you," he added.

"The Million Dollar Piano" will resume in Las Vegas in October 2012. Officials at Caesars Palace said tickets to the canceled shows could be exchanged or refunded.
Happy Birthday, Bernie!
Tuesday, May 22 2012
Elton's lyricist Bernie Taupin turns 62 today, May 22, 2012.
On behalf of the Hercules team and the Elton John fans all over the world, we would like to wish him a happy birthday!
New book by Elton John
Monday, May 21 2012
"Love Is the Cure: On Life, Loss, and the End of AIDS" will be released on July 17, 2012.

In the 1980s, Elton John saw friend after friend, loved one after loved one, perish needlessly from AIDS. In the midst of the plague, he befriended Ryan White, a young Indiana boy ostracized by his town and his school because of the HIV infection he had contracted from a blood transfusion. Ryan's inspiring life and devastating death led Elton to two realizations: His own life was a mess. And he had to do something to help stop the AIDS crisis.

Since then, Elton has dedicated himself to overcoming the plague and the stigma of AIDS. He has done this through the Elton John AIDS Foundation, which has raised and donated $275 million to date to fighting the disease worldwide. "Love Is The Cure" is Elton's personal account of his life during the AIDS epidemic, including stories of his close friendships with Ryan White, Freddie Mercury, Princess Diana, Elizabeth Taylor, and others, and the story of the Elton John AIDS Foundation. With powerful conviction and emotional force, Elton conveys the personal toll AIDS has taken on his life -- and his infinite determination to stop its spread.

Elton writes, "This is a disease that must be cured not by a miraculous vaccine, but by changing hearts and minds, and through a collective effort to break down social barriers and to build bridges of compassion. Why are we not doing more? This is a question I have thought deeply about, and wish to answer-and help to change-by writing this book."

Sales of "Love Is the Cure" benefit the Elton John AIDS Foundation.

Former President Bill Clinton said: "My friend Elton John has touched us all with his music and with the countless lives he has saved through his AIDS Foundation. Now he has given us a deeply personal story of struggle and perseverance in the fight against this terrible disease. Few people know more about Elton what it will take to end AIDS. His wonderful new book will convince you there's cause for hope--and inspire you to be part of the solution."
Gossip perform "Candle In The Wind" for An awkward Cannes audience
Friday, May 18 2012
"Tough crowd!" Gossip lead singer Beth Ditto exclaimed halfway through the song. "You know what they say, you can love it or hate it, I still get paid."
Gossip are getting a taste of the Cannes, and it's pretty bitter. The group performed Elton John's "Candle In The Wind" during the opening ceremony of the film festival, though it can't be said they recieved the warmest reception.



The crowd stayed mostly silent during the performance, forcing Ditto to ask, "Are you alive?" One can't particularly blame the audience for their lack of excitement — their arrangement sounded off, and Beth fumbled with the lyrics a bit. Thankfully, the group fared a bit better when they performed their single "Perfect World" for the Cannes festgoers on Le Grand Journal.
'The Rocket Man' greets the 'Rocket Men'
Friday, May 18 2012
Continuing the celebration of André Kuipers' music in space, Elton sent a special message to ESA, André and the crew of the ISS on the 40th anniversary of his classic song 'Rocket Man'.
The accompanying video was recorded during Elton's Million Dollar Piano Show in Las Vegas, on April 17, 2012, 40 years to the day after his single Rocket Man (I Think It's Going To Be A Long Long Time) was released around the world. Elton said, "When I was a boy Dan Dare was a comic book hero, and space travel just a romantic idea, not a reality. I was 14 years old when Yuri Gagarin became the first man in space; my songwriting partner Bernie Taupin was just 11. Bernie and I did not meet until 1967, and two years after we met, Neil Armstrong became the first man to step on to the moon. Our generation was smitten with the glory and excitement of space travel. 'Rocket Man' - and indeed 'Dan Dare' on the Rock of the Westies album - came from those boyhood dreams of travelling beyond the stars and looking back on Earth.



"Not long after the Rocket Man single was released, my band and I were invited to the NASA headquarters in Texas and shown around by Al Worden, Apollo 15 command module pilot. It was thrilling to find that real astronauts liked our song, Rocket Man, which was about an imaginary astronaut. Now, 40 years later, it's amazing to hear from the astronauts at the European Space Agency that they like the song and that it has been on the playlist on the International Space Station. I send my best wishes to ESA and all the crew, and my thanks for keeping those boyhood dreams alive."

During long stays on the ISS, many astronauts take music with them for listening in off-duty hours. For his six-month mission, ESA's André Kuipers included Rocket Man in his playlist. "This song has been an inspiration to many people who are interested in space, and especially those who wanted to become astronauts, including myself. It is certainly one of the most played songs here on the ISS, and we know it will accompany more astronauts into space in the future," said André.

Rocket Man has had a special connection with generations of astronauts and many others in the space industry ever since, as well as inspiring and entertaining millions of people around the world. ESA astronaut Jean-François Clervoy, with three Space Shuttle missions under his belt, said, "I took CDs from Elton John into space three times, and for sure Rocket Man was one of the songs I've listened to each time with great feeling."

The first European commander of the ISS, Frank De Winne, said: "There is nothing more beautiful than to see our planet from space. There are no boundaries, no skin colours, no political sides, just one planet with one common future. As Rocket Men and Women, it is our duty to testify about it and to strive for a better world for all. I AM a rocket man! Thank you, Elton John, for your great music."
R.I.P. Donna Summer
Friday, May 18 2012
Donna Summer, who passed away on May 17, 2012, is gone but certainly not forgotten.
The music world paid their respects to her incredible legacy of disco star Donna Summer, who has died aged 63. It is believed the singer, best known for hits including I Feel Love, had been fighting cancer. A family statement said: "Early this morning, we lost Donna Summer Sudano, a woman of many gifts, the greatest being her faith. While we grieve her passing, we are at peace celebrating her extraordinary life and her continued legacy. Words truly can't express how much we appreciate your prayers and love for our family at this sensitive time."

"I'm so sad. This woman was the queen of disco and so much more," Elton told E! News. "Her records sound as good today as they ever did. That she has never been inducted into the Rock and Roll Hall of Fame is a total disgrace, especially when I see the second-rate talent that has been inducted. She is a great friend to me and to the Elton John AIDS Foundation and I will miss her greatly."
The world's most powerful celebrities
Thursday, May 17 2012
Elton John has made this year's Forbes Celebrity 100 List which ranks the most powerful celebrities in the world.
This year, Elton has made it to #17 in the Celebrity 100 list with total earnings of $80 M (as of May 2012). The list is topped by Jennifer Lopez, Oprah Winfrey and Justin Bieber.

Elton ranks #11 in Money, #29 in TV/Radio, #32 in Press, #58 in Social and #48 in Web. See forbes.com for more details.
Elton booed after throwing a few tantrums in Las Vegas
Saturday, May 12 2012
Elton was booed during his May 11, 2012 show at Caesars Palace after repeatedly losing his temper and throwing a stool and water glass across the stage, reports Vegas Confidential.
During one of his outbursts at the Colosseum, he exploded, saying "somebody in my production team is (bleeping) fired," a backstage spy told the Review-Journal. "He made an ass of himself," said the source.

Elton started his show 20 minutes later and ended it 25 minutes early, according to the source. Stagehands were seen mopping up water after each of Elton's outbursts. Booing erupted after the fourth time he threw his water glass.

His tantrum may have been costly. The show was being filmed by almost a dozen cameras. A dancer posted a tweet on her Twitter feed saying she was shooting a video with the singing legend. After singing the finale, "The Circle of Life," Elton left the stage immediately, according to the eye witness. "Not a word to the audience or a thank you to the band," he said.

Maybe Elton threw these tantrums, as Dao Vu, host of "The Morning Blend" on KTNV-TV, Channel 13, had a craving for funnel cakes, so she headed to the San Gennaro Feast late on May 9, 2012 afternoon. She spotted Elton on an amusement ride with 16-month-old son Zachary and clicked a rare photo.
Top 20 Concert Tours from Pollstar
Friday, May 11 2012
The Top 20 Concert Tours ranks artists by average box office gross per city and includes the average ticket price for shows in North America.
The previous week's ranking is in parentheses. The list is based on data provided to the trade publication Pollstar by concert promoters and venue managers.

TOP 20 CONCERT TOURS

1. (1) Bruce Springsteen & The E Street Band; $2,031,105; $91.27.

2. (2) Cirque du Soleil - "Michael Jackson: The Immortal"; $1,915,906; $113.56.

3. (3) Elton John; $1,295,560; $115.62.

4. (4) Jason Aldean; $618,519; $44.47.

5. (6) Brad Paisley; $585,355; $52.37.

6. (5) The Black Keys; $568,057; $47.00.

7. (7) Lady Antebellum; $530,551; $49.67.

8. (8) Blake Shelton; $363,435; $47.73.

9. (9) Miranda Lambert; $360,254; $43.66.

10. (10) Jeff Dunham; $304,321; $44.87.

11. (11) Eric Church; $279,016; $35.42.

12. (New) Yanni; $204,180; $60.06.

13. (12) Kelly Clarkson; $192,509; $54.21.

14. (16) Rain - A Tribute To The Beatles; $173,253; $51.05.

15. (14) "Gigantour" / Megadeth; $173,067; $49.28.

16. (13) "Mythbusters"; $159,242; $51.54.

17. (15) Rise Against; $156,215; $33.68.

18. (17) Peter Frampton; $131,036; $64.55.

19. (19) "Winter Jam" / Skillet; $128,725; $11.18.

20. (18) The Moody Blues; $128,409; $60.15.
Happy Birthday to us!
Tuesday, May 8 2012
The international Elton John Fan Club Hercules, also known by its internet domain eltonfan.net, has been serving the Elton John community since 1988.
Founded as Rocket Fan back on May 8, 1988 with a focus on German-speaking fans, the club has soon turned into a worldwide organization with Elton admirers from all over the planet. In 2012 we are celebrating our 24th anniversary.
For the past nine years Hercules has been offering all of its services on eltonfan.net free of charge. The site is maintained on a voluntary basis, however, there are costs involved in hosting the site on a high-speed and reliable server. If you like the services provided on eltonfan.net and if you feel like supporting this website, we would be grateful if you would make a small donation.

With this we would like to thank Elton for his persistence and everlasting presence, the management and record company for their support, and last but not least the fans for their loyalty and contributions to the site.
Elton pens foreword to wew Rick Wakeman book
Monday, May 7 2012
Elton John penned the foreword to the new book, 'Caped Crusader, Rick Wakeman In The 1970s,' which was written by Dan Wooding.

The book, the authorized biography of Rick Wakeman, who is arguably the world's greatest rock keyboardist, is lavishly illustrated with dozens of photos from Wakeman's extraordinary career which includes the time his career took off when he joined the folk group, Strawbs, in 1969, and played on three of their albums. Wooding's book also includes fascinating descriptions of his several excursions with the British super group, Yes, and his many themed solo albums, including The Six Wives of Henry VIII (1973), Journey to the Centre of the Earth (1974) and The Myths and Legends of King Arthur and the Knights of the Round Table (1975).

Elton John, in his foreword for the book, said, "Rick's mastery of electronic instruments only adds to his abilities, and I think it is fair to say he was one of the reasons I stuck to the piano. I also admire his attitude to stage shows - always willing to take a gamble, but never sacrificing his musical ideals. Just as important, never losing his sense of humour and his sense of the ridiculous. Anyone who can put on an ice show at Wembley must be all right. I must add that Rick loves cars and is a fanatic when it comes to soccer. Therefore, he and I have an unbreakable bond.

"It has become fashionable to knock musicians who have been around a while, and who are still determined to persevere in what they believe in. It is very easy to be misunderstood along the way, but it is vital to ignore trends and get on with what you want to do. Rick will always do this because, quite simply, he's that much better than everyone else."
Happy birthday, Davey & Kim!
Sunday, May 6 2012
It's party time for the Elton John band on May 6, 2012.
Guitarist Davey Johnstone turns 61 while keyboard player Kim Bullard will celebrate his 57th birtday.

Both will party in Las Vegas where they are currently playing "The Million Dollar Piano" shows with Elton. There are probably worse places in the world to spend your birthday.

On behalf of the visitors of eltonfan.net and all Elton fans around the world, we would like to wish them a happy Birthday.
PNAU team up with Elton for collaboration album
Thursday, May 3 2012
It's official. The long rumoured collaboration between Elton John and Australian electro duo PNAU is actually happening and a release date for an album has been set for July 2012, reports Tone Deaf.
According to Elton himself he's given PNAU, Peter Mayes and Nick Littlemore, unfettered access to the multitracks of his entire discography and allowed them to run riot with it. "I've been doing a remix project with Australian duo Pnau. I gave them free rein on all my master tapes and they have come up with some extraordinary new versions of our songs," Elton explains.

Elton's love for the Australian electro wunderkids is no secret, during their early years he flew them over to the UK, signed them up to his management company, and has been mentoring them ever since. "We just owe him so much, I mean, he kind of saved us," Mayes said of the relationship. "He found us a couple of years ago in Australia and he basically helped us move to the UK and we're managed by his management company. He's been a real mentor to us and a good friend too, musically and otherwise. If we're down he'll help us. He's just someone who's there to help. If we write a great track he'll tell us. If we write a bad track he'll tell us. He's very honest and very generous with his time."

Elton last helped the Aussie group on their most recent album Soft Universe, but the new project will see a selection of Elton's old classics be re-imagined into an album featuring PANU's recreations of his classic songs between 1970 and 1976.

Creatively titled Elton John + Pnau, the first single is a reinterpretation of Elton's "Mona Lisa And Mad Hatters", retitled as "Good Morning To The Night", and featuring samples from no less than 8 of Elton's songs. The signature electro sound of PNAU also makes Elton's voice sound contemporary and fresh, impressive given some of the recordings are over 40 years old.

The album is slated for release on July 2, 2012, with "Good Morning To The Night" set to debut officially on June 25, 2012.

You can have a listen to 'Good Morning To The Night' below. Also check out the full tracklisting for the album with the songs sampled for each track provided by Tone Deaf.



1. Good Morning To The Night
Includes Elements from the following original Elton John Sound Recordings:
Philadelphia Freedom
Mona Lisas and Mad Hatters
Funeral for a Friend
Tonight
Gulliver/It's Hay Chewed
Sixty Years On (Live in Australia)
Goodbye Yellow Brick Road
Someone Saved my Life Tonight

2. Sad
Includes Elements from the following original Elton John Sound Recordings:
Nice and Slow
Crazy Water
Curtains
Sorry Seems To Be the Hardest Word
Friends

3. Black Icy Stare
Includes Elements from the following original Elton John Sound Recordings:
Cold Highway
You're So Static
Solar Prestige a Gammon

4. Foreign Fields
Includes Elements from the following original Elton John Sound Recordings:
Pinky
Someone Saved My Life Tonight
High Flying Bird
Sweet Painted Lady
Cage the Songbird
Chameleon

5. Telegraph to the Afterlife
Includes Elements from the following original Elton John Sound Recordings:
Harmony
We All Fall in Love Sometimes
Funeral for a Friend
Sweet Painted Lady
I've Seen That Movie Too
Love Song
Indian Sunset

6. Phoenix
Includes Elements from the following original Elton John Sound Recordings:
Grey Seal
Are You Ready for Love
Benny and the Jets
Someone Saved My Life Tonight
Where to Now St Peter?
Love Lies Bleeding
Border Song
Country Love Song
Three Way Love Affair

7. Karmatron
Includes Elements from the following original Elton John Sound Recordings:
Madman Across The Water
Funeral for a Friend
Stinker
The Ballad of Danny Bailey (1909-1934)
Tonight
One Horse Town
Screw You

8. Sixty
Includes Elements from the following original Elton John Sound Recordings:
Sixty Years On
Sixty Years On (Live in Australia)
Sixty Years On (Live 17-11-70)
Indian Sunset


Hot Pink Party raises $5.5 million for breast cancer cure
Wednesday, May 2 2012
"I loved pink before I met Evelyn Lauder, and I like it even more now," said Elton John, who performed at the benefit -- his 12th.
The menu card featured an illustration of Evelyn and Leonard Lauder by Hana Pegrimkova. Many guests left wearing the dream napkin rings as bracelets. "I'm sure I've given him something pink," Williams said of gifts to her dad, NBC's Brian Williams, who sat across the room with musician Elton John and Estee Lauder chairman emeritus Leonard Lauder.

Leonard became acting chairman of the foundation after the death of his wife, Evelyn Lauder, in November 2011. "BCRF is what we call a pure play," Leonard said. Since Evelyn started the foundation in 1993, it has distributed more than $360 million to scientists to work on a cure.

The April 30, 2012 event, a tribute to "Evelyn's Dream," raised more than $5.5 million, including $50,000 for a four-day stay in the Lauder family Palm Beach home. "Evelyn always wanted everyone to be involved, and she was never afraid of asking anybody for help," said Anne Keating, who oversees philanthropy at Bloomingdale's, which raised $1.3 million last year to fund four scientists.

After dessert, Elton John performed hits "Tiny Dancer," in honor of Evelyn, and "Rocket Man," in honor of Leonard. Asked how Evelyn would feel about the festivities, her son Gary, manager director of venture-capital firm Lauder Partners, LLC, replied, "Nachas," invoking the Yiddish word for joy. "I'd call her a saint," said Jayne Jamison, publisher and chief revenue officer of Hearst's Seventeen magazine.

"It's one thing to sell lipsticks," Evelyn once said in an interview. "It's extraordinary to know you're saving lives."