ELTON JOHN NEWS ARCHIVE: May 2011
Elton John & Ray Cooper performed in Geneva on May 26, 2011
Friday, May 27 2011
Fan report by Sacha Wicki. Photo by Laurent Guiraud.
Finally ... Elton John came to Geneva! After two postponed dates (the first one because of logistical problems, and the second one because of a flu), the pop legend is here! And the last time he performed in the "Arena" was in 1998.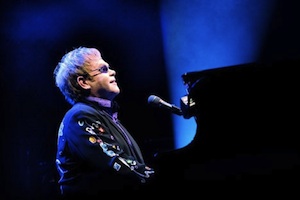 This was really an incredible show! My parents, a very good friend, and me, we attended the Geneva Arena Elton John & Ray Cooper gig on May 26, 2011 and we just couldn't believe our eyes and specially our ears! We were on 7th row center, and we could really have a great view on the stage. Elton John arrived at exactly 8 pm, as announced on the tickets. And after the Aida "Orchestral Finale" – that I haven't heard for a long time – he sat at his piano, wearing a superb black ensemble with diamonds on the back of his jacket and a beautiful magenta skirt. "The One" opened the solo part of the show. The first thing that we noticed immediately is his voice: absolutely clear and powerful, which is going to be the same for the whole concert!

"Good evening Geneva, it's great to be here. Now I have a baby and I am fine!" says Elton laughing, just before announcing a song from the Elton John album: "Sixty Years On". Then he performed without saying anything two more songs from the same disc, "The Greatest Discovery" (which I am sure he sang with emotional thoughts to his son) and "Border Song".

The only song from "Songs from the West Coast" was "Ballad of the Boy in the Red Shoes" (too bad he dropped "The Emperor's New Clothes"). "And now, a new song from the lastest album "The Union" that I did with my hero, Leon Russell" Elton introduced us to this beautiful moving dark ballad "When Love Is Dying". I almost had tears, it was very emotional.

Three big classics: A very bluesy powerful version of "I Guess That's Why They Call it the Blues", a superb long version of "Rocket Man" and a big hit in Switzerland which gained a lot of applause as soon as he sang the first words, "Nikita". Another new song, "Never Too Old (To Hold Somebody)", again very moving, so was the next one, an all-time favourite, "Tiny Dancer".

The next-to-last song of the first part was a surprise, it was a long time ago since I hard this great track solo in concert, "Philadelphia Freedom", and to finish, after Elton thanked for his swiss fans' loyalty, "Your Song".

The second part – with the genious of percussionist Ray Cooper – was tremendous! After the piano intro "Funeral for a Friend", it was the "Blue Moves" song "Tonight". We came back to "Captain Fantastic" with the dynamic "Better Off Dead" in which Ray Cooper did a fantastic job.

The first huge knock-out I had during the concert was with "Levon" ... that version was with no doubt the best he did for a long time ... what a powerful rendition! Back to emotion with probably the best "Union" song, "Gone To Shiloh". Elton sang of course the three verses, and specially Neil Young's high notes. Beautiful in every way! So was "Indian Sunset", for me one of Elton's most unknown treasures. And the funny "I Think I'm Going to Kill Myself". Then, two seventies-ballads, "Daniel" – with a curious intro that made me think it was "Take me to the Pilot"! – and "Sorry Seems to be the Hardest Word".

Now, Ladies and Gentlemen ... the pinnacle of the show! A 14-minute long version of "Take Me to the Pilot" ... yes, you read correctly: 14 minutes! A piano intro that went from jazz-style to R'n'B with some classic and rock parts ... it was my twenty-sixth Elton John show, it's the first time I heard this from him! With no doubt, he was in a perfect and joyable mood. Many standing ovations after some songs, and long applauses, although the audience was kind of "cold" ... something that always bothers me – also the people who come to the show 15 or 20 minutes after it began!

"Don't Let The Sun Go Down On Me" was dedidated to her friend Caroline, from Chopard. Then with "Bennie and the Jets" all the fans rushed in front of the stage and enjoyed with noise the next song too, "Crazy Water". After a long autographs session, he finished this unbelievable show with "Candle in the Wind".

Since 1992, I saw Elton in Paris, in Berlin, in Lausanne, in Verona, in Zurich ... twenty-six concerts! Tonight, I saw the best concert I ever attended! Nothing to say, a perfect performance in all ways ! Thank you Elton and Ray for giving us the best night you could give us!

Following is the complete set list of the Geneva show on May 26, 2011:
Elton John solo

The One

Sixty Years On

The Greatest Discovery

Border Song

Ballad of the Boy in the Red Shoes

When Love is Dying

I Guess That's Why They Call it the Blues

Rocket Man

Nikita

Never Too Old (To Love Somebody)

Tiny Dancer

Philadelphia Freedom

Your Song

Elton John with Ray Cooper

Funeral for a Friend/Tonight

Better Off Dead

Levon

Gone To Shiloh

Indian Sunset

I Think I'm Going to Kill Myself

Daniel

Sorry Seems to be the Hardest Word

Take Me to the Pilot

Don't Let the Sun Go Down On Me

Bennie and the Jets

Crazy Water

Elton John solo

Candle in the Wind
Elton and David nominated for Premier Inn Celebrity Dad
Friday, May 27 2011
Elton John and David Furnish have become the first gay couple to be nominated as celebrity dads of the year. Vote now!
Elton John and David Furnish, who welcomed their tot Zachary Jackson Levon Furnish-John in December, are said to be "thrilled" by the news. They are up against football stars David Beckham, 36, Wayne Rooney, 25, and Frank Lampard, 32, plus Take That's Gary Barlow, 40, cricket ace Kevin Pietersen, 30, and rocker Rod Stewart, 66.

Zachary was born in California to a surrogate mum, with some speculating that Elton, 64, was the tot's true father. Elton had made no secret of his wish to become a parent but previously dismissed the idea because of his hectic schedule. However, he and David, 48, who have been together for nearly 20 years and were married in 2005, took the plunge last year and decided to have a child.

The shortlist of 15 for Premier Inn Celebrity Dad of the Year 2011 includes last year's winner, singer Peter Andre, 38. He is in the running for the way he handled his split from Kate Price, 33, and for the obvious care he shows for their kids Junior, five, and Princess, three.

A Premier Inn spokesman said: "Peter Andre, the reigning champion, has once again made the shortlist so it will be interesting to see if he can become the first dad to win the title two years in a row."

The public can vote now at facebook.com/premierinn with the winner announced in June 2011.
"The Lion King" to return to theaters in Digital 3D
Friday, May 27 2011
Set for a September 16, 2011 release, it is the latest classic library title to get the 3D treatment.
James Cameron's Titanic is being remastered, and will be released in 3D on April 6, 2012 by Paramount, 20th Century Fox and Lightstorm Entertainment.

Released in 1994, "The Lion King" was a defining moment for Disney, ushering in an animation renaissance. It continues to be the highest-grossing hand drawn animation film of all time, earning $783.8 million at the worldwide box office.
Lievin show not meant to be
Wednesday, May 25 2011
The Elton John & Ray Cooper show in Lievin, France was cancelled at 3.50 pm on May 24, 2011 as Elton couldn't travel due to the ash cloud.
The show was originally scheduled for January 26, 2011 but had to be postponed to May 24, 2011 as Elton had become unwell and couldn't perform at the Stade Couvert de Lievin.

Hercules has learned that the show will not be re-scheduled!


First show of the year postponed
Thursday, January 27 2011 at 06:07:18
Catherine Britt back in central NSW
Wednesday, May 25 2011
One of the (many) glamours of Australian country music will be back in the central west mid-June promoting her new album.
Catherine Britt says she always knew she was going to make a career out of music, but there are some aspects to her musical journey that she never could have predicted. Having Elton John phone her management wanting to meet her and then encouraging numerous American record labels to sign her was one such experience.

She says Elton came across her album at a music store during an Australian tour. Over the years Elton has developed a reputation for giving young artists a leg-up. "I'd just left school and I was working at Dominos pizza and I got a phone call from my label saying 'Don't freak out, but Elton John's been mentioning you in all his interviews in Australia'," she said. "I didn't know if it was a joke at first but he's such a lovely guy with incredible power in the music industry."


Elton recorded duet with Catherine Britt
Monday, April 19 2004 at 17:05:41

Elton to record with Catherine Britt
Sunday, March 21 2004 at 23:18:57

Elton supports Catherine Britt
Thursday, July 31 2003 at 11:33:45


Puddle of Mudd reworks Rolling Stones, Elton John hits for covers album
Wednesday, May 25 2011
An abandoned attempt to make a followup to 2009's "Volume 4: Songs in the Key of Love & Hate" led Puddle of Mudd to opt instead for a covers set, "re:(disc)overed," which is due out August 2, 2011.
"Since we started we've been non-stop -- make a record, go on tour, then right into rehearsals and the next record, then back on tour...," guitarist Paul Phillip tells Billboard.com. "We were really burned out, and when we started trying to write again it just wasn't time yet. And we had been doing (AC/DC's) 'TNT' and (the Steve Miller Band 'The Joker' and had so much fun with those that one thing led to another and we decided to make a covers record. It was just something fun to do, and we had a blast."

"Re:(disc)overed" features 11 of the 15 songs Puddle of Mudd recorded with producer Bill Appleberry during January and February 2011 at the Bomb Shelter, a studio owned by Stone Temple Pilots drummer Eric Kretz in Los Angeles. The Rolling Stones' "Gimme Shelter" is the set's first single and will be serviced to radio in mid-June, and the album also includes versions of Free's "All Right Now," Bad Company's "Shooting Star," Neil Young's "Old Man," Led Zeppelin's "D'yer M'ker" and Elton John's "Rocket Man."

"We chose a lot of things that were challenging," Phillip explains. "People hear Puddle's gonna do a covers album and they think it'll be Nirvana and the Ramones and Metallica and stuff like that. And that's something we wanted to do, but we wanted to stretch our legs, and it was a very challenging thing to have songs that have piano and these big, crazy arrangements and stuff. I mean, doing an Elton John song with piano and backup singers and stuff is not easy. It's easier to record a Puddle of Mudd song, but to tackle an arrangement like that is a lot more difficult to do, and that's what we wanted."
Elton John organisers say the singer will play in a tent
Wednesday, May 25 2011
The promoters of the upcoming Isle of Man Elton John concert have suggested that the concert will go ahead as planned.

Earlier in May 2011 the gig was thrown into doubt when organisers Marshall Arts Ltd said there were "logistical issues" to resolve following the news that the Bay Festival had been cancelled. Elton John had been due to use the same infrastructure as the acts taking part in the Bay Festival on June 16, 2011.

This was publically announced by Bay Festival organisers as the Valhalla Tent. However Kayam the company who have supplied the structure for the last two festivals said no booking for the Valhalla structure, which only they supply, was ever booked.

Despite isleofman.com asking Mr Irving for clarification on this matter he chose not to respond. But he later told Granada Reports that he had booked a 66 by 104 metre big top tent from another company - Mobile Stadiums - which is called an MT66 but which Mr Irving said he feels he is "quite entitled to call the Valhalla". It now appears that Marshall Arts Ltd have taken over this booking.

In a statement from the company it said: "The promoters of the Elton John concert would like to dispel current rumours circulating on the Island regarding the status of the forthcoming Elton John concert in Nobles Park on June 16, 2011. The erection of the tent is booked to commence during the week of the TT races."


Logistical issues for Elton gig
Wednesday, May 18 2011 at 14:06:29


Elton album designer wants artwork back
Wednesday, May 25 2011
Elton John's fabled generosity — he has donated £26million of his £195million fortune to charity — is about to be put to the test.
The artist who designed the gatefold cover for his 1973 multi-million-selling "Goodbye Yellow Brick Road" album wants his artwork back. Ian Beck was paid just £430 for the iconic design which portrayed Elton about to embark on a journey, much like Dorothy in The Wizard Of Oz. Of all Elton's album covers it is by far the most famous and helped define him as a star.

Freelance illustrator Ian told the Daily Mail at an event at the Victoria and Albert Museum: 'I did the cover for Elton's label Rocket Records. Elton loved it and it was a very successful album. I remember taking the artwork into the Rocket offices, and the PR there took hold of one of the pictures on the back cover and said: "I love that, I'm having it." But I think Elton kept the cover work. Two years later it became law that all original artwork reverted to the artist, but in 1973 whoever commissioned it owned it.

'So if you are listening, Elton, I would like the Yellow Brick Road back, please, because I created it.'

A spokesman for the singer says: 'I have no idea whether Elton has it, but presumably if he does, he paid for it so it is his; £430 was a hell of a lot of money back then. A bit weird, isn't it, to ask for something back 38 years later?'
Gnomeo and Juliet - A New Spin On A Classic Tale
Tuesday, May 24 2011
Written by Reggie Zippo.
From the sixteenth century to the present day, the story of Romeo and Juliet has been told, re-told, adapted, adopted and altered so many times that the mere thought of tackling Shakespeare's classic love story yet once again may seem rather pointless. Unless, of course, you decide to add a few dozen garden gnomes, a green watering frog, a plastic pink flamingo, some cute little bunnies and a miming mushroom into the mix, then you most certainly will have something new and fresh for the masses to enjoy. That is exactly what Rocket Pictures (a Sir Elton John and David Furnish film company) and Disney Studios were counting on when they released Gnomeo and Juliet.


Gnomeo and Juliet is the love story of two ceramic gnomes, each existing in two adjoining backyard gardens owned by two opposing neighbors – Miss Montague (Gnomeo's blue garden) and Mister Capulet (Juliet's red garden). Gnomeo (voiced by James McAvoy) is the son of the blue gnome leader, Lady Bluebury (voiced by Maggie Smith), and Juliet (voiced by Emily Blunt) is the daughter of the red gnome leader, Lord Redbrick (voiced by Sir Michael Caine). The blues and the reds detest each other to the point of raging disgust, brought on no doubt by the apparent disdain that Miss Montague and Mister Capulet have for one another. However, the penchant for hatred immediately dissipates for the two young stars of this film when their round painted eyes meet for the very first time at night in a long forgotten garden across the alleyway. Ah, Amor. Love at first sight. A match made in Heaven. What can possibly harm a simple love such as theirs? The culprit is a vicious war of blue and red retaliations and shenanigans that horribly get in the way of the pair's untimely happiness. Battles ensue and lovers briefly take sides, but after all the ruble is cleared away, love reigns supreme. Add to all of that the comic relief of Nanette, a green watering frog (voiced by Ashley Jensen), and Featherstone, a pink plastic lawn ornament (voiced by Jim Cummings), as well as Fawn, a brown nosed mumbling deer lawn ornament (voiced by Ozzy Osbourne) and you have a movie that is sure to please on just about every level. That is Gnomeo and Juliet in a nutshell.

The vocal talent on Gnomeo and Juliet, coupled with the amazingly detailed CG animation and the brilliant orchestration (provided by former Sir Elton John band member James Newton-Howard), is superb from beginning to end. James McAvoy and Emily Blunt are a great compliment to each other and the supporting cast did equally well in providing memorable characters. Veteran actor Patrick Stewart lent his talent as the voice of the Great Bard of Stratford upon Avon, William Shakespeare, although in this case Shakespeare is an outdoor Statue in a nearby park. The vibrant colors and the realistic textured appearance of each scene in the movie is quite captivating and will definitely grab your complete attention. The details are phenomenal.

For a G rated "Disney" film, however, the amount of violence, slight sexual innuendo and even a death scene does not seem quite appropriate for the target audience of little children who anticipate a happy movie. Overall, it's roughly fifty percent happy and fifty percent sad, but it's the sad part that may be disturbing for the young moviegoer. The gnome cuteness factor and the lively songs (provided by the award winning song writing team of Sir Elton John and Bernie Taupin) does a great job to distract from the underlining message of war and peace, but the story itself is clearly adult themed. Perhaps that is why Disney chose to release the movie under the Touchstone logo rather than under the widely recognizable Disney logo. There is no doubt that most of the adult content will be overlooked by the little tykes, but there may be a select few that want to know the meaning of "Junk in the trunk" and "Unleash the Gods of war!" while others may wonder why one of the red gnomes is wearing a one piece thong outfit that is very revealing.

With the USA release of the Blu-ray/DVD combo pack on May 24, 2011, Gnomeo and Juliet is sure to find its way into many homes across America and the rest of the world, despite the adult content with a G rating. It's hard to get passed that mismatch. A PG rating would have been more suitable when the movie was first released in theaters. Although there are no interactive activities for children in this Blu-ray/DVD combo pack, there is an extensive bonus section on the Blu-ray disc that offers a plethora of deleted and alternate scenes, as well as outtakes and story/character development videos. The bonus section on the DVD disc offers a condensed version of the Blu-ray bonus material.

Overall, Gnomeo and Juliet is an action packed movie with funny tongue-in-cheek humor that keeps its pace and the viewer's attention throughout. The time spent on detail and quality made this movie an outstanding contender for the classics. Sir William Shakespeare would have been proud.



"Gnomeo & Juliet" DVD out today
Tuesday, May 24 2011 at 08:36:22


"Gnomeo & Juliet" DVD out today
Tuesday, May 24 2011
Don't miss the chance to bring home "Gnomeo & Juliet" - the hilarious twist on William Shakespeare's legendary tale Romeo & Juliet as you've never seen it before, perfect for the whole family.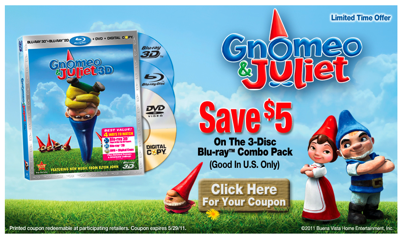 Enter the secret world of garden gnomes and meet two adorable gnomes from completely different worlds who fight the odds to be together. From a director of Shrek 2, and featuring fun, all-new music by Elton John, the out- of-the-ordinary animated comedy "Gnomeo & Juliet" releases on Blu-rayTM, Blu-ray 3DTM, DVD, Movie Download and On-Demand - today, May 24, 2011.

Uniquely packaged with families' top of mind, "Gnomeo & Juliet" will be made available for purchase by Walt Disney Studios as either a 3-Disc Blu-ray Combo Pack (Blu-ray 3D, Blu-ray 3D + DVD with Digital Copy), a 2-Disc Blu-ray Combo Pack (Blu-ray 2D + DVD) and/or a 1-Disc DVD. Disney Blu-ray Combo Packs provide families with an enhanced entertainment experience - with the value and flexibility to enjoy your favorite movies on a variety of platforms of choice.

And for those who enjoy to learn more about the making of the film, "Gnomeo & Juliet" discs come enclosed with never-before-seen bonus features including "Elton Builds A Garden," "Frog talk with Ashley Jensen,", "Crocodile Rock Music Video featuring Elton John and Nelly Furtado." And for those who purchase the Blu-ray Disc, it includes hours of extra exclusive bonus features including alternate endings, deleted scenes and more.

Bonus Clip- Alternate Ending Dance Routine




Happy birthday, Bernie!
Sunday, May 22 2011
Elton's lyricist Bernie Taupin turns 61 today, May 22, 2011.
On behalf of the Hercules team and the Elton John fans all over the world, we would like to wish him a happy birthday!
Tommy Nutter: Rebel On The Row - Private View
Friday, May 20 2011
Suits worn by Elton John are displayed during the Private View for the Tommy Nutter 'Rebel On The Row' exhibition, displaying the work of British tailor Tommy Nutter, best known for his fashion success in the 1960s, at The Fashion and Textile Museum on May 19, 2011 in London, England.
Elton dedicates AIDS benefit to Liz Taylor
Friday, May 20 2011
Elton John has dedicated an AIDS benefit dinner to the late American actress Elizabeth Taylor, an early pioneer in the fight against the disease.
Elton has called Taylor a "force of nature" and pledged she'll remain the star-studded charity event's "guiding star." Taylor died in March 2011.

Celebrities from the film and fashion worlds, as well as the realm inhabited by solely by the extremely wealthy, flocked to the amfAR dinner and auction, held May 18, 2011 at the Hotel du Cap in the Cap d'Antibes.

A-listers included Sean Penn, Kanye West, Karl Lagerfeld, Kristen Dunst and Cannes Film Festival jury members Uma Thurman and jury president Robert De Niro. The star-studded event coincided with the prestigious French Riviera cinema showcase.

The international nonprofit organization amfAR is dedicated to the battle against AIDS.
Plan B releases single with Elton John and Paloma Faith
Friday, May 20 2011
Plan B has released a new version of his song 'Hard Times' featuring Elton John and Paloma Faith for charity.
The singer, real name Ben Drew, has just celebrated winning three Ivor Novello awards on May 18, 2011. He released the new track on iTunes immediately after picking up his gongs.

Proceeds from the single, which has been re-recorded to include new vocals parts from both Elton and Faith, will be donated to the relief effort for the recent floods in Pakistan and earthquake in Japan.
Elton John buys music of 'every new artist that comes out'
Thursday, May 19 2011
Elton John must have an enormous music collection. Glee star Matthew Morrison says that each week Elton buys up the music of every new artist.
Morrison, 32, who plays a hunky teacher in the hit TV programme, has just released his new album on which he collaborated with Elton, among others. "The only trouble with duetting with Elton John, Sting and Gwyneth Paltrow is like, where do I go from there?" Morrison told the hosts on the US morning show Regis and Kelly.

"It was quite a learning experience. Being in the studio with Elton, he's such a student of music, every Tuesday he buys every single new artist that comes out. He was playing me this guy, Plan B who just came out and... I learned so much from him."

Morrison, who shot to fame after being in the Broadway show Footloose, also denied rumours that he was leaving Glee. "Is it true that your character is going away from the show?" asked host Regis Philbin, 79. "No, that's not true, don't believe it guys," said Morrison who also gave an emotional performance of his new single, Still Got Tonight, on the US morning show.



Lady Gaga tops Celebrity 100 list
Wednesday, May 18 2011
The Queen Monster's $90 million in earnings and mastery of social media pushed her past perennial winner Oprah Winfrey. Not that Oprah's doing badly. Elton comes in at No. 5.
The men and women on Forbes annual Celebrity 100 list--the most powerful people in the entertainment business this year--earned $4.5 billion over the last 12 months by starring in films, playing basketball, walking the catwalk and more. But they also rose to the top by garnering influence.

These days that means mastering social media. Lady Gaga topples Oprah Winfrey from her No.1 spot on the list, which she's given up for only the third time in seven years. Gaga is there not just because of the $90 million she earned with a monster tour, but also because of her 32 million Facebook fans and 10 million Twitter followers--aka Little Monsters--who helped move 1 million digital downloads of her recent single "Born This Way" in only five days. They're also happy to buy the MAC makeup, Monster headphones and Virgin Mobile phones she features in her videos.

The Celebrity 100, which includes film and television actors, TV personalities, models, athletes, authors, musicians and comedians, is a measure of entertainment-related earnings and media visibility (exposure in print, television, radio and online). Forbes also measures social media power by looking at each celebrity's presence on Facebook and Twitter. The earnings consist of pretax income between May 1, 2010, and May 1, 2011. Management, agent and attorney fees are not deducted. Forbes has been publishing the list annually since 1999.

Notable drop-offs include Britney Spears, who ranked sixth in 2010 but stumbled this year because she didn't tour. With the Harry Potter franchise coming to an end, Daniel Radcliffe (who ranked 82nd last year) also failed to make the cut.

Visit forbes.com to view the complete list.
Logistical issues for Elton gig
Wednesday, May 18 2011
The promoters of the Elton John concert say they're working to make sure it goes ahead as planned. Elton is due to appear in Noble's Park on June 16, 2011 in the Valhalla Tent, which was meant to be used for the Bay Festival over the following three days.
Organisers stress the Bay Festival was nothing to do with them but as they were due to share the same infrastructure, it does leave them with some 'logistical issues.' They say they'll be working with Douglas Corporation, the Manx Government and local companies to make sure the concert goes ahead.

Apparently, Elton says he's looking forward to performing on the Isle of Man for the first time. Tickets for the concert will be dispatched from next week. It's not yet known whether an alternative venue will be needed. It's also unclear whether the original Valhalla Tent had been booked for the Bay Festival, with suppliers claiming it hadn't.
Elton John holds Cameron meeting over Aids Sir
Tuesday, May 17 2011
Elton John has held Downing Street talks with Prime Minister David Cameron about the work of his Aids foundation.
He also spoke to International Development Secretary Andrew Mitchell. Since 1992, the Elton John Aids Foundation has raised more than £130m.

It runs prevention programmes and campaigns against stigma and discrimination surrounding the illness.



Elton to meet David Cameron over gay HIV rates
Tuesday, March 29 2011 at 06:51:42


Elton John showers 93-year-old Duluth woman with flowers
Tuesday, May 17 2011
A Duluth grandmother has a reminder of the Elton John concert she enjoyed recently - and it came directly from the Rocket Man's dressing room.
A huge flower arrangement was delivered to the home of 93-year-old Harriet Schwenk a day after Elton John's show at the Amsoil Arena last week. The arrangement stood half as tall as the 4-foot, 7-inch grandmother.

Schwenk and her granddaughter had an eighth-row seat at the concert thanks to a freelance concert promoter who used to live in Duluth. Schwenk was a baby sitter for promoter David Van Puffelen many years ago. Van Puffelen arranged a backstage tour for Schwenk before Elton arrived for the show.

Elton John's assistant allowed Van Puffelen to deliver the dressing room flowers to Schwenk the day after the concert. Schwenk tells the Duluth News Tribune she even took them to church to show off the arrangement.
Elton's swearing apology accepted
Tuesday, May 17 2011
U.K. watchdog officials have cleared Elton John of breaching radio rules after swearing during a live broadcast in January 2011.
Authorities at British media regulator Ofcom received a complaint after the singer muttered the phrase "f**king hell" during a morning interview on the BBC's Radio 2. Elton tried to make up for the slip-up by telling listeners, "I'm very, very sorry for that awful word that I said," while BBC bosses also issued a statement of apology.

Ofcom chiefs launched an investigation into the incident and have now accepted Elton's apology, branding the matter "resolved". A judgment from Ofcom reads, "Ofcom acknowledges that Sir Elton's remarks appear to have been a 'spontaneous outburst' made with no intention to offend, and that any offence caused was mitigated by the apologies offered by (host) Chris Evans and Sir Elton both immediately after the incident... In view of the steps taken by both the broadcaster and Sir Elton John to remedy the error, Ofcom considers the matter resolved."



Elton drops the F bomb on the air
Saturday, January 29 2011 at 06:11:18


Elton John and band performed in Regina on May 11, 2011
Saturday, May 14 2011
Following is the complete set list of the Regina show on May 11, 2011.
Funeral For A Friend

Love Lies Bleeding

Saturday Night's Alright (For Fighting)

Levon

Madman Across the Water

Tiny Dancer

Philadelphia Freedom

Daniel

Goodbye Yellow Brick Road

Rocket Man

I Guess That's Why They Call It the Blues

Hey Ahab

The Best Part Of The Day

Gone To Shiloh

Monkey Suit

When Love Is Dying

Sad Songs (Say So Much)

Take Me To The Pilot

Sorry Seems to Be the Hardest Word

Candle in the Wind (solo)

Don't Let The Sun Go Down On Me

Bennie and the Jets

The Bitch Is Back

Crocodile Rock


Your Song - (solo)
Daniel Radcliff poses for Sir Elton John's coffee-table book
Friday, May 13 2011
The 'Harry Potter' star is lending his face to Elton John for a coffee-table book that will benefit the Elton John AIDS Foundation, thus becoming the youngest of 100 icons to be featured in "iCon".
Famed British photographer Andy Gotts recently shot Radcliffe in the Paramount Hotel's Couture Suite.

Among the 100 icons to be featured in "iCon" includes Al Pacino, Robert De Niro, Clint Eastwood, Sidney Poitier, Tony Curtis and Lauren Bacall, reports The New York Post.
Vote for Elton
Friday, May 13 2011
The Top Tens is voting for best rock & roll pianists. Take part and make sure Elton will win.
Place your vote at the-top-tens.com.
V features: Lady Gaga in Mugler interviewed by Elton John
Thursday, May 12 2011
'The Asian Issue' (71, Summer 2011) of V magazine features an Lady Gaga interviewed by Elton John.
Elton John tipped for the ARIAs
Wednesday, May 11 2011
Specualtion is mounting that the big blank next to Sydney in Elton John's tour schedule looks likely to be filled with a Very Important Performance - as host of the 25th ARIA Awards.
Elton's fans were most miffed when his November 2011 tour was announced minus a show at his favourite venue, the Sydney Entertainment Centre, where he holds the record of 41 concerts. But industry insiders cited Sydney's omission in his concert schedule as a sign Elton may be announced as the host of the 2011 awards, which are expected to be held in November 2011.

After last year's ARIA awards were labelled "shambolic" and "a train wreck," the pressure was on for producers to up the ante and recover from the dismal ratings. Held on the steps of the Sydney Opera House, last year's awards were a departure from the indoor, sit-down, single stage exercise, but the "party atmosphere" Ten tried to create with roving presenters, instead resulted in a mad scramble to find award winners in the milling crowd.

Under-prepared hosts such as Jessica Mauboy - whose famous "de-butt" gaffe made headlines - and Independent MP Bob Katter presenting Adelaide's Sia Furler with what he termed an "ARARIA" were just some of the problems with the broadcast.

Elton John was the master of ceremonies at the inaugural awards held at the Sheraton Wentworth Hotel in 1987 and was at the top of wishlist to play host in 2011. Back during his ARIA tenure, he famously warned the well-oiled industry crowd then to keep the ARIAs off television "if you want these awards to stay fun".

"The only reason I agreed to do this is because it's not on television. If, in future years, you keep it like that, I think it means something more because it's much more personal," he said at the time. Those words may have haunted awards organisers last year after the car-crash broadcast which resulted in a ratings disaster for the music industry's night of nights.

But for the 25th anniversary, ARIA will be determined to have a hit with viewers and are negotiating with some of the biggest names here and overseas. Promoter Michael Chugg hasn't ruled out adding a Sydney concert to the Hope Estate gig on December 3, 2011.



Elton John to tour Australia
Sunday, May 8 2011 at 06:12:02


Elton's Royal Party
Sunday, May 8 2011
A miffed Elton John hosted his own party at London's Ritz hotel for some of those who had been left off the Royal Wedding reception guest list, the Daily Mail reports.
As 650 of those invited to the Westminster Abbey ceremony later tucked into champagne and 10,000 canapes at Buckingham Palace, Elton and David held their own soiree. It was dubbed the Not Flippin' Invited party, in reference to wedding guests who were not part of the celebrations at the Palace.

But despite the lavish surroundings at the Ritz and a supposedly 'posh' guest of honour – a heavily pregnant Victoria Beckham, 37 – the party couldn't outshine the festivities hosted nearby by the Prince of Wales. "Elton served up steak and chips. It was hardly a Royal affair," says a friend. "The Beckhams were among 12 other guests who made up the NFI list."

Victoria was said to be "gutted" to have missed out on the chance to mingle inside the Palace after flying 5,500 miles from Los Angeles for the one-hour service. "To add insult to injury, Victoria had to queue outside the Abbey for an hour beforehand and she didn't even have an allocated seat, so she had to sit at the back and watch the couple make their vows on one of the TV screens," said the friend.

"The whole affair left a bitter taste because she's used to being the biggest star in the room and she's rarely left off a guest list for anything. Elton also wanted the lunch to be an unofficial baby shower for Victoria because she's decided not to have her baby in Britain. She said this could be the last time she comes home before the baby is born in the summer.

"She will stay in LA with David until his contract expires with LA Galaxy on December 31, 2011, but they haven't yet made a final decision on where to live after that."



Elton and David talk about "The Normal Heart"
Sunday, May 8 2011
The Normal Heart, which received five Tony Award nominations earlier in May 2011, officially opened on Broadway April 27, 2011 at the Golden Theatre. Elton John and David Furnish recently visited the production, and here they discuss the relevance of the play written by Larry Kramer.
The play is described as "the story of a city in denial. "The Normal Heart" unfolds like a real-life political thriller — as a tight-knit group of friends refuses to let doctors, politicians and the press bury the truth of an unspoken epidemic behind a wall of silence. A quarter-century after it was written, this outrageous, unflinching, and totally unforgettable look at the sexual politics of New York during the AIDS crisis remains one of the theatre's most powerful evenings ever."

The cast features Ellen Barkin, Patrick Breen, Mark Harelik, John Benjamin Hickey, Joe Mantello, Luke Macfarlane, Lee Pace, Jim Parsons, Richard Topol and Wayne Alan Wilcox and will only play 96 performances. The limited engagement runs until July 10, 2011.

To hear what John and Furnish say about The Normal Heart, look below:





David writes about "The Normal Heart"
Monday, May 2 2011 at 08:33:49

Elton John aims to bring AIDS play to British stage
Wednesday, April 27 2011 at 22:47:31


Happy birthday to us!
Sunday, May 8 2011
The international Elton John Fan Club Hercules, also known by its internet domain eltonfan.net, has been serving the Elton John community since 1988.
Founded as Rocket Fan back on May 8, 1988 with a focus on German-speaking fans, the club has soon turned into a worldwide organization with Elton admirers from all over the planet. In 2011 we are celebrating our 23rd anniversary.
For the past eight years Hercules has been offering all of its services on eltonfan.net free of charge. The site is maintained on a voluntary basis, however, there are costs involved in hosting the site on a high-speed and reliable server. If you like the services provided on eltonfan.net and if you feel like supporting this website, we would be grateful if you would make a small donation.

With this we would like to thank Elton for his persistence and everlasting presence, the management and record company for their support, and last but not least the fans for their loyalty and contributions to the site.
Elton John to tour Australia
Sunday, May 8 2011
Elton John will tour Australia from November 2011. It will be his 15th tour of Australia, kicking off in Brisbane on November 30, 2011.
Elton will play the following tour dates:

Nov 30, 2011 - Brisbane Entertainment Centre
Dec 03, 2011 - Hope Estate, NSW Hunter Valley
Dec 06, 2011 - Melbourne's Rod Laver Arena
Dec 09, 2011 - Adelaide's Coopers Brewery Amphitheatre
Dec 11, 2011 - Burswood Dome, Perth

Ticket presales will be available through Visa Entertainment from May 16, 2011. General ticket sales begin on May 24, 2011 through Ticketek.

Also see Elton John Tour News.
Elton among celebs joining RFK Center, supporting human rights worldwide
Friday, May 6 2011
In May 2011, Lady Gaga, Elton John, Anderson Cooper, and Oprah have one thing in common: they are all taking part in the Robert F. Kennedy Center for Justice & Human Rights' fifth annual online auction to support human rights worldwide. You can, too.
If you'd like to tour the Air and Space Museum with astronaut -senator John Glenn; if you'd like to dance and sing with Michelle and President Obama at the Christmas in Washington Ball; if you'd like your kids to take a swing as a bat boy or girl for the New York Yankees, log on to www.RFKCenter.org.

Funds raised by the auction will help realize Robert Kennedy's dream of a more just and peaceful world. He said: "Each time a man stands up for an ideal, or acts to improve the lot of others, or strikes out against injustice, he sends forth a tiny ripple of hope, and crossing each other from a million different centers of energy and daring, those ripples build a current which can sweep down the mightiest walls of oppression and resistance."

Elton has donated two tickets to the Party of the Year - Elton John AIDS Foundation's Academy Awards Viewing Party! The auction closes on May 16, 2011. Place your bids here.
Happy birthday, Davey!
Friday, May 6 2011
Davey Johnstone turns 60 on May 6, 2011.

On behalf of the visitors of eltonfan.net and all Elton fans around the world, we would like to wish him a Happy Birthday.

Davey can celebrate his birthday live on stage in Duluth, MN where he will be performing with Elton on May 6, 2011.
Piano men: The music of Elton and Billy
Thursday, May 5 2011
More than 50 musicians will take the stage at the Portland State Theatre on May 7, 2011 to showcase the tunes of 'Piano Men' Elton John and Billy Joel.
Working as a stagehand at the Cumberland County Civic Center over the years, Joseph Boucher had the privilege of helping to carry the pianos of both Billy Joel and Elton John into the arena. On May 7, 2011, Boucher will be trying to carry the music of Joel and John into a different arena -- the world of symphony orchestras.

Boucher is the creator of "Piano Men -- The Music of Elton and Billy," scheduled for the State Theatre in Portland on May 7, 2011. The show will feature 19 tunes played by the Southern Maine Symphony Orchestra and a four-piece rock band, including Boucher on piano and longtime Joel drummer Liberty DeVitto.

There will be more than 50 musicians on stage doing orchestral arrangements of tunes such as Joel's "Angry Young Man" and "Scenes from an Italian Restaurant" and John's "Goodbye Yellow Brick Road" and "Levon." For Boucher, the show is the culmination of his musical past and present. In his current job as concert manager for the Portland Symphony Orchestra, he has witnessed pops concerts where orchestras play the music of the Beatles or Louis Armstrong.

And as a longtime piano player for rock bands -- including Maine's Frotus Caper a decade or so ago -- he's a big fan of both Joel and John. "These are songs that I've been inspired by since I was a tot," said Boucher, 42. "To me, these songs will be played 200 years from now, as the music of Mozart and Beethoven is played today."

Although Boucher works for the PSO, he's putting together this show as an independent project, and the PSO is not involved. The orchestral duties will be performed by the Southern Maine Symphony Orchestra, made up mostly of University of Southern Maine students and community musicians. Some of the money from ticket sales will go the USM music department.

Boucher landed DeVitto sort of by accident. DeVitto had been Joel's drummer from the mid-'70s until about 2005, and is a big name in the world of session musicians. His credits include everyone from Karen Carpenter to Mick Jones of the Clash. So the thought of recruiting him for the show didn't occur to Boucher. But when the local drummer Boucher had asked to do the show couldn't make the time commitment, Boucher started looking for replacements. By chance, he went to DeVitto's website, which said he was available for session work. There was also a message from DeVitto that said something like, "I might even play a gig with you."

"So I wrote to him and outlined what we're doing, and he wrote back and thought it was great," said Boucher. "He'll be able to revisit these songs in a whole new way." DeVitto, who lives in Brooklyn, N.Y., said by email that he looks forward to being part of the show.

Some of the other songs that will be performed on May 7, 2011 include "Your Song" and "Tiny Dancer" by John, and "The Ballad of Billy the Kid" and "Allentown" by Joel. Boucher has been part of a rock band/orchestra pops show before. Frotus Caper played a Beatles show with the Maine-based Atlantic Chamber Orchestra in 2001.

The songs for this concert have been arranged for an orchestra by Chris Eastburn, a Boston-area orchestrator and classical composer Boucher met when they were both writing music for theater productions in Portland about 20 years ago. Boucher said what Eastburn did in orchestrating these 19 songs is equal to "writing a two-hour symphony."

Boucher also wants people to know that this will not be a "tribute" show with people dressed as Joel and John. It will be simply a tribute to their music, with an orchestra and a rock band. "Just a solid rock band playing great songs with a 52-piece orchestra," he said.
Happy birthday, Kim!
Thursday, May 5 2011
Kim Bullard is celebrating his birthday on May 5, 2011.
On behalf of the visitors of eltonfan.net and all Elton fans around the world, we would like to wish him a Happy Birthday.

Kim will be back on stage with Elton in Duluth, MN on May 6, 2011.
David writes about "The Normal Heart"
Monday, May 2 2011
The following article by David Furnished appeared in The Huffington Post on April 30, 2011.
'The Normal Heart' Movingly Captures the Fight Against AIDS, Then and Now

I recently had the great pleasure of seeing a preview of the new Broadway revival of Larry Kramer's challenging and controversial play, The Normal Heart, which opened to the public this week. The Normal Heart tells the harrowing and inspirational true story of a group of gay men in New York City who come together in the early 1980s to found the organization, Gay Men's Health Crisis, and fought largely unsympathetic political and media powers for funding and attention to address the burgeoning AIDS epidemic in America.

Back in 1985, Larry's extraordinary play tackled the difficult topic of AIDS when very few people were willing to speak out about an escalating public health crisis. Scientists were still searching for effective treatments, AIDS wards were full of dying people, and many politicians were more interested in blaming the sick for their illness than in finding solutions and funding preventions. The play helped to galvanize the gay community, inspiring many capable people to step forward and become a new generation of activists and community leaders.

So, what do we have to learn from a nearly 30-year-old play about the earliest days of the AIDS epidemic? Fortunately, by giving us a window back into those dark times, Larry's play shows us how far we have come in many aspects of addressing this now global epidemic. Thanks to artists like Larry, advocates like Sir Elton John, and the late Dame Elizabeth Taylor, and countless people in and out of power who chose to step forward and speak out, we have made great strides in terms of the public perception of HIV/AIDS. Scientific research has produced an arsenal of lifesaving treatments helping many people live longer, healthier lives despite their HIV infection. Organizations like the Elton John AIDS Foundation and its grantees are helping to bring the latest in HIV prevention methods, education, and treatments into under-served communities across the U.S. and the developing world.

However, while it is true that a great deal of progress has been made, it is nevertheless tremendously shocking just how much hasn't changed -- making The Normal Heart as timely today as it was in 1985. In fact, Larry Kramer was very much ahead of his time in artfully communicating the most insidious aspects of the epidemic. Many of the issues presented in the play remain hot button topics today. For instance, in addition to the AIDS crisis, the play also tackles the issues of same sex marriage and health care reform.

More importantly, even after more than 25 years of HIV prevention and public education efforts, stigma and prejudice against people living with HIV/AIDS still prevent progress in reducing the incidence of HIV infection. The Elton John AIDS Foundation and other organizations devoted to HIV prevention share a deep frustration over the mounting numbers of new infections -- around 56,000 in the U.S. every year -- especially when polls show that fewer and fewer Americans regard HIV/AIDS as a significant public health concern. Just like the early years of the epidemic, complacency and a lack of urgency about HIV/AIDS, both in the media and in the general public, are quietly and literally killing us.

It is vital that younger generations understand the history of the HIV/AIDS movement -- how dire things really were in the early 1980s, how progress was made, and what remains to be done. "The Normal Heart" dramatizes history in a way that creates a visceral connection to the early days of the AIDS epidemic in America. It is sure to inspire today's youth to get involved just as it did 25 years ago.

Aside from being a beautiful performance of a milestone play, this new production of The Normal Heart is a potent reminder of where we've been and where we need to go in the fight against AIDS. This is achieved with the help of a truly extraordinary cast. Ellen Barkin brings all of the magnetism, commitment, and courage she has displayed in her film roles to the Broadway stage. Joe Mantello gives a performance that transports the audience to another time and place. Under the co-direction of George C. Wolfe and Joel Grey, this production powerfully connects theatergoers to the boiling cauldron of issues that emerged at the onset of the AIDS crisis and that continue to challenge us today.

On behalf of all those who are deeply committed to reducing stigma and reversing the AIDS epidemic in the US and around the world, I am profoundly grateful to Larry Kramer and the producers of The Normal Heart for bringing this important work back to the stage. I encourage everyone to see and support this courageous play.



Elton John aims to bring AIDS play to British stage
Wednesday, April 27 2011 at 22:47:31