ELTON JOHN NEWS ARCHIVE: May 2008
Elton John performed in Anchorage, AK on May 28, 2008
Thursday, May 29 2008
Following is the complete set list of the solo show in Anchorage, AK on May 28, 2008.
Your Song

Sixty Years On

The Greatest Discovery

I Need You To Turn To

Border Song

The Boy in the Red Shoes

Daniel

Honky Cat

Rocket Man

Tiny Dancer

Mona Lisas and Mad Hatters

Nikita

Philadelphia Freedom

Sacrifice

Ticking

Roy Rogers

Crocodile Rock

Sorry Seems to be the Hardest Word

Candle in the Wind

I Guess That's Why They Call it the Blues

Electricity

Carla/Etude

Tonight

Take Me to the Pilot

Blue Eyes

Levon

Bennie and the Jets

I'm Still Standing


Circle of Life

Don't Let the Sun Go Down on Me
Elton John - Bach style
Thursday, May 29 2008
Master improvisational pianist John Bayless returns to his roots with an album fusing the music of Elton John and the style of Bach.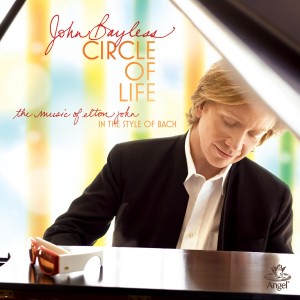 In 1985, pianist John Bayless began his recorded music career with Bach Meets the Beatles, an album where he brilliantly improvised on the songs of the Beatles in the style of Johann Sebastian Bach. Twenty-three years later, Bayless remains one of the top classical crossover stars in the US — his albums have consistently topped the charts, and he has sold well into the hundreds of thousands. On his new album, Circle of Life, he once again fuses the music of Bach with popular tunes — though this time taking his melodic inspiration from the songs of Elton John.

The juxtapositions are striking. "Your Song" mixes with snippets from the D Major Piano Concerto, "Goodbye, Yellow Brick Road" dances with the gigue from Brandenburg Concerto No.5, while "Can You Feel the Love Tonight" becomes a solemn chorale. In each track, Bayless gets to the heart of the song, pairs it with a Bach piece of similar emotional sentiment, and then lets the music flow, often leading to unexpected places.

Bayless's improvisations never fail to impress, surprise, and move listeners. In Elton John, he has found a sympathetic muse, and the stunning results speak for themselves, sure to pique the interest of fans of either artist.

John Bayless has built a career on his gift of improvisation and his canny musical choices. Born and raised in Borger, Texas, John Bayless won a scholarship to the Aspen School of Music at age 15, and two years later moved to New York to study with Adele Marcus at The Juilliard School of Music. Bayless was invited to participate as a composer in the inaugural class of New York University's Musical Theater Masters Degree Program where he studied with Leonard Bernstein, Jule Styne, Arthur Laurents, Betty Comden and Adolph Green.

His Puccini Album, released in 1993, topped the Billboard Classical crossover chart for 18 weeks and sold over 170,000 copies. "The Movie Album" (1996) and "Romantica" (1999) followed with nearly the same level of success. In recent seasons, John Bayless has played more that 175 concerts. He has appeared at Carnegie Hall in a performance of his own West Side Story Concert Variations for solo piano and orchestra, made his Tanglewood debut playing Gershwin's Rhapsody in Blue with the Boston Pops, opened the San Francisco Summer Pops season with the same work and appeared in three sold-out concerts at the Hollywood Bowl with John Mauceri and the Hollywood Bowl Orchestra. Most recently he has been presenting "Amadeus Live" in which he takes on the role of Wolfgang Amadeus Mozart in a typical day of the composer's life.

TRACKLISTING:

1. Circle of Life
2. Your Song (YouTube video)
3. Tiny Dancer (YouTube video)
4. Can You Feel the Love Tonight? (YouTube video)
5. Sorry Seems to Be the Hardest Word to Say
6. Believe
7. Daniel
8. Goodbye, Yellow Brick Road
9. The One
10. Crocodile Rock
11. Rocket Man (I Think It's Going to Be a Long, Long Time)
12. Candle in the Wind
13. The Last Song
Elton John pianos may fetch 80,000 pounds at Bonhams in London
Tuesday, May 27 2008
Elton John is selling two of his pianos, and they could fetch 80,000 pounds ($158,000) at a London sale in June 2008, auction house Bonhams said in an e-mailed statement.
A Steinway burr-maplewood piano that Elton used to rehearse "Don't Go Breaking My Heart" with Kiki Dee at his Windsor home in 1976 is expected to fetch up to 45,000 pounds, said Bonhams. The duet was Elton John's first U.K. No. 1 and his sixth chart topper in the U.S.

Elton is also selling a similar grand piano made in black in 1972 for his Beverly Hills residence and with an estimate of 25,000 pounds to 35,000 pounds, said Bonhams.

The pianos will be included in the Bonhams June 18, 2008 "Entertainment" sale at its Knightsbridge auction rooms.
Drivers on FORM for charity at Amber Fashion
Sunday, May 25 2008
Rarely has a new fashion line been introduced with the kind of fanfare seen in Monte Carlo on Friday evening when Petra Ecclestone, daughter of Formula One CEO Bernie, unveiled her latest brainchild, FORM.
Given that the Monaco Grand Prix is always populated by those from the upper end of the showbiz and finance worlds, what better place than the Principality to launch a top-end menswear range - especially when you have Formula One drivers as your models!

The FORM debut was among the highlights of the Amber Fashion event, held in aid of the Elton John Aids Foundation, and attended by just the sort of men regularly seen in some pretty sophisticated outfits - Lakshmi Mittal, the Indian steel tycoon, Sir Martin Sorrell, CEO of Global Advertising Group WPP, Dr Vijay Mallya, Force India team owner and CEO of Kingfisher Airlines, plus fashion literati including retail entrepreneur Philip Green and Renault's very own style icon, Flavio Briatore.

But it was the FORM models who stole the show - the sight of no less than seven Formula one drivers swinging their hips and flirting with the audience from the catwalk proved a sensation. Lewis Hamilton and David Coulthard floated elegantly by; Nico Rosberg displayed a natural talent for presenting clothes; sporty Mark Webber almost sprinted the platform; and a gorgeous Nelsinho Piquet sported a devil-may-care manner. Normally somewhat eccentric dresser Vitantonio Liuzzi was transformed in urban chic, as was a stylish Jenson Button, and Adrian Sutil kept his chin in the air like a true professional. And last but not least there was Kimi Raikkonen. The Finn was not on the catwalk, but he was there in the front row, showing off a precious leather jacket from the collection.

The show got a rapturous reception and afterwards designer Petra Ecclestone received a huge bouquet from Button - and the obligatory peck on the cheeks - along with a standing ovation. Among those singing her praises was sister Tamara, who along with Steve Ryder from British F1 broadcasters ITV, was the presenter for the evening. The FORM menswear was followed by female beachwear, with the Elizabeth Hurley collection combining perfectly with Jimmy Choo shoes - the 12 centimetre-plus heels made the models larger than life. And as Monte Carlo is a city of diamonds, Chopard presented its new collection.

The finale of the evening was the charity auction, with five lots of unique character. Elton John donated an invitation to his 2009 Oscar night reception - this year it was attended by the likes of Harrison Ford, Sharon Stone, George Clooney - including return business class flights from London and accommodation for two in Los Angeles. A lucky bidder got that treat for 46.000 Euro. The second item on the shelf was a Chopard unisex watch from Elton John's collection, and Vijay Mallya won that for 100.000 Euro. The 1974 vintage Corvette from the personal collection of Sharon Stone saw a fierce battle - Kimi Raikkonen left the field victorious, the price tag a cool 200.000 Euro.

Then there was the luxury week onboard the Indian Empress - the 95-metre super yacht owned by Vijay Mallya. That found a home for 375.000 Euro -'even the booze is included,' added Mallya with a wink. Finally the icing on the cake: a piano from Elton John on which he wrote "Songs from the West Coast". Again Mallya could not resist: for 226.000 Euro he has a new addition for the Indian Empress - and as auctioneer Charlie Ross asserted, this piano will turn any owner into a natural player.

At the end of a splendid evening, Elton John's partner David Furnish - present on behalf of the Foundation - happily walked away with a cheque for almost 950.000 Euro - though not before shaking hands with Vijay Mallya!



Drivers to take part in fashion show
Wednesday, May 14 2008 at 08:38:46


New Hercules Poll
Saturday, May 24 2008
Hercules (eltonfan.net) has been around for 20 years. What about you?
How long have you been an Elton John fan? Let us know in the new Hercules Poll.



Happy Birthday to us!
Thursday, May 8 2008 at 00:00:01


Elton's got bronchitis
Saturday, May 24 2008
David Furnish attended the AmFAR's Cinema Against AIDS gala, always the highlight of the Cannes Film Festival, without Elton on his side.
He said: "Elton couldn't make it tonight because he's got bronchitis – and he's going on tour tomorrow to Alaska, so it's not good."

Also see Elton John Tour News.
Happy Birthday, Bernie!
Thursday, May 22 2008
Elton's lyricist Bernie Taupin turns 58 today, May 22, 2008.
On behalf of the Hercules team and the Elton John fans all over the world, we would like to wish him a happy birthday!
Elton writes personal letter to Falmouth Art Gallery
Wednesday, May 21 2008
Elton John has written a personal letter to Falmouth Art Gallery, in which he speaks of his "delight" at sharing his collection of Henry Scott Tuke paintings with the world.
Elton has lent his usually private collection of work to help form a major exhibition shared between Falmouth Art Gallery and the Royal Cornwall Museum. Although currently on tour in Australia and unable to visit the exhibition, Elton sent his representative Kevin O'Duffy to visit the Catching the Light display. During his visit, Mr O'Duffy delivered a letter to the Falmouth gallery, from Elton.

In the letter Elton, an avid collector of Falmouth artist Tuke's works since the late 1970s, has written: "I understand that this is the biggest show of Tuke's work for 50 years, here in the UK, and the largest ever collection of his work in one county. This year, we are celebrating the 150th anniversary of his birth and I am delighted to be able to share some of my collection with an appreciative public and one that holds this artist dear; the most famous artist of Cornwall. I regard Henry Scott Tuke as one of the great British Impressionists and on a par with our friends across the Channel!"

Elton continued that while Tuke's paintings of Cornish youth were in some ways the most famous of his works, he believed the narrative paintings of life onboard ship were "a force to be reckoned with" as they captured a way of life that was now, on the whole, lost. "Tuke's paintings of boys boating and bathing, by the sun-drenched beaches of Falmouth, evoke a lost era of innocence and a lack of self-consciousness," he added.

A total of 11 works belonging to Elton are included in exhibition, including the famous Midsummer Morning that is on display in Falmouth. The Catching the Light - The Sunshine Paintings of Henry Scott Tuke exhibition, shared between the two venues, has been funded by the Heritage Lottery Fund and Bonhams and can be viewed until July 12, 2008.



Elton John lends his paintings to Falmouth
Friday, April 25 2008 at 09:19:00
Elton offered $5.2 million gig?
Saturday, May 17 2008
Elton has reportedly been offered a multi-million dollar pay cheque to play an hour-long gig for a female Russian mogul.
He is set to receive $5.2 million to perform at the launch of the tycoon's new hotel in Moscow, Russia, later in 2008. If Elton accepts the deal, he will set a record for the highest fee ever paid to a single artist.

A source tells British newspaper The Sun, "Initially Elton turned (it) down because he's so busy. But when the offer crossed the $4 million barrier it was too much to refuse, even for someone of his means. And let's be honest, GBP2.6 million buys a hell of a lot of flowers. He's on the verge of saying yes."

Elton pocketed $3 million when he performed at a private gig in 2001.
Famed Sinatra, Elton John press agent dies at 87
Friday, May 16 2008
Legendary Hollywood press agent Warren Cowan, who represented such stars as Elizabeth Taylor, Paul Newman and Frank Sinatra, has died. He was 87.
Warren Cowan & Associates spokeswoman Jazmine Vicenty confirmed early May 15, 2008 that Cowan had died. She declined to give other details. The trade paper Daily Variety reported Cowan died May 14, 2008 of heart failure and cancer at Cedars-Sinai Medical Center.

The jovial Cowan was known for working the press lines at awards shows and other events. <>Cowan and his mentor Henry C. Rogers founded Rogers & Cowan in 1950 and saw it become one of the world's biggest entertainment public relations firms. Among its stable of celebrity clients were Danny Kaye, Kirk Douglas, Shirley MacLaine and Elton John.

In 1988, Rogers & Cowan was sold to the British conglomerate Shandwick PLC. Cowan set up his new company, Warren Cowan & Associates, six years later.
Sir Elton John plays Nelson Mandela's 90th
Thursday, May 15 2008
Elton John will be the icing on a very big cake at Nelson Mandela's 90th birthday concert in London this summer.
As the Sun exclusively revealed on May 15, 2008, Elton will be the surprise guest at former South African president's celebrations on June 27, 2008.

The event is being set up by Mandela's 46664 campaign against Aids team – however Elton wanted to keep schtum as he is afraid it will take away the focus from his own Aids Foundation. An insider said: "Elton is a British legend and we are thrilled to have him join an already exceptional line-up.

"He didn't want to be mentioned on the press release or on any announcements as he wanted to be a total surprise. He also doesn't want to his priorities to clash with his own Aids Foundation charity. We don't know why he's being so silly as of course it won't."

The source added: "Elton will pop up on stage at some point during the day and sing a few songs. He will then duet with a younger artist. This hasn't been confirmed yet however we believe it will be Duffy or Eminem. It's going to be brilliant. Nelson has no idea Elton is going to be there." Well, he will now.

Elton will be joined at Hyde Park by Amy Winehouse, Queen, Bono, Razorlight, Keane, Sugababes and Jamelia. Princes William and Harry, ex-US president Bill Clinton and wife Hillary and Robert De Niro are all expected to be in the crowd.

Tickets start from £65 and are available from Ticketmaster now.
Elton's toaster for auction
Thursday, May 15 2008
An empty medicine bottle from Elvis' Graceland home and a toaster belonging to Elton John are among the bizarre celebrity artifacts up for auction to raise money for charity.
Items including a Christmas card from Sir Paul MCCartney to Adam Ant, a wooden spoon signed by late Beatle John Lennon and Yoko Ono in 1969, will go under the hammer in New York in aid of the Music Rising organisation.

The charity, which was co-founded up by U2 guitarist the Edge, aims to help musicians in New Orleans affected by 2005's Hurricane Katrina. The auction takes place on May 31, 2008.
Elton John and band performed in Auckland on May 14, 2008
Thursday, May 15 2008
Following is the complete set list of the Auckland show on May 14, 2008.
Funeral For A Friend

Love Lies Bleeding

The Bitch Is Back

Tiny Dancer

Levon

Believe

Take Me To The Pilot

Goodbye Yellow Brick Road

Daniel

Rocket Man

Honky Cat

Sacrifice

Someone Save My Life Tonight

I Guess That's Why They Call It The Blues

Sorry Seems To Be The Hardest Word

Candle In The Wind

Pinball Wizard

Bennie And The Jets

Philadelphia Freedom

I'm Still Standing

Crocodile Rock

Saturday Night's Alright (For Fighting)


Don't Let The Sun Go Down On Me

Your Song
Positive act of music support
Thursday, May 15 2008
Elton John has always been the exception when it comes to supporting Australian musicians. On his current Australian tour, three local artists - Eran James, The Pigram Brothers and Gurrumul Yunupingu - have benefited from his inexhaustible interest in new music.
They were hand-picked by Elton to open his Perth, Sydney and Darwin (May 17, 2008) concerts.

James supported Elton's Australian solo tour last year and has since been signed to the Rocket Man's label for his third album. If only every international act was as invested in checking out the delights on offer from Australian musicians. Thanks to Federal Arts Minister Peter Garrett making good on one of his election promises, now they will have to.

Buried deep in the thousands of pages of the 2008 Budget papers was a small but meaningful allocation of $1.7 million over four years to amend immigration regulations which will "ensure international touring productions employ at least one local band or artist as a support act.

"This will boost the employment opportunities and exposure of Australian music industry performers and technicians," Garrett said. As the James' example shows, opening for a mega performer can have a profound effect on a fledgling musical career.
Bruno Tonioli talks about filming "I'm Still Standing"
Wednesday, May 14 2008
In an interview with afterelton.com, "Dancing with the Stars" Judge Bruno Tonioli talks about exactly what it was he was doing in Elton John's "I'm Still Standing" video.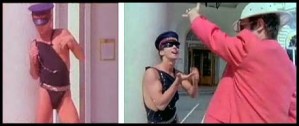 AfterElton.com: Going back a bit. That outfit you wear in an Elton John's "I'm Still Standing" video ... Did you come up with that yourself?
Bruno Tonioli: That's what I'm not wearing! No, there was a stylist, but all those costumes were made up as we went along because the original concept of the video wasn't supposed to be that. It was actually supposed to be one of the storyline videos and I was actually supposed to play a boy, supposed to be Elton when he was ... there was a whole story in the original concept.

AE: So you were supposed to be a young Elton?
BT: Yeah, there was supposed to be a whole – you know this kind of story-based video like they did in the 80s, with a beginning, middle and end. But what happened when we got to the south of France, they were finishing another video, so we were waiting to start and everybody, the director, the camera – they all fell in the sea doing the tracking shot backwards. They were so out of their minds. They just fell in the water. The camera went down. Everything went down in the sea. They lost all the film.

So then the last two days, they just decided, okay – get the choreographer, get the dancers, find a location. It was made up as we went – it was one of those crazy things that happens. And the costumes – everybody was kind of painting bodies. Okay, wear this one ... it was just one of those crazy things that you think is going to be a disaster and it turned out to be one of the funniest, most memorable videos of the 80s.

AE: This is so funny because my partner and I were watching this the other day and it's a fun video and it's a great song, but my partner said, "This is making me a bit crazy because it has nothing to do with what the song is about." And now we know why that happened.
BT: It doesn't. They had to do something. It's all images.
A knight and a King
Wednesday, May 14 2008
On May 12, 2008 as the Sydney Entertainment Centre honoured Sir Elton John's 41st show at the iconic venue, Sir Elton and Time Out Sydney magazine did some honouring of their very own.
Carole Ann King, founder of the Luncheon Club, was honoured by Sir Elton John and Time Out Sydney magazine for the work Ms King and her tireless volunteers have carried out for more than 15 years.

"After we ran a feature on both Sir Elton's charity work and that of the Luncheon Club last year, we thought it would be a great opportunity to join Sir Elton in congratulating this grassroots charity," Time Out Sydney's gay and lesbian editor Andrew Georgiou said. "He loved the idea."

Sir Elton asked Ms King and volunteer Lance Day to his private room backstage where the pair were presented with the award and encouraged to continue their work. "This was a tremendous honour coming from a man who has devoted so very much to the cause we all share," King said.

Sir Elton was quick to praise King and Day for their grassroots approach to charity work. "It's people like you who inspire us to continue," Sir Elton told King. "You are the people doing the ground work."

Now in its 15th year, the Luncheon Club continues to service the HIV/AIDS community and, with the much-needed assistance from donations, hopes to continue its work well into the future.
Drivers to take part in fashion show
Wednesday, May 14 2008
Formula One drivers and their wives and girlfriends are to take part in a charity raising fashion show at the Monaco Grand Prix to raise money for the Elton John Aids Foundation (EJAF).
The Amber Fashion event, to be hosted by Steve Rider and Bernie Ecclestone's daughter Tamara, will take place on the Friday night of the Monaco Grand Prix (May 23, 2008) and will feature some of the world's finest male and female clothing and jewellery.

Launched that night too will be a new luxury menswear collection called FORM, designed by Petra Ecclestone.

As well as the fashion show there will be a charity auction - which includes such lots as a week on Force India team owner Vijay Mallya's yacht, the Indian Empress, and a piano used by Elton John to write and record some of his famous songs.

Sonia Irvine, Amber Fashion director, said: "It is an honour for Amber Fashion to be supporting the EJAF and we are very grateful for the personal attention David Furnish is giving this project. HRH Prince Albert II of Monaco has also kindly graced us with his presence for the past two years while F1 supremo Bernie Ecclestone and his family were additional honoured guests last year.

"We firmly believe that this year's event will be our best to date with Formula One drivers this time joining their wives and girlfriends on the catwalk."
Elton John Marathon on Cleveland radio
Wednesday, May 14 2008
WBWC 88.3fm in Cleveland will be featuring Elton John as part of their Summer Marathon series on May 15, 2008.
That's right, nothing but the music of Elton John, all day long, starting at 7:00am (USA Eastern Standard Time) and continuing commercial-free for 18 non-stop hours. They will be featuring the rare tracks, b-sides, live performances, duets, as well as album tracks - and of course your requests.

Requests can be emailed to request@wbwc.com or call their Request Line the day of the marathon at +1-440-826-7846.

Fans outside of the Greater Cleveland area can listen in via streaming audio. WBWC.Com audio requires RealPlayer 8 or RealOne to listen, which can be downloaded free. Once you've installed the Real software on your computer, click on "Listen Now" from the station's home page.

WBWC is a non-commercial, educational, FM radio station licensed to Baldwin-Wallace College, in Berea (Cleveland) Ohio.
Flower Power Online Auction
Tuesday, May 13 2008
Bette Midler's auction for the nonprofit New York Restoration Project (NYRP) includes flight to Las Vegas and two front row tickets to see Elton John.
Renowned entertainer Bette Midler founded the nonprofit New York Restoration Project in 1995 in the belief that clean and green neighborhoods are fundamental to the quality of life and that every community in New York City deserves an oasis of natural beauty. NYRP partners with individuals, community-based groups, and public agencies to reclaim, restore, and develop under-resourced parks, community gardens, and open space in New York City, primarily in economically disadvantaged neighborhoods.

As part of her successful fundraising efforts to benefit the New York Restoration Project, the Divine Miss M is well known for hosting her legendary Fall Hulaween gala and her annual Spring Picnic.

This year, charitybuzz is partnering with Bette Midler for the New York Restoration Project's 2008 Flower Power Auction. They will be celebrating Bette's love of parks and gardens in an online auction featuring celebrity friends of Bette's who share her passion for gardening, as well as incredible trips from all over the globe that highlight the very finest gardens and parks of the world!

Among other items, you can bid on "Fly to Las Vegas and Enjoy Front Row Tickets to see Sir Elton John". The auction will close on May 29, 2008.
Elton John does it again
Tuesday, May 13 2008
The second Elton John concert in Anchorage, hastily arranged after the sell out of the first show, sold out on May 12, 2008 in just over an hour.
Elton's first Anchorage concert sold out on May 5, 2008 in 58 minutes and Sullivan Arena promoters were able to secure a second date, May 30, 2008, to meet demand for the "Rocket Man."

Concert promoters say indicate there has not been this much excitement over a singer's visit to Alaska in some time.

Both concerts appear to have set records at the Sullivan Arena and across the state.



Elton adds second Anchorage show
Tuesday, May 6 2008 at 18:33:03

Elton John to perform in Alaska
Tuesday, April 29 2008 at 07:30:22


Elton John and band performed in Sydney on May 12, 2008
Tuesday, May 13 2008
Fan report and photos by Darren George.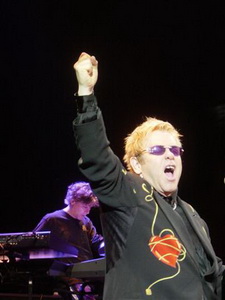 Last night was my 13th Elton John concert and well what can I say, for a man of 61 he is showing no sign of slowing down. Two hours and 45 minutes non-stop hit after hit Elton and the band were in fine form pounded out 38 years worth of music. He packed out the Sydney Entertainment Center for the 41st time holding the record for most concerts by an artist, beating John Farnham's record back in 2006.

Not bad to pack out this venue seeing as he only played Sydney's acer arena 6 months ago.

It was great to meet other die-hard fans at a Pump House pub outside the Entertainment Center prior to the shown and then again afterwards. Something, which I had always wanted to do, and what, a great bunch on people.

The tickets purchased through eltonjohn.com had me seated row 10 from the stage but as you can see from my photos I was able to make it the very front of stage during "Pinball Wizard" and remain there for the rest of the show. Come autograph signing time (before encore), every man and his dog was holding up something for Elton to sign, but to his credit he took his time walking up then back down the stage signing a large number including my "Peachtree Road" CD cover (Thanks Elton!). Some people even got there item signed twice when Elton came back along the stage.

The six lead performers from Sydney's "Billy Elliot" musical had the night off and were lead to their seats just before Elton took to the stage. Elton's set list was the same as Perth on May 10, 2008 except Elton added a solo version of "Electricity" from the musical, which he dedicated to the boys.

Elton now heads off to Auckland New Zealand to do it all over again tomorrow night, before heading over to Darwin to play this coming Saturday night.

Thanks again Elton, not sure when we will see you back this way again, three times in 18 months is enough to keep this fan happy for a while.

Following is the complete set list of the Sydney show on May 12, 2008:

Funeral For A Friend

Love Lies Bleeding

The Bitch Is Back

Tiny Dancer

Levon

Believe

Take Me To The Pilot

Goodbye Yellow Brick Road

Daniel

Rocket Man

Honky Cat

Sacrifice

Someone Save My Life Tonight

I Guess That's Why They Call It The Blues

Sorry Seems To Be The Hardest Word

Electricity

Candle In The Wind

Pinball Wizard

Bennie And The Jets

Philadelphia Freedom

I'm Still Standing

Crocodile Rock

Saturday Night's Alright (For Fighting)


Don't Let The Sun Go Down On Me

Your Song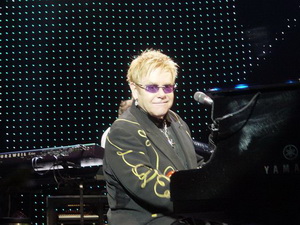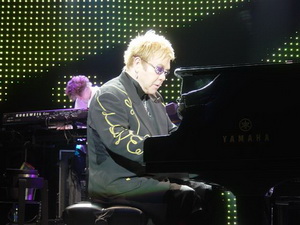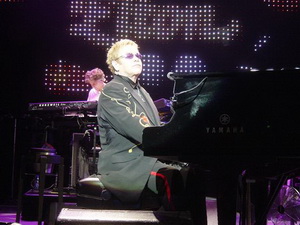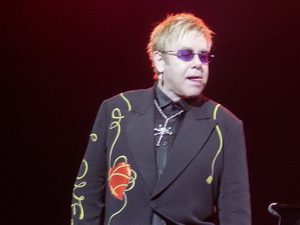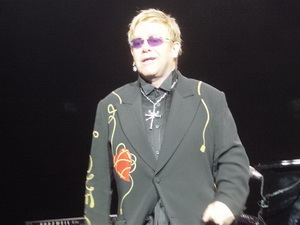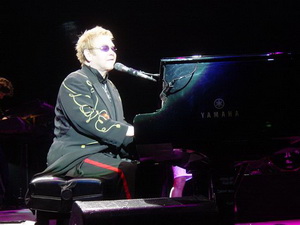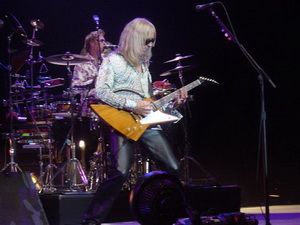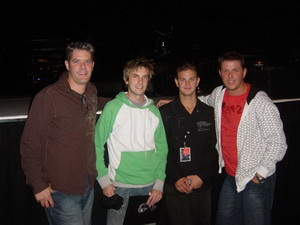 The group photo in front of piano is (left to right): Andrew (my friend from Avoca Beach/Gosford NSW), Shaun (Wellington NZ), Ken (Western Australia) and me on the right.

Elton John and band performed in Perth on May 10, 2008
Sunday, May 11 2008

Following is the complete set list of the Perth show on May 10, 2008.
Funeral For A Friend

Love Lies Bleeding

The Bitch Is Back

Tiny Dancer

Levon

Believe

Take Me To The Pilot

Goodbye Yellow Brick Road

Daniel

Rocket Man

Honky Cat

Sacrifice

Someone Save My Life Tonight

I Guess That's Why They Call It The Blues

Sorry Seems To Be The Hardest Word

Candle In The Wind

Pinball Wizard

Bennie And The Jets

Philadelphia Freedom

I'm Still Standing

Crocodile Rock

Saturday Night's Alright (For Fighting)


Don't Let The Sun Go Down On Me

Your Song
Elton John: 'I won't make another album'
Friday, May 9 2008
Elton John has revealed that he may not release another album, BBC 6 Music reports.
Speaking after a recent performance in Austria, he said: "I don't know if I'm ever going to make another record again at the moment. I have no plans to do another album as such. I am so busy touring and doing shows and promoting musicals and producing films - I would like to make another record but I don't know when or where or if I am gonna make one."

Elton's last album, The Captain & The Kid, was released in 2006.
Elton John to perform at Coronation?
Thursday, May 8 2008
According to an article by Michael Field on the New Zealand Dominion Post, Elton John and Mick Jagger are part of the King's special guest list for the Coronation. No official word has been received on their attendance or whether they would perform.
An impromptu performance by either star will be a huge spectacle and will certainly lift the Coronation to a different plane. Both artists will have plenty of fans in the Kingdom.

The Coronation will cost around $6 million but Government sources say this could double because some of the 22 sub-committees are well behind schedule and there is only $1 million left from the original $6 million budget. This means that more funding will be required.

The Kings robes and uniforms for some of the officials are rumoured to cost nearly $1 million from the UK. All efforts are being made to ensure the Coronation resembles the Coronation of the Kings and Queens of Europe. This will certainly put Tonga on the map and provide huge coverage through the BBC who have been given exclusive rights to cover the Coronation.

The Tu'ipelehake addressed the nation on May 7, 2008 outlining the planning and the preparations for the Coronation. He asked the people to work together and help the sub-committees. The venue of the Coronation which will be the Saione Church of the Free Wesleyan Church of Tonga in Kolomotu'a. The church is being extensively renovated for the Coronation.
Happy Birthday to us!
Thursday, May 8 2008
The international Elton John Fan Club Hercules, also known by its internet domain eltonfan.net, has been serving the Elton John community since 1988.
Founded as Rocket Fan back on May 8, 1988 with a focus on German-speaking fans, the club has soon turned into a worldwide organization with Elton admirers from all over the planet.

In 2008 we are celebrating our 20th anniversary, and we do so with pride as 20 years are a long time for a fan club to survive, even more so "under same management". So we would like to celebrate this achievement in 2008, and we would like to celebrate with you - the fans of Elton John and supporters of our fan club.

The website twenty.eltonfan.net has been set up to inform you about the latest news and events related to the 20th anniversary celebrations. One of the highlights will be a fan convention at which we are looking forward to welcoming many fans/supporters of today as well as of the past.

For the past five years Hercules has been offering all of its services on eltonfan.net free of charge. The site is maintained on a voluntary basis, however, there are costs involved in hosting the site on a high-speed and reliable server. If you like the services provided on eltonfan.net and if you feel like supporting this website, we would be grateful if you would make a small donation.

With this we would like to thank Elton for his persistence and everlasting presence, the management and record company for their support, and last but not least the fans for their loyalty.
No room at Inn for Bob or Elton
Wednesday, May 7 2008
The Bein Inn is a landmark on the road in and out of Glenfarg in Perthshire. In recent years it has also become known for its car park, which has spaces specially reserved for Bob Dylan and Sir Elton John.
Visitors would often respectfully leave the spaces free, not daring to park in the slots marked out for the music legends, or would ask for special permission to leave their car in the areas reserved for the stars.

However, it now appears there is no room at the inn for either - because they have had their parking privileges removed. Managing director Michael Kenny explained: "It's only ever been tongue in cheek in the hope that they would either come... or come back. Legend has it - and as far as I'm concerned it's only legend - that a long, long, long time ago, before they were famous, they did at one stage of their careers play here.

"But the new owners, they'd like to take it forward in a different direction and don't want to do music, so they decided the past lies in the past."

However Mr Kenny admits guests have been wondering why the spaces have been removed. "If they saw a car parked in the space they would obviously come in and ask if Sir Elton John was in," he said.

"Some of the rooms have been named after them, so they tend to ask: 'Are they in residence?' - much like the Queen at Balmoral. People come in and say: 'But you can't take those spaces away from those guys'."

Peter Dickson, from Mundell Music, was one of those who created the special car parking spaces a couple of years ago. He said: "We thought it would be a nice idea that when Elton John and Bob Dylan passed they'd actually have places reserved for them. The fact they've gone now is a bit of a pity, because when Elton John comes to play McDiarmid Park in June, he now has no official car parking space in Glenfarg."

However, Mr Kenny admitted that the inn might be prepared to reconsider its decision if there was a public outcry.
Sir Elton, the FEC, and you
Wednesday, May 7 2008
When Elton John performed at a Radio City fundraiser for Sen. Hillary Rodham Clinton's (D-N.Y.) candidacy in April 2008, neither the entertainer nor the campaign likely foresaw the legal implications.
But for Elton, the ensuing hue and cry brought to mind another theme from "The Wizard of Oz": When it comes to federal campaign finance law, "we're not in Kansas anymore."

Because Elton is not an American citizen or green card holder, he was prohibited from making contributions to federal campaigns. Luckily for everyone involved, a Federal Election Commission (FEC) spokesman quickly confirmed that foreign nationals may volunteer their personal time and services. Still, the incident reminds us of the many restrictions that lobbyists and their clients face when volunteering for federal candidates — the extent to which they may use corporate or partnership resources and the paperwork they must file when raising money.

Before considering each of these issues, one must first understand the difference between contributions, which are extensively regulated, and volunteering, which is generally unrestricted. Federal law imposes various limits on how much individuals, partnerships (including some limited liability corporations, or LLCs) and political action committees (PACs) may contribute to federal candidates and parties. And it outright prohibits contributions from certain other sources (such as corporations, labor unions and foreign nationals). Those limitations apply to non-monetary, "in-kind" contributions as well.

Accordingly, if Sir Elton were to give away a thousand copies of his greatest hits CD to induce donations to the Clinton campaign, he would be making an illegal "in-kind" contribution as a foreign national. Moreover, the CDs' fair market value likely would exceed his individual contribution limit. On the other hand, if he were to voluntarily write a song honoring the campaign ("My gift is my song, and this one's for you"), that would be fine by the FEC, even if that song goes platinum and earns a small fortune. If readers feel confused at where volunteering ends and where "in-kind" contributions begin, just re-read the last sentence of the first paragraph.



Elton John performed for the Hillary Clinton fundraiser on April 9, 2008
Thursday, April 10 2008 at 07:29:44

Does Elton John's fundraiser for Clinton break election rules?
Friday, March 28 2008 at 08:22:19

UPDATE: Elton John & Hillary Clinton - One Night Only
Monday, March 17 2008 at 07:30:22


Davey gets a kick out of football
Tuesday, May 6 2008
As the final preparations are being made for Elton John's forthcoming gig at Darlington Arena, David Roberts of The Northern Echo speaks to his long-serving guitarist Davey Johnstone.
Davey Johnstone has only been back in the UK for a few hours, but he's already settling down to enjoy one of the other great loves of his life, besides music - namely football. After spending the past 26 years living in California, the Edinburgh-born musician admits that the one thing he misses is football and so is looking forward to watching the Arsenal versus Everton game on TV.

"I'm a massive soccer fan. You get some matches in America, but not many, I don't think there ever will be," he said. "Beckham's there now, but the only difference is he's being paid a lot of money to play there. I've had to become a big basketball fan instead."

Davey met Elton John in the early Seventies through Bernie Taupin when he was asked to play acoustic guitar on an album of Bernie's poetry put to music. Davey was then asked to play on Elton's "Madman Across the Water" and was invited to become a permanent member of his band in 1972.

During his career he has worked with a number of different artists including Alice Cooper, Meatloaf, Rod Stewart and The Who. A testament to the strength of the relationship he has with Elton John is that in more than 30 years of playing together, Davey has never been on the receiving end of one of Elton's infamous tantrums.

"He's simply the most talented of all the people I've ever worked with," Davey said of Elton. "He's such a great musician. He loves guitars, but he couldn't play one if you paid him." Davey admits that the pressures of almost constant touring can take their toll, but when they go out on stage it more than makes up for it.

"We've been together so long now and have got such a big catalogue that the concerts are never the same. 'Rocket Man' is always a really good song to play, as we change it every night. Sometimes it can go on for 15 to 20 minutes. I also enjoy playing a lot of the earlier stuff."



Happy Birthday, Davey!
Tuesday, May 6 2008 at 06:03:21


Elton adds second Anchorage show
Tuesday, May 6 2008
Loah McCoy's boss gave her an impossible task at work Monday morning: Go to Sullivan Arena and pick up some Elton John tickets.
Like so many others, McCoy came up empty, despite a display of multitasking that deserves recognition in her next job review. She stood in line for more than an hour, calling Ticketmaster on her cell phone all the while. She was about 50 people away from the box office when an arena employee came outside to tell the crowd that Elton's May 28, 2008 concert was sold out.

Tickets to see the Rocket Man went about as fast as an actual rocket. It took just 58 minutes for fans -- and would-be profiteers who later posted their tickets for sale online, generally at prices higher than face value -- to snatch up about 7,000 tickets.

About four hours after the sellout was announced, a second concert was scheduled for May 30, 2008. Tickets for that show go on sale on May 12, 2008, and don't be surprised to see another feeding frenzy.

The 58-minute sellout shattered the previous record for fastest Sullivan sellout. The old mark was held by Aerosmith, according to Sullivan officials. The hard-rock band's 1998 concert sold out in two hours, 37 minutes.

About 60 people spent a night wrapped in sleeping bags and slumped in lawns chairs to improve their odds of paying $58.50 to $118.50 to see Elton. "It was cold. It was long. It was a lot of fun," said Kathy Jackman of Palmer, who arrived at 2:30 p.m. Sunday and left with six tickets shortly after 10 a.m. Monday. "People brought heaters, coffee, food, you name it."

A number of people, frustrated in their attempts to buy tickets through Ticketmaster, joined the line after 10 Monday. "My husband went online at 9:59 and he couldn't get through, so he sent me here," said Kim Kampen, who was hoping to buy tickets for her parents and her husband's parents.

Also see Elton John Tour News.
Happy Birthday, Davey!
Tuesday, May 6 2008
Davey Johnstone turns 57 on May 6, 2008.
On behalf of the visitors of eltonfan.net and all Elton fans around the world, we would like to wish him a Happy Birthday.

Davey will be back on stage with Elton in Singapore on May 7, 2008.
Elton sang at Sir Alan Sugar's 40th anniversary
Monday, May 5 2008
Elton John played at Sir Alan Sugar's lavish 40th wedding anniversary party on May 4, 2008.
"The Apprentice" boss has paid Elton £250,000 to entertain guests in a marquee the size of a football pitch in his back garden.

Sir Alan has thrown the money-no-object bash, set in the idyllic grounds of his £5million Essex mansion, to celebrate 40 years of marriage to his wife Ann. Sixties superstars Frankie Valli And The Four Seasons, a favourite band of Sir Alan's, also played a set at the party.

A party source said before the event: "Sir Alan has spared no expense for the party - it's going to be very impressive. Alan and his wife Ann are still very much in love, and this is a great opportunity for them to share their anniversary with the people closest to them."
Bid on a Meet & Greet with Elton in Las Vegas
Sunday, May 4 2008
The auction includes two tickets to a June 2008 Red Piano Evening Performance at Caesars Palace, Las Vegas, a Meet & Greet experience for you and your guest with Elton John either before or after the performance.
100 per cent of the final sale price will support Liberty Hill Foundation. The Liberty Hill Foundation partners with innovative and effective Los Angeles grassroots organizations to combat poverty and injustice. Together, they help transform the City of Angels into a place that promises safety, equality and opportunity for everyone who lives here. Their motto is Change, not Charity. Charity is important, but their dollars go the next step organizing, advocating, creating change for the long term.

The auction closes on May 11, 2008. See eBay for details.
Elton John and band performed in Ischgl on May 3, 2008
Saturday, May 3 2008
Fan report by Peter Bucek. Photos by Mireille Mölbert.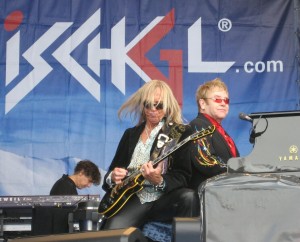 Elton John played to a crowd of 20,000 skiers and boarders at 2,320 meters in a mountain top arena. It was Elton's second appearance in concert in Ischgl. He was the first big star to feature in Ischgl's Top Of The Mountain concerts in 1995. Other big names to have followed his lead since that first appearance have included Lionel Richie, Bob Dylan, Sting, Rod Stewart, Tina Turner, the Sugababes, Pink and The Pussycat Dolls.

I absolutely forgot about the 660 km of driving to ski center Ischgl, and I also forgot about three and half hours of waiting in front of the piano, when Elton finally came on stage. The beautiful place, good weather and the starting hour of 1.00 pm was a good reason to make great photos.

The concert was shorter, maybe because Elton said after the first song that "This show will be shorter because it´s little bit could here".

During "The Bitch Is Back" Elton was caughing a lot inbetween singing the lyrics. He also wiped his nose sometimes, but only during that song.

The show was fantastic, Elton looked happy till the moment when band returned to play encores. Elton was standing on the bench, Nigel began druming, but the other band members looked like they did not know if to return to the stage or not. From my point of view I saw Guy Babylon running back to the stage from backstage already. Elton was turning to the audience but by his hand's gestueres I recognized that he was little bit upset about this little stage mistake.

Then he turned to the crowd and started to play "Don´t Let The Sun Go Down On Me". After this song the band members again looked like thay didn´t know if to stay or not. But then they grudgingly went off the stage and Elton played "Your Song" solo. The band members would remain unintroduced during the show.

Nine out of song were up-tempo, which was great in regard of enjoying pure rock´n´roll this day in the snow. As up-tempo songs I also count "Levon" (with fantastic ending session) and "Bennie And The Jets".

I enjoyed my "first row profit" with often visual concatct with Elton, who was always making some funny grimaces.
The slope way from stage to my parking took me about 25 minutes of skiing. This was my first concert, during which I had cap on my head, I was in winter anorack, training suit and I also had apline-skiing boots on my feet.

Following is the complete set list of the Ischgl show on May 3, 2008:

Funeral For A Friend

Love Lies Bleeding

The Bitch Is Back

Levon

Tiny Dancer

Daniel

Rocket Man

I Guess That's Why They Call It The Blues

Sacrifice

Sorry Seems To Be The Hardest Word

Pinball Wizard

Bennie And The Jets

Philadelphia Freedom

I'm Still Standing

Crocodile Rock

Saturday Night's Alright (For Fighting)


Don't Let The Sun Go Down On Me

Your Song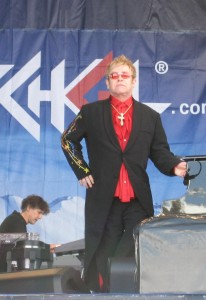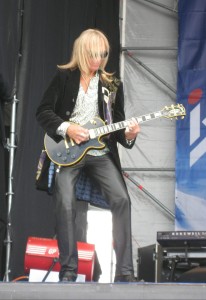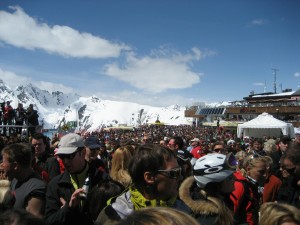 Elton John die-hards camp out for tickets
Friday, May 2 2008
Elton John mania is sweeping across Vermont. Tickets to his concert on July 21, 2008, at the Champlain Valley Expo will only go on sale on May 2, 2008, but fans are camping out overnight since April 30, 2008 at ticket outlets to make sure they get a good seat.
Wearing boas, colorful hats and glasses, these Sir Elton groupies say sleeping outside is a tiny sacrifice, and one they're glad to make to see the performer they call a living legend.

"Why Elton John? He's so flamboyant, he's a show person," said Colchester resident, Tracy Lamphere. "I can't afford to go to Las Vegas to see him. It's worthwhile...it's Elton John!"

Some fans were willing to give up sleep to get their seats. "Actually, I worked all night at the hospital and I haven't slept yet, and I'm going to have to work tomorrow, too," said Essex Junction resident, Becky Ladue. "Hopefully I'll get some sleep tomorrow after I get tickets!"

Those tickets range from $70 to $130 plus service charges. They go on sale at 10 a.m. on May 2, 2008 at the Flynn Theater box office in Burlington, and at Copy Ship Fax Plus in Essex Junction. The camped-out fans could have saved themselves some trouble by going to the FlynnTix Web site, but they say camping overnight will itself be an experience to remember.
Le Roi Lion (The Lion King) wins Moliere Award for Best Musical
Thursday, May 1 2008
The Moliere Awards — the French equivalent of the Tony Awards — were presented April 28, 2008 at the Folies Bergere.
The big winner of the night, according to Variety, was the the French production of "The Lion King, Le Roi Lion", which picked up three trophies. The Disney musical snagged prizes for Best Musical, lighting (Donald Holder) and costumes (Julie Taymor, who also directed).

Le Roi Lion opened at the lavishly renovated Theatre Mogador, Paris, October 4, 2007. The Elton John-Tim Rice musical is performed in French. Lyrics and dialogue have been adapted by Stéphane Laporte, who earned a Molière nomination for his work on the French adaptation of "Fiddler On the Roof" two seasons ago. Stage Entertainment France, a subsidiary of Stage Entertainment, produces the show.

"The Lion King" originally opened at Broadway's New Amsterdam Theatre November 13, 1997. Directed by Julie Taymor — who became the first woman to ever receive a Tony Award for Best Director of a Musical — the musical has become an international hit with productions playing all around the globe. In fact, the Elton John-Tim Rice musical has won over 30 major awards. Those include six Tony Awards, including one for Best Musical; eight Drama Desk Awards; six Outer Critics Circle Awards; two Sir Laurence Oliviers; the Evening Standard Award for Best Theatrical Event; and three Los Angeles Drama Critics Circle Awards.

Le Roi Lion offers performances Tuesday-Friday evenings at 8 PM, Saturdays and Sundays at 3 and 8 PM. Tickets, priced €25-€99, are available by calling +338 20 88 87 86. Visit www.leroilion.fr for more information.