ELTON JOHN NEWS ARCHIVE: May 2007
Elton John signs global petition urging G8 leaders keep their promises
Thursday, May 31 2007
A boost of star-power was added to the upcoming Summit of G8 leaders on May 31, 2007, when several high-profile entertainers added their names to a global petition telling the G8 leaders to keep their promises to help impoverished countries.
The petition is open for signature until June 5, 2007. It is available in English, Spanish, French, Italian, Russian and Japanese. Music lovers and fans of these stars can join the effort by signing the petition online:

http://action.globalaidsalliance.org/page/signup

President Bush and other world leaders will attend the Summit in Germany June 6-8, 2007, hosted by Chancellor Merkel, and Africa, AIDS and education will be high on the agenda. Intense negotiations are underway as representatives of the G8 leaders try to finalize a statement regarding Africa. Yet, experts on poverty are saying that the G8 leaders are still not keeping the promises they made in 2005.

Sir Elton John stated: "How can we break the promises we make to the world's most vulnerable people? I am signing this petition because the G8 leaders should keep their promises, and I urge music-lovers and everyone around the world to sign it too."

Iman, actress and supermodel, stated: "I am joined by Keep a Child Alive Ambassadors Alicia Keys, Jessica Alba, Liv Tyler, and Padma Lakshmi in signing this petition. The G8 leaders -- including President Bush -- absolutely must keep their promises to children! Universal access to AIDS services by 2010 must include children, and it's an outrage the world is not on course to reach this goal. We encourage everyone -- and this means YOU -- to sign this petition today."

Some G8 countries are still resisting any reaffirmation of the promises made in 2005 or any specific commitments on health and education. At the G8 Summit in 2005 leaders promised to increase aid levels, support the Global Fund, address the dire shortage of health care workers in Africa and other regions, and back the Fast Track Initiative to ensure every child has a chance to go to school.

Archbishop Emeritus Desmond Tutu, the Honorary Chair of the Global AIDS Alliance, kicked off the petition drive just a few weeks ago.

Archbishop Tutu stated: "The G8 Summit is not just any meeting. It's a meeting where life-and-death decisions will be made, affecting the lives of millions of people worldwide. Please, take a minute to sign this petition now. Let's make sure the world's leaders know we mean business -- and that we intend to keep these issues in mind whenever we vote!"

A number of other prominent leaders have also signed the petition, including Reverend Jesse Jackson, Rabbi Michael Lerner, and Dr. Tatsuo Hayashi, who is the Chair of the Hottokenai Campaign in Japan and the President of Africa Japan Forum.

The petition complements other important petition drives with a broader set of demands, including Your Voice Against Poverty.

Organizations from around the world have endorsed the petition, including the World AIDS Campaign, in Germany the organization "Aktionsbündnis gegen AIDS" (Action Against AIDS), International Trade Union Confederation (ITUC), Friends of the Global Fund Africa, Africa Public Health Rights Alliance / "15% Now!" Campaign, and many others.
"Under Pressure" tops great songs on bad albums list
Thursday, May 31 2007
Queen and David Bowie's "Under Pressure" has topped a new rock magazine list of great tracks on bad albums. Elton's "Song For Guy" makes #9.
Rolling Stone magazine editors asked readers to vote in the quirky online poll and came up with the following top 10 list:

1. Under Pressure from Queen's Hot Space
2. This Is England from the Clash's Cut The Crap
3. Eminence Front from The Who's It's Hard
4. Brownsville Girl from Bob Dylan's Knocked Out Loaded
5. Hallo Spaceboy from David Bowie's Outside
6. Kill Your Sons from Lou Reed's Sally Can't Dance
7. 2000 Light Years from Home from the Rolling Stones' Their Satanic Majesties Request
8. Goin' Home from Neil Young's Are You Passionate
9. Song For Guy from Elton John's A Single Man
10. Don't Look Back from Boston's Don't Look Back
Elton John and Billy Elliot Stars
Wednesday, May 30 2007
Billy Elliot composer Elton John recently met up at London's Victoria Palace Theatre with 'Billy Elliot's' from the current London and future Australian productions of Billy Elliot.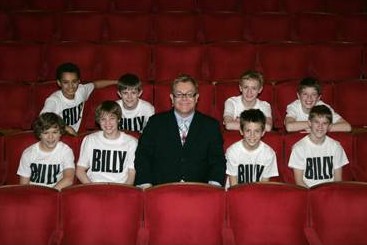 Lochlan Denholm (from Melbourne), Rhys Kosakowski (Newcastle), Rarmian Newton (Melbourne) and Nick Twiney (Sydney) will share the title role in the Australian Billy Elliot, which will play its first public performance at the Capitol Theatre in Sydney on November 13, 2007. Opening night is set for December 13, 2007.

Billy Elliot the Musical, which features book and lyrics by Lee Hall, music by Elton John and direction by Stephen Daldry, opened in London in May 2005, where it received glowing reviews, broke UK box office records, and still plays to capacity houses at the Victoria Palace Theatre. The creative team behind the Academy Award and BAFTA-nominated film Billy Elliot, including Hall, Daldry, and choreographer Peter Darling, all worked on adapting the film for the stage. In London, the musical stars Colin Bates, Leon Cooke, Matthew Koon and Travis Yates.

Elton knew the names of the British boys sharing the title role in the London version of Billy Elliot, the Musical. But when he walked on to the stage on May 29, 2007 and met four more Billys – all from Australia – his memory for names was really put to the test. "Hi, howyadoin?' " Sir Elton asked the young Aussies. "Good," came the uncharacteristically shy reply.

Melbourne's Lochlan Denholm, 13, – one of four Australian teens to star in the Sydney production of the musical based on the film – later described the meeting as a "bit weird". "Elton was, like, talking to us and we were just listening," he said. "We gave him a boomerang," added Rarmian Newton, also from Melbourne. "He seemed to like that."

"The English Billys all told us we should look forward to each show and have a good time," Lochlan said before joining the other Australians in watching the show. "I'm going to remember that."



Billy Elliot auditions in New York and Boston
Tuesday, November 7 2006 at 06:02:35

"Billy Elliot" goes Down Under
Tuesday, October 31 2006 at 08:10:09


Elton John and band performed in Plymouth on May 26, 2007
Sunday, May 27 2007
Fan report by Si Owens.
Elton John took his latest tour to Home Park, home of Plymouth Argyle FC, on May 26, 2007 with a fast-paced set. The current set list is more familiar to casual fans than that which graced American stages earlier this year on the back of "Sixty Years On" in New York, but it was a set still filled with treats, especially early on in the evening.

Opening with "Funeral For a Friend/Love Lies Bleeding", and continuing through with "The Bitch Is Back", "Hercules", "Madman Across The Water" and "Tiny Dancer", gave a tally of only one UK hit single in the first five songs. Both keen and casual fans alike, however, were enthralled by the energy and excitement of the performance to such an extent that the presence of hits was not missed.

Elton has long been known to be a fan of rock bands that chug rather than chase, and the current selection of songs makes for a pacey set that never runs away with itself.
Elton himself was in fine voice, and in a small stadium with unique acoustics, the strength of his singing came across best in solo spots and sections where the instrumentation dropped to its skeleton. The piano first began to stand out in "Daniel", where Elton utilised the attack of the electric piano sounds to great effect, and the overall sound was generally impressive throughout.

From "Daniel" on, the set was largely the greatest hits selection fans have come to know, or as Elton refers to it, "The Jukebox". All the songs were well received, with the Home Park faithful lapping up those extended versions of "Rocket Man" and "Bennie And The Jets". The latter featured a new spot not heard on previous tours, whereby the bass of Bob Birch mimics a groove kicked out by Elton on the piano. This whole section sounded fantastic, and Birch continues to excel in this band for musicality and overall contribution to the set.

The highlights of the evening were 'almost-solo' renditions of "The Bridge" and "Sorry Seems To Be The Hardest Word". Elton was singing these tracks better than ever, and when performed live "The Bridge" comes across as the truly great song that it is.

The final hour kicked into gear with a trail of rock and roll numbers, slowing momentarily with "Something About The Way You Look" tonight, and picking up again with a storming "Sad Songs (Say So Much)", which now features a mesmerising piano interlude before a final chorous.

"Something About You Look Tonight" proved to be one of the most popular numbers with the audience, along with "The Bridge" and a roof-raising rendition of "I Guess That's Why They Call It The Blues".

As a long-time attendee of Elton John concerts, tonight's show matched some of the finest. There could really be no criticisms of this show. The set is good, the voice is flawless and this is possibly Elton's finest ever touring band.

For some general notes, Elton was wearing a jacket that featured an elaborate depiction of a 70s Elton in a crocodile's mouth, and Nigel Olsson continues to enjoy the drum-side camera; becoming more and more the favourite uncle that can make the kids laugh with his array of funny faces and japery.

As we were leaving the stadium, all of the comments that could be heard related to a wonderful performance, great value for money and a thoroughly enjoyable event. So thanks and congrats to Elton on what was, once again, a job very well done.

Following is the complete setlist of the Plymouth show on May 26, 2007:

Funeral For A Friend

Love Lies Bleeding

The Bitch Is Back

Hercules

Madman Across The Water

Tiny Dancer

Daniel

Rocket Man

Honkey Cat

Sacrifice

I Guess That's Why They Call It The Blues

Burn Down The Mission

The Bridge

Sorry Seems To Be The Hardest Word

Bennie And The Jets

All The Young Girls Love Alice

Philadelphia Freedom

Are You Ready For Love

Something About The Way You Look Tonight

Sad Songs (Say So Much)

I'm Still Standing

Crocodile Rock

Saturday Night's Alright (For Fighting)


Don't Let The Sun Go Down On Me

Your Song
Trophy Chopard: Anniversary soiree '10 Golden Years with the Festival'
Sunday, May 27 2007
The 60th Cannes Film Festival or '10 Years of Love Shared with CHOPARD' The year 2007 at the Cannes Film Festival was marked by two major celebrations: the 60th anniversary of the Festival and the 10th year of its official partnership with Chopard.
Ever since it redesigned the Golden Palm, Chopard has never stopped supporting the world of cinema or strengthening the bonds between the two. Every year, the Geneva jeweller and watchmaker imbues the Festival with its unrivalled glamour, which attains its zenith during the traditional climbing of the steps to the red carpet and the awarding of the Chopard Trophy. This is a tale of the grandest of screens, a myriad of diamonds and marvellous actresses.

On May 2, 2007 took place a major event: The Chopard Trophy True to its tradition of sponsorship, the Chopard company has marked its commitment to cinema with the creation of a new award. Each year at the Cannes Film Festival, the Chopard Trophy showcases the talent of two young actors. The aim of the Chopard Trophy is to promote new talent and accompany those taking their first steps into the world of cinema. With the support of Gilles Jacob, President of the Festival, and in partnership with Studio Magazine, the Geneva jeweller and watchmaker has created this prize to be awarded to young actors designated the Female Revelation and Male Revelation of the Year.

Last year Elton John and Elizabeth Hurley, Guests of Honour at the ceremony, presented the award to Jasmine Trinca and Kevin Zegers. The choice of awardees demonstrates remarkable flair, since all of these young hopefuls went on to enjoy very successful careers in film.

This year's laureates are the American actor Nick Cannon, seen in "Bobby", a film about the murder of Robert Kenned and Archie Panjabi, an actress of Indian origin, to be seen in Cannes in "A Mighty Heart", staring Angelina Jolie.

To celebrate the 10-year-partnership between Chopard and the festival, Caroline Gruosi-Scheufele received her guests in a place specially created for the festivities. More than 800 guests enjoyed dinner, followed by a party, in a stunning ambience on the waterfront, overlooking the legendary Croisette. Matching the motto "Ten Golden Years", the Roseraie was sparkling in precious gold; drapery, statutes and an assortment of exquisite small delicacies from Lenôtre: lobster, foie gras, crayfish, truffles, all coated with 400 Gold lamellas and served with Palmes d'Or champagne. A haute joaillerie fashion show with 30 models, all dressed in gold, further enhanced the glamour of the soiree.

Caroline Gruosi-Scheufele's close friend Elton John rounded the evening off with a private concert. The Chopard Trophy lighted up the Cannes Film Festival again this year.



All-star lineup for AIDS benefit at Cannes
Saturday, April 30 2005 at 13:06:58

Elton and Lionel duet in Cannes at AIDS gala
Friday, May 23 2003 at 12:34:29


Ivor Novello Awards, Britain's awards for songwriting
Friday, May 25 2007
Elton John won the most performed work award with Scissor Sisters frontman Jake Shears for the hit "I Don't Feel Like Dancin'."
Elton co-wrote the song with Shears, while the Scissor Sisters have made it a hit. "This is really special. I want to give a big shout out and thank you to Elton," Shears said after accepting the award.

"About 18 months ago, I was so depressed and Elton was doing nothing short of tap dancing and pulling my eyeballs out to make me feel better. Elton came into the studio and we wrote the song."

The prestigious awards from the British Academy of Composers and Songwriters are named after the early 20th-century musician and songwriter Ivor Novello, who composed hits such as Keep The Home Fires Burning and We'll Gather Lilacs. They were awarded in London on May 24, 2007.

Amy Winehouse, 23, won the award for best contemporary song for "Rehab", an autobiographical single. Madonna and Stuart Price won the international hit prize for "Sorry" and the Arctic Monkeys took the best album award for "Whatever People Say I Am, That's What I'm Not".
Elton John photo collection to be presented
Friday, May 25 2007
Elton John's photo collection "Chorus of Light: Celebrity Portraits from the Sir Elton John Collection" will be presented from June 16 till August 12, 2007, according to an UNIAN correspondent.
Viktor Pinchuk said it at a briefing today. According to him, they are thoroughly preparing, exhibits are on their way to Kyiv. "The collection is on its way ... Elton John took some woks off the walls", Pinchuk noted.

During the exhibition, they plan to step up security measures. As PinchukArtCentre pointed out, "Each work price starts from thousands of dollars and some of them – a million". That is why he takes all the security measures under his control. Besides, they plan to have Elton John on the exhibition opening.

Sir Elton John started collecting pictures in 1991. As of today, his collection is recognized as one of the best in the world, more than 5 thousands of works, starting from vintage photos of 1920s to modern photographers' works.

The first and the only time the chosen works were exhibited to the public were 7 years ago in Atlanta (USA) in High Museum. Ukrainians will be the first in Europe, who will see this collection. PinchukArtCentre exhibition will include 150 chosen works of 24 modern photographers.



Elton John to play charitable concert in Kyiv
Thursday, May 24 2007 at 06:11:11


Osbourne struggles with Rasputin musical
Friday, May 25 2007
Rocker Ozzy Osbourne is struggling to bring the tale of Rasputin to Broadway - insisting it's much easier to make hit albums.
The Black Sabbath rocker is making a big-budget musical based on the 19th century Russian monk's life, but concedes it's harder than he expected - and has even turned to pop pal Sir Elton John for advice.

He says, "It's kind of been nearly done. The thing about it is, I'm singing some of the parts, and it sounds ok, but then, when it does get picked up, it's not as easy as making records.

"It's a big thing, because you've got to get choreography to put what you've written into a stage thing and insert the songs for this thing."
Elton John and band performed in Sheffield on May 24, 2007
Friday, May 25 2007
Following is the complete set list of the Sheffield show on May 24, 2007.
Funeral For A Friend

Loves Lies Bleeding

The Bitch Is Back

Hercules

Madman Across The Water

Tiny Dancer

Daniel

Rocket Man

Honky Cat

Sacrifice

I Guess That's Why They Call It The Blues

Burn Down The Mission

The Bridge

Sorry Seems To Be The Hardest Word

Bennie And The Jets

All The Girls Love Alice

Philadelphia Freedom

Are You Ready For Love

Something About The Way You Look Tonight

Sad Songs (Say So Much)

I'm Still Standing

Crocodile Rock

Saturday Night's Alright (For Fighting)


Don't Let The Sun Go Down On Me

Your Song
Click here to read a review on www.metalliville.co.uk.

Elton John to play charitable concert in Kyiv
Thursday, May 24 2007

It will be held on June 16, 2007, broadcast by TV Channels. The event will be initiated by the Olena Franchuk Fund within the framework of the pilot program "On The Verge".

This is the first joint project of the "Anti-Aids" and Elton John Aids Fundation.

The project is evaluated at 2.5 M. USD. According to Olena Franchuk the project aims at assistance to HIV positive children. According to health councilor of the World Bank Ihor Oliynyk, Ukraine is ranked No 1 in Europe for spread of HIV/AIDS.

Meet Elton in Las Vegas
Thursday, May 24 2007

Bid on this once-in-a-lifetime opportunity for two people to meet Elton John in October 2007 at his concert in Las Vegas.

One hundred percent of the final sale price will support the Liberty Hill Foundation, which partners with innovative and effective Los Angeles grassroots organizations to combat poverty and injustice, and helps transform the "City of Angels" into a place that promises safety, equality and opportunity for everyone who lives there. To learn more, visit www.libertyhill.org.

Place your bid on eBay by May 27, 2007 6 p.m. PDT.

Don' loot us, we are only the piano player's fans
Wednesday, May 23 2007

Stephan Heimbecher throws in his two cents about the cancellation of the European Red Piano Tour and other current Elton affairs.

Why am I not surprised about the Red Piano Tour in Europe being cancelled? Because I saw it coming!

First of all, how can you try to put something on the road that has been tailor-made for Las Vegas? You might as well move the whole Strip to Vatican City. It won't work!

And why does it always have to be those unique locations like the Brandenburg Gate in Berlin or Piazza de San Marco in Venice? It only generates additional logistical and technical problems as well as a surcharge on the ticket price.

Speaking of which, who can afford paying up to Euro 1,000 per person for a 90-minute show? One could even fly to Las Vegas for that same money and see the show in its original location. And anyway, who cares for a special shuttle service, 4 course pre-show dinner and a lounge at the after-show party?

It is the Elton show that people are interested to see and most people don't care about the destracting element of any of the so called unique locations (as the view will be blocked by the stage anyway) or the pseudo-VIP fuss before and after the actual event.

But the next thing I read is that "Elton will be performing a solo tour in unique locations in Australia, commencing in December 2007." So there we go again - unique locations! Where is it going to be this time? On top of Ayers Rock, in the outback or on a coral island in the Great Barrier Reef?

Just as a reminder: There are top concert venues in all parts of the world available to host any type of Elton John concert. It's not just Madison Square Garden in New York that is compatible. So why not make use of these concert halls, sports arenas or stadiums? They do exist everywhere and they provide for all the necessary technology and logistics in order to carry out a great show - with no extra costs that will always end up on the ticket price anyway.

Don't get me wrong, I don't mind a beautiful setting for an Elton John concert, but if the price we have to pay for that is a more complex journey to the location, poor accoustics, lack of food and other services and - in the case of open air events - Woodstock-like conditions in case of bad weather, plus the higher ticket costs, then I don't care.

We also take the risk of short-term cancellations like just now. Sure, I will get my money back for the ticket, but has anyone ever spent a thought on what else is involved for the die-hard fan: He probably took a few days off at work, payed for travel and accomodation and might not be reimbursed for these kind of expenses as he had to book them cheap (read: unflexible) as otherwise he couldn't afford it next to the outrages ticket prices.

I won't go as far as David in begging Elton to stop touring. But, Elton, I beg you to re-consider normal concert locations again as all we want is seeing and hearing you perform.

If you want to throw in your two cents in regard of this topic, post your comments at the Hercules Message Board.




Elton John to return to Australia
Wednesday, May 23 2007 at 09:53:01

Elton cancels European "Red Piano" dates
Tuesday, May 22 2007 at 14:39:14

David begs Elton: "Stop performing"
Tuesday, May 22 2007 at 09:35:51



Milestone birthday changed Elton
Wednesday, May 23 2007

Elton's partner David Furnish has reportedly revealed that there's been a change in the musician's attitude since reaching his milestone 60th birthday.

Elton turned 60 in March 2007 and David hosted two swanky parties - one in London and another in New York.

He's quoted by Closer magazine as saying: "He's been in an absolute bubble floating happily along ever since. It was nice to see his face light up when he walked in, because Elton's not good at taking compliments. It was great for him to feel how loved he is by his friends.

"When you're someone who battles with low self-esteem and you're out there giving the whole time, it's hard. But I think turning 60 has been a milestone for him. There's a complete change in attitude, in a completely positive direction, which I'm really happy about."

David adds that he bought Elton a "ring with his zodiac sign in it, a beautiful travelling mirror and a handmade briefcase".

He laughed: "He's so hard to buy presents for, as he doesn't have a big wish list - and the wish list he does have I can't afford."




David begs Elton: "Stop performing"
Tuesday, May 22 2007 at 09:35:51



Elton John to return to Australia
Wednesday, May 23 2007

Elton John is gearing up to return to Australia towards the end of the year, playing in "unique locations".

According to a statement from Elton John's management on www.eltonjohn.com, "We are pleased to announce that, for the first time ever, Elton will be performing a solo tour in unique locations in Australia, commencing in December 2007."

He was in Australia last year performing songs from the "sequel" to 1975's autobiographical album 'Captain Fantastic and the Brown Dirt Cowboy', which told the story of John and Bernie Taupin's life up until fame, 'The Cowboy and The Kid', which told the story from fame.

We'll bring you more details of this tour as they come to hand.

Your Songs - The Music of Elton John
Wednesday, May 23 2007

Master Jazz Musicians Pietro Tonolo, Steve Swallow, Gil Goldstein and Paul Motian collaborate on a surprising and delightful homage to Elton John.

"Your Songs - The Music of Elton John" (OS506 - order online) will surprise you. The new album of jazz renditions of Elton John classics could only work in the right hands, and with Italian saxophonist Pietro Tonolo corralling the likes of bassist Steve Swallow, drummer Paul Motian and pianist/accordionist/arranger Gil Goldstein, the project most definitely is.

In stores now in France, the United Kingdom, Germany, Austria and Switzerland, and hitting the USA on July 17, 2007, the 9-song CD on independent music label ObliqSound makes an incredible show of the close relationship that jazz has with pop music.

Just as John Coltrane took Rodgers and Hammerstein's "My Favourite Things" and turned its waltz inside out, or the way Miles Davis stole "Someday My Prince Will Come" from Walt Disney's "Sleeping Beauty", these four artists turn on its head the music of Elton John, one of the greatest craftsmen of pop music. The seven Elton John songs performed here are some of the pianist's most lovely and memorable melodies, to which Tonolo has added two of his own compositions inspired by Elton: "White Street" and "Epilogue: Semifonte" that sit perfectly in this company.

Eight years ago, when Italian saxophonist Pietro Tonolo had made Portrait of Duke, a tribute to Duke Ellington with pianist/accordionist/arranger Gil Goldstein and the extraordinary rhythm section of bassist Steve Swallow and drummer Paul Motian. It was too good an experience to be just a one-off and all of them hoped to play together again. When ObliqSound's producer Michele Locatelli suggested the idea of tackling some of Elton John's best known tunes, all four knew instinctively they'd found the right project.

"Your Songs" is an album of great poise and genuine beauty, produced by four flawlessly matched musicians. Pianist Gil Goldstein has an authentic pop sensibility, while his accordion has a wonderful rhapsodic quality. Electric bassist Steve Swallow is a musician compelled to create beauty whether it is in the lovely singing tone of his instrument or the perfect melodies in his solos. Drummer Paul Motian, on the other hand, is a true scientist of rhythm, immensely subtle in the way he creates patterns that shift and coalesce within the music. And then there is saxophonist Pietro Tonolo. Though in no way a reserved player, Pietro never over-emotes. Like the most rare of jazz musicians he knows how to make the melody and harmony within a song speak anew.

So, "Goodbye Yellow Brick Road" is here given a jaunty bebop interpretation, while "Sorry Seems To Be The Hardest Word", arranged by Goldstein, is taken even more slowly than in its original reading. Before it might have cried but now it aches with unusual pathos and loss. Many may fall in love again to "Your Song" in this gorgeous new performance or to the gentle and pretty "Tiny Dancer".

As for Tonolo's own tunes, White Street with its muscular tenor solo and cascading piano and Epilogue, a charming, affectionate ballad, bring the kind of closure to the project that provides a final transformation. Will Elton John hear these two numbers and perhaps ask lyricist Bernie Taupin to put words to them? You'll end up hoping so. But best of all is "The One", perhaps the most abstract and unusual piece here, yet also the record's triumphant centerpiece.

A few centuries ago, men of vision toiled in the twilight between science, religion and magic seeking to turn base metal into gold. Tonolo, Goldstein, Swallow and Motian are merely trying to create great jazz from great pop. The listener, however, may feel they have actually done more than that. They may feel that "Your Songs" is truly the product of alchemy.

Elton cancels European "Red Piano" dates
Tuesday, May 22 2007

Elton John has been forced to cancel the European "Red Piano" dates, blaming the promoter for "failing to guarantee" the gigs.

Earlier this month, Elton postponed his Vitoria and Seville, Spain, gigs from 20 and 18 May 2007 until September 2007, due to technical problems with the tour's equipment.

Now the "Red Piano" tour has been beset with further problems, so Elton has pulled a string of gigs. A statement says, "The promoter has been unable to guarantee to put on the shows, resulting in us having to take this very difficult decision. We do of course appreciate that Elton's fans will be disappointed at this news, and we are already looking into the possibility of returning to the affected cities in the very near future."

The cancelled shows are Venice, Italy; Berlin, Germany; Moscow, Russia; Paris, France; and also the previously rescheduled Seville gig. The remainder of Elton's shows have not been affected.

Stars salute UK's national heroes
Tuesday, May 22 2007

The Greatest Britons 2007 ceremony was the finale to weeks of voting by Sun readers. Amy Winehouse beat Elton John in the music category.

The Queen was named the Greatest Living Briton at a star-studded live TV show on May 21, 2007. Prince Edward accepted the award on her behalf by video link. He said: "I am just sorry that my mother can't be here to receive this in person. She feels very honoured to receive this." And Helen Mirren, who played Her Majesty in movie The Queen, said: "She deserves to win. She has dedicated her life to Britain."

David Beckham, 32, was named Britain's greatest ambassador.

Comedian Ricky Gervais, 45, was Greatest Briton in the TV category.

Newlywed Brit singing sensation Amy Winehouse, 23, beat legend Sir Elton John in the music category.

British adventurer Sir Ranulph Fiennes, 63, beat off competition from Formula One driver Lewis Hamilton and boxer Joe Calzaghe to become No 1 Brit in the sports category.

Graffiti artist Banksy was named top Brit in the art category.

David begs Elton: "Stop performing"
Tuesday, May 22 2007

David Furnish has begged partner Elton John to quit his Las Vegas show so the couple can spend more quality time together.

Elton has been performing in the U.S. since February and Furnish is tired of missing him at home. He says, "We'd never want to change each other, but it would be so much nicer to spend more time together. I'd rather have more days with him than without him.

"I've seen loads of him but it's not the same as being in the same place at the same time."

Happy Birthday, Bernie!
Tuesday, May 22 2007

Elton's lyricist Bernie Taupin turns 57 today, May 22, 2007.

On behalf of the Hercules team and the Elton John fans all over the world, we would like to wish him a happy birthday!

Sanctuary surges on bid approaches
Friday, May 18 2007

Global giants Warner and Universal could be set to battle for control of Sanctuary, the troubled music group which manages Elton John and James Blunt.

Sanctuary shares leapt more than 40% today, adding 5.5p to 16.75p by 4.00pm, as it was forced to admit to the market that it has received approaches from mystery bidders. The company gave no names. Industry insiders believe there are only two potential bidders: US giant Warner Music Group and Vivendi-owned Universal Music.

The logic for a larger rival to buy Sanctuary would be to net its music merchandising arm and its attractive artist management contracts. Universal already counts Elton John among its artists and acquiring Sanctuary would also give it the artist management contract for the global pop star. The same is true for Warner with James Blunt.

Sanctuary's management may well be grateful to a big label happy to provide it with a new home. The last year has been a troubled one for the group, which also includes a recorded music business with Morrissey back catalogue.

The company sacked its co-founder Andy Taylor in the first half of last year and the other founder, Rod Smallwood, left in November taking the label's prime act, Iron Maiden, with him. Sanctuary, which takes its name from an Iron Maiden song, still has the merchandising contract for the heavy metal group and released its latest album.

Early on last year the company raised £110m in a rescue rights issue to pay off debt. It then brought in Bob Ayling, the former British Airways chief executive, as chairman to improve corporate governance and push through a major overhaul. In July, its Aim-quoted rival Mama unsuccessfully bid to take it over. But the restructuring has yet to pay off. Sanctuary said in April that it would not achieve profitability until at least 2008 and that its recorded product division would miss expectations for this financial year. The music label arm with its high running costs has consistently been a drag on the overall business and it could be run more efficiently as part of a bigger group.

The market reaction suggests the City sees a bid coming in at well above yesterday's closing price of 11.25p, but it is doubtful given Sanctuary's troubles that either predator could offer the 50p a share seen in last year's rights issue. Universal declined to comment. Warner could not immediately be reached for comment.




Winehouse apologizes to Elton for cancelled gig
Friday, May 18 2007

English singer Amy Winehouse has apologised to Elton John for cancelling one of her London gigs earlier this year, after the veteran rocker bought a ticket for the axed show.

Elton and David bought tickets for the March 8, 2007 concert at the Shepherds Bush Empire and were dismayed when Winehouse pulled the plug at the last minute, citing "unforeseen circumstances".

Winehouse admits she was stunned when Elton's publicist issued a statement expressing the Rocket Man's disappointment. She says, "Sorry about that (Elton). There'll be a next time."

Myers amazed todiscover school pal Furnish dated Elton
Thursday, May 17 2007

Comedian Mike Myers was flabbergasted when he attended a post-Oscars party hosted by Elton John, and discovered the singer's boyfriend was his childhood friend David Furnish.

Myers, who grew up with Furnish in Canada, was enjoying himself at Elton's star-studded Hollywood bash a few years ago, when he spotted a man who he thought looked just like Furnish.

Myers says, "I went to Elton John's charity Oscar party and it was like going to a wax museum. I couldn't believe all the famous people who were there. 'There's Harrison Ford, there's Sean Connery...'

"Then Elton John said, 'Hello. There's somebody I want you to meet.' And he grabbed my hand and (said), 'You're going to be very surprised.' "And then I see this guy, and this guy looks exactly like my friend from Canada, this friend of mine named Dave Furnish. Then all of a sudden it was like, 'I want you to meet my boyfriend David.'

"He was in my high school. I couldn't believe it, it was so weird. So Dave goes, 'I guess the whole time in high school you didn't know I was gay.' I said, 'I had no idea.' He said, 'So you're a movie star and I'm Elton's wife.'

Elton John cancels concert in Basque city of Vitoria-Gasteiz
Thursday, May 17 2007

The performance Elton was to offer on May 20, 2007 in Vitoria-Gasteiz has been cancelled. The singer alleged the technical material necessary for the show wouldn't arrive on time from Las Vegas concert.

Furthermore, Elton John cancelled the concerts organised in Sevilla and Paris for the same reasons.

Serrano affirmed the reasons are "vague and not very clear," and he thinks the singer unilaterally breached the contract. The representatives of the singer offered to give the concert on May 29, 2007 instead, but the City Council rejected the offer as May 29 is a Tuesday, and that would affect those people coming to see the concert from outside the city.

The 6,000 tickets on sale had been already sold out at Euro 70 each. The Town Council affirmed the money will be refunded from Wednesday evening on at City Council offices and through credit cards.

Elton and David paid $2.497M for Sierra Towers condo
Friday, May 11 2007

The sale price for the 20th-floor, 1,831-square-foot condominium unit in Los Angeles' Sierra Towers that music legend Elton John and David Furnish bought on February 8, 2007 finally has become available.

Big Time Listings revealed that the purchase price was $2,497,000. That means that Elton's purchase was for the precise listing price for the unit, which is exactly two floors below actor Matthew Perry's 22nd-floor unit in the building.

The building, at 9255 Doheny Drive in L.A., is just off the Sunset Strip.




Elton and David buy unit in popular LA building
Monday, April 2 2007 at 12:29:34

Elton loves L.A.
Saturday, January 27 2007 at 10:55:53



Celeb Auction for Project Angel Food
Thursday, May 10 2007

Vilebrequin and Men's Vogue magazine have joined forces to celebrate summer style by hosting an online charity auction of one-of-a-kind celebrity customized swim trunks from the luxe St. Tropez Company to benefit Project Angel Food.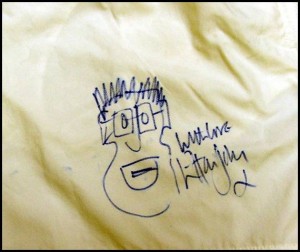 A VIP invitation-only event on May 9, 2007 at Vilebrequin's Beverly Hills boutique located at 2 Rodeo Drive showed off all the auction items and were definitely a great hit with the crowd of celebs and noted guests featuring 10 Cane Cocktails.

All items will be on display at Vilebrequin until May 16, 2007 and during that time the Company will also designate a portion of sales to the charity.

Celebrities were provided with Vilebrequin's classic Moorea style swim trunks in white and colors along with a colored fabric markers and were offered the opportunity to create an original design using the nylon fabric as a blank canvas to create their original masterpieces.

An elite roster of celebrities have rallied together to support Project Angel Food. Those who have customized swim trunks include: Elton John & David Furnish, Eric McCormack, Andy Garcia, The cast of NBC's "Friday Night Lights".

Each lot will also include a special gift from Men's Vogue magazine honoring the celebrity as well as a $300 store gift certificate from Vilebrequin. Bidding begins on May 10, 2007 and closes May 24, 2007 at 6PM EST at www.charityfolks.com/PAF.
BBC is looking for Elton fans
Tuesday, May 8 2007
BBC Radio Cumbria would love to hear from you if you are based in Cumbria and planning to go to the Elton John concert in Carlisle in June 2007.
They are planning a big build up to the concert and obviously the fans will be an important part of that. They are especially keen to hear from people who consider themselves to be big fans i.e have been to lots of his concerts, have most of his records and maybe have even met the great man himself.

If this is you then please contact Belinda Artingstoll via belinda.artingstoll@bbc.co.uk.
Happy Birthday, Hercules!
Tuesday, May 8 2007
Hercules (eltonfan.net), the international Elton John Fan Club, is celebrating its 19th birthday on May 8, 2007!
With Elton's 60th birthday not too long ago, I realized today that Hercules (formerly Rocket Fan) has been around for almost one third of his life span and roughly half of his career.

And personally, I would never ever have imagined that we would be still standing after all those years. But with Elton going on and on, and the fans continuing to support eltonfan.net, I think it's gonna be a long, long time until we will finally close the curtain.

With this I would like to thank Elton for his persistence and everlasting presence, the management and record company for their support, and last but not least the fans for their loyalty.

Let's see what we will be doing next year for the 20th birthday of Hercules. I better get the Garden booked right away ...

Take care,
Stephan (webmaster)
Happy Birthday, Davey!
Sunday, May 6 2007
Davey Johnstone turns 56 on May 6, 2007.
On behalf of the visitors of eltonfan.net and all Elton fans around the world, we would like to wish him a Happy Birthday.

Davey will be back on stage with Elton in Las Vegas starting May 8, 2007.
Elton John and band performed in Birmingham, AL on May 5, 2007
Sunday, May 6 2007
Fan Report by Chris Akins.
Ohhhh what a night!! This was my first Rocket Ticket experience and was thrilled when I discovered that my tickets were in the 8th row on the band side of the stage and knew that I would be able to see Elton smiling the entire show. I enjoyed the pre-show chatter with fellow Elton fans, it was great meeting you guys, so glad to see I'm not the only crazy Elton stalker in the world!

Show started with"Sixty Years On", no need to go into how great it was to hear it again. However, after seeing it in New York on his birthday, even 8th row couldn't compare to that. I was thrilled to know that Elton would be continuing his rarity selection with "Madman Across The Water", "Where to Now St. Peter", "Hercules", "High Flying Bird" (favorite rarity), "Holiday Inn", and "Burn Down the Mission". It's great to hear all of these songs live for once.

I was also thrilled that "All the Girls Love Alice" remained in the set and the addition of "Sacrifice" was simply beautiful. That song really works out well with the band, I wish he would play it more often in the States.

Overall it was a great show with an enthusiastic crowd, I only remained in my seat for one song, "Sorry Seems to be the Hardest Word". No one cared if we stood and the floor was standing through basically the entire 2 hour 20 minute show (yes, a bit shorter than what we're used to).

Now to the awkward moments of the night - oh yes, there were some. "Rocket Man" was great, however at the end of the song when Elton closes it out, he slapped his microphone away from his mouth and pulled it back extremely aggressive and finished it out - luckily. This made me think of his last tantrum a week ago in Puerto Rico. The crowd went wild, thinking it was Elton rocking out and getting into it, the die hards know different, don't we. This made me nervous, because the concert had been great thus far, but I didn't let it get to me because Elton really loved the crowd and was smiling and grinning so much throughout the night.

Then later, threw a water bottle down again, and as it did in Puerto Rico, it went all over the keyboard area of Guy's territory. Then, I knew something was up after he went into "Crocodile Rock" after I'm Still Standing". No "The Bitch is Back"? No, he'll play it later right? Wrong. Elton left after "Crocodile Rock", came back, signed for a bit and played "Your Song"! With only Guy Babylon, and Bob Birch. Then, he addressed the audience and thanked us all for our loyalty and dedicated "Don't Let the Sun Go Down On Me" to us all. Still no Nigel or Davey. John Mahon came back to do percussion at first, then switched to Nigel's drum set on the second verse, the most awkward moment I have seen at an Elton concert. John Mahon was in tennis shoes, t-shirt, and shorts, ready to leave the venue but came back to help out.

Elton was finished. No "Saturday Night's Alright (For Fighting)" or "The Bitch is Back", and with an ending like that, I was left puzzled, but then I realized that's what you get with Elton. He's unpredictable and such a diva, that's why we all love him and always will. It was a fantastic show and a very memorable experience. Thank you once again Elton and band, for making my 13th show a memorable one, I'll see you again soon.

Following is the complete set list of the Birmingham, AL show on May 5, 2007:

Sixty Years On

Madman Across the Water

Where to Now St. Peter?

Hercules

Take Me to the Pilot

High Flying Bird

Holiday Inn

Burn Down the Mission

Better off Dead

Daniel

Honky Cat

Rocket Man

I Guess That's Why They Call It the Blues

Sacrifice

The Bridge

Mona Lisa's and Mad Hatters

Sorry Seems to Be the Hardest Word

Bennie and the Jets

All the Girls Love Alice

Tiny Dancer

Philadelphia Freedom

I'm Still Standing

Crocodile Rock


Your Song

Don't Let the Sun Go Down On Me
Who's Greatest Living Briton?
Saturday, May 5 2007
It's the ultimate accolade – to be voted the Greatest Living Briton. Now Sun readers are exclusively invited to choose the shortlist in the first-ever nationwide hunt to find the best our country has to offer.
Fifty finalists have been put forward in the Marks & Spencer-sponsored poll. Now it's your turn to whittle that list down to five. The overall winner will be chosen in a live vote on a star-studded ITV1 show on May 21, 2007.

Details of the 50 finalists are listed in alphabetical order on the Sun's website. Click on your favourite to cast your vote.
Elton John and band performed in Greenville, SC on May 4, 2007
Saturday, May 5 2007
Following is the complete set list of the Greenville, SC show on May 4, 2007.
Sixty Years On

Madman Across The Water

Where To Now St. Peter

Hercules

Take Me To The Pilot

High Flying Bird

Holiday Inn

Burn Down the Misson

Better Off Dead

Daniel

Rocket Man

Honky Cat

I Guess That's Why They Call It The Blues

Sacrifice

The Bridge

Mona Lisa's And Mad Hatters

Sorry Seems To Be The Hardest Word

Bennie And The Jets

All The Young Girls Love Alice

Philadelphia Freedom

Tiny Dancer

I'm Still Standing

The Bitch Is Back

Crocodile Rock

Saturday Night's Alright (For Fighting)


Don't Let The Sun Go Down On Me

Your Song
Elton John charms hub givers
Friday, May 4 2007
Elton John was in Boston on May 3, 2007, performing a benefit concert for a very important cause.
Elton John didn't thrill a packed house at the Garden. Instead, the red-spectacled singer performed a private concert at Children's Hospital for more than 1,400 philanthropists.

It was the grand finale for the Children's Circle of Care Leadership Conference and Gala, which recognizes the biggest benefactors for children's hospitals across North America.
Midler to replace Dion in Las Vegas
Thursday, May 3 2007
Bette Midler is to replace Celine Dion as the headliner at Caesars Palace in Las Vegas. Elton will continue 50 shows per year until 2008.
Dion has virtually sold out the 4,100-seat Colosseum for almost five years. Midler said the venue was intimidating but exciting.

she told The Associated Press by telephone. "That's giving me the vapours. At the same time, they also give you a lot of toys to play with. They give you the lifts and you can fly people in, you can fly them out. There's all this wing space and hydraulics and stuff, and the dressing rooms are staggering. It should be an opera house somewhere in the Black Forest."

Midler, 61, said she agreed to a two-year contract to work 100 shows a year, performing five nights a week for 20 weeks beginning February 20, 2007.

With Elton John continuing his 50 shows a year through 2008, there will be room for a third Colosseum performer, said John Meglen, the president of Concerts West, an AEG Live company that books talent for Caesars.

"We will probably have one additional artist, which we'll announce later," Meglen said. He would not comment on widespread speculation that Cher will be signed to perform.
Sir Elton stifles controversy
Tuesday, May 1 2007
The controversy raised by Tobago Church representatives about Elton John coming to the island vanished when he appeared on April 29, 2007 at the Plymouth Jazz Festival.
He gave a two-hour performance, which featured some of his greatest compositions: "I'm Still Standing", "Rocket Man", "I Guess That's Why They Call It Blues", and "Daniel" were some of his classic offerings.

However, it was with "Sacrifice", "Sorry Seems to be the Hardest Word", "Your Song" and, predictably, "Candle in the Wind" that the show reached a climax.

The recreation ground was transformed into a ballroom, as couples danced and Sir Elton enjoyed several hundred back-up singers. "God bless you, beautiful island," he said.

The most memorable performance of the three-day festival ended with fireworks, and several dozen white doves regained their freedom as a symbol of peace.