ELTON JOHN NEWS ARCHIVE: May 2005
Elton John and band performed in Southampton on May 28, 2005
Sunday, May 29 2005
Fan report by Si Owens.
The Peachtree Road Tour came to Southampton on Saturday May 28, 2004, and it was a most memorable occasion indeed. The audience at St. Marys were warm and appreciative throughout, and Elton in turn was in exceptionally good form.

Most of tonight's renditions were greeted with standing ovations and extended rounds of applause. It was evident from the enthusiasm of the Southampton crowd that this was Elton John's first concert at St. Marys stadium. It was an occasion lapped up by the following, and this was not without justification as Sir Elton gave a vintage performance.

Elton got his audience right onside from the off, opening with a barnstorming "Pinball Wizard", followed by an energetic "Bennie And The Jets" and an all-time favourite in "Daniel". Elton was playing the crowd and entertaining them brilliantly, which worked to the effect that he'd achieved the attention of every listener as he played a track which may have been new to many of the audience, "Turn The Lights Out When You Leave". This song is a grower for sure, and while followers of Elton's work just grow to love the track more with every listen, the rest of the audience took to it first time.

Then came "Take Me To The Pilot", featuring an amazing, almost classical piano introduction from Elton, and this was followed by the ever astounding "Rocket Man". The tour version of "Rocket Man" is not something that can be described to the uninitiated, it simply has to be heard.

Then followed a selection of greatest hits, Peachtree Road favs, and the soon to be released single "Electricity". "Electricity" is an emotional tune, and one which suits Elton John's voice and singing style perfectly, although of course the song was not written specifically for him to sing. The song has all the apparent ingredients of a hit, although it possibly isn't one for the long-term fans, who favour grit and soul over style and production. If you like your ballads big and cheesy, you'll love "Electricity".

Other highlights on the night included an excellent lead vocal on "I Guess That's Why They Call It The Blues", a super-enhanced Voice Of Atlanta Choir working of "Philadelphia Freedom" and a mega-powerful, mega-energetic "Don't Let The Sun Go Down On Me". This leg of the tour has also seen the re-emergence of "Sad Songs (Say So Much)" in the set, and the track has been arranged excellently for this tour, including a virtuoso piano solo section before the final chorous.

This current set is much lighter in tone and more accessible to the casual fan than previous sets. I remember fondly Elton coming to Manchester a few years back and totally indulging his fans with tracks like Holiday Inn, Have Mercy On The Criminal and plenty of Songs From The West Coast material (an album completely forgotten in recent sets). But at the end of the day, this is a stadium tour, and the art of pleasing all of the people all of the time was achieved effortlessly here tonight.

As Elton John performances go, this was pretty much top drawer. And as live performers go, you'll do well to see and hear anybody doing it better than Elton John.

In Southampton on Saturday night, we certainly got our money's worth. Thanks once again, Elton, for another terrific show.

Following is the complete setlist of the Southampton show on May 28, 2005:


Pinball Wizard

Bennie and the Jets

Daniel

Turn the Lights Out When You Leave

Take Me To The Pilot

Rocket Man

I Guess That's Why They Call It The Blues

Sacrifice

Electricity

Sorry Seems To Be The Hardest Word

Funeral For a Friend

Love Lies Bleeding

Are You Ready For Love

Philadelphia Freedom

All That I'm Allowed

Porch Swing in Tupelo

They Call Her The Cat

Sad Songs (Say So Much)

Levon

Don't Let The Sun Go Down On Me

I'm Still Standing

The Bitch is Back

Saturday Night's Alright (For Fighting)

Your Song
Live 8
Friday, May 27 2005
Elton will perform at the "Live 8" concert which takes place in London's Hyde Park on Saturday, July 2, 2005.
The show - called Live 8 and aimed at pressuring leaders of the wealthy G8 nations to Make Poverty History - will include a host of surprises.

The concert which is being staged 20 years after the first Live Aid extravaganza to help victims of famine in Africa will see stars perform in London and Washington in the US. It will be broadcast by the BBC.

Sir Paul McCartney and U2 will open the show with the Beatles classic Sgt Pepper. Performers will include Sir Elton John, Joss Stone, Madonna, U2, Robbie Williams, Coldplay, Oasis, Sting, The Who, Eminem, Annie Lennox, and Franz Ferdinand.

Organisers are in talks with: The Scissor Sisters, The Rolling Stones, and Pink Floyd.

Nelson Mandela is expected to appear via video message if he can't be there in person.
Elton sets wedding date
Friday, May 27 2005
Elton is set to marry for the second time on December 21, 2005 - making an honest man of his long-term love David Furnish - reports contactmusic.com.
Elton was previously married to female Renate Blauel from 1984 until 1987. Elton and David began dating in 1993.

After months of speculation about the rocker's big day, Elton admitted they have decided to marry on the same day same sex marriage ceremonies become legal in Britain.

The Civil Partnership Bill will become UK law on December 5, 2005, when same-sex couples will be able to register their intention to marry. After waiting a 15-day 'cooling off' period, couples can legally wed.

On Brit TV network ITV's GM:TV show on May 26, 2005, Elton gushed, "The first date we can get married is the 21st. We are definitely going to do it and we're not going to do it in secret."

Elton and David expect to wed in a star-studded ceremony in their Windsor, Berkshire home, with celebrity guests in attendance.
New single release
Wednesday, May 25 2005
Electricity, the new song written by Elton and Lee Hall for Billy Elliot the Musical, will be released as a single in the UK sometime soon.
Produced by Elton and engineered and mixed by Matt Still, the song features the Elton John band musiciansas well as Gary Barlow and Rick Astley on backing vocals.

Elton is currently shooting a video clip for he song along with cast members from Billy Elliot the Musical. Detailed information on the other tracks on the single and its official release date will follow soon.
David warns Kylie to "be selfish"
Wednesday, May 25 2005
Kylie Minogue was heartbroken to shelve her tour after her diagnosis of breast cancer last week - but David insists the singer must put concerns for her disappointed fans aside if she wants to recover fully, says contactmusic.com.
David reveals they were both devastated to hear the news of Minogue's illness, and he warned the 36-year-old Antipodean to retreat to the bosom of her family and be "completely selfish".

He says, "When Elton heard the news, he said, 'Oh my God, the poor girl', and got straight on the phone.

"Four of our friends have had breast cancer within the last few years. They've all been hardworking, dynamic and successful women who lead full lives, just like Kylie.

"I'm sure the fans are disappointed, but if they're real fans they'll understand she needs to be with her family now.

"All my friends who have faced it are still alive and doing well. They all put everything else aside - you have to be completely selfish."



Elton John and other fans pour out emotion
Tuesday, May 17 2005 at 15:26:06


Elton John and band performed in Paris on May 24, 2005
Wednesday, May 25 2005
Following is the complete set list of the Paris show on May 24, 2005. Photo by Marcel Zürcher.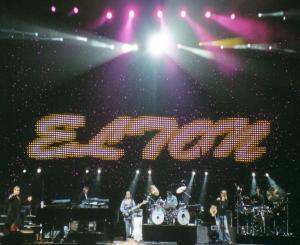 Bennie and the Jets

Daniel

Turn the Lights Out When You Leave

Take Me To The Pilot

Rocket Man

I Guess That's Why They Call It The Blues

Sacrifice

Electricity

Sorry Seems To Be The Hardest Word

Funeral For a Friend

Love Lies Bleeding

Are You Ready For Love

Philadelphia Freedom

All That I'm Allowed

Porch Swing in Tupelo

They Call Her The Cat

Sad Songs (Say So Much)

Levon

Don't Let The Sun Go Down On Me

I'm Still Standing

The Bitch is Back

Saturday Night's Alright (For Fighting)

Candle in The Wind (solo)

Your Song
Happy Birthday, Bernie!
Monday, May 23 2005
Elton's lyricist Bernie Taupin turns 55 today, May 22, 2005.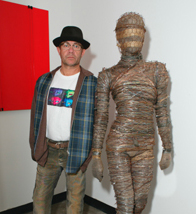 On behalf of the Hercules team and the Elton John fans all over the world, we would like to wish him a happy birthday!
Celebrities gather at Vienna charity ball to raise funds for AIDS research
Sunday, May 22 2005
Liza Minelli, Elton John and Donatella Versace were among the celebrities who gathered in Vienna for Life Ball on May 21, 2005, a charity gala dedicated to raising money to fight AIDS.
Versace is presenting a fashion show to kick off the event, which organizers hope will raise as much as $1.3 million USD. The show will display for the first time some designs created by her late brother, Gianni, before he was gunned down in Miami Beach in 1997.

"It's very emotional for me," she said at a news conference before the ball. "I can't think of a more appropriate place for these to be shown than the Life Ball."

The 13th annual event at Vienna's City Hall is known for the extravagant costumes thousands of guests wear, which are adorned with feathers, sparkle, glitter - and little else.

The celebrities and organizers hope to draw attention to combating the disease.

"We're all here because we want to make some noise," Minelli said. "We have to make noise. When it gets quiet, it gets ignored."

Other celebrities set to attend the event include model Heidi Klum, designer Angela Missoni and swimming star Markus Rogan.
Elaine Paige to Interview Sir Elton John for BBC Radio
Thursday, May 19 2005
On her weekly radio program for BBC Radio 2, West End musical theatre star Elaine Paige will sit down for a chat with Tony Award-winning composer Sir Elton John.
The May 29, 2005 broadcast, which begins at 1 PM, will feature the Elton John interview, which was taped backstage prior to a recent Elton John Las Vegas concert.

Elton will explain, according to press notes, "how significant The Lion King has been to his career and why he has now caught the musical bug ... why he walked out of the previews for his own musical of Aida and why the story of Billy Elliot struck a very personal chord for him." Elton will also discuss his upcoming musical Lestat, which is based on Anne Rice's series of books.

Host Paige will also feature music from such Elton John musicals as The Lion King, Billy Elliot and Aida.

For more information visit www.bbc.co.uk/radio2.
Anger at Elton 'paedophile' joke
Thursday, May 19 2005
Gay rights group OutRage! says it is to complain to the BBC over a joke about Sir Elton John on Friday's topical quiz show Have I Got News For You?l, reports the BBC.
Guest host Dara O'Briain made a remark about Sir Elton's role writing the score for stage musical Billy Elliot. "Elton sees a little bit of himself in Billy," he said, referring to the fictional 11-year-old ballet dancer.

OutRage! called it "offensive" and "a cheap shot". The BBC said only one other person complained about the joke. A BBC spokesperson said the line came from a team of writers but declined to comment further until OutRage!'s complaint had been made.

"We'll be asking them to ask Mr O'Briain to apologise and an apology from the BBC wouldn't go amiss either," he said. "It's very odd that a joke of that nature made it past the vetting procedures. The joke was aimed at suggesting any older gay man would naturally have a sexual interest in young boys, and I think that is what is most offensive."

He said it was "doubly offensive" because Sir Elton was in a monogamous long-term relationship with a person of a similar age and there had never been any suggestion he was attracted to boys.

"We certainly hope that it will come to his attention and perhaps he will be moved to complain himself," Mr Lock added.

Spokespeople for Sir Elton and O'Briain were not available for comment.
Elton John and other fans pour out emotion
Tuesday, May 17 2005
Elton John tracked down Kylie Minogue's personal phone number in Australia to give her his best wishes "on behalf of Great Britain", according to London's Evening Standard newspaper.
Whilst at home in Melbourne with her family this week prior to her Australian Showgirl Tour, Kylie was diagnosed with early breast cancer. She will undergo immediate treatment and consequently her Showgirl tour will not be able to proceed as planned.

The website of BBC's Radio One was flooded with fans' messages of good wishes for the singer, who has cancelled her headline act at Glastonbury, Britain's largest music festival, next month.

Minogue's own website, www.kylie.com, had several pages of comments from fans within hours of the news.
NBC unveils exciting entertainment and music specials for 2005-06
Tuesday, May 17 2005
NBC introduced a varied lineup of longform programs and specials for the 2005-06 season, including musical specials featuring popular artists Elton John, Jamie Foxx and Jennifer Lopez.
Following is a program description for one of NBC's longform programs in 2005-06:

"ELTON JOHN: LIVE FROM LAS VEGAS" -- Music sensation Sir Elton John brings his popular and critically acclaimed Las Vegas show to NBC in November 2005. Heralded as "the most exciting show in Las Vegas for 2004" by the Las Vegas Review Journal, John's show, filmed at Caesar's Palace, treats fans to their all-time favorite songs from his more than three decades of performing. As one of the top-selling solo artists of all time with over 200 million records sold worldwide, John has garnered a wide array of industry awards, including Grammys, Tonys and an Oscar, and continues to add innovative work to his personal repertoire of 35 gold and 25 platinum albums. In December 2004, John received the Kennedy Center Honor for his lifetime contributions to American culture and excellence through the performing arts. Emmy Award winner Rocky Oldman (NBC's "Cher: The Farewell Tour") is executive producer and Dave Mallet is the show director.
UPDATE: Elton John is making an American high school comedy
Friday, May 13 2005
"It's A Boy Girl Thing" is the story of two teen neighbours who hate one another but end up transferred into each other's bodies, reports the Manchester Evenig News.
It is described as an "American Pie-style comedy".

The film is being made by Elton's company Rocket Pictures and the star will executive-produce it with his partner David Furnish.

Title: It's a Boy Girl Thing

Logline: Story of poor but popular jock Woody and prim over-privileged academic Nell who are next-door neighbors and arch enemies. When a magical twist of fate causes them to swap bodies, they start to see each other in a different light.

Writer: Geoff Deane

Genre: Comedy , Fantasy , Teen

Production Company: Icon Entertainment, Rocket Pictures

Producer: Elton John, David Furnish, Steve Hamilton-Shaw, Marty Katz
Elton attends 'Billy Elliot' Opening Night
Friday, May 13 2005
An "ecstatic" Elton John joined a host of British celebrities May 12, 2005 for the opening night of fleet-footed musical "Billy Elliot."
Elton wrote the music for the show, based on the hit British film about a miner's son with a passion for dance.

"I feel ecstatic, I feel relieved, I feel a sense of pride," said Elton, who attended the premiere at London's Victoria Palace Theatre with his partner, David Furnish. "I'm so proud to have been a part of it."

Also in the audience were actor Hugh Grant and his woman friend Jemima Khan; Grant's ex, Elizabeth Hurley and her boyfriend, Arun Nayer; Live Aid founder Bob Geldof; and actor Jamie Bell, who starred in the original film.

Bell said the show — directed, like the film, by Stephen Daldry — was "the most amazing thing I've ever seen."

London's theater critics were equally enthusiastic about the $9.5 million West End musical that sets a young boy's struggle to dance against the backdrop of Britain's bitter 1984-1985 miners' strike:

THE GUARDIAN - MICHAEL BILLINGTON

"Turning small-scale movies into big musicals is a treacherous business. But Billy Elliot succeeds brilliantly because Elton John's music and Peter Darling's choreography enhance Lee Hall's cinematic concept.

Stephen Daldry's production is a model of fluidity and intelligence. He constantly reminds us that the special power of the musical is that it can express a lyrical idea through physical action.

Liam Mower, one of three young actors sharing the role of Billy, performs not just with heroic dedication but also a strange seriousness that is affecting.

But the show's success rests on its careful balance between Billy and the surrounding community. The musical, even more than the film, counterpoints Billy's personal triumph with the community's decline."

THE INDEPENDENT - PAUL TAYLOR

"There are all kinds of problems to be surmounted in adapting Billy Elliot into a stage musical.

But Stephen Daldry's exhilarating production has some brilliant solutions up its fluffy pink tutu.

The show is often terribly funny. Ryan Longbottom, who plays Michael, Billy's cross-dressing gay friend, is the kind of kid who would have Ethel Merman cowering under the furniture.

Before you can say Danny La Rue, he has Billy in a dress and tap-dancing with a group of fantasy frocks in Daldry's warm, generous and deeply talented production."

THE DAILY TELEGRAPH - CHARLES SPENCER

"This is not a time to beat around the bush. Billy Elliot strikes me as the greatest British musical I have ever seen.

There is a rawness, a warm humour and a sheer humanity here that is worlds removed from the soulless slickness of most musicals.

The emotion always seems real and spontaneous, rather than cunningly manipulated to pull at the heartstrings.

The whole cast is blessed with a freshness and sincerity I have rarely seen equalled, and one leaves this triumphant production in a mist of tears and joy."

THE TIMES - BENEDICT NIGHTINGALE

"Stephen Daldry and Lee Hall have concocted a piece that's tougher, bolder and, as my tear-ducts can attest, more moving than its celluloid precursor.

Liam Mower was the boy chosen to play Billy last night and he proved impressively grave and dignified as an actor and gloriously skilful as a dancer

The musical as a whole is a celebration of dance: its lure, its excitement, its wonder, its surprises.

If there is a disappointment it is Elton John's music, which begins promisingly but never seems either tuneful or original."

DAILY MAIL - QUENTIN LETTS

"But for its dismally trite, Socialist Worker angle on the miners' strike, Billy Elliot the Musical would stand tall as a production of the most searing quality.

Even with this significant flaw this is a glorious show. It's a weepie, funny spectacle married to a super score by Sir Elton John.

Liam Mower will surely become the biggest child star since Mark Lester played Oliver Twist.

But the greatest success, the thing that lifts your soul and makes you cry and sends you home high with hope, is the belief that art us one of the great liberating forces available to man."
Elton John band helps local school
Friday, May 13 2005
Elton John Band members and their friends will perform at The Canyon club on May 15, 2005 in a fundraising event to benefit Lupin Hill Elementary School.
The event, titled "All Shook Up," is an Elvis tribute featuring the entire Elton John band, minus Elton.

Fritz Coleman, local television anchor, will host the evening which will also include performances by the school's chorale and a group of young musicians who will perform several of Elvis's biggest hits. An auction, benefiting the school, will also take place.

Tickets are available at the Lupin Hill Elementary office in Calabasas or at the Canyon Club Please call (818) 879-5016.



Sorry, no Elton!
Tuesday, May 4 2004 at 18:26:55


Yamaha unveils Elton John Limited Edition Signature Series Red Piano
Wednesday, May 11 2005
Elton John and Yamaha have been partners in creating great music since 1993. Now, they are joining forces for a new project: the Elton John Limited Edition Signature Series Red Piano, based on John's hit Vegas show, The Red Piano.
This special piano is not just for great artists like Elton John. Now, the public can own a piece of Yamaha history and as an added bonus, the musical genius of Elton John.

"The whole concept, and even the title, for my Las Vegas show came from the Yamaha red piano that is center stage throughout," said Elton. "It just seemed such a perfect fit for the whole dynamic, wild, colorful David LaChapelle production. It's the focus of my show. Whilst classic and beautiful, a black piano looked too ordinary for Vegas – my high gloss red piano is truly the star of the show! I am delighted that Yamaha has decided to produce this limited edition."

The special artist edition of the Mark IV Disklavier is the exact color of the piano that Elton plays in his Red Piano show and is autographed by the pop icon. In addition, the piano features five exclusive Elton John recordings including "Your Song," "Tiny Dancer," "Rocket Man," "Take Me to the Pilot," and "Candle in the Wind." The songs are solo recordings of Elton singing and playing the piano. Therefore, whoever owns the piano, also gets a private concert. Only an extremely limited number 30 pianos will run in the first edition series and no more than 50 pianos will ever be sold.

"Elton is the quintessential crown jewel of the Yamaha artist family," said Corporate Director of Artist Affairs, Chris Gero. "The new Elton John Signature Red Piano is our way of paying tribute to one of the greatest rock legends of all time. The Elton John Signature Red Piano will aim to embody the spirit and energy that is uniquely Elton."

Elton John has a trusted and decade-long relationship with Yamaha Grand Pianos. The Grammy®-, Tony®- and Oscar®-winning songwriter selectively plays the Yamaha Concert series pianos.

The Yamaha Mark IV Disklavier is a hybrid acoustic/digital piano that offers a range of interactive capabilities. In addition to the acoustic piano craftsmanship and quality that Yamaha has become known for, the Mark IV's Smart PianoSoft will play select commercial audio CDs (nearly 1,000 to choose from) and accompany them with beautiful piano performances. Yamaha's SmartKey software can teach non-musicians to play simple popular melodies while embellishing their performance with professional arrangements. The Elton John Signature Red Piano will be sold under the model numbers DC1M4 EJ (5'3"), DC3M4t EJ (6'1"), and DC6M4t EJ (6'11).

For more information on Yamaha Corporation of America's Artist Affairs division, please contact Jaclyn Rodriguez at 615-599-0800. Yamaha's ever-growing list of artists can be viewed by going to www.yamahaartists.com.
Thatcher 'death' song shocks at Billy Elliot stage show
Sunday, May 8 2005
The stage version of Billy Elliot has shocked some members of its preview audiences by performing a song looking forward to the death of Baroness Thatcher, reports the Sunday Times.
The song, written by Elton John and the lyricist Lee Hall, is intended to reflect the depth of feeling against the former prime minister during the 1984 miners' strike.

Dressed in rubber masks of Thatcher, the miners sing "Merry Christmas, Maggie Thatcher, we celebrate today 'cos it's one day closer to your death". The refrain is repeated four times.

After the preview some of the audience said they were offended by the viciousness of the attack on Thatcher, who is 80 in October and is said to have become increasingly frail since the death of her husband, Sir Denis, in 2003.

Lord Bell, the public relations adviser, felt the lyrics were "discourteous". A former Tory minister who served under Thatcher went further, describing the lyrics as "very offensive".

But Elton, who wrote the music, believes the words reflected the depth of hostility towards Thatcher. "People may find it offensive and I know she is a very frail woman now. I've met her on several occasions and found her very charming," he said. "But those miners were so frustrated that they would have killed her. You are writing history and you have to tell it as it was."

Stephen Daldry, the director of both the film and the musical, said the stage version sets out to be more political than the movie.

Bell, who advised both Thatcher and the National Coal Board at the time of the strike, was disappointed with the way the dispute was portrayed. "So much of the stuff about the miners is just plain wrong. It is historically inaccurate on things like the portrayal of just the police being violent."

He said it was possible Thatcher may go to see the production. "Lady Thatcher is not that thin-skinned. She was the Iron Lady after all. If she were to go to see it, she'd enjoy the dancing as I did, but hopefully would let the lyrics pass by."



Elton John seeks Scissor Sisters for Billy Elliot
Wednesday, December 1 2004 at 14:11:36

Elton John's Billy Elliot — The Musical Announces Triplicate Billys
Wednesday, October 6 2004 at 15:05:33

Billy Elliot - hear Elton John's new song
Saturday, August 7 2004 at 06:04:59


Happy Birthday, Hercules!
Sunday, May 8 2005
Hercules (eltonfan.net), the International Elton John Fan Club, was founded on May 8, 1988 - that's seventeen years ago today!
It all started in Germany with some 30 fan club members taken over from a former Elton John Fan Club which was about to close down. What was still called "Rocket Fan" in the early days soon grew worldwide with departments in many European countries, Japan and the USA.

Later, the name was changed to "Hercules" by request of Elton's management in order to avoid confusion with Elton's official companies such as Rocket Records or Rocket Pictures.

Towards the mid Nineties, Hercules began to exploit the power of the internet, and today eltonfan.net is one of the best known Elton John fan website with some 500 visitors per day.

With one of the founding members still active in running the fan club after all those years, Hercules is now entering its 18th year of existence. With Elton still standing and the fans still supporting both him as well as eltonfan.net, there appears to be no reason to shut this website down in the near future.

So we would like to thank Elton for his persistence and everlasting presence, the management and record company for their support, and last but not least the fans for their loyalty.

Let's see what lies ahead of us between seventeen and twenty ...

Take care,
Stephan (webmaster)
Meet Sir Elton John on July 4, 2005
Saturday, May 7 2005
A limited number of benefit tickets will be on sale on May 8, 2005 for the HIV/AIDS awareness fundraiser on July 4, 2005 in Philadelphia.
Looking to meet Sir Elton John as well as see him perform in Philadelphia on July 4, 2005? Better move fast.

Organizers of the PHILADELPHIA FREEDOM CONCERT AND BALL, shaping up to be the largest, HIV/AIDS awareness event in history, announced that a LIMITED number of benefit tickets to the Philadelphia Freedom Ball will go on sale this Sunday, May 8, 2005, ONLY at www.phillyfreedom.net.

Scheduled for 5:00 to 8:00pm, in the main atrium at the Philadelphia Museum of Art, the VIP fundraiser, chaired by U.S. Senator Arlen Specter and Pennsylvania Governor Edward G. Rendell, with co-chairs Mayor John F. Street and Senator Vincent Fumo, will precede the landmark SUNOCO PHILADELPHIA FREEDOM CONCERT, headlined by Sir Elton John and featuring Canadian rock n' roll icon BRYAN ADAMS (the first artist to open the American side of Live Aid in Philadelphia), R&B diva PATTI LABELLE, broadcasting legend WALTER CRONKITE and PETER NERO and the PHILLY POPS. Nero, two-time Grammy Award-winning pianist, and Director and Conductor of Peter Nero and The Philly Pops, is music director for the event.

Sir Elton John and the other performers will mingle with guests as they celebrate Philadelphia Freedom in an intimate and lavish party prior to the Concert and fireworks. Dress for the Ball is casual/colonial, and there will be prizes and surprises in abundance.

With a capacity of 1000 people, tickets to the PHILADELPHIA FREEDOM BALL are being sold on a first-come, first-served basis. Prices range from $500 - $2500 per person, and include an array of perks that range from VIP seating at the concert, to Green Room access after the performance and a group photo with Sir Elton John. To ensure fairness and avoid scalpers, there is a limit of 4 tickets per person.

With a goal of two million dollars, proceeds will be split between the Elton John AIDS Foundation, which raises global awareness and resources for HIV/AIDS prevention and care services, and the Dr. Magnus Hirschfeld Fund, which will allocate funds to Philadelphia region HIV/AIDS organizations. Funds are being raised through sponsorship, tickets to the Ball and concessions at the event. With an expected audience of 1.5 million, the Sunoco Philadelphia Freedom Concert is slated to be the largest, FREE outdoor HIV/AIDS awareness event ever held.

The Sunoco Philadelphia Freedom Concert will kick off at 8:30pm, in front of the Philadelphia Museum of Art, following the Philadelphia Freedom Ball. The evening will culminate with a massive fireworks display. Tickets to the Ball may be purchased and donations made by visiting www.phillyfreedom.net or calling 800.917.4389. For special Philly Freedom Hotel packages, visit www.gophila.com.



Adams and LaBelle join Elton in Philadelphia
Monday, April 18 2005 at 12:50:46

Philadelphia Freedom Concert & Ball
Thursday, February 10 2005 at 04:42:29


Hurley wants to star in Elton video
Wednesday, May 4 2005
Elizabeth Hurley is upset her close friend Elton John has never approached her to star in one of his star-studded videos, contactmusic.com reports.
The British model would relish the opportunity to star alongside Elton, but he has overlooked her acting skills so far.

She says, "I think it would be fun to do but, no, I have never been asked."

Elton has invited Mandy Moore, Justin Timberlake, Robert Downey Jr and others to star in his videos in the past.
Free concert in Slovakia (Update)
Monday, May 2 2005
eltonfan.net has learned that Elton will perform a free concert in Bratislava, Slovakia, on June 1, 2005.
The show will be part of an ad campain for T-mobile, which officially launches in Slovakia on May 2, 2005.

While the date has been confirmed, the location for the concert is not yet known. However, it has been confirmed that the show will be with the band. We will update you as soon as we receive more information.
Win tickets for the Peterborough concert
Monday, May 2 2005
The Posh, the website of Peterborough United, is giving away 10 pairs of tickets for the Peterborough concert on June 16, 2005.
All you have to do is follow this link to the Official Peterborough United Football Club website and follow the instructions.

Good luck!