ELTON JOHN NEWS ARCHIVE: May 2004
Elton piano bench for auction
Sunday, May 30 2004
Elton has autographed a black Yamaha piano bench for Project Angel Food's auction HOLLYWOOD 100 on Sunday, June 6, 2004.
The inscription reads: "With all my love, Elton John. March '04". This incredibly rare collector's item is personalized in silver, permanent ink, and is a gorgeous addition to any home - with or without a piano. Presale Estimate: $3,000 - 5,000.

Project Angel Food is a non-profit organization that delivers meals, free of charge every day, to people struggling with life-threatening illnesses like HIV/AIDS, all types of cancers, Parkinson's, among other serious illnesses.

You can bid online at Bonhams & Butterfields. There also is Bernie Taupin Platinum Record donated by Bernie himself available.
Take me to the pilot - now!
Saturday, May 29 2004
Elton John was left fuming on his private jet — after the pilot landed 200 miles away at the wrong airport.
His famously short fuse was set to blow when he touched down on mainland Italy instead of Palermo in northern Sicily.

The pilot realised his blunder only when he spoke to ground crew at Lamezia airport.

A source revealed yesterday: "It was so embarrassing for the poor bloke. It would have been bad enough with normal holidaymakers. But Elton's not exactly renowned for his understanding if things don't go according to plan."

The pilot made a stumbling apology to Elton, 57, before taking off for the right destination.

Luckily he still made it in time for Elton's gig at the Palermo Velodrome on May 26, 2004.
Mandy's Clothing Line
Tuesday, May 25 2004
Mandy Moore is starting a clothing line with lines from her favorite songs, including Cat Stevens, Elton John, and others.
"I just love fashion and I'm such a jeans and T-shirt sort of girl that I kind of decided that it'd be fun to kind of make something," Moore explains happily. "I'm constantly searching for which is the perfect T-shirt, so I figured I'd just create my own."

Being a responsible young woman, Moore isn't just in it for the cash, either. She's got an altruistic motive as well.

"I'm involved with the Leukemia Lymphoma Society and so I wanted to make the T-shirts and have some of the proceeds to go the Leukemia Lymphoma Society," she says earnestly. "They're cool T-shirts with lines from my favorite songs and stuff going back to older music with covers and stuff like 'Hard To Get By On A Smile' by Cat Stevens. Stuff from Elton John. The line is coming out in the next couple of months. They'll be at specialty stores and boutiques and stores like that in the next couple of month. As things get finalized, it'll be out there a bit more."

Having a new apparel line to work on is a perfect distraction for the pretty actress, whose high-profile romance with tennis star Andy Roddick recently ended.

"I've learned that I am just not going to talk about my personal life anymore. You have to learn that lesson sometime," she says with a shrug. "I'd like a little more excitement in my life sometimes. I'm such a homebody. I'm fine with that too. I just sort of have my life and I'm happy with it." Especially with having a whole new career as a clothing maven to keep her busy.
Ivy given a Rocket by Elton
Sunday, May 23 2004
Elton John has threatened to boycott London's celebrity haunt restaurant The Ivy after falling out with staff.
He was livid after being mobbed by fans when he left after a blowout with chums — claiming the doorman should have been there to keep them back.

A source told me: "The doorman was not on hand to control photographers and fans outside and Elton was besieged. Flashes were going off and there was a bit of a scrum."

"Elton was furious he had to go through that. He just wanted a quiet night out with his friends."

You never know, what is bad news for The Ivy might be good news for pizza delivery joints near Elton's pad in Windsor.
Happy Birthday, Bernie
Saturday, May 22 2004
Bernie Taupin turns 54 on May 22, 2004.
On behalf of the Hercules team and the Elton John fans all over the world, we would like to wish him a happy birthday!
Elton's £1m gift to music academy
Friday, May 21 2004
Singer Sir Elton John has launched a £1m scholarship campaign in aid of students at the Royal Academy of Music.
Elton won a scholarship to the academy himself more than 30 years ago, at the age of 11, and had lessons there for six years.

He has now established an endowment fund with the aim of helping youngsters from poorer backgrounds achieve success in the music world.

He told the Times newspaper he was "repaying a debt" to the organisation. To help raise the money, Elton staged a concert at the Royal Opera House.

On May 19, 2004 the first four students received their scholarships, which will range from £1,000 to £10,000. Academy spokesman Peter Craik hailed Sir Elton's scheme as "exciting and fantastic".

"It is not just a matter of funding for Elton," he said. "He also wants to take a personal interest in the students as individuals. Elton wants to follow their progress and give them advice all the way."
Life Ball 2004
Monday, May 17 2004
Sir Elton John performed on stage at the annual Life Ball in Vienna, late May 15, 2004.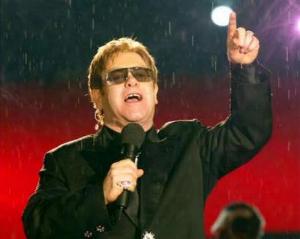 More than four thousand people turned up in drag, glitter, angel wings, leather straps or simply their underwear in Saturday's Life Ball, Vienna's star studded AIDS charity extravaganza.

The 12th annual ball, which collects funds for HIV/Aids projects in co-operation with Elton Johns AIDS Foundation, appealed to celebreties from show business and fashion in a bid to raise awareness and funds to fight the disease.
Elton on TV
Monday, May 17 2004
BBC America will be honoring Elton John on June 5, 2004 starting at 8.00 PM Eastern Standard Time with a two part special titled "Elton John Forever".
Elton John performs some of his legendary songs on a classic episode of the British hit show "Top of the Pops." He will also be featured in a special presentations of Parkinson.

Elton's dogged fan
Sunday, May 16 2004
An amusing scene occurred at the Sony Radio Academy Awards at London's Grosvenor House on May 12, 2004 involving the flamboyant Sir Elton John and his hyperactive dog, Arthur.
Elton was the surprise guest at the event, arriving at 11.30 pm with his partner David Furnish leading their cocker spaniel.

When Elton took to the stage to give an award to radio veteran Johnny Walker, David and the pooch stayed upstairs watching from the balcony but Arthur got rather excited when he spotted Elton down below.

"As soon as he started speaking on the microphone, Arthur went crazy and started barking and running round in circles," says our source. "David was trying his best to keep him calm but Arthur was obviously jealous that someone else was getting Elton's attention."



Sony Radio Academy Awards
Friday, May 14 2004 at 11:51:34


Music entrepreneur Jaggers, producer of Elton John video, dies
Saturday, May 15 2004
Bobby Jaggers was barely old enough to go into a Las Vegas casino last year when he helped produce a video for Elton John's classic "Pinball Wizard" that is displayed on a large screen during the pop superstar's "The Red Piano" performances at Caesars Palace.
Robert William "Bobby" Jaggers, the grandson of Robert Maheu, the top aide to late billionaire Howard Hughes, and a son of Caesars Palace Senior Vice President Jon Jaggers, died May 10, 2004. He was 22.

With virtually no experience in the music industry but a great love for music, Jaggers opened Jaggers Productions in Las Vegas and made the contacts that won him an opportunity to film a video to be used for a backdrop during Elton John's concerts.

In a 2003 credits list for "The Red Piano" shows, Jaggers Productions is listed as the local production company for the pop classic originally recorded by John in 1975. Michael Coldwell, spokesman for Caesars Entertainment, confirmed that Jaggers was a producer for the video.

Rasmussen said the video so impressed entertainment industry officials that ValCom Studios of Valencia, Calif., recently hired Jaggers as an executive for its new offices in Las Vegas.

In mid-February 2004, thousands of locals and tourists got to see his video when Elton John began his series of performances in Caesars' 4,000-seat Colosseum.
Elton John Strolls Down 'Peachtree Road'
Friday, May 14 2004
Elton John is eyeing a November release for his next studio album, "Peachtree Road."
According to eltonjohn.com, the set features the tracks "Freaks in Love" and "Turn the Lights Out When You Leave." The album's title is a reference to the famed thoroughfare in Elton's adopted home base of Atlanta.

"Peachtree Road" is Elton's first album since 2001's "Songs From the West Coast," which debuted at No. 15 on The Billboard 200 and has sold 587,000 copies in the United States, according to Nielsen SoundScan.

It featured the top-10 Adult Contemporary chart hits "I Want Love" and "This Train Don't Stop There Anymore," plus the No. 18 entry "Original Sin."
Photo Exhibit "HIV Positive: AIDS Through a New Lens"
Friday, May 14 2004
The City of West Hollywood, the Elton John AIDS Foundation (EJAF) and CARE will co-sponsor an internationally acclaimed photo exhibit.
"HIV Positive: AIDS Through a New Lens" will take place at the Pacific Design Center in West Hollywood from May 18, 2004, to June 7, 2004. A kick-off reception will mark the beginning of the exhibit on Monday, May 17, from 6 p.m. to 8 p.m.

The exhibit features black-and-white photographs that depict the devastating impact of AIDS in Zambia, South Africa, Botswana and Kenya. The images capture the searing reality of AIDS in Africa and inspire hope that fixing the problem is well within our reach with support from the international community like the Elton John AIDS Foundation and humanitarian organizations like CARE.

The City of West Hollywood has been at the forefront of fighting for people with HIV and AIDS for nearly twenty years. The City partners with non-profit and humanitarian organizations to further the cause against HIV and AIDS both locally and internationally.
Sony Radio Academy Awards
Friday, May 14 2004
Veteran Radio 2 DJ Johnnie Walker, who returned to the airwaves in March 2004 after treatment for cancer, received the Gold Award from Elton John.
Elton told him: "When I was asked to present this award I didn`t hesitate.

"New artists depend on DJs to play our records, and when Johnny first started on the radio he championed me and did me so many favours. I`m in a time in my life when I have to remember these favours."

Sir Elton added: "He`s come through such hardship in the last couple of years. He is a fighter in every sense of that word. I can`t think of anyone better to get it."

Receiving his award, Walker then joked about his cancer saying, "The NHS gets a lot of criticism, but you wouldn`t believe the amount of drugs I had last year and they were all free."

He went on: "Virtually every family gets touched by the disease of cancer" but that he had been touched by the amount of support he has received during his battle with the disease.

Awards presenters at the ceremony at London`s Grosvenor House on May 12, 2004 included singer Danni Minogue, former EastEnders actor Martin Kemp, singing legend Lulu, jazz star Amy Winehouse, poet laureate Andrew Motion and newsreader Carol Barnes, who lost her daughter in a recent skydiving accident, and Penny Lancaster, who arrived with boyfriend Rod Stewart.
Elton John performed at Genentech
Friday, May 14 2004
Elton John gave a special concert at Genentech in the Bay Area on May 7, 2004 to help celebrate the company's release of three new drugs. Kathy's Kreative Kakes supplied three eight-foot cakes for the occasion.
Genentech, the founder of the biotechnology industry, is a company with a quarter-century track record of delivering on the promise of biotechnology.
Scissor Sisters To Support Elton John
Wednesday, May 12 2004
Currently selling records by the warehouse full, the Scissor Sisters have confirmed that they will be jetting into the UK ahead of their Glastonbury Festival performance for two very special shows with Sir Elton John.
Sir Elton has specifically requested the Sisters' presence for two shows at Bristol City Football Club (June 11, 2004) and at Hop Farm Country Park, Kent (June 20, 2004).

After catching the Sisters at an aftershow party gig, Elton purchased 50 copies of their album for all his friends and personally requested that they appear as special guests on his upcoming tour. Even more unusual is the fact that Elton doesn't normally take a support band on the road with him.

The band will re-release their debut single 'Laura' on June 7, 2004 from their album 'Scissor Sisters' which is out now.
"So Graham Norton" on DVD
Sunday, May 9 2004
BBC America has announced "The Best of So Graham Norton" which features the popular Irish comic. The DVD will be released on August 10, 2004.
As you would expect, this brand new DVD features the best bits from the multi-award winning talk show, with Elton John, Orlando Bloom, Cher, Dolly Parton, Chris Rock, Ozzy Osbourne, Kim Cattrall and more!

Extras will include an interview with host Graham Norton as well as a special interview with the legendary Betty. You can pre-order this product by clicking on the Amazon link on the right.
Happy Birthday, Hercules!
Saturday, May 8 2004
What's know as Hercules (eltonfan.net) today was founded as Rocket Fan on May 8, 1988 - 16 years ago!
It's hard to believe that we managed to survive that long time! Okay, we have seen a lot of changes of the years, not only the name has changed. The fanzine has gone, the Internet has become the center of (fan) communication.

But besides all these changes (in technology), what's still keeping this fan club alive and running is the devoted Elton fans from all over the world. So we would like to thank you again for your loyalty and support.

And of course we would like to thank the man who made this all happen: Elton John.
Billy Elliot Musical to Play Newcastle, then London
Thursday, May 6 2004
Billy Elliot, the musical of the hit film, is likely to debut in Newcastle at the end of 2004. A London premiere will follow in early 2005.
The movie, about a young boy who dreams of becoming a ballet star, was directed by ex-Royal Court boss Stephen Daldry, who will also direct the stage show. He was Oscar-nominated for his work on the film, as was Julie Walters as Billy's ballet teacher and Lee Hall for his screenplay. Walters is not expected to feature in the theatre version.

Meanwhile, Daldry has been hunting for three boys to alternate the title role (after the film's star Jamie Bell made it clear he wasn't interested). Auditions have been held across Britain for boys who are exceptional in tap, ballet and contemporary dance as well as singing and gymnastics.

According to a Daldry interview with the BBC, the idea to make a stage musical from the movie originated from Elton John. "He came to see one of the early showings of the film," Daldry told the broadcaster, "and his response was so strong, he really came up with the suggestion, 'Is there anything we can do on stage?'" Elton is writing the songs.

The news that Billy will reach the British stage at the end of 2004 (with an announcement as to which London theatre it will play expected within weeks) adds to the crowded schedule for big musicals. Roughly the same period will see the openings of at least three other major players: Mary Poppins from Cameron Mackintosh and Disney (Elton John's one-time producer, of The Lion King and Aida); The Woman In White by Andrew Lloyd Webber; and The Producers by Mel Brooks.



Elton John is launching auditions to find Billy Elliot
Thursday, January 8 2004 at 07:38:40


New Eltonfan.net Online Store
Thursday, May 6 2004
We hope you will like our selection of more unusual Elton John fan items - all custom made and not available anywhere else.

Visit the new Eltonfan.net Online Store at cafepress.com.

Take your time to browse through the various items, and make sure to revisit the shop regularly as we plan to add new products in the future.

Here's what's in the shop so far:


'Aida' to Close on Broadway
Wednesday, May 5 2004
Disney's "Aida" is pulling down its pyramid and leaving Broadway in September 2004, reports Newsday.
The pop musical version of the ancient Egyptian love triangle, which has a score by Elton John and Tim Rice, will close September 5, 2004 at the Palace Theatre after 1,852 performances.

"We have had a great run -- it will have been four-and-a-half years," said Thomas Schumacher, president of Disney Theatrical Productions. "We have recouped, made money and launched an international franchise."

Yet Schumacher said he didn't want "Aida" to face the gloomy box-office months of September, October and early November when business is generally poor. "I'd lose all the money I'll make during the summer," he said.

The show, which currently stars rhythm and blues star Deborah Cox in New York, also has productions playing in Germany and Japan. The international tour will begin in 2005, Schumacher said.

According to Schumacher, the New York edition has grossed over $150 million, generating more than $12 million in profits and been seen by over 2.5 million people.

"Aida," which originally starred Heather Headley, tells the story of a Nubian princess and her love for a handsome Egyptian soldier, Radames, who is also loved by the Egyptian princess Amneris.

Schumacher said that Adam Pascal, the musical's original Radames, will rejoin the show in late June 2004 for the remainder of its run.

"Aida" has had something of a Cinderella life on Broadway. It opened to mixed reviews in March 2000 and wasn't nominated for a best musical Tony Award that season, so it didn't get a musical number on the Tony telecast.

Yet the production managed to become the longest-running show of that season, outlasting all the 2000 best-musical nominees: "Contact" (the eventual winner), "The Dead," "Swing" and "The Wild Party." And it won four Tony Awards -- for Headley, for its score, its sets and lighting.

When "Aida" closes, Disney will still have two shows on Broadway -- "Beauty and the Beast" and "The Lion King." And it has two major productions in the works, one to debut in London and the other on the road.
Sorry, no Elton!
Wednesday, May 5 2004
Like last year, the Elton John band is doing another benefit concert for the Lupin Hill Elementary School, where some of them have children attending.
The concert will feature the whole band (sorry, no Elton) with different lead singers doing a selection of Beatles songs.

The concert will be on May 16, 2004 at 5.00 PM at the Canyon Club in Agoura Hills. Tickets are $20 and can be purchased through the school at 1-(818)-880-4434 (speak to Maria Oster). Mail them payment and they will have the tickets at Will Call (they might take credit cards, too).
Horace Mann PTA will send on lucky couple to see Elton
Tuesday, May 4 2004
The Horace Mann PTA is sponsoring an opportunity drawing that will give one lucky couple a chance to win a weekend in America's entertainment capitol.
The package includes two front orchestra tickets to see Elton John at Caesars Palace Hotel in Las Vegas on Saturday, July 31, 2004, one night stay at a luxury hotel and $100 gift voucher for Southwest Airlines.

Similar tickets can currently be found online for approximately $1000 each. The total value of the package is $2,300.

Tickets for this opportunity drawing cost $5 each or may be purchased by the book (5 tickets for $20). All proceeds benefit the Horace Mann PTA, the school's non-profit support group that funds programs and supplies at Horace Mann School in Beverly Hills. Tickets can be purchased at the school office Monday-Friday from 1-4 p.m. or by contacting Sarah Blaylock at 1 310 918 2284 or EJDraw@aol.com.

Everyone is welcome to participate … Horace Mann families, friends, relatives and Elton John fans of all ages. The school is located at 8701 Charleville Blvd. in Beverly Hills.

It is the PTA's goal to raise at least $12,000 with this fundraiser. Based on current school figures, if every family at Horace Mann purchased one book, this goal can be achieved. In response to statewide budget cuts within California schools, it is imperative that parent groups such at the PTA raise funds to make-up any shortfalls that schools may face.

"In times like these, we need to be creative in our fundraising", says Sarah Blaylock, event Chairperson. "For a small donation, parents and friends can support the school and have the opportunity to win a fabulous prize!"

Added Co-chairperson Brenda Rubins, "Every day people spend money on lottery tickets knowing that the odds of winning the lottery are very small. In Horace Mann's opportunity drawing, the pool is small, so the odds of winning this incredible package are much, much greater. And even the kids are getting involved with selling tickets because they are excited to participate in a group effort that benefits the school."

The drawing will take place on June 18, 2004, to celebrate the last day of school. Winner does not need to present and will be notified.

For more information, contact Blaylock at 1 310-918-2284 or EJDraw@aol.com.
F.C.C. Madness
Monday, May 3 2004
Legal rulings about indecency have a way of quickly slipping into ridiculousness, and so it is with the Federal Communications Commission's (F.C.C.) recent decision imposing $495,000 in fines on Clear Channel for broadcasting an episode of the Howard Stern show.
The F.C.C.'s opinion focuses on a program in which the self-proclaimed "King of All Media" interviewed the inventor of "Sphincterine," which the commission huffily calls a "purported personal hygiene product." A key factor in its analysis, duly noted in its "Notice of Apparent Liability for Forfeiture," was that the segment contained "repeated flatulence sound effects."

Since Janet Jackson's unfortunate wardrobe malfunction, the F.C.C. has been furiously rewriting the rules. Another edict holds that broadcasters can lose their licenses even for "isolated or fleeting" swear words, a doctrine arising from a single gerund uttered at the 2003 Golden Globes.

It is Mr. Stern's offensiveness that makes his cause so important. The F.C.C. is using his unpopularity as cover for a whole new approach that throws out decades of free-speech law. The talk right now is over the colorful battles between Mr. Stern and Michael Powell, the head of the F.C.C. But when the headlines fade, the censorious new regime will apply to everyone. The danger it poses to the culture is real.

On March 18, 2004, the F.C.C. issued orders that spell out, as the commission puts it, "a new approach." Some of the standards are objectionable on their face. The F.C.C.'s inclusion of "profanity," which it concedes is often synonymous with "blasphemy," means, a coalition of civil liberties groups, media organizations and artists points out, that "the most commonplace of divine imprecations, such as 'Go to Hell' or 'God damn it,' are now actionable."

As disturbing as the new rules, however, is the F.C.C.'s warning that it does not intend to hold itself to any specific definitions of indecency. The commission states, at the end of a list of vague categories of forbidden speech, that it will "analyze other potentially profane words or phrases on a case-by-case basis."

The combination of unknowable rules and draconian penalties is already having a chilling effect. There are reports of radio stations banning classic songs like Lou Reed's "Walk on the Wild Side" and Elton John's "The Bitch is Back." The television show "ER" recently edited out a brief shot of the exposed breast of an 80-year-old hospital patient. And the satirist Sandra Tsing Loh was fired by a public radio station when an engineer failed to bleep out various words that were meant to be bleeped for comic effect.
Bite your lip get up and dance ...
Saturday, May 1 2004
Elton John is in talks with the BBC to appear on their big-budget remake of "Come Dancing".
BBC bosses want Sir Elton to sing live as celebrities dance with their partners. He made a big impact on producers after he coached hopefuls and performed on Pop Idol.

Enrique Iglesias and Holly Valance are also being lined up to appear on "Come Dancing". A BBC insider said last night: "We are very keen indeed for Elton to perform on the show. Bosses want a big star to sing live every week as the celebrities show off their dance moves. They hope big names like Elton will sign to make the show a great entertainment event."

The Saturday night show will feature celebrities instead of competing teams of experts. The confirmed star line-up includes antiques expert David Dickinson, actress Claire Sweeney and EastEnders' star Christopher Parker (Spencer Moon). Opera singer Lesley Garrett, BBC Breakfast News host Natasha Kaplinsky and rugby league legend Martin Offiah will also appear.

They will pair up with ballroom experts, including world champion Paul Killick, when the show begins on BBC1 on May 15, 2004.

A spokeswoman for the BBC said: "We are in talks with a lot of acts to sing on the show — but nobody has signed yet."



UK Pop Idol goes Elton
Monday, November 3 2003 at 12:13:02


Update: Radio City Music Hall dates confirmed
Saturday, May 1 2004
Elton John was at a news conference at Radio City Music Hall on April 27, 2004 to announce he will be performing five concerts at the legendary venue in New York in July 2004.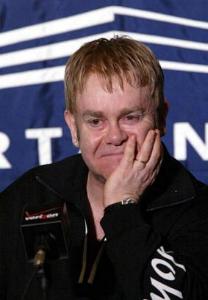 The dates have already been published on eltonfan.net more than two weeks ago. Dates for the shows are July 13, 14, 16, 17 & 18, 2004 - tickets will go on sale on May 3, 2004.

The concerts will be backed by a symphony orchestra and a student choir from The Royal Academy of Music in London and New York's Juilliard School.

Proceeds from the opening night on July 13, 2004 will fund scholarships at both the Royal Academy and Juilliard. Sir Elton attended the Royal Academy on a scholarship more than 30 years ago.

"My time there was absolutely invaluable to my career," he said. "Now 34 years on, I wanted to do something to show I appreciate all the things that they taught me. Young musicians deserve the chance that I had, to go and live their dreams and become great musicians," he added.

Also see Elton John Tour News.



Radio City Music Hall in July 2004
Saturday, February 21 2004 at 06:07:42