ELTON JOHN NEWS ARCHIVE: May 2003
Elton John opens for the Godfather of Soul
Friday, May 30 2003
Elton John performed a back-to-back one-hour show with James Brown at the Javits Center in New York on May 28, 2003.
Elton made the scene with a full band, and put on a surprisingly well-executed show. He thanked Universal Music Group's Doug Morris for making him do the show, then launched into "Sorry Seems to be the Hardest Word."

He also performed a whole set of greatest hits, from "Love Lies Bleeding" to "Your Song," with stops along the way for "Tiny Dancer," "I Guess That's Why They Call It the Blues," and "Don't Let the Sun Go Down on Me." During "The Bitch is Back," Elton actually rolled up onto the piano and slid around a bit, just like the old days. His voice was in fine form, too.

Not to be outdone, James Brown seamlessly grabbed the stage, pulling his dozen-or-so-piece funk orchestra and half-dozen backup singers and dancing girls with him. Recently pardoned for all his crimes, Brown -- who says he just turned 70 -- is a force of nature and a law unto himself.
Rock Legends auction in London
Thursday, May 29 2003
Cooper Owen will be holding a Rock Legends auction on June 5, 2003 which includes several interesting Elton John items.
Lot 105 Elton John signed CD single
A cover for the 1989 Pickwick CD single Elton John the Collection signed in black pen To Steve best wishes Elton John attractively mounted with the disc. Framed and glazed.
Overall measurements approx. 8.25 x 17 inch. (21 x 43 cm)
£150-200

Lot 106 A pair of novelty canes owned by Elton John
A black plastic walking stick with a binocular eyepiece on the top and label reading RCM 1867, together with a brown wooden cane inset with a switch operated light. (2)
£200-250
Originally purchased from 'the Elton John Collection' sale at Sotheby's in September 1988 (one lot tag remaining).

Lot 107 Elton John poster UK concert poster, 1973
Rare original silkscreen poster for gigs at Leeds University Union 10/11 March, blue and fluorescent print on white ground.
Condition: Excellent. Measures approx. 28 x 19 inch. (71 x 48 cm)
£150-250

Lot 107A Two Elton John acetates
A Phonogram labelled acetate of Nikita, with a proof state sleeve, together with a Pye Records Advanced Promotion Acetate for Border Song featuring an alternative version to the released song. Both acetates were produced for Roger Scott, of Capitol Radio, London as pre-release promotional records. (2)
£200-300
Please see Buyers agreement, Clause 25

Lot 108 Elton John signed record
A copy of the twelve inch single A Single Man signed and dedicated To Roger with love Elton. Vinyl included.
£100-200
From the collection of a former employee of Capitol Radio.

Lot 109 A miniature Wurlitzer 1015 jukebox owned by Elton John
A Wurlitzer micro-cassette jukebox complete with micro cassettes, in original box.
Box measures approx. 13 x 8.5 x 6 inch. (33 x 22 x 15 cm)
£70-80
Originally purchased from 'the Elton John Collection' sale at Sotheby's in September 1988 (lot tag intact).

Commission bids can be placed at www.cooperowen.com and the auction will culminate with a live event at 23 Denmark Street, London on the June 5, 2003 at 4 pm GMT.

Bids can also be placed on eBay at http://pages.liveauctions.ebay.com/catalogs/catalog5077.html.
Dido inspired by Elton John
Tuesday, May 27 2003
Dido is a multi-million-selling singer who counts Eminem as a fan. She told Sky News she felt she'd really made it when king of pop Sir Elton John actually sang her lyrics with the rapper.

The two teamed up to perform the Dido-penned tune Thank You. Now it looks like Dido is set for more happiness.

Elton is keen to team up for another track on her new album which she is currently working on. Dido told pals: "Sir Elton is one of the reasons I entered the music biz - to team up with him would be simply wonderful."

Look out for Dido's new album out later in the year - and catch Elton on at least one of the tracks.
Diana vs. Elton - part two
Tuesday, May 27 2003
Elton John revealed on May 25, 2003 how he fell out with Princess Diana when she pulled out of an event for his Aids charity.
She dropped plans to attend a launch party for a book conceived and created by Gianni Versace at the last minute - the proceeds were going to his foundation. Diana's butler Paul Burrell revealed in the Daily Mirror last week that she had been upset at photos of her and Princes William and Harry being used in the book alongside ones of naked men.

But Elton said that he had been embarrassed when she didn't show up at his party. He had sold expensive tickets, billing it as a royal event on the promise that Diana would be there. Elton was upset and fired off a letter to her saying he was hurt by the snub.

He told the Daily Mirror on May 25, 2003: "I was upset when Diana pulled out of the launch party at the last moment and I was concerned at the effect it would have on the credibility of the Elton John Aids Foundation. "It was because of this that I wrote to her about how she had let the charity down."

She sent off a terse letter in reply. Elton said: "It was after this she wrote to me the strange letter addressed to Mr John." Diana had agreed for her photo to appear in the £60 book Rock and Royalty about fashion designer Versace. But she withdrew her permission after reporters told her there were pictures of nude men in it too.

She demanded that 30,000 copies already printed be dumped. Elton's people said it was too late. Diana's office rang him a week before the launch party in West London to say she wouldn't be there. Elton, who had a close relationship with the princess, said he was disappointed that she didn't ring him herself to explain and sort out the problem. He was bewildered and thought her behaviour was strange.

Elton said on US chat show Larry King: "It's one of those things that friends sometimes do. You know, they're too proud to pick up the phone."

"That's how the whole row started and I was relieved when we made it up just before Gianni's death." Diana was photographed holding Elton's hand and comforting him as he fought back his tears at Versace's funeral. The designer was shot dead in 1997 outside his home in Miami. A month later Diana was dead.

A friend of the star revealed that Elton was certain Diana had told loyal servant Paul Burrell about their bust-up. But Elton said it wasn't the full version of the story.

Elton first met the princess at a gathering for Prince Andrew's 21st birthday at Windsor Castle. They hit it off and became firm friends. He said later: "She made you completely feel at ease. There wasn't a stiffness or an awkwardness, which there can be sometimes with other members of the royal family because you're so aware of protocol."



Dr. Mr John ...
Sunday, May 25 2003 at 13:02:11


Rags to Riches Charity Auction
Tuesday, May 27 2003
Two signed Elton John items are parted of a charity auction on Freeserve with money being raised for "Hope for Children".
The auction includes a signed tie from Elton John as well as signed tour shirt from Elton John. Other items were donated by Sting, Cliff Richard, Robbie Williams and many more.

The auction will close on June 2, 2003. So make sure to place your bids soon!
Coca-Cola to give free Elton
Monday, May 26 2003
A large number of Coca-Cola lovers will be given free tickets for the upcoming Elton John concert.
General Soft Drinks Co. Limited general manager Maria Micallef said a coupon to take part in the competition will be sent to every household.

"People have to fill in the coupon, enclose it in the supplied envelope together with four crowns of any 30cl Coca-Cola product and mail it," she said.

Participants will automatically receive a Lm4 voucher entitling the holder to a discount off the concert ticket. They will also have the opportunity to win one of the 750 VIP tickets for the concert during a draw on June 30, 2003.

Speaking during a press conference on May 23, 2003, Ms Micallef said Coca-Cola was synonymous with music and through this association a positive mood was being transmitted to customers. For this reason the Coca-Cola for Music Campaign was launched.
NBC telecast with Elton John
Sunday, May 25 2003
NBC's 2003-2004 season schedule will include new concert specials from Elton John, Shania Twain, and Harry Connick Jr., Billboard reports in the May 31, 2003 issue.
The telecasts are still untitled; dates and times are to be determined. Elton John's one-hour special will be taped in Nashville and include several celebrity guests in tributes to him.

NBC enjoyed success last year with the Faith Hill special "When the Lights Go Down," which was released in expanded form on DVD by Warner Bros.
Elton John attended Life Ball 2003 in Vienna
Sunday, May 25 2003
Like in the years before, Elton John was a special guest at Life Ball in Vienna on May 24, 2003, one of the biggest Aids Charity events in Europe.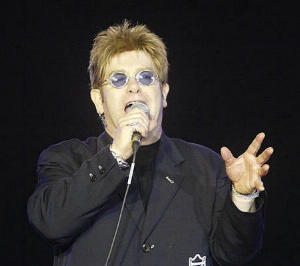 Gerry Kessler, organisator of the Austrian Life Ball, handed a check for Euro 454.439,89 ($454,000) to Elton John for his Elton John Aids Foundation during the opening ceremony of the gala on May 24, 2003 in Vienna, Austria.

Later on, Elton also performed "The Boy In The Red Shoes" during the gala event.

Hosted by Vienna Mayor Michael Haupl, this year's ball again transformed City hall into a fantasyland of light, sound, and ornamentation, populated by thousands of ball guests, streaming in and out of the massive neo-Gothic
building, drinking champagne and noshing on party treats.

The dress code ranged from tuxedoes to little more than body paint - and everything in-between. Glitter was abundant. So were outlandish head dresses a la Carmen Miranda or Josephine Baker that sometimes blocked the view of outside on-stage events.

Click on the image in this news item to send it asHercules eCard.
Elton John offers refuge
Sunday, May 25 2003
Elton John has invited distraught Sadie Frost for a break with her kids at his South of France mansion. Kind-hearted Elton has extended the hand of friendship to Sadie, who is still devastated after splitting with husband Jude Law.
She will jet to his £3.5 million pink fairy-tale French Riviera mansion at the start of her children's school half-term. Elton and David Furnish hope to cheer up Sadie and look after her three children - son Rafferty, seven, Iris, two, and six-month-old Ruby.

The lavish house, which is a few miles from Nice, is also where David and Victoria Beckham went for their honeymoon after their wedding in Ireland in 1999.

Elton invited Sadie, 35, after seeing pictures of her looking thin and exhausted. He sent her a note expressing his support and asked if there was anything he could do to help. He then came up with the idea of inviting her as a house guest and she accepted.

"Elton can't resist a damsel in distress and Sadie was no exception," said a friend of Elton. "He hates to see someone suffering and wants to help cheer Sadie up. "Elton will just be there if she needs him. He and David love having kids around to spoil so it will be a pleasure all round."
Dr. Mr John ...
Sunday, May 25 2003
The Daily Mirror reports why Lady Diana fell out with Elton John. Paul Burrell, Diana's butler, has told for the first time how Diana "froze out" enemies.
Elton John, Fergie, nanny Tiggy Legge-Bourke, staff and close friends all got the cold shoulder from the princess.

The butler himself was a victim and admits he was treated like a "piece of the furniture". Diana sacked 106 staff in his decade with her, said Paul. "With the princess, you got fascinating, complex, beautiful, amazing and then nothingness."

Talking to Daily Mirror editor Piers Morgan for the BBC1 series "Tabloid Tales", Paul refers to the Queen's intervention in his Old Bailey trial that led to its collapse.

One of the highest profile victims of Diana's wrath was Elton John, who upset her with a book on Gianni Versace in which a picture of the princess and her sons appeared with semi-naked men.

Paul told how the "huge egos" of the pair clashed when Sir Elton failed to remove the family photo from the book on the fashion icon. Diana was desperate to avoid any cheapening of her image.

When told that 30,000 copies of the book were already in the shops, she demanded they be withdrawn. Elton wrote to the princess, saying he "couldn't oblige".

She replied frostily, in a letter which began "Dear Mr John". They went their separate ways until she comforted Elton at Versace's funeral after his 1997 murder at the age of 50.

Paul said: "Unfortunately that happened round about the time of Versace's death and just before it Elton had put together a book on Versace. The princess had agreed to put a picture of herself and the boys in it. Unfortunately when it came out, the book was full of semi-naked men. The princess thought it was not appropriate for herself and the boys. She asked Elton if he could arrange for it to be taken out. She was adamant that it had to be withdrawn."

"He couldn't oblige, so that relationship went on the slide. After Versace died the princess had a facility to come back into Elton's world."
Elton John honoured by IAPAC
Saturday, May 24 2003
Sir Elton John and Stephen Lewis, the United Nations special envoy for HIV/Aids in Africa, are to be honoured by The International Association of Physicians in Aids Care at the organisation's sixth annual 'Honouring Our Heroes' ceremony in Chicago on September 15, 2003.

The organisation will also honour Sister Mary Elizabeth of the Aids Education Global Information System, widely regarded as the world's most important on-line source of HIV/Aids information.

Lewis and Clark will share IAPAC's annual Jonathan Mann Health Human Rights Award. Sir Elton is due to receive the 2003 Dag Hammarskjold Award, whose former recipients include Bill Clinton and Desmond Tutu.

IAPAC's 'Honouring Our Heroes' event will coincide with the 43rd Interscience Conference on Antimicrobial Agents and Chemotherapy.
Elton and Lionel duet in Cannes at AIDS gala
Friday, May 23 2003
Celebrities got up and boogied to an impromptu duet from Elton John and Lionel Richie during a star-studded AIDS fundraiser hosted by Elizabeth Taylor on May 22, 2003.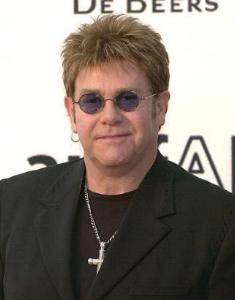 The 10th annual Cinema Against AIDS gala for the American Foundation for Aids Research (amfAR), raised more than $1.3 million by auctioning off anything from tennis lessons with Monica Seles to a vanity case designed by Sharon Stone.

"Don't be cheap tonight, please bid a lot," designer Donatella Versace begged the audience. "It's not just a free dinner, you're supposed to spend money while you're here."

Taylor, frail but resplendent in a pale green Gianfranco Ferre gown and Bulgari emeralds, delivered a heartfelt speech.

"We have made advances but we haven't won the war. We must not give up," the event's honorary chairman told the 500 guests gathered in the Michelin-starred Moulin de Mougins hilltop restaurant, a short drive away from the Cannes film festival.

"I'm sorry for getting so emotional. But I know so many people who have died from this," Taylor said, sniffing, before being helped off stage and leaving before the dinner ended.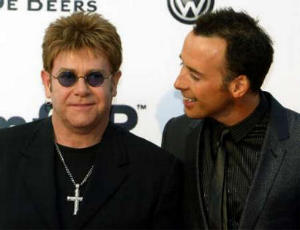 Singers Lionel Richie and Elton John lifted the mood by getting up on stage and singing "Three Times a Lady," "I Guess That's Why They Call It the Blues." Their rendition of "Twist and Shout" and "Great Balls of Fire" had the black-tie audience going wild.

U.S. singer Macy Gray also got up and sang -- wearing huge black trainers under her black and silver evening gown.

As diners tucked into foie gras and truffles, Oscar-winner Adrien Brody threw his arms round Miramax head Harvey Weinstein and joked about his famous Oscar night kiss with actress Halle Berry.

"I don't only kiss black movie stars with Oscars (news - web sites)," Brody teased the Academy Award-winning producer.

Other stars who took the stage at the glittering event included British model Elizabeth Hurley, dressed in a shocking pink satin gown and seated next to her Indian millionaire beau Arun Nayar, and sassy society diva Ivana Trump.

Actors Tim Robbins and Meg Ryan , model Iman, director Steven Soderbergh and Indian screen star Aishwarya Rai also took part.

Since 1985, amfAR has raised around $207 million to fund its fight against AIDS, including $12 million raised in Cannes.

Click on the images in this news item to send them as Hercules eCard.



Celebrities to attend AIDS benefit at Cannes
Thursday, May 22 2003 at 05:39:59


Hercules eCard
Thursday, May 22 2003
Back by popular demand! Send electronic postcards to your friends and family with Hercules eCard.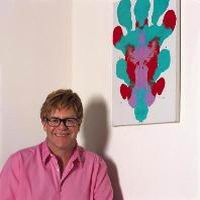 For starters, there are four Elton John postcard images for you to use as Hercules eCard. In the near future, we will be adding more images, and it will also be possible to simple click on some pictures within this website and send it as eCard.

For example, simply click on the image to the right to send it as Hercules eCard.
Happy Birthday, Bernie!
Thursday, May 22 2003
Elton's lyricist and songwriting partner for many years, Bernie Taupin, turns 53 on May 22, 2003!
On behalf of the Hercules team, the Hercules members and visitors of eltonfan.net as well as all Elton fans around the world we would like to wish him all the best for the future! Happy birthday, Bernie!
Celebrities to attend AIDS benefit at Cannes
Thursday, May 22 2003
A constellation of showbiz stars will donate their best designer outfits for an exclusive AIDS benefit to be presented by Elizabeth Taylor at a heavily-guarded property outside Cannes on May 22, 2003.
Elton John, Meg Ryan, Elizabeth Hurley, Steven Soderbergh, Naomi Campbell, Monica Seles and David Hasselhoff are all expected at the bash to raise money for the American Foundation for AIDS Research (AmFAR).

The party, a traditional fixture at the Cannes film festival currently underway, is one of the most exclusive on the Riviera.

Only those willing to dig deep for the tables costing between 25,000 and 100,000 dollars (20,000 and 85,000 euros) are able to get into the elegant estate in the hills overlooking Cannes to place bids in an auction of stars' memorabilia.
Vote for your favorite Elton John song
Wednesday, May 21 2003
We like to ask you to help us find the best Elton John song of all times.
For starters, we ask you to vote on your favorite song from each regular studio album Elton has released in the past 34 years.

We will then compile the results from this first round and present you with a list of the top 3 of each album for you to vote on again. That way, we try to give those songs a chance which are usually overlooked when fans just name their favorite songs from memory.
"Face To Face" on TV
Monday, May 19 2003
Dateline NBC on May 20, 2003 will feature Billy Joel and Elton John backstage at a recent "Face to Face" concert. The show will be on 10:00 pm - 11:00 pm ET.
In an exclusive prime-time interview, Katie Couric sits down with "piano man," Billy Joel to talk about "Movin' Out," the hit Broadway show based on his music, which recently earned ten Tony Award Nominations.

She also asks Billy about his love-life, his legendary career and recent reports about his drinking. Couric sat down with Joel, choreographer and director Twyla Tharp, and cast members as he shared his reaction to the "ludicrous" idea of a musical based on his music.

Joel also talked about the recent reports of his alcohol abuse, his recent car crash, and his decision to visit a rehab facility. Couric also takes viewers backstage with Billy at a recent "Face to Face" concert with Sir Elton John.
Elton to perform at Agassi show
Friday, May 16 2003
Elton John will once again be playing at the Andre Agassi Grand Slam Concert in Las Vegas on October 4, 2003.
Tickets cost $75 - $150 and will go on sale on May 17, 2003. See Ticketmaster for more details.

Billy Joel will also be attending the show, but it is not yet known if they'll be playing together.
Elton guest at Justin Timerlake's party
Friday, May 16 2003
London is going nuts for Justin Timberlake. He stormed his sellout Wembley Arena show on May 14, 2003 and before he gets stuck into another three nights at London Arena over the weekend he's decided to throw a £250,000 party at Planet Hollywood's new Rex club in Soho.
1,000 bottles of Cristal and Dom Perignon champagne have been ordered for some 200 guests who'll include a host of celebrity couples including Chris Martin and Gwyneth Paltrow, Madonna and Guy Ritchie, Victoria and David Beckham, and of course regular party poopers, Elton John and David Furnish. According to insiders Justin's also ordered, "several cases of Jack Daniels," for himself and his younger pals.

The 22-year-old former N'Sync star and his army of retainers will get ready for the party in 40 rooms and suites at the Landmark in Marylebone, booked at a cost of £20,000 per night.
AIDS series to premiere on HBO
Thursday, May 15 2003
The private premiere of the upcoming HBO documentary series, "Pandemic: Facing AIDS" at the Carter Center in Atlanta on May 15, 2003 has quite the VIP list.
The series of five half-hour films that focuses on the personal stories of people living with AIDS in Thailand, Uganda, Russia, Brazil and India was directed by Rory Kennedy. The youngest daughter of Robert and Ethel Kennedy is scheduled to be in attendance as will former Clinton administration AIDS czar Sandy Thurman and Dr. James Curran, the dean of the Rollins School of Public Health at Emory University.

The film's narration was recorded in Atlanta by Elton John. The series premieres on HBO June 15, 2003.
Video Award for "Original Sin"
Tuesday, May 13 2003
The MVPA Award show nominees are selected by professionals working within the music video industry. The selection process is not related to rotation on MTV or by the number of music videos one might amass in a year.
The Music Video Production Association (MVPA) exists to ensure that the industry maintains a high standard of professionalism and artistic excellence. The 12th Annual MPVA Awards were held May 8, 2003 at the Orpheum Theatre in downtown Los Angeles.

Elton John's "Original Sin", directed by David LaChapelle/Venus Entertainment, has won the award in the category Adult Contemporary Video of the Year.

The nominees are selected and judged by their peers. Not every video submitted for consideration succeeds in obtaining a nomination, but to have the opportunity is most valuable.
Elton John and Billy Joel performed in Auburn Hills on May 2, 2003
Monday, May 12 2003
Fan Report by Dan Ouellette.
On May 2, 2003 Billy Joel and Elton John played at the Palace of Auburn Hills in Michigan. Elton came out wearing a pink suit and Billy wore his usual black suit. They played their usually first three songs together, then Billy left the stage to Elton.

Elton played his eleven song set. During the set Elton told the fans how much he and the band love to play in Detroit. Elton's voice was not that great when he talked but you were unable to tell it when he sang it sounded like he was in great form.

After Elton finished his set with "Crocodile Rock", Billy and his band took to the stage. After Billy did his first song he asked how many people were from Detroit and not from Auburn Hills. He also played a Detroit Medley of "Stop in the Name of Love", "CC Rider" and the first line to Madonna's "Like A Virgin".

Billy kept the crowd entertained by telling jokes like "Yes, I call him Sir Elton. You know they have knights in England in the United States we have evenings." During "The River of Dreams" break Billy played "Old Time Rock'n Roll". This was the best voice and mood I have ever seen Billy in.

After Billy's set both bands came back and they played the usual six songs and then finished with "Piano Man" with just the two of them. Overall it was a great concert and I would go watch it again.

Following is the complete set list of the Auburn Hills show on May 2, 2003:



Elton John & Billy Joel


Your Song

Just The Way You Are

Don't Let The Sun Go Down On Me

Elton John & band


Funeral For A Friend/Love Lies Bleeding

Someone Saved My Life Tonight

Philadelphia Freedom

The Wasteland

I Want Love

Rocket Man

I Guess That's Why They Call It The Blues

Take Me To The Pilot

Tiny Dancer

Saturday Night's Alright (For Fighting)

Crocodile Rock

Billy Joel & band


Scenes From An Italian Restaurant

Movin' Out (Anthony's Song)

Stop in the Name of Love/CC Rider/Like a Virgin

Prelude/Angry Young Man

Allentown

An Innocent Man

The River Of Dreams

I Go To Extremes

New York State Of Mind

It's Still Rock And Roll To Me

Only The Good Die Young

Elton John & Billy Joel


My Life

The Bitch Is Back

You May Be Right

Bennie And The Jets

A Hard Day's Night

Great Balls Of Fire

Piano Man

Elton John and Billy Joel performed in Chicago on April 30, 2003
Friday, May 2 2003 at 07:33:50


New Hercules Poll
Friday, May 9 2003
Following the hacker attack at the end of March 2003, we have now also restored the Hercules Poll.
For starters, we would like to receive your feedback in regard of the new look of eltonfan.net. Let us know what you think about the restored Hercules website.

Furthermore, you will find and Elton related poll as well. With all the touring going on and on, we like to find out which type of Elton performance you like best.

Let us know in the Hercules Poll.
Happy Birthday, Hercules!
Wednesday, May 7 2003
Hard to believe: Hercules, the international Elton John Fan Club, is celebrating its 15th birthday on May 8, 2003!
Today - 5.478 days, 61 fanzine issues, 11 (regular) albums, hundreds of live concerts and millions of eltonfan.net page impressions later - we are still standing ... thanks to a restless Elton John and the loyalty of thousands of Elton fans from around the world. So we would like to thank Elton for his calculable steadiness and all Elton fans for their devotedness over the past one and a half decades.

Despite the recent changes both planned (e.g. the end of printed fanzine era) and unscheduled (e.g. the hacker attack at the end of March 2003) we plan to continue to serve the Elton John community in the years to come. And we hope that you will make use of our services which will become completely free of charge with the opening of the Web Member area on January 1, 2004.

As always, we would like to remind you that Hercules/eltonfan.net is a place from fans for fans. It's a community of like-minded people sharing the devotion for Elton John's music and other activities. Hence, you can contribute to the success of Hercules by contributing to this website.

Here's to the next time ...
UPDATE: Elton John announced new Broadway show
Tuesday, May 6 2003
Elton John held a press conference in New York City on May 6, 2003 to announce "an exciting new theatrical project".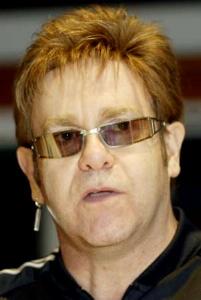 Elton John announced his collaboration with songwriter Bernie Taupin on their first Broadway musical, "The Vampire Lestat". The new musical is based on Ann Rice's character Lestat, who has also appeared in such works as "Interview with a Vampire" and "Queen of the Damned."

"It will be dark, sexy and scary, but that doesn't mean it has to be cliche," Taupin said. The project is the first production from Warner Bros. Theatre Ventures and is scheduled to hit the stage in 2005. This is Taupin's first msucial effort.

"Bernie and I have been huge fans of Anne Rice's books for a long, long time," Elton said, adding that the New Orleans-based author supported the project and had heard and approved of the music that has been composed so far.

Aside from Elton John, the production has others with Disney connections. The book is being written by Linda Woolverton, who wrote the stage version of "Beauty and the Beast," and it will be directed by Robert Jess Roth, who was nominated for a Tony award for his direction of that Disney production.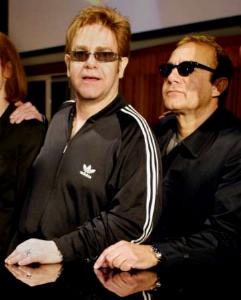 Elton said he expected all the content -- music, lyrics, and book -- to be completed by the end of September, and hoped to have a read-through in November.

The collaborators said the musical would be based on three Rice novels -- "Interview With the Vampire," "The Vampire Lestat" and "Queen of the Damned" -- with emphasis on the first two. (A movie version of "Queen of the Damned" came out last year, starring late singer Aaliyah as an ancient vampire. Neil Jordan's 1994 film version of "Interview With the Vampire" starred Brad Pitt and Tom Cruise.)

Elton said the music he was composing was for an orchestra and would have no electronic components or other modern sounds, since the books' settings largely were from a couple of hundred years ago.

"I didn't see where any modern music could possibly come in without sounding ridiculous," he said.

When asked who could play Lestat, Elton John said whoever it was would have to have charisma -- but most importantly, would have to be able to sing. "My main concern is finding people who can sing the songs properly," he said.

Broadway's last outing with vampires was the musical "Dance of the Vampires," based on the Roman Polanski movie, "The Fearless Vampire Killers." The production starring Michael Crawford closed in January after only 56 performances and a loss estimated at more than $12 million.
Elton John to be first concert at KC Stadium, Hull, UK
Tuesday, May 6 2003
Elton John is due to play at the recently opened Kingston Communications Stadium in Hull, UK, on July 19, 2003.
The additional tour date is part of his 'Solo' world tour. This concert is the first to be held at the £43.5m state-of-the-art 25,000 seater Stadium and with excellent facilities within the stadium itself, good transport links and convenient parking both at nearby park and rides and on-site, the venue is an excellent choice and unrivalled for its compact size in the North of England.

Adam Pearson, Chairman of the promoters SMC commented. "We're very thrilled Elton is to be the first to play at the KC Stadium. He's seen the stadium on TV and his representatives have been up here to take a look and they're all very impressed."

Tickets for Elton's solo concert will go on sale very shortly. For details on prices and how to get tickets visit www.kcstadium.co.uk/elton for updates.

For more tour dates, please see Elton John Tour News.
Happy birthday, Davey!
Tuesday, May 6 2003
Elton's musical guitarist and musical director for many years, Davey Johnstone, turns 52 on May 6, 2003!
On behalf of the Hercules team, the Hercules members and visitors of eltonfan.net as well as all Elton fans around the world we would like to wish him all the best for the future! Happy birthday, Davey!
Hundreds of mourners say goodbye to Nina Simone
Tuesday, May 6 2003
A civil rights activist as well as jazz diva, Simone died April 21, 2003 at her home here at age 70. Elton John sent a bouquet of several dozen yellow roses and the note: "You were the greatest. I love you."
Friends and fans bade farewell to "High Priestess of Soul" Nina Simone in this southern French town on May 2, 2003 at a funeral haunted by her mournful version of Jacques Brel's "Ne Me Quitte Pas" (Don't Leave Me).

South African singer Myriam Makeba, a long-time friend and fellow activist, was among the hundreds who packed the local Roman Catholic church. "This was not just an artist, but a fighter for freedom," she said of Simone.

Simone's only child, Lisa Celeste Stroud, starring on Broadway in the Disney production of "Elton John and Tim Rice's Aida" under her stage name Simone, led the mourners and sang a short gospel song in her mother's honor.

At another point in the service, a tape of Simone playing the piano and recalling the highlights of her turbulent life captivated the hushed congregation.

"This was an unpublished recording we found in her files," her agent Javier Collados said. "We don't know where it was recorded or when, but it suits her well."

Colladas said Simone had asked to be cremated and wanted her ashes to be strewn over several countries in Africa, a continent she got to know after leaving the United States in the mid-1970s complaining of racism there.
"So Graham Norton" on BBC America
Friday, May 2 2003
Elton will be a guest at "So Graham Norton", a chat show hosted by the outrageously rude and totally upfront Graham Norton, Britain's favorite celebrity gossip monster.
The episode will air on BBC America (BBCA) on the following dates and times:

Show: So Graham Norton
Episode: Elton John
Network: (BBCA) BBC America

Date: Friday - May 16, 2003
Time: 11:00 pm - 11:30 pm ET

Date: Saturday - May 17, 2003
Time: 02:00 am - 02:30 am ET
Elton John Charity Auction
Friday, May 2 2003
Elton John has donated a signed Versace tuxedo to be auctioned to benefit the Design Industries Foundation Fighting AIDS.
It is being auctioned on eBay right now! Place your bids at
http://cgi.ebay.com/ws/eBayISAPI.dll?ViewItem&item=2171742136&category=14433.
Elton John and Billy Joel performed in Chicago on April 30, 2003
Friday, May 2 2003
Fan report by Brendan.
First I'd like to thank everyone who wrote to me after the first fan report, it was nice talking to all of you.

I arrived at my 3rd 'Face to Face' show about an hour early, and sat down in my seats (they were to the side of the stage, behind Billy, they were very good).

The show started the same as always with "Your Song", "Just the Way You Are", and "Don't let the Sun Go Down on Me".

Billy left the stage and Elton, dressed in a light blue suit with sequins on his back (I was not able to make out the symbol it was representing). Elton did his usual set with a very good rendition of "Philadelphia Freedom", and the best "Crocodile Rock" I've ever heard. He wasn't in the best of moods, but he was cordial.

Billy then took the stage, and I can tell you this. I have seen Billy Joel four times, and this is the best I have ever seen him. "Prelude/Angry Young Man" was unbelievable, and "I go To Extremes" was one of the best I have heard.

He was also extremely talkative with the audience. At one point he said "People always ask, Billy, why don't you do an unplugged? And I answer, I'm at a piano ... I am unplugged. The only way I can be more unplugged is if I take a laxative."

The duets followed, which just the same as the other two 'Face to Face' shows I have seen were the best part of the night. "You may be Right" was the highlight of the show for me, there was alot of energy from both performers in this one.

The three and 1/2 hour concert ended at 11:00pm Chicago time, and I found myself thanking God I have one more to go. I have seen Elton three times, and Billy four times, and this was by far the best show I have been to.

If anyone has a chance to get out and see it before its over...GO! It's a great time.

Following is the complete set list of the Chicago show on April 30, 2003:



Elton John & Billy Joel


Your Song

Just The Way You Are

Don't Let The Sun Go Down On Me

Elton John & band


Funeral For A Friend/Love Lies Bleeding

Someone Saved My Life Tonight

Philadelphia Freedom

The Wasteland

I Want Love

Rocket Man

I Guess That's Why They Call It The Blues

Take Me To The Pilot

Tiny Dancer

Saturday Night's Alright (For Fighting)

Crocodile Rock

Billy Joel & band


Scenes From An Italian Restaurant

Movin' Out (Anthony's Song)

Prelude/Angry Young Man

Allentown

An Innocent Man

The River Of Dreams

My Kind Of Town

I Go To Extremes

New York State Of Mind

It's Still Rock And Roll To Me

Only The Good Die Young

Elton John & Billy Joel


My Life

The Bitch Is Back

You May Be Right

Bennie And The Jets

A Hard Day's Night

Great Balls Of Fire

Chicago

Piano Man

Elton John and Billy Joel performed in Chicago on April 12, 2003
Monday, April 14 2003 at 06:52:06


Rag Week concert for Elton John Aids Foundation
Friday, May 2 2003
The Royal Academy of Music Students' Union present a charity fundraising Rag Week for the Elton John Aids Foundation and Action Research.
In these two special concerts students, staff, alumni and special guests will perform works including Prokofiev's Peter and the Wolf, Mozart's Quintet for piano and winds and the Mendelssohn String Octet on the Academy's collection of Stradivari violins, violas and cellos.

The concerts will take place on May 12, 2003 (1.05pm) and May 14, 2003 (7.30pm) at the Royal Academy of Music's Duke Hall. Tickets for £10 (concessions £8) are available from the Academy's Box Office, tel. 44 20 7873 7300 or see http://www.ram.ac.uk.

The programme for May 12, 2003:

Prokofiev Peter and the Wolf; Britten Serenade for Tenor, Horn and Strings
Leo Hussain, conductor; TBC, narrator; Robin Tritschler, tenor; Richard Watkins, horn

The programm for May 14, 2003:

Tom Watson Fanfares on Elton John Themes; Mozart Quintet for Piano and Wind in E flat, K452; Mendelssohn Octet for Strings op 20
RAM Brass; Lunar Ensemble; Michael Dussek, piano; Alberni and Pavao Quartets
Elton loses claim over 'fake' antiques
Thursday, May 1 2003
A French court ordered Elton John to pay more than £15,000 in legal fees and compensation on April 30, 2003 after the collapse of his lawsuit against a French antique dealer who he had accused of selling him fake antique marble carvings.
Elton launched the lawsuit after experts said the four 18th-century mythological statues he had bought for around £250,000 were 20th century replicas probably worth no more than between £2,000 to £5,000.

He purchased the four 3.5ft high statues of Olympian Gods in 1996 from Jean Renoncourt, a Parisian antiques dealer, in the belief that they were sculpted by the Italian master Luigi Grossi in 1795.

But in April 2001, when Elton decided to re-value his artworks, for insurance reasons, two experts denounced the statues as fakes. In his report, the renowned specialist, Simon Yates, noted that the appearance of many similar carved statues on the market in the previous five years cast doubt on the authenticity of the statues.

But the court said that Mr Yates's report amounted to "mere allegations" and that no independent expert assessment had been requested.

M Renoncourt said: "In my view, Christies are behind this," suggesting that it was no mere coincidence that both Mr Yates and Elton's lawyer had worked for the British auction house.

"It's an open secret that whenever a millionaire starts spending money on antiques in France, the Anglo-Saxon auction houses try to discredit what they buy here to lure them back home."

M Renoncourt is suing for damages. Elton's lawyer expects his client to appeal.