ELTON JOHN NEWS ARCHIVE: April 2016
Lady Gaga and Elton partner for Macy's Clothing Line
Wednesday, April 27 2016
Think music-inspired duds, skateboards and even speakers — all in the name of love. Lady Gaga and Elton love bravery.
As a matter of fact, that's the name of their new collaboration in partnership with Macy's. It's called Love Bravery and it's spelled out like this: Gaga and Elton have come together for an exclusive fashion and accessories line that seeks to inspire while benefiting their respective charities, Gaga's Born This Way Foundation and the Elton John AIDS Foundation.

In a press release announcing the venture, Love Bravery is billed as "a high-spirited, limited-edition line of clothing and accessories that inspire compassion and combat prejudice" that will span several categories including shirts, sweats, outerwear, clutches, backpacks, scarves, beanies, keychains and pins. Oh, and there will be speakers, water bottles and even skateboards for the active set. The line, which falls under Macy's American Icon campaign, features graphic prints and designs that are said to marry both Gaga and Elton's talent and style.

Music is a big influence on many of the items, some of which feature piano prints. There are also plenty of hearts, images of Gaga's face and items emblazoned with her signature claw for all the monsters out in the world.

Love Bravery comes with further fashion cred: the line was created in collaboration with Gaga's sister, Natali Germanotta and her stylist and frequent partner (and fashion designer in his own right) Brandon Maxwell. In a statement, Gaga said: "We need to make the world a kinder and braver place where men and women everywhere are empowered to live with compassion."

Added Elton: "I love the idea of fusing who you are on the inside – your passions and dreams – with what you wear on the outside."

Now where to find all the goods. Love Bravery will be sold exclusively at Macy's starting this spring (and continuing through August 30, 2016). Gaga and Elton are putting their money where their mouths are too — 25 percent of the purchase price of their line benefits the Born This Way Foundation and the Elton John AIDS Foundation.

You can also find a sneak peek below.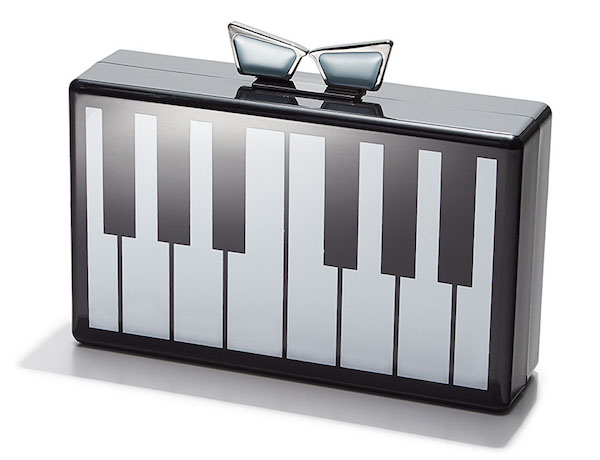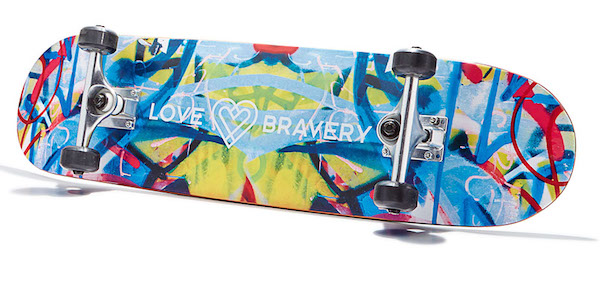 Trump wants Elton to perform at his inauguration
Wednesday, April 27 2016
Donald Trump may not have secured the Republican nomination let alone won the Presidential election, but he has already decided he wants Elton to perform at his inauguration, reports the Telegraph.
Elton's hits are frequently used at Trump rallies with "Rocket Man" and "Tiny Dancer" being particular favourites. But should he win November 2016's election, he may find securing Elton's services rather difficult given that the singer has made clear he has not given permission for his music to be used by the Republican front-runner.

A publicist for Elton made clear that he was not backing the property mogul. "Elton's music has not been requested for use in any official capacity by Donald Trump. Any use of his music should not be seen as an endorsement of Donald Trump by Elton."

Elton is one of a number of pop stars to distance themselves from the Trump campaign. Similar sentiments have been voiced by Adele, REM, Neil Young and the Rolling Stones, whose hits including "You can't always get what you want" have been on the rally playlists. A spokesman for the band said that their permission had neither been sought nor granted for their music to be played.

Mr Trump's choice of Elton is also likely to annoy some on the conservative religious right who will object to the singer's homosexuality and have already lambasted the businessman for his "New York" values. He has already come under attack from Ted Cruz, his main Republican opponent, over his opposition to North Carolina's "bathroom law", which requires transgender people to use lavatories based on their biological sex. However Mr Trump has said that transgender people should be free to use whichever lavatory they felt was appropriate.

It led to a vitriolic attack add by the Cruz campaign which accused Mr Trump of not only failing to take on the "PC Police" but being one of them.


Elton joins Adele by distancing himself from Donald Trump
Tuesday, February 2 2016 at 19:42:49


"Wonderful Crazy Year" - 1st Quarter of Results
Tuesday, April 26 2016
The "Wonderful Crazy Year" fan survey is in ts 12th week - time to bring you some first results from the first quarter of voting.
We have made a separate list for the first week ("Wonderful Crazy Night" album) as we didn't want to mix it with the other results as we are actually going to ask for your votes again at the end of the voting period.

Except for the removal of some answers by multiple voters, no more editing has been done and you can see how different albums and individual recordings have performed on the surveys. Please do not take the average scores as an absolute fact - they only give a good direction as to what the real preference of the fans is.

Please also note that although you can see the results here so far, the surveys will still stay open! That means that if your votes haven't been counted in here, you can still vote and a full analysis of all survey results will be published in the end! We hope you will answer as many surveys as you can - the more answers we get, the more accurate the results will be!

"Wonderful Crazy Year" calendar week 6

Wonderful Crazy Night album voting results:
Average score for the album (standard edition): 7,47

Average scores for the recordings:

1. The Open Chord - 7,99
2. England And America - 7,74
3. Blue Wonderful - 7,66
4. Looking Up - 7,66
5. A Good Heart - 7,58
6. Wonderful Crazy Night - 7,52
7. In The Name Of You - 7,48
8. Guilty Pleasure - 7,40
9. Claw Hammer - 7,17
10. I've Got 2 Wings - 7,15
11. Tambourine - 7,05
12. Free And Easy - 7,02
13. Children's Song - 6,23
14. No Monsters - 6,17

"Wonderful Crazy Year" calendar weeks 7-16

average scores for the albums:

1. Goodbye Yellow Brick Road 8,58
2. Madman Across The Water 8,33
3. Don't Shoot Me I'm Only The Piano Player 8,24
4. Tumbleweed Connection 8,16
5. 17-11-70 8,08
6. Elton John - 8,05
7. Honky Chateau - 7,88
8. Caribou 7,74
9. Friends - 6,62
10. Empty Sky - 6,19

average scores for the recordings:

1. Love Lies Bleeding - 9,65
2. Funeral For A Friend - 9,62
Harmony - 9,62
4. Ticking - 9,47
Your Song - 9,47
6. High Flying Bird - 9,43
Rocket Man (I Think It's Going To Be A Long, Long Time) - 9,43
8. Don't Let The Sun Go Down On Me - 9,27
9. Pinball Wizard - 9,26
10. Candle In The Wind - 9,24
Levon - 9,24
12. Mona Lisas And Mad Hatters - 9,21
13. Goodbye Yellow Brick Road - 9,19
14. Your Song [live at Hammersmith Odeon 1973] - 9,17
15. Tiny Dancer - 9,16
16. Saturday Night's Alright (For Fighting) - 9,13
17. Rocket Man (I Think It's Going To Be A Long, Long Time) - 9,11
18. Love Lies Bleeding [live at Hammersmith Odeon 1973] - 9,04
19. Funeral For A Friend [live at Hammersmith Odeon 1973] - 9,02
20. Indian Sunset - 8,96
Sixty Years On [live from 17-11-70] - 8,96
22. Sixty Years On - 8,94
23. Burn Down The Mission - 8,92
24. Goodbye Yellow Brick Road [live at Hammersmith Odeon 1973] - 8,91
25. Candle In The Wind [live at Hammersmith Odeon 1973] - 8,89
26. The Bitch Is Back - 8,88
27. Skyline Pigeon [Piano Version] - 8,85
28. Saturday Nights Alright (For Fighting) [live at Hammersmith Odeon 1973] - 8,84
29. Burn Down The Mission [live from 17-11-70] - 8,82
30. Where To Now St. Peter? - 8,78
31. Bennie And The Jets [live at Hammersmith Odeon 1973] - 8,76
Madman Across The Water - 8,76
33. The Greatest Discovery - 8,71
34. All The Girls Love Alice - 8,70
35. I've Seen That Movie Too [live at Hammersmith Odeon 1973] - 8,69
36. The Ballad of Danny Bailey (1909–34) - 8,67
Blues For My Baby And Me - 8,67
38. Come Down In Time - 8,65
39. Roy Rogers - 8,63
40. All The Girls Love Alice [live at Hammersmith Odeon 1973] - 8,61
Hercules [live at Hammersmith Odeon 1973] - 8,61
42. I've Seen That Movie Too - 8,60
43. Daniel [live at Hammersmith Odeon 1973] - 8,59
44. Bennie And The Jets - 8,58
45. Daniel - 8,57
46. Elderberry Wine [live at Hammersmith Odeon 1973] - 8,56
Friends - 8,56
48. Grey Seal - 8,51
49. The Ballad Of Danny Bailey (1909-34) [live at Hammersmith Odeon 1973] - 8,49
50. Skyline Pigeon - 8,48
51. This Song Has No Title [live at Hammersmith Odeon 1973 - 8,49
52. Honky Cat [live at Hammersmith Odeon 1973] - 8,47
Candle In The Wind [Acoustic Mix] - 8,47
54. Have Mercy On The Criminal - 8,46
55. Crocodile Rock [live at Hammersmith Odeon 1973] - 8,45
Holiday Inn - 8,45
57. Crocodile Rock - 8,43
58. Teacher I Need You - 8,42
59. Step Into Christmas - 8,40
60. I Need You To Turn To - 8,39
61. Border Song - 8,30
Sweet Painted Lady - 8,30
63. Hercules - 8,29
64. Take Me To The Pilot [live from 17-11-70] - 8,25
65. Elderberry Winde - 8,24
66. Honky Cat - 8,21
67. This Song Has No Title - 8,17
68. Country Comfort - 8,16
69. The King Must Die - 8,08
70. Take Me To The Pilot - 8,15
71. Talking Old Soldiers - 8,14
72. Bad Side Of The Moon [live from 17-11-70] - 8,13
73. Madman Across The Water [Original Version] - 8,03
74. Can I Put You On [live from 17-11-70] - 7,99
75. Amoreena - 7,97
Pinky - 7,97
Your Sister Can't Twist (But She Can Rock 'N Roll) 7,97
78. Into The Old Man's Shoes - 7,93
79. My Father's Gun - 7,92
80. I Think I'm Going To Kill Myself - 7,87
81. I'm Going To Be A Teenage Idol - 7,86
82. The Ballad Of A Well-Known Gun - 7,84
Goodbye - 7,84
84. Amoreena [live from 17-11-70] - 7,79
Honky Tonk Women - 7,79
86. Bad Side Of The Moon - 7,75
87. Love Song - 7,71
88. Michelle's Song - 7,66
89. Rotten Peaches - 7,61
90. Can I Put You On - 7,59
Dixie Lily - 7,59
Salvation - 7,59
93. Get Back [live from 17-11-70] - 7,57
94. Razor Face - 7,52
Son Of Your Father - 7,52
96. Lady Samantha - 7,50
97. Grimsby - 7,49
98. Grey Seal [Original Version] - 7,48
99. Dirty Little Girl - 7,47
Social Disease - 7,47
101. My Baby Left Me [live from 17-11-70] - 7,46
102. Empty Sky - 7,41
103. All The Nasties - 7,39
104. Sick City - 7,38
105. Mellow - 7,36
106. Cold Highway - 7,28
107. Rock And Roll Madonna - 7,27
Screw You (Young Man's Blues) 7,27
109. It's Me That You Need - 7,23
110. Texan Love Song - 7,19
111. Whenever You're Ready (We'll Go Steady Again) - 7,17
112. Amy - 7,15
113. Rudolph The Red-Nosed Reindeer [live at Hammersmith Odeon 1973] - 7,14
114. Honey Roll - 7,12
Midnight Creeper - 7,12
116. I've Seen The Saucers - 7,08
117. You're So Static - 7,05
118. First Episode At Hienton - 7,01
119. Susie (Dramas) - 6,96
120. The Cage - 6,95
121. Jamaica Jerk-Off - 6,87
122. Slave - 6,76
123. Jack Rabbit - 6,69
124. Just Like Strange Rain - 6,57
125. No Shoe Strings On Louise - 6,54
126. Seasons Reprise - 6,52
127. Sisters Of The Cross - 6,50
128. Ho! Ho! Ho! (Who'd Be A Turkey At Christmas?) - 6,48
129. Slave [Alternate Take] - 6,47
130. Gulliver - 6,44
131. Stinker - 6,33
132. All Across The Havens - 6,32
133. Western Ford Gateway - 6,25
134. Solar Prestige A Gammon - 6,23
135. Lady What's Tomorrow? - 6,22
136. Theme (The First Kiss)/Seasons - 6,11
137. Va-Hala - 6,07
138. Sails - 5,96
Variation On "Friends" - 5,95
140. I'm Going Home - 5,85
141. Thank You Mama - 5,84
142. All The Way Down To El Paso - 5,83
143. Hymn 2000 - 5,57
144. Four Moods - 5,49
145. Hay-Chewed - 5,43
The Scaffold - 5,43
147. I Meant to Do My Work Today (After All a Day in the Country) - 5,32
148. Reprise - 4,87
Elton honors Prince with touching tribute
Sunday, April 24 2016
Elton was the latest star to pay tribute to Prince, the musical virtuoso whose untimely death on April 21, 2016 shocked the world.
During his sold-out Caesars Palace show in Las Vegas on April 23, 2016, Elton took a moment to share some touching words about the music icon. He started by telling a story about a time he and Prince stayed at the same Vegas hotel. Elton would get up and leave the hotel around 8:15 a.m., just as the "Purple Rain" singer was getting home from partying the night away.

He went on to acknowledge Prince's talent, saying people like him "don't come around very often. You were a purple warrior. We loved you. We salute you," he said, before breaking into his song "I Guess That's Why They Call It The Blues" as a slideshow of Prince images played on the stage.

You can watch the video here.
Elton "devastated" by Prince's death
Thursday, April 21 2016
Elton has paid an emotional tribute to Prince, who has died suddenly on April 21, 2016, aged 57.
Elton said the "Purple Rain" singer was "musically way ahead of any of us," in a message on Instagram. "This is truly devastating news," he said, affectionately calling the late star "purple warrior" in reference to his favourite colour.

"Sang with him twice on stage. What an honour", Elton continued. Below is a clip from Elton performing "The Long and Winding Road" with Prince at London's O2 Arena in September 2007.


Clean Bandit working with Elton
Thursday, April 21 2016
Dance group Clean Bandit say they have been in the studio with Elton, recording music for their second album.
The collaboration came about after last year's Ivor Novello awards, where the group won two prizes. "We actually met Elton John at that show, and we've since been doing stuff with him, which has been crazy," said saxophone player Jack Patterson. "Grace [Chatto] wandered over to him, we were having a chat and the next thing we were in the studio. It was very surreal. A very odd day. He's very cheeky," Patterson added.

Elton will reconvene with the band "next month" to finish their collaboration, Patterson said. It is not the star's first dalliance with a dance act. In 2012, he released a remix album, Good Morning To The Night, with Australian producers Pnau. "I love electronic music," Elton told the BBC at the time. "I love it to death - but I'm a Luddite and I don't know how to make electronic music."
The Sunday Times Rich List of music millionaires
Thursday, April 21 2016
Paul McCartney and wife Nancy Shevell top the list again, with a joint fortune of £760m, which is up £30m from last year. New York native Shevell has her own fortune in the form of a £150mn stake in her father's trucking business.
"We obviously include composers like Lloyd Webber (in second position on the list with £715m) and Bernie Taupin at the bottom (49th position) who writes a lot of material with Elton John."

U2 share a worth of £500m, landing them in third position. Elton John is ranked fourth with his fortune of £280m. The Rolling Stones — Mick Jagger, Keith Richards, Charlie Watts and Ronnie Wood — have a combined fortune of £630m, making them the wealthiest band in Britain and Ireland.

The Top 10 British and Irish richest performers:

1. Paul McCartney and Nancy Shevell £760m

2. Andrew Lloyd-Webber £715m

3. U2 £500m

4. Elton John £280m

5. Mick Jagger £235m

6. Olivia and Dhani Harrison £220m

6. Keith Richards £220m

8. Ringo Starr £200m

9. Michael Flatley £198m

10. Sting £185m
Elton gives away £37m to top generosity list
Sunday, April 17 2016
Elton and JK Rowling have emerged as the most generous celebrities in The Sunday Times Giving List, with the wealthy this year making a record number of charitable donations each worth more than £1m.
Almost a fifth (178) of the 1,000 people in The Sunday Times Rich List, to be published on April 17, 2016, have donated at least £1m to charity in the past year. In total, the wealthy have given away £2.66bn in the past 12 months Elton gave £26.8m in the past year, mostly to his Aids foundations in Britain and America.

Rowling was second among the celebrity donors with £10.3m generated and donated by her two charities in the past year — the Lumos Foundation, which aims to end the institutionalising of children by 2050, and the Volant Charitable Trust, which focuses on research into multiple sclerosis, which claimed her mother's life.
Watford captain Troy Deeney: "Elton phones me if we play well"
Thursday, April 14 2016
Watford captain Troy Deeney has revealed Elton offered him words of encouragement after Quique Sanchez Flores' side knocked Arsenal out of the FA Cup in March 2016.
The Hornets travelled to the Emirates Stadium as underdogs but booked their place in the semi-finals of the competition courtesy of a memorable 2-1 victory. Goals from Odion Igahlo and Adlene Guedioura were enough to see off Arsene Wenger's side and prompted the famous musician to congratulate Deeney directly.

"He's got my number and he'll give me a call if we've done well," Deeney told the Daily Mail. "When we beat Arsenal in the quarter-final he gave me a quick call and said, 'Well done, I'm buzzing for you'. It's very surreal to have someone of that calibre speaking to me but Watford is massively dear to his heart."

Elton is a lifelong Watford fan and has previously served as chairman at Vicarage Road, where he had a stand named after him in 2014. Watford have never won the FA Cup but came close in 1984, only to fall at the final hurdle against Everton.

The Hornets face Crystal Palace in the last four this year but could meet the Toffees - who are set to take on Manchester United in the other semi-final - in another Wembley showpiece if they progress past Alan Pardew's side. And Deeney believes Elton will be in attendance if Watford's opponents do turn out to be the Merseysiders: "That was against Everton so there's a chance we could re-enact that. "If we could meet Everton, I'm pretty sure Elton would be there," Deeney added.
Breast Cancer Research Hot Pink Party
Thursday, April 14 2016
Elton paid tribute to his late friend and his son's godparent, Ingrid Sischy, at the Breast Cancer Research Foundation "Goes Wild" benefit at the Waldorf Astoria on April 12, 2016.
"I would like to pay a tribute to Ingrid tonight by mentioning her, but for all the other people [affected], because she'd hate [being talked about]. She'd say she's 'just one of hundreds of thousands of millions of people in the world who've had this disease,'" he said before performing "Tiny Dancer" for the crowd that included La La Anthony, Bethenny Frankel, Domenico Vacca, Misty Copeland, Vera Wang and Donna Karan. The event raised over $6.8 million for research.

"It's because of this wonderful organization that every year puts on this event that raises money to go to the research ... to help people not have this disease anymore, and one day it will happen," Elton said. "And so Ingrid didn't die in vain. She died to help other people, and I love her and I miss her."

BCRF chairman Leonard A. Lauder named a research grant after Elton for his 15 years of working with the foundation.
Elton in talks to join 'Kingsman' sequel
Wednesday, April 13 2016
Elton is in talks to join the cast of Kingsman: The Golden Circle, Matthew Vaughn's sequel to his 2014 action spy hit.
If a deal is made, the pop icon will join a cast that includes returning star Taron Egerton and new castmembers Julianne Moore, Halle Berry and Pedro Pascal, among others. Mark Strong is also set to return, and the production has strongly hinted that Colin Firth, who perished in the first installment, will be coming back as well.

The new movie continues the adventures of a wayward tough (Egerton) from the wrong side of London who was taken in and, a la Pygmalion, turned into the best and brightest of British operatives.

It is unclear what role Elton is taking, although he could be playing himself. Golden Circle is set to begin principal photography in London with Vaughn in the director's seat. He also co-wrote the script with Jane Goldman.

While Elton has been involved in movies before — he won an Oscar for his musical work on 1994's "The Lion King" — his acting efforts have been mostly limited to voiceovers for shows such as The Simpsons, in which he played himself, or acting as a narrator in DreamWorks Animation's The Road to El Dorado.
Watch the video for "In the Name of You"
Wednesday, April 13 2016
Lifted from "Wonderful Crazy Night", this track looks through Elton's retro-leaning lens, featuring road trips and rollercoasters.
"In the Name of You" paints a picture of the golden age of 1970s USA, while its video, premiered below, is a hazy collage of Super 8 camera footage of road trips, rollercoasters, motels and diners. Take a look at the video below.


"All Things Must Pass"
Wednesday, April 13 2016
Elton has remembered Tower Records in a new documentary about the extraordinary rise and fall of the iconic music store.
Elton visited the famous record shop in LA every week during the 1970s and revealed its huge impact on his life in the feature-length film. Clips from the documentary show Elton browsing the aisles before leaving with a stack of vinyls to enjoy.

"All Things Must Pass - the Rise and Fall of Tower Records" also includes contributions from Dave Grohl and Bruce Springsteen.



Directed by Colin Hanks, the son of actor Tom, the documentary tells the story of the legendary record house's beginnings in 1960, its rise to more than 200 stores in 30 countries, before the company was declared bankrupt in 2006. Elton staged a special concert in front of Tower Records on LA's Sunset Strip in February 2016.

Talking about what the shop meant to him, he told Sharon Osborne for AOL: "It was a huge part of my life when I came to America. I spent every Tuesday morning there when I was in LA because that's when records were released. I used to go at 9am before it was open, go through every rack, every whatever...I knew it back-to-front. I could have worked there. And I wouldn't have minded working there. It was so much fun. And when it died I was so sad. Recently they put the Tower Records thing back on the building for Colin's documentary and I thought, well David, what a perfect place to do it, in the parking lot of Tower Records. So many wonderful memories. When music was so vibrant and so important. It's not the same any more. It's changed and we have to accept that but, for me, those were the great days of music."

The documentary was premiered in the US in October last year but will be released on DVD in the UK from May 6, 2016.


Free Elton concert on AOL
Saturday, February 27 2016 at 03:01:58

Elton featured in trailer for upcoming Tower Records documentary
Tuesday, September 1 2015 at 07:35:49


Last dance for Billy Elliot in West End before going on tour
Sunday, April 10 2016
Elton turned out with his husband David to watch the last West End production of Billy Elliot The Musical before it goes on a nationwide tour.
Holding hands with David as he arrived at London's Victoria Palace Theatre, Elton entered through the VIP bar entrance with his husband, stopping only to pose for photographs. Elton is the composer of the music for the award-winning West End production, and attended the event to say his final farewells to the show.

Eleven years after the Bafta-winning film was adapted for the theatre, the cast of Billy Elliot played out their final performance at the theatre, bringing to an end an era which has seen 4,600 performances, four Olivier awards, and more than 5.25 million people flock through the theatre doors. Based on the award-winning film directed by Stephen Daldry, the show has won more than 80 international awards since its London premiere in 2005, grossing 800 million US dollars internationally in the process.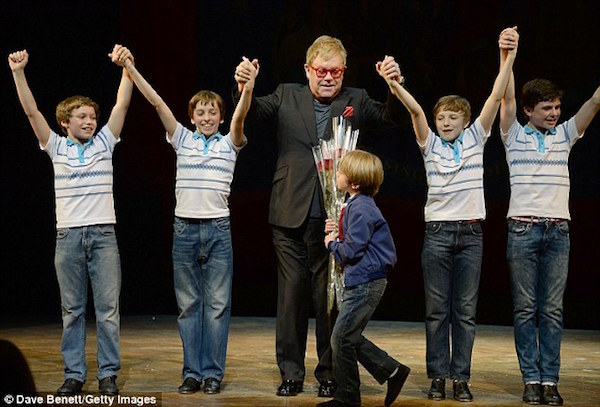 The idea to create a West End production was first brought to life in 2004, when Elton and cast were invited to perform at the Royal Variety Show. Since then, the cast have gone on to perform at Buckingham Palace and the White House, and were invited to visit Downing Street in 2011, where they met with David Cameron.

Speaking to the Billy Elliot Company before the final show, Elton described the musical's lifespan as one of "the most rewarding experiences of my entire life. The talented young performers who have become part of our Billy Elliot family have amazed me with their achievements from the very start," he said. "I am so delighted new audiences around the country will now have the opportunity to experience this extraordinary piece of work."

Lee Hall, the original writer, said the theatre had been an "incredible place to start our theatrical journey. Our show has become so much bigger than anything I could have imagined and what has been particularly gratifying is to hear how many people have been genuinely inspired by Billy's story," he said. "I can't wait to take the show on tour, especially to the North East - it's going to be an extraordinary thing to take Billy's story back to where it started."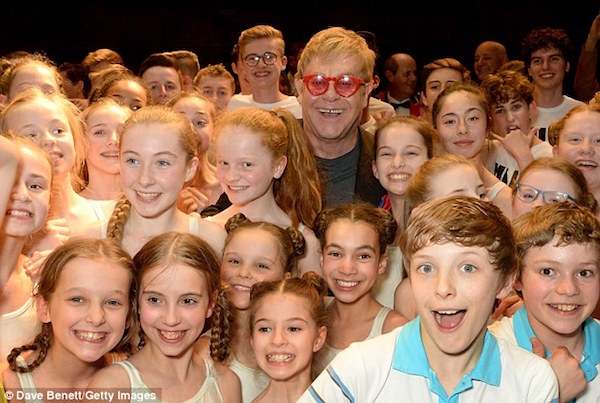 Attending the show for the last time at the Victoria, Jonathan Farr, 43, who has seen the production more than 100 times, including on Broadway and in Chicago, said it was an "emotional night". "I saw the play for the first time two years after it first began and just thought wow. Over the years I've got to know and become friends with some of the cast, the thing that struck me was just how friendly everyone is. It's like one big family."

Mr Farr added that the musical's storyline resonated with his own experiences growing up during the miners' strikes. "I lost both my parents when I was young...that part of the show I can really related to," he said. "It tells an in-depth message about the time, and having lived through that time, it really struck a chord with me."

The show will now be packed up and ferried across the country for its first UK and Ireland tour, which is scheduled to run until at least 2017.


Elton joins Billy Elliot cast for last dance
Saturday, April 9 2016 at 08:38:21


Elton joins Billy Elliot cast for last dance
Saturday, April 9 2016
Elton will join past and present cast and crew of Billy Elliot on April 9, 2016 for a special celebration as the musical dances its way out of the West End after 11 years.
Elton, who composed the music for the show based on the hit film, will be joined by his husband David Furnish, the show's writer Lee Hall and its director Stephen Daldry. Dozens of the 42 actors who have played the title role are expected to return for the final curtain, plus other former cast members and Easington Colliery Band from the pit village in the North-East where the story is set.

Daldry said the tale of the striking coalminer's son with dreams of becoming a ballet dancer was always "a very personal" one for him. He said: "I think it's a lot about sons and fathers and the respect and love you want from your father that a lot of men don't feel they get, and certainly that was true for Elton. And it is a show about loss — about the loss of a mother, but also about the loss of a community and an industry and the destruction of a manufacturing industry, which we are seeing right now with [steel town] Port Talbot. It's still something that resonates in-credibly deeply in this country and the miners were working class heroes in a way. It was one of the largest industries in the country, hundreds and thousands of men in 1984, just wiped out."

The show is going on tour after 4,600 performances at the Victoria Palace Theatre, which is undergoing refurbishment. Daldry, nominated for a best director Oscar for the film, said it had found its "perfect place" on stage.

He credited Elton and David Furnish with that, adding: "They were at a small reception after our first ever screening and David said to Elton, 'This could be a stage show'. As soon as Elton started working on his songs we were persuaded that it might have not only a different but a better life on stage."

The April 9, 2016 performance will feature all the current 10 child actors who play Billy and his friends Michael and Debbie, in what Daldry called a "sort of extended tag team". He said: "We wanted to celebrate all the kids, so we switch the kids from scene to scene and sometimes in the middle of scenes — and sometimes, much to the confusion of the adult cast, we'll use all four at the same time."

The show will raise money for the East Durham Trust, a charity which combats deprivation in the Easington area.
Wonderful crazy night?
Friday, April 8 2016
A lot of things are currently surfacing around the world exclsuive story published by the National ENQUIRER.
Following are a few links to some of those stories. We will let you do the math:

"Elton John Betrayed By Cheating Husband!"
Thursday, April 7 2016 at 06:03:32


"Elton John Betrayed By Cheating Husband!"
Thursday, April 7 2016
The American supermarket tabloid National ENQUIRER is reporting as a "world exclusive" that Elton is facing a devastating marriage crisis amid shocking charges David has cheated on him — including with a gay ménage à trois!
In a blockbuster world exclusive interview, a handsome London businessman has told The National ENQUIRER that Elton's husband David was his lover for nearly three years — and they carried on their sordid affair while Elton and his two young sons were at home!

If you must, pick up The National ENQUIRER for more explosive details — on newsstands from April 6, 2016.
David clears up comments on sharing Elton's title
Wednesday, April 6 2016
David took to Instagram in order to clear up claims that he said he deserved a title to accompany that of his husband, Sir Elton John.
He was reported to have told the Daily Mail that the husband of a man who has received a title through the Queen's honors system should also receive a title. <"The reality is, if a woman is married to man with a title, she gets a title," David said during the interview. "I think everybody should have the same opportunities and the same privileges and the same honors...I haven't thought about what would be an appropriate designation for the husband of a Sir."

Under current UK legislation, the wife of someone who has been knighted would become a Lady, but no such title exists for the husband of another man who has received a title.

"My conversation has been twisted and distorted in an attempt to paint me in an unflattering light. At no point did I ever say that I personally wanted or deserved any title," David wrote on Instagram. "My comments were that all men and women should be treated equally in our society and that should apply to our Honours System as well."


Sir Elton and Lady David?
Monday, April 4 2016 at 07:00:30


Wunderbar verrückte Nacht
Tuesday, April 5 2016
Ever wondered what Taupin's lyrics and Elton's songs would sound like in German? Well, here's your chance to find out.
Long-time Elton fan Mireille Herz has translated all songs from Elton's current album "Wonderful Crazy Night". Check it out:

Wunderbar verrückte Nacht
(Wonderful Crazy Night)

Eiswürfel in deinem Nacken
Ein warmer Wind weht über den Parkplatz
In jedem Auto spielt das Radio
Fühlte sich das nicht an, als wären alle Uhren angehalten

Der Calypso-Mond hat uns gerade verzaubert
Wir griffen nach dieser Magie nur weil
Wir uns erinnern würden und nie vergessen
Was für eine wunderbar verrückte Nacht das war

Manche Dinge vergisst man nicht
Manche Dinge wirken nach
Eine wunderbar verrückte Nacht wie diese
Weckt Erinnerungen, lässt dich nicht los
Wenn du mich eines Tages fragst
Nach dem Schlüssel zur Liebe
Werde ich sagen: diese wunderbar verrückte Nacht
Was für eine wunderbar verrückte Nacht es war

Weite Kleidung und ein kühler, kühler Drink
Ein Geruch nach Fett vom Hähnchenstand
Nur ein letztes Mal brennende Herzen
Jeder bricht einen Hühnerknochen

Wir haben den Ort gefunden, wo wir es fühlen
Wir wussten, wo wir dran sind
Die Sterne oben sagten uns die Zukunft voraus
Braucht nicht jeder so eine Nacht


In Deinem Namen
(In The Name Of You)

Ich hatte einen Penny in meiner Tasche
Und einen Dollar in meiner Hand
Aber ich würde es in deinen Hut werfen
Wenn du eine Ein-Mann-Band wärst

Wenn ich eine Million verdienen könnte
In einer Fernsehshow
Oder beim Roulette
In einem großen, tollen Casino

Ich würde losgehen und es tun
Wenn ich nur wüsste was
Ich könnte losgehen und es einfordern
In deinem Namen
Welche Worte ich auch wähle
Welche Tricks ich auch anwenden würde
Ich würde es schaffen, es einzufordern
In deinem Namen

Ich habe einen Lieblingshut
Mit einem Schlangenleder-Band
Und wenn du etwas Schatten brauchst
Dann werde ich ihn in deine Hände legen

Zum Grunde des Ozeans
Würde ich selbstverständlich tauchen
Um die älteste Auster zu finden
Mit der größten Perle drin

Ich würde Land beanspruchen
Ich würde eine Melodie einfordern
All das unerforschte Territorium
Da draußen hinter dem Mond


Klauenhammer
(Claw Hammer)

Du harrst aus, du bist schwer zu lesen
Du bist ein Kind des 21. Jahrhunderts
Du bist blitzschnell, für hohes Tempo gebaut
Ein schweigsamer, moderner Verstand

Ein Architekt großer Romantik
Du bist ein Meister der Tarnung
Du bist in deinem Haus aus Wachs eingeschlossen
Wartest nur auf das Feuer

Du bist zugeknöpft, komplett zugenäht
Du bist eine archäologische Seele
Die kalte, harte Wahrheit beweist nur
Was wir schon wussten

Man braucht einen Klauenhammer, oh mein Gott
Um durchzudringen und deine Wände niederzureißen
Um deine Lippen zu lösen, deinen Kiefer zu lockern
Man braucht einen Klauenhammer, oh mein Gott

Sieh uns an, wir werden benutzt
Die total blöd Überraschten
Warten darauf, dass du ihn mit uns teilst
Den Mythos hinter den Lügen

Komm raus, wirf uns einen Knochen hin
Wir wollen deine Absichten wissen
Bist du eine Fälschung, verdammt-noch-mal
Oder bist du die Mutter der Erfindung


Wunderbares Blau
(Blue Wonderful)

Jeder Atemzug ist irgendwie ein Gebet
Ich atme ein, ich atme aus, ich atme nur
Und du bist so gut, Wunderbares Blau
Wunderbares Blau, für mich
Als würde ich in deinen Augen schwimmen
Ich springe rein, ich tauche tief, ich schwimme nur
Und ich verliere mich in dir, Wunderbares Blau
Wunderbares Blau, noch einmal

Weißt du nicht, dass ich dir folgen werde, wo du hingehst
In deinen Fußstapfen finde ich meine eigenen Füße
Ich bin so abhängig vom Blues
Ich brauche nur zwei Arten von Blau

"Yesterday", dieser Song von einem Anderen
`65, Sommer, lange her
Lange bevor du kamst, Wunderbares Blau
Das Wunderbare Blau, das ich kenne
Alter ist etwas, das ich einfach hinter mir gelassen habe
In der Vergangenheit, weit weg, es war einmal
Aber du bist die Gegenwart, mein Wunderbares Blau
Wunderbares Blau für mich

Geh hin, wo du willst, wann du willst
Lass nur den Sturm dich nicht wegreißen
Bleib nah bei dem Licht, das dich nach Hause bringt
Häng nicht im Wind herum


Ich habe zwei Flügel
(I've Got 2 Wings)

Ich bin Pfarrer Utah Smith
Ich habe zwei Flügel zum Fliegen
Sie sind vielleicht aus Papier
Sie erreichen vielleicht nie den Himmel
Aber ich glaube an die Gnade
Ich glaube, dass die Menschen gut sind
Und wenn alle zwei Flügel wie ich tragen würden
Dann hätten sie die Chance, das auch zu sein

Ich bin Pfarrer Utah Smith
Ich wurde in Cedar Grove geboren
Das ist in Louisiana
In einer armseligen, unbefestigten Straße
Ich fand meine Berufung früh
Brachte den Wert von Rechtschaffenheit in die Welt
Und in einem Zelt irgendwo im Süden
Schuf ich mir meine klingende Kirche

Ich war ein Licht für die Lebenden
Und ich sprach von Frieden und Liebe
Mit zwei Flügeln und meiner alten Gibson
Kaufte ich den Segen von oben
Nur ein Herzschlag aus der Vergangenheit
Aber ich kam von Papierflügeln
Endlich zu den echten

Ich bin Pfarrer Utah Smith
Ich nehme alle, wie sie sind
Ich war der erste Mann im Talar
Der eine Gitarre einstöpselte
Liebe war mein Erlöser
Das habe ich von Anfang an gefühlt
Der Heilige Geist wurde heraufbeschworen
Vom Klang meiner Gitarre

Ich liege schon lange im Boden
Mein Grab ist nicht markiert
Aber ich lebe heutzutage woanders
Dank der Seelen, die ich gerettet habe
Ich bin weit gereist, ich bin lang gereist
Drei Akkorde für den Herrn
Bis zu dem Tag, an dem er mich nach Hause holte
Um seine große Belohnung zu erhalten


Ein gutes Herz
(A Good Heart)

Scheu dich nicht reinzukommen
Noch näher, mein lieber Freund
Rutsch nicht aus, stolpere nicht über das Leben
Ich werde der Mond in deinem Leben sein

Hab keine Angst vor all meinen Jahren
Was du siehst oder was du hörst
Es gehört alles dir und nur dir
Du kannst es nehmen, also nimm es mit Nachhause

Oh, ein gutes Herz ist Teil davon
Dieser einfach gefühlvoll warmen und sanften Liebe
Dieser Art Liebe, die du bisher nicht kanntest
Oh, ein gutes Herz von mir an dich

Natürlich hat es ein oder zwei Mal gekracht
Aber er und ich, wir haben uns durchgekämpft
Ich habe sie kommen und gehen sehen
Manche gingen schnell vorbei, manche gingen sehr langsam

Also nimm die Chance wahr und nimm dir Zeit
Lies in meinem Gesicht zwischen den Zeilen
Eine wirklich gute Liebe und ich liebe dich
Mein Herz und ich, das tun wir


Ich schaue nach oben
(Looking Up)

Ich habe herausgefunden, was ich falsch gemacht habe
Das Drehbuch, dem ich folgte, war schrecklich lang
Zu viel Handlung, zu wenig von mir
Ich spielte korrekt, machte zu wenig Theater

Ich trug die Welt auf meinem Rücken
Lasst mal jemand anderen diese Lücke ausfüllen
Nur weil ich sagen konnte
"Es ist mein Leben, macht es auf meine Art"

Jetzt schaue häufiger nach oben als nach unten
Die Aussicht ist beim zweiten Mal deutlich besser
Zu viel von mir war in den Schatten verborgen
Ich schaute nach oben und fühlte, wie sich meine Füße vom Boden hoben

Ich male das Leben mit breiterem Strich
Das Lachen kommt so leicht wie die Witze
Heutzutage denke ich, dass
Es Zeitverschwendung ist, zurück zu blicken

Man versenkt einen Eimer in einem Brunnen
Da unten ist es dunkel und tief
Man kurbelt, er kommt nach oben
Das Wasser ist kristallklar


Geheimes Vergnügen
(Guilty Pleasures)

Gib es mir, greif über die Linie
Lass uns darüber sprechen, sag es mir noch einmal
Was willst du, was, glaubst du, wirst du finden
In meinem alten Herzen

Komm raus, wenn du spielen willst
Der Regen ist nach Osten gezogen, das Gewitter hat abgedreht
Wirst du dich je entscheiden, wirst du bleiben
Diesen Preis zahle ich dafür, dass ich dich liebe

Fällt dir nicht auf, dass das Geschäft besiegelt ist
Willst du mich dich nicht lieben lassen
Ich sehe keine rauchende Pistole
Und ich werde dich nicht richten

Was siehst du, wenn du mich ansiehst
Eine Maßanfertigung
Bin ich die Liebe deines Lebens, meine Liebe
Oder nur ein geheimes Vergnügen

Ich wanderte herum und suchte nach einem Hinweis
Suchte die Welt ab, das habe ich getan
Wo ich war und was ich durchgemacht habe
Ein Trampelpfad, um meinen Weg zu dir zu finden

Ich kann nicht pfeifen, konnte ich nie wirklich
Sang ein Lied, von dem ich dachte, du verstehst es
Das macht man so, wenn man denkt, man sollte es tun
Ergib dich als hättest du immer gewusst, dass du das tun würdest

Hinhalten oder immer noch am Zweifeln
Was wird es sein
Im Leben nicht
Oder du kannst nicht genug von mir bekommen


Tamburin
(Tambourine)

Es fühlt sich an wie fliegen, wenn ich dein Gesicht sehe
Ich werde aufgeladen mit der Kraft von Amazing Grace
Das mit einem Kippschalter eingeschaltete Signal auf dauerhaftem Grün
Wie meine Handfläche auf einem Tamburin

Dumme Felsen füllen meinen armen Kopf
Sagtest du gerade das, vom dem ich dachte, dass du es sagtest
Die erste Katze bekommt die Sahne
Und klopfe einen kleinen Rhythmus auf meinem Tamburin

Schlag es in der Mitte, wirf es in die Luft
Es ist mir egal, du kannst mich überall spielen
Ich rollte und rasselte, als ich keinen Dampf mehr hatte
Du lässt meinen Kopf klingeln wie ein Tamburin

Ein angeschnittener Ball, den ich nicht sah
Eine Flutwelle, die einen trockenen Bach auswäscht
Ich ging schlammig rein, aber kam sauber heraus
Wie ein Baptist, der ein Tamburin schlägt

Du bist ein sich im Mondlicht drehender Zigeuner
Die Becken blitzen im Feuerschein
Ich bin im freien Fall in einen Traum
Mein Kopf und mein Herz schlagen wie ein Tamburin


Der offene Akkord
(The Open Chord)

Du musst darüber nachdenken
Du musst dir etwas wünschen und bis Zehn zählen
Es ist nur ein staunendes Gefühl
Ich sehe eine neue Richtung, wenn ich durch die Linse schaue
Diese Aktion startete zu früh
Ich hörte einen Song in meinem Kopf und schrieb ihn nieder
Er kam von nirgendwo
Ich fühlte eine neue Wahrnehmung, wenn ich dich durch die Stadt fuhr

Du bist ein offener Akkord, den ich den ganzen Tag spielen will
Ein neuer Besen, der die Szenen aufkehrt, die ich nicht mehr spiele
Der die Ecken säubert, die Hörner stutzt
Die der Teufel mich den ganzen Tag tragen ließ
Du bist ein offener Akkord, den ich den ganzen Tag spielen werde

Du wirst einige Veränderungen erkennen
Ich muss mich zwicken, um es zu glauben
Jeder verbirgt etwas
Aber mir ist klar, dass du Magie in deinem Ärmel hast
Manche brauchen Schutz
Wenn ein Gefühl dich verfolgt
Ich brauche immer die Stille
Von dem Blitz, den du mit neuem Klang zum Knistern bringst

Ich saß herum und wartete
Auf einen Funken und er erhellte die Nacht
Bevor ich viel älter werde
Will ich das Vergnügen haben, dich im Licht zu sehen
Ich stehe neben dir
Die Hand auf dem Herzen und sage ein Gedicht
Liebe ist nichts für Feiglinge
Es ist befriedigend zu wissen, dass du da bist


Frei und leicht
(Free And Easy)

Ich habe jemanden mit starkem Willen, der mich liebt
Hier abseits des Highway gut versteckt
Müssen es nicht herausschreien, wir leben hier in Stille
Abseits von den Menschen, die den ganzen Tag schlafen

Ich lebte ein schnelles Leben, ging Risiken ein
Auf meinem hohen Ross ritten alle
Rundherum waren zu viele Esel
Schliefen am Lenker und bestimmten die Show

Aber jetzt bin ich frei, frei und leicht
Freiheit ist ein Kinderspiel, Freiheit ist Trend
Ich wälze mich herum und herum
Und ich will da sein, wo du heute Nacht bist
Wo du heute Nacht bist

Meine komplette Lebensweisheit ist in der Stadt geblieben
Ich gab klein bei und wanderte in dein Herz
Als es aus dem Himmel am wenigsten zu erwarten war
Stieg das Mondlicht hinab in die Dunkelheit

Weil du den Staub von einer Uhr ohne Zeiger geblasen hast
Hast die Uhr gestellt und mir deine Zeit geschenkt
Ich lebe jetzt besser, weil ich frei und leicht bin
Frei von der Vergangenheit, die ich hinter mir gelassen habe


England und Amerika
(England And America)

Ich hatte schöne Zeiten, als ich von Bord sprang
Und mich an der Küste zeigte
Wir mussten nur mit Kleingeld über die Runden kommen
Ein bisschen Schmiergeld, damit wir rutschen konnten
Gebt uns einen Zentimeter und wir nehmen einen Kilometer
Und drücken uns unter der Tür durch

Wir fingen ein paar Große, zogen sie an Land
Und hingen sie zum Trocknen auf
Von kleinen Fischen bis zu größeren Dingen
Ein Willkommens-Schubs, eine leere Schaukel
Wenn man uns die Gelegenheit gab, sangen wir
Und sahen die Welt vorüberziehen

Und ich versuchte mir Zeit zu nehmen
Wieder aufzustehen, mich festzuhalten und zu klettern
In die Arme, wo ihr mich immer finden werdet
In England und Amerika

Festhalten fühlt sich gut an, nicht loszulassen
Das Sprungnetz hängt immer noch unten
Und wenn ich falle, ist es gut zu wissen
Es gibt England und Amerika

Wir zeigten unsere Wurzeln ab und zu
Und benutzten sie, um sie entfachen
Unsere wildere Seite sollte uns weiterbringen
Mit Ziehen und Drücken und beim Loslösen
Eine Mischung aus Rot, Weiß und Blau
Zog sich mitten durch unser Leben
Billboard Greatest of All Time - Hot 100 Artists
Tuesday, April 5 2016
These all-time rankings are based on actual performance on the weekly Billboard Hot 100 (from its launch on Aug. 4, 1958 through Oct. 10, 2015) and Billboard 200 (from Aug. 17, 1963 — when we combined our two leading pop album album charts for stereo and mono releases into one all-encompassing weekly chart — through Oct. 10, 2015).
Titles are ranked based on an inverse point system, with weeks at No. 1 earning the greatest value and weeks at lower rungs earning the least. Due to changes in chart methodology over the years, eras are weighted differently to account for chart turnover rates over various periods. Artists are ranked based on the combined point totals, as outlined above, of all their Hot 100 or Billboard 200 chart entries.
THE BEATLES

MADONNA

ELTON JOHN

ELVIS PRESLEY

MARIAH CAREY

STEVIE WONDER

JANET JACKSON

MICHAEL JACKSON

WHITNEY HOUSTON

THE ROLLING STONES
Elton to appear on 'Nashville'
Tuesday, April 5 2016
Elton is set to appear as himself in an upcoming episode of the ABC country music drama, it was announced on April 4, 2016.
He will perform alongside up-and-coming singer and songwriter Gunnar (Sam Palladio) in the May 18, 2016 episode of the series, which serves as the penultimate episode of season four.

"Nashville", which follows several fictional country music stars, has welcomed several real hit-makers in years past, including Brad Paisley, Kellie Pickler, Florida Georgia Line and Sara Evans. Kesha, Kelsea Ballerini and Thomas Rhett are all set to appear as themselves this season.

This is a rare scripted series role for Elton, who most recently appeared on Lady Gaga's 2013 Christmas special, which also aired on ABC.

"Nashville" airs Wednesdays at 10 p.m. on ABC.
Sir Elton and Lady David?
Monday, April 4 2016
His marriage to Elton was deemed a triumph for equality when, two years ago, David and Elton became one of the first gay couples to legally wed in the UK.
But now David has claimed it's unfair that he was denied a noble title when the couple exchanged their vows, reports the Daily Mail. He claims that not receiving a title when he married Elton, who was knighted in 1998, is a form of 'discrimination' because a woman in the same situation would be known as 'Lady'.

"I am for 100 per cent equality across the board for everybody, in all walks of life," David tells the Daily Mail. "So the designation of a title is an example of something we need in order to get there. The reality is, if a woman is married to man with a title, she gets a title. I think everybody should have the same opportunities and the same privileges and the same honours. I think if we could just level the playing field in life as much as possible, then we'd all be in a much better place."

Elton converted his eight-year civil partnership with David into a marriage in December 2014, just months after gay marriage was legalised in the UK. Guests at the ceremony, held at their estate in Windsor, included David and Victoria Beckham, Elizabeth Hurley and Burberry chief Christopher Bailey.

But while gay marriage is now legal in the UK and the U.S. — where the couple also reside with their two sons, Zachary, five, and Elijah, three — there is no system by which a male can gain a title when he marries a knight.

This discrepancy does not just affect gay couples, but also heterosexual couples, for when a man marries a titled woman — such as a dame or princess — his title also remains unchanged. David, however, has not yet decided which title he would like. "I haven't thought about what would be an appropriate designation for the husband of a Sir," he adds. "I don't really understand the history of titles and the aristocracy in this country that much anyway. It's not out-dated; it's a special thing when it goes to the people who have really earned it."
UPDATE: 70-70-70
Saturday, April 2 2016
Elton has announced a new project, titled "70-70-70", which will kick off on Januay 14, 2017, i.e. seventy days before his 70th birthday.
We don't know whether Elton will want to adopt the idea, but for now this has been an April fool's joke. But the survey is for real, so keep on voting over the weeks to come.

The idea is for Elton to count down the last seventy days to his big birthday on March 25, 2017 by performing one of his songs from the Seventies every day. These live performances are expected to be streamed via the internet. They will also be archived for on demand viewing later on.

As for selecting the songs to be performed and the respective order, Elton has hinted that he will also take into consideration the results from the currently running Elton Fan Survey "Wonderful Crazy Year" on eltonfan.net.

The survey started early February 2016 with a new survey being released every week. It is currently focusing on Elton's album releases from the Seventies, in other words now is the time to get involved and to place your votes. Simply click the banner below.





Voting for the last album from the Seventies, "Victim of Love", will open in week 23/2016, i.e. on June 5, 2016. Elton will be performing shows in Germany at that time and we plan to deliver the interim poll results to him before one of these shows.