ELTON JOHN NEWS ARCHIVE: April 2014
Elton at the Hot Pink Party 2014
Tuesday, April 29 2014
As the face of Estee Lauder's breast cancer campaign, she needed to pick an distinctive gown to wear to Monday night's Breast Cancer Foundation's 2014 Hot Pink Party.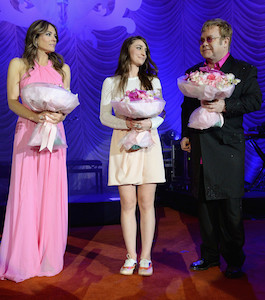 And Elizabeth Hurley proved she was well up to the task, arriving at the Waldorf Astoria Hotel in new York City sporting a floaty baby pink halterneck gown which showed off her very svelte figure. She happily posed on the pink carpet at the event with designer Donna Karen and Estee Lauder chairman Leonard Lauder.

Hailee Steinfeld was also at the event sporting a black and white wrap dress teamed with bright pink purse and matching lipstick while 30 Rock star Katrina Bowden wore a striking red and fuchsia sleeveless gown.

Josh Groban sported a smart black tie and suit complete with pink ribbon while Sara Bareilles sported a pretty white crocheted sweater dress and designer Vera Wang went for an edgy black number

Earlier, Hurley had urged her followers to have their 'annual mammogram', tweeting a snapshot of herself in the Evelyn H Lauder Breast Center where she went for her check up. 'Breast cancer is 95 per cent curable if detected early @BCRFcure @BCAcampaign @EsteeLauder,' she wrote.

She went on to elaborate about the charity gala, tweeting: 'In NY to fund raise for breast cancer charity @BCRFcure with @BCAcampaign. Big gala tonight with the fabulous Elton John.'

Breast cancer is a cause close to Hurley's heart after she lost her beloved grandmother to the disease in 1992. In a past interview, she said: 'She was 75 when she found a [breast] lump, and she was too scared to tell anyone about it. 'I think she was hoping it would go away if she ignored it. At that time [in 1987], breast cancer was a dirty word that was only whispered. Today, we shout about breast cancer from the rooftops.'
Elton spends $18,000 on custom shoes
Tuesday, April 29 2014
Elton treated himself to quite a birthday present last month, reports Life&Style magazine.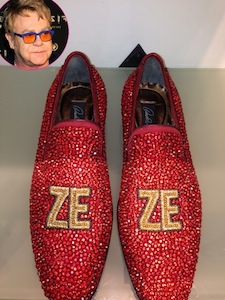 Life & Style sat down with husband and wife shoe-designer duo Donald J. Pliner and Lisa Barbernell-Pliner of Donald & Lisa Signature Collection Shoes — and they revealed the crooner bought some of their custom kicks. "He came ito our Las Vegas store and asked us to make a special shoe for him," Donald reveals

And it was a special pair indeed — the singer, 67, wanted his sons' (Zachary and Elijah) initials to be featured on the glitzy loafers. "He has two adopted sons and he gave me their initials," the designer tells Life and Style, "and, of course, the [shoes are] red because he's known for the red piano, so we did it in the red crystals with the letters 'ZE'."

The handmade shoes retail around $1400. Donald explains they are encrusted with rare beads imported from the Czech Republic. But Elton didn't leave the store with just one pair — Elton ended up spending $18,000 on a fresh collection of shoes.

"He bought 20 pairs. He bought 13 that day and then came back," co-designer Lisa says, adding, "He's been a big fan of the brand since the 1970s!"
Tom Hardy is wearing Elton's old clothes
Tuesday, April 29 2014
To play Elton John in the upcoming film "Rocketman," Tom Hardy has been wearing the singer's old clothes.
"When I play a real person, I like to have bits of them," he said at a Cinema Society screening of his latest movie "Locke."

"Since I can't take physical body parts and sever those, I try and grab as much 'kit' off them as possible." He joked, "Then you can sell it on eBay."

Hardy further revealed he only learned to drive at 30 because, "I had to take my ex … to the hospital to have [our son] Louis."


Elton to appear in "The Secret Service"
Sunday, April 27 2014
According to imdb.com Elton, Adele and David Beckham are rumoured to appear in the action thriller "The Secret Service", which will hit US movie theatres on October 24, 2014.
The movie, which is also rumoured to feature Taylor Swift and Lada Gaga, is currently in post production. Confirmed members of the cast include Samuel L. Jackson, Colin Firth and Michael Caine.
Tom Hardy on "being" Elton
Thursday, April 24 2014
In an interview with Wall Street Journal actor Tom Hardy is talking about his upcoming roles and acting inspirations.
After "Mad Max: Fury Road" he'll be in an adaptation of the videogame Splinter Cell. And he's just finishing "London Road," a musical. "It's a little bit of a warm-up for Elton John," he says.

Steve Hamilton Shaw, a producer of the Elton John biopic "Rocketman," says it will be a musical look at Elton's emergence, "coming out of rehab and going from there. The direction we felt we had to go was not somebody who you felt was playing Elton. He had to be somebody who was becoming Elton. For us there was really nobody better at delivering that right now than Tom. He was kind of the only name on our list."

Does this mean Tom Hardy will be singing Elton John classics? "Yeah, I hope so," the actor says. "Otherwise I'll have probably failed, right? But that's terrifying me. I can't hold a tune to save my life. God knows how I'm going to do that. But then I couldn't cage fight before I'd gotten in with 'Warrior.' And I still can't. I'm not supposed to be a cage fighter. I'm only playing one."
Poll: Your favorite cover track from GYBR (2014)
Monday, April 21 2014
Over the past month more than 500 fans took part in the latest Hercules Poll. The final results are in now.
The question we asked was "What is your favorite cover track from the GYBR 40th Anniversary release?"

Harmony (Zac Brown Band) 21.6%

Candle In The Wind (Ed Sheeran) 15.8%

All The Girls Love Alice (Emili Sande) 12.2%

Grey Seal (The Band Perry) 12%

Sweet Painted Lady (John Grant) 10.4%

Goodbye Yellow Brick Road (Hunter Hayes) 8.2%

Your Sister Can't Twist (But She Can Rock And Roll) (Imelda May) 7.1%

Saturday Night's Alright For Fighting (Fall Out Boy) 6.2%

Bennie and the Jets (Miguel) 6%
Bright Light Bright Light set for big city tour with Elton
Monday, April 21 2014
Welsh musician Bright Light Bright Light picked for prestigious support slot on Elton John UK and European tour.
He's the Welshman from the small village of Crynant who has been taken under the wing of one of the biggest names in rock 'n' roll. Bright Light Bright Light – aka Welsh musician Rod Thomas – was named as the support act for Elton's forthcoming UK and European tour, which means he will be playing the biggest shows of his life at some of the largest arenas both home and abroad.

The tour announcement comes after he pulled off something off a masterstroke by teaming up with the music legend on his new single - "I Wish We Were Leaving." Thomas is a close friend of the star – a relationship that can be traced back years.

"Elton John and I have been friends for quite a while, actually," explained the singer, who grew up in the village which is near Neath. "A couple of years ago I was managed by a company that Elton John owned. When he heard that the album I released in 2012, "Make Me Believe In Hope," was coming out – he rang me and said that he loved it."

And the pair have since stayed in touch with Thomas, who is now based in New York, believing that the piano man was perfect to duet with on his new track – part of a five song EP, which was released recently. "I kept hearing his voice on the track. In time I played him 'I Wish We Were Leaving' and he added his vocals. Although it wasn't written as a duet, I love that his voice taking lead in the second verse is a reminder that every relationship has two sides and two voices. It's the hardest secret I've had to keep, and I'm very thrilled," he added.

For Elton it also meant working outside of his comfort zone.
"Working with Bright Light Bright Light was a challenge for me as I love electronica but am quite ignorant on the recording process," revealed Elton. "I had to sing in a completely different way which I really enjoyed. I think that the combination of our voices is ethereal and beautiful."

Thomas releases new album "Life Is Easy" in July 2014. Find out more at www.brightlightx2.com.


Bright Light Bright Light interview: 'Elton John duet blew my mind'
Friday, April 11 2014 at 05:34:08


AIDS activist Scott Campbell speaks out
Tuesday, April 15 2014
In this exclusive audio interview Emmy Winner Charlotte Robinson host of OUTTAKE VOICES™ talks with Scott Campbell, Executive Director of the Elton John AIDS Foundation which has been identified by Funders for LGBTQ Issues as the largest funder of programs for black lesbian, gay, bisexual, transgendered and queer individuals.
EJAF founder Elton John stated, "We are immensely proud to be recognized by Funders for LGBTQ Issues for our work focused on the needs of black LGBTQ communities. At the Elton John AIDS Foundation, we see the fight for equality for black Americans and LGBTQ people and the effort to achieve a world without AIDS as one and the same, because racism and homophobia are major drivers of the epidemic." Black Americans represent only 13% of the population but account for 46% of people living with HIV in the United States. Outtake talked to Scott about addressing this alarming statistic and his spin on our LGBT issues.

When asked what his personal commitment is to LGBT equality Campbell stated, "I think that every person should care about each other. Whether that's in our families, our communities, our societies, we have an obligation to think about others, not just ourselves. I really think that it is the basis of all civil and human rights but I think it's also interesting to point out that in the US we have a constitution and laws and these provide certain rights and recognition on issues that range from marriage and adoption all the way to protection from violence and recently with the whole discussion on healthcare reform and just healthcare in general, the US has started to define a right to healthcare. The US Supreme Court says that people shouldn't be discriminated against because of who they love or because of their gender. So to me that's sort of my perspective on LGBTQ civil rights but civil rights in general. That's the kind of thing that I would be committed to both personally and certainly on behalf of the Foundation."

The Elton John AIDS Foundation believes that AIDS can be beaten. They act on that belief by raising funds for effective programs and policies and also by speaking out with honesty and compassion about the realities of people's lives. Sir Elton John created EJAF over twenty years ago, first in the United States in 1992 and then in the United Kingdom in 1993. The two foundations together have raised more than $300 million over the past two decades to combat stigma, prevent infections, provide treatment services and motivate governments to end AIDS. The U.S. foundation focuses its efforts on programs in the United States, the Americas and the Caribbean, while the U.K. foundation funds HIV-related work in Europe, Asia, and Africa.

AUDIO LINK:
http://voices.outtakeonline.com/2014/04/aids-activist-scott-campbell-speaks-out.html
Pharrell Williams explains full meaning behind son Rocket's name
Tuesday, April 15 2014
Oscar-nominated hip-hop star Pharrell Williams named his son Rocket Ayer to honour his favourite musicians, Stevie Wonder, Elton John, Herbie Hancock and Roy Ayers.
The Happy hitmaker reveals he and his wife, model/designer Helen Lasichanh, wanted to give the five year old a name that would symbolise the success they hope he will have in life, while also paying tribute to Williams' pop icons. In a new interview with TV titan Oprah Winfrey, he says, "In the same way that the Indians name their children like behind a force or an animal or an element, we named him after a manmade machine that was meant to go up. Meant to ascend.

"And metaphorically, it was because of, you know, Stevie Wonder's 'Rocket Love', Elton John's 'Rocket Man' and Herbie Hancock's 'Rocket'. All of my favourite musicians. And his middle name is not Man. It's Ayer after Roy Ayers."
And ferris wheels just took us up and down
Saturday, April 12 2014
Elton John treats his little boy Zachary to a ride on a ferris wheel at the Vegas Loves Brazil Festival.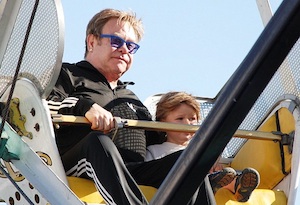 By night, he tickles the ivories for thousands of adoring fans at the massive Colosseum arena in Caesars Palace, Las Vegas. By day, Elton John is a father of two little boys. And on April 6, 2014 he treated his eldest, three-year-old Zachary, to a ride on a ferris wheel at the Vegas Loves Brazil Festival.

The 67-year-old looked like any other dad in his black Adidas zip up sweat shirt and matching exercise trousers. The only thing that gave away the normally flamboyant dresser was his blue-framed sunglasses - but even they were more subdued than Elton's usual eye wear. Elton put his arm around Zachary to reassure the toddler, who seemed a little worried about the ride, as they rocked in the open gondola on a beautiful sunny day.

It was just as well dad didn't take him on the new 550ft High Roller, the biggest ferris wheel in the world, that Caesars has recently opened on the Strip.

Elton is presently completing his 2014 residency at the 4,000-seat Colosseum, where his Million Dollar Piano show wraps on April 26, 2014.
Elton on 'liberating' recording of 'Goodbye Yellow Brick Road'
Friday, April 11 2014
Revisiting 'Goodbye Yellow Brick Road' for its 40th anniversary deluxe re-release was 'very beautiful,' Elton John says in talking to Randall Roberts, Los Angeles Times Pop Music Critic. In it, he hears a band 'full of confidence, full of joy, full of positivity.'
Last fall marked the 40th anniversary of "Goodbye Yellow Brick Road," Elton's multiplatinum double album that propelled the singer to superstar status. Featuring some of his most enduring hits, including "Bennie and the Jets," "Candle in the Wind" and the title track, the album is considered by many to be a cornerstone album of the 1970s.

The album was one of the most acclaimed of a particularly inventive period in pop music. Building on broad, conceptual ideas forged by the Beatles, Kinks and Beach Boys in crafting thematically linked songs to be experienced in single sittings on long playing albums, Elton and others delivered big narratives featuring multi-part suites, album-side compositions and recurring musical motifs.

In the same three-year period in which Elton dropped "Road," albums including the Who's "Quadrophenia," Pink Floyd's "Dark Side of the Moon," Jethro Tull's "Thick as a Brick" and "Tales From Topographic Oceans" by Yes all brought a range of furrow-browed concepts to the market.

Elton and lyricist Bernie Taupin's creation was one of the biggest of the bunch, even if it presented work less ridiculously imagined than deaf, dumb and blind pinball wizards and artsy spacemen with shocking red mullets. The album's front cover, created by British illustrator Ian Beck, opened into a glorious triple-gatefold sleeve dense with art and information, suggesting a children's book.

The just-released deluxe anniversary reissue may be a little late (the original came out in October 1973), but what's a few months in the life of an album that addresses the passage of time, nostalgia and loss? Featuring a remastered version of the original album, the five-disc set also offers the requisite B-sides, a demo of "Grey Seal," a series of covers by artists including Miguel and Ed Sheeran. Two additional discs present a 1973 concert at London's Hammersmith Odeon, and a DVD contains the documentary "Elton John and Bernie Taupin Say Goodbye to Norma Jean and Other Things."

Such repackaging of nostalgia, which last occurred with "Goodbye Yellow Brick Road" on its 30th anniversary, is particularly notable given the album's themes. Forty years on, Elton and his fans have endured more funerals for friends than necessary, and the album's biggest hit, "Candle in the Wind," became intertwined with the wake of Princess Diana after her death in 1997. Its fans have also had to wade through many deluxe and/or remastered versions.

In a recent phone conversation, Elton, who is playing the Colosseum at Caesars Palace throughout April, recalled memories of working on "Goodbye Yellow Brick Road."

It's a little odd to reminisce about a record itself so infused with a feeling of nostalgia.

Yes. I'm not a nostalgic artist by trait. I don't listen to my old stuff at all. But this had been planned for such a long time I had to go back and listen to the record all over again, and figure out what I'm talking about. And it was wonderful to revisit an era that was so magical, so innocent, so exciting, and it brought back lots of really wonderful, positive memories.

Was your tour stop at the Hollywood Bowl in 1973 one of those great memories?

Yes, and that really launched us, and it led to me playing Dodger Stadium [in 1975]. We were big, and then we got really big. It led to "Captain Fantastic" coming in at No. 1, and launched us into the stratosphere. I had the privilege of having a wonderful band and lyric writer and a wonderful producer. I can't say enough how it was a team effort. And I'm very proud of that, and very emotional about it. I still have two of the boys in the band with me, and it's so great that they're still with me.

You and the band were originally supposed to record it in Kingston, Jamaica, right?

We did go to Kingston. We went to Byron Lee's studio. The Stones had just done "Goats Head Soup" and Cat Stevens had done "Foreigner." We'd done two albums at the Chateau in France. "Let's go somewhere else." And it just didn't work out. The studio was on strike so we had to drive through picket lines to get in — it was a record factory as well — and the equipment, if it broke down we couldn't get it back for a couple of days. We always had budgets to work with, so we thought we had to regroup and go back to the Chateau. Lucky enough it was empty, because otherwise we're going to spend our budget before we even start recording.

We decamped from Kingston, went straight to Paris and made up for lost time. And boy did we. We wrote and wrote and wrote. In the situation in which we were writing, we'd always stay in different bedrooms. I would get up in the morning, Bernie would be typing away at a typewriter. He would give me a lyric. I would have my breakfast. I'd go to the electric piano. I'd start writing the song. [Bassist] Dee [Murray], [drummer] Nigel [Olsson] and [guitarist] Davey [Johnstone] would come down for breakfast and join in. We'd learn the song after breakfast and go over and record it. It was really, really a wonderful way to write and record. We did four tracks a day, probably

Four tracks a day?

Yeah. It was written and recorded in 17 days. We put pedal to the metal, but at that time we had so much momentum going for us as a band. We'd made two band albums — "Honky Chateau" and "Don't Shoot Me …" — and I think we turned into a new direction when Davey joined us. We had pop hits with "Rocket Man," "Daniel" and "Crocodile Rock," and this album was a mixture of pop and what I loved to do — Southern music, Americana, drama. It was just a mixture of everything. Happenstance and momentum made us make this record. We were going toward the top, and this was the record that pushed us even further.

Recording with that kind of confidence has to be liberating.

It was so liberating. We didn't have any doubts in our abilities. We were full of confidence, full of joy, full of positivity. It was pre-drugs and drink for me. We had two fifth members of the band. We had Bernie and we had Gus Dudgeon producing. We had a team that was so together. The boys knew what to sing on the backing tracks, and apart from "This Song Has No Title," where I did everything — they would do the backing vocals — I would go to bed and I would get up the next morning and hear what they'd done. We all knew what to sing, what to play. I didn't tell them what to play. I never did that with my band. They contributed equally musically. It was a genuine band.

Was it difficult at all to go back and critique your work from nearly 40 years ago?

It wasn't difficult. It was very beautiful, actually. It made me realize how good my band was — how good we all were — and it brought tears to my eyes because the production from Gus and the sound of the record and just the musicianship made me realize that, yeah, we were doing something really great back then. I felt a lot of gratitude for my life, and the people in my life — my band, my producer, my lyric writer. It made me feel as if I'd accomplished something really good. And as you said, I don't really listen to many old things, but I had to because I have to do interviews about it, so I better know what I'm talking about.

What were your thoughts after listening to it with fresh ears?

There are things that I'm so blown away by. Just drum sounds, and piano sounds, the little things. It's over 40 years old and the sound of the record is phenomenal. That's what I loved. The only thing that bothered me was my voice, because it sounds so high. And when people review [my] show they say, "Well, he doesn't have his falsetto." And I've said it time after time: I had an operation in the 1980s in Australia which lowered the timbre of my voice. And I so much prefer my voice now.
Bright Light Bright Light interview: 'Elton John duet blew my mind'
Friday, April 11 2014
As far as lead singles for a new album go, a duet with Elton John is a seriously strong statement.
Bright Light Bright Light - real name Rod Thomas - has teamed up with Elton for his new EP, ahead of his forthcoming second studio album "Life Is Easy." Digital Spy caught up with the Welsh musician to talk about the once-in-a-lifetime collaboration and what we can expect from his new material.

First off, we have to ask what it was like working with Elton John on your new single 'I Wish We Were Leaving'?

"It was amazing, working with him. I've said to people that it's funny, because I've known him for quite a long time through music stuff, so I've got used to knowing him. Then, when you take a step back and remember who he is and everything he's achieved, it blows your mind. We talked about music a lot. We've got a lot of things in common in terms of bands we like listening to, records that we like. We talked about doing something, and the song seemed to me like it might fit his voice, so I sent it to him, and he liked it, and he sang on it."

Elton has said that he found recording it challenging because he had to sing in a different way. Did you help him out?

"No, not really, it was just something he hadn't done before. I know he's working with other dance producers, but maybe for like bigger tracks, which require him to use his really powerful voice. It's really cool to listen to him being held back a bit, and having a bit more calm in his delivery. It makes his voice sound so majestic."
"The Million Dollar Piano" in Las Vegas on April 9, 2014
Thursday, April 10 2014
Following is the complete set list of the "Million Dollar Piano" show on April 9, 2014.
The Bitch Is Back

Bennie And The Jets

Rocket Man

Levon

Tiny Dancer

Your Song

Mona Lisas And Mad Hatters

Better Off Dead

Indian Sunset

Empty Garden

Goodbye Yellow Brick Road

I Guess That's Why They Call It The Blues

Don't Let The Sun Go Down On Me

Philadelphia Freedom

I'm Still Standing

Crocodile Rock

Saturday Night's Alright (For Fighting)

Circle of life
Elton John PonoPlayer - Artist Signature Series
Thursday, April 3 2014
Neil Young has been working on developing a new portable digital music format to bring back the real sound of the music as the artists recorded them and wanted them to be heard.
He started a Kickstarter campaign to raise funds for the launch of the new format called PONO later this year. One of the premium "rewards" for those who pledge $400 or more is a choice of a limited edition artist signature series chrome PonoPlayer. Each artist is limited to 500 numbered units with the artists signature laser engraved and is shipped pre-loaded with the artists two favorite albums.

Just about everyone who is anyone in the music biz and has heard the PONO loves it and is onboard with lending their name to the artist signature series to help it sell. Elton just added his name and signature to the series so there are 500 numbered units up for grabs. To learn about PONO and see the full list of rewards go to ponomusic.com and follow links to the video of all the artists (including Elton) describing the experience of hearing the player for the first time and the link to the kickstarter page to see all the limited edition players.
Elton's "Goodbye Yellow Brick Road" goes eight-times Platinum
Wednesday, April 2 2014
Over the last three months, the RIAA has issued over 130 gold and platinum certificates, but only a handful have gone to veteran artists.
The most notable is Elton John's 1973 album "Goodbye Yellow Brick Road" has gone eight-time platinum, indicating sales of over eight million units. Also receiving multiple platinum status is Led Zeppelin in the category of Long For Video. Their "Celebration Day" is three-times platinum with sales of over 150,000 units. The other new member of the Platinum club is Daft Punk with "Random Access Memories."

The following are the veteran artists (recording career over twenty years) who have received Gold or Platinum certifications since early January 2014.

Platinum Albums (1,000,000 units per certificate)
Goodbye Yellow Brick Road - Elton John (8x's Platinum)
Random Access Memories - Daft Punk

Gold Single (500,000 units)
Just Breathe - Pearl Jam
Southern Girl - Tim McGraw
Platinum Long Form Video (50,000 units per certificate)
Celebration Day - Led Zeppelin (3x's Platinum)
Elton: Music's 'been my soul mate'
Tuesday, April 1 2014
Elton John sits down with TODAY's Matt Lauer to talk about his remarkable career, and his plans for a springtime wedding. "I've been very lucky, I've been very blessed," he says.
Elton tells Matt Lauer he'll 'quietly' marry David
Monday, March 31 2014 at 09:57:07


"Victim of Love" - 35th anniversary
Tuesday, April 1 2014
With "Goodbye Yellow Brick Road" getting all the attention regarding its 40th anniversary these days, Elton has realized that it is about time to shift the focus to "Victim of Love", which has been released 35 years ago.
As at least some fans have guessed already, this news item was an April fool's joke. However, the 35th anniversary of "Victim of Love" will indeed be in October 2014 and maybe Elton will take this prank as inspiration for consideration ...

The 1979 disco album was never critically or commercially well-received, but in terms of chart positioning it did better than 1986's "Leather Jackets" and 1985's "Ice on Fire".

"Victim of Love" is not your typical Elton John album in several respects: Elton neither wrote any music nor did he play any instruments during the recording session in August 1979 - he only provided vocals. To mark the 35th anniversary in 2014, Elton has decided to correct at least one of those unusual shortcomings: He will play piano on all seven tracks on the album, which will be re-recorded by original producer Pete Belotte in summer 2014.

With a view to Elton's longstanding fascination with Hip Hop music (also see Elton's recent interview in Rolling Stone magazine) the idea is to transform the album from disco to rap music in having guest musicians such as Pharrell or a Kanye re-record it together with Elton.

"Victim of Love - 2014" is scheduled for release on October 13, 2014 - exactly 35 years after the original "Victim of Love". Elton and musical guests will perform the entire album live during a block party style event in the Bronx, which will be held October 12, 2014 from 1pm to 4pm at the The Bronx Museum of the Arts at 1040 Grand Concourse at 165th St. Tickets go on sale on April 1, 2014 at 10am EDT- call +1-914-345-9935.