ELTON JOHN NEWS ARCHIVE: April 2012
David: More celebrities should come out and be gay role models
Monday, April 30 2012
People should not fear a backlash about their sexuality, said Elton's partner. He insisted the couple had experienced 'absolutely nothing' negative since entering a civil partnership almost seven years ago.
'We absolutely need more role models, I think we need more people to come forward and be proud of who they are. 'They're out there,' DAvid told METRO in an exclusive chat. Forming one half of an out'n'proud showbiz powerhouse, he added: 'We don't do it deliberately. We just try to live our lives honestly and openly but also recognise we can give it some awareness and hopefully shift a few people along. I can only partly attribute it to it, but I think Elton's celebrity helps. Unfortunately, celebrity is a powerful thing, it can influence people, but if it can influence people in a good way, then that's a great thing.'

He encouraged sports stars to come out to help battle homophobia ahead of the Olympic Games in London. 'You know, in the past year Gareth Thomas has come out – you don't get much more red blooded than rugby. Having met Gareth and spoken with him about it he said it's been nothing but a positive experience, he hasn't had any problems, no backlash, and support from his teammates, support from the club, support from the fans and his family,' he said. The story of former Wales rugby international Thomas, 37, is to be made into a film.

'We need some more role models and I think that will break a lot more of the barriers down, we need a Premier League footballer or two,' said David. 'We have a lot of great lesbian role models in tennis. I mean, Martina Navratilova in her heyday was probably the greatest female athlete on the planet. Martina just kept breaking every rule. That's a great role model.'
Elton v Pnau
Monday, April 30 2012
Elton's love affair with Australian electronic duo Pnau will be consummated live at the Ibiza 123 festival in July 2012.
The debut Elton v Pnau gig follows the unveiling of "Good Morning to the Night", the first taste of a long-promised album of his 1970s master tapes diced and spliced by the duo to modern club specifications.

An ecstatic Elton told the BBC he had been dying to make dance music but "if you don't know what you're doing, you're going to look like an idiot".


Elton makes dance album
Monday, December 14 2009 at 15:36:46

Elton signs Sydney dance pop duo Pnau
Thursday, July 31 2008 at 08:48:43

Elton John joins the PNAU Fan Club
Thursday, December 13 2007 at 21:05:58


Elton confused by lawsuit 26 years after song's release
Friday, April 27 2012
A rep for Elton John and his longtime songwriting collaborator, Bernie Taupin, released a statement to Page Six saying that the lyrics for the song were not lifted.
The statement reads: "Sir Elton John and Mr. Bernie Taupin were surprised and disappointed to learn of the lawsuit for copyright infringement brought against them by Guy Hobbs concerning the lyrics of their 80s hit 'Nikita.' Sir Elton and Mr. Taupin do not know the plaintiff, nor did they make use of any song lyrics he claims to have written when they wrote 'Nikita.' In short, the suit is completely meritless. The fact that Hobbs has chosen to wait more than 26 years after the release of 'Nikita' to bring this lawsuit calls his motives into question. Sir Elton John and Mr. Taupin fully expect to prevail against this baseless claim."


Elton sued over hit song
Friday, April 27 2012 at 12:40:30


Elton sued over hit song
Friday, April 27 2012
Elton John is a no good dirty lyric stealer -- at least according to a self-proclaimed "award-winning" photojournalist and songwriter, who claims Elton coldheartedly ripped off the lyrics to the hit song "Nikita."
TMT reports that the man behind the accusations -- named Guy Hobbs -- filed the lawsuit in Illinois federal court, claiming he wrote a song called "Natasha" back in 1982 based on his affair with a Russian cruise ship waitress ... and three years later, Elton jacked his idea.

According to the lawsuit, Guy copyrighted the song and circulated the lyrics to multiple publishing companies -- including Big Pig, which solely publishes Elton John songs -- but he never heard back. In 1985, Elton John released "Nikita" -- and Guy claims the lyrics bear "significant similarities" to "Natasha" ... even though "Natasha" is about a German female border guard. Hobbs doesn't specify exactly which lyrics were allegedly stolen.

Now, nearly 30 years later, Guy is suing for copyright infringement -- demanding unspecified damages. As for what took him so long to sue -- Guy says he's been living in Africa since 1984 ... and news travels slow over there.
New wife boosts fortune of Paul McCartney
Friday, April 27 2012
This year's Sunday Times Rich List sees Elton John enter the list at 8th position, joining the musicians' hall of fame, along with a few famous names.
Sir Paul McCartney, Britain's richest performer, moves up to third place in the latest Sunday Times Rich List Music Millionaires Top 50, thanks largely to his marriage in October 2011 to Nancy Shevell. The chart of The Top 50 Music Millionaires in Britain and Ireland is included in The Sunday Times Rich List 2012, the definitive annual guide to wealth in Britain and Ireland to be published in an extra 104-page magazine free with The Sunday Times on April 29, 2012.

This year The Sunday Times Rich List Music Millionaires Top 50 includes the wealthiest performers from the Republic of Ireland, where the four members and manager of U2 have seen their combined fortune rise by £59m to put them in fifth spot.


THE SUNDAY TIMES RICH LIST 2012
THE TOP 10 MUSIC MILLIONAIRES IN BRITAIN AND IRELAND

1 Clive Calder £1,350m (2012 wealth)/£1,300m (2011 wealth)
2 Sir Cameron Mackintosh £725m/£675m
3 Sir Paul McCartney and Nancy Shevell £665m/£495m
4 Lord Lloyd-Webber £590m/£680m
5 U2 £514m/£455m
6 Simon Fuller £375m/£375m
7 Simon Cowell £225m/£200m
8 Sir Elton John £220m/£195m
9 Michael Flatley £192m/£214m
10= David and Victoria Beckham £190m/£165m
10= Daniel Ek £190m/New
10= Sir Mick Jagger £190m/£190m

The Sunday Times Rich List 2012 is compiled by Philip Beresford, the leading authority on British wealth, and edited by Ian Coxon.
Elton John gay festival cancelled after the cast of Priscilla desert
Friday, April 27 2012
A festival to combat homophobia that was to be headlined by Elton John during the Olympics has been scrapped.
Pride House will no longer be taking place at Clapham Common after its backers pulled out over issues with sponsorship and securing other big names acts. The headline act that withdrew from negotiations was the cast of the musical Priscilla Queen Of The Desert, although show producer Garry McQuinn insisted they had never committed to performing.

He said: "We were in discussions and had several meetings, but we felt that they would have needed significant ticket sales to cover the cost of the event, which rendered it uneconomical for us. We were at the table with them but we never completed on the deal as it was too risky."

The festival had a number of high-profile ambassadors including Elton, his partner David Furnish and Stephen Fry. But now its future is uncertain after festival organiser PAPA Projects withdrew as it felt the idea was "no longer commercially viable". It said: "While the Olympics presents many great opportunities for event organisers, there have been numerous complexities surrounding the availability of talent, sponsors and resources. With the unexpected cancellation of a headline artist only three days before the event's launch date, the project suffered knock-on effects that have proved insurmountable."

Elton and David are believed to still be in favour of the concept, which would involve concerts, exhibitions, comedy, fashion shows and film screenings to raise awareness of homophobia in sport. The Pride House Foundation is now trying to find another venue in time for the Games.
Elton John performed in Mankato on April 22, 2012
Monday, April 23 2012
Fan report by Jerry Zgoda.
The most notable thing about tonight's show was there were three weird interruptions because of piano malfunctions. I've never seen anything like it at an Elton show, and Elton himself said what was happening had never occurred before. In another time, he would have thrown a tantrum probably, but he dealt with each one with playful good humor, teasing the techs the first time by asking if they were on acid, then later wondering if the arena was haunted.



It stopped "Someone Saved My Life Tonight" right in the middle for several seconds and later halted the start of "Bennie and the Jets", to which Elton said, "Unfucking believable" and then laughed. He apologized a couple times. I don't know much about the technical aspects, but during "Someone Saved My Life Tonight" it made some real strange, electronic ghostly sounds and he stopped his vocal and said, "Hang on, what's going on here. We've been invaded by Mars. What's going on guys, you taking some acid over there?"

Following is the complete set list of the Mankato show on April 22, 2012:
The One

Sixty Years On

Border Song

The Greatest Discovery

Your Song

Ballad Of The Boy In The Red Shoes

Levon

Tiny Dancer

Mona Lisas And Mad Hatters

I'm Still Standing

Daniel

Rocket Man

I Guess That's Why They Call It The Blues

Someone Saved My Life Tonight

Never Too Old (To Hold Somebody)

Goodbye Yellow Brick Road

Philadelphia Freedom

Don't Let The Sun Go Down On Me

Nikita

Take Me To The Pilot

Sorry Seems To Be The Hardest Word

Candle In The Wind

Honky Cat

Bennie And The Jets

Crocodile Rock


Circle Of Life/Can You Feel The Love Tonight
Bernie Taupin responds to Levon Helm's death
Saturday, April 21 2012
Bernie Taupin, who penned the tune "Levon" (named after Helm), wrote this remembrance on his website www.berniejtaupin.com.
"The first time I heard Levon Helm's voice was in a small record shop on Berwick Street in Soho London sometime around 1969. What was it like? Paul on the road to Damascus!

Oh, I guess I just want to say all these things about the earth and granite of his being, the raw Appalachian timber of his voice and the powerful sway of his backbeat. The throb of his tom-toms the first time I heard "Tears Of Rage" and that wicked, knowing smile recounting tales of Carney barkers and backwater medicine shows. I'm thinking about him behind that economical kit, the way he hunched his shoulders and turned into the mike like a coiled spring when he sang.

He was one of three great singers in The Band, three of the greatest singers in any band, and the last of those three to leave us. What other band under God's great Heaven gave us a trio of such eloquent and awesome sonic tools? Richard Manuel had an otherworldly voice, ethereal and legitimately spooky in the best way possible. Rick Danko, with whom I spent some questionably manic moments and cerebral hours and whom I loved dearly, sang like an unfettered young buck, all tremulous beauty and with poignant longing. Anyone doubting this just listen to his vocal on "It Makes No Difference" from the"The Last Waltz" soundtrack, one of the best live vocal performances I've ever heard.

Then there was Levon: a voice that seemed as it was birthed from the land from which he sprung. Rich as Arkansas soil and raw as a plug of tobacco, gnarly as knotted pine and so expressive it seemed like he was chewing on the words before they left his mouth. Now he's gone and our anemic musical horizon has one less icon to cling to and one more legacy to embrace.

We're blessed that he battled his illness and conquered it for a spell, pushed back the inevitable, stuck up his hand and like some hard scrabble farmer in a gothic Southern novel said "Whoa boy, I ain't done ploughin'."

He participated in some of the greatest music I've ever heard and because of him and the boys in The Band, my soul is clearer of musical debris and tuned into the lyrical soul of the American heartland and the soul of Appalachia.

If I'm any good at what I do, it's because he inspired me to be better.

Sleep with angels, Levon. Say hi to the boys, and see you in church."


Elton on Levon Helm: "A part of my life that was magical"
Friday, April 20 2012 at 07:17:55


Fashion Cares 25 announces 2012 Honourary Chairs
Friday, April 20 2012
Fashion Cares Chairs Michael King and David Furnish announced Jeanne Beker, Host of Bell Media's FashionTelevisionChannel, John Demsey, Chairman, M.A.C AIDS Fund and Group President, The Estee Lauder Companies, Inc., and Frank Giustra, President and CEO of Fiore Financial Corporation, as Honourary Chairs for Fashion Cares 25 - the spectacular silver anniversary fund-raising gala to be held on September 9, 2012.
Held at the Sony Centre for the Performing Arts with creative direction by Fashion Cares pioneer Phillip Ing, the September 2012 event will present a dazzlingly theatrical evening of entertainment, fashion, and philanthropy and will feature an intimate dinner, a retrospective of the past 25 years of Fashion Cares, and a spectacular live show with performances by Elton John and other high profile, international musicians.

The AIDS Committee of Toronto (ACT) and Elton John AIDS Foundation (EJAF) will serve as beneficiaries of the event.
"David Furnish and I have set a clear objective for 2012 - to raise as much money as possible, and to make the 25th Fashion Cares Anniversary event our most successful and exciting to date. Today with the generous support of fashion industry icon Jeanne Beker and visionary corporate philanthropists John Demsey and Frank Giustra, we are one step closer to making that a reality," says King.

"While the world may have changed a lot in two and half decades, our spirits remain invincible when it comes to bringing attention to HIV/AIDS, and raising much needed funds. I'm proud to be a part of the legacy of Fashion Cares, and even more thrilled to be on board for this next exciting incarnation," said Jeanne Beker.

Frank Giustra went on to say "As a long-time supporter and friend of the Elton John AIDS Foundation, I am pleased and honoured to serve as an Honourary Chair for the silver anniversary of Fashion Cares. I look forward to helping make this the best and most successful Fashion Cares event ever, raising urgently needed dollars for HIV/AIDS initiatives across Canada."

"In the first 20 years, Fashion Cares became a hallmark event for HIV/AIDS awareness and fundraising in Toronto with the generous help of Phillip Ing, M.A.C's Vice President of Retail & Special Events. The M.A.C AIDS Fund has made almost 900 grants totaling nearly $20 million in Canada over the years. M.A.C Viva Glam is proud to return as the title sponsor of Fashion Cares 25 alongside former Viva Glam spokesperson, Elton John," concluded John Demsey.

Tickets for the event will be on sale beginning June 2012, with a complete list of performers to be announced in early spring.
Elton on Levon Helm: "A part of my life that was magical"
Friday, April 20 2012
Elton John was among the many musicians influenced by Levon Helm and The Band.
That impact is memorialized in the song "Levon," which Elton and writing partner Bernie Taupin named after the rock legend. On April 19, 2012, Elton spoke with EW and shared some of his favorite memories about Helm:

"When I heard The Band's Music from Big Pink, their music changed my life. And Levon was a big part of that band. Nigel Olson, my drummer, will tell you that every drummer that heard him was influenced by him. He was the greatest drummer and a wonderful singer and just a part of my life that was magical. They once flew down to see me in Philadelphia and I couldn't believe it. They were one of the greatest bands of all time. They really changed the face of music when their records came out. I had no idea he was sick so I'm very dismayed and shocked that he died so quickly. But now my son has his name."

Levon Helm, the drummer, multi-instrumentalist and singer for The Band who kept the band's heart for more than three decades, died "peacefully" April 19, 2012 afternoon, according to his record label, Vanguard Records. He was 71.
Rock 'n Jazz: Ben Babylon Band to Play Canyon Club
Thursday, April 12 2012
For the second time in as many years, teen rocker Ben Babylon, son of the late Guy Babylon, will perform at The Canyon Club near Los Angeles, on April 22, 2012.
The last time Ben appeared at the famous club, he was part of an Elton John tribute show that also paid homage to the memory of his dad, who was Elton's Grammy-winning keyboardist and arranger for 21 years. This time, the Ben Babylon Band is opening for The JAZZMATICS, a hot new superband of musicians who have worked with some of the biggest names in jazz, funk and R&B: Stevie Wonder, Madonna, Al Jarreau, Kelly Clarkson, Sade, Bette Midler, Herbie Hancock, George Benson, Chick Corea, Gladys Knight, Michael Jackson, Ray Charles, Chicago, Santana, Diana Ross, Smokey Robinson, and even Elton himself.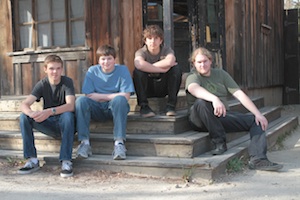 "I'm a little nervous," Babylon admitted. "Not only is it exciting to open for these phenomenal musicians, but also to be playing at such an amazing place as The Canyon Club." It will be the biggest show to date for the up-and-coming Ben Babylon Band, which features Babylon on lead vocals and keyboards, Alex Naylor on bass and background vocals, Brian Schwartz on guitar, and Alex Andrews on drums.

Ben is currently recording his first album, with help from Davey Johnstone, Nigel Olsson, John Mahon, Greg Penny, Jesse Johnstone, Martin Tillman, and others who have worked with Elton. Recently, he released the album's first single, "Contradiction," on iTunes and Amazon. Although known primarily as a rock artist, Ben Babylon is also an accomplished jazz musician and a two-time winner of the Maestro Award for Outstanding Soloist at the National Heritage Music Festival in San Diego. He believes that his music will appeal to jazz fans at The JAZZMATICS' show.

"Jazz and blues are my favorite musical genres, and I always incorporate those styles into my music," Babylon said. "I like to say that instead of being classically trained, I'm 'jazzically' trained. It is very important to us that Ben is opening this debut show for The JAZZMATICS," said Allen Kepler, an American jazz radio personality who owns The Smooth Jazz Network and is co-owner of The JAZZMATICS. "We are not only inspired by Ben's talent, but also feel that his presence at this premiere will help to bring our local community together."

The JAZZMATICS and the Ben Babylon Band will perform at The Canyon Club, 28912 Roadside Drive, Agoura Hills, CA 91301-3304, on Sunday, April 22, 2012. Doors open at 5:30 p.m., concert at 6:45 p.m. Tickets are $19.50. Anyone under 18 must be accompanied by a paying adult. For information, call The Canyon Club at 818-879-5016 or visit www.CanyonClub.net.

Information about The JAZZMATICS is available at www.jazzmatics.com. Information about the Ben Babylon Band is available at www.BenBabylonMusic.com and www.BabylonMusic.biz.
"The Diving Board" re-scheduled for February 2013
Tuesday, April 10 2012
Bernie Taupin reports on his website that the release date for the new album "The Diving Board" has been re-scheduled due to promotional time frames and related marketing opportunities.
Elton & Bernie's new studio album will not be released until February 2013.

Bernie states on berniejtaupin.com: "It's disappointing that our new music won't hit the streets sooner but in order to get things done right it makes sense to delay its release by a few months. It's no fun having to sit on something you're truly excited about but hopefully our fans will understand and that eventually the wait will be worth it."


"The Diving Board" track list
Thursday, March 29 2012 at 17:26:34

Elton John cuts raw LP with T Bone Burnett
Thursday, March 15 2012 at 18:26:22


'Lion King' box office record
Tuesday, April 10 2012
Musical takes title Of All-Time Highest Grossing Show from 'Phantom of the Opera'.
Very quietly, almost stealthily, a new king has been inaugurated on Broadway. Box office figures released on April 9, 2012 show that "The Lion King" last week swiped the title of Broadway's all-time highest grossing show from "The Phantom of the Opera," The Associated Press has learned.

The cumulative gross for "The Lion King" is $853,846,062, according to the show's numbers. Its chandelier-swinging rival's cumulative total is $853,122,847, according to musical's publicist. The "Lion King" surged past "Phantom" after netting over $2 million at the box office for the week ending April 8, 2012, while "Phantom" pulled in about $1.2 million.

What makes the achievement all the more remarkable is that "The Lion King" chased down and grabbed the title despite "Phantom" having almost a full 10 years' head start. The Disney show opened in November 1997, while "Phantom" debuted in January 1988. The upstart's victory is due in large part to its higher average ticket prices and a slightly larger theater.

"It doesn't surprise me," said Cary Ginell, a music historian and biographer who edited the seventh edition of "Broadway Musicals: Show By Show." He compares "The Lion King" to a Disneyland ride. "It's a spectacle that satisfies on many different sensory elements – audio, visually, emotionally. It's also good for all ages – just like Disneyland is. For the kids, it's the visual elements – the colors, the costumes and the puppetry. For the adults, it's `Hamlet,' basically. And the music is not geared to one age or gender or race. It's as universal a show can get."

Disney Theatrical Productions was gracious when contacted about reaching the milestone, saluting "Phantom" song writer Andrew Lloyd Webber and "Phantom" producer Cameron Mackintosh, who also co-produced Disney's hit "Mary Poppins," and calling their show "a global phenomenon of historic proportions." Thomas Schumacher, producer and president of Disney Theatrical Productions, also gave credit to Julie Taymor, the director, costume and mask maker of "The Lion King." "Her vision, continued commitment to the show and uncommon artistry account for this extraordinary success," he said in a statement. "This accomplishment belongs to our audiences, millions of whom are experiencing their first Broadway show at `The Lion King,'" Schumacher added. "Surely, introducing so many to the splendor of live theater is our show's greatest legacy."

"The Lion King" is the sixth longest-running show on Broadway with over 5,900 performances over 14 years and has sold just over 10 million tickets. "The Lion King" may now have won on Broadway, but "Phantom" is still a juggernaut elsewhere. Its producers have even declared it the most successful entertainment venture of all time, with revenues higher than any film, including "Titanic," "Star Wars" and "Avatar."

"The Lion King" has seven – soon eight – productions worldwide, while "Phantom" has seven productions around the world: London, New York, Hungary, Japan, South Africa, Las Vegas and a UK tour. Ginell points out that about 40 percent of "Phantom" tickets are sold to repeat customers, an extremely high number. Plus, 68 percent are women. "`Phantom is kind of a live-action romance novel," he said. "I think that's what's attracting a huge percentage of women to the show."

The two share some attributes: Both have musical giants behind them: "Phantom" has songs by Lloyd Webber and is directed by Harold Prince, while "The Lion King" features music by Elton John and lyrics by Tim Rice and the vision of Taymor. Both have multiple Tony Awards, movie tie-ins, simple-to-understand stories and are spectacles – important for attracting tourists whose command of English might be weak. Both are not dependent on having stars on stage. And both call home in similar-sized theaters, "Phantom" at the 1,605-seat Majestic and "Lion" at the 1,677-seat Minskoff.

The staying power of each is remarkable. Over their first 750 playing weeks – which "The Lion King" has recently reached – they've played to roughly the same number of people: "The Lion King" at 10,092,235 and "Phantom" at 9,241,333. Most shows that have achieved a ripe old age never appear in the top 10 by this point in their ages, but both "Lion" and "Phantom" are still routinely among the top earners, week in and week out. On the other side of the ledger, over 500 shows have opened and closed on Broadway during lifetime of "The Lion King."

Ginell tips his cap to the new box office king and doesn't see a time soon when it abandons its kingdom. "`Lion King' is the perfect family musical and I think it always will be as long as expenses don't go so far up that they won't be able to afford to put it on anymore."
Rainforest Fund Concert 2012
Wednesday, April 4 2012
When she and Sting first visited South America's Amazon rainforest in 1988, Trudie Styler remembers flying into thick smoke from a fire raging below.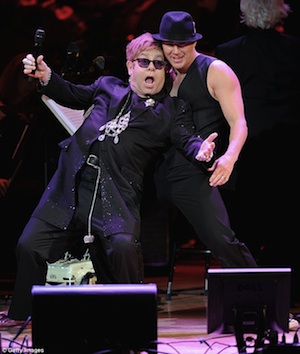 "It was like seeing paradise and hell at the same time," she told a packed Carnegie Hall at the Revlon Concert for the Rainforest Fund on April 3, 2012. The evening's two-hour "Songs from the Silver Screen" event featured performances from Elton John, James Taylor, Jennifer Hudson, Bruno Mars and more. Styler, who co-founded the Rainforest Fund to protect land and human rights for the indigenous there, singled out Chevron as the worst violator in Ecuador, where a court fined the oil giant $18 billion in February 2012.

"I liked that Trudie named names," Tom Hanks – who was in the audience along with Aretha Franklin and Clive Davis – told Rolling Stone after the event. "It's good that she got there and told it like it is."

Backed by the 40-piece St. Luke's Orchestra, the show opened on a lighter note in the familiar Land of Oz, with Meryl Streep, Sting, Taylor and Elton trading verses of "If I Only Had a Brain" and sporting proper attire: Streep channeled Dorothy, while Sting donned a Tin Man hat and Elton wore furry lion "paws," red sequins and ruby slippers. Elton later joined Mars for a standout duet of the Righteous Brothers' "Unchained Melody," and Jennifer Hudson's sizzling gospel take on the Band's "The Weight" proved the night's heaviest hit.

President Bill Clinton briefly took the stage to remind the audience of the dark counterpart to the night's fun – the world's rainforests throughout Africa, Asia and the Americas, in need of $4 million. "You have more in common with those isolated native tribes and those people who know how to care for their habitat than you can possibly imagine," he said.

The concert exposed many in attendance to the devastation they've never seen firsthand. "I was inspired to go and try to write something," said singer Amy Grant, whose husband, Vince Gill, performed among the night's lineup. Taylor, who has performed in Brazil, said he has yet to visit the Amazon.

"It's just a reminder of what a dire and pressing problem it is. It's really the main thing facing mankind today, is whether or not we can live on this planet and not damage it too terribly," Taylor told Rolling Stone at a gala following the show. The singer-songwriter also confirmed that he's "about half-done" with his first album of original music since his 2002 LP, October Road, while Elton said he expects to release his latest, The Diving Board, next year.
"Love Lies Bleeding" on CBC in Canada
Wednesday, April 4 2012
CBC in Canada will air a "Love Lies Bleeding" special on April 9, 2012. It is an intimate one-hour TV adaptation of the Alberta Ballet's amazing show based on the music and life of Elton John.
Sex, drugs, and rock n' roll - the life of rock star and icon Elton John is brought to spectacular life through the magic of choreography and dance. "Love Lies Bleeding" is an extraordinary hour-long television special celebrating the life and music of Elton John. Created by Jean Grand Maître for the Alberta Ballet, this wild and brilliant television adaptation explores the victories, trials and sacrifices of a unique musical phenomenon whose intensity, melancholia and sheer force of will influenced the world of music and inspired compassion and joy in millions of people, as seen through the eyes of an adoring fan.

With illuminating introductions into the performances offered by renowned CBC broadcaster, writer and musician, Jian Ghomeshi, the film provides a rare insight into the trials and triumphs of one of the world's most outspoken, engaging and influential musical icons - all seen through the beauty and majesty of ballet.

See www.cbc.ca/loveliesbleeding/ for more details.
Elton receives crocodile from Betty White
Wednesday, April 4 2012
Betty White and her friends at The Lifeline Program have adopted a crocodile at the Los Angeles Zoo and Botanical Gardens in honor of Elton John who recently turned 65.
The Greater Los Angeles Zoo Association's "Adopt an Animal Program" enables anyone to assist one of the zoo's terrific residents, such as the Malayan gharial crocodile that is part of the new LAIR exhibit and now counts the famous musician as its adopted parent.

"Elton has been a wonderful advocate for animals and wildlife issues, so we decided to honor him by adopting a crocodile on his behalf at The Los Angeles Zoo," said White.
Elton John & Ray Cooper performed in Tromso on March 31, 2012
Monday, April 2 2012
Following is the complete set list of the Tromso show on March 31, 2012.
Elton John solo

The One

Sixty Years On

The Greatest Discovery

Border Song

Your Song

I Guess That's Why They Call it the Blues

Rocket Man

Nikita

Honky Cat

Tiny Dancer

Philadelphia Freedom

I'm Still Standing

Elton John with Ray Cooper

Funeral for a Friend/Tonight

Better Off Dead

Levon

Gone To Shiloh

Indian Sunset

I Think I'm Going to Kill Myself

Daniel

Sorry Seems to be the Hardest Word

Bennie and the Jets

Don't Let the Sun Go Down On Me

Crazy Water

Elton John solo

Crocodile Rock

Candle in the Wind
UPDATE: "The Diving Board" release event
Sunday, April 1 2012
Elton has announced a special release event for his new album "The Diving Board" during the Olympic Games in London this summer.
Elton will indeed release a new album titled "The Diving Board", but there are no plans for this mini concert during the Olympic Games ... this was of course an April fool's joke (as many fans have already figured themselves).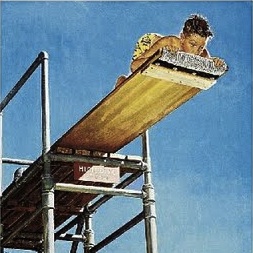 Songs for "The Diving Board" have been recorded earlier this year in Los Angeles with producer T Bone Burnett. It is set for a fall release with no specific date announced yet.

On July 30, 2012 Elton plans to perform (at least) parts of the new album during the Diving medal event 'Men's Synchronised 10m Platform' at the Aquatics Centre in London's Olympic Park. The competition is scheduled for 3pm and is likely to finish with the victory ceremony at around 4.15pm. Elton is scheduled to perform at 5pm.

In addition to ticket holders for the Olympic event, approx. 100 additional people will be given access to the Elton mini concert. Eltonfan.net will receive an allocation of 20 of those tickets. As demand is likely to be higher, we will run a raffle. If you are interested in attending the Olympic promo event, please send an e-mail to diving@eltonfan.net stating your full name and address. Please also tell us why you think you should be chosen to attend this event.


"The Diving Board" track list
Thursday, March 29 2012 at 17:26:34

Elton John cuts raw LP with T Bone Burnett
Thursday, March 15 2012 at 18:26:22