ELTON JOHN NEWS ARCHIVE: April 2010
The 2010 TIME 100
Friday, April 30 2010
Elton made it into the list of the annual TIME 100 issue where the magazine names the people who most affect our world.
Stephen Daldry, the award-winning director of "Billy Elliot", "The Hours" and "The Reader", describes Elton as "the best friend anyone could possibly hope for".

The ranking amoung "Artists" is as follows:

Lady Gaga

Conan O'Brien

Kathryn Bigelow

Oprah Winfrey

Valery Gergiev

Robert Pattinson

Ashton Kutcher

Suzanne Collins

Taylor Swift

Neil Patrick Harris

Carlton Cuse and Damon Lindelof

Prince

Lea Michele

Jerry Holkins and Mike Krahulik

Simon Cowell

Neill Blomkamp

Marc Jacobs

David Chang

Banksy

Chetan Bhagat

Sandra Bullock

Ricky Gervais

Han Han

James Cameron
View the full list for "The 2010 TIME 100".

Leon Russell and Elton to tour?
Friday, April 30 2010

Leon Russell, who just finished recording a new album with Elton John and Bernie Taupin, is planning a tour with Elton on select dates in the fall.

Further details are not yet known at this stage.

Elton John calls Ryan White lifelong inspiration
Thursday, April 29 2010

Elton John says he's been sober for 20 years, since shortly after the death of an Indiana teen with AIDS who the musician credits with inspiring him to turn his life around.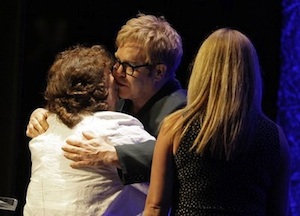 He was in Indianapolis on April 28, 2010 to headline abenefit celebrating the life and legacy of Ryan White. The 18-year-old died on April 8, 1990, about five years after contracting HIV, the virus that causes AIDS, through a tainted blood transfusion to treat his hemophilia.

Elton befriended the boy during his public battle for acceptance after he was banned from a central Indiana school at age 13, bringing national attention to HIV/AIDS education and the plight of children with HIV in the 1980s. Elton was at Riley Children's Hospital when White died and was a pallbearer and performed at the funeral.

"It was one of the greatest things in my life to meet Ryan's family, to be there the last week to try and help, and then for that wonderful message that he gave me to change my life around," Elton told The Associated Press before the evening benefit. "It was weird to take stock and think of it — I'm 20 years sober this year, and it's 20 years since Ryan died, because I got sober shortly afterward."

Proceeds from the event, which was being hosted by Phil Donahue, will benefit the Elton John AIDS Foundation and the Indianapolis Children's Museum's "Power of Children" exhibit, which features White.


Elton established the foundation two years after White's death. The organization funds innovative HIV prevention and education programs, works to eliminate stigma and discrimination associated with HIV/AIDS, and provides direct care and support services for patients.

The 20-year anniversary of White's death is an opportunity to restart a dialogue about AIDS and push for educating children about the disease, Elton said. "Every 10 years, a new generation of kids come up, and we see the numbers go up, because we can't really get to them in school," Elton said. "We never could. Education about sex and education about AIDS was totally forbidden. That could have saved so many more lives, because children are smart. Children will listen. You don't have to threaten children, you just have to inform them." It took a child to die to make people sit up and notice," he added.

White's mother, Jeanne White-Ginder, said Elton's return to Indianapolis was a bittersweet reminder of her son's last days. White-Ginder said Elton played "secretary" during White's final days, filtering phone calls and telegrams and making sure those who sent flowers were acknowledged.

"One of the most beautiful scenes I think I can remember is walking into Ryan's room and seeing Elton standing on a chair decorating Ryan's room," White-Ginder said. "He said, 'When he wakes up, I want him to know how much he was loved.' That really touched me as a mom because I hadn't thought to do that."

She said it was special to have Elton back to mark the 20th anniversary of her son's death. "I've always felt like he was my guardian angel," she said. Elton gives similar credit to White-Ginder, and to the family that helped him find purpose. "Jeannie's incredible fortitude in going through this as a mother — I never saw her crack. The last week, there were some tense moments, and it was very emotional, but I never saw Ryan crack," Elton said. "It was just an amazing lesson in how to live life in the best possible way."

Also see this video on ABC News.
Guy Babylon-Tribute Issue
Thursday, April 29 2010
Issue 62 of "East End Lights" is a tribute to the late Guy Babylon and is available for free download.
It is 32 pages of interviews that Guy did with East End Lights over the years. Kevin Bell, publisher of "East End Lights", trusts it is a fitting tribute to a wonderful musician and friend.

You can also download it free from www.eastendlights.com.



Elizabeth Hurley and Elton John get Hot Pink for Breast Cancer Research Foundation Awards
Thursday, April 29 2010
Liz Hurley and Elton John joined forces to support the Breast Cancer Research Foundation in New York on April 27, 2010.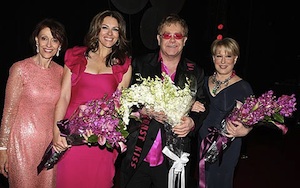 The Hot Pink Party, hosted by the foundation's founder, Evelyn Lauder, was enjoyed by actresses, models and fashion designers, but Hurley and Elton made sure they stood out from the crowd by wearing the charity's symbolic colour.

Hurley, who has never been afraid to embrace bold colours (or styles, for that matter), chose a floor-length gown with ruffled cap sleeves, which matched Elton's shirt perfectly. However, Elton's look wouldn't have been complete without his trademark glasses - tinted pink of course.
Elton to headline Andre Agassi Foundation for Education's 15th Grand Slam for Children Benefit Concert
Tuesday, April 27 2010
The Andre Agassi Foundation for Education (Foundation) announced that Elton John and Rob Thomas will headline its 15th Grand Slam for Children benefit concert.
The annual event supports the Foundation's efforts to transform education and benefits the Andre Agassi College Preparatory Academy (Agassi Prep), a K-12 public charter school in Las Vegas that strives to provide children with a first-class education. Hosted by tennis legend and philanthropist Andre Agassi and presented by Genworth Financial, the 2010 Grand Slam for Children will take place October 9, 2010 at Wynn Las Vegas.

"Reaching our 15th Grand Slam is an incredible milestone, and the support we've gotten from both the artists and those involved with our Foundation have made that possible," said Andre Agassi. "We're honored that Elton & Rob will headline this special anniversary night, ultimately helping us make a difference in the lives of Agassi Prep students."

Celebrating its 15th year, the Grand Slam brings together international stars – from music to comedy – each year to build awareness and raise money for the Foundation. Dedicated to transforming education, the Foundation opened the Agassi Academy in 2001; in 2009, the public charter school graduated its first senior class with 100 percent of graduates accepted into college. The Foundation's work is directly impacting students in Las Vegas, Agassi's hometown community, but it has broader implications for education nationwide.

Since 1995, the Grand Slam has raised nearly $82 million, including $8 million from the 14th event, to support a movement that's improving education. Additional top-name talent, who will be announced prior to the October 9, 2010 event, will join Elton John and Rob Thomas under the musical direction of Grammy Award-winning producer, arranger and composer David Foster.

The evening will include a cocktail reception, gourmet dinner, live auction and benefit concert. Sponsorships for the Grand Slam are still available at the following levels: Silver $10,000, Gold $17,500, Platinum $40,000, and Diamond $85,000. To support the Andre Agassi Foundation for Education or to obtain additional information, please visit www.agassifoundation.org.
Legal boys
Tuesday, April 27 2010
Two men have been found guilty for their part in an assault on a Limerick man following an Elton John concert in Thomond Park in 2009.
A jury of three women and two men have returned a unanimous verdict in finding Derek Hayes, 41, with an address at St Patrick's Hostel, Clare Street, guilty of intentionally or recklessly causing Kenneth Hynes serious harm at a house on the Shanabooley Road in Ballynanty on June 7, 2009. After two hours of deliberations the jury also found Edward Kelly, 40, with an address at Donoghmore Crescent, John Carew Park, guilty of assault causing harm.

Limerick Circuit Court heard the assault occurred at 12.01am on June 7, 2009, following the concert the previous day, when six people had gathered in the house to listen to the Elton John concert nearby. Mr Hynes sustained three injuries in the assault - to his head, face and back - requiring 25 stitches, while the prosecution argued that he had sustained "serious disfigurement" to his face.

The argument arose after Mr Hynes kept turning up the volume on the TV so loud that he "drowned out the Elton John concert" and kept changing channels, despite requests not to do so. Mr Hynes identified the two accused, but the defence claimed that the occupier of house, Martina Kiely, was behind the attack, citing that she had previously stabbed Mr Hayes, the father of her child, in the stomach.

During closing arguments, Anthony Sammon, SC, for the defence, questioned the credibility of the injured party, asking the jury: "Would you believe him? Would you buy a used car from him?" As the occupier of the home, Ms Kiely, has had a relationship with both the victim and one of the accused, Mr Sammon said "there is an awful lot going on in this case in the form of dynamics." Mr Sammon said the photographic evidence of the scene presented to the jury was "insulting". "There is only one way to deal with this sort of evidence presented by the Director of Public Prosecutions and that's to give it back to him. It's appalling," he said.

Brendan Nix, SC, for the defence, said there is "one island of fact in this case", which he believed rests upon the spattering of blood on the wall. Mr Hynes' blood was found on one wall of the living room, but its location was incompatible with where he said he was sitting at the time. "I don't believe the State ever considered the spattering (of blood] and pattern on the wall," said Mr Nix. A date for sentencing has been set for next Friday, April 30, 2010.
Elton John: The Biography
Sunday, April 25 2010
David Buckley's "Elton: The Biography", first published by Andre Deutsch as hardcover back in February 2007, has received an update covering the years 2007-2009 and is now available as paperback from the same publisher.
"Elton John: The Biography" is the first serious, authorative biography, fully updated to include recent successes such as Billy Elliot on Broadway.

Meticulously researched and drawing on many new and original interwiews with friends and associates, this book is the first serious and weighty, but also page-turning and entertaining, biography of the Queen Mum of Pop, whose enormous influence of the music business it is now cool to acklowledge.

Besides the foreword by Gary Osborne, this updated publication also includes a fascinating interview with Paul Buckmaster as appendix.



McCartney, Elton John earnings soar
Friday, April 23 2010
Paul McCartney and Simon Cowell will be smiling through the economic slump - they've made millions in the last 12 months as the U.K. music industry shows the green shoots of recovery.
Last year, the global financial crisis hit record labels hard, with rockers including McCartney and Elton John losing huge chunks of their fortune. But the industry appears to be moving out of the slump - according to Britain's Sunday Times annual rich list, some top earners have seen their income soar in the last 12 months.

Beatles legend McCartney's wealth rose to $712 million from $660 million, while Elton John's fortune is at $277 million, an increase of $15 million. Music mogul Cowell is now worth $247 million compared to $180 million last year. But it was a miserable 12 months for impresario Lord Andrew Lloyd-Webber - he lost $75 million from his $1.1 billion fortune.

The list is topped by Warner Music Group chief executive Edgar Bronfman, who became eligible by moving from New York to London last year - pushing record label boss Clive Calder down to second place.

In the rich list of British music stars aged under 30, Girls Aloud singer Cheryl Cole enjoyed a bumper 12 months - her blossoming solo career and soaring exposure from her role as a judge on TV talent show The X Factor caused her fortune to increase by a massive 150 per cent, to $15 million. Charlotte Church tops the young rich list, with $16.5 million.

The top ten musical millionaires in 2010, according to the Sunday Times, is:

1. Edgar Bronfman and family ($2.4 billion)
2. Clive Calder ($1.9 billion)
3. Lord Andrew Lloyd-Webber ($1.05 billion)
4. Sir Cameron Mackintosh ($950 million)
5. Sir Paul McCartney ($712 million)
6. Simon Fuller ($525 million)
7. Sir Mick Jagger ($285 million)
8. Sir Elton John ($277 million)
9. Sting ($270 million)
10. Keith Richards ($262 million)
Elton John and band performed in Orlando on April 22, 2010
Friday, April 23 2010
Following is the complete set list of the private concert for McDonald's in Orlando on April 22, 2010.
Funeral for a Friend

Love Lies Bleeding

Saturday Night's Alright (For Fighting)

Levon

Tiny Dancer

Philadelphia Freedom

Goodbye Yellow Brick Road

Daniel

Rocket Man

I Guess That's Why They Call it the Blues

Someone Save My Life Tonight

Take Me to the Pilot

Don't Let the Sun Go Down on Me

Candle in the Wind

Honky Cat

Bennie and the Jets

The Bitch Is Back

I'm Still Standing

Crocodile Rock (with "Old McDonald" intro)


Your Song

Circle Of Life (solo)
Elton John performs "Your Song" on American Idol
Friday, April 23 2010
Elton John, whose last major television performance was a duet with Lady GaGa during the Grammys in February 2010, appeared on American Idol on April 21, 2010 as part of "Idol Gives Back" and performed his classic hit "Your Song" on a red piano.
Despite speculation that he might have a high profile duet partner for the evening, his performance was a solo affair. Elton founded the Elton John AIDS Foundation nearly two decades ago and appeared on Idol as part of a collaborative charity effort. "HIV is not a life threatening disease anymore," Elton said of the evolving treatment capacity regarding the disease, and encouraged everyone to get tested for the disease.



Elton to perform on "Idol Gives Back"
Thursday, April 15 2010 at 13:03:47


Elton John's letter to Ryan White, 20 years after his death from AIDS
Friday, April 23 2010
By Sir Elton John
Sunday, April 25, 2010
Dear Ryan,

Twenty years ago this month, you died of AIDS. I would gladly give my fame and fortune if only I could have one more conversation with you, the friend who changed my life as well as the lives of millions living with HIV. Instead, I have written you this letter.

I remember so well when we first met. A young boy with a terrible disease, you were the epitome of grace. You never blamed anyone for the illness that ravaged your body or the torment and stigma you endured.

When students, parents and teachers in your community shunned you, threatened you and expelled you from school, you responded not with words of hate but with understanding beyond your years. You said they were simply afraid of what they did not know.

When the media heralded you as an "innocent victim" because you had contracted AIDS through a blood transfusion, you rejected that label and stood in solidarity with thousands of HIV-positive women and men. You reminded America that all victims of AIDS are innocent.

When you became a celebrity, you embraced the opportunity to educate the nation about the AIDS epidemic, even though your only wish was to live an ordinary life.

Ryan, I wish you could know how much the world has changed since 1990, and how much you changed it.

Young boys and girls with HIV attend school and take medicine that allows them to lead normal lives. Children in America are seldom born with the virus, and they no longer contract it through transfusions. The insults and injustices you suffered are not tolerated by society.

It breaks my heart that you are not one of them. You were 18 when you died, and you would be 38 this year, if only the current treatments existed when you were sick. I think about this every day, because America needs your message of compassion as never before.Most important, Ryan, you inspired awareness, which helped lead to lifesaving treatments. In 1990, four months after you died, Congress passed the Ryan White Care Act, which now provides more than $2 billion each year for AIDS medicine and treatment for half a million Americans. Today, countless people with HIV live long, productive lives.

Ryan, when you were alive, your story sparked a national conversation about AIDS. But despite all the progress in the past 20 years, the dialogue has waned. I know you would be trying to revive it if you were here today, when the epidemic continues to strike nearly every demographic group, with more than 50,000 new infections in the United States each year. I know you would be loudly calling for the National HIV/AIDS Strategy that was promised by President Obama but has not yet been delivered. I know you would reach out to young people. I know you would work tirelessly to help everyone suffering from HIV, including those who live on the margins of society.

It would sadden you that today, in certain parts of the United States, some poor people with AIDS are still placed on waiting lists to receive treatment. It would anger you that your government is still not doing enough to help vulnerable people with HIV and populations that are at high risk of contracting the virus, including sexually active teenagers. It would upset you that AIDS is a leading cause of death among African Americans.

It would frustrate you that even though hundreds of thousands of HIV-positive Americans are receiving treatment in your name, more than 200,000 don't know their HIV-positive status, largely because of a lingering stigma surrounding the disease that prevents them from being tested. It would disappoint you that many teenagers do not have access to science-based HIV-prevention programs in school, at a time when half of new infections are believed to be among people under 25.

I miss you so very much, Ryan. I was by your side when you died at Riley Hospital. You've been with me every day since. You inspired me to change my life and carry on your work. Because of you, I'm still in the struggle against AIDS, 20 years later. I pledge to not rest until we achieve the compassion for which you so bravely and beautifully fought.

Your friend,

Elton
Elton John commends Billy Eliott show by Gerrards Cross team
Wednesday, April 21 2010
Elton John has given his blessing to the new youth theatre production by a Buckinghamshire academy.
The founder of the Vocal Performance Academy in Gerrards Cross Catherine Françoise got the opportunity to meet Elton at the fifth year anniversary celebration of Billy Elliot the Musical in London.

Catherine is directing a youth theatre production of Billy Elliott for the Buckinghamshire and Middlesex area and held auditions earlier in the year. She said: "Sir Elton so charming and friendly, a delight to talk to. When he heard that I was directing a local youth theatre production of Billy Elliot for the Buckinghamshire and Middlesex area, he was very enthusiastic and encouraging. He went out of his way to enquire about our production, from the music to the staging and technical aspects of the show."

"He was especially interested in how the young people involved were finding the whole magical experience. It will delight my students, after this Easter break, to be able to give them a good luck message straight from Sir Elton himself".

Due to the success of the musical in the West End organisers of the original show have licensed 115 drama groups nationwide to perform adapted productions of the musical. Catherine added: "It is very unusual for West End productions to issue licensing permission to local drama groups when the show is still currently being performed in the West End and we were especially thrilled when Vocal Performance Academy were selected."

Enthusiastic performers, boys and girls, between the age of 10 and 19 can still audition to be part of the show at the Swan Theatre on May 22, 2010 at 7.30pm. Go to www.VocalPerformanceAcademy.co.uk for more details.
Meet Elton at Vicarage Road raises £3,200
Wednesday, April 21 2010
Watford FC held their annual end of season Awards Dinner on April 18, 2010.
The event, which took place at the Shendish Manor Hotel, is a black tie event, and includes a three course dinner culminating in the clubs award ceremony. This year, Tom Cleverley won the Player of the Year trophy. The club were also proud to announce they were joint winners of the Football League Foundation Community Club of the year award for their work supporting the community.

During the evening various prizes were auctioned, and one of these was to meet Elton John in person. The package included full hospitality for two people pre-concert, and then they would be taken to the VIP lounge to meet Elton and have their photo taken with him. Seats for the concerts would be in the directors box and the winners would receive an exclusively signed event programme. This auction raised £1,600, but because of its popularity, another prize was added, and offered to the runner-up, making a total of £ 3,200 in all.

Elton did not attend the evening.
40 years ago ...
Wednesday, April 21 2010
... on April 21, 1970 ...
... Elton John made his solo concert debut when he opened for T. Rex in London.
Iowa fan, 7, sings with Elton John
Sunday, April 18 2010
A 7-year-old Elton John fan got the highlight of his young life in Des Moines on April 16, 2010.
Brody Reilly said he's been a fan of the Rocket Man since he heard him sing "Crocodile Rock" on an episode of "Bob the Builder." Reilly's father said he promised to take his son to a concert if Elton John ever came to Des Moines.

The boy had a front row seat when the singer performed "Crocodile Rock" and soon found himself on stage. "After the second part of the song, he let me up there," Reilly said. "The security guards said, 'No, no,' but Elton John stopped them."

"When 'Crocodile Rock' came on, I saw her lift him up and then I saw security come," said Brody's father, Mike Reilly. "I was like, 'Oh boy, he's in trouble now,' but Elton was standing right there and he said, 'No, no, no,' and he got to sing the song with him."

Brody Reilly also got to see Elton John in Omaha last year. That time, he not only got an autograph, he also got some drum sticks and guitar picks to take home.
Oprah's giveaway
Sunday, April 18 2010
Oprah mocked herself on her April 16, 2010 show, giving away tickets to musical "Billy Elliot" in a way that was reminiscent of her famous "You get a car!" segment from 2004.
After announcing that guest Elton John had brought "Billy Elliot" soundtracks for the entire audience, she then revealed that there were tickets as well. "But that's not all...he also brought tickets so that everybody in the audience can go see the show!" she said.

"You and you and you get a ticket. You get a ticket! You get a ticket!" she then shouted out, pointing around the audience. In 2004, she gave nearly 300 audience members a new car in her most classic giveaway for all time. "You get a car! You get a car! You get a car! Everybody gets a car!" she famously said.
Sir Elton's outfits raise £8,000
Saturday, April 17 2010
Dozens of designer outfits Sir Elton John donated to a charity shop in Sussex have raised more than £8,000.
Elton and David donated the garments to the Sussex Beacon shop in George Street, Hove, earlier in April 2010. Scores of fans snapped up shoes and clothes by Alexander McQueen, Versace and Chanel that were sold for between £20 and £1,000.

Sussex Beacon hailed the two-day sale a huge success.



Elton's clothes help charity shop
Wednesday, March 31 2010 at 18:43:31

Elton auctions 100 pairs of shoes for charity
Monday, March 22 2010 at 15:59:53


Elton John in the USA live audio recordings by simfylive.com
Thursday, April 15 2010
Simfy live exclusively records Elton John's live performances in the USA.
Each concert will be available on the Elton John MP3 USB flash drive (MP3s in 320kbit/s, 1 GB, collector's box), as MP3 download, or as a 2-CD set. It's a truly unique collectors item and a must-have for every Elton John fan.

Visit the simfylive.com website for an overview of all Elton John live audio recordings.



Elton to perform on "Idol Gives Back"
Thursday, April 15 2010
As part of his global effort to raise awareness for and to end HIV/AIDS, Elton John will perform on "Idol Gives Back", airing April 21, 2010 (8:00-10:00 PM ET live/PT tape-delayed) on FOX, on behalf of the Elton John AIDS Foundation.
Alicia Keys, Carrie Underwood, The Black Eyed Peas, Annie Lennox, Jeff Beck & Joss Stone and Mary J. Blige & the All-Star Band will also perform. In addition, the Bill & Melinda Gates Foundation has joined "Idol Gives Back" as a not-for-profit partner on the charity special.

The brainchild of Simon Fuller, "Idol Gives Back" has made history by raising over $140 million for charity to date. This year's special celebration will help raise awareness and funds to benefit various U.S. and international charities, including Children's Health Fund, Feeding America, Malaria No More, Save the Children's U.S. Programs and the United Nations Foundation.

News Corporation, Ford Motor Company, Coca-Cola, AT&T and ExxonMobil will return as corporate sponsors of "Idol Gives Back" and will generously donate to the historic Emmy Award-winning television event. Viewers will once again be able to make donations during and following the show. In addition, the week's voting results will be revealed, sending one of the finalists home.

Tickets are currently on sale for the "Idol Gives Back" celebration at the Pasadena Civic Auditorium and can be purchased by calling +1-800-745-3000 or by visiting ticketmaster.com. Net proceeds from ticket sales will go to the "Idol Gives Back" Foundation.

Additionally, viewers can visit www.idolgivesback.org now and join the "Help Me Give Back" program, an online initiative that empowers individuals and teams to help raise money for "Idol GivesBack". The website also allows access to an online auction featuring one-of-a-kind items such as an AMERICAN IDOL Season Ticket Pass, a Meet & Greet with Simon Cowell, a pair of autographed sneakers from Ellen DeGeneres and more. The auction runs until 11:59 PM PT on Tuesday, April 20, 2010.
Elton attends Chicago opening of 'Billy Elliot The Musical'
Monday, April 12 2010
Even though Elton John guesses he has seen "Billy Elliot The Musical" 30 or 40 times in New York, Australia, London — and, as of April 11, 2010, Chicago — he admits to getting teary-eyed every time.
"It never fails to get me — especially at the end," said Elton, who composed the score for "Billy Elliot," on the red carpet before the show's highly anticipated opening night at The Ford Center/Oriental Theatre (24 W. Randolph St.). "It always makes me very tearful because of the sacrifice the miners made. I never get fed up with it."

Chicago chef Rick Bayless and Jesse Jackson Sr. were both on hand for the April 11, 2010 opening (Jackson seemed to balk when asked to name his favorite Elton song), as was nearly every major Chicago media outlet, joined by autograph seekers and at least one fan who appeared to be weeping. Elton arrived at his seat with Oprah Winfrey, whose Harpo Productions had cameras at the event.

Of course, Elton isn't the only reason for all the "Billy" buzz. The Stephen Daldry-directed musical, which began previews in Chicago March 18, 2010, won 10 Tonys in 2009 and was declared "The best musical of the decade" by Time magazine.

Why, in Elton's opinion, is the show such a big hit? "Because it says so much about someone's fight to become who they want to be," he said.
Elton John and band performed in Austin on April 10, 2010
Monday, April 12 2010
Following is the complete set list of the Austin show on April 10, 2010.
Funeral for a Friend

Love Lies Bleeding

Saturday Night's Alright (For Fighting)

Levon

Madman Across the Water

Tiny Dancer

Philadelphia Freedom

Goodbye Yellow Brick Road

Daniel

Rocket Man

I Guess That's Why They Call it the Blues

Sad Songs (Say So Much)

Take Me to the Pilot

Something About The Way You Look Tonight

Don't Let the Sun Go Down on Me

Sorry Seems to be the Hardest Word

Candle in the Wind

You're Never Too Old

Honky Cat

Burn Down The Mission

Bennie and the Jets

The Bitch Is Back

I'm Still Standing

Crocodile Rock


Your Song

Circle Of Life (solo)
Elton John and band performed in Corpus Christi on April 6, 2010
Wednesday, April 7 2010
Following is the complete set list of the Corpus Christi show on April 6, 2010.
Funeral for a Friend

Love Lies Bleeding

Saturday Night's Alright (For Fighting)

Levon

Madman Across the Water

Tiny Dancer

Philadelphia Freedom

Goodbye Yellow Brick Road

Daniel

Rocket Man

I Guess That's Why They Call it the Blues

Sad Songs (Say So Much)

Take Me to the Pilot

Something About The Way You Look Tonight

Don't Let the Sun Go Down on Me

Sorry Seems to be the Hardest Word

Candle in the Wind

You're Never Too Old

Honky Cat

All the Girls Love Alice

Burn Down The Mission

Bennie and the Jets

The Bitch Is Back

I'm Still Standing

Crocodile Rock


Your Song

Circle Of Life
Elton still gaga
Sunday, April 4 2010
Elton is delighted his new pal Lady Gaga is recording the next James Bond song and he can't wait to sing with the wacky star.
Elton said: "I'm really pleased that Lady Gaga is up for the theme tune. She's fantastic and it would be amazing to do a duet."



Elton John performs at Mayan pyramids
Sunday, April 4 2010
Elton John entertained thousands of fans on April 3, 2010 at an open air concert at the ancient Mayan pyramids of Chichen Itza in southeastern Mexico.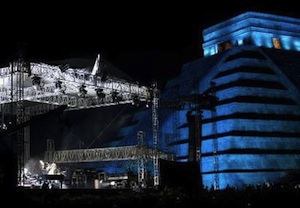 Nearly 6,000 spectators, who paid between $80 and $800 (60-600 euros) per ticket heard some of Elton's most popular classics, with the pre-Hispanic Temple of Kukulkan as a backdrop. The 90-minute concert went ahead amidst the majestic pyramids despite indigenous leaders' complaints and an accident that saw the stage collapse, injuring three workers.

Local Mayan leaders complained the concert was irreverent and out of place. They said the accident was the work of "aluxes," the Mayan culture's equivalent of fairies, who were upset because their gods' permission for the concert was lacking. At the concert, Elton cheered fans with hits like "Sacrifice," "Tiny Dancer" and "Rocket Man." He closed the show with "The Circle of Life."

Ever since his arrival April 3, 2010 afternoon on a private jet from London, Elton was protected by a police and military operation with hundreds of officers who also set up roadblocks at the entrances to the archeological site. He was scheduled to leave Mexico within hours of his performance.

The state of Yucatan, home to Chichen Itza, is considered one of the safest in Mexico, where a brutal drug war has killed over 15,000 people in the past three years. Elton was the fourth major international star to perform at Chichen Itza, a UNESCO World Heritage site, after British soprano Sarah Brightman (2009), Spanish tenor Placido Domingo (2008) and Italian tenor Luciano Pavarotti (1997). These events have triggered protests by some indigenous leaders, who accuse the Yucatan government of jeopardizing what remains of the ancient ceremonial site to profit from elitist performances.



Elton John's Mexico concert angers Mayans
Saturday, April 3 2010
Even after the stage collapsed injuring three workers, indigenous Mayans complained on April 2, 2010 that Elton John's upcoming concert in the ruins of Chichen Itza was irreverent and out of place.
The concert amid the majestic pyramids in southern Mexico is going ahead on April 3, 2010 as planned, organizers said, despite the accident caused by a collapsing 80-meter (262-foot) metal tower which left one worker with serious leg injuries. The announcement rankled local Mayan leaders and officials, who pointed out that perhaps the accident was the work of "aluxes," the Mayan culture's equivalent of fairies, who were upset because their gods' permission for the concert was lacking.

"With each concert, in the early morning, a ritual is performed to ask for permission, and this time it was not done," Yucatan state public works secretary Francisco Torres told the Reforma daily. As with previous concerts by Spanish tenor Placido Domingo in 2008 and British soprano Sarah Brightman in 2009, Mayan leaders, archaeologists and some say even the local gods, resent the sacred ruins being used for profit-seeking entertainment.

Forty researchers from the National Institute of Anthropology and History, which takes cares of the Chichen Itza complex, recently published their complaints about the musical event in local media. Chichen Itza "is no scenery for an artist to show off, for the enjoyment of an elite or for the political and economic benefit of a small group of people, as well as powerful multinationals," wrote the scientists. The concert venue near Merida has a 6,000-seat capacity that is 90 percent booked, with ticket prices ranging from $80 to $800 – putting it clearly out of range of the local Maya population.

Valerio Canche, a Mayan priest who heads the "Mayao'b" religious group, told Agence France-Presse he regretted "the great discrimination the authorities are inflicting on our brothers of the Maya race." Meanwhile, local authorities earlier this week announced they had purchased the land on which the Chichen Itza ruins stand from private individuals for $17.6 million. And without missing a beat, they announced that former Beatle Paul McCartney was next in line to hold a concert at the Mayan ruins.



Elton's stage collapses in Mexico
Friday, April 2 2010 at 21:03:33

Elton on collision course with Archaeology at Chichen Itza?
Saturday, December 19 2009 at 13:03:48

Elton John and Paul McCartney will sing at Chichen Itza
Tuesday, November 17 2009 at 18:14:29


Elton's stage collapses in Mexico
Friday, April 2 2010
Three construction workers were injured when part of a stage being set up for an Elton John concert collapsed at the Chichen Itza ruins in Mexico.
One of the workers was hospitalised with a broken leg while the other two were treated for minor injuries after the upper lighting rails of the 262ft-high metal rigging had collapsed onto the stage area. The rails are used to hold spotlights and other technical equipment.

Elton was not present when the accident occurred, and the concert, which is scheduled to take place on April 3, 2010, has not been cancelled. Francisco de Anda, a spokesman for Mexico's National Institute of Anthropology and History, which is in charge of the country's pre-Hispanic sites, said that there was no damage to the 1,200-year-old Mayan ruins, which were named one of the New Seven Wonders of the World in 2007.

Mr De Anda said that the stage was put up at a distance from the pyramid and temples to avoid any potential damage. He said that experts had been called in to review the structure to ensure that it could be safely installed. The accident cut off tourist access to the archaeological.

Some Mexicans have opposed holding concerts at the ruin site, claiming it demeans their cultural significance and endangers the stone structures. Many concerts have been held at Chichen Itza since Luciano Pavarotti sang there in 1997. In 2008, Placido Domingo drew about 4,000 spectators to a concert without incident.

Elton's concert on Saturday will be the third musical event held at Chichen Itza in the past few years, after performances by Placido Domingo, and the British soprano Sarah Brightman in 2009.



Elton on collision course with Archaeology at Chichen Itza?
Saturday, December 19 2009 at 13:03:48

Elton John and Paul McCartney will sing at Chichen Itza
Tuesday, November 17 2009 at 18:14:29


Hornets stars push final Elton John concert tickets
Thursday, April 1 2010
Hornets stars will meet and greet supporters the week after Easter 2010 as music fans prepare to snap up the final 1,000 tickets for Elton John's Vicarage Road concert.
A number of Watford FC players will be signing autographs at the Harlequin Centre's customer service desk between 2.30pm and 4pm, April 6 to 9, 2010, as part of push to sell the remaining tickets. Former club chairman and honorary life president Elton will rock the Vic on May 29, 2010.

When it was launched in November 2009, former chairman Jimmy Russo said he hoped the club would raise £600,000 for buying new players. The names of players to appear has not been released as it is subject to change at short notice.
Tickets are on sale already so anyone can buy them now. Telephone +44 844 8561881 or visit www.watfordfc.com.



Elton John celebrates Billy Elliot's fifth anniversary
Thursday, April 1 2010
Elton John celebrated the huge success of his Billy Elliot musical in London with the help of his famous friends on March 31, 2010.

David Walliams, his fiancée Lara Stone and Elton's partner David Furnish gathered at the Palace Theatre in London to mark the fifth anniversary of the West End show. Elton, who wrote the music for the musical, joined director Stephen Daldry and screenwriter Lee Hall and 19 past, present and future 'Billys' for the special performance.

Since the show first opened in March 2005, it has wowed both critics and audiences, picking up four Laurence Olivier Awards, an Evening Standard Award and a Critics Circle Award. Before the show began, Elton surprised the audience by walking on stage and speaking of his pride in the musical. He admitted he knew the film would make a good musical as soon as he saw the original film as the Cannes Film Festival in 2000.

He said: "I stole all the glory... It's a remarkable show with a life of its own. Obviously you want to write the best thing you can. The story was so emotional anyway. It's not even about Billy, it's about the miners. What they went through."

Daldry, who directed both the film and stage versions, admitted he wasn't sure the show would be a hit: "When we first started performing this show I really didn't think we'd get through the end of the week." Hall, who wrote the story 13 years ago, was equally surprised by the film and stage success: "I thought nobody would want to watch anything about boy ballet dancers. It's a real shock to have five years here in the West End given the economic climate. It's like a miracle."

Also in attendance was the original run's adult stars Tim Healy and Haydn Gwynne, who played Billy's father Jackie and ballet teacher Mrs Wilkinson respectively. Healy said: "It was one of those things you never forget. It was a wonderful experience for me. I'm the only one who hasn't grown any taller."

After the London run was such a success, subsequent production opened in Sydney, Melbourne and Broadway. The Chicago production opened in February 2010, while Elton will travel to South Korea in August 2010 to launch another show in Asia.