ELTON JOHN NEWS ARCHIVE: April 2009
DVD/Blu-ray "The Red Piano Concert" in stores May 5, 2009
Thursday, April 30 2009
Thousands of Elton John fans have traveled to Caesars Palace Las Vegas to see over 200 sold-out The Red Piano shows, helping break attendance records and setting new standards for musical entertainment.

Now available everywhere for the first time, the concert DVD or a high-definition Blu-ray format contain the 14-song performance of The Red Piano show, including fan favorites such as "Candle in the Wind," "Your Song," "Rocket Man" and "Tiny Dancer." The Blu-ray features a bonus 50-minute documentary, "The Life and Legacy Of Elton John," with behind-the-scenes of David LaChapelle's treatment of the show, plus stage projections, as well as unique raw videos made for the stage backdrop for select songs.

LaChapelle has made a name for himself for his celebrity portraits and videography for artists such as Madonna, Amy Winehouse, and Britney Spears. The show debuted to critical acclaim in February 2004 with reviews proclaiming it as "A must-see" and USA Today notes that "Sir Elton is still standing as an indestructible talent."

Using a red piano as a starting point, Elton enlisted his friend and photographer David LaChapelle to develop art and imagery that would complement the music and enhance the experience for the audience, coupled with lyrics by long-standing song-writing partner Bernie Taupin. The production raised the bar for Las Vegas performances featuring multi-color neon sculpture, pop art, inflatables, baubles, balloons and the band. "It's [the show] what I'm like from an artistic point of view," said Elton. "It's fun, it's deep, it's the songs I really love and it gives me a chance to get across what I am all about, visually as well as musically."

DVD & BLU-RAY: RED PIANO LIVE FROM LAS VEGAS [104 mins]
[Band Instrumental Performance]
1. Benny and the Jets
2. Philadelphia Freedom *
3. Believe *
4. Daniel *
5. Rocket Man *
6. Answer In The Sky *
7. Tiny Dancer
[Band Introduction]
8. Don't Let The Sun Go Down On Me *
9. Candle In The Wind *
[Elton Suit Change / Vegas Montage Footage]
10. Pinball Wizard *
11. Bitch Is Back *
12. I'm Still Standing *
13. Saturday Night's Alright For Fighting *
[Encore]
14. Your Song

BLU-RAY ONLY: DOCUMENTARY [50 mins]
The Life and Legacy of Elton John, with behind-the-scenes of David LaChapelle's 'Red Piano' treatment of Elton's live stage show.

DAVID LACHAPELLE STAGE PROJECTIONS
The unique raw videos made for the stage back drop for track marked with *
Elton and Billy take top spot on the North American tour list
Thursday, April 30 2009
The Top 20 Concert Tours ranks artists by average box office gross per city in U.S. dollars and includes the average ticket price for shows in North America.
The previous week's ranking is in parentheses. The list is based on data provided to the trade publication Pollstar by concert promoters and venue managers.

TOP 20 CONCERT TOURS

1. (2) Elton John / Billy Joel; $2,185,634; $115.84.

2. (3) Celine Dion; $2,075,108; $106.68.

3. (1) Britney Spears; $2,046,399; $97.09.

4. (4) Eagles; $1,691,056; $130.12.

5. (New) Bruce Springsteen & The E Street Band; $1,646,223; $89.71.

6. (6) Fleetwood Mac; $1,143,665; $98.71.

7. (7) Nickelback; $789,761; $58.39.

8. (8) Rascal Flatts; $656,209; $61.08.

9. (9) Lil' Wayne; $573,928; $68.72.

10. (10) Brad Paisley; $454,374; $48.30.

11. (11) Motley Crue; $382,436; $54.11.

12. (12) Jeff Dunham; $272,548; $44.17.

13. (13) The Killers; $263,409; $42.69.

14. (14) Slipknot; $250,080; $37.87.

15. (15) New Kids On The Block; $229,557; $53.62.

16. (16) Avenged Sevenfold / Buckcherry; $184,684; $36.91.

17. (17) John Legend; $179,374; $55.41.

18. (18) Larry The Cable Guy; $172,301; $32.82.

19. (19) Rain - A Tribute To The Beatles; $168,160; $47.40.

20. (21) Ron White; $143,698; $44.67.
Breast Cancer Research Foundation annual spring benefit
Thursday, April 30 2009
On April 29, 2009 in New York, down at the Waldorf in the Grand Ballroom, the Breast Cancer Research Foundation held its annual spring benefit.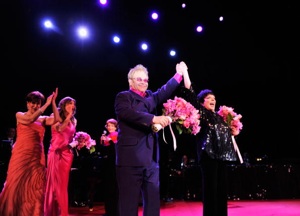 The phenomenon was created about two decades ago by Evelyn Lauder to raise funds to assist researchers finding a cure. There are other organizations engaged in similar tasks and goals, and all of them are bringing something to the table in the fight against cancer.

The evening's theme is always pink – an idea that derives from the choice of the color to represent not only the foundation's work, but the cause itself. Hence the pink ribbon. The Grand Ballroom is done up in Pink. The theme titles are pink. They fill the place.

That night there were about 1,200 guests – no numbers shrinkage due to the economy for these folks. And of course they raise a lot of money - it was close to $4 million. Since they started raising money in the early 90s, they've raised almost a quarter billion dollars! And most of it goes directly to the research doctors and scientist.

BCRF is so streamlined that only 8 cents of every dollar goes to administration of the foundation. The rest goes directly to research. Evelyn Lauder did this. She's had amazing help. But she founded it, found the help and has kept it moving at a grand pace. It's the miracle of the resolute. It's like the "ambition" in Randy Jones' "Richest Man in Town." You can feel it in the room. You can also feel the optimism that is not misplaced. One woman did this. And now many men and women do.

Elton John has been aboard for the past nine years donating his time and his performances to the guests. This year he was joined by Liza Minnelli, and the two stars brought down the house with their concert. The beautiful Elizabeth Hurley was emcee.



The Hot Pink Party
Wednesday, April 15 2009 at 06:36:23
If "Elton" phones, call the cops
Thursday, April 30 2009
Elton John AIDS Foundation representatives were expressing gratitude to WSB-TV reporter Tom Regan on April 28, 2009 after his investigative report exposed an alleged local thief using Elton's name.
Regan's highly promoted sweeps piece aired on multiple newscasts April 27 and 28, 2009. "Unfortunately, with the state of the economy, we're probably going to see more of this kind of fraud," said Barron Segar, Elton John AIDS Foundation Atlanta board member.

Segar said he was especially dismayed that good-hearted Atlantans were victimized by someone using Sir Elton's name, who traded on the Atlanta-born charity's stellar reputation to acquire baked goods and furnace repair work.

Regan reported that an arrest warrant had been issued for the alleged scammer, identified by WSB as James Sanders. Segar says that the EJAF has an in-depth grant-writing and fund-raising process and works only with painstakingly selected AIDS nonprofits. For Segar, the fraud became apparent when Regan's report played back a phone call from an alleged EJAF worker ringing a bakery and ordering pricey pastries while pretending Peachtree Road's most famous resident was on the other line.

Referencing Sir Elton's lavish and generous spending habits, Segar said: "If someone is on the phone, asking for free cakes and tells you Elton is on the other line, you should immediately dial 911." Still, because the EJAF does so much legitimate fund-raising in the singer's adopted U.S. hometown, if you're unsure about a request, Segar suggests going to ejaf.org and e-mailing an official rep or phoning the foundation.

#Henri's Bakery owner Suzette Dinardo, who ended up eating $1,600 in lost cake revenue through the scam, can expect a small token of Sir Elton's appreciation. Segar told us the EJAF plans to treat Dinardo to two of the performer's house seats for his "Billy Elliot" musical on Broadway, complimentary AirTran tickets and an autographed CD.
Andy Roddick gushes about his wedding
Thursday, April 30 2009
Andy Roddick may be used to the glitz and glam of Hollywood – but having Sir Elton John sing at his recent wedding to Brooklyn Decker was "very, very surreal."
The tennis star writes on his official site: "It was great to have so many of our family and friends make the trip and share the occasion," writes Andy, who wed Decker in his backyard in Austin, Texas. "We had to set up a tent 'cause the weather was not agreeing with us, but it ended up working out, so it's all good."

Among the wedding guests were tennis stars Steffi Graf and Andre Agassi – and, of course, Elton John, whose gift was to sing at the couple's reception. Having the music legend on hand "was beyond awesome," Roddick writes. "For him to make time for us, needless to say it was beyond amazing."

But still, for Roddick and his Sports Illustrated swimsuit model bride, being surrounded by so many loved ones was the best part of the day. "It was one of the only times in our entire lives that we will have family, our best friends from home, and our professional worlds in the same place at the same time and it definitely all went too fast," he wrote.



Elton John expected at Andy Roddick's wedding
Friday, April 17 2009 at 10:10:15


Elton John AIDS Foundation Photography Portfolio
Tuesday, April 28 2009
The year 2009 marks the 17th year of the Elton John AIDS Foundation (EJAF). As a vehicle for recognizing the Foundation's accomplishments, looking ahead to the continuing challenges of the HIV/AIDS epidemic, and raising urgently needed dollars for their life-saving work, EJAF is pleased to announce the publication of the first Elton John AIDS Foundation Photography Portfolio.
This Portfolio is a collection of ten signed and numbered prints donated to EJAF by some of the world's most important contemporary artists. Each 20 x 24 inch Portfolio contains ten original photographs, printed under the supervision of the individual artists in an edition of 40 with 12 artist's proofs.

The Portfolio features works by Nan Goldin, Katy Grannan, Damien Hirst, Sally Mann, Richard Misrach, Shirin Neshat, Thomas Struth, Sam Taylor-Wood, Juergen Teller, and Ruud van Empel. Please visit www.ejaf.org/portfolio to view all of the images featured in the Portfolio.

The Portfolio will be previewed to the public May 7 to 12, 2009, at the Lehmann Maupin Gallery, 540 West 26th Street, in New York City, and it will be exhibited May 19 to August 22, 2009, at Jackson Fine Art, 3115 East Shadowlawn Avenue, in Atlanta, GA.

Funds raised through the sale of the EJAF Photography Portfolio will help to make a difference in the lives of people living with HIV/AIDS across the Americas and the Caribbean by supporting critical HIV prevention programs, efforts to reduce stigma and discrimination, and direct care and support services to populations in need.
Elton and McCartney hit by economic crisis
Friday, April 24 2009
British singers Paul McCartney, Elton John and Mick Jagger have lost large chunks of their personal fortunes during the economic crisis over the last year, according to a rich list published on April 24, 2009.
Along with many of the world's richest people, their wealth has been eroded by sharp falls in the value of property, shares and other investments, the annual survey for the Sunday Times newspaper said.

Elton John's personal wealth fell by more than a quarter to 175 million pounds from 235 million pounds ($342.3 million) last year. He saw his wealth tumble due to a combination of the effects of the downturn, the end of a lucrative run of Las Vegas concerts and donations to charity worth 42 million pounds.

Former Beatle McCartney saw 60 million pounds wiped off his fortune, a 12 percent decline on last year. Jagger, lead singer of the Rolling Stones, fared even worse. His wealth slipped by 16 percent to 190 million pounds.

The list of the richest 1,000 in Britain is out on April 26, 2009.
Elton ends "Red Piano" run in Las Vegas
Thursday, April 23 2009
The Rocket Man bid farewell to the Las Vegas Strip on April 22, 2009 after five years and 241 shows at Caesars Palace — but said it won't necessarily be a long, long time before he returns.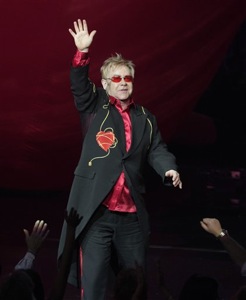 Wearing a bright red shirt that matched his piano and a coat emblazoned with "Las Vegas Pirates" on its back and "Captain Elton" on its right sleeve, Elton John rolled through his hits and reflected on his time at the Colosseum, a stage he famously shared with Celine Dion, Bette Midler and Cher.

"The ex-home of Celine Dion ... and now it's the ex-home of Elton John as well," he said. Elton said later in the show that he'd like to see Dion play the venue again. "Who are you going to get to fill in our shoes now?" he said. "You've got Bette Midler, you've got Cher. It's gonna be the Village People next."

Elton initially signed on for 75 shows over three years when his run began in February 2004, but casino officials say the deal was expanded because of demand. "I really have enjoyed every single moment of this engagement," the five-time Grammy winner said after opening the show with "Bennie and the Jets."

Many audience members seated close to the stage Wednesday night gave Elton a standing ovation after each hit he played, including "Candle in the Wind," "Rocket Man" and "Tiny Dancer."

"One day I might even see you in Vegas, OK? But until then, I love you," Elton said before ending the show with "Your Song" and kissing an audience member's hand as he exited the stage.
Elton and David too busy to be partents
Thursday, April 23 2009
Elton did the final performance of his show, The Red Piano, at Caesars Palace in Las Vegas on April 22, 2009, but that doesn't mean he and David will suddenly settle down to build a family.

"I don't think our lives are suited to raising children," Furnish, 46, told PEOPLE at the GLAAD Media Awards in Los Angeles on April 18, 2009. "We're busy flying places all the time."

Said David, "Elton is not really going to come off the road. We don't want to put the raising of children into the hands of nannies and housekeepers. We want to be active parents. We have godchildren [and] kids that we support in Africa, so we're fine." Elton and David have 10 godchildren, including the offspring of pals Victoria Beckham and Elizabeth Hurley.

After dating for 12 years, the two were joined in a civil partnership in December 2005, under a then-new British law for same-sex couples. So while Elton and David are not married, they enjoy similar benefits to married couples.

Reflecting on their time together, David says, "When all the dust settled, we looked at each other and said, 'Wow, this feels really nice.' We did it in Britain in a civil partnership, initially for human rights reasons. We recognized it as ground-breaking legislation we wanted to send a message out to the world that we felt it was something that deserved recognition and support."

But civil partnership is more than a political statement, says Furnish: "Your love and union has been ratified and accepted by society, and that's a really nice feeling."
Elton's final "Red Piano" show in Las Vegas
Wednesday, April 22 2009
Elton will perform his 241st and final "Red Piano" show in Las Vegas on April 22, 2009.
The show made its debut in February 2004 at The Colosseum theater at Caesars Palace. After initially signing on for 75 shows, Elton's engagement was extended.

Elton will continue to tour with the "Red Piano" in Europe later in 2009.
Bernie Taupin's new website
Wednesday, April 22 2009
Bernie Taupin has a new website with all of his lyrics as well as infos about his artwork.
You can check it out at www.berniejtaupin.com.



UPDATE: Bernie Taupin "He Who Rides The Tiger" reissue
Tuesday, March 10 2009 at 06:48:15


Pinball Hall of Fame owner wants to ring Elton John's bell
Friday, April 17 2009
The Pinball Hall of Fame owner is flippin' angry and wants a piece of Elton John.
"I want him in the squared circle, a cage match, one round, winner takes all, only one man leaves alive," is how Tim Arnold leveled the challenge today. "I'll meet him in the air-conditioned confines of Cobo Arena." That last reference is to the venerable multi-use venue in Detroit that hosted hundreds of wrestling events since it opened in 1960. And, yes, there is a backstory here.

Five years ago, Elton and acclaimed photographer and director David LaChapelle were designing the stage show for Elton's "Red Piano" production at The Colosseum at Caesars Palace. During this process, they sent a film crew to the Pinball Hall of Fame on East Tropicana Avenue and Pecos Road to capture footage for a Las Vegas montage to be splashed across The Colosseum's vast LED screens during Elton's performance of "Pinball Wizard." As Arnold recounts, he heard from one of Elton's "peeps," and days later five or six guys showed up at his business one afternoon and spent a few hours using a 35-mm film camera to shoot throughout his business, focusing on the famous 1976 Capt. Fantastic and the Brown Dirt Cowboy pinball machine that bears Elton's image.

Arnold claims to have been promised $500 and tickets to one of Elton's "Red Piano" performances for the trouble. Arnold's museum, filled with more than 200 vintage games (most of them pinball machines dating back several decades), is a nonprofit, so he planned to donate the money, auction off the tickets and deliver the proceeds to his favorite charity, The Salvation Army. "He could have just written a check to The Salvation Army for all I cared." But Arnold was never paid, never provided the undisclosed number of tickets for raffle and has never seen or heard from Elton's camp since the filming.

"I've never even seen his show," says Arnold, who of course has played the Elton-inspired game hundreds of times. "I'm ready to take him on, though. I've got the tights and everything."

Like a latent volcano, this controversy stirred a few nights ago when Arnold was interviewed by the Las Vegas Sun for a video project and asked if any celebs had visited the Hall of Fame. "Leonard Maltin, the film critic," was the first answer. Then Arnold said, "But Rocket Man, Elton John, owes me $500!"

Arnold has been scrambling even more than usual recently, as he prepares to move from his current spot to a larger, 5,000-square-foot facility at 1610 E. Tropicana Avenue. That address probably means nothing until you know that it sits across the street from the Liberace Museum, and there is something poetically fulfilling in those two businesses sharing the same radius.
Elton John expected at Andy Roddick's wedding
Friday, April 17 2009
Elton John will perform at tennis star Andy Roddick's wedding to Sports Illustrated swimsuit model Brooklyn Decker the weekend of April 18/19, 2009, multiple sources tell PEOPLE magazine.
"He's supposed to perform and everyone's really excited," says a source close to Elton, who knows the tennis champ and groom-to-be, 26, through their mutual involvement in charity work.

Two years ago Elton performed at the Andy Roddick Foundation's Charity Gala. Last year, Roddick led "Team Elton John" in the Advanta WTT Smash Hits charity event, which raised more than $400,000 for the Elton John AIDS Foundation.

Roddick's wedding to Decker, 21, will also feature several other celebrity guests, including tennis stars Steffi Graf and Andre Agassi, as well as Marty Fish and James Blake. The pals will attend the small ceremony, to be held at Roddick's Austin, Texas home, and wedding banquet at a nearby country club.

The bride will also have a fashion contingent at the nuptials, with fellow swimsuit model Julie Henderson in attendance.



Phillip R. Dennis dies at 51
Friday, April 17 2009
Costume designer Phillip R. Dennis, who worked on wardrobes for Barry Manilow and Elton John, died April 8, 2009 in Granada Hills, CA after a lengthy battle with cancer. He was 51.
For nearly 30 years he served as costume designer or wardrobe director for feature films, television, music and theater productions.

Dennis was raised in Maryland and studied costume design and retail advertising at Columbus College of Art and Design in Columbus, Ohio.

He is survived by three sisters and six brothers.
The Hot Pink Party
Wednesday, April 15 2009
The Breast Cancer Research Foundation's (BCRF) annual spring benefit to be held on April 29, 2009, will welcome 1,200 guests, including New York socialites, high-end donors, major corporations and press.
Join BCRF for a memorable evening, with performances by Sir Elton John and his special guest, Liza Minnelli! The event will take place at the Waldorf=Astoria in New York City.

Evening Schedule:

7:00pm--7:45pm: Cocktails
7:45pm--9pm: Dinner
9:00pm--10:00pm: Concert

Contributions to The Breast Cancer Research Foundation are tax deductible to the extent allowed by law; the non-deductible portion of each ticket is $200.

For additional information, please contact Lucretia Gilbert at +1 (646) 497-2622, or lgilbert@bcrfcure.org. Response forms may also be faxed to +1 (646) 497-0890.

Download the response form from the BCRF website.
Elton John says 'technology slows me down'
Thursday, April 9 2009
Recording studio software is proof of the creativity and ingenuity of programmers who work in and for the music industry.
With little more than a laptop, keyboard and software such as Cubase, musicians can produce almost any track, complete with drums, orchestra and backing harmonies. Bad singing can be corrected to some extent – wrong notes too, and bad timing. Inexperienced musicians can record a difficult few bars in a fraction of the normal speed, and with a few clicks of a mouse speed it up.

But are good musicians better off for today's technology? Elton John doesn't think so. He was speaking to the makers of am "ISIS" documentary series on classic albums which featured Yellow Brick Road. Elton spoke about recording techniques then and today.

He said: "It was a great environment to be in and it was quick. In those days you didn't have the technology to slow you down. I always find now that technology slows you down so much. In those days you just plugged in your amp, you did the take and your vocals and then you went to your next song."

Arguably Elton wrote his best songs in 1970s – and in the time it took his drummer to eat a cheese sandwich. The band would learn the track as Elton wrote it – then the song would be recorded. Often a first take would be used – which is almost unimaginable today.
Handing tickets out for God?
Wednesday, April 8 2009
We have received complaints and warnings from several fans who became victims of a scam when trying to buy Elton show tickets from Ticketmaster.
What happened is that these fans went online at ticketmaster.com in time for the offical start of ticket sales. Once they had entered the requested number of seats and the secret phrase to identify them as a human being, they were eventually re-directed to ticketsnow.com, now a subsidiary of Ticketmaster - selling tickets at a multiple of the face value.

This took place within only seconds of the start of ticket sales and there was no clear indication that these fans were transferred from the Ticketmaster website to another site. Most of them were irritated by the high ticket prices, but only realized that they were sold tickets at two or three times the original price once they had finished the transaction.

We have reported this to Elton's management and we hope that they will be able to take (legal) action against this very unprofessional behaviour of Ticketmaster. Meanwhile, when trying to secure tickets via ticketmaster.com, make sure to carefully watch what exactly and from whom you are buying!
FEC: Elton John's an A-Ok Hilraiser
Wednesday, April 8 2009
Concerts featuring foreign performers are fair game for political fundraisers, the Federal Elections Commission ruled on April 7, 2009.
About a year after Elton John caused a stir when he performed at a $2.5 million fundraiser for Secretary of State Hillary Clinton's 2008 presidential campaign at Radio City Music Hall, the FEC ruled that the act was a "volunteer service" exempted from the "contribution" regulations in the Federal Campaign Act.

At the time of the fundraiser, the FEC did not have a quorum and could not rule on complaints filed by the anti-abortion 527 group American Right to Life Action and Judicial Watch alleging that the Clinton campaign was illegally accepting an in-kind contribution from a foreign national.

"The Commission found no reason to believe that a violation occurred and [has] closed the file," the FEC ruled.



Elton John performed in Laramie on April 3, 2009
Saturday, April 4 2009
Fan report by Ty B Brokaw.
By far the most emotional Elton John concert I've ever been to. The benefit concert for The Matthew Shepard Foundation was a huge success. Thanks to Elton and the many fans who attended, $550,000 was raised for the foundation.

After the first song, Elton spoke for ten minutes about the foundation and the need for acceptance of gays in America. Elton dedicated and sang a very emotional and moving version of "American Triangle" for Matthew. After the song, Elton said he has a very difficult time singing this song and you could see it and hear it in his voice.

The unpredictable weather and high elevation in Laramie played havoc for Elton after the show. Before the show started it was snowing and by the end of the show it was a blizzard. We had flown in for the show and were trying to leave the same time as Elton which turned out to be a definite no go. Nobody was flying out of Laramie on this night.

Elton had to return to the venue and take the tour bus to Colorado Springs. I'm sure he wasn't thrilled. The things he does for his fans. Being a pilot and seeing that weather, Elton made a good choice.

We were stranded in Laramie for the next two days. No qualms here, I could've been stranded a week and been fine after that brilliant show.

Following is the complete set list of the Laramie solo show (Benefit for Matthew Shepard) on April 3, 2009.

Your Song

Sixty Years On

The Greatest Discovery

I Need You To Turn To

Border Song

Ballad Of The Boy With The Red Shoes

Daniel

Honky Cat

Rocket Man

Tiny Dancer

Mona Lisas And Mad Hatters

Nikita

Philadelphia Freedom

Someone Saved My Life Tonight

Ticking

Roy Rogers

Take Me To The Pilot

Sorry Seems To Be The Hardest Word

Candle In The Wind

American Triangle

I Guess That's Why The Call It The Blues

Levon

Carla Etude

Tonight

Bennie And The Jets

Crocodile Rock


Don't Let The Sun Go Down On Me

Can You Feel the Love Tonight
Constant Season gears up for summer
Saturday, April 4 2009
On the verge of summer touring season, Calgary artists Constant Season are primed and anxiously ready to drop a different kind of sound onto music fans.
Constant Season's upcoming debut EP Midnight Lines was borne out of the extensive and emotive process of being kicked out of clubs, pushed off the line-up of scheduled gigs, members moving to different countries, not to mention a major beef with the prince of piano himself, Sir Elton John.

Officially formed in 2006, Constant Season has a deep rooted history and has created what lead guitarist Cory Klapper describes as a thick network. Their bass player, Kristian "Kit" Shepetys and Klapper met in grade four, bonding over their love of music and soon after started jamming together. While other kids were glued to their TV or playing Nintendo, the twosome was working out plans for their future musical careers.

That band has lasted over the years, even through time and distance. "Even when I moved away to L.A. for a while, I would phone Kit with ideas," Klapper says. "We just always sort of knew this album would happen."

Despite some set backs, Constant Season are preparing to release their self-described "catchy but complex" sound on the Calgary scene. "We are really excited," Shepetys says. "I feel like the album is a really bold statement. It's been a long time coming and it is really good," Klapper elaborates. "It's not a concept album, but the songs play off of each other . . . every song is really different," he adds.

The complexity and variance of musical influences within the band are apparent on the EP, as their musical taste ranges from the soft piano of Coldplay to the ferocity of bands such as Lamb of God. Though there are a lot of stylistic elements coming into play, the group put in the time to make it all work together.

"We sat down and really talked about how we wanted the album to sound," Klapper explains. "We rearranged the songs a bunch of times, because they're all so different, but this is what worked." Of all of the harrowing tales told of the bands journey up until this point, the one that stands out is that of the matter of Elton. The last person Constant Season believed would hold up the production of their album was one of their musical influences. During the recording of Midnight Lines, their engineer received a call that Elton John would require their recording space, holding up the final touches to the project. "He might have touched my piano," Klapper laughs. "He didn't even sign it or anything though."

Constant Season's release party is a long time coming, and not just because of the Sir Elton incident. As the boys reminisce about working the Calgary night club circuit, many bands are starting out in town. "Our first show was at a battle of the bands at Cowboys, which we won," Shepetys says. "The night club circuit is really all you can do as a band starting out."

Though the group worked through playing clubs and often receiving less than warm reactions, it hasn't dampened the boys' spirits about the musical landscape of Calgary. "Corey falls in love with every opening band he sees," Shepetys laughs. "We love getting to know all of them."
Elton John secures £11.5m thanks to hit songs
Saturday, April 4 2009
Elton John once said saving was not his strong point. Latest figures for one of his management companies show his financial skills lie elsewhere --borrowing.

The Daily Mail reports that he has taken a £11.5 million bank loan secured on royalties from his hit songs and lavish pads, plus a £2.6 million overdraft, overdue accounts show. Elton paid a chunky £299,553 in interest to service the debt.

Well placed sources suggest the loans to his 'William A Bong' holding company were used as working capital, and his finances are robust. They say the business, which manages the star's touring income, benefited from a successful year and showed a healthy return to profit.

Earnings, boosted by a three-year, £30 million deal from performances in Las Vegas, swung from a £1.4 million loss to a £10 million profit for the year to March 2008. Turnover dipped slightly from £24m to £23.7 million.

With only £2.2 million of sales coming from UK performances, Elton was been hit by the weakness of sterling abroad. He took a £426,557 hit turning his income back into pounds. His total debt was £34 million, which fell due for payment within one year, but this was balanced by £29 million owed by other companies to the firm.
Elton John performed in Rapid City on April 1, 2009
Friday, April 3 2009
Following is the complete set list of the Rapid City solo show on April 1, 2009.
Your Song

Sixty Years On

The Greatest Discovery

I Need You To Turn To

Border Song

Ballad Of The Boy In The Red Shoes

Daniel

Honky Cat

Rocket Man

Tiny Dancer

Mona Lisas And Mad Hatters

Nikita

Philadelphia Freedom

Someone Saved My Life Tonight

Take Me To The Pilot

Sorry Seems To Be The Hardest Word

Candle In The Wind

I Guess That's Why They Call It The Blues

Levon

Carla Etude

Tonight

Bennie And The Jets

Crocodile Rock


I'm Still Standing

Don't Let The Sun Go Down On Me
Hollywood Wax Museum set to auction 200 wax celebs
Friday, April 3 2009
Want to permanently share your home with Elton John, James Dean, Marilyn Monroe or all four Beatles?
The Hollywood Wax Museum is offering wax representations of these and nearly 200 other celebrities at the first auction in its 44-year history, set for May 1, 2009.

Fans can bid on political figures, such as George Washington and Bill Clinton, and athletes like Tiger Woods and Michael Jordan. Musicians such as Elton John, Cher, Stevie Wonder and the Fab Four will be available, along with TV and film stars including Lucille Ball, Johnny Carson, Will Smith and Charlie Chaplin.

The auction will be administered by Profiles in History and a portion of the profits will support efforts to preserve Hollywood's historic Walk of Fame.

See liveauctioneers.com for more details.
UPDATE: Elton is preparing the ultimate concert for New Year's Eve 2009
Wednesday, April 1 2009
According to a report in the Tonga Star, the kingdom in the south Pacific Ocean will be the location for Elton's last concert in 2009 and the first one in 2010.
For those of you that were already looking up flight connections to Hunga Ha'apai ... this was of course an April fools joke.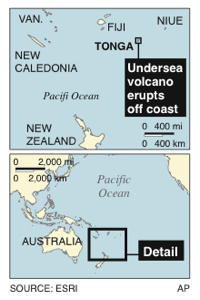 The information that was apparently leaked to the newspaper from an intern working for the local organizers reveals that Elton is planning a spectacular show on the new landmass that was just recently created by the eruption on the tiny volcanic island of Hunga Ha'apai, 62 kilometres away from the Tongan capital Nuku'alofa.

The show will consist of four parts: Elton will start with a solo set (approx. 30 minutes) before being joined on stage by percussionist Ray Cooper for the second part of the show (approx. 45 minutes). Elton and Ray will then be completed by the Elton John Band for a third set of approx. one hour. For the last part, which will begin shortly before midnight, Elton will be performing together with Billy Joel - similar to the grand finale of their current "Face to Face" tour.

Elton will be using the red piano from the Las Vegas shows for the entire concert. It is also rumoured that at least parts of David LaChapelle's stage show will be used during the event on Hunga Ha'apai.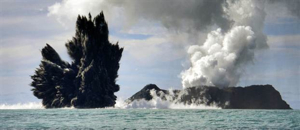 As the eruption mid March 2009 has destroyed rich birdlife and vegetation, leaving a wasteland of black ash and tree stumps, the island will only be used to set up the gigantic stage. Seats for spectators will be available on floating islands along the shoreline.

It is also reported that some of the big cruise ships, including the Queen Mary 2, plan to drop anchor at the time of the show, allowing their passengers to watch the concert from the comfort of their luxury cabins with balconies or from the deck of the ships.

As the Tonga islands (also known as The Friendly Islands) are just west of the international date line (UTC + 13 hours), the concert will mark the first major event of the year 2010. Elton will also be the first major recording artist to perform within a 1,500 miles radius of the Tonga islands.

Details about ticket sales are not yet known at this point in time. Seating will be very limited on the floating islands and due to the logistical efforts involved in setting up the stage and floating auditorium, it is expected that tickets will start at $1,000.
Ironik: "Elton John loves my new single"
Wednesday, April 1 2009
DJ Ironik says Sir Elton John made a personal call to say he enjoys his new single 'Tiny Dancer (Hold Me Closer)'.
The track, which features London MC Chipmunk, samples one of Elton's songs and it turns out the veteran is pleased the way the song ended up.

"Elton actually called my manager to say he loved the track and that he was a fan of my music," Ironik told the Daily Star. "I love the old-school stuff and I've always been into sampling it."

You can watch the video for 'Tiny Dancer (Hold Me Close)' here.

Elton John has spoken highly of Ironik before, when he was quoted as saying he could work with the 'Stay With Me' hitmaker in the future. "It could be a possibility that the two of us do something. It would be massive."