ELTON JOHN NEWS ARCHIVE: April 2008
Elton John to perform in Alaska
Tuesday, April 29 2008
Elton John will perform at the Sullivan Arena on May 28, 2008. The show is part of his 2008 tour, "Rocket Man: Number Ones."
Tickets will be available starting at 10 a.m. on May 5, 2008. The price will range from $56.50 to $116.50, including the municipal surcharge. "This will be the biggest thing we've had here in recent memory," said Joe Wooden, regional general manager of SMG of Alaska Inc.

He noted that this would be Elton's first performance ever in Alaska and that, in addition to the Anchorage show, Elton would also perform at the Carlson Center in Fairbanks the following night.

In a recent interview with Larry King, Elton expressed an interest in performing in all of the U.S. states where he had not yet appeared and mentioned Alaska specifically. (Vermont and Delaware were the other two.)

Maybe Elton is reading eltonfan.net after all as we already reported back in August 2007 that there were a few US States missing so far (see 'Sick City, isn't it a pity').

See Elton John Tour News for a complete list of Elton's upcoming performances.
Columbus Gay Men's Chorus to present "Rocket Man"
Tuesday, April 29 2008
The Columbus Gay Men's Chorus (CGMC) wraps up its 18th season with a spectacular tribute to the music of Sir Elton John.
No keyboard, sunglasses, or costume change will be safe when CGMC pulls out all the stops in this musical extravaganza!

"Elton John is one of the most recognizable musical talents of our time. To have the opportunity to present a concert entirely comprised of his masterpieces is a delight for the members and staff of the Columbus Gay Men's Chorus. This show will be pure fun for both singing and audience members alike, and it is an honor for us to pay tribute to not only a musical icon, but a gay icon as well," said David Monseur, CGMC's Artistic Director.

Join CGMC for Elton John favorites like Candle in the Wind, Philadelphia Freedom, I'm Still Standing, and of course Rocket Man, among so many other classics. For those who haven't had their fill of Rocket Man after the show, CGMC will be recording selections from the concert for the production of their latest CD, which will be available this summer.

Matthew Arnold, Executive Director for CGMC, is enthusiastic about the final compilation this season: "We have created many wonderful musical moments this season, from our performances of Joy! in December, to our beautiful collaboration with ProMusica in March. What a way to end this season, with a concert and CD full of moving and exhilarating music, dedicated to this one-of-a-kind superstar."

Rocket Man
When: Friday, June 20 and Saturday, June 21, 2008; 8pm
Where: Capitol Theatre, Vern Riffe Center, 77 S. High St., Columbus
Tickets: Ticket prices: $25-$29. Available at www.cgmc.com

Formed in 1990, the Columbus Gay Men's Chorus maintains the vision of its founding members to foster increased recognition, understanding, and acceptance of gay men, lesbians, bisexuals, and transgender persons. CGMC is a non-auditioned chorus open to all people regardless of vocal talent, musical abilities, race, gender, religion, age, physical abilities, sexual orientation or economic means. The members of CGMC are equally dedicated to performing vocal music of the highest quality for its audiences and to maintaining an atmosphere of camaraderie, support and respect for its diverse members. During each performance and public appearance, they seek to live their mission of "Voices Raised, Lives Changed."
Elton John donates $60.4 million to charities
Monday, April 28 2008
Elton John has been touring relentlessly for years. He continues to perform with the same passion that has made him a household name for decades. He also is one of the richest British music millionaires, according to the Sunday Times newspaper.
The paper reported that Elton earned $470 million in 2007. That puts him eighth on the list of British millionaires. The amount he made, however, pales in comparison to the amount he has donated.

Elton has donated $60.4 million to charities for Aids, medicine, children, and music in the past twelve months. The money he has donated has gone to help all of these causes, and along with the money, Elton has given assistance to many charities.

"I have always felt that I have a moral responsibility not only to donate money in a personal capacity but also to motivate other people to do the same," Elton says.

"He regards it as a case of there but for the grace of God go I," says Robert Key, director of the Elton John Aids Foundation. "He gives very much on a personal level. So, because a lot of his girlfriends have been affected by breast cancer, he sends a lot of women for treatment, and pays the cost."

Joining him on the list of British millionaires were singers Mick Jagger at number nine, and Madonna and husband Guy Ritchie, at number six. Paul McCartney, who recently settled a bitter divorce with ex wife Heather Mills, was third on the list. He was reported to have made $1 billion.
Elton John and band performed in Gainesville on April 24, 2008
Saturday, April 26 2008
Fan report by Gary Landon.
In Gainesville, he started at 8:10pm and played the exact same 2 1/2 hour setlist as Anaheim. Elton did apologize after "The Bitch Is Back", and again before "Your Song" for the mess and inconvenience he those there by being sick a few weeks ago.

Elton's vocals and the band were very sharp with the only noticable miscue a false start to "All The Girls Love Alice" by Davey which had the band all laughing. Like Anaheim, Elton did not talk as much between songs as he often does.

As the show was on the campus of the University of Florida'Gators', during "Crocodile Rock", many of the Gator fans were doing the 'Gator chomp' with their arms as they sang along - the band really got a kick out of that.

The crowd was great and loud all night. Elton clearly had a lot of fun from the expressions on his face. He also gave some hilarious introductions for some of the band (you would get in trouble if you printed what he said).

Following is the complete set list of the Gainesville show on April 24, 2008:

Funeral For A Friend

Love Lies Bleeding

The Bitch Is Back

Madman Across The Water

Tiny Dancer

Levon

Believe

Take Me To The Pilot

Goodbye Yellow Brick Road

Daniel

Rocket Man

Honky Cat

Holiday Inn

All The Girls Love Alice

I Guess That's Why They Call It The Blues

Sorry Seems To Be The Hardest Word

Candle In The Wind

Pinball Wizard

Bennie And The Jets

Philadelphia Freedom

I'm Still Standing

Crocodile Rock

Saturday Night's Alright (For Fighting)


Don't Let The Sun Go Down On Me

Your Song
"It's A Boy Girl Thing" on DVD
Friday, April 25 2008
Anchor Bay Entertainment is proud to release the high-jinx romantic comedy, "It's A Boy Girl Thing", on DVD June 17, 2008 starring Samaire Armstrong, Kevin Zegers and Sharon Osbourne.
Executive produced by Elton John, "It's A Boy Girl Thing" is the cute and clever story of two high school enemies who switch bodies… now she's on the football team and he's wearing mini skirts and make-up!

Directed by Nick Hurran (Little Black Book, Girls' Night) and written by Geoff Deane (Kinky Boots), It's A Boy Girl Thing is also produced by Steve Hamilton Shaw (Gnomeo and Juliet) and David Furnish (Gnomeo and Juliet, Billy Elliot the Musical) of Elton John's Rocket Pictures. Martin Katz (Hotel Rwanda, Spider) of Prospero Pictures also serves as producer.

"It's a Boy Girl Thing" features a hip soundtrack including a new cover of Tiffany's '80s hit, "I Think We're Alone Now" performed by Girls Aloud. Other recognizable songs include "Let's Get it Started" (Black Eyes Peas), "Shake Ya Ass" (Mystikal), "Hush" (Deep Purple) "Goodbye to Romance" (Ozzy Osbourne), "High" (James Blunt) and last but not least, "Candle in the Wind" by Elton John.
Elton John lends his paintings to Falmouth
Friday, April 25 2008
Elton John has lent eleven Henry Scott Tuke paintings for a major exhibition of the artist's work that is taking place at two venues in Cornwall from May 3, 2008.
Elton has been an avid collector of Tuke's works since the mid 1980s. As a result many of Tuke's most important pieces - like Midsummer Morning - have remained in the UK and, thanks to the loan, will be put on public display for the first time.

The exhibition, which is taking place in both The Royal Cornwall Museum and Falmouth Art Gallery, is being staged to celebrate the 150th anniversary of Tuke's birth. The artist lived in Falmouth from 1885 until his death in 1929 at Pennance Cottage in Swanpool. He is buried in Falmouth cemetery.

More than 130 works will be exhibited in Catching the Light' which is being funded by The Heritage Lottery Fund and Bonhams. In addition to Elton, The Royal Academy, the Tate and the National Portrait Gallery are all lending a range of exhibits including oils, watercolours, etchings, sketchbooks, letters, photographs and other archive material.

Falmouth Art Gallery will open their exhibition of Tuke's Sunshine Paintings' on May 3, 2008 and the Royal Cornwall Museum in Truro will launch its retrospective of the artist's work on May 10, 2008. The Royal Cornwall Polytechnic Society will also be exhibiting its collection of Tuke's recently restored watercolours in a separate exhibition at the Royal Cornwall Museum from June 7, 2008.

"We are enormously grateful to Sir Elton John for lending us eleven of Henry Scott Tuke's paintings from his private collection,' said RCM director Hilary Bracegirdle. Tuke was a major British artist and Catching the Light', which is being curated by local author and art expert Catherine Wallace, is the biggest and most important exhibition of his work ever to have been staged.

"Hope as many people as possible will take advantage of this opportunity to see it and to appreciate the extraordinary talent of someone who derived so much inspiration from Cornwall."

Sir Elton John's paintings are also being reproduced in a book that Catherine Wallace has written to accompany the exhibition.
Guided tours, illustrated lectures, walks around the places that Tuke painted and family-focused workshops are among the many activities being organised to accompany the Catching the Light' exhibition.
This Week's Featured Concert at Wolfgang's Vault
Thursday, April 24 2008
Elton John, Poplar Creek, Hoffman Estates, IL, September 17, 1988
This is one of two visits Elton John made to the Chicago area in 1988, and remains one the best tours he ever launched in the US. The choice of material he performed was astonishing, ranging from his earliest songs ("I Need You To Turn To," "Sixty Years On," "Your Song"); to his classic '71-'76 hits period ("Burn Down The Mission,"
"Tiny Dancer," "Philadelphia Freedom," "The Bitch Is Back," "Daniel," "Candle In The Wind"); to a splattering of cool album cuts ("The King Must Die," "Have Mercy On The Criminal"); to a healthy slice of what were his newer hits at the time ("Nikita," "I Don't Wanna Go On With You Like That," "Goodbye Marlon Brando"). Always the consummate performer, he closes with "Your Song" sandwiched between the righteous rockers "Saturday Night's Alright For Fighting" and "I'm Still Standing." While Top 10 radio hits became few and far between for John after the mid-'80s, he has remained a hit-maker in contemporary music for nearly four decades.

Overall, this lengthy set makes for an incredible evening of music. Chicago was always a strong market for Elton John, going back to his earliest US shows. He emerged in 1970 from the UK as a critic's darling and the British equivalent of Randy Newman, with lyricist/partner Bernie Taupin. His own shows and flamboyant persona soon became the rage in his native England, and then to an even larger degree in the US. By the mid-1970s, Elton John was arguably the biggest act in music.

It all came crashing down with a collision between his sexual confusion and his blatantly self-destructive personality, which culminated in drug and alcohol abuse and a complete restructuring of his excessive stage theatrics, for which he auctioned off nearly $20 million in memorabilia and costumes. Few artists can mesmerize an audience with a two hour-plus show of incredible Top 10 hits and compelling album tracks. This recording proves why Elton John is one of the most enduring performers in all of rock 'n' roll.

Click here to listen to the show.



This Week's Featured Concert at Wolfgang's Vault
Friday, August 31 2007 at 08:25:53

This Week's Featured Concert at Wolfgang's Vault
Thursday, July 26 2007 at 08:26:35

This Week's Featured Concert at Wolfgang's Vault
Friday, June 8 2007 at 14:25:51


Another Posh bash for Victoria
Wednesday, April 23 2008
Victoria Beckham completed a hat-trick of birthday parties at her star-studded bash this weekend.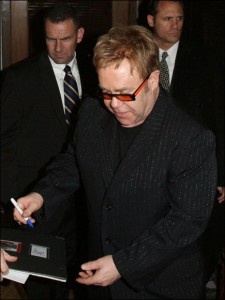 Posh turned 34 last on April 15, 2008 – hardly a milestone like a 21st, 30th, 40th or 50th. But after two birthday bashes last week, she rounded off the celebrations with yet another party at restaurant Via Veneto in Santa Monica, California, on April 20, 2008.

It was the most A-list event yet, with girlie pals Kate Beckinsale, Eva Longoria, Gwen Stefani and Katie Holmes all in attendance to have fun with the birthday girl. Katie's fella Tom Cruise, P Diddy, Will Smith, Gavin Rossdale and Usher were there too to keep David company. Even Elton John turned up.
Billy Elliot names its trio of young leading men
Wednesday, April 23 2008
Broadway's upcoming production of the hit London musical Billy Elliot has announced its title role stars: David Alvarez, Kiril Kulish and Trent Kowalik, who will share the part due to its physical and vocal demands.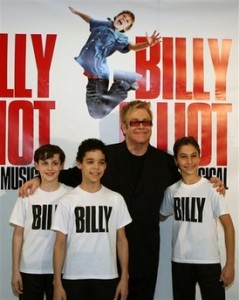 Billy Elliot is set to begin previews October 1, 2008 at the Imperial Theatre and will open on November 13, 2008. Stephen Daldry, who directed both the original 2000 film and the London stage production, will direct.

David Alvarez, 13, began training with the American Ballet Theatre shortly after his parents, Cuban immigrants who originally relocated to Montreal, moved the family to the West Coast. Alvarez, who will be learning tap for the production, is also classically trained in piano and speaks three languages.

Trent Kowalik, 13, from Wantagh, NY, appeared in the London cast of Billy Elliot. A World Irish Dancing Champion by age 11 and skilled tap dancer, he began dance training at age three-and-a-half.

Kiril Kulish, 14, relocated with his family from the Ukraine to California at a young age and began dance training at age 8. A prize winning ballet and ballroom dancer, Kulish has danced with the American Ballet Theatre.

The castings are a result of a nearly three years of scouting and auditions for the role.

Set in an English Northeastern blue-collar town during the struggles of a mining strike, the musical tells the story of Billy, a working-class boy who abandons boxing to follow dreams of becoming a ballet dancer.

The smash London production of Billy Elliot won the 2006 Olivier Award for Best New Musical, Best Theatre Choreographer and Best Actor in a Musical (shared by James Lomas, George Maguire and Liam Mower, who originated the West End's Billy). The show has sold over a million tickets since its March 2005 opening, and currently has productions in both London and Sydney, Australia.

Creative team includes music by Sir Elton John, book and lyrics by Lee Hall (who wrote the original screenplay), choreography by Peter Darling (who also choreographed the film), costumes by Nicky Gillibrand, lighting design by Rick Fisher and sound design by Paul Arditti.



Billy Elliot sets Broadway opening date at the Imperial
Friday, March 14 2008 at 11:28:35

Billy Elliot goes Broadway
Tuesday, August 21 2007 at 22:53:06
Elton John and band performed in Anaheim on April 19, 2008
Sunday, April 20 2008
Fan report and photos by Stephan Heimbecher.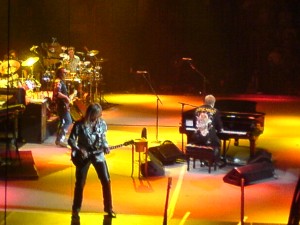 I was wondering the other day when putting together the review for the Bakersfield show why this tour is being advertised as "Rocket Man - Number Ones Tour". After tonight's show in Anaheim, which featured the exact same set list, I realized that he is in fact performing 12 out of 17 tracks from that compilation album (but then again, he plays those 12 songs at almost every show). At the same time, what still makes the set list kind of weird is the fact that there are no less than four tracks from "Madman Across The Water", and the newest song he performs is "Believe" from 1995 - so even that one is 13 years old!

Not far from where Disney is doing its magic to visitors of all ages and from around the world, Elton kicked off his "Music Magic" (according to the imprint on the back of his coat) in the Honda Center at 8.15 pm for antother show that lastet almost exactly 2 1/2 hours. Just like the night before a lot of the songs where spiced up with new and extended intros and/or piano solos - like a long instrumental during "Madman Across The Water".

But tonight there were some technial glitches, one of which seemed almost like choreographed when Elton's left monitor speaker was swaped during "Goodbye Yellow Brick Road" just as he was singing "maybe you'll get a replacement". Too funny. Appareantly, that speaker broke during just a little bit too much of "Choc Ice Goes Mental" when he did the intro to "Take Me To The Pilot".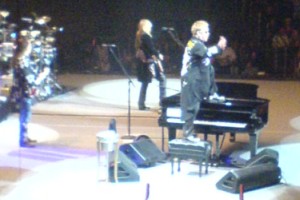 The 12 minutes version of "Rocket Man" started off on the wrong foot with Elton forgetting some of the lyrics at the beginning, and also "Honky Cat" and "Holidayy Inn" kind of were a little off beat during the first few bars. During "Crocodile Rock" John Mahon had to come forward to Bob Birch's microphone as there seemed to be a problem with his and all of the band members got a good laugh ot of that.

But all of these tiny problems didn't stop the crowd from having a good time. They rushed the stage during "Pinball Wizard" and rocked with Elton until the very end of the show. Before "Your Song" Elton mentioned how he had started his US career in California at the Troubadour back in 1970. He thanked the audience for their support throughout the years and then ended what was my 112th Elton show since 1984.

Following is the complete set list of the Anaheim show on April 19, 2008:

Funeral For A Friend

Love Lies Bleeding

The Bitch Is Back

Madman Across The Water

Tiny Dancer

Levon

Believe

Take Me To The Pilot

Goodbye Yellow Brick Road

Daniel

Rocket Man

Honky Cat

Holiday Inn

All The Girls Love Alice

I Guess That's Why They Call It The Blues

Sorry Seems To Be The Hardest Word

Candle In The Wind

Pinball Wizard

Bennie And The Jets

Philadelphia Freedom

I'm Still Standing

Crocodile Rock

Saturday Night's Alright (For Fighting)


Don't Let The Sun Go Down On Me

Your Song
Elton John and band performed in Bakersfield on April 18, 2008
Saturday, April 19 2008
Fan report by Stephan Heimbecher.
Sometimes life is just good to you. When I made arrangements for a business trip to Los Angeles earlier this year, I had no idea that Elton would be performing a show in Bakersfield while I was nearby (that is 110 miles to the south). The concert on April 18, 2008 at the Rabobank Arena was only announced after I had already made my travel arrangements. And that's how I came to see my 111th Elton John show ... the only one thing I have done more often in my life is giving blood.

Elton, wearing a coat with the words "Town of Plenty" printed on the back, kicked of the show at 8.05pm with "Funeral For A Friend" and "Love Lies Bleeding". And it became clear immediately that tonight he would be performing in front of a crowd that can only be called enthusiastic.

Already during the second song of the set, "The Bitch Is Back", almost everybody was on his/her feet. And the singing along during songs like "Rocket Man", "Crocodile Rock" and "Your Song" was just amazing. The audience even cheered when Elton signed a yellow vinyl copy of "Goodbye Yellow Brick Road" during and extensive autograph session right before the encores.

The set list was a rather strange mixture of the usual suspects, the "Red Piano" set and a few surprises, but it didn't became clear to me why this tour is advertised as "Rocket Man - Number Ones Tour". Anyway, surprises included "Holiday Inn" and "All The Girls Love Alice".

Elton didn't talk that much this night, but was in even better piano playing mode and delivered some great solos during e.g. "Madman Across The Water" and of course "Rocket Man". "I Guess That's Why They Call It The Blues" and "Crocodile Rock" were spiced up with some funny variations of the lyrics.

Following is the complete set list of the Bakersfield show on April 18, 2008:

Funeral For A Friend

Love Lies Bleeding

The Bitch Is Back

Madman Across The Water

Tiny Dancer

Levon

Believe

Take Me To The Pilot

Goodbye Yellow Brick Road

Daniel

Rocket Man

Honky Cat

Holiday Inn

All The Girls Love Alice

I Guess That's Why They Call It The Blues

Sorry Seems To Be The Hardest Word

Candle In The Wind

Pinball Wizard

Bennie And The Jets

Philadelphia Freedom

I'm Still Standing

Crocodile Rock

Saturday Night's Alright (For Fighting)


Don't Let The Sun Go Down On Me

Your Song
The Beckhams Party
Friday, April 18 2008
Sir Elton and his partner, David Furnish, along with British GQ Editor-in-Chief Dylan Jones and Alfred Dunhill menswear line, cohosted a party on April 16, 2008 honoring British actors in Hollywood.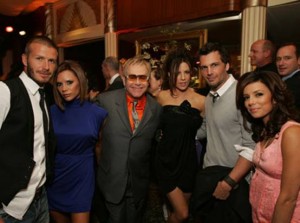 Who was there? David and Victoria Beckham, Kate Beckinsale and her director hubby Len Wiseman and Eva Longoria all arrived together. They stayed for about an hour before heading off for dinner at Longoria's new Beso restaurant in Hollywood.

Also on hand was Sharon Osbourne, Fantastic Four's Welsh hottie Ioan Gruffudd, original supermodel Cheryl Tiegs and lovebirds Joshua Jackson and Diane Kruger. James Blunt was also there.
Billie Awards 2008
Wednesday, April 16 2008
Elton John performed at The Women's Sports Foundation's 'Billie Awards' on April 15, 2008 at the Beverly Hilton Hotel in Los Angeles.
He delivered on a promise to appear at the glitzy US awards ceremony by performing an electrifying set. Flamboyantly turned-out in a suit embroidered with the word 'Love' in large gold letters, Elton was the star turn at the Billies award ceremony, which honours outstanding reporting of women's sports.

Also taking to the stage, in this case on presenting duty, was another high-profile Brit - X-Factor judge Sharon Osbourne. The two showbiz pals attended as a personal favour to legendary tennis ace Billie Jean King, after whom the awards are named.

Elton, a long-time supporter of the Wimbledon champ, couldn't be more complimentary about her efforts to further equal participation in sports. "Billie's one of the most motivational people I've ever met," the musician once said. "And she's true and loyal. And she lives and sleeps and dedicates every moment of her life to the progression of women's sports."
Elton John loves 'Family Fortunes'
Wednesday, April 16 2008
Les Dennis has claimed that Elton John is a huge fan of the game show Family Fortunes.
According to Dennis, the singer admitted that he often imitates the show's "uh uh" buzzer noise when anything goes wrong at his home. The former presenter said that he was approached by Elton while on a flight to America with his ex-wife Amanda Holden.

He told Heart radio: "Elton and David Furnish were up front and behind me was George Michael and Kenny Goss. "I was sat there with Amanda and about and hour in, David Furnish stood up and stretched, looked back and then whispered something to Elton and I thought, 'He's not talking about George being here' he's actually saying 'That bloke from Family Fortunes is behind us!'

"Then about five minutes later, Elton came down and went 'Hi, we love your show. If anything goes wrong in our house we go 'uh uh'!'"
UPDATE: 20th Anniversary Fan Convention
Tuesday, April 15 2008
Save the date: The fan convention to celebrate the 20th anniversary of the Elton John Fan Club "Hercules" (eltonfan.net) will take place in Munich from November 21 to 23, 2008.
More details will be revealed over the next few weeks. Check out our special website twenty.eltonfan.net for details. Unfortunately, the official announcement of the "Red Piano" show in Munich on November 22, 2008 took a lot longer than we had hoped for. But now that the date has been confirmed, we are happy to announce that we will host our fan convention in Munich that same weekend.

For fans travelling from abroad, there will also be the chance to attend two more Elton John shows in Germany the following days, i.e. Hamburg on November 24, 2008 and Cologne on November 26, 2008.

We have now secured a block of tickets for the Munich show on November 22, 2008 for attendees of the fan convention. This will be seats in the best category. Alternatively, you can buy tickets via www.eventim.de or www.eltonjohn.com (if you are a Rocket Member). Official start of ticket sales is April 18, 2008.

If you plan to attend the fan convention and need to reserve tickets for the show, please e-mail us at twenty@eltonfan.net as soon as possible.

So far, the rough planning for the Elton John fan convention is to kick off the event with a big party on Friday night (November 21, 2008), the morning of Saturday (November 22, 2008) will be devoted to various activities before we will all head to the venue for the "Red Piano" show in the evening. On Sunday (November 23) we will bring the activities to an end with a fan breakfast, before most people will probably continue to Hamburg for the next show on November 24, 2008.
Partying in Pink
Thursday, April 10 2008
What does it take to turn a gathering of more than a thousand supporters of the Breast Cancer Research Foundation into a raucous party?
Evelyn Lauder knows. It starts with a great name. The foundation's spring gala on April 8, 2008 was called "The Hottest Pink Party Ever," prompting many guests to wear various shades of pink, or stick fresh pink orchids in their hair. And who doesn't look good in pink?

Then, she added a beloved entertainer. Sir Elton John, a long-standing attendee of the gala and supporter of the foundation, played a generous set of favorites, including "Tiny Dancer," which he dedicated to the late Linda Stein, whom, he said, was the last one dancing at the celebration of his civil partnership to David Furnish. "She loved to dance," he said. The tunes got the crowd dancing too, and that's always fun.

A sprinkling of female celebrities throughout the room also made the event memorable. Gwyneth Paltrow was seated at a table smack in the middle of the ballroom; Elizabeth Hurley sat on one side, with Mrs. Lauder's husband Leonard, and Mrs. Lauder was on the other side.

As a cookbook author, Mrs. Lauder certainly does not take the food served for granted. She makes sure it is not only delicious but healthy. On this night the meal consisted of a vegetable tart, miso-glazed cod, and a low-fat key lime parfait.

The décor transformed the Waldorf into a pink wonderland, with paper butterflies suspended from the ceiling, and ladybugs, butterflies, and flowers decorating the tables. And as usual, Mrs. Lauder's foundation reaped the benefits of her party planning prowess. The event raised more than $5 million for breast cancer research.



Hurley goes pink for charity
Monday, April 30 2007 at 08:12:08


Elton John performed for the Hillary Clinton fundraiser on April 9, 2008
Thursday, April 10 2008
Elton John, playing a fund-raiser for Hillary Clinton in New York on April 9, 2008, said he was amazed at the misogyny of some in America and he hoped that wouldn't stop her being president.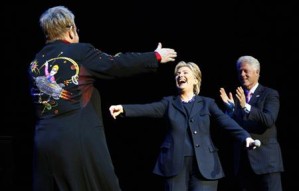 At the fund-raiser which Clinton's campaign manager said raised $2.5 million, Elton said there was no one more qualified to lead the United States into the next era.

"Having said that, I never cease to be amazed at the misogynistic attitude of some people in this country. And I say to hell with them," he said, drawing cheers from the crowd at Radio City Music Hall in Manhattan.

"The reason I'm here tonight is to play music, but more importantly as someone who comes from abroad, and is in America quite a lot of the time (and) is extremely interested in the political process because it effects the whole world." "I've always been a Hillary supporter," he said.

Introducing him, Clinton recalled that the entertainer had played at the White House at a state dinner when her husband Bill Clinton was president. The New York senator, who is trailing Illinois Sen. Barack Obama, vowed to take her battle for the Democratic nomination to the end of the primary process, saying all the states should have their say.

Clinton said she couldn't sing but "What I want you to know is 'I'm still standing,'" -- echoing the title of Elton's song.

Elton opened his set with the track "Your Song," dwelling on the line "How wonderful life is when you're in the world." Other hits he sang included "Daniel" and "Rocket Man."

Click here to watch a short video from the event.

Following is the complete set list of the Radio City Music Hall show on April 9, 2008.

Your Song

Border Song

Ballad Of The Boy In The Red Shoes

Daniel

Honky Cat

Rocket Man

Tiny Dancer

Philadelphia Freedom

Ticking

Sorry Seems To Be the Hardest Word

Candle In The Wind

I Guess That's Why They Call It The Blues

Levon

Carla Etude

Tonight

Bennie And The Jets

Crocodile Rock (with "Hillary" instead of "Suzie")

I'm Still Standing
Elton at NBC studios NYC - tickets available!
Monday, April 7 2008
Elton John and Elvis Costello will be performing live at NBC Studios in New York City on April 8, 2008.
We have been informed that tickets are available for this event which will take place at 11:30am at the Studio 8-H Rockefeller Plaza.

To confirm up to 4 tickets, please e-mail mike@gothamcasting.com. Include what show you want tickets for, how many tickets you want, as well as name, age, guest names, and phone number.

The small print:

Use the 49th St. entrance to 30 Rockefeller Plaza between 5th and 6th Avenues. No tickets, you will be on a security list. Check in with the guest list on the mezzanine level. Photo ID is required.

NO cameras, camera-phones or other recording devices.

Please dress in business casual attire, and refrain from wearing the color white, red, or any noticeable logos.

Please do not bring excessive electronic devices or over-sized bags or shopping bags. Small purses are permitted.

Audience members must abide by all NBC and Rockefeller Center security policies and procedures.

All audience members must be sixteen (16) years of age or older. Photo ID is required if age is questionable. Driver's license, ID card, birth certificate or any other official declaration of age is permissible.
Elvis Costello and Elton John to make a TV spectacle for CTV
Wednesday, April 2 2008 at 19:46:30


Hollywood Heavies
Sunday, April 6 2008
Hollywood producer Raul Julia-Levy's current project involves an impressive cast ranging from Johnny Depp, Lindsay Lohan, and Harrison Ford to Elton John, 50 Cent, and Plácido Domingo.
He's attracted high-powered producers including Cameron Crowe, Ed Elbert, and Ron Howard. It's a veritable A-list role call, and he's still recruiting.

But the brightest star in Julia-Levy's lineup -- and no doubt the biggest, at 7,000 pounds -- is Lolita, a 40-year-old killer whale living in a 20-foot-deep tank at the Miami Seaquarium.

Taken from her family while still a juvenile, Lolita has been performing for sunburnt tourists twice a day over the last 37 years. The tank she lives in is just four times her size at its widest; she'd have to circle it more than 600 times to travel the same distance her still-wild family members might in an average day. Her only companion -- another killer whale from her pod, or family group -- died 20-some years ago after repeatedly bashing his own head against the enclosure walls. In her native Pacific Northwest waters, whales like Lolita have lifespans similar to humans; in a tank, that life expectancy is cut in half.

"The conditions that she lives in are barbaric," Julia-Levy shouts to me over the phone, unable to contain his anger. He decided to get involved in the campaign to free Lolita last year, when he learned that it was in need of star power. But as spokesperson for the glittery troops he's amassed, Julia-Levy -- the son of Addams Family actor Raul Julia -- emphasizes that he and the other Lolita-loving producers and celebrities are involved as regular citizens, not activists.

"We are people who have consciences," he says, "and everyone in this campaign from Hollywood has a mind of their own, and we believe that what we're doing is the right thing simply because animals should live in their normal habitat."

Their fight is not a new one. In fact, activists have been trying for years to convince the Seaquarium to retire Lolita -- at times, offering up to $1 million for her release. She made national television in 1995 when Dateline NBC played a recording of her pod's vocalizations and viewers watched the whale cozy up to the speaker and listen. In 2003, a documentary about Lolita, Slave to Entertainment, hit film festivals across the country, garnering more attention for the cause. But only in the last few months has the campaign begun to gain momentum again, making news as more and more big names join up.

Julia-Levy's passion for this campaign was evident just a few moments into our conversation -- and his fervor shows no signs of waning. When asked what's next, he hinted at a plan "involving a 'big stick,'" but said he couldn't elaborate just yet. No doubt when he does, he'll have plenty of star power behind him.
Elvis Costello and Elton John to make a TV spectacle for CTV
Wednesday, April 2 2008
Two of the most respected musicians in the world will collaborate on an extraordinary new television series, it was announced on April 2, 2008.
"Spectacle: Elvis Costello with ..." will be hosted by its namesake and produced in conjunction with Sir Elton John's Rocket Pictures. Elton John will be one of the program's Executive Producers. Conceived and developed in Canada, the Canada/United Kingdom co-production will start shooting soon for broadcast later this year on CTV in Canada, Channel 4 in the UK and Sundance Channel in the US. FremantleMedia Enterprises will handle sales of the show to the rest of the world.

Designed to provide a forum for in-depth discussion and performance with the most interesting and influential artists and personalities of our time, the show fuses the best of talk and music television.

Explaining his approach to the program, Elvis Costello said, "I'm not interested in extracting some dark secret. I'd rather hear about a bright secret, a deep love or a curiosity that might be otherwise obscured by fame. This is a wonderful opportunity to talk in complete thoughts about music, movies, art or even vaudeville, then frame it with unique and illustrative performances."

"Elvis Costello is the foremost expert on popular music," added Executive Producer Sir Elton John. "I thought it would be sensational to use his knowledge and intelligence to explore the artistry of musicians and other fascinating people involved in making great music, as well as true music aficionados."

"The extraordinarily versatile Elvis Costello and the legendary Elton John have joined forces to bring viewers an unprecedented window into the world of music," said Susanne Boyce, President, Creative, Content and Channels, CTV Inc. "Spectacle will be spectacular – providing a platform for the most acclaimed artists of our time to discuss and demonstrate their craft in a unique setting."

Co-produced by Toronto's reinvention entertainment, SpyBox Pictures and Prospero Pictures, along with London-based Rocket Pictures, "Spectacle: Elvis Costello with ..." promises to be an unpredictable and unprecedented television experience. The series of 13 one-hour programs will feature everything from intimate one-on-ones with legendary performers and notable newcomers to thematic panel discussions.

Spectacle will also feature a variety of performance elements including unique collaborations, acoustic and impromptu "illustrative" demonstrations of the creative process, and some original interpretations of others' songs by Costello.

The program's eclecticism and depth reflect its uniquely qualified host. Elvis Costello is a Rock and Roll Hall of Fame inductee; a Grammy and Ivor Novello Award-winning (and Oscar-nominated) songwriter and performer comfortable in almost every genre imaginable; a musicologist of formidable breadth and knowledge; a contributor to Vanity Fair magazine; and a noted wit whose stint as guest host on The Late Show with David Letterman won rave reviews.

Consistent with Sir Elton John's long-standing commitment to philanthropy and music, the series producers have struck an exciting association with the (Product) RED (www.joinred.com) campaign created to raise awareness and money for the Global Fund (www.theglobalfund.org) to fight AIDS in Africa. Select program excerpts and performances will be distributed in a variety of new media and conventional platforms, with a portion of the profits directed to the Global Fund.

The producers of "Spectacle: Elvis Costello with ..." are Stephen Warden, former music journalist and artist manager (Remy Shand) of reinvention entertainment; entertainment lawyer Jordan Jacobs (numerous Grammy and JUNO winners) of SpyBox Pictures; and film producer Martin Katz (Hotel Rwanda) of Prospero Pictures. The three, based in Toronto, formed Tri-Fi Productions to produce the series in partnership with David Furnish and Steve Hamilton-Shaw of Rocket Pictures. The series is produced in association with CTV, Sundance Channel, Channel 4 and FremantleMedia. Executive Producers are Sir Elton John, Elvis Costello, David Furnish, Steve Hamilton-Shaw, Jordan Jacobs, Martin Katz and Stephen Warden. Co-Executive Producer is Alex Coletti.

For CTV, Ed Robinson is Executive Vice-President, Programming, CTV. Susanne Boyce is President, Creative, Content and Channels, CTV Inc.
UPDATE: Elton to plug into the Man Machine
Wednesday, April 2 2008
Although details are sketchy, it emerged that Elton's follow up to the lauded, but underperforming "The Captain and The Kid", will be a collaboration with German techno-pioneers Kraftwerk.
"We've been in discussion with Ralf and Florian for several months, but it seems that finally we are making real progress towards a full collaboration", a spokesman for Elton revealed on April 1, 2008. "They've been recording demos at the Kling Klang Studios now for a few weeks and we love what we're hearing."

"Elton wants to move away from acoustic instruments and use synths and loops to freshen up his sound. He thinks ballads are so over. He wants to sound sleek and European," the source continued.

It's understood that Bernie Taupin will not be involved in the project and that Kraftwerk superemo Ralf Huetter will pen all lyrics for the album. The record, provisionally entitled, "Army Of Reg", is to be released later this year. Tracks include "Starship 2", "We're All Robots Now", and "Duesseldorf-Pinner Interface".

For those of you who didn't notice: This was of course an April Fools joke. But hey, maybe Elton would like to consider this idea ...
Lady Bendy takes David Furnish for a ride
Tuesday, April 1 2008
The problem with even the jolliest April Fool's Day wheezes is that you can't expect to pull them off twice. Except, perhaps, when the victim is David Furnish, Elton John's other half.
On April 1 last year Tim Walker of the Telegraph reported that David had been taken for a ride on a "bendy bus" by Lady Bendy, the widow of its creator, and, to mark what would have been her husband's 70th birthday, she had instructed the driver to complete 70 laps of Chester Square in Belgravia where she had lived with her husband.

"I was surprised when I read today's column," Furnish emailed Walker on April 1, 2007. "I was not with the widow of the creator of the Bendy bus on the day stated. I have been in America for weeks. Thought you might want to know."

Mandrake emailed Furnish again this year to say that Lady Bendy had been putting it about that both he and Elton were "great fans" of her late husband's invention. "Utter b*******," Furnish emailed Walker back, quick as a flash. "I am not a fan of Bendy buses."

Mandrake loves the way that, one year on, Furnish is still respectfully using a capital B for bendy.
Watch Elton and David's CBS appearance online
Tuesday, April 1 2008
You have got the opportunity to view a recent television appearance by EJAF's Founder and Chairman, Sir Elton John.
Elton and his partner David Furnish appeared on the CBS Sunday Morning show on February 24, 2008. This appearance was timed to coincide with EJAF's Academy Awards Viewing Party and provide additional media focus for their most critical fund-raising event of the year.

The CBS Sunday Morning feature focused on the work of the Foundation and included footage from Elton and David's recent trip to South Africa. You may watch the CBS Sunday Morning feature here.

This excellent piece provides additional insights into the special role EJAF plays in the fight against AIDS and Elton's unique position as a humanitarian and key spokesperson for our urgent cause.