ELTON JOHN NEWS ARCHIVE: March 2017
The final results for the Wonderful Crazy Year project
Saturday, March 18 2017
As you know, Elton will be celebrating his 70th birthday on March 25, 2017. We plan to publish the final results from the year-lasting project Wonderful Crazy Year that day.
Antti Honkasalo, who originated the idea for the project, will create lots of various lists based on the results of the project. There will be five different lists published:
the top 50 best rated songs (excluding live recordings)

the top ten live recordings

the albums from best to worst (excluding live albums)

the live albums from best to worst, including the two from Goodbye Yellow Brick Road super deluxe edition and Captain Fantastic And The Brown Dirt Cowboy deluxe edition

the bottom ten worst rated songs
But this is not all you will get! There will be a simple text file featuring a complete list of all songs, a separate list for all live recordings and lots of various other lists that feature different kind of recordings, as well as the best comments given for the albums. You will be able to download it if you want to view additional information. The results from the three additional surveys will be there as well, and the best comments for the albums.

You can also suggest special lists that you would like to see included in the text file! Contact Antti via his e-mail address a.honkasalo@hotmail.com and tell him what kind of lists would you like to be created!

We only have one week until the results will be published, so be quick if you haven't placed your vote(s) yet!

We already thank you for all of your time and answers in the surveys!

Jeffrey Fashion Cares fundraiser for EJAF
Thursday, March 16 2017

On April 3, 2017, the Elton John AIDS Foundation will join the Hetrick-Martin Institute and Lambda Legal as the beneficiaries of the next Jeffrey Fashion Cares benefit to be held at the Intrepid Sea, Air & Space Museum in New York City.

The EJAF is honored to be beneficiaries of this highly anticipated fashion industry fundraiser. Since 2002, this incredible event – featuring a cocktail party, silent auction, and fashion show – has raised more than $12 million for LGBT human rights, HIV/AIDS prevention and research, and breast cancer research and treatment organizations.

You can purchase tickets on the Jeffrey Fashion Cares website here.

Nike honors Elton with special Air Force 1 "Jet"
Thursday, March 9 2017

Elton John may be unmatched when it comes to getting the royal treatment from Nike in the form of SMUs.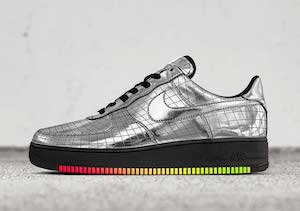 The legendary musician received several special make-ups of the Cortez, Daybreak, and Tailwind back in the 1970s, and on March 8, 2017 Nike revealed an Air Force 1 "Jet" made just for the cultural icon.

This unique Air Force 1 is inspired by a British Knight's Armor as well as a disco ball, which combines Elton's status as a knight and his influence on music. The special tongue label as well as the rainbow gradient on the sole represents Nike's BE TRUE message, which promotes diversity, inclusion, and most importantly, equal rights for all.

This Air Force 1 is a special gift to Elton and will not release to the public.
Celebrate Elton John and Bernie Taupin, benefitting EJAF and the Hammer Museum
Tuesday, March 7 2017
On Saturday, March 25, 2017, the Elton John AIDS Foundation and the Hammer Museum at UCLA will present a special celebration honoring Elton's 70th birthday and the 50th anniversary of his songwriting collaboration with Bernie Taupin.
The event is also a special fundraising benefit to support EJAF's lifesaving work and cultural programs at the Hammer Museum. Presenting Sponsors are Neuro Drinks and Diana Jenkins and AEG Presents.

Held at the Hammer Museum and hosted by actor Rob Lowe, the event will feature a special performance by Lady Gaga and other surprise guests.

The celebration is chaired by David Bohnett, Richard Buckley and Tom Ford, Sir Lucian and Lady Caroline Grainge, Diana Jenkins, Marilyn and Jeffrey Katzenberg, and Jay Marciano. The gala dinner will be designed by Craig's Los Angeles.

You can join the EJAF to toast Elton's 70th birthday, celebrate 50 years of Elton John/Bernie Taupin songwriting success, and raise urgently needed dollars for EJAF's efforts to end AIDS and the Hammer Museum's free cultural programs. Space for this event is limited. To inquire about ticket and table purchases, please contact Andreas Schwarz at +1.212.219.0670 or andreas.schwarz@ejaf.org.

Elton tells Palestinians: "Please know that you are not alone"
Tuesday, March 7 2017
Elton was the honorary guest at the opening ceremony of the controversial hotel in Bethlehem that was established by British graffiti artist Banksy.
In a recorded message, Elton spoke to and played for the other attendees. "It's my great pleasure to be playing in Palestine this evening," he told them. "I would've loved to have been with you all tonight but you know, there wasn't any room at the inn," Elton said. He also made a political statement: "Please know that you are not alone. You are not forgotten."

Banksy decided to call his establishment the Walled Off Hotel. The hotel was built in a way that all of its windows include a view of the security fence. Among the handful of rooms in the boutique hotel is one that was designed to look like a room on a military base. The hotel also features Banksy's works, which all include a clear political statement. According to Alon Lee Green, an Israeli who was invited to the opening ceremony, "there is a heavy British colonial atmosphere in the hotel and there are Palestinian employees everywhere.

The managers of the hotel clarified that the hotel is not just an art display but also a business. The British artist wants the site to become a place where young Israelis and Palestinians will come to meet and discuss issues. The hotel will officially open next week. The nightly room rates vary from $30 to $300.
Elton and band performed in Eugene on March 4, 2017
Tuesday, March 7 2017
Following is the complete set list of the Eugene show on March 4, 2017.
Funeral for a Friend

Love Lies Bleeding

Bennie and the Jets

Daniel

Someone Saved My Life Tonight

I Guess That's Why They Call It the Blues

Looking Up

A Good Heart

Philadelphia Freedom

Rocket Man (I Think It's Going to Be a Long, Long Time)

Tiny Dancer

Levon

Goodbye Yellow Brick Road

Have Mercy on the Criminal

Your Song

Burn Down the Mission

Sad Songs (Say So Much)

Don't Let the Sun Go Down on Me

The Bitch Is Back

I'm Still Standing

Your Sister Can't Twist (But She Can Rock 'n Roll)

Saturday Night's Alright for Fighting


Candle in the Wind

Crocodile Rock
EJAF Raises a Record-Breaking $7 Million at Annual Academy Awards Viewing Party
Thursday, March 2 2017
The Elton John AIDS Foundation's 25th annual Academy Awards Viewing Party raised a record-breaking $7 million for the global effort to end AIDS.
Sponsored by BVLGARI, Neuro Drinks and Diana Jenkins, the event featured a five-course dinner prepared by Chef Gordon Ramsay, an exciting live auction, and a special performance by St. Paul & the Broken Bones.

During the evening, Elton and David introduced Open Road and Survival Pictures' new film – The Promise – which tells the story of the Armenian Genocide in Turkey at the outset of World War I. Survival Pictures has taken the unprecedented step of donating all proceeds from the film to nonprofit humanitarian organizations including EJAF. As part of this commitment, Survival Pictures matched the pledges guests made to EJAF via text and live auction purchases during the event to help make EJAF's 25th Oscar-night event a record-setting evening.

Everybody at EJAF is thrilled with the results of this signature fundraising event, and they are deeply grateful to all of the individuals and organizations that helped to make this benefit such an incredible success.


EJAF Oscar Party
Monday, February 27 2017 at 15:51:50

EJAF will introduce new film The Promise
Thursday, February 23 2017 at 07:20:48