ELTON JOHN NEWS ARCHIVE: March 2015
Elton John drummer conman arrested in Brazil
Tuesday, March 31 2015
An imposter pretending to be Elton John's band mate and from Penny Lane in Liverpool has been arrested in Brazil.
Jose Eduardo Carrara, 54, performed for staff at a police station in Sao Paulo after turning up to report that he had been robbed of a Rolex, gold chain and thousands of pounds. The policemen believed him when he said his address was Penny Lane, Liverpool, and that he was the drummer for Elton John but later found he was a fraudster trying to boost a struggling career as a self-employed musician.

Carrara, who actually lives in Sao Paulo, is now due to appear in court over false identity claims, newspapers in Brazil are reporting. Police allegedly had to use Google Translate to communicate with the fake star, who claimed not to speak any Portuguese.
Elton sends message of support to HIV+ parliamentary candidate
Tuesday, March 31 2015
When Adrian Hyyrylainen-Trett revealed to BuzzFeed News last night that he is HIV positive, he was, he said, braced for a hostile reaction. Instead, his bravery has been widely applauded – not least by Elton and David.
The searingly honest interview, in which the Liberal Democrat candidate for Vauxhall described how he sought out the virus amid a desperate period of self-destruction, suicidal tendencies, and drug abuse, was among the most frank from anyone seeking public office.

"I know the person who I'm 99% certain I became HIV positive from. It was my own fault, I was looking for it," he told BuzzFeed News, before adding. "I didn't really want HIV. I wanted annihilation of me."

The candidate, who recently married his partner, explained that this self-harming came as a result of a childhood beset by horrific homophobic bullying, triggering suicide attempts as a teenager. "I tried to throw myself out the window a couple of times," he said. "I was not happy with who I was. I thought, 'What's the point of living?'"

After hearing about the story, Elton and David contacted BuzzNews News with a heartfelt message of support for Hyyrylainen-Trett.

"Elton John and David Furnish applaud Adrian Trett for his courage and bravery in publicly acknowledging his HIV+ status," the statement said. "He is a fine example that HIV+ people live robust, happy and productive lives. We wish him all the best."

Echoing their words of encouragement, Anne Aslett, the executive director of the Elton John AIDS Foundation, told BuzzFeed News: "AIDS, perhaps more than any infectious disease, has been driven by fear, shame, and denial, so it's always encouraging when anyone, in any walk of life, feels they can be open about living with HIV. The reality is we have the medicines and understanding to give people living with HIV a very good quality of life. It would be tragic if people in the UK who are infected don't take advantage of that. The Foundation's more important goal in the UK is to help make sure that they do."

The messages profoundly moved Hyyrylainen-Trett. He told BuzzFeed News: "I'm completely overwhelmed to have the support of Elton John and David Furnish and particularly appreciate it coming as a result of disclosing my HIV status. Their kindness means a lot to me, not least because Elton and David, along with the Elton John AIDS Foundation, have worked tirelessly on combatting HIV/AIDS – and the stigma surrounding it – for years."
Billy Elliot London supporters attend Elton's Vegas show
Tuesday, March 31 2015
On March 28, 2015, a group of Billy Elliot London supporters attended Elton's show "The Million Dollar Piano" at The Colosseum at Caesars Palace.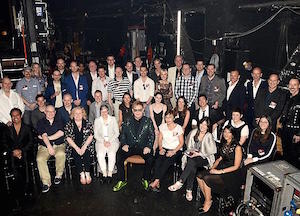 After the show they joined Elton for a photo backstage.

Elton posted the photo on his Instagram (@EltonJohn), saying: "What a pleasure to welcome this wonderful group of Billy Elliot London supporters backstage to my show in Vegas. Our little musical would not be celebrating 10 years of continued success without their hard work and dedication. Thank-you!!!"

Also spotted at Elton John's show were comedian actor George Lopez and actress Eva Longoria.
Elton pays record store surprise visit
Tuesday, March 31 2015
Elton John made a special appearance at Wax Trax Records store in Las Vegas on March 29, 2015.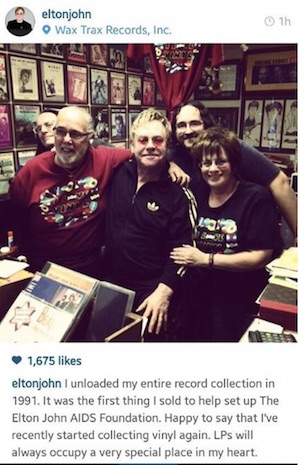 What would you say if Elton John walked into your record store? Sunny Rosen, the mom in the mom-and-pop Wax Trax Records store at 2909 S. Decatur Blvd., put her hand to her mouth in amazement and said, "This is so much better than seeing you from the last row in Carnegie Hall in 1971."

Elton's manager had promised the Caesars Palace headliner would show up but the Rosen family didn't believe it until he showed up on their doorstep at 3 p.m. on March 29, 2015. Elton's people had raved about the store after buying him classic records for his 68th birthday on March 25, 2015.

The birthday presents were including several Elvis albums, an Elvis EP and a Frank Sinatra album from a recording in a little club in New Jersey. Elton had asked to take photos of the place and bring them back. He came in for an hour and purchased about 75 items at the three-story store.

"He loved Elvis and he loved soul," said Sunny. "He's a mensch," she added. "I asked for a hug, I got a kiss. He couldn't have been nicer."

The Rosen family started the record store in Brooklyn in 1972 and moved here 16 years ago. Elton found the Rosens so, um, colorful, that he was overheard saying, "Somebody should do a reality show on you guys."
Elton celebrates 68th at dinner with husband David
Saturday, March 28 2015
Elton John took a break from his Las Vegas residency to celebrate his 68th birthday.
He paid a visit to Mr Chow in Los Angeles with David on March 25, 2015 in the evening. The couple slipped out of the back of the Chinese restaurant following their dinner into a waiting car to whisk them home.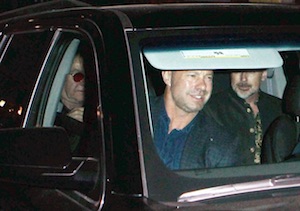 Happy Birthday, Elton!
Wednesday, March 25 2015 at 05:00:00


Elton's mother explains estrangement
Saturday, March 28 2015
Elton's mother Sheila has broken her silence on why they've been estranged for years.
The 68-year-old singer-songwriter had a falling out with her nearly a decade ago. And Sheila reveals the pair stopped talking after they engaged in an argument over his now-husband, David Furnish.

"Yes, it's seven years now in June," she told UK newspaper The Daily Mail. "But you know, I've got used to it. And it was all so stupid - so petty." At the time, Elton fired some of longtime personnel, who had been employed by him for 30 years or so.

Sheila had become quite good friends with the people he let go and she says when Elton asked her to cease contact with them, the matriarch refused. "I told him: 'I'm not about to do that and drop them'," she recalled. "Then to my utter amazement, he told me he hated me. And he then banged the phone down. Imagine! To me, his mother!"

Sheila claims the last words she spoke to her son were aimed at his partner David. "You think more of that f***ing thing you married than your own mother," she shared. "I suppose he was horrified because I dared to disobey."

However, it seems as if their relationship is on the mend, as Sheila received a bouquet of flowers from the couple after celebrating her 90th birthday a couple weeks ago. A card was attached to the white orchids with a sweet note that reads: "Wow, 90! Congratulations. Love Elton, David, Zachary and Elijah."


Ultimate Elton releases new single
Wednesday, March 18 2015 at 20:00:28

Elton's mother sells career memorabilia
Monday, September 27 2010 at 18:06:38

Sheile Farebrother's big sale
Sunday, September 5 2010 at 17:39:42


Elton celebrates 100th performance of "The Million Dollar Piano"
Wednesday, March 25 2015
On March 23, 2015 Elton celebrated the 100th performance of his critically-acclaimed show, "The Million Dollar Piano," at The Colosseum at Caesars Palace with a sold-out crowd of fans.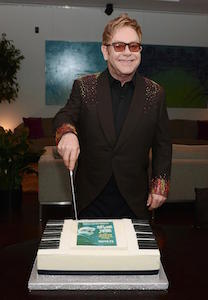 Prior to the show, Elton's crew presented him with a custom-made cake, decorated in the shape of a piano.

Elton made a triumphant return to The Colosseum at Caesars Palace with his all new show, "The Million Dollar Piano" in September 2011. At the centerpiece of the performance is the show's namesake piano, an engineering marvel featuring more than 68 LED video screens created by Yamaha.

Elton's band includes Nigel Olsson on drums, part of Elton's original three-piece band, as well as musical director Davey Johnstone (who first recorded with Elton in 1971 and joined the band a year later) on guitar, Matt Bissonette on bass, John Mahon on percussion, and Kim Bullard on keyboards, with a special appearance by percussionist Ray Cooper.

"The Million Dollar Piano" features iconic hits and classic album tracks from throughout Elton's incredible five-decade career, including a selection of songs from his highly-acclaimed 16 times platinum remastered album "Goodbye Yellow Brick Road," which recently celebrated its 40th anniversary.

Elton recently announced that he will be returning to The Colosseum in October 2015.


Elton celebrates 100th performance of "The Million Dollar Piano"
Friday, March 20 2015 at 07:50:16


Happy Birthday, Elton!
Wednesday, March 25 2015
Elton will turn 68 on March 25, 2015 in the midst of his current "The Million Dollar Piano" run in Las Vegas.
Having just performed the 100th "Million Dollar Piano" show, Elton will continue touring in the US and in Europe later in the year.

On behalf of the Hercules team and all the fans around the world, we would like to wish him all the best and a happy birthday!


Elton celebrates 100th performance of "The Million Dollar Piano"
Friday, March 20 2015 at 07:50:16
David & Elton honored at Geffen Playhouse Annual Fundraiser
Tuesday, March 24 2015
Sunday (March 22, 2015) night's star-studded fundraiser at the Geffen Playhouse and the pre-show host committee dinner grossed over $1.5 million, a record, for the Geffen Playhouse's education, outreach and artistic initiatives.
Multi-award winning composer and a Geffen Playhouse Board Founding Trustee Quincy Jones presented the Distinction in Service Award to Ariel Investments President Mellody Hobson and distinguished filmmaker George Lucas. Tony nominated director Jason Moore presented the Distinction in Theater Award to producer David Furnish and internationally renowned singer/songwriter and performer, Sir Elton John.

Castle star Nathan Fillion served as Master of Ceremonies for Backstage at the Geffen, an irreverent evening of laughter, music and stories featuring personal "backstage" memories and musical performances by stars of the stage and screen including: Anjelica Huston, Samuel L. Jackson, Beau Bridges and Geffen Playhouse Artistic Director, Randall Arney. Virtuoso violinist, Lee England, Jr. who, coincidentally, played for Mellody Hobson and George Lucas's wedding, performed his version of "All of Me" by John Legend. The multi-faceted actress, singer, dancer and choreographer Toni Basil choreographed 12 dancers who performed a hip hop version of "Swan Lake."

David Geffen served as Honorary Chair of the event; Linda Bernstein Rubin and Loretta Everett Kaufman Co-Chaired the Backstage at the Geffen committee. Pamela Robinson Hollander and Martha Henderson Co-Chair the Geffen Playhouse Board of Directors. The evening was beautifully produced by Gil Cates, Jr. and directed by Randall Arney.

The curtain rose to wild applause as Lady Gaga, surprising everyone including the honorees, took center stage to perform "You and I" accompanying herself on the piano before joining the audience for the remainder of the show.

Monies raised benefit the Geffen Playhouse's artistic initiatives including new play development, playwright commissions, and second productions, as well as the not-for-profit's award-winning education and outreach programs which help bring the excitement of live theater to more than 15,000 disadvantaged youth, seniors and veterans annually.
Elton walked off stage twice
Monday, March 23 2015
Caesars Palace headliner Elton John left his fans confused on March 20, 2015 when he walked off the stage twice during the show.
The first time came about two-thirds through the show. He appeared to be upset that the video of an American flag didn't fit the song he was playing. Musicians stopped playing, and the stage went dark for several minutes. He returned and continued.

Later, during "Saturday Night" when fans are invited onstage, it seemed to be the finale when he walked off the stage with a two-man security detail. He returned to perform "Circle of Life," and when it was it over, there was no bow, no goodbye. Fans continued standing and applauding until they realized that it was over.
Elton says he loves Dolce & Gabbana - but is he joking?
Friday, March 20 2015
Elton appeared to make a peace offering to Dolce and Gabbana on stage in Las Vegas on March 18, 2015, when he declared his love for them mid-way through.
But was he joking? Or was this sincere? The singer was listing a series of inspirational people who have changed the world, from Princess Diana to Nelson Mandela, before saying Dolce and Gabbana for Italy. It caused the crowd to burst into laughter, and after a pause, he added: "Listen, the band have been wearing Dolce & Gabbana, I love Dolce & Gabbana clothes."

This was either serious sarcasm or he was offering an olive branch after all. Elton - whose two sons Zachary, five, and Elijah, two, with husband David Furnish were conceived through IVF treatment - vowed to boycott the designers after they called IVF babies "synthetic" in a recent interview.

Since then, Stefano Gabbana has slammed Sir Elton as a "fascist" and "ignorant" after the singer encouraged people to boycott their brand. The 52-year-old designer - who runs fashion house Dolce and Gabbana with business partner Domenico Dolce - admitted he "didn't expect" such a backlash after the pair branded kids conceived through fertility treatment "synthetic" and admitted they "opposed gay adoptions".

Stefano also hit out at Elton for "attacking" the pair, who were in a relationship for 25 years until 2005, for having a "different opinion" to him. Speaking in Italian daily newspaper Corriere della Sera, he said: "I didn't expect this. I didn't expect this, coming from someone whom I considered, and I stress 'considered,' an intelligent person like Elton John. I mean, you preach understanding, tolerance and then you attack others? Only because someone has a different opinion? Is this a democratic or enlightened way of thinking? This is ignorance, because he ignores the fact that others might have a different opinion and that theirs is as worthy of respect as his."

"It's an authoritarian way of seeing the world - agree with me or, if you don't, I'll attack you. I even posted the word 'Fascist!' on his Instagram." Stefano also claimed he and Domenico had words "put into their mouths" and insisted it was "preposterous" that people have vowed to boycott their brand because of the comments.

He added: "It would be ridiculous. Either you like somebody's songs or you don't. When you go to the greengrocer's, you don't make sure that he agrees with your views on IVF. You just want to know if he has fresh products. This whole campaign came up online. It was created by a group of gay activists who put into our mouths words we never said. It became bigger and bigger. We are not boycotting and we will not boycott anyone. It's like people who go to a football game to insult their opponents. That doesn't make any sense. That's preposterous."


Fools in Fashion
Sunday, March 15 2015 at 13:27:10


Elton celebrates 100th performance of "The Million Dollar Piano"
Friday, March 20 2015
On March 23, 2015, Elton will celebrate the 100th performance of his critically-acclaimed show, "The Million Dollar Piano," at The Colosseum at Caesars Palace with a sold-out crowd of fans.
To mark the milestone, Caesars Palace and AEG Live have just announced plans for Elton to return to The Colosseum in October 2015. Tickets for the following 11 performances will go on sale March 22, 2015:

October 13-14 Tuesday, Wednesday
October 16-17 Friday, Saturday
October 20-21 Tuesday, Wednesday
October 23-24 Friday, Saturday
October 26 Monday
October 30-31 Friday, Saturday

Fans can also catch Elton performing now at The Colosseum. Tickets are still available for the below March and April 2015 performance dates:

March 20, 21 Wednesday, Friday, Saturday
March 23-24 Monday, Tuesday
March 27-28 Friday, Saturday
March 30-31 Monday, Tuesday
April 3-4 Friday, Saturday
April 6-7 Monday, Tuesday
April 10-11 Friday, Saturday
April 13-14 Monday, Tuesday

Showtime is 7:30 p.m. Tickets range in price from $55 to $250, not including taxes and fees. There is an eight (8) ticket limit per guest.

Also see Elton John Tour News.
Ultimate Elton releases new single
Wednesday, March 18 2015
Elton John tribute act Paul Bacon, who recently also performed at the 90th birthday party of Elton's mother Sheila Farebrother, has relased the single "You Take My Breath Away".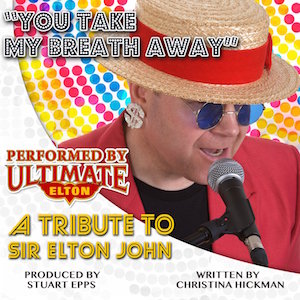 A lifelong Elton John fan, Paul first started singing and performing Elton's songs whilst studying Performing Arts at University in the early 1980's. With an extraordinarily similar singing voice to Sir Elton's, Paul is able to draw on an amazing back catalogue of hits to produce a truly wonderful celebration of Elton's music. Paul's performances often feature some of Elton's actual clothes, bought from his 'Out the Closet' sales.

The single "You Take My Breath Away", written by Christina Hickman, is available on iTunes. The track has been produced by British record producer and audio engineer Stuart Epps, who since 1967 has worked with Elton John, Kiki Dee and many other well-known artists such as Led Zeppelin, Oasis, George Harrison, Robbie Williams, Mark Owen, Cliff Richard, Barry White and Chris Rea.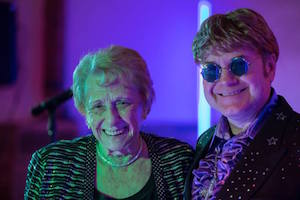 Stuart, who also manages Paul Bacon, made sure that Ultimate Elton performed at the 90th birthday party for Elton's mother Sheila Farebrother (pictured left with Paul Bacon) on March 14, 2015. The event was organized by Elton's former P.A. Bob Halley. Guests also included Elton's former manager John Reid and singer/songwriter Gary Osbourne. Gary went on to collaborate with Elton throughout the album "A Single Man", and on parts of the albums "21 at 33", "The Fox", "Jump Up!", and "Leather Jackets". The three biggest singles co-written by Elton John and Gary Osborne were "Part Time Love" from 1978, "Little Jeannie" a U.S million seller in 1980, and the worldwide hit "Blue Eyes" from 1982.

During the party, Kiki Dee dueted with Ultimate Elton on "Don't Go Breaking My Heart".

For more information about Paul Bacon's tribute act see www.ultimateelton.com.
Behind Colin Hanks' new Tower Records doc
Wednesday, March 18 2015
A crucial piece of vintage footage of Elton John shopping at the Tower Records on Sunset Strip ensured that director Colin Hanks could fulfill his vision in "All Things Must Pass", the story of Tower and its founder Russ Solomon.
Elton, list in hand, is captured intensely walking the aisles of Tower with a colleague to hold onto his pile of albums as he pulls them from the bins. With a single clip, the point -- that rock stars' favorite place to buy music was Tower -- was driven home.

"We only had so much money, so we had to be surgical with who we spoke to and why," Hanks said a day before the March 17, 2015 premiere of "All Things Must Pass", a yellow and red Tower Records button beaming from his dark denim jacket. "With Elton, it was him going to the store. When we found the footage, we said 'OK, I know that he cares about Tower Records,' and can ask him if he'd be in the movie."

"Anecdotes are great, but they don't push narrative. Dave Grohl knocked off two things: he works in the store before he is famous and he also gave us a great bit about his haircut, so that works with our bit on the dress codes at the time."

Begun in 2008, Hanks struggled to find financing for the project, until a 2011 Kickstarter campaign raised $98,000, giving the filmmakers ample ammunition for showing how passionate the audience could be for a definitive film on the once-ubiquitous chain of record stores. Hanks made that film by focusing on Solomon, the man who got his start in the record business in 1939, selling used 78s in his father's drug store in Sacramento. Those who joined the Tower team while it was a single store in Sacramento in the 1960s, helping it expand to San Francisco, Los Angeles and then the world, give the story its soul.

Despite the high-profile appearances of Grohl and Elton, this enchanting documentary mostly steers clear of using celebrities as talking heads. David Geffen and recently retired Universal Music Group executive Jim Urie do the talking for the record industry, identifying the importance of Tower, Solomon and his employees, many of the high-ranking ones having started in the '60s and lasted into the 21st century.

"It's really about a family that comes together, a misfit group of people that goes off and does all these cool things. They spend 30 years of their lives with this company and then lose it. That's heartbreaking. It made the film and Tower even more speical.""When we met Russ," says Hanks, who shopped at the Sacramento stores as youth and Marina Del Rey and Santa Monica while in college, "it took less than a second to realize this guy is a great character and one of the most humble people I had ever met. He was adamant -- 'If you're going to do this it can't just be my story.' That is when the doc started to evolve."

Producer Sean Stuart points out it was "a global mom-and-pop," meaning each store was run individually and came to be viewed as a local venue. Add to that, from 1968 to 2000 it never lost money, and the gap between bringing in $1 billion in sales (in 1991) and bankruptcy was only six years. "They profited from the times and they were also hurt by the times -- in different eras," Hanks says. "The CD era, that treated them very well. The early 2000s, not so much."

"All Things Must Pass", which is looking for a distribution deal, screens again at SXSW March 19, 2015 at Alamo Slaughter and March 20 at the Stateside.
Fools in Fashion
Sunday, March 15 2015
Elton has addressed fashion designers Dolce & Gabbana in an statement on Instagram.
Elton has called for a boycott of fashion label Dolce & Gabbana after the legendary designers criticised same-sex families.

It followed an interview with the designers in Italy's Panorama magazine in which the pair said: "We oppose gay adoptions. The only family is the traditional one. No chemical offsprings and rented uterus: life has a natural flow, there are things that should not be changed."

Dolce added that procreation "must be an act of love", saying: "You are born to a mother and a father – or at least that's how it should be. I call children of chemistry, synthetic children. Rented uterus, semen chosen from a catalog."

Gabbana added: "The family is not a fad. In it there is a supernatural sense of belonging."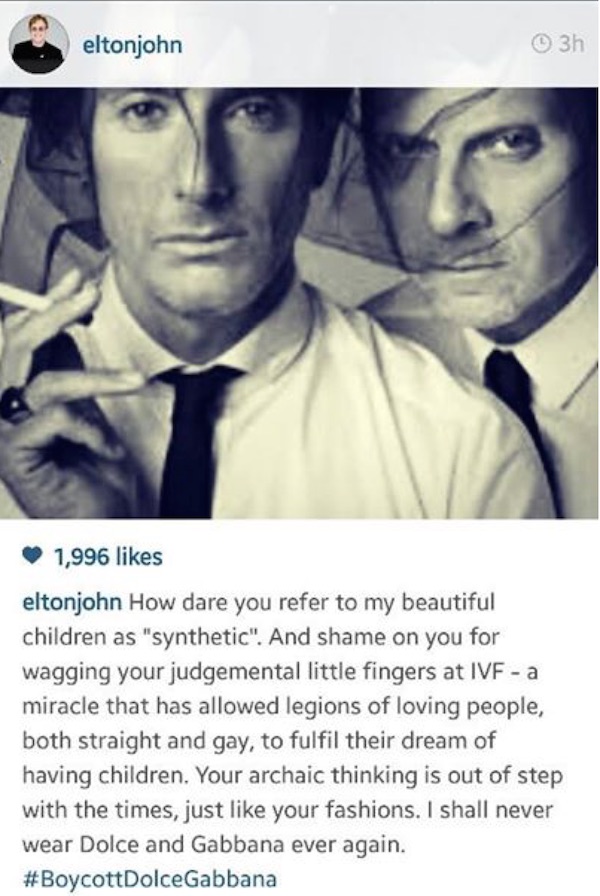 The Voice want Elton John
Saturday, March 14 2015
Elton John is No 1 choice to replace Tom Jones on BBC's talent show The Voice next year.
Welsh pop veteran Tom, 74, has been a mentor since the series started in 2012 but has said this may be his last.
Now show producers are desperately trying to find a replacement with Elton at the top of their wish list.

A Voice insider said: "Producers at The Voice have been thrown into a spin and are now looking for his replacement. At the top of their wish list is Elton John and they think he would make a brilliant mentor. They realise it is going to be very tough getting him on board. He is one of the world's most well paid stars and doesn't have to do very much. But if he is keen, the BBC are prepared to do everything they can to get him on the show."

Tom sits alongside Rita Ora, 24, Will.I.Am, 39, and Kaiser Chief's frontman Ricky Wilson, 37. In March 2014 he told how he feared ratings would plummet when Kylie Minogue, 46, left in 2014. He said: "The BBC should do whatever they can to keep Kylie. It works how it is right now. With the four of us, I think it's a good combination." Kylie had been credited with boosting viewing figures. But Rita replaced her and this year's show has gone on to receive record viewing figures of 8.7 million.

The Beeb could have their work cut out getting Elton – who has homes here and in LA – because he has previously admitted to never watching a music talent show. The source added: "The Voice isn't exactly something Elton has shouted about doing. But the Beeb are determined to do whatever they can to get him on board."
Elton sends his support to attacked Watford fan
Saturday, March 14 2015
Music legend Elton John said he was "shocked and saddened" to learn of the sickening attack on Watford fan Nick Cruwys.
The club's honorary life president, speaking exclusively to the Watford Observer, has sent a get well message to the 44-year-old who remains in a critical condition in a Birmingham hospital on March 13, 2015. Elton said: "I am so shocked and saddened to hear about what happened to Nick. Our thoughts and prayers are very much with him and his family at this time. We wish him a very speedy recovery."

Elton and David have also pledged to make a donation to the Nick Cruwys' Future Football Fund. Fans from all over the world have donated to the fund, set up by disgruntled Wolves' fan Ollie Floyd, which hit £28,000 earlier on March 13, 2015.

Watford players including Daniel Pudil and Fernando Forestieri, as well as BT Sport presenter Jake Humphrey, have made a donation. As did eight-year-old Louis Stephenson, who pledged his £5 pocket money to the fund for the milkman known affectionately as Moo.

Former Hornets' defender Jay DeMerit has also shown his support to the fund today, posting a link on his website. He said: "I still have a special bond with the club and its supporters. It doesn't matter what club a person supports though, this kind of cowardly behaviour has no place in the game. One thing that has come from this is the incredible reaction from the football community who have come together to support Nick and his family. It shows what can be done when people come together. I just want to wish Nick well and hope he enjoys many more years cheering on Watford Football Club."

Watford FC's CEO Scott Duxbury said the Cruwys family and 16-year-old Ollie will be the club's guests of honour at the Reading game tomorrow, at which fans plan to carry out a 44th minute tribute. West Midlands Police arrested a third teenager in the early hours of this morningin connection with the attack on Mr Cruwys.
Elton writes op-ed for Atlanta Journal-Constitution
Friday, March 13 2015
Elton John penned an op-ed for the Atlanta Journal Constitution, in opposition to Georgia's Senate Bill 129, or the "Religious Freedom Restoration Act."
The bill, which would allow individuals and businesses to use their religious beliefs as an excuse to discriminate against others—including LGBT Georgians. The bill passed the Senate last week, and is in the Georgia House now.

Elton John has lived in Atlanta since 1990, eventually establishing the Elton John AIDS Foundation in the city. In his op-ed he recalls the discrimination that his friend, living with HIV, faced from medical professionals, and is scared that this new law will create similar scenarios for others.

Elton writes:

Simply put, this bill is a wolf in sheep's clothing. It promises religious freedom, but let's be clear: No one's religious freedom is at risk! Both the Georgia Constitution and U.S. Constitution very explicitly protect this right.

What SB 129 will really do is institutionalize the hate some people hold in their hearts against other people. It will turn back the clock on the progress we have made — not only in the fight against HIV, but also in the struggle for a more equal and just society.

To be clear, I firmly believe in freedom of religion. Everyone has the right to worship as they choose. But I also believe in justice, equality and the rule of law. We can't just let people refuse to follow a law because they don't like it. And we can't just grant special exemptions that allow people to discriminate at will.

Join Elton in opposition to "Religious Freedom Restoration Act." If you live in Georgia, visit Georgia Unites Against Discrimination to tell your lawmakers that you oppose discrimination in Georgia.

No matter where you live, tweet your opposition to the dangerous bill using the hashtag #KeepGAOpen.
Elton to be honored at Geffen Playhouse Fundraiser
Friday, March 6 2015
Mellody Hobson, George Lucas and Sir Elton John are among the honorees at the 13th annual "Backstage at the Geffen" fundraiser which will take place on March 22, 2015 in the Gil Cates Theater at the Geffen Playhouse in Los Angeles.
Hobson, chairman of the Board of Directors for DreamWorks Animation, and her husband, Lucas, will be honored with the Distinction in Service Award, and filmmaker David Furnish and Elton will receive the Distinction in Theater Award.

The event also launches the 20th anniversary of the founding of the not-for-profit theater. Proceeds from the fundraiser are put toward new play development and playwright commissions, as well as the theater's education and outreach programs. Last year's event raised over $1.4 million for these programs.
Elton John for Chic LP
Friday, March 6 2015
Elton John, Miley Cyrus, Diana Ross and Janelle Monae are among acts who Nile Rodgers has teased will feature on the new Chic album, which is due in June 2015.
Founding member of the group, Nile Rodgers, is currently completing work on their upcoming ninth studio album "It's About Time", and has teased the exciting collaborations which he hopes will feature on the collection.

He explained to Digital Spy: "Last week I played with Elton John and he was killing! I've played with Elton 20 times in my life, but it was the first time I played with him with Chic. So then he said, 'I would love to work with you', and I said, 'Hey, I have a song written in a four part harmony, and if you sing the baritone part, I'll sing the falsetto top and the bottom below you'. So Elton is probably now going to be on that song."

As well as the iconic singer-songwriter, the 62-year-old star revealed his blossoming relationship with 'Wrecking Ball' hitmaker Miley means the pair have agreed to record together for the LP, which will be the band's first since 1992's 'Chic-Ism'.

He said: "I've also become really good friends with Miley Cyrus, who sings her ass off! All of this stuff just happened in the last few days, and I'm thinking, 'Wait a minute, these people are amazing. Why am I going to fool around?' So I just called up Miley and was like, 'Yo Miley do you want to do this?' [And she's like] 'Yeah!'"


23rd Annual EJAF Academy Awards Viewing Party raised just over $5.8m
Tuesday, February 24 2015 at 00:45:17


Elton lands Independent owner in stubble trouble for Comic Relief
Tuesday, March 3 2015
London Evening Standard proprietor Evgeny Lebedev had lost his trademark beard, linking it to the royal visit to the paper.
However, it turns out that Lebedev didn't trim his stubble for Charles and Camiila, but in a stunt for Comic Relief's Red Nose Day. Being Lebedev, he didn't go to any just barber to do the deed, but rather to his "darling friend" Sir Elton John.



Lebedev confesses he is "absolutely terrified [about] what I look like underneath."

"We're going to start the process and denude Mr Lebedev of his facial monstrosity," says Elton, boasting that he is revealing "flesh that hasn't been seen for years".

The singer expertly crafts Lebedev's facial hair into Hulk Hogan-style handlebars, saying "Oh my God, Engelbert". He then moves on to a Freddie Mercury look, of which Elton appears particularly proud. After a brief Hitler-style toothbrush moustache, Elton shaves off first one of Lebedev's eyebrows and then the other.

"I lost everything for Comic Relief," says the Independent owner. "I look absoutely terrifying. What are you going to do for Comic Relief?" Elton concludes: "Next year, his balls."

If you would also like to contribute should click here for more ideas: http://www.rednoseday.com/fundraise/fundraising-ideas/hair-raising.
Elton John and band performed in Reading on February 28, 2015
Monday, March 2 2015
Following is the complete set list of the Reading show on February 28, 2015.
Funeral for a Friend

Love Lies Bleeding

Bennie and the Jets

Candle in the Wind

All the Girls Love Alice

Levon

Tiny Dancer

Believe

Daniel

Philadelphia Freedom

Goodbye Yellow Brick Road

Rocket Man

Hey Ahab

I Guess That's Why They Call It the Blues

Mona Lisas and Mad Hatters

Your Song

Burn Down the Mission

Holiday Inn

Sad Songs (Say So Much)

Sorry Seems to Be the Hardest Word

Don't Let the Sun Go Down on Me

The Bitch Is Back

I'm Still Standing

Your Sister Can't Twist (But She Can Rock 'n Roll)

Saturday Night's Alright for Fighting


Circle of Life/Can You Feel the Love Tonight?

Crocodile Rock